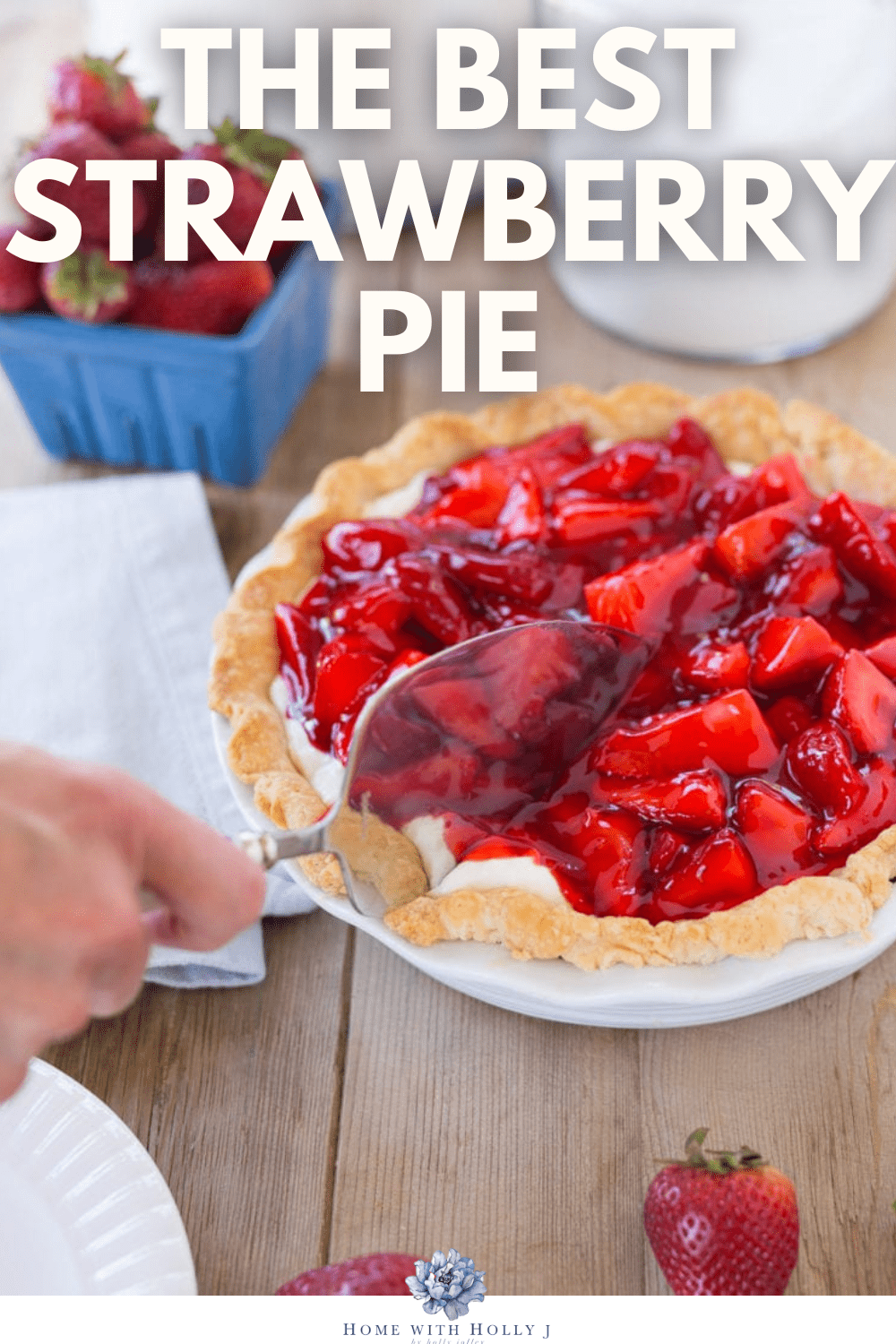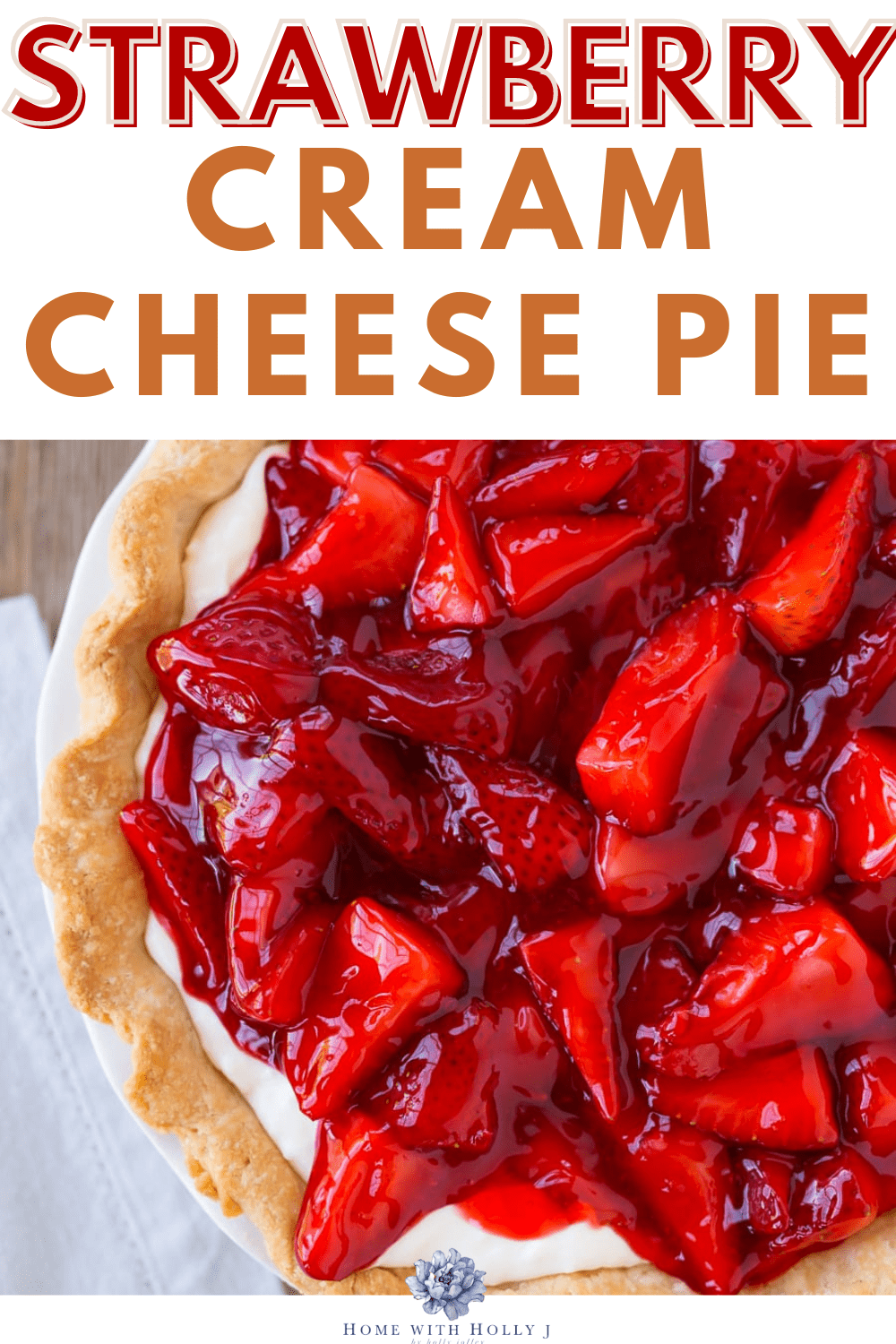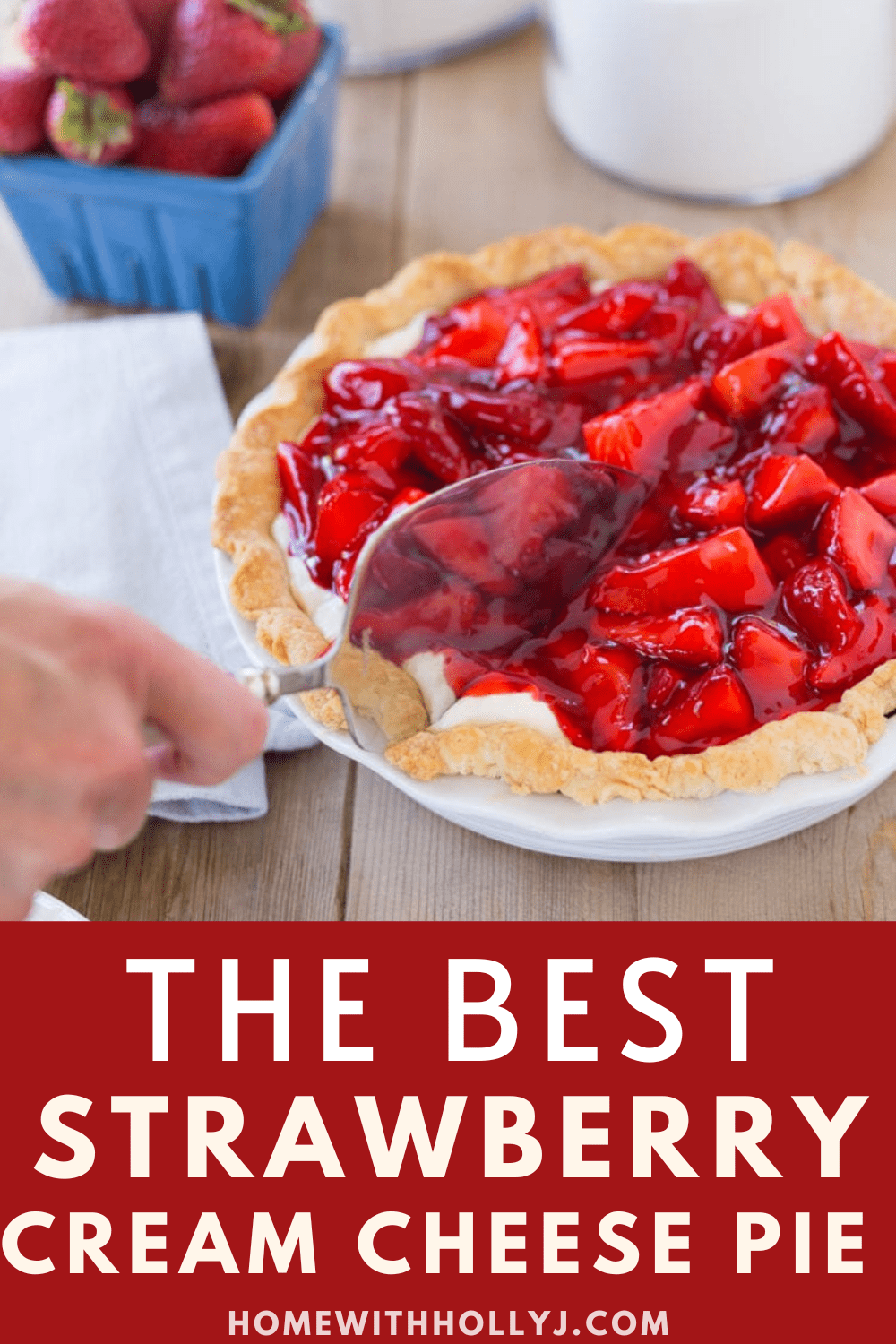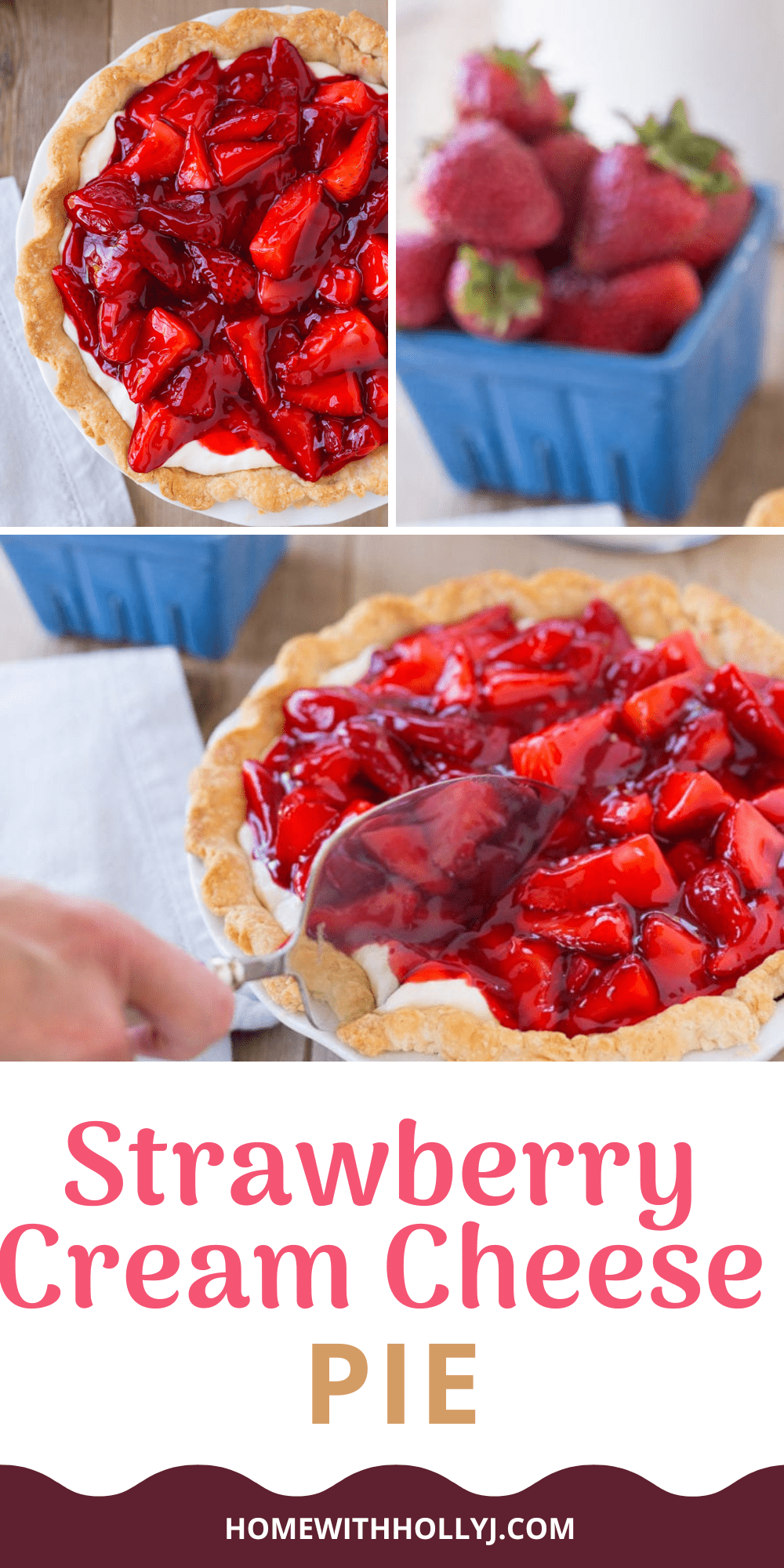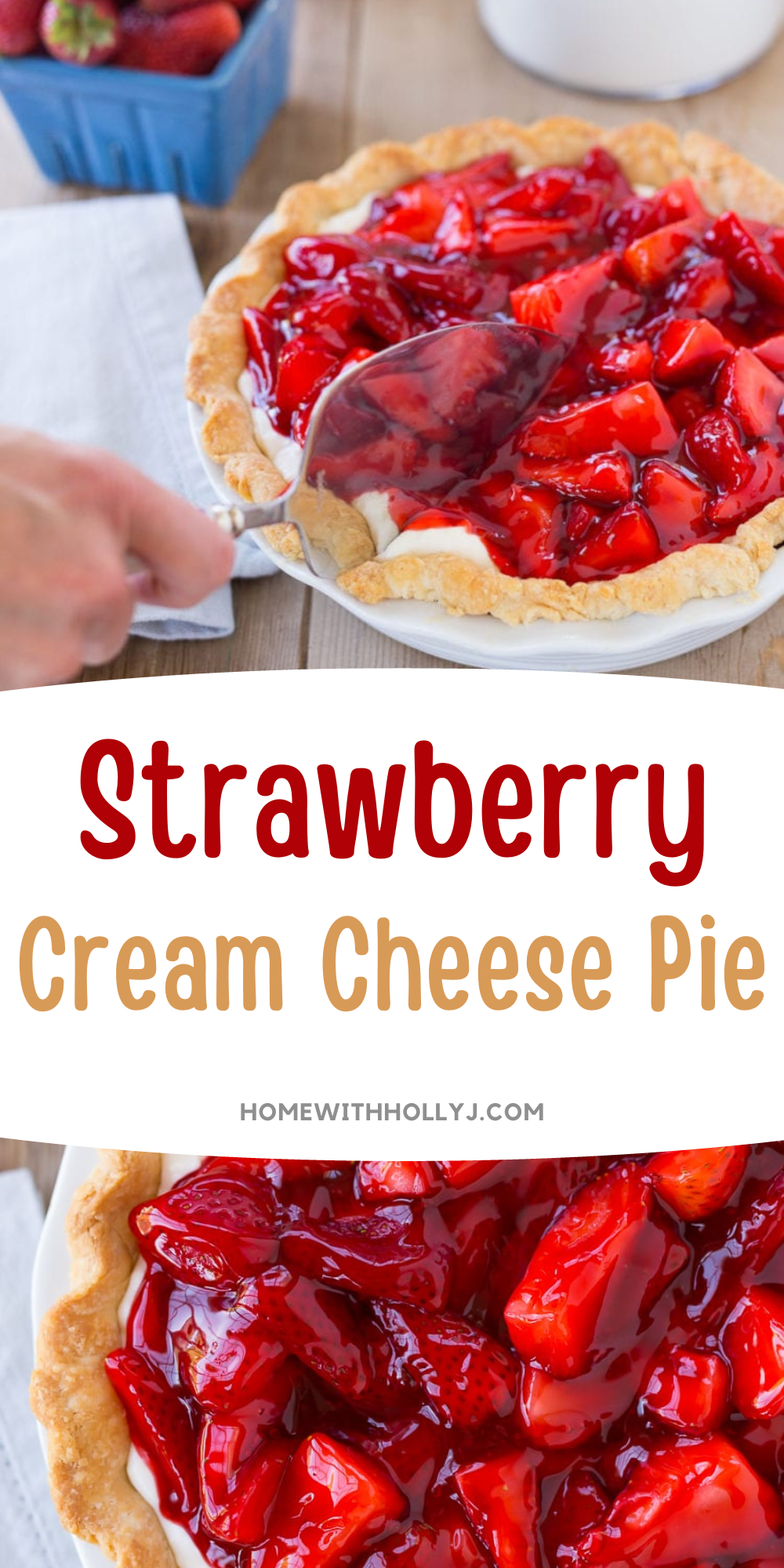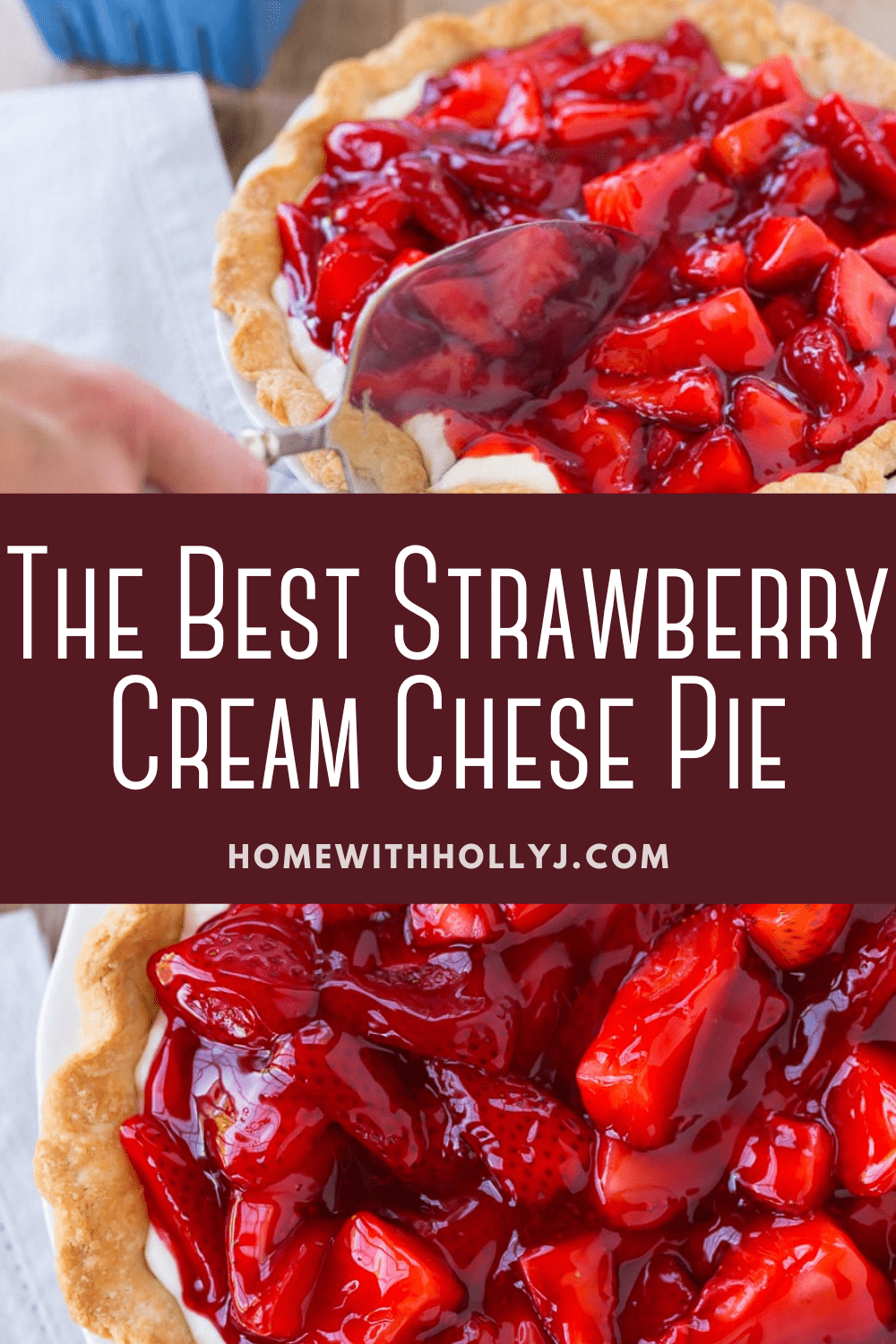 Sharing the best strawberry pie recipe with cream cheese filling. It is one of the tastiest desserts thanks to Grandma's recipe.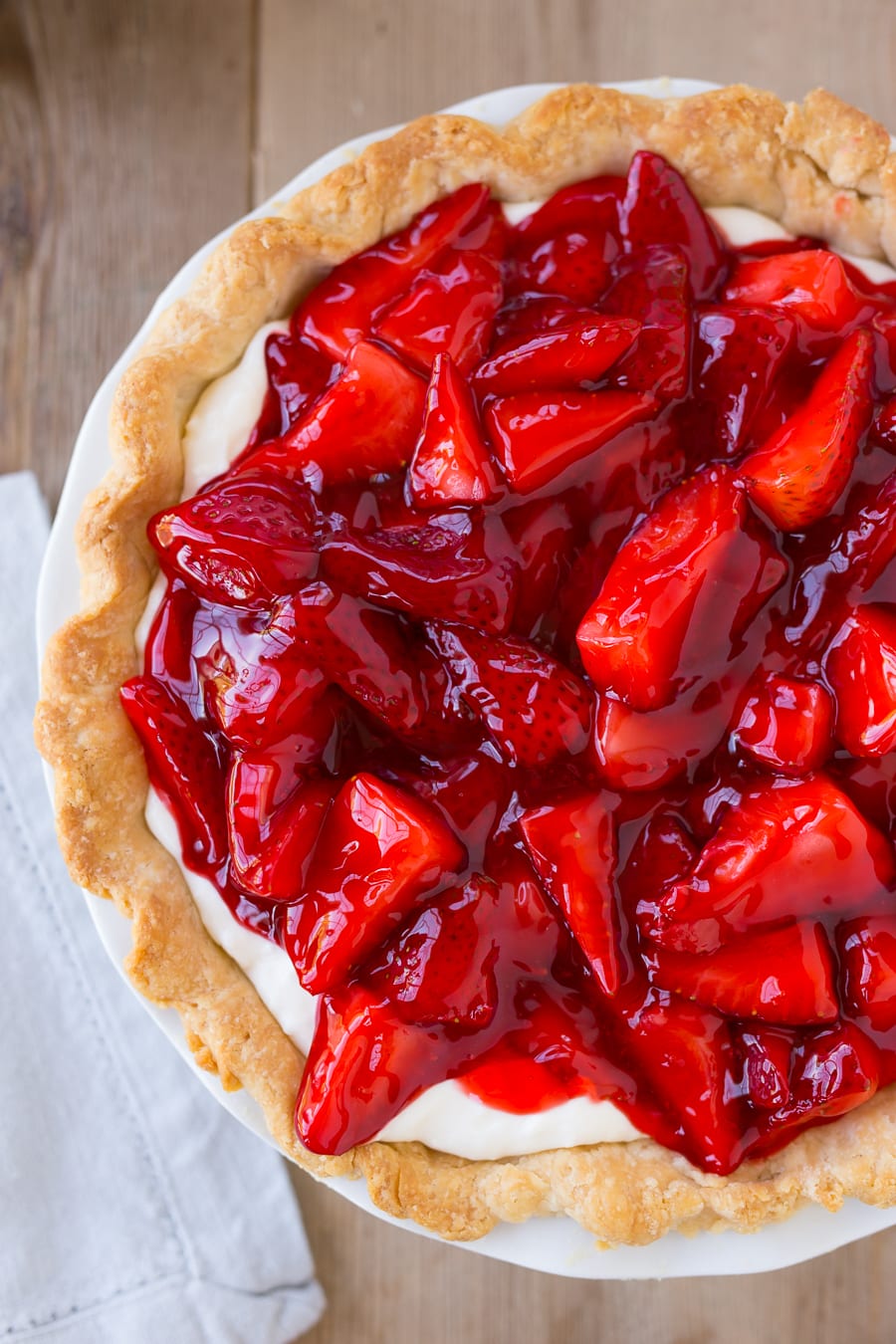 I'm so excited to share this amazing strawberry pie with you today. When I first met my husband years ago, one of the things I loved most was getting to know his Grandma Jolley. She wasn't too sure about me at first, but we eventually bonded over the love of cooking. She was an amazing cook and made everything from scratch. We had the chance to live close to them for one year while my husband was waiting to get into dental school. During that time I learned Grandma Jolley (Louise) was a force to be reckoned with. She said exactly what she thought and was always in charge. It's just how she was and everyone just knew that the kitchen was her domain!
Disclaimer: This post does include affiliate links for your convenience. This is at NO additional cost to you but earns me a small commission. To read more, check out our disclosure policy.
Strawberry Cream Cheese Pie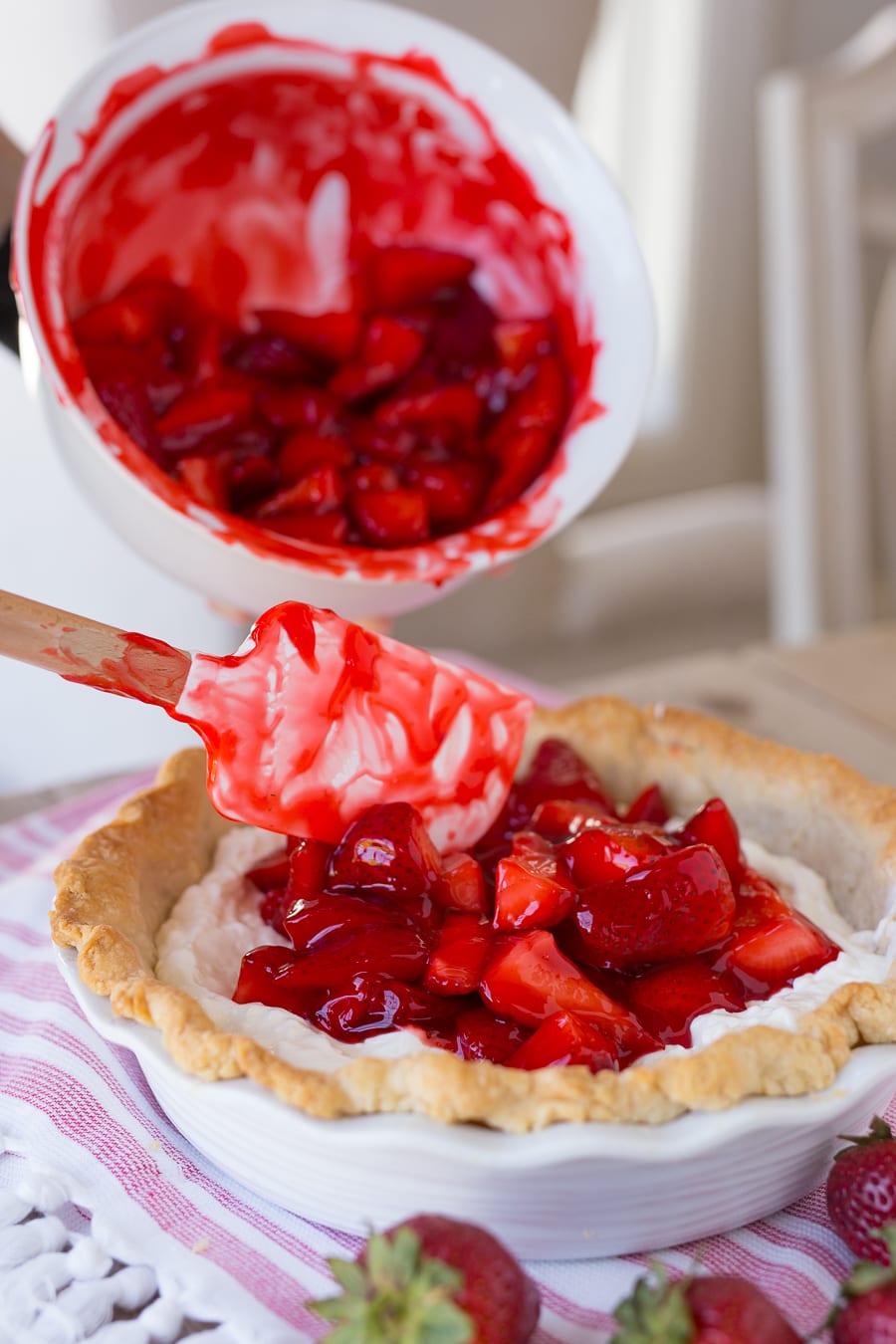 Every Saturday morning everyone also knew that Grandma would have homemade wheat pancakes and waffles for breakfast. She would make these for hours on end as her children, their spouses, and grandchildren would all wander in for breakfast. Sundays were family pot roast day. Everyone would come over for family dinner and enjoy grandmas home cooking. Her roast beef and mashed potatoes and gravy are still my husbands favorite. Then she'd always finish off the meal with the best strawberry pie. (Or her Peach Pie)
Through her love of cooking, she created family memories and a close bond amongst her children and grandchildren. I will be a "Grandma Jolley" too someday (hopefully soon!) and I hope I can create the same memories for my children and future grandchildren. Cooking and creating a space that welcomes everyone is something that brings me great joy! Grandma was a great example to me of how to keep her family close to each other. I feel fortunate that my husband was her oldest grandchild so he was lucky enough to have spent many years with her and my children were also able to know her well before she passed away at the age of 94.
(Update: I am now a Grandma Jolley and have four grandchildren as of 2021!!)
Today I'm sharing her famous strawberry pie recipe. This is one of her all time favorites that everyone loves! This is no ordinary strawberry pie, but it's fairly simple to make.
The Recipe
I've also shared Grandma Jolley's Pie Crust recipe below but you can buy a frozen pie crust to bake at home too.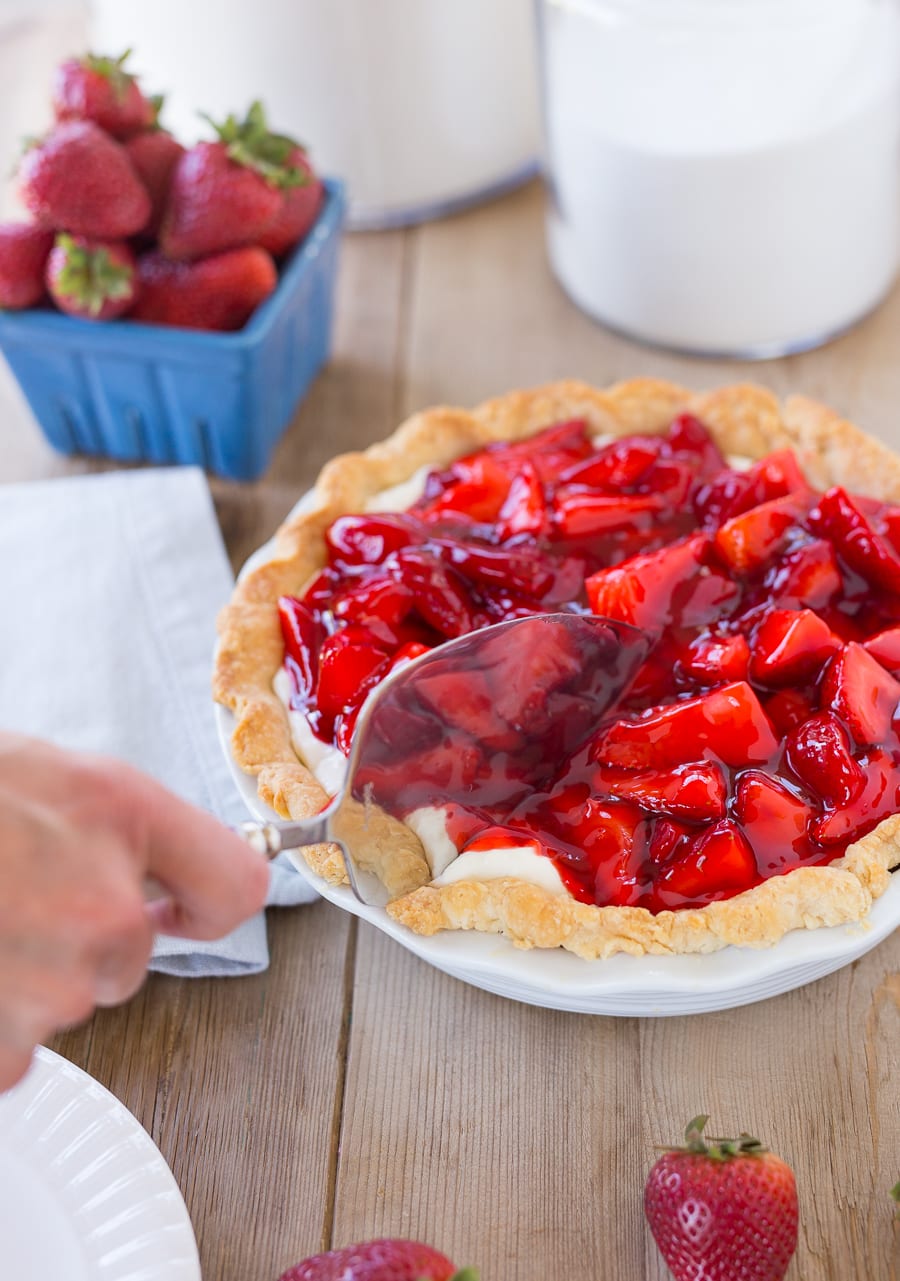 When I am low on time, I opt for a store bought crust and just make the filing. I usually use Marie Callender's brand, if it's available at your local grocery store! If not, grab one of their store brand crusts and give it a try! Here's some of my helpful tips for this recipe:
Holly's Helpful Tips
*When baking any pie crust shell, use dry beans or ceramic pie weights. Put a layer of parchment paper on top of the crust, and lay the beads on top. Put them in the pie shell before you bake and it will keep the pie crust from shrinking or sagging.
*If you don't have the ceramic pie weights, you can use dry beans. I have done it both ways.
*Use a fork to poke holes in the bottom and sides of the crust before you put the dry beans or ceramic pie weights in. This keeps the pie crust from bubbling up!
*Be careful not to overwork the dough. You want pie crust to be flaky!
*I like to add a little more almond extract than the recipe calls for because my husband loves it that way, but if you're a purist, stick to Grandma's recipe!
*You can freeze half of the dough if you are only making one pie. The dough can get really sticky and soft if out too long after making and if it's warm. I find it's easier to refrigerate the dough if I have time. The store bought crust can be helpful if you don't have a lot of time.
*Use the Marzetti or Marie Callendar's strawberry fruit glaze. Don't use danish dessert or packaged mix. These two are the best to use from our experience!
*Don't use low fat cream cheese. Use the regular kind. It won't turn out if you use the lower fat version.
*I like to use a pretty pie dish to bake my pies in. If you use the frozen pastry shell you can still put that into a pretty pie dish if you are entertaining and like it to be all pretty!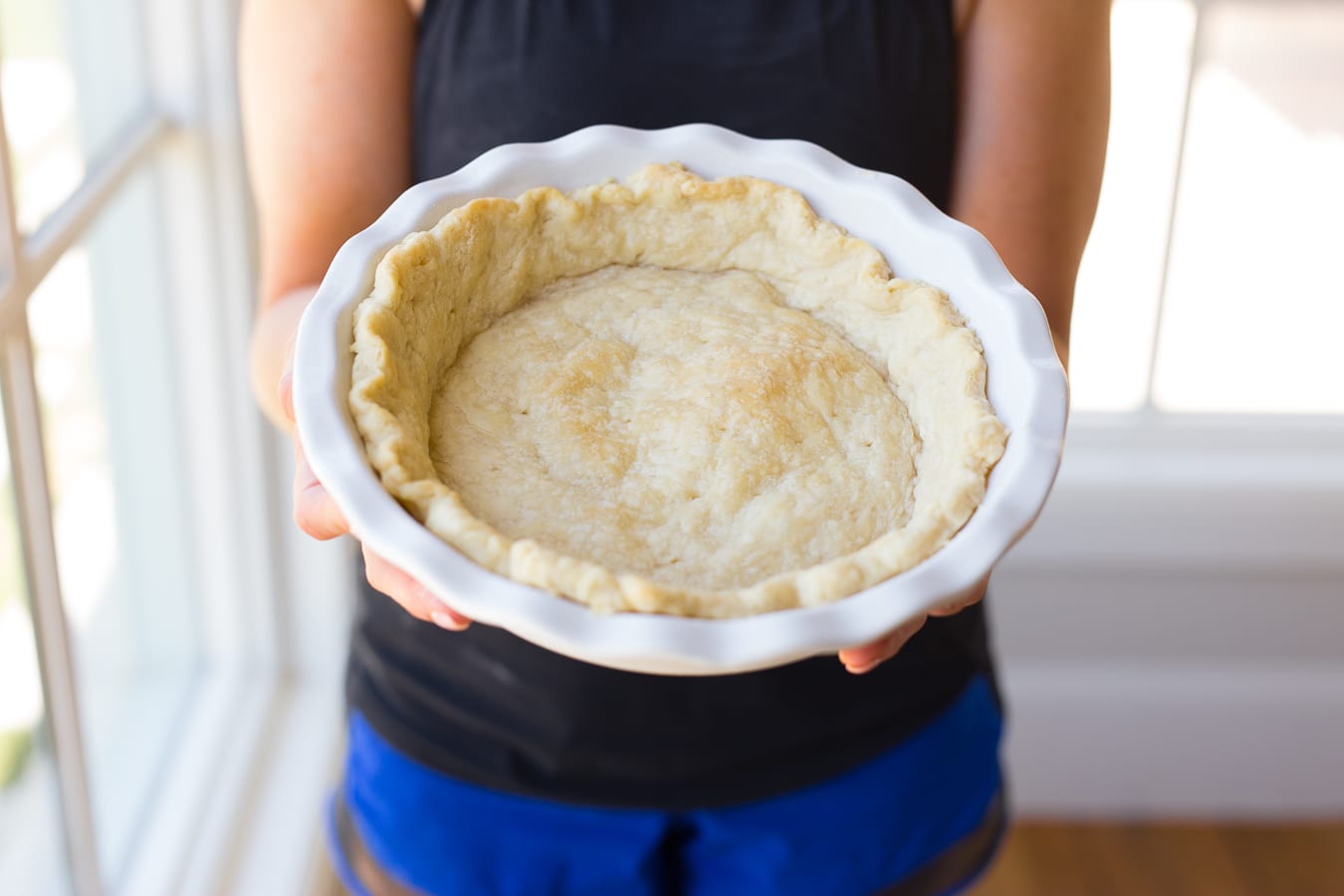 This is a pie crust baked without the beads/beans. The crust will fall and be uneven on the sides and may bubble up on the middle.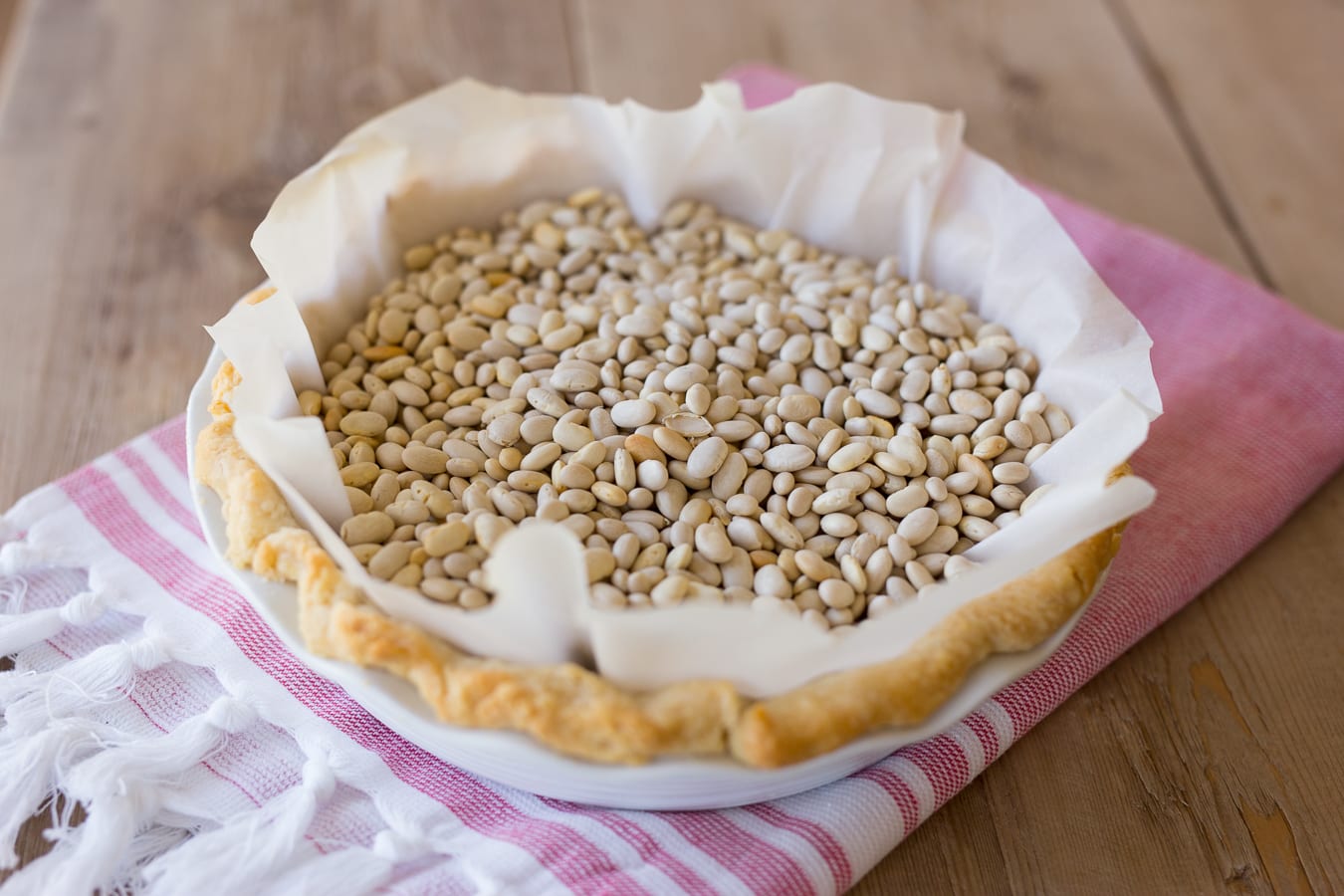 This is how you can insert in the beads/beans to keep that crust even on the edges and pretty around your pie dish.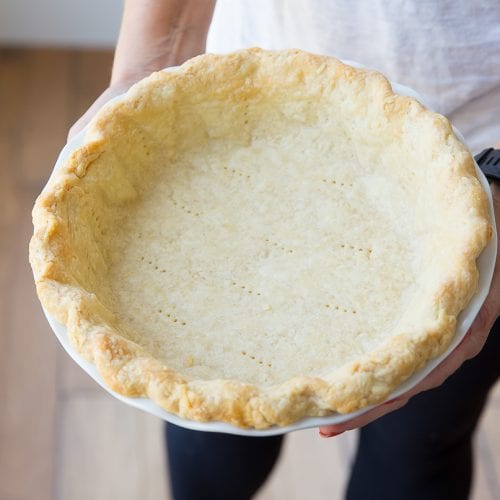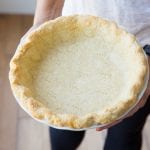 Grandma Jolleys Favorite Pie Crust
Ingredients
2 ½

cups

flour

1

tsp.

Salt

¼

cup

cold water

1

TBSP

white distilled vinegar

1

egg

1

cup

Crisco or Butter
Instructions
In a large mixing bowl, sift the flour and salt together. Then using a pastry blender, mix the Crisco together with the flour mixture until it becomes a little crumbly.

In a separate bowl, mix the water, vinegar, and egg together. Slowly add liquid ingredients into the flour mixture using your pastry blender. Once incorporated well, use your hands to mix together and form 2 equal sized balls out of the dough for each of the pie crusts.

Sprinkle a little flour onto a clean, dry surface and gently roll out the pie dough a little less than ¼ of an inch.

Roll the dough back up on the rolling pin. Lay it on the edge of your pie dish and unroll it right on top. Gently push the pie dough into the pan and then trim the edges about 1 inch below the edge and then fold under and pinch together with your fingers to form a nice edge.

Poke holes in the crust with a fork and bake at 400 degrees for approximately 13-16 minutes. Crust should be starting to turn to a light brown color. Take out of oven and cool on wire rack for about 20-30 minutes.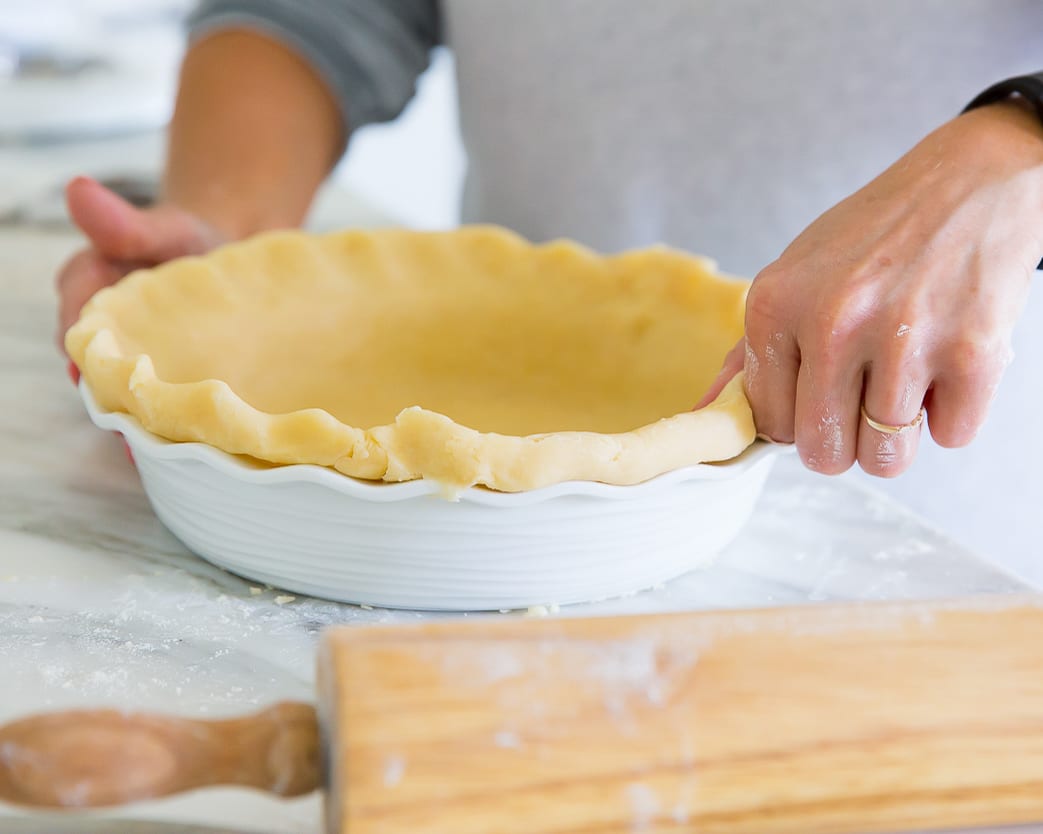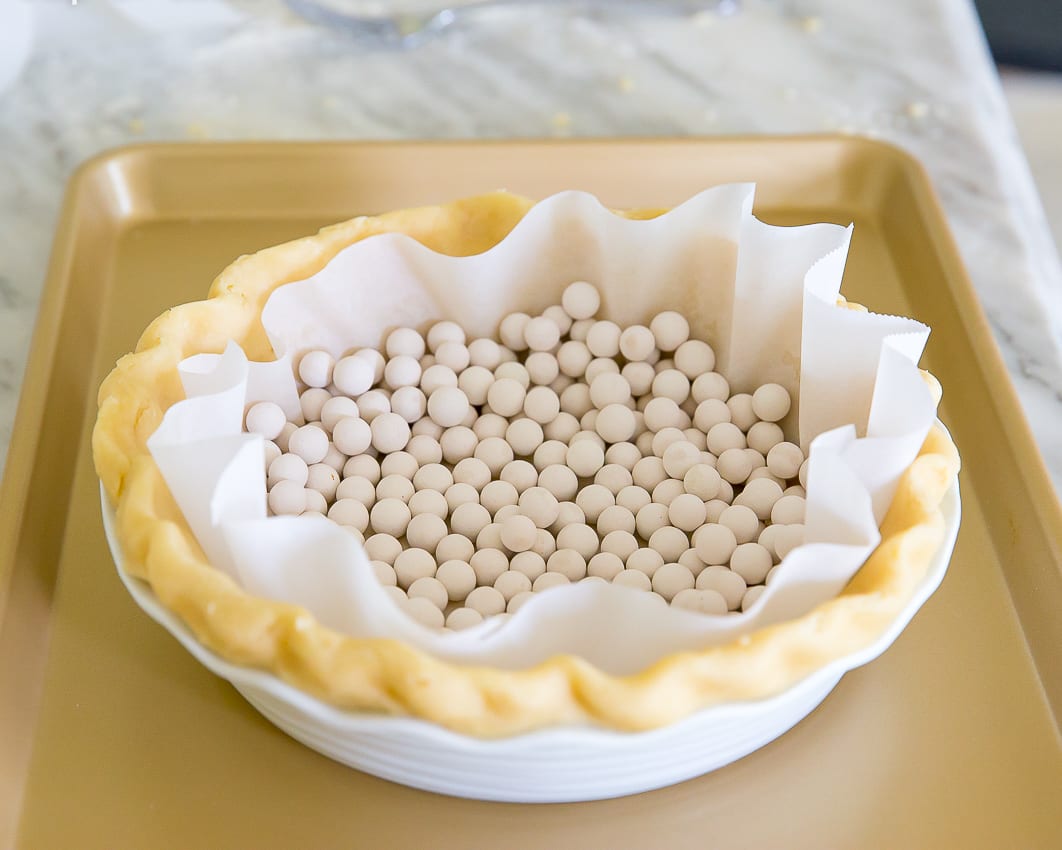 I also use this pie crust cover to keep the outer crust from burning.
Best Strawberry Pie with Cream Cheese Filling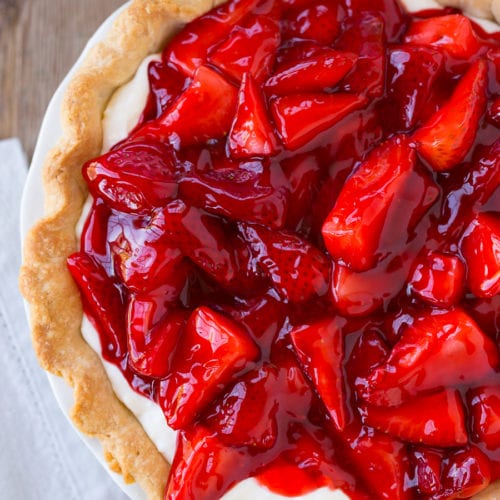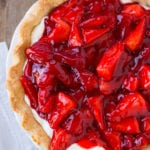 Grandma Jolley's Strawberry Cream Cheese Pie
This is a fresh strawberry pie that has a cream cheese filling with almond extract in the bottom of the pie shell then topped with fresh strawberries in a strawberry glaze.
Ingredients
1

quart

fresh strawberries

Washed, stems removed, and quartered

1

pint

strawberry glaze

1

package

8 oz. cream softened cream cheese

(regular kind)

4

Tbsp

Milk

4

Tbsp

sugar

2

tsp

almond extract
Instructions
Bake the Pie Crust using this recipe above or you can use a forzen pie crust from the grocery store. Follow the direction for baking the pie crust. Let cool while preparing the rest below.

Wash the strawberries then remove the stems and cut into quarters

Toss the strawberries in a bowl with the pint of strawberry glaze.

In a stand mixer or in a bowl with a hand mixer, blend the softend cream cheese (don't use low fat version), add the sugar, milk, and the almond extract. Whip the cream cheese mixture until smooth. You might need to scrape the sides of the bowl down and mix for a bit longer to get everything blended well

Take the cream cheese mixture and spread evenly on the bottom of the pie crust and part way up the sides of the baked and cooled pie crust shell. Then add the strawberries and glaze mix over the top of your cream cheese mixuture.

Refrigerate for an hour or more. Serve chilled.
Cream Cheese Filling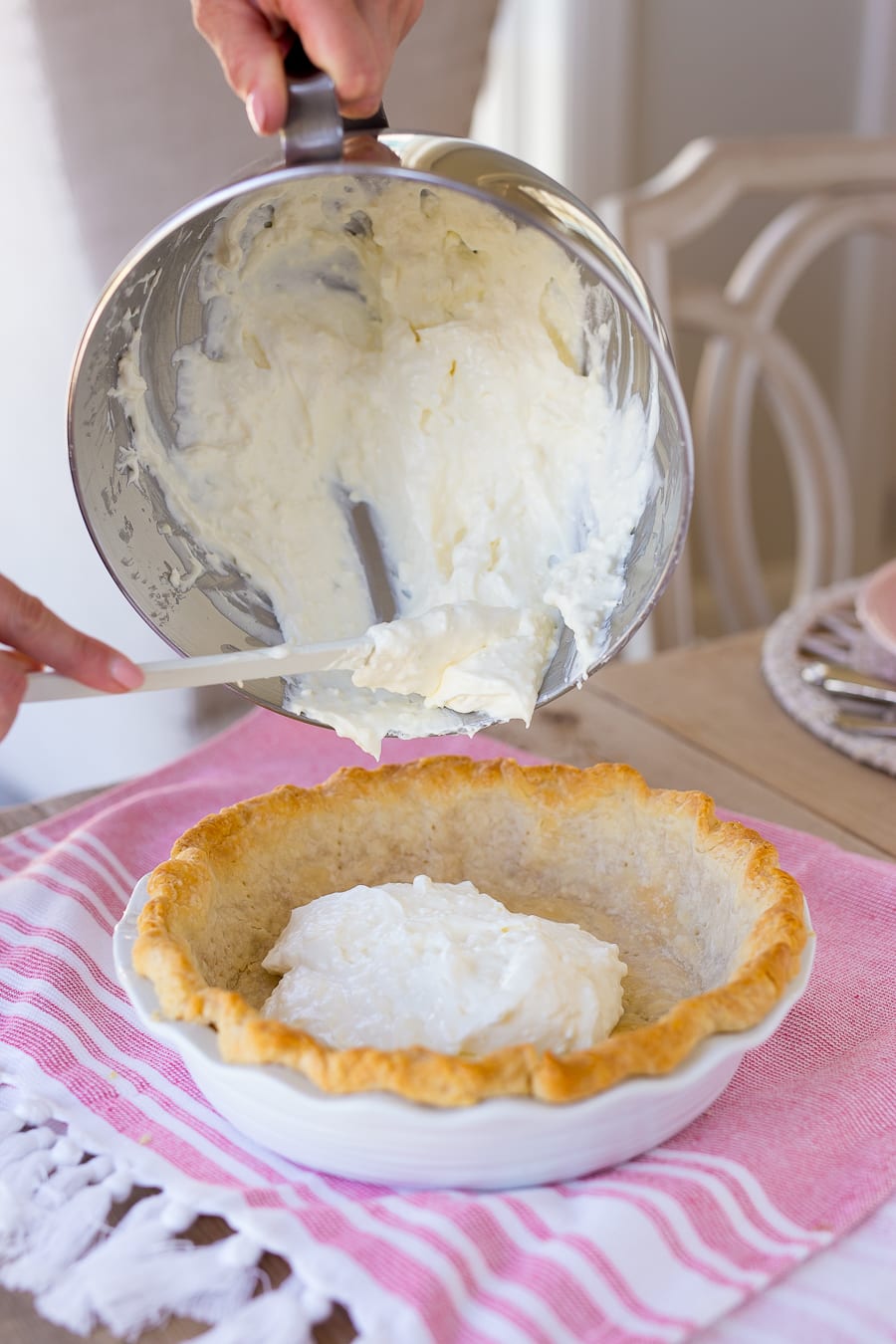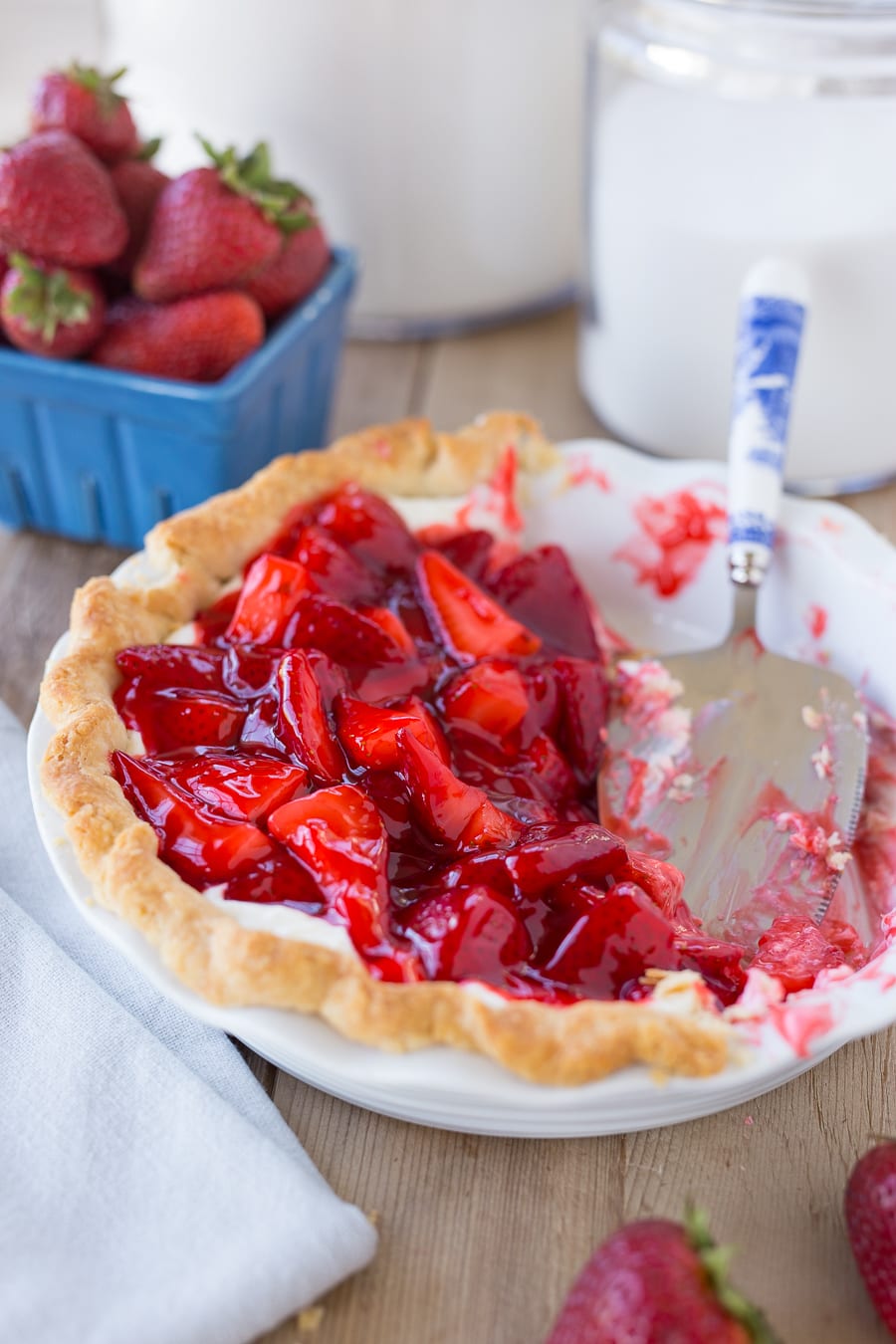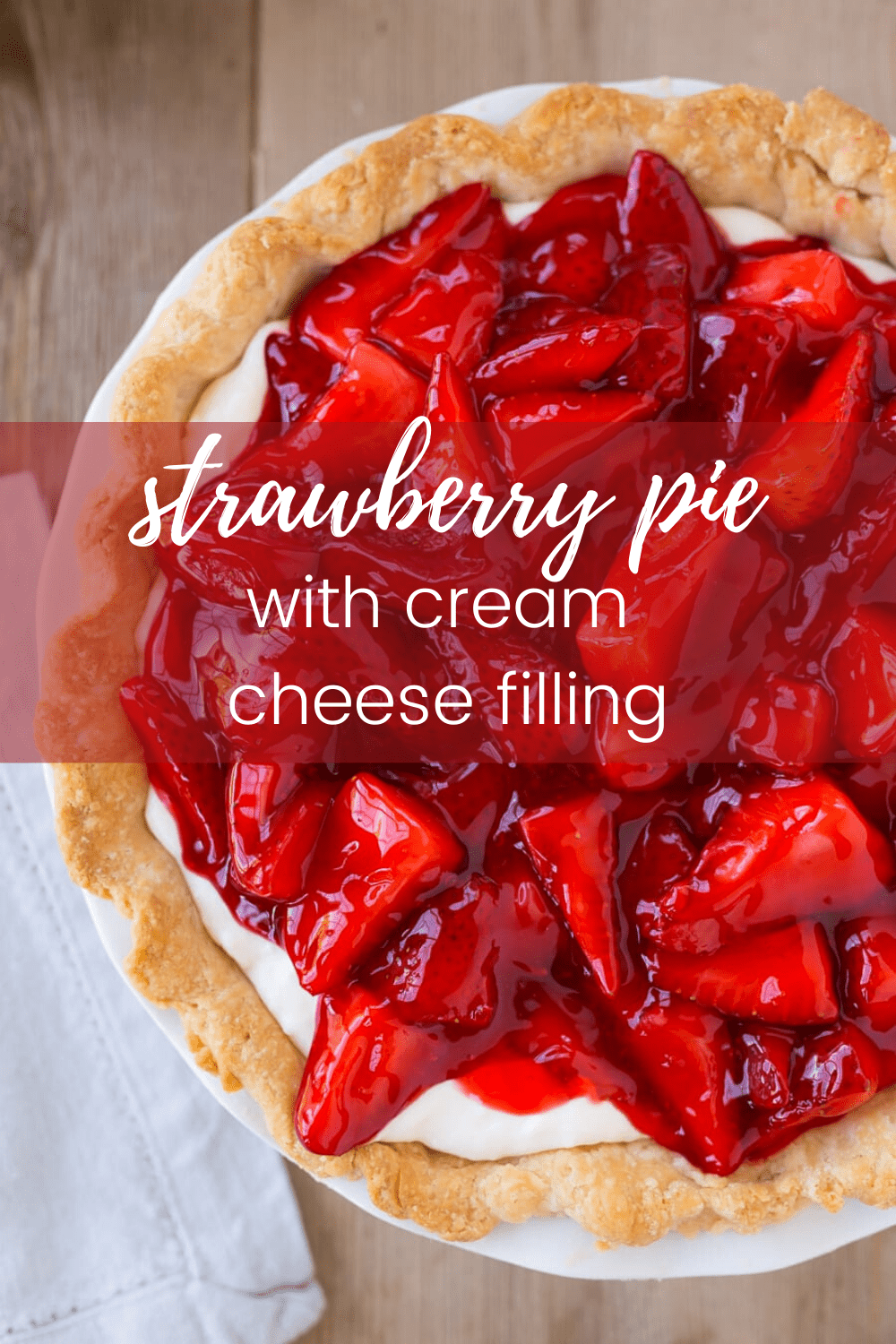 I hope you give this Strawberry Pie with Cream Cheese filling a try! Don't forget the Peach version of this is linked here too. Both are amazing! Thanks for stopping by and make sure to follow along with my on Instagram @homewithhollyj and on Pinterest. You can subscribe to my blog on the home page too, just scroll down a bit and you'll see the box to subscribe!
xoxo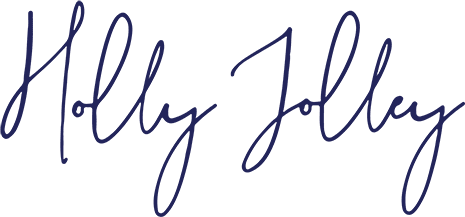 Pin This For Later