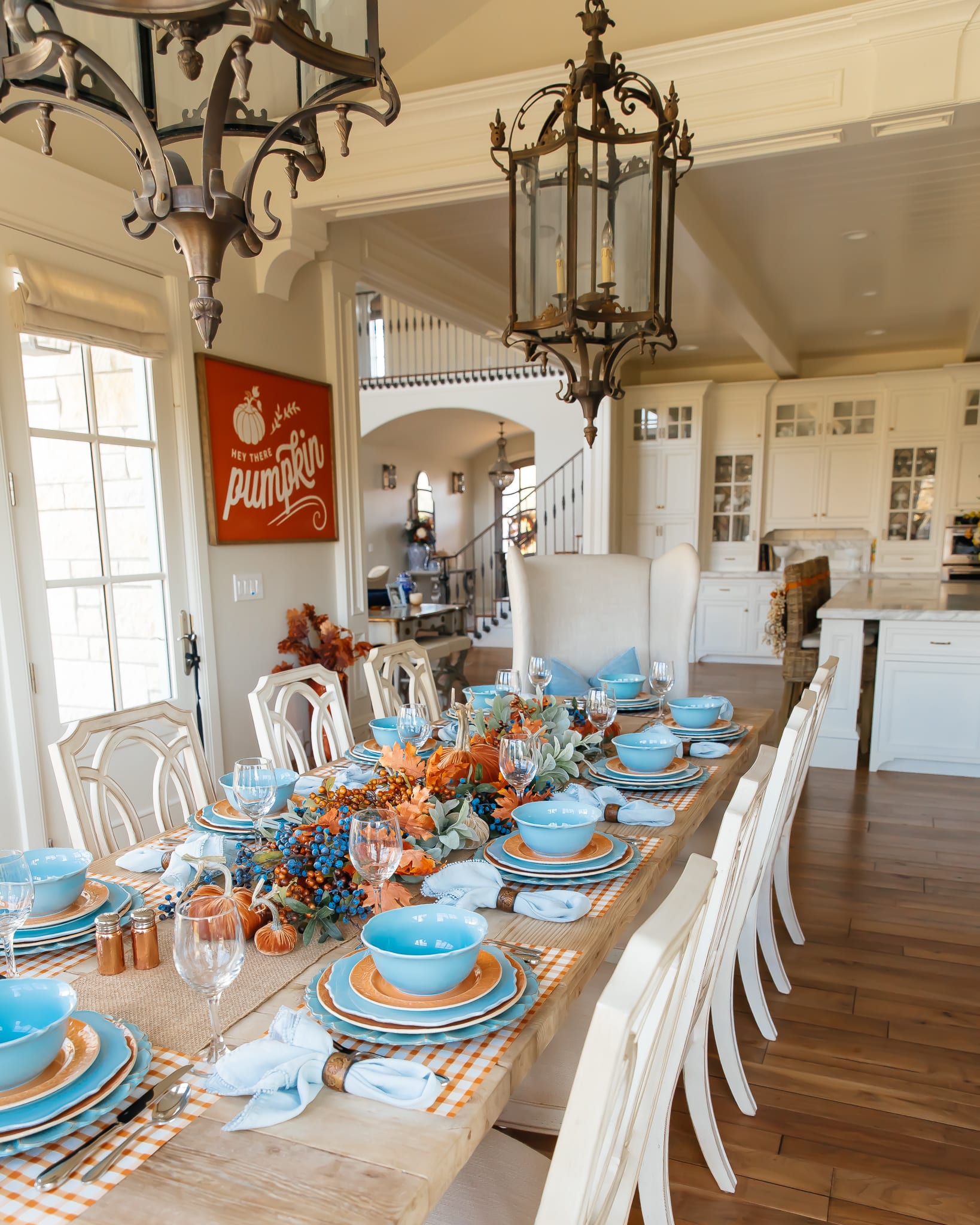 Blue and Orange Pumpkin Themed Tablescape
Every year I like to create a pumpkin tablescape and this years came out completely different than I had planned it in my head. Blue was not in my original plan but as I was mixing and matching different dishes to see how they looked together I threw a blue plate in the mix just to see how it looked. The result was this blue and orange pumpkin themed tablescape!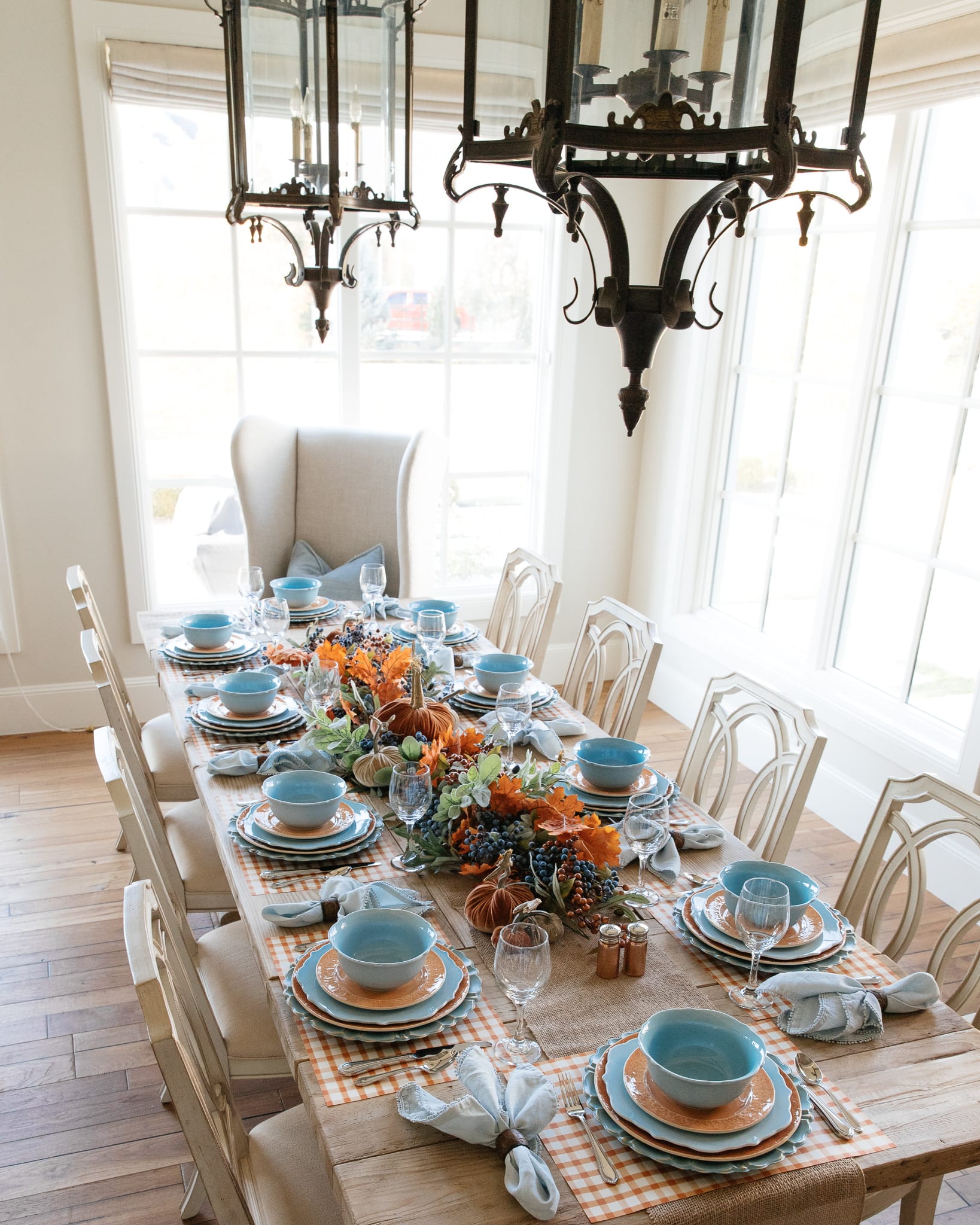 As soon as I saw the blue against the orange, I knew I was changing my original plan. I have a lot of blue decor in my Highland, Utah home and my fall decor colors had a lot of orange colors mixed in so this worked out perfectly and matched my fall decor.
Two Different Versions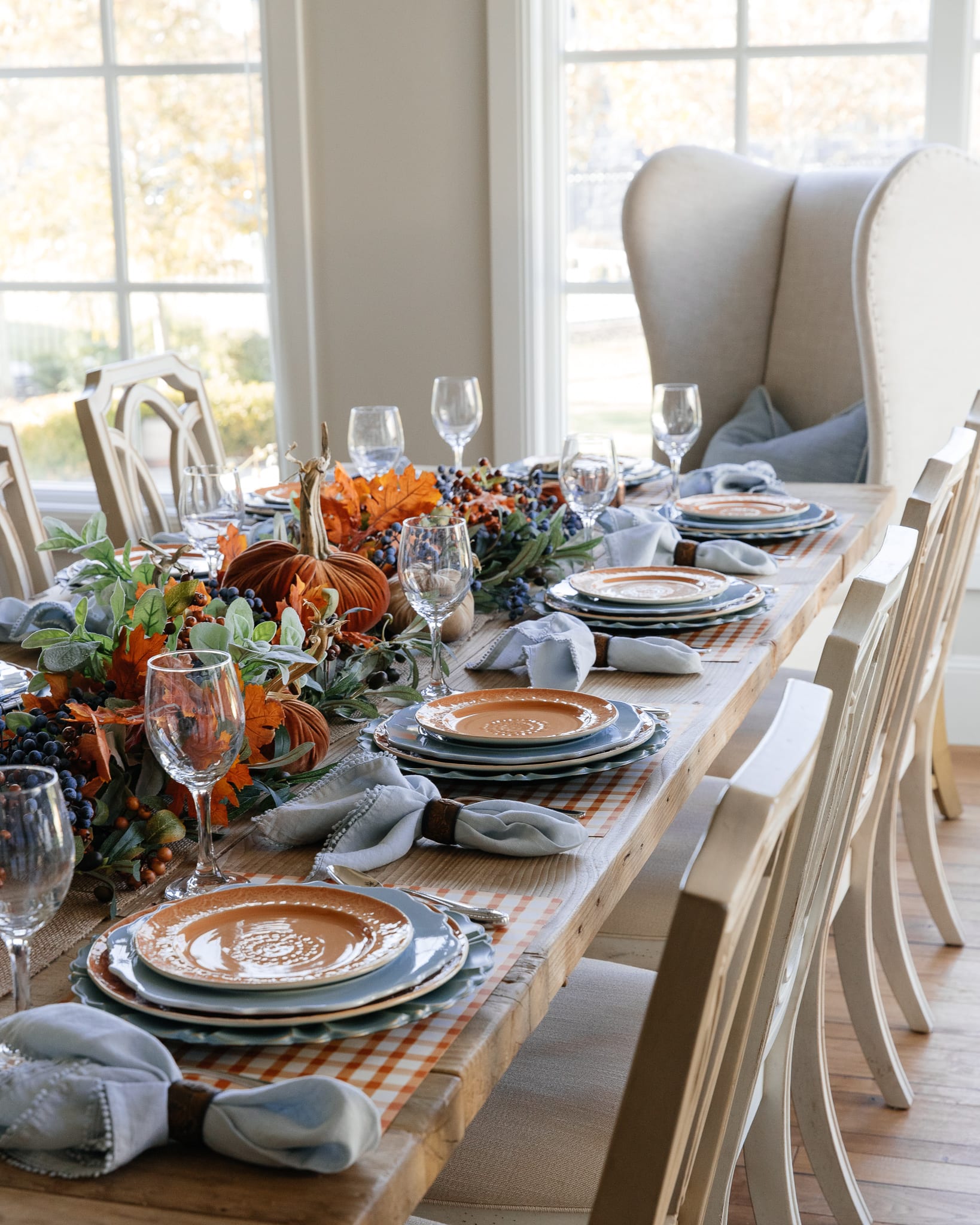 When I was setting the table, I had it set without the blue bowls. I liked it but then I added the blue bowls onto the table and I instantly liked it more. Here you can see each version. Which is your favorite?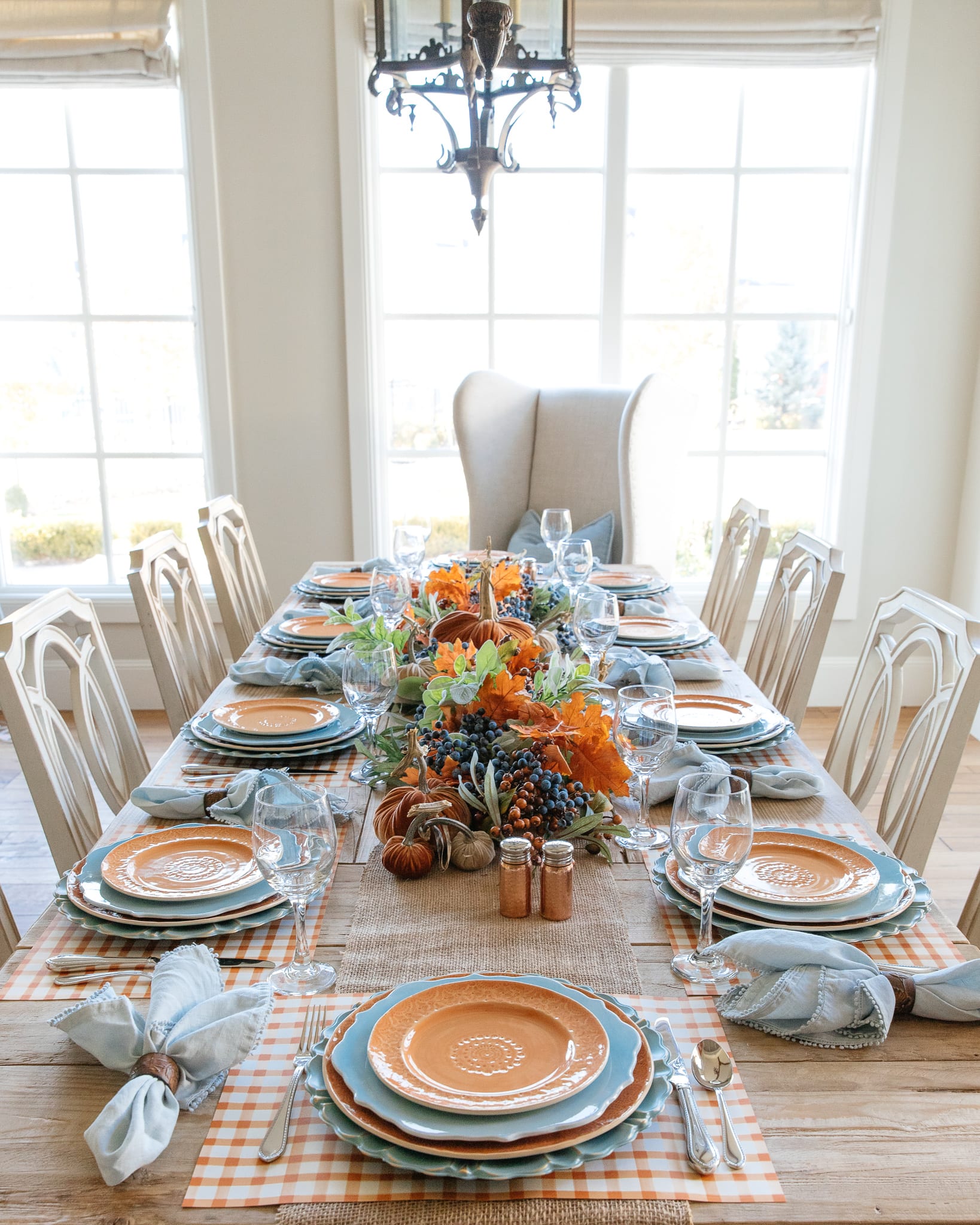 Here you can see more of the orange and less blue. Either way I love the bright colors and how this tablescape came together.
One way you can determine how many plates you want use and whether you add a bowl or not depends on what you're serving for dinner.
The Place-Setting
For my blue and orange pumpkin themed tablescape, I first started with the place-setting. I chose a teal blue charger and then alternated the blue and orange plates.
I wanted this pumpkin tablescape to be fun and not formal so I chose to use these paper placemats that came in a tablet. You just tear them off one at a time and they are super cute and affordable!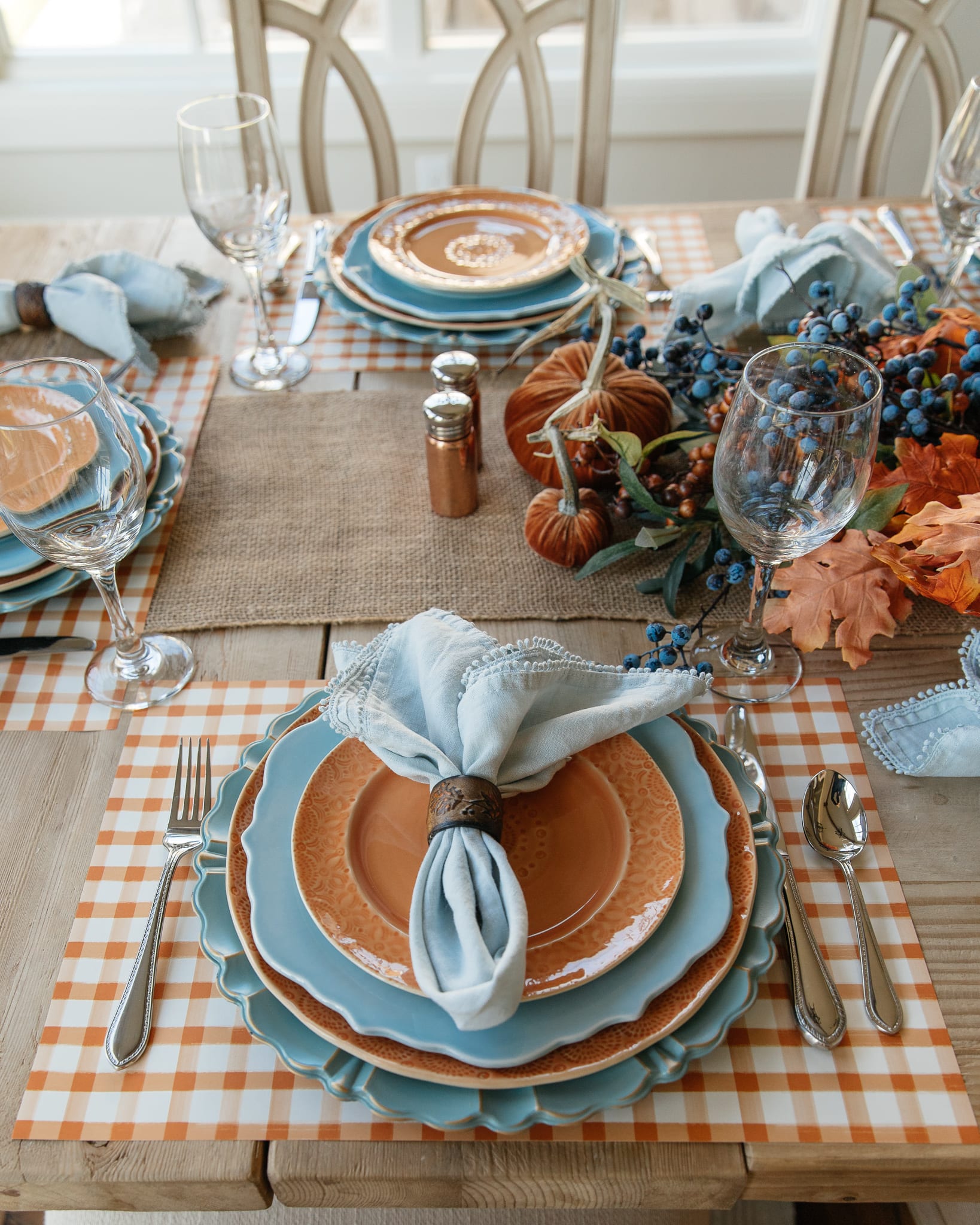 I used a light blue cloth napkin with these autumn leaf napkin rings and my everyday silver flatware.
The Centerpiece Garland
To create the centerpiece I layered two faux olive branch leafy garlands on top of a long burlap table runner.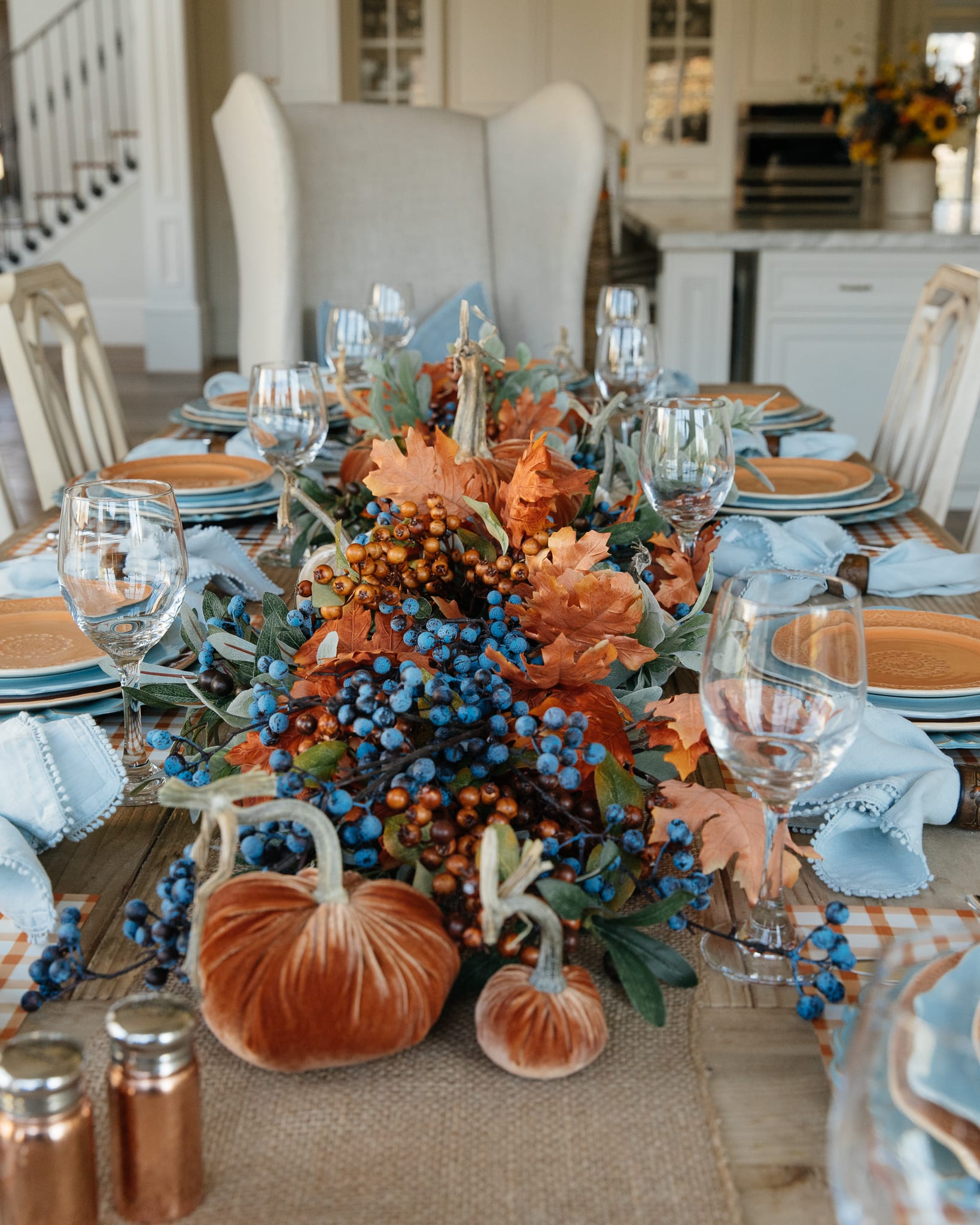 Then I layered in faux fall colored leaf stems, blue and brown berry picks and a few faux sage picks on top of the two garlands. Then I nestled in some velvet pumpkins placing the largest one in the center and the smaller pumpkins in and around the garland.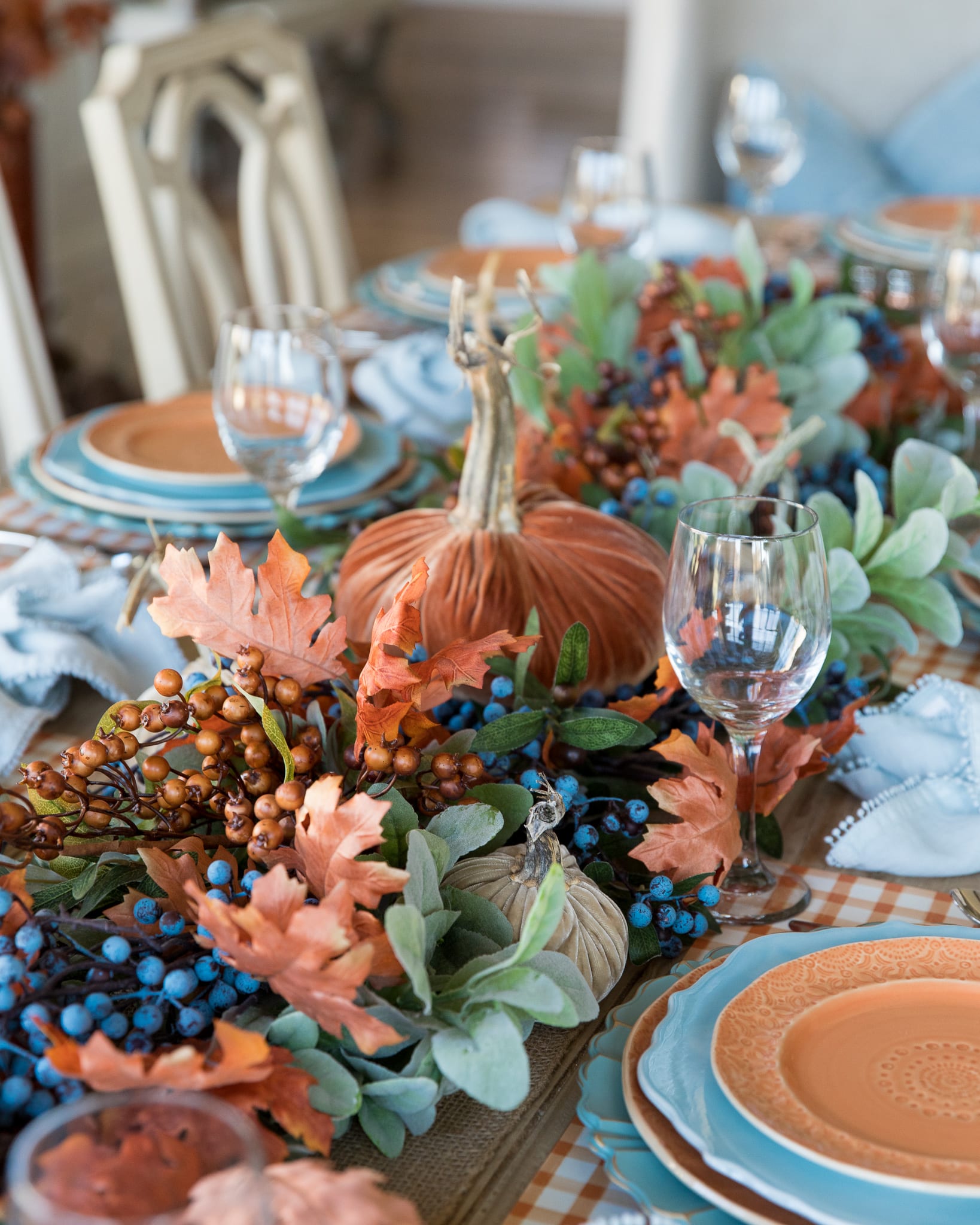 Finishing Touches
I'm always about the details and adding simple things like matching salt and pepper shakers is one way I add an extra touch. I'm always on the hunt for cute salt and pepper shakers. I guess it's safe to say that I collect them too! These cute copper and silver salt and pepper shakers matched perfect.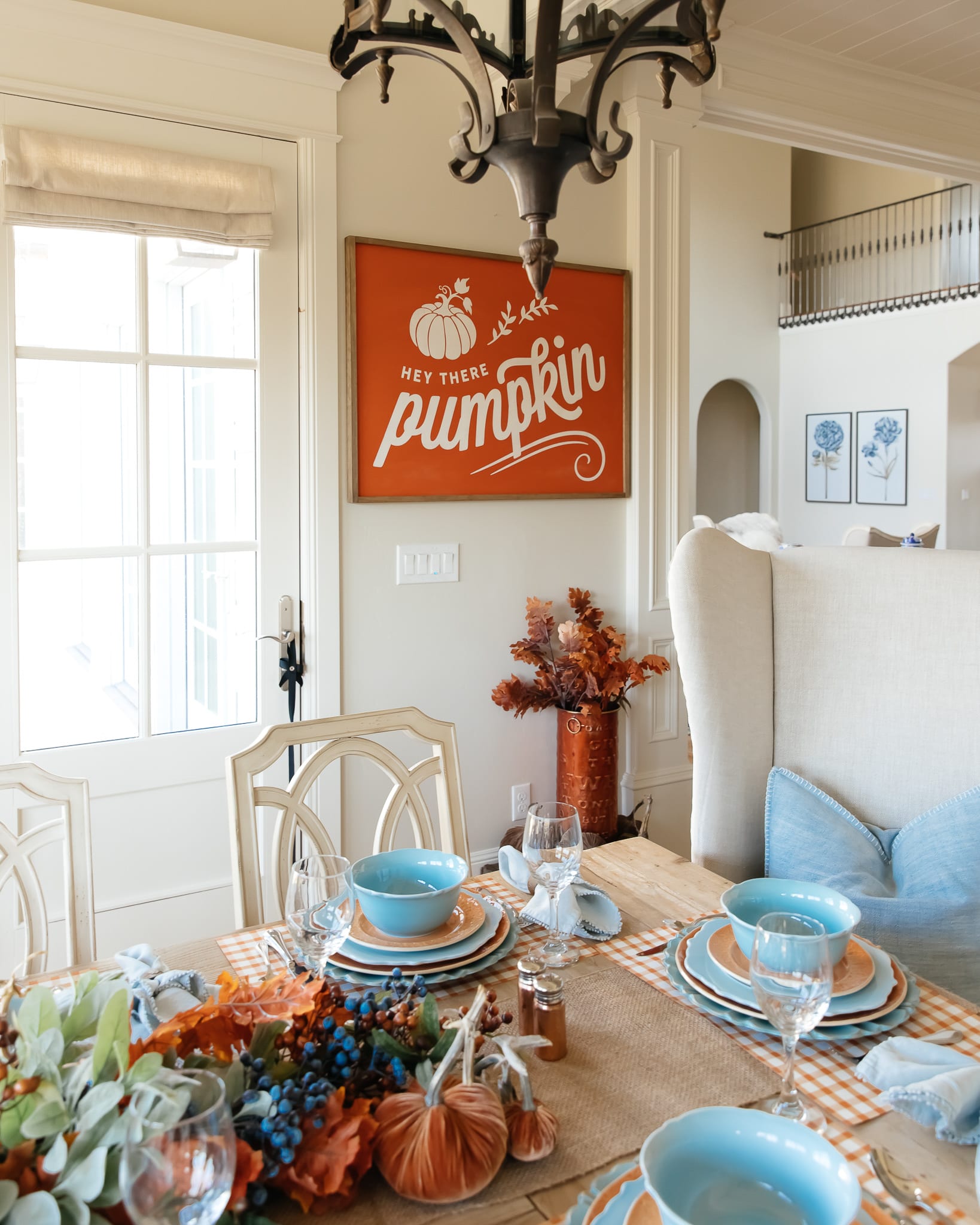 Another finishing touch and detail I added was the pumpkin sign on the wall in the dining room. Just underneath the sign I placed an orange metal container filled with more of the same leafy branch stems I used in the garland and placed it on top of an old antique crate.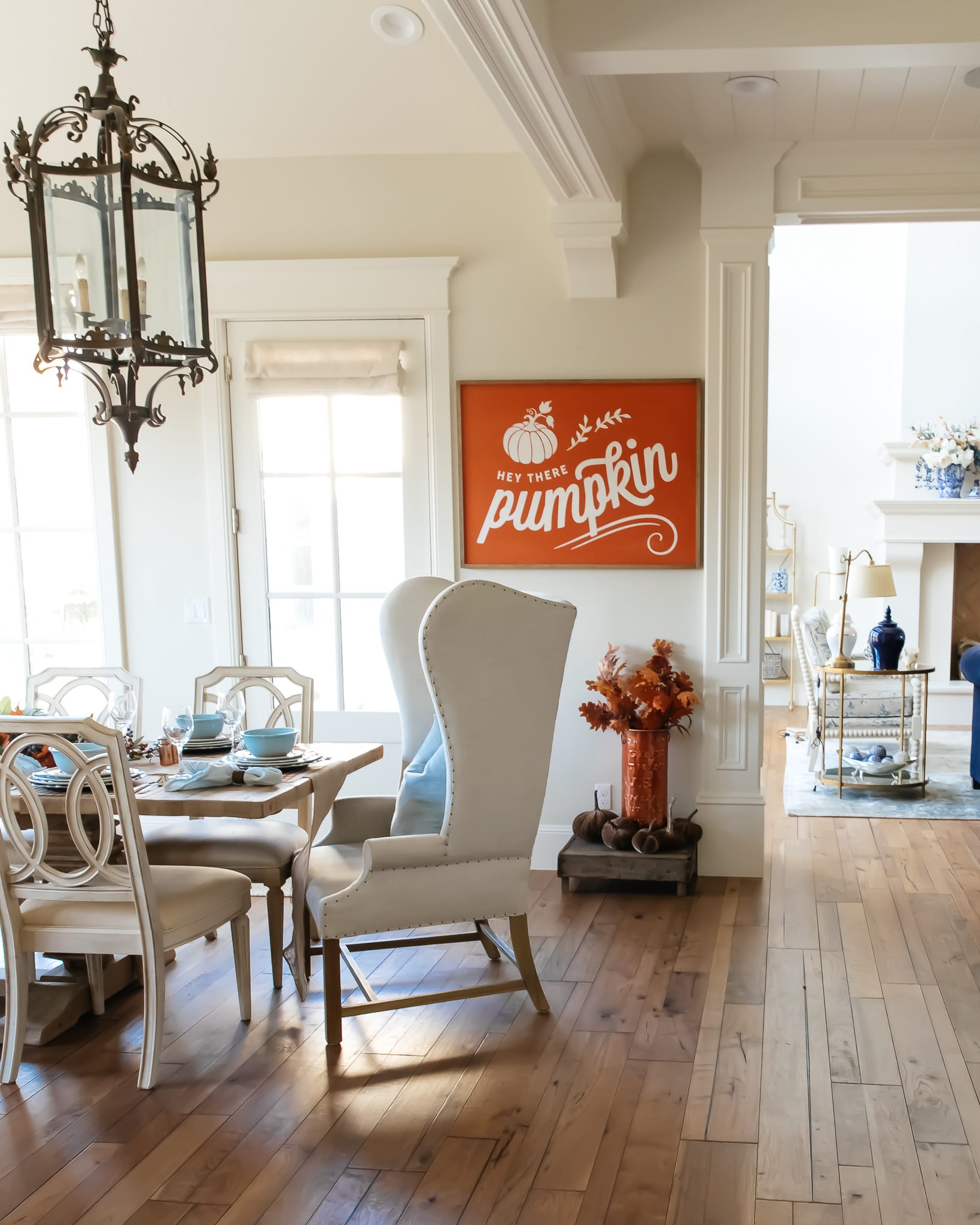 The pumpkin sign is from Teal Barn Signs. I'll link the sign and all the other items I'm able to below.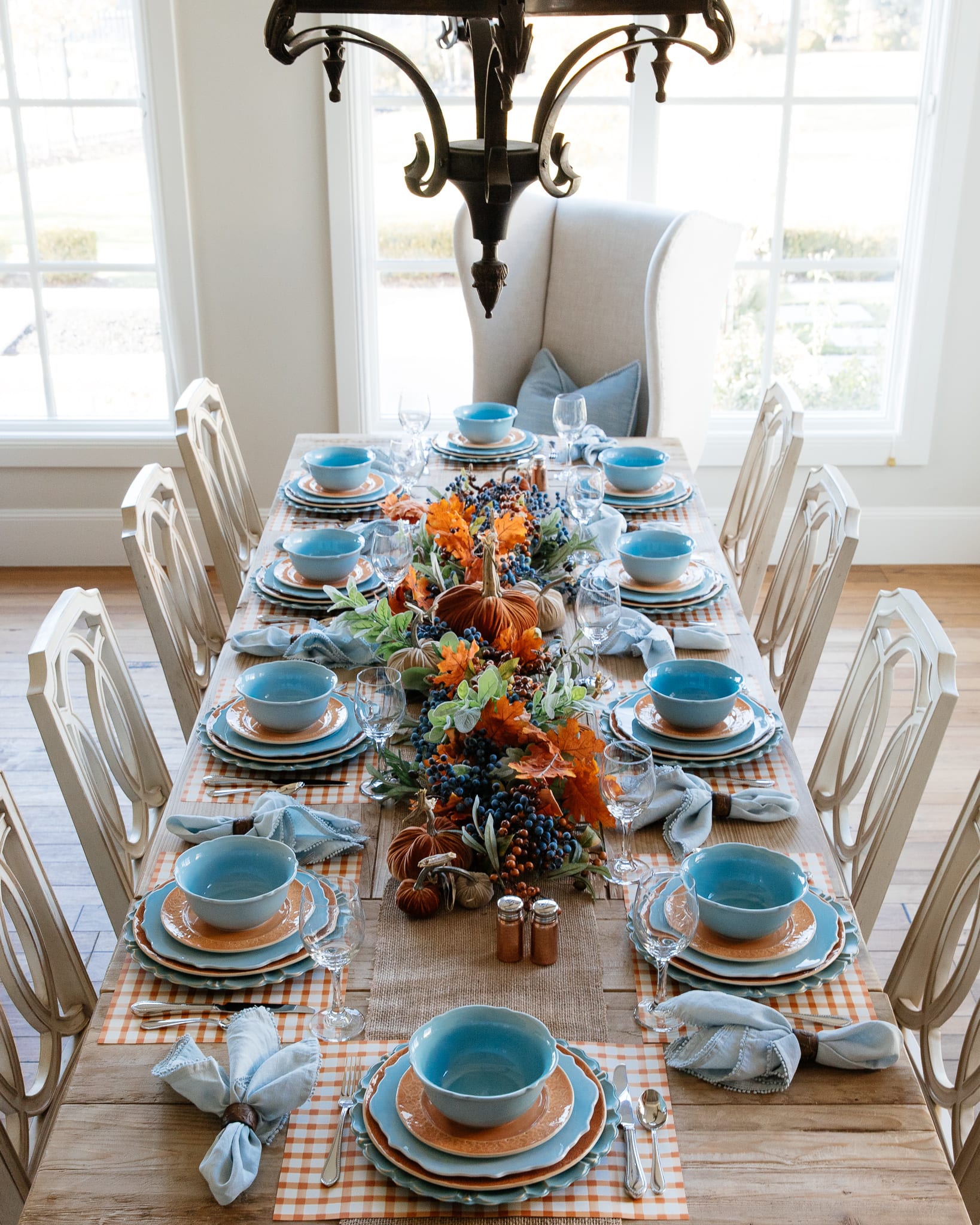 I hope you enjoyed seeing all the details of this fun blue and orange pumpkin themed tablescape!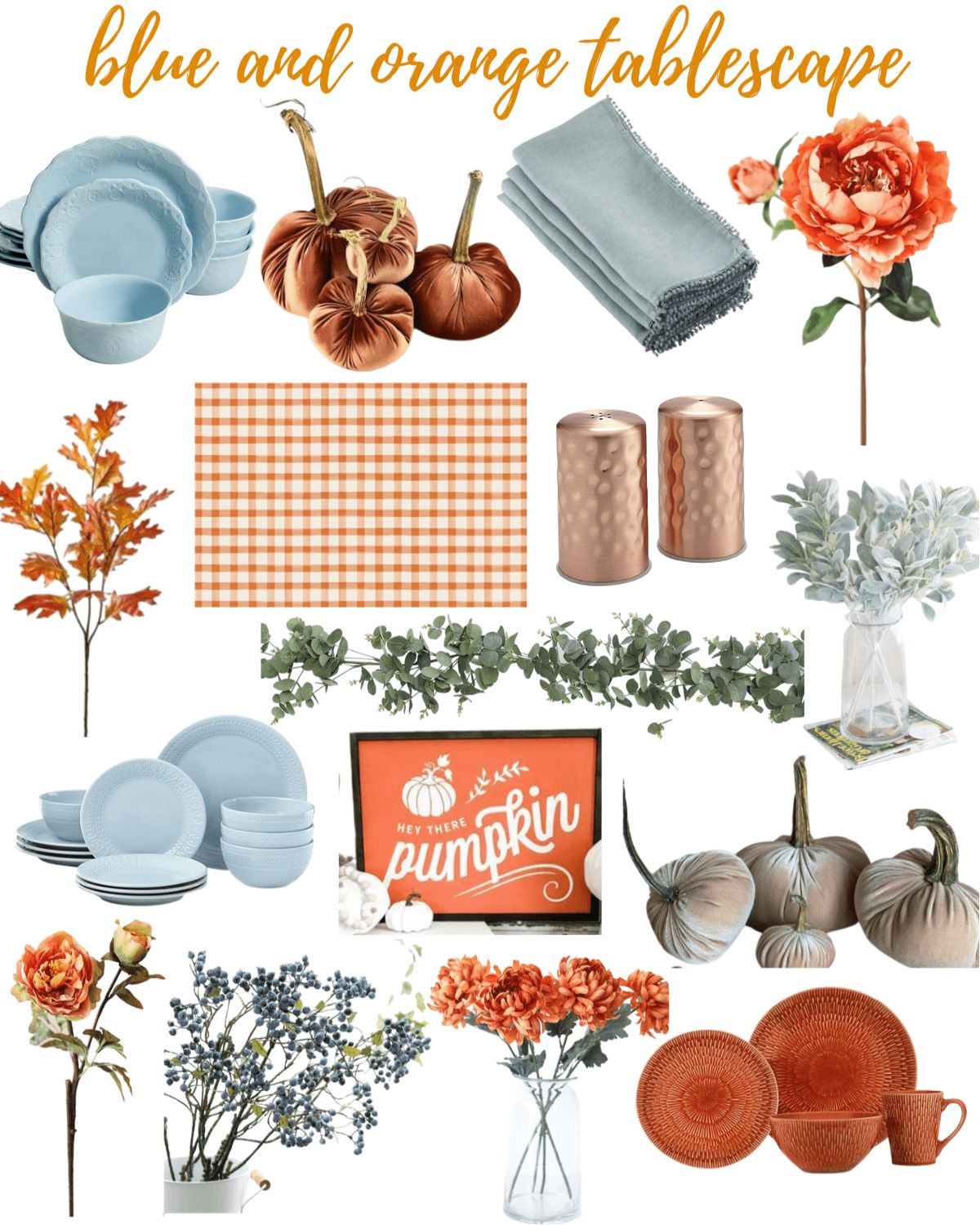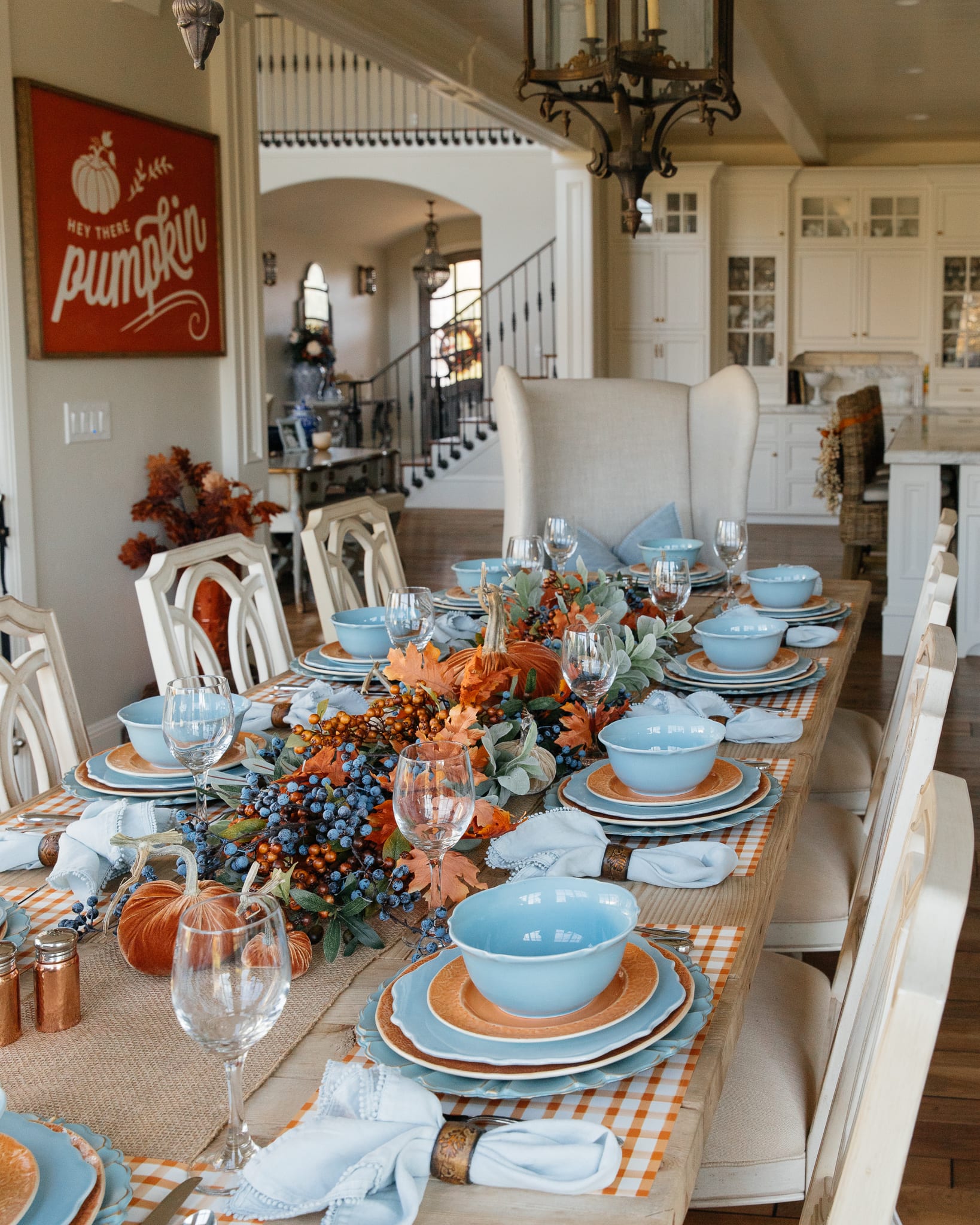 For more pumpkin tablescape inspiration you can click here to see last years pumpkin themed tablescape.
Enjoy!
XOXO,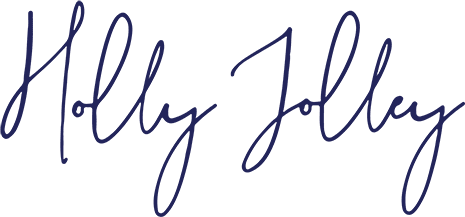 The blue dishes are from Target a few years ago and discontinued so I've linked some similar options. The orange dishes are from Anthropologie. This color is not available at the moment but will maybe come back again in the future. This is the link to this line of dishes: Old Havana Dinnerware
See last years Pumpkin Tablescape here:
Sources:

PIN THIS FOR LATER: