Fall Home Tour -Highland House 2019
Welcome to my home and thank you for joining me on this years Fall Home Tour -2019. I hope you enjoy these glimpses into my Highland, Utah home. I'll link all sources and information at the bottom of the post.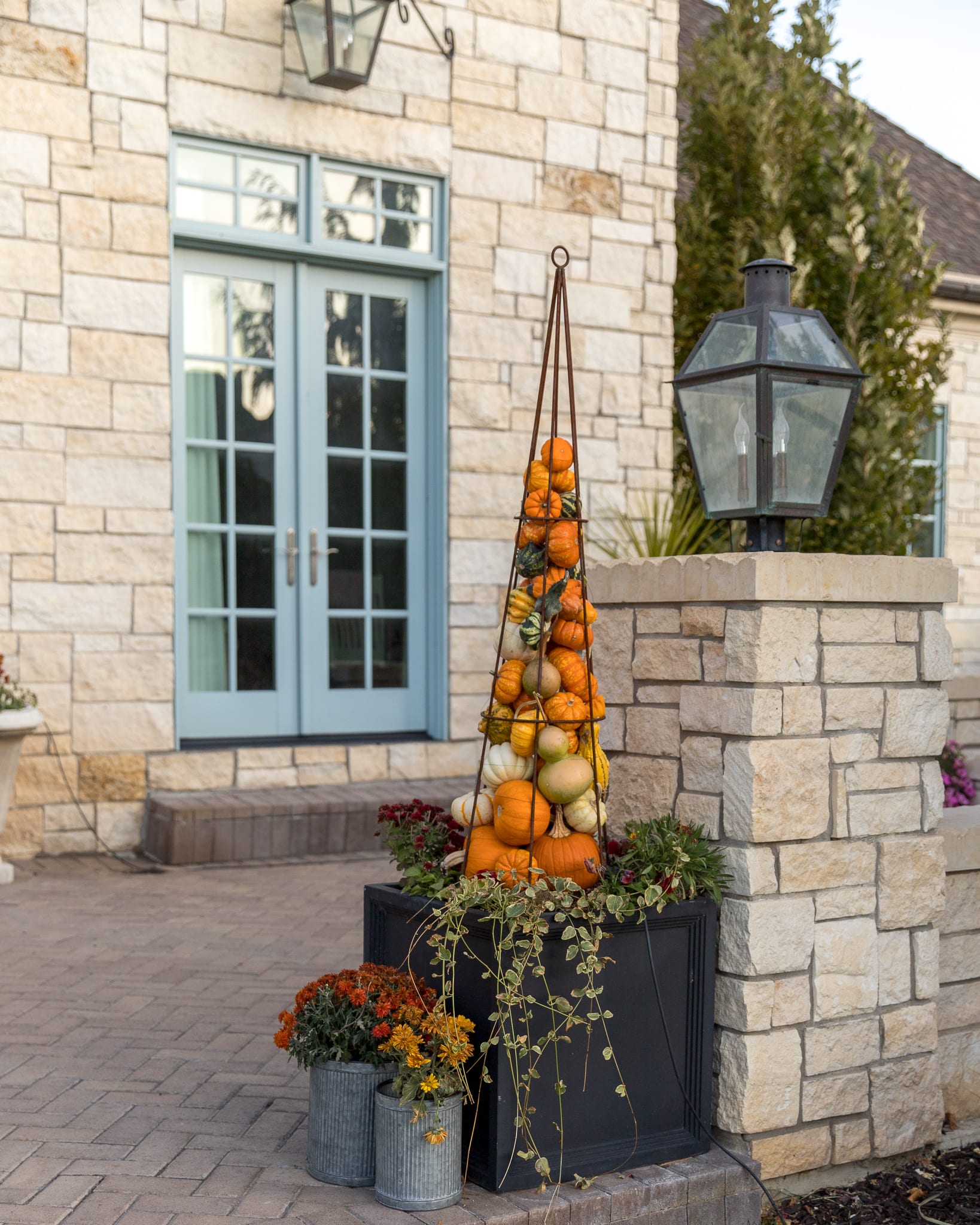 Entryway and Front Porch Decor
I loved the pumpkin tower obelisks that I created last season so I decided to use them again with a slight change. Instead of using larger pumpkins at the base, I used small pumpkins and gourds. If you'd like to see last seasons decor post click here: Fall Home Tour -Highland House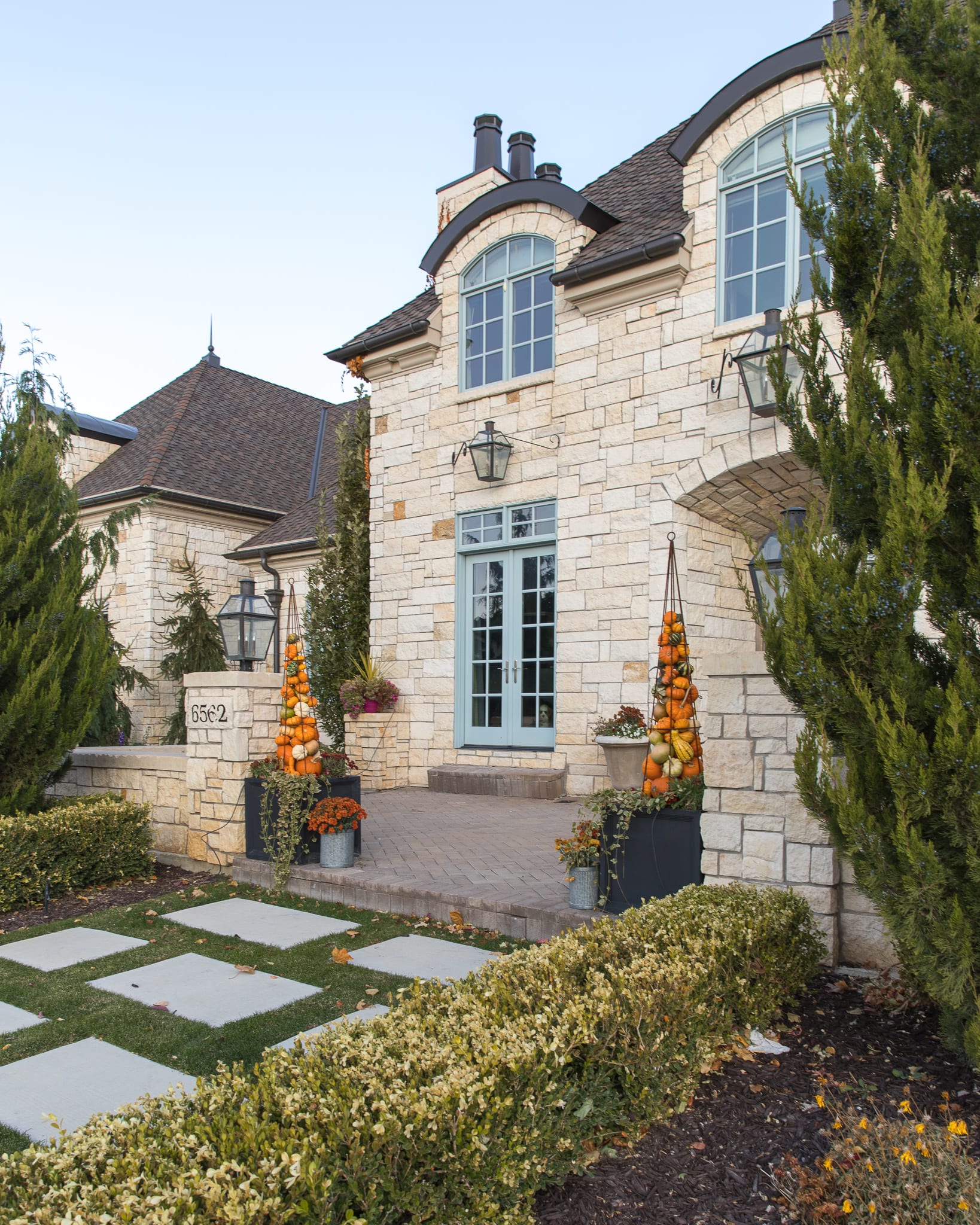 I planted mums and other perennials in the pots with the pumpkin towers and flower pots by the front door.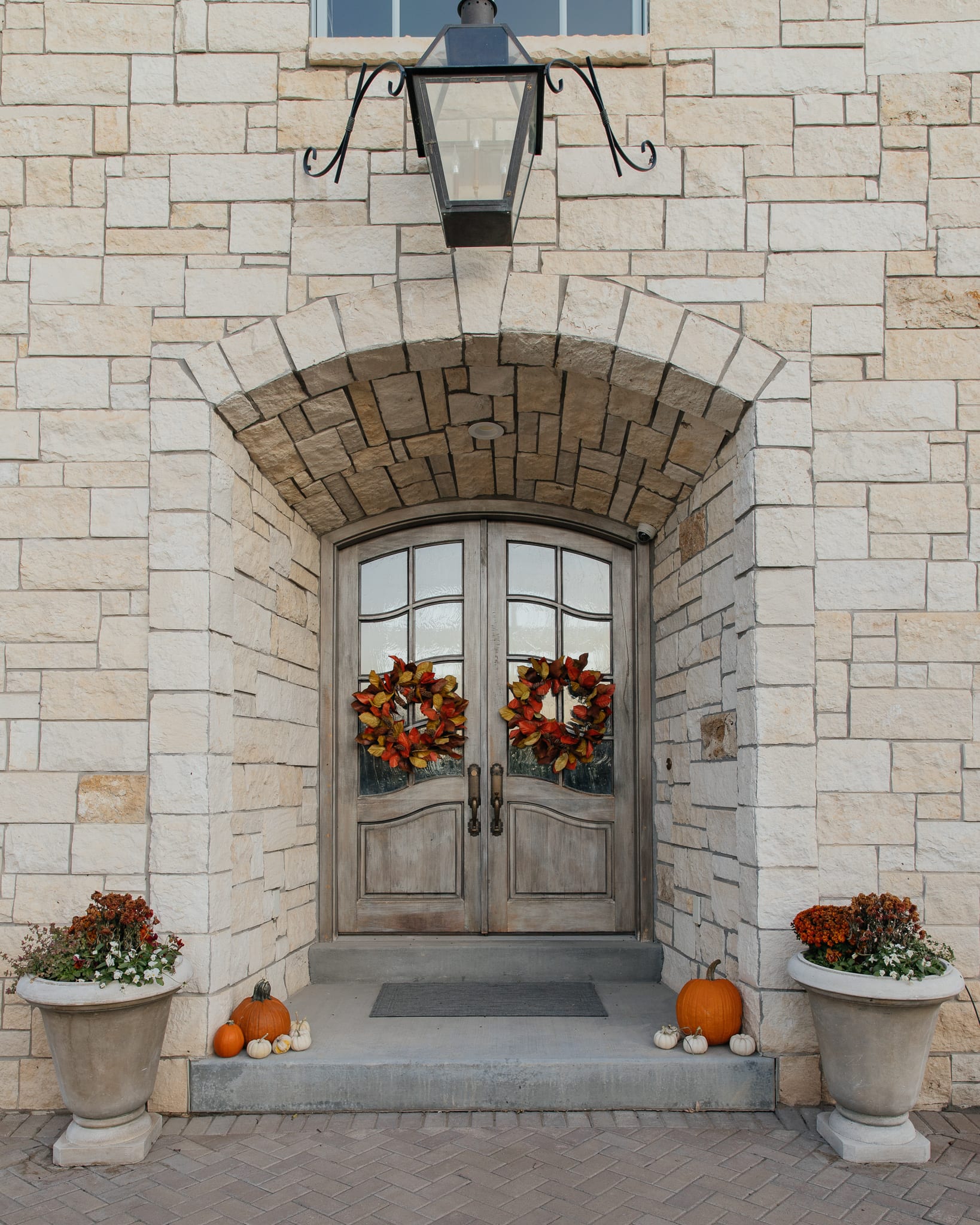 Indoor Entryway
For the entryway I created a floral arrangement in a blue and white ginger jar with dark blue, burnt orange, and ivory flowers.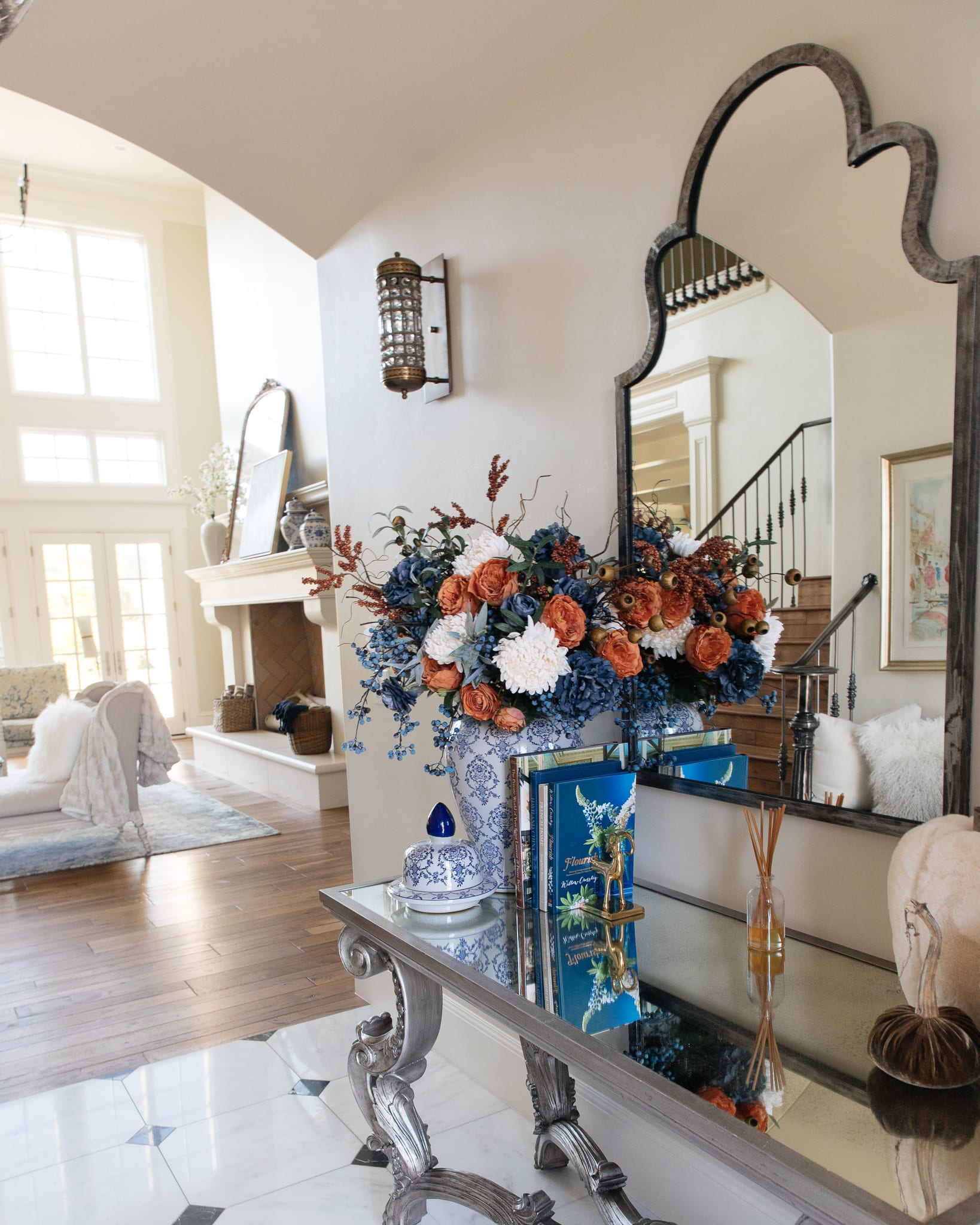 I bought these furry ivory pumpkins at Gatehouse No1 in Orem Utah. They are so soft!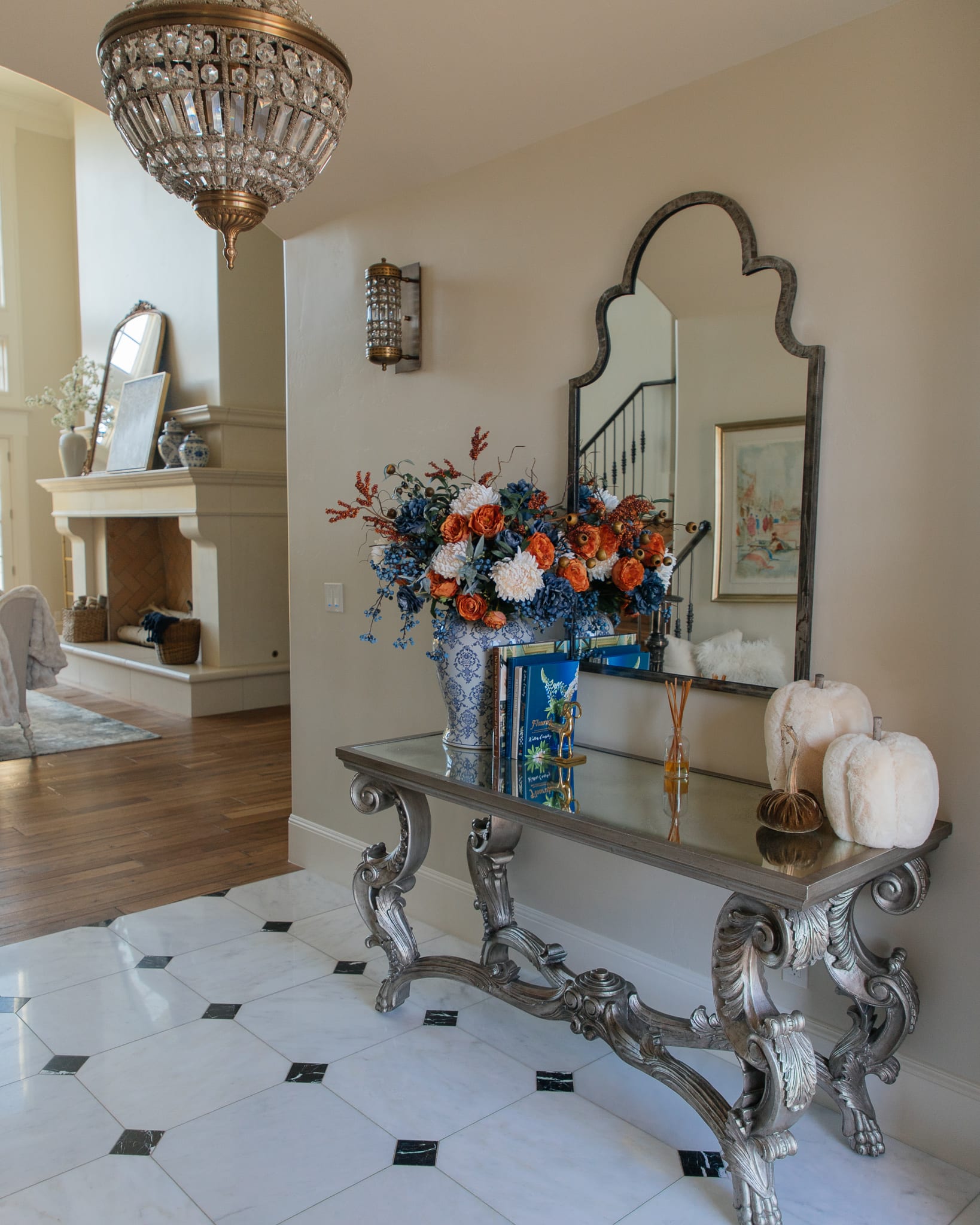 The Living Room
I created another floral arrangement in another blue and white ginger jar to correspond with the one in the entryway and put it up on the mantle over the fireplace.
I changed out the throw pillows on the sofa for these inexpensive mustard colored throw pillows and restyled the coffee table.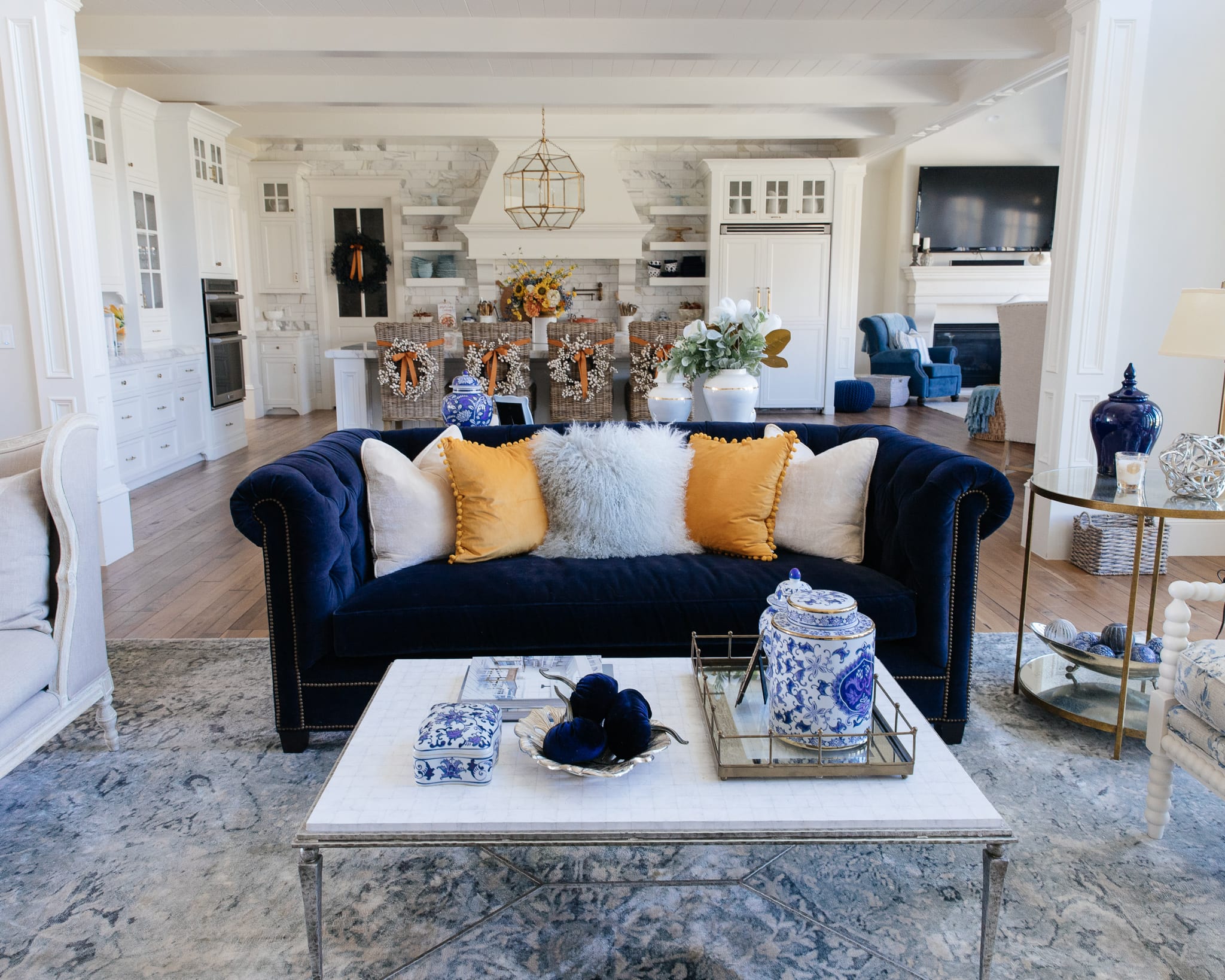 Below are two versions of utilizing these beautiful ginger jars from Lauren Haskell Designs. In the first photo I used fresh flowers. In the second I used faux. I enjoy changing things up throughout the season.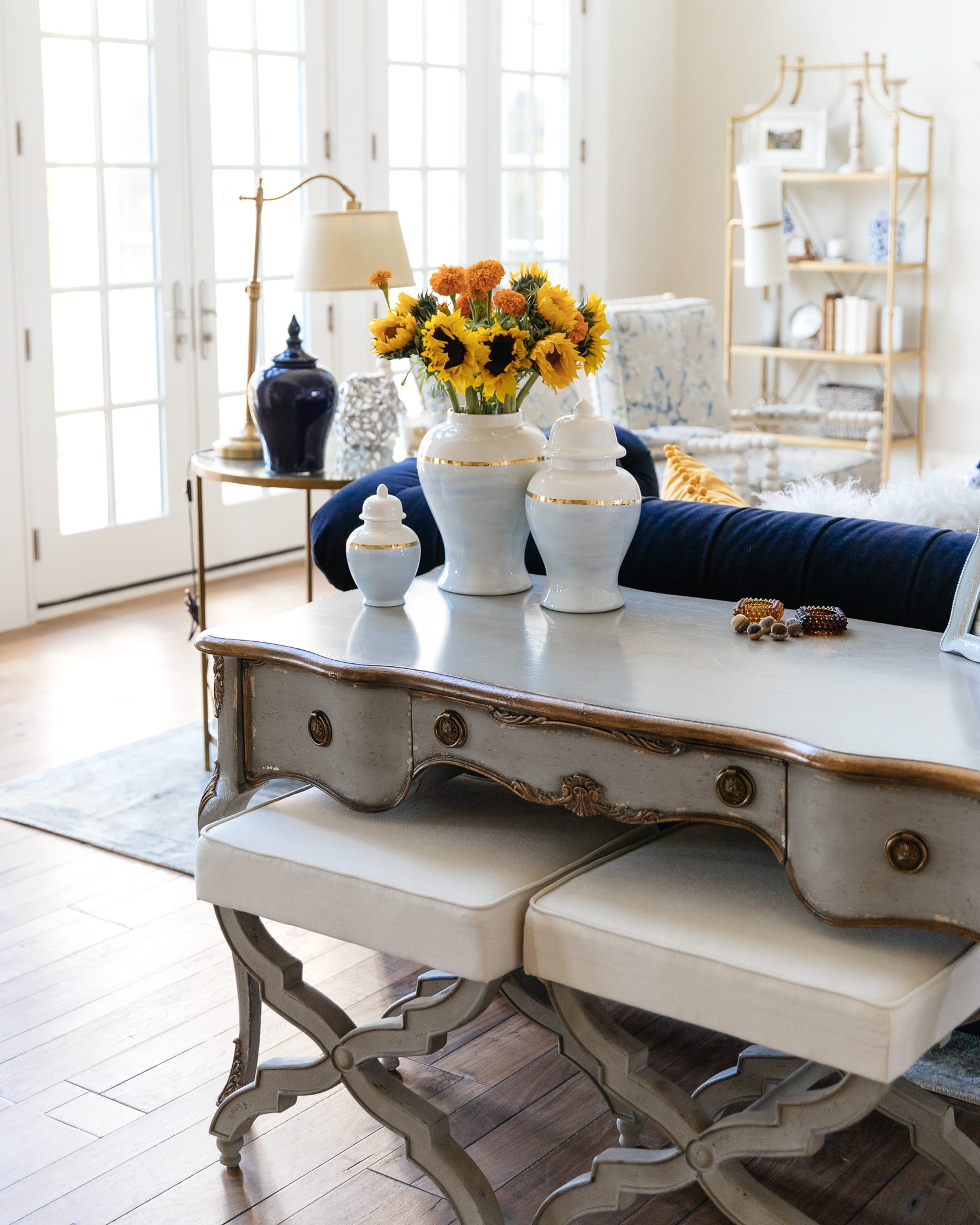 I'll link these beautiful ginger jars below!

Fall Home Tour -The Kitchen
The kitchen is the heart of the home and its so much fun adding in some fall color into this space. The open shelves make it easy to change out my dishes for every season.
First, I tied four ivory berry wreaths to the backs of the barstools with some ribbon and added a vase filled with faux flowers to the island. I like using faux flowers because I can use them over and over again especially when certain flowers are not in season.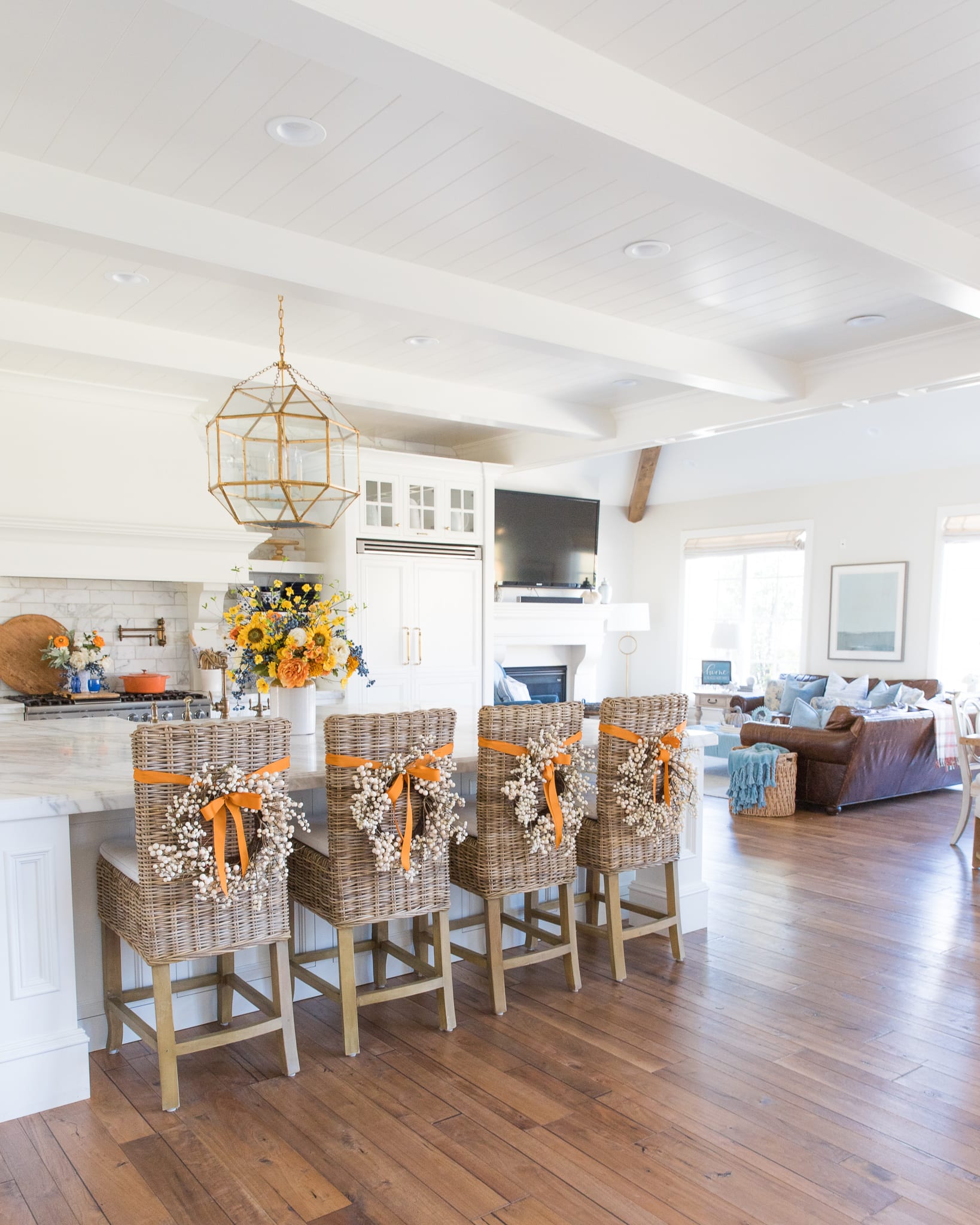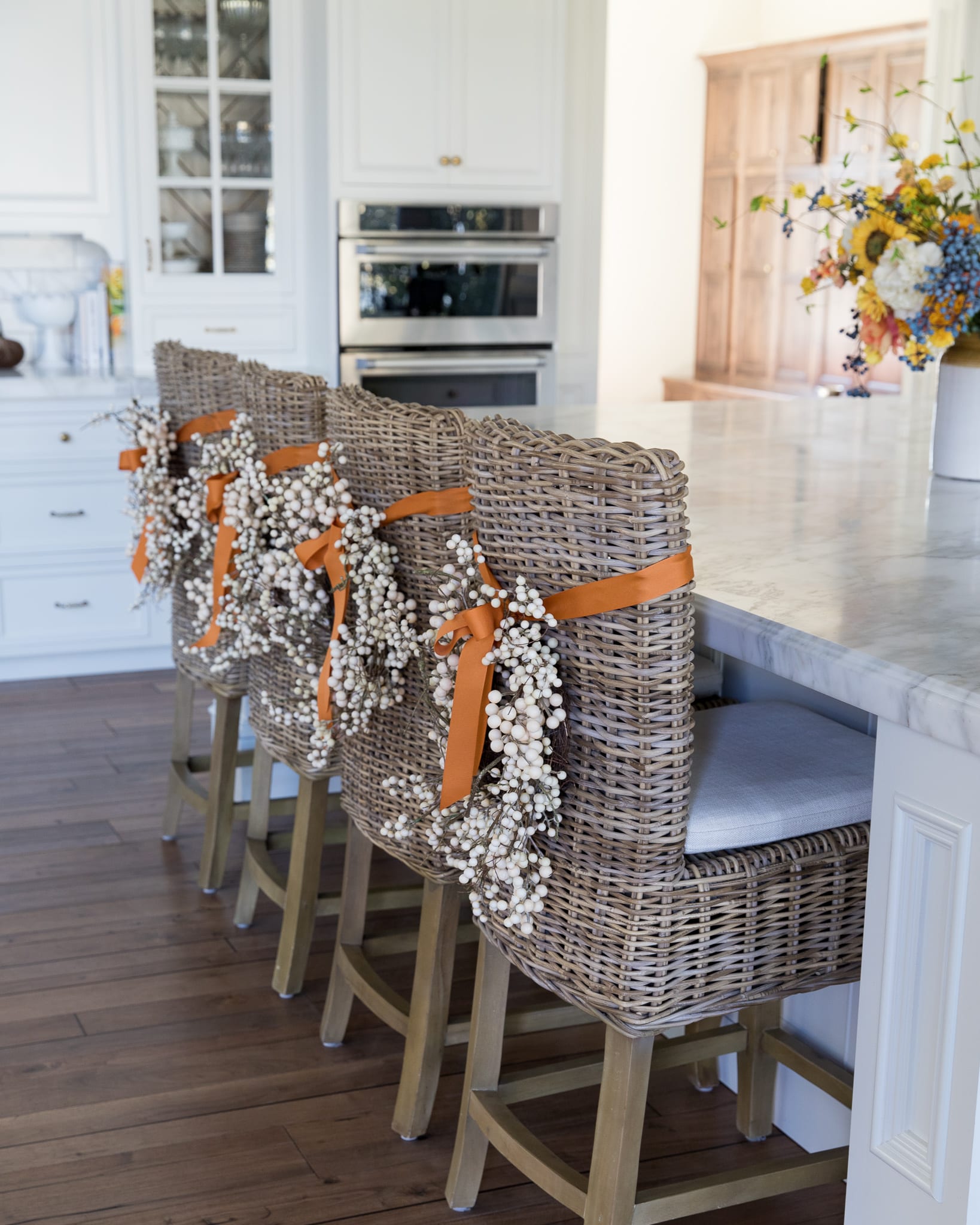 One of the reasons I like to decorate with the color blue is that it goes so well with everything. There are so many shades that you can use.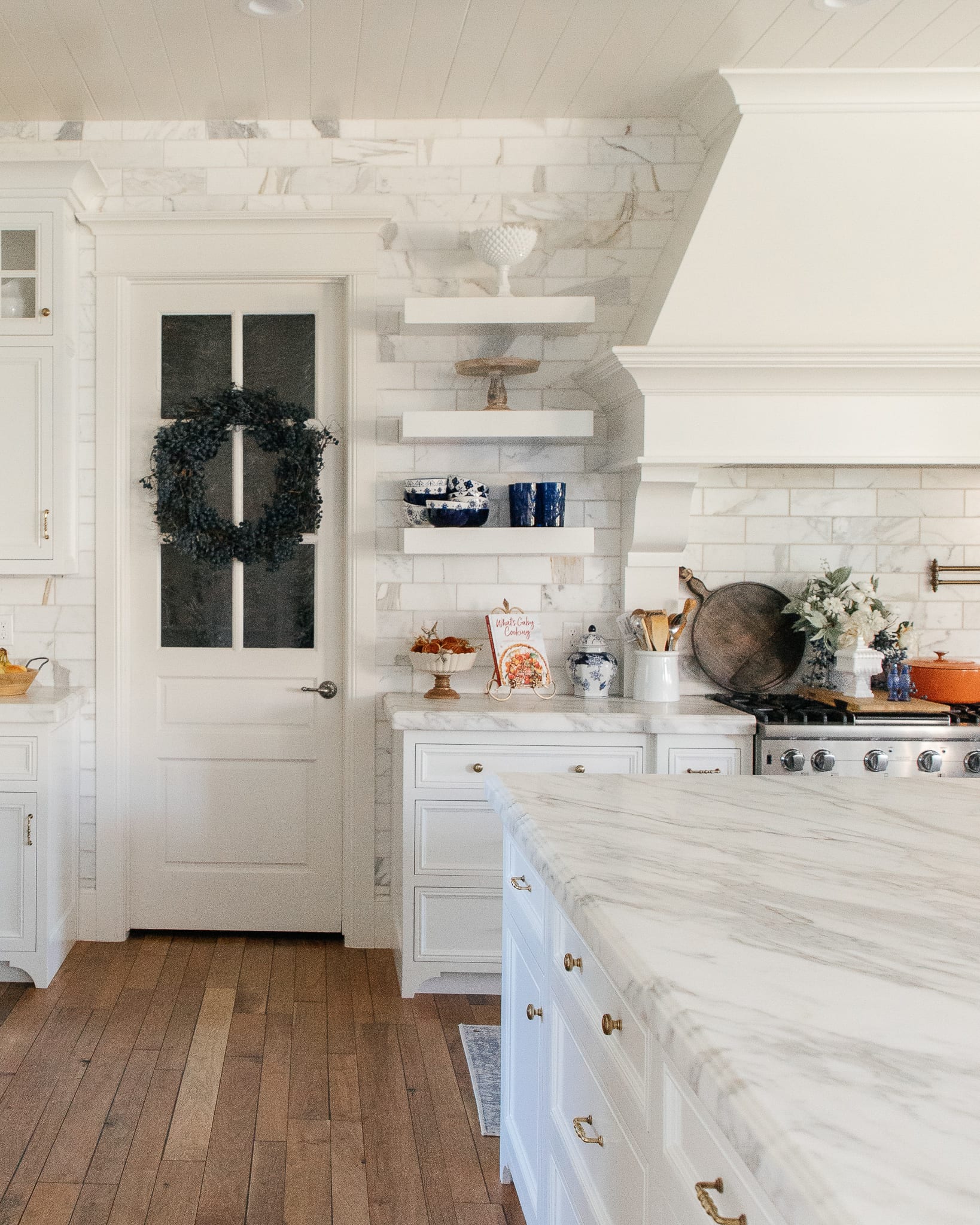 I tend to start adding things and then add more as we continue into fall. I like how I can use this darker blue as well as the lighter shade of blue with the orange.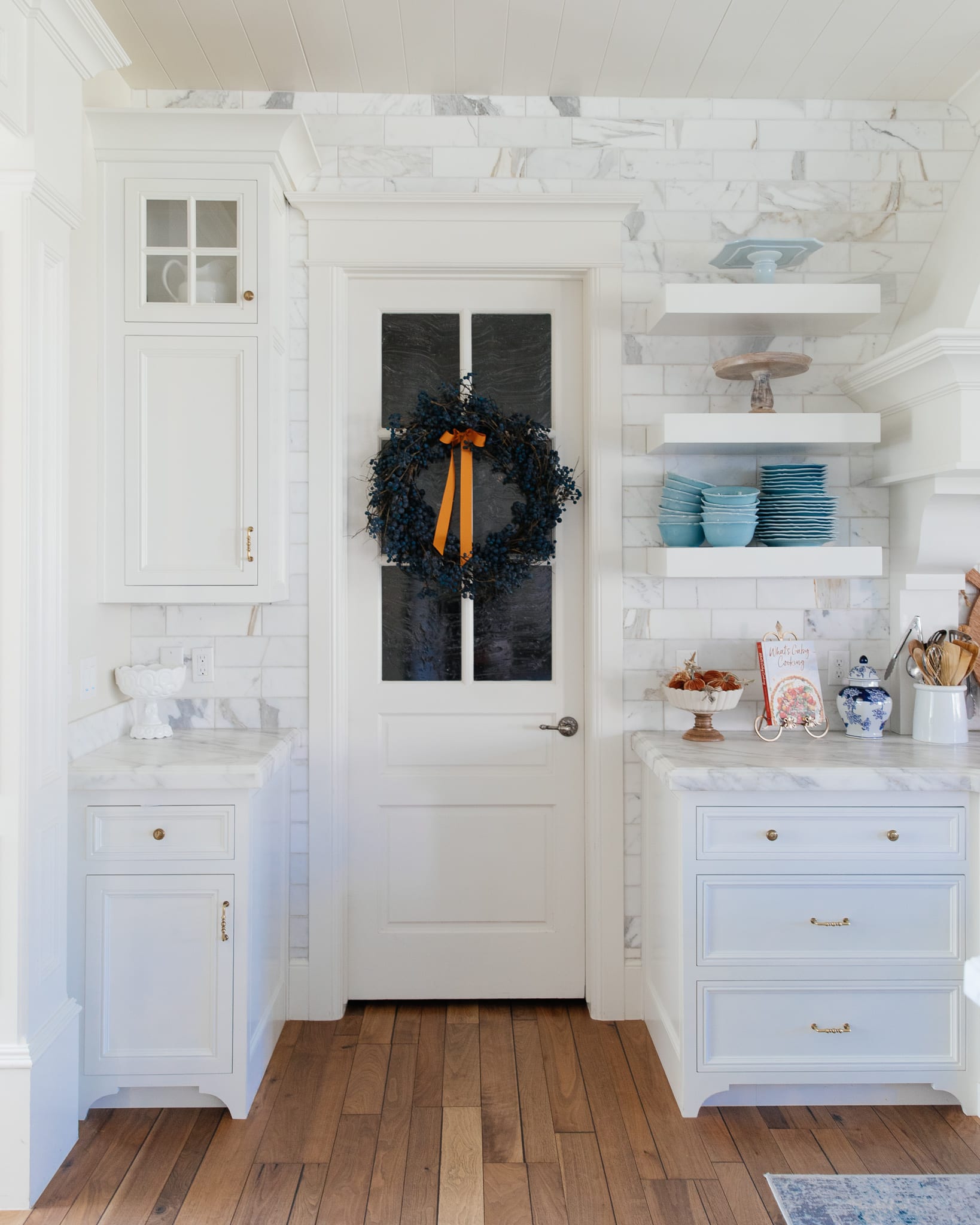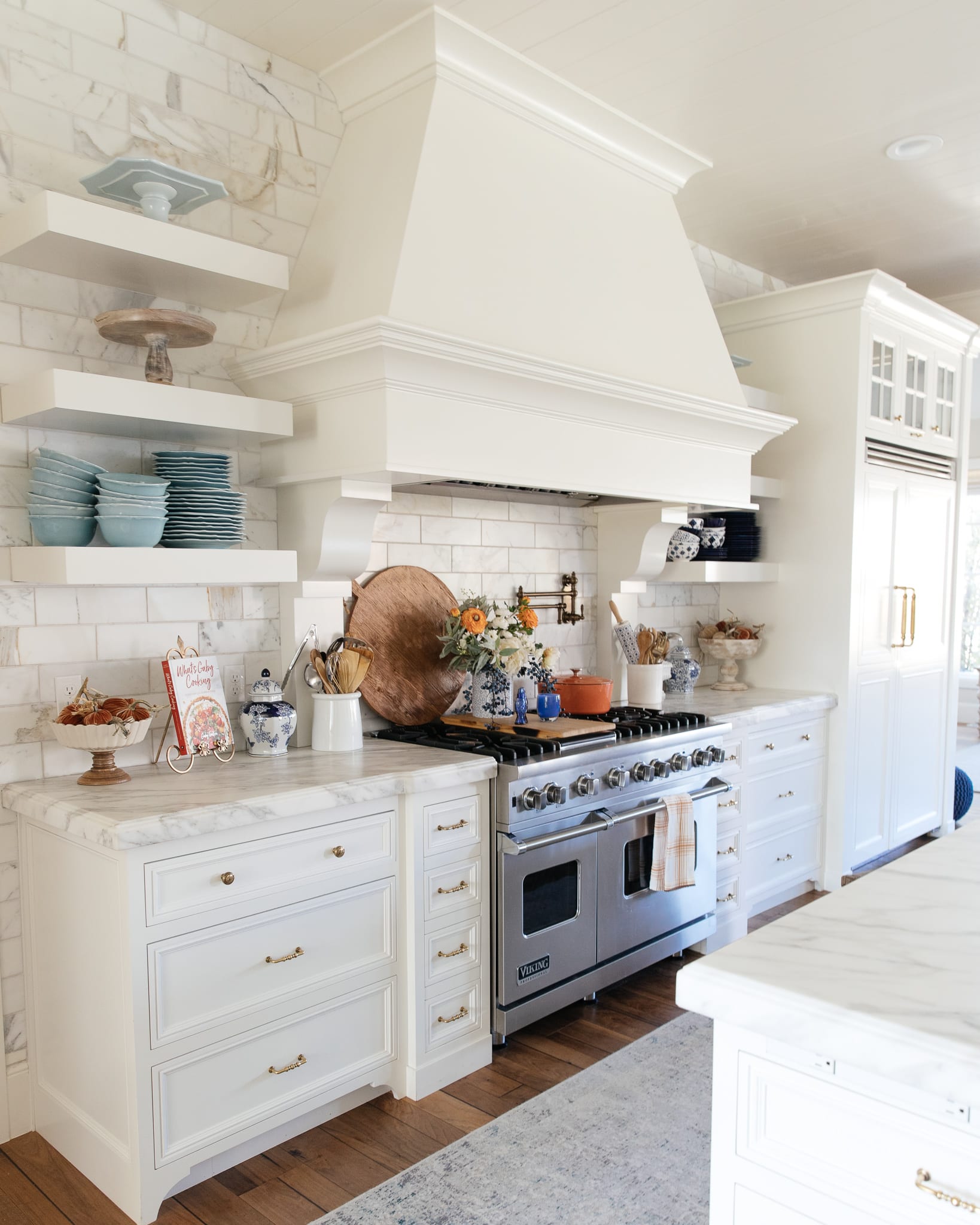 I brought in some yellows and other fall colors this year that mixed well with the orange and blue. I really liked this antique vase I found at Highland Gardens and I filled it with flowers from Afloral. (I'll share links and info below)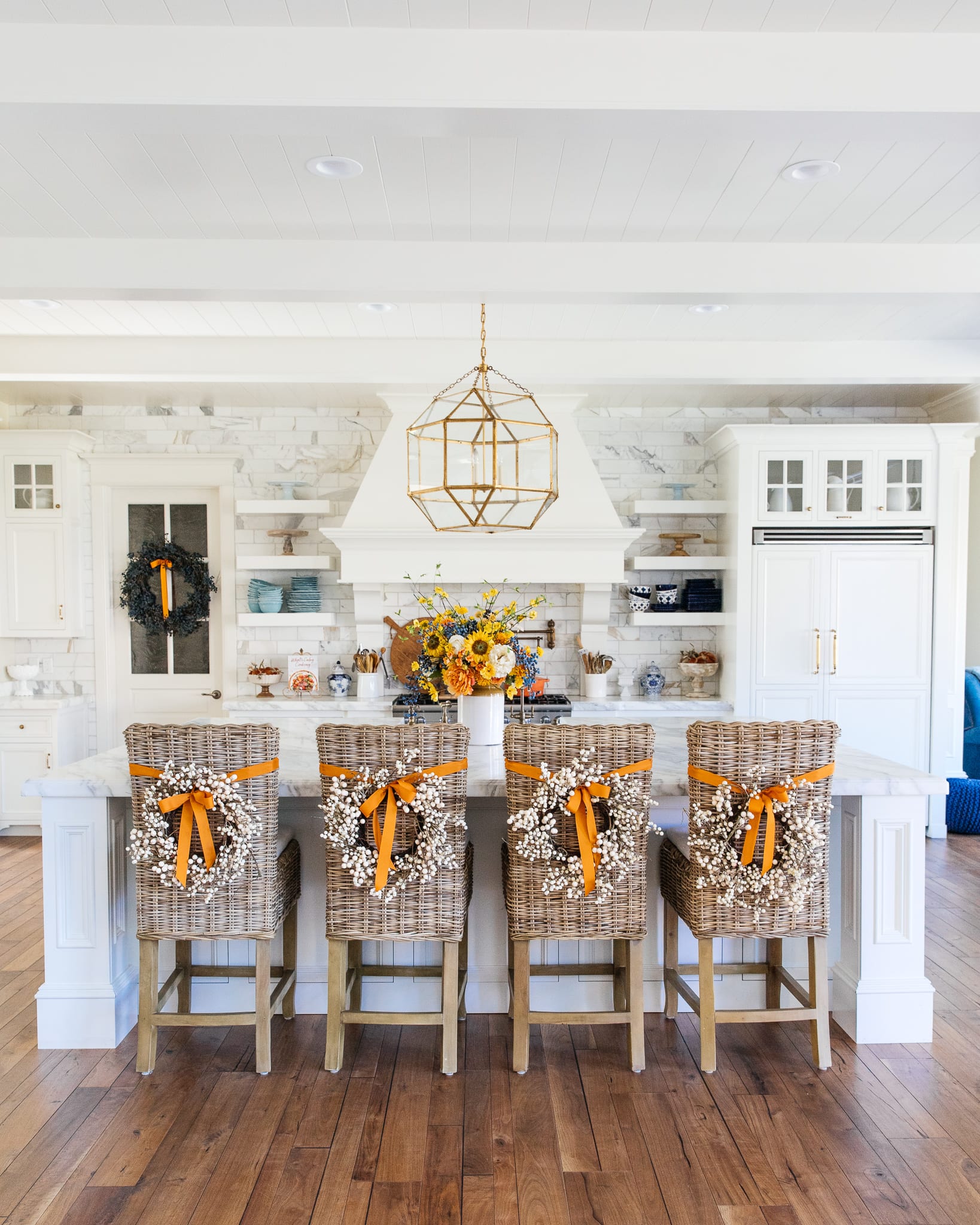 One of my favorite things to decorate for fall with is velvet pumpkins. I just love them! I have them in many colors and all around the house. One of my favorite things to use them in are my tablescapes and they also look great in a bowl or compote.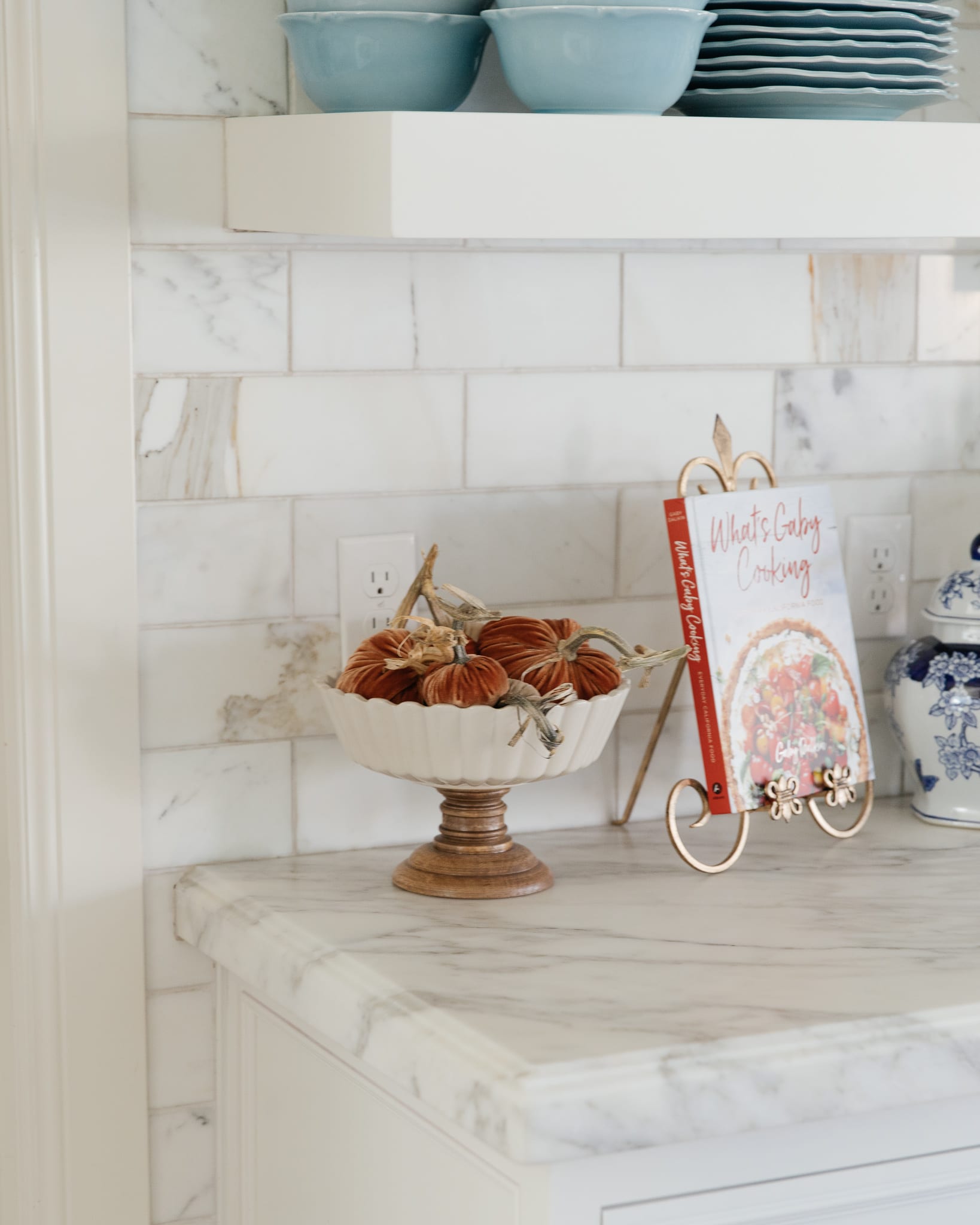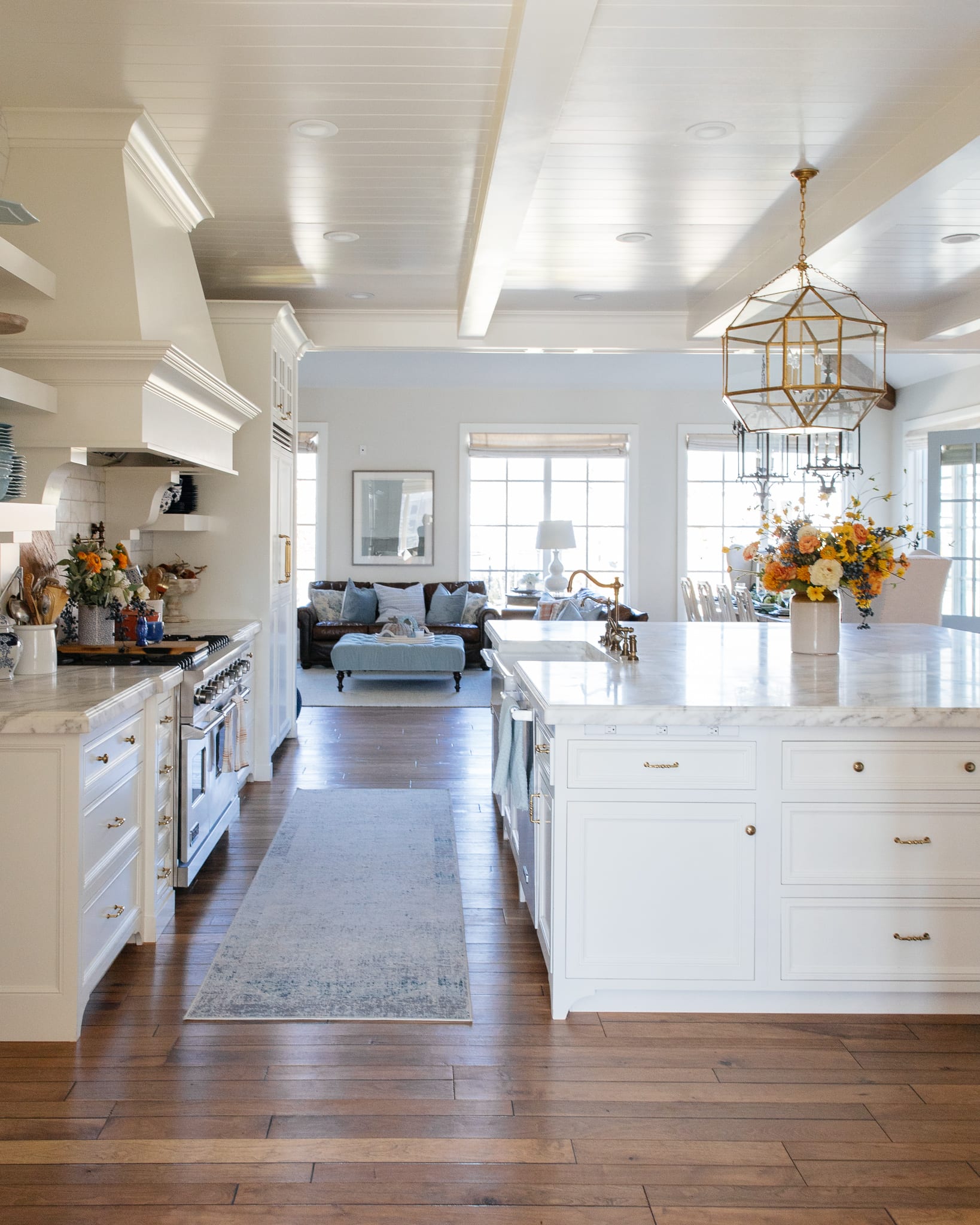 Pumpkin Tablescape
If you've followed me for awhile, you'll know how much I love a beautifully set table. Every fall I like to make at least one pumpkin tablescape. I really loved last years pumpkin tablescape and wasn't sure I could top it. I had planned to reverse the dishes from last year and add some other things that would make it different but when I was putting it all together, I had a thought to add the blue plates in with the orange. I think I like this one as much as I did last years! What do you think?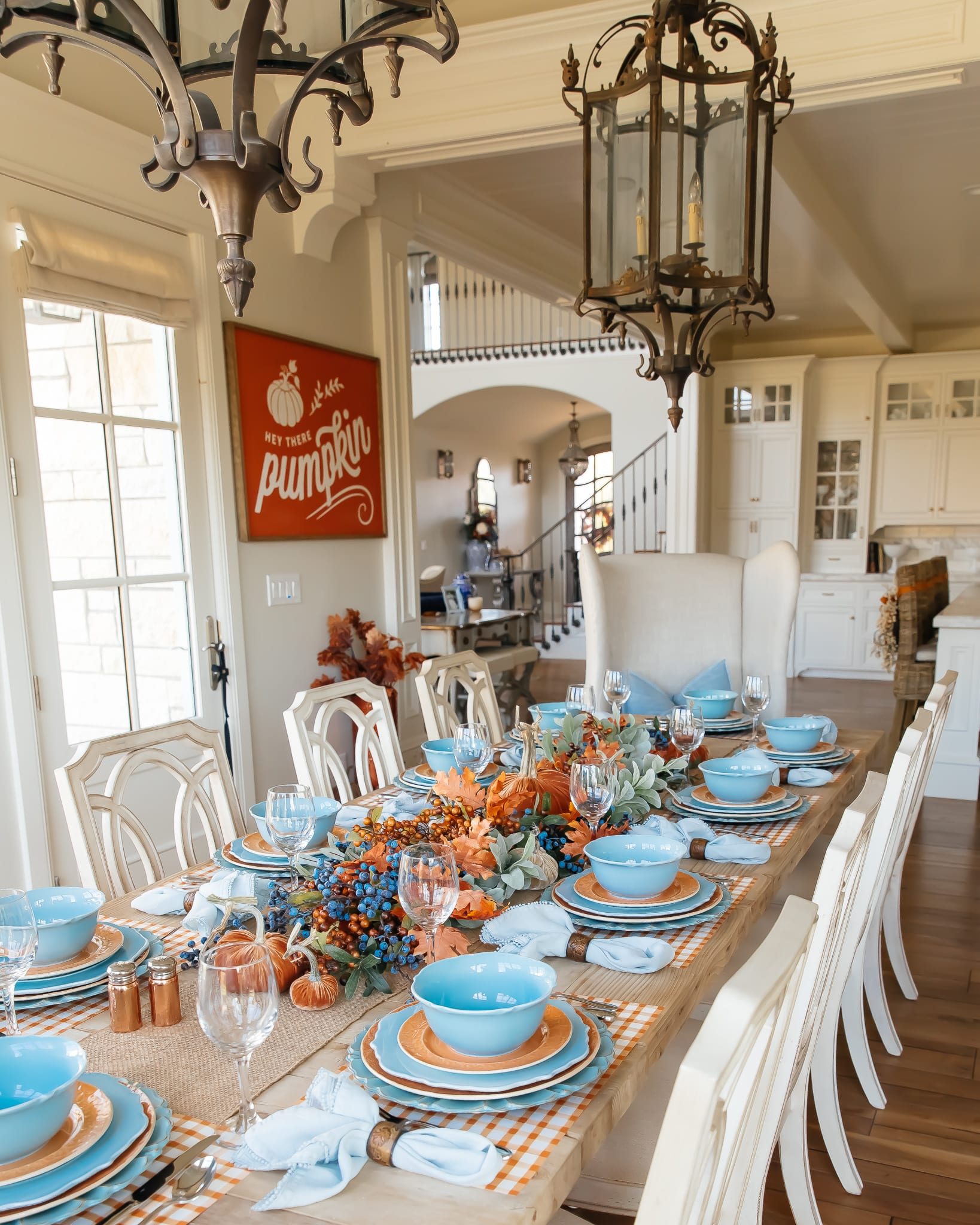 To see last years pumpkin tablescape click here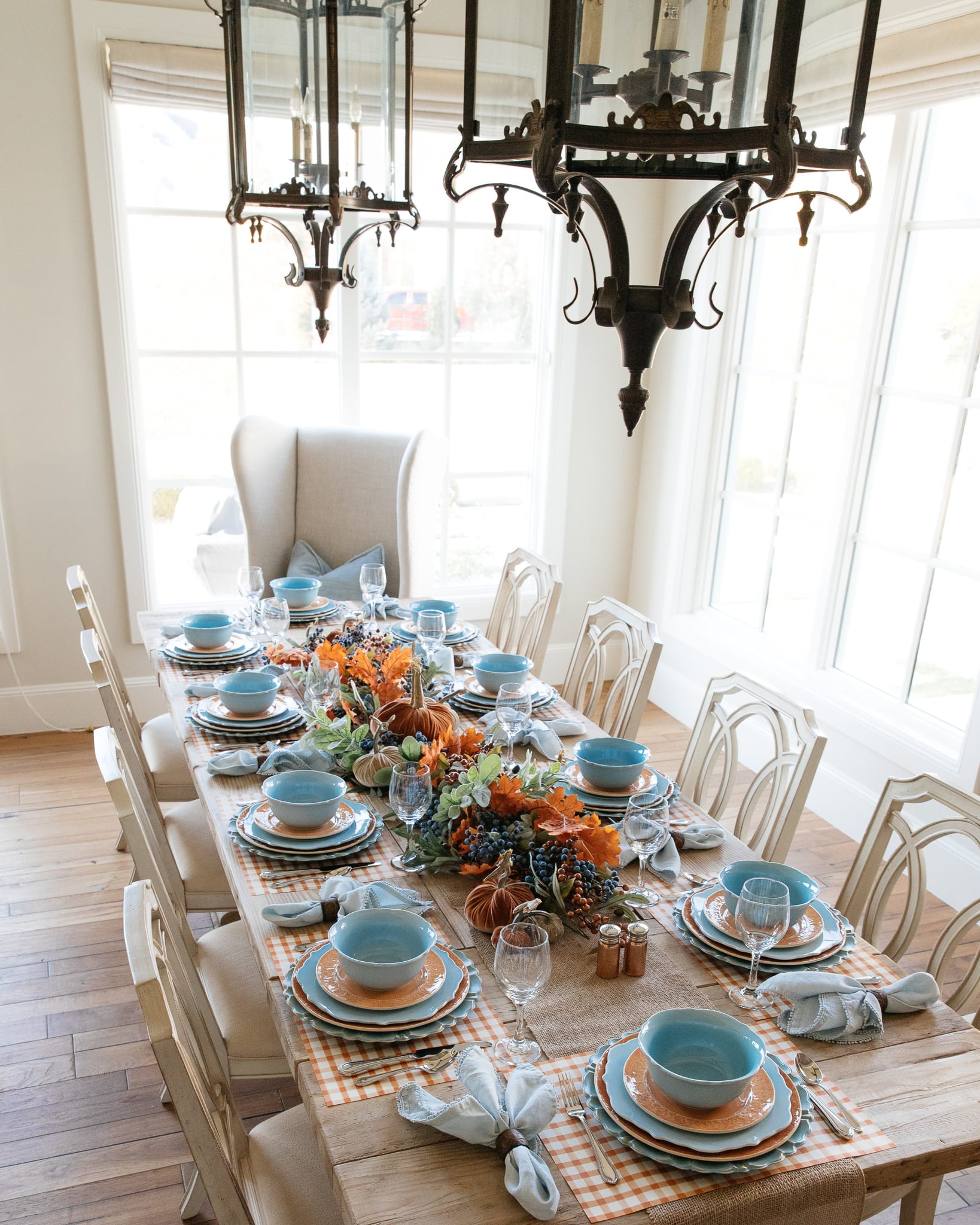 I had these fun paper placemats that I bought last year and they were a perfect match for the orange colored dishes.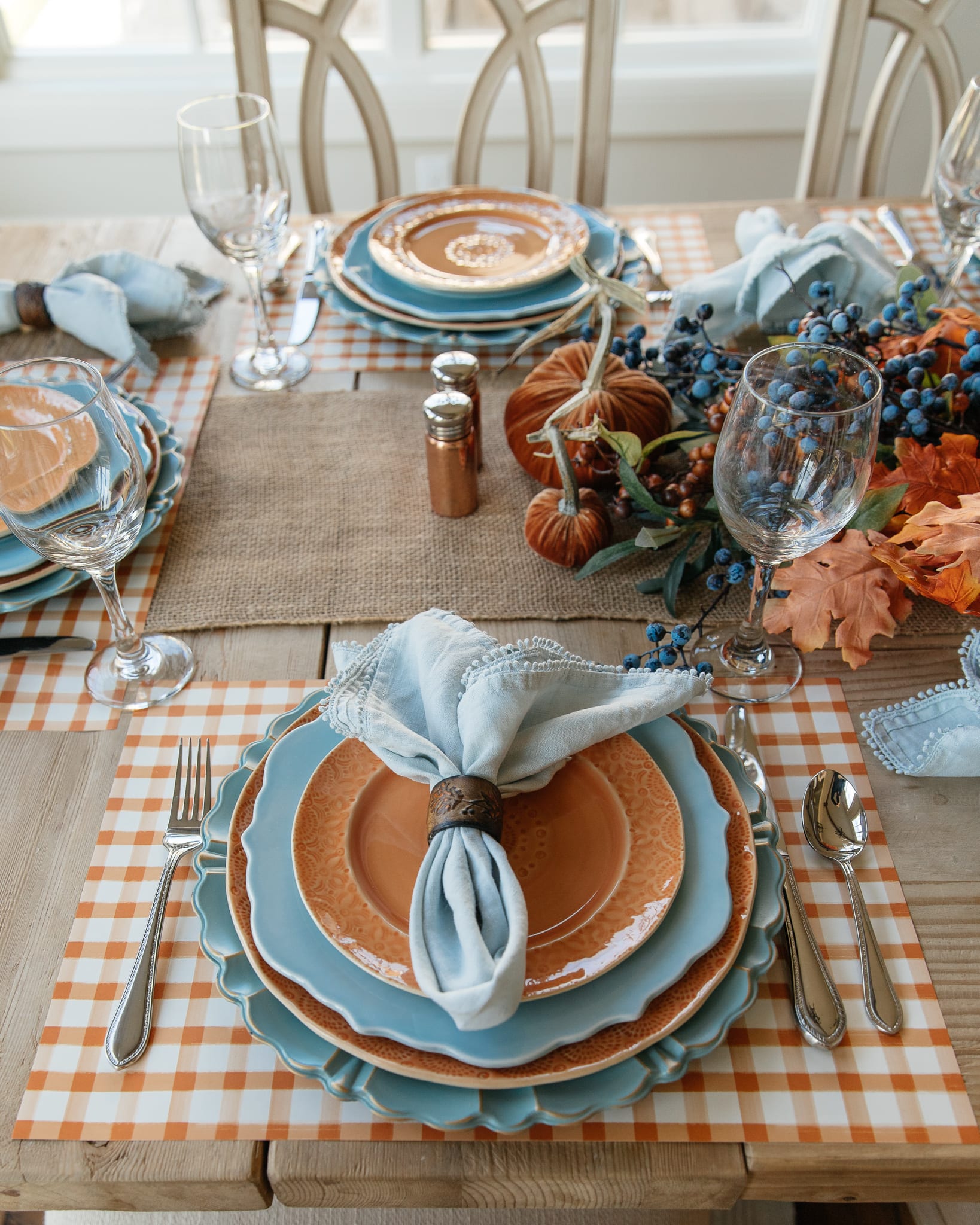 You can see the dishes up close here and some of my favorite velvet pumpkins!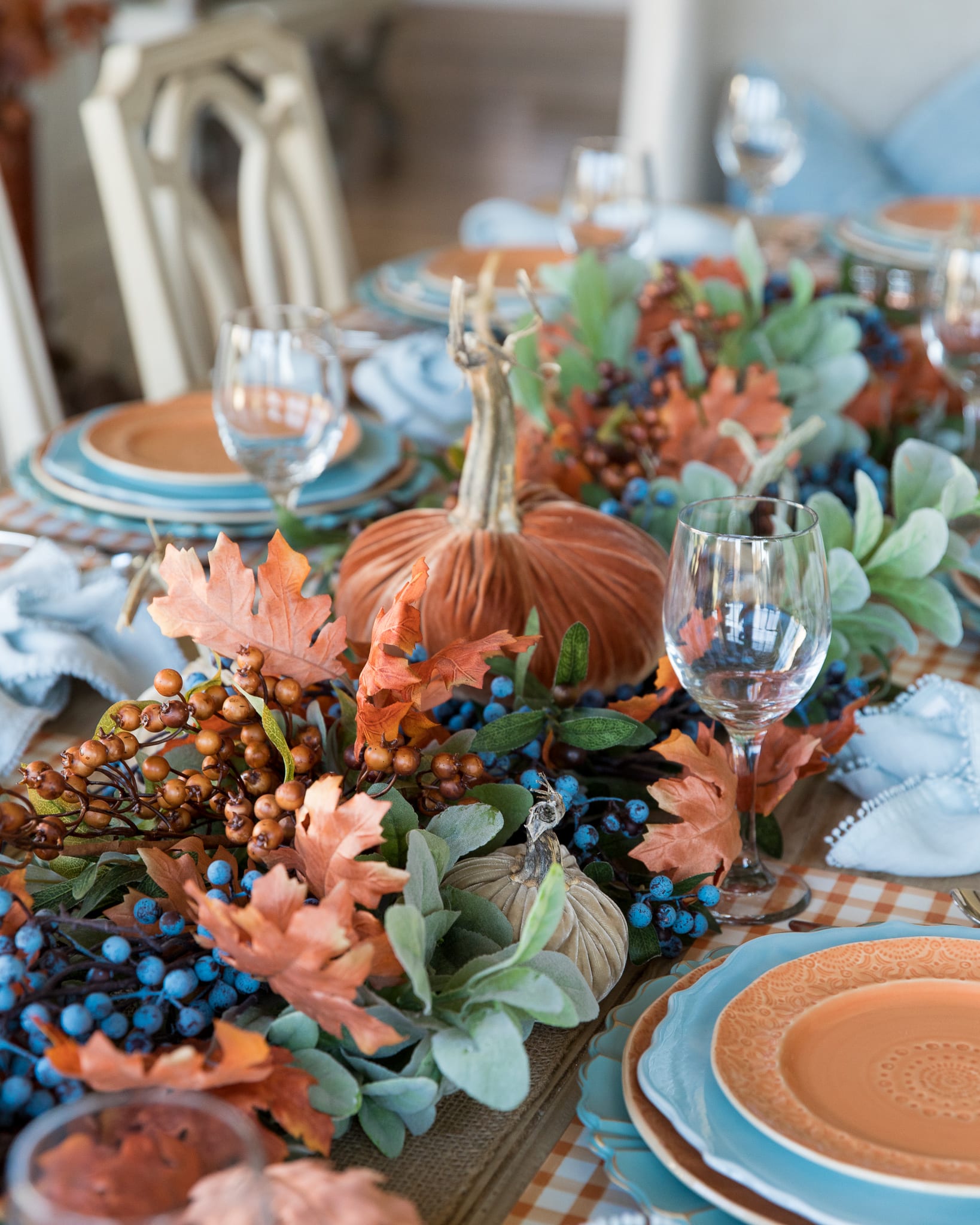 For the garland centerpiece, I started with two base green garlands. I layered fall colored leaf stems, berry picks and sage greenery picks. Last I added in the blueberry picks and velvet pumpkins.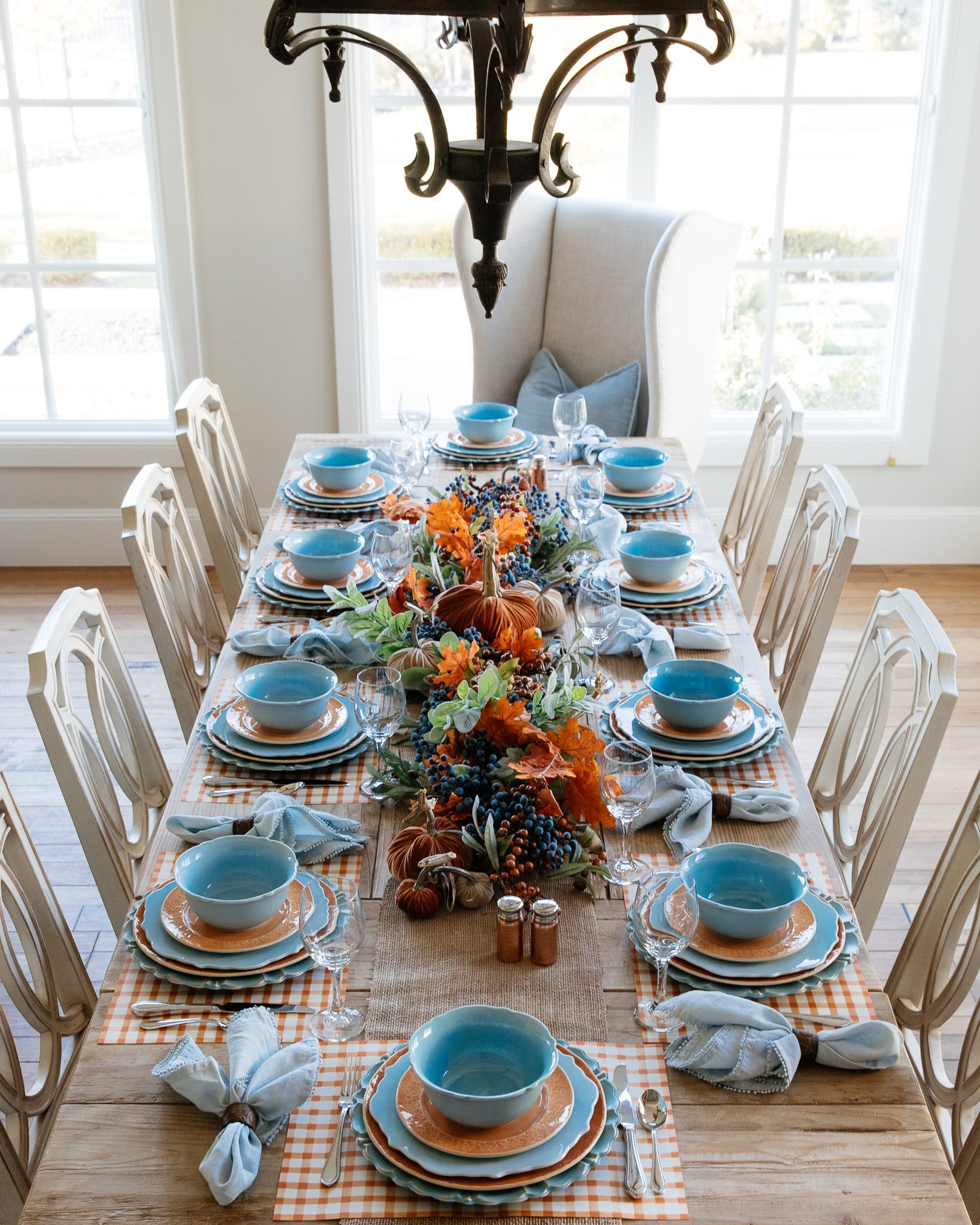 I also did a version without the bowls on top. Which do you like best? I like the bowls because it adds some height to the place-setting and make the blue the focus but I also like it without and the orange plates get to be the star. It is actually prettier in person. I don't think my photos did it justice!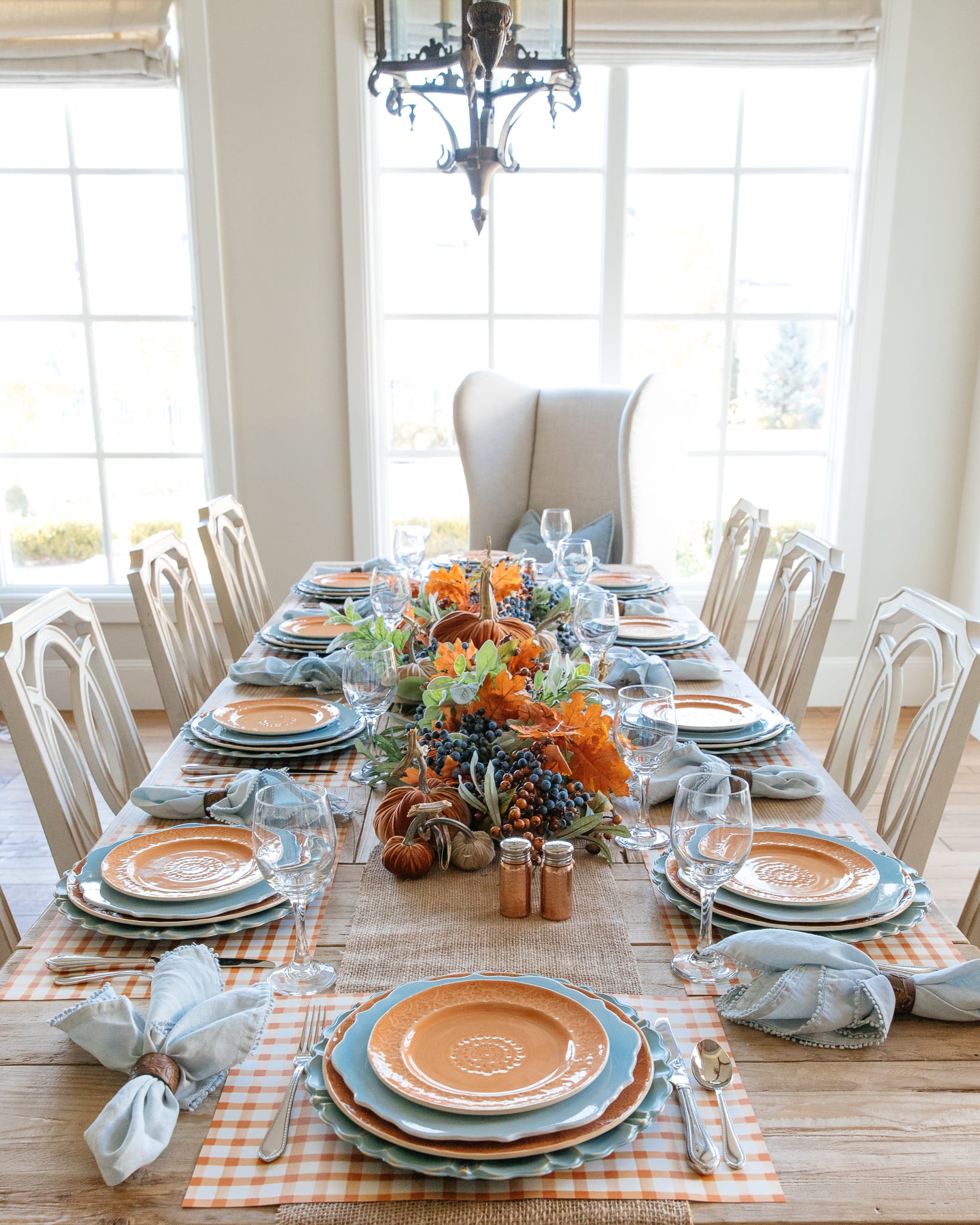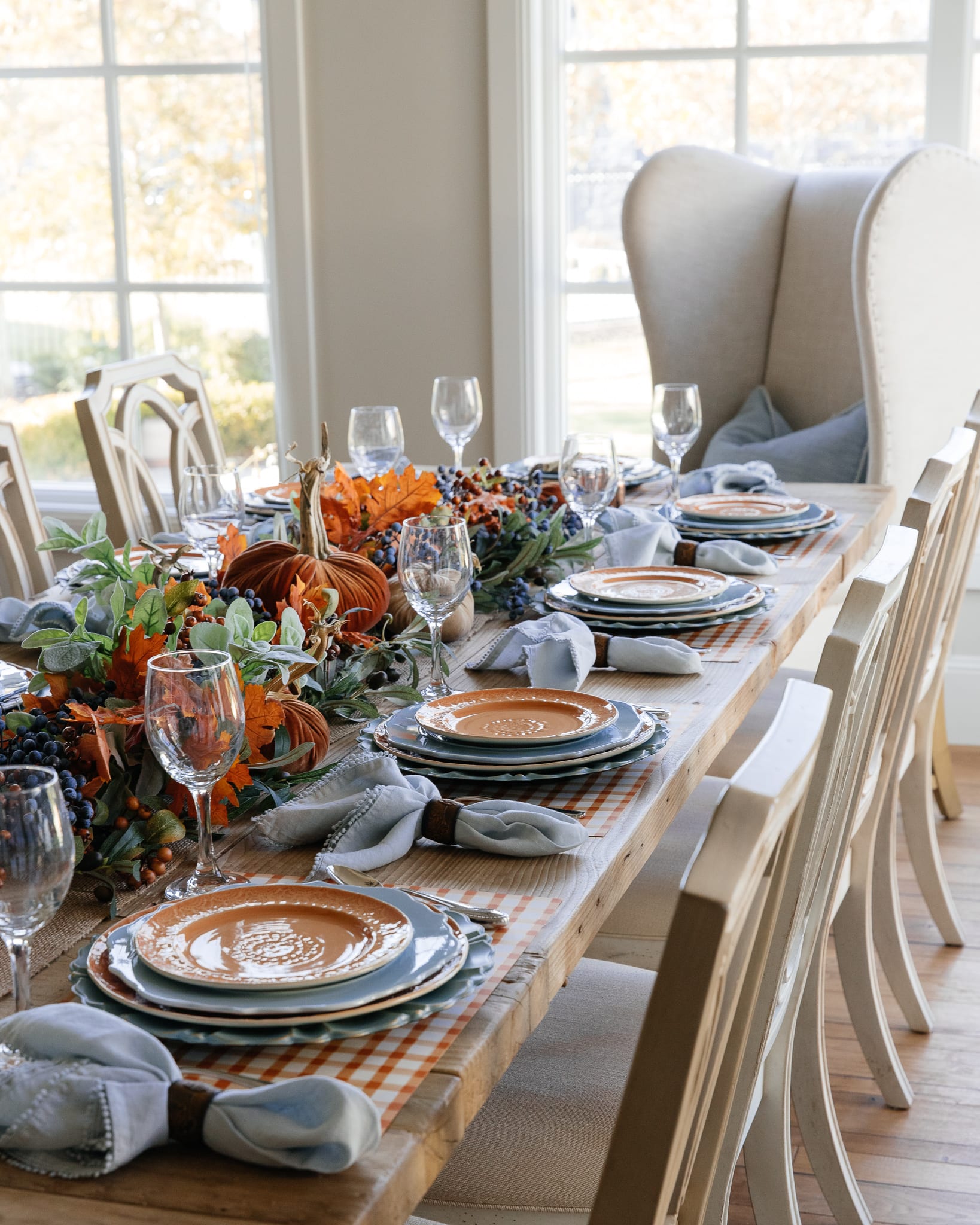 One of my favorite online Etsy shops is Teal Barn Signs. I love all the unique designs, colors, and sizes they offer. The inspiration behind this tablescape came from this pumpkin sign they sent me. (linked in the slider bar under sources as the bottom of the post)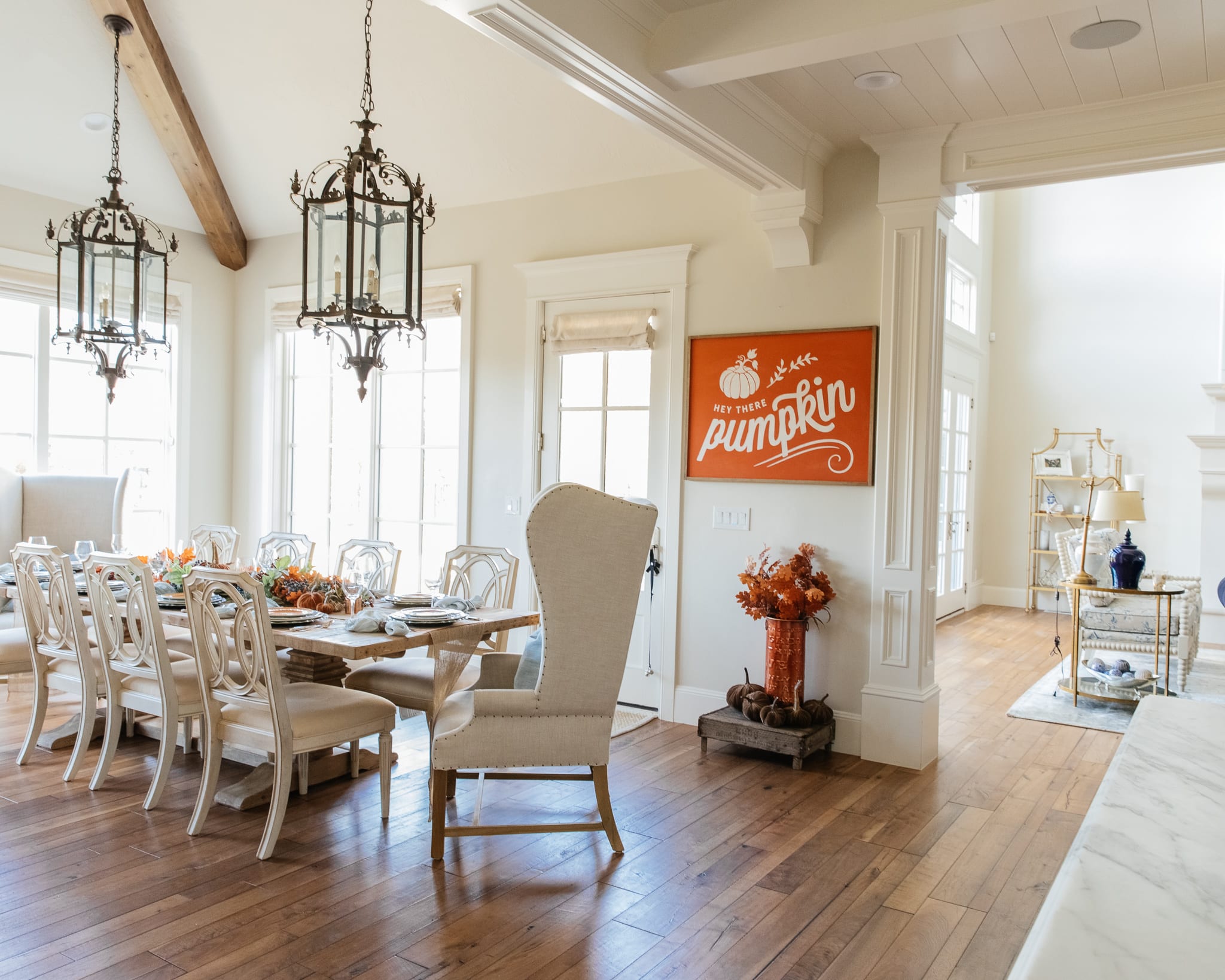 Under the sign I added more velvet pumpkins and a metal can filled with faux leaf stems on top of an old crate.
Master Bedroom
I didn't do a lot to the master bedroom except I added another blanket for warmth since the nights are getting colder. I also bought new sheets that were sea salt colored. I changed out the throw blankets and end blanket. I find rotating these type of things can give your room the feel of a mini makeover without breaking the bank.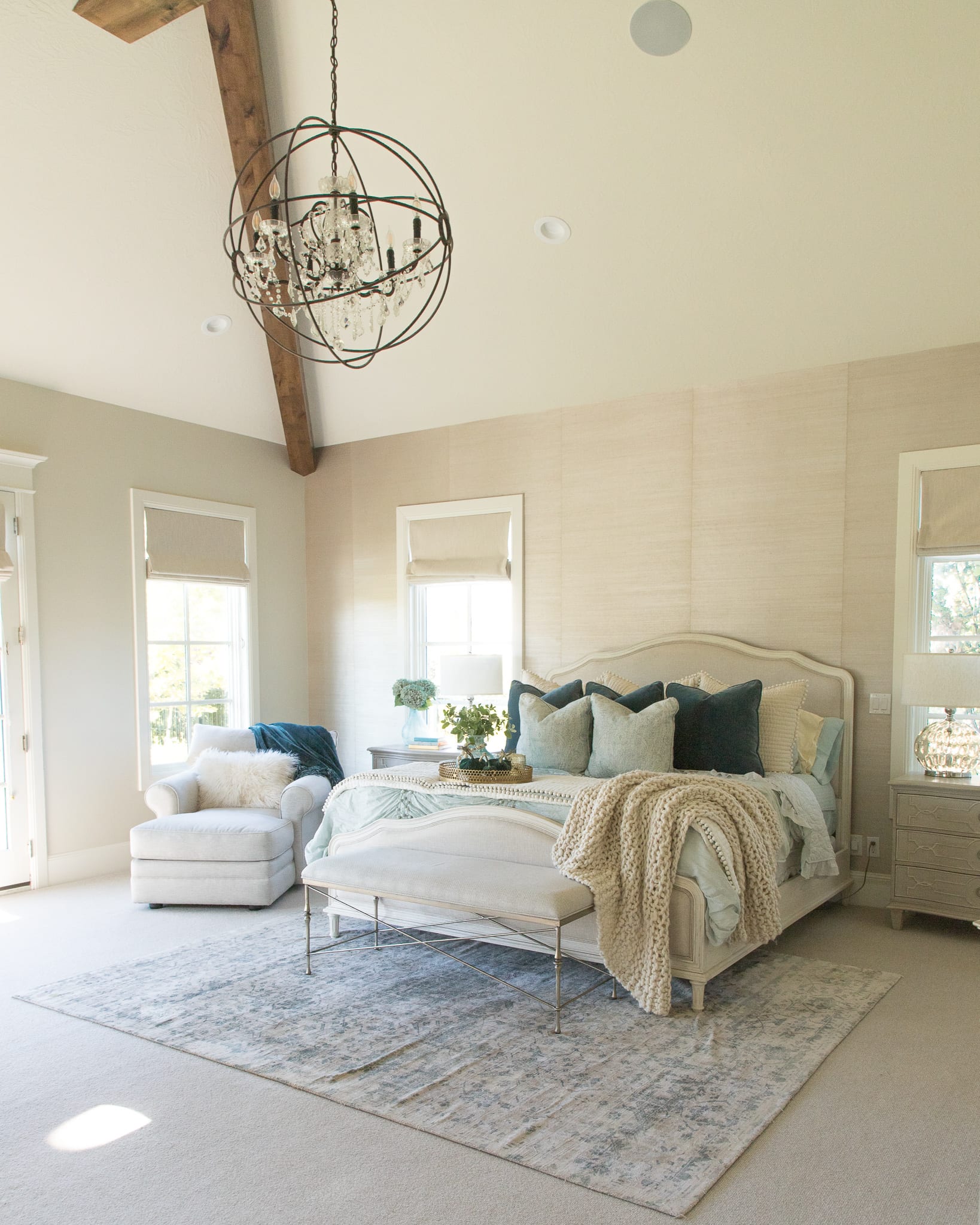 Of course, I added velvet pumpkins and restyled the gold tray with them and a new sea salt glass vase and some green sage.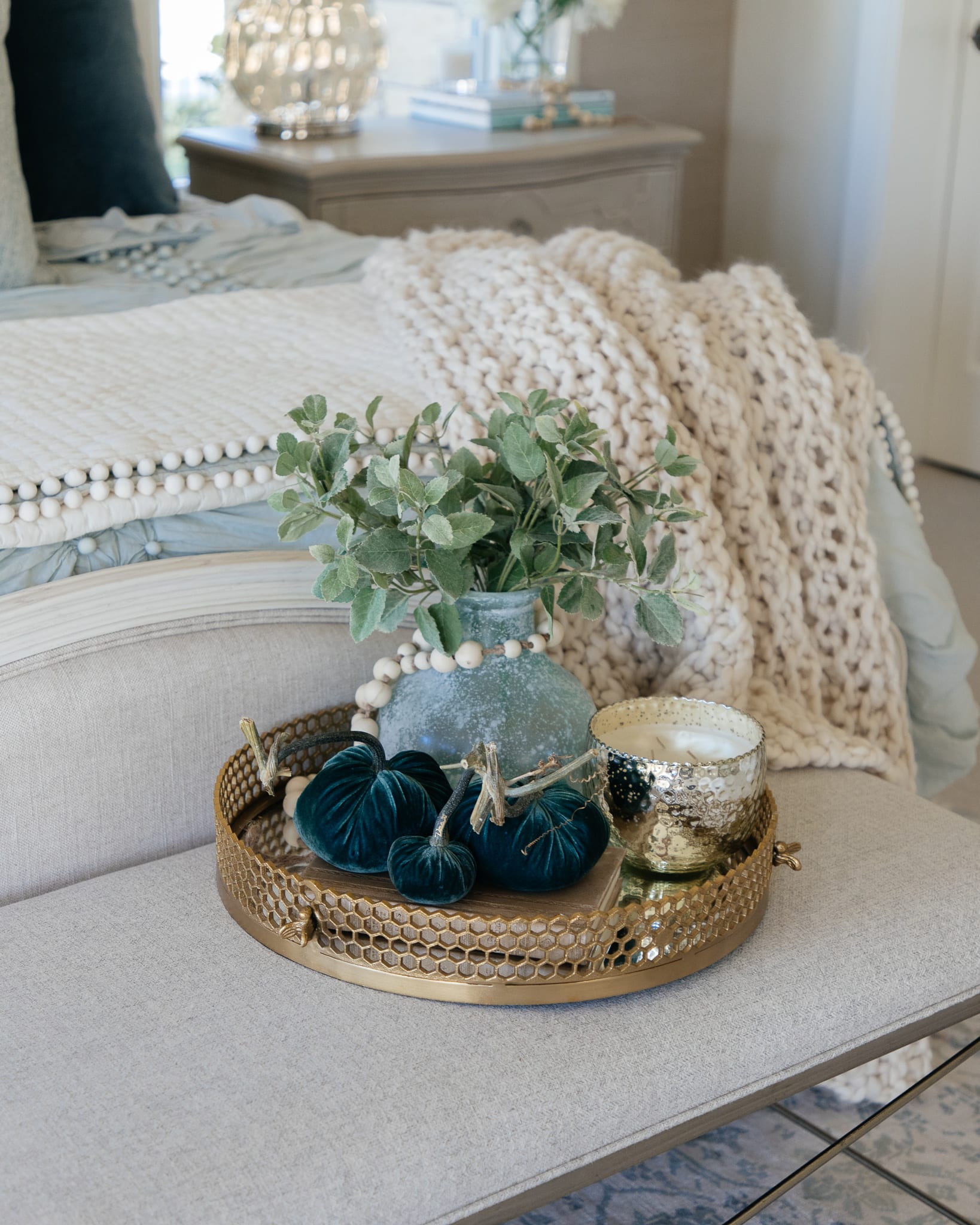 I added some new flowers and more velvet pumpkins on the dresser and night stands.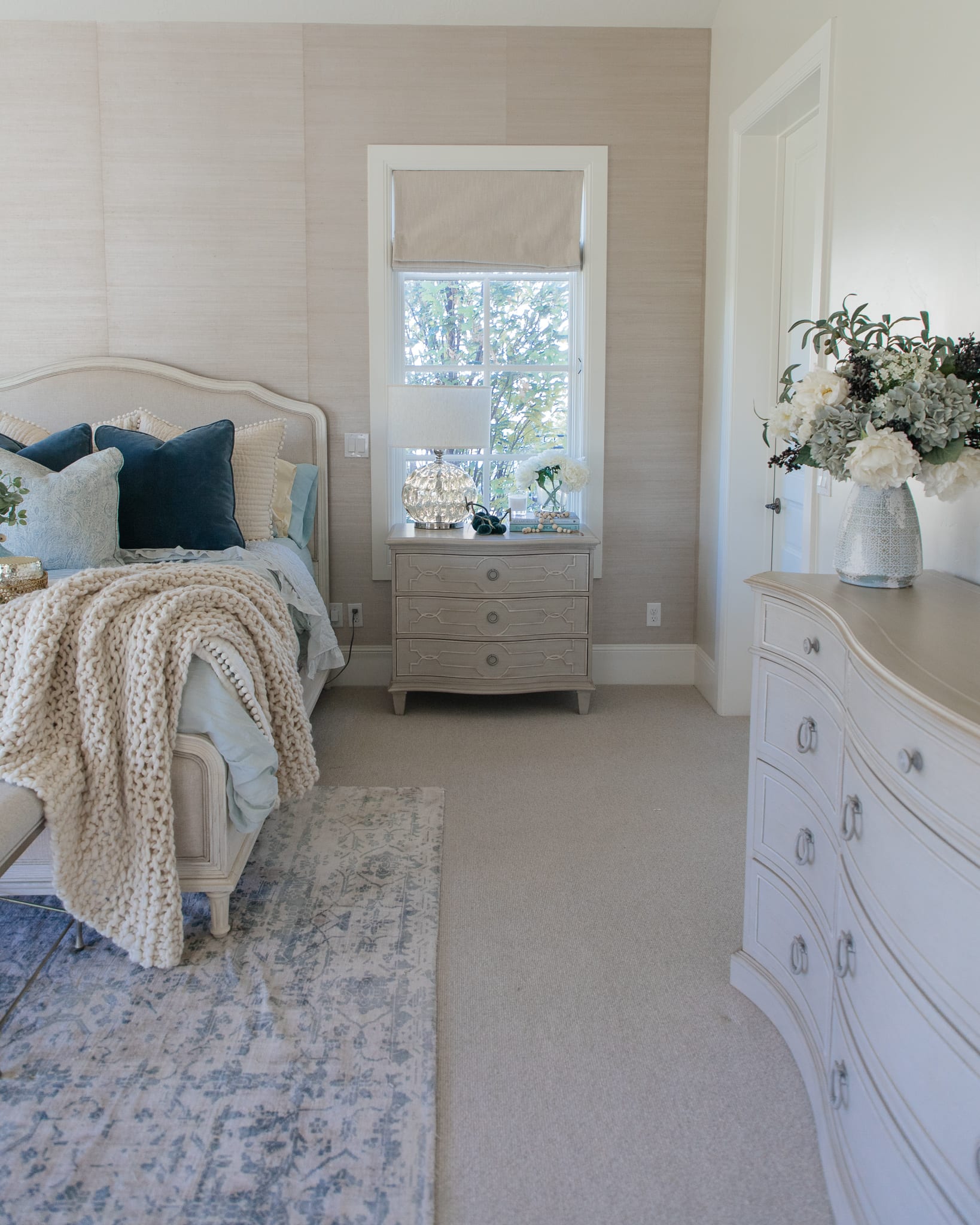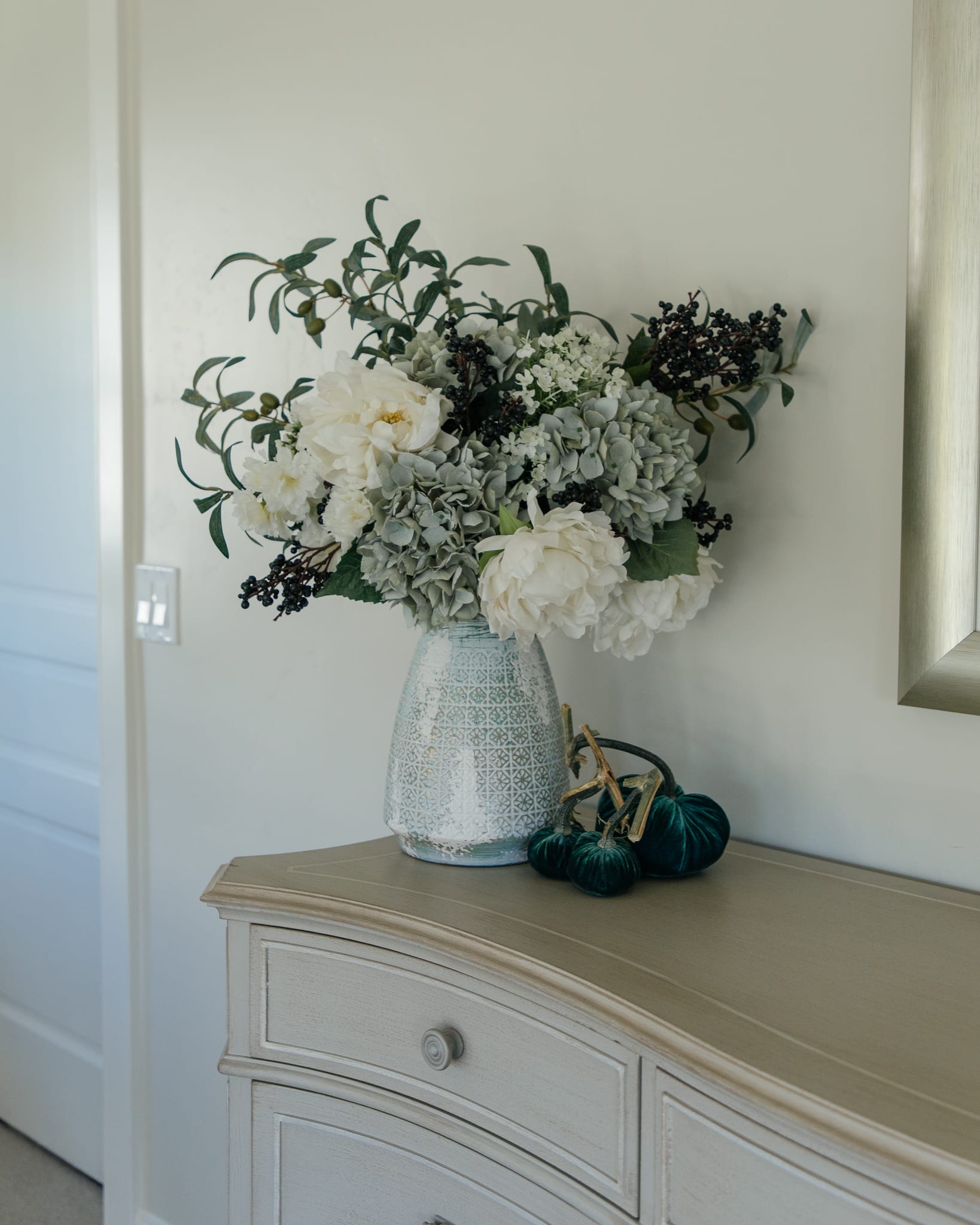 Guest Room
I refreshed the blue guest room with a beautiful bathrobe for guests to use when they come to stay. My favorite go to for cozy robes and throw blankets is Keiki Co.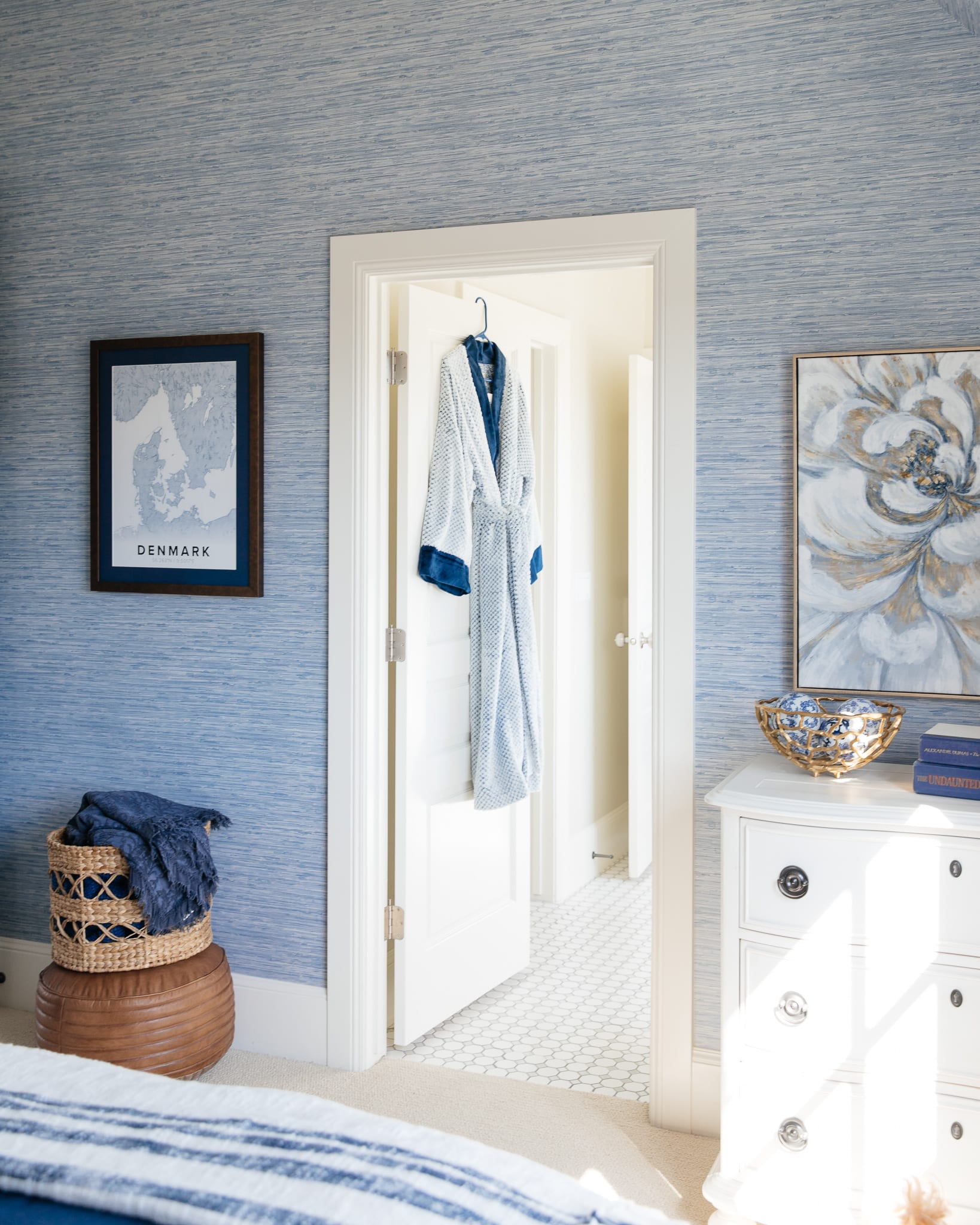 It's a nice addition to any guest room! I also added one to the grey guest room that is white and shorter. You have to check out their website to see all the great options and colors.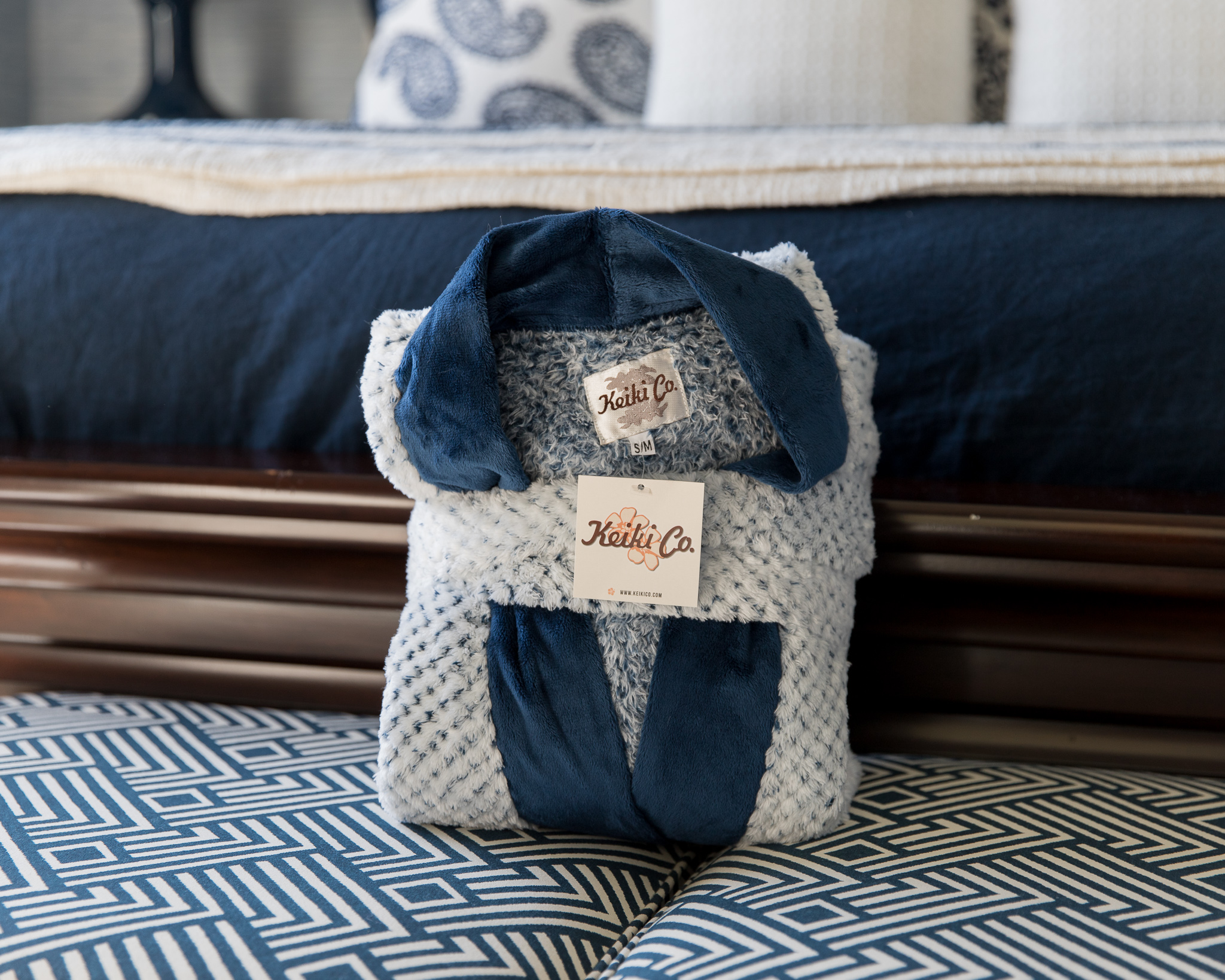 I hope you've enjoyed this years Fall Home Tour at the Highland house!
Enjoy!
XOXO,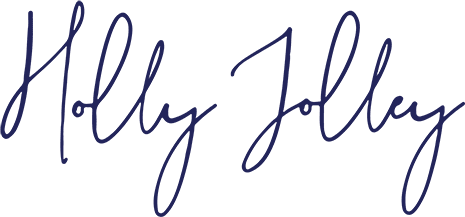 Sources:

Luxury Robes and Throws: Keiki Co.
Lauren Haskell Designs Ginger Jars