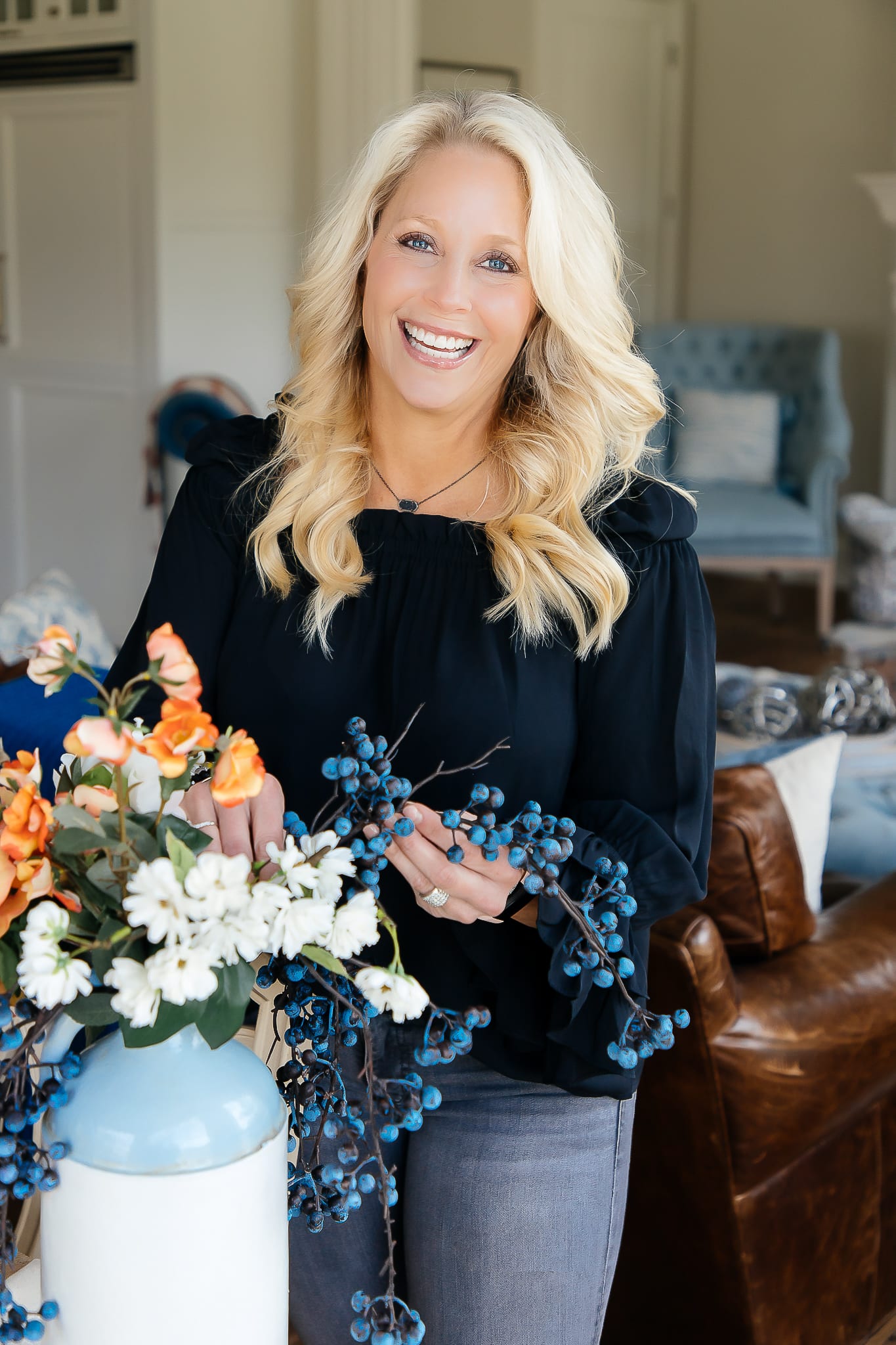 Fall Home Tour – Highland House 2018
Welcome to my Fall Home Tour of the Highland House!!
I've been excited to share this fall home tour of the Highland house! I hope you'll find inspiration here on how you can decorate your own home! I haven't always had a nice home and I'm a big believer in creating beauty no matter what your home looks like. Whether it was the apartments I managed and lived in (with 3 kids) while my husband was in dental school or the Army housing we were assigned, I always tried to create a beautiful home with what limited money and resources I had at the time.
It just takes some creativity and some DIY to add some beauty to your home. One of the reasons I started sharing photos of my home was to create inspiration on how to make a house feel like a home. Creating warmth in my home has always been something I've enjoyed doing. I hope you'll feel the warmth too! I tend to keep it simple on the fall decor. I am not a big Halloween decorator. Not because I don't like it, but I'm too lazy and busy to do both fall and Halloween! I want to decorate for fall and call it good!
Front Porch and Entryway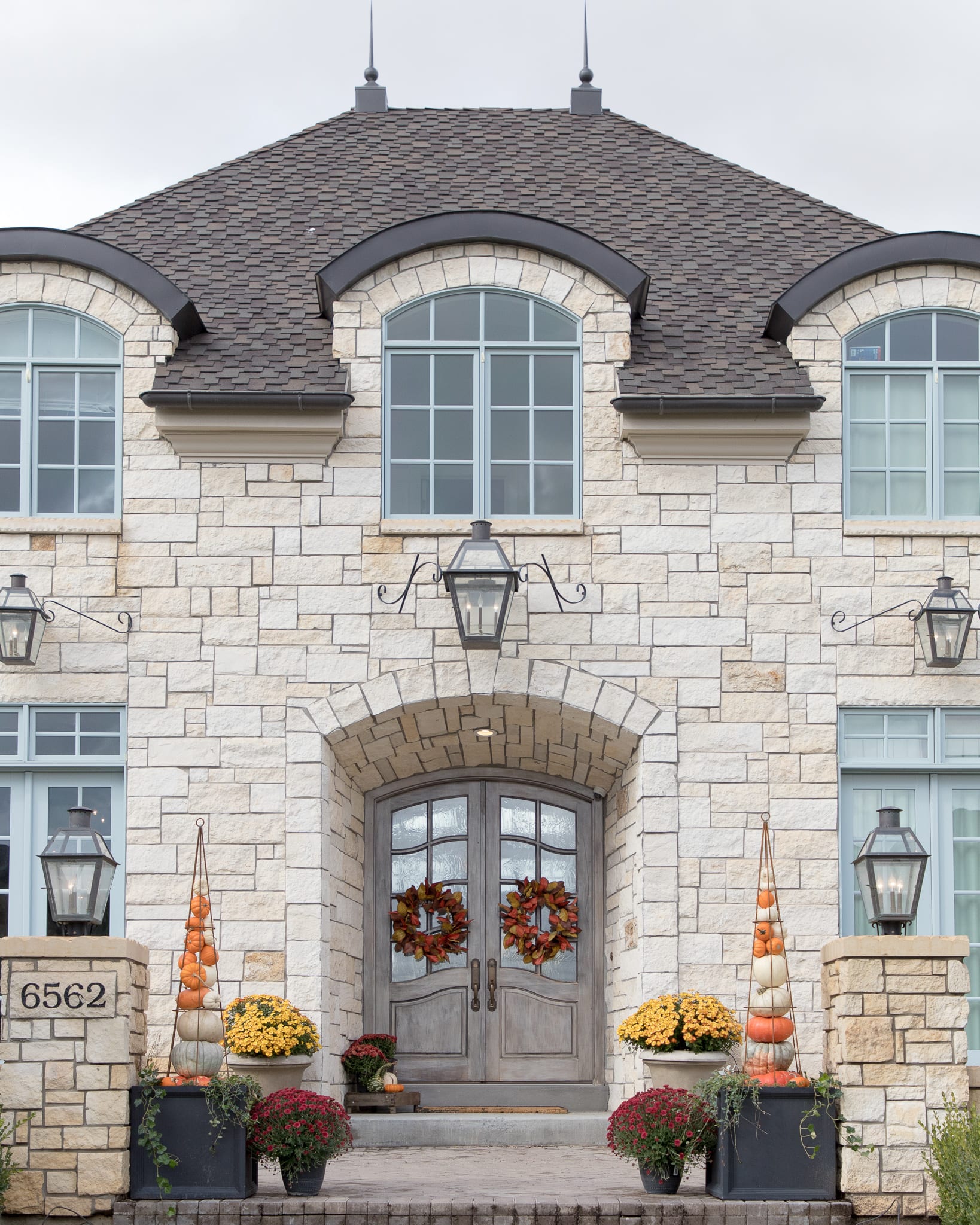 For the front porch and entry, I hung two wreaths and added some mums and pumpkins. I found some rust colored obelisks, placed them in the flower pots and stacked pumpkins inside of them to make these cute pumpkin towers. I planted a few perennials to add some greenery around the the pumpkin towers.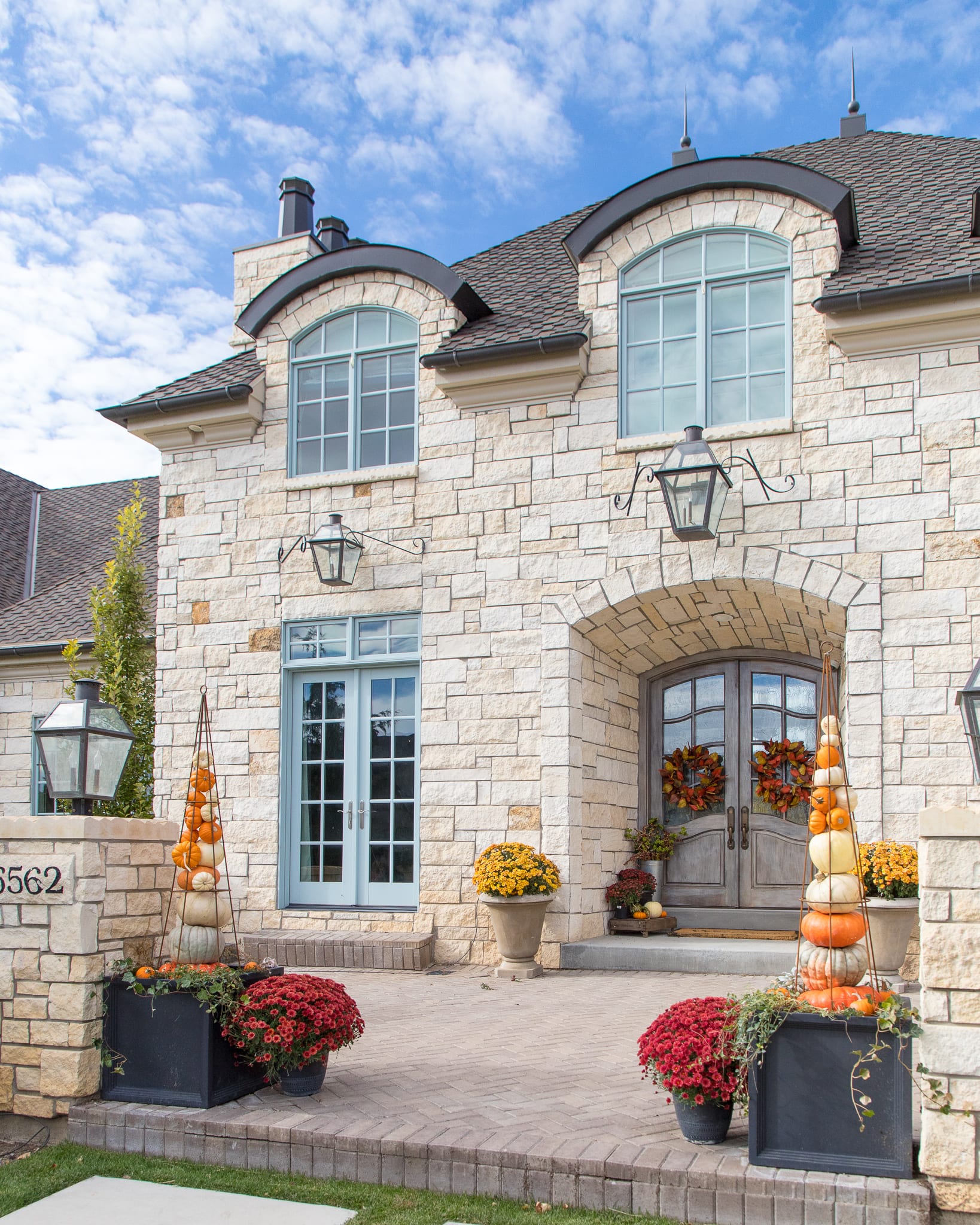 For more details on how to make these Pumpkin Obelisk Towers and Front Porch Decor click here:
Living Room
In the living room I took out the grey chairs and swapped them with the ivory colored spindle chairs. I took out the blush pink pillows and throws and added in the blue and ivory pillows and throws. Because my fall colors this year were blue and orange, I took out everything that would clash. I added in some blue and ivory velvet pumpkins and switched out the flowers to match.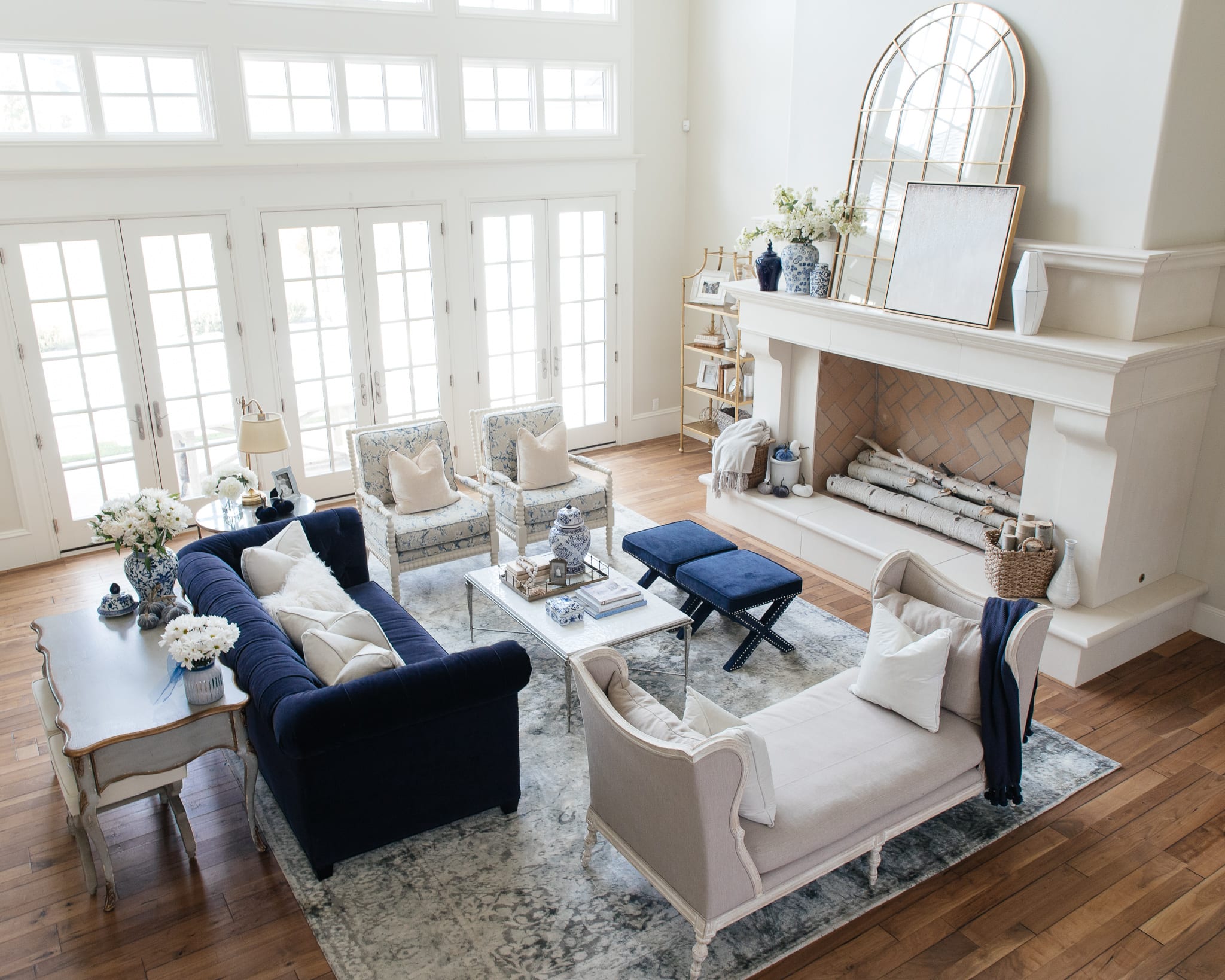 Kitchen
In the kitchen I used faux flowers to create the blue and orange flower arrangements. I kept my blue everyday dishes out on the open shelves and pulled out my orange plates and pumpkin dishes for the opposite side. I used my light blue cake stands and serving dishes on the upper shelves and tied it all together with some orange and tan velvet pumpkins that I put in a raised wooden serving bowl. Using some wood tones brings a little bit of warmth to the white and gray tones in the kitchen.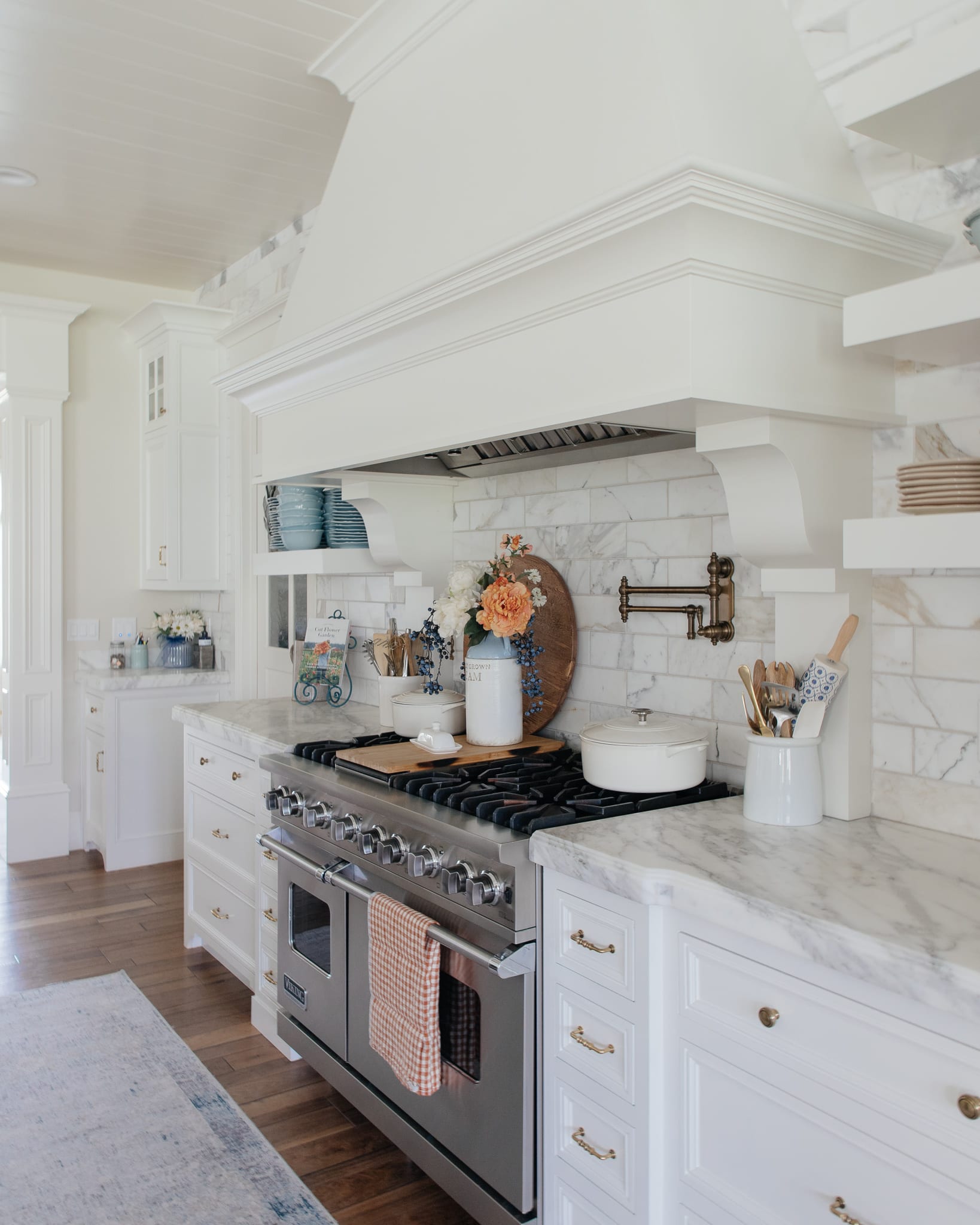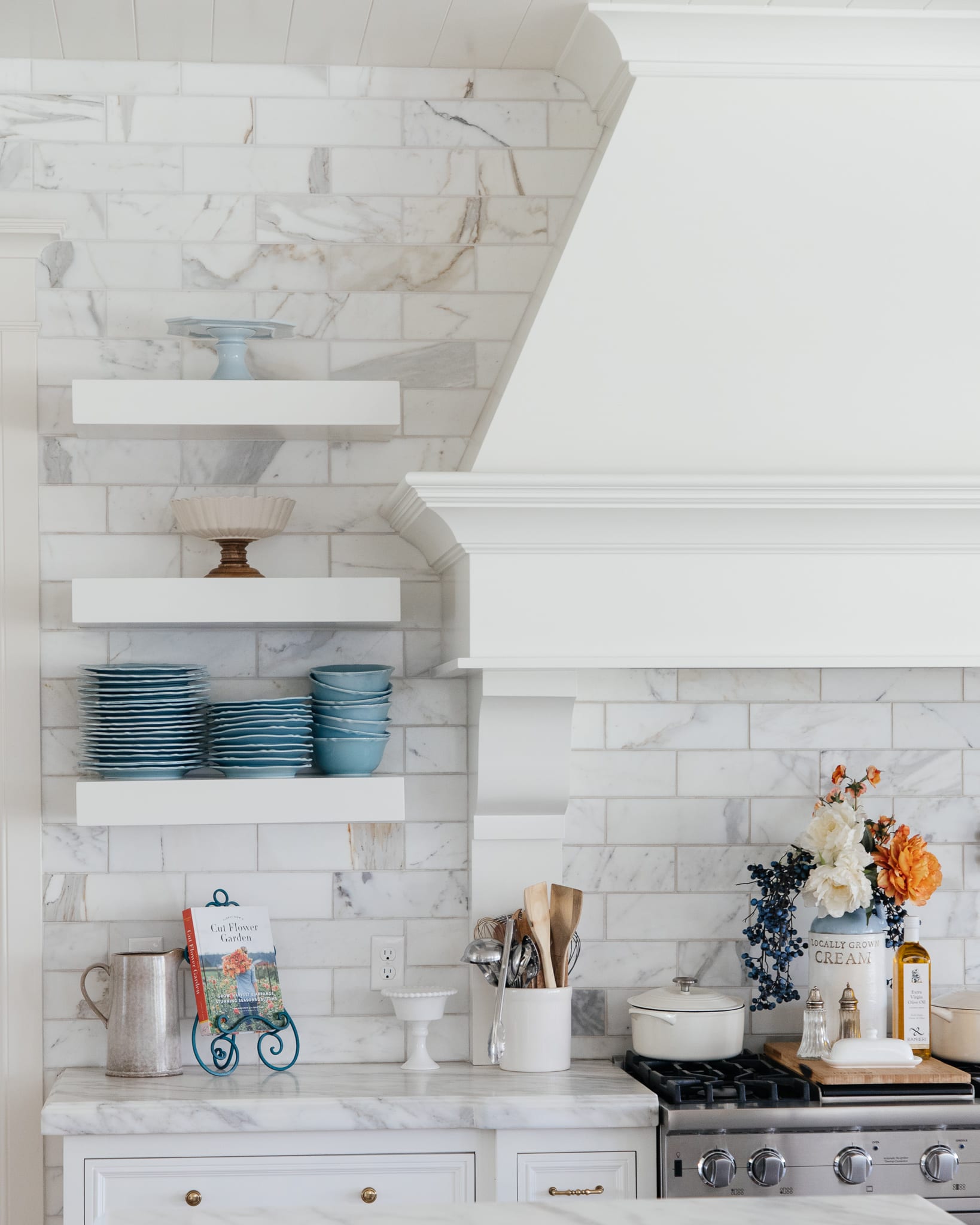 The island is always fun to decorate. I put one of the flower arrangements in the center on a wooden cutting board and tied orange berry wreaths around each of the bar stools.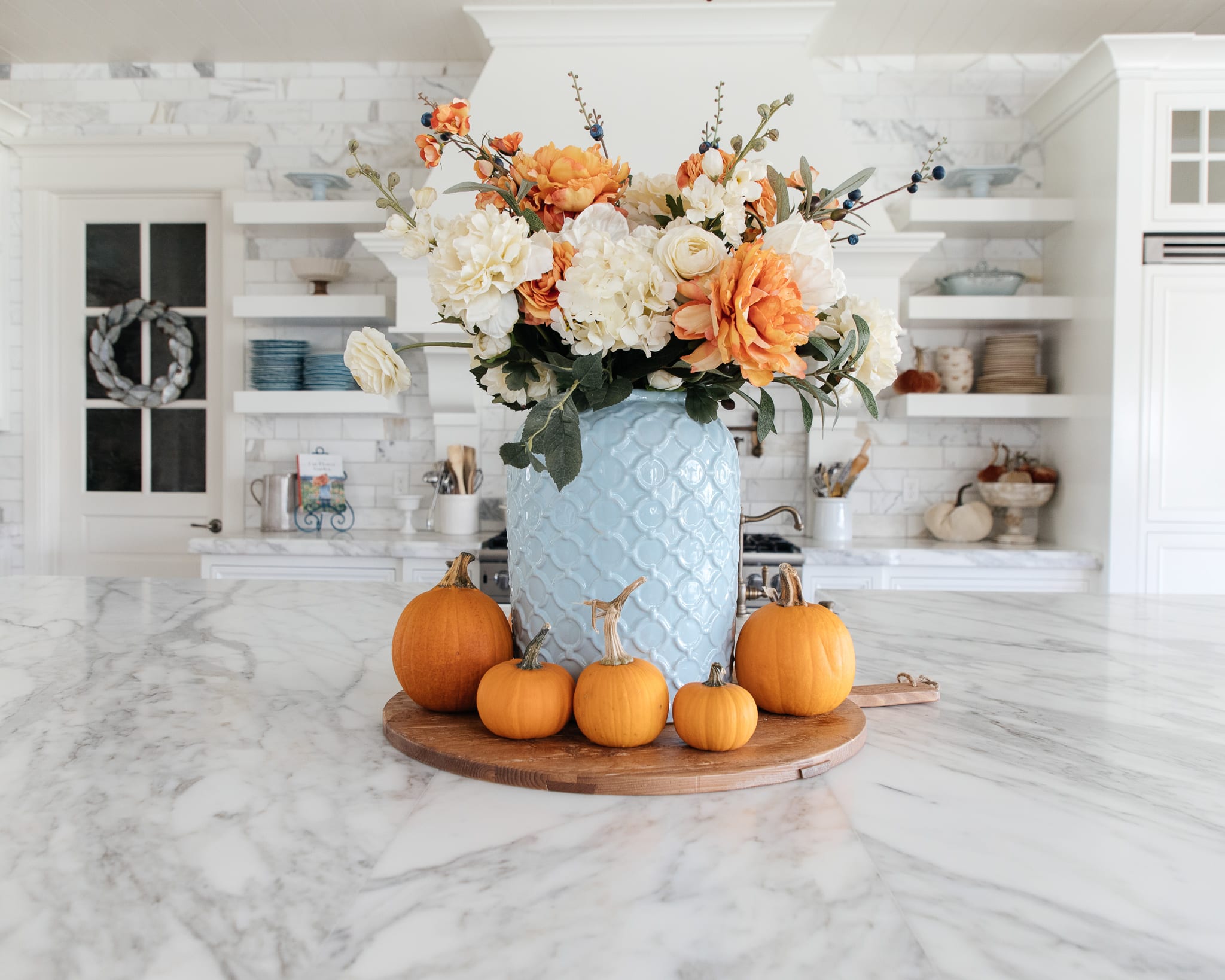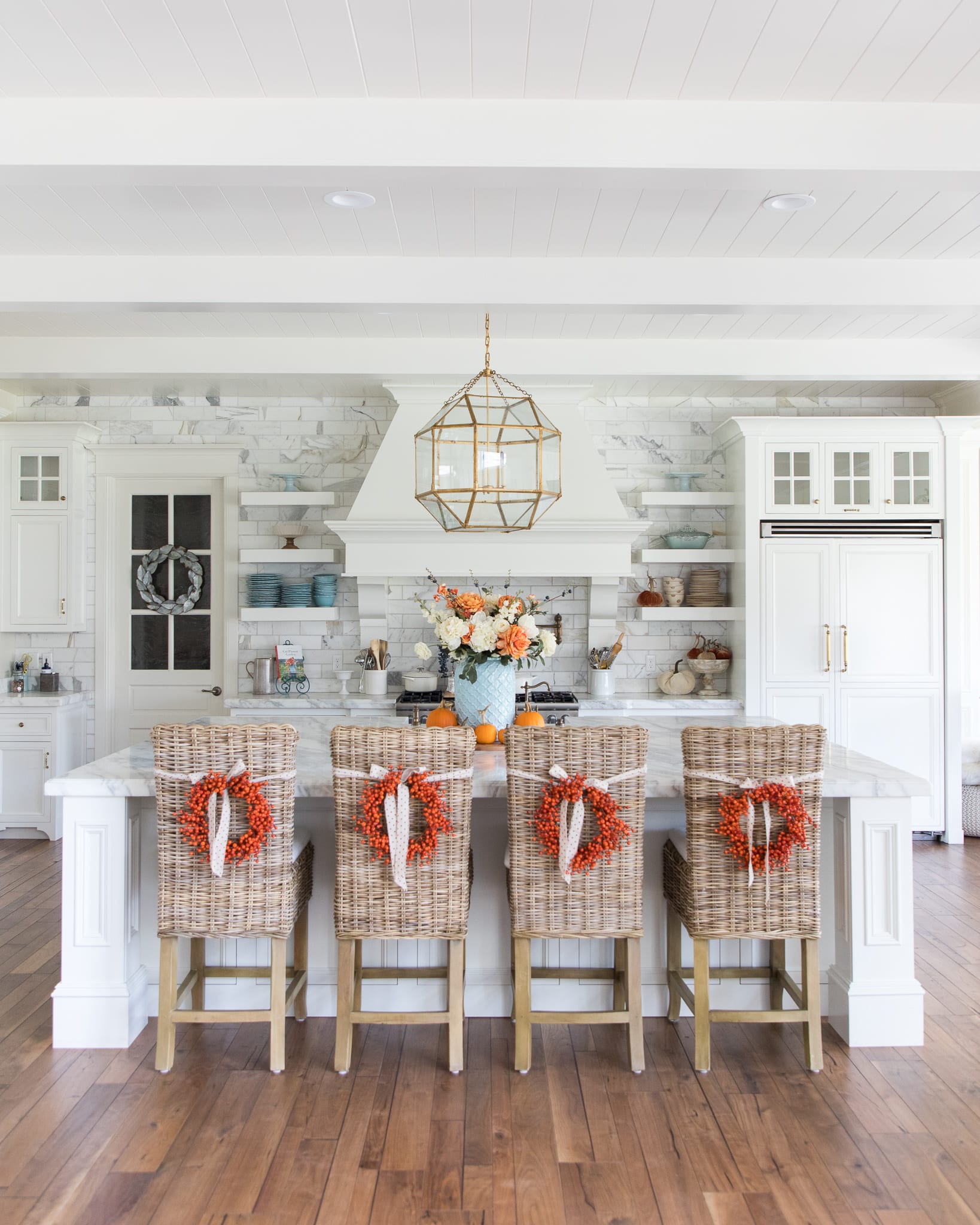 Family Room
For the family room, I added an orange plaid blanket and some new blue blankets. Having a basket of cozy blankets warms up any space. I put a few more velvet pumpkins on the end table (sorry, you can't see them from this angle).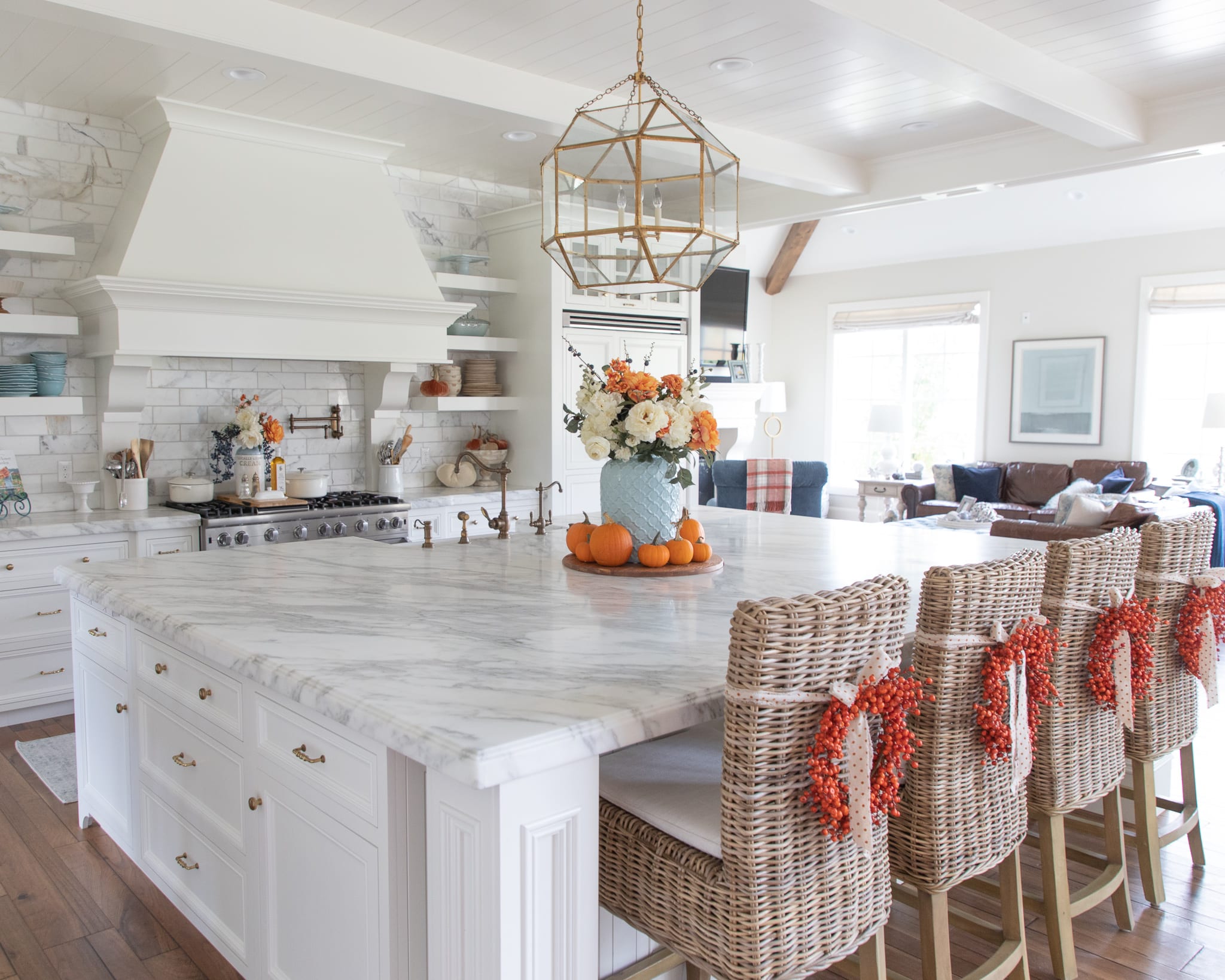 Dining Room
For the dining room, I put some faux branches and flowers into an orange metal can and set it in the corner. Then I made the cutest pumpkin tablescape. For the tablescape I used my tan dishes with little pumpkins on them and to add some color and contrast I used orange salad plates. I used brown, tan, and orange velvet pumpkins and a large wooden pumpkin as a centerpiece. You can read more here about the pumpkin tablescape.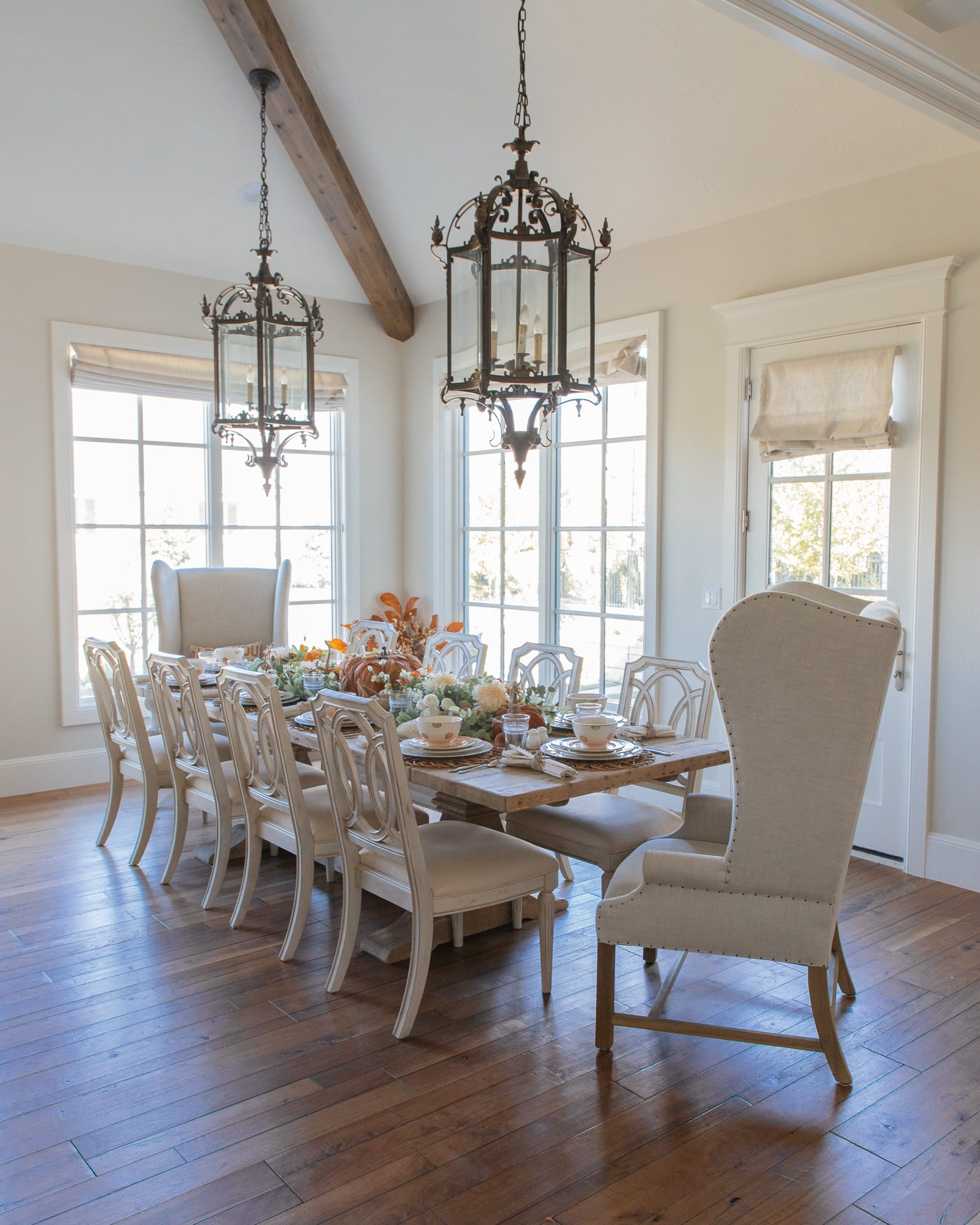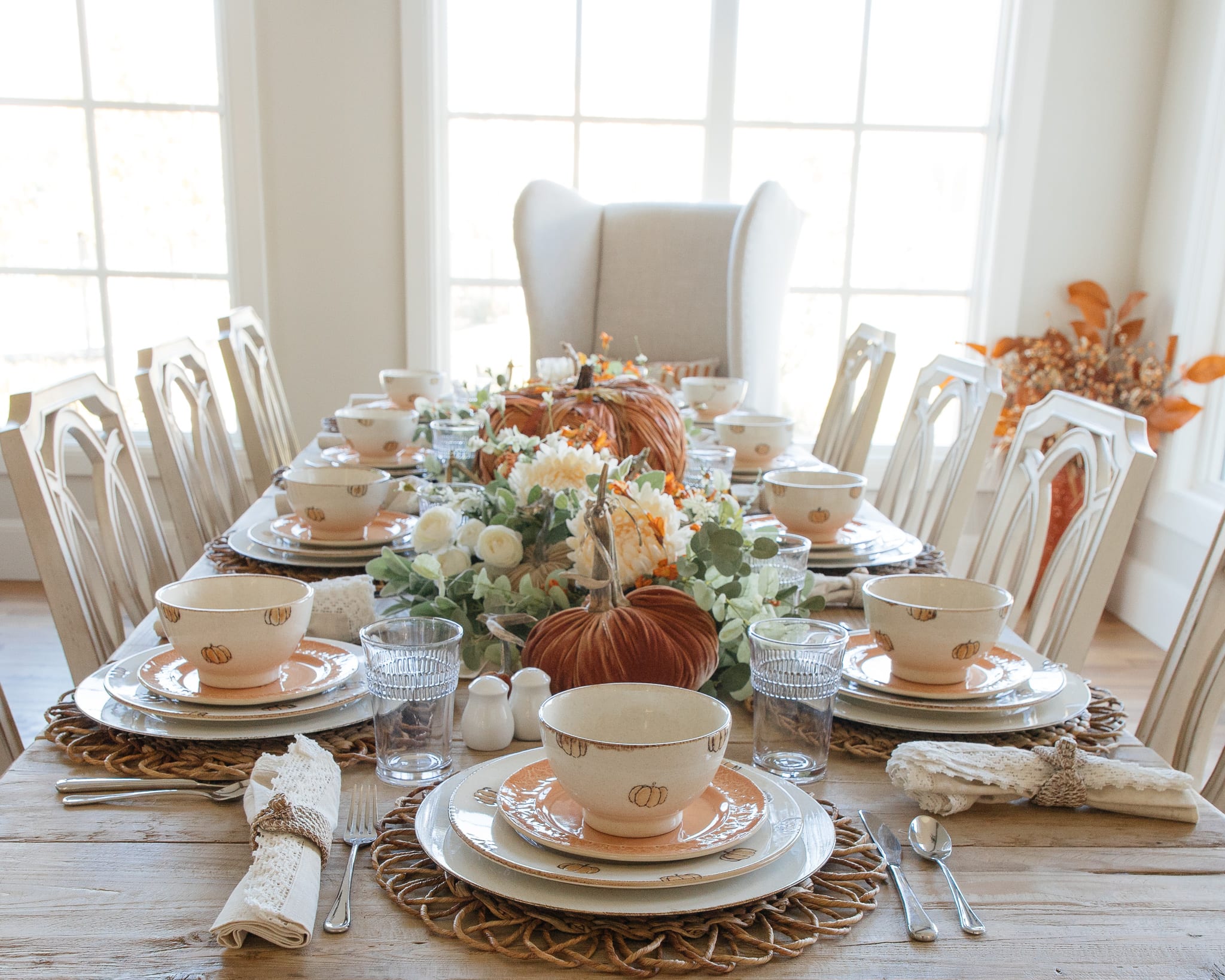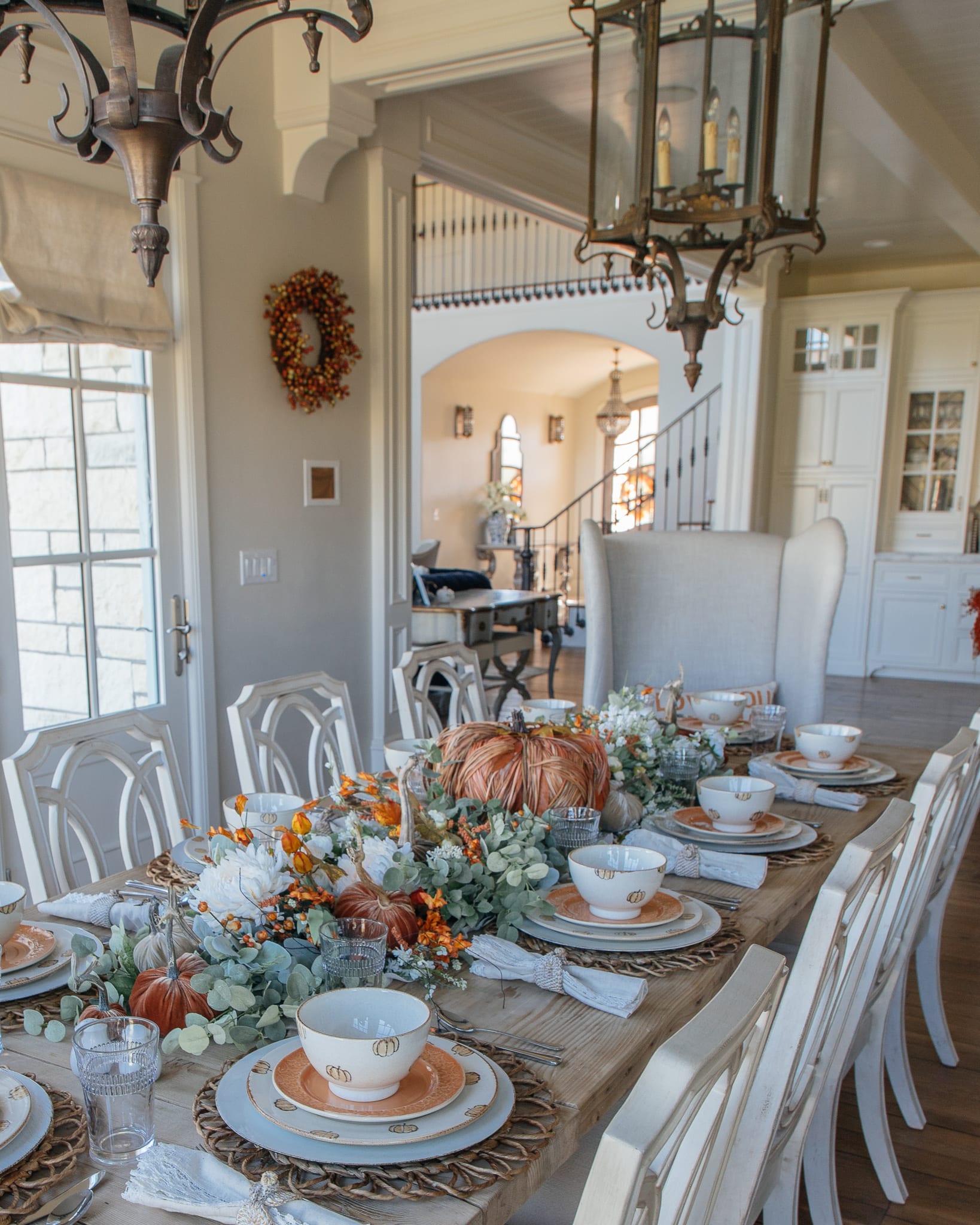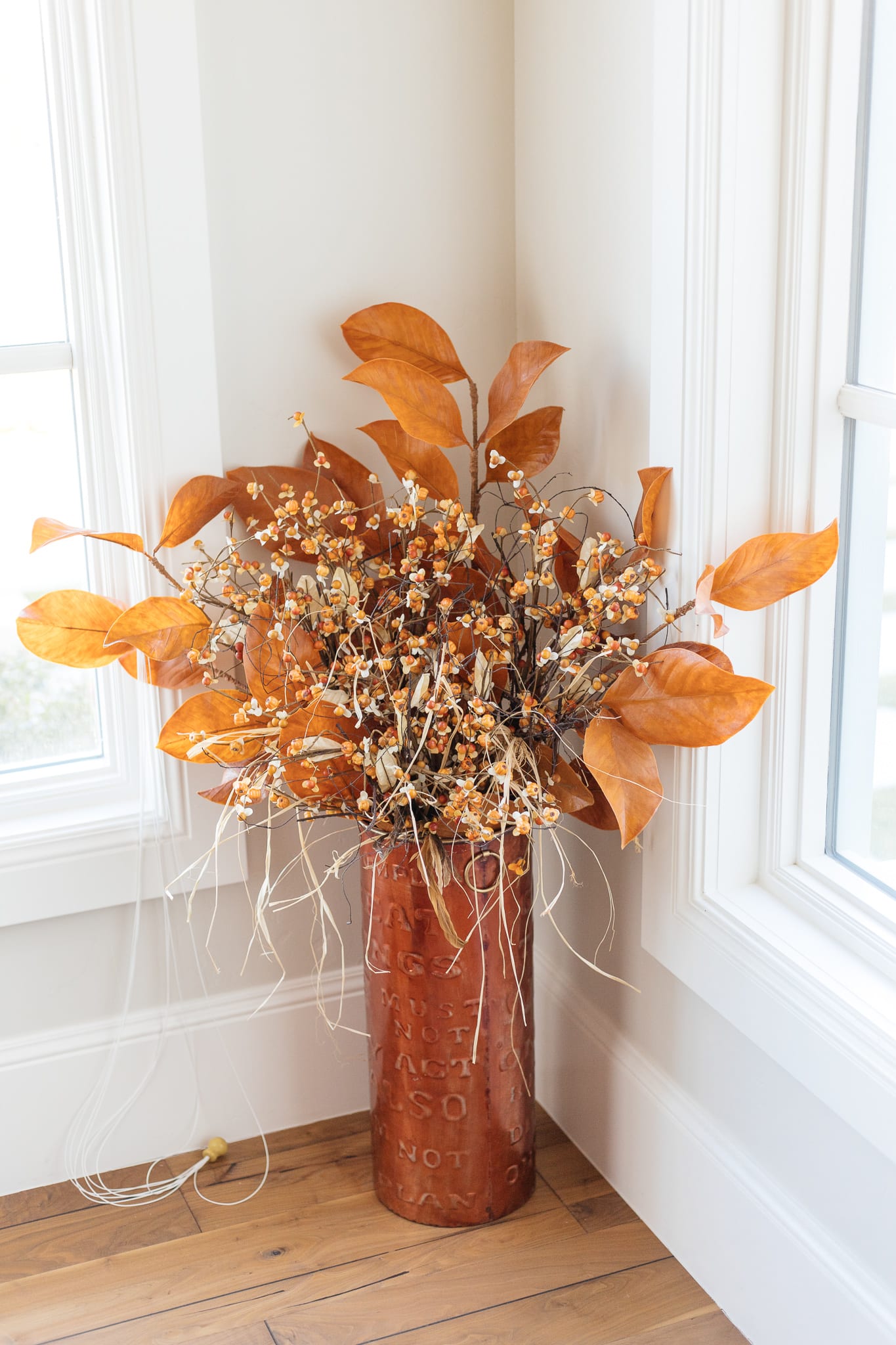 Master Bedroom
For my bedroom, I changed the top blanket to a satin champagne coverlet and salt blue comforter and changed out the throw blanket.
My Closet
I didn't decorate my closet for fall but I did spruce it up a bit with some new books and a flower arrangement.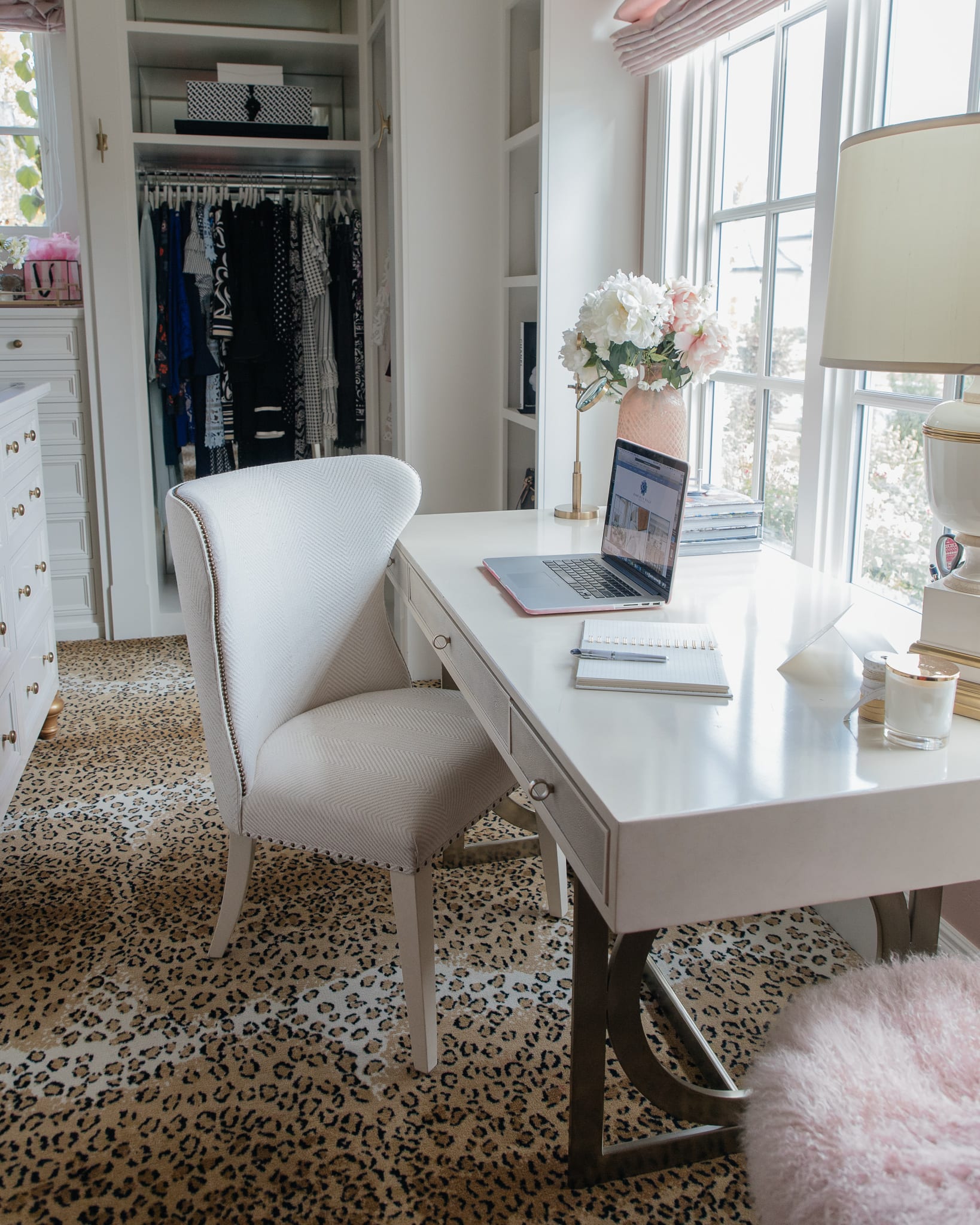 I hope you enjoyed the tour of my Highland home decked out for Fall. Pretty soon it will be time to Deck the Halls with boughs of Holly!

For sources and links:



For more Fall Tablescapes and entertaining ideas click here: Outdoor Entertaining Farm to Table