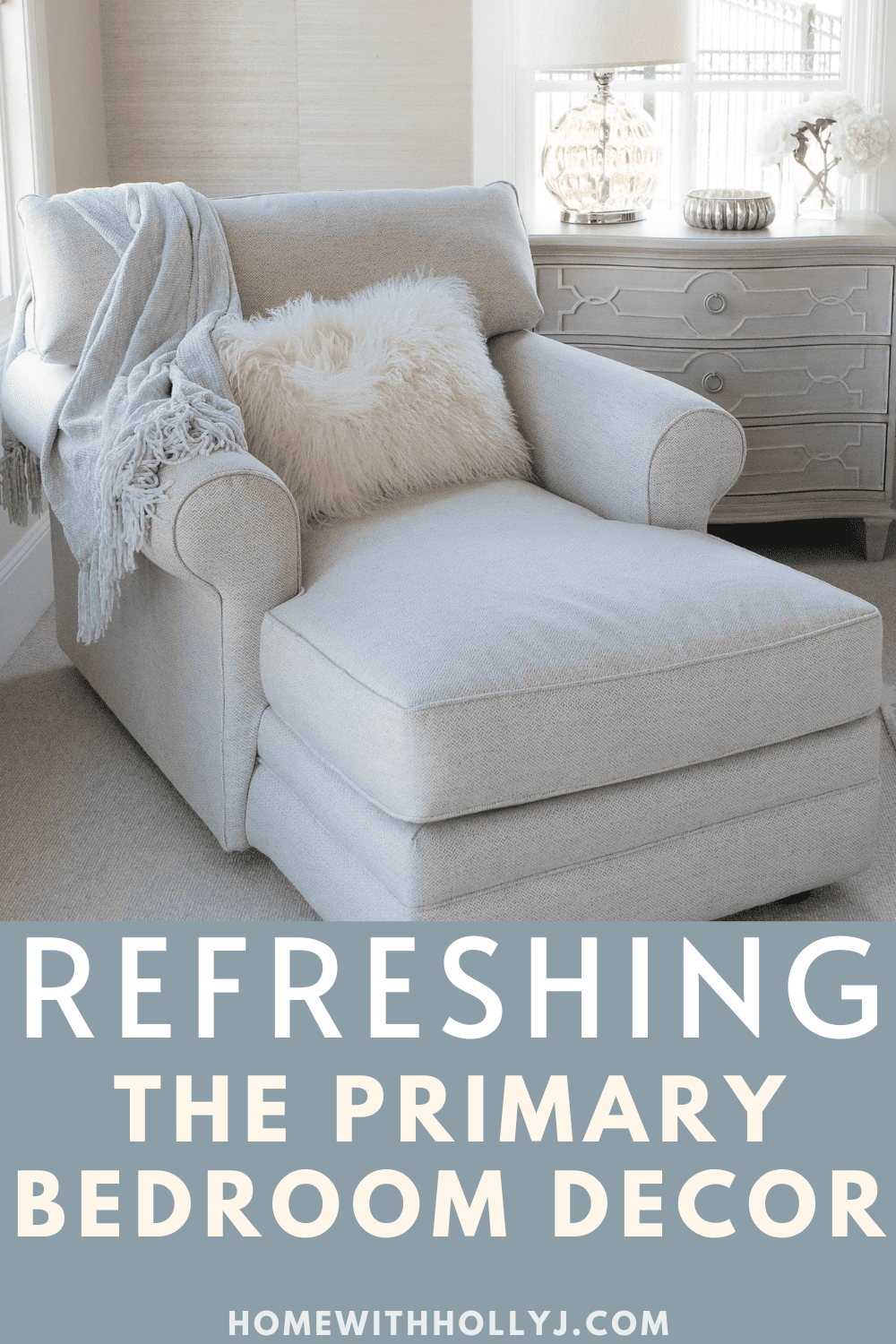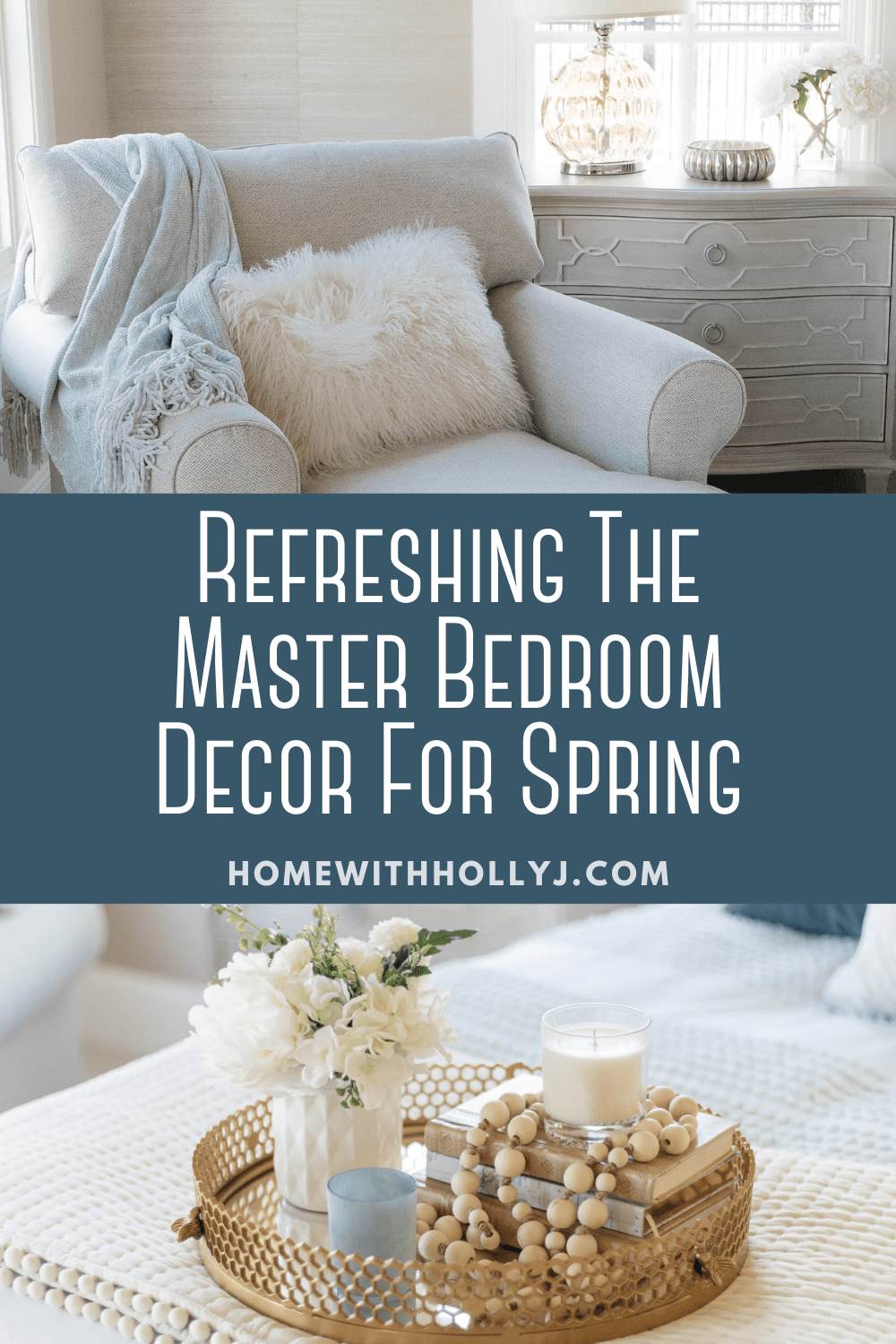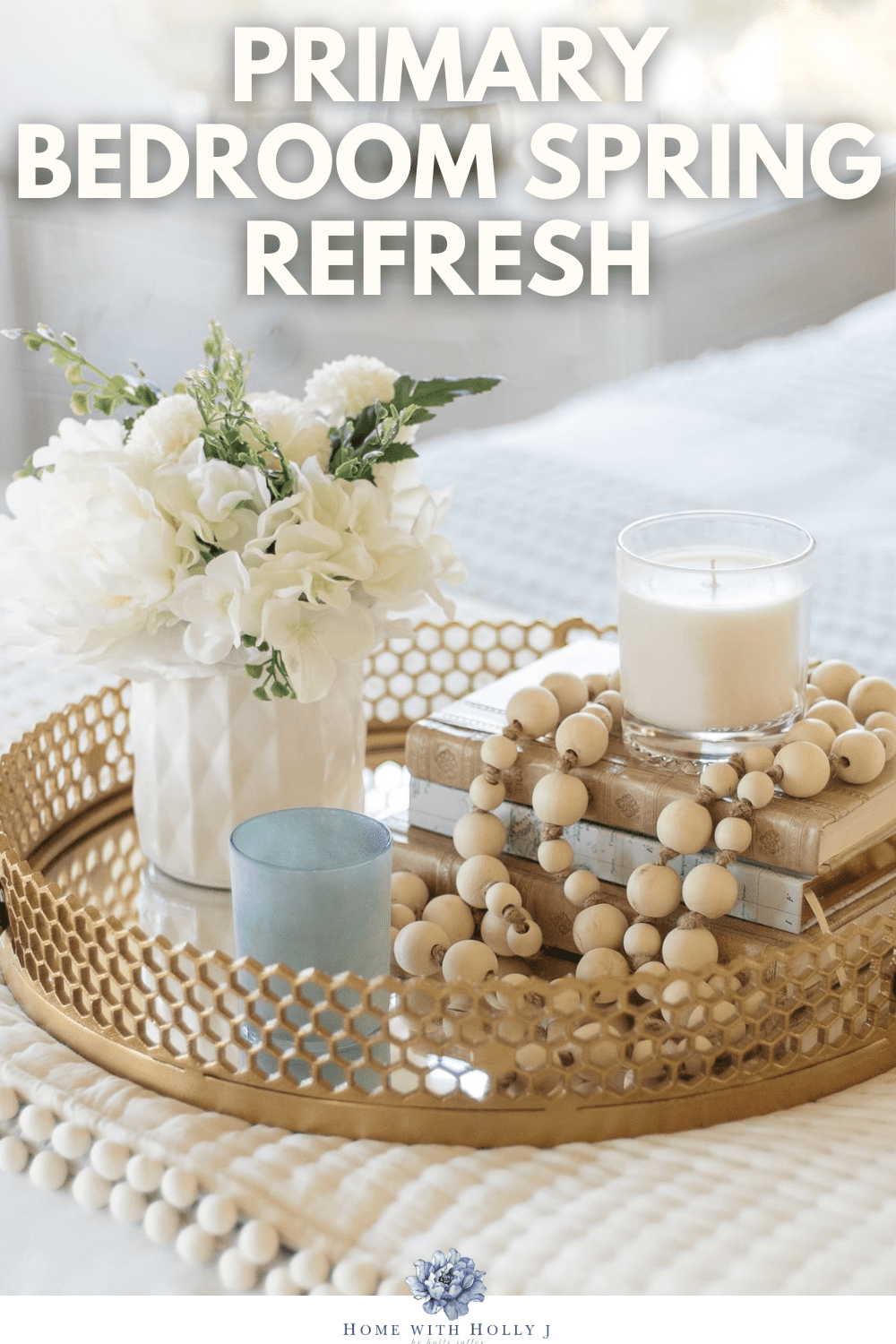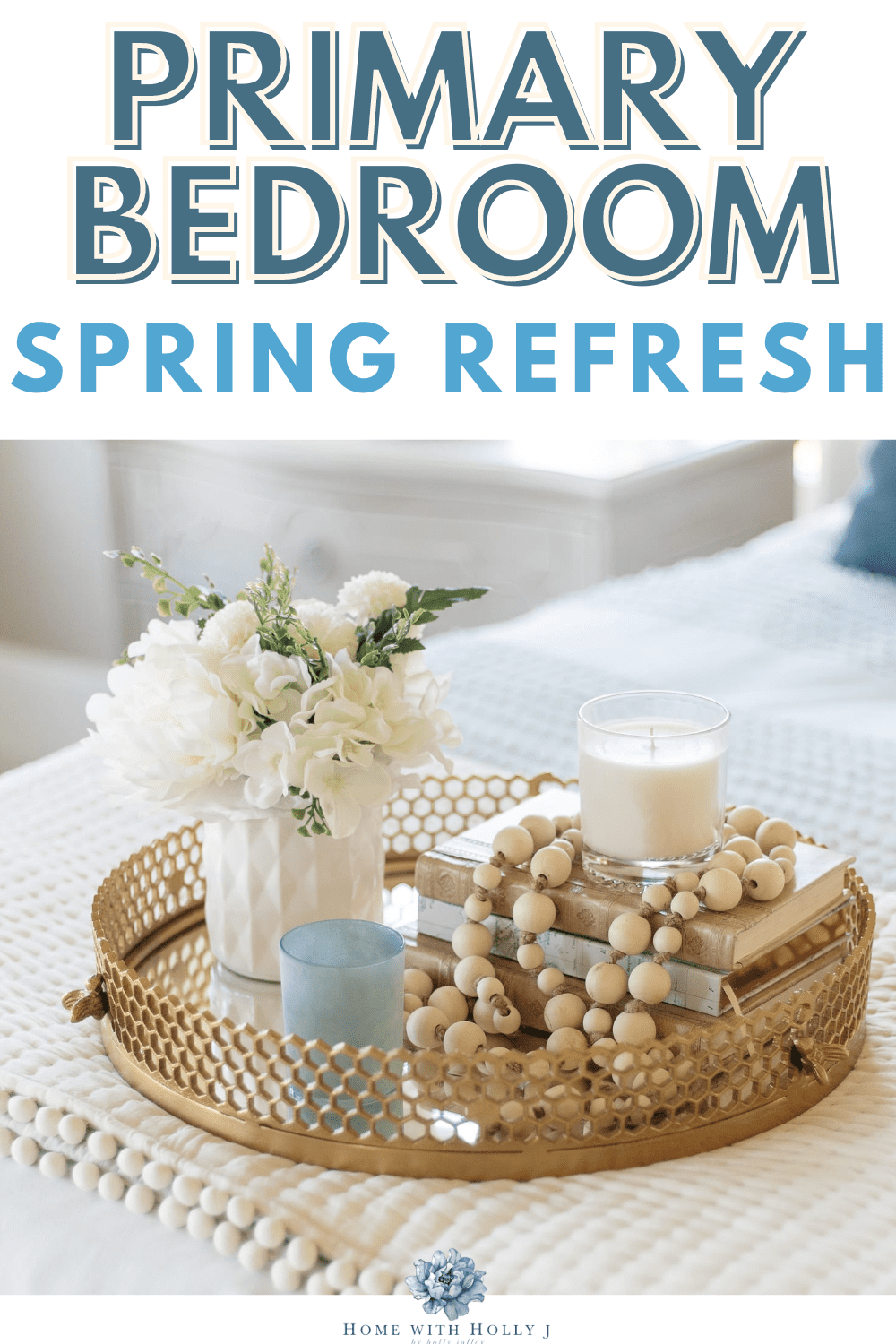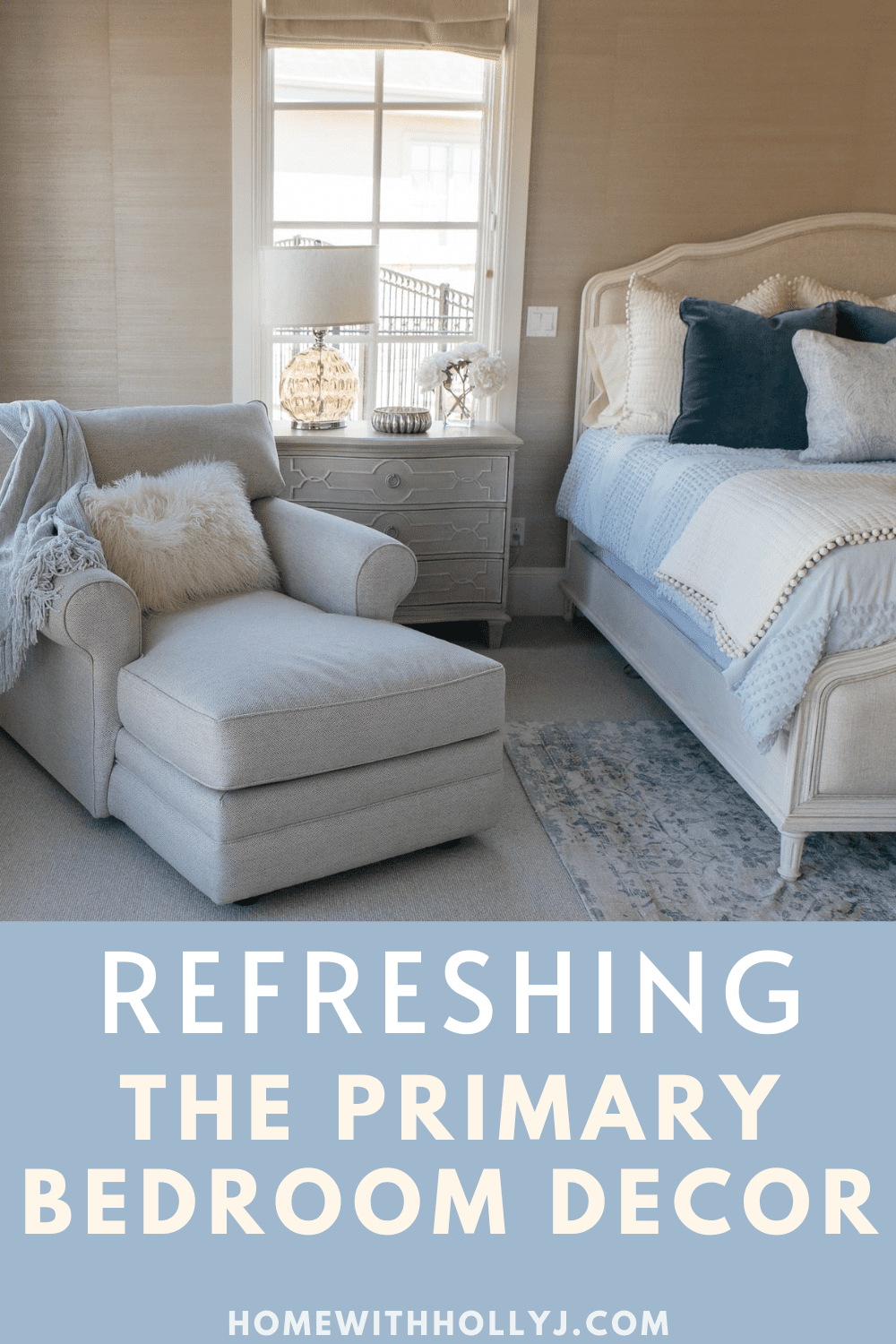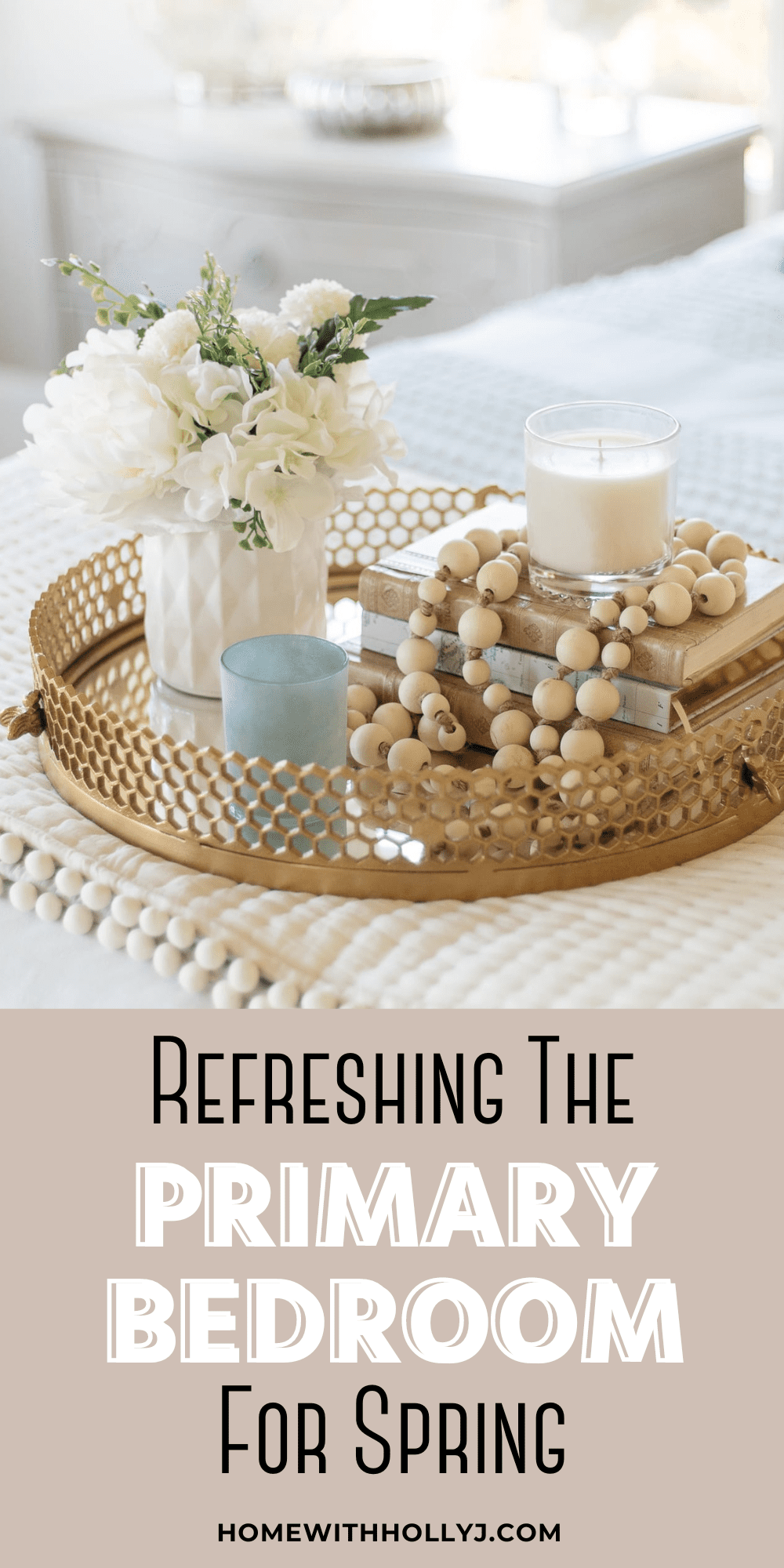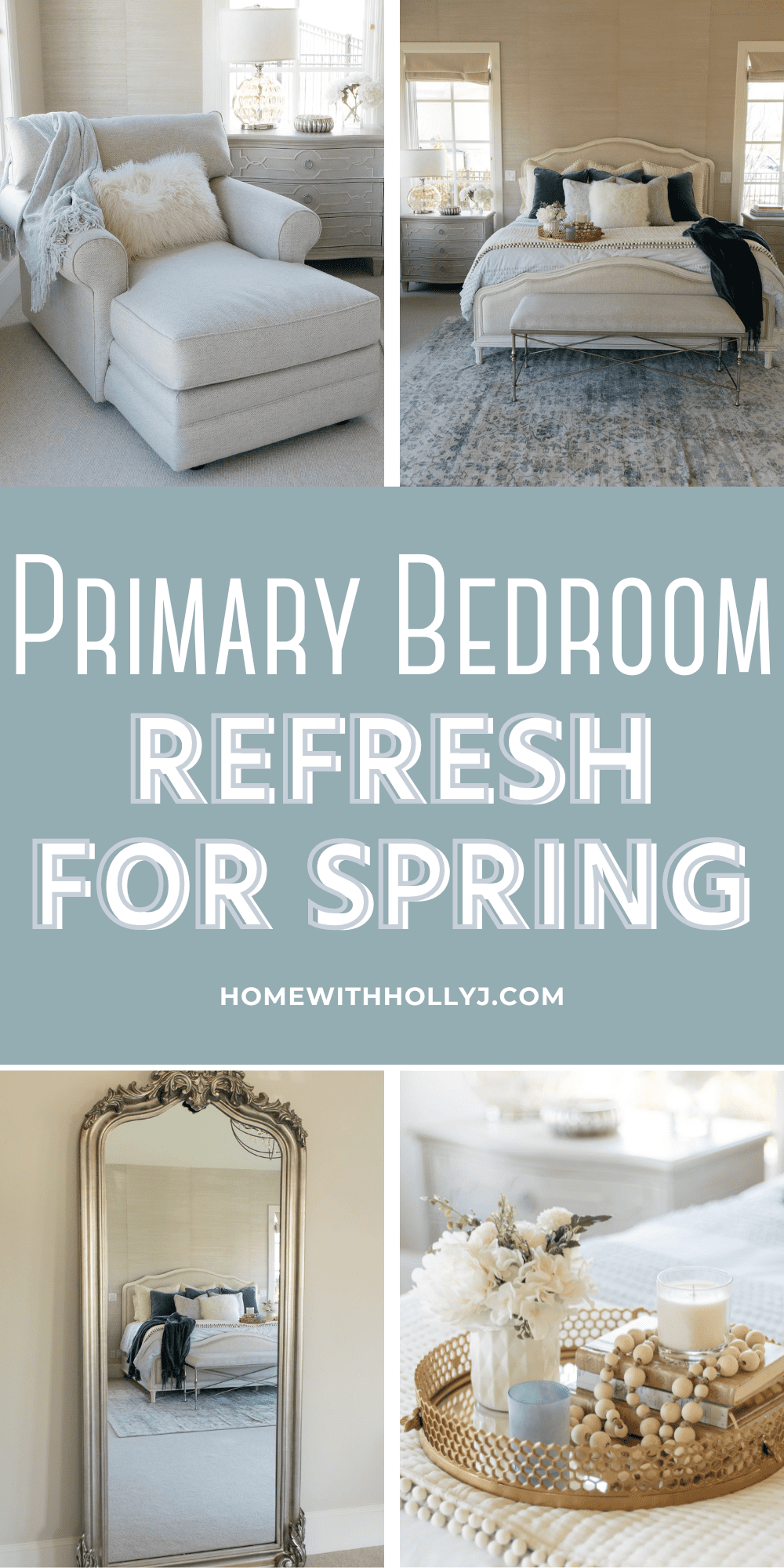 Refreshing the master bedroom for Spring can be a nice way to update your bedroom without spending a lot of money or time.

One thing I enjoy doing is refreshing the master bedroom every so often without having to buy a lot of new furniture. Because my furniture is still fairly new, I just changed up the duvet, linens, pillows, and throw blankets. This is an inexpensive way to freshen up your room and add some new colors into your decor. Your bedroom should be a warm and cozy space that you want to spend your time in.
Disclaimer: This post does include affiliate links for your convenience. This is at NO additional cost to you but earns me a small commission. To read more, check out our disclosure policy.
The Bedding, Linens, and Pillows
For the bed, I bought an inexpensive sea salt colored duvet cover for the top blanket, a new quilt to go at the end of the bed, and new euro shams. I added a few new throw pillows and a light colored throw blanket on the chaise lounge chair. I am always on the lookout for inexpensive pillows and throw blankets.
I decided to try some 100% organic cotton sheets from Doplnok. I had heard good things about them, and now they are my new favorite sheets! I love getting new sheets and climbing into my bed when they have been freshly laundered. These cotton sheets are sustainably sourced and of excellent quality and come in a variety of colors. Mine are champagne color and I like to use a neutral color that go with any of the bedding colors I have.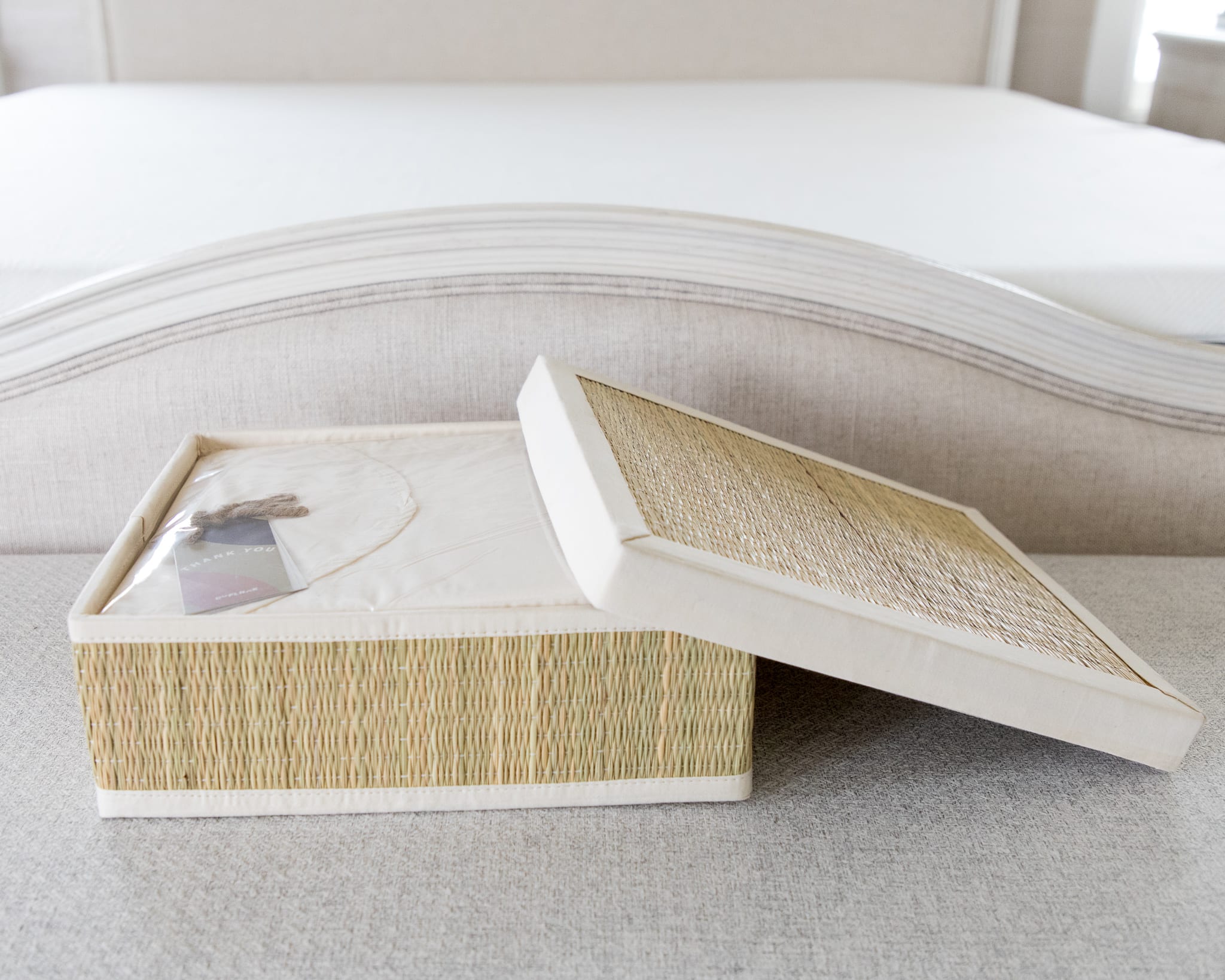 Add Some Flowers
Adding fresh or faux flowers is an inexpensive way to add beauty to your bedroom. I like to make my own floral arrangements but you can buy them already made if you prefer. You can find inexpensive ones at stores like Homegoods.
I filled a small vase with some pretty white faux flowers and placed them on a gold tray with a few books, candles, and some wooden beads. This small addition creates warmth in room and makes me want to curl up in the corner and read a book. The only thing missing is my cute fur babies on the bed!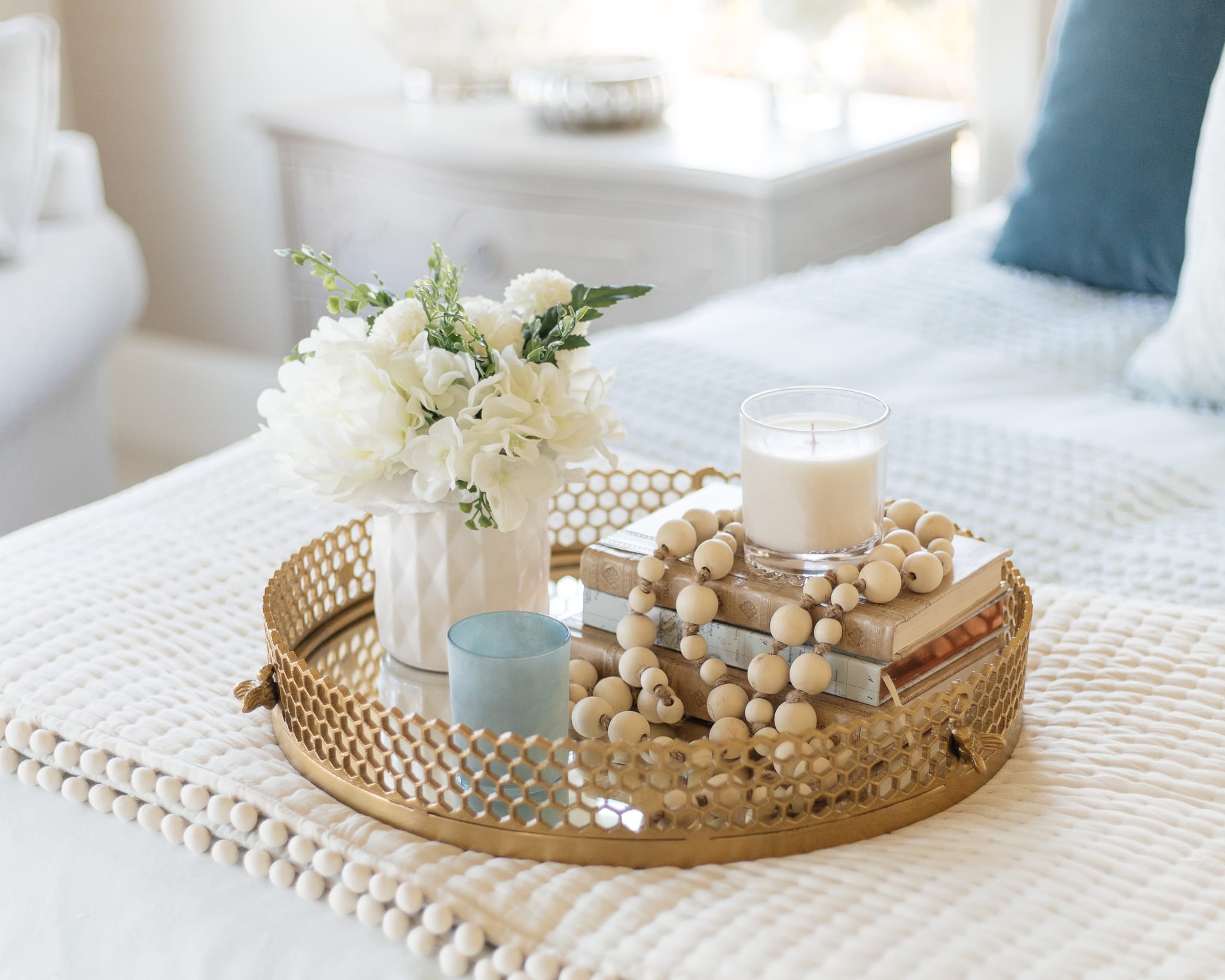 I also made a larger arrangement in a pretty vase that I placed on the side of the dresser.
(**Links to everything will be listed at the bottom of the post)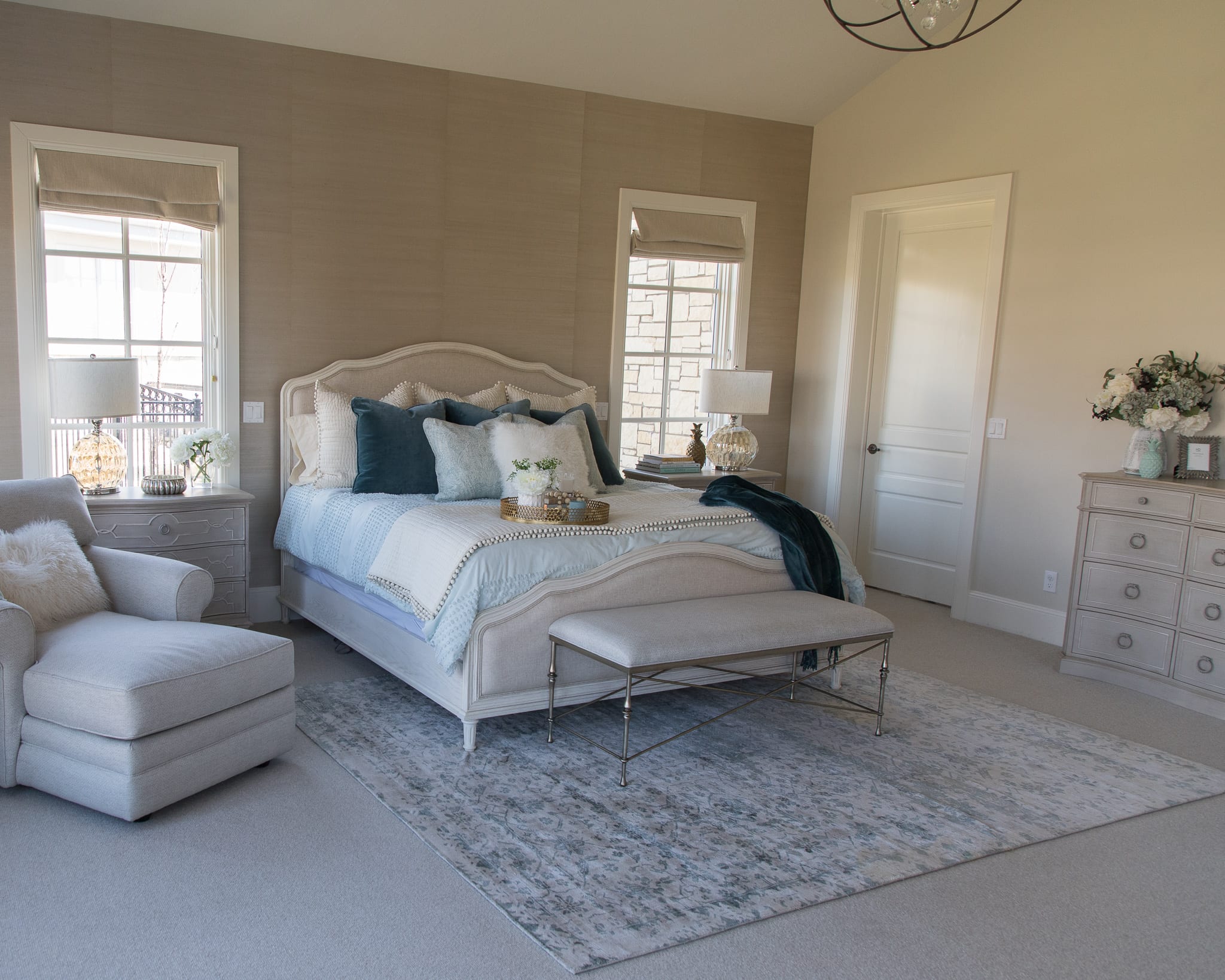 The Mattress and Spring Cleaning
Spring is the perfect time to turn your mattress if it needs rotating, wash the mattress cover, duvets, pillow covers, and to clean under and around the bed. Each spring I lift the mattress up and vacuum and dust under the bed and behind the furniture. It's amazing how much dust accumulates under the bed and it feels so nice knowing its clean and all that dust is gone. I also have my carpets and rugs professionally cleaned.
Speaking of mattresses, we purchased an expensive pillow top mattress when we moved into the Utah house. The longer I slept on it, the worse I felt. I'd wake up in the morning and my shoulders hurt so bad I could hardly do my daily crossfit workouts. I had just started blogging and sharing my home on Instagram when I received an email from Sleep Frankly. They asked me if I would try one of their mattresses and give them a review. If you've followed me for awhile, you know that I will only share things that I actually like and that I honestly use. When I share something, it has to be because I love it and it's added some value to my life. Frankly sent me some information on their mattress and I agreed to try it out. I told them I wouldn't give it a great review unless it was a quality mattress and was everything they said it was.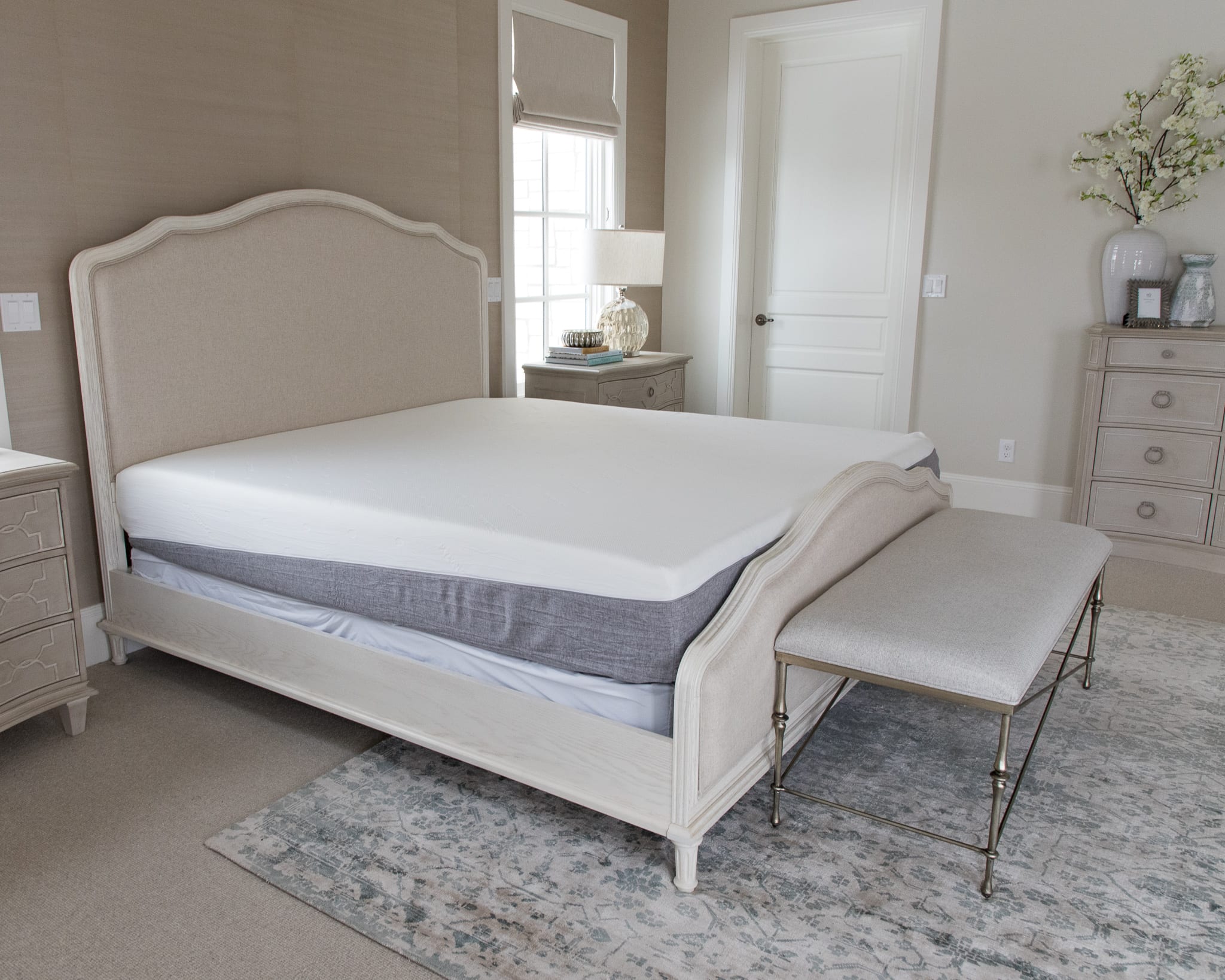 A week later a box was delivered to my porch. I opened the box and was surprised that a mattress could fit in a box that small! With the help of my son, we switched out the pillow top mattress for the Frankly mattress.
To speak frankly,(no pun intended) I have an expensive memory foam mattress in my other home in Washington. It's a great mattress but, it also cost over $13,000.00 and it had a chemical smell for the first 6 months that caused me to have an allergic reaction to it. It took me awhile to figure out it was the bed that was causing this reaction. My allergic reaction finally subsided about the time the chemical smell went away so I can only guess that was the cause. Anyhow, the reason I'm sharing this is that when the Frankly bed arrived, there was no chemical smell and the king size Frankly mattress costs $845.00! I was really impressed after my other experience with a memory foam mattress.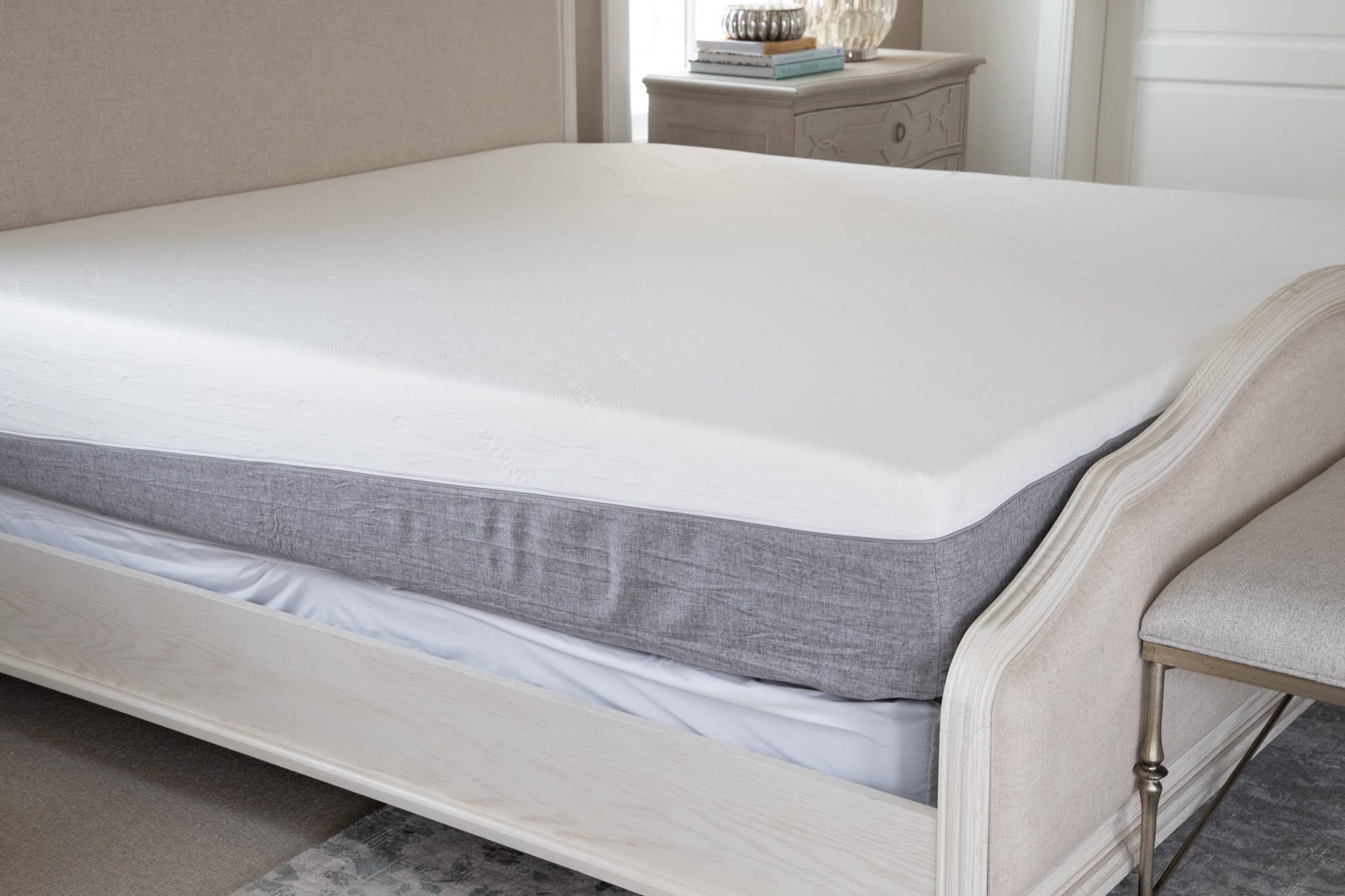 The memory foam mattress also came with a washable cover and looked exactly as shown in these photos. It was wrapped in plastic and easy to slide onto the bed. I kept my same box spring underneath.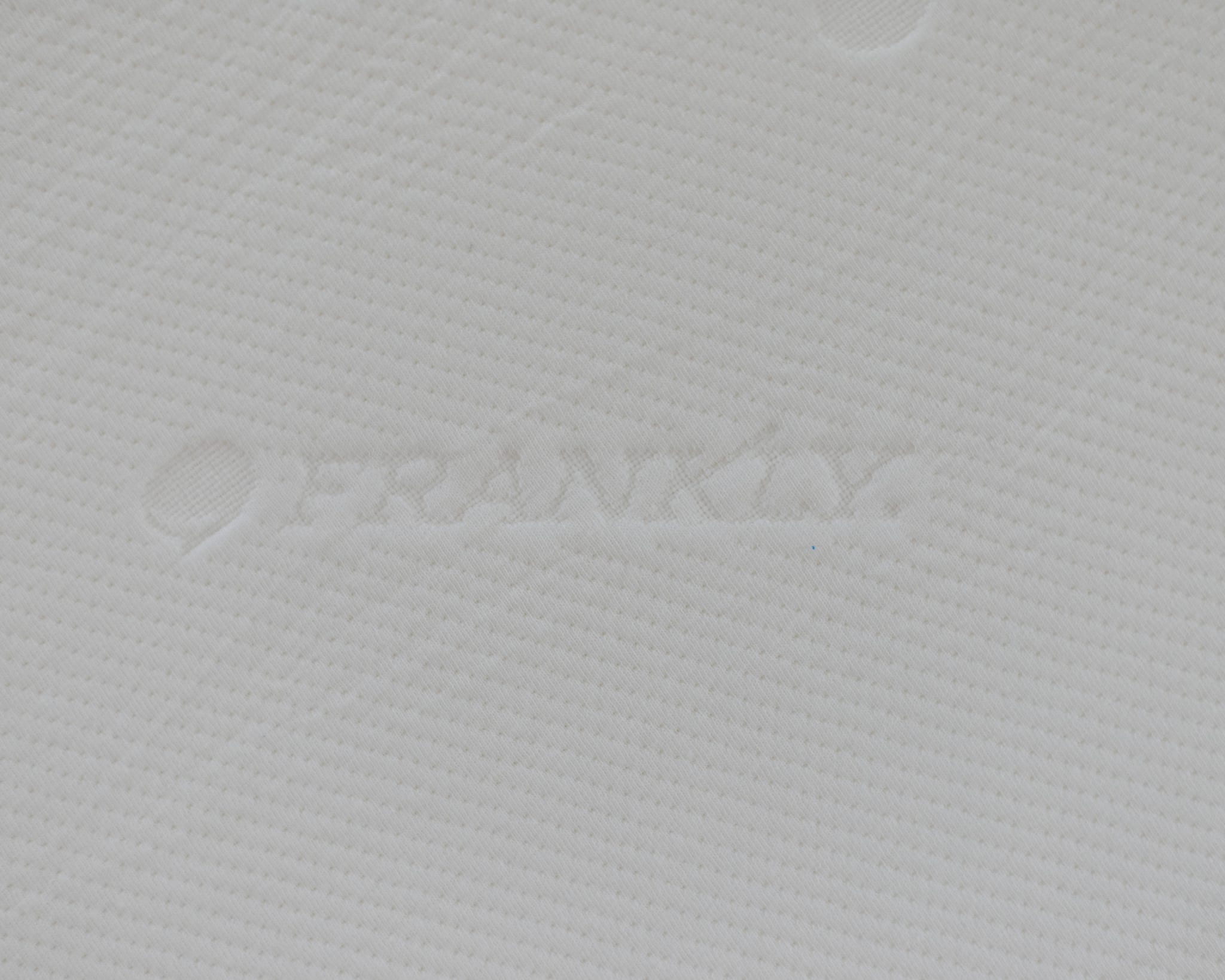 The Frankly Mattress was a little more firm than I was used to but I gave it about three weeks to get used to it. Soon my shoulders were not hurting as much when I woke up and I was not tossing and turning all night. Before long, I realized that I was sleeping much better and my shoulders were back to normal.
I was impressed with the quality of the Frankly Mattress and how simple it was to have it delivered to my door and set up in about ten minutes. I keep a pretty hectic schedule and the thought of mattress shopping makes me cringe. I had never heard of a mattress in a box that's delivered to your door and I'm grateful that Frankly asked me to review their mattress and to share my experience. I can honestly say that I love the mattress and if you're in the market for one, definitely consider trying a Frankly Mattress. There is a 60-night trial period and easy returns if you decide it's not for you and they have a 10 year warranty.
Adding Simple Accents Pieces and Rearranging
There are other simple things you can add or change up in your room to make it feel refreshed. Rearranging furniture is always an option. Sometimes just moving things around gives your room an entirely different look. Unfortunately, that isn't an option in my room with all the windows and how the fireplace is situated.
Adding a bench to the end of the bed is an inexpensive way to refresh the room and it gives me a place to stack my pillows at night!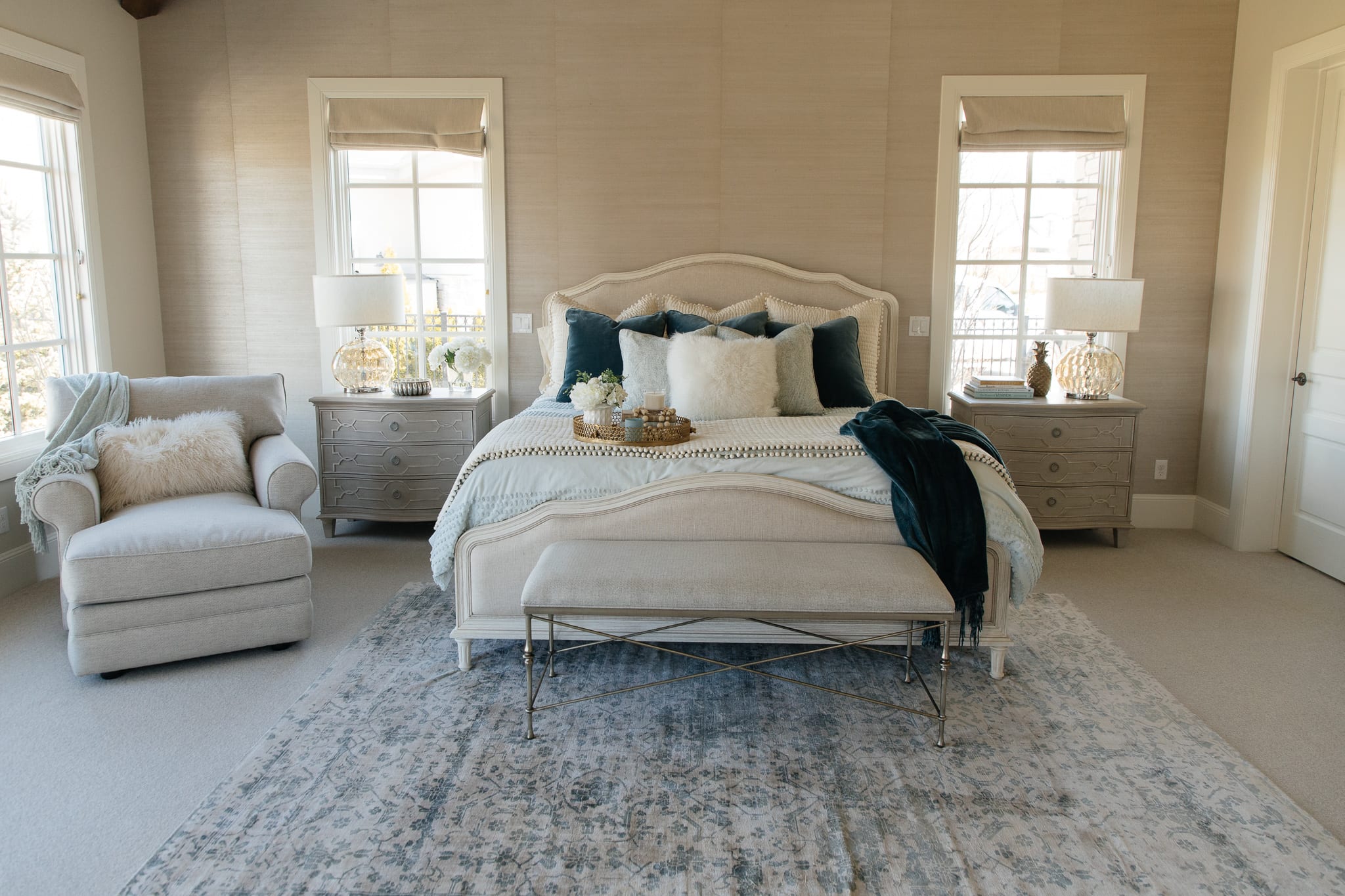 Placing a rug under the bed is another way to update your bedroom. The rug should be about three feet from the end of the bed and centered with the bed on the sides.
I wanted a chaise lounge chair in the corner and had been looking for the perfect one to go in that space. The one I chose had many fabric choices so before I picked a pattern, I ordered swatches of my top five fabric choices. This made it so much easier to decide once I could see them in person and up close to the other fabrics in the room. I chose a neutral fabric that would go well with the other colors in the room. (Nobletex Platinum is the fabric on mine)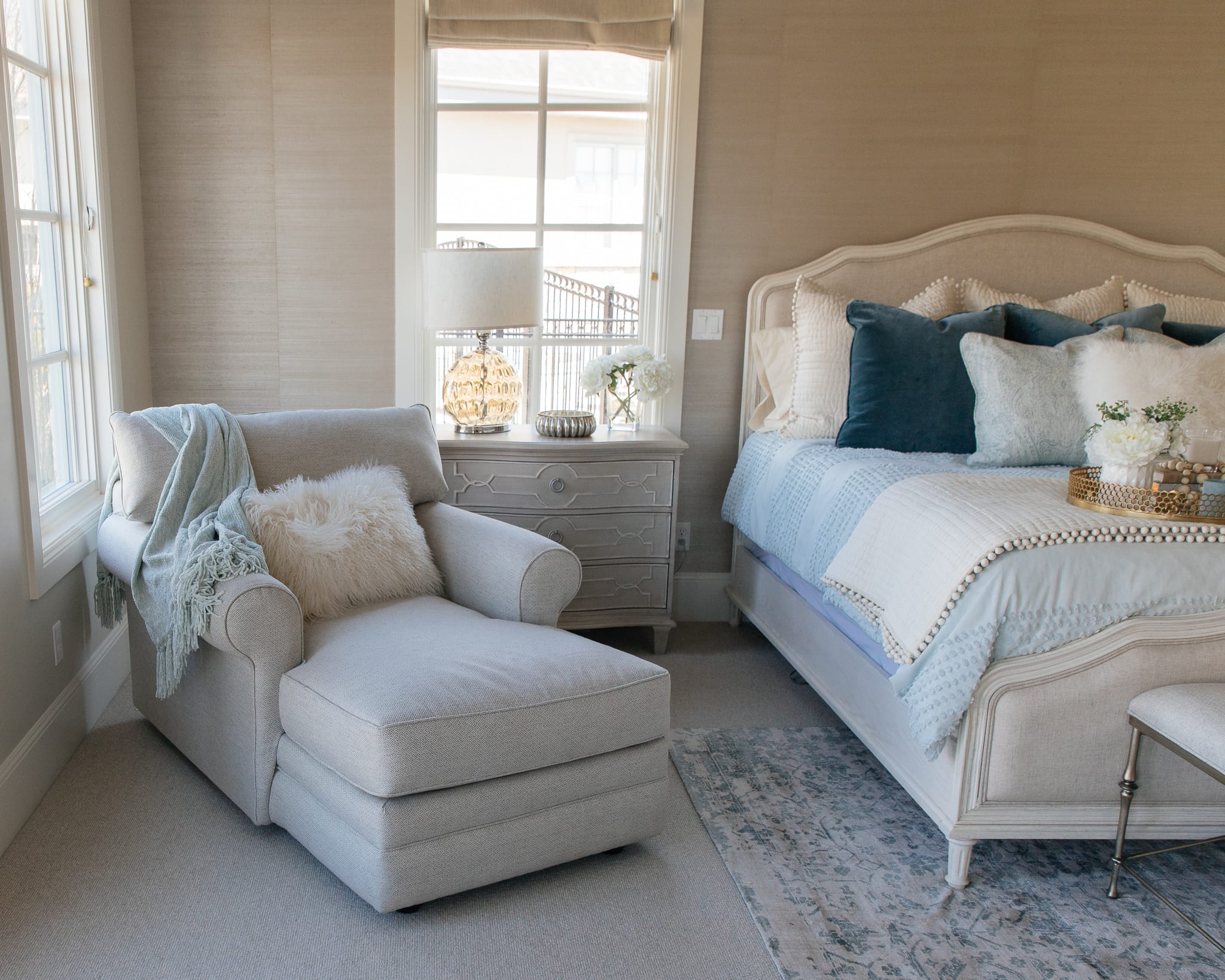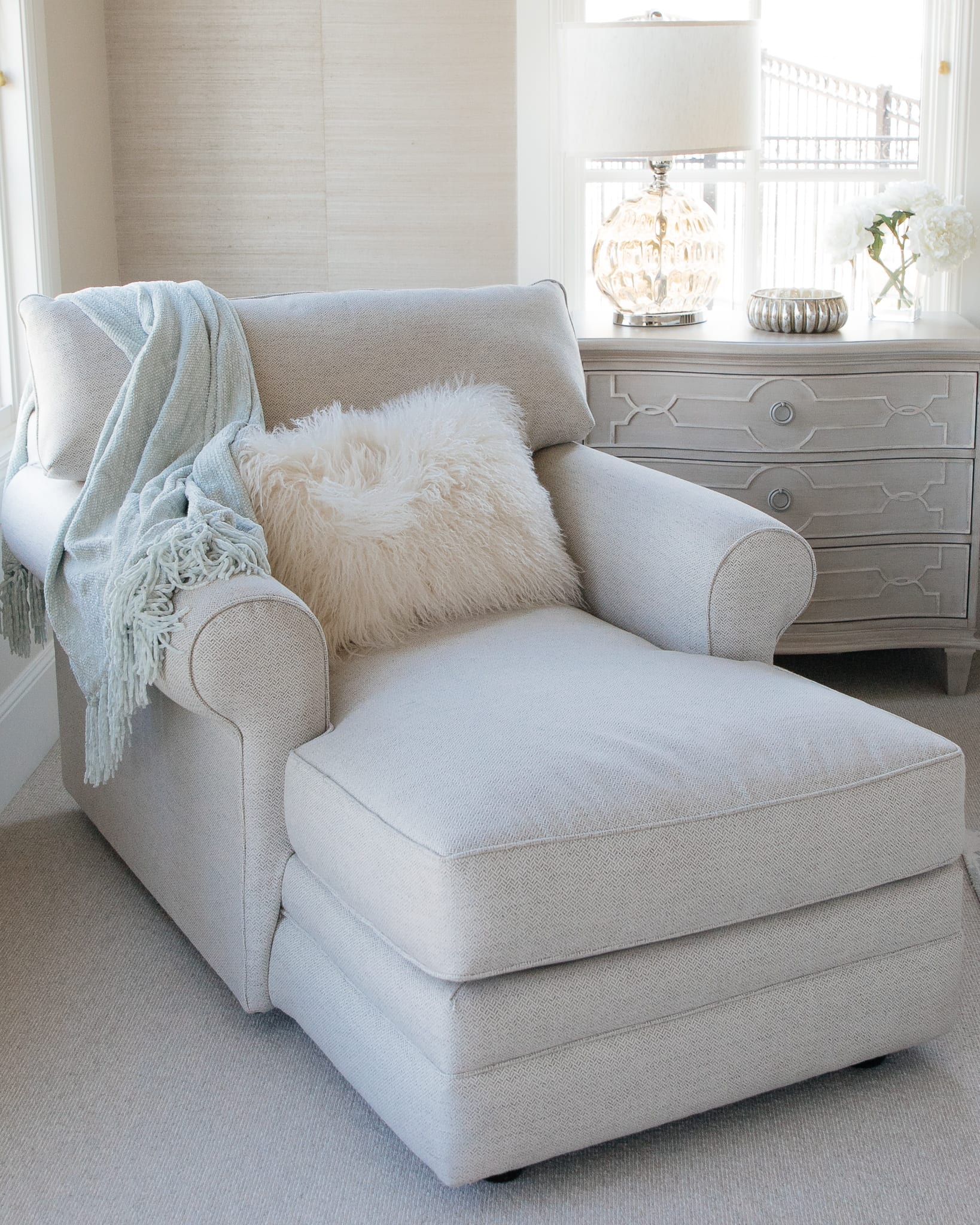 I searched forever for the perfect full length mirror and finally found this one. It arrived the day before I photographed my room for this post! It still needs to be hung on the wall but I had to sneak it into this post because I love it so much! Adding mirrors and artwork are a nice option to bring more color and beauty to your bedroom.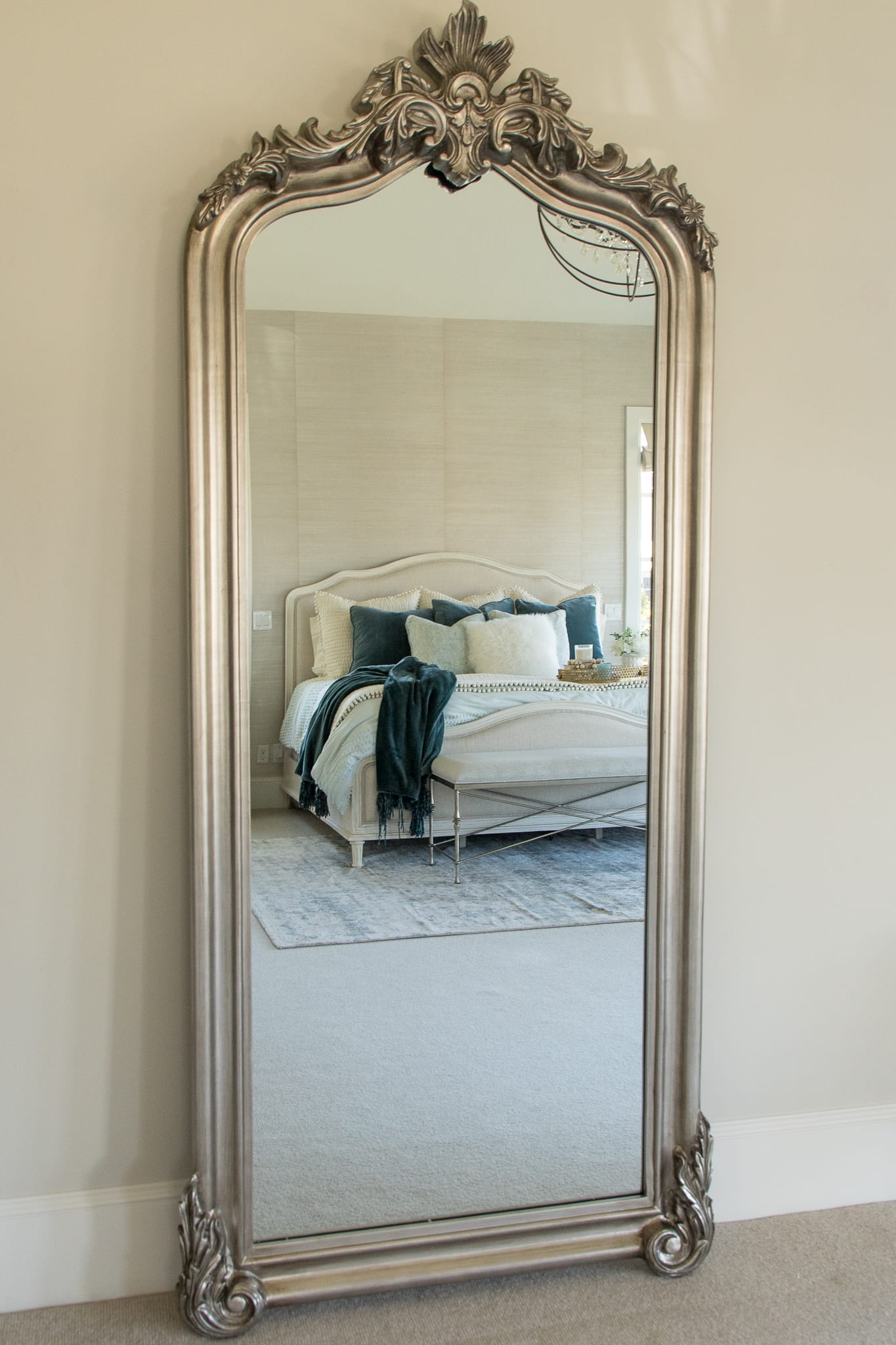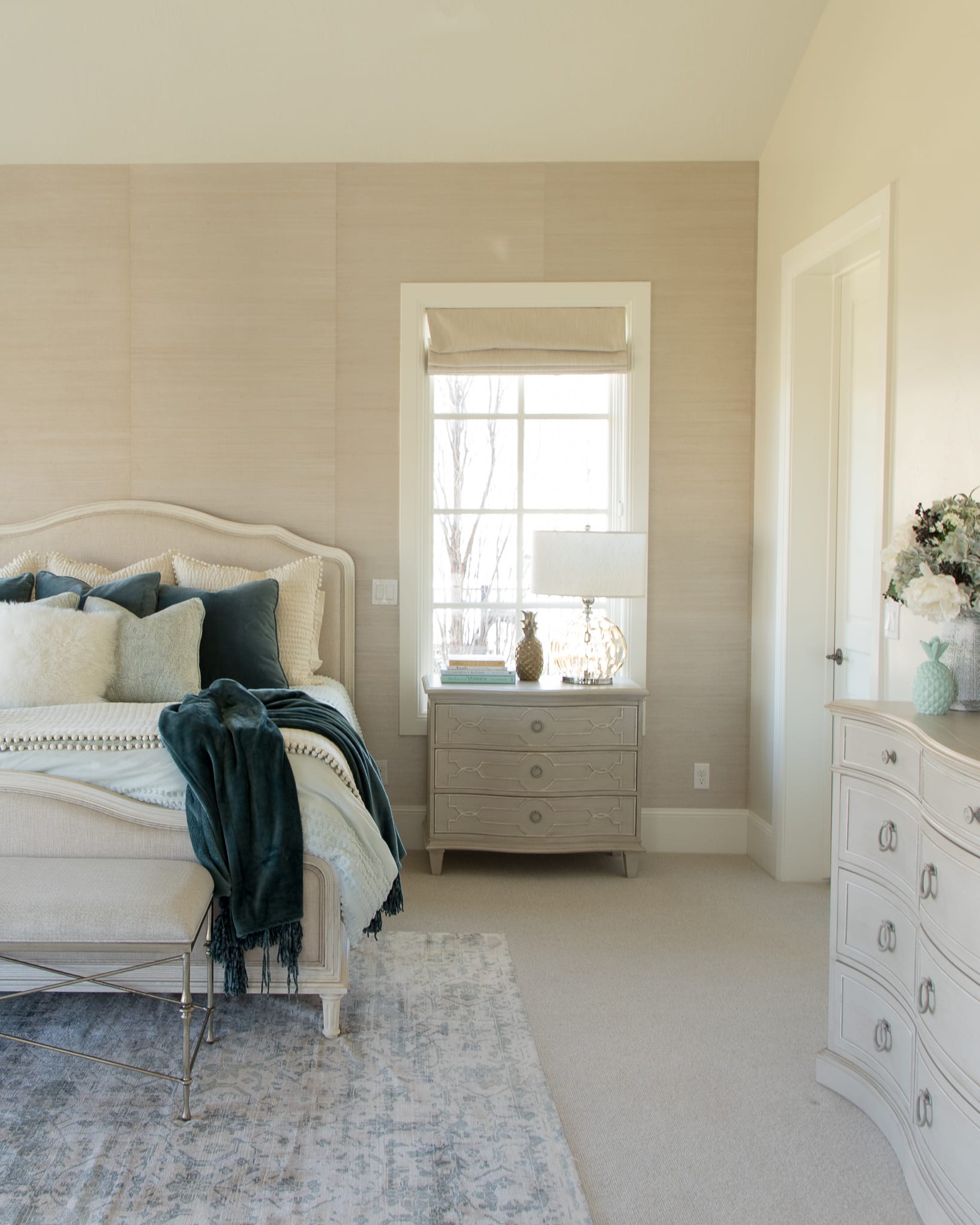 As always, thank you so much for following along and allowing me to share my home and ideas with you all!
I've linked all the items here for you. Some items are no longer available so I've linked similar items where possible. I've also tried to link some items that are at different price points.
Frankly King Size Memory Foam Mattress
Audree Pom Pom Quilt Spa/Beige and Shams Beige
100% Organic Cotton Sheets: PRIME PECALE SHEETS CHAMPAGNE COLOR FROM DOPLNOK

Wising you all a happy Spring!
XOXO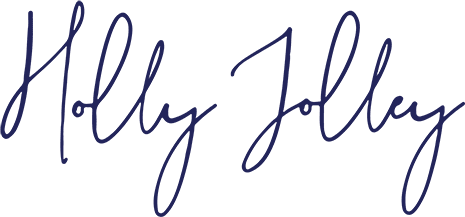 Pin This for Later