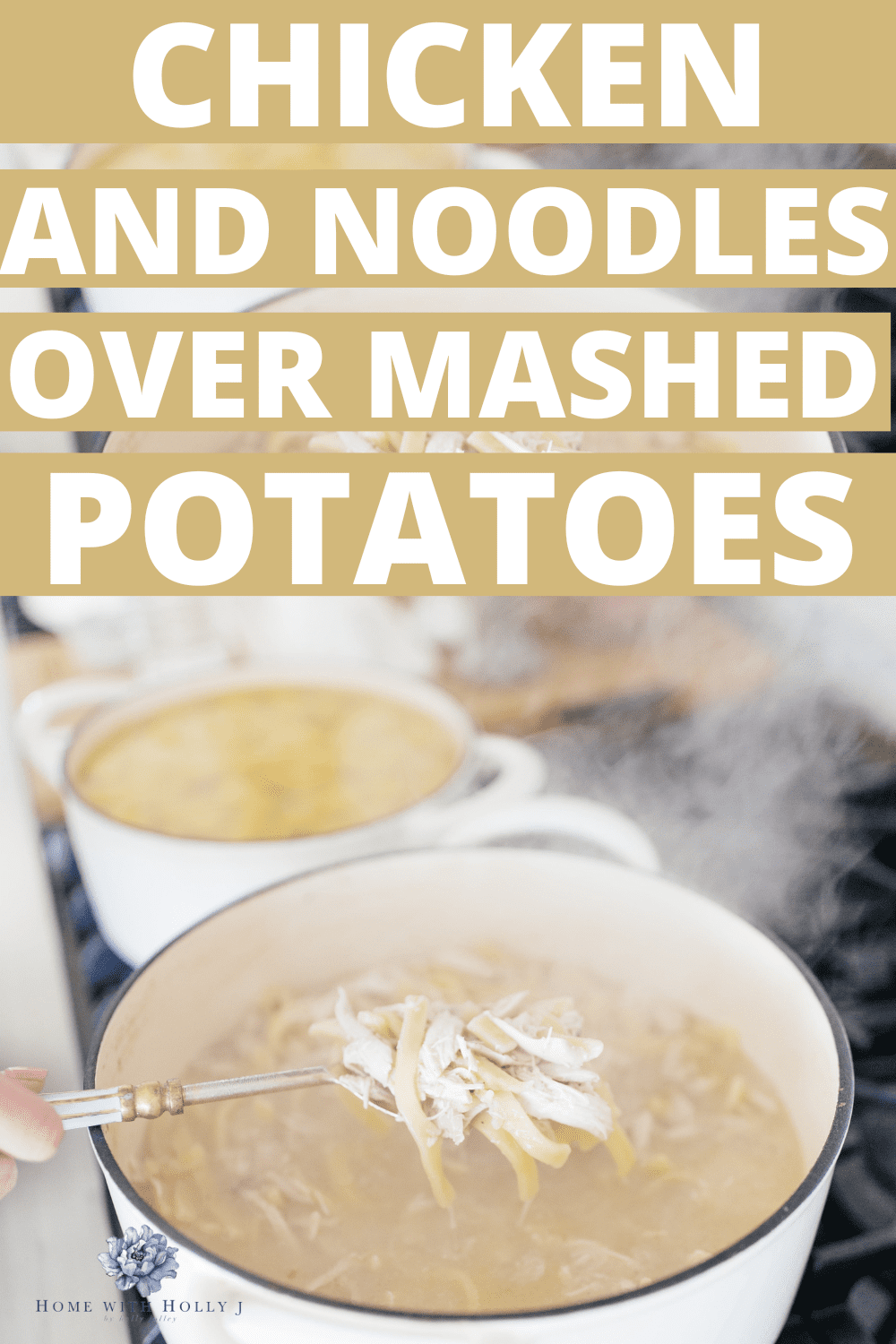 Sharing the easiest and yummiest Homemade chicken and noodles recipe with mashed potatoes that has been passed down for four generations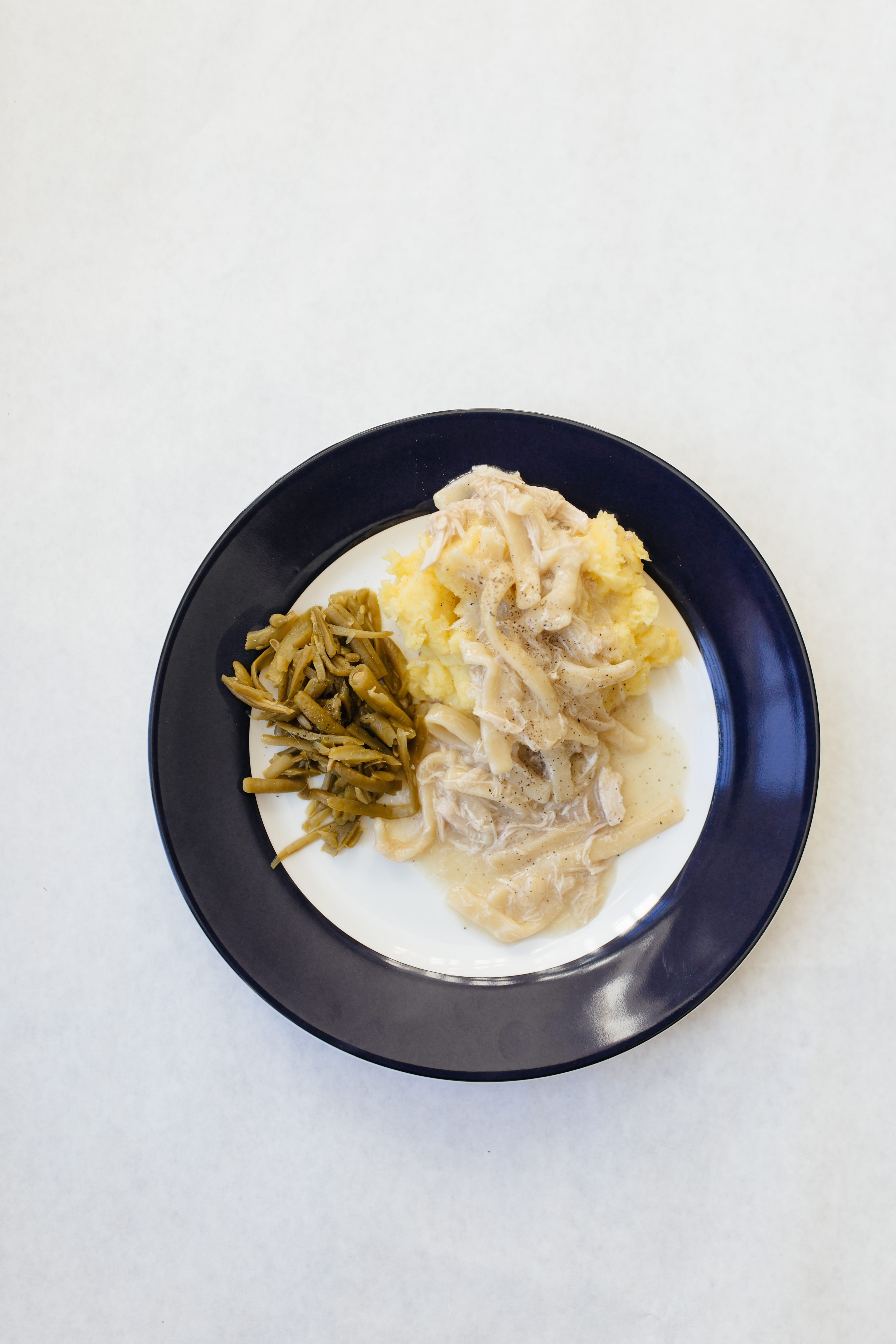 This homemade chicken and noodles recipe served over mashed potatoes is a cherished family recipe.
I know you're wondering how can you have double starches?
Potatoes and noodles?
Trust me, this is a delicious combination!
Anyone who has ever had this meal loves it.
We would have this often when I was growing up and this was one of the first recipes I learned to make when I was young.
It has been passed down four generations and originated, as far as I know, from my Great Grandma Stone.
This was the first meal I ever made for my husband not long after we met.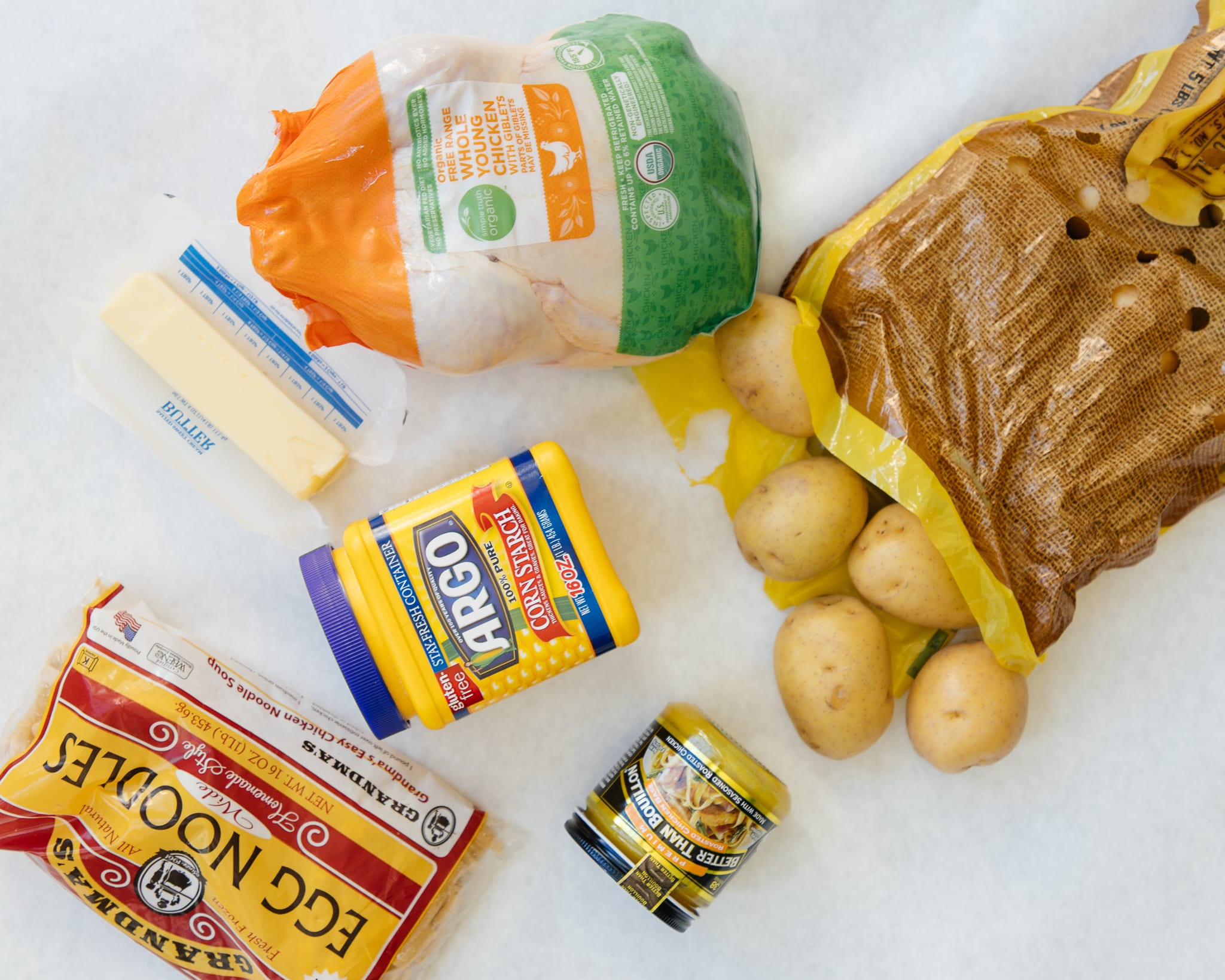 We were in college at the time, and he and his roommates had helped me move to a different apartment.
I wanted to make them dinner as a thank you to them for helping me.
I made them this recipe and they loved it. Especially my husband!
After he had eaten two giant helpings, he decided he liked me a lot more.
I jokingly tell everyone that I didn't have him at hello, I had him at homemade chicken and noodles over mashed potatoes!
I went from good friend to girlfriend after I cooked this for him.
It's still one of his favorite meals.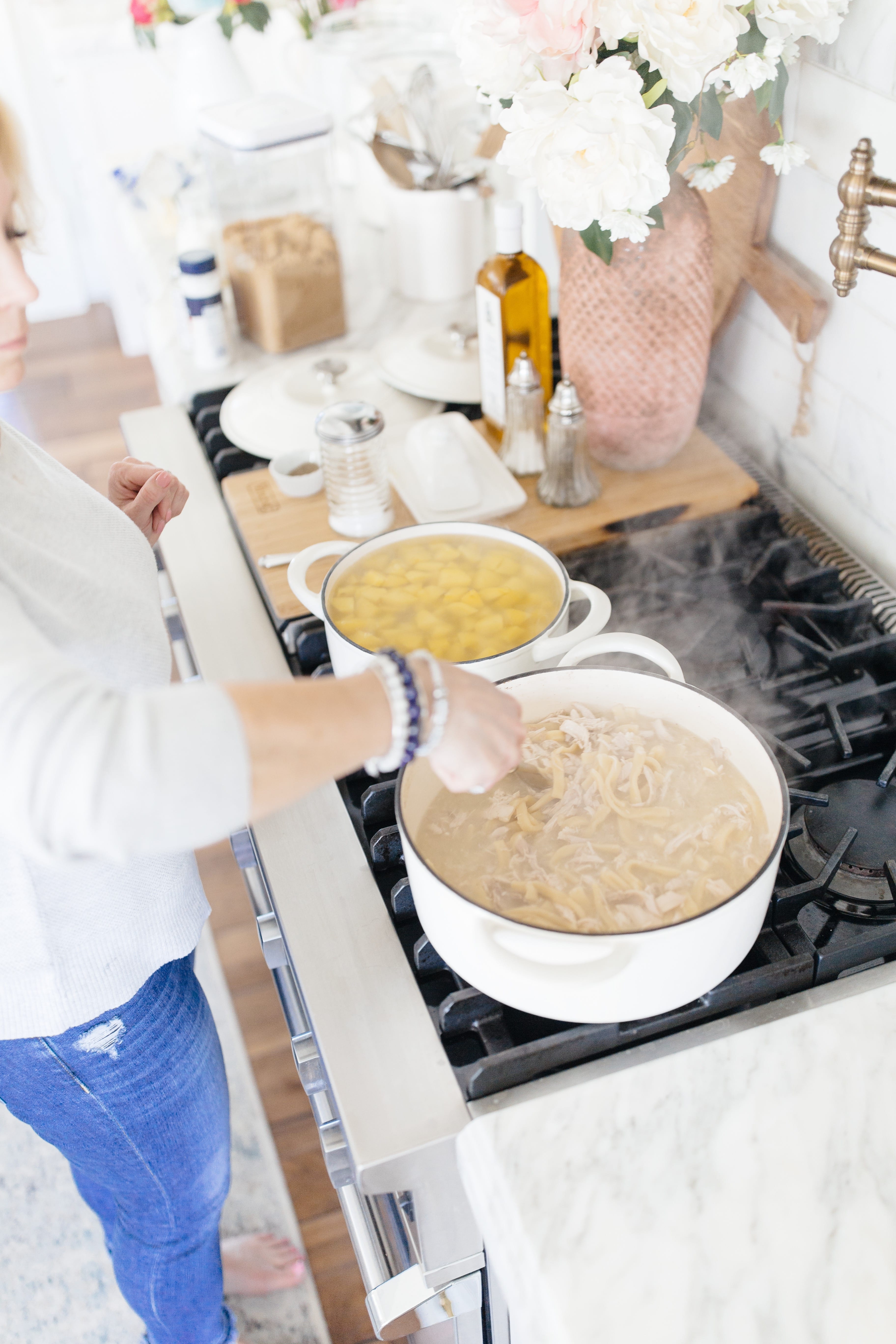 If you're from Idaho, you know that potatoes are a big part of every meal.
At least it was when I was growing up.
My parents are from Idaho and I spent my summers there with my grandparents.
Both at home in Washington, and at my grandparents house, we almost always had potatoes with every meal.
About six months after we were married, My husband politely asked me if we could have something else besides potatoes with every meal.
I said, "Well, what else is there?"
He said "How about some rice or pasta?"
I didn't even know how to make rice or pasta unless it was riceroni or mac and cheese from a box.
We still laugh about that!
I seriously thought you had potatoes with every meal. I loved potatoes and could make them 20 different ways!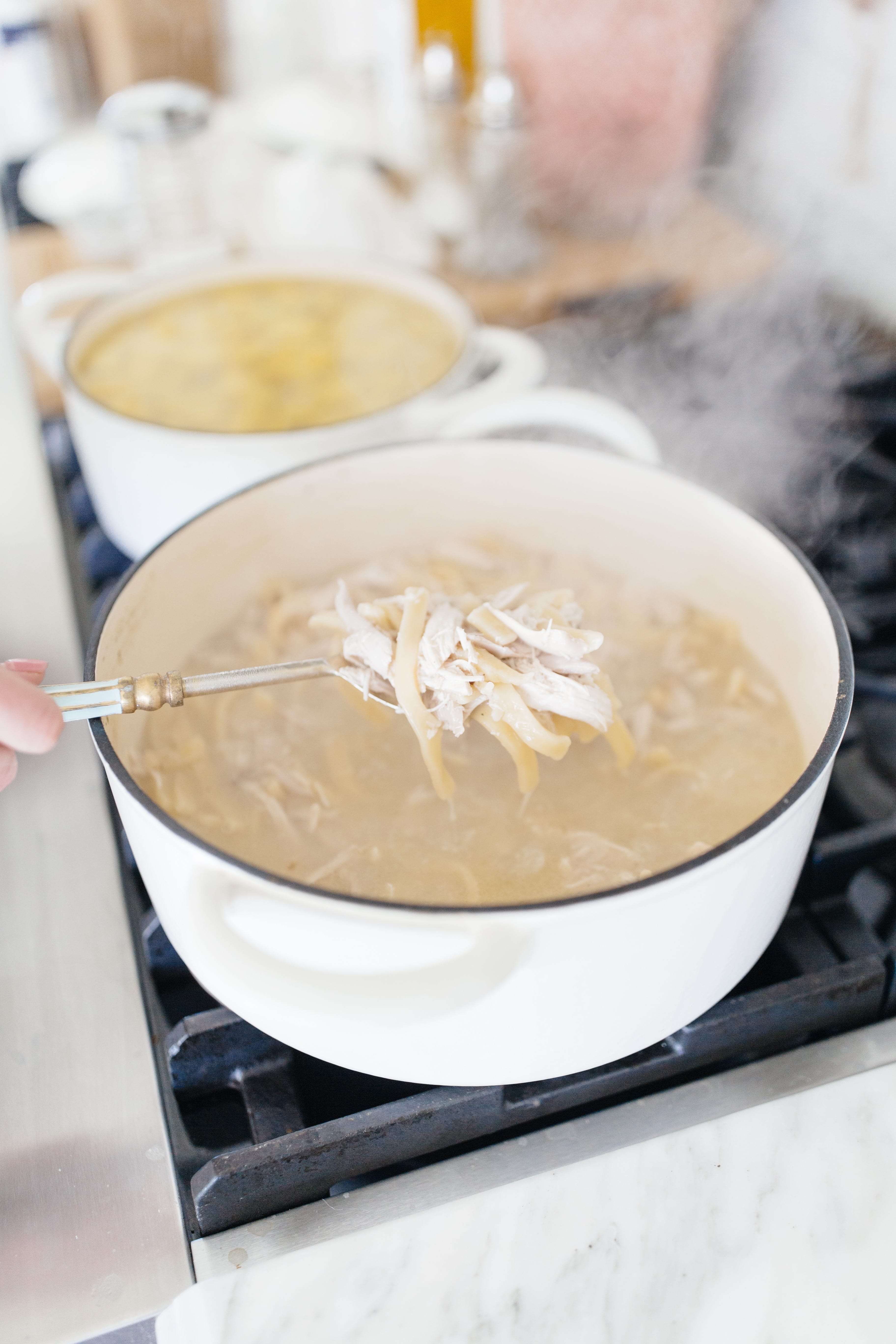 This recipe is great for a large crowd as it makes a lot and it's actually super easy.
It's not a time consuming either and doesn't make a big mess.
I'm sure way back in the day when my great grandma made this, she probably made her own egg noodles.
I tried once to make my own but to be honest, the frozen ones from the grocery store are better than what I made!
There are two brands I've used, Reams Frozen Egg Noodles and Grandmas Frozen Egg Noodles.
They are sometimes hard to find at the grocery store in the freezer section, so I always ask someone who works there if I can't locate them.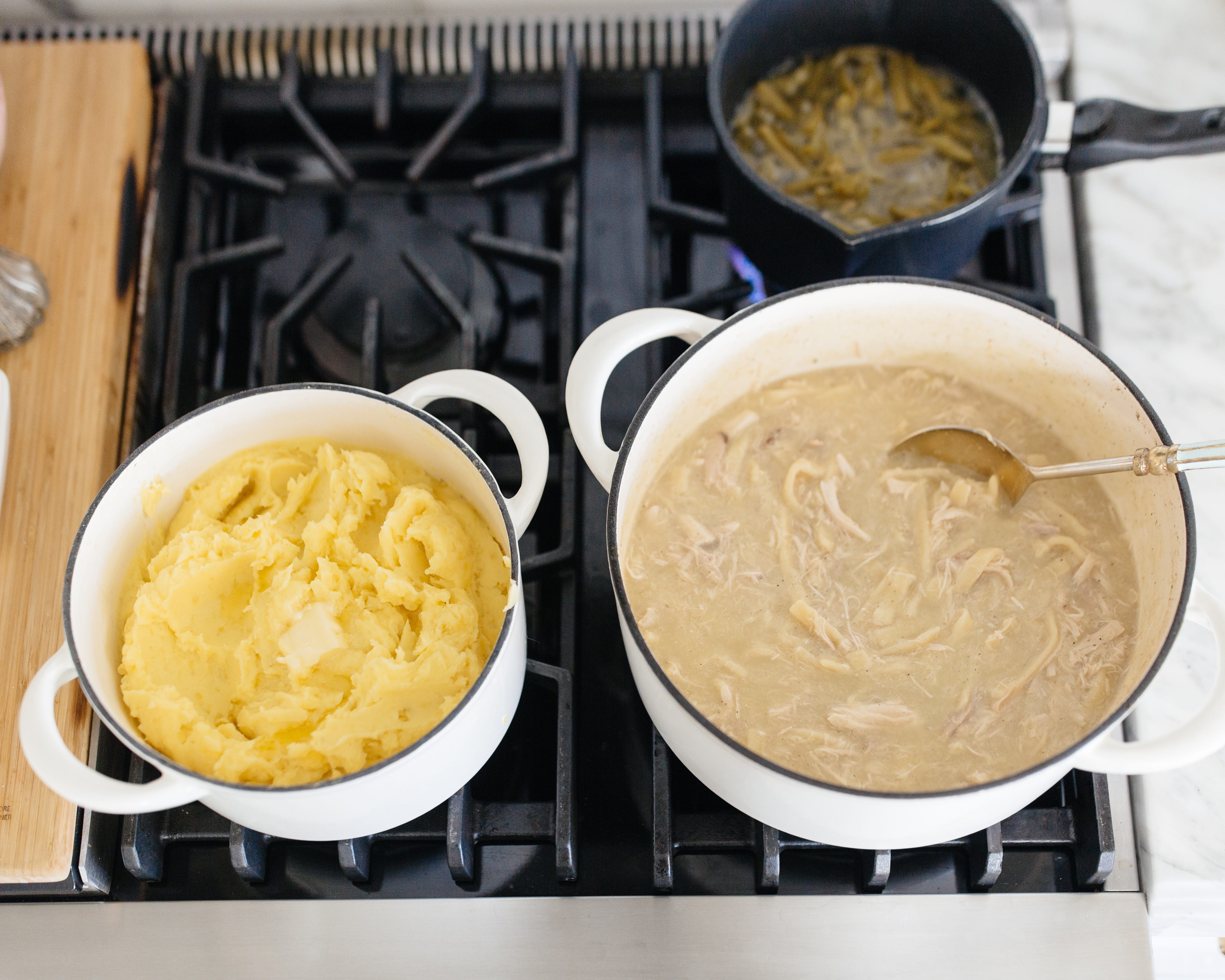 I hope you enjoy this recipe as much as my husband did when I made it for him the first time!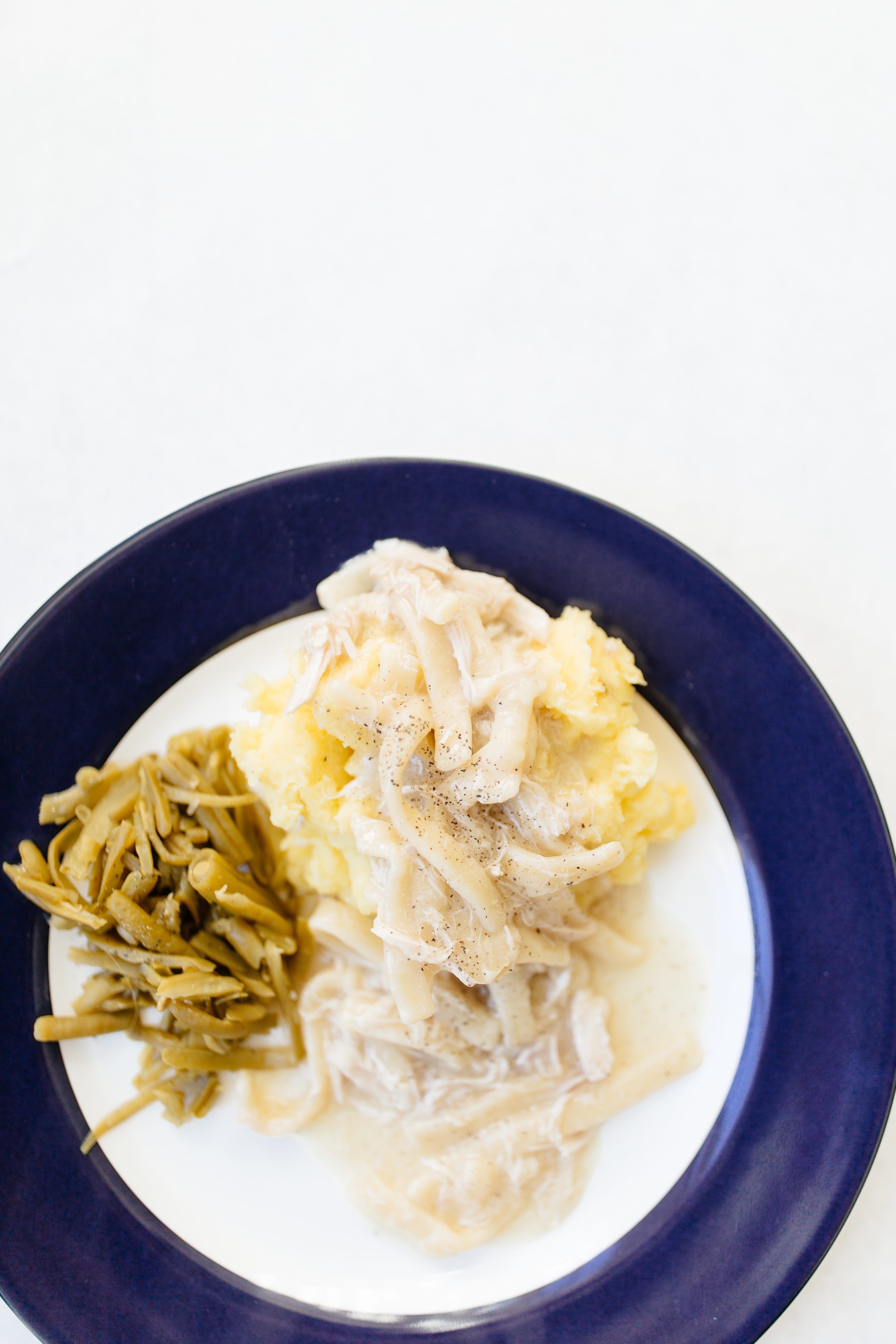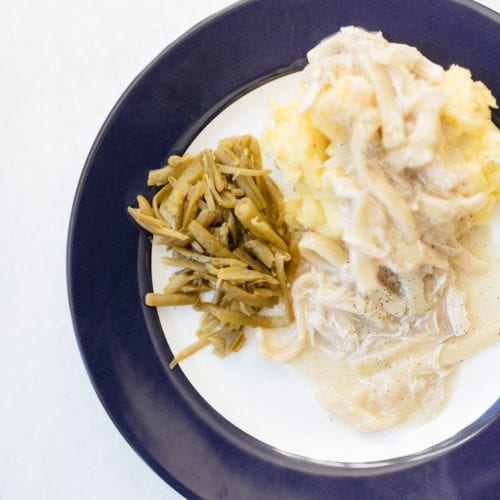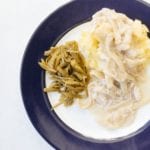 Chicken and Noodles over Mashed Potatoes
This is my family's recipe that has been passed down four generations. If you're from Idaho, you'll know what this is! Chicken and Noodles over Mashed Potatoes. Comfort food doesn't get any better than this!
Cook Time
2
hours
30
minutes
Total Time
2
hours
55
minutes
Ingredients
1

whole

Chicken

1

package

frozen egg noodles

(Grandma's or Reames Brand)

3-5

tbsp

chicken bouillon

(to taste)

2

tsp

salt

(water covering chicken)

1/2

tsp

peper

(to taste)

6

large

potatoes

1/3

cup

cornstarch

1/3

cup

water

1/3

cup

milk

1/4

cup

butter

3

tbsp

salt

(for potato water)
Instructions
Take a whole chicken and remove the bag inside the chicken that has the liver and heart. Discard.

Place the chicken in a large stock pot or 7 quart dutch oven pot. Fill up the pot until the chicken is almost covered in water.

Add salt, 1/2 tsp pepper and bring to a boil. Turn heat down and simmer for approximately 2 to 2 1/2 hours or until the chicken is almost falling off the bone. (Turn chicken over at least once so both sides are submerged at some point) Remove the chicken from the pot and set on a large plate or platter to cool. There should be about 4-6 inches of stock left in the pot.

Peel and wash the potatoes, then cut them into 1-2″ pieces. Put in a pot and cover with water then add 2-3 TBSP salt to the water. Always salt your potato water. This is important! Bring to a boil and check potatoes every so often for doneness.


Once the potatoes are on the stove and cooking, dump the frozen egg noodles into the same pot of chicken stock. Stir a few times to make sure the noodles all separate and don't get clumped up. Cook on medium to medium high heat and stir often.


While the noodles and potatoes are cooking, start deboning the chicken and add the meat back into the pot with the noodles. The noodles usually take 20-30 min to cook fully. Test them every so often so that they don't get overdone.

When the noodles are fully cooked and chicken has all been added back into the pot, add in the chicken bouillon. This is not an exact measurement so you may need to add a little more or little less depending on how much stock you had after the chicken was removed for deboning. If you need more salt and pepper, you can add more here. The bouillon has a lot of salt so add that first and then taste and see if it needs more. Turn down the heat to medium low.

In a glass measuring cup, mix cornstarch and water and stir until there are no lumps and all the cornstarch and water are mixed well. Turn heat up a little so that its boiling and add in cornstarch and water mixture. Stir while adding this. Once the chicken and noodles come to a boil, it should start to thicken. If it's too runny, make a little more cornstarch and water and add a little at a time until it starts to thicken. If you get it too thick, you can always add more water and bouillon to compensate. It should be the consistency of a thin gravy or sauce. It is not a soup so you don't want it the consistency of chicken noodle soup.

Once, it's thickened, the chicken should shred some as you stir. Turn heat to low and then check and drain your potatoes.

Mash the potatoes with 1/3 cup milk or half and half and 1/4 cup of butter.

Serve the chicken and noodles right over the top of the potatoes.
Sources Linked Below:
Disclaimer: This post does include affiliate links for your convenience. This is at NO additional cost to you but earns me a small commission. To read more, check out our disclosure policy.

Pin This Post For Later