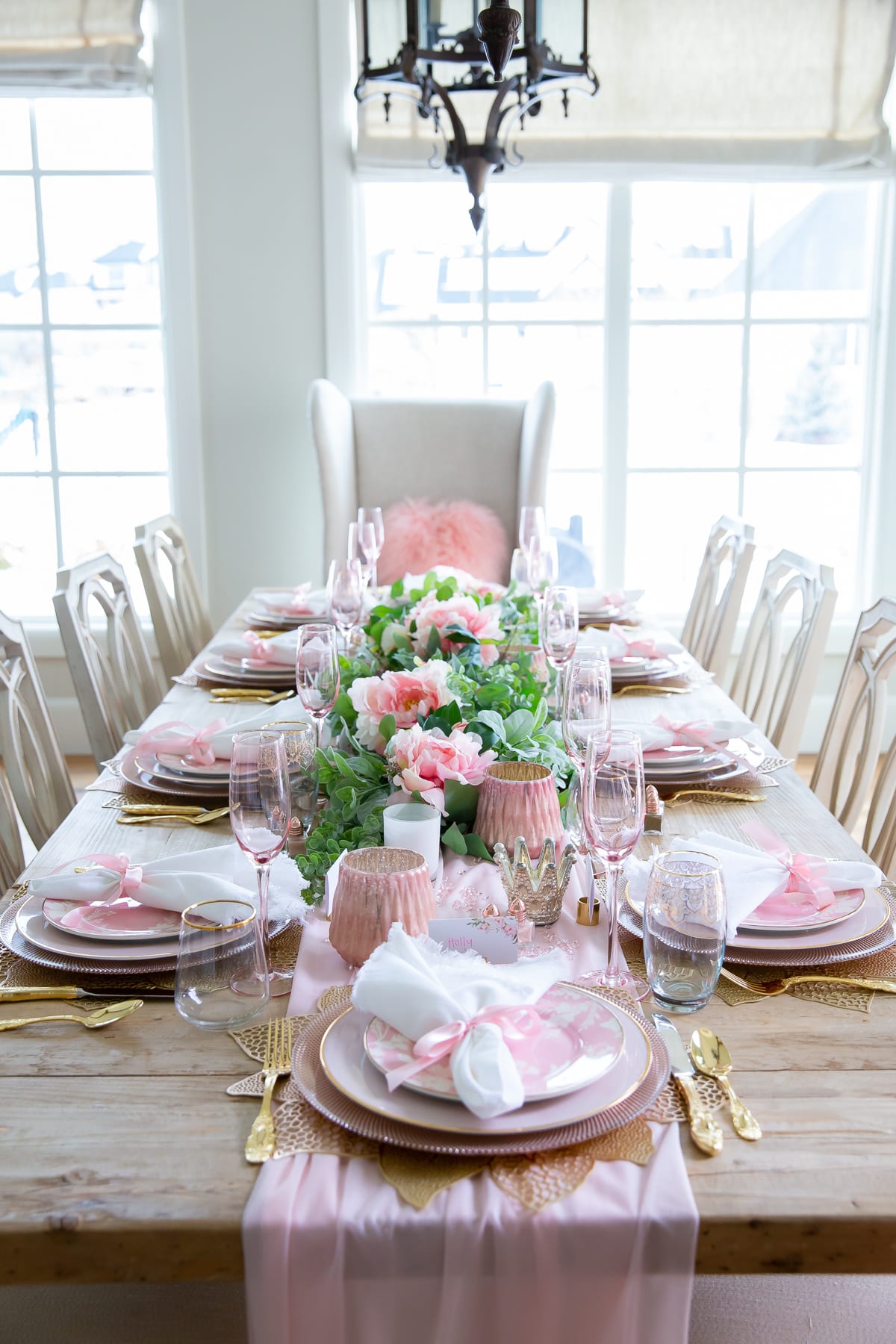 I really enjoy hosting parties and bringing people together. It's just something I've always done and I'm just wired that way. When I moved to Utah I picked a crossfit gym that was close by and started going every day. The ladies at this gym were so warm and friendly and welcomed me with open arms. To show my appreciation months later, I invited them all to my home for lunch. What transpired was something so special that I did not expect! Everyone started sharing things that were deep and personal and I realized that we had all bonded over some life experiences we all had in common. There were tears shed and expressions of love, understanding, and compassion for one another. Since that time, we have gathered every so often and continued this tradition. One of my favorite memories of our first gathering was when I went to do the laundry the following day, I noticed that all of the cloth napkins we'd used for the lunch all had make-up stains from when we were all crying. It was a reminder of the tender moments when we shared some deeply personal things we had experienced in our lives. I smile as I think of that moment and I am so grateful to be surrounded by such an amazing group of strong women. I've come to love every one of these ladies and so I was excited about hosting a Galentines Day party in honor of Valentines Day. I wanted it to be extra special. I decided to do a brunch because I wanted to make heart shaped waffles and heart shaped butter. My friend Summer Adams made heart shaped waffles for me when I visited her in the fall and I knew I had to make them for some type of Valentines celebration. I hope you enjoy all the little details of this fun party and I hope it inspires you to gather with those special gals in your life and share something meaningful with with each other. Good friends make our lives richer in so many ways so why not have a party to celebrate each other!!
The Invitation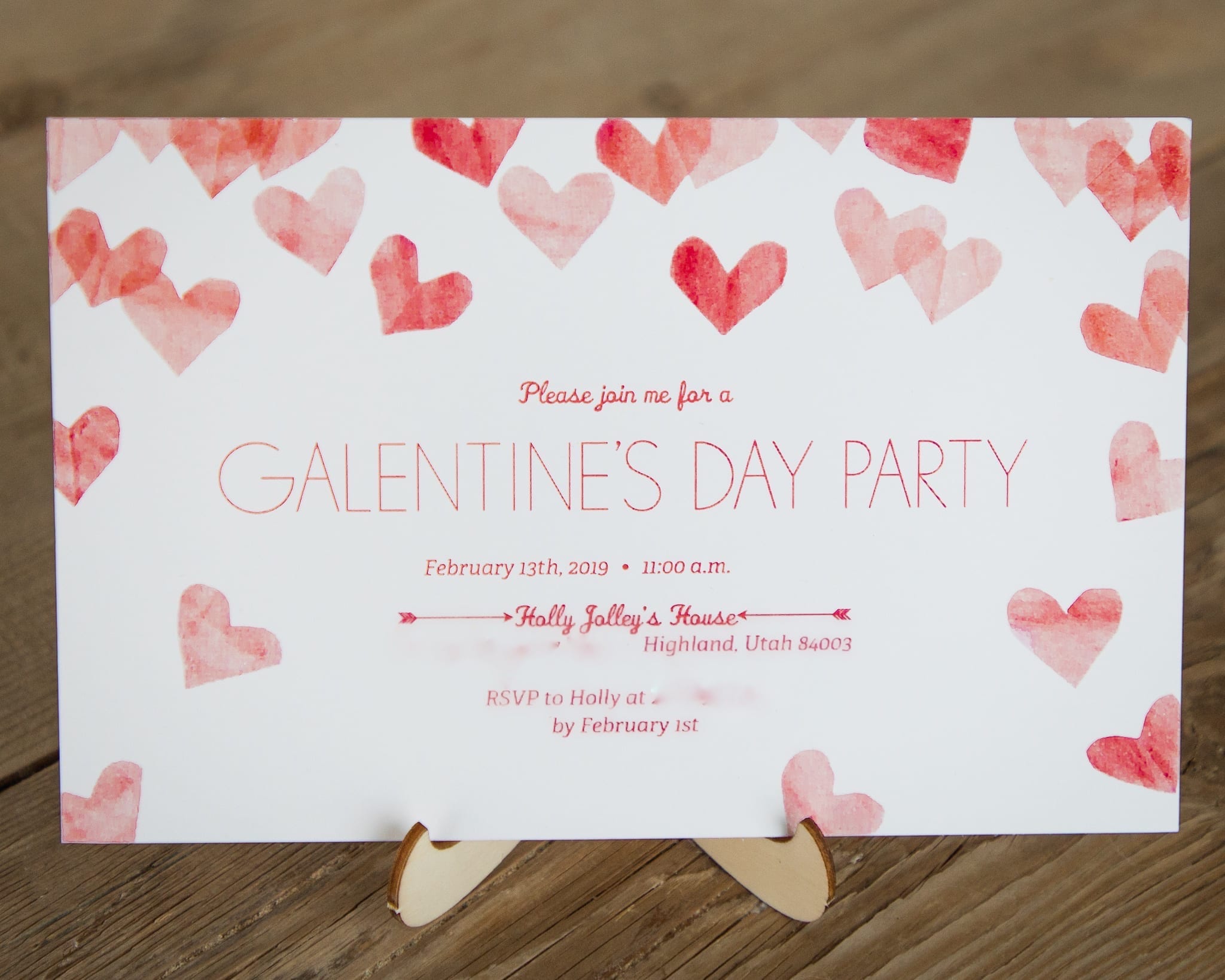 The Tablescape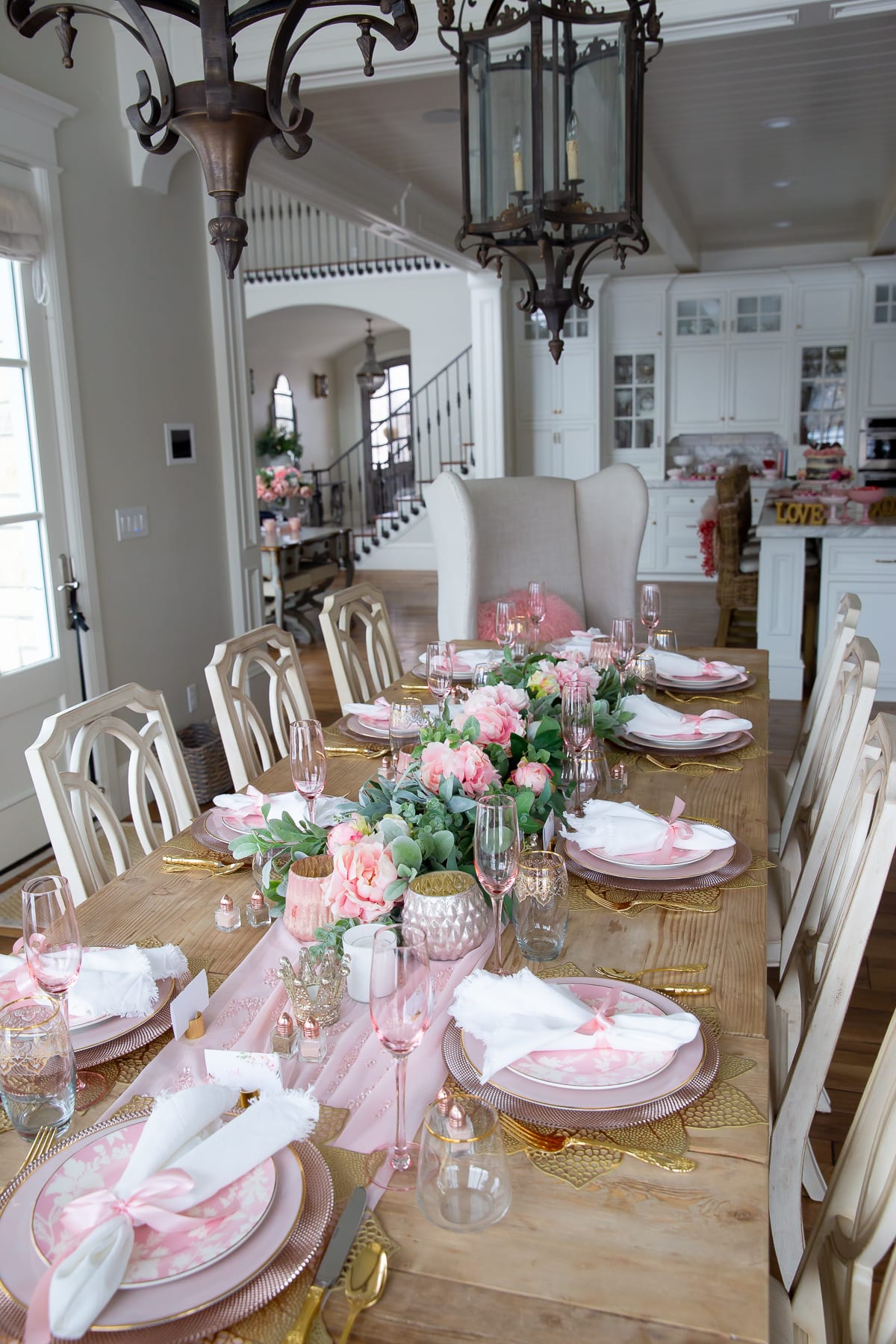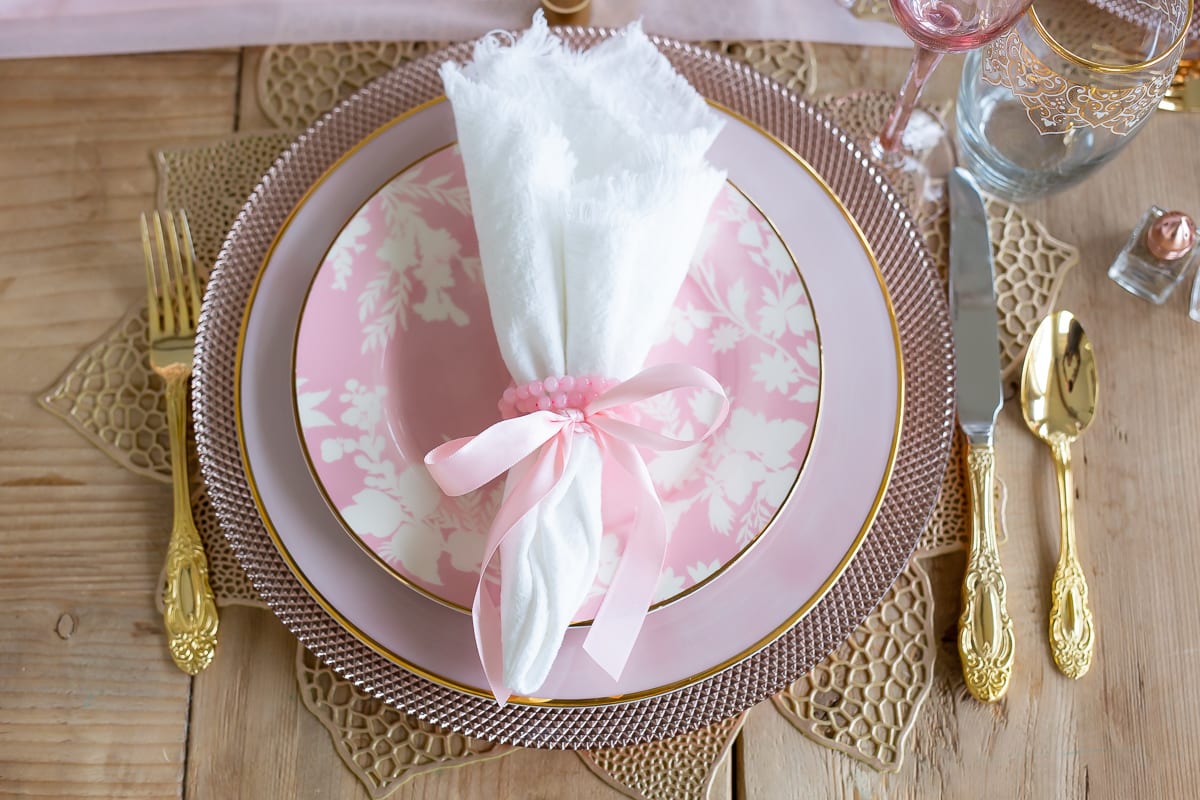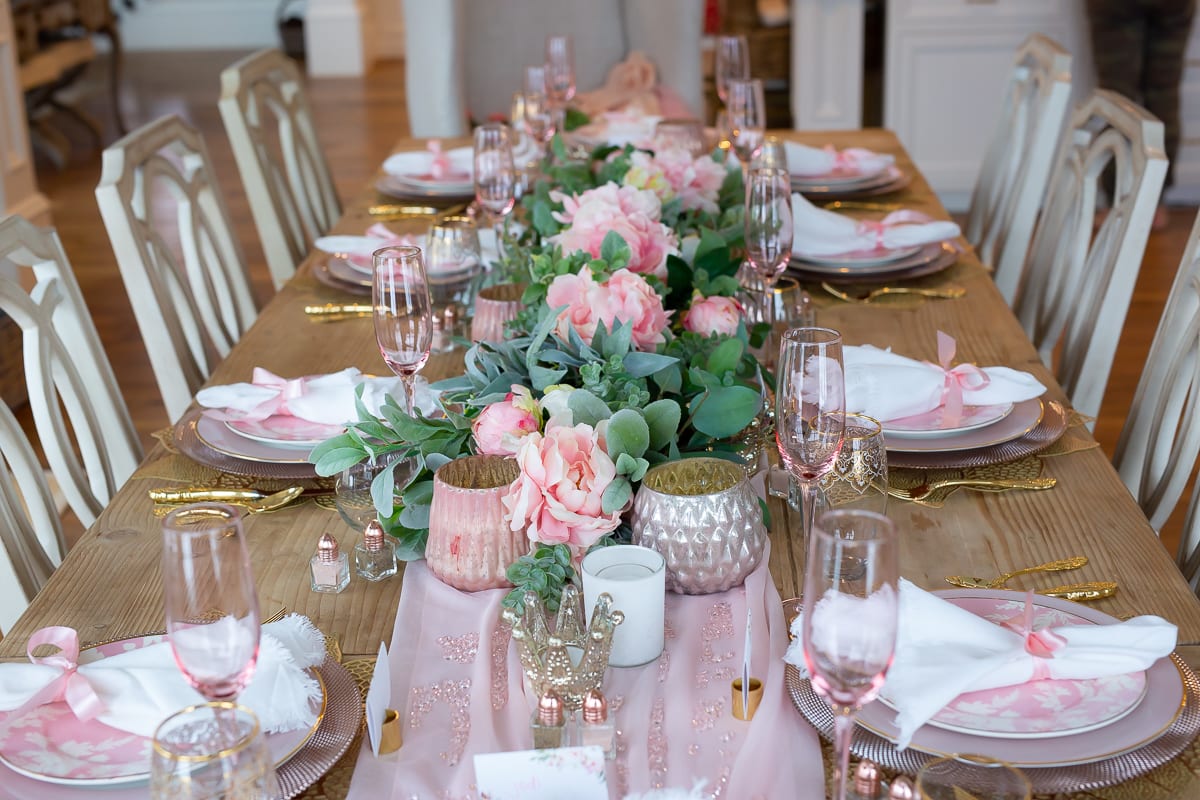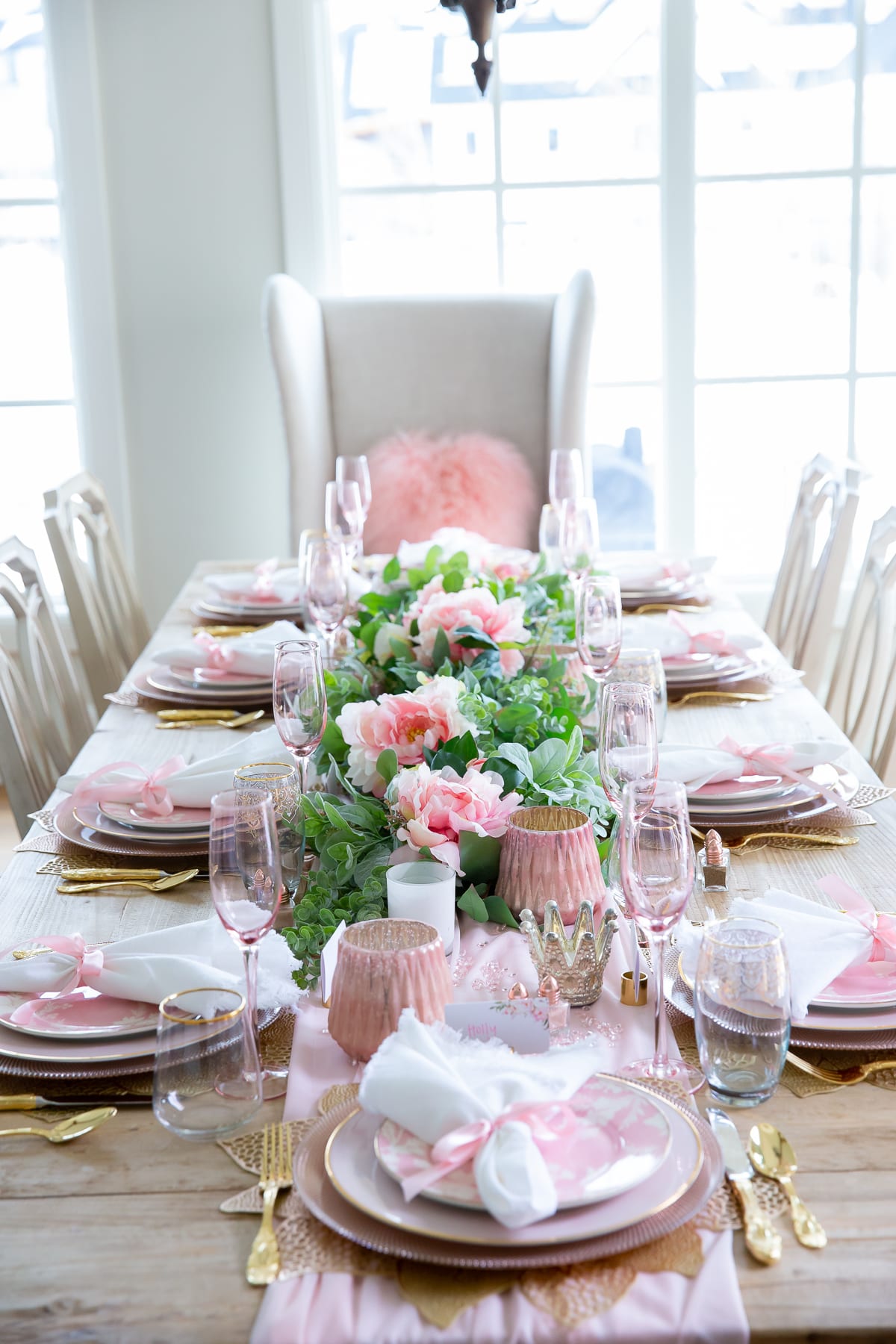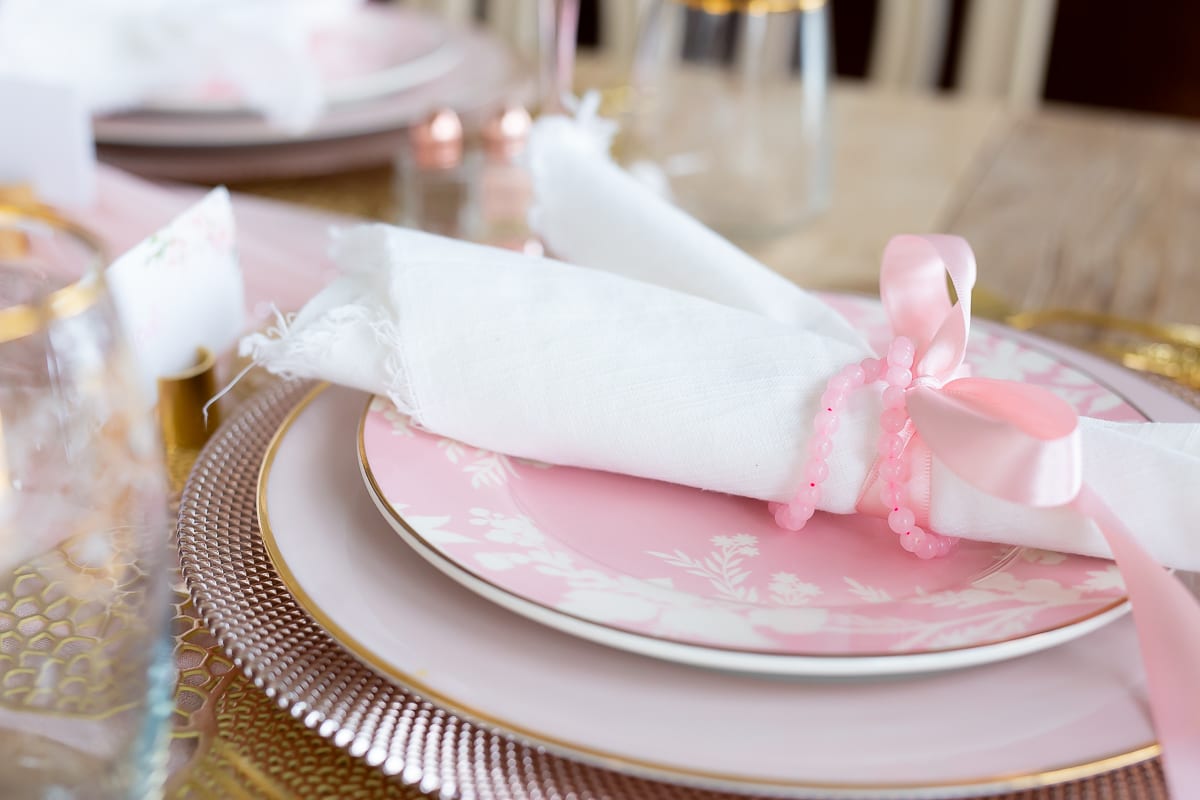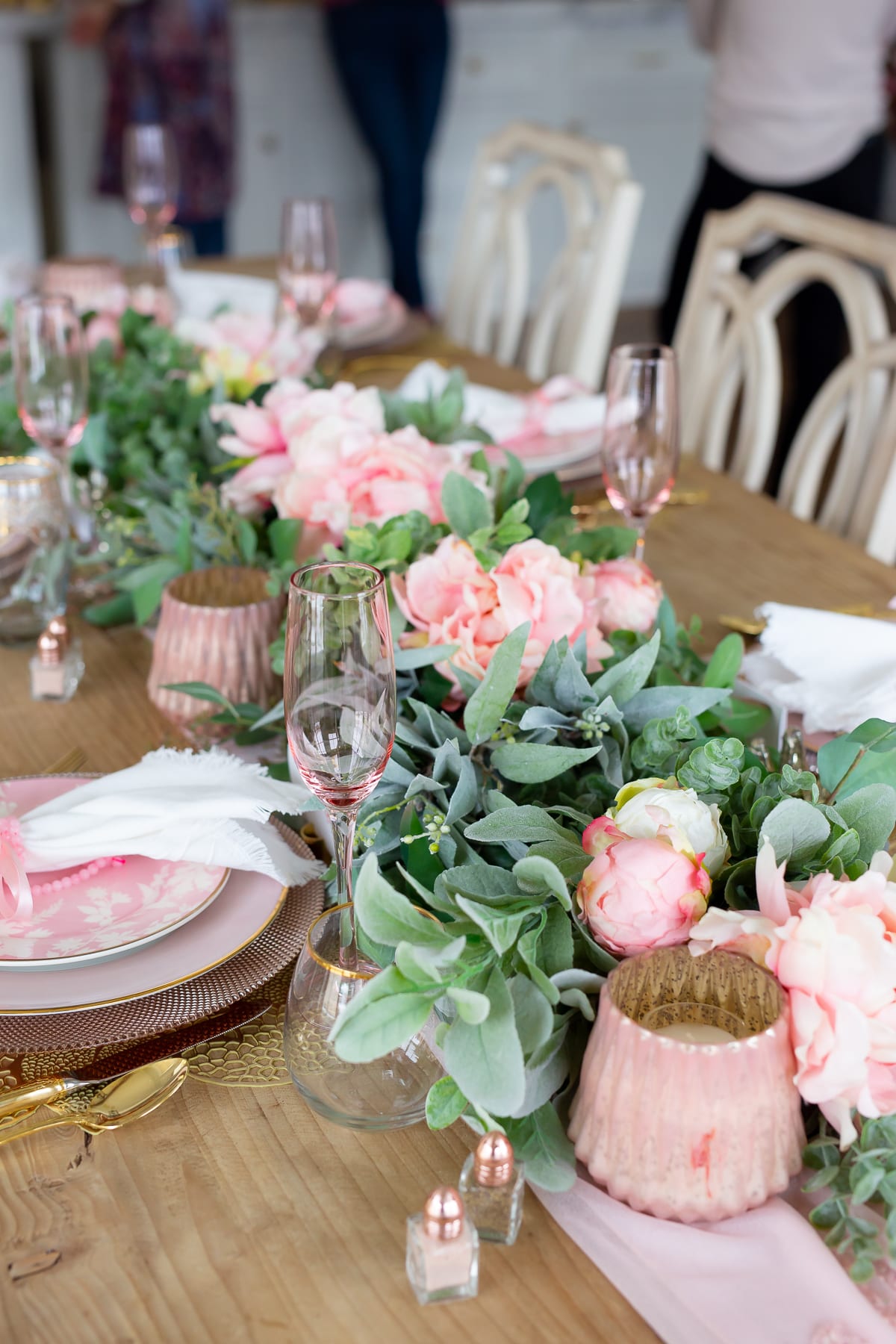 The Hot Cocoa Bar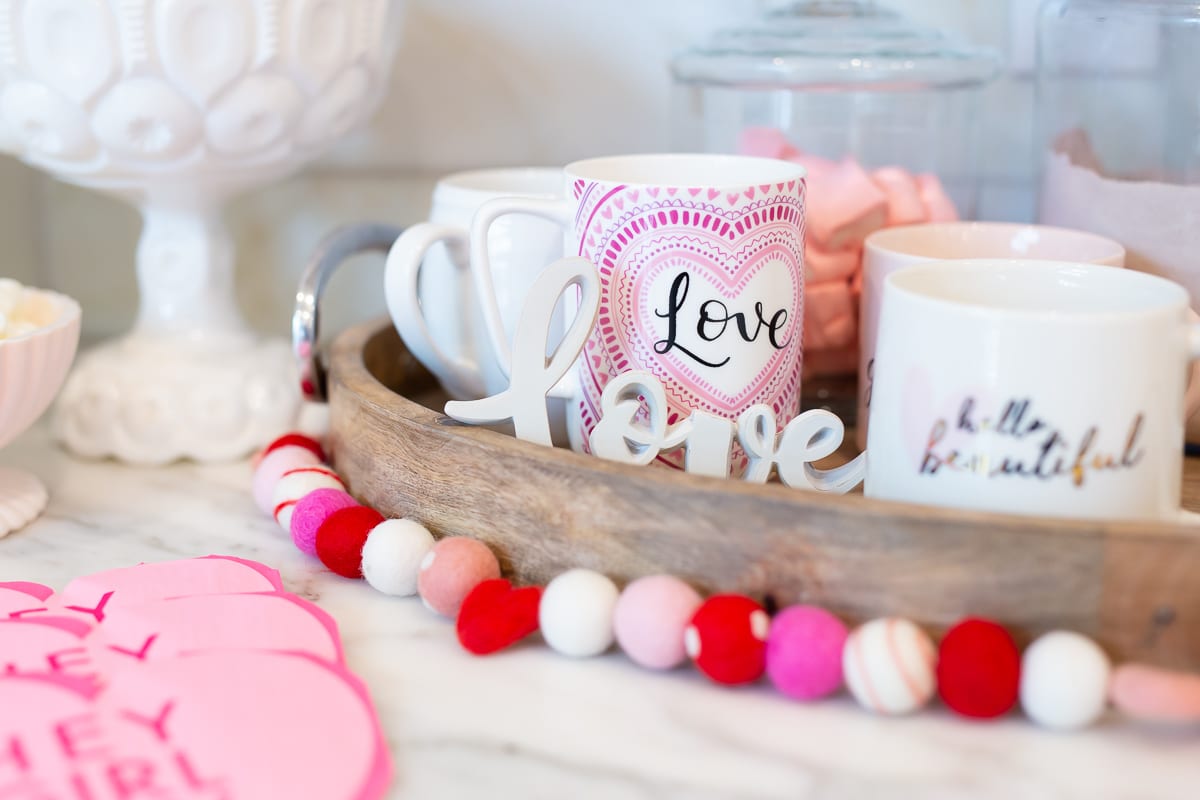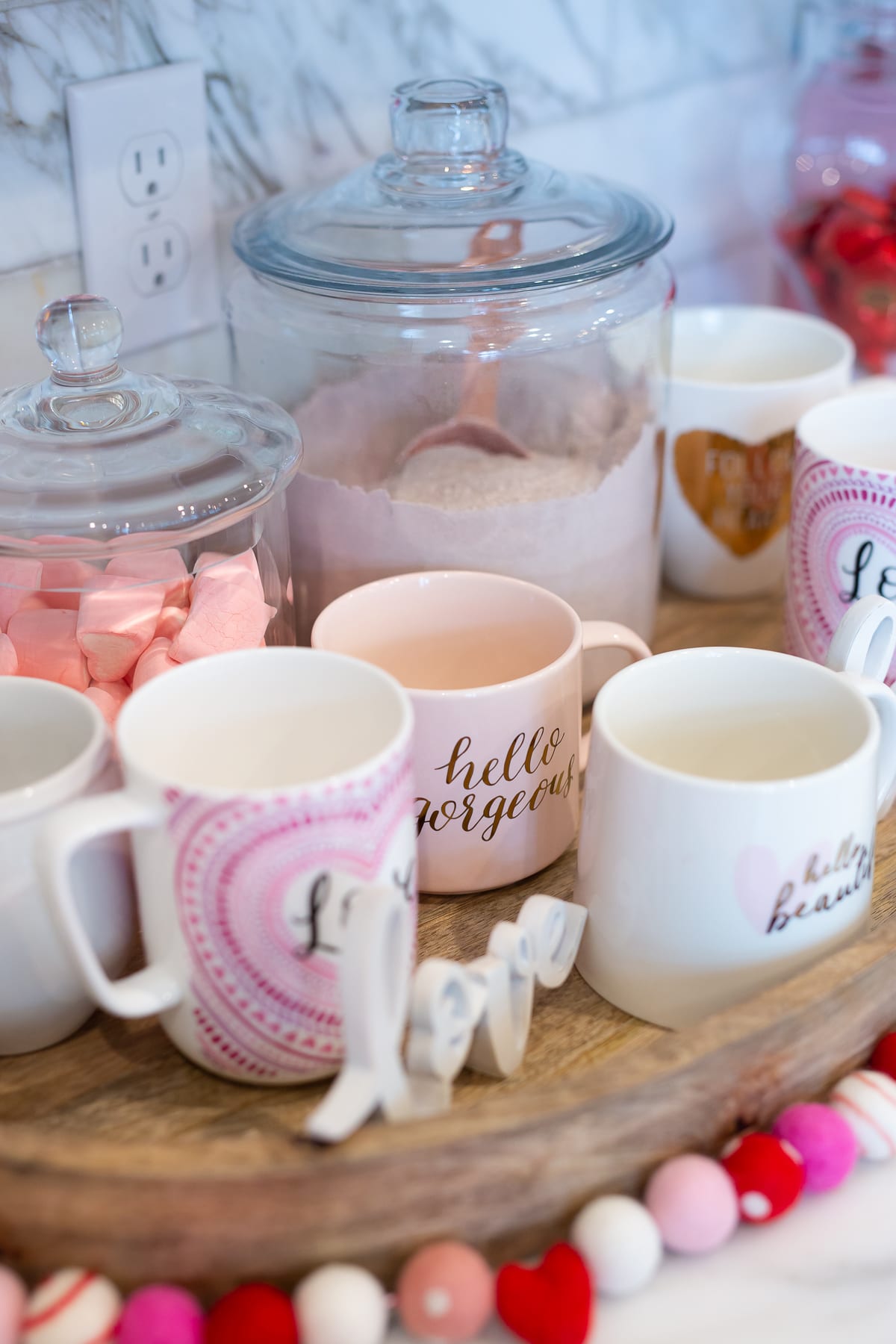 The Food
Brunch for me is having both sweet and savory options. For the sweet I made whole wheat heart shaped waffles with heart shaped butters, fresh fruit, and homemade coconut syrup. For the savory I made sautéed red and yukon gold potatoes with caramelized onions, scrambled eggs with onions, green and yellow peppers, heart shaped bacon drizzled with maple syrup (a mix of sweet and savory), and of course the chocolate cake and hot cocoa bar for dessert! For drinks I served Jordan Winery's 2015 white wine, sparking cider, and Orange Juice.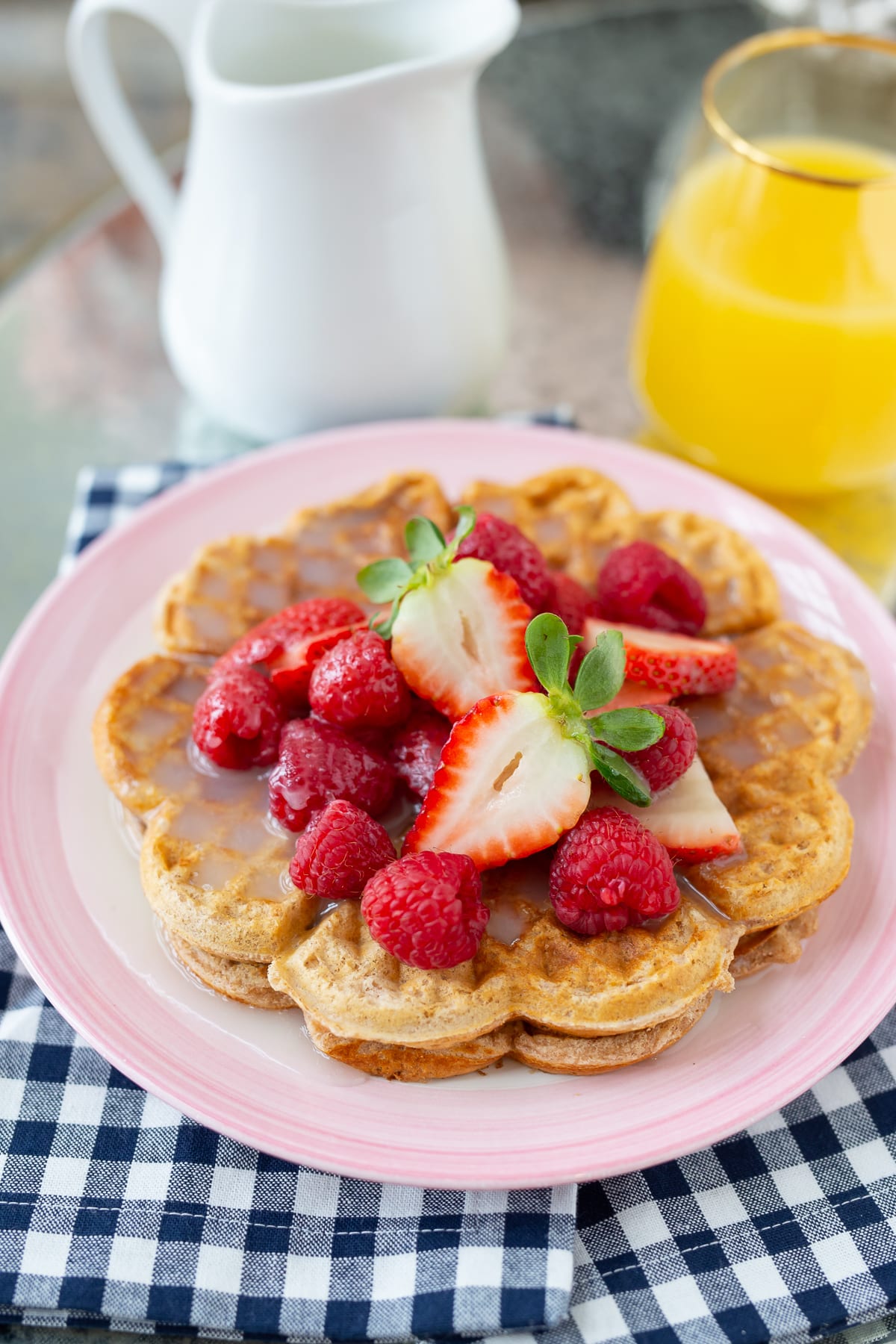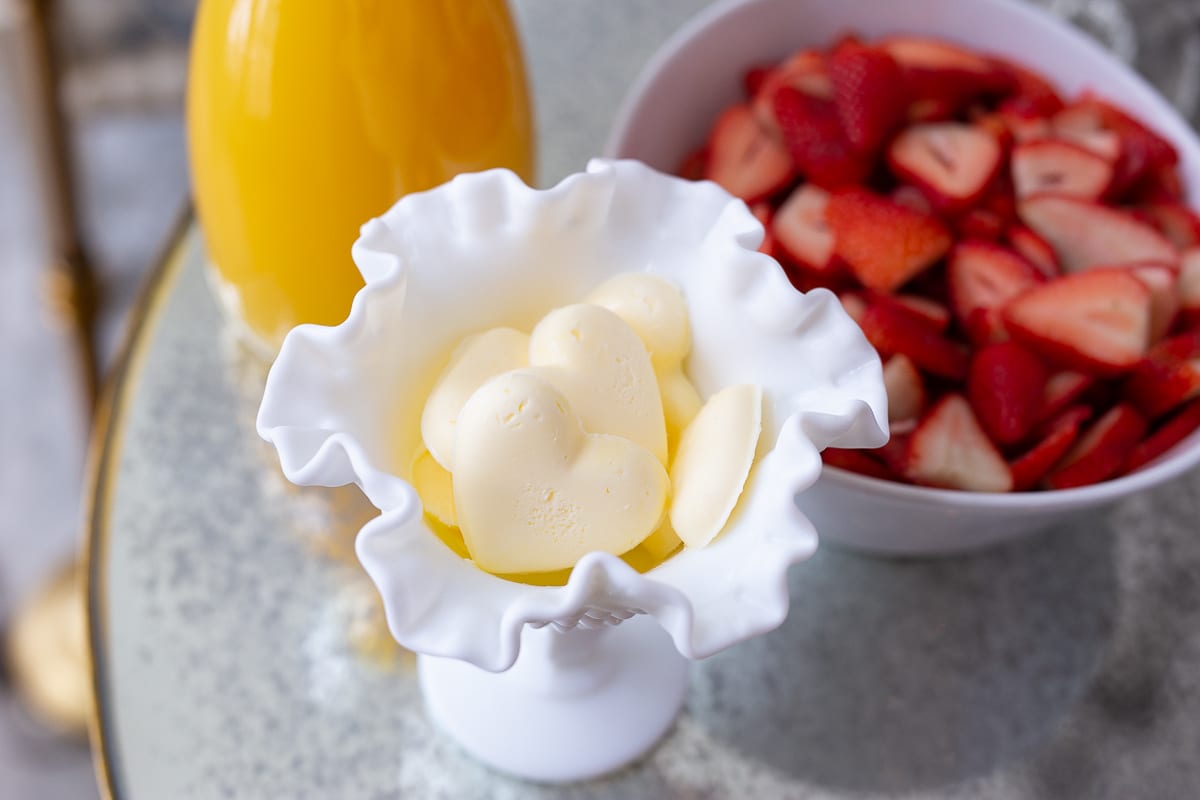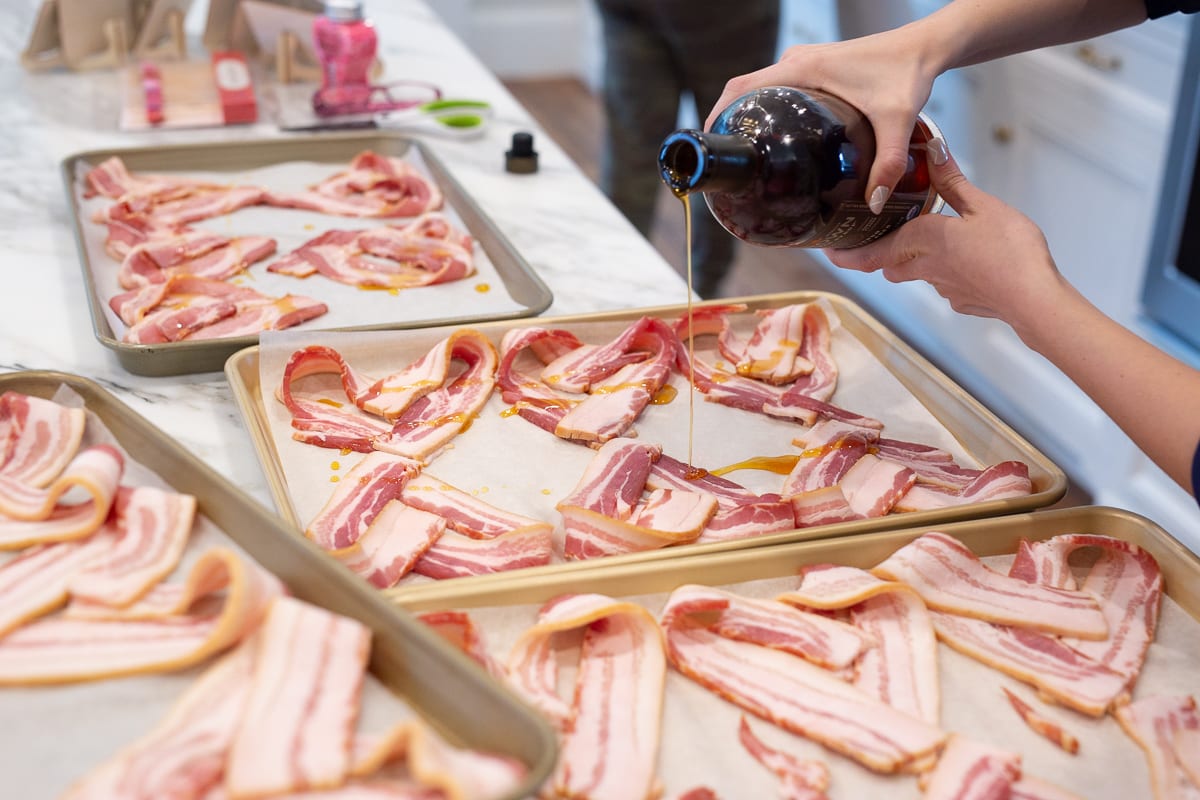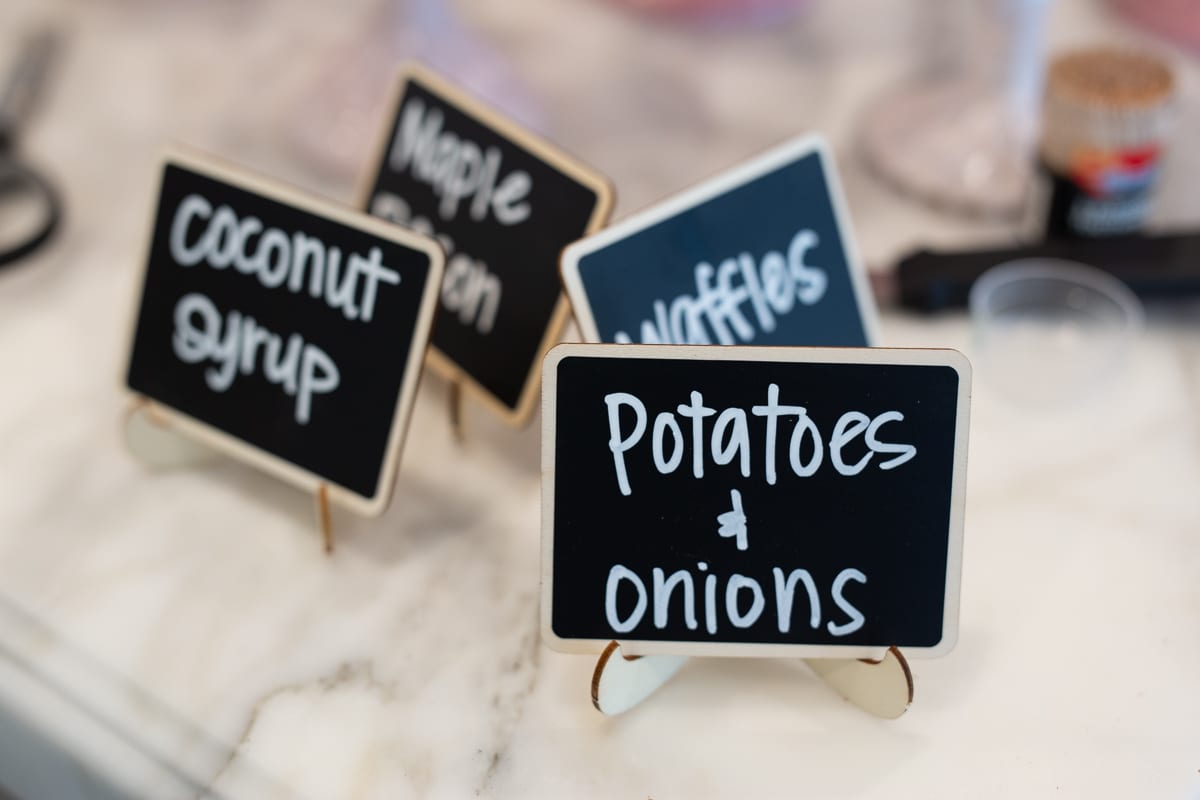 The Cake
I really wanted to make a semi-naked cake for this party. I decided to make a chocolate cake with cream cheese frosting. I found these recipes on pintrest and they were both great. I found these chocolate XOXO's at Target and knew they'd be perfect for the top of the cake. I added pink spray roses and some eucalyptus to the top and bottom of the cake. I love how it turned out. Thank you to my friend Christina and my daughters cute friend Jensen both for helping me learn how to make this type of cake! I'll do a separate post for this soon and share what I learned! It's not as hard as it looks to make this type of cake. You just need to know a few of the tricks and techniques to create a stunning cake.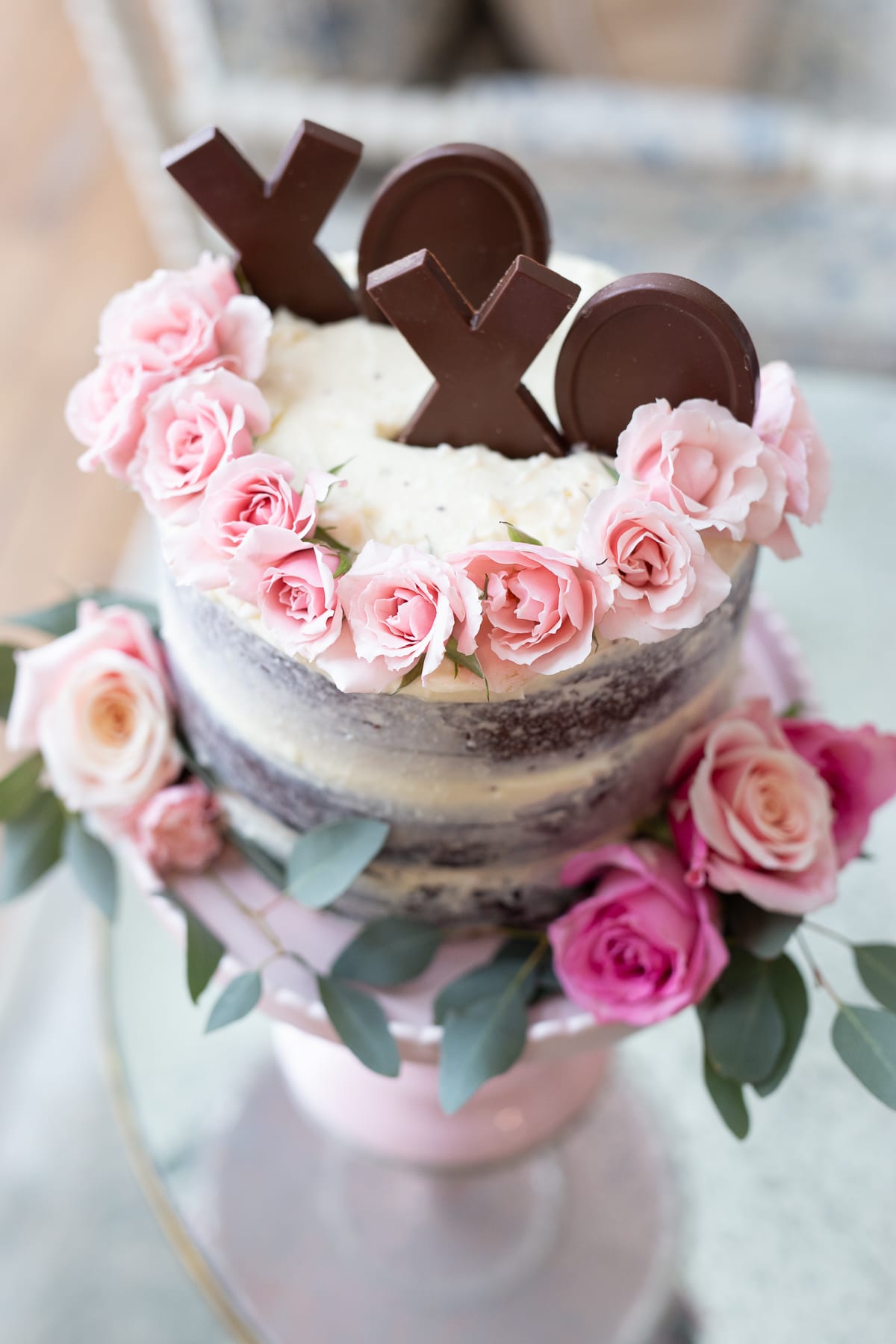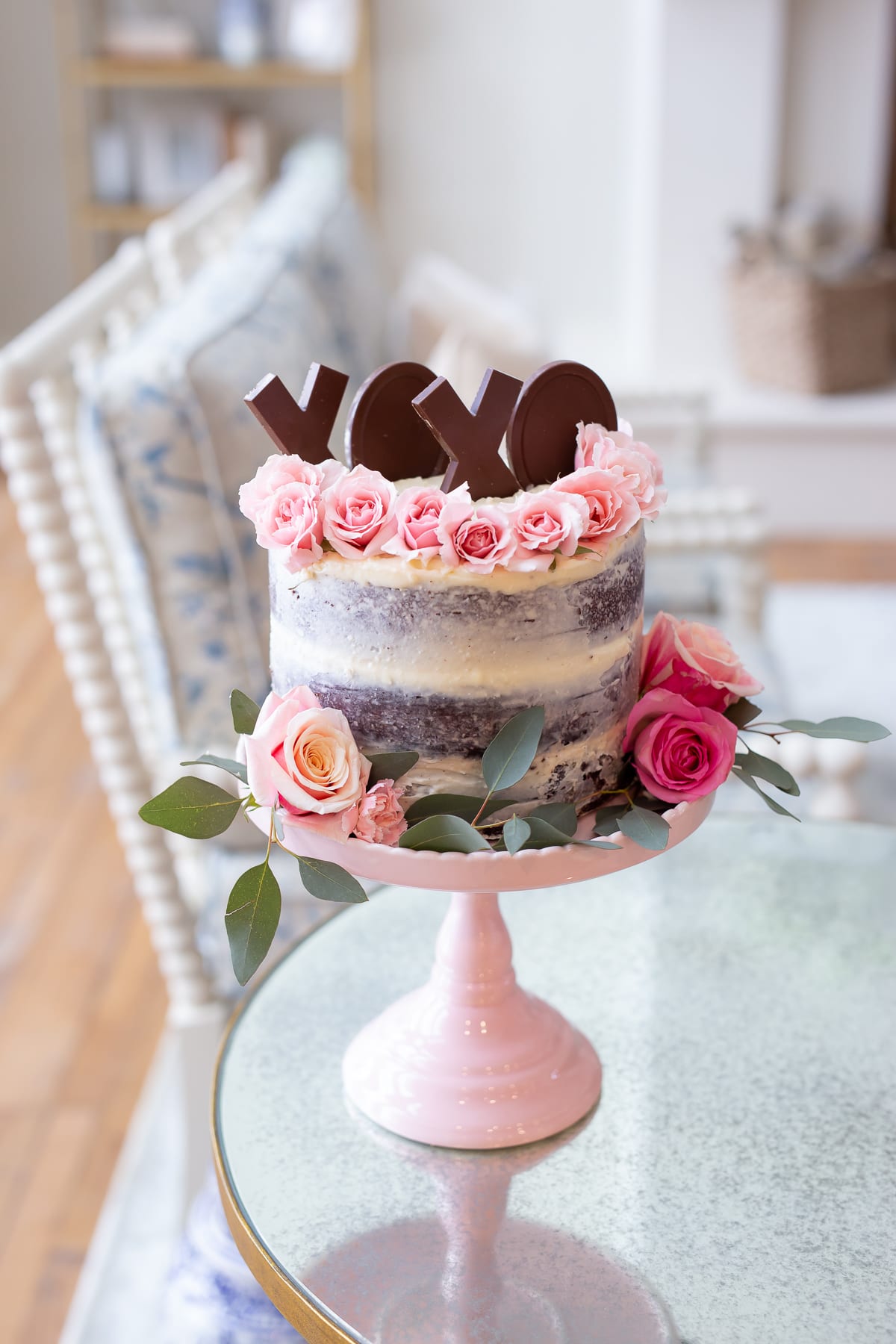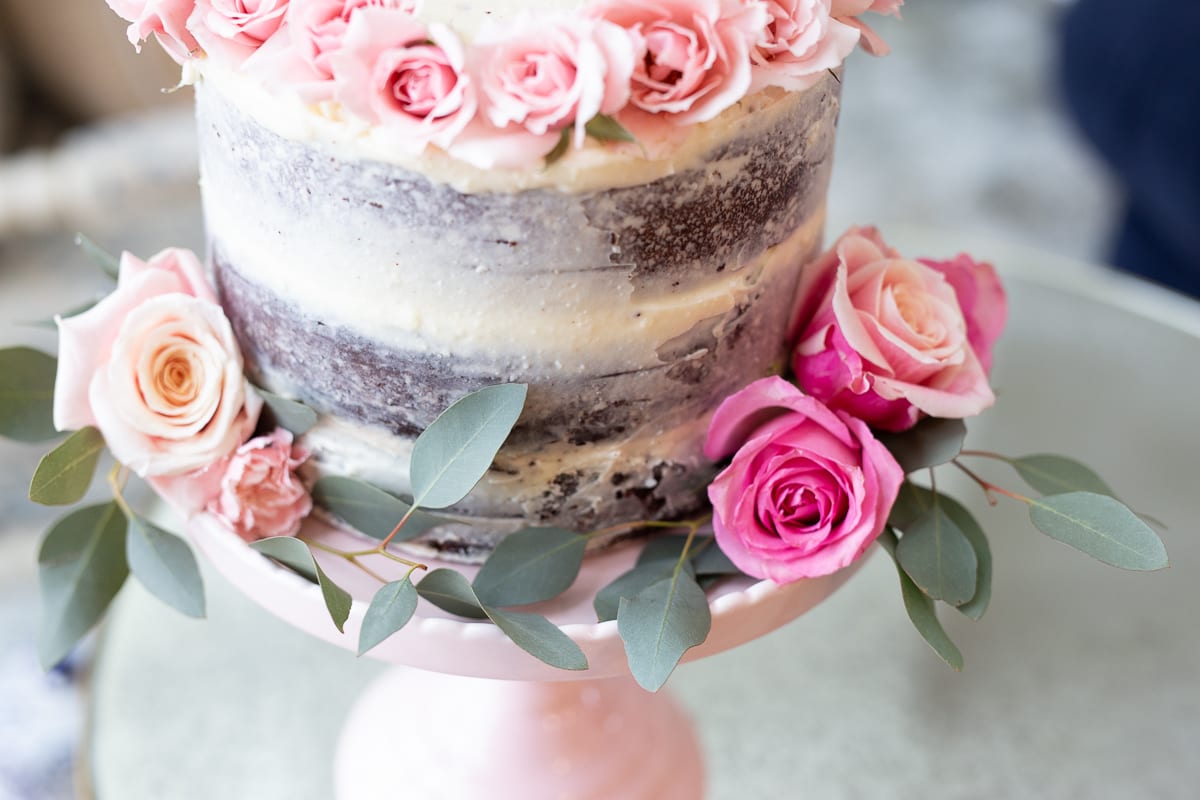 The Decorations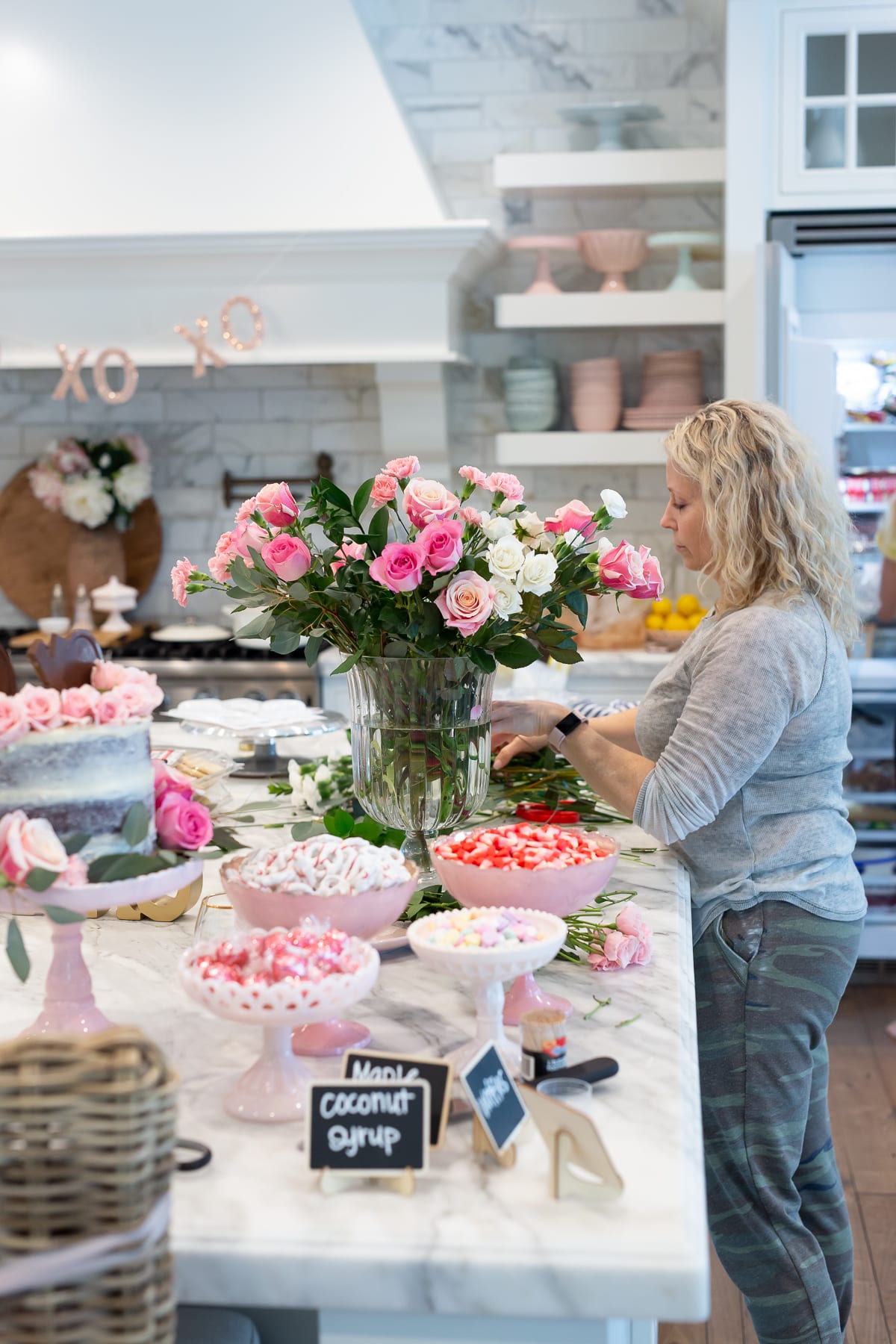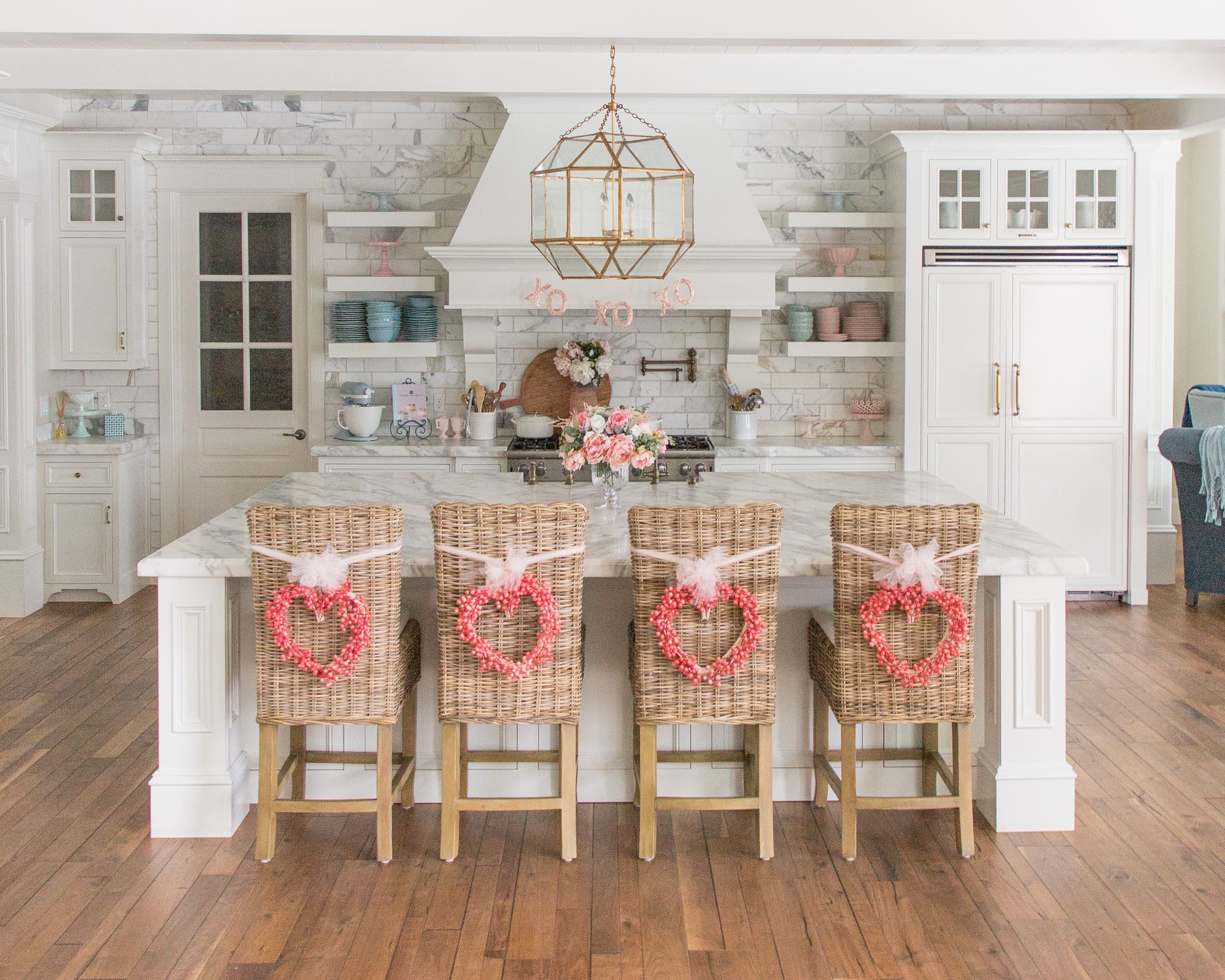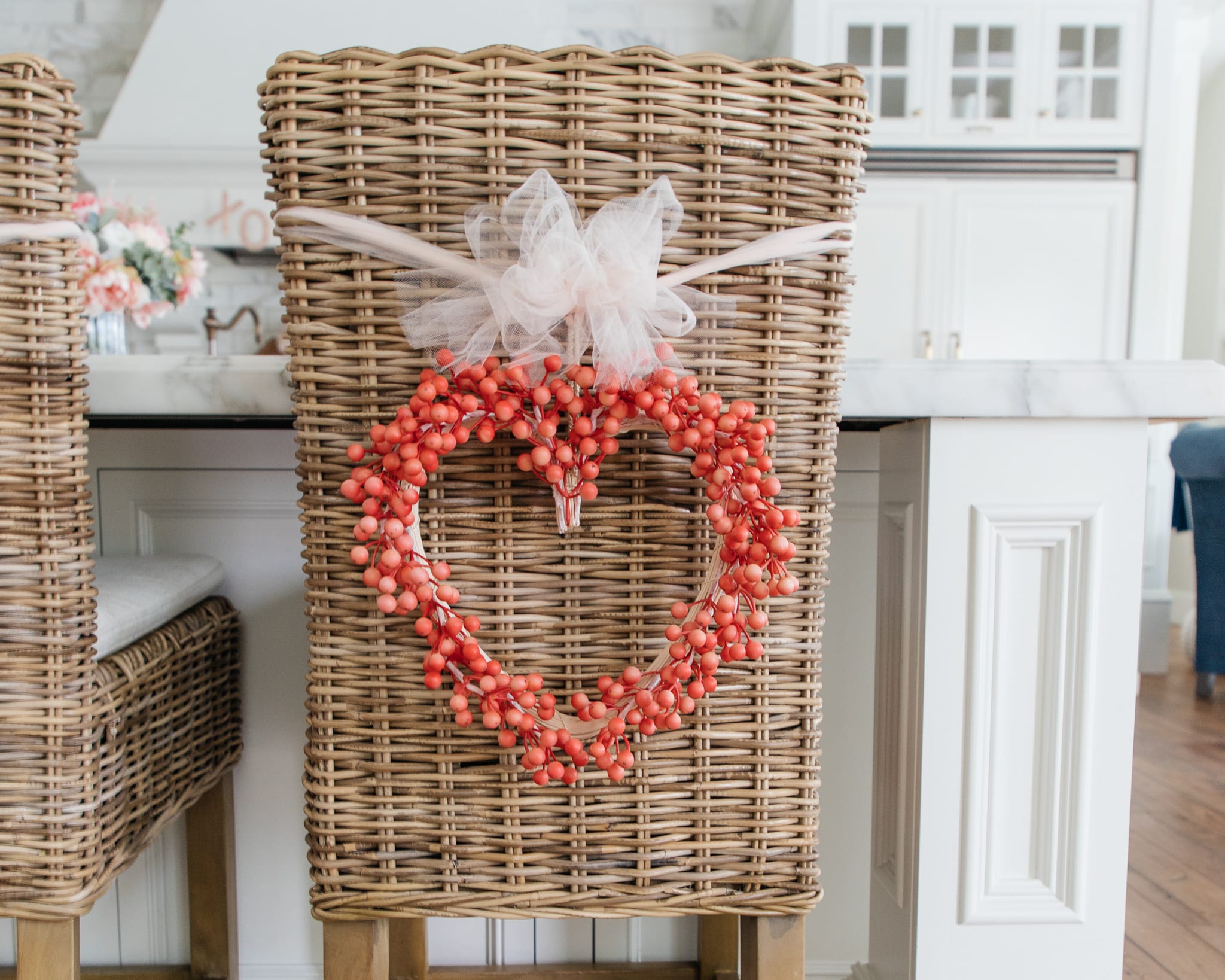 The Gals and our Favorite Things Gift Exchange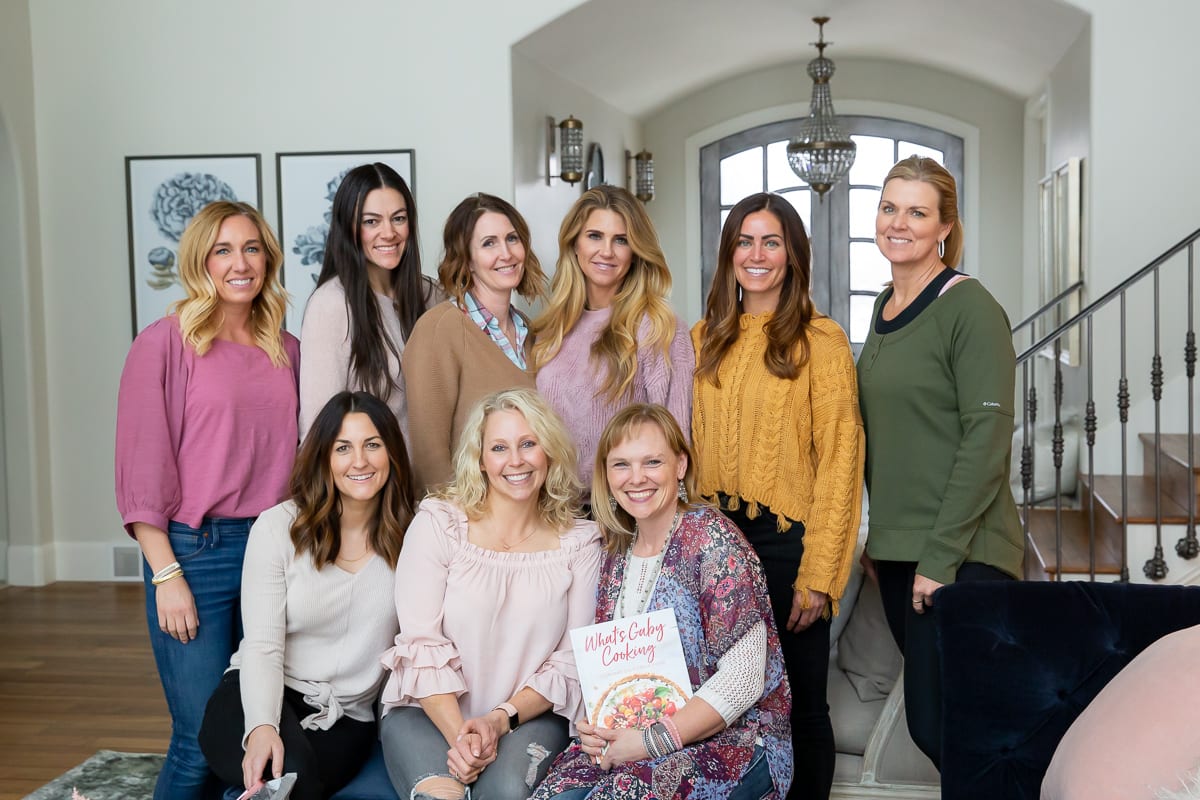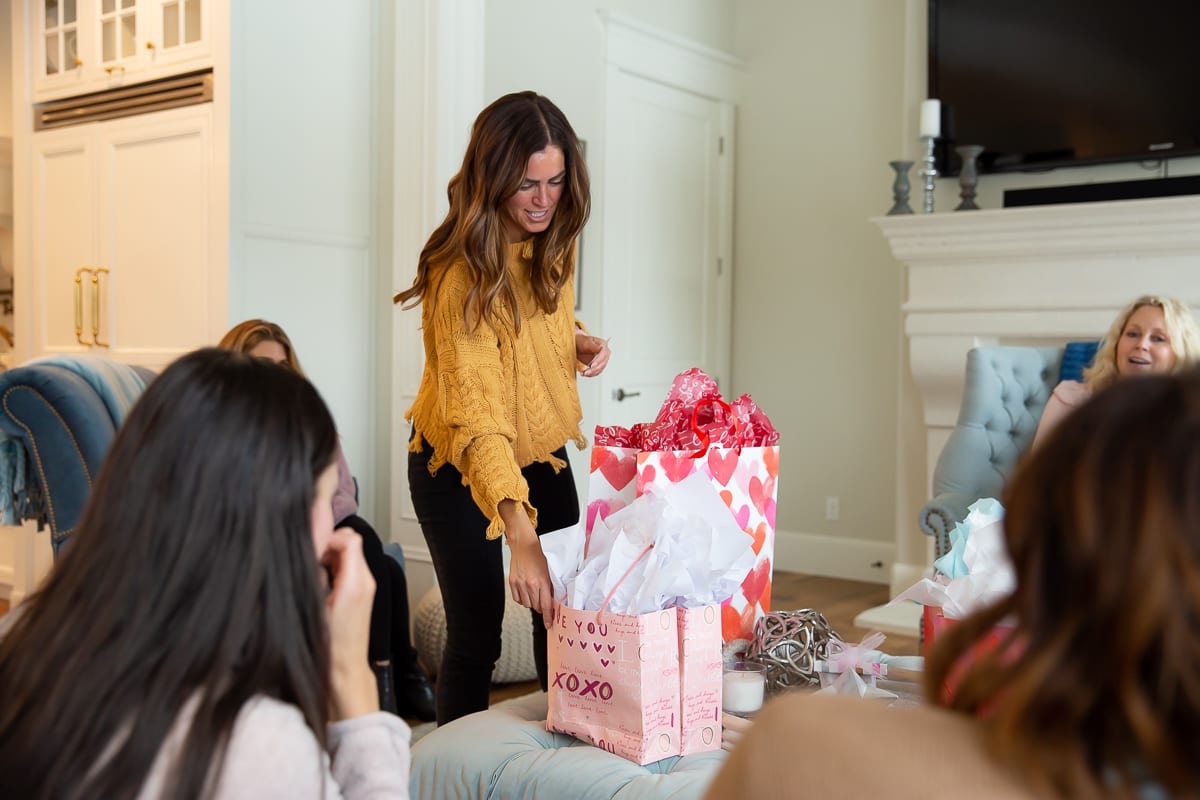 A big thanks to Lizzy Early Cox (@yourcupofcake) for coming to the party and taking all the beautiful photos!
I hope you all have the happiest Valentines Day and know that I love and appreciate you all! Thank you for allowing me to share what I love.
XOXO,
HollyJ

PIN THIS FOR LATER: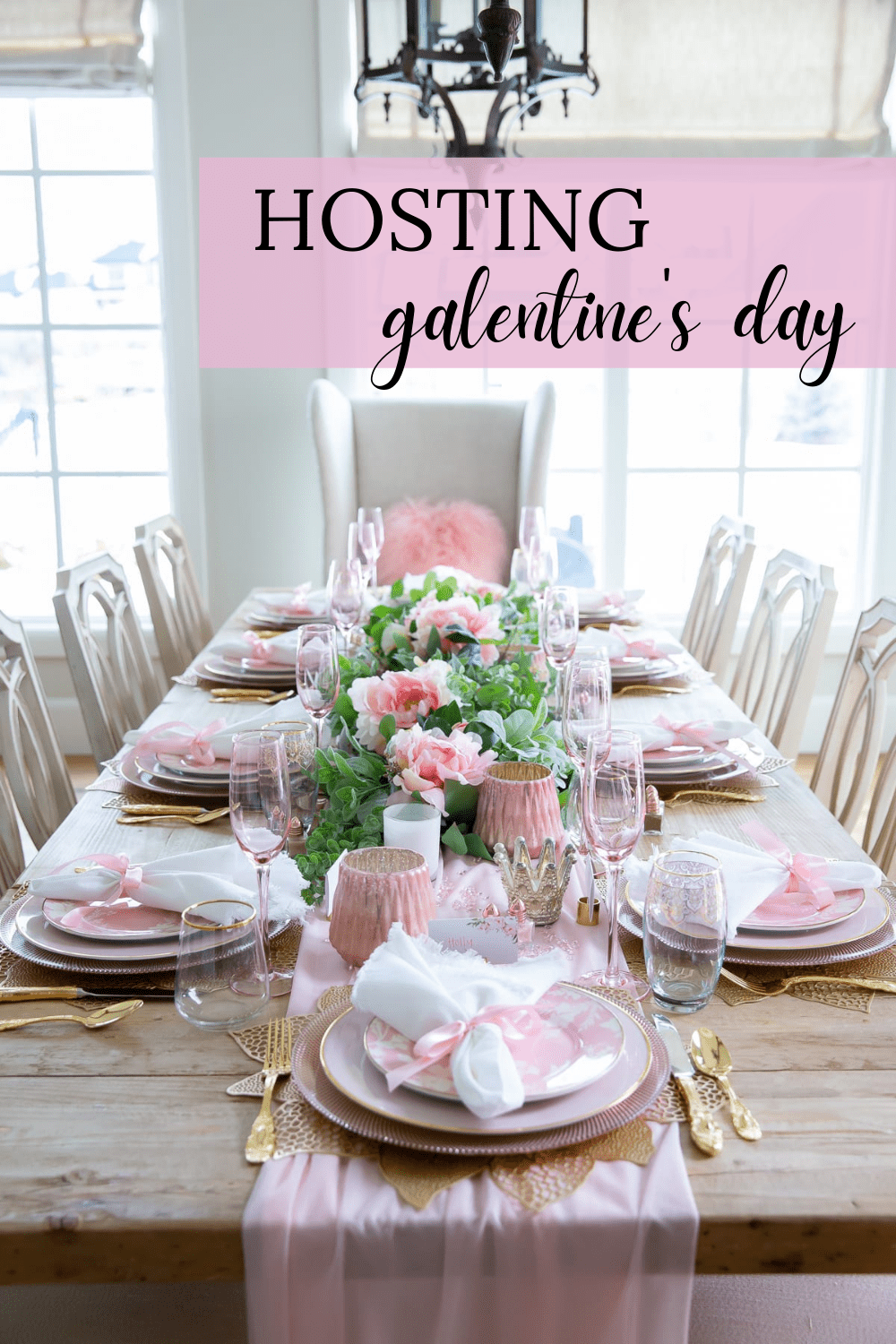 HOSTING A GALENTINES DAY PARTY