I got this recipe years ago and it's the best macaroni and cheese ever. I can't remember where I found it or who gave it to me but one of my Instagram followers messaged me, (which I appreciate) and said this looked very similar to Giada De Laurentis' Mac and Cheese recipe. I'm not sure of the origin of it but after reading mine and hers, they are almost the same so I'm crediting Giada for this wonderful take on Mac and Cheese! It's been a family favorite ever since I made this for them the first time!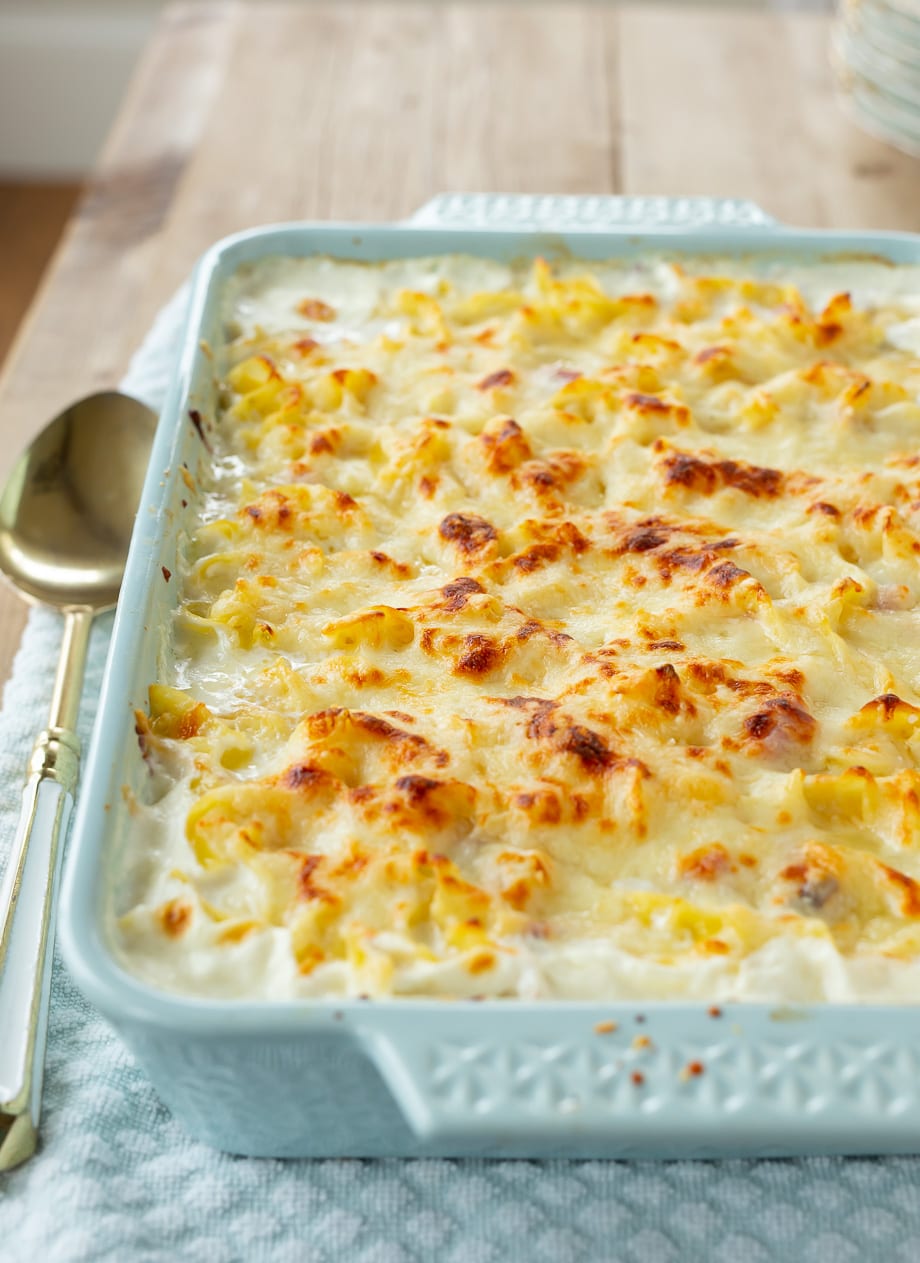 This yummy macaroni and cheese recipe is comfort food at its finest and can be your main dish or a side dish. This is my go to recipe when I've cooked a ham and have some leftovers! Ham is optional, but I've always made it with the ham. This is not your traditional macaroni and cheese recipe because it actually doesn't have macaroni or cheddar cheese in it! I use egg noodles and a delicious mix of fontina, parmesan, and mozzarella cheeses. I guess it should be called a different name, but egg noodles and cheese doesn't quite have the same appeal.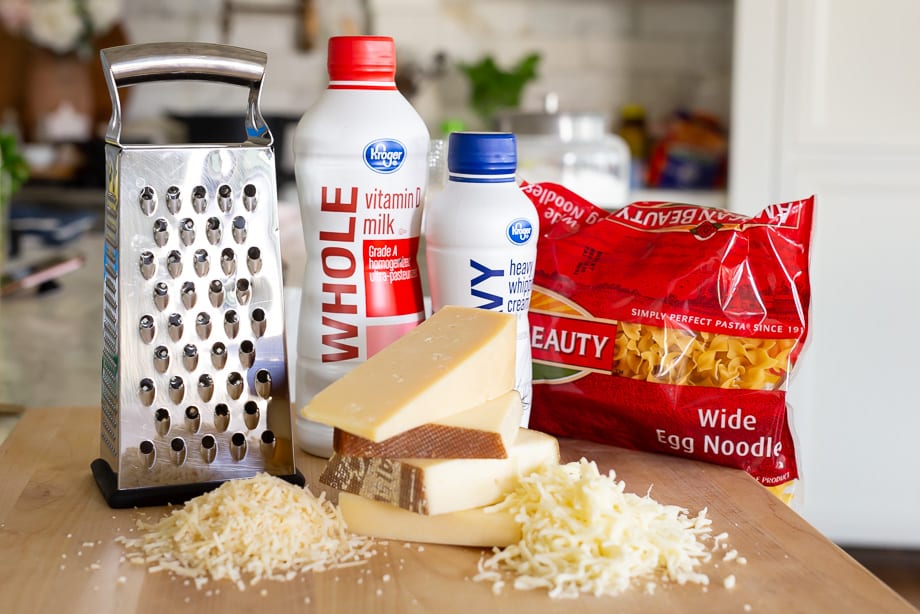 The Ingredients
This recipe is easy to make and cooks in twenty five minutes! There are just a handful of ingredients and the mess is minimal.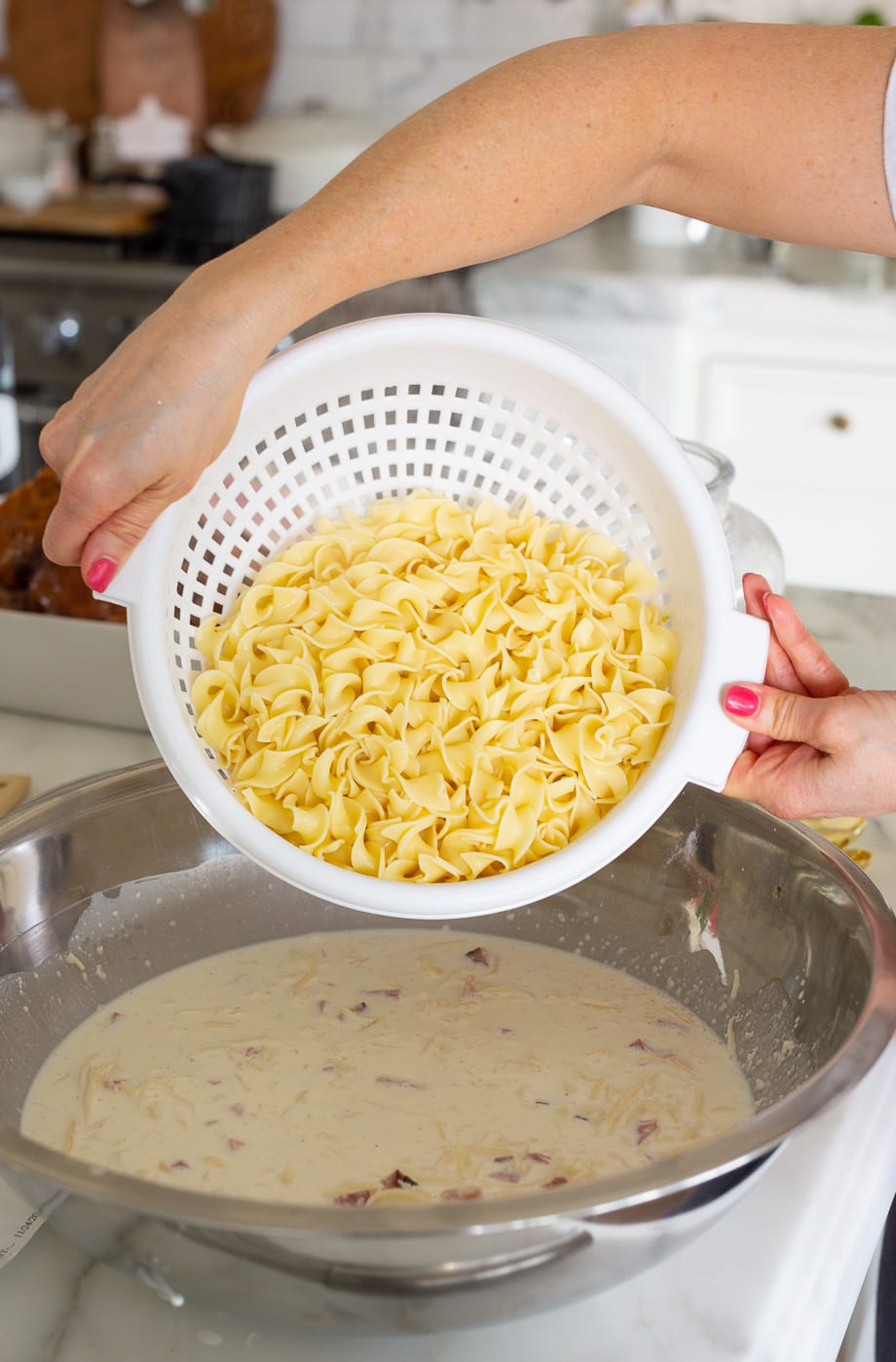 The best part of this macaroni and cheese is the top layer of fontina, mozzarella, and parmsean cheeses. They melt and create a yummy crust on top.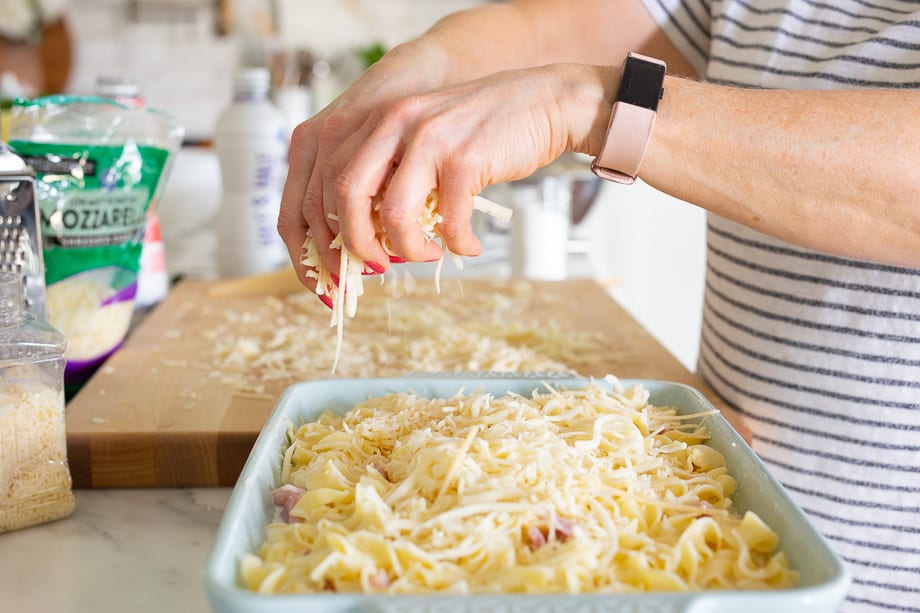 Side note: One of my IG followers read my recipe and sent me a message saying this recipe is similar to Giada De Laurentis recipe. I don't know the original source but there's a good chance this is where this originated from. So, I'm crediting her since this looks almost exactly like the recipe I have! Giada's Recipe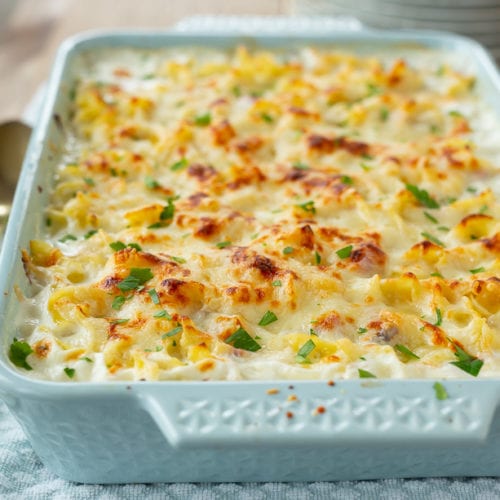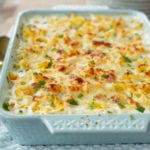 The Best Macaroni and Cheese Ever
This is not your traditional mac and cheese. This recipe calls for egg noodles instead of macaroni and the cheeses are a mix of fontina, parmesan, and mozzarella. This is comfort food at it's finest and you can add ham to make it a main dish or to add extra flavor.
Ingredients
2

tbsp

butter (softened)

12

oz

egg noodles

2

cups

heavy cream

2 1/2

cups

whole milk

2

tsp

all purpose flour

1/2

tsp

salt

plus more for pasta water

1/4

tsp

black pepper

2

cups

grated fontina cheese (packed)

3/4

cup

finely grated parmesan (packed)

3/4

cup

grated mozzarella (packed)

4

oz

cooked ham, diced

(this is optional)

1

tbsp

chopped flat leaf parsley (italian parsley)

water for boiling egg noodles
Instructions
Preheat the oven to 450º F

Take the softened butter and grease a 9 x 13 glass baking dish and set aside.

Cook the egg noodles as direct in a large pot of boiling water. Add about 2-3 tbsps. of salt to the water. Cook the noodles until tender but still firm to bite. Approximately 5-7 minutes.

While the noodles are cooking, whisk together the cream, milk, flour, 1/2 tsp salt, and pepper in a large mixing bowl.

Stir in 1 cup of the Fontina Cheese, 1/2 cup of the parmesan, and 1/2 cup of the mozzarella, ham if using and parsley. Mix well.

When the noodles are done, drain well but do not rinse.

Add the noodles to the mixing bowl and toss to coat. When mixed well, dump the noodle mixture into the the buttered baking dish.

Toss the remaining grated cheeses together in a small bowl to blend. Sprinkle the cheese mixture over the noodle mixture.

Bake until the sauce starts to bubble and the cheese melts and begins to brown on top. About 20-25 minutes. Let stand for 10 minutes before serving.
Recipe Notes
I've had this recipe for years and can't remember where I got it but there was no author on it. One of my IG followers messaged me, which I appreciate, and said this looks like Giada De Laurentis Macaroni and Cheese recipe so I'm crediting her after reading hers and mine. Whoever created this recipe though, it's amazing!
You'll be the star of the show when you make this delicious version of mac and cheese. It's a great recipe for your leftover Easter ham or any other time you have leftover ham to use up. You can always make it without the ham too!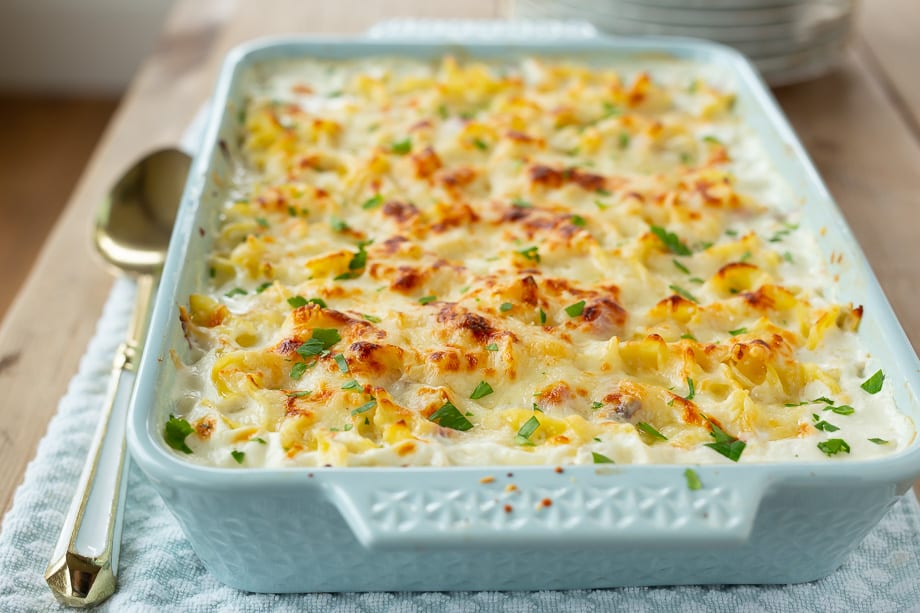 The sauce tends to be a bit runny so let it set up for about 10 minutes. It's also great as leftovers!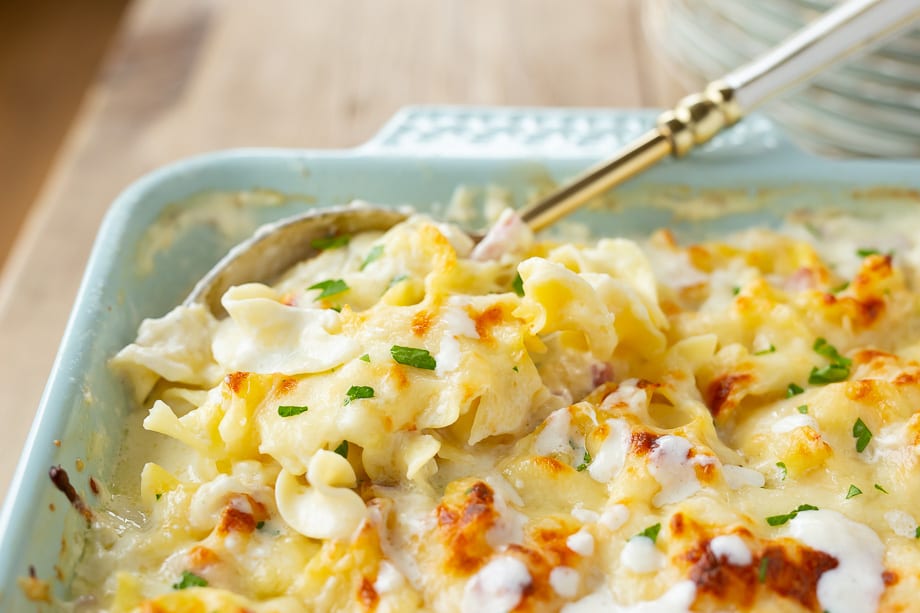 I like to add a little more cheese on top than it calls for so feel free to add more! You can never have too much cheese! Don't add more to the mix though as it doesn't set up if you add too much to the mix. Save the extra for the top! Sprinkle with some italian parsley at the end if you wish.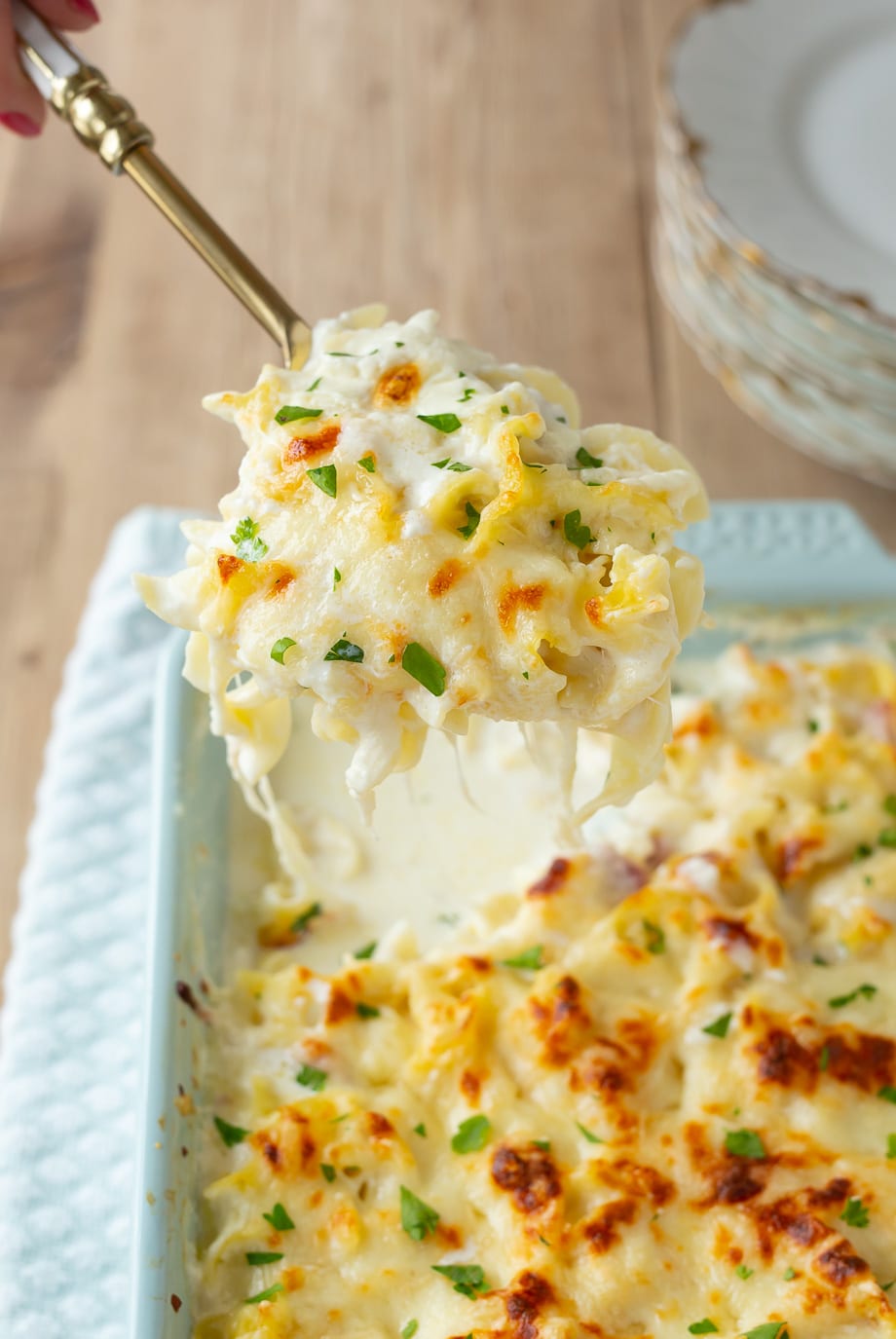 Here are the links to the items I used:

If you love fontina cheese, my Scalloped Potato Recipe is amazing!!
Enjoy!!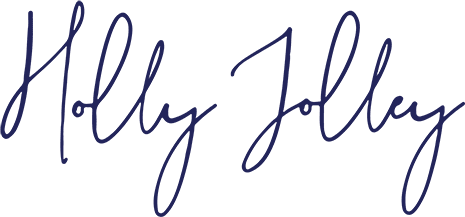 PIN THIS FOR LATER: