Anthropologie-Inspired Outdoor Dinner Party
I've been so excited to share this Anthropologie-Inspired Outdoor Dinner Party tablescape and how it all came about! A few weeks back, I traveled to Phoenix to meet up with two lovely ladies who I met on Instagram. They are both entertaining bloggers and we all love dishes and the art of entertaining.
First I met the adorable Holliday "Holly" Johnson @homewithholliday. Our names are so similar as are the names of our blogs and Instagram accounts. We hit it off right away and became fast friends!
Then I met the lovely Lory Parson @tohave+tohost, who also loves to host and entertain. Before long the three of us were chatting away on conference calls and helping and supporting one another. We decided a retreat was in order so we made plans to meet up in Lory's hometown of Phoenix, Arizona.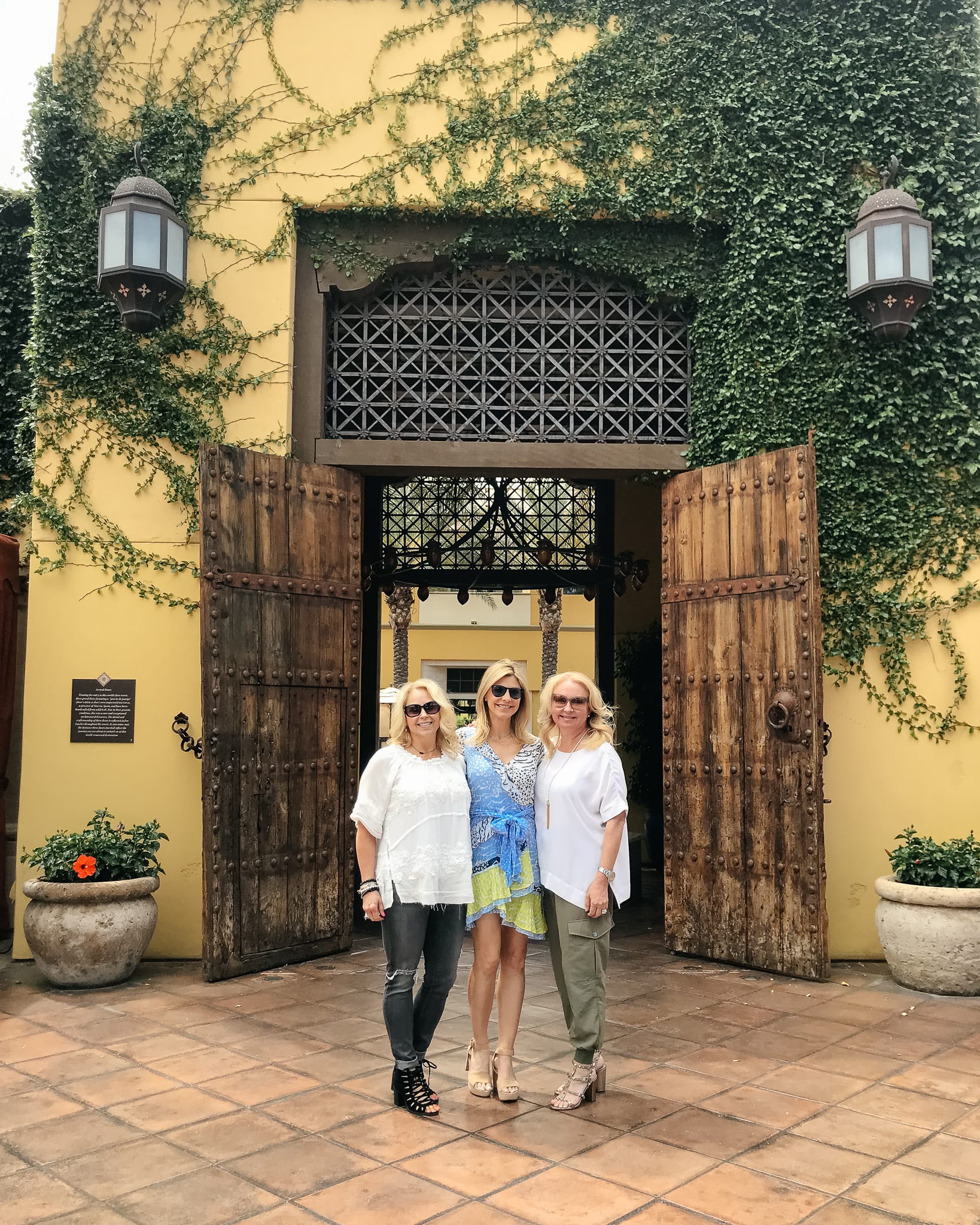 Three Peas in a Pod!
As soon as we met, we were talking a mile a minute and we were all so excited to meet each other in person. We had so much to learn about each other and it was so much fun being with these beautiful, talented ladies who love the same things I do. We talked tablescapes, flowers, dishes, and shared about each our families and lives. It was truly so much fun getting to know them. We all speak the same language when it comes to entertaining and being gracious hostess's.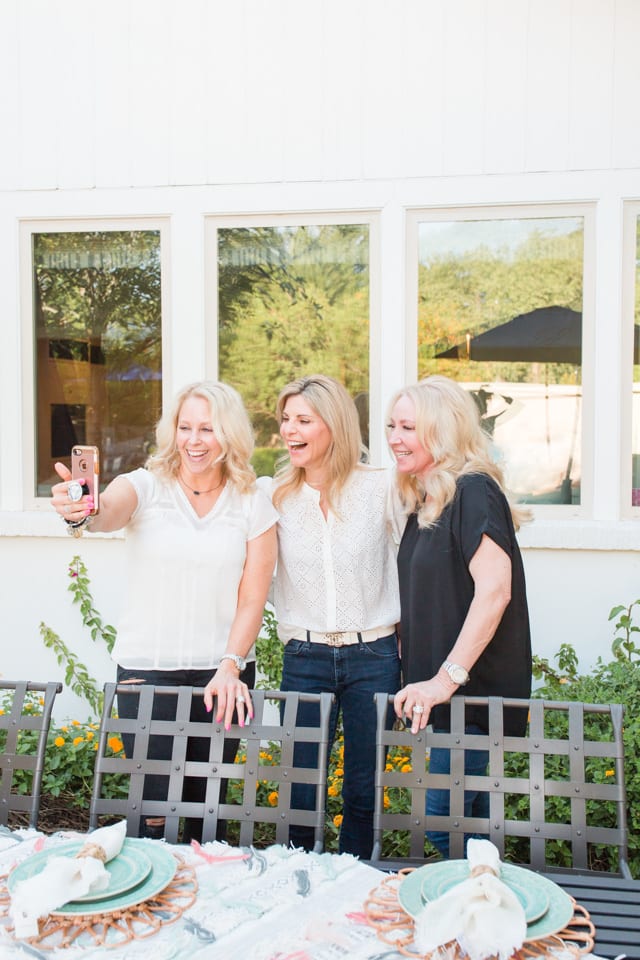 Lory was the consummate hostess. She had fresh flowers and gift bags filled with the nicest gifts placed in our hotel rooms at the Omni Montelucia in Scottsdale. She really went out of her way to make Holliday and I feel welcome. Lory also planned a luncheon for us to meet other influencers in the area which was so great. She then invited us over to her home for dinner……..and here's where the real fun began!!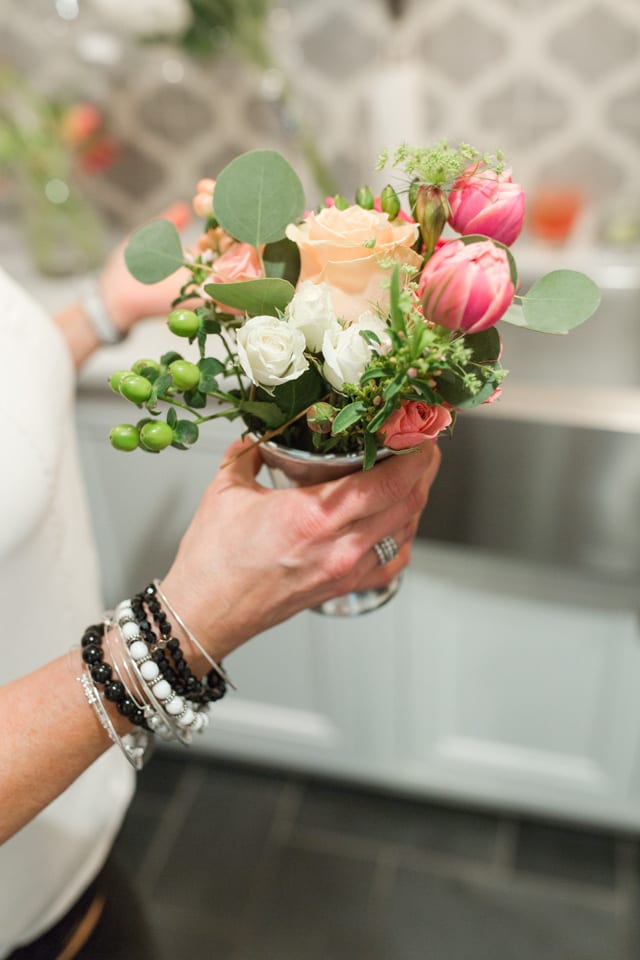 The Table Styling Process
We decided to go shopping and buy everything we needed to create a tablescape together for the special dinner Lory planned for us. We headed into Anthropologie and started pulling out dishes and other items. It didn't take us long to create what has now become one of my personal favorites!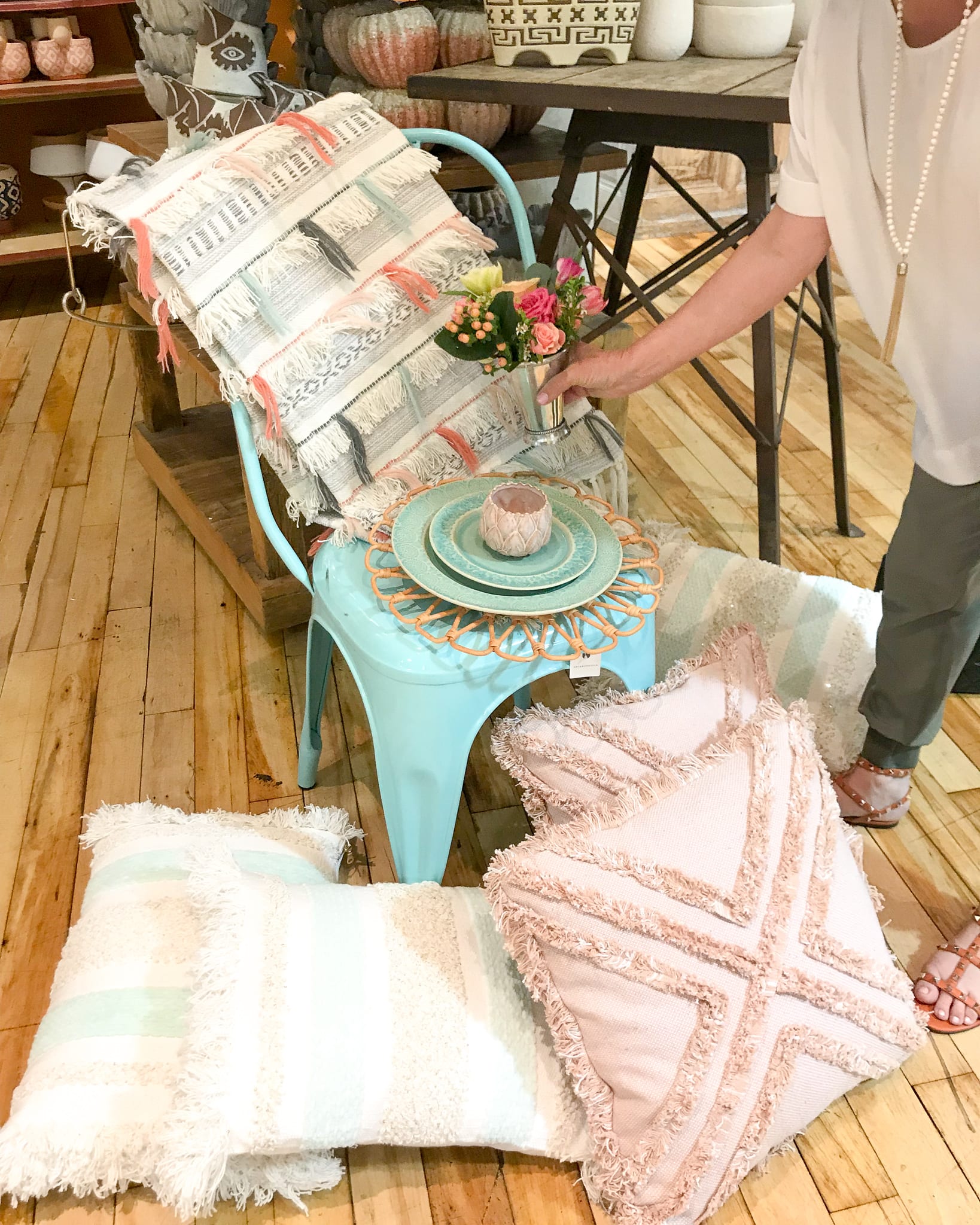 We had some leftover flowers from the luncheon and we decided to use them for our centerpieces. We took them with us into Anthropologie and started mixing and matching items. Here is what we came up with! This was so much fun doing this together. We were in our element and loving every second of it! Lory also had some hydrangeas so we went to work arranging the flowers when we arrived at her beautiful home.
Setting the Table
We took everything to Lory's home and went to work setting and styling the table. I always find one item that inspires the rest of the tablescape and it was really great seeing that Lory and Holliday do the same thing. There were not a lot of options for table runners or table cloths at Anthro so we found this blanket and used that as the table cloth. The colors were so beautiful and matched well with the dishes we found in the store.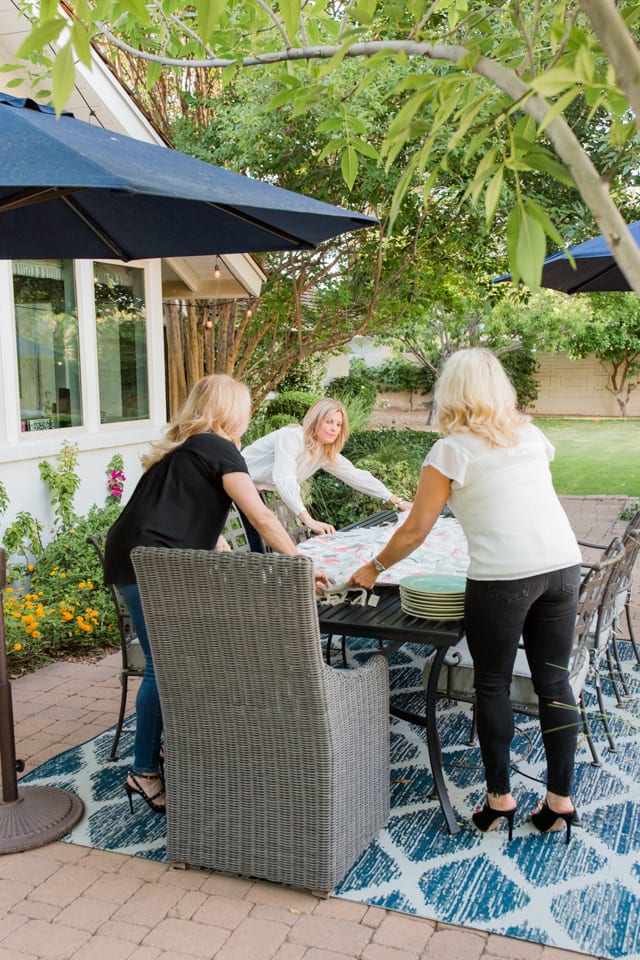 Then we started layering the plates and deciding on what napkins and napkin rings to use. Lory brought out a few that she had in her collection and we chose the natural wicker ones because they were similar to the wicker placemats we chose from anthropologie.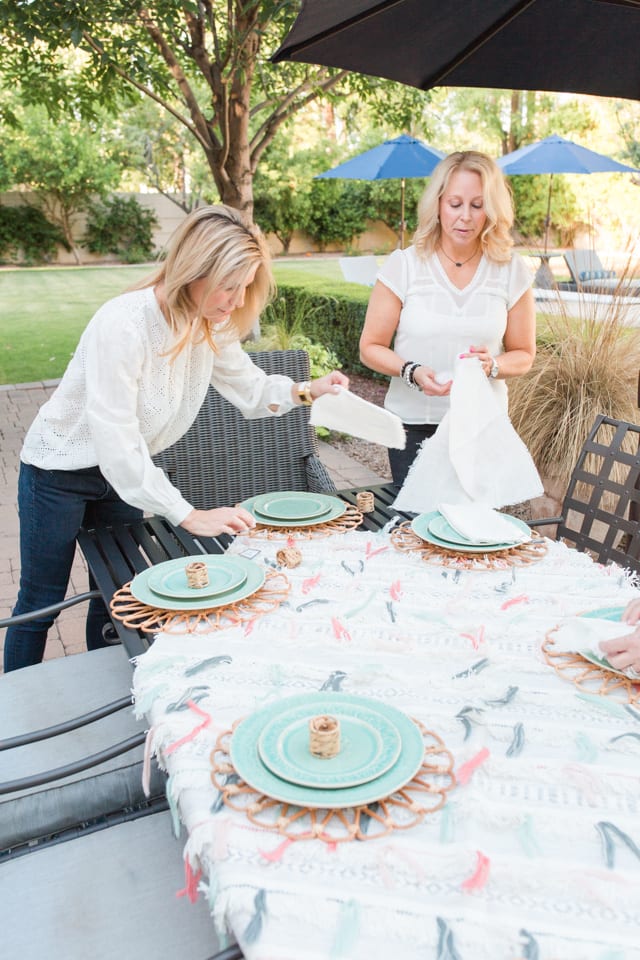 The Centerpiece
We ran a mix of flowers and different vases down the middle of the table. I like to keep the centerpieces low so that you can converse with the people across the table from you. Fresh flowers are always beautiful but you can use faux flowers when you don't have fresh flowers available.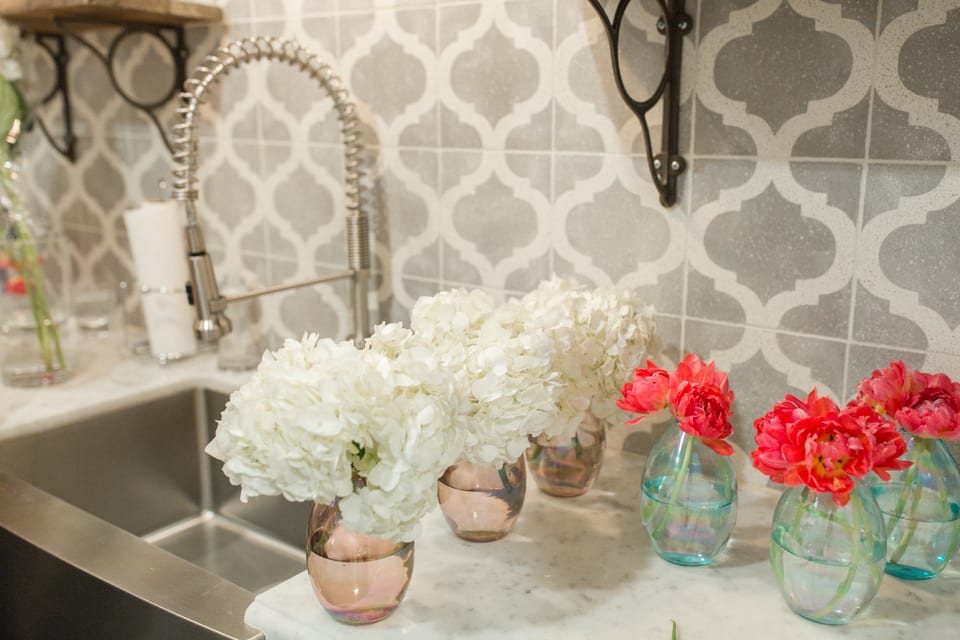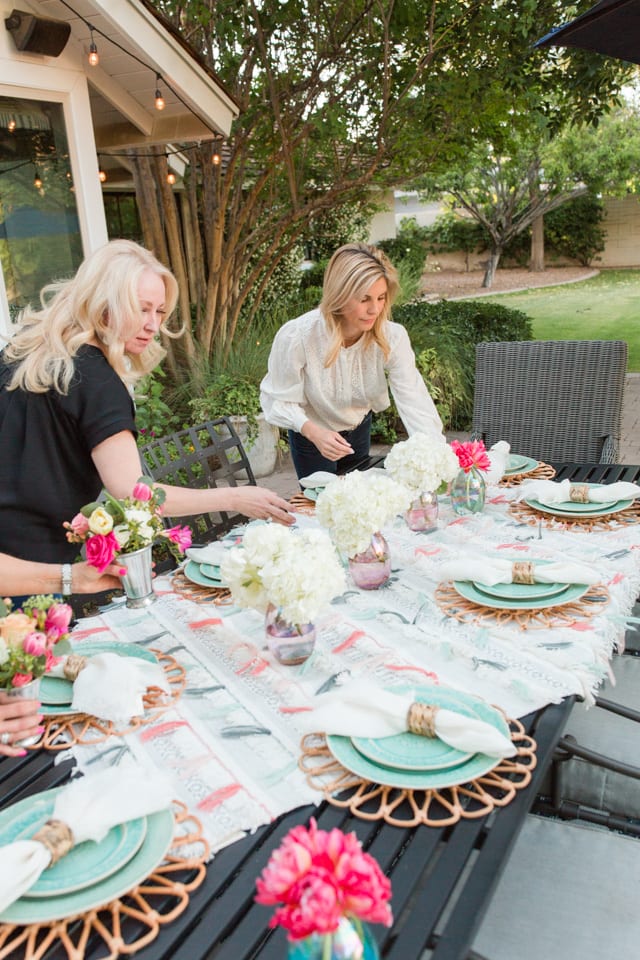 First we placed the white hydrangeas and then added the more colorful flowers to add contrast. The colors from the flowers tied in with the tablecloth.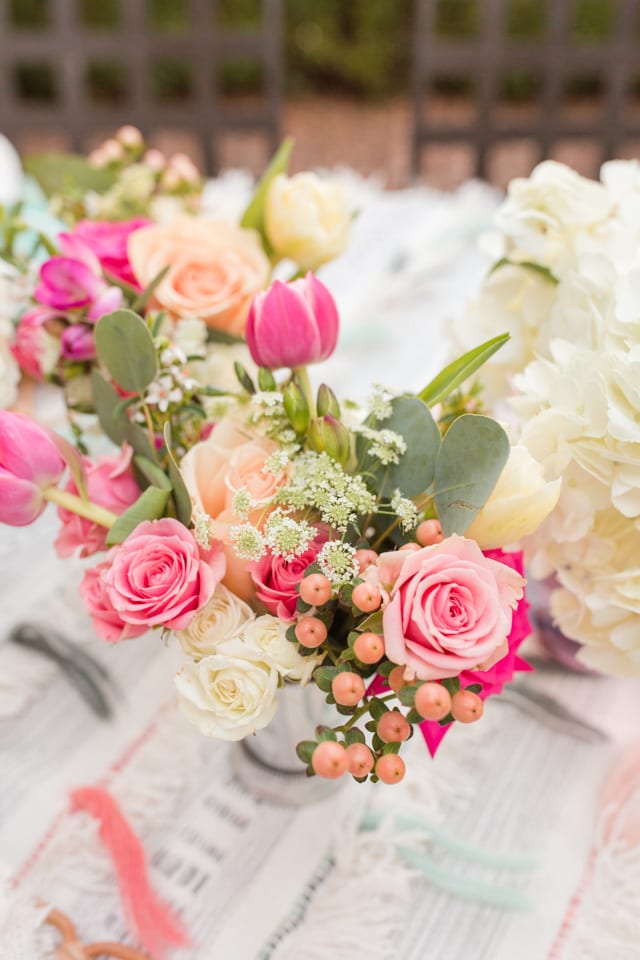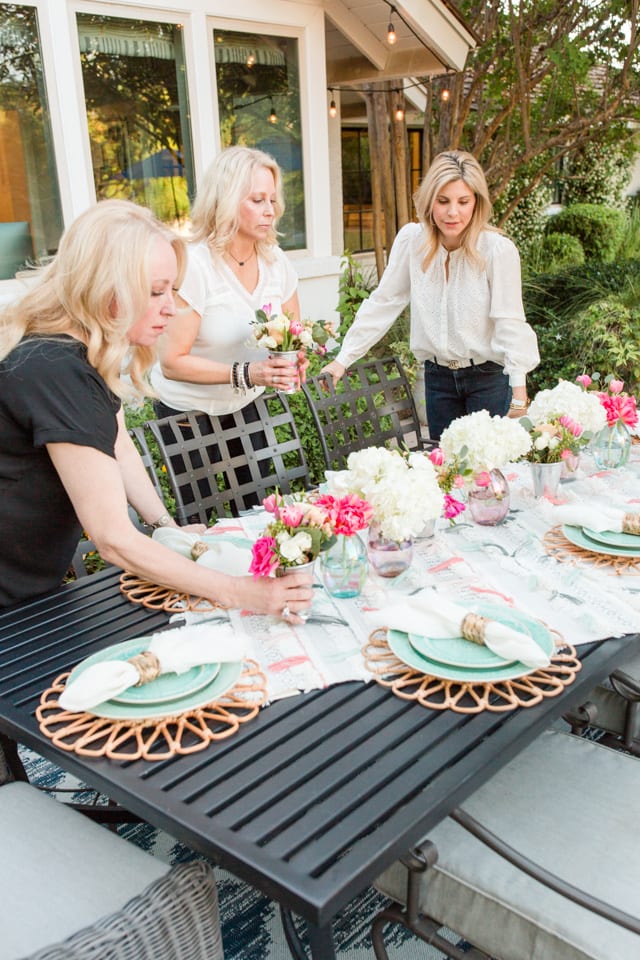 Next, we added gold flatware with a matte finish that Lory had on hand.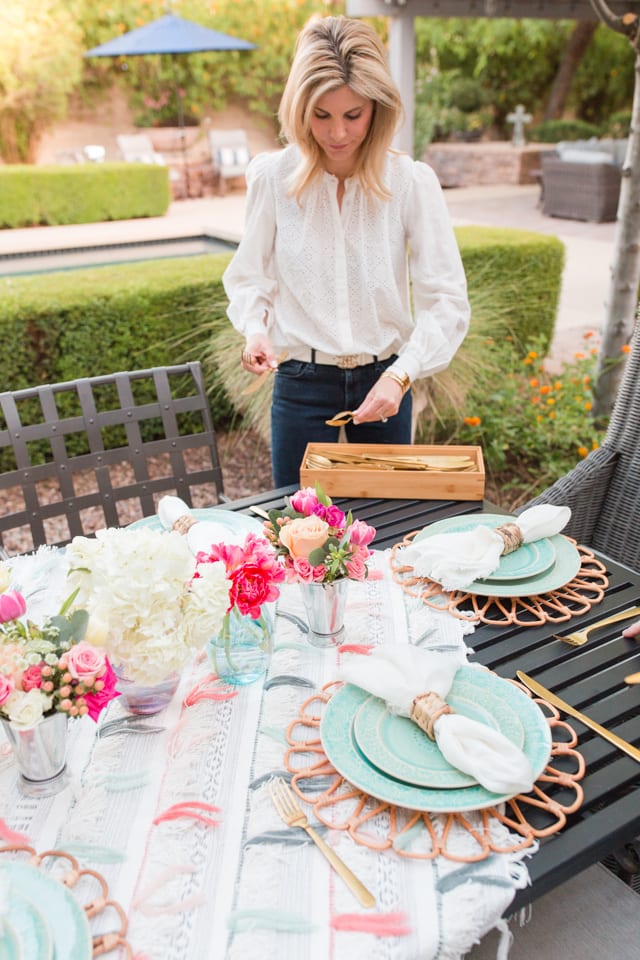 The pink glasses matched perfectly with the peachy pink in the tablecloth.
The Dinner Party
When we finished setting and styling the table we were all in awe of how perfectly it came together using some items Lory had, simple floral arrangements from our earlier luncheon, some hydrangeas, and what we found at Anthropologie. I think it turned out beautiful! The outdoor dinner party was lovely and we enjoyed sharing dinner with Lory's family.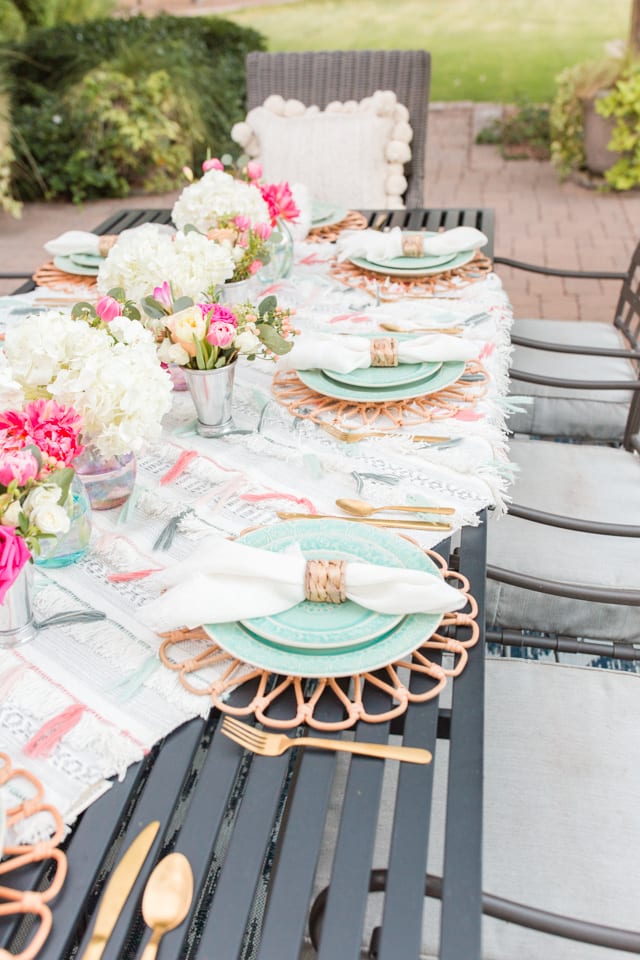 We enjoyed a delicious dinner of beef tenderloin, salmon, risotto, grilled veggies, and the most delicious cheesecake!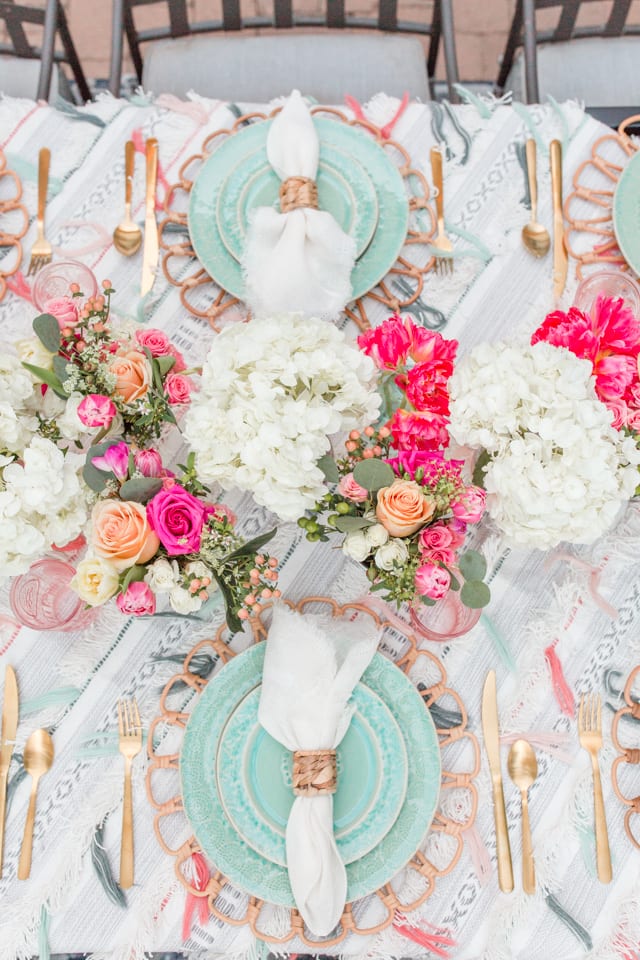 I really enjoyed spending time with these beautiful talented ladies! We shared so much with each other about our lives, families, and our blogging journey. It's a blessing to be surrounded by such strong women who encourage and support each other. It was also a great experience being able to share our love of dishes and the art of entertaining with each other. All three of us feel that it's a lost art and sharing this experience together was so special.
This outdoor dinner party was one I'll always remember! Thank you Lory for hosting us and making us feel so welcome!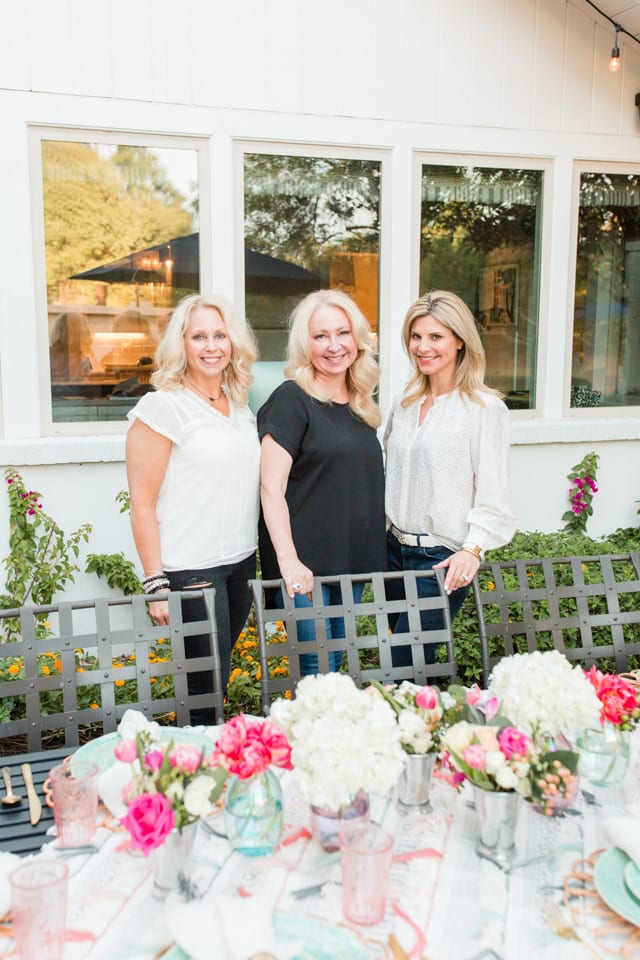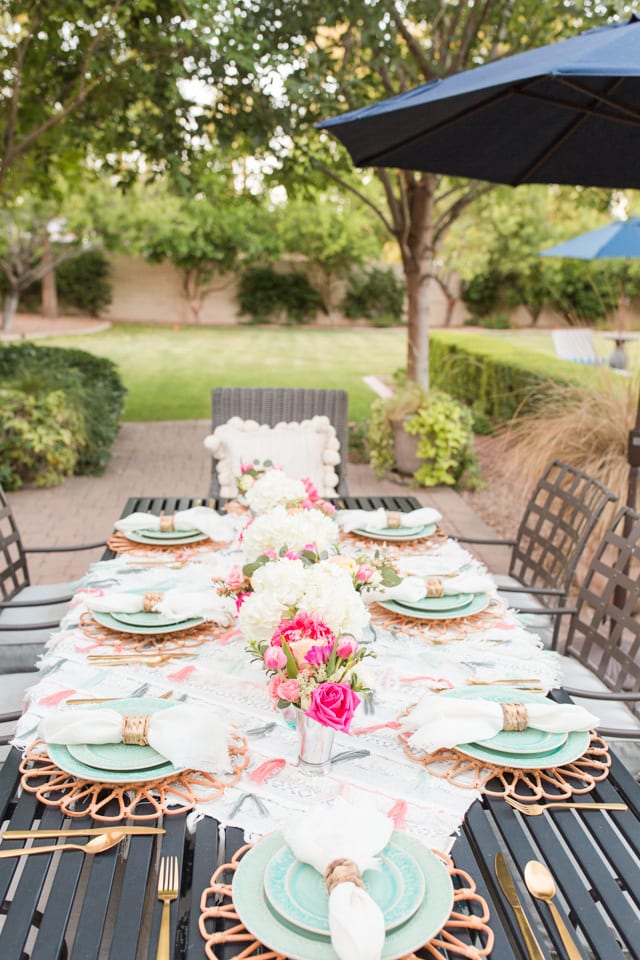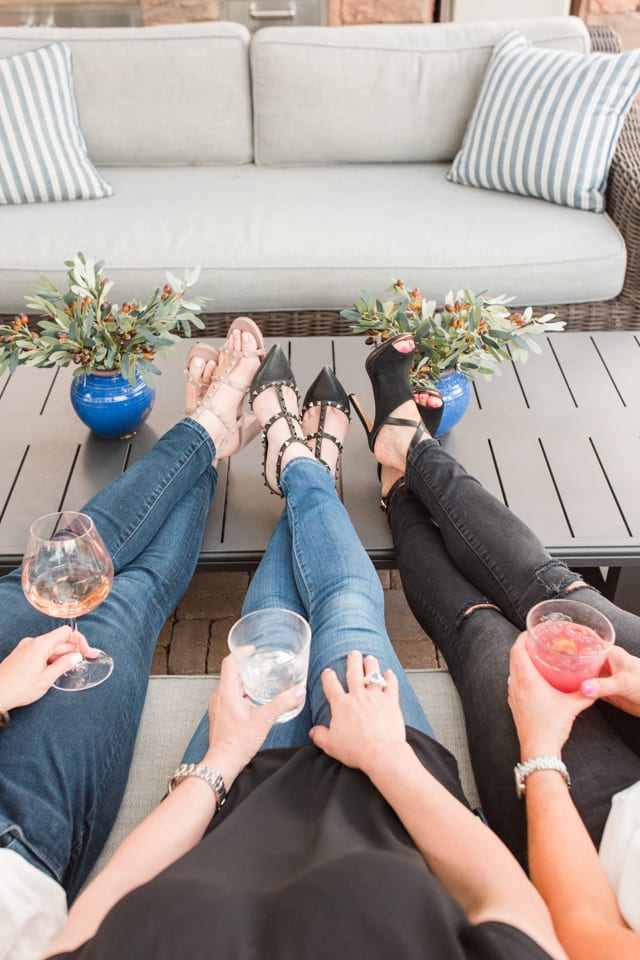 I hope you enjoyed this post on outdoor entertaining. For more inspiration on outdoor entertaining and outdoor dinner parties, click here my Outdoor Farm To Table Entertaining post!
To See Lory and Holliday's posts click below for the links:
xoxo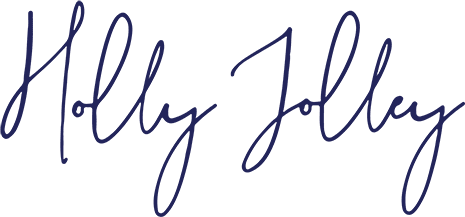 SHOP THE POST:
A handful of items used in this post are unavailable now. You will find similar items linked below to recreate the look.