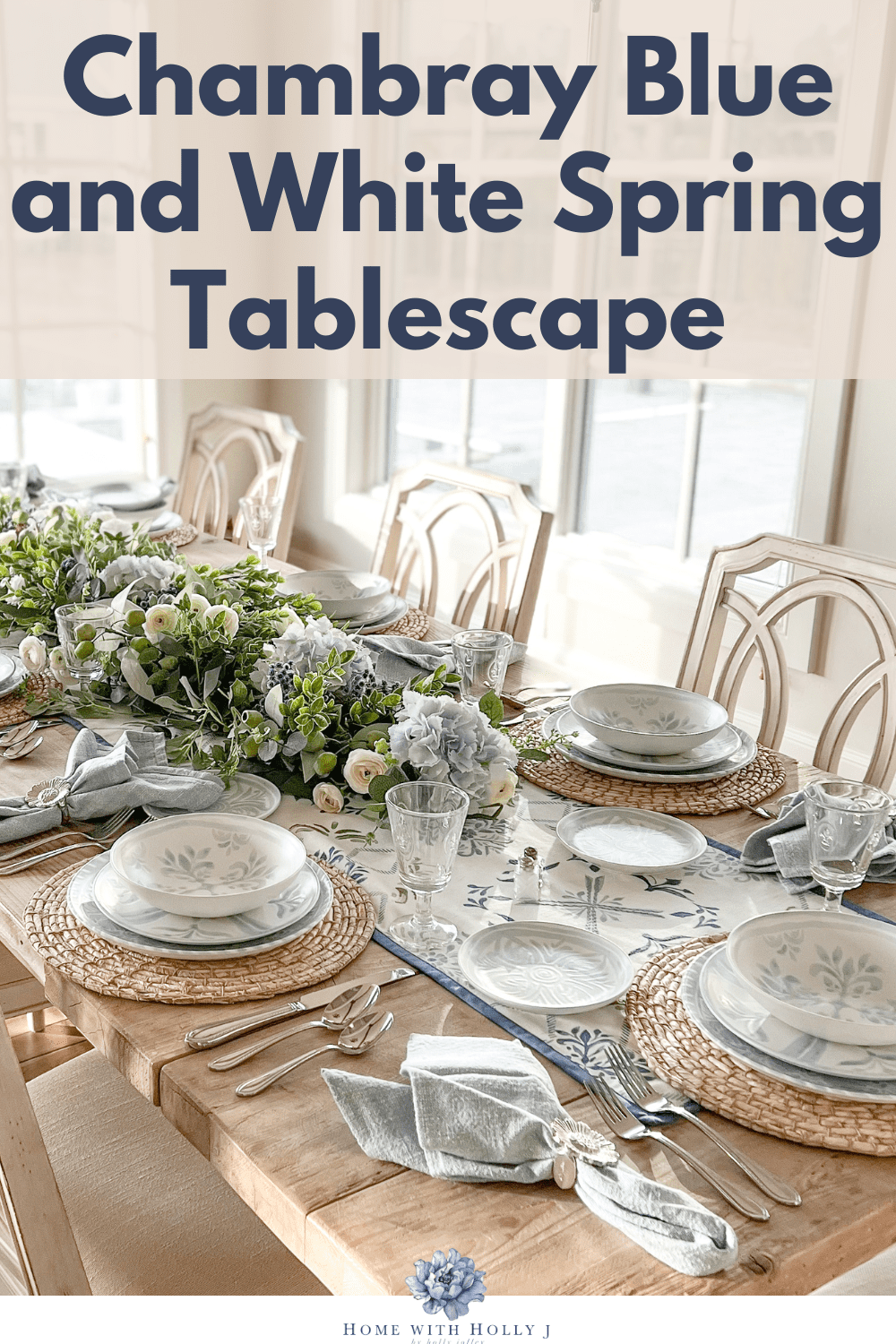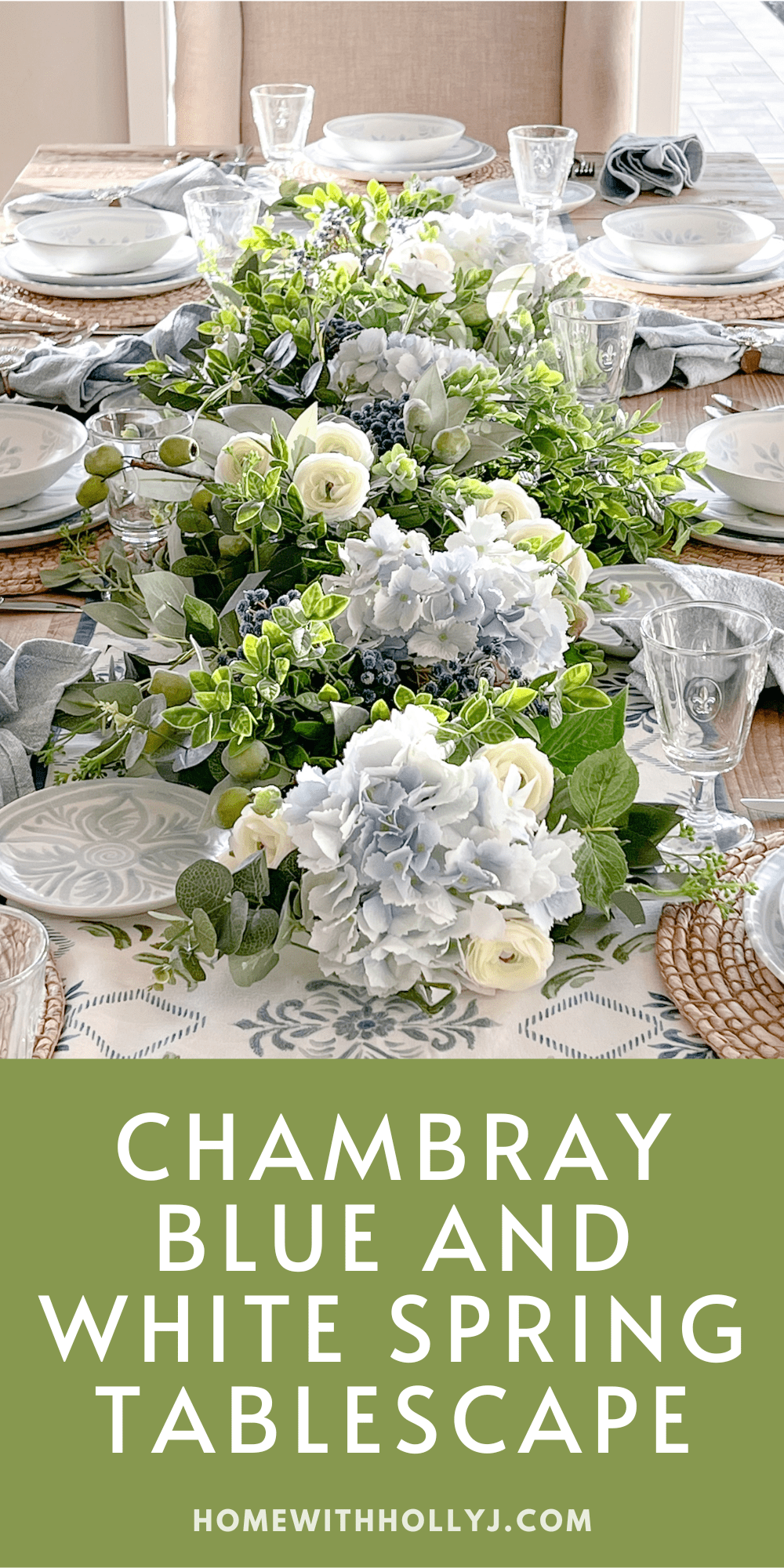 Stunning Spring Tablescape with Chambray Blue and White color palette.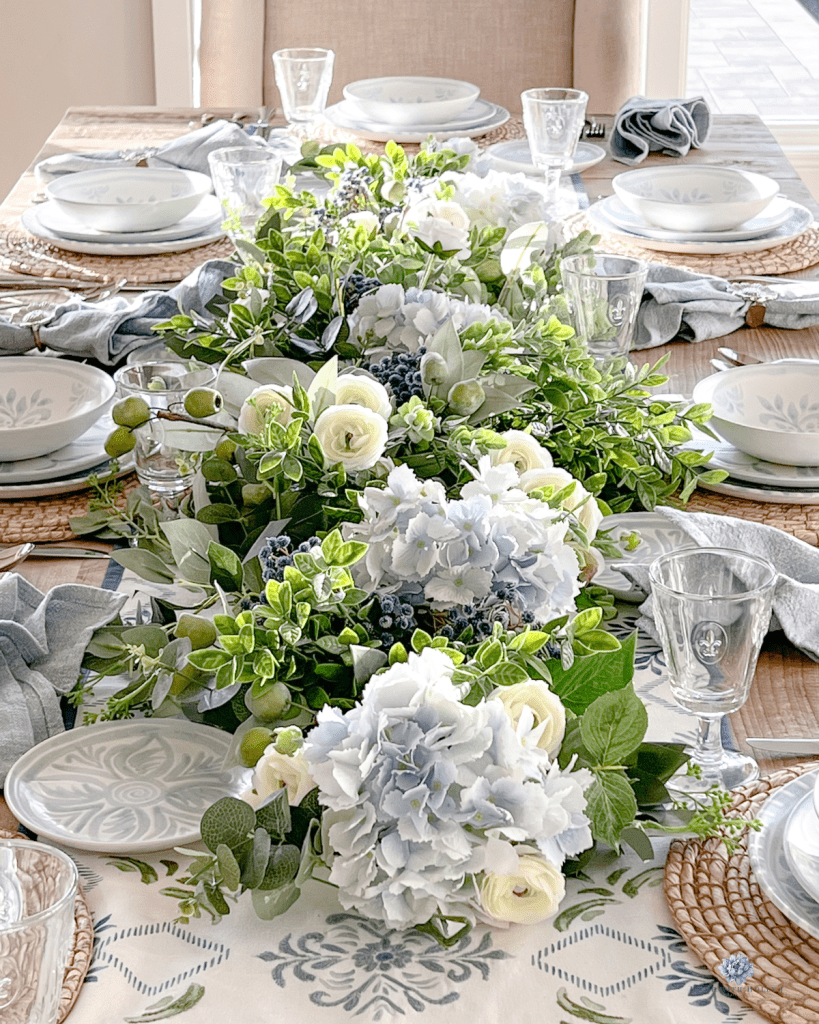 Table of contents
If you've followed along here for awhile, you've probably picked up on the fact that I love blue! I am always drawn to this color, no matter what the shade. This stunning spring tablescape with chambray blue and white is a favorite of mine!
Why I Love Blue!
One reason I love blue so much is that it's calming and serene, but from a decor and design standpoint, it's one of the most versatile colors in the rainbow.
It goes with almost every other color and there are so many shades of blue to choose from.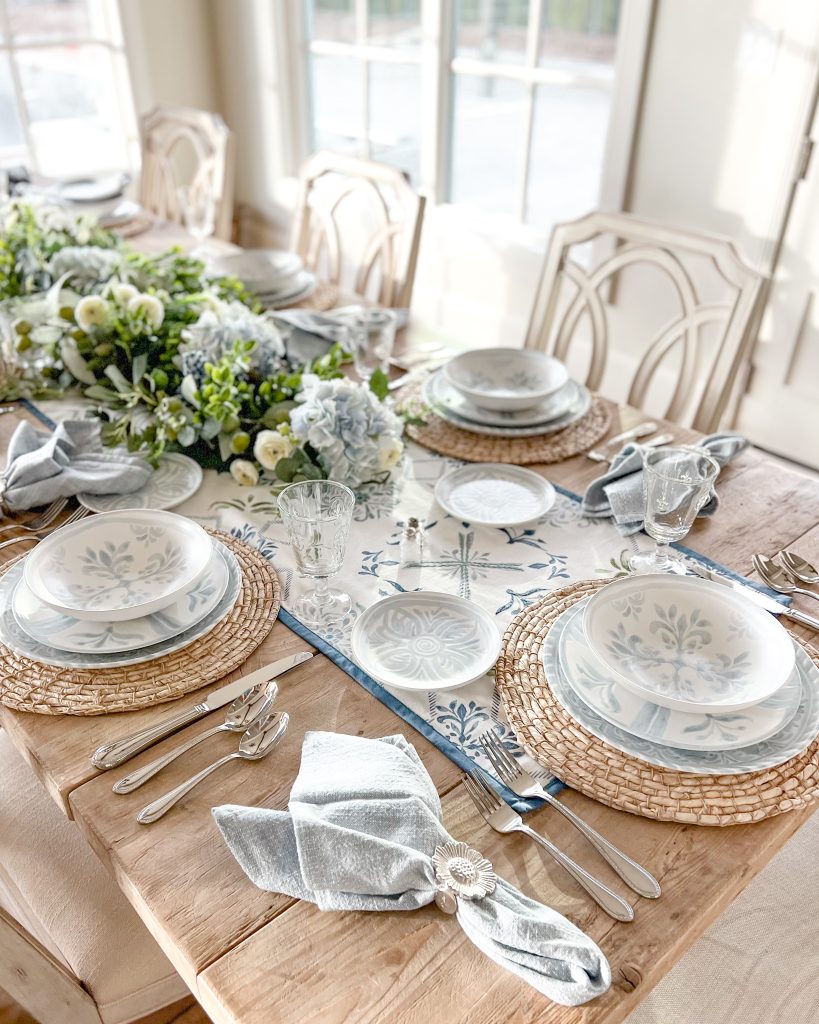 I set this tablescape for a Sunday family dinner I hosted at my home and it was the last of my spring tablescapes for the season. The color palette of this chambray blue and white combination carried over into summer perfectly–which brings up another reason why I love blue so much!
It's a color that can be used all year long and has a place in every season.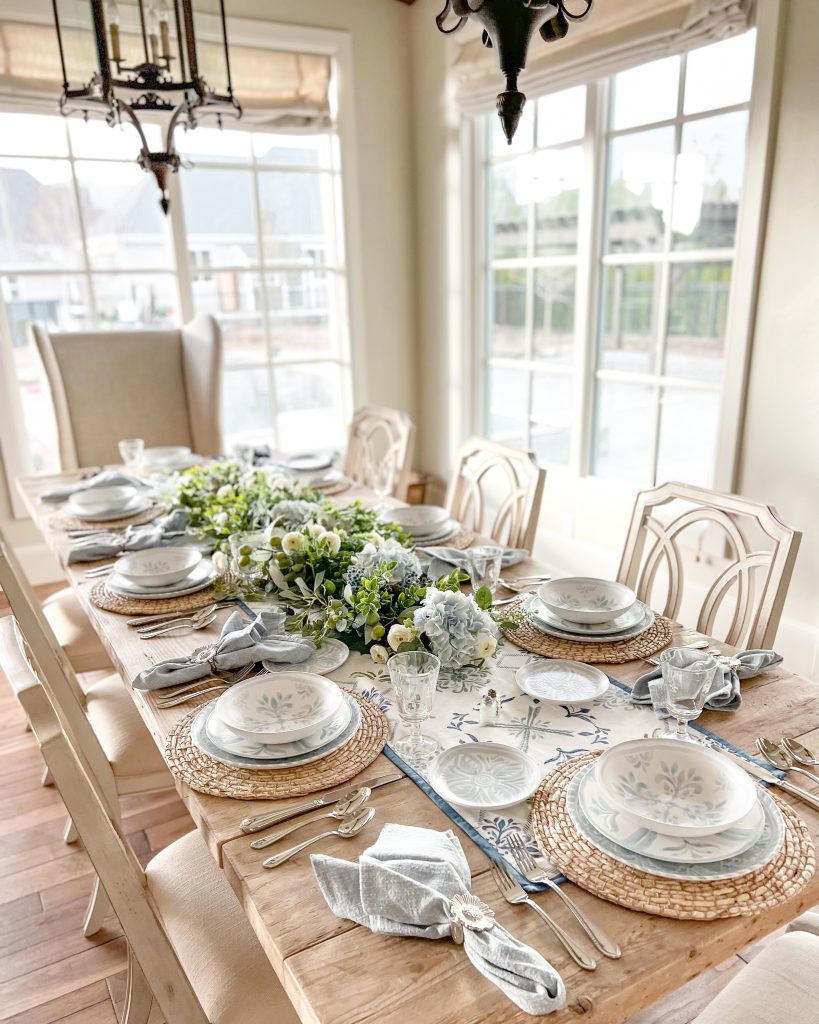 Because this was the end of spring and going into summer, I chose these light blue chambray dishes and used blue and white flowers mixed in with faux greenery to create this tablescape.
The Place-Setting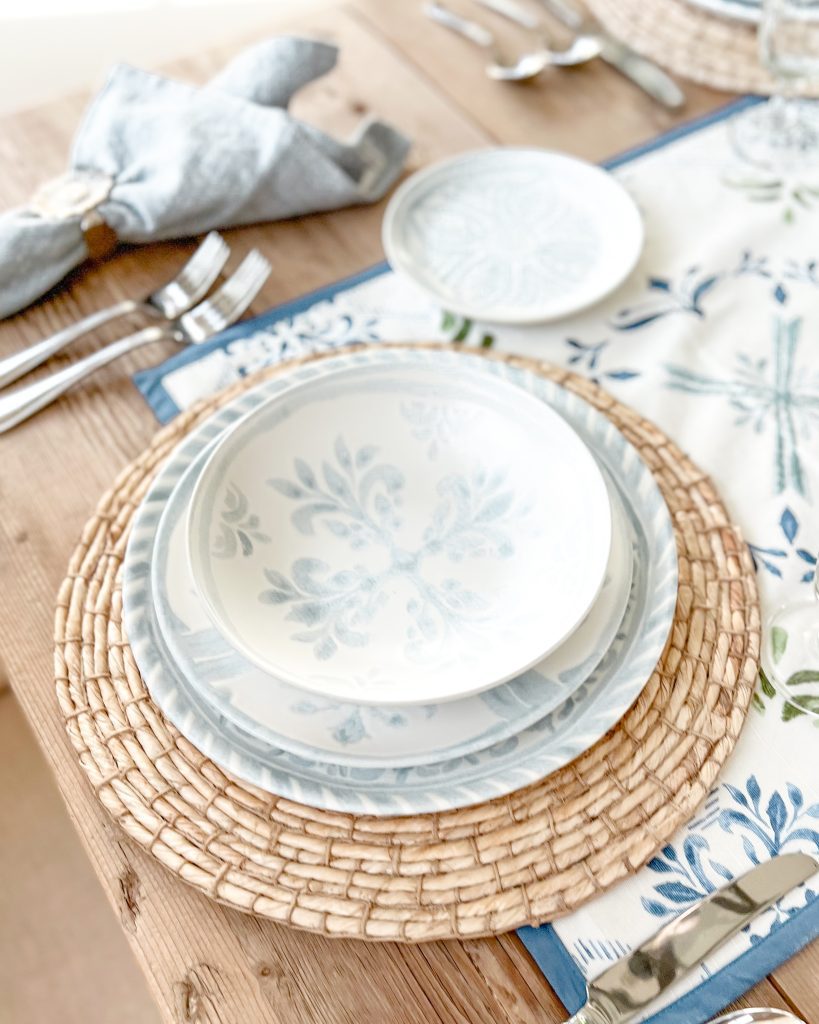 For the place-setting I used light colored-woven placemats with the chambray dinnerware and paired it with light blue linen napkins and flower shaped silver napkin rings.
I used a set of silver flatware and some napoleon bee goblets to finish off the place-setting.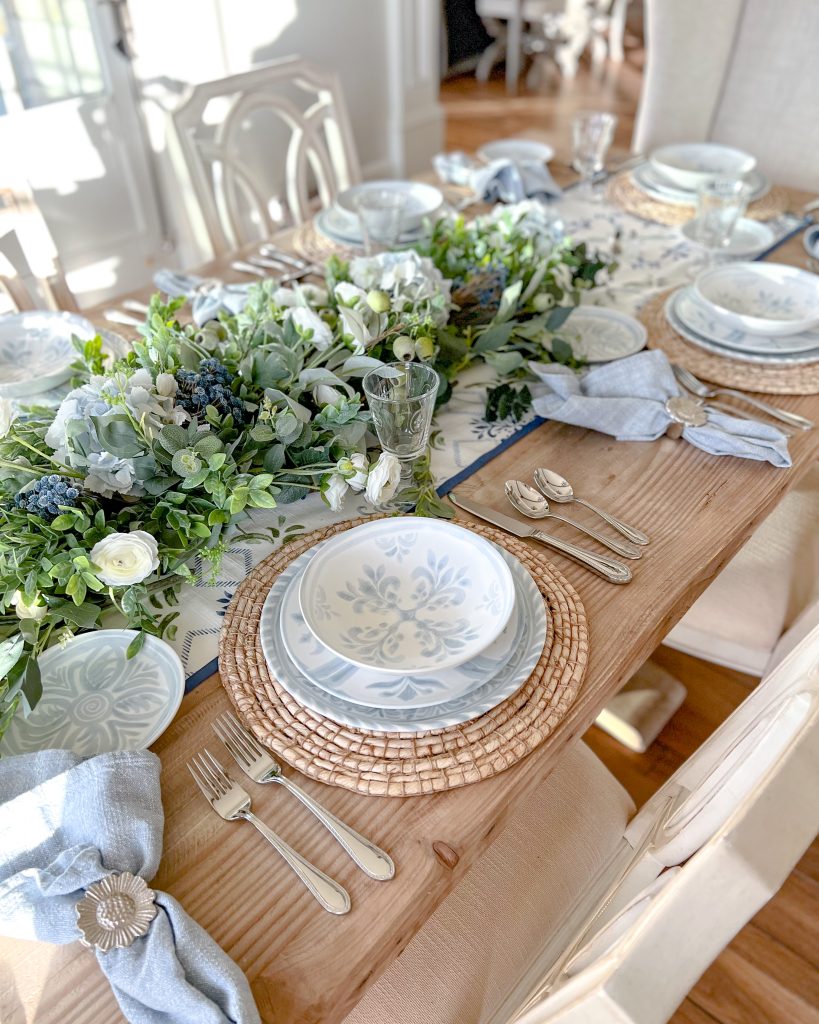 I wanted the color palette for this table to be light and airy.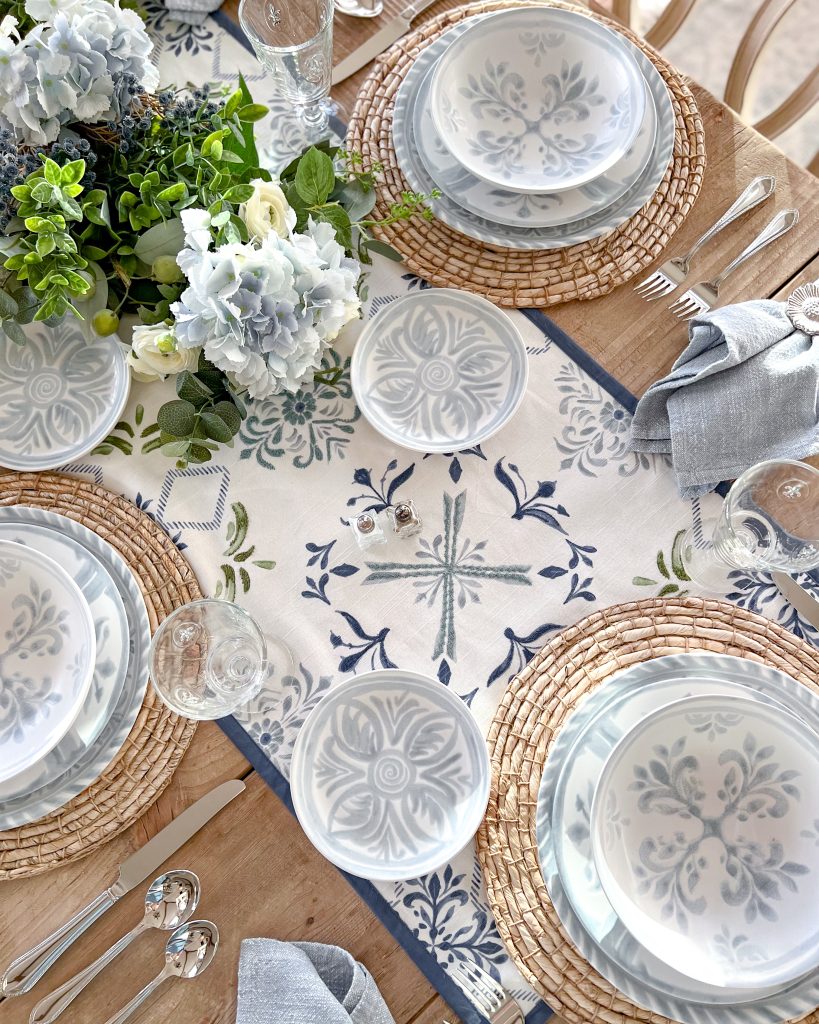 The Centerpiece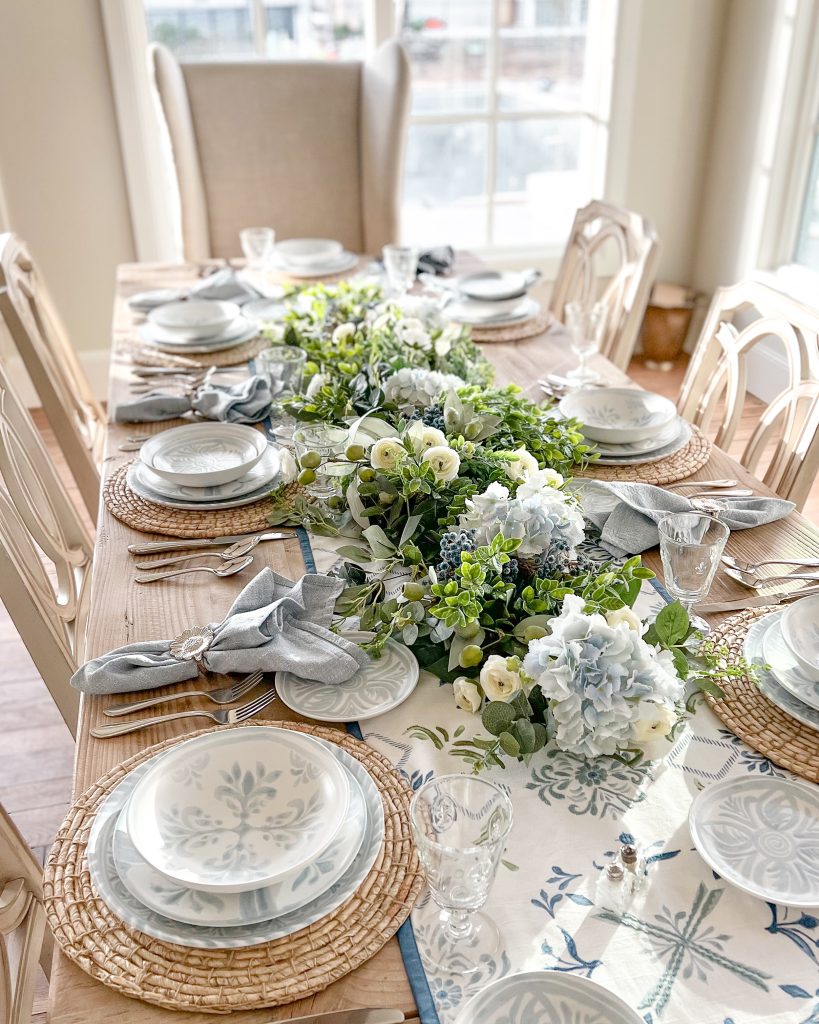 For the Centerpiece, I used a matching Chambray table runner from the same collection as the dinnerware and created a handmade centerpiece garland down the middle.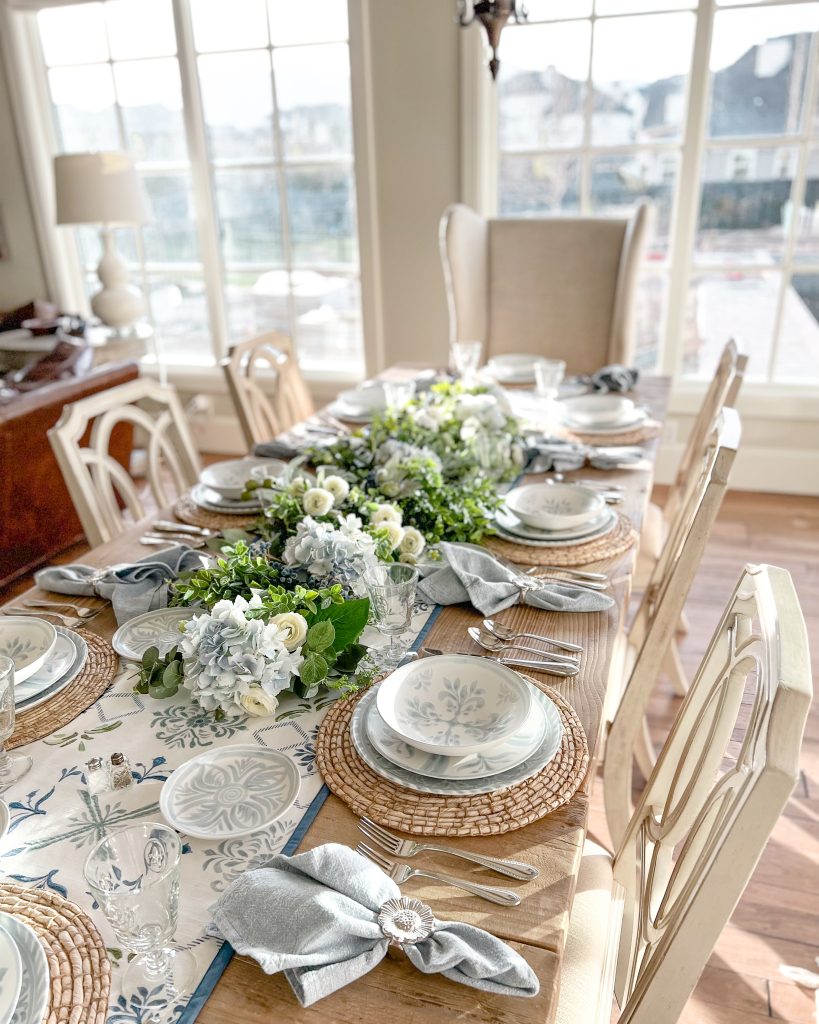 I like these types of garlands for the table as they are low to the table and allow easy conversation with the person sitting across from you.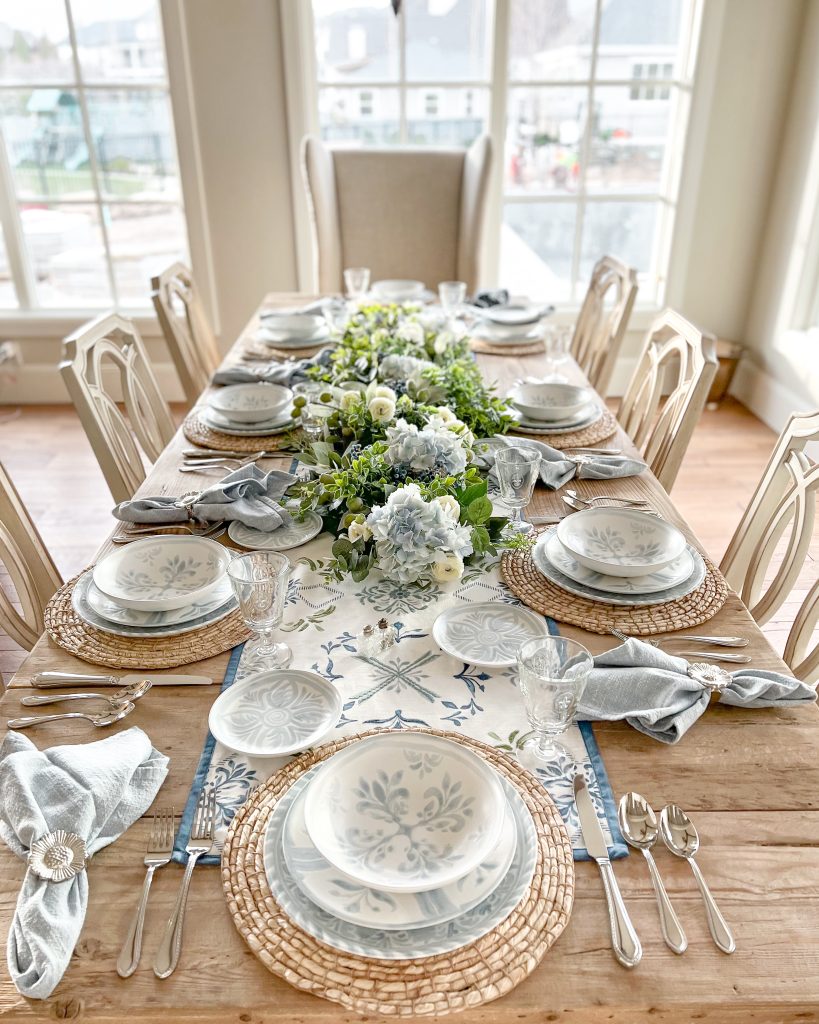 No need to crank your neck around vases or flowers!
How to Make the Garland Centerpiece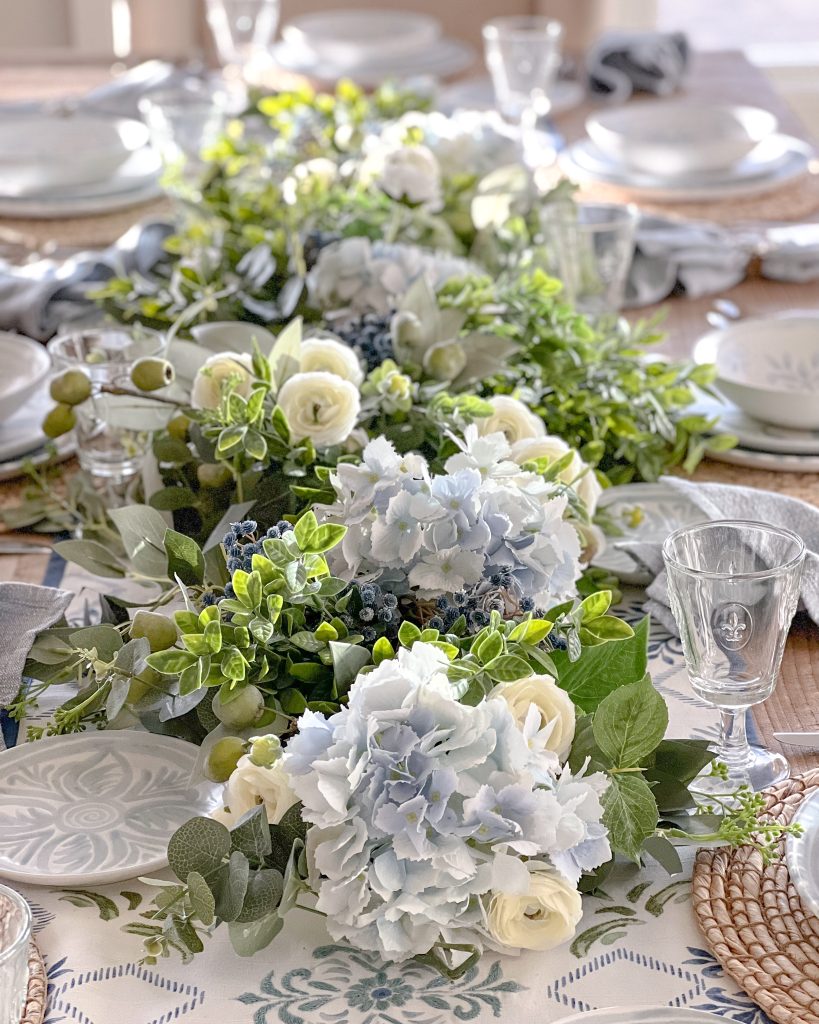 You can watch this video to see how I created this.
Everything in the garland is faux so no need to worry about keeping your flowers and greenery alive.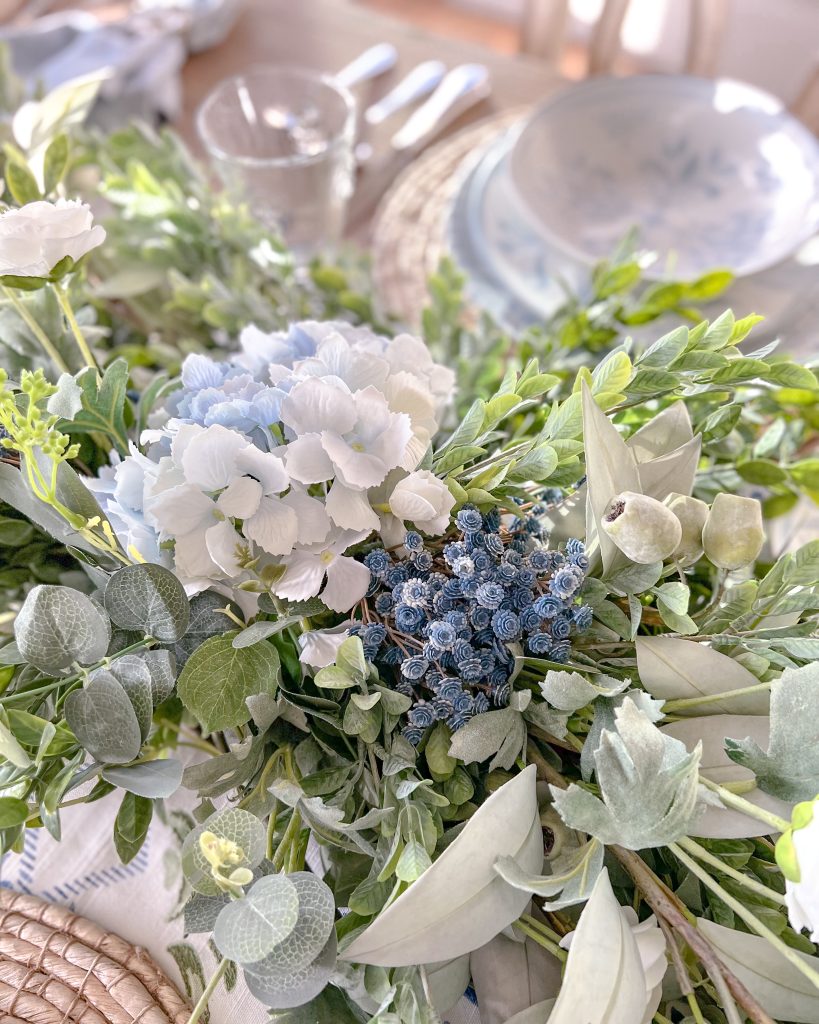 I use high end faux florals and greenery and once you make the investment, they last forever if you take care of them. The garland centerpiece can be left on the table after you've cleared all the dishes away and it makes for a great centerpiece for your dining table that will last all season long.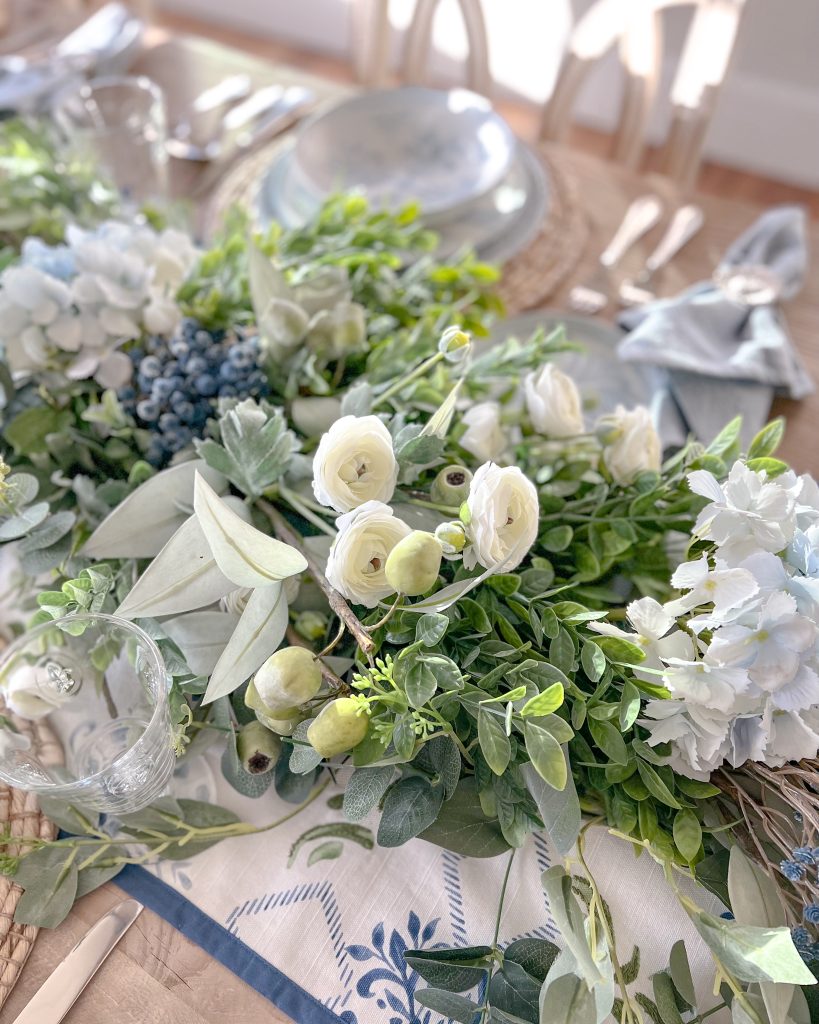 To make the garland, start by using a faux eucalyptus garland then, add in other greenery stems and work them into the base garland going opposite directions, working out from the middle.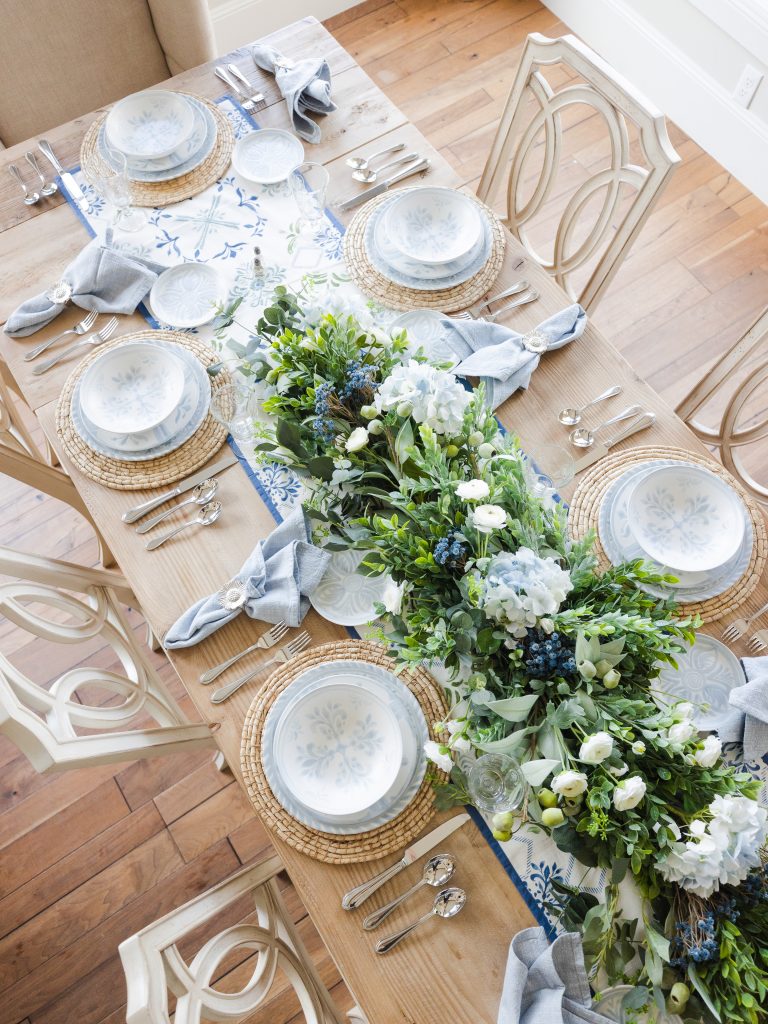 The next step is to add in some flowers.
For this centerpiece, I used blue hydrangeas, white ranunculus, and blue babies breath.(These are both from hobby lobby and the blue was sold out when I posted this but check in store for both these items if you can't find them online.)
I always work out from the middle of the garland and repeat what I do on one side to the other.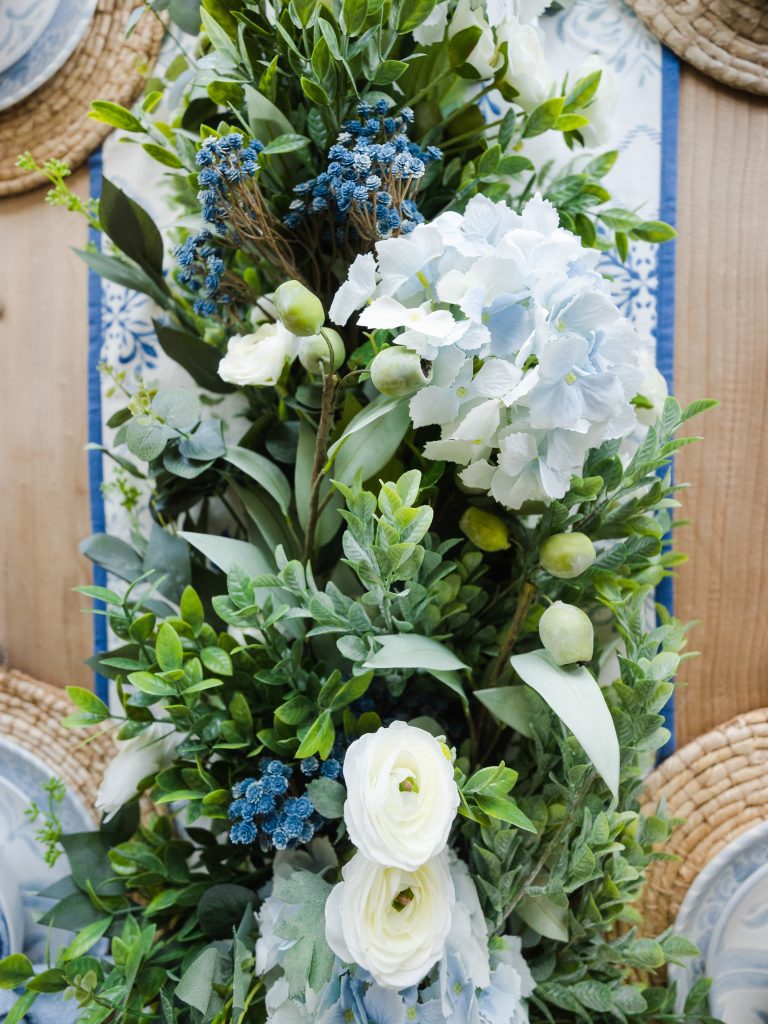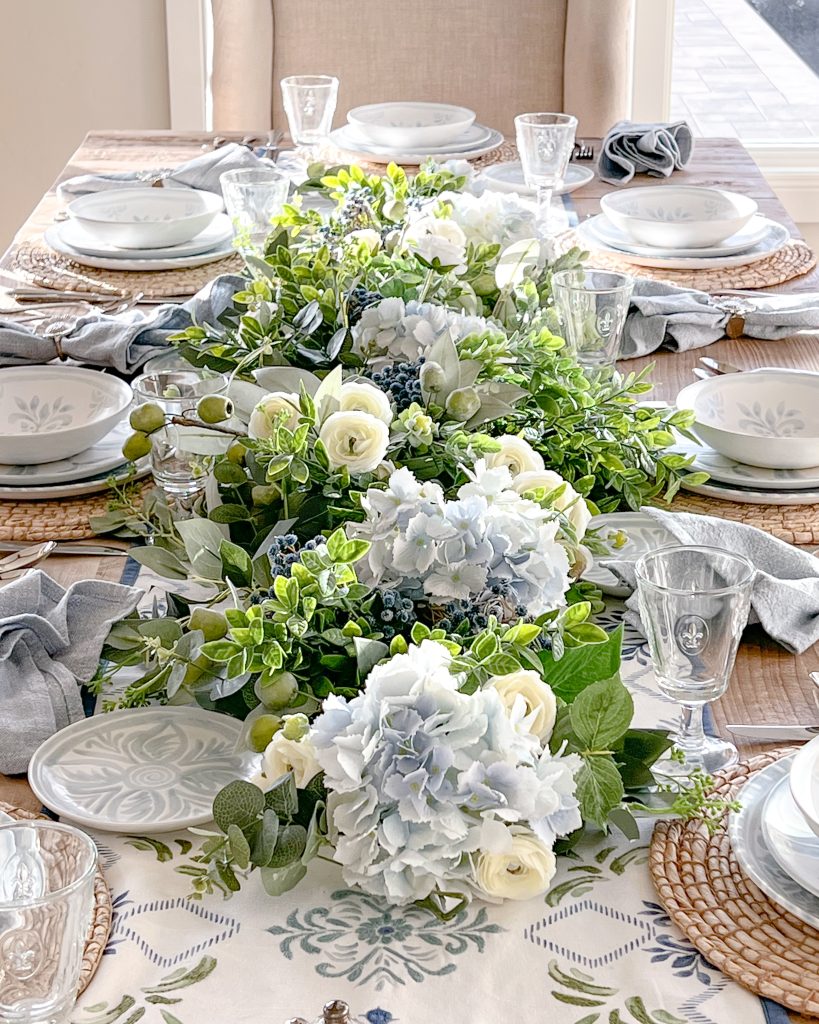 The video linked above will give you a better visual of how I do this.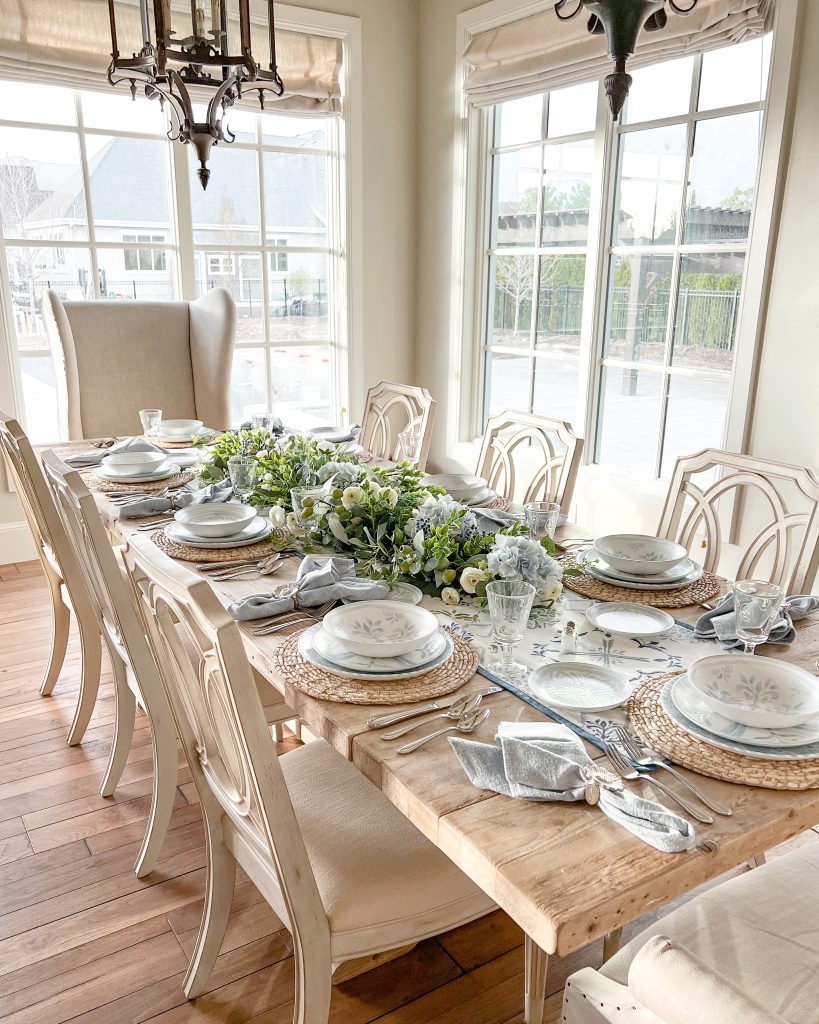 I will link all the items of this Stunning Spring Tablescape with Chambray Blue and White colors at the bottom of the post or, you can find them sprinkled throughout the post. Just tap on the images.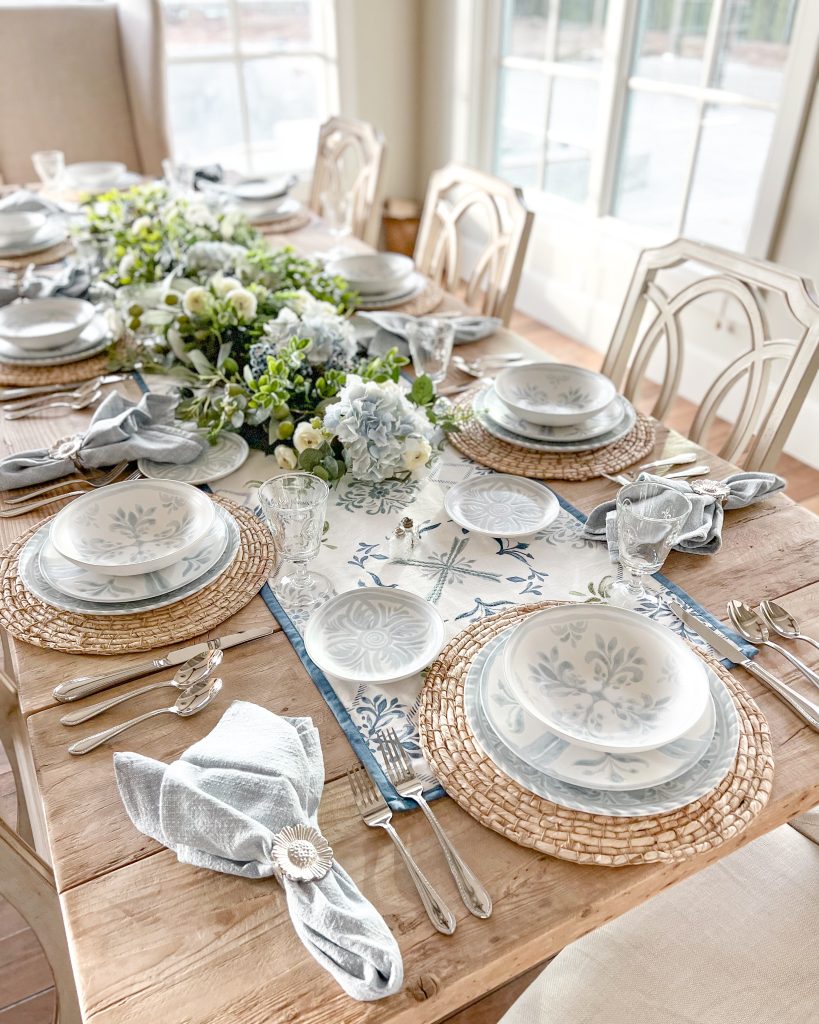 All that's left to do is add some candles and some delicious food!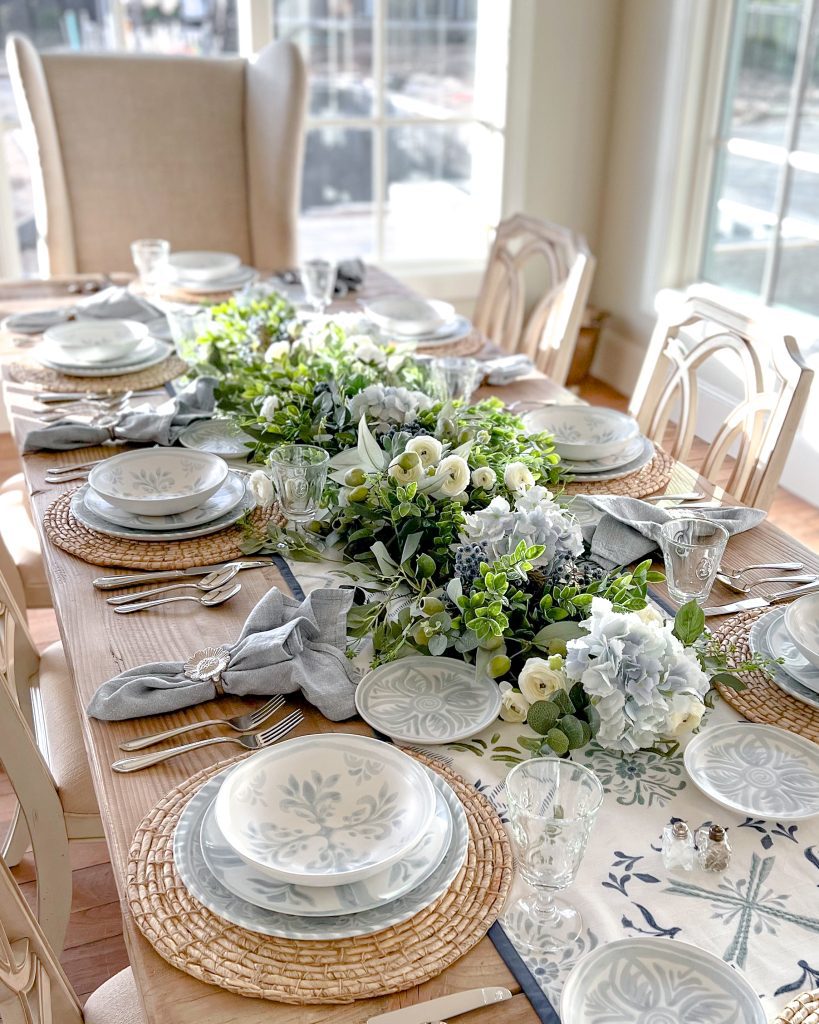 Here's some of the recipes I used for dinner when I set this table…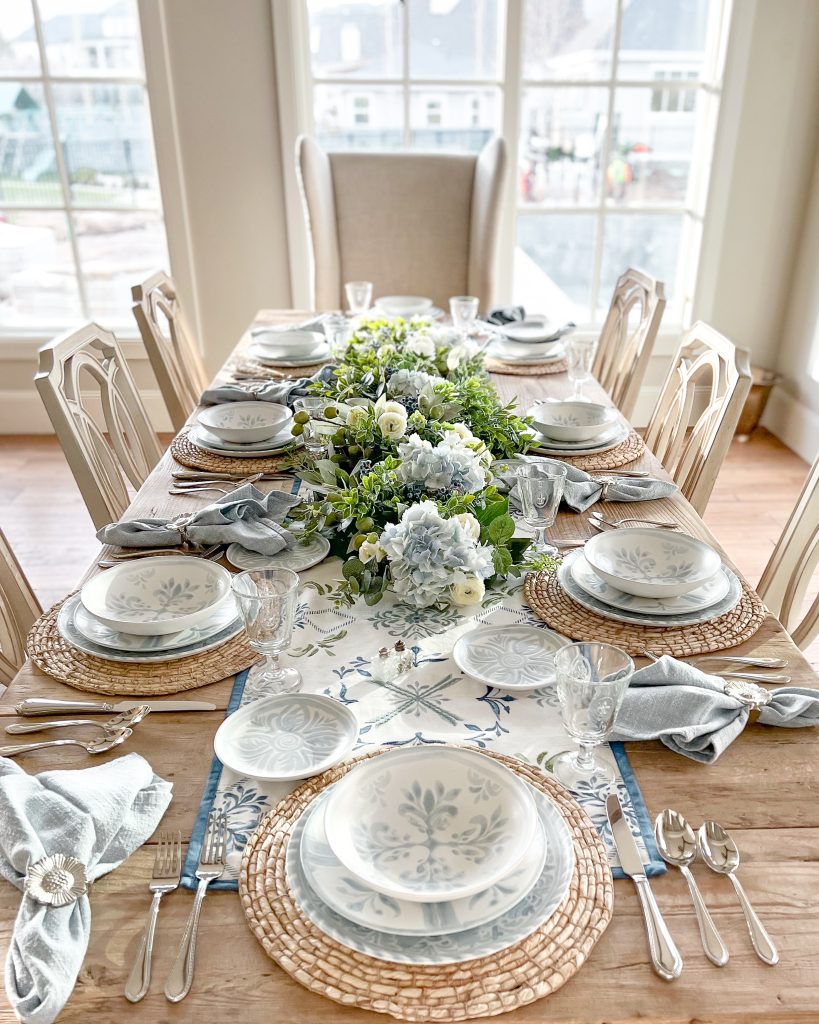 Shop the Look
Disclaimer: This post does include affiliate links for your convenience. This is at NO additional cost to you but earns me a small commission. To read more, check out our disclosure policy.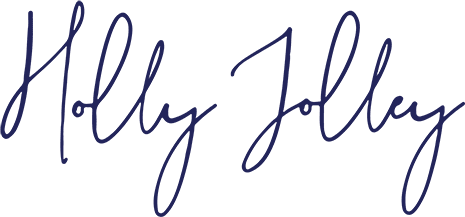 Pin this Post for Later