Stuffed Chicken Kiev
The Marriage of Ruths Chris Stuffed Chicken and Chicken Kiev Recipes
Behind every one of my recipes, there is a little story and I always tell the story if there is one to tell. About 20+ years ago, I went to dinner for the first time at Ruths Chris Steakhouse, and instead of ordering a steak, I ordered the stuffed chicken. It was so good and I was determined to figure out how to make it. I asked the waiter a few questions and if he could tell me the ingredients and he said it had cream cheese, butter, and herbs in the filling. I'm excited to share this yummy chicken kiev recipe below.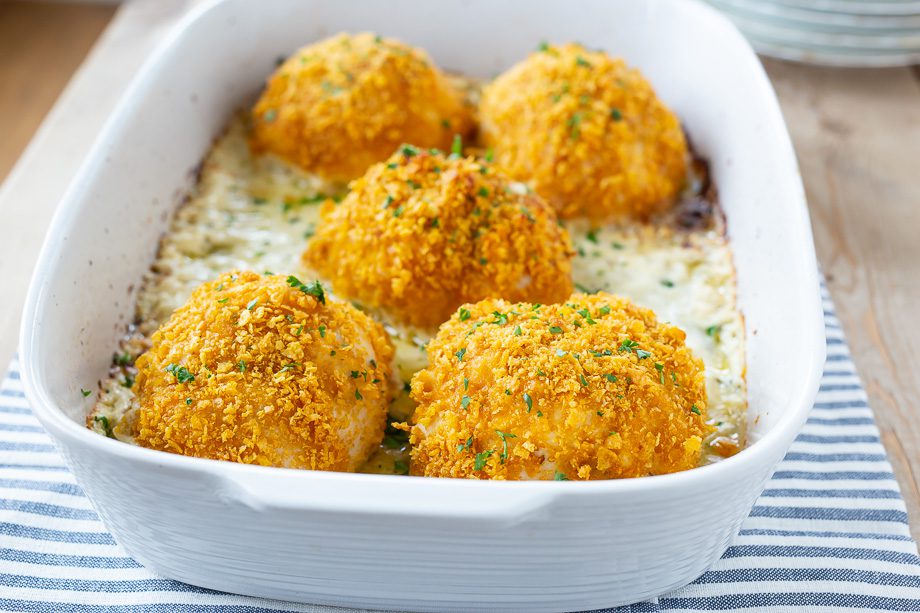 Not long after that, I left for a trip to England to coach a boys' soccer team and one night, my husband and I were able to take a break from all the kids and go on a date. We had been told that the pub up the street from the Queen Victorias Royal Holloway where we were staying had really good food. We figured we'd give it a try. I ordered the chicken kiev and it was delicious. I had never heard of this before and it reminded me a little bit of the chicken I'd had at Ruths Chris.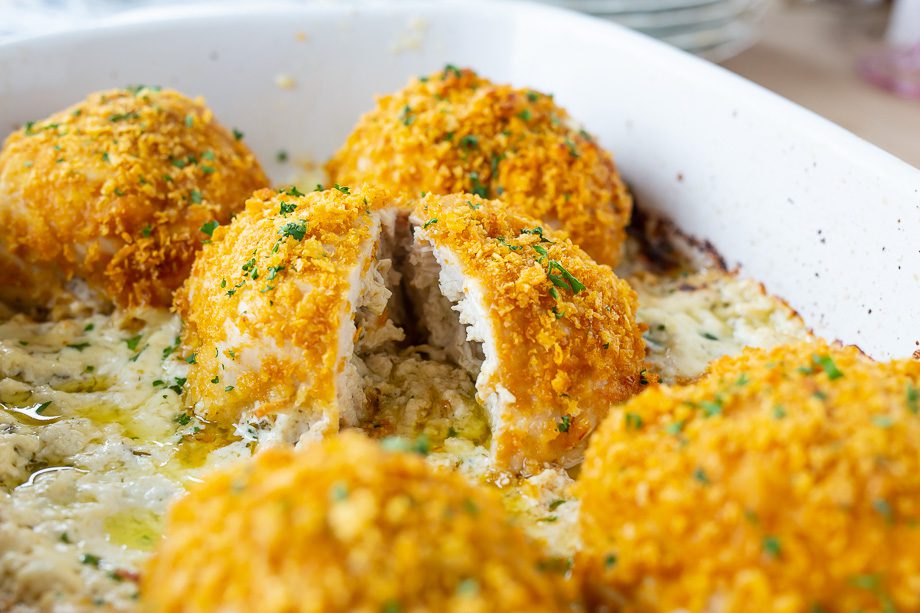 When I returned home, I decided to marry the two recipes together and this has become one of our favorite recipes. Every year I host a Christmas party for my husbands office and this is always one of the requests from my husbands dental team. I love making this for them and many will be so happy that I've finally shared the recipe here. I hope you like it as much as we do!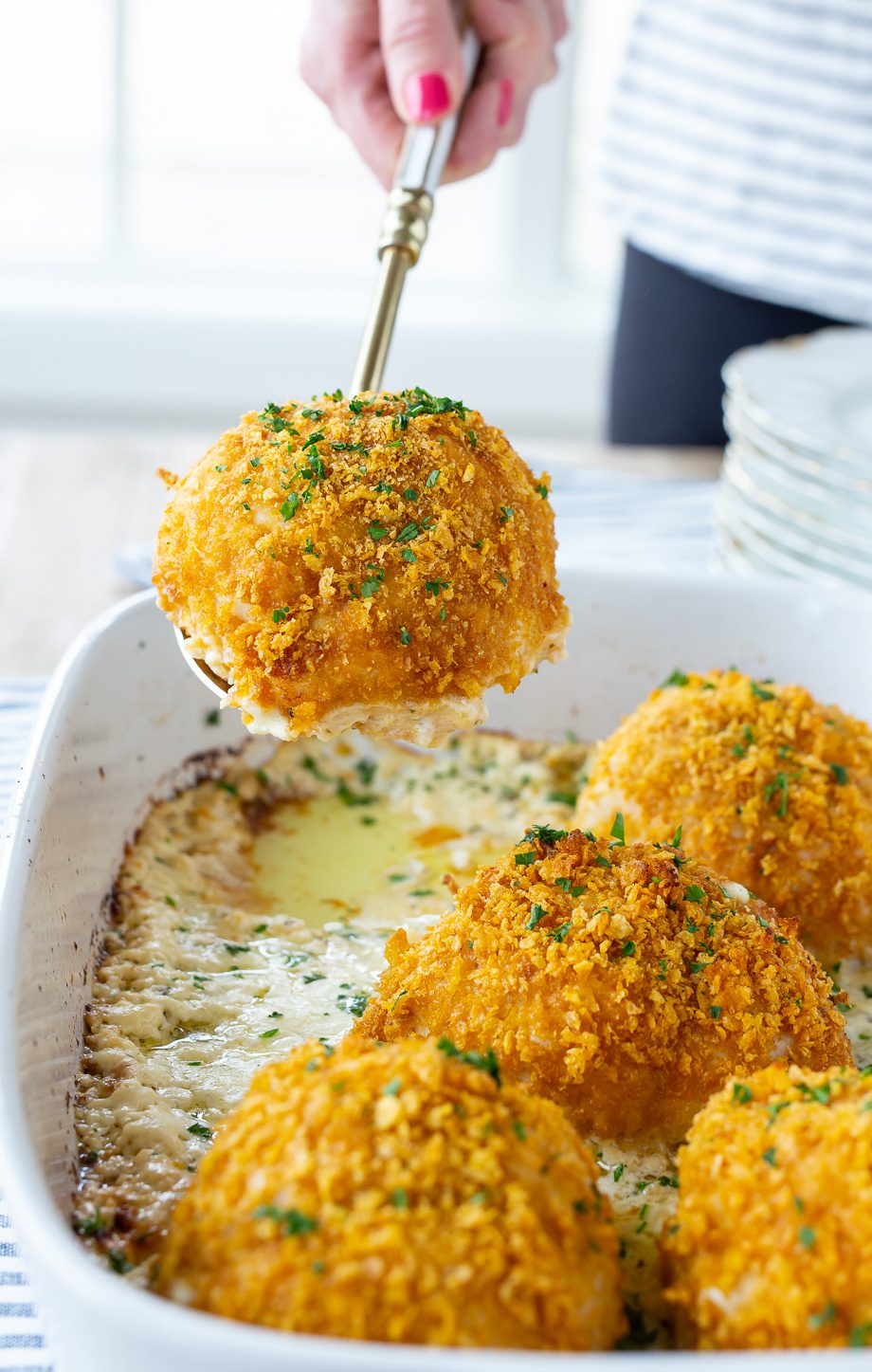 Stuffed Chicken Kiev Recipe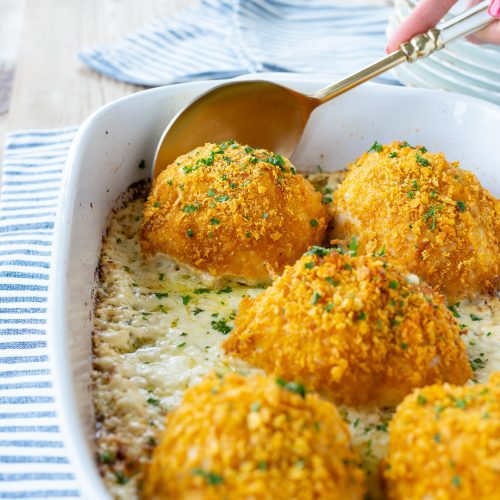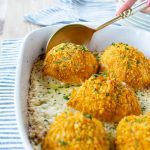 Stuffed Chicken Kiev
Ingredients
6

whole

chicken breast

1

pkg.

softened regular cream cheese

¼

cup

softened butter (1 cube)

2

tbsp

fresh chopped parsley

1/2

juice

of one lemon or 2-3 tsp lemon juice

1

tsp

garlic seasoning salt

½

cup

melted butter (2 cubes)

4

cups

crushed corn flakes
Instructions
Pound chicken breasts until flat and about 1/4 inch thick, set aside. I use a meat tenderizer/mallet and sometimes, if I can get the butcher to do it for me, I'll have them tendnenrize the chicken breasts. Saves time so ask your butcher if you want to try it that way.

Put corn flakes in a ziplock bag and use a rolling pin to crush them up into fine pieces. You can also do this in a food processor if you have one. Place them in a medium to large shallow bowl or pie plate and set aside.

Place the package of softened regular cream cheese, one cube of softened butter (1/4 cup), finely chopped fresh parsley, juice of half a lemon, and garlic seasoning salt into a stand mixer and mix until everything is combined well and there are no lumps of cream cheese or butter. You can also do this in a medium sized bowl with a hand mixer or do it by hand too. Set aside.

Melt the remaining two cubes (1/2 cup of butter) into a shallow bowl or pie plate.

Spray a baking dish with non-stick cooking spray.

Take all the ingredients and line them up for an assembly line (chicken, toothpicks, butter, then corn flakes) and have your toothpicks laid out.

Take the flattened chicken and add a scoop of the cream cheese/butter mixture the center of the chicken and fold all the sides up around the filling. Use 2-4 toothpicks to pinch it together. It's okay if it's not perfect, just try to secure it so that all the filling doesn't leak out. I try to make mine in the shape of a ball.

Once you've stuffed the chicken, dip each piece into the melted butter and then the corn flakes. Make sure to evenly coat each piece with both the butter and corn flakes.

It's okay if they are not perfect in shape. If I use whole split breasts, they come out much larger but you can also use half breasts and the pieces will be smaller. I just use what I can find at the store. If you have smaller pieces of chicken then that's great for those people that want a smaller portion. They are quite large when you do a whole split breast.

Add the chicken into the baking dish.

Place uncovered in the oven set to 375° and bake for 45-55 minutes. Some of the filling will leak out of the chicken and that is normal. When you serve the chicken, make sure to scoop that overflowed filling out too! It's so good and you'll want to scrape the pan clean!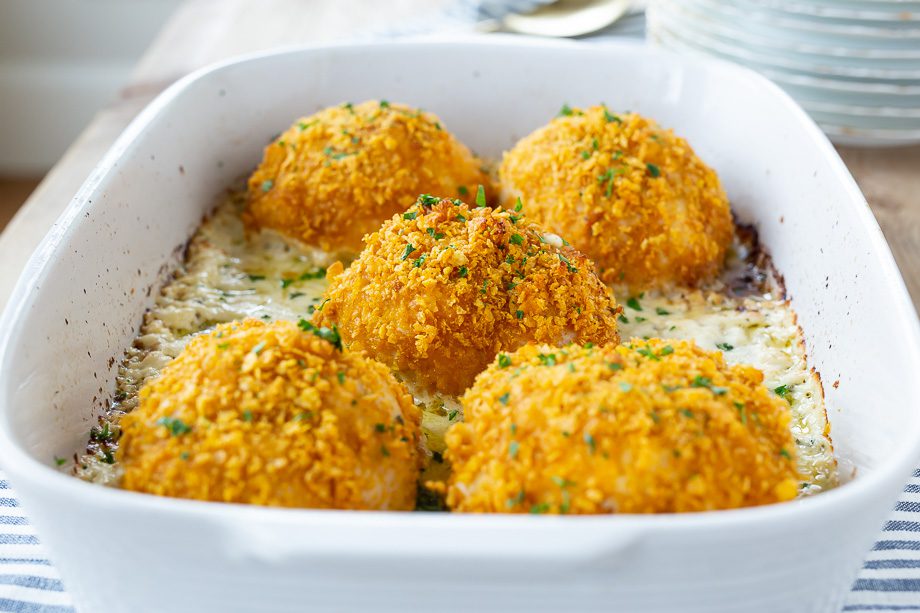 I hope you give this recipe a try! It's perfect for any holiday season and everyone I've ever made it for loves it and asks for the recipe. If you want to make it keto or low carb, you can leave off the corn flakes and use something else that's keto approved. It's also gluten free. It's great warmed up as leftover the next day too! My husband always asks me to make a little extra so he can have it for lunch the next day.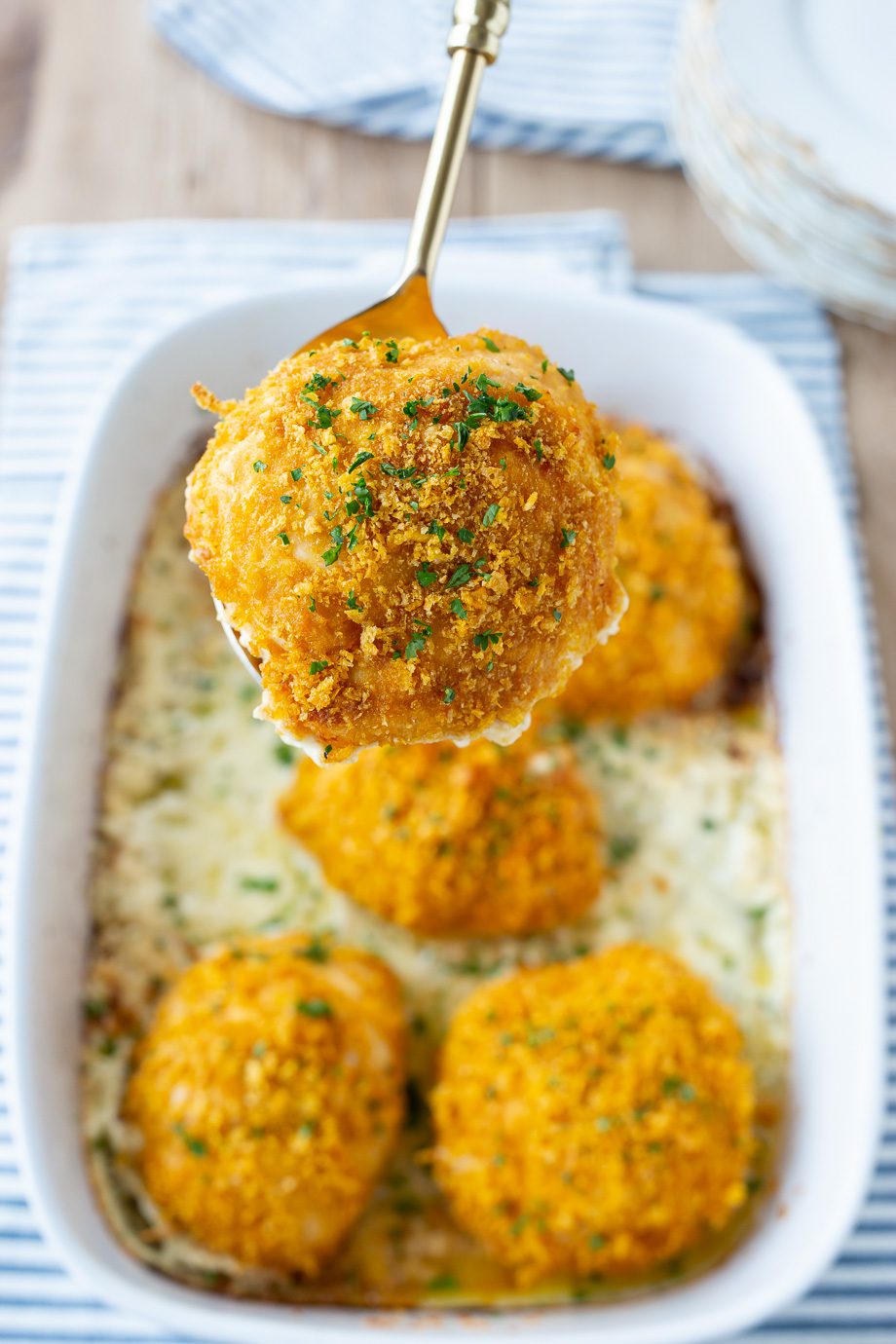 Thanks so much for stopping by! Send me an email in the comments if you have any questions and please feel free to subscribe to my blog so you never miss a post! I appreciate each and everyone of you. You can follow me on Pinterest, Instagram and TikTok too!
xoxo,