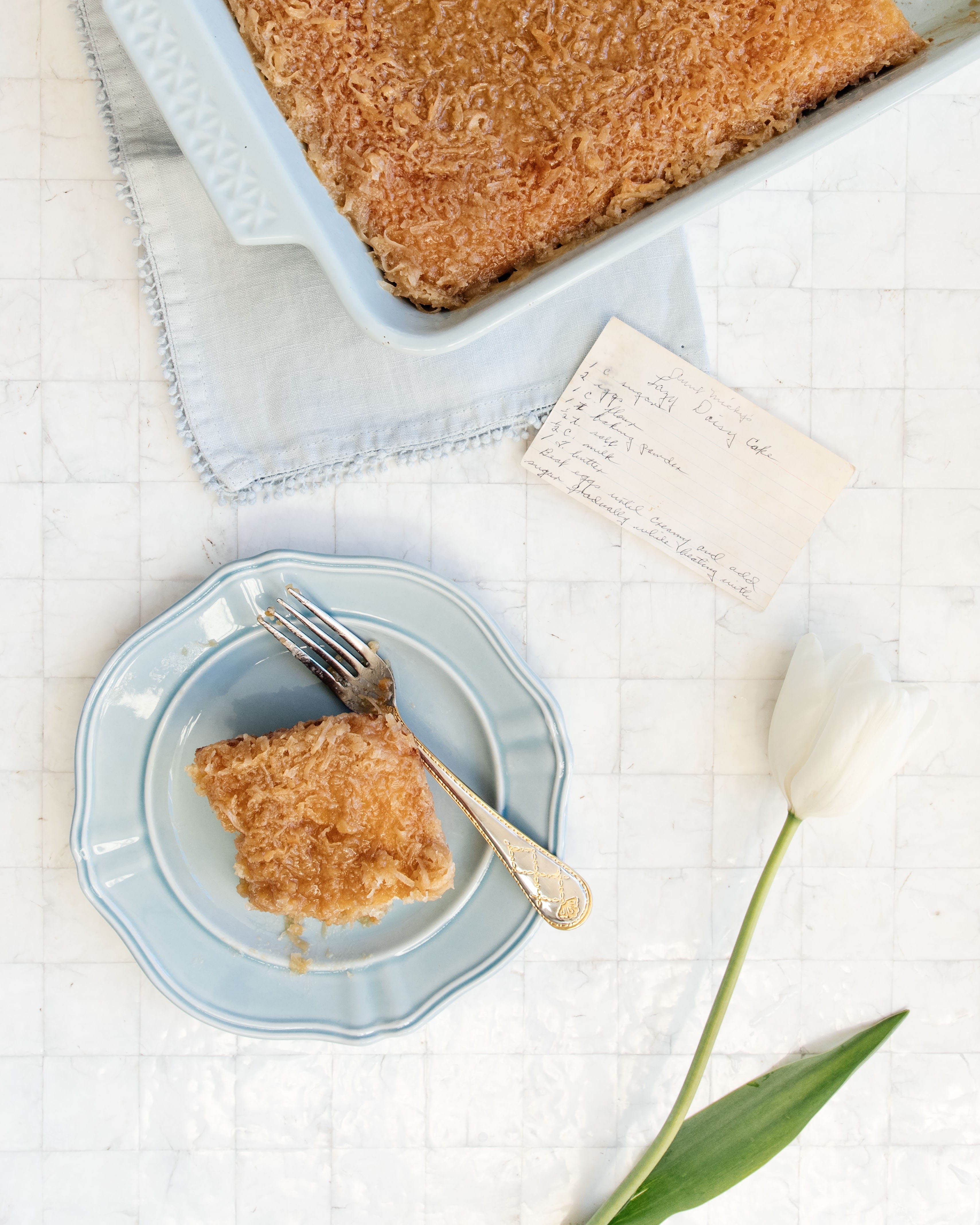 Lazy Daisy Cake
The year before my Grandma Benson passed away, I gave her a recipe box filled with blank recipe cards as a Christmas gift. The following Christmas, she gave the box back to me and had handwritten her favorite recipes on the recipe cards. A month after this, she passed away. The recipes she wrote for me have become one of my most treasured possessions. Whenever I make this simple yummy cake recipe, I think of her and the fond memories I have of her.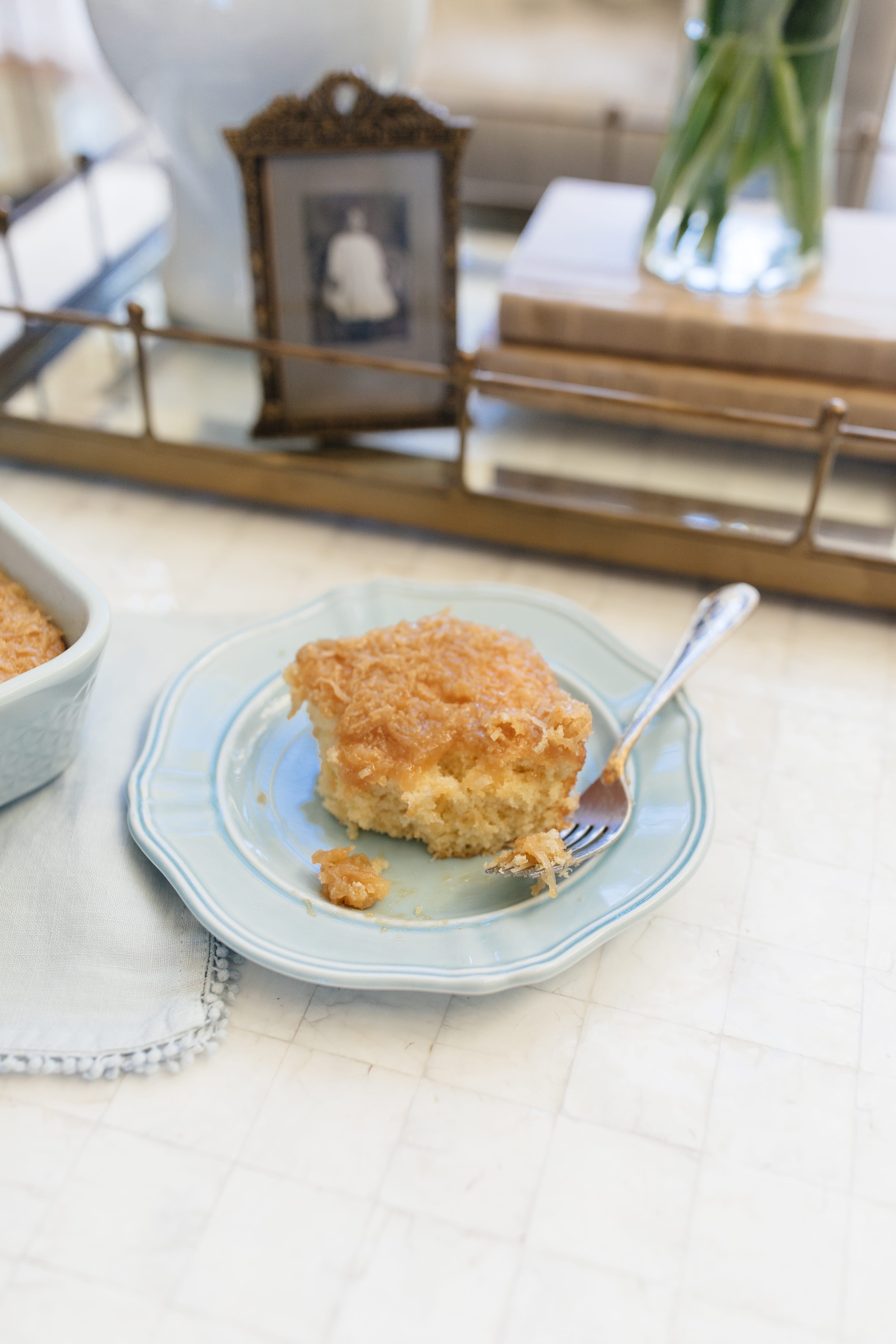 One of my favorite recipes that she left for me was "Aunt Mickey's Lazy Daisy Cake" It's a sponge cake with a cooked, then broiled frosting. This is a family favorite and another one of the recipes I grew up enjoying. We loved it when Grandma Benson (thats her in the picture frame when she was a little girl) would come visit because we knew she'd make us a Lazy Daisy Cake and her Chicken Cracker Casserole. I will need to share that recipe soon too! I haven't been able to figure out who Aunt Mickey is but I am sure happy she gave this recipe to my grandma!
I hope you enjoy this cake as much as I do!
Holly's Helpful Tips:
*I usually double the recipe for both the cake and the frosting and bake it in a 9 x 13 pan. If you have a smaller crowd, you can use an 8×8 or 9×9 pan.
*Dont overcook the cake. When it's a light brown on the top and springs back after you touch the middle, it is done. You can also insert a toothpick in the middle of the cake and if it comes back clean, its done.
*This recipe calls for scalded milk which is milk brought nearly to a boil and then slightly cooled down. Scalded milk makes sponge cakes springier. Slowly heat milk over medium-low heat. The key here is to heat the milk, but not to bring it to a boil. Boiling will burn your milk. Stir continuously to prevent milk from thickening, burning or sticking to the bottom of the pan. Look for steam and small bubbles around the edges of your sauce pan, then remove immediately from heat.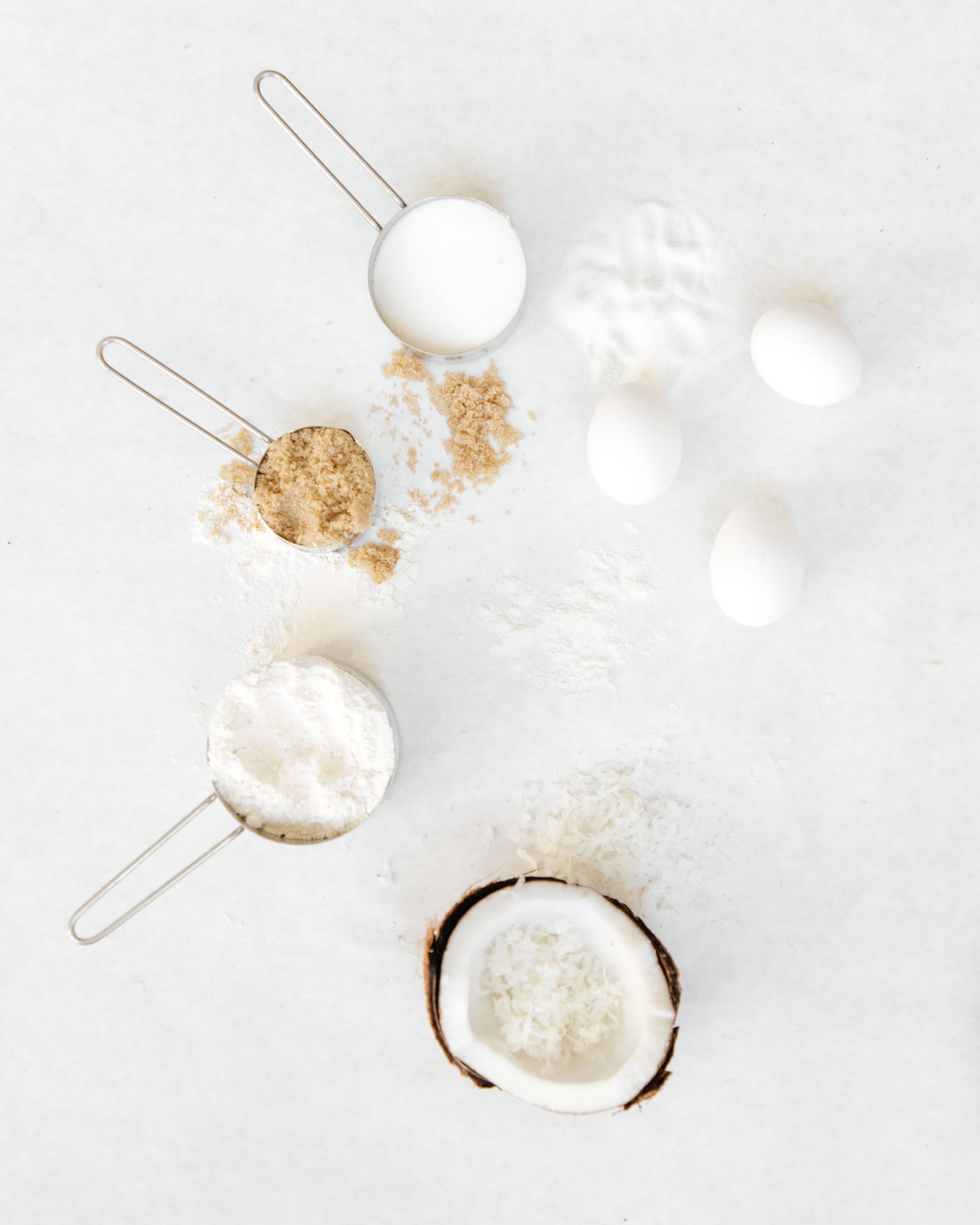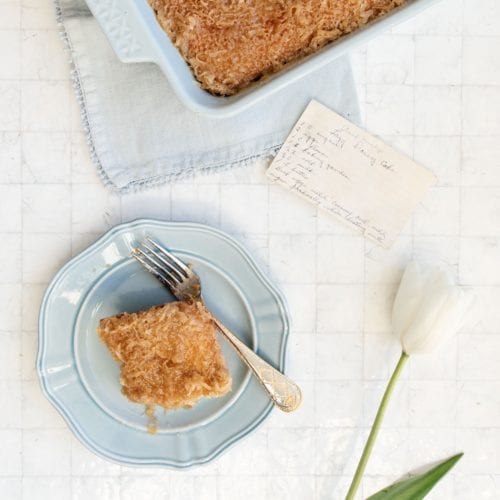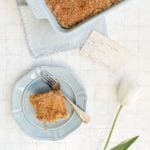 Lazy Daisy Cake
Ingredients
1

cup

sugar

2

eggs

1

cup

flour

1

tsp

baking powder

1/2

tsp

salt

1/2

cup

milk

1

tbsp

butter
Instructions
Sift together flour, baking powder, and salt in a bowl and set aside.

Butter and flour an 8x8 or 9x9 cake pan, set aside.


With a hand or stand mixer, beat eggs until creamy. Gradually add the sugar in while still beating the eggs. Fold in the sifted ingredients. Scald the milk in a small saucepan and then add butter into the milk and stir until the butter is melted. Add the milk and butter into the mixing bowl all at once. Mix until incorporated. Don't over mix the batter. This is a thin batter.


Bake in the oven at 350 degrees for 25-30 minutes until cake is done in the middle. It will turn golden brown on top.


When the cake is done, take it out of the oven and set it aside. Then make the frosting.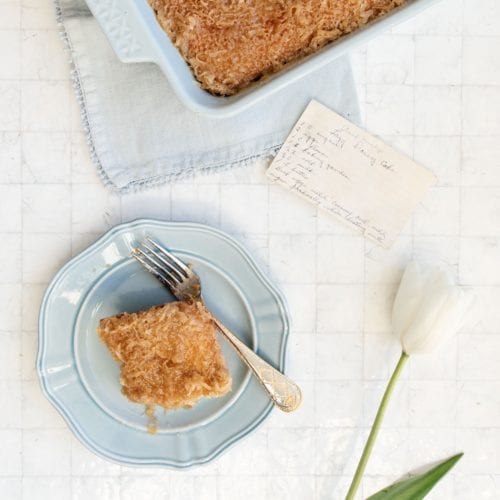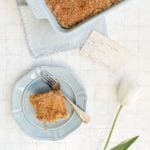 Lazy Daisy Frosting
This is a cooked frosting made in a sauce pan and then broiled in the oven after it's spread on top of the cake.
Ingredients
5

tbsp

brown sugar

3

tbsp

butter

1/2

cup

sweetened shredded coconut

3

tbsp

evaporated milk
Instructions
In a saucepan combine all the ingredients and stir.

Bring to a boil on medium high heat and stir until bubbling. Remove from the heat and pour on top of the warm cake. Spread the frosting to cover the entire cake.

Turn the oven onto broil and return the cake to the oven on the top rack just under the broiler. Leave the oven door cracked open so you can watch the cake. Don't walk away as this happens quite fast and you don't want to burn the frosting. When the frosting starts to bubble, take the cake out and serve it warm.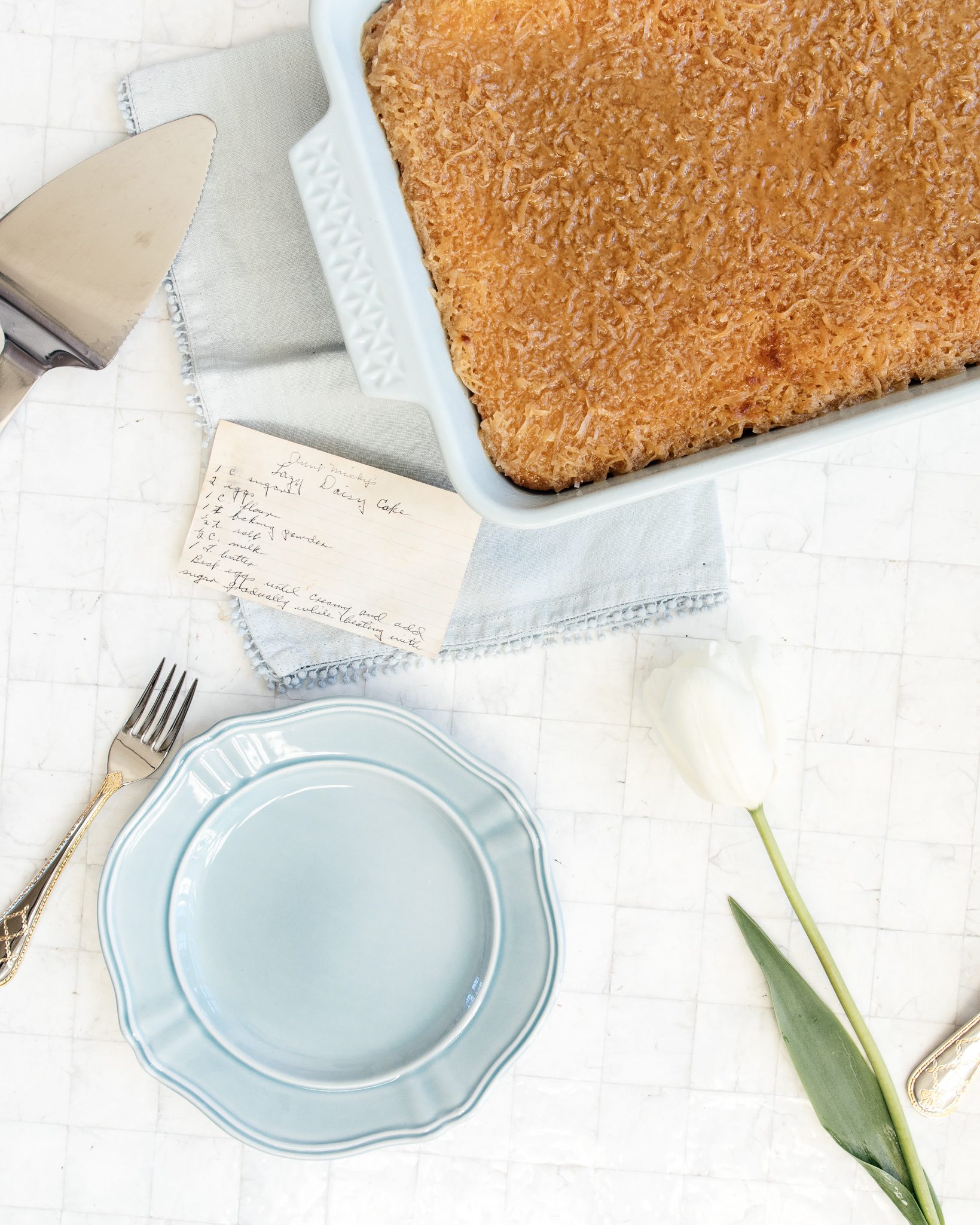 Check out some of my other desserts recipes:
Aunt Jeannies Chocolate Cake with Ganache Frosting
PIN THIS FOR LATER: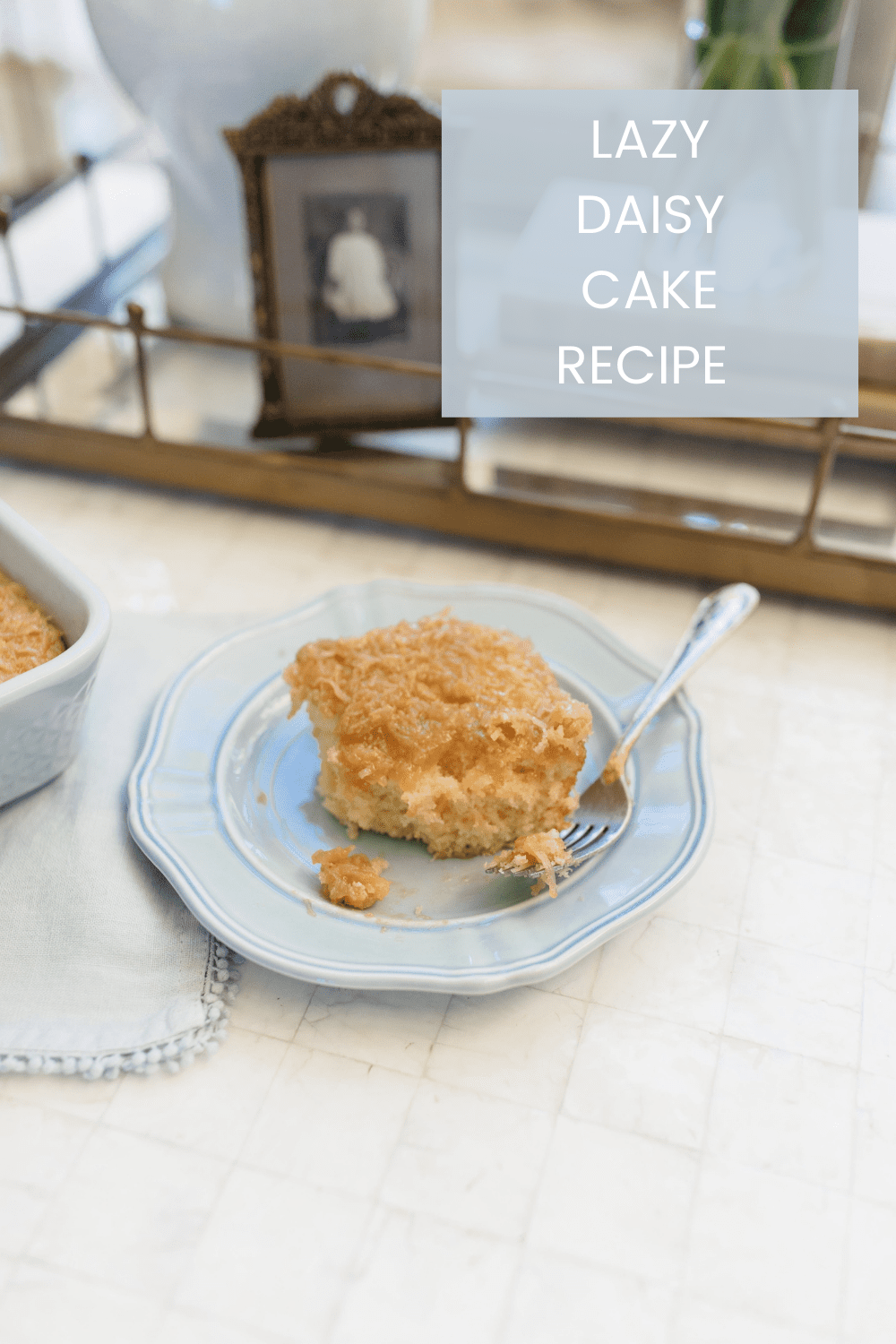 Simple yummy cake recipe