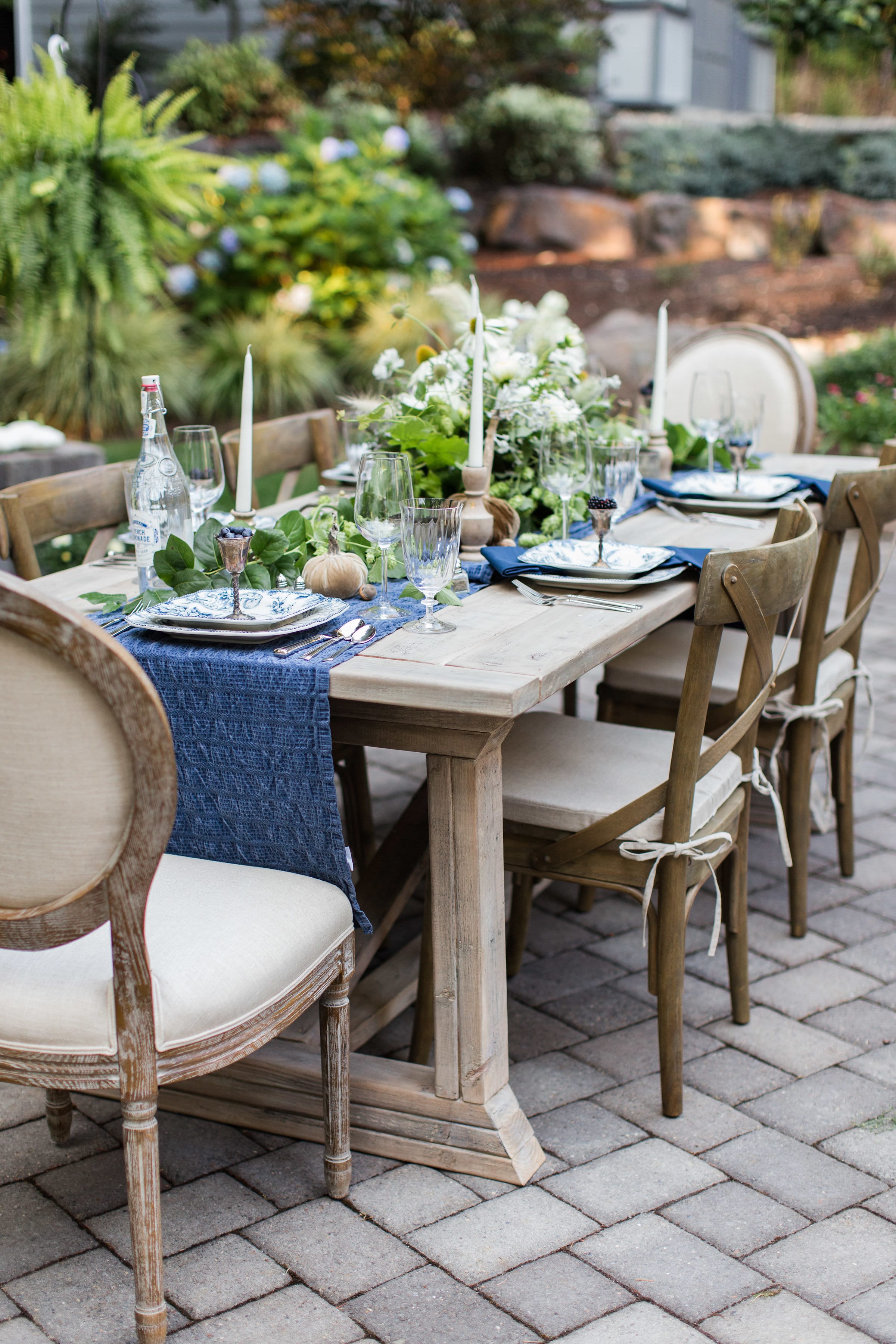 A few months back I had the opportunity to attend a floral arranging workshop at a beautiful rose farm in Washington. It was a wonderful day and I met some very lovely and talented ladies. After the workshop, we stayed in touch and soon we were talking about doing a collaboration. We brainstormed our ideas and thought it would be so much fun to utilize all our different skills to create a farm to table meal and outdoor tablescape. We wanted to create the perfect outdoor entertaining environment where friends could gather and enjoy the last bit of summer and transition into fall. Part of what was so amazing about this collaboration was that one of the ladies owns a farm where she grows fresh flowers and produce. This was a dream come true! Creating a beautiful tablescape with locally grown flowers and cooking farm-fresh food from a local farm was something I've always dreamed about doing. A gorgeous farm to fable entertainment. I plant a garden each year as well, but my garden has become the local buffet for the deer that have discovered I grow everything they like to eat! They didn't leave much for us to eat.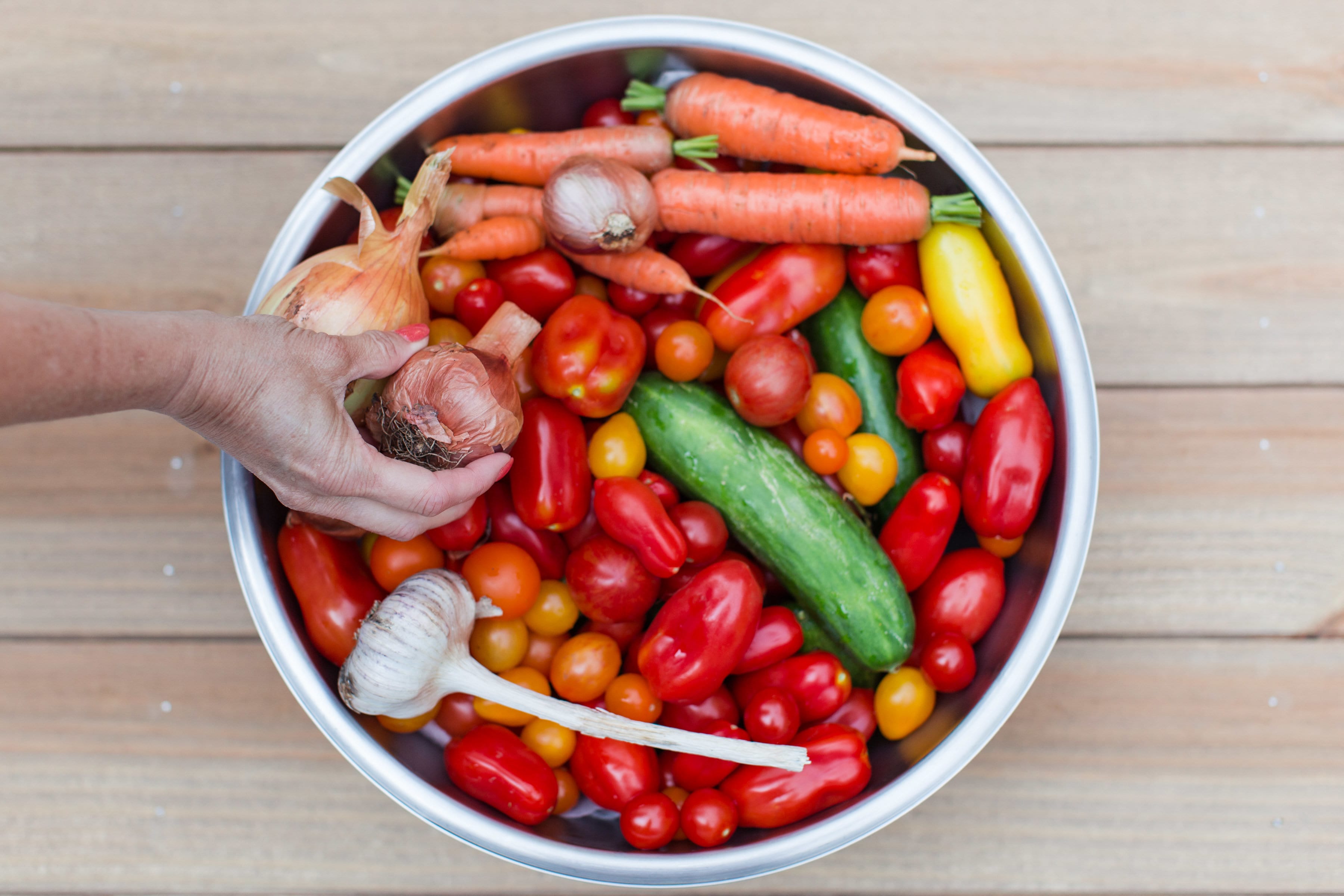 I really enjoy cooking and creating a beautiful table. I was excited to create some recipes after finding out what was available from the farm. I went out to Enumclaw, a town not far from my home in Ravensdale, Washington, and met up with Amy Brown at her beautiful farm. The farm is fittingly called Laughing Goat Flower Farm and rightfully named because she has the cutest goats ever. The views from the farm are incredible and there is a perfect view of Mount Rainier. Amy grows many varieties of flowers for the Seattle flower market and for local floral designers. She is also a great gardener and I loved walking through her garden. She sells her produce to local restaurants where I've had the pleasure of eating. Amy is so knowledgable about growing flowers and food. She is planting 1200 peony plants this fall and has begun adding roses and hydrangeas. I could get lost in her acres of flowers! Amy and I have become friends since meeting and I have visited her frequently at her farm. The farm is a work in process and Amy and her husband Steve, are planning to have floral arranging workshops, weddings, and other events at the farm in the near future. I can't wait to see the farms progression and gorgeous farm to table entertainment!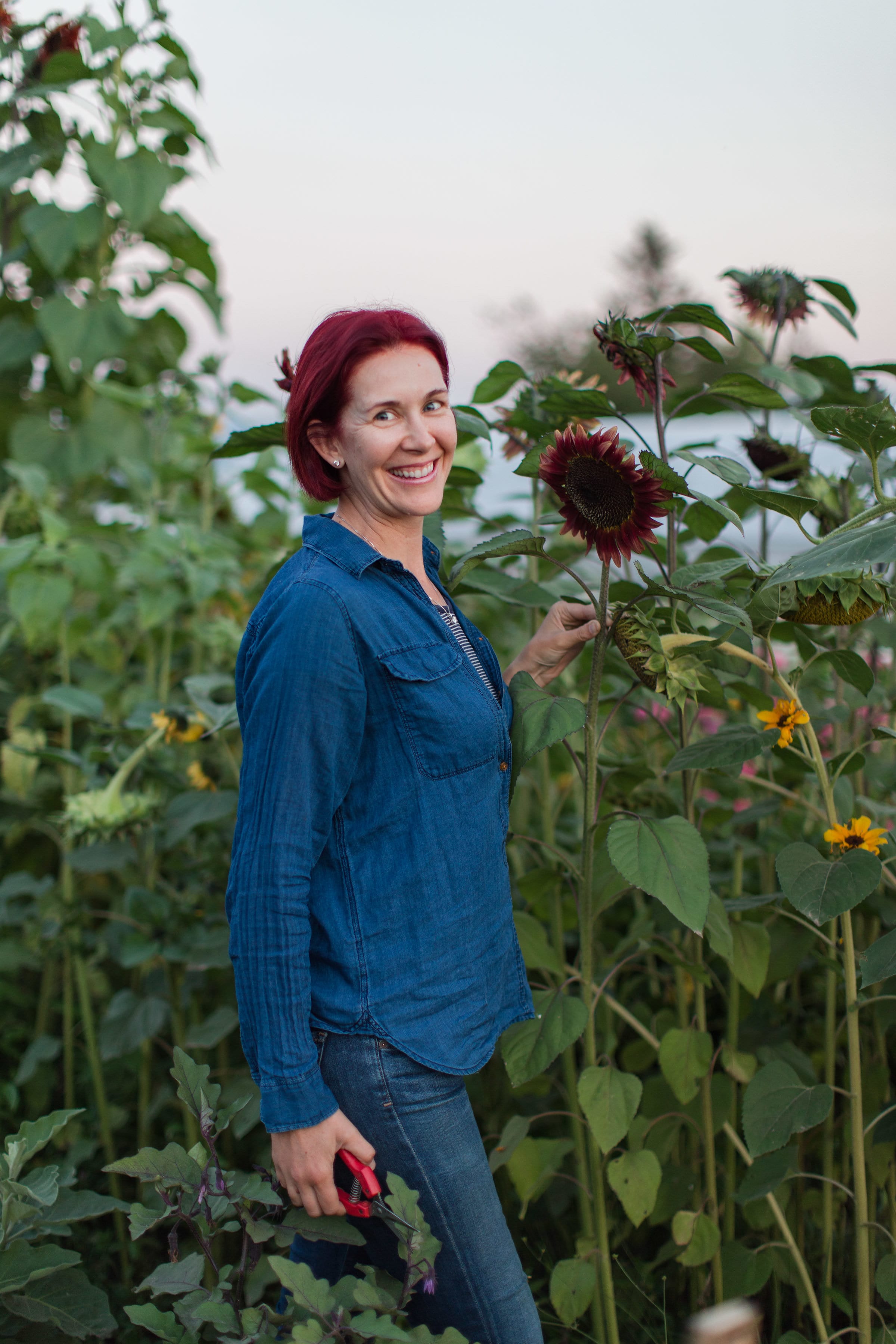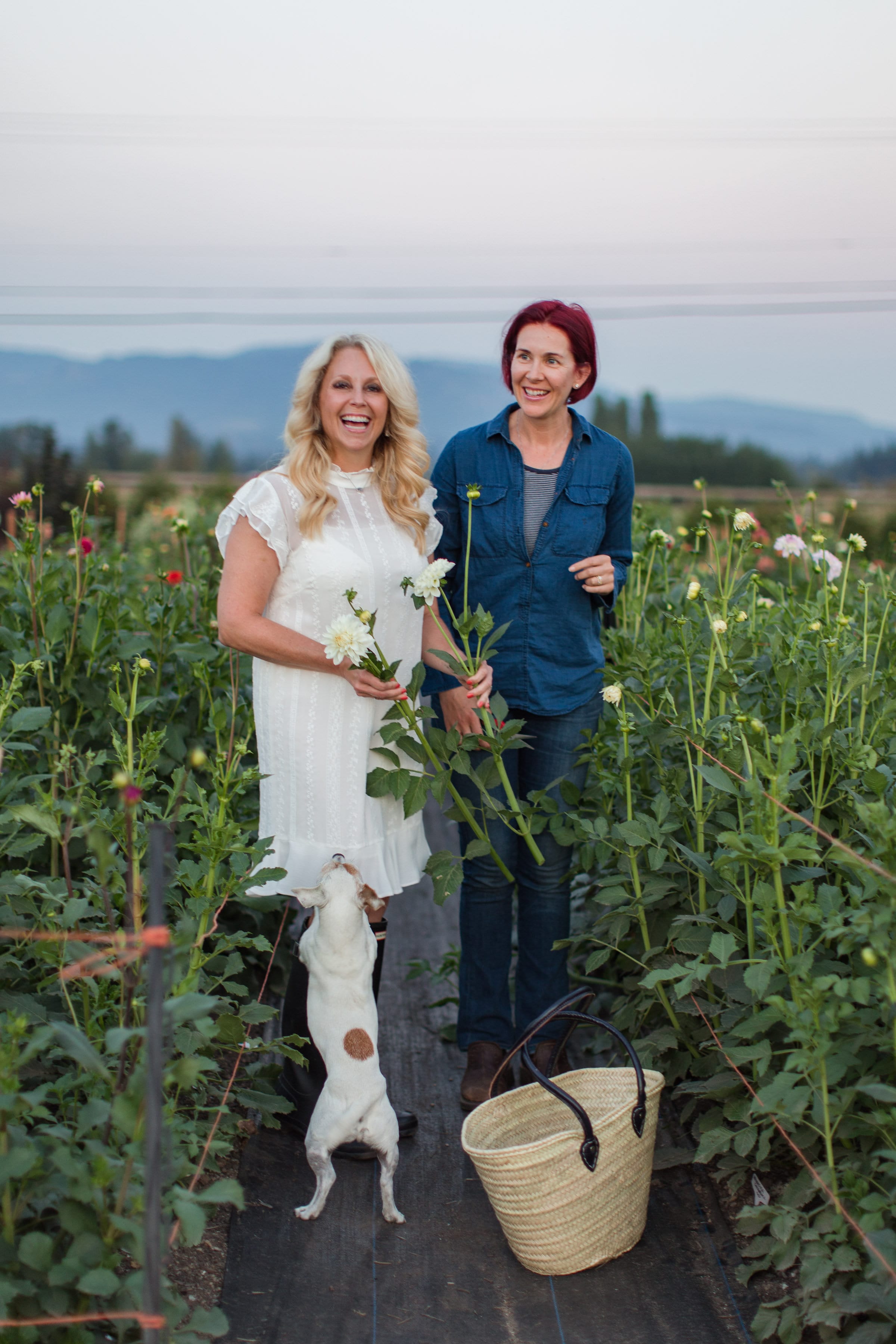 Tammy Myers is the owner of First and Bloom, a floral design company in Fall City, Washington. She is a talented floral designer and finds creative ways to use native plants and greenery in her floral designs. At the workshop, I watched Tammy make her arrangement and she is a true professional. She used items that could be cut right from her yard along with all the beautiful flowers from the rose farm. Tammy uses locally grown flowers whenever possible as it helps support the local farming communities. Her floral designs are so unique and beautiful. When I told what I envisioned for the tablescape and the color palette, she brought it to life in the most beautiful way. I wanted white flowers mixed with greenery. It was absolutely perfect.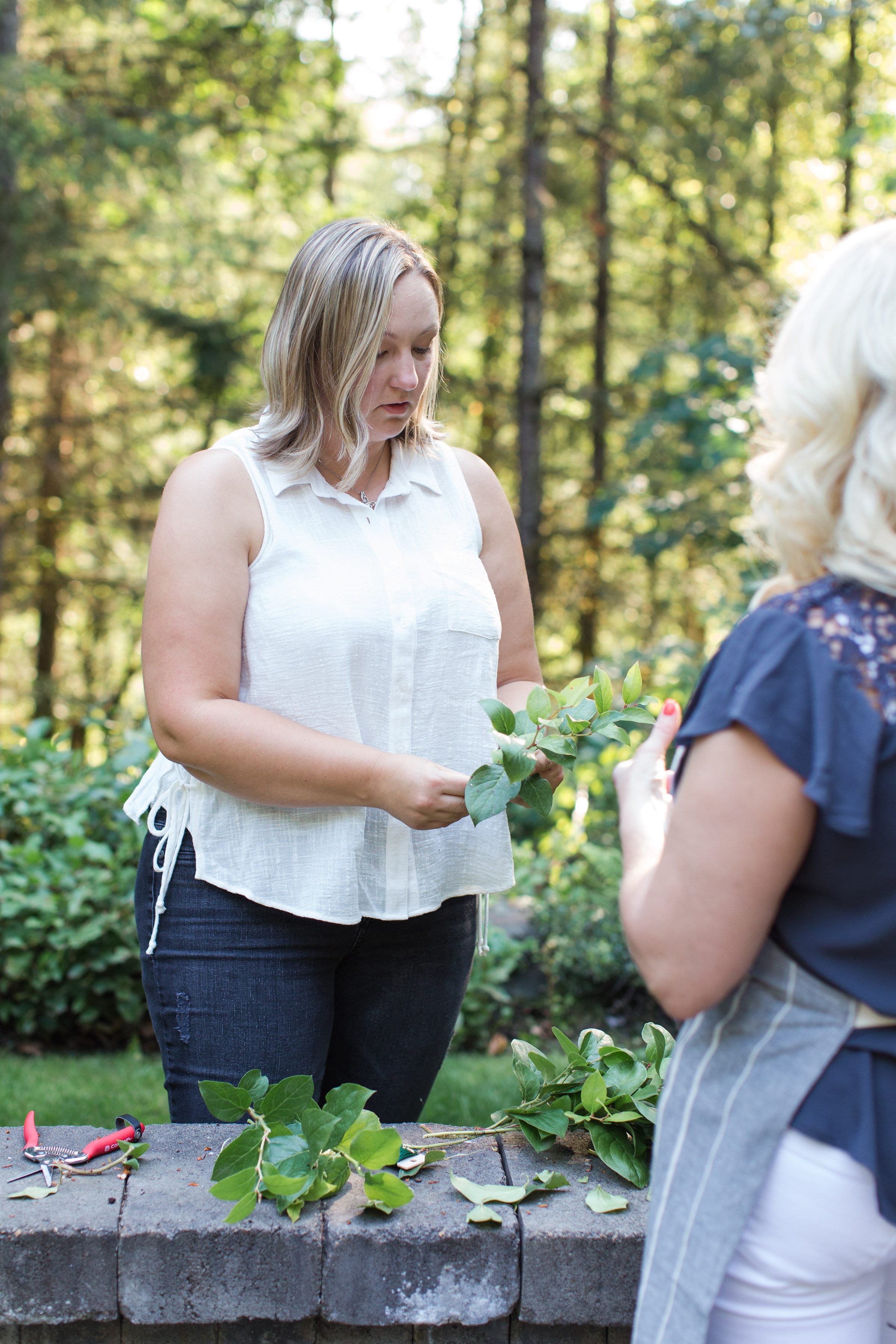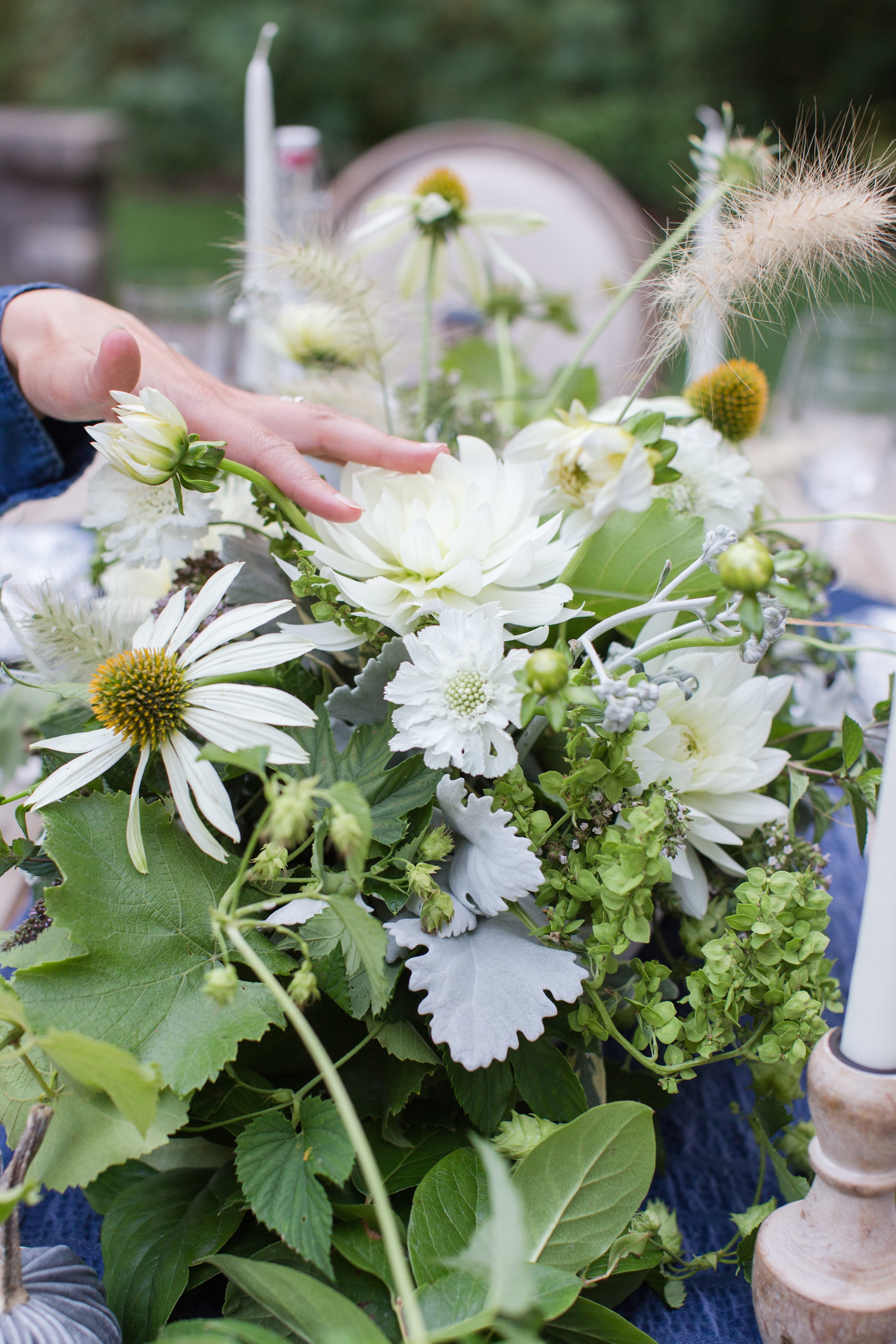 Through Tammy, I later met Missy Palacol. She is a talented photographer in the greater Seattle area. She has worked with other bloggers and is so good at capturing the details of what you're photographing. I had seen her work on other instagram accounts and was excited to work on this project with her. I do a lot of the photography myself so it was nice to be able to focus on cooking the food and decorating the table and let Missy do her magic. Her beautiful photos brought to life this amazing collaboration.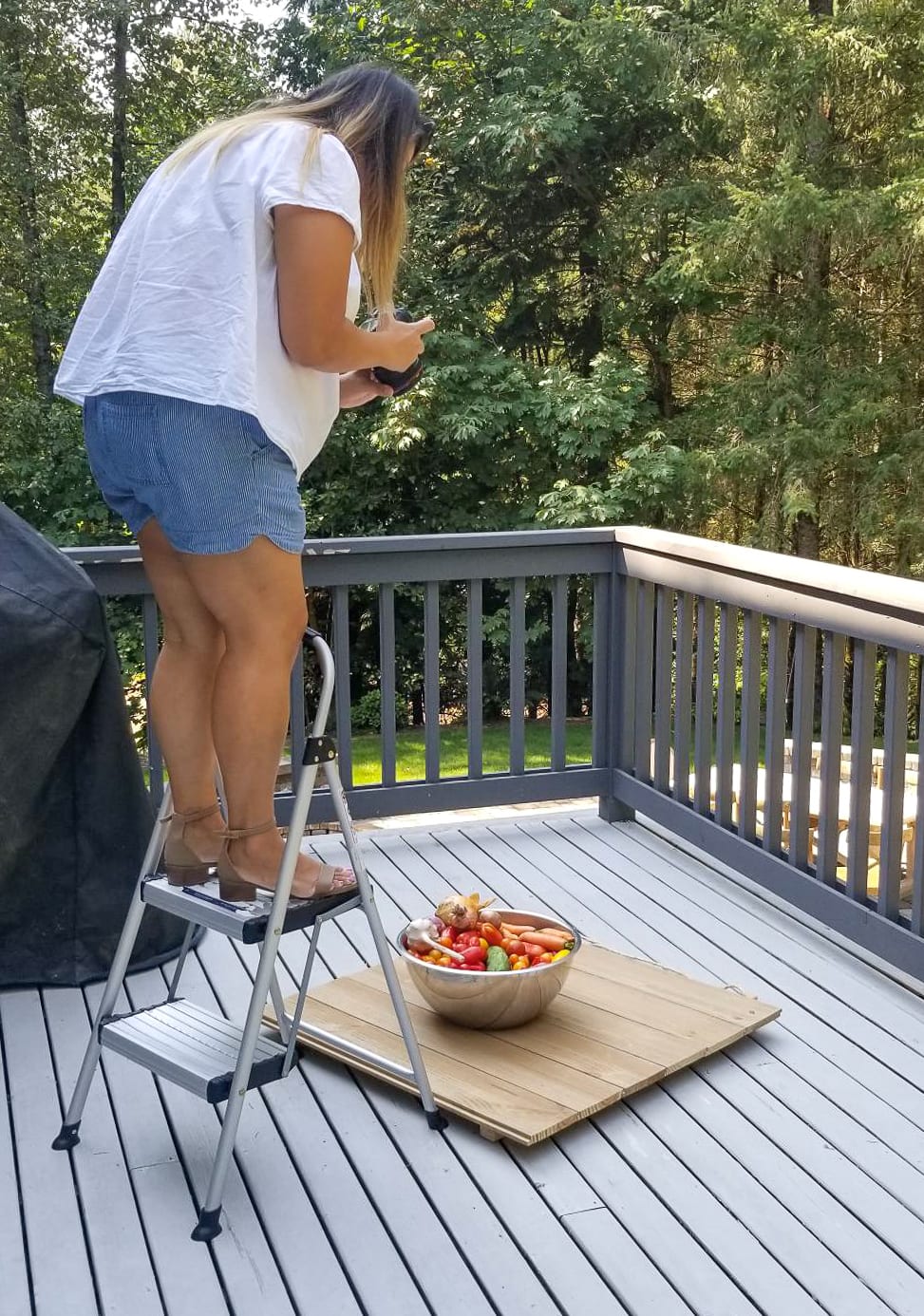 I asked Missy if she had any tips on photographing a party or entertaining event so you can remember what you did. I always take photos so I can remember what I did in case I want to recreate it and it's also nice to take some photos when your guests arrive. I'm a big fan of making memories and documenting it. Here are some tips Missy shared with me.
*Don't think you have to take just one photo and be done with it.
*Always shoot from multiple angles and play around with the light at each angle. Not only does this allow you to find the perfect shot, but you will get multiple pics of the same subject.
*Get up high
*Get down low
*Straight on
*To the left
*To the right
*Shoot through something so you have a foreground which can really add another level to the depth of field to your image.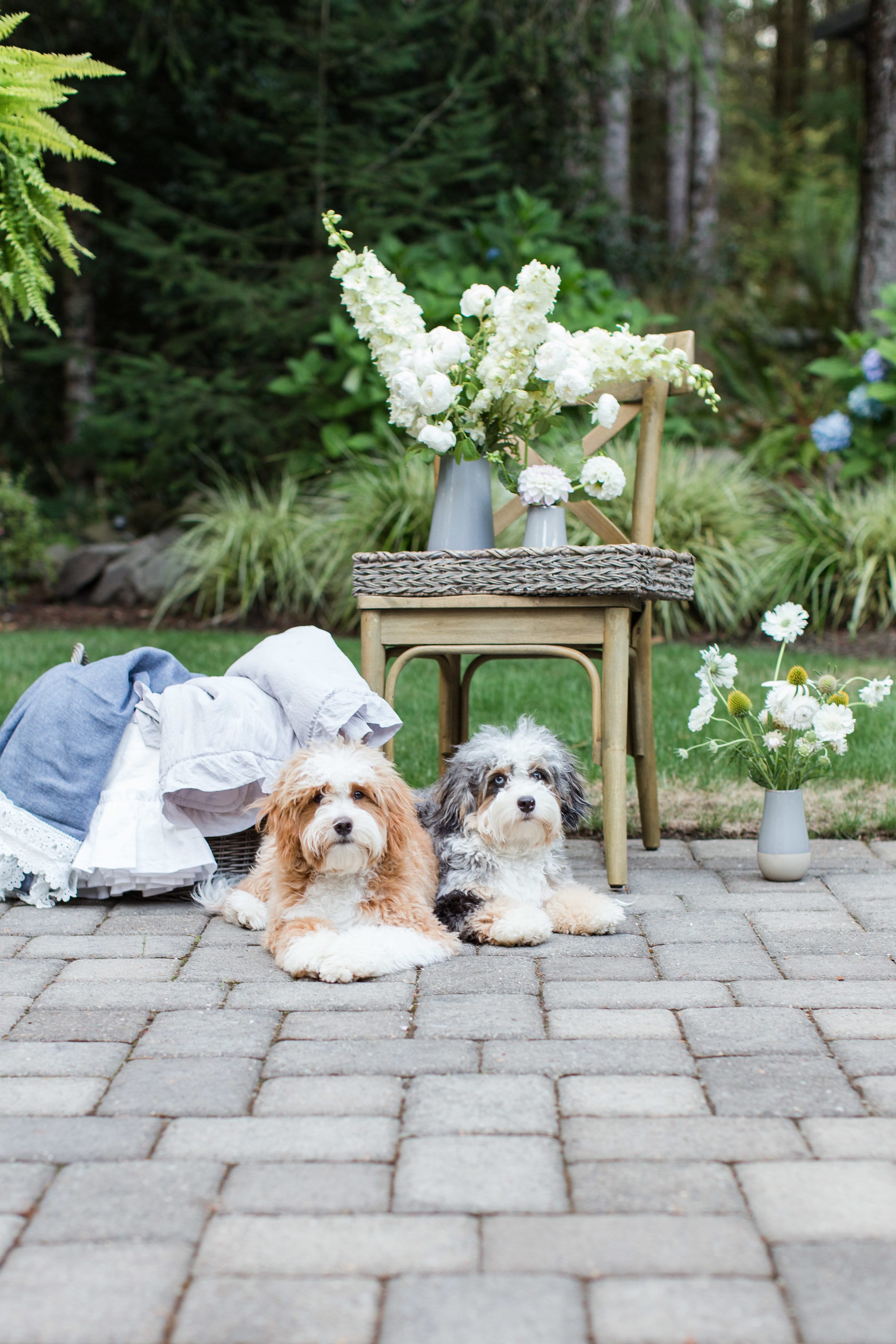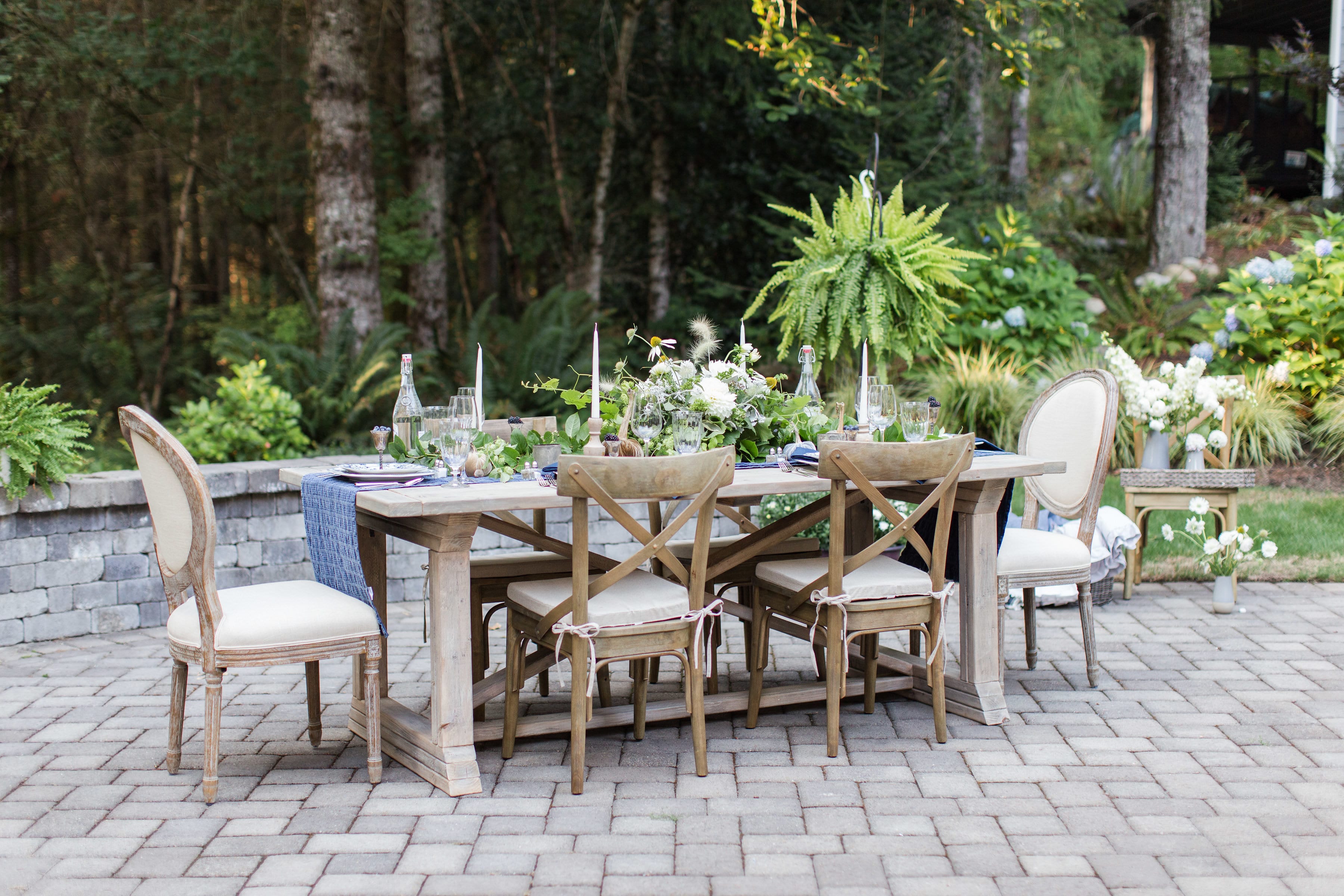 For the tablescape, I had this vision of an outdoor french country theme. I had these beautiful blue and white dishes that I hadn't used before that gave me the inspiration for the color palette. I didn't want to do traditional fall colors as the colors hadn't changed yet in my yard. I also had this beautiful custom farm table that I keep outdoors and some french bistro chairs that completed to french vibe.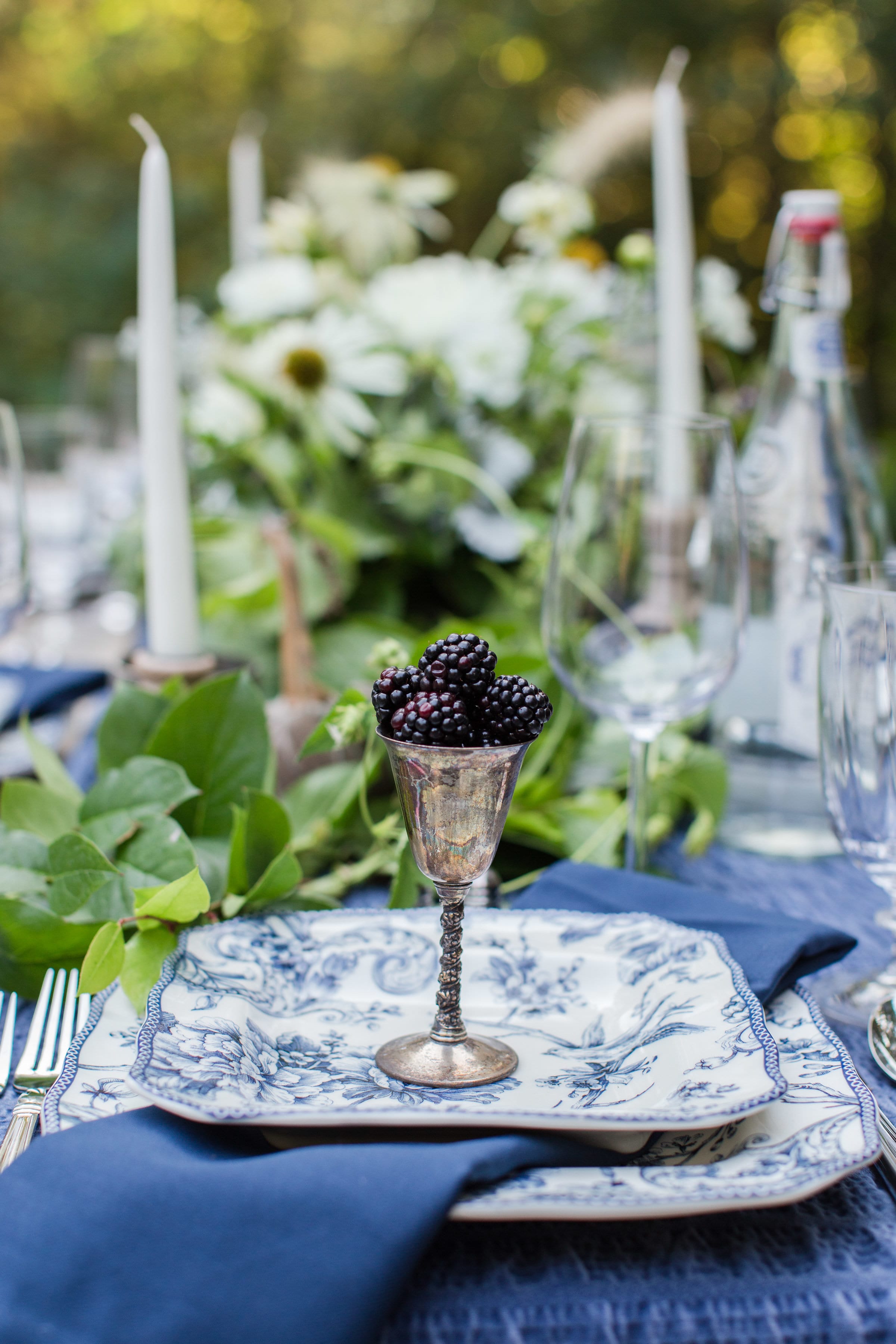 We all met at Amy's flower farm the night before to pick out what we wanted for the flowers and greenery. Amy and Tammy loved the color palette I had chosen and what I was envisioning. We then set about to find the perfect flowers to go with the dishes and linens I had selected and then cut the flowers we had selected. Amy and I then went to her garden and picked the vegetables for the recipes. We picked san marzano tomatoes, zucchini, cucumbers, shallots, garlic, basil, carrots! I was in heaven and couldn't wait to start cooking with these perfect vegetables that were so fresh! We love this gorgeous farm to table entertainment.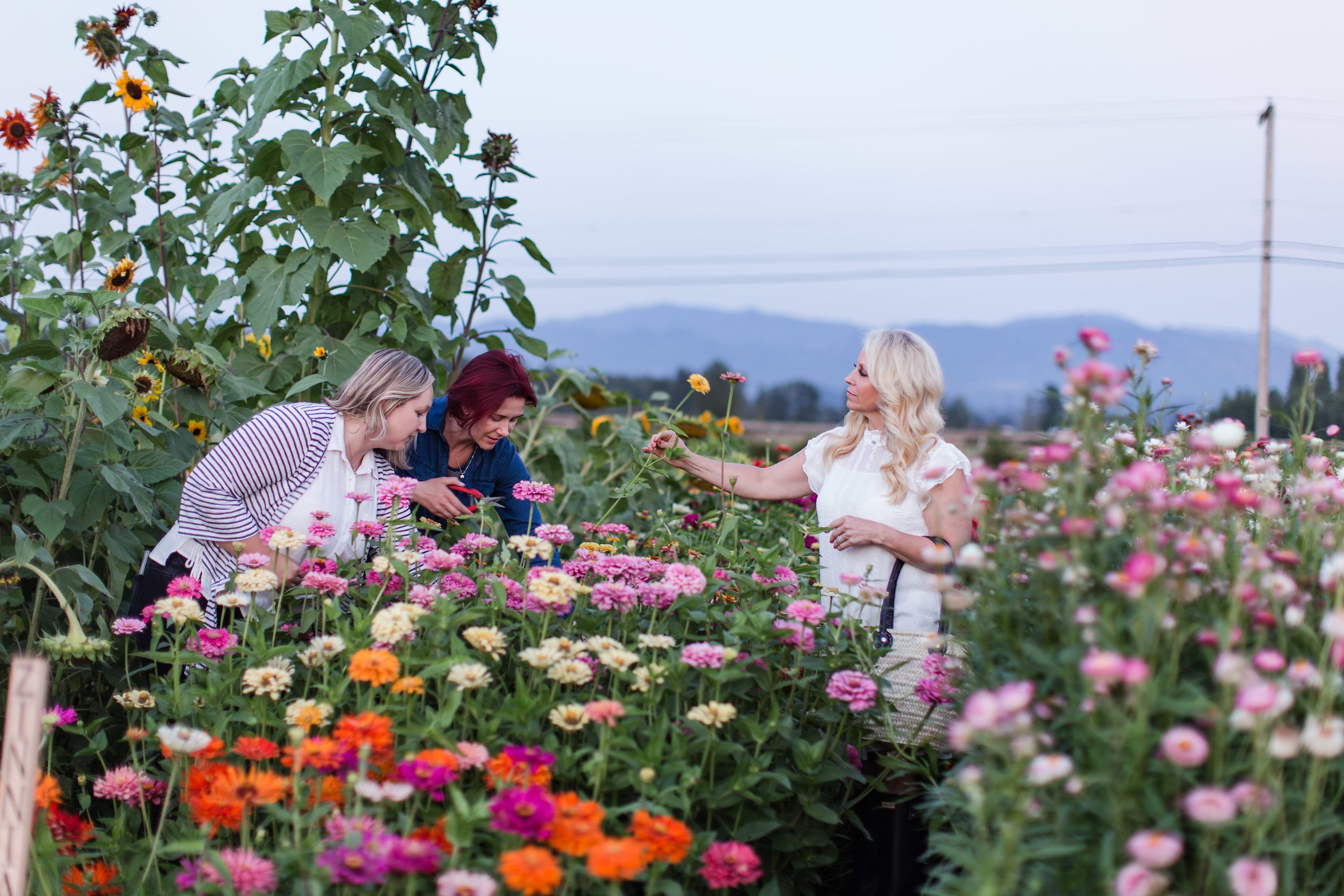 The next morning, Amy and Tammy brought all the flowers we cut the night before and brought them to my home. When they arrived, they wandered around my eleven acres of wooded property and found many more items to use in the floral arrangements we planned to make. One plant we are lucky to have in the Pacific Northwest is salal. It's a native plant that grows wild. I had a lot of it in my yard so Tammy snipped a bunch of it to make the simple garland. I really enjoyed having Tammy show me how she made the garland. It is so simple and creates a lovely effect on any table. It also holds up well outside of water for awhile.
For the centerpiece, I envisioned a garland running down the middle on top of a blue table runner with a centerpiece in the middle. I wanted a mix of white flowers and greenery and I wanted to keep it simple and elegant at the same time. Tammy created a centerpiece that had a rustic feel to it and used the beautiful dahlias and other white and cream colored flowers from Amy's farm.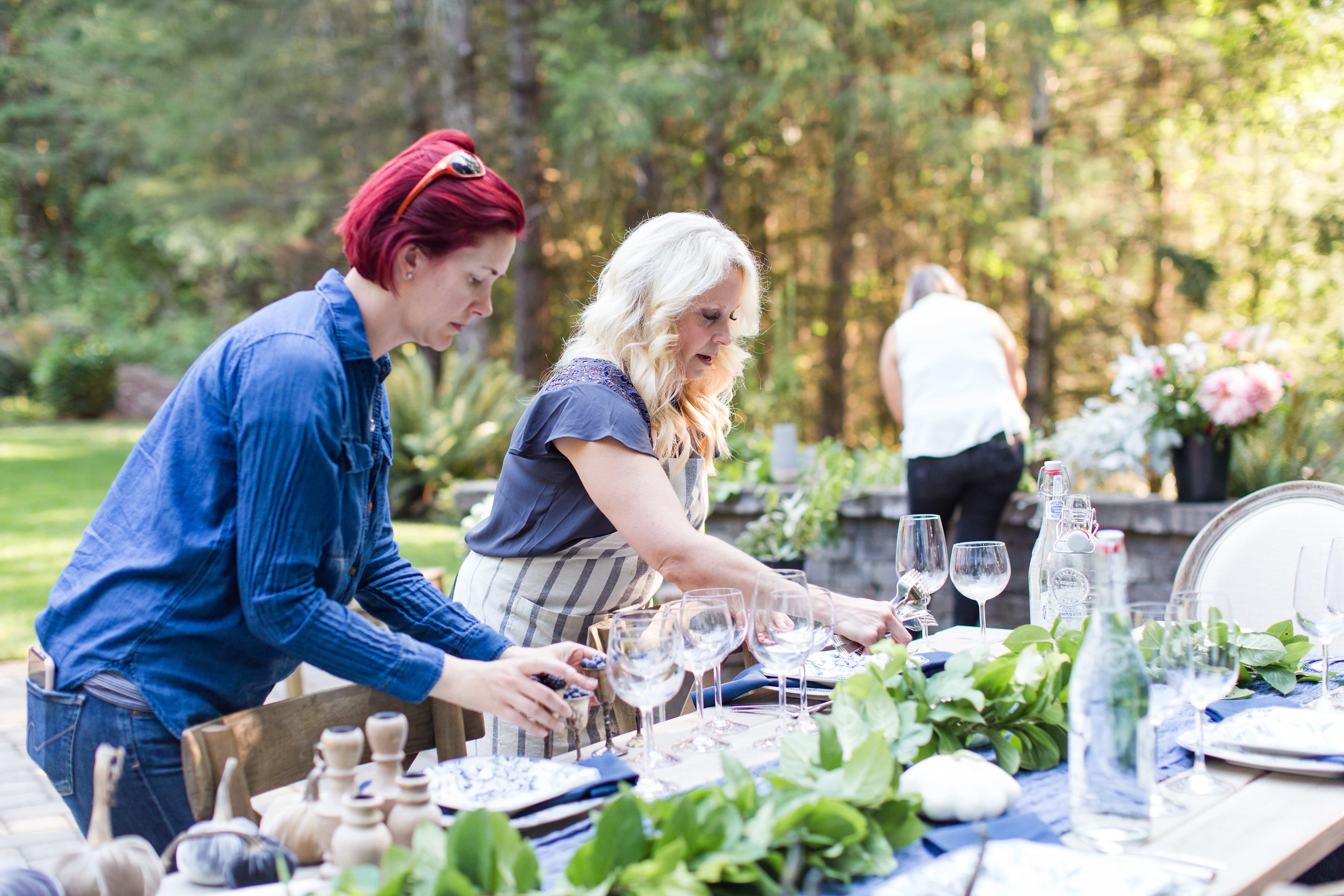 We then set the table with the beautiful blue and white dishes, blue napkins, silver flatware, and stemware. I then added in some rustic candlesticks, votive candleholders, and some velvet pumpkins.
In between all this, I cooked the food with Amy's help and we had such a great time talking about all the fresh vegetables from her farm. I shared some cooking tips with Missy and Amy while we gathered in the kitchen.
I chose to make my Homemade Lasagna when I discovered that Amy had san marzano tomatoes in her garden. They are the best tomato for a red pasta sauce. She had an abundance of small cherry tomatoes which inspired the Simple Tomato and Cucumber Salad. Yakima peaches were also in season and local so I decided to make my Fresh Peach Dessert.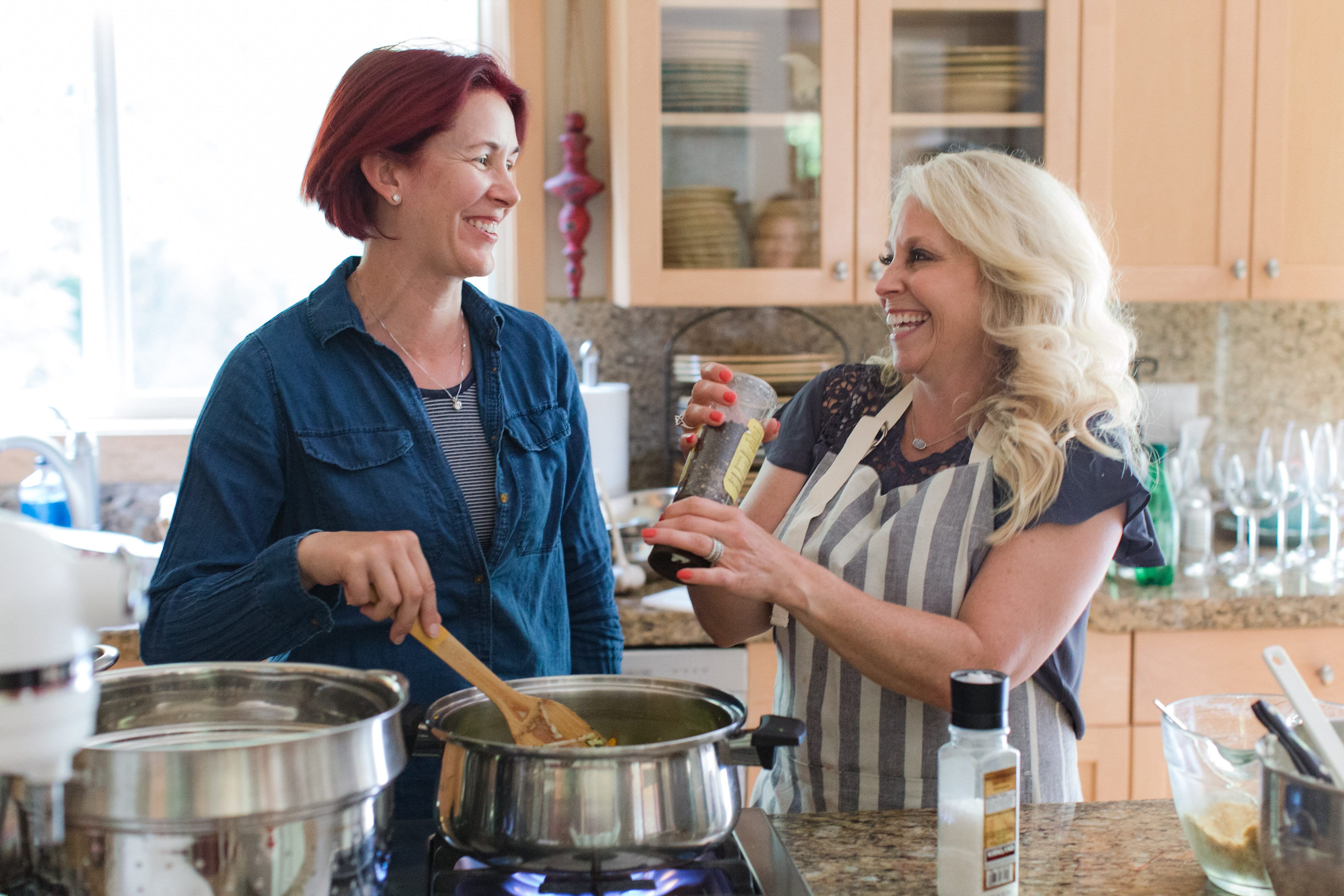 When it was finally time to sit down and eat and enjoy the beautiful table, we all reflected on how much fun we had getting to know each other through this entire experience. We all share a love of flowers and farm to table cooking. I truly enjoyed creating this inspirational tablescape and having the abundance of Amy's fresh produce to make our meal with.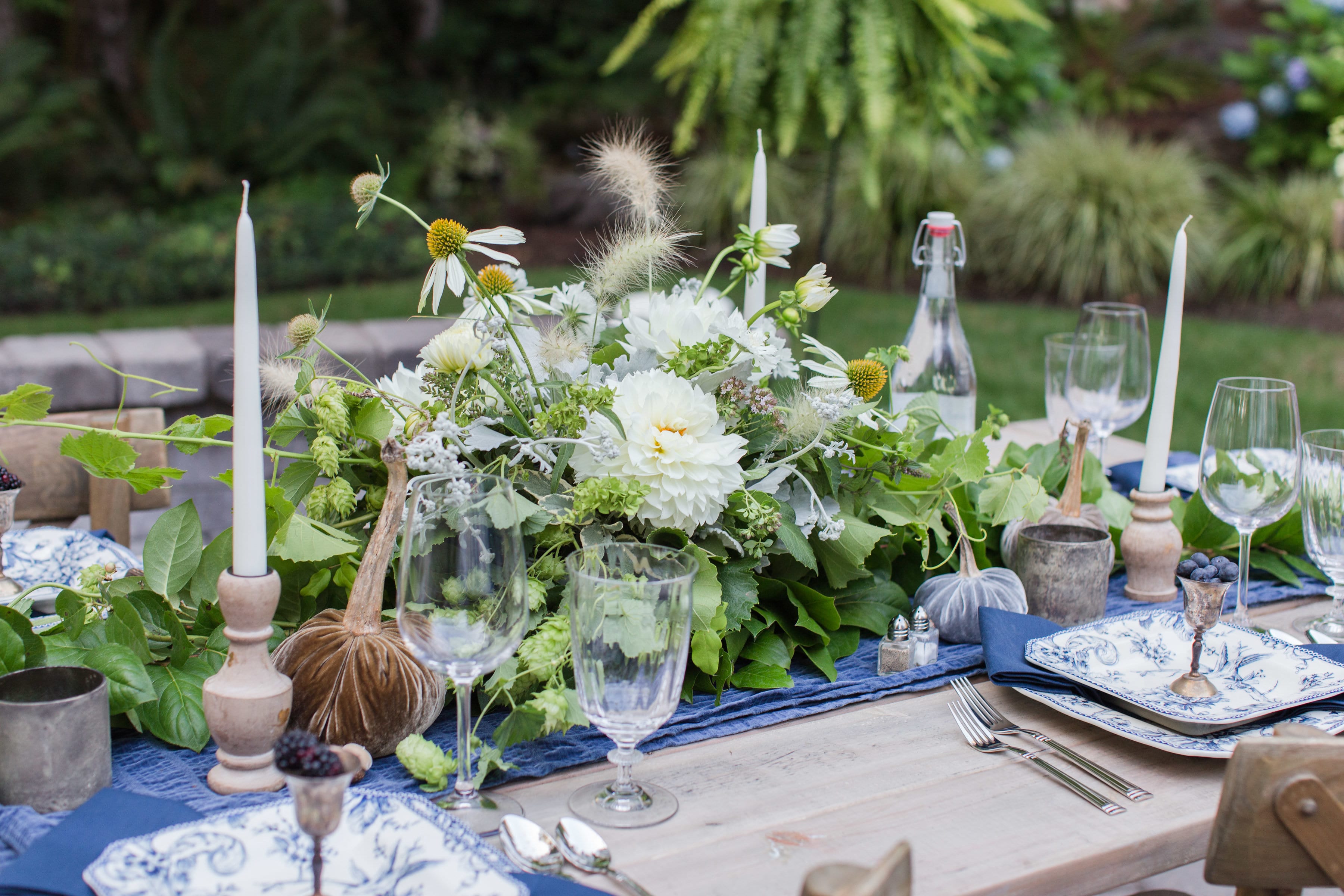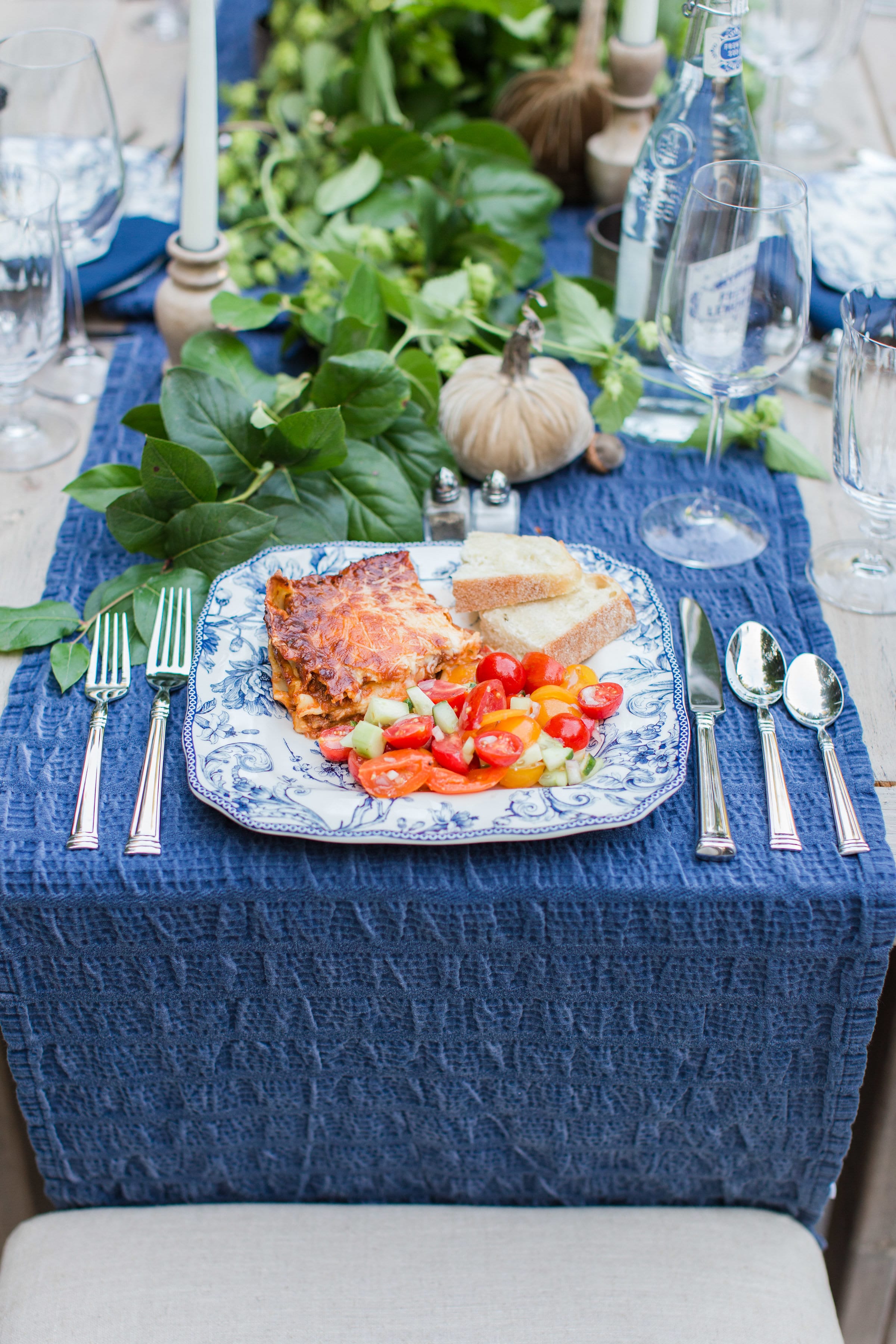 I think it's safe to say they LOVED the food and I think that it was the best lasagna I've ever made. I credit that to Amy's San Marzano tomatoes. What a treat to get to cook straight from her garden and to have the beautiful flowers surrounding us. Tammy made my vision come to life and Missy captured this whole experience perfectly. An amazing and gorgeous farm to table entertainment vision came to life!
I hope you will find inspiration in what we created and that you can see the true joy we had doing this. I seriously adore and admire these darling friends I've made. I truly hope you find as much joy reading this as we did creating it.
Sources linked here:

PIN THIS FOR LATER: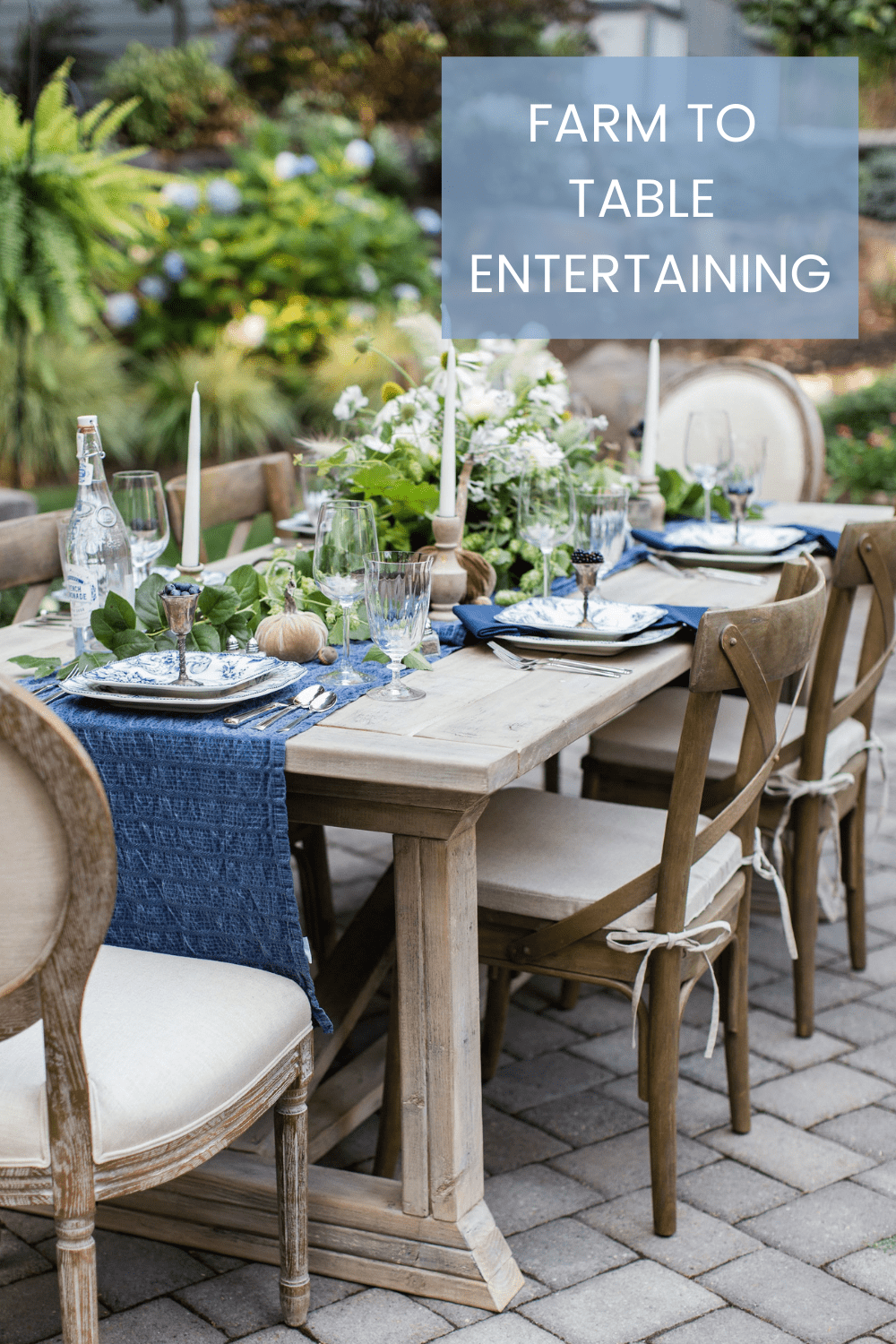 GORGEOUS FARM TO TABLE ENTERTAINMENT