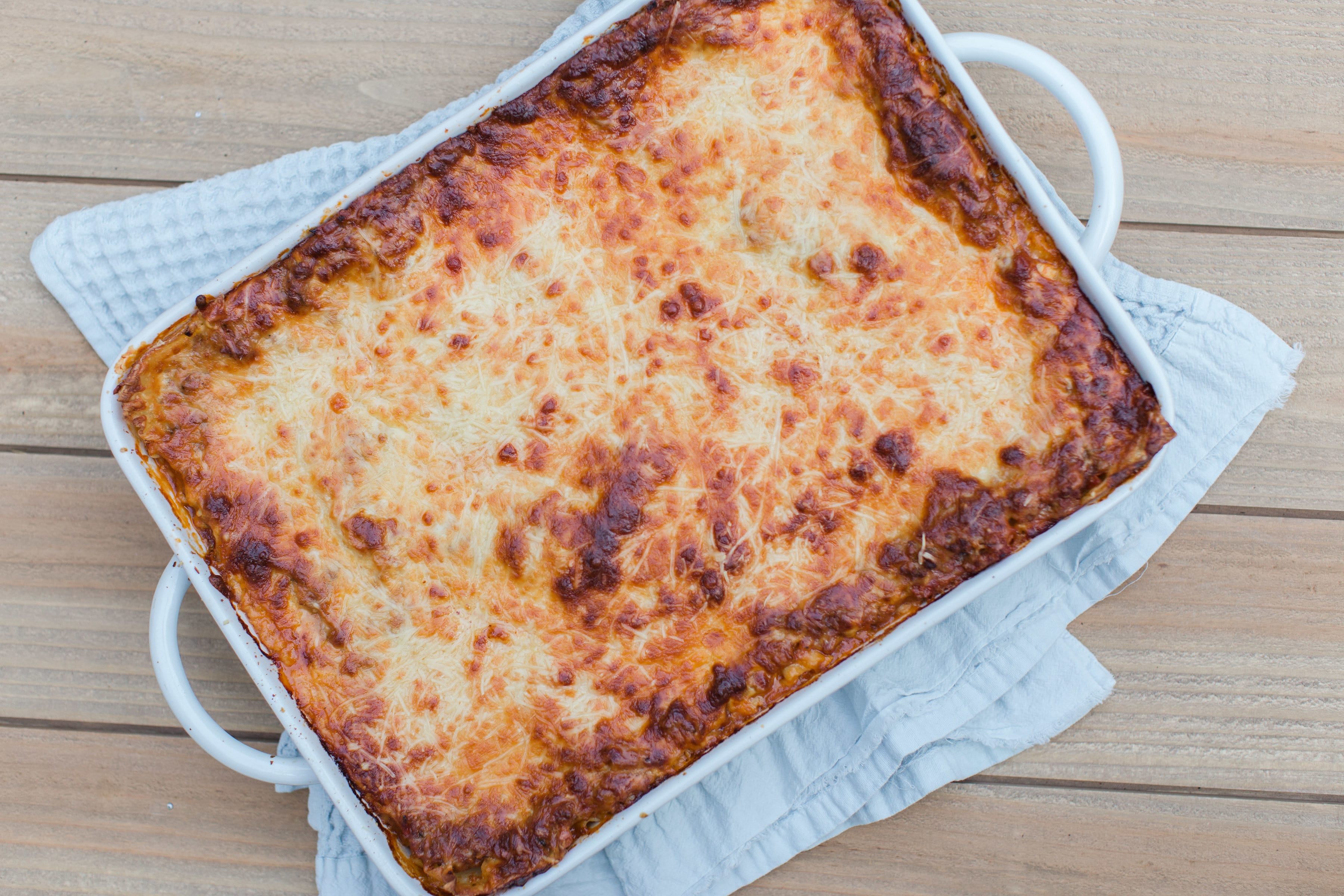 One of my favorite recipes to make is my delicious homemade lasagna recipe. I make it with homemade meat sauce or what they call bolognese. This recipe is also what I use when I'm making a marinara or bolognese sauce for spaghetti! You can make it vegetarian by leaving out the meat and it then becomes a simple marinara. This recipe has evolved over the years as I've learned more about authentic italian cooking. When I went to Italy years ago, I had the most amazing pasta! I asked the little italian grandmas that hosted us how they made their sauce. I came back from my trip and tried to replicate what they told me to do. It's taken a few years, but this is the recipe I've come up with that I think is pretty close.
The most important thing is the quality of the ingredients. If you can get fresh san marzano tomatoes, that is your best option. If you can't find them (they are hard to find sadly) you can use roma tomatoes. They also have canned san marzano tomatoes and I use them when I don't have real tomatoes. Use fresh garlic and a quality olive oil. Fresh herbs also make it even better!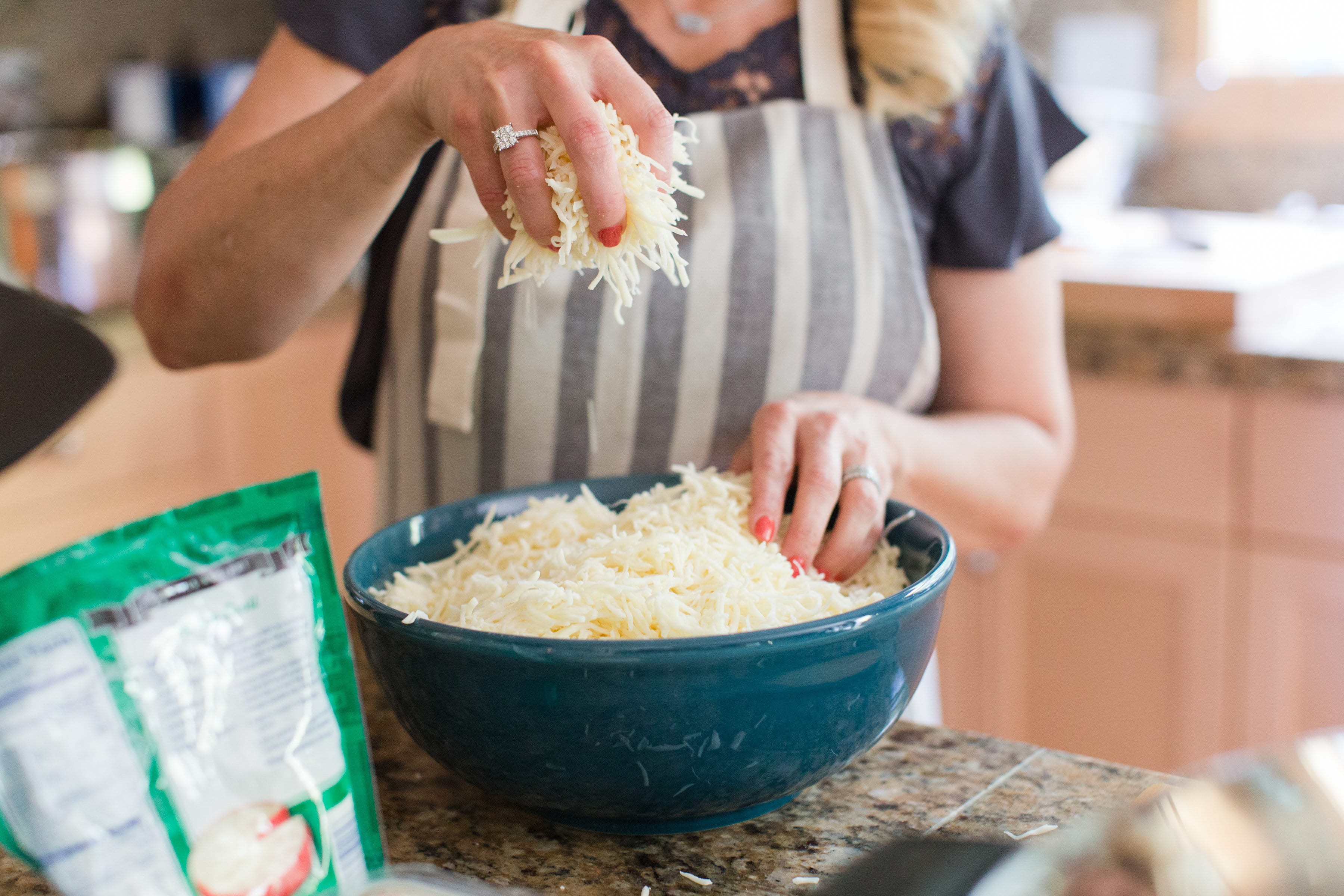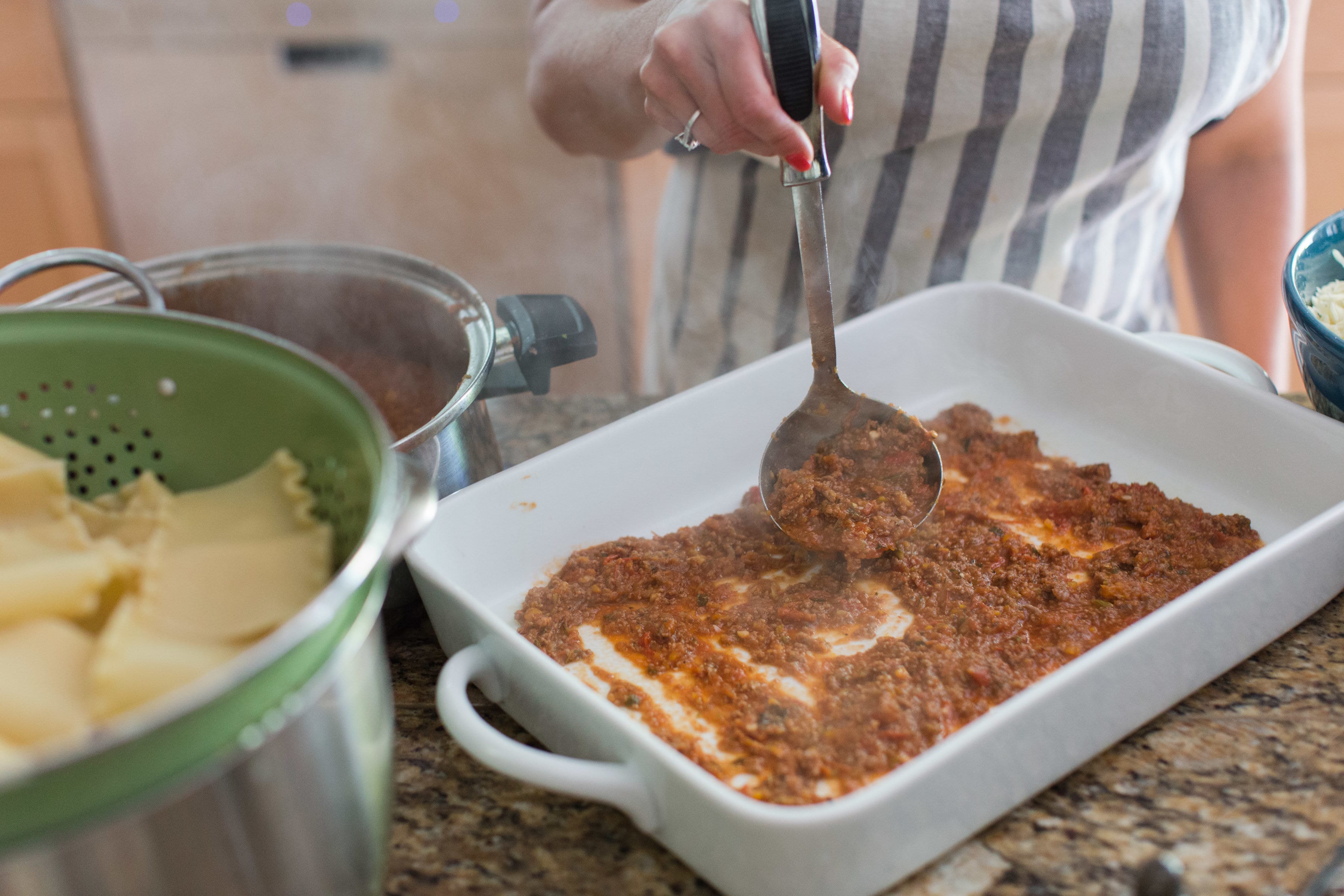 This sauce can be frozen and used in other pasta dishes. I will often make a giant batch of it for spaghetti, then I freeze the rest and use it when I want to make lasagna. This can be a time consuming recipe so having the sauce already made is a time saver. Sometimes I will make the sauce without the meat and mix in cream or alfredo sauce and serve it with some kind of ravioli or tortellini. So many options with this basic italian red sauce!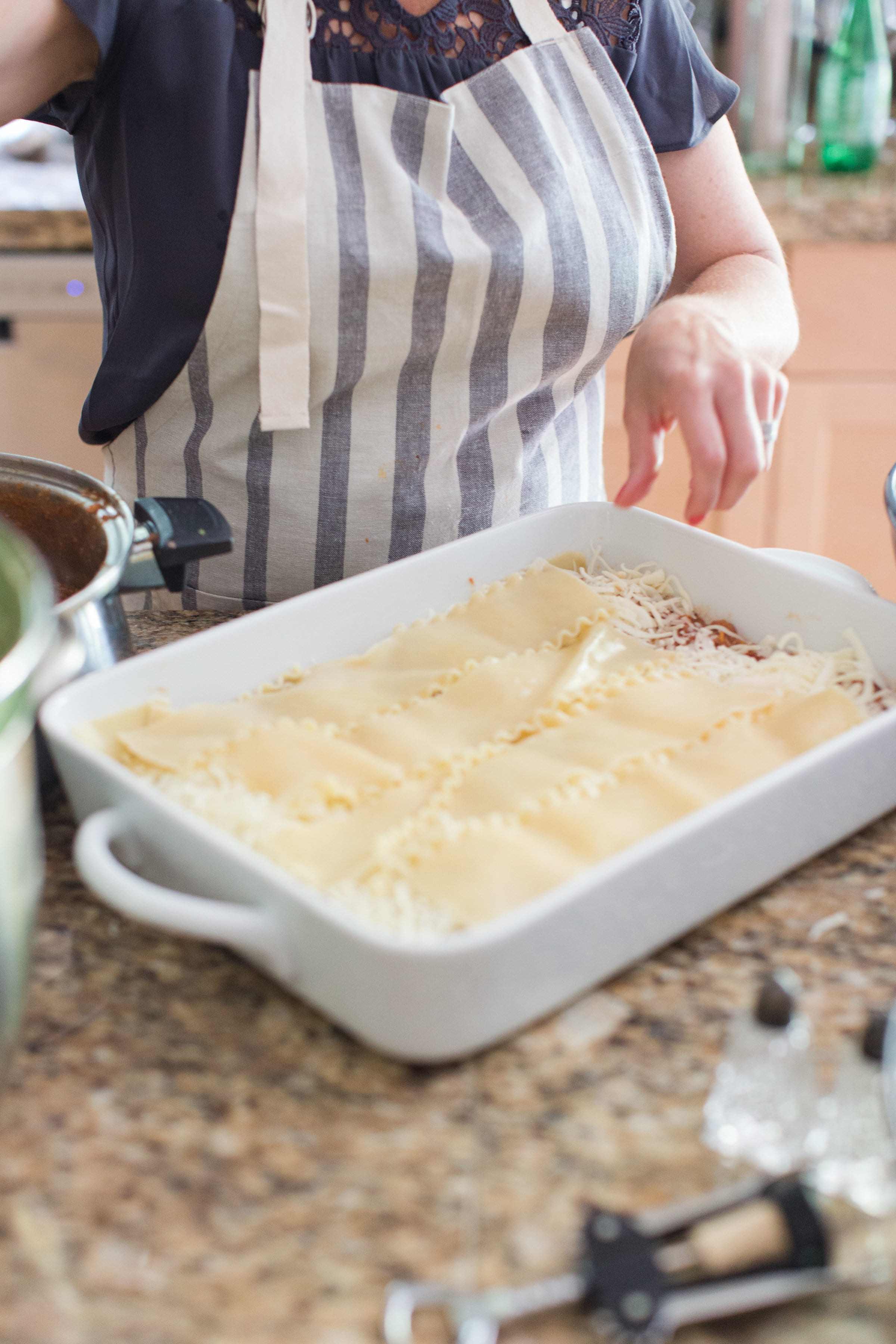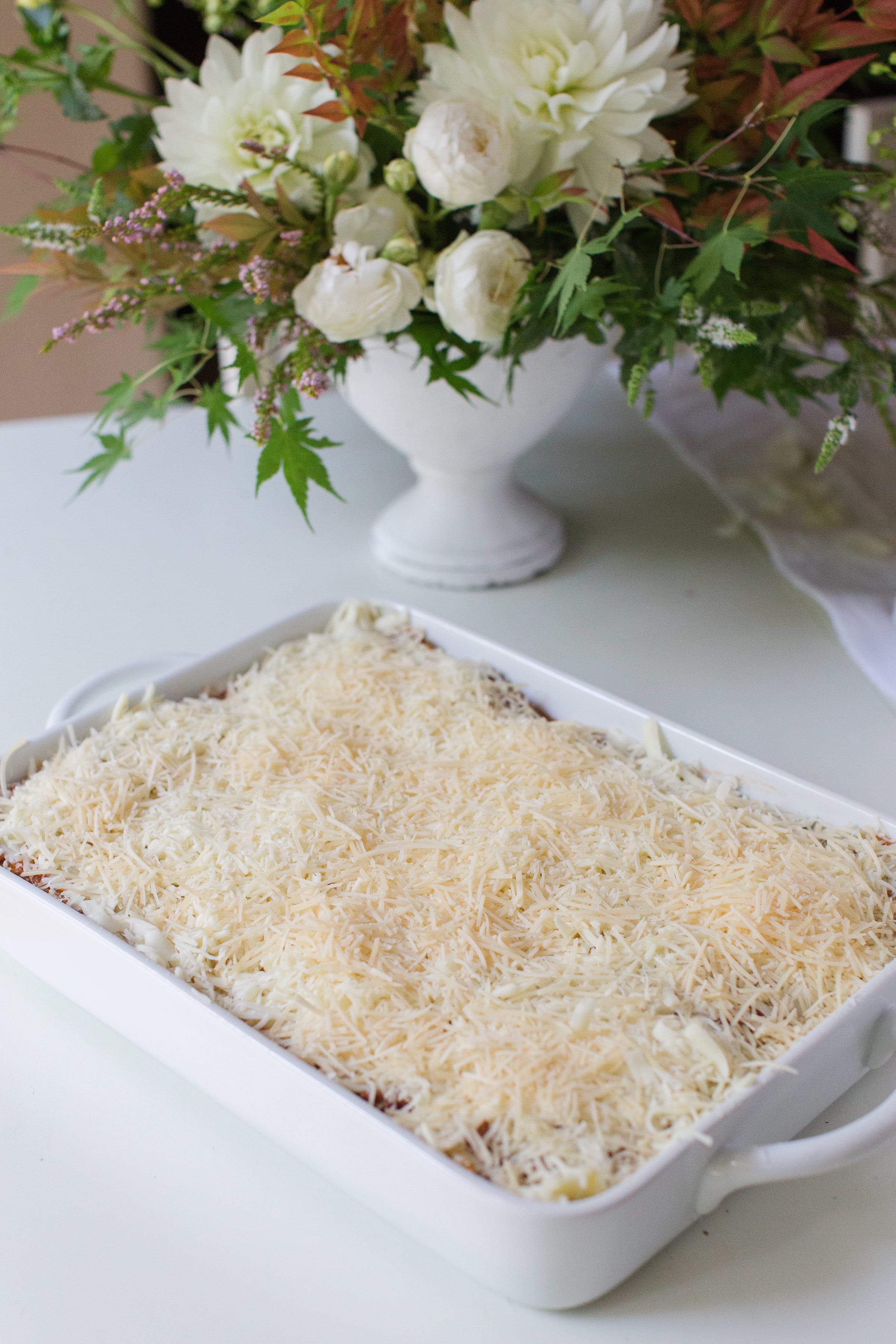 In the meantime, I hope you enjoy this lasagna recipe using this amazing sauce!
Holly's Helpful Tips:
*When boiling water for pasta, always add salt to the water. It should be like sea water and helps flavor the pasta while it's cooking.
*You do not have to use zucchini in the recipe, but if I can add some vegetables to the sauce and hide it from the kids, then it's a win-win! I use a hand blender right in the pot as it's still cooking. Be careful not to splatter the sauce on yourself!
*The best tomatoes for any authentic italian tomato sauce are San Marzanos. They are a roma type of tomato. I have only found them a few times and in the summer so if you can't find them, don't fret. You can use regular roma tomatoes. You can actually use any tomato you have but these are the best options. If you can't find fresh or either, you can buy canned San Marzano tomatoes!
*If you don't have fresh basil, you can use dried basil. 2-3 teaspoons will do.
*I prefer to grate my own cheese but you can always use pre-shredded cheeses.
*I don't like large clumps of ground beef in my sauce so when I am cooking the meat I use a metal potato masher to break up the meat into a uniform size. The hand blender will take care of blending it more. If you have kids and they don't like big chunks of tomatoes, this trick and the blender helps hide the vegetables!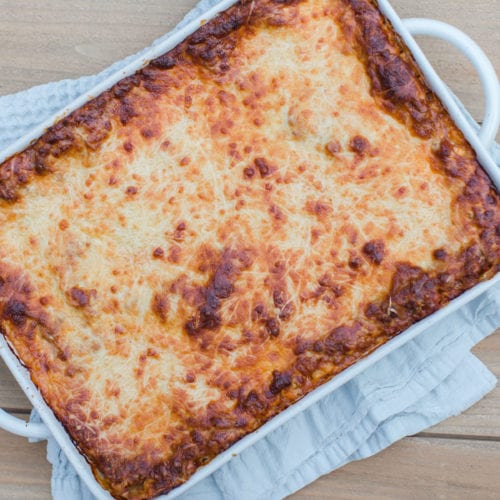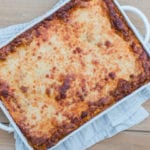 Homemade Lasagna
Total Time
1
hour
30
minutes
Ingredients
1

Box

Lasagna Noodles

3

TBSP

Salt

12

San Marzano or Roma Tomatoes

Washed and Quartered

2

Cloves

Garlic

Finely Chopped

3/4

cup

Onion

Finely Diced

1

cup

Carrots

Shredded

1

cup

Zucchini

Shredded (optional)

1

cup

Celery

Finely Chopped

3

Basil Leaves

Finely Chopped

3

TBSP

Olive Oil

1 1/2

lbs

Lean Ground Beef

1

tsp

Pepper

2

tsp

Garlic Salt

2

tsp

Italian Seasoning

1

TBSP

Sugar

1

can

Tomato Paste

6

cup

Mozzarella Cheese

Shredded

2

cup

Asiago Cheese

Shredded

1

cup

Romano Cheese

Shredded

3

cup

Parmesan Cheese

Shredded
Instructions
Begin with making the sauce in a 5-7 quart dutch oven or large sauce pan. Saute the olive oil, garlic, onion, celery, carrots, and zucchini on medium high for about 5 minutes.

Add the ground beef, salt, pepper, garlic seasoning, and italian seasoning and cook until the ground beef is fully cooked.

Then add the chopped tomatoes, sugar, and tomato paste. Simmer on medium low for about 30-40 minutes stirring often.

Bring the water for the lasagna noodles to a boil and add the salt to the water. Once it's boiling, add the noodles and stir often to help keep the noodles from sticking together. Take the noodles out just before they are fully cooked and drain them in a colander.

While sauce and noodles are cooking, grate the different cheeses, setting aside 1 cup of the parmesan cheese for the top layer and dump it all into a bowl and toss gently to mix it up.

When the sauce is done simmering, take an immersion blender and blend the sauce up right in the pan. Add in the finely chopped fresh basil. If you don't have fresh basil you can use dried basil.

Spray a 9x13 baking dish with cooking spray. Set your sauce, noodles, and cheese next to your baking dish.

Use a ladle and start by putting a little bit of sauce on the bottom then layer the noodles, more sauce, and then cheese. Continue until you get almost to the top and finish with a layer of sauce and the remaining cheese on top.

Take the parmesan that was set aside earlier and put that on the very top.

Bake in the oven at 350 degrees for approximately 30 minutes. When the cheese starts to turn golden brown and the sides of the pan are bubbling, it's done.
This recipe is best served hot with some nice french bread and if you want a yummy salad to go with it, try this Cherry Tomato Salad as the perfect compliment to this rich pasta dish.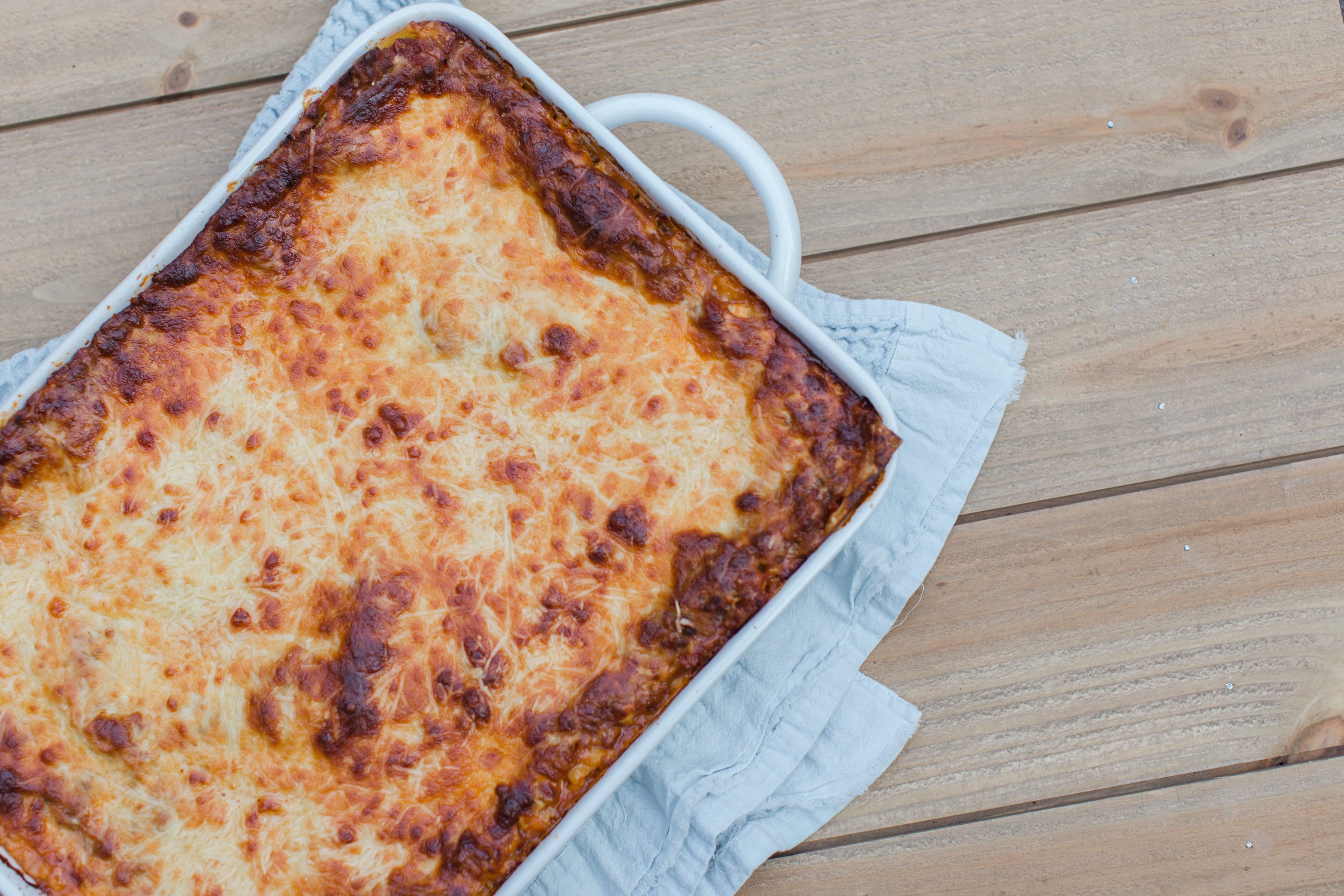 Delicious homemade lasagna recipe