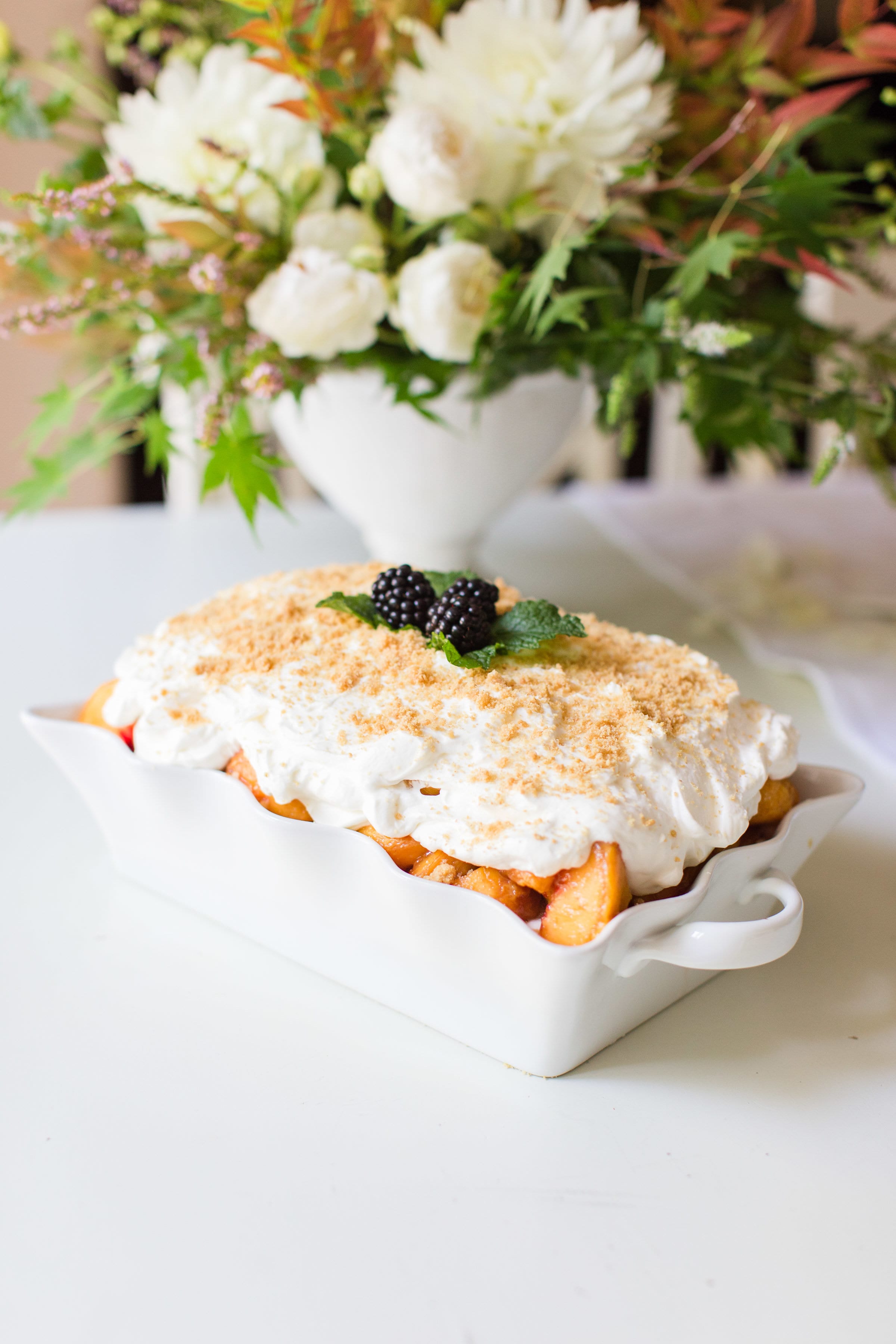 Fresh Peach Dessert Recipe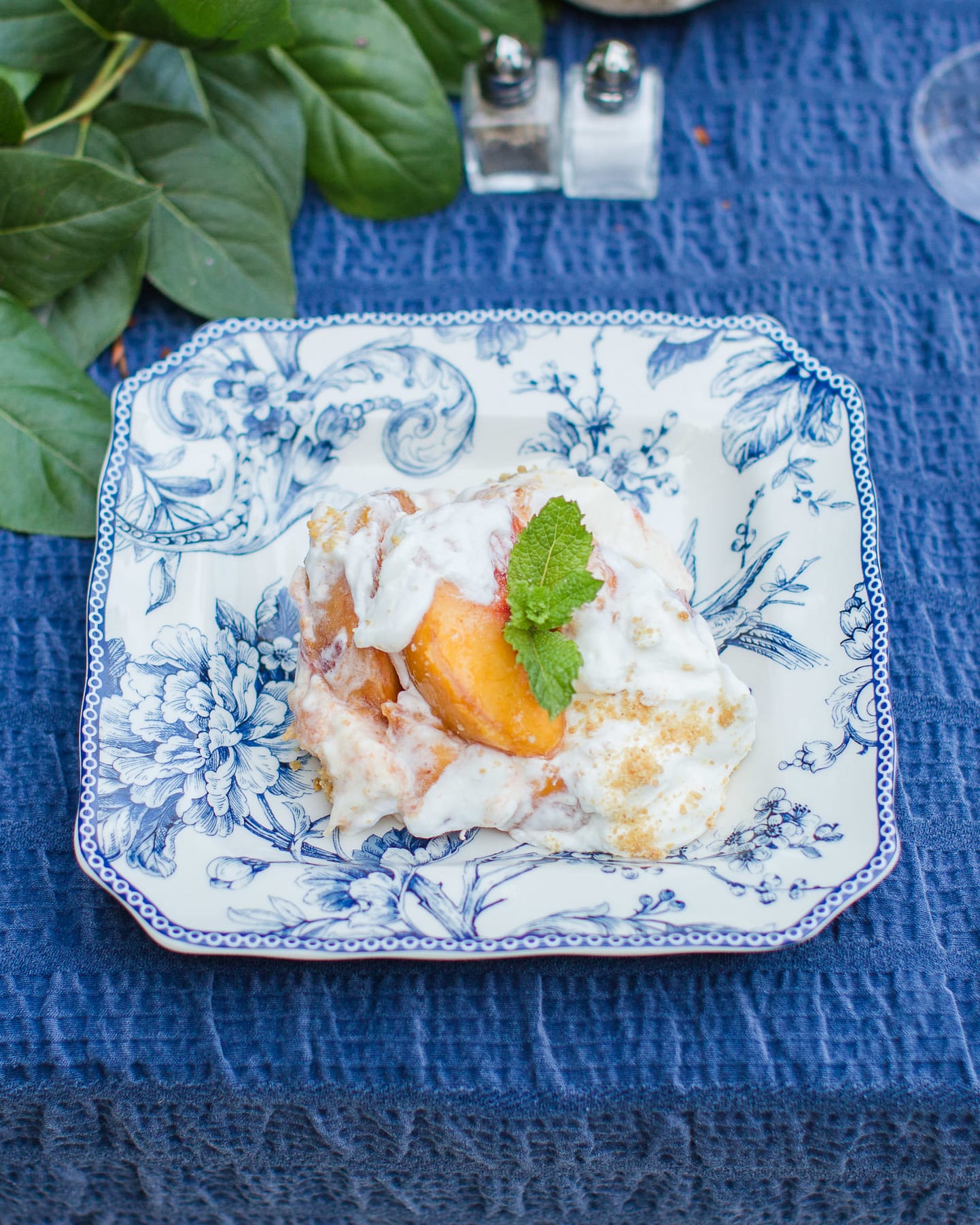 Whether I am in Utah or Washington, at the end of the summer it is peach season! Both states have a lot of peach trees! I love peaches and the yummy desserts you can make with them. Peaches remind me of summertime and this fresh peach dessert recipe makes me wish it was summertime all year long!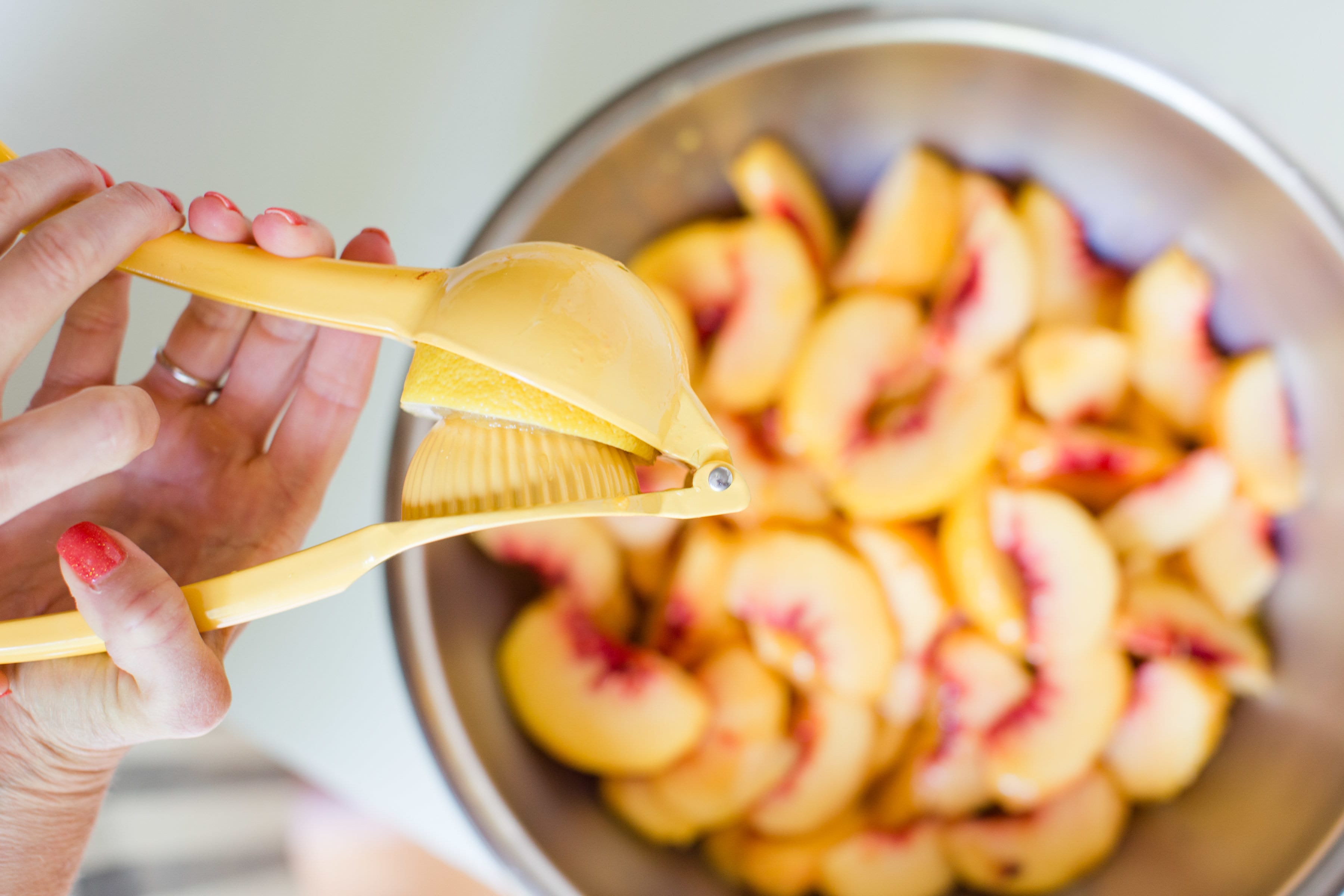 A few weeks back I was at a family gathering at my brothers home in Cache Valley in Northern Utah. They had invited some friends and family over to celebrate my nephews return from a two year mission for our church.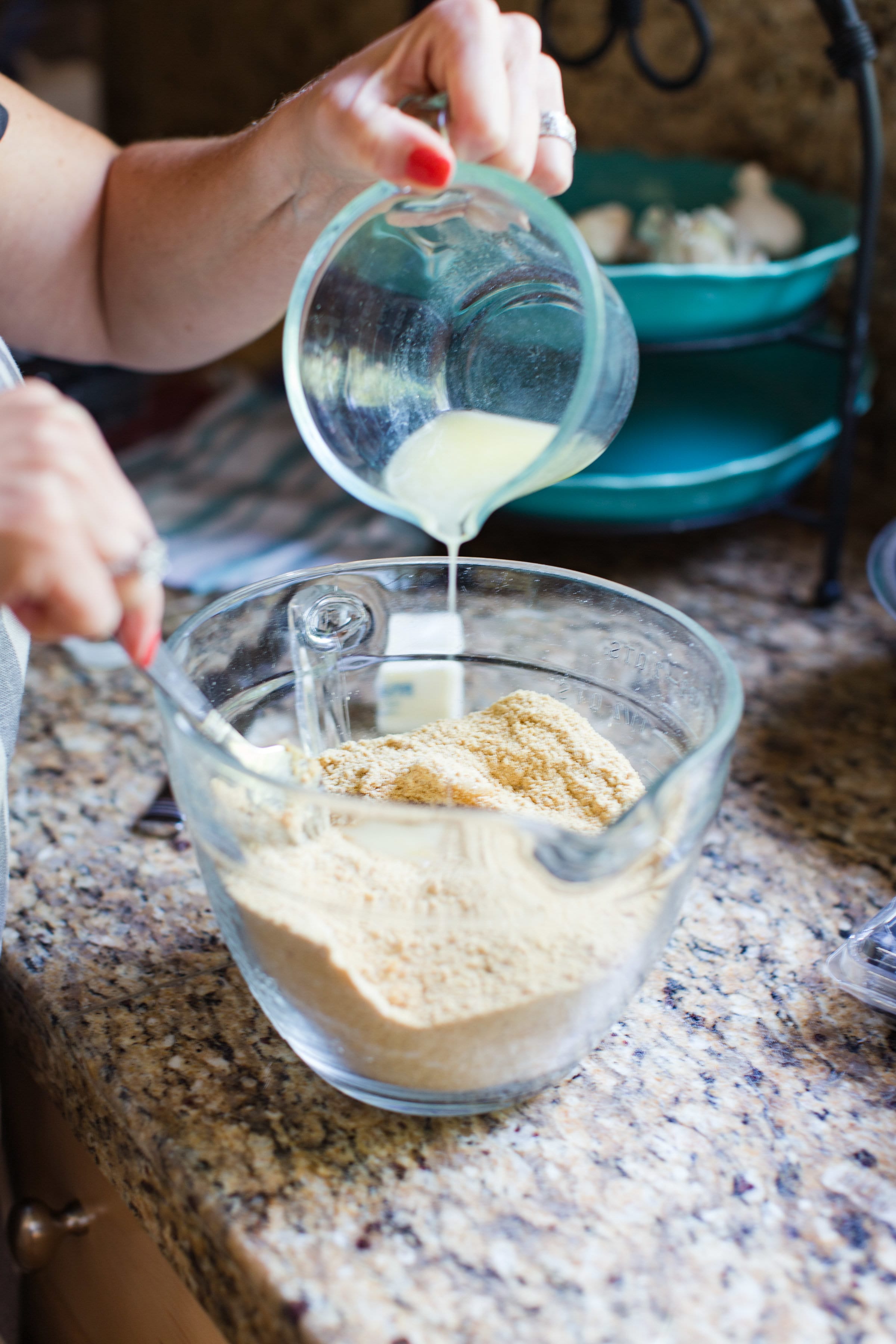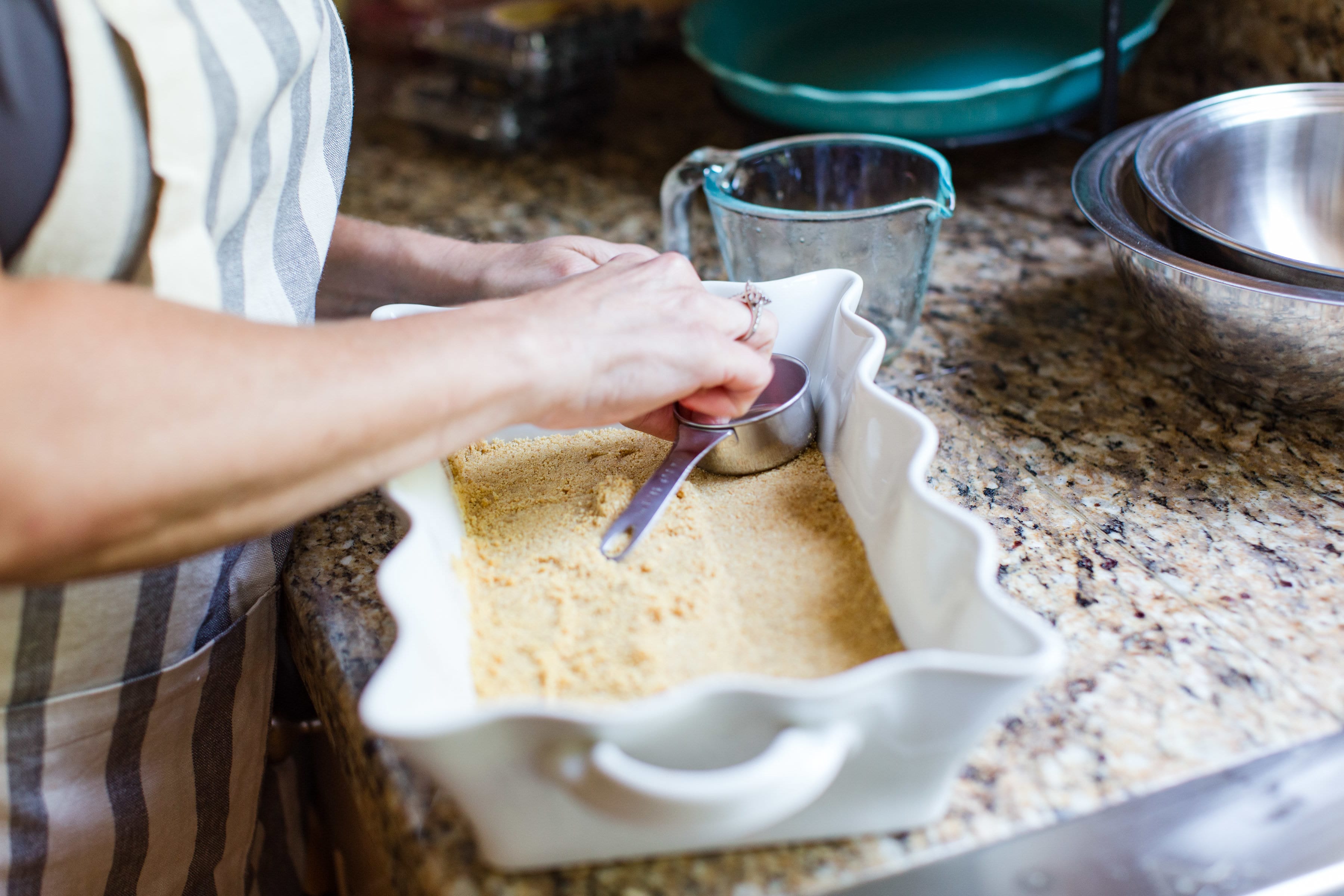 After the church service, we went back to their home and my brother and his wife hosted a luncheon. We were all so hungry after a long morning driving up there and attending church so when I saw this amazing peach dessert, I knew I was going to have to try it! Everyone there was salivating over it. I shouldn't admit it, but I dished that up first and ate that before I had anything else! Who needs to eat a sandwich first when there's a yummy fruit filled dessert on the table? It was so good! Fresh peaches and whip cream, how can you go wrong!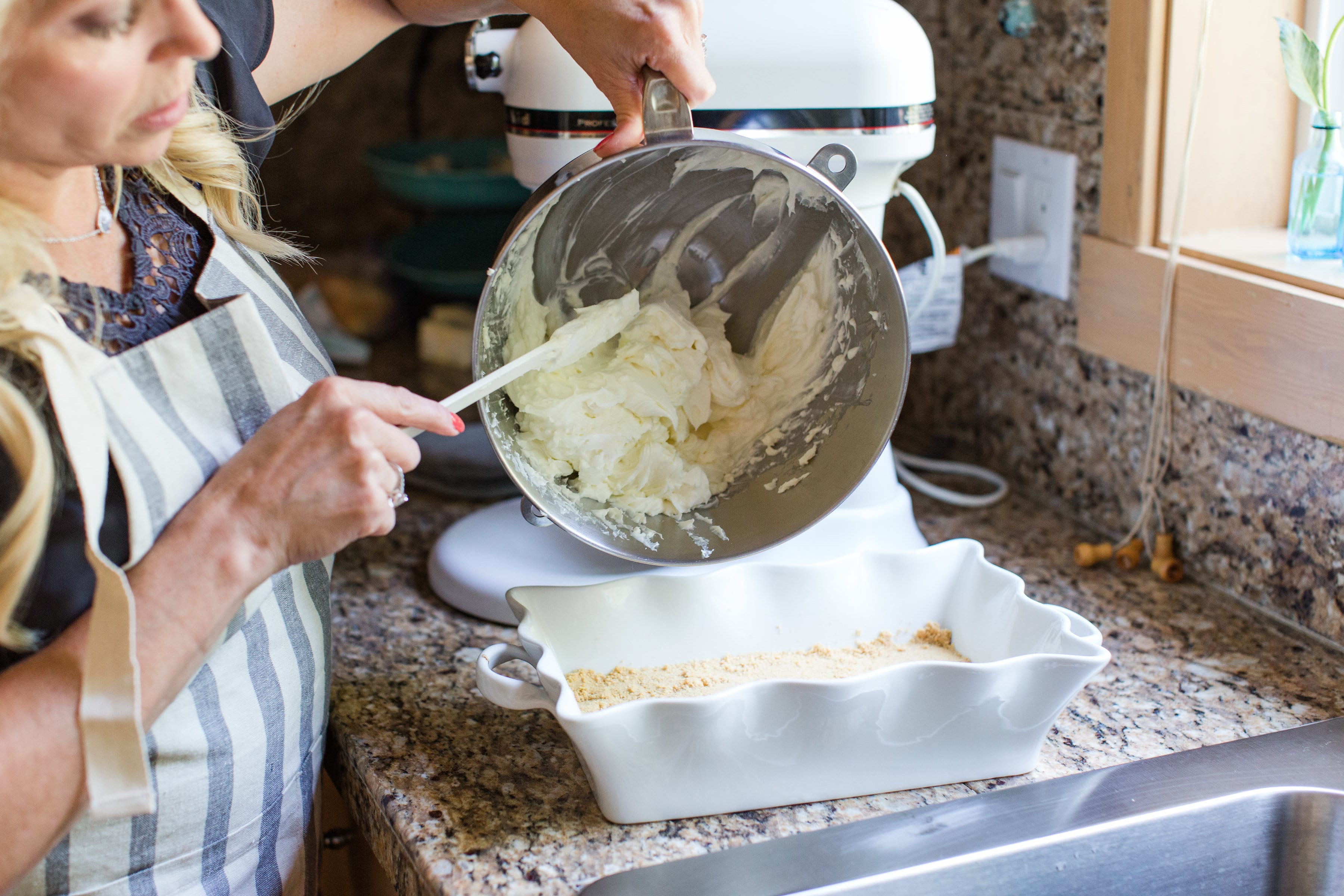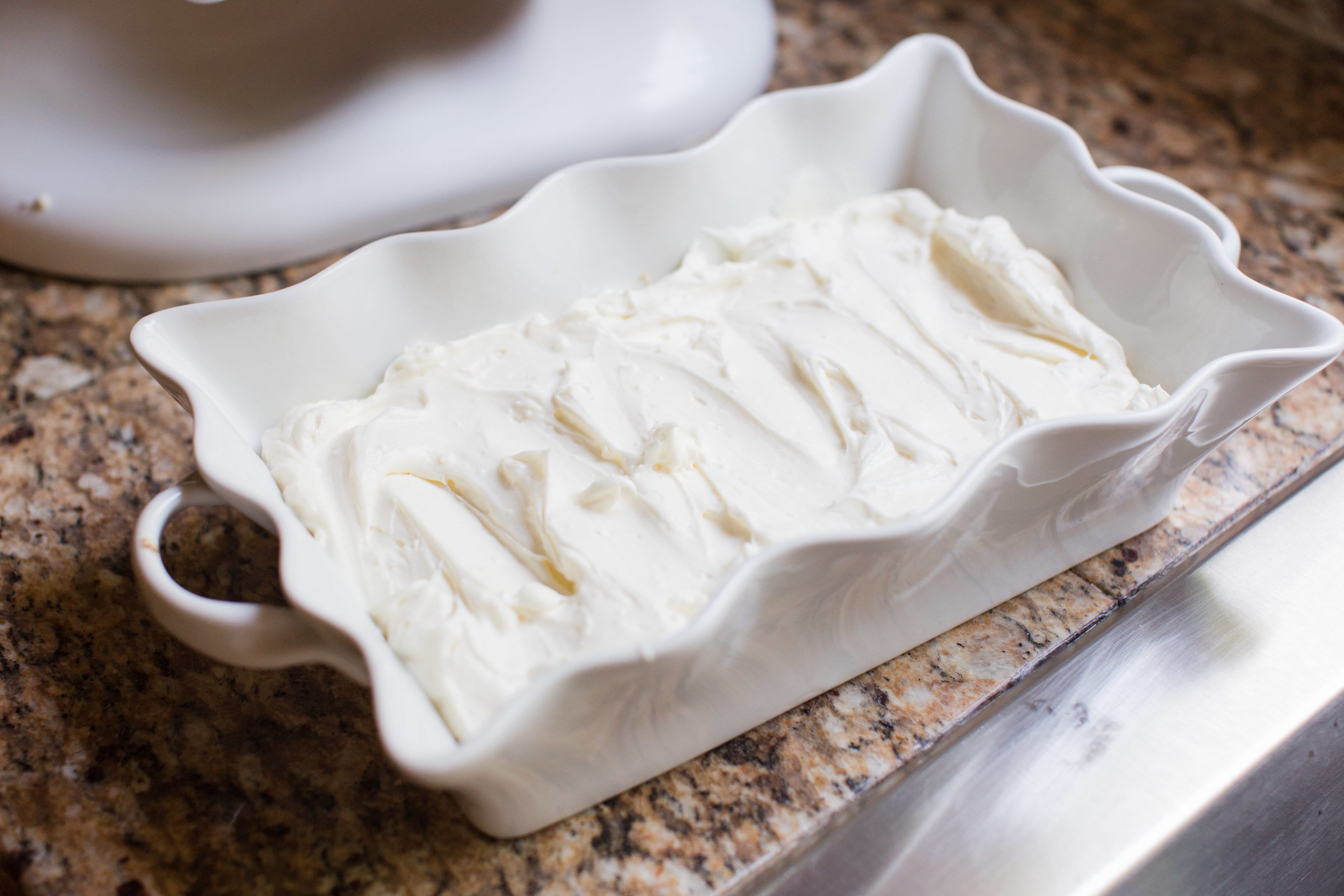 I tracked down the lady that made it and she graciously shared her recipe with me. I made some tweaks to her recipe that included the addition of almond extract (at my husbands request, he LOVES almond extract) and using real whip cream instead of cool whip and this is the result. Either way, it's amazing and so good!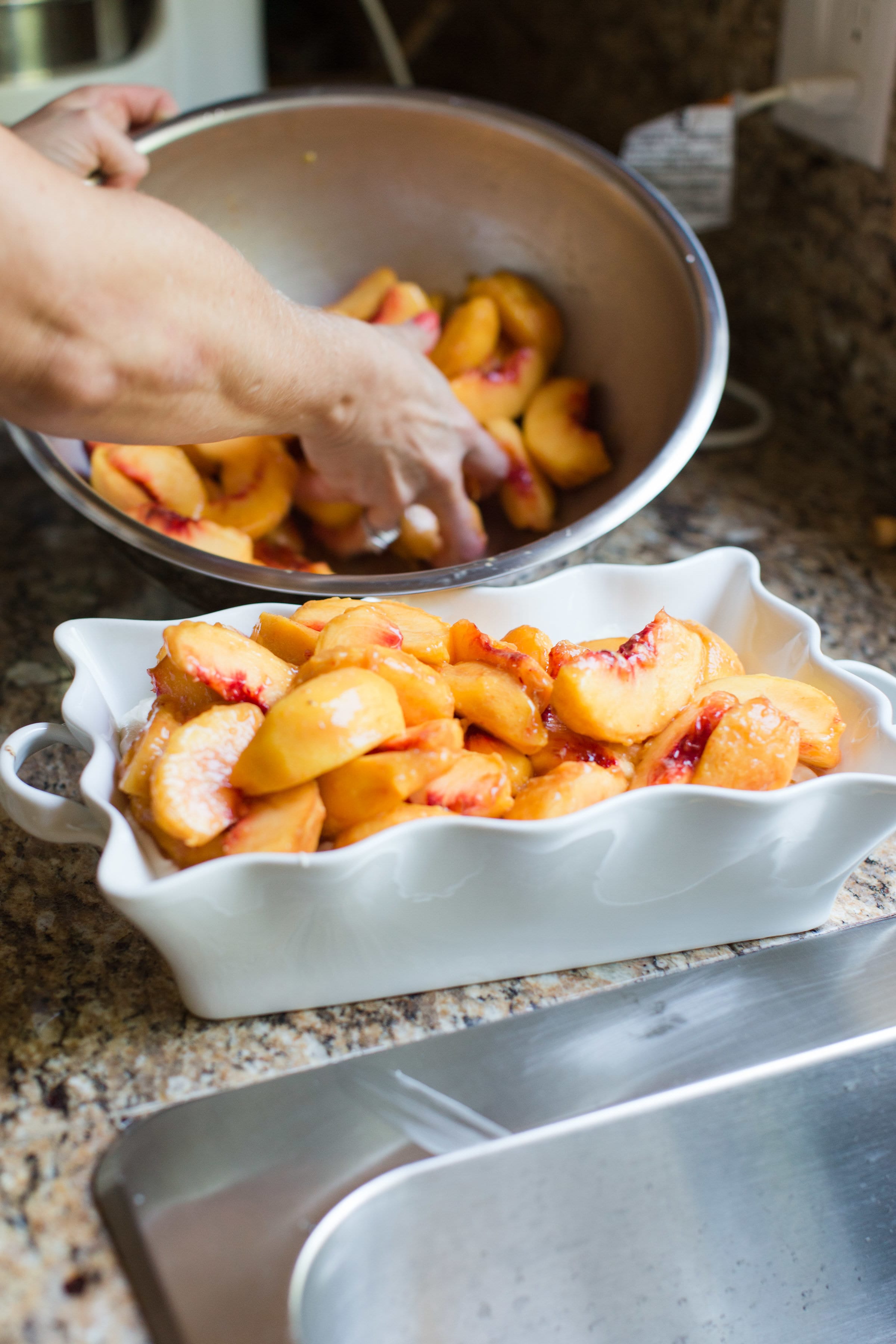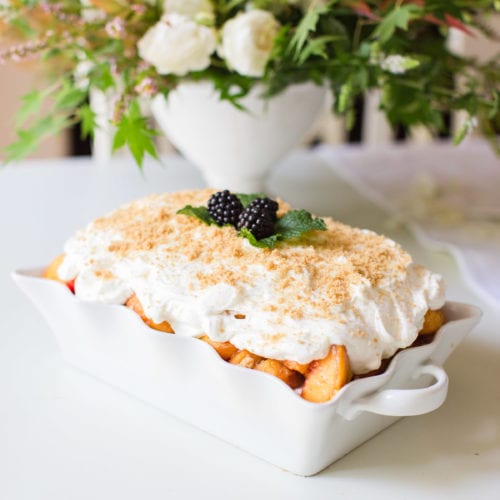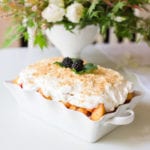 Fresh Peach Dessert
Ingredients
3

cups

graham crackers

crushed

4

TBSP

butter

melted

4

TBSP

sugar

16

oz

cream cheese

5

TBSP

milk

1/2

cup

sugar

4

tsp

almond extract

8

fresh peaches

peeled and sliced

2

TBSP

lemon juice

2

cups

heavy whipping cream

1/2

cup

powdered sugar
Instructions
Crush graham crackers and add in melted butter and sugar. Set aside about ¼ of a cup to use to sprinkle on top of the whip cream at the end. (Optional: 2 tsps almond extract)

Mix and press into bottom of 9 x 13 dish.

Bake for 10 minutes on 350 degrees then let cool for 15-20 minutes while you prepare the rest of the ingredients.

In a mixing bowl or stand mixer, combine 2 packages of softened cream cheese, milk, 2 teaspoons of almond extract and the sugar. Beat until all the ingredients are blended well.

Peel and slice the peaches and drizzle with lemon juice and toss gently to coat all the peaches. This keeps the peaches from turning brown.

Put the cream cheese mixture on top of the graham cracker crust and then top with the freshly peeled peaches.

In a separate mixing bowl or stand mixer, whip 2 cups of heavy whipping cream and add ½ cup powdered sugar and the remaining 2 teaspoons of almond extract.

Cover the top of the peaches with whipping cream. Garnish with leftover graham cracker crumbs and a few berries or peaches.

Chill until ready to serve.
Holly's Helpful tips:
*Blanch the peaches first. Bring a large pot of water to a boil and drop peaches in for 2 minutes. Take them out and immediately immerse them into ice water to stop the cooking process. This makes it so the skin peels off without destroying the shape of the peach and also allows you to make nice uniform slices. This is not a requirement but I've found that it helps keep the peaches intact and you don't lose as much of the peach when you peel them as you do when you don't blanch them first.
*Lemon juice helps prevent the peaches from turning brown. I drizzle 1-2 TBSP and toss to coat the peaches.
*When I am pressing graham cracker crumbs into the bottom of the pan, I use the bottom of a glass or measuring cup to help flatten out and press the crumbs into the bottom of the dish.
*I sometimes add 2 tsps of almond extract to the graham cracker crust. If you're not a huge almond extract fan, you can leave this out.
*I use a wider, taller serving dish that has higher sides on it. See photos for reference.
*You can use cool whip instead of whipped cream if you prefer.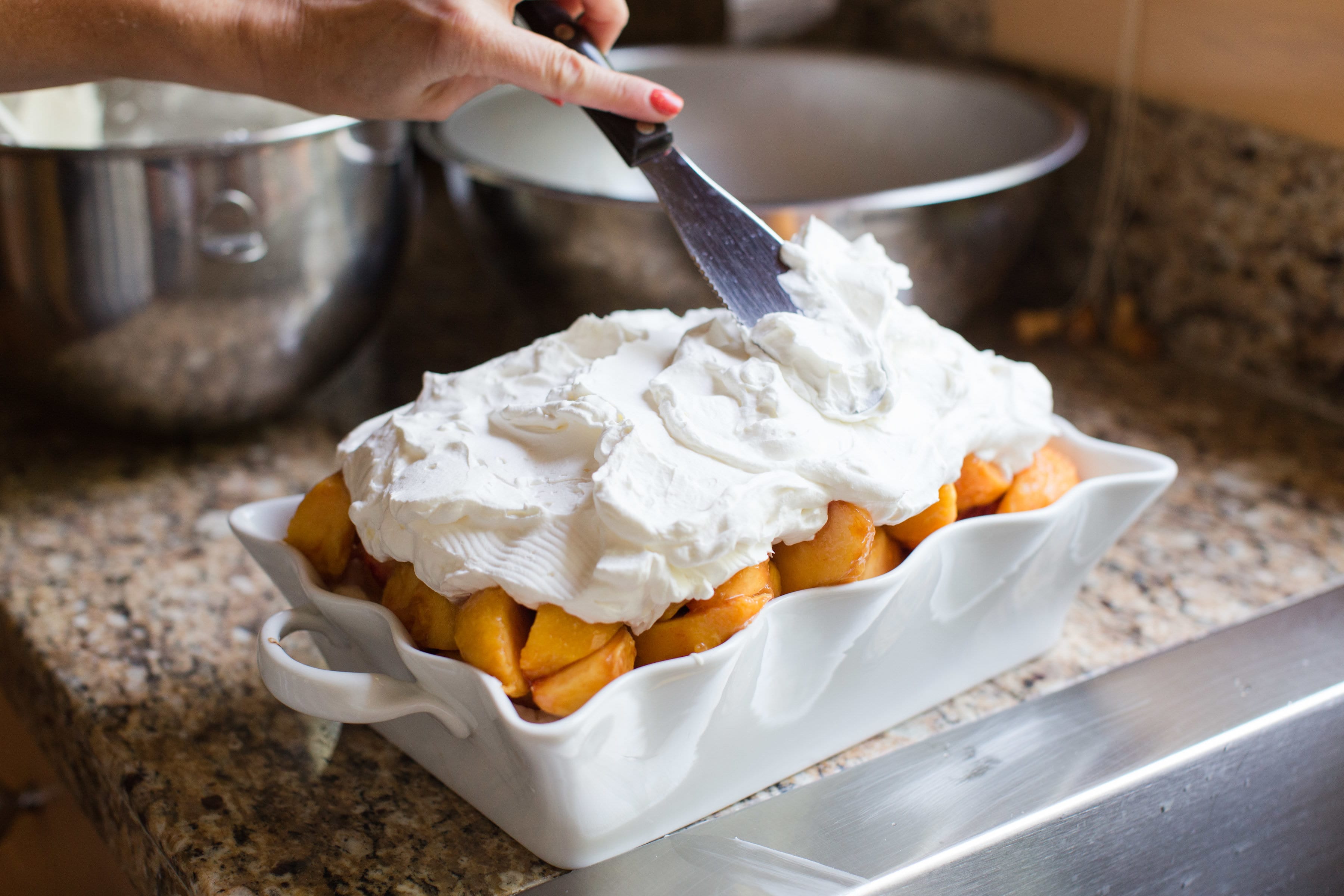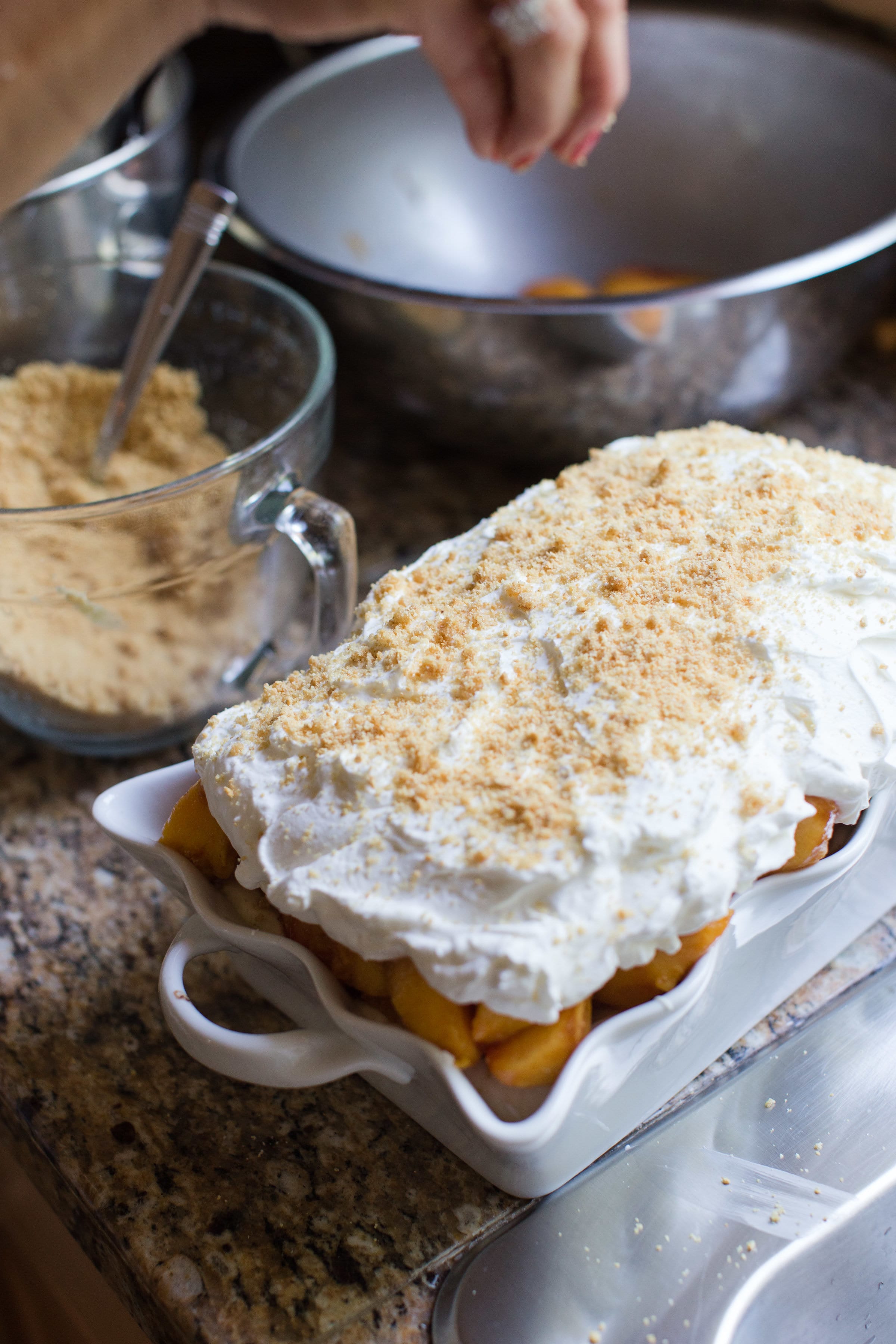 We love peaches over here, so this dessert has been a real hit! If you love peach season, run and try this and let me know what you think!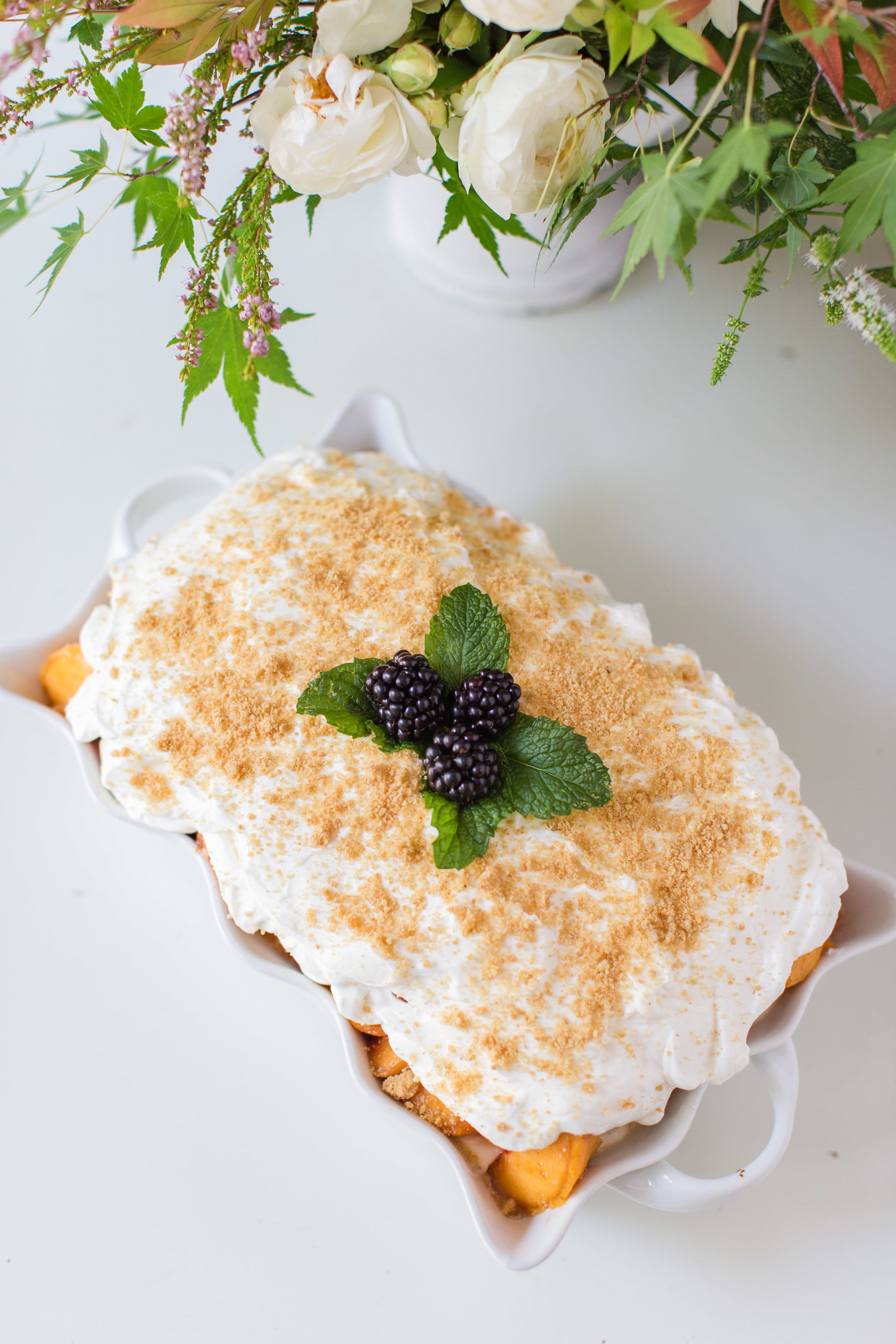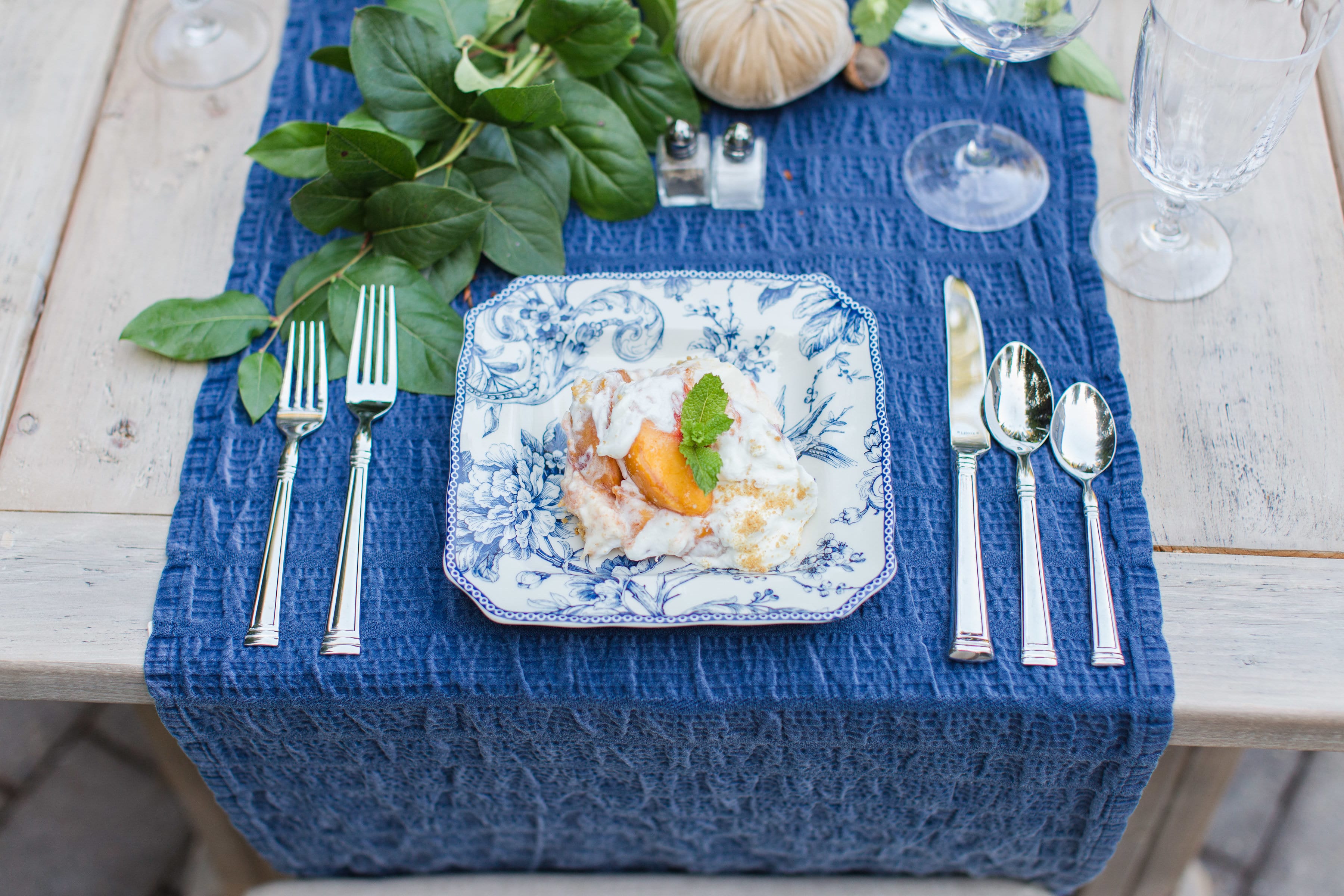 Enjoy!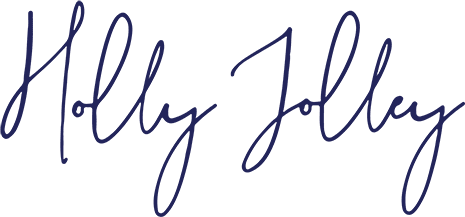 If you like this recipe, you'll also like my Strawberry Cream Cheese Pie.
For more on details of this tablescape and recipes, click here to see my Outdoor Farm to Table Collaboration.
For info on Laughing Goat Flower Farm
PIN THIS FOR LATER: