This simple veggie salad is light and so easy to make! I came up with this recipe after visiting my friend Amy Brown's Laughing Goat Flower Farm. Amy has a beautiful flower farm and grows vegetables that she sells to local restaurants. When I saw how many beautiful varieties of cherry tomatoes she had in her massive garden, I knew I had to make something with them. I also grew some of my own vegetables and wanted to use what I had in my garden as well! Using what is fresh and in season is something I really enjoy. There is nothing better than picking something you have grown, as you know exactly where it came from. I have always enjoyed growing and cultivating my own food.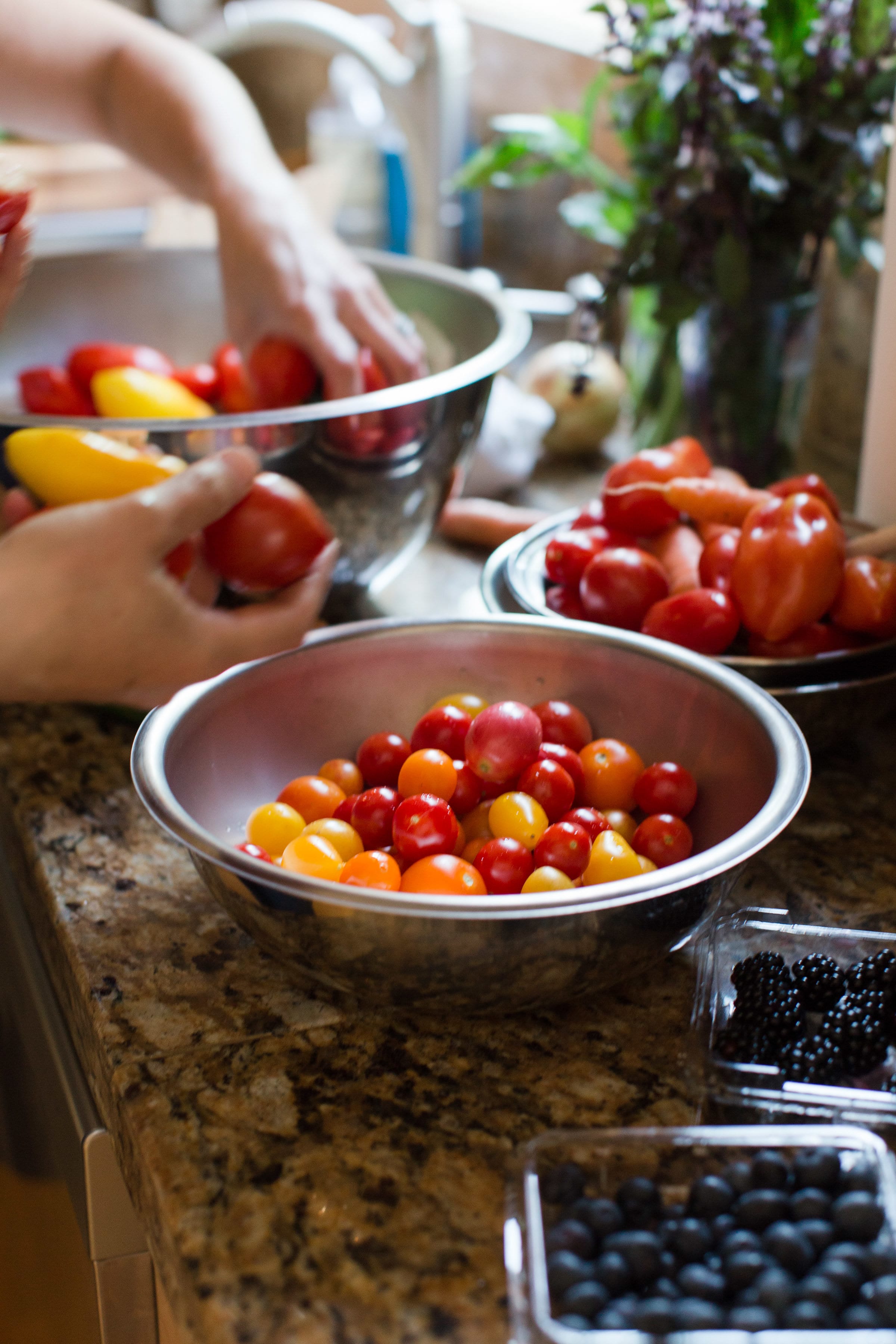 When my husband and I first met, he took me to Idaho to meet his grandparents. They lived on a farm in Kuna, Idaho. The farm had been in his family since the early 1900's. My husband's grandpa had the most amazing garden. I remember walking through row after row of every vegetable you can imagine and all sorts of berries, melon, grapes, and fruit trees. Grandpa and Grandma Fuhriman would make delicious jams, grape juice from different varieties of grapes, the best pickles you've ever had, and so many other things. They canned everything they grew. I ate so many good things that weekend and decided that one day, when I had a home and property of my own, I would have a garden.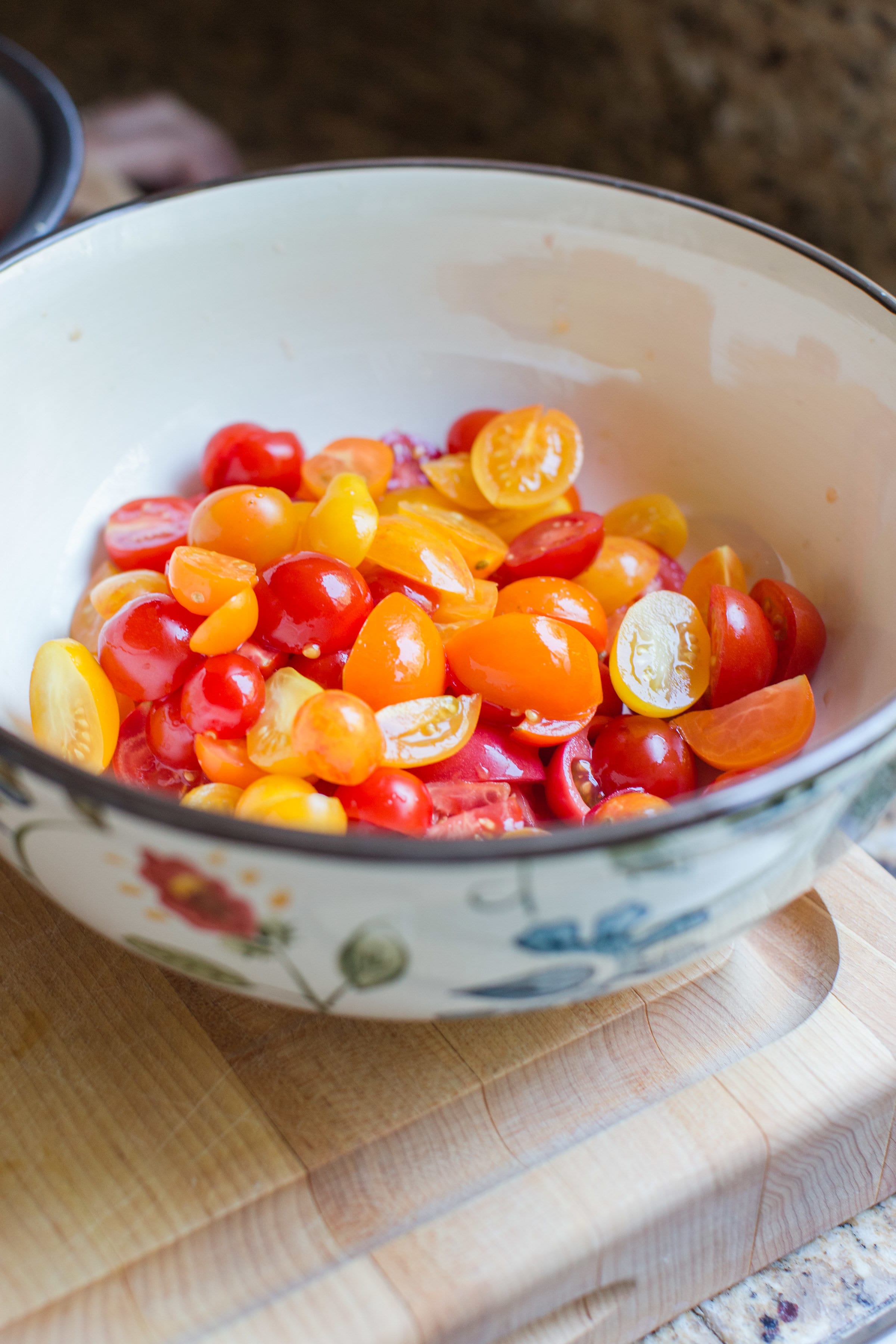 My husbands mom, Kathy, also has an amazing garden and her garden is also beautiful. She has a knack for growing things, just like her father, Grandpa Furhiman did, but she also makes it look pretty at the same time. I've enjoyed canning with her when I go to visit her in Idaho in the summer.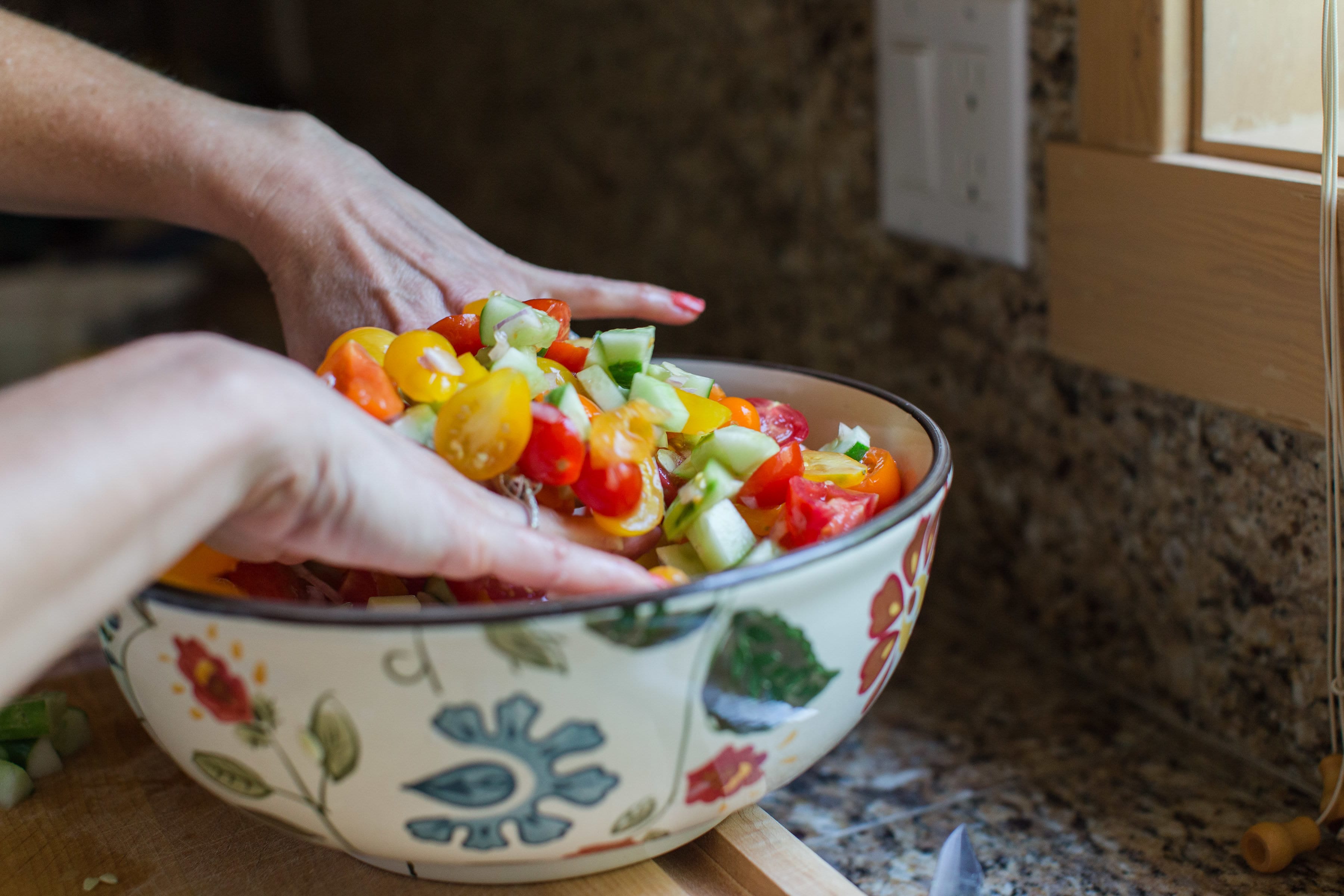 There is something magical about being able to go into your own garden, picking fresh produce and making recipes with what's in season.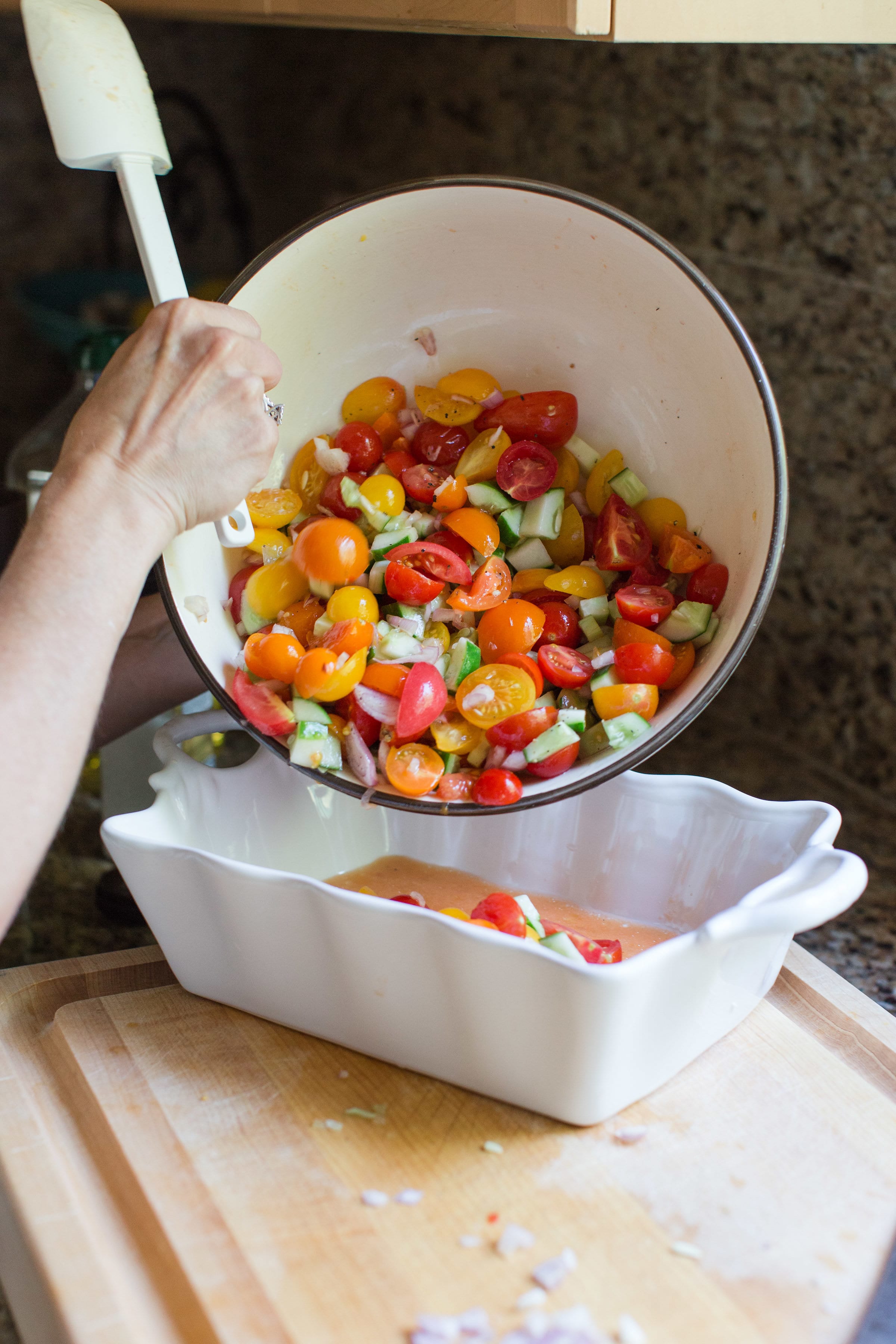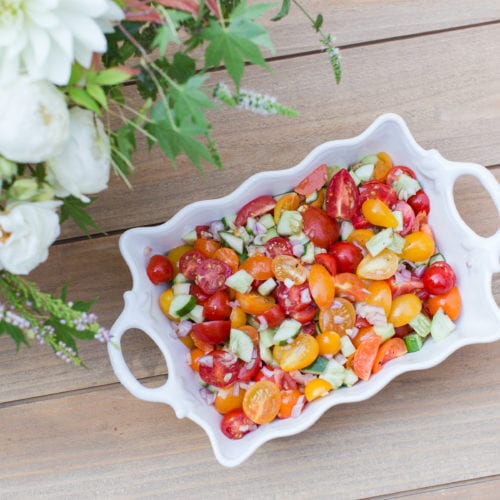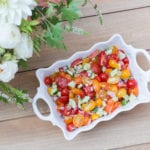 Simple Tomato and Cucumber Salad
Ingredients
4

Pints

Various Cherry or Small Tomatoes

1

Cucumber

Large

1

Shallot

Medium Sized

2

TBSP

Olive Oil

1

TBSP

Lemon Juice

1

tsp

Salt

1/2

tsp

Pepper
Instructions
Slice tomatoes into halves and put in a mixing bowl.

Then dice the cucumber into small pieces.

Peel and chop the shallot up into small pieces as well.

Drizzle approximately 2 tablespoons of olive oil and then add the lemon juice.

Add salt and pepper to taste and toss to coat everything in the olive oil and lemon juice.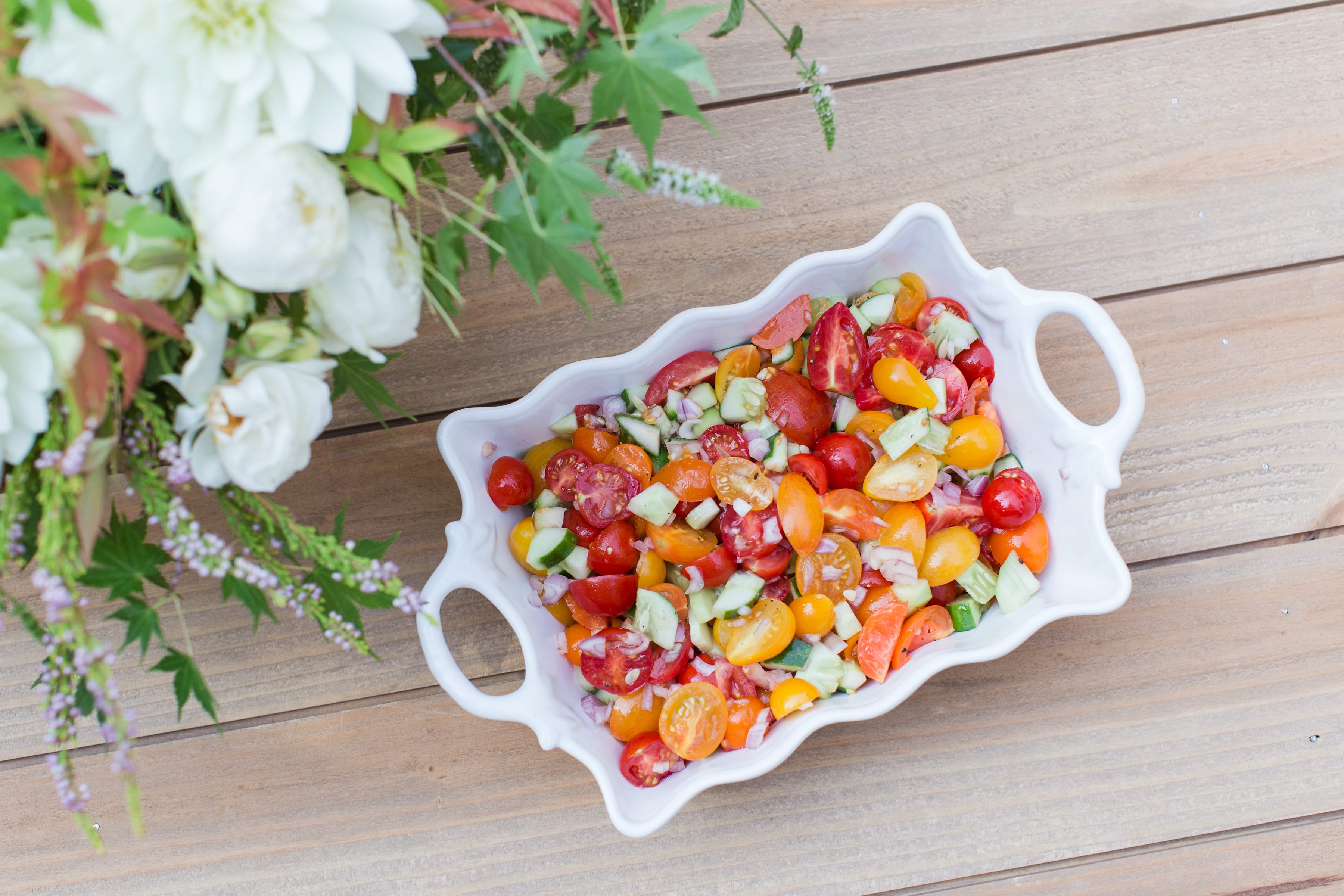 I paired this light and fresh salad with my homemade lasagna to balance out the heaviness of the pasta. It goes well with anything though. So, if you have a lot of cherry tomatoes on hand or see some nice varieties at the market, this is a great accompaniment to any main dish. Let me know what you think! Enjoy!
Holly's Helpful Tips:
*Some of the varieties Amy grew in her garden and that I used in the salad (in case you'd like to grow your own) were: Jaune Flamme (bigger orange) Lemon Drop (round yellow) Yellow Pear Cherry Bomb Chadwick Cherry Black Cherry *You can make this salad with any tomatoes you'd like! Fresh is always best! This dish has so much color, making it the perfect salad or side for any meal. Beautiful and delicious!
Simple Veggie Salad