Pink Party Punch perfect for any holiday gathering.It's refreshing and packs a punch. Your guests will love this delicious drink!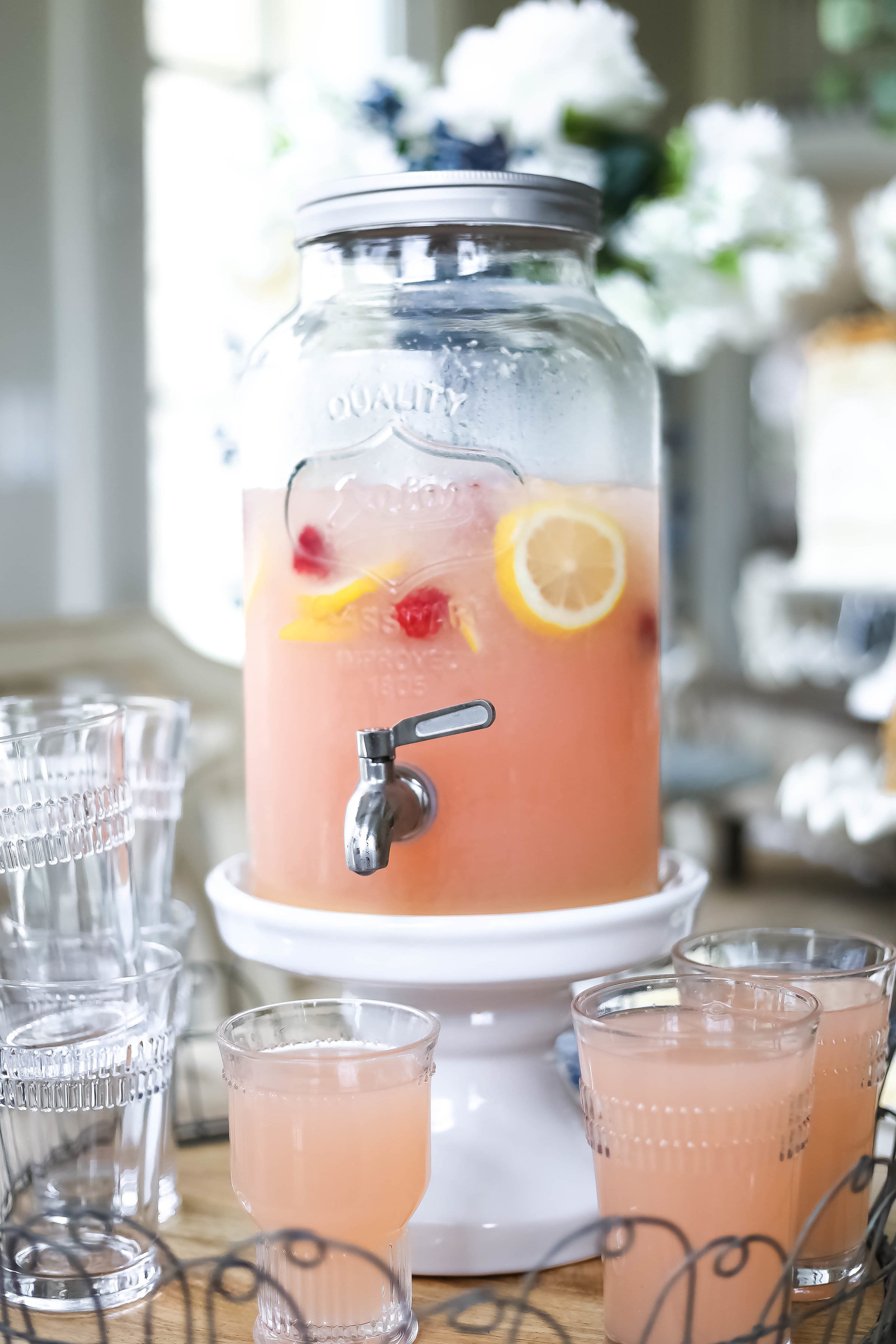 This Pink Party Punch has been a staple at many of the parties I've thrown over the years. It's simple to make and packs a punch (pardon the pun)!
I've made this party punch for baby showers, bridal showers, summertime BBQ's, family gatherings, birthdays, and more.
It goes well with any occasion and is a great summertime poolside drink!
Here I made the pink party punch for a PIE-oneer Day Party I hosted for a Utah state holiday.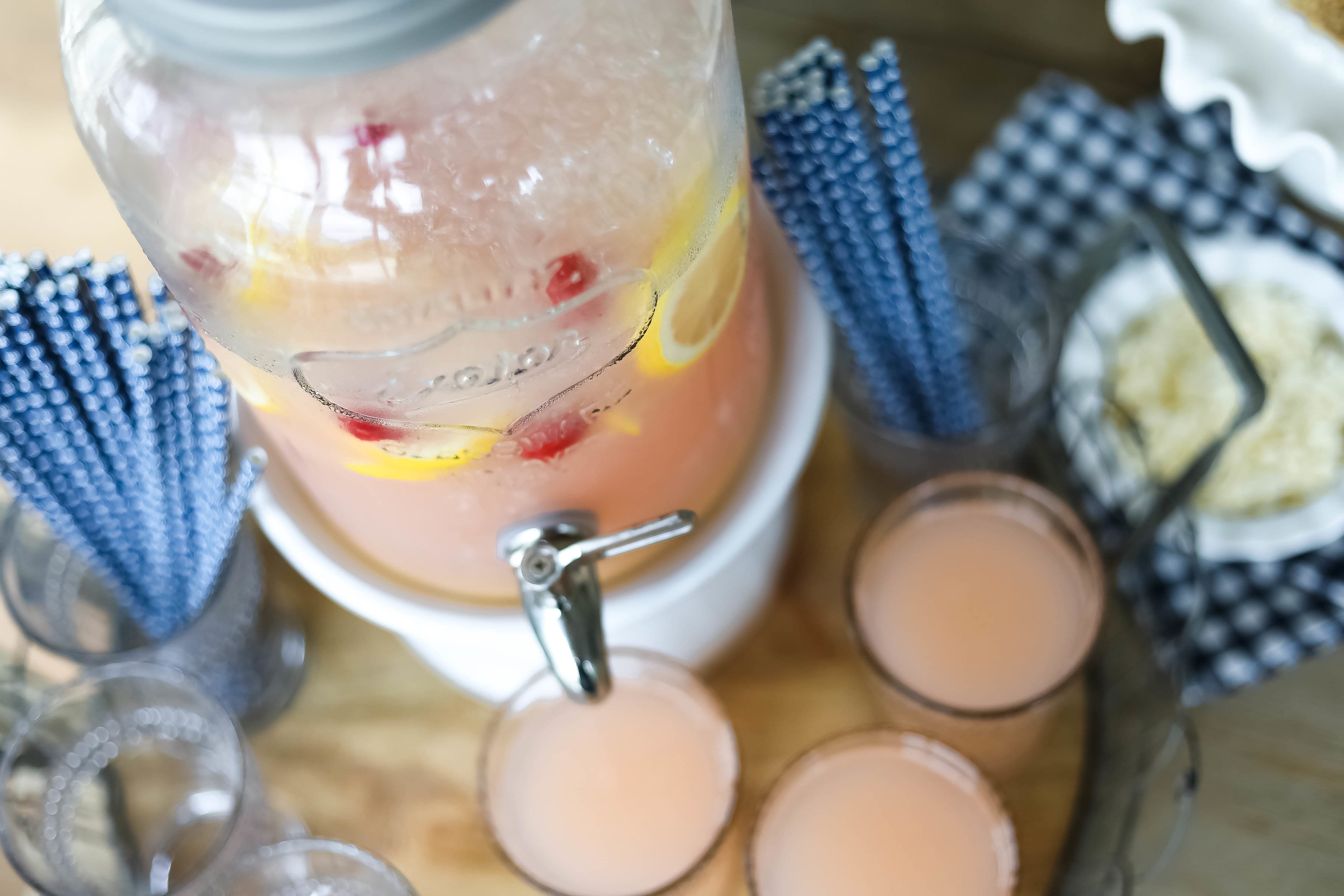 Summertime or Anytime Punch
Everyone that's had this pink party punch at any of my gatherings has asked for the recipe so I am finally getting around to sharing it.
It's very easy to make and you can substitute a variety of things depending on what you have on hand or can buy at the store. I will share some of the variations in my helpful hints below.
Use this recipe anytime of the year or for any gathering you have.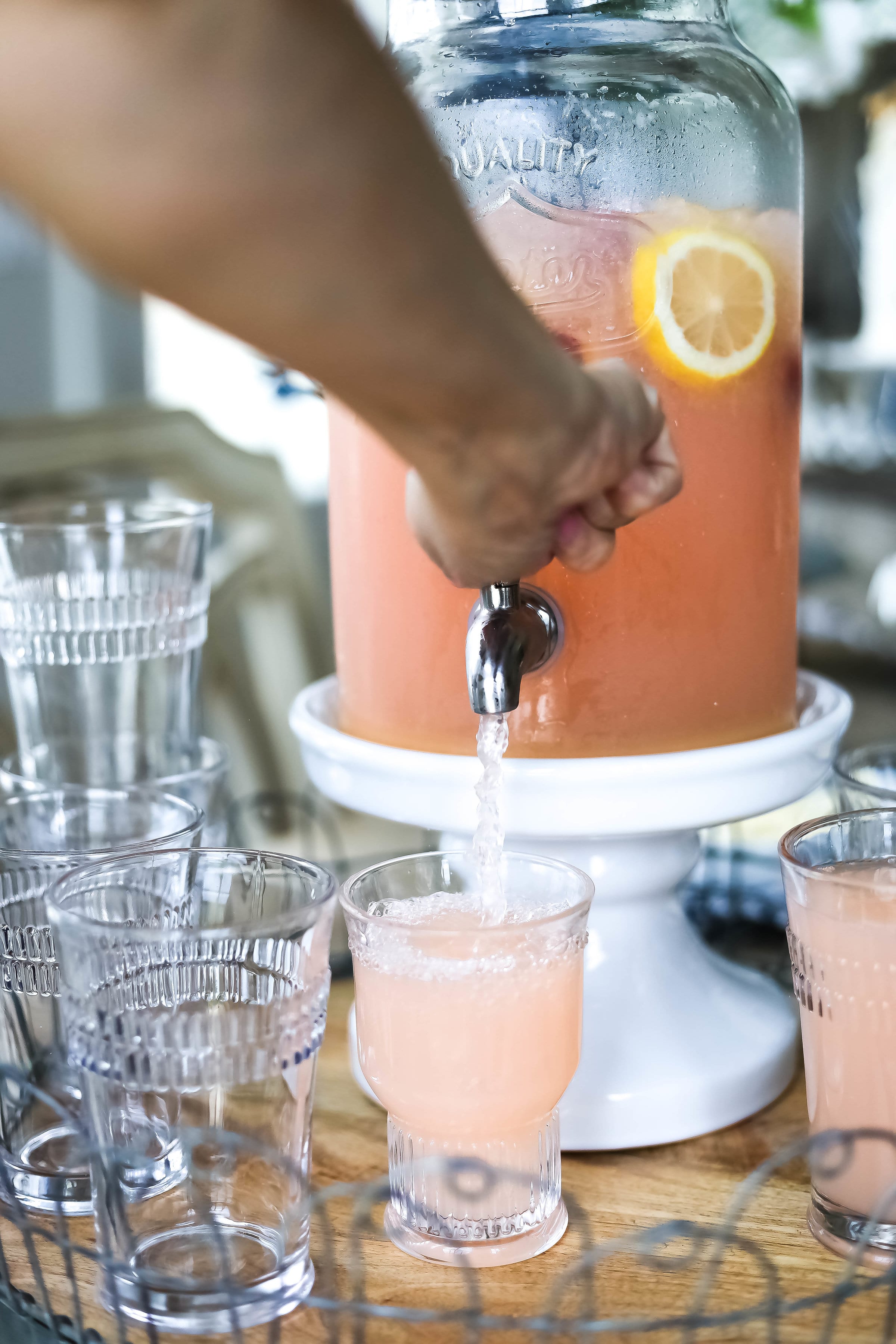 The Recipe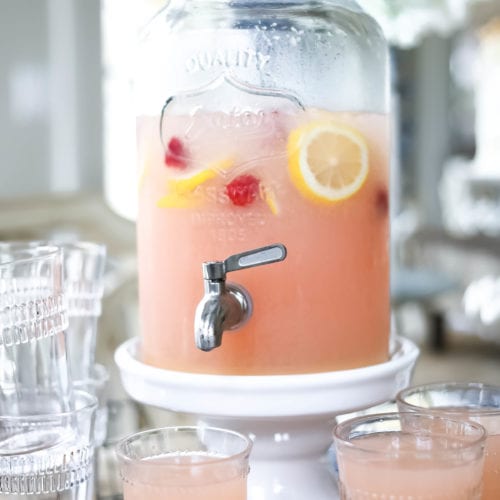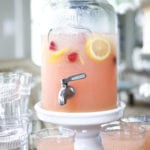 Pink Party Punch
A refreshing party punch that can be served at any party or gathering and is perfect for summertime entertaining or any poolside party!
Ingredients
1

can

frozen limeade concentrated drink mix

1

can

frozed raspberry lemonade concentrated drink mix

1

container

powdered lemonade drink mix 19 oz

(I use country time)

2

-2 liter

bottles of sprite or 7-up

(or any generic brand is fine)

1

bag

ice

(I buy a bag at the grocery store)

2

lemons

(sliced)

2

limes

(sliced)

1

cup

frozen raspberries
Instructions
In a large punch bowl or drink dispenser add the frozen limeade, frozen raspberry lemonade, powdered lemonade mix, and sprite or 7-up. Stir until the powdered drink mix is dissolved and everything has mixed together well.

Slice the lemons and limes and add those and the frozen raspberries to the punch mix.

Dump in about 1/2 to 3/4ths of the bag of ice. If there's room in your punch bowl or container, you can add more of the ice.

The punch is very strong when you first mix it up but some of the ice will melt and dilute it a bit until it tastes perfect.

Helpful Tips and Variations
*You can substitute any kind of frozen lemonade, pink lemonade, or limeade. I usually just buy what the store has but my favorite combination is the pink lemonade and limeade. You can do two of the same as well. They all work!
*If you can't find the country time powdered lemonade mix, you can use the pink lemonade mix or a generic brand if it's available. *I usually double this recipe depending on how many people I have coming but this recipe makes quite a lot and depending on how much your guest drink it can serve anywhere 20-30 people. It's easy to mix a second batch right in the punch bowl or drink dispenser. *I add about half the ice in and then add more if needed. It's a little strong at first and the ice will dilute it down. * The sliced lemons, limes, and raspberries are optional and give the punch some color. *You can add sherbet ice cream to this and it becomes a frappe! *Feel free to vary this recipe! I do it all the time and it always comes out great!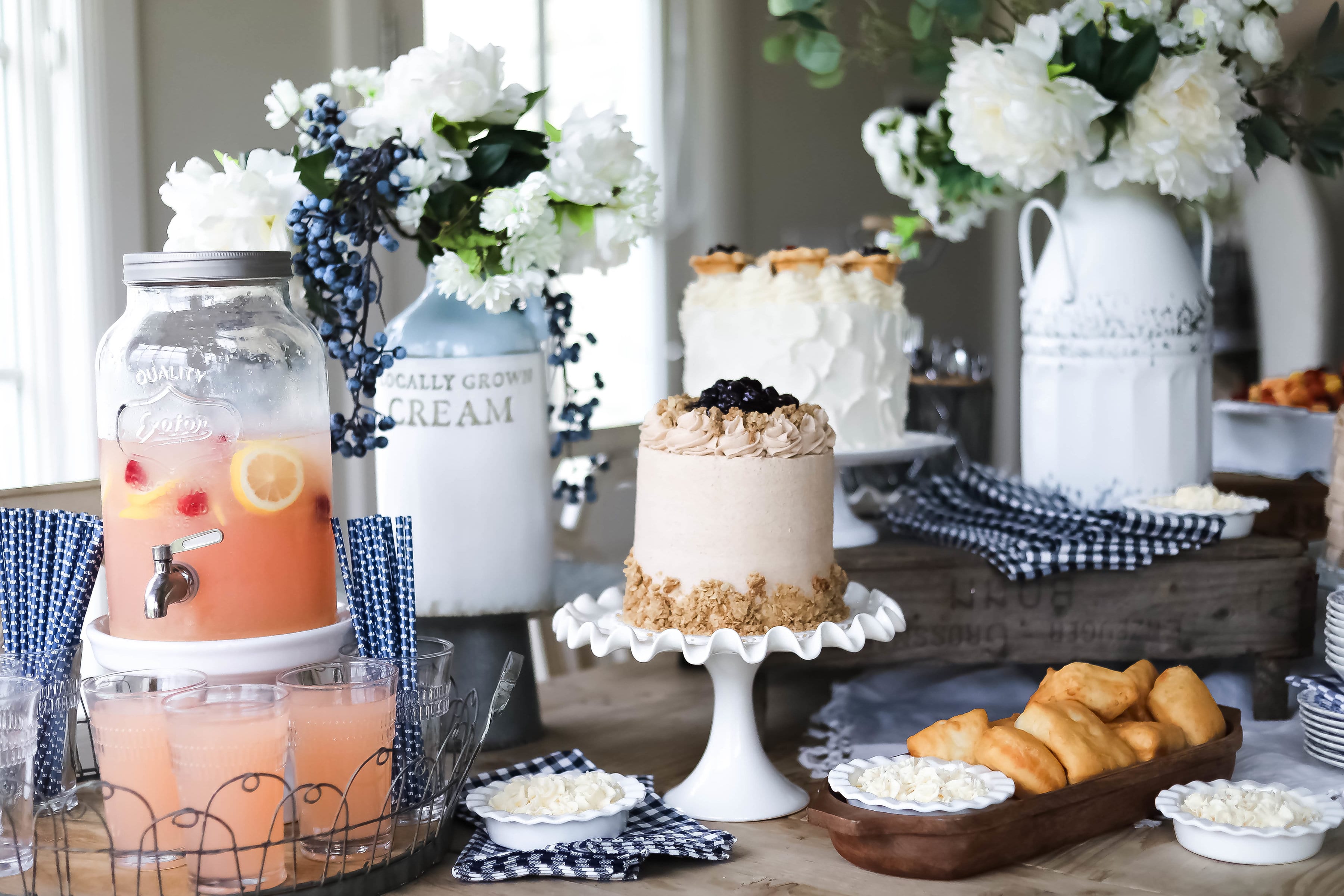 To see more of this pink party punch, click here for my PIE-oneer Day party post!
For the Recipe for Stans Scones and Honey Butter click here.
Enjoy this fun pink party punch that works well for any party or gathering you have! It's a great poolside drink for those hot summer days that are upon us!
Pink Poolside Drinks
Be sure to check out these other refreshing beverages perfect for hot summer days by the pool!

Modern Glam // Happy Happy Nester // My 100 Year Old Home // 1111 Light Lane // Doreen Corrigan

The Happy Housie // Finding Lovely // Satori Designs // Home With Holly J
Similar sources linked below:

Enjoy!
XOXO,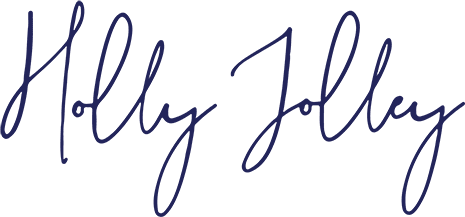 Photo Credit: @catcherintheryephotography / www.honeyandhiveliving.com
Cakes by: www.livingbeautahfully.com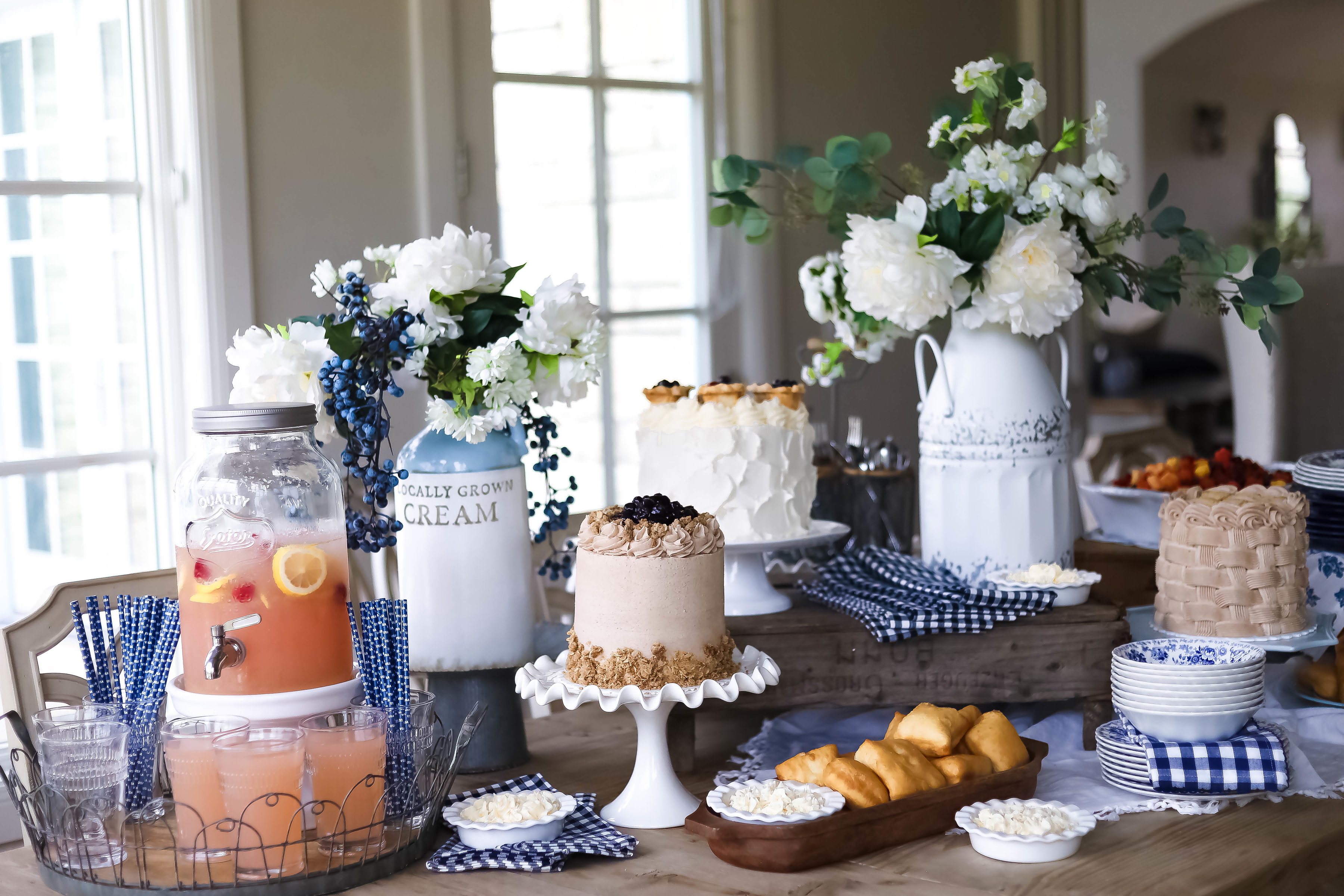 PIN THIS FOR LATER: