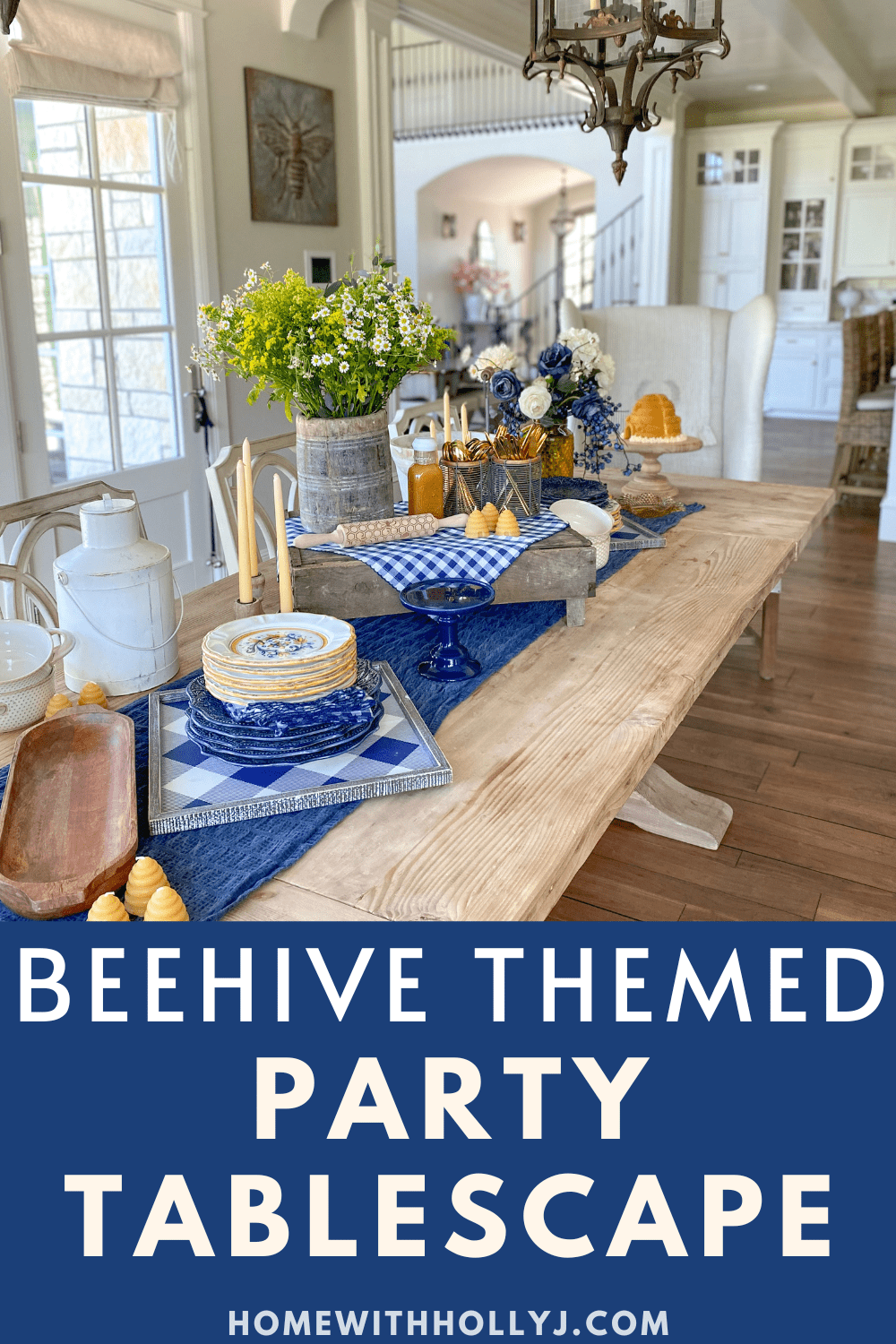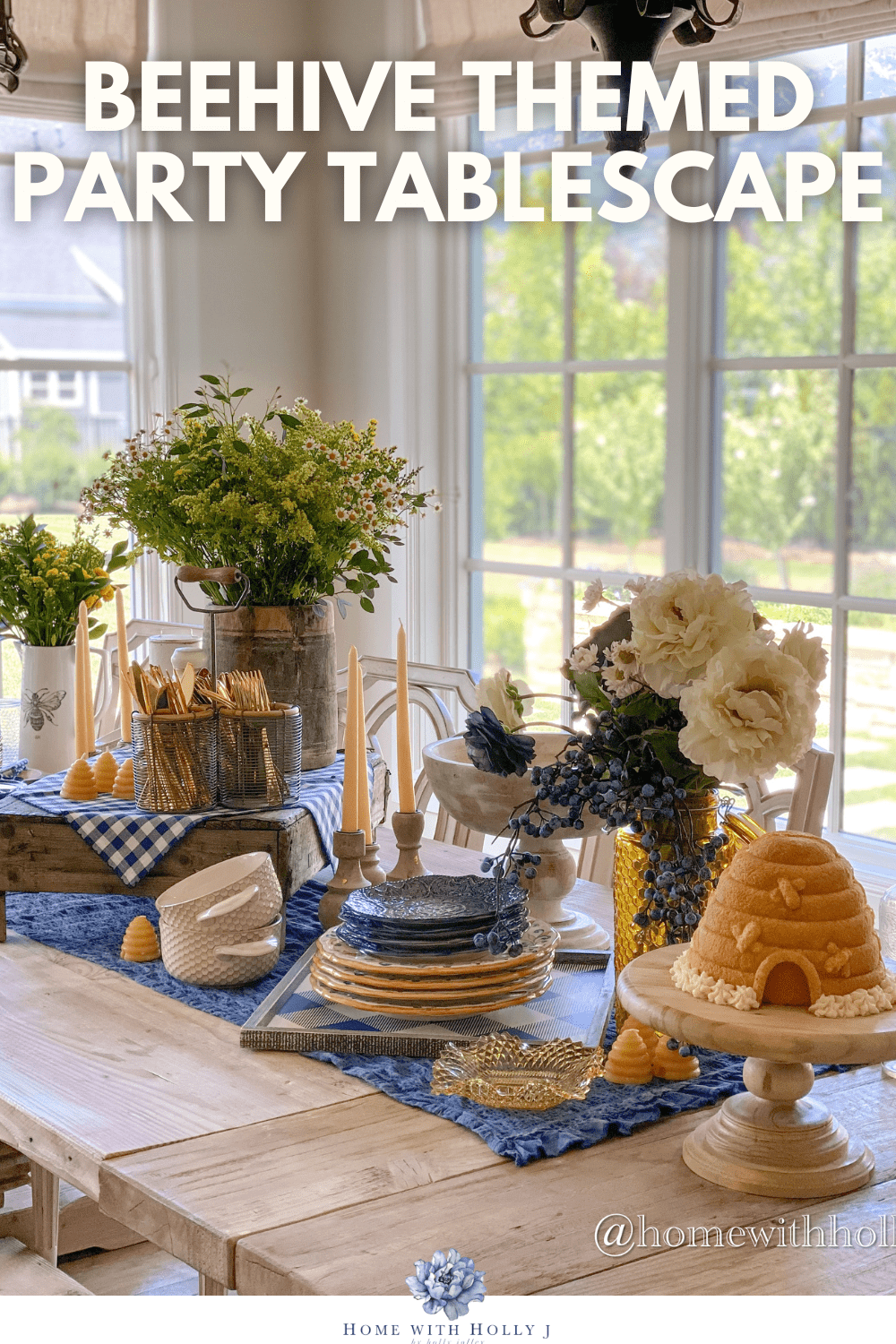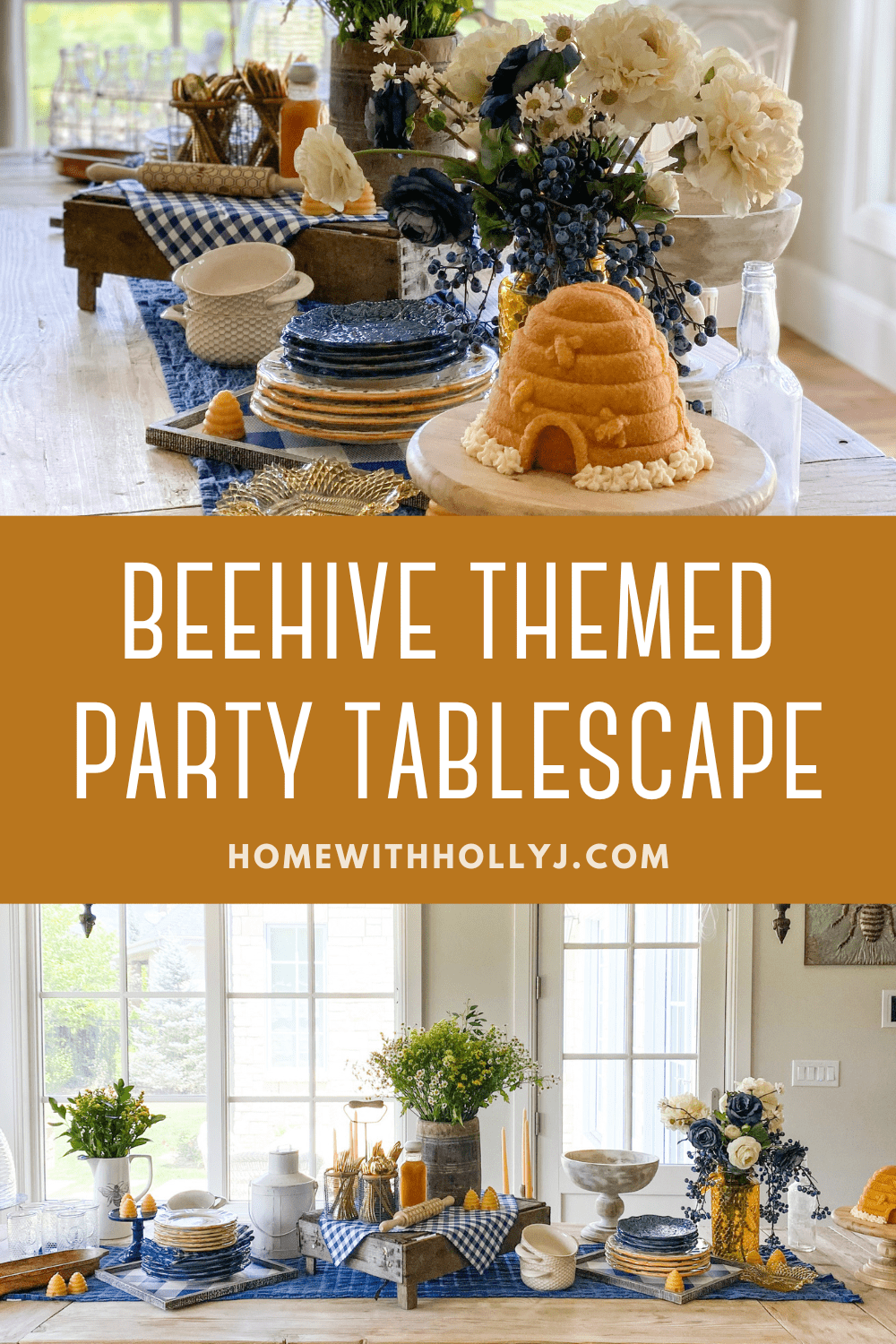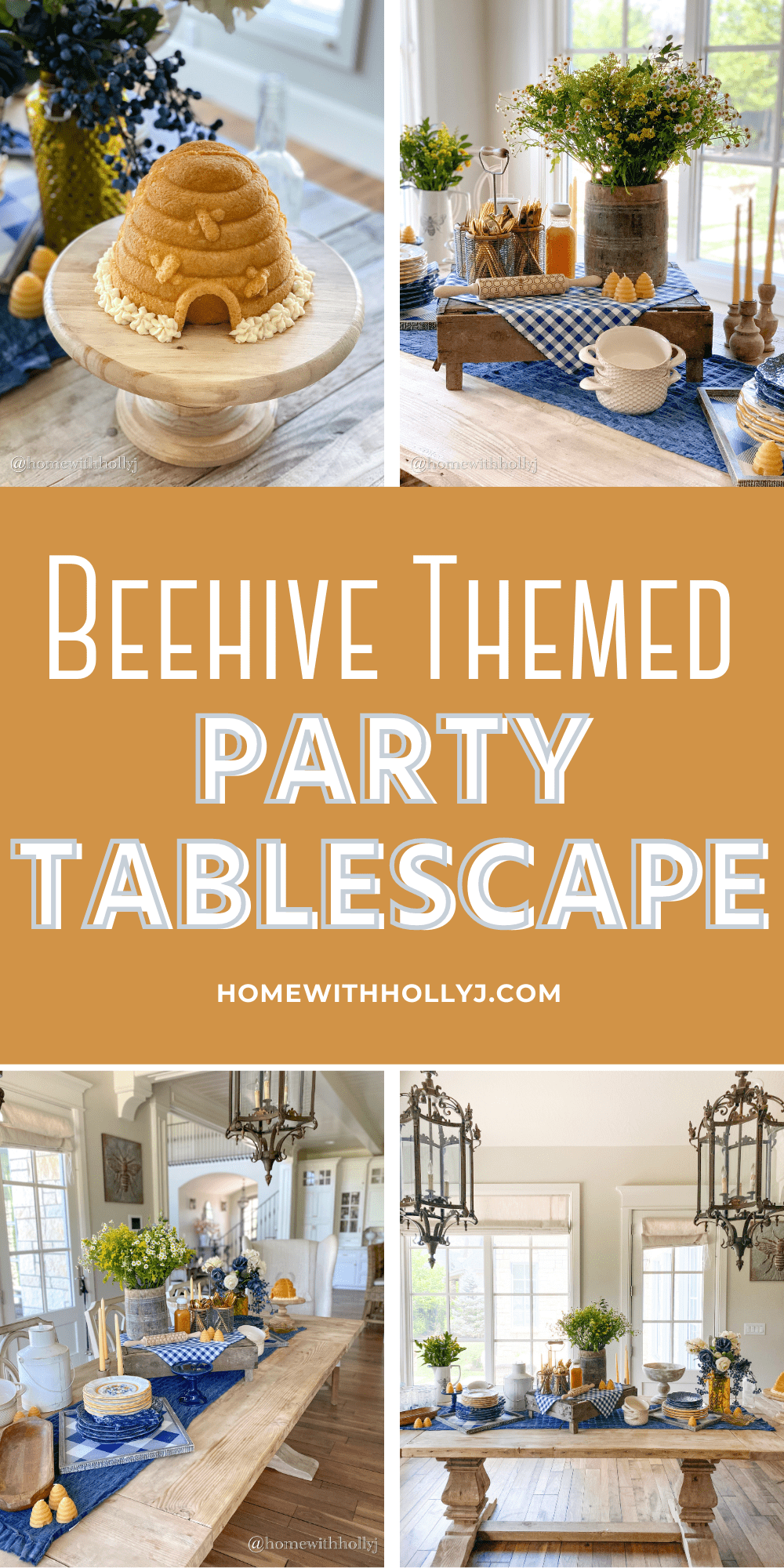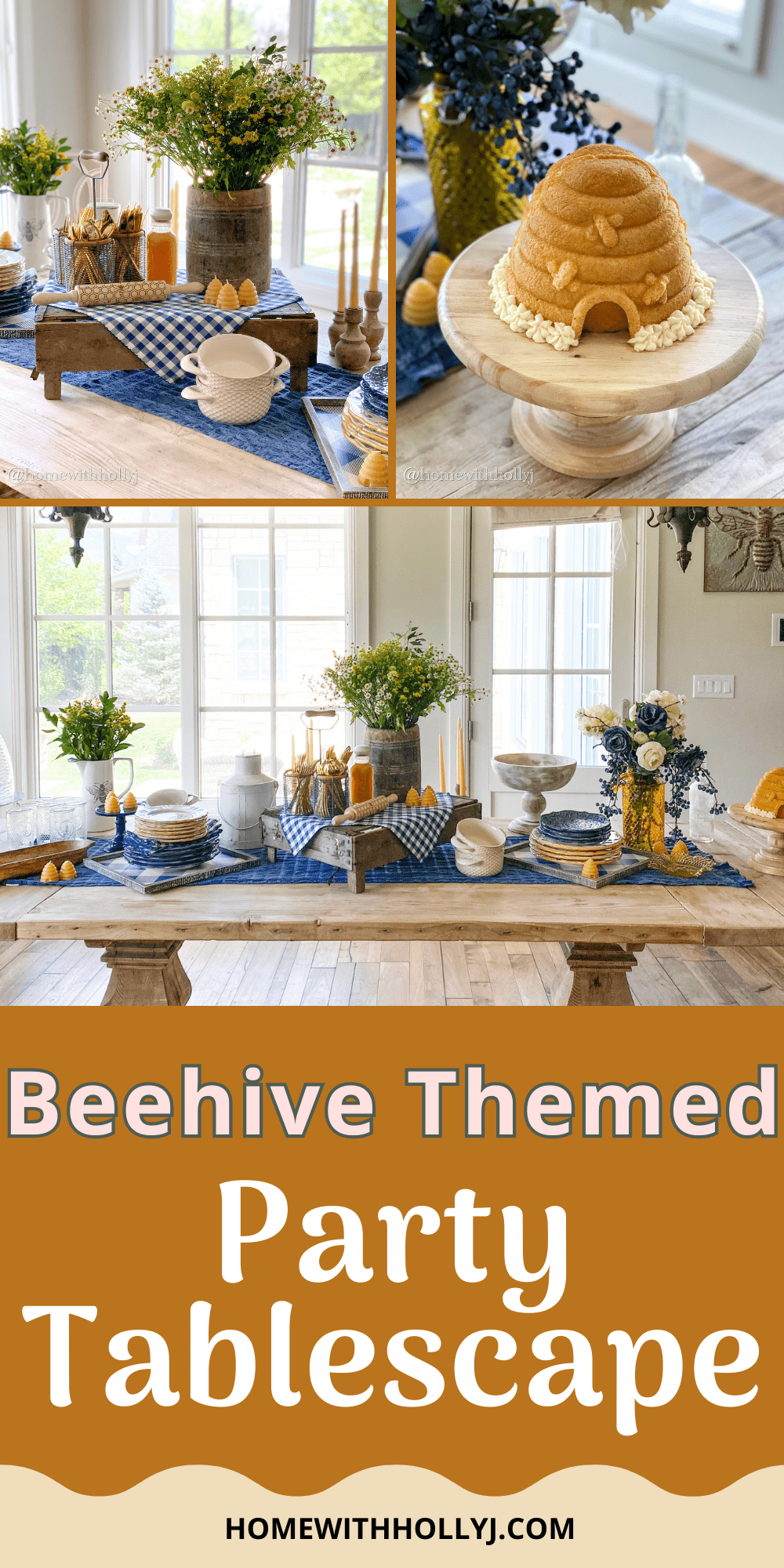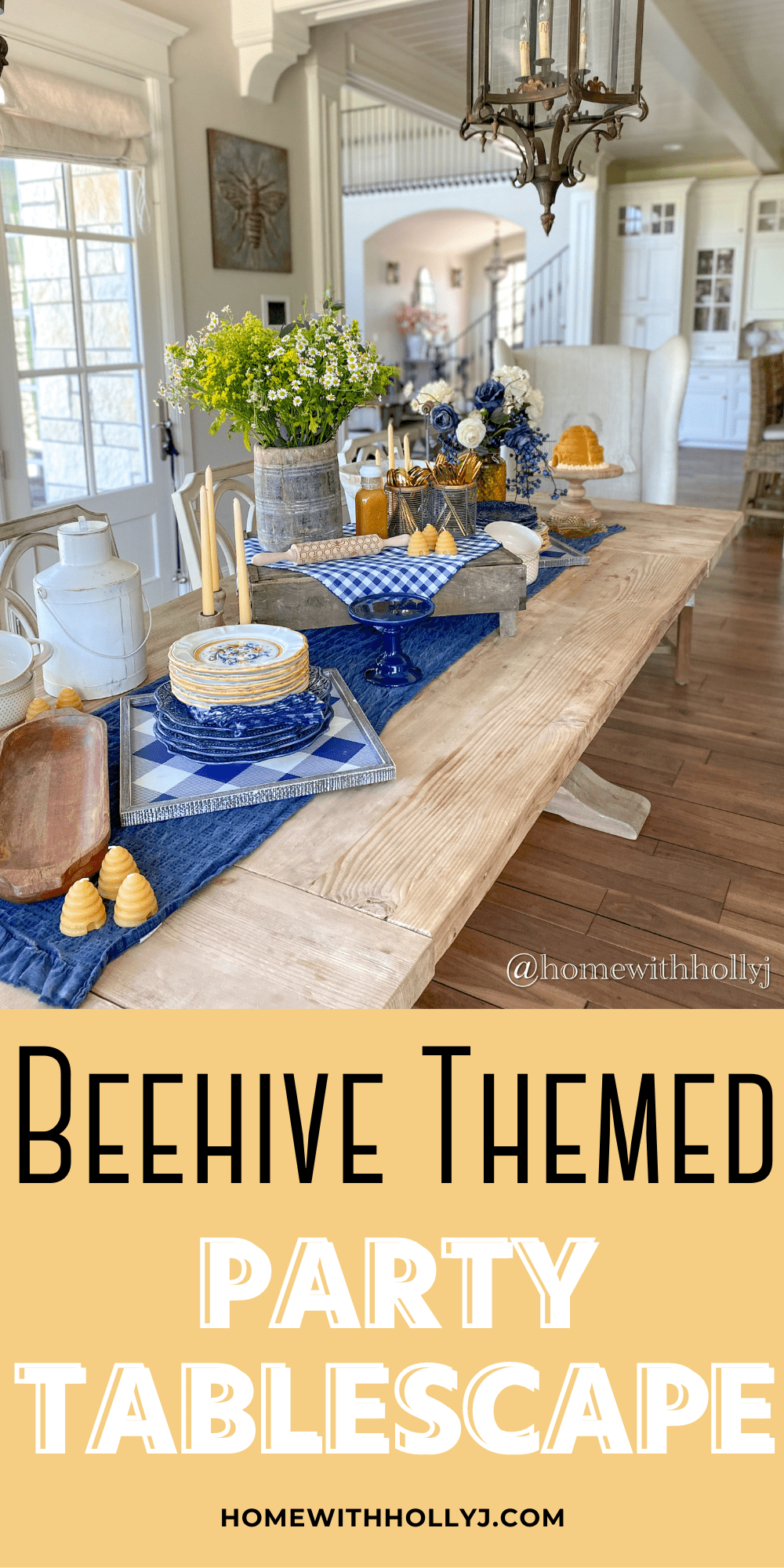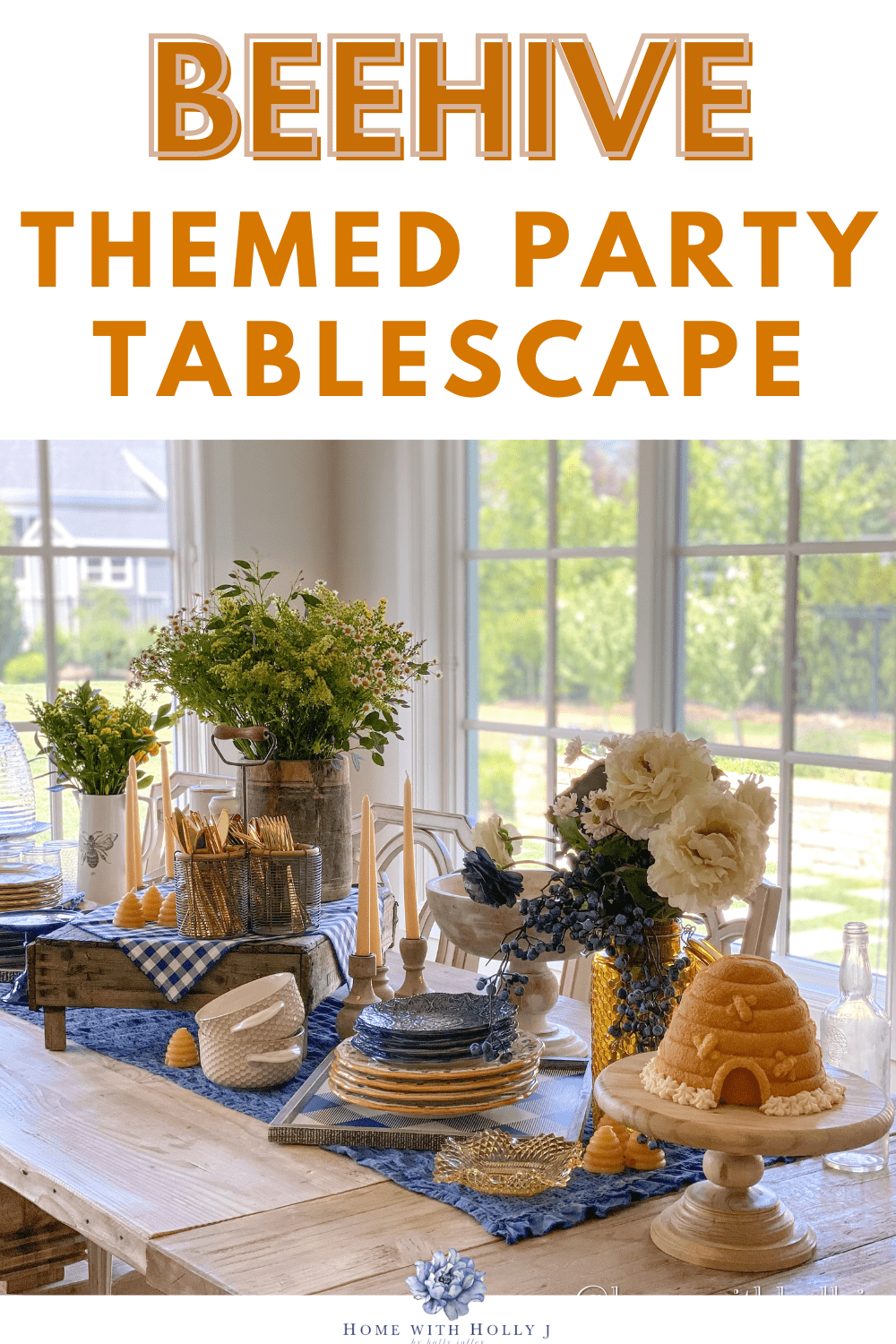 Since Utah is the Beehive State, today I am sharing my bee themed party tablescape inspiration featuring all things beehive!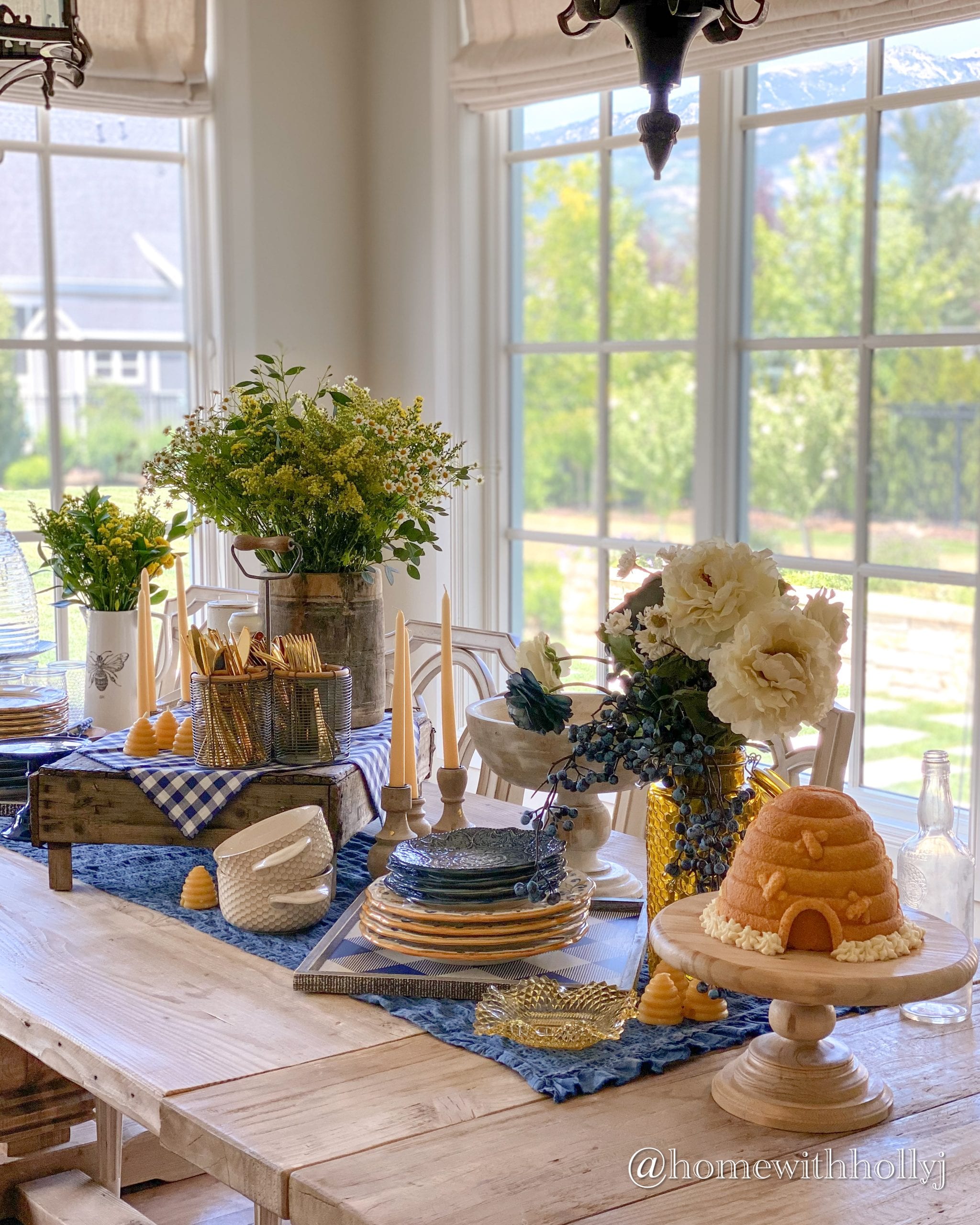 We live part time in Utah and one of the things I love most about this state is Pioneer Day, which is celebrated on July 24th every year! Utah is the Beehive State and it represents industry and people working together, much like bee's work together to build their beehive. This is where my Bee Themed Party Tablescape inspiration came from.
Disclaimer: This post does include affiliate links for your convenience. This is at NO additional cost to you but earns me a small commission. To read more, check out our disclosure policy.
When the Mormon pioneers journeyed west in the mid 1800's to settle in Utah, they all worked together to help one another survive. Some of those courageous people were my great grandparents and I feel a deep appreciation for the hardships they faced while starting a new life in what was and still is a desert.
Life was not easy for them and many had been driven from their homes and farms in the midwest and were persecuted for their religious beliefs. Many of them were converted to the Mormon church in England, Denmark, and Sweden and not only did they have to cross the plains to get to Utah, they had to cross the Atlantic Ocean first and make their way west to join the wagon trains in Nebraska and Illinois.
They faced some very difficult times while trekking west to this new territory of the United States. I can only imagine how hard that must have been. They pushed handcarts, pulled covered wagons, faced harsh weathers conditions, illness, women gave birth to children on the Great Plains, and many of the children had to walk the entire way. I remember reading a story about my one of my great grandmas and how her feet froze while walking and she got frostbite and lost part of her toes and feet.
I'm so grateful that I have been able to read many of their stories and learn so much about what they experienced. My mother is an avid genealogist and she has shared so much of the history and their stories with me. It's truly amazing! I can't count the number of times we have been driving through a little town in the middle of nowhere in Utah and Idaho and we stop and find a cemetery where one of our great grandparents were buried in. She would then tell me all about them and what their lives were like. What a gift that has been for me from my mother.
One of the most amazing things we discovered was that my husbands great, great, grandpa Jacob Fuhriman and his family that were from Switzerland, were in the same wagon train that crossed the plains with my great, great, grandparents, the Theussens, from Denmark. How incredible is that?!! We joke that they must have been matching making in heaven and found a way from above for my husband and I to meet.
Celebrating these amazing people who were my ancestors is always a special day and I love that we can celebrate them each year. Another reason I love Pioneer Day is it's another excuse for me to have a party! You all know how much I enjoy that if you've followed along for awhile.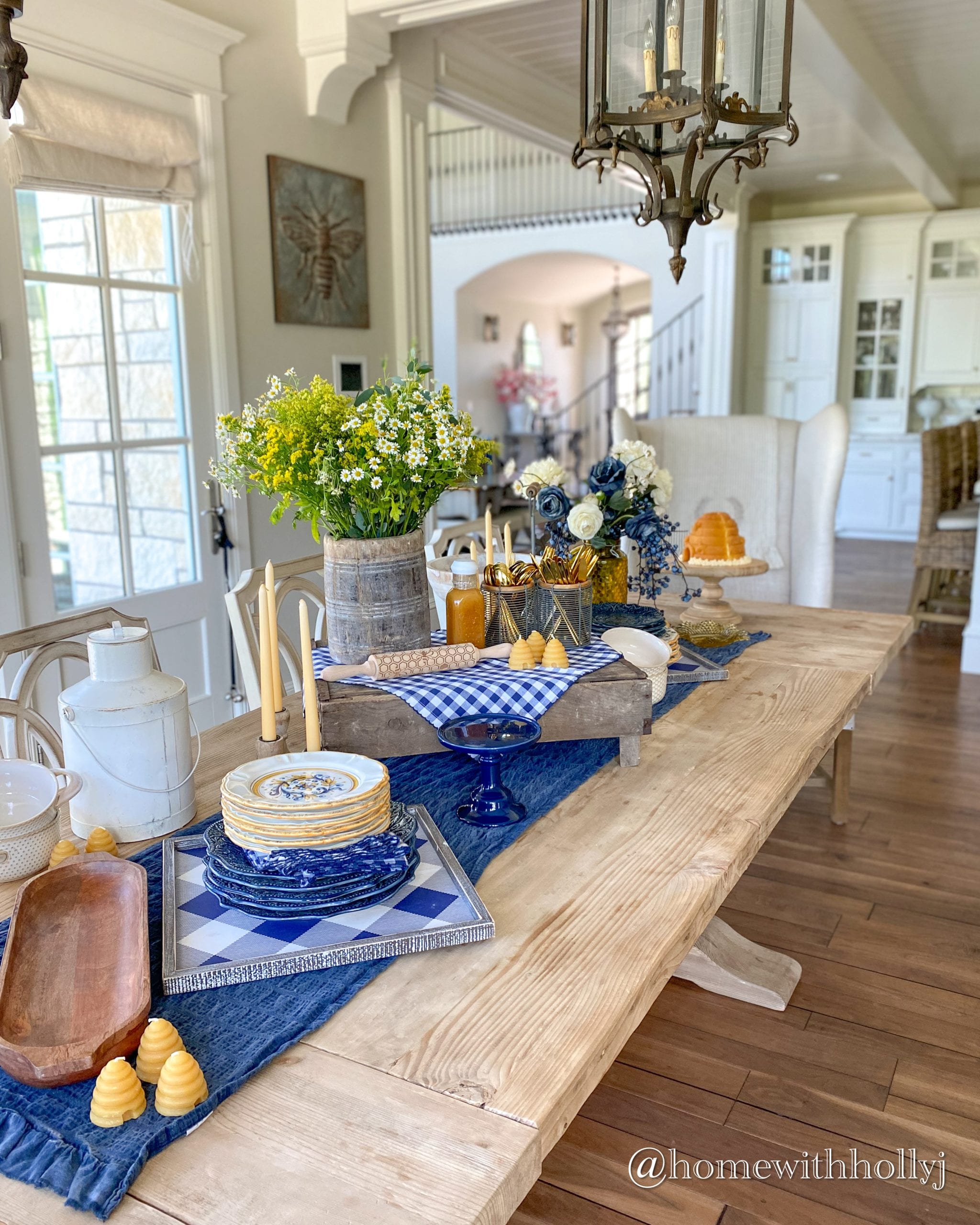 The Theme for this Years Party
As I mentioned earlier, Utah is the Beehive State so it was very easy to pick my theme for the party. ! I have been planning this Beehive Themed Party Tablescape for the last six months. I started collecting everything I could find for this tablescape with a bee or beehive.
(I will link everything I used that is linkable at the bottom of the post.)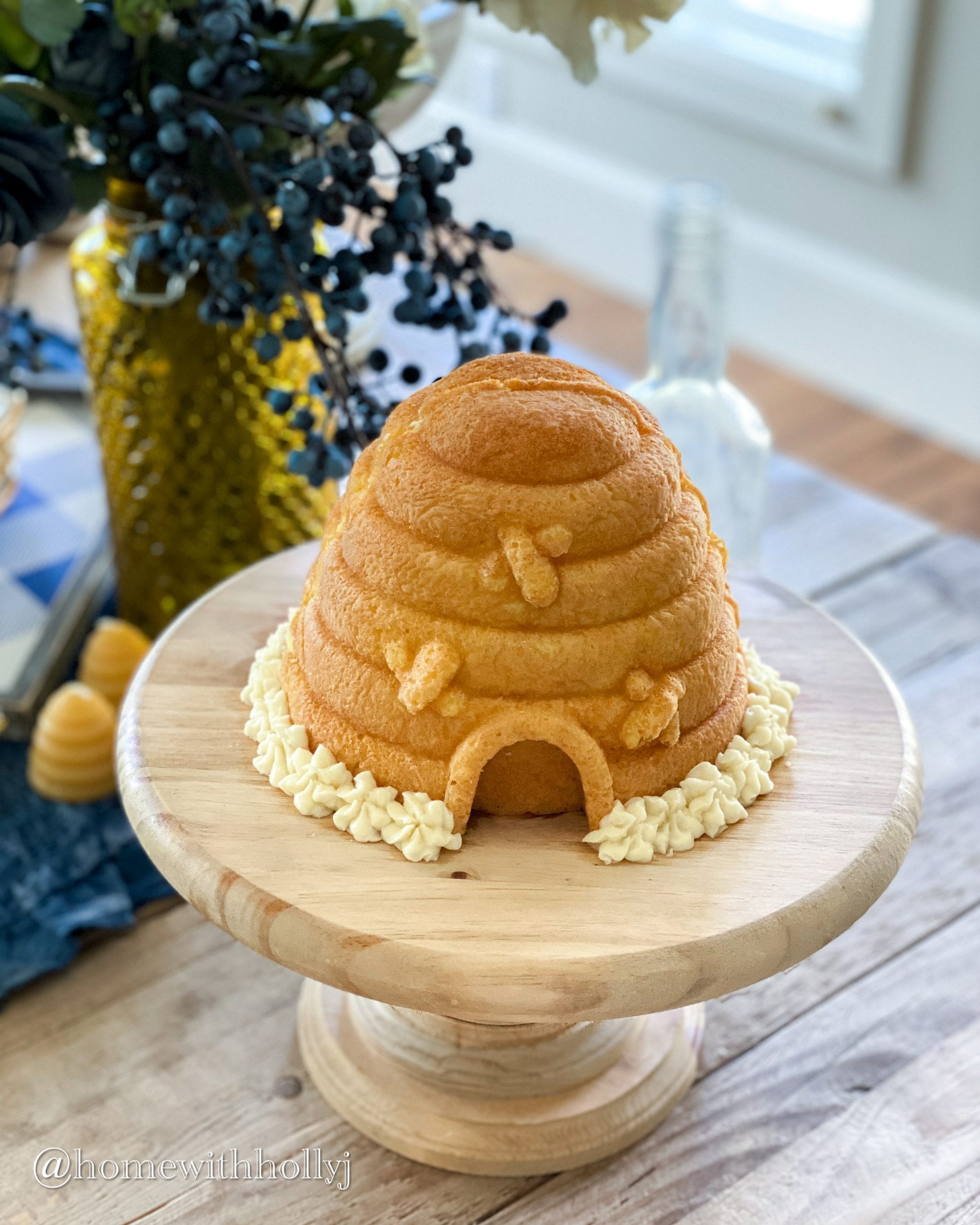 One of the first things that I found for this tablescape was the beehive cake mold pans. This cake was so easy to make and I was really worried it would be so hard to make. To make this cake, you bake it in two halves, then stick them together with frosting. I used two lemon cake mixes and added a small box of lemon instant pudding to the the cake batter along with an extra 1/4 cup of oil. I had planned on drizzling some honey-lemon glaze on top but I ran out of time and so I just piped some lemon buttercream frosting around the edges. The pan is linked here and comes with instructions and a recipes as well. I also made some mini beehive cakes in the smaller cakelett pan.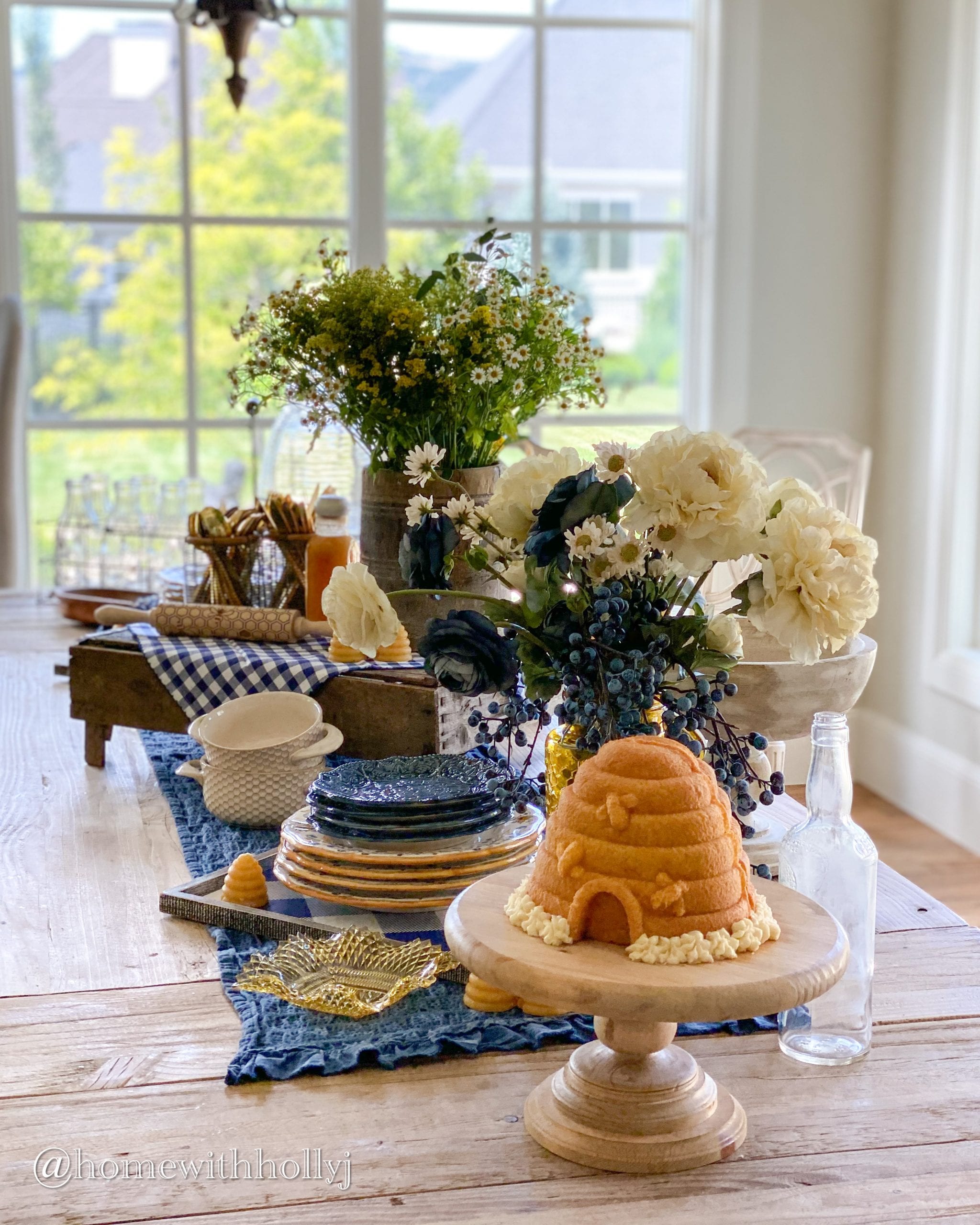 Setting the Table Up Ahead of Time
I always try to set the table up ahead of time. I start pulling out all the decorations and setting them out so I can see what I have to work with. I had made the cake the day ahead so I put a glass dome lid over it to keep it from drying out. This is the stage that I start "playing around" with all the items I want to use on the tablescape.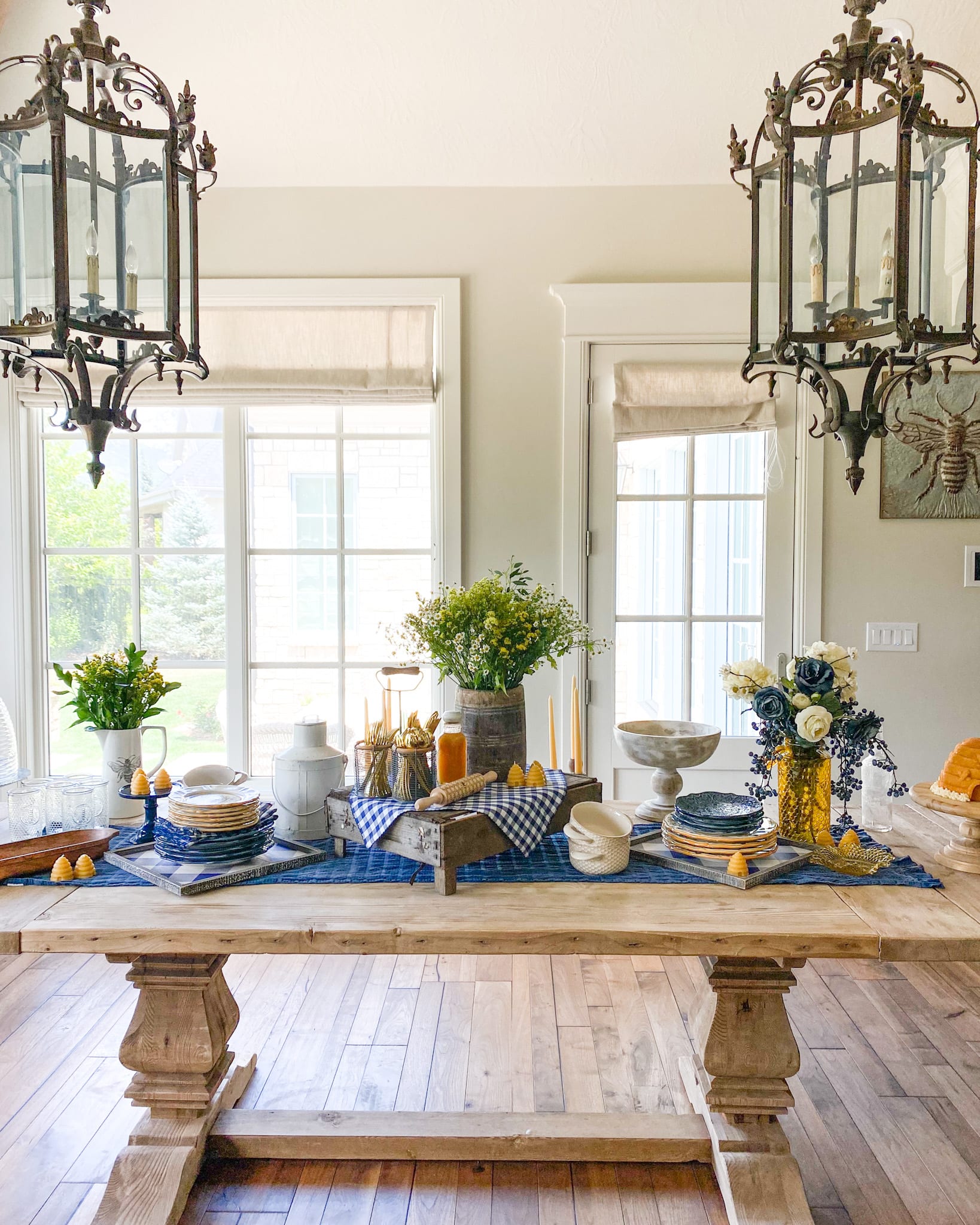 Add Rustic, Vintage, and Antique Elements
I wanted there to be some rustic, vintage, and antique elements on the table which for me, always involves some old wood or something new that looks rustic and old. I also chose blue and yellow since a beehive is a yellow color. The blue gingham napkins set beside yellow looked very "pioneer-ish" to me. I also added this yellow antique dish which I filled with jam on the day of the party.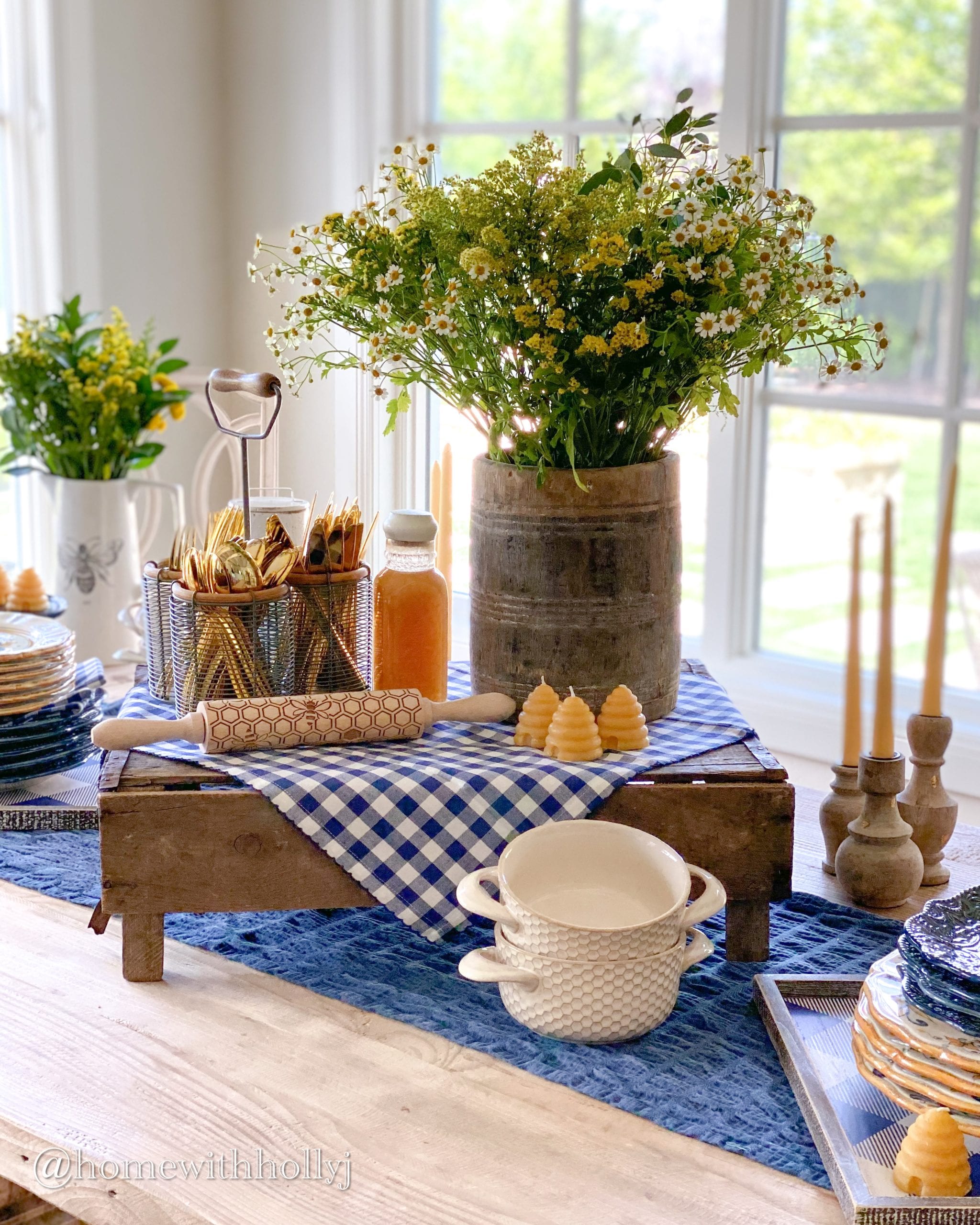 Create Different Heights
When I do a large serving tablescape like this one, I like to use things that add height. Here I used an antique honeypot that I bought online here and used it as a vase for the flowers. I set a glass vase inside of it to hold the water as I didn't want to damage it. I used yellow and green flowers that looked like something you just picked from a field of wildflowers.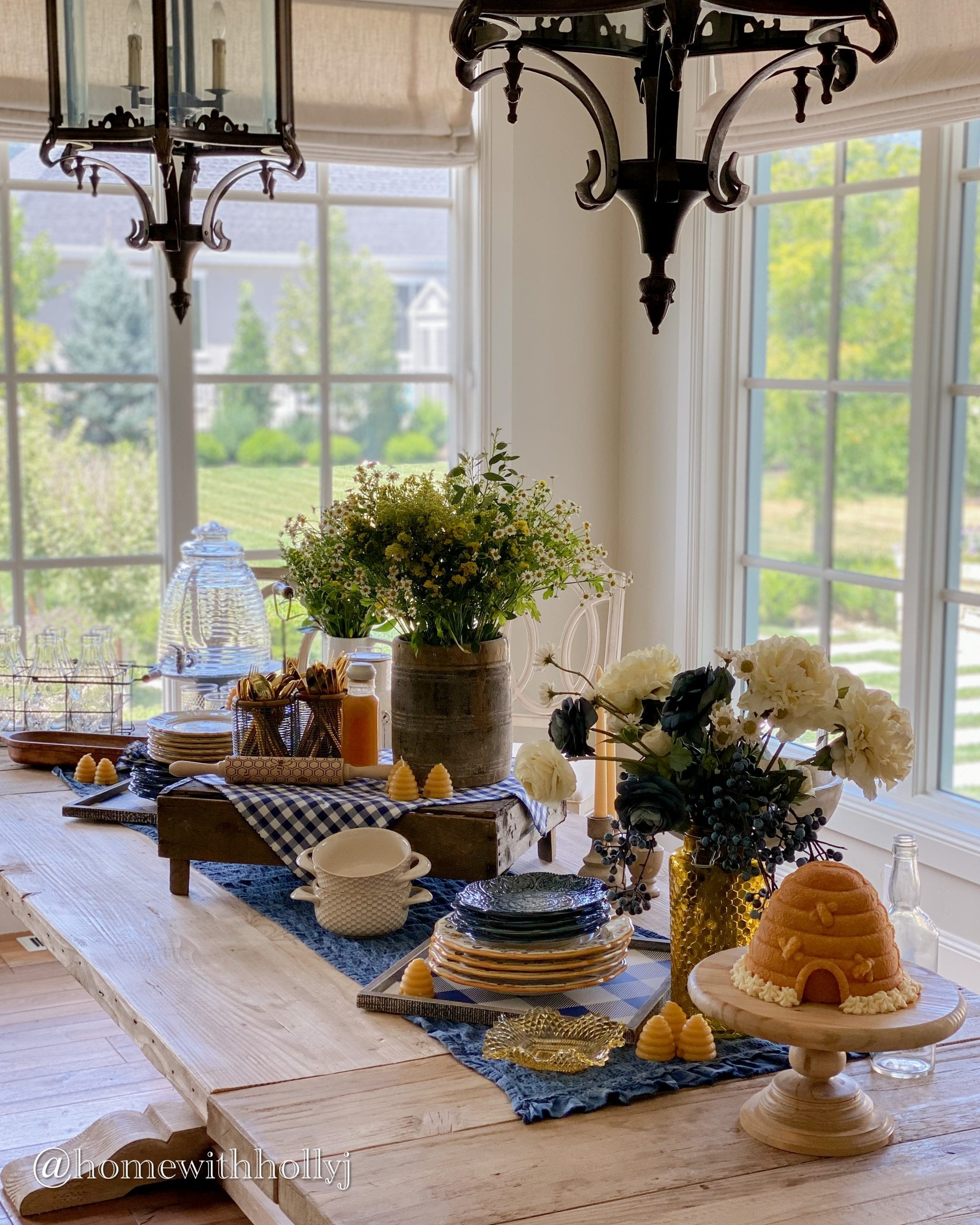 Some of the other fun elements I found for the table were the honeycomb bowls, the honeycomb rolling pin, beehive candles, and the beehive drink dispenser. I also found this cute beehive pitcher that I filled with the leftover flowers and these honeycomb glasses. (links below)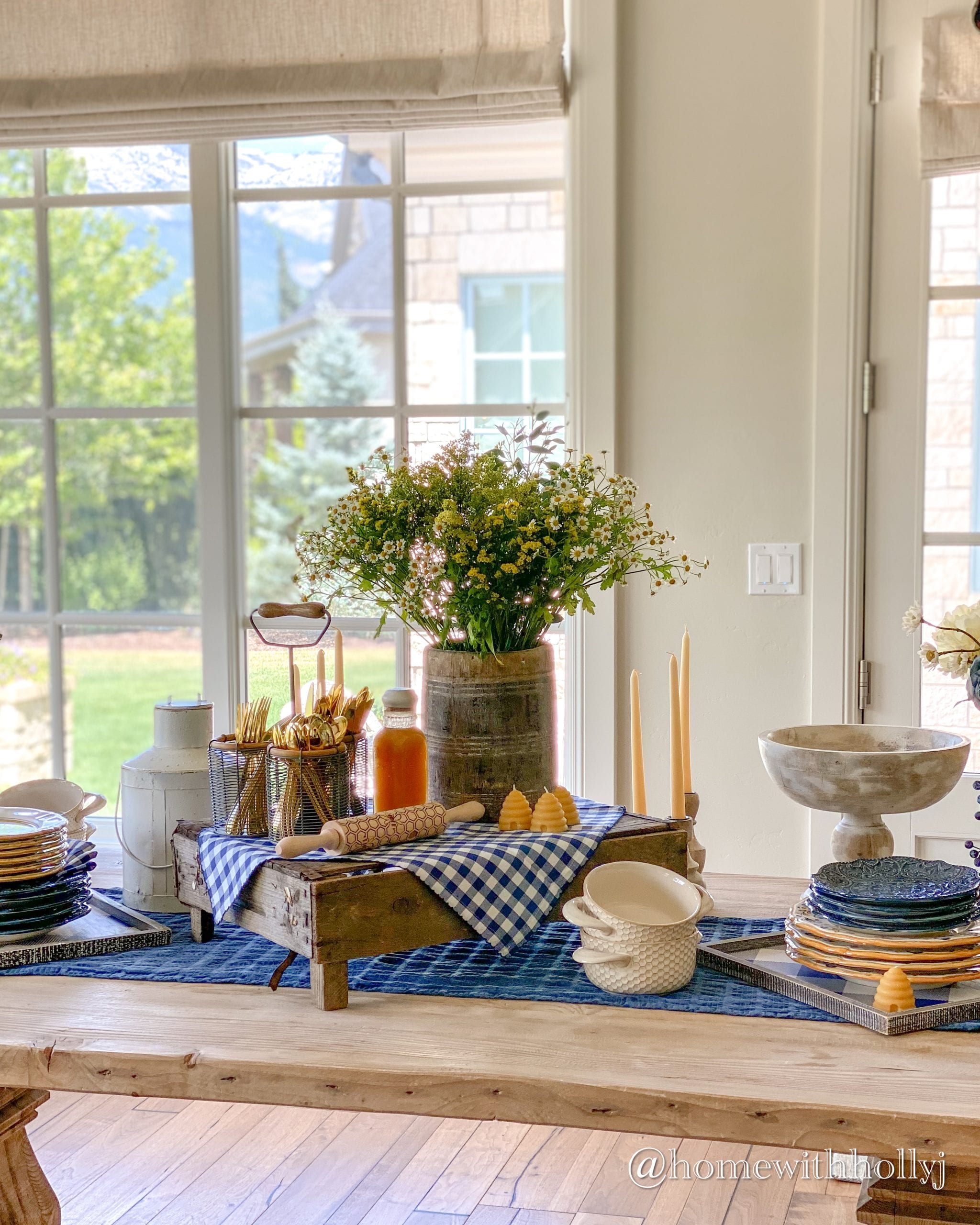 I used a metal cutlery holder with a wood handle and used shiny gold plastic silverware. I also found an old milk container at an antique store a few weeks before this and planned to fill it with flowers too but it was a bit much so I just set it on there to add some height and dimension to the table.
The Menu
Fried Chicken Tenders (I ordered a platter of chicken from Chick-fil-a)
Stans Homemade Scones and Honey Butter (Click here for my recipe)
Banana Pudding
Baked Beans (Click here form my recipe)
Watermelon
Lemon Pudding Beehive Cake and Cakeletts
Custom Made Beehive and Bee Cookies from Victorias Cookie Co.
For this party, we invited all of our family in Utah to come and asked each of them to bring a side dish to share. We had some much amazing food on top of all the things I made. It was truly an old fashioned pioneer potluck. To simplify things for such a large group, I opted to order the chicken so I didn't have to cook that while prepping for the party.
The Day of the Party
On the day of the party, I mainly focused on preparing the food and finishing the set up. It's a tradition to have scones and honey butter on Pioneer Day. In Utah and Idaho, they call fried bread, scones. I don't know how this came about but I think it dates back to pioneer frying dough when they didn't have an oven to bake it in. All I can tell you is that my recipe above is amazing and it has quite a story of how it came about.
We set the food table up on our big dining table inside since we don't have a lot of shade in our backyard. This kept the food cool inside and we set up tables and chairs under some shade tents outside for everyone.
We enjoyed visiting with our extended family and everyone said how much they loved it and hoped we'd do it again next year! It's a tradition now and I can't wait to see what I come up with next year!
Here is a peek at a past Pioneer Day Party Tablesape that I did with my friend Ashely from livingbeautahfully.com. Our theme was "Pie-oneer Day" and everything was Pie themed including the cakes! This was one of my favorite tablescapes ever and all the food we made tasted as good as it looked!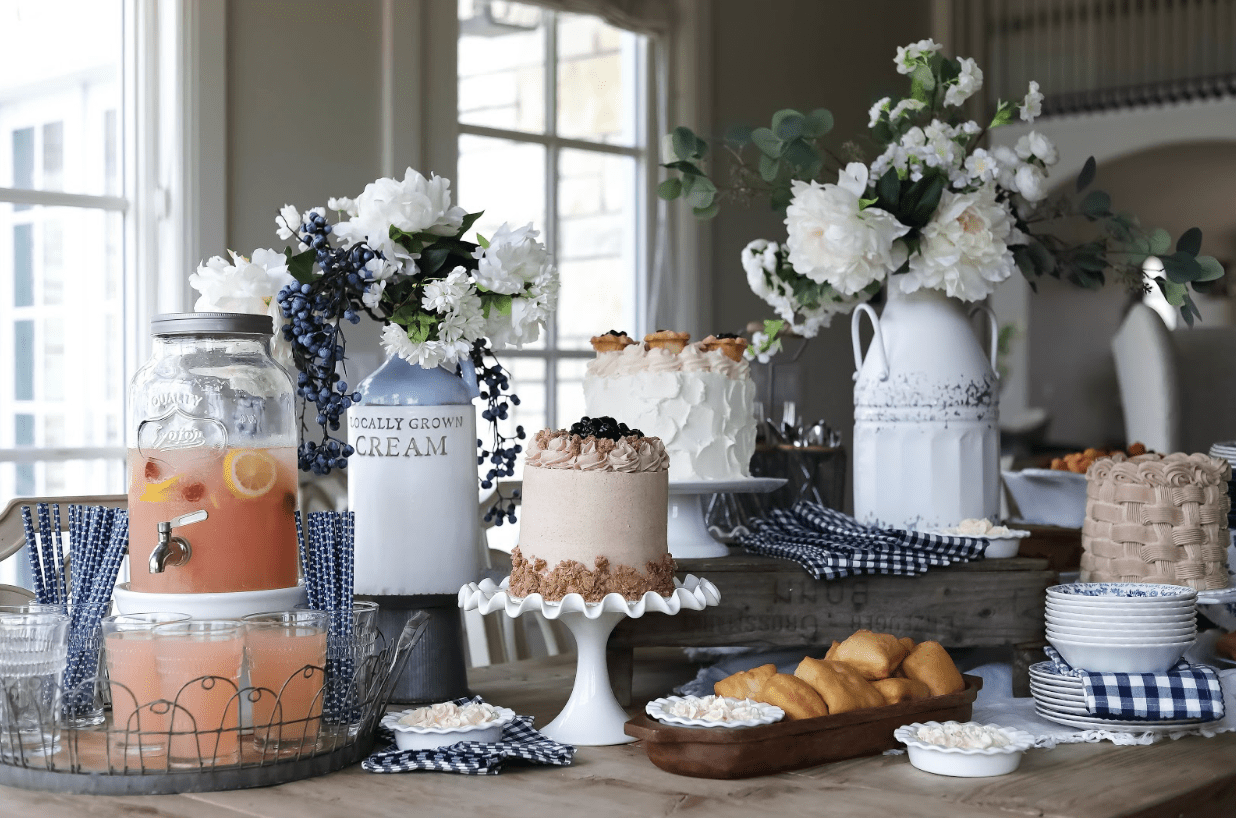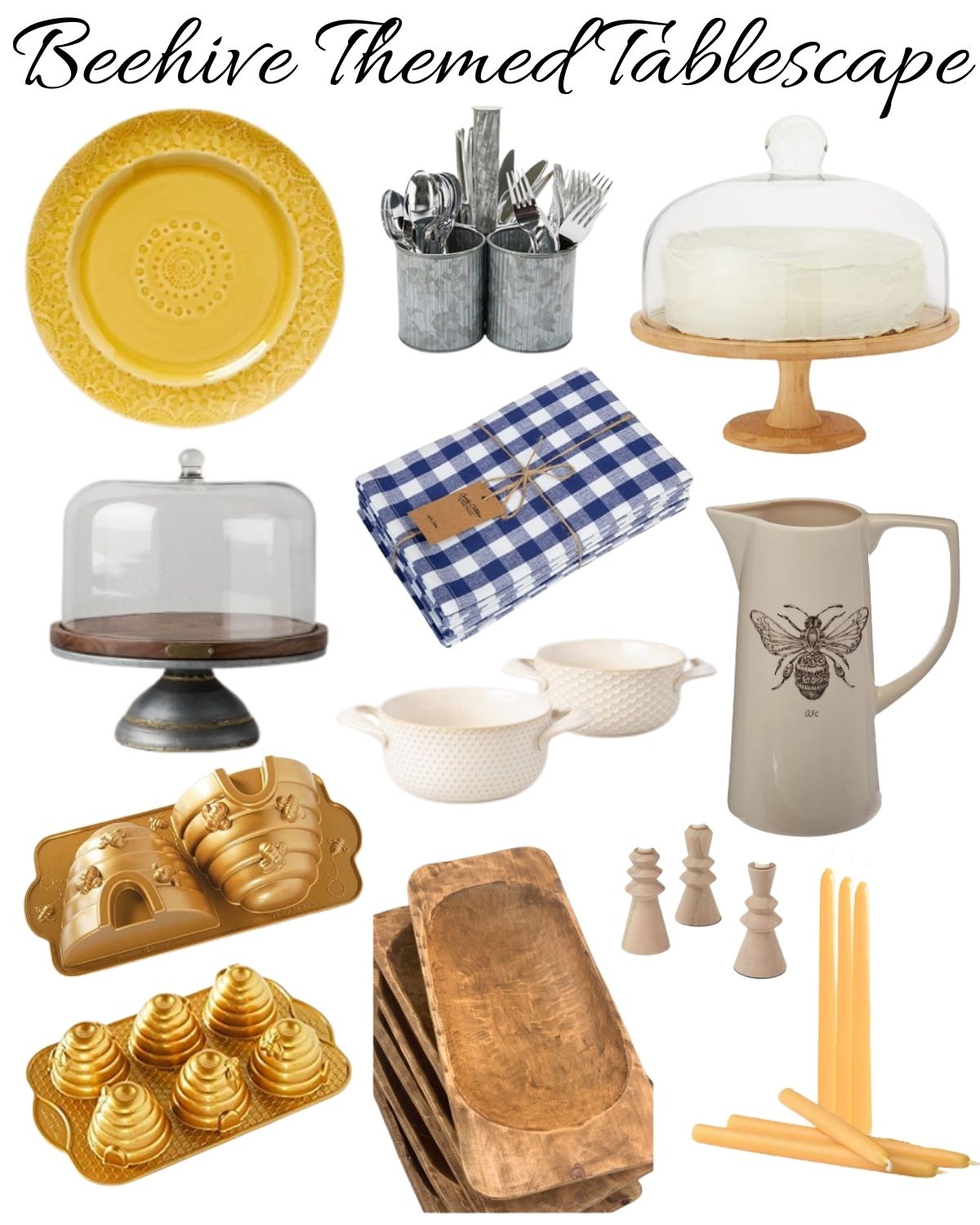 PIN THIS FOR LATER: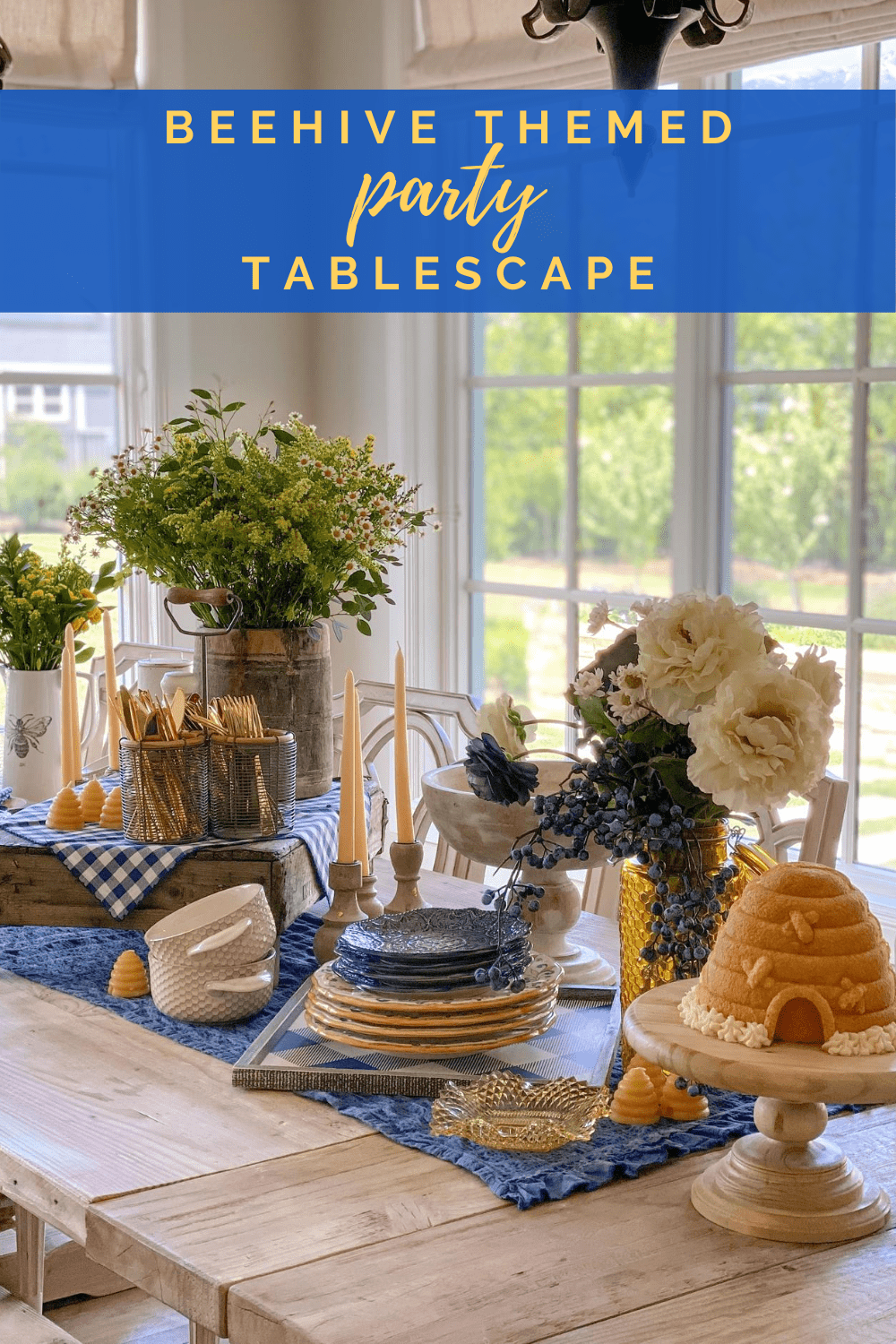 I hope you enjoyed seeing this fun Pioneer Day Beehive Themed Party Tablescape and that it inspires you do create your own family traditions centered around your heritage.
XOXO,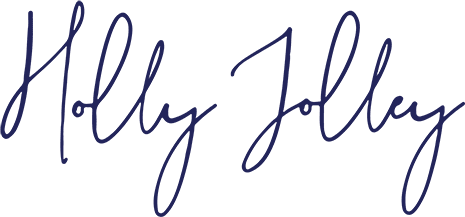 Sources linked below:
This post contains affiliate links.

Pin This For Later