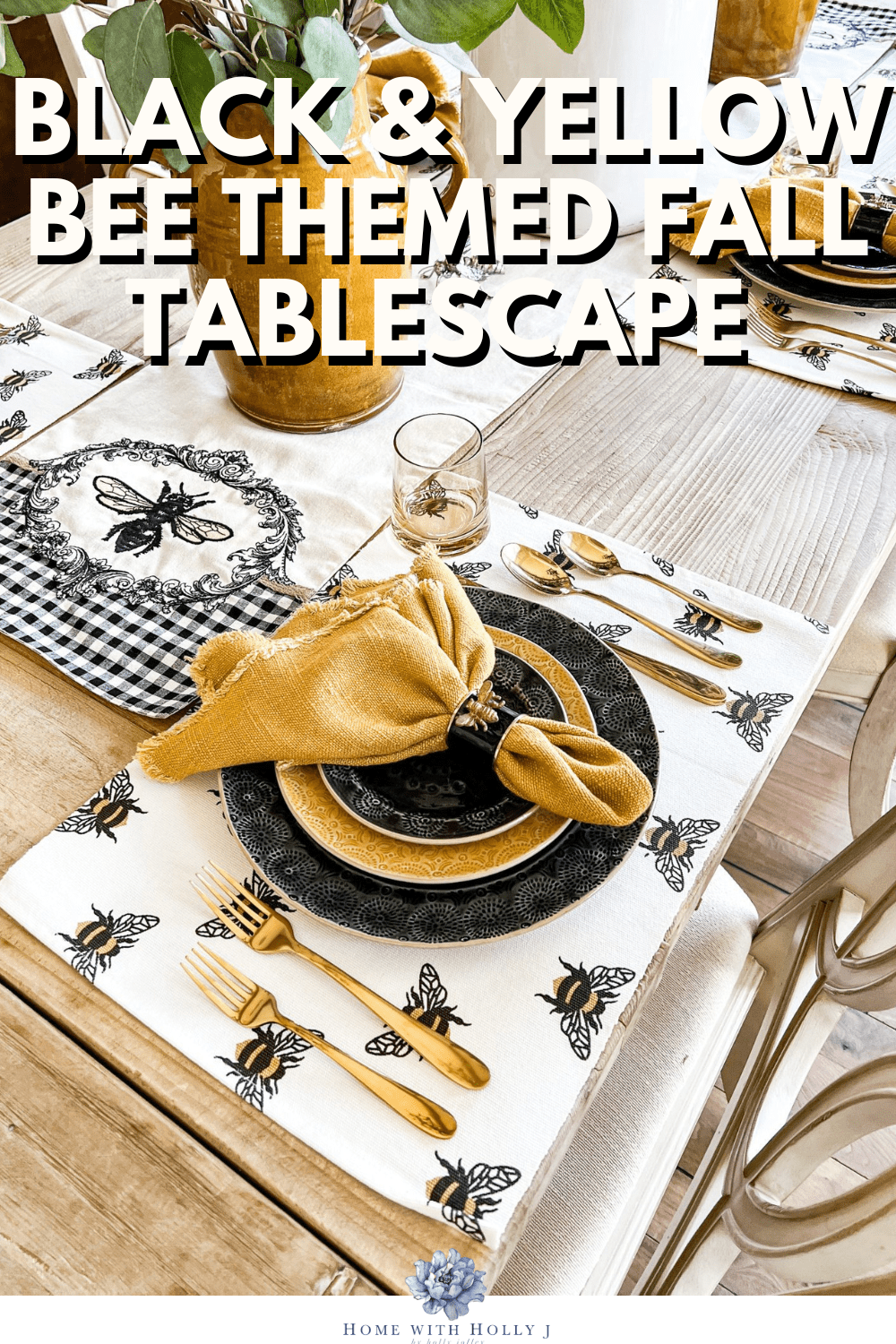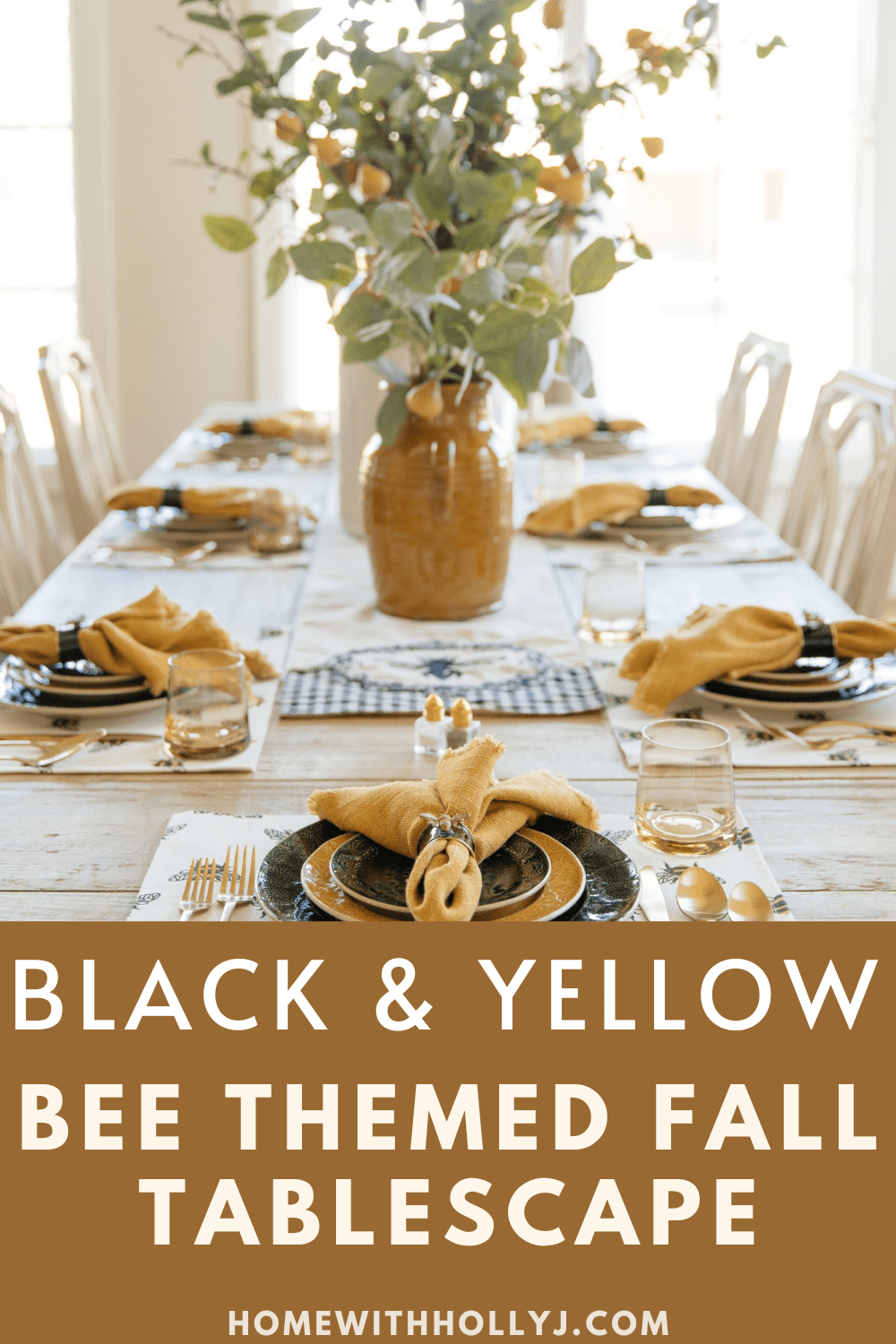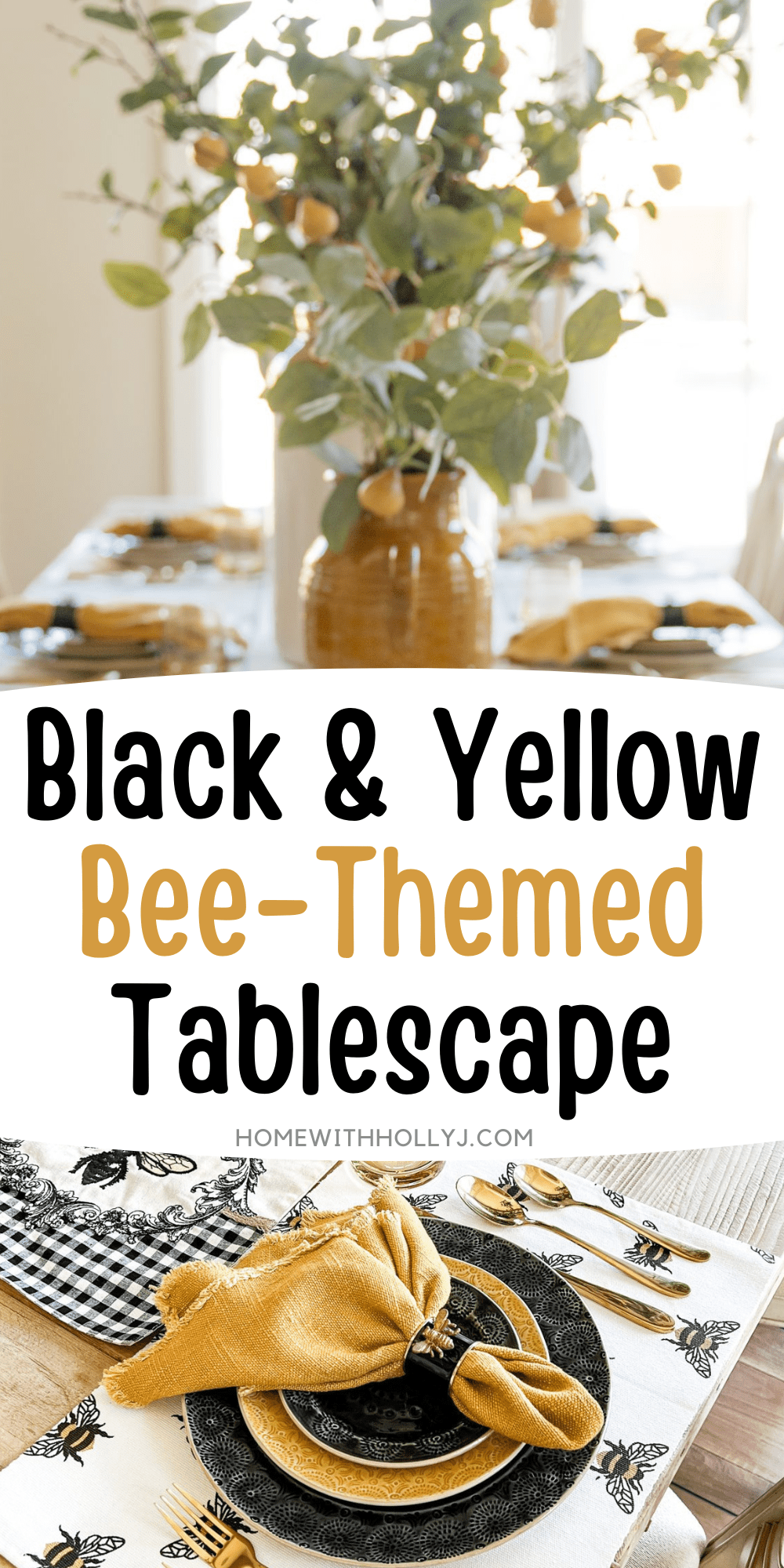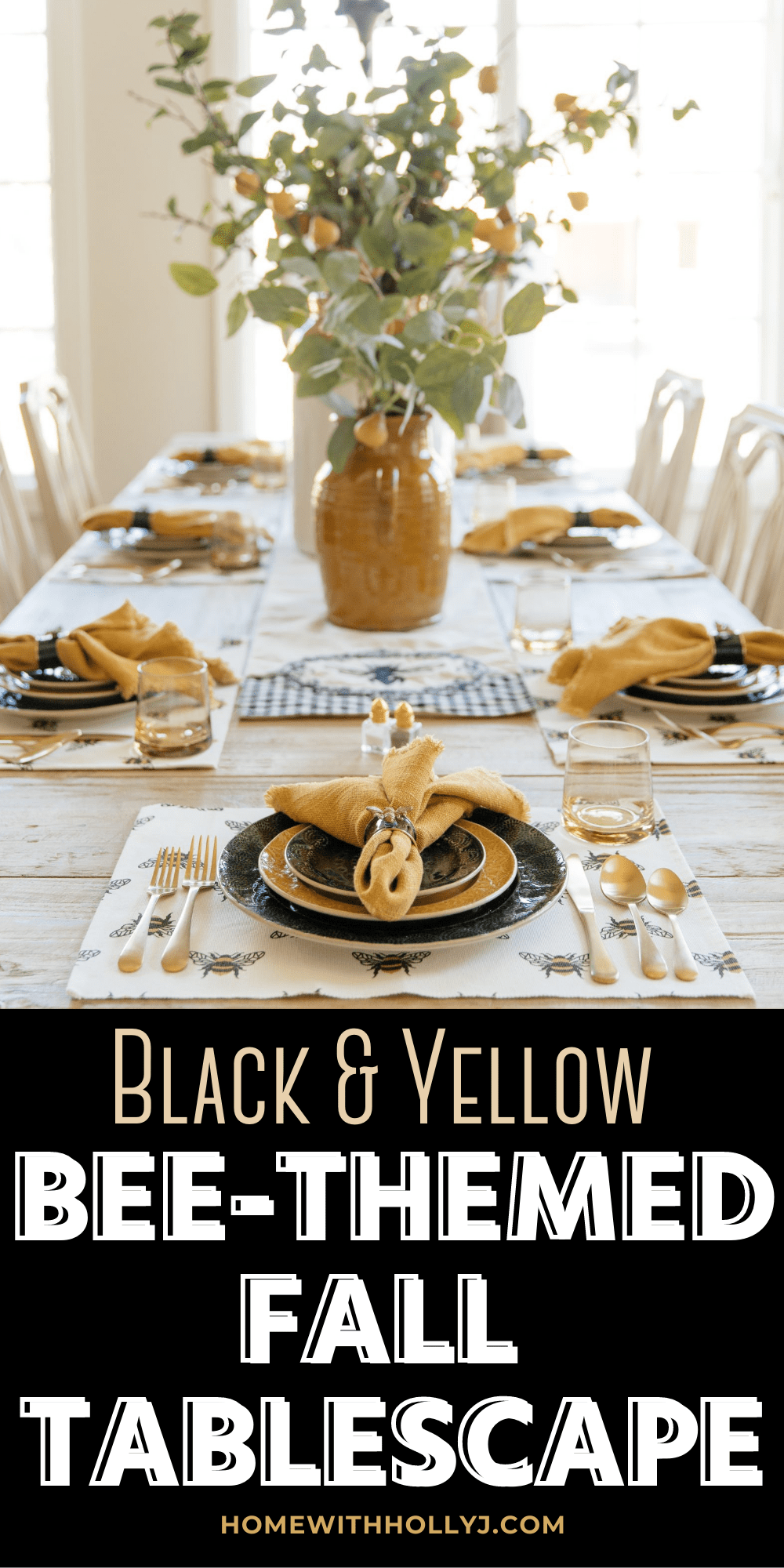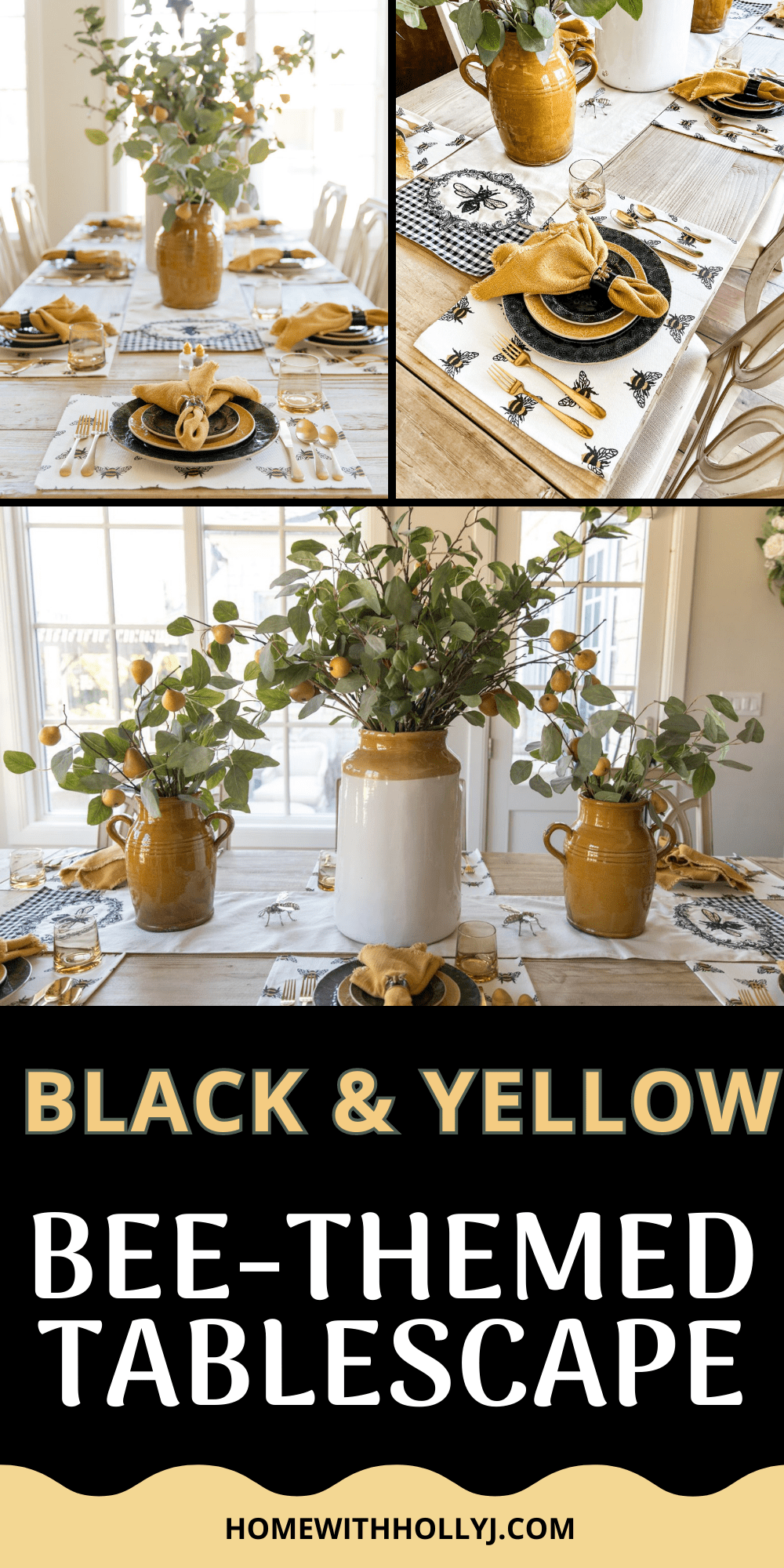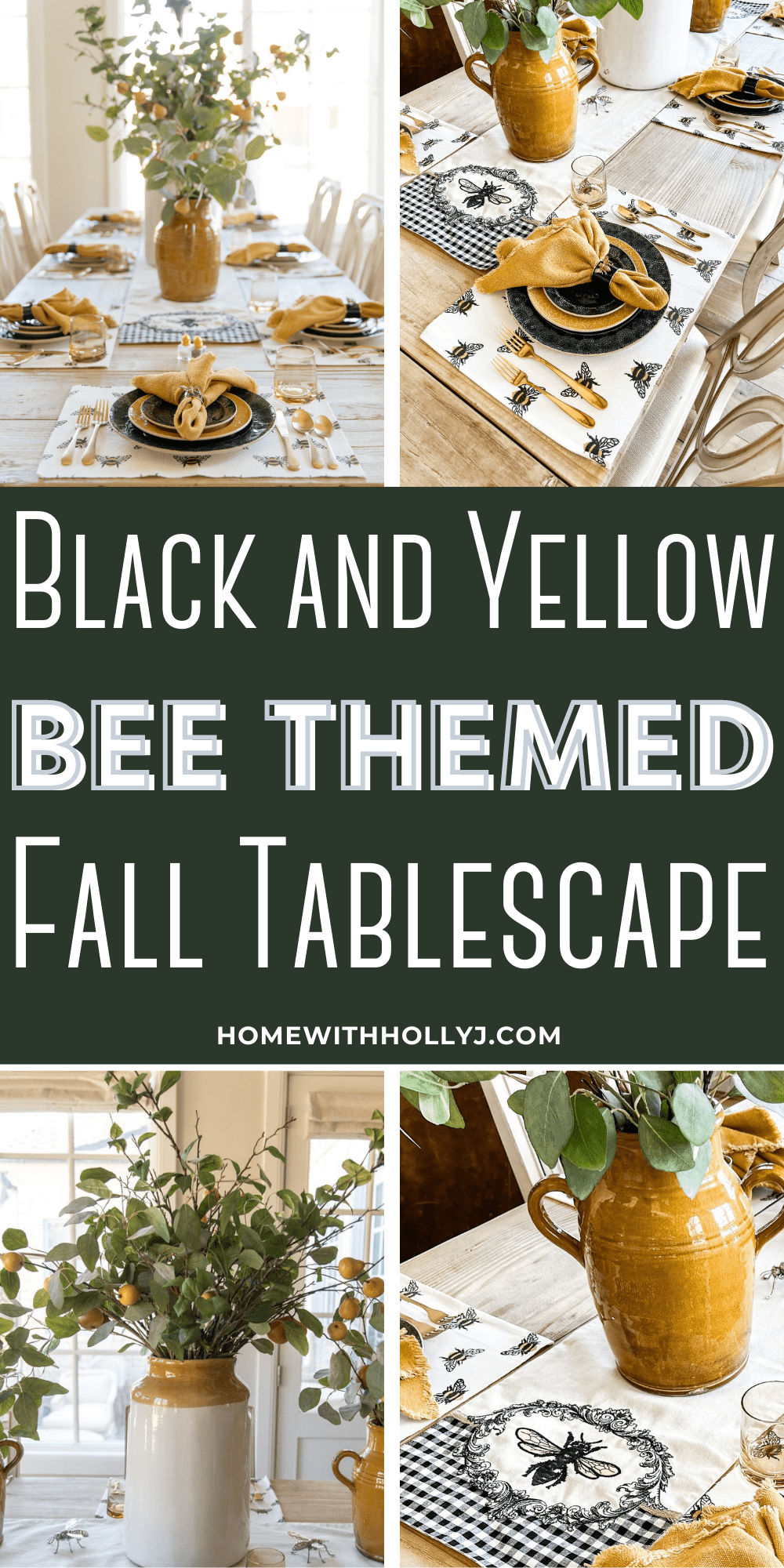 This Black and Yellow Bee Themed Fall Tablscape is perfect as we transition from summer to fall decor or bee themed party decor.

Black and Yellow Bee Themed Fall Tablescape
I'm sharing my transition from summer into fall tablescape today. This Black and Yellow Bee Themed Fall Tablescape was so much fun to create! I love the color scheme and all the little details that make it so charming.
(All Sources will be linked at the bottom of the post)
Disclaimer: This post does include affiliate links for your convenience. This is at NO additional cost to you but earns me a small commission. To read more, check out our disclosure policy.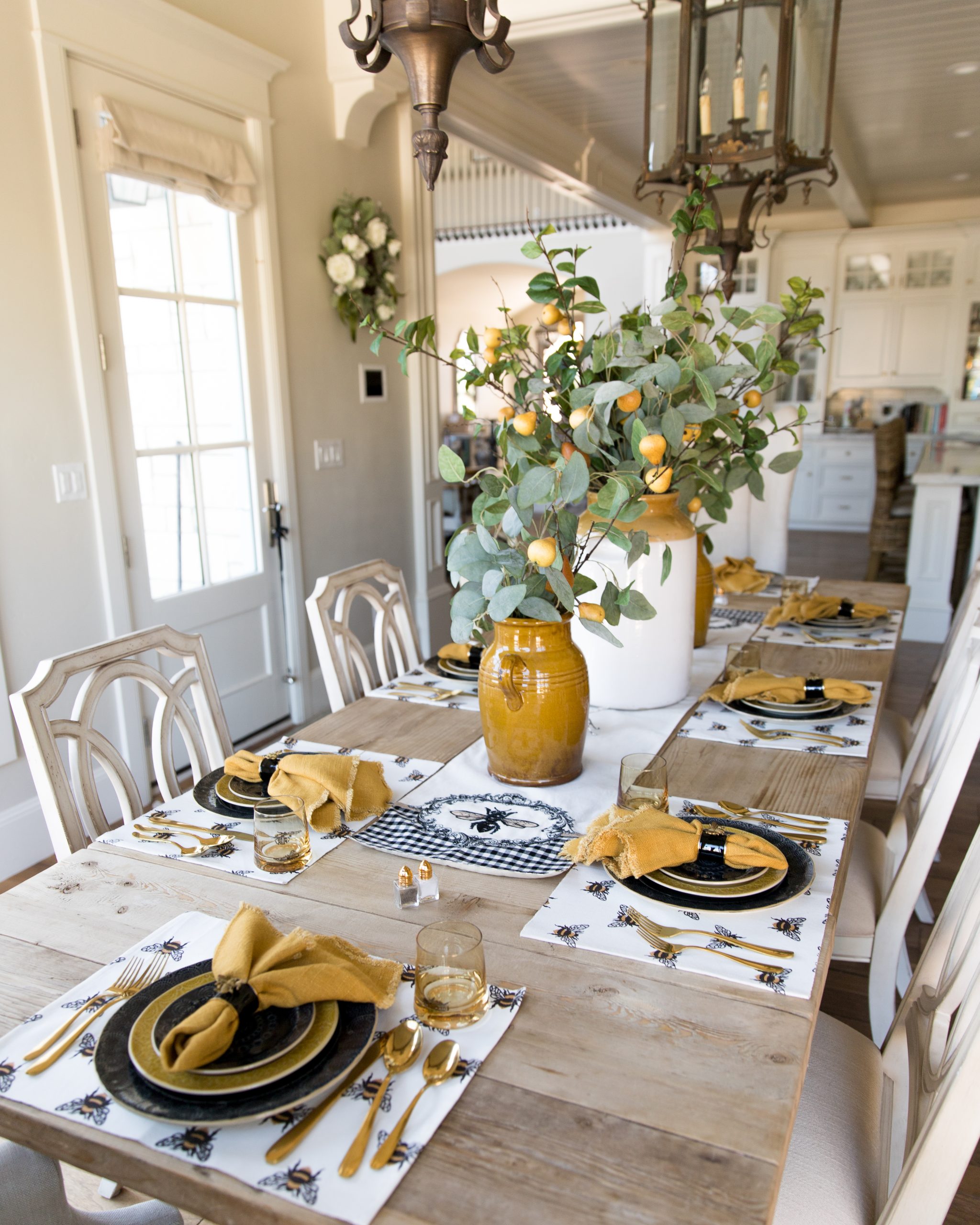 Every July I set a bee or beehive themed table to celebrate Utah's Pioneer Day holiday. Utah is the Beehive State and every year on the 24th of July they celebrate the Pioneers that crossed the plains and settled in Utah. I was out of town for this years holiday, but I had all this adorable bee themed table decor so I decided to set the table and use it as my summer-transition into fall tablescape.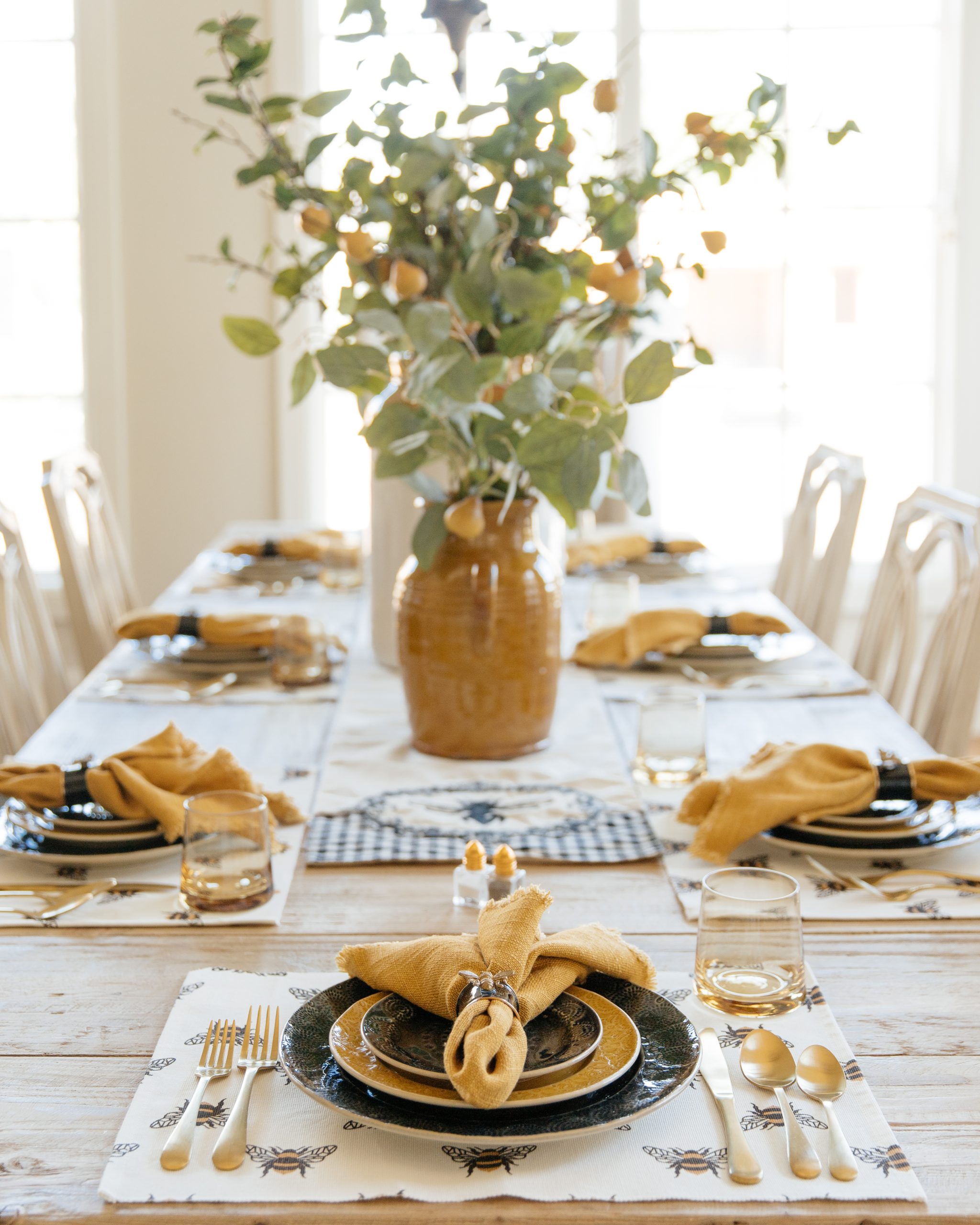 Black and Yellow Bee Themed Tablescape Place-Setting
For the place-setting, I used these bee placemats, gold flatware, black and mustard yellow dinnerware, a mustard yellow linen napkin, black and gold napkin rings with a gold bee, and amber glassware.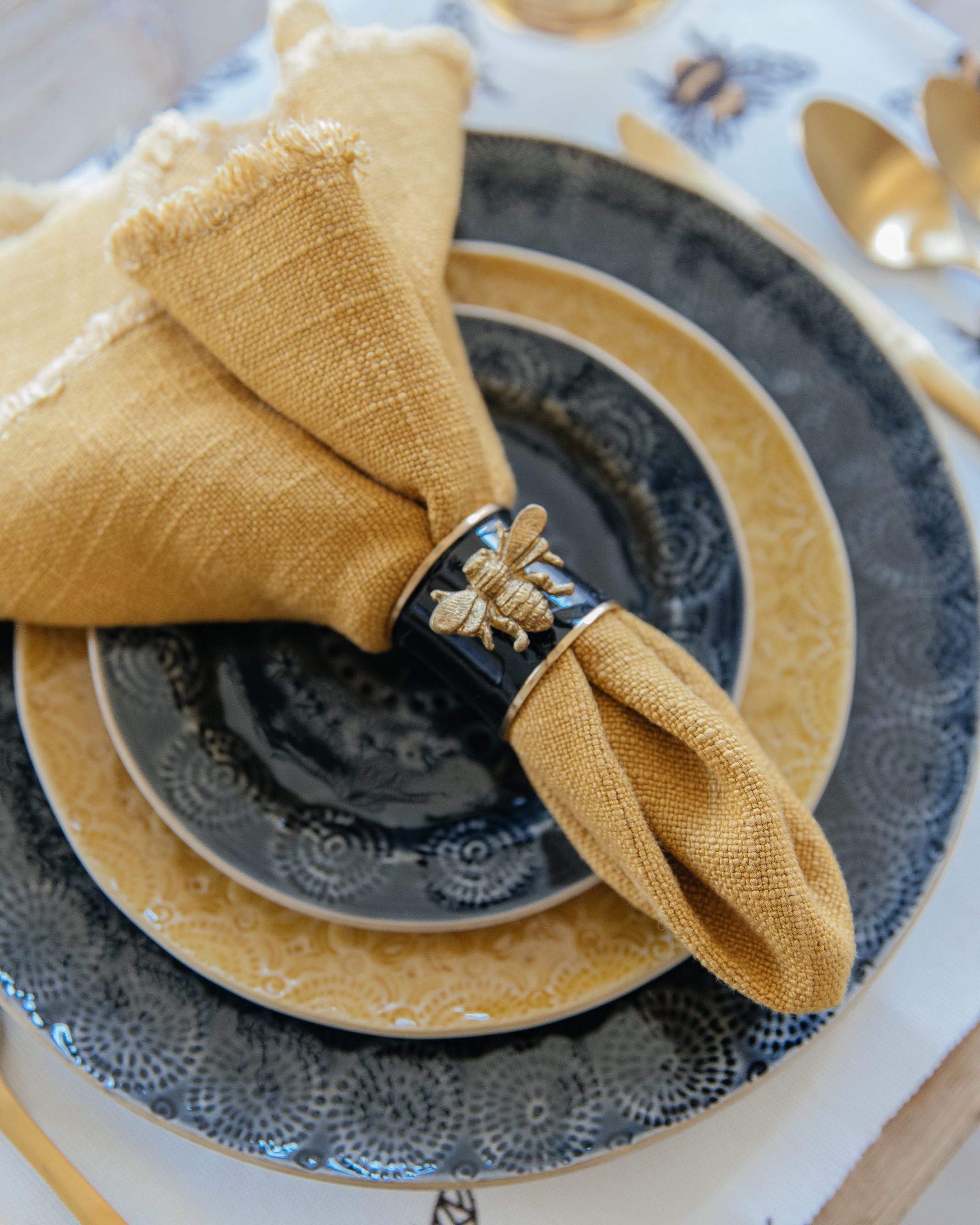 I made the bee napkin rings by hot-glueing a bee magnet onto the black and gold napkin ring.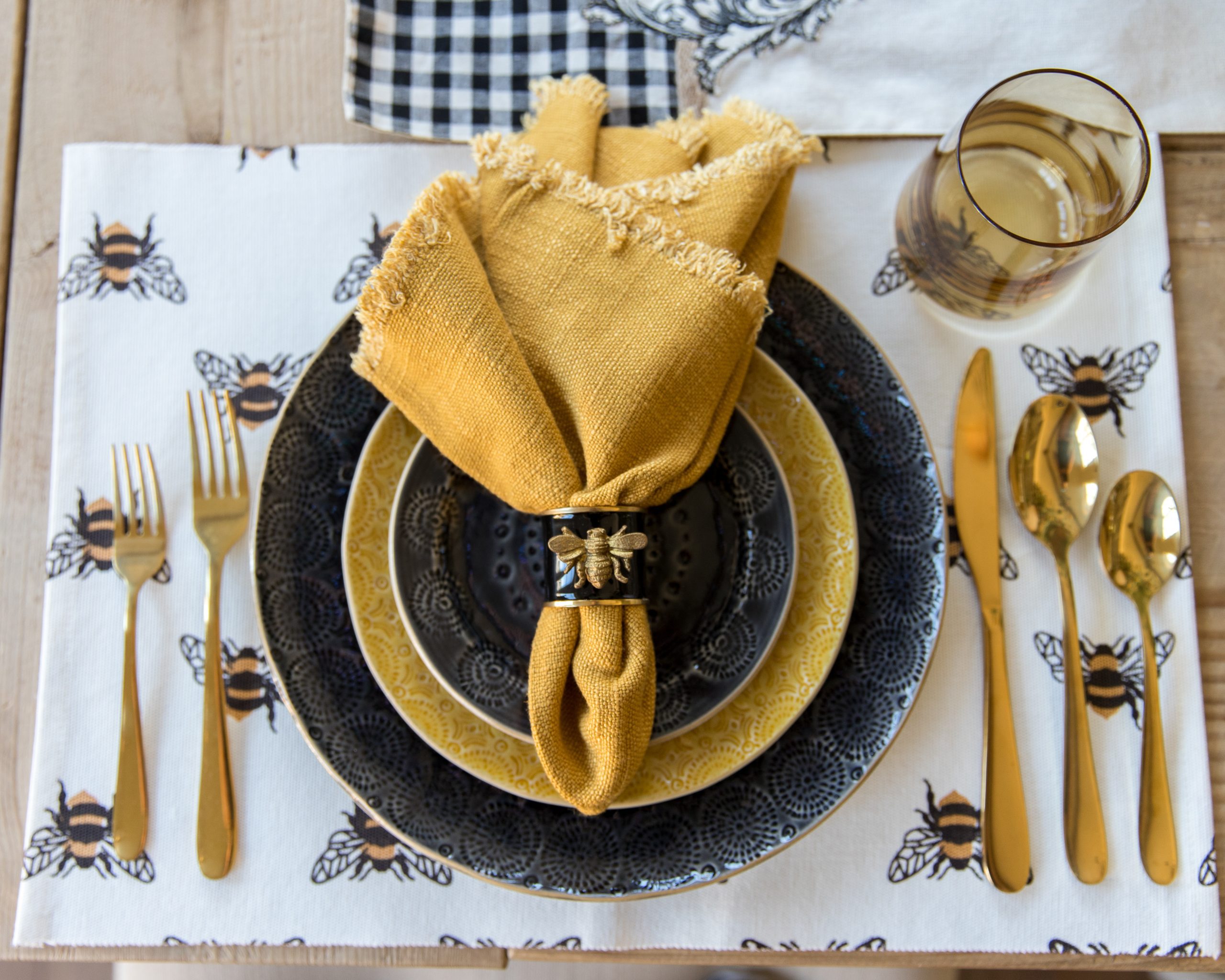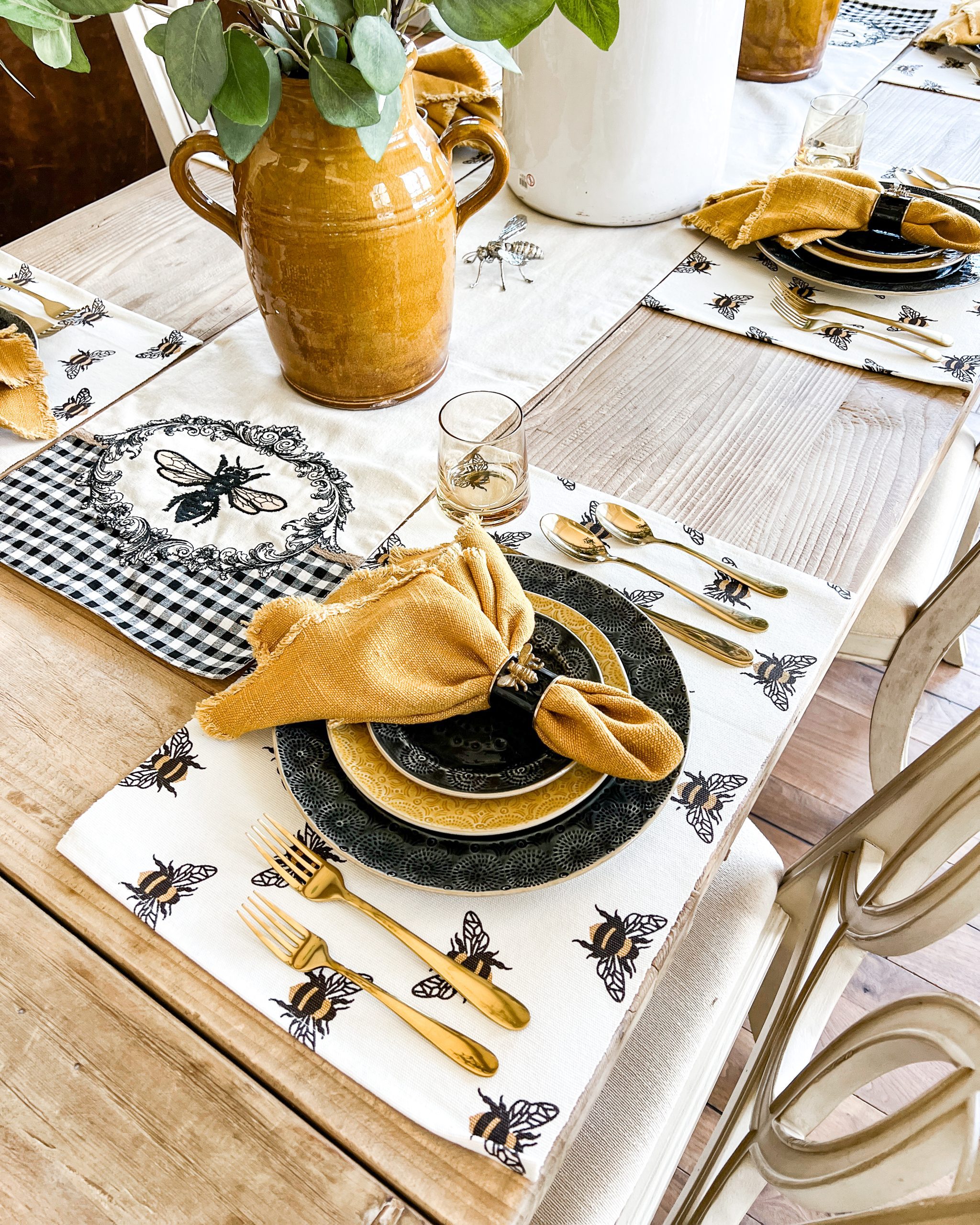 Bee Themed Tablescape Centerpiece
I used a matching bee themed table runner and used some large stoneware jars for the centerpiece. I filled them with faux greenery and pear branches.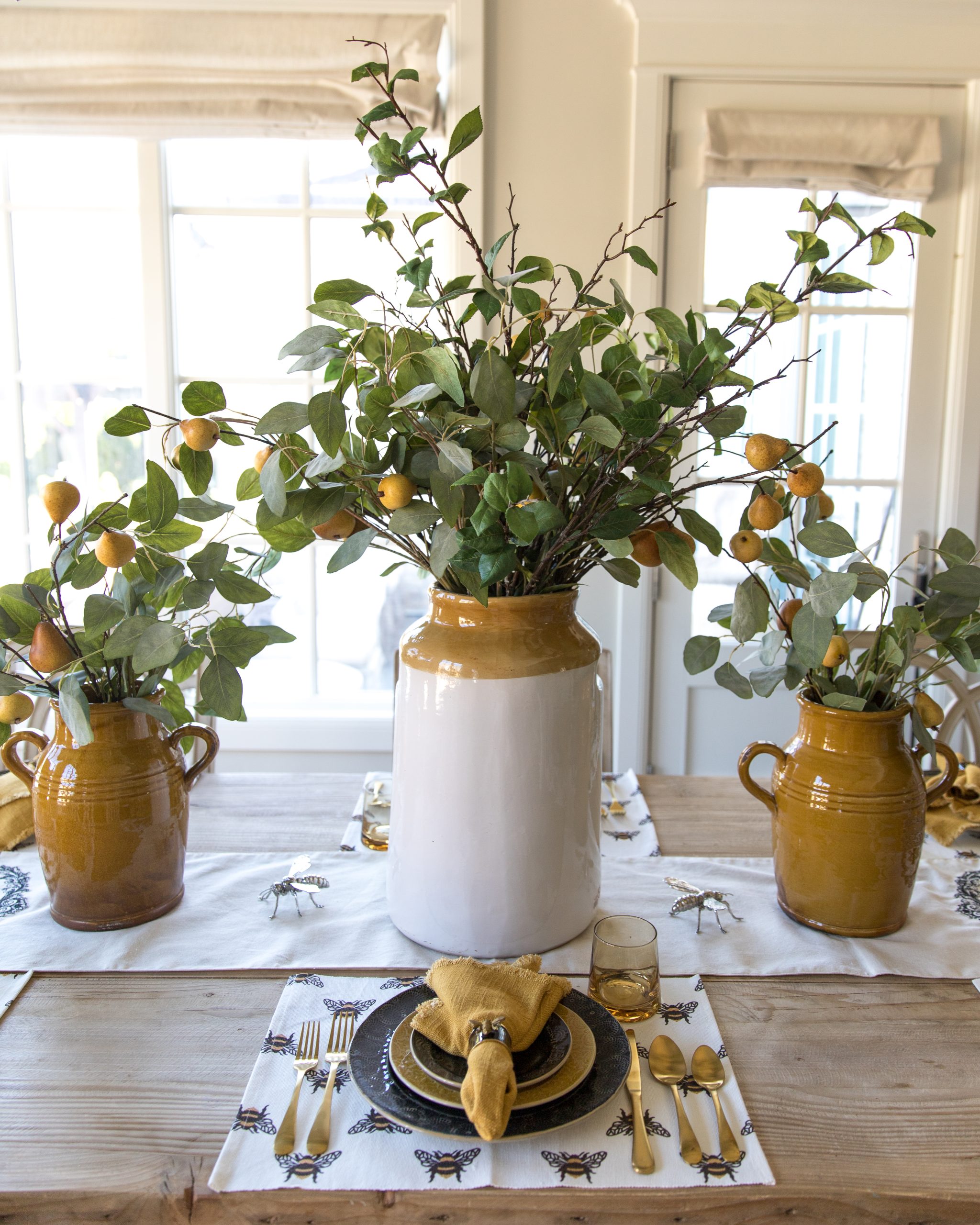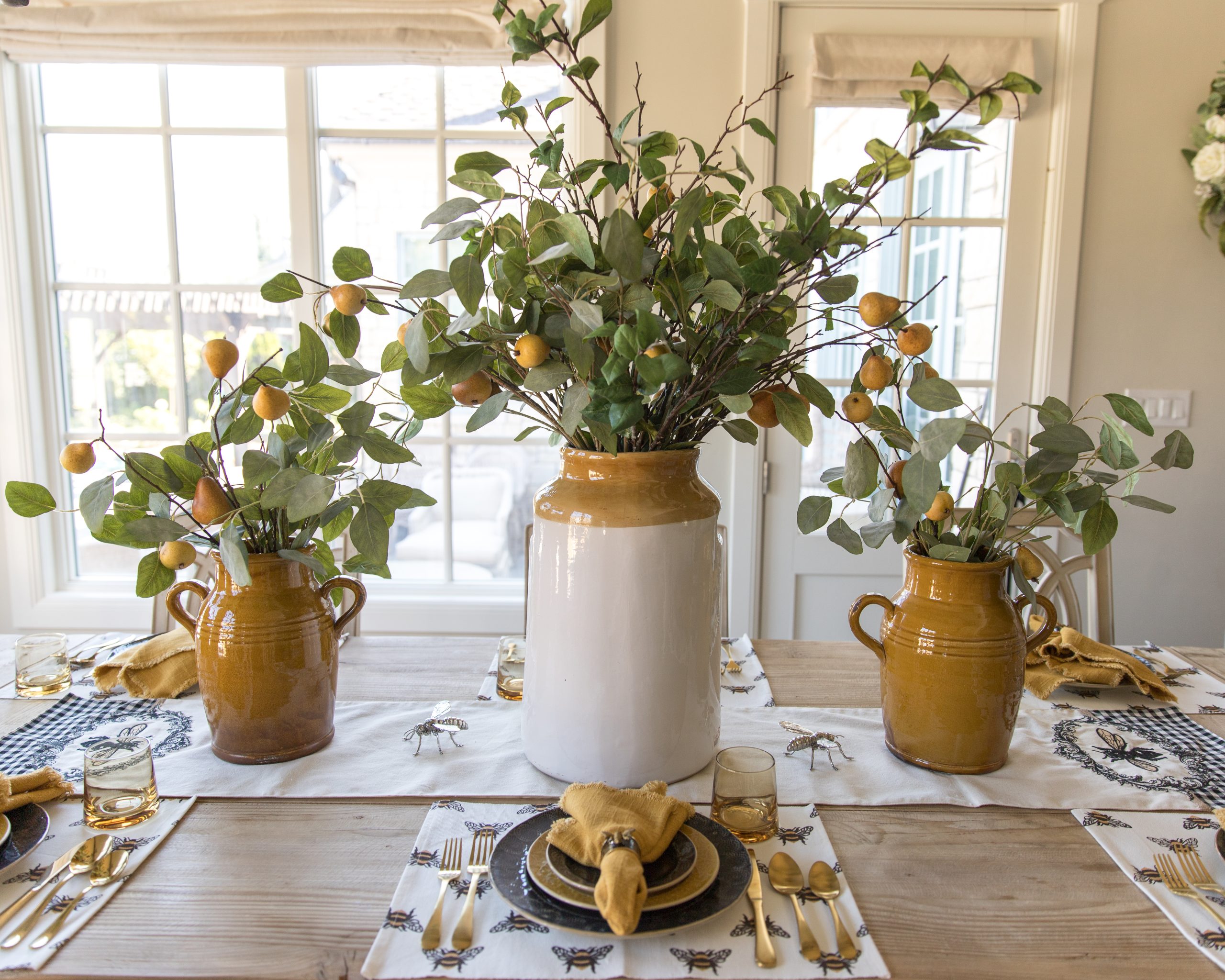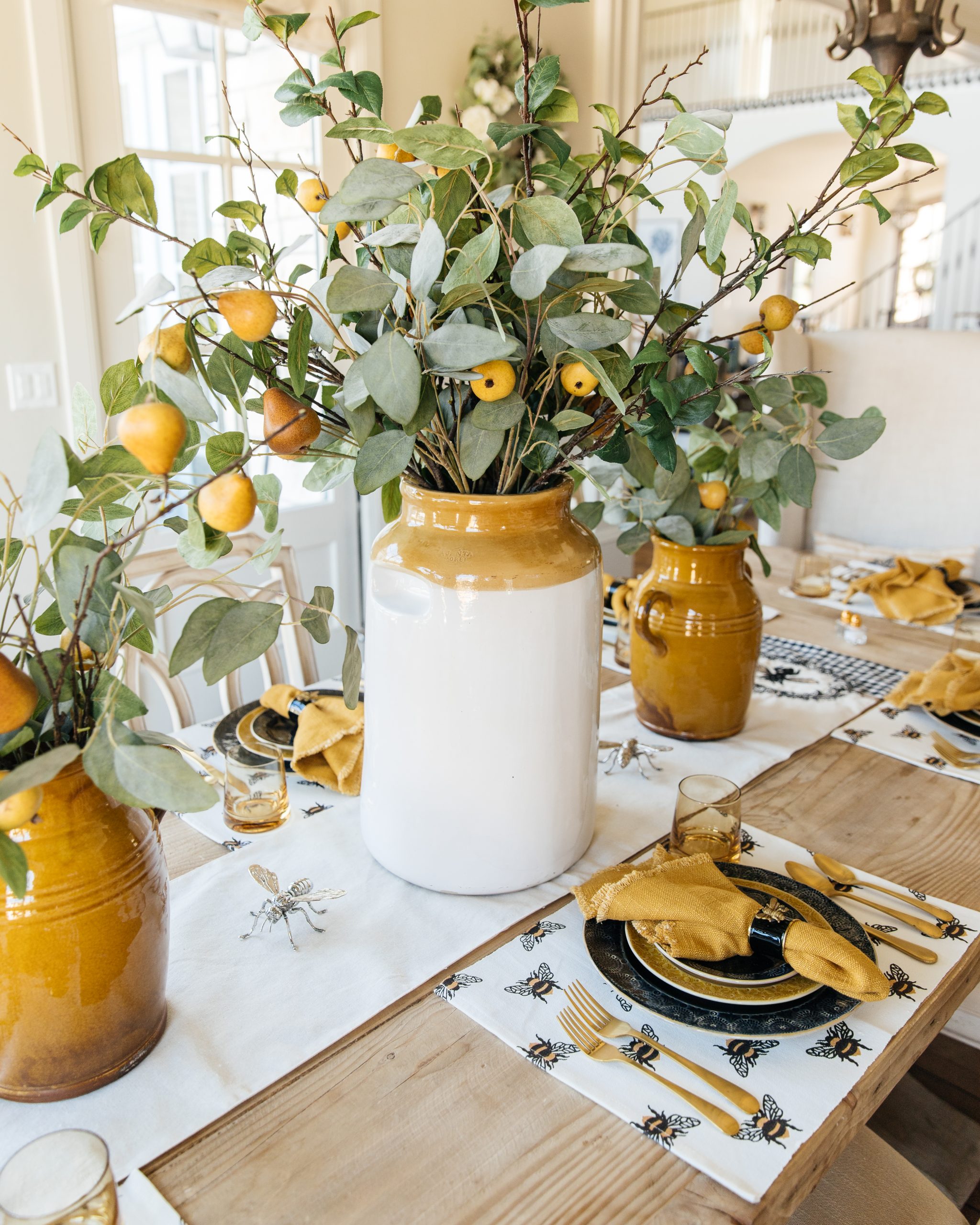 Add In Extra Details
I always like to add extra details to my tables. Here I added some silver bees to the table runner and as fall rolls in officially, I may add some velvet pumpkins.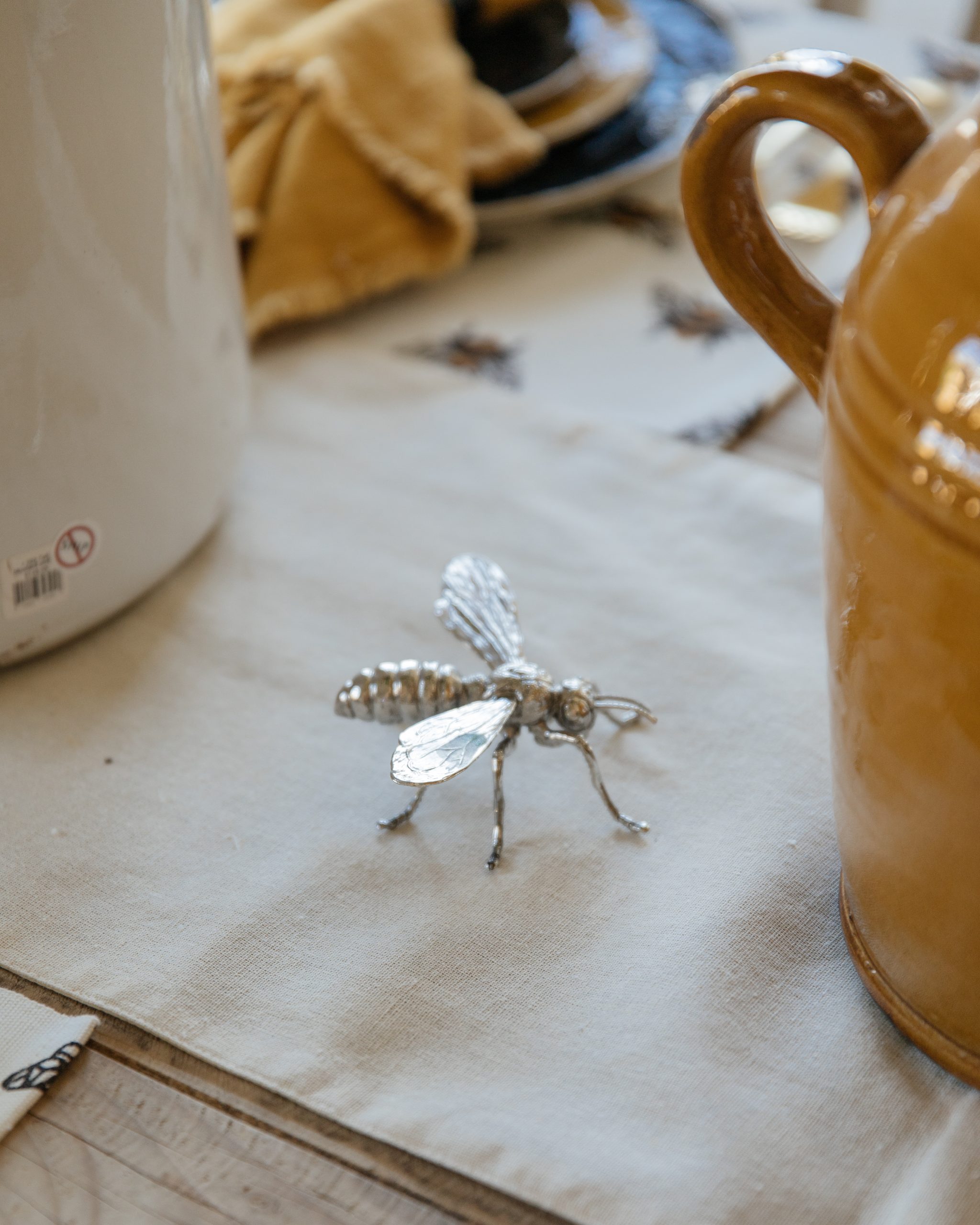 I also love adding individual salt and pepper shakers to the table or each place-setting so no one has to ask to pass he salt and pepper!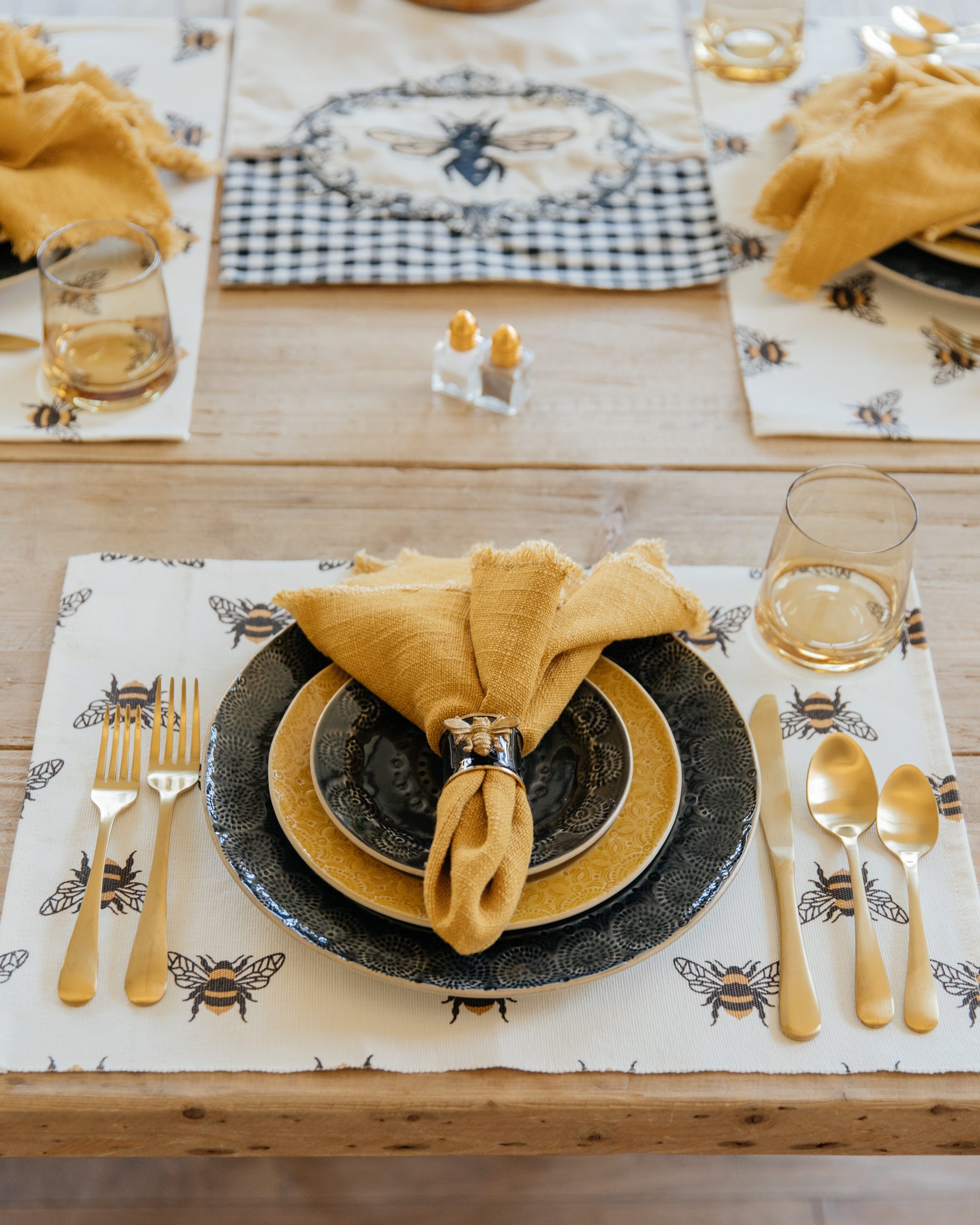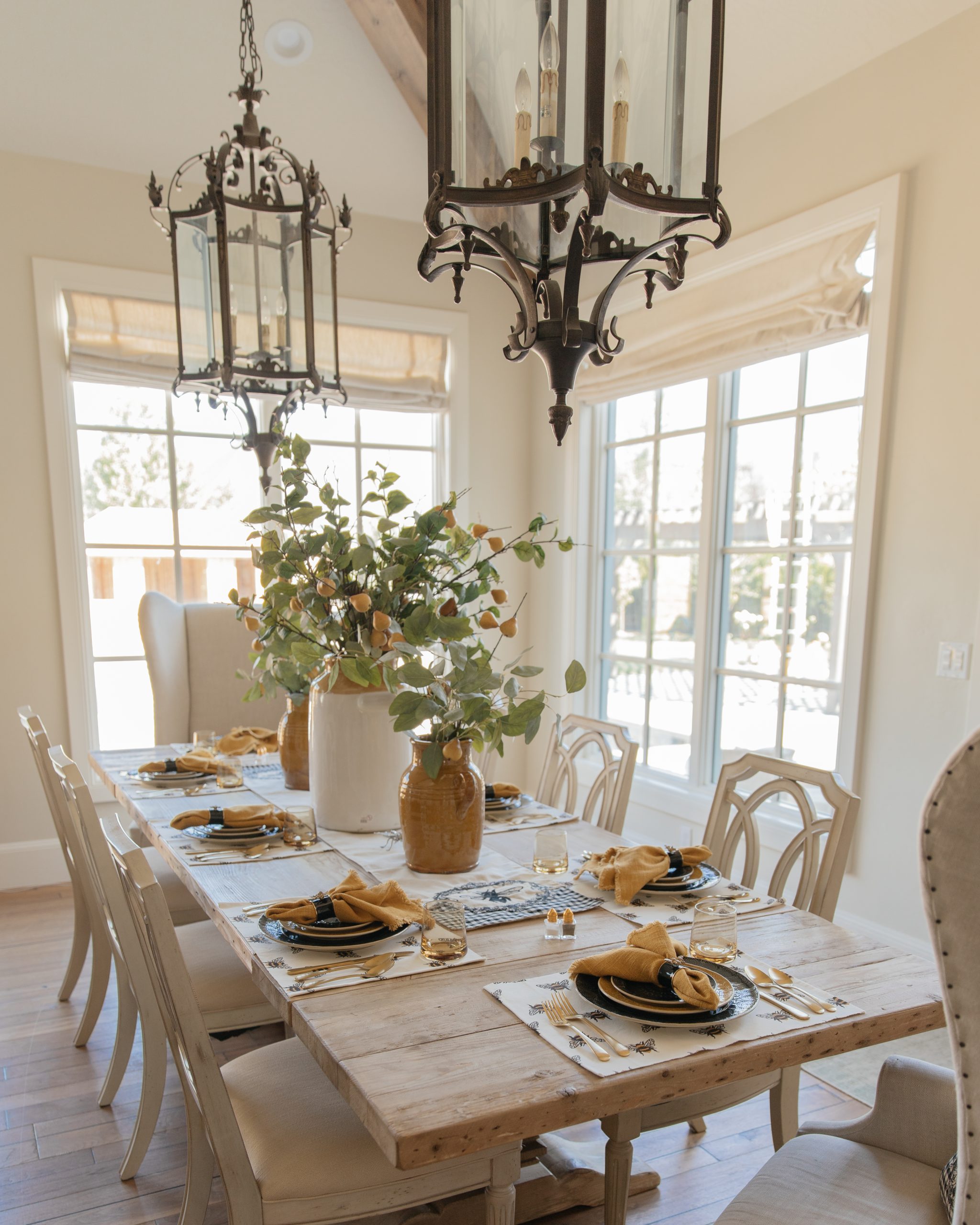 Wishing you all a happy end of summer and transition into fall! I'll share a few more of my favorite images below so you can see more of the details if you like. I'll link all the sources I can below! Thanks for stopping by and please subscribe to my blog so you never miss a post! You an also follow along with me on Instagram, @homewithhollyj, and Pinterest Home With Holly J.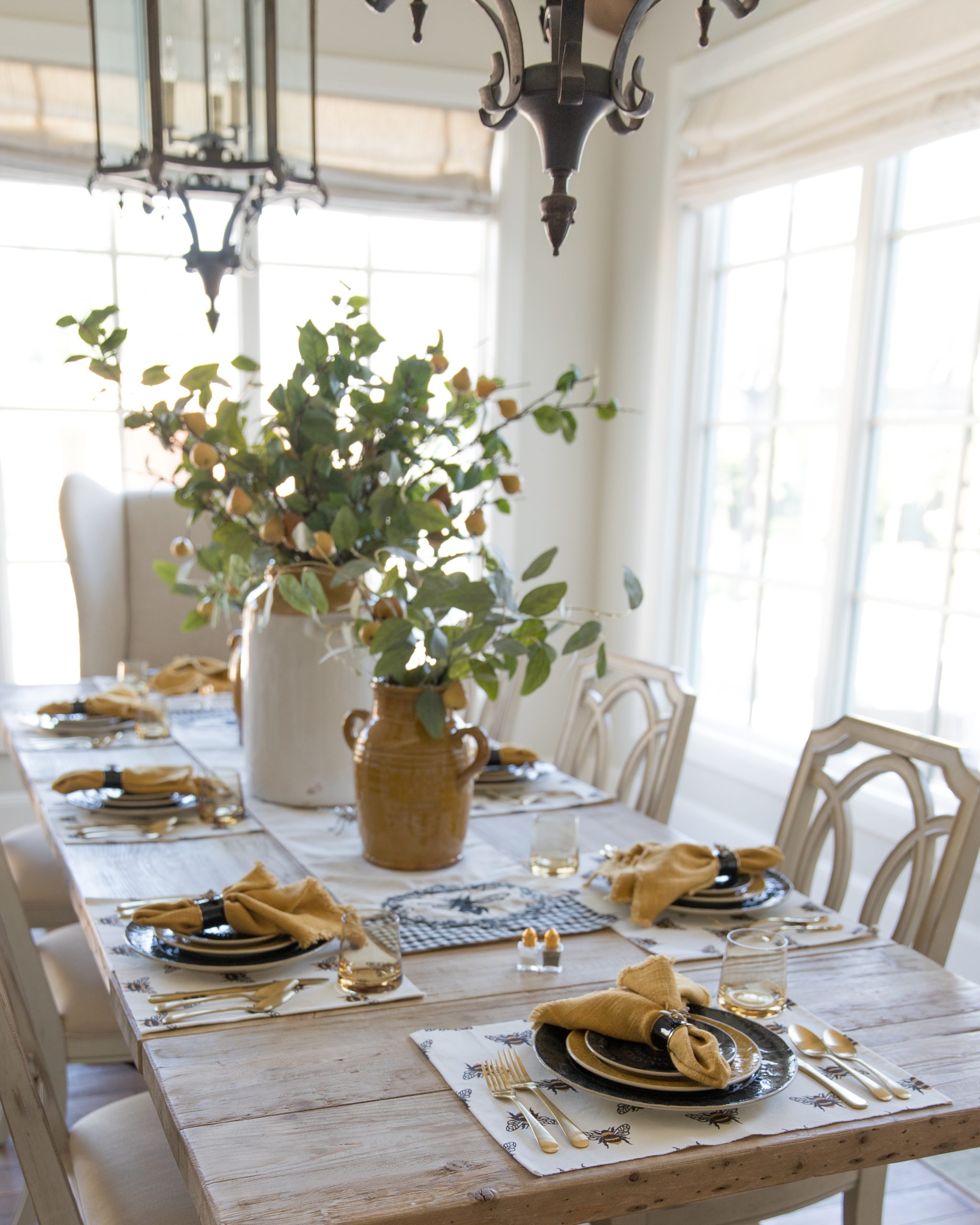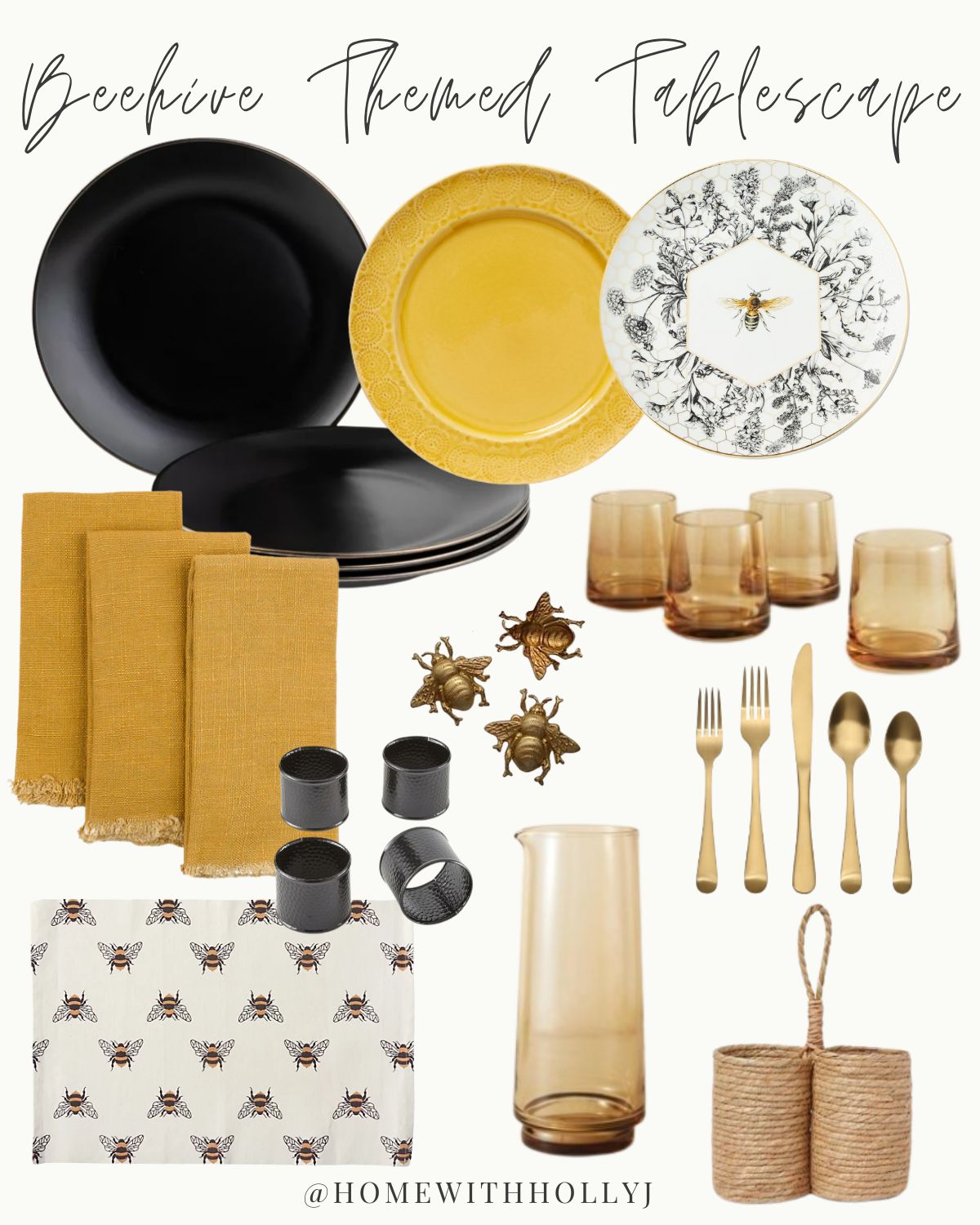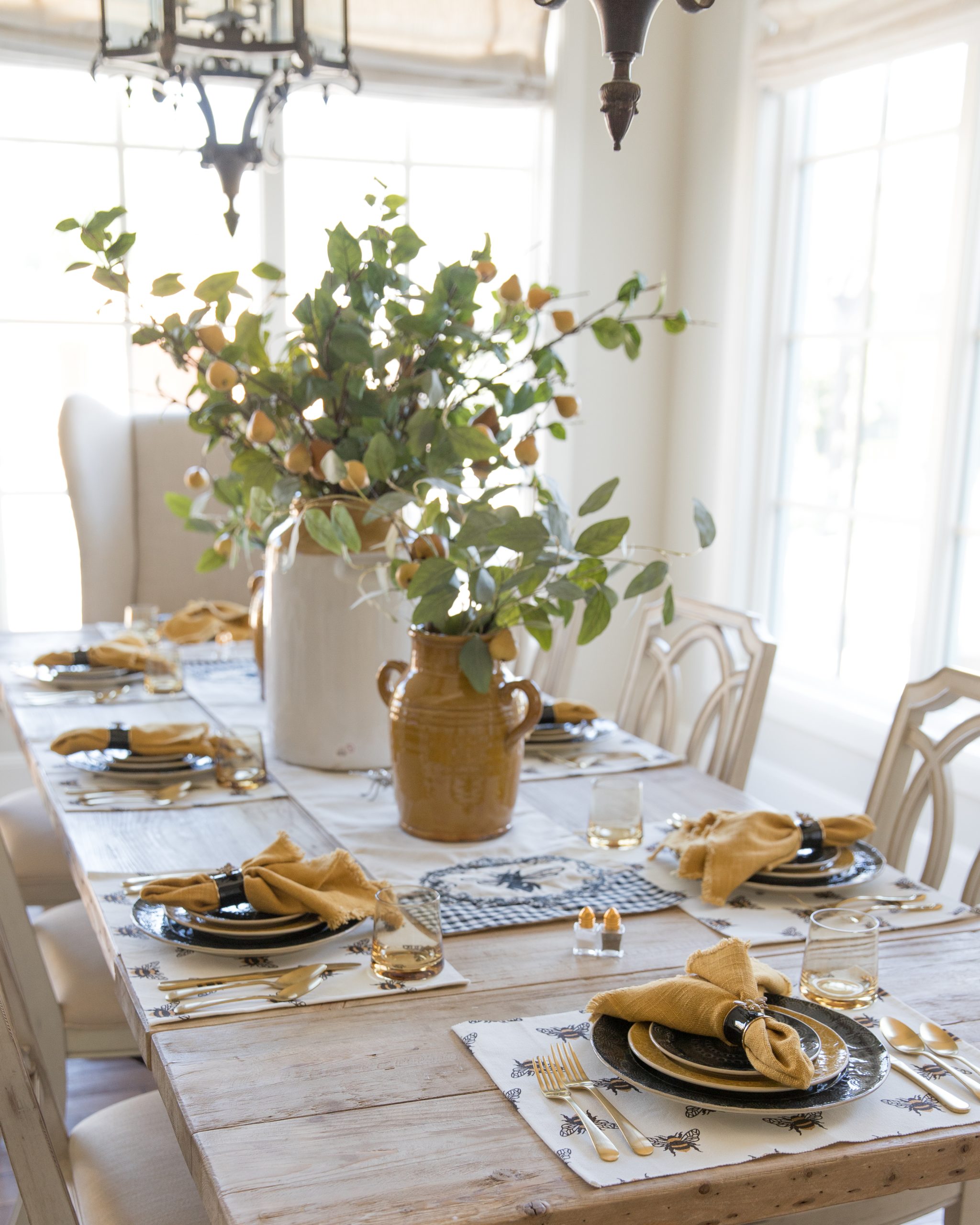 xoxo,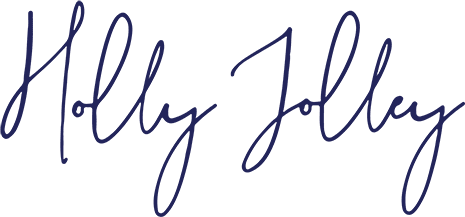 Sources for this Black and Yellow Bee Themed Tablescape are linked below. Just tap on the photos. Some Items may be discontinued or I'm unable to find them online but I do my best to keep the posts update with current links.
The tall stoneware jar is called "Tall Mustard and White Jar" and is from the Findery in Waco. They have a few left as of todays post 8/17/22 so feel free to call them and they can ship one to you. 254-235-1777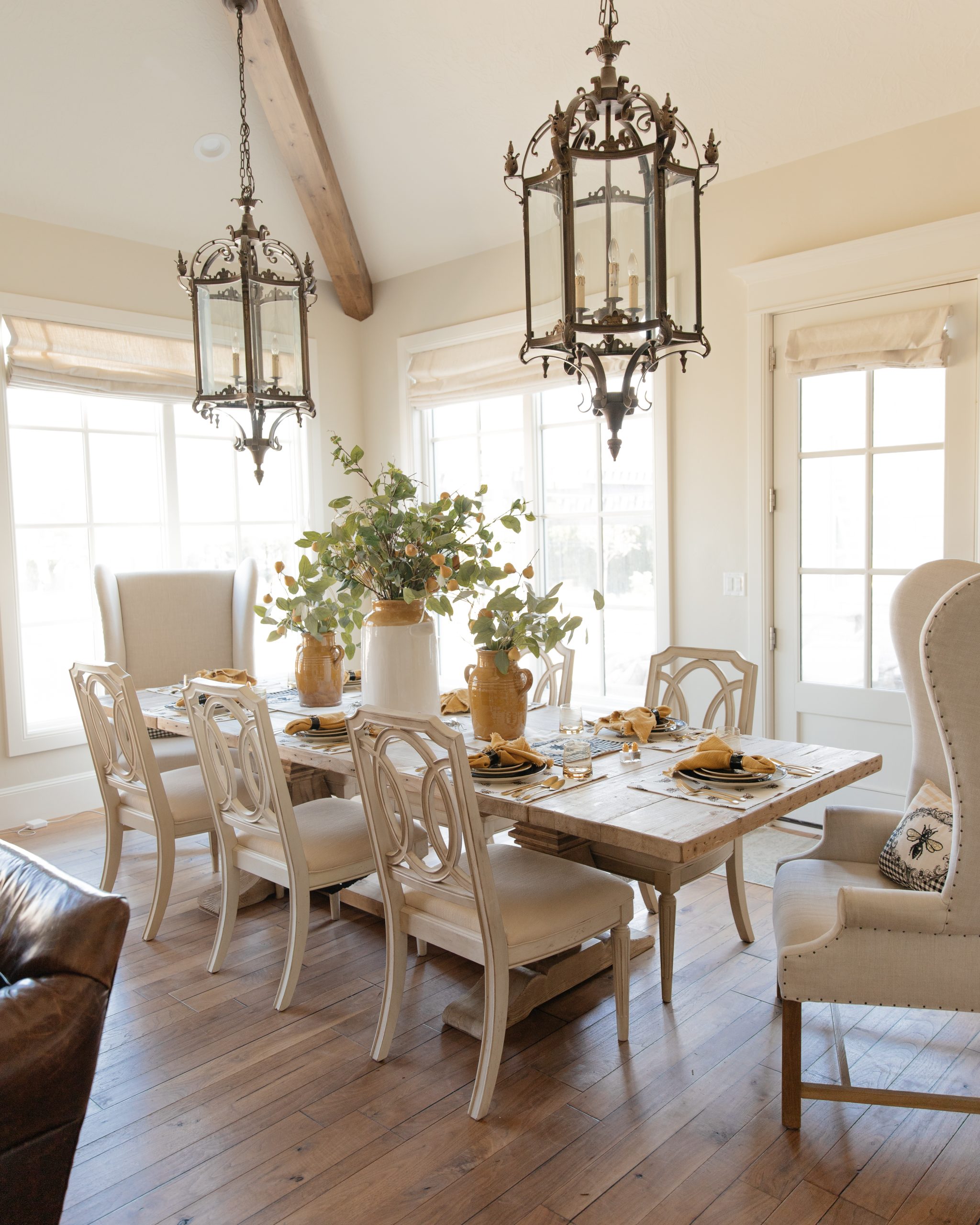 Pin This Post for Later