Blue and Yellow Summer/Fall DIY Floral Arrangement
I created this Blue and Yellow Summer And Fall DIY Floral Arrangement for my kitchen island a few weeks back. It's the perfect faux flower arrangement to transition from summer into fall. It's super easy to make and I'll link as many of the sources below for you so you can recreate it for your home!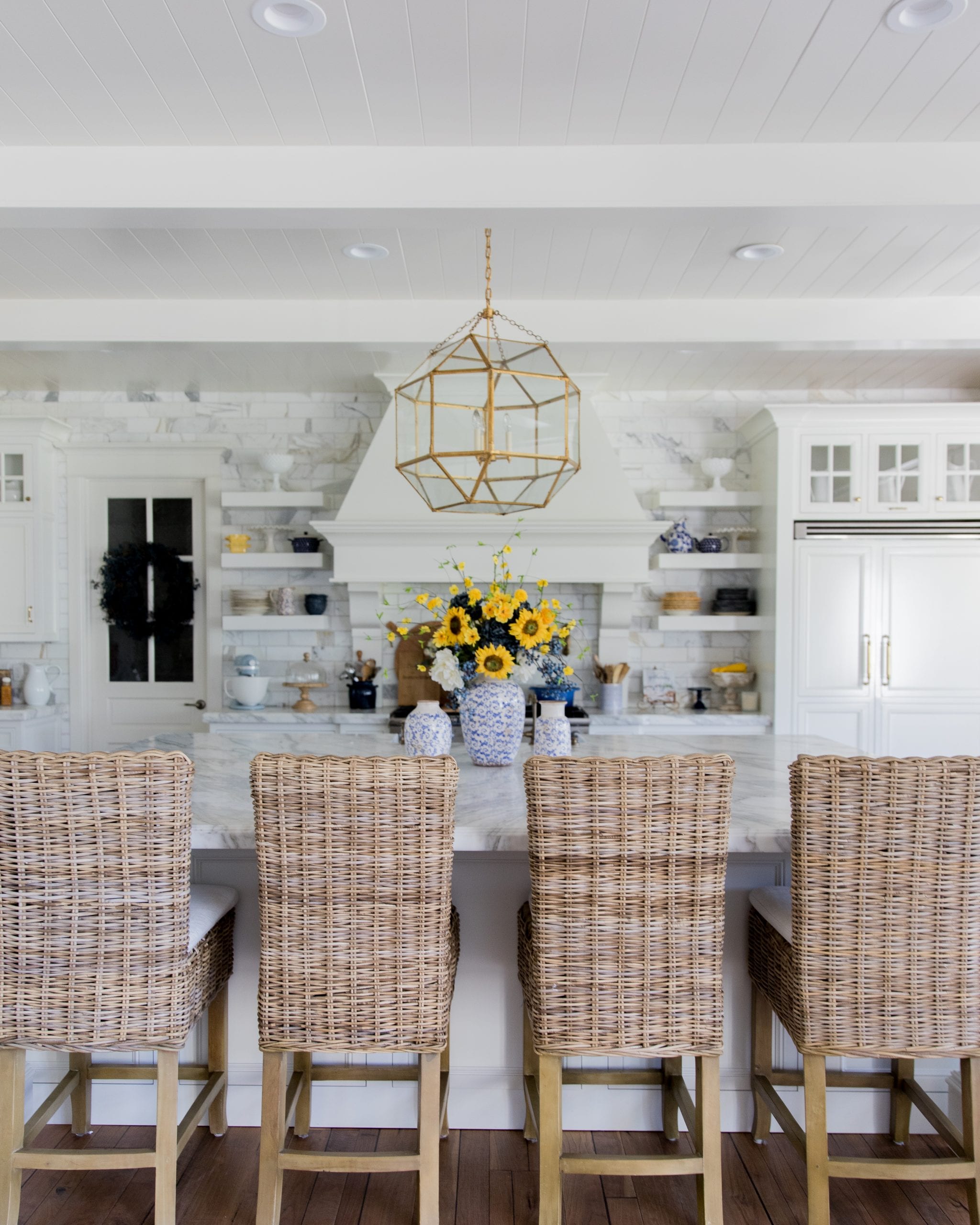 Using Faux Flowers
I used to avoid faux flowers because they look fake and were not high quality. Over the past few years, I've changed my viewpoint on faux or artificial flowers because I've found some really high quality ones that I can use many times over. Invest in some higher end flowers and if you take care of the properly and store them in upright containers when not in use, you can re-use them for years to come!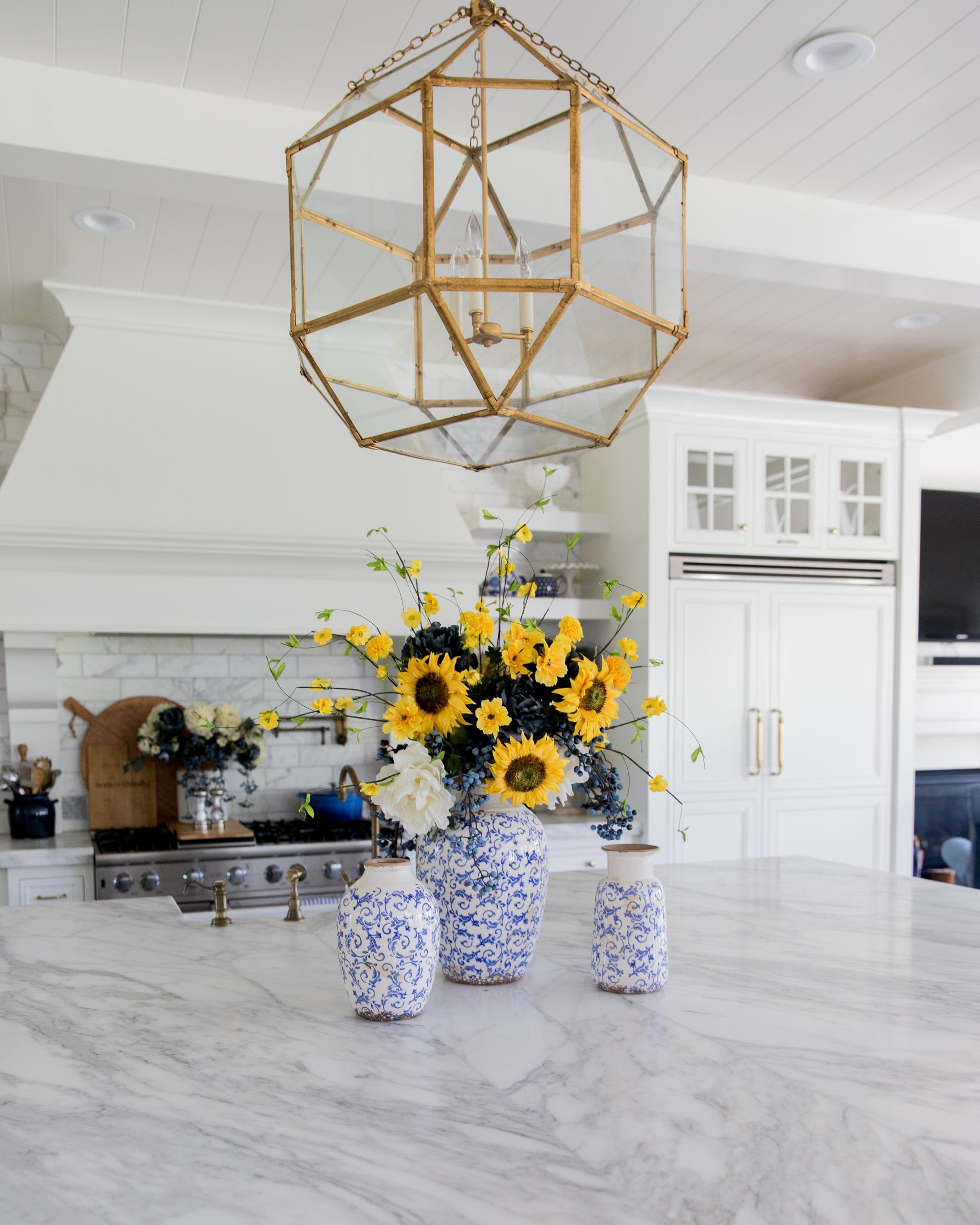 Another reason I like to use faux flowers is that they last forever! I do love fresh flowers, but it's also nice to create an arrangement like this that I can use in my kitchen and home decor for weeks on end.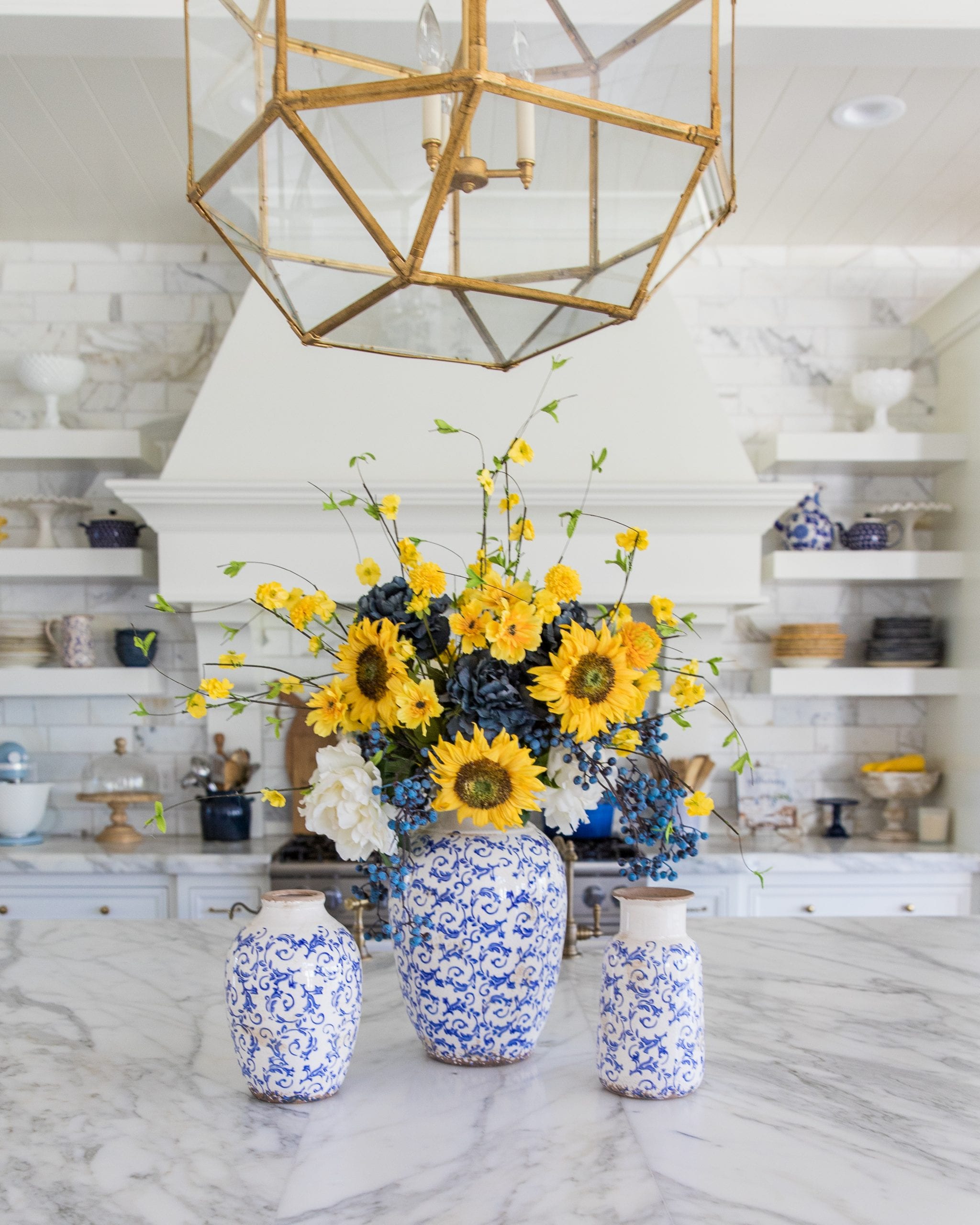 Non-Transitional Fall Colors
Another thing I like to do is use non-traditional fall colors, especially as we transition from summer to fall. Sunflowers are in bloom right now and they are what inspired me to make this flower arrangement. I have a lot of blue in my home so I thought it would be the perfect mix of blue and the dark yellow sunflowers for this centerpiece.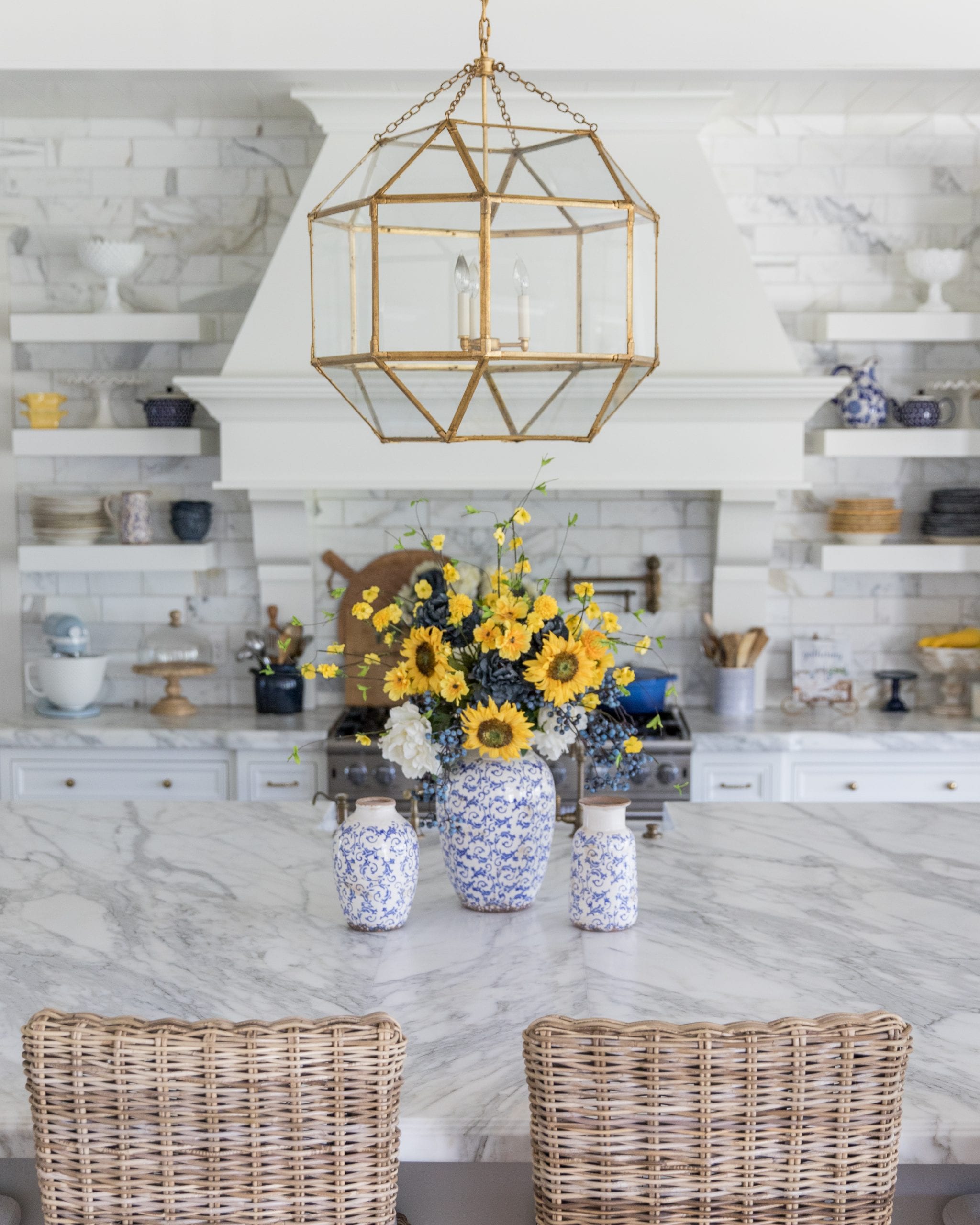 Kitchen Decor
I like changing out my dishes and decor items on my open shelves in my kitchen, and because I used these rustic, blue flower vases in my island centerpiece, it was only fitting that I used my dark blue dishes and other yellow colored dishes and rustic accents.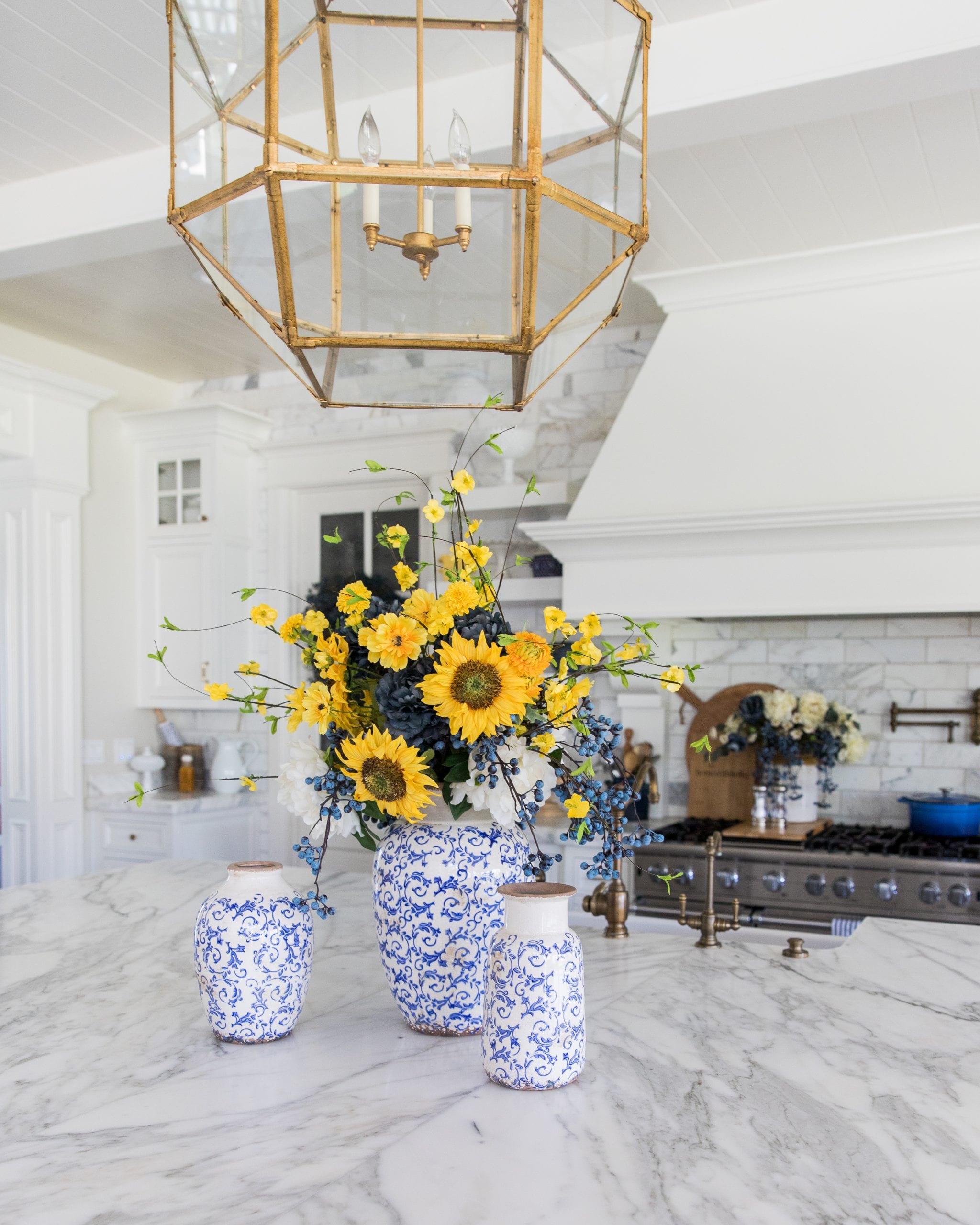 Get Creative with your Decor Theme
How do I come up with the colors and theme's for my decor? I am always inspired by what is in season. Sunflowers are blooming in my garden, as are my blueberries. Even though these are faux, they still represent what is in season. I also did a similar colored tablescape and the dishes I used were another part of the inspiration for this flower arrangement.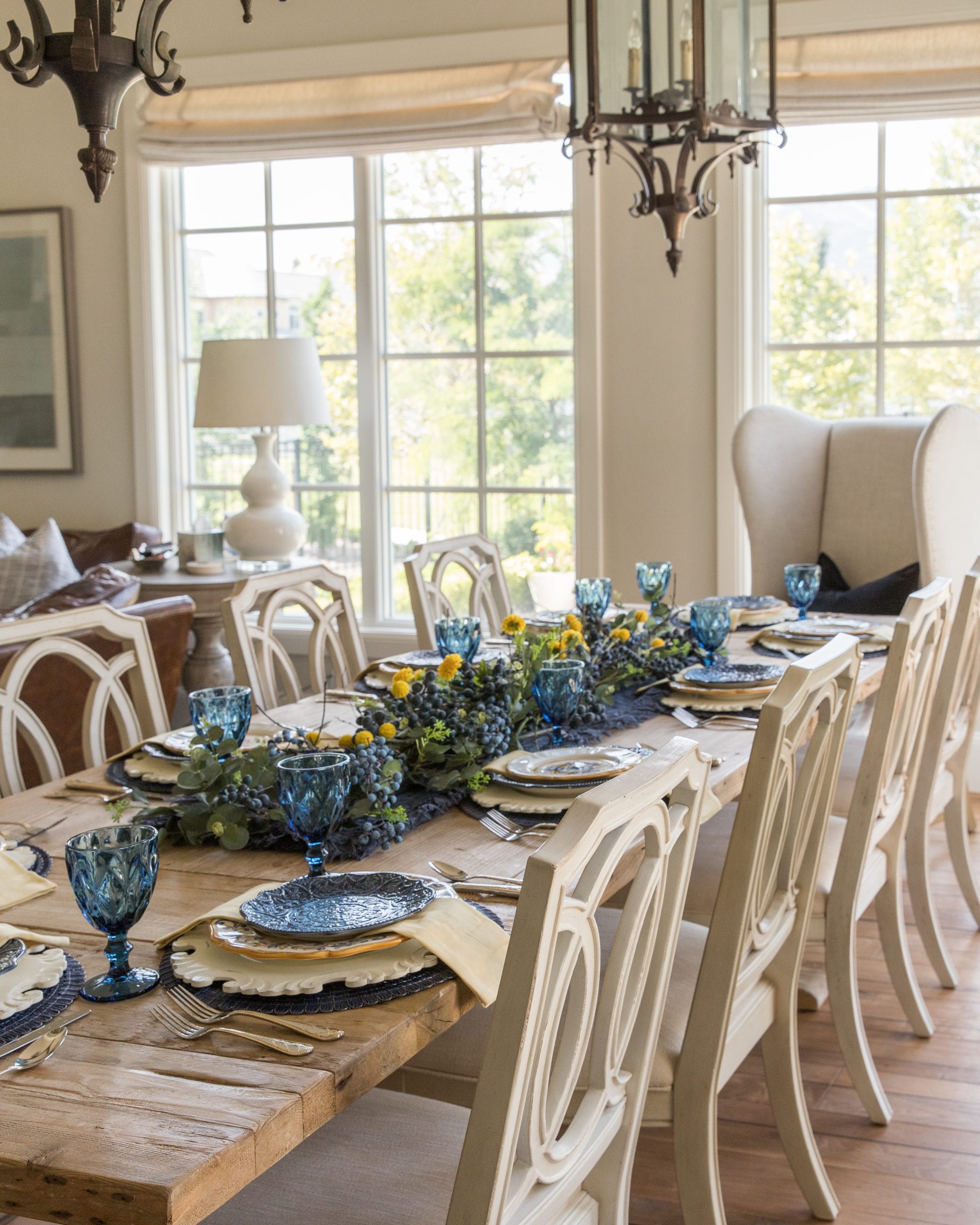 Here's a peek at my coordinating tablescape using blue and yellow colors.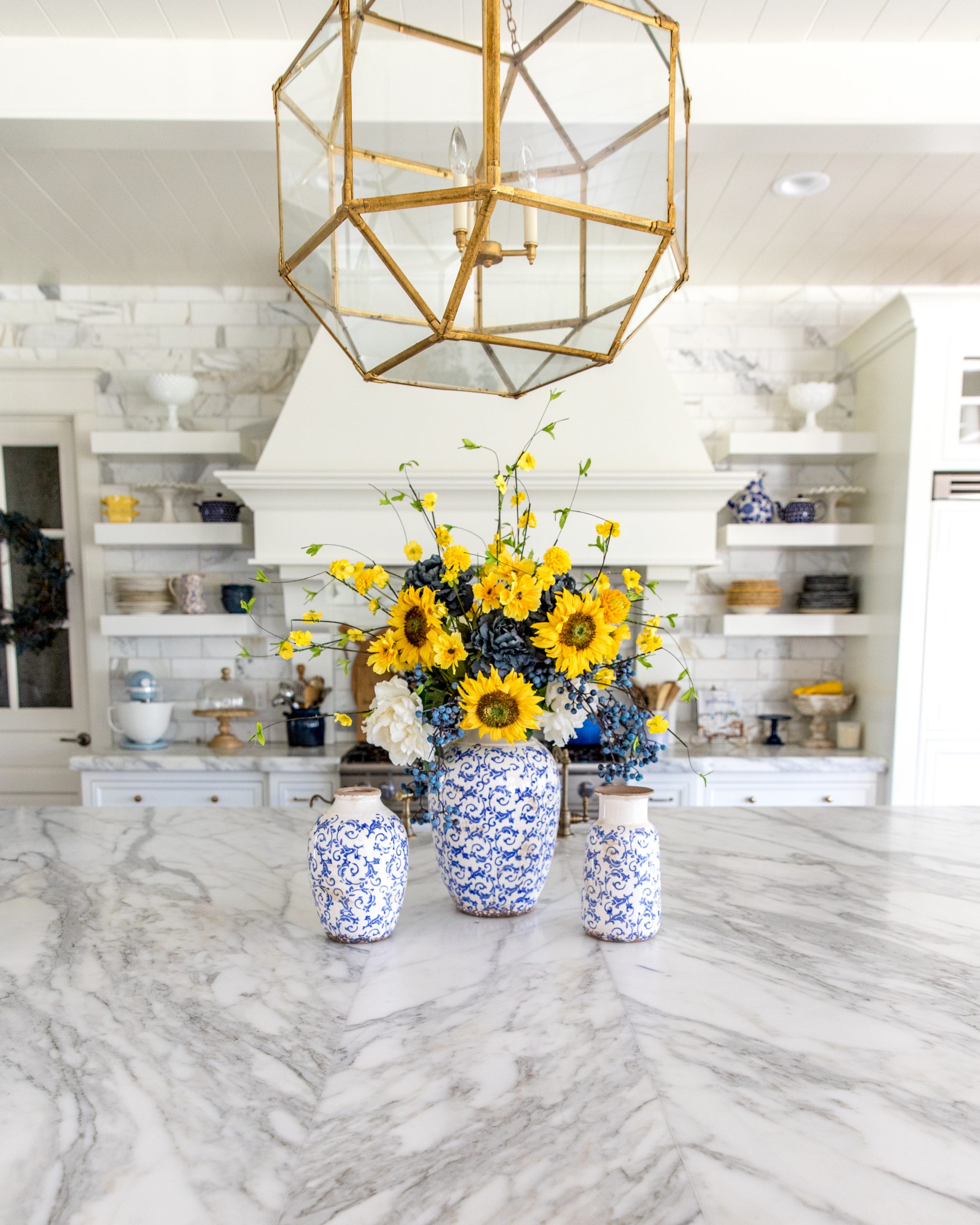 Use what you already have or purchase a few flowers or a vase that inspires you. I've had these vases for months now and finally found a way to incorporate them into my decor. I have a lot of blue decor in my house so this was also a great fit.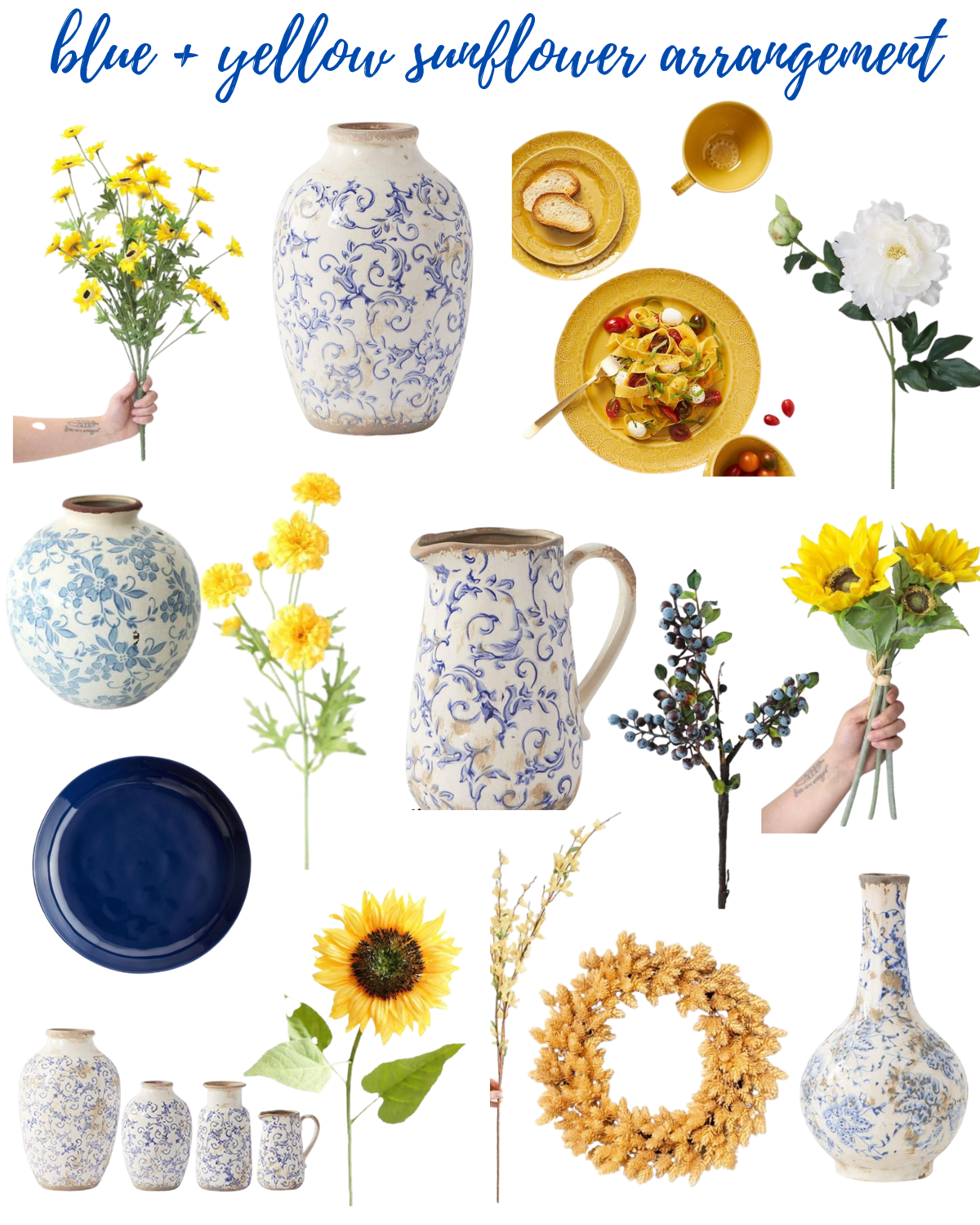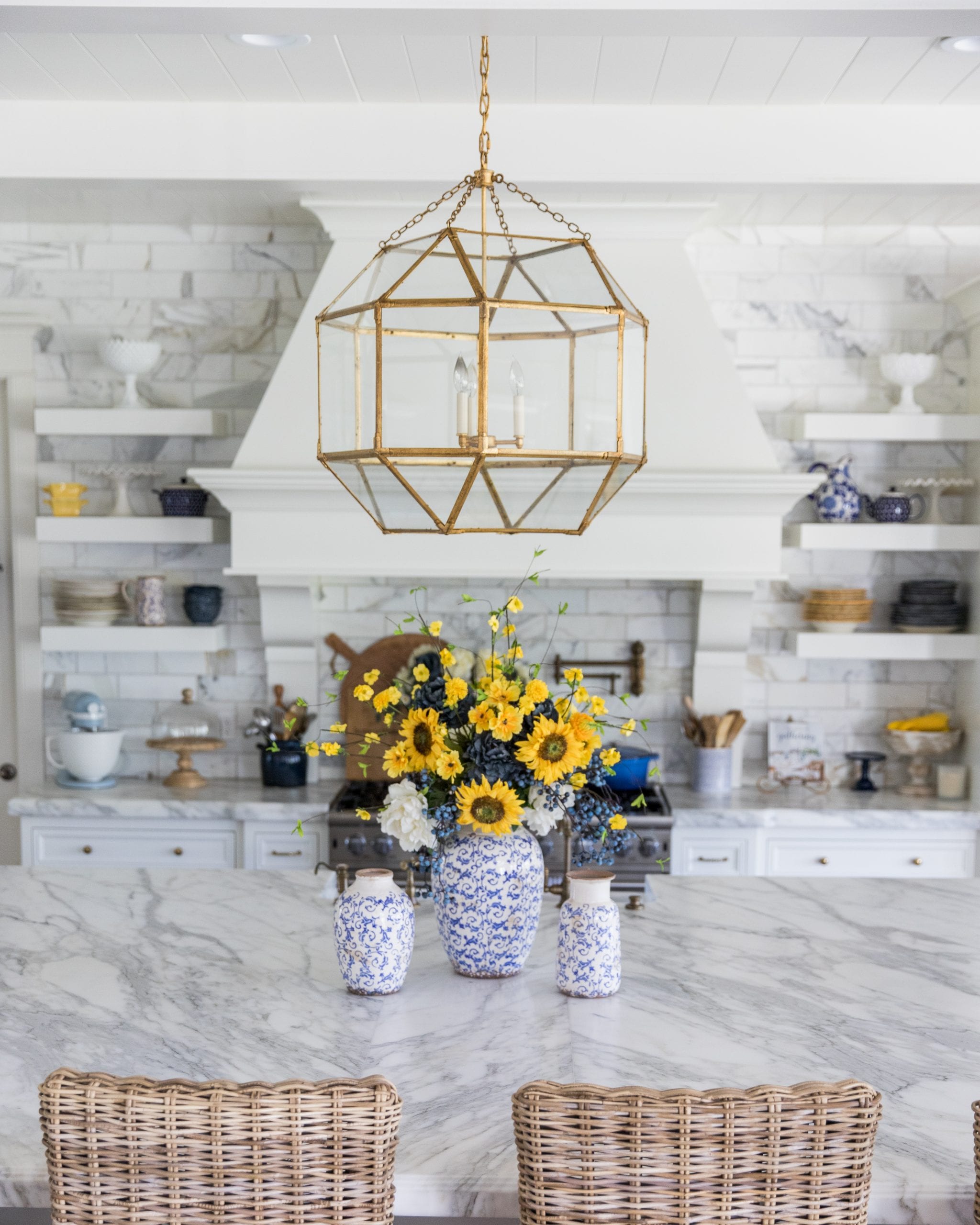 My Tips on Arranging Flowers
Whether you're using faux or fresh flowers, the floral arranging techniques are the same. I work in odd numbers and typically use three or five of each flower. I had five sunflowers stems, five blueberry stems, three of the taller forsythia stems, and five of the smaller sunflowers or marigolds. I then added in three white peony stems to fill in the space and add some balancing white. Look on all sides of the vase to make sure each view looks even and filled in.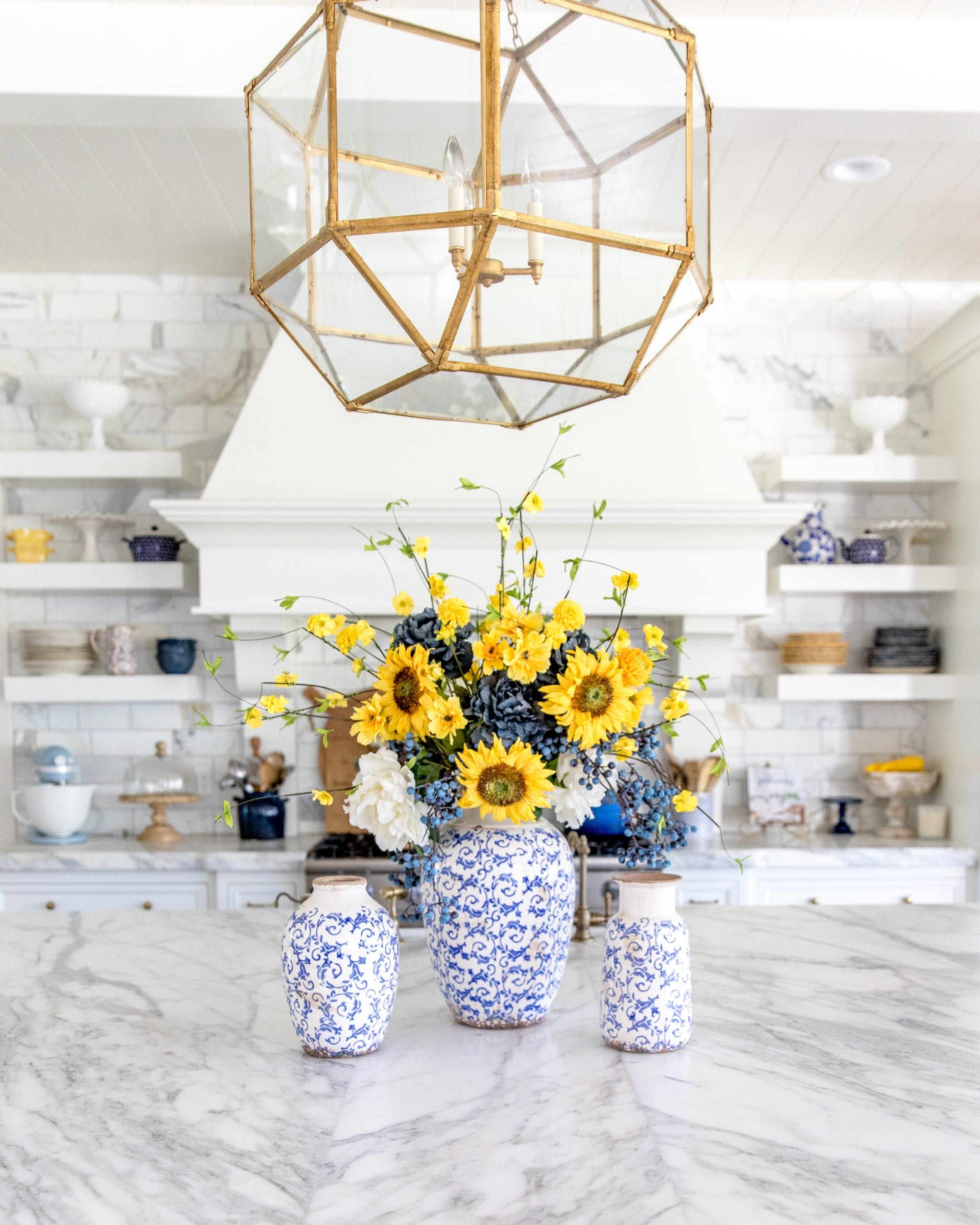 One thing I like to use is a Lazy Susan Turntable. You can spin the vase around and makes floral arranging so much easier. I also bend the wire stems to create different lengths or you can also cut them using wire cutters.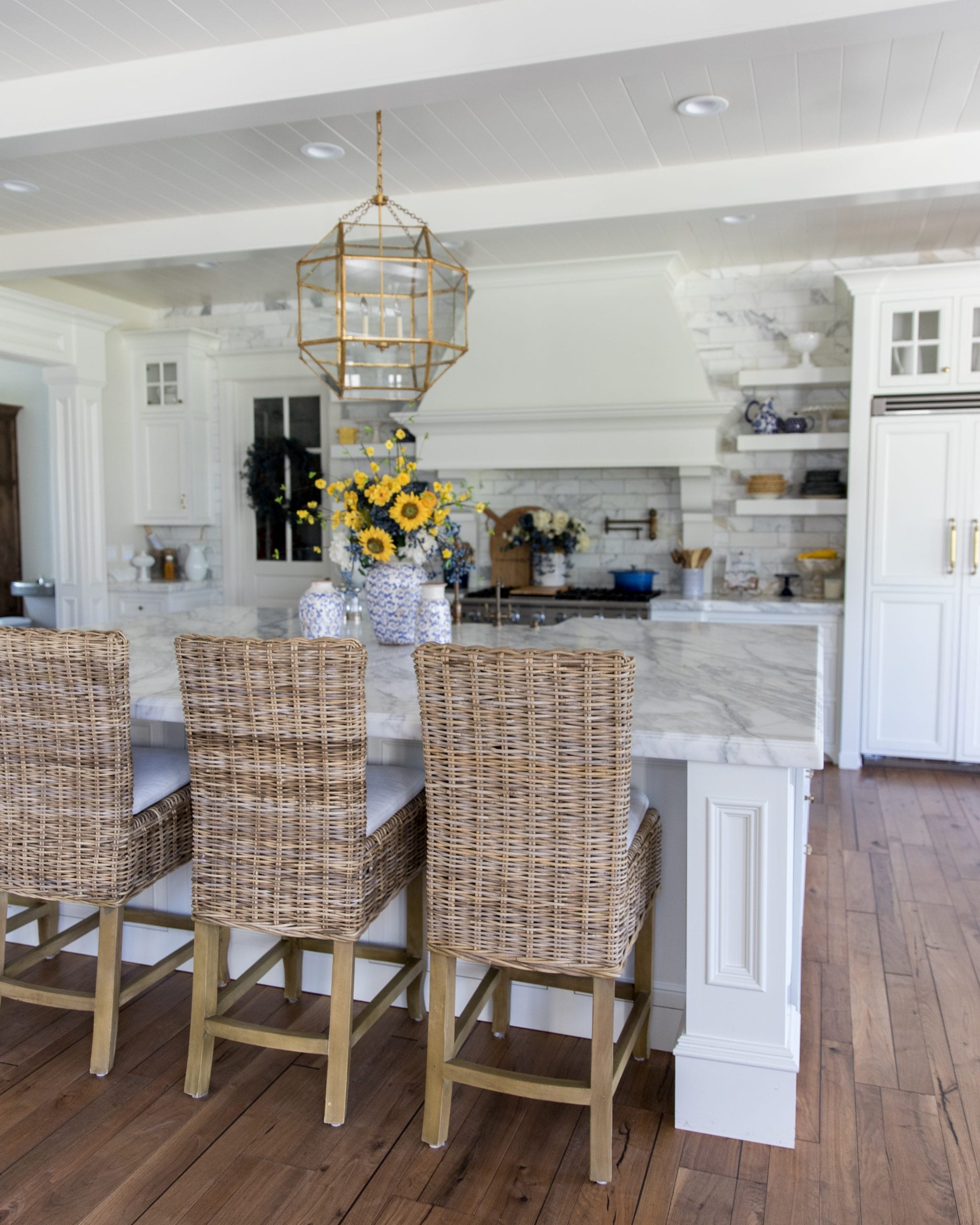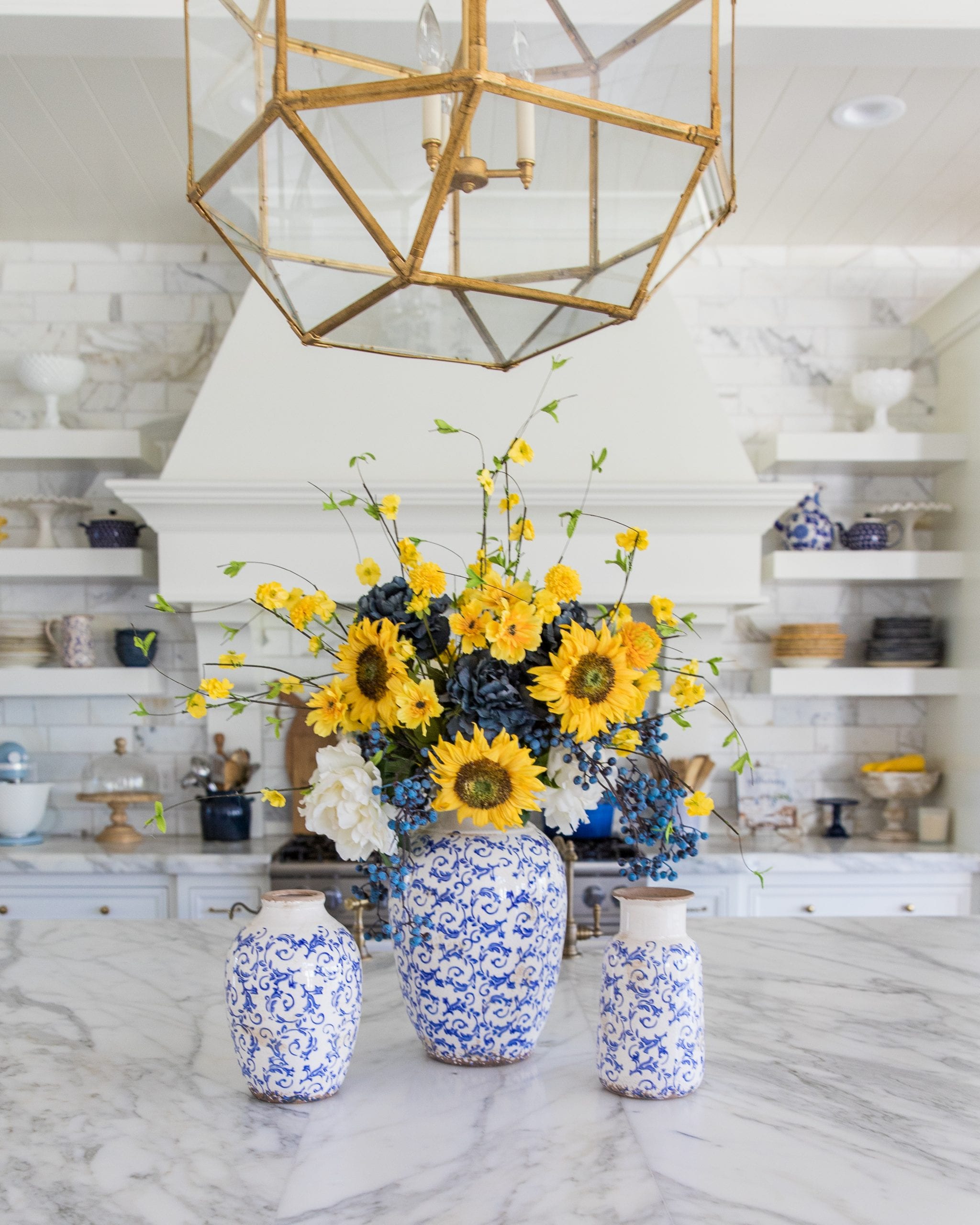 I hope you enjoyed seeing the details of this fun summer/fall transitional blue and yellow flower arrangement that you can recreate for your own home. I've linked as many of the sources I could find below for you!
Enjoy!!
xoxo,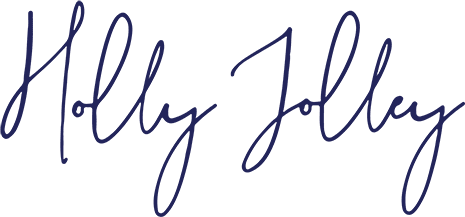 For more Inspiration on Summer/Fall DIY faux flower centerpieces and arrangements click on these posts:
Sources Linked Here:

PIN THIS FOR LATER: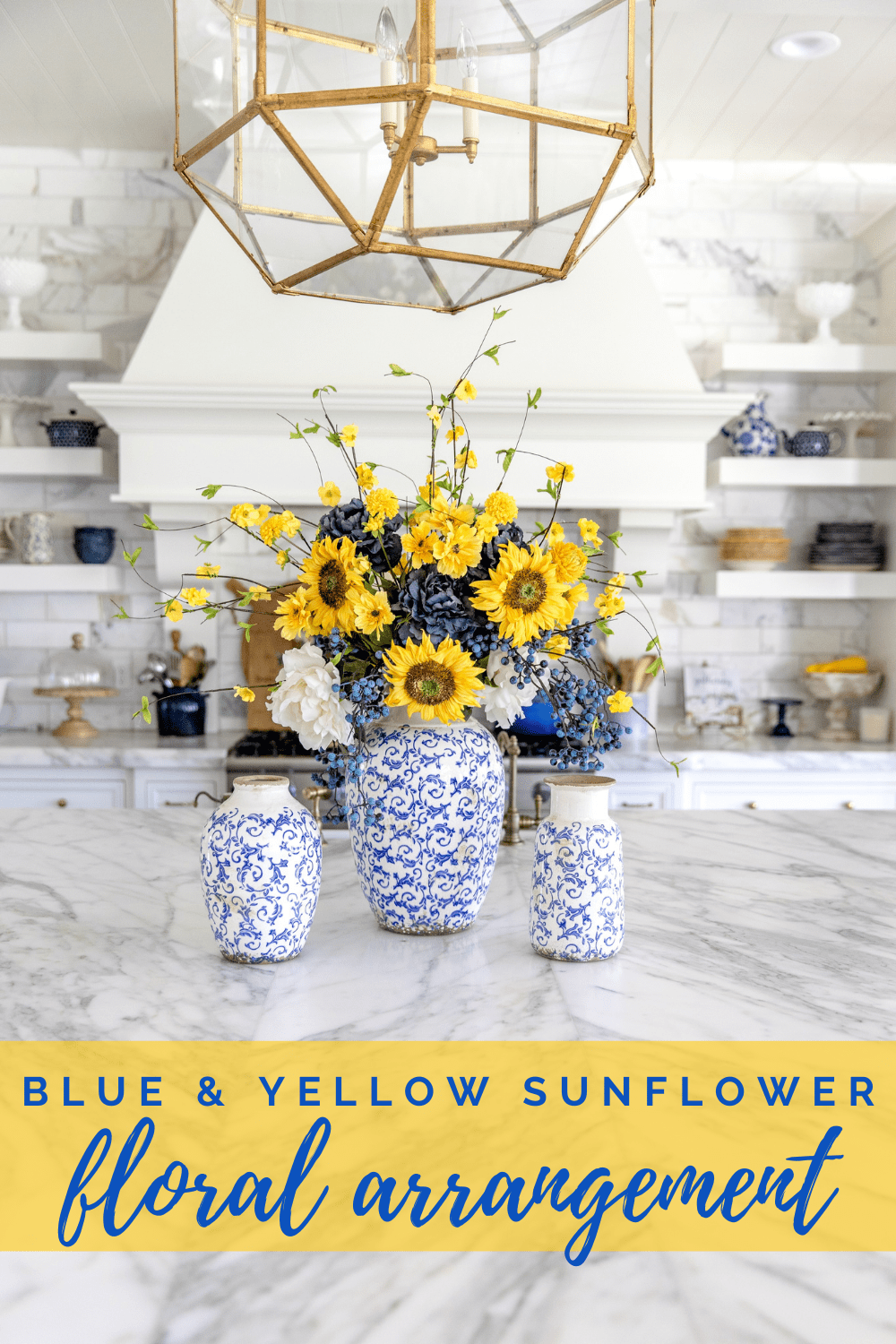 DIY Floral Arrangement