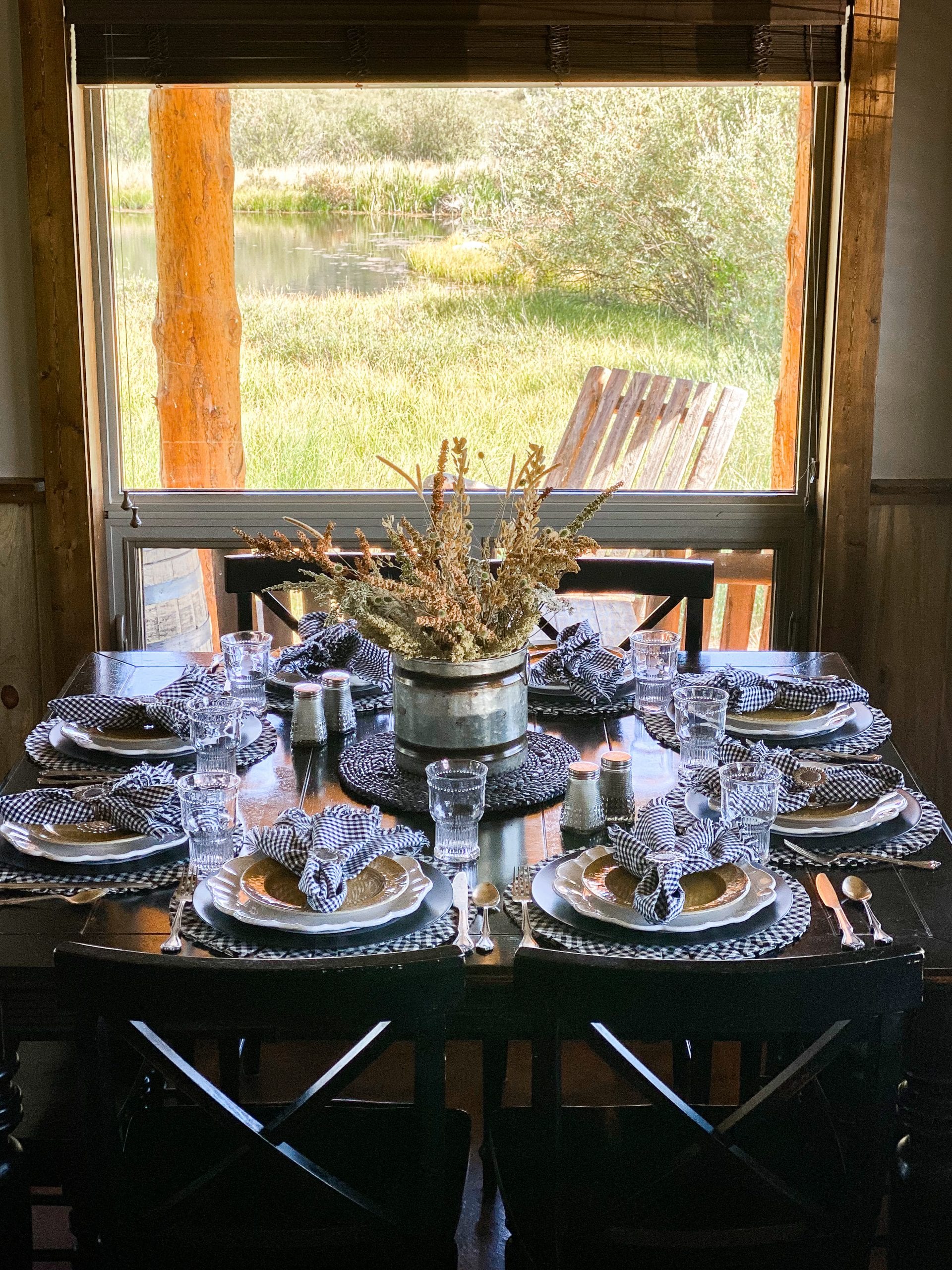 Black, Yellow, and White Cabin Tablescape
Every summer we spend a few weeks at our little cabin in the Pioneer Mountains of southwest Montana. One of my favorite things to do when we arrive is to set a new tablescape at the cabin. I don't have a lot of black and darker colors in my decor at my other homes, so look forward to setting the table at our cabin when I can use darker colors in my tablescapes. This Black, Yellow, and White Cabin Tablescape was so much fun to create and I love how warm and cozy it is.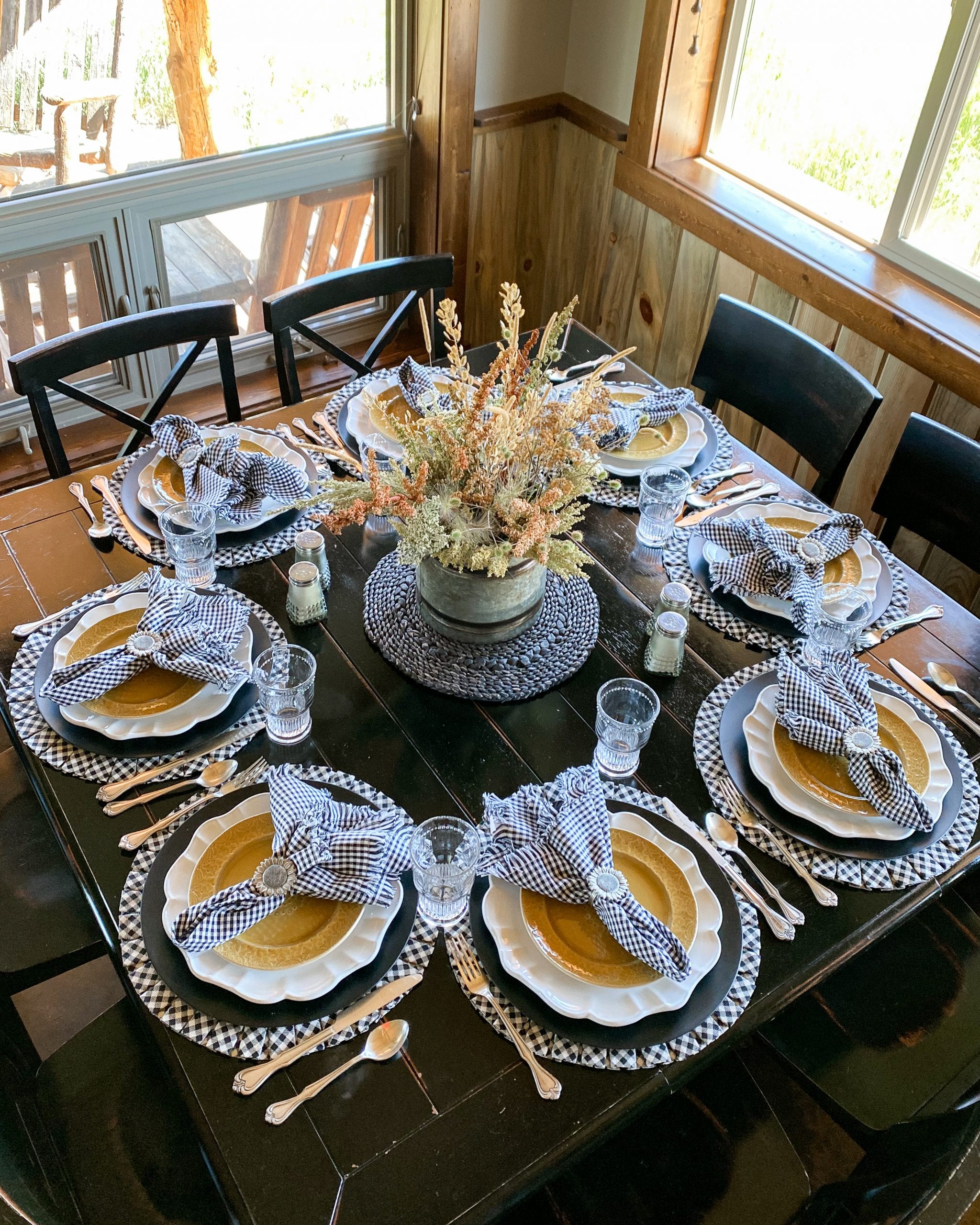 The Inspiration for the Tablescape
I always find something that inspires each tablescape I create. As I mentioned earlier, our cabin has a lot of dark, rustic, colors and and the dining table and chairs are black. I love gingham and checkered patterns and when I found these ruffled gingham round placemats at Homegoods, I knew immediately that I would use them at the cabin. I also found these matching gingham napkins at HomeGoods.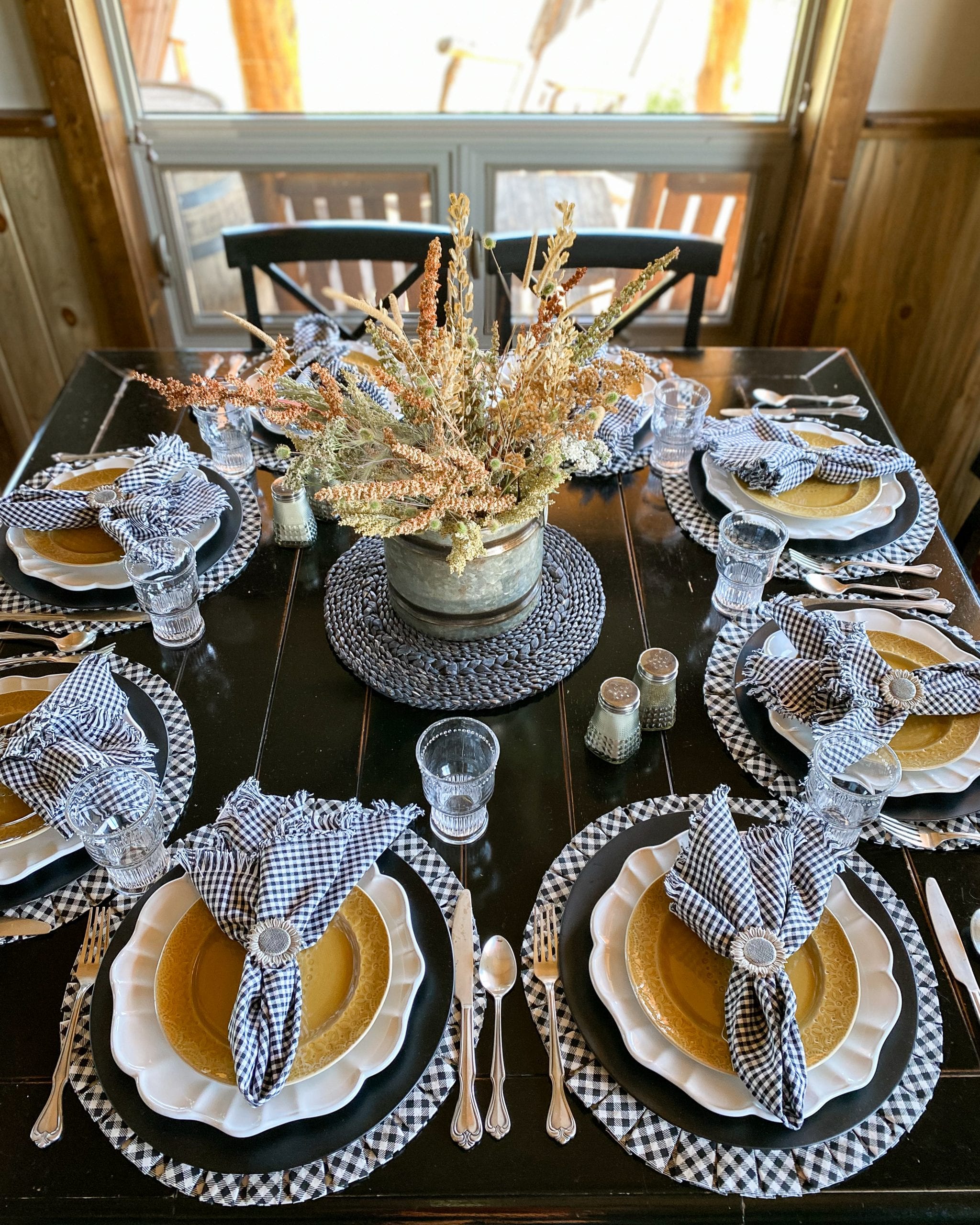 Tablescape in a Box
When packing for the cabin, I always pack what I call a "tablescape in a box!" First, I start putting all the items I'm going to use for the tablescape in a pile and then I box it up and haul it to the cabin. I had found some dark yellow salad plates online a few weeks before our trip and decided to order them as an accent plate to go with the black charger and white scalloped dinner plates and I hoped the would arrive before we left! Also, I had the smaller, matching white scalloped bread plates, but in the end, I decided not to use them because they covered so much of the yellow salad plates which added so much color to the plate stack. (Actually, I found another way to use them for a picnic that I'll explain further down)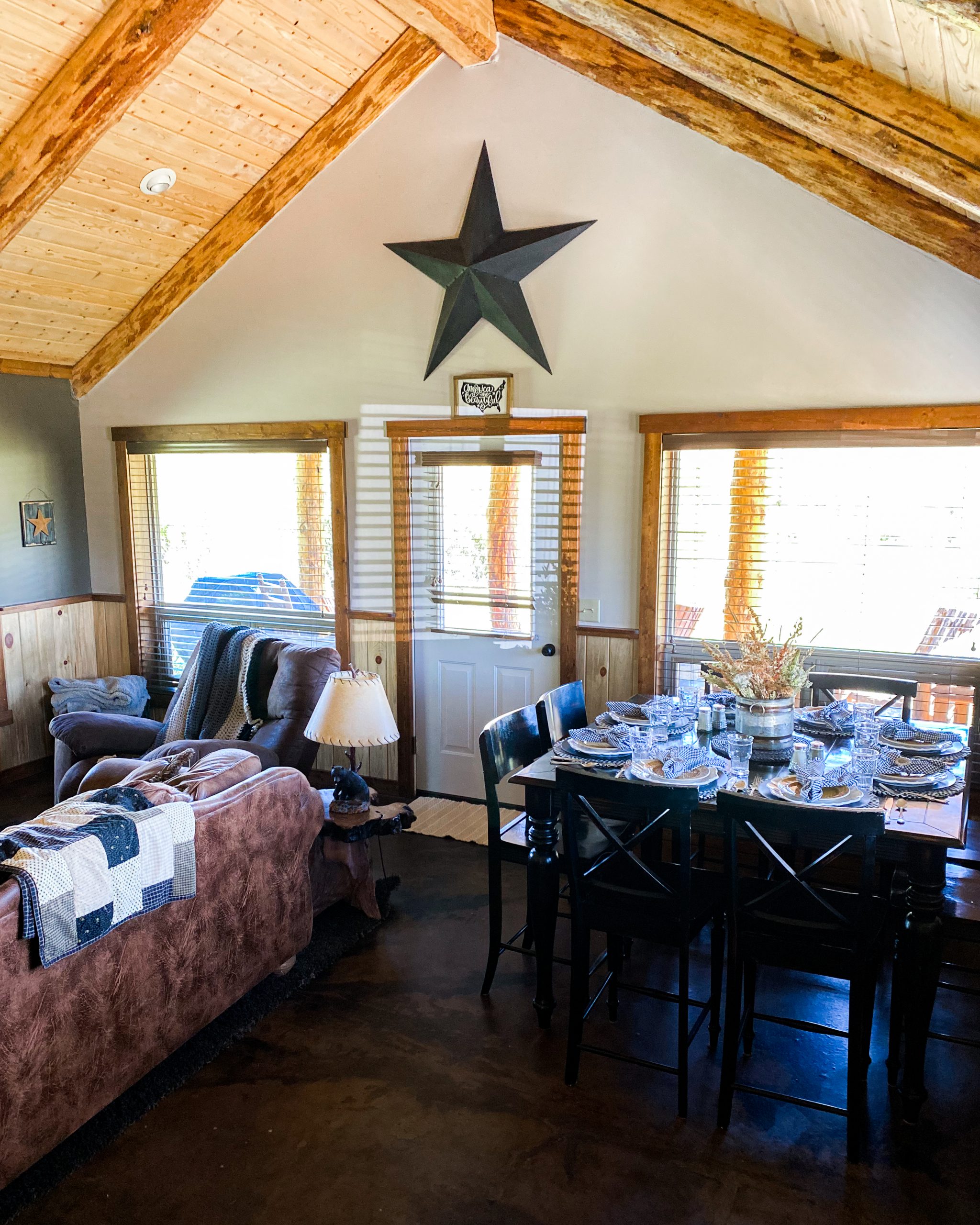 My dining table at the cabin seats eight and we usually have the leaf out of the middle so that it seats six, depending on how many people are at the cabin. This past visit we had eight people there so I packed eight place-settings. It was kind of fun to switch it up this time!
Foraging for the Centerpiece
I have this obsession with foraging for flowers, branches, and dried weeds of any kind. I don't know why I am so obsessed with it but its so much fun! It's a challenge to see what I can find on my property or around me and to create something with it. For the centerpiece, I literally went outside and walked up our road at the cabin and picked sage brush, dried grasses, and whatever else I could find and then tossed it into this tin can. It seriously took me ten minutes or less to do this! See what's in your yard or the side of the road and be creative! It's also free!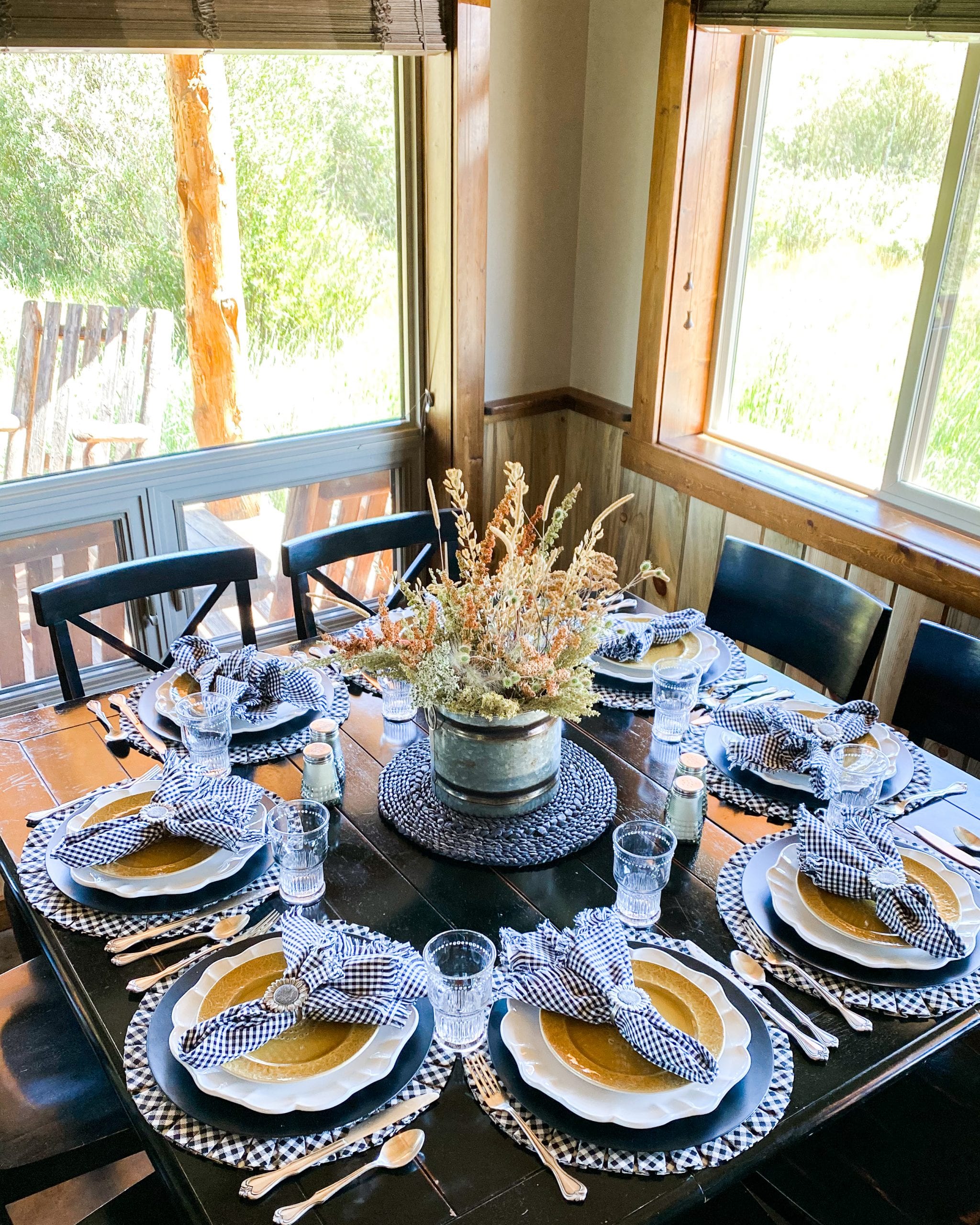 The Place-Setting
Layering is the key to a beautiful place-setting. Here I used these black and white gingham round placemats. Then I used a black solid colored charger for the plate stack. Mixing patters and solid colors always works well for me. The solid black charge also provides contrast between the checkered placemat and napkins.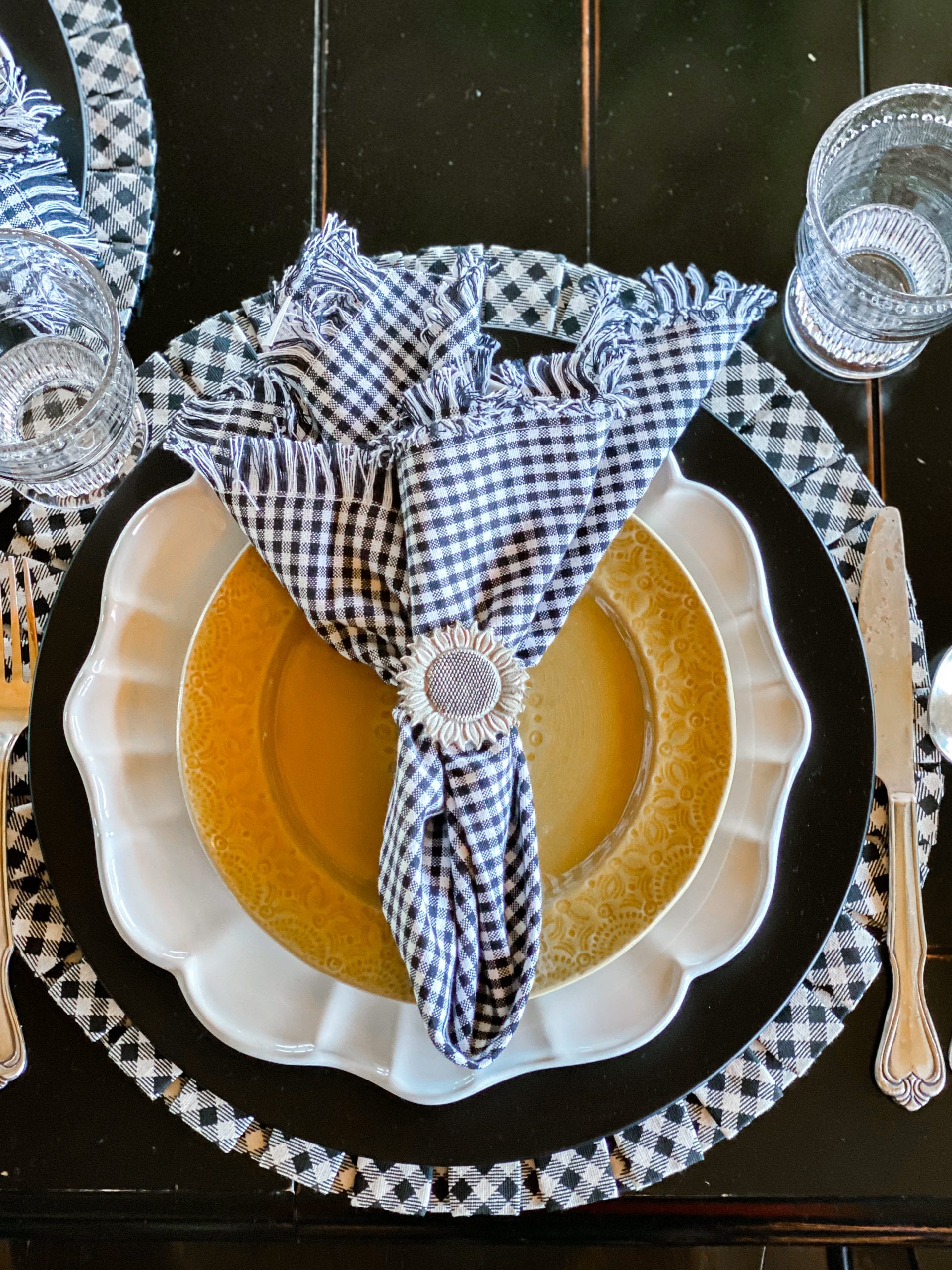 I had originally planned to stick with the all white and black theme and then the dark yellow salad/side plates I mentioned earlier, showed up as I was leaving for the cabin. I added them to my cabin tablescape box and I'm so glad I did as it gave me many options! The cabin is very remote so I make sure I have everything I might possibly need!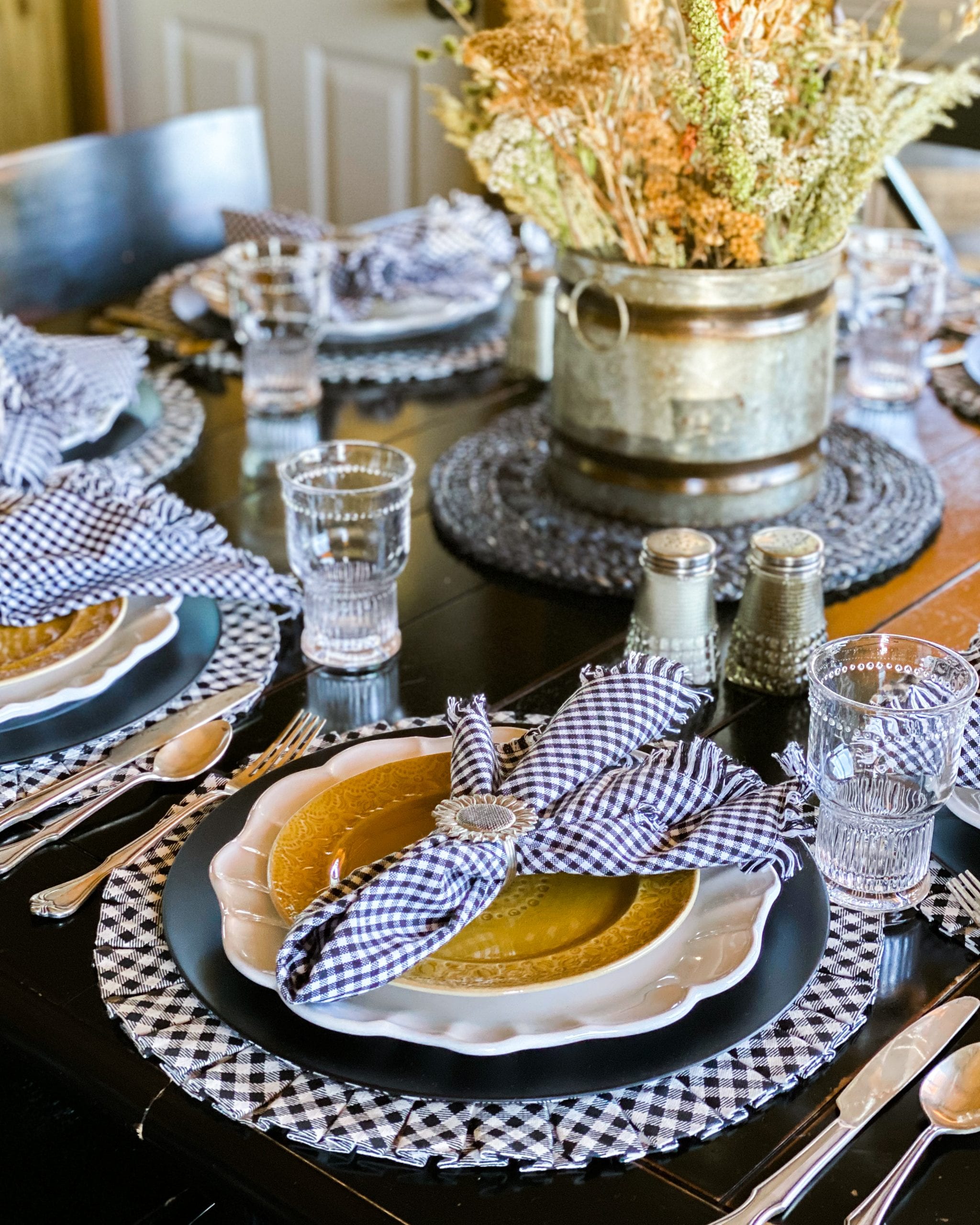 It's a good thing I brought different options for the plates because I ended up doing a little birthday celebration picnic for one of our guests who came to visit the cabin and I used the other items I brought for this surprise picnic lunch. Here's a little peek at the picnic tablescape I set in the Pioneer Mountains.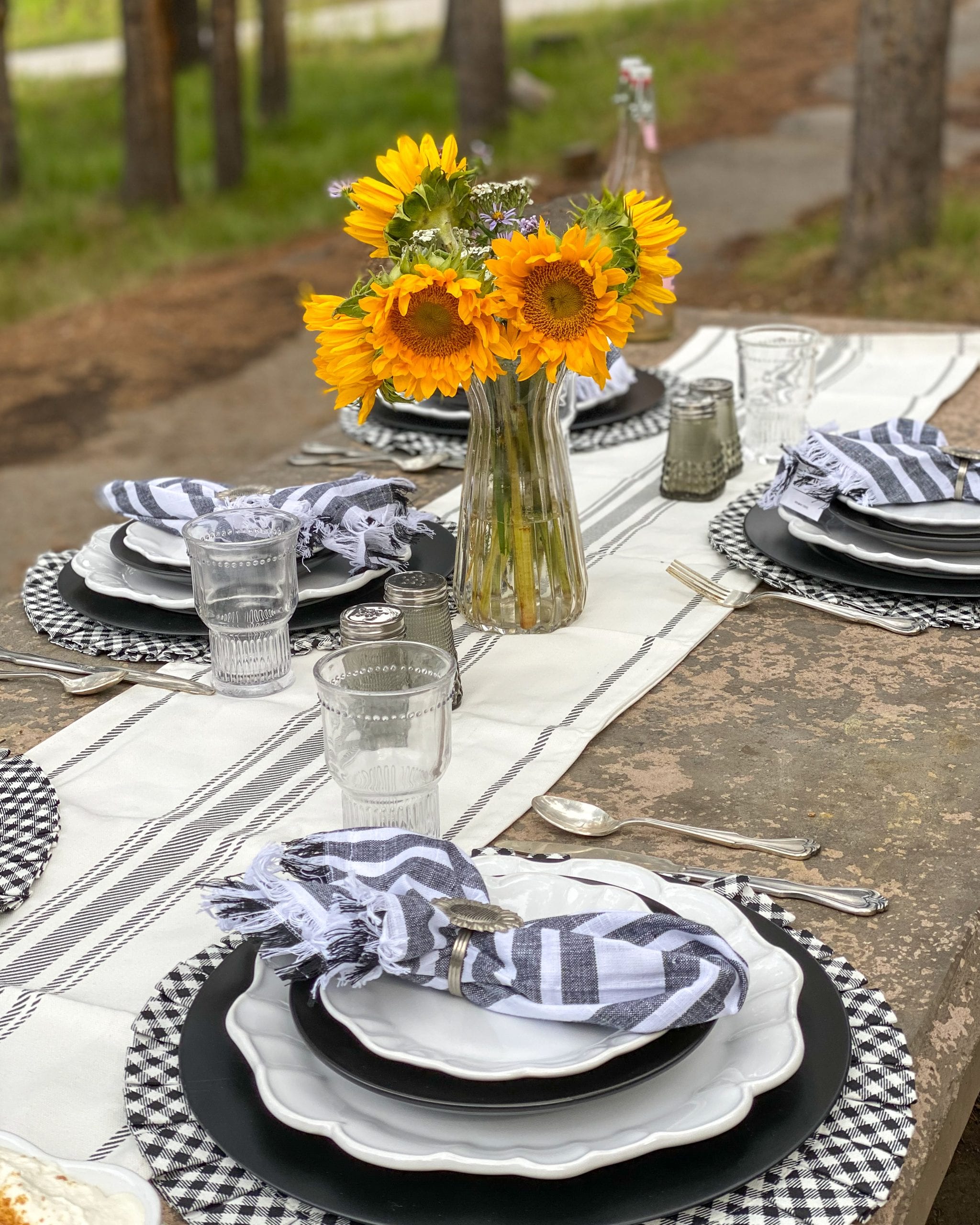 My son and I surprised our darling guest with this cute picnic tablescape! I made my homemade fried chicken tenders, pan gravy, boiled potatoes, summer squash from my garden, and my homemade fresh peach dessert. It was so fun surprising and spoiling her!
Okay, back to the cabin tablescape!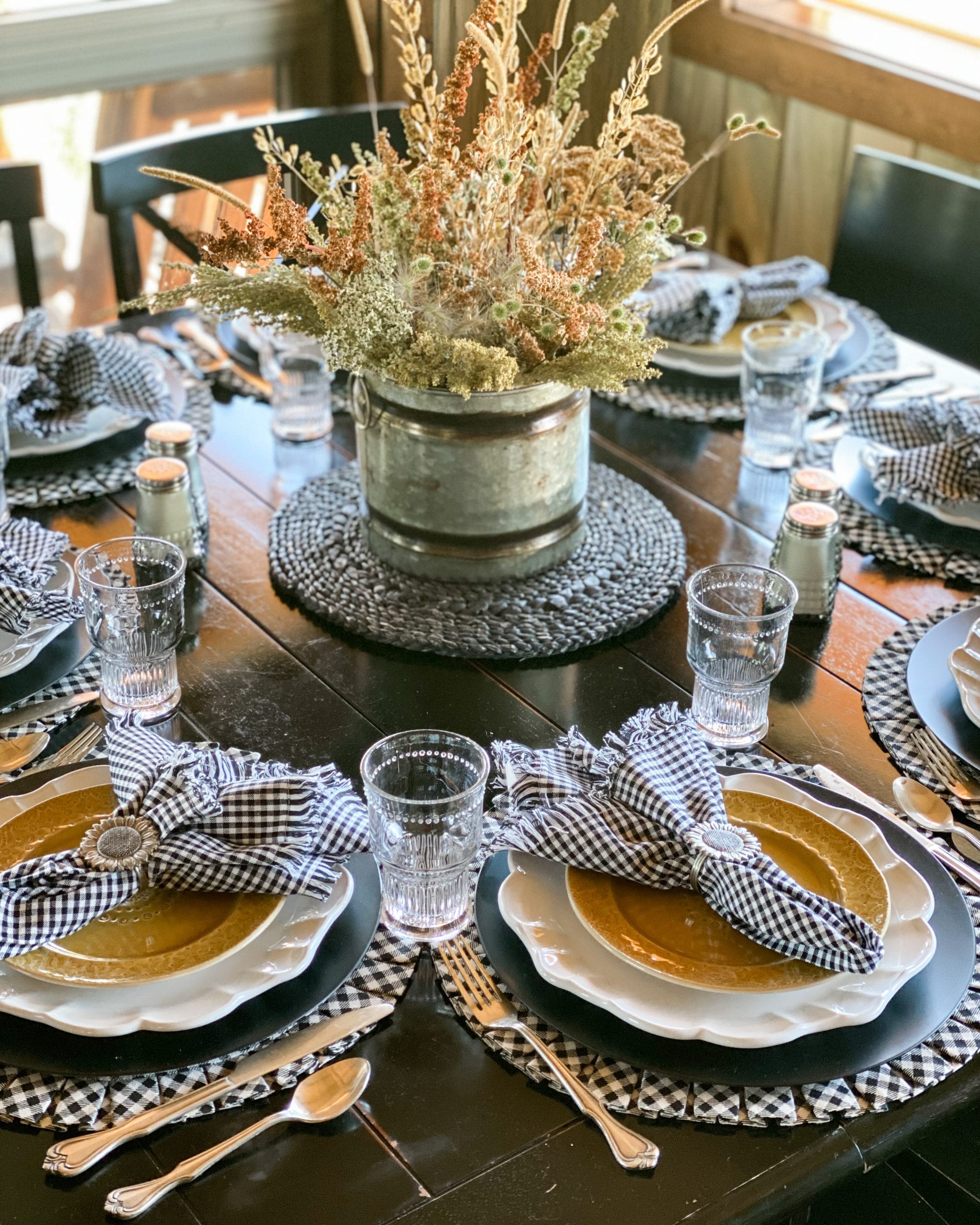 I layered the white scalloped dinner plate and then the yellow/mustard colored plate on top and to tie in the checkered placemat, I used the black and white checkered napkin. The sunflower napkin rings were a HomeGoods find and I wish I could find more of them. They are so cute! (I've linked similar options below)
I then added the old fashioned looking drinking glasses and some rustic looking silverware. Most importantly, I love how it all came together!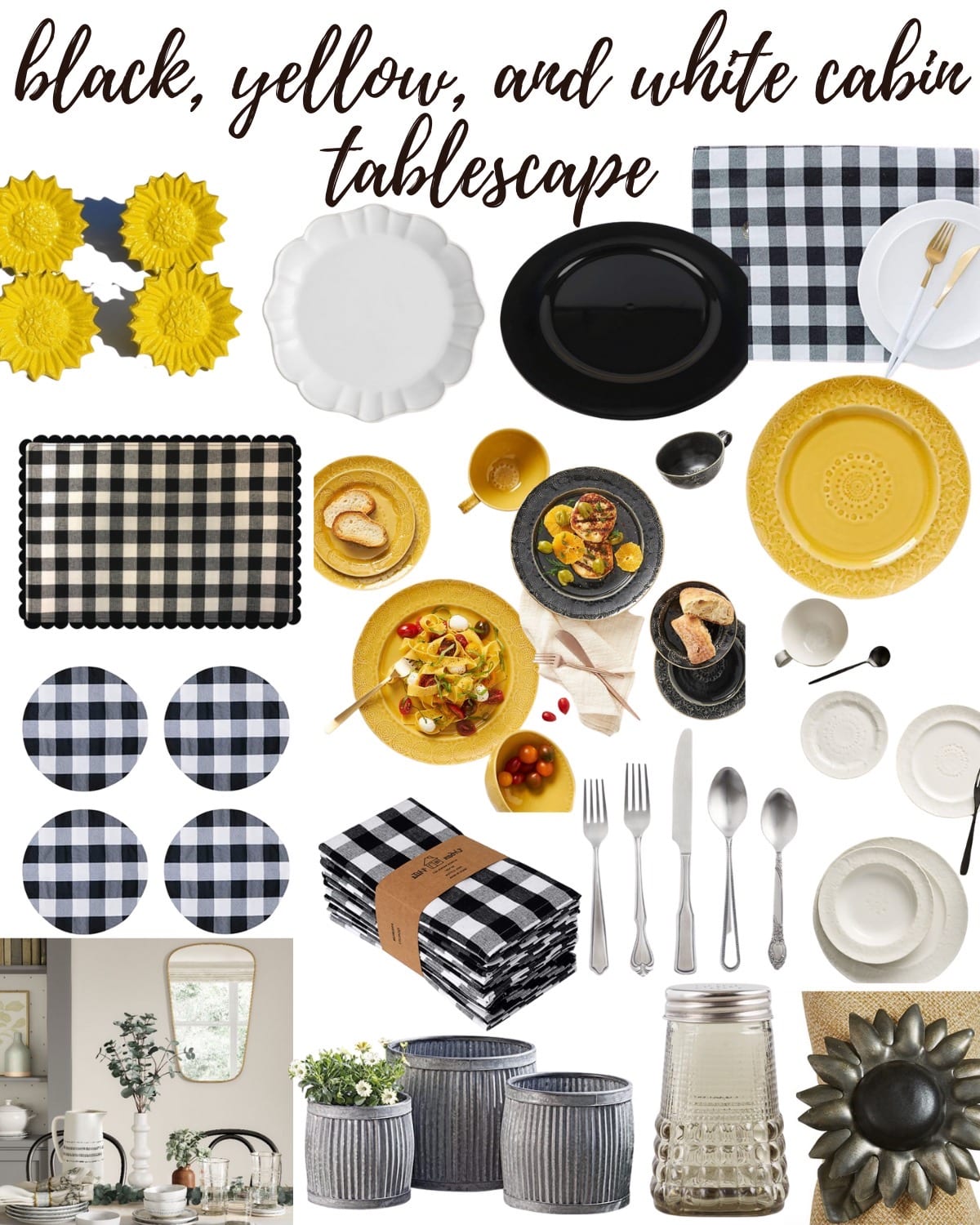 Here are some of the items or like items that I used. They will all be linked individually at the bottom of the post too!




Mixing and Matching
Mix and match your dishes, placemats, and chargers. If you don't have a full set of dishes, mix them with others. It does not have to be perfect! For example, I don't have an entire set of many of my dishes, but I will mix them with another set or two to make a place-setting.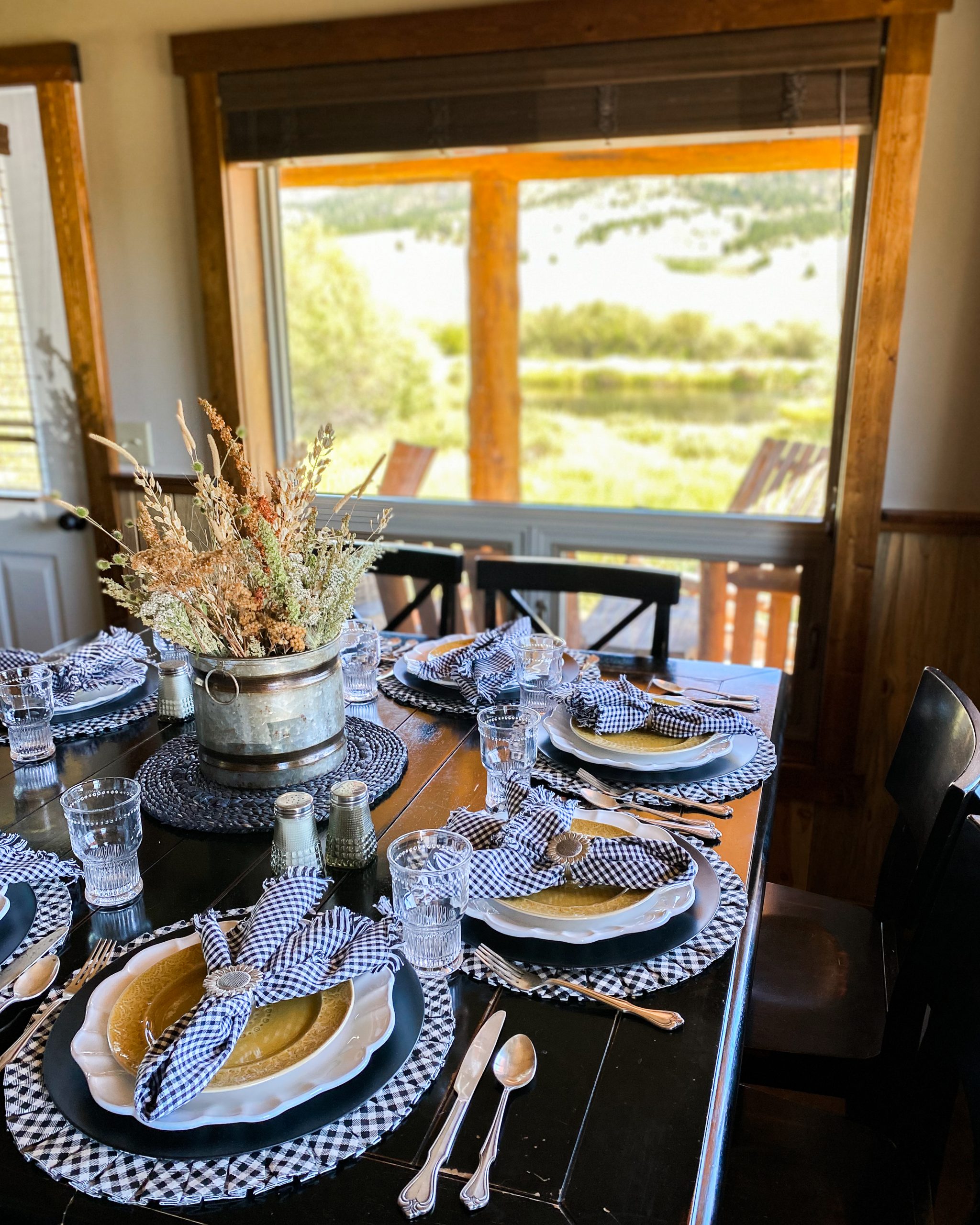 Use what you have and then slowly, as your budget allows, find a side plate that mixes well with your other dishes and build a little dish collection from there- if that's what you enjoy doing! I love dishes and setting a pretty table is just part of who I am! I will often set a paper plate tablescape too and its so fun and everyone loves it!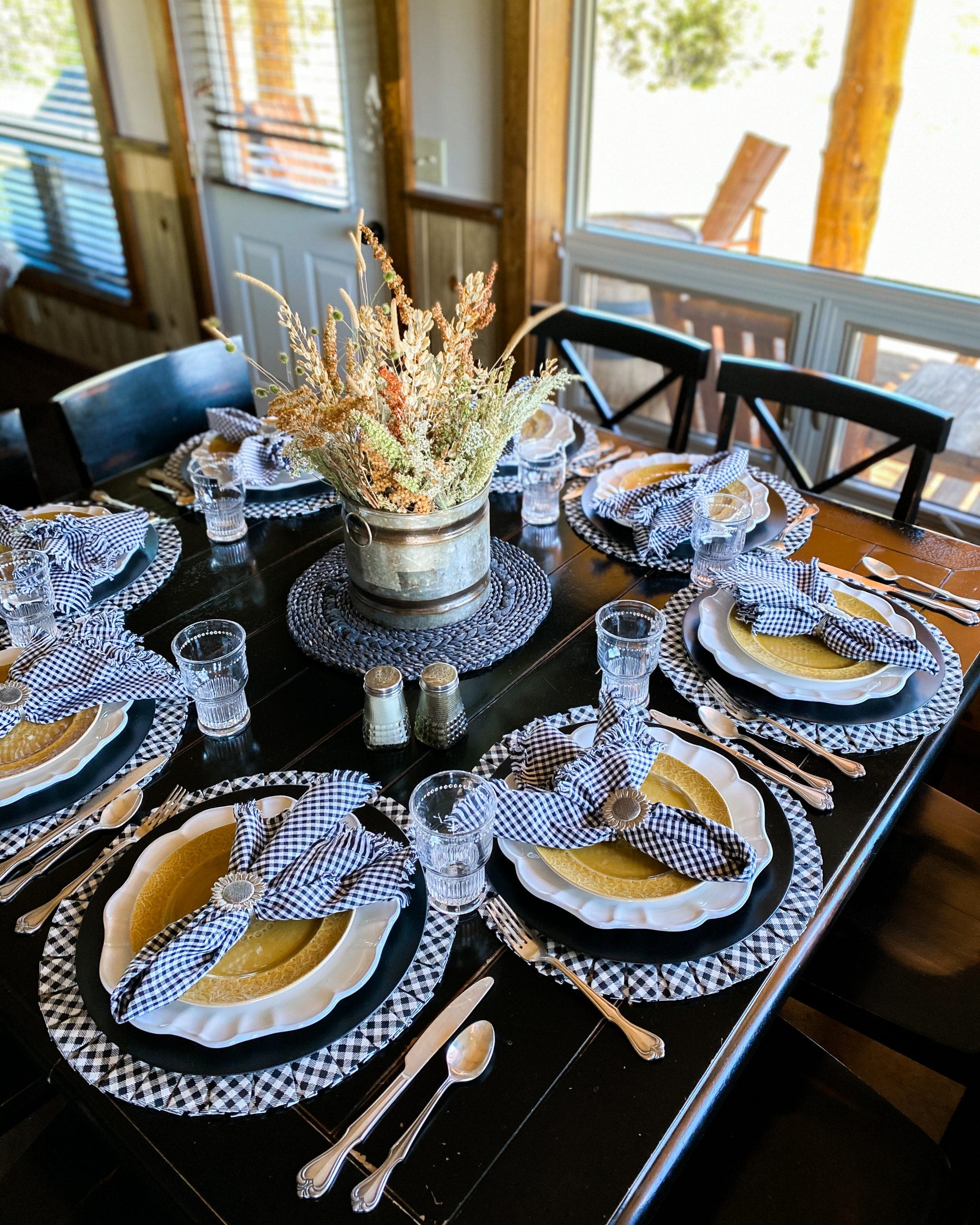 Here are a few more photos of the cabin tablescape. The mountain views from the cabin never get old!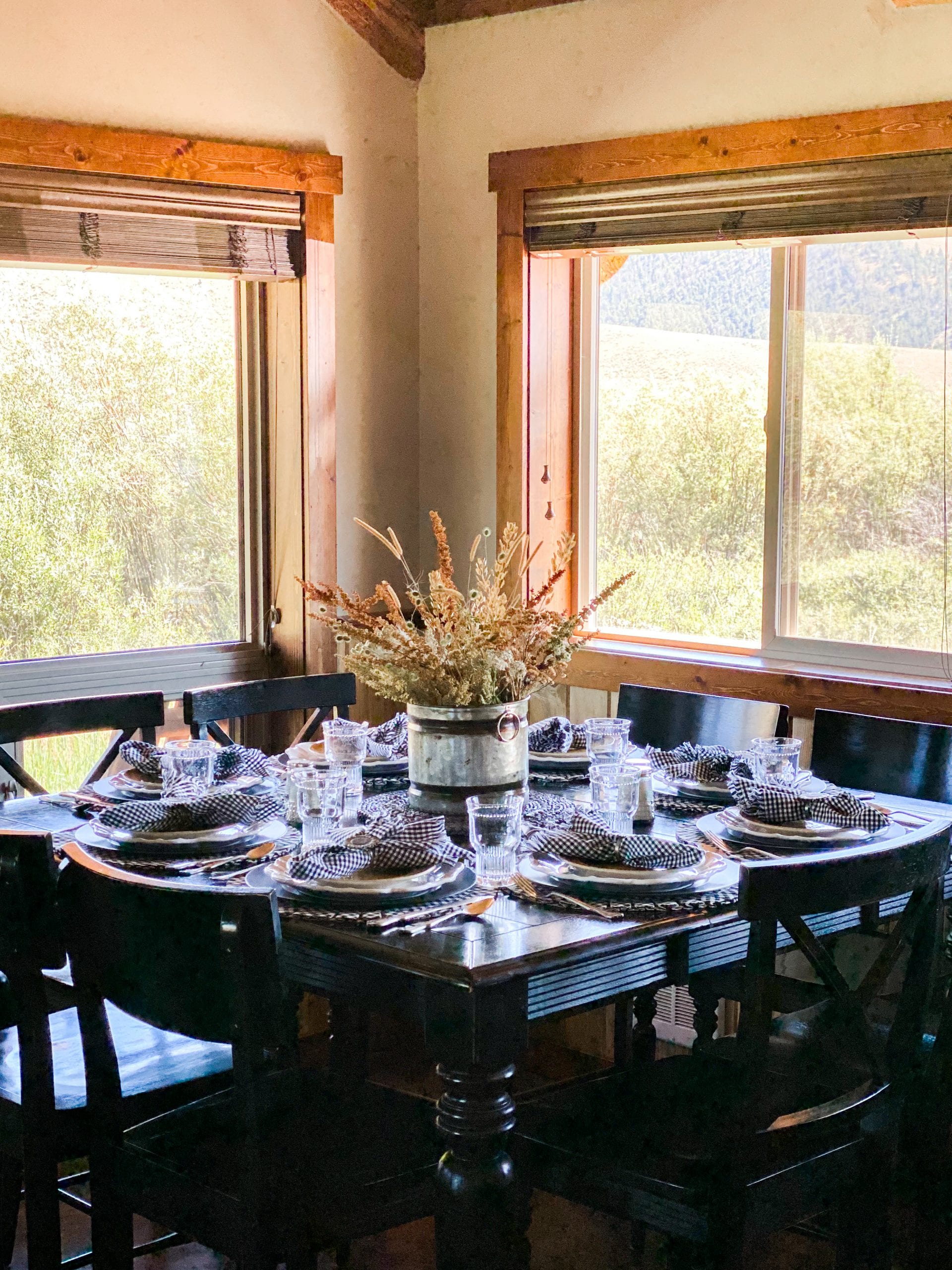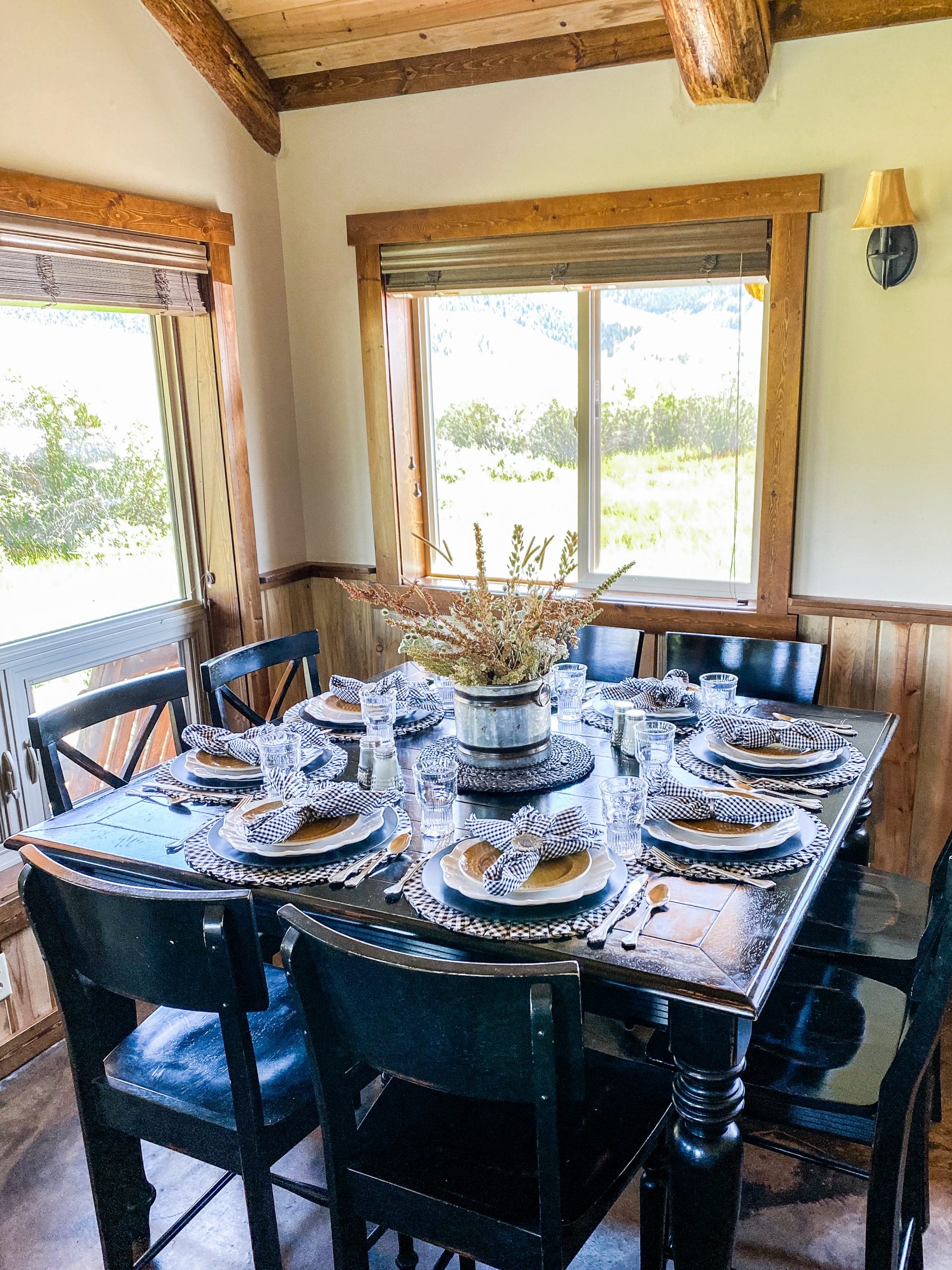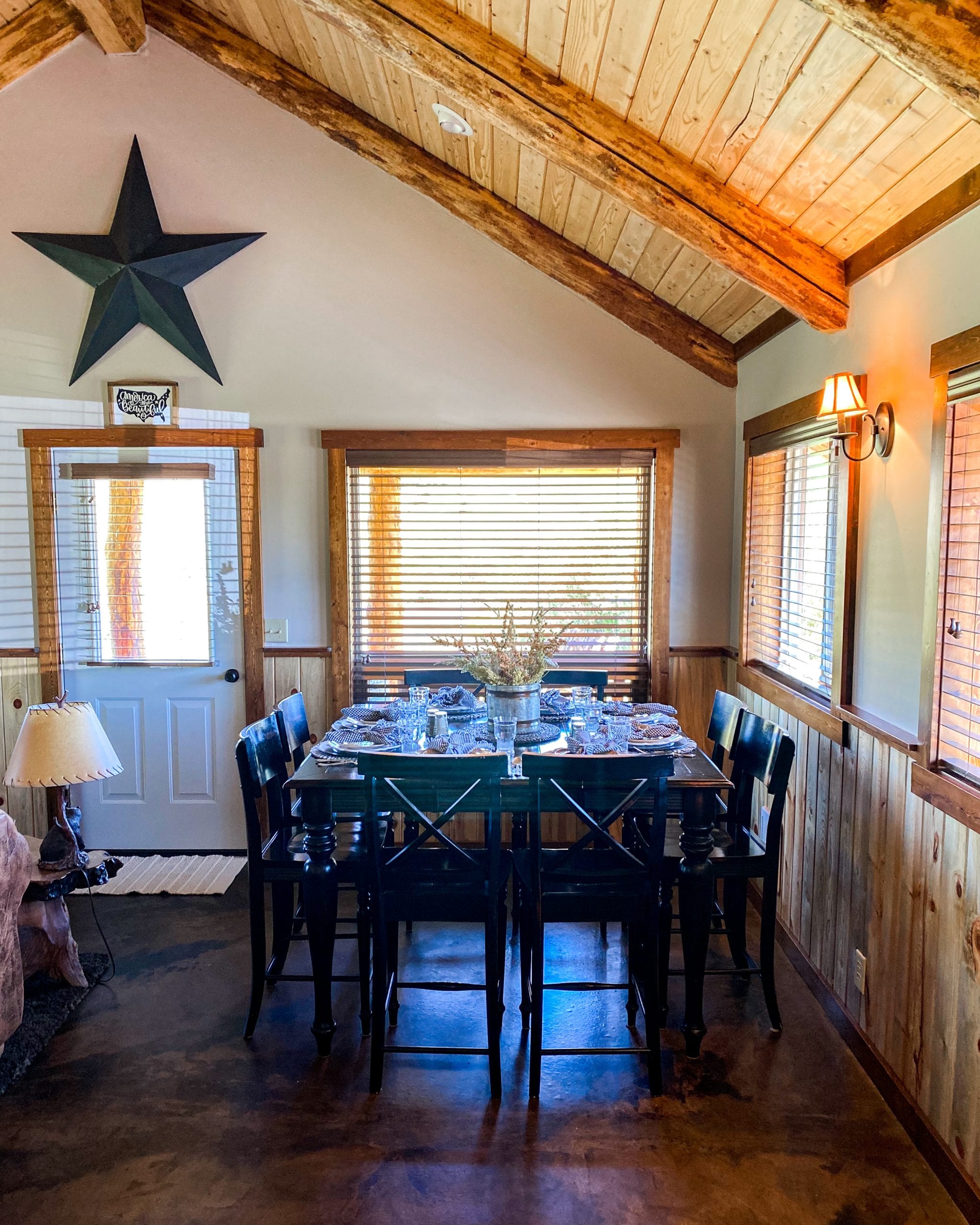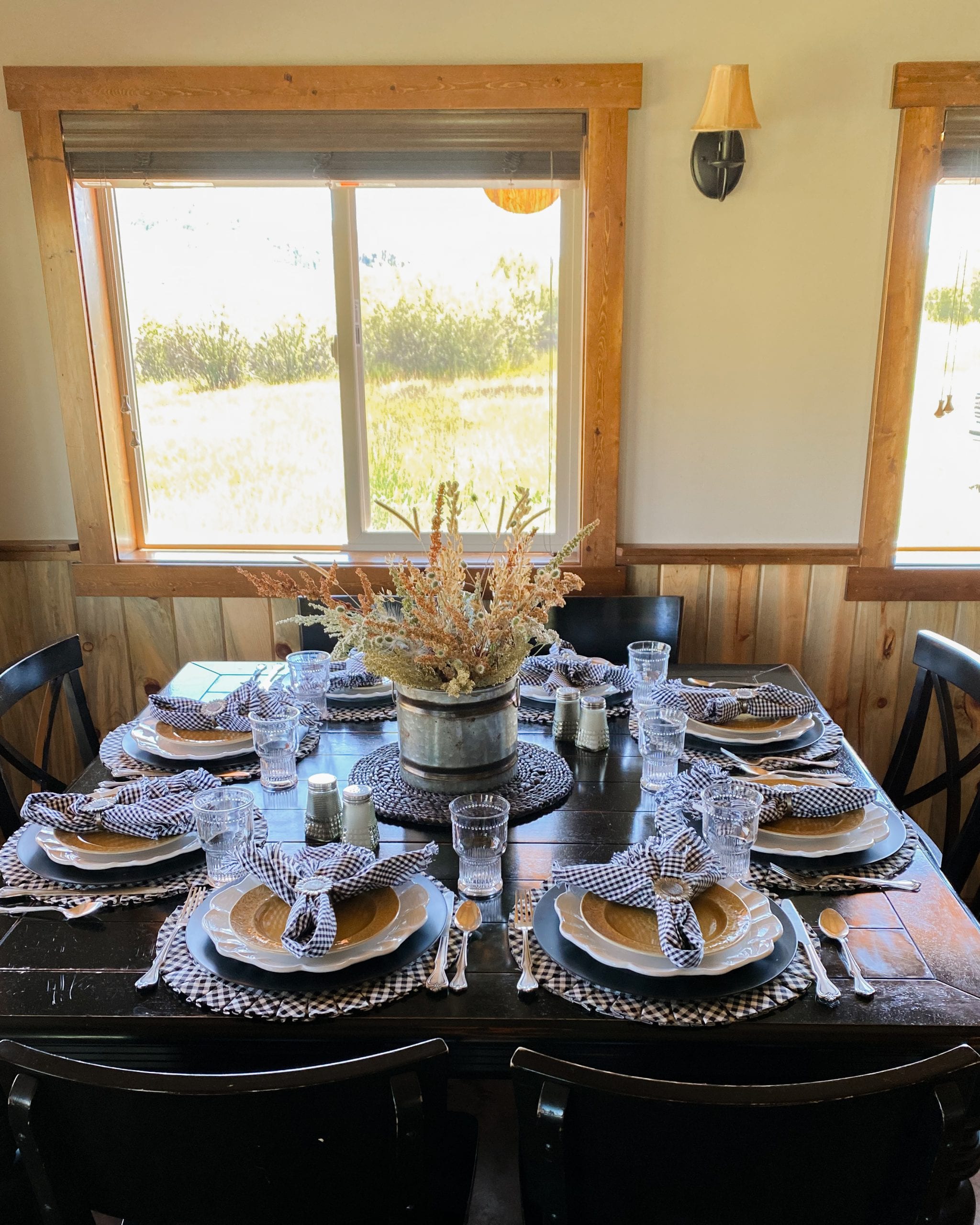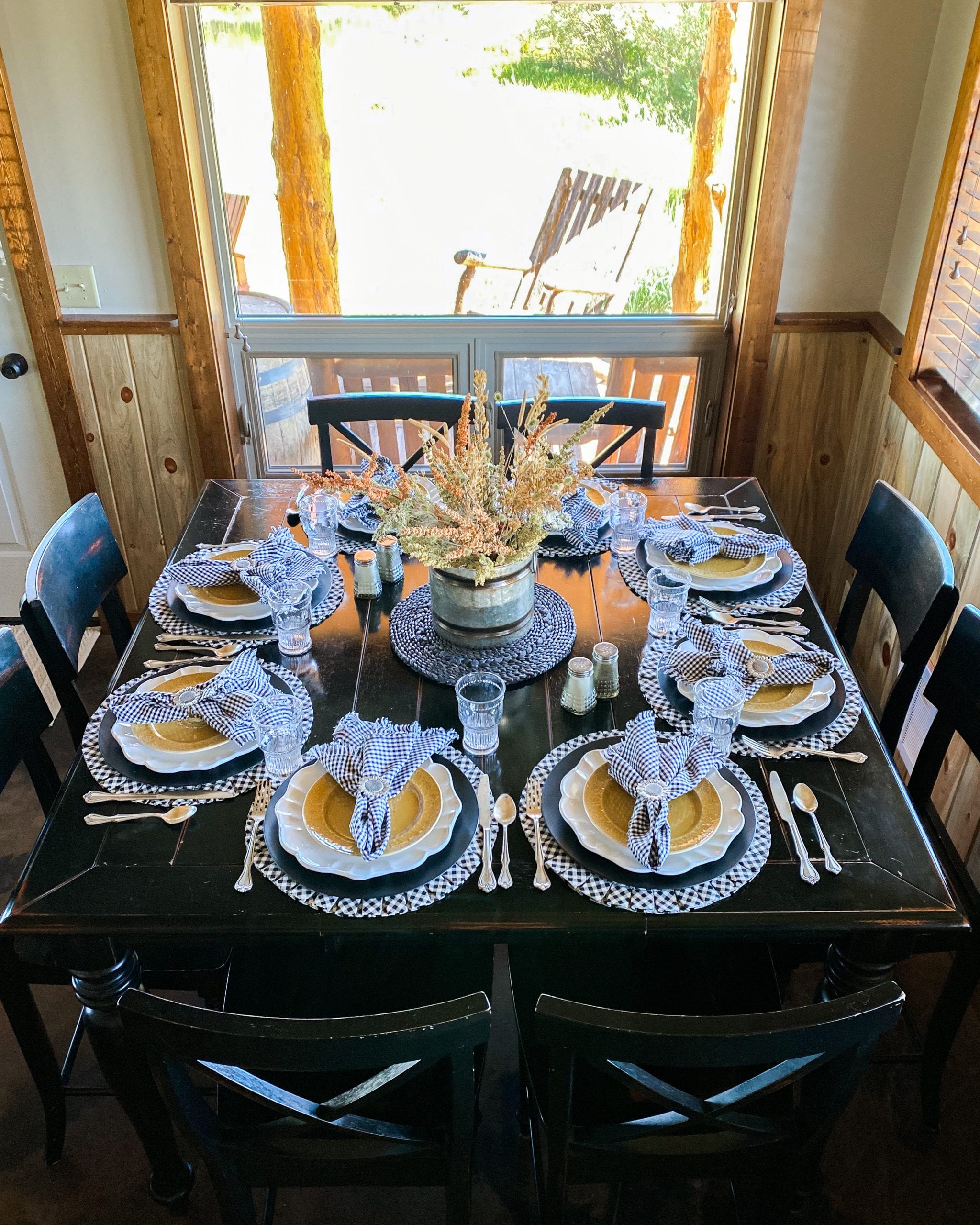 I especially love the view of the pond out the dining area window at the cabin. Sometimes we are lucky enough to see a moose or a deer hanging out down by the pond!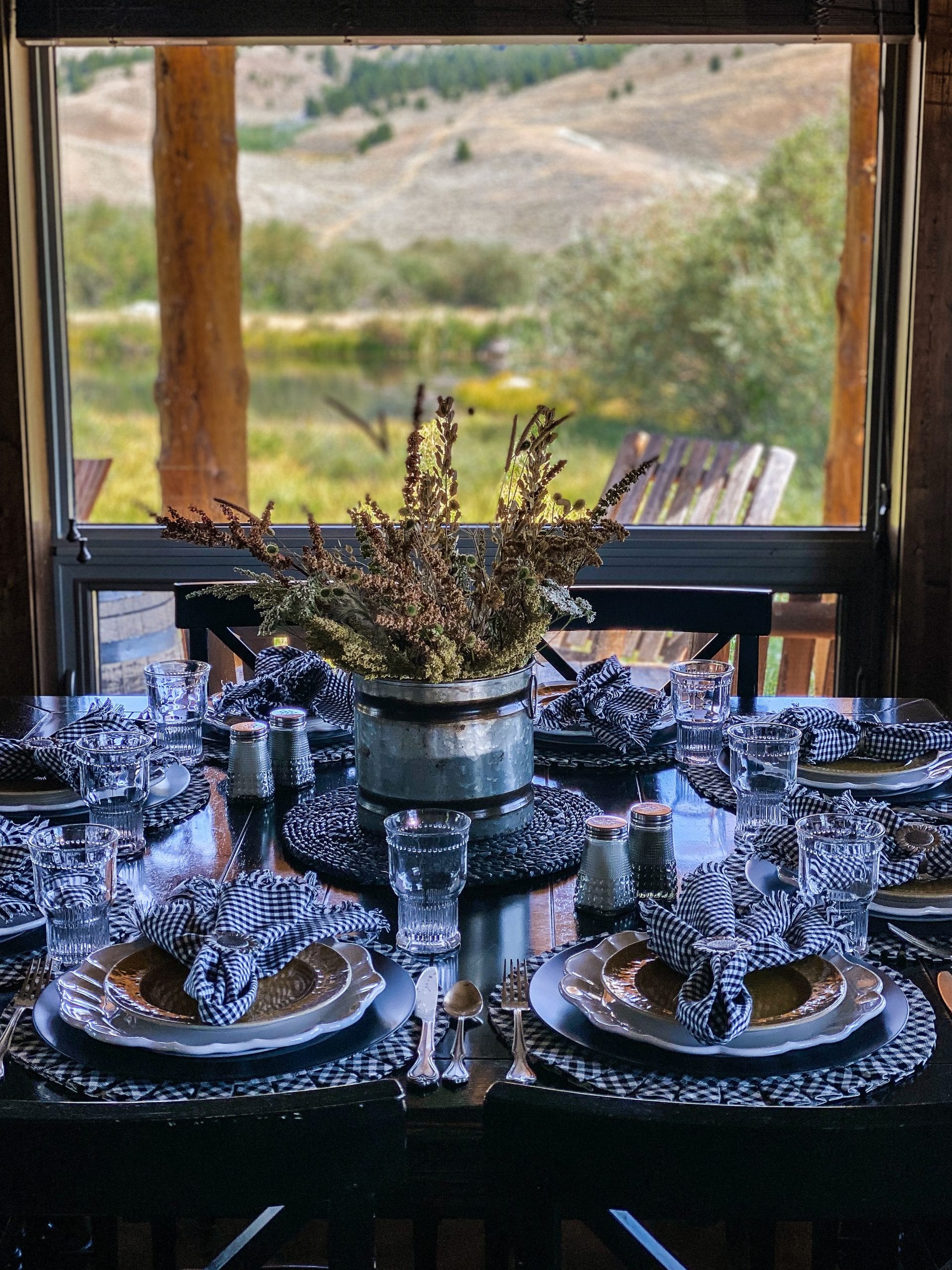 I hope you enjoyed seeing this years cabin tablescape at our little cabin in the Pioneer Mountains of Montana. If you would like to see more of our cute little cabin, click here for this Montana Cabin Home Tour and you can also go to my Instagram @homewithhollyj and watch the IGTV video home tour.
For Information on renting our cabin its listed on Airnnb. Click here for the link to the listing.
Enjoy!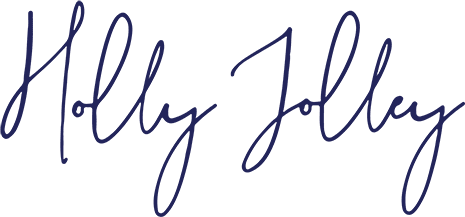 Sources and similar items linked below:

Pin this for later!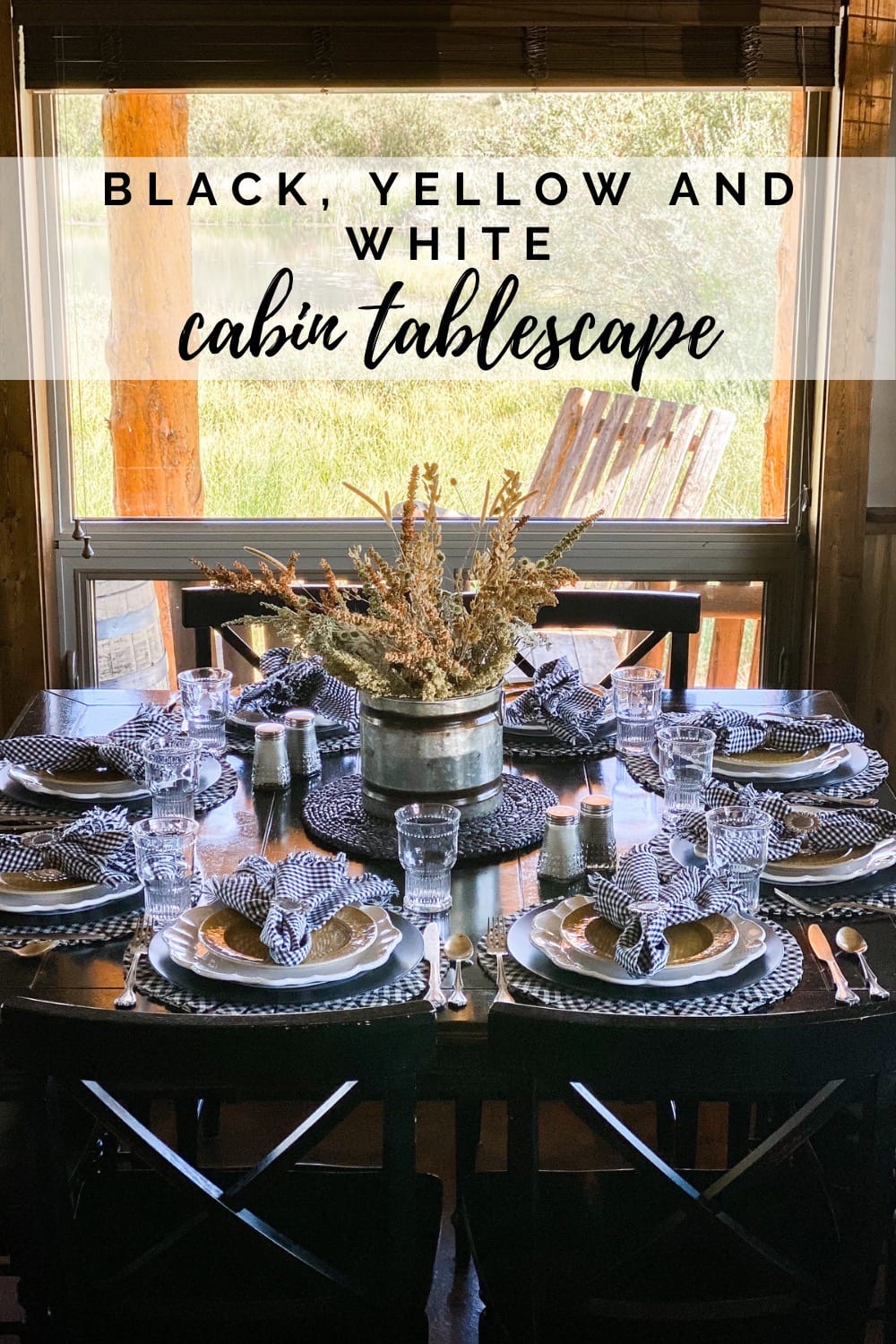 CABIN TABLESCAPE