Blue and Yellow Summer/Fall Tablescape
I set this Blue and Yellow Summer/Fall Tablescape a few weeks ago for a family gathering and I really love how it all came together! I had a lot of these colors in my kitchen and dining area from my summer decor and I think these colors also work great for a decor transition into fall!

Summer into Fall Decor
I am never quite ready for summer to end and fall to arrive so maybe that's why I always do a summer into fall transitional tablescape. I had found these yellow and blue plates at HomeGoods and literally went to every HomeGoods store in my area to find them. I never found enough of them for ten place-settings so I used one of my favorite tricks to create enough place-settings for my table.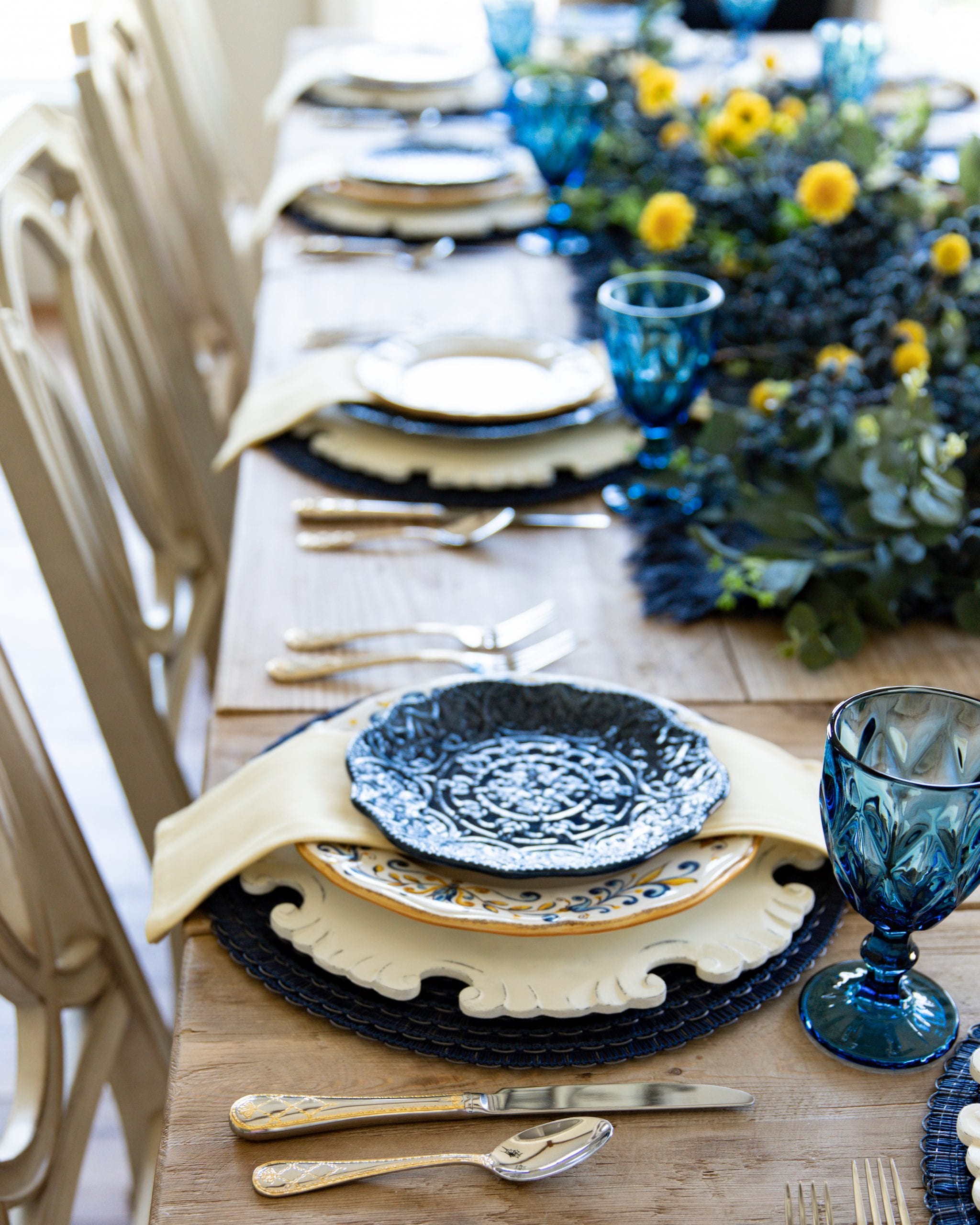 My Favorite Trick to Create Enough Place-settings
What do you do if you don't have a full set of dishes to make enough place-settings for your dining table? Mix and match sets of dishes! Click here to see how I set two tablescapes for twenty people using my favorite little trick!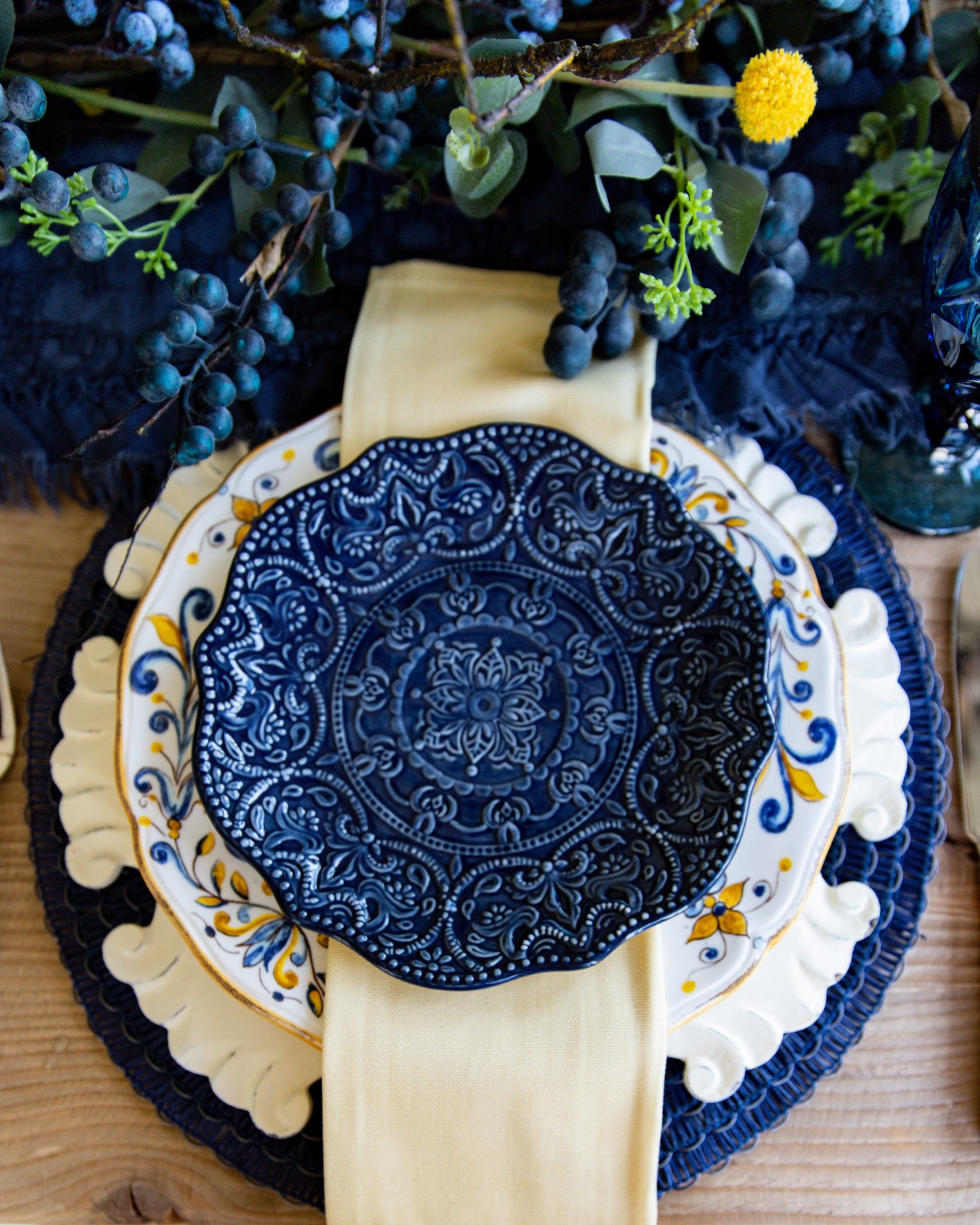 Here you can see how I alternated the dinner and salad plates. This photo above has the patterned white and yellow dinner plate on the bottom and the solid blue pattered plate on top.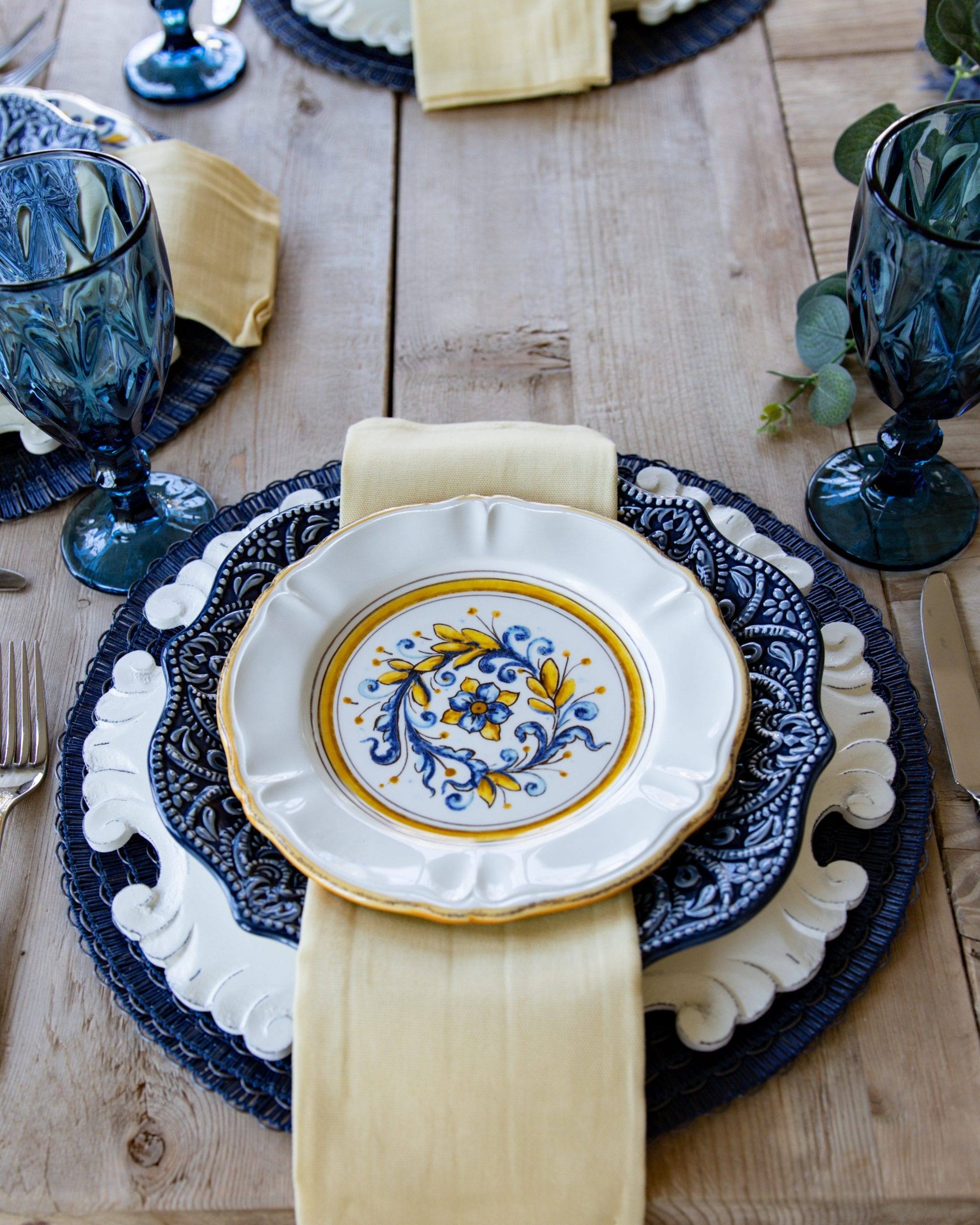 And here is the alternating place-setting where the solid patterned blue dinner plate is on the bottom and the white and yellow patterned salad plate is on the top. You can even mix and match the napkins too.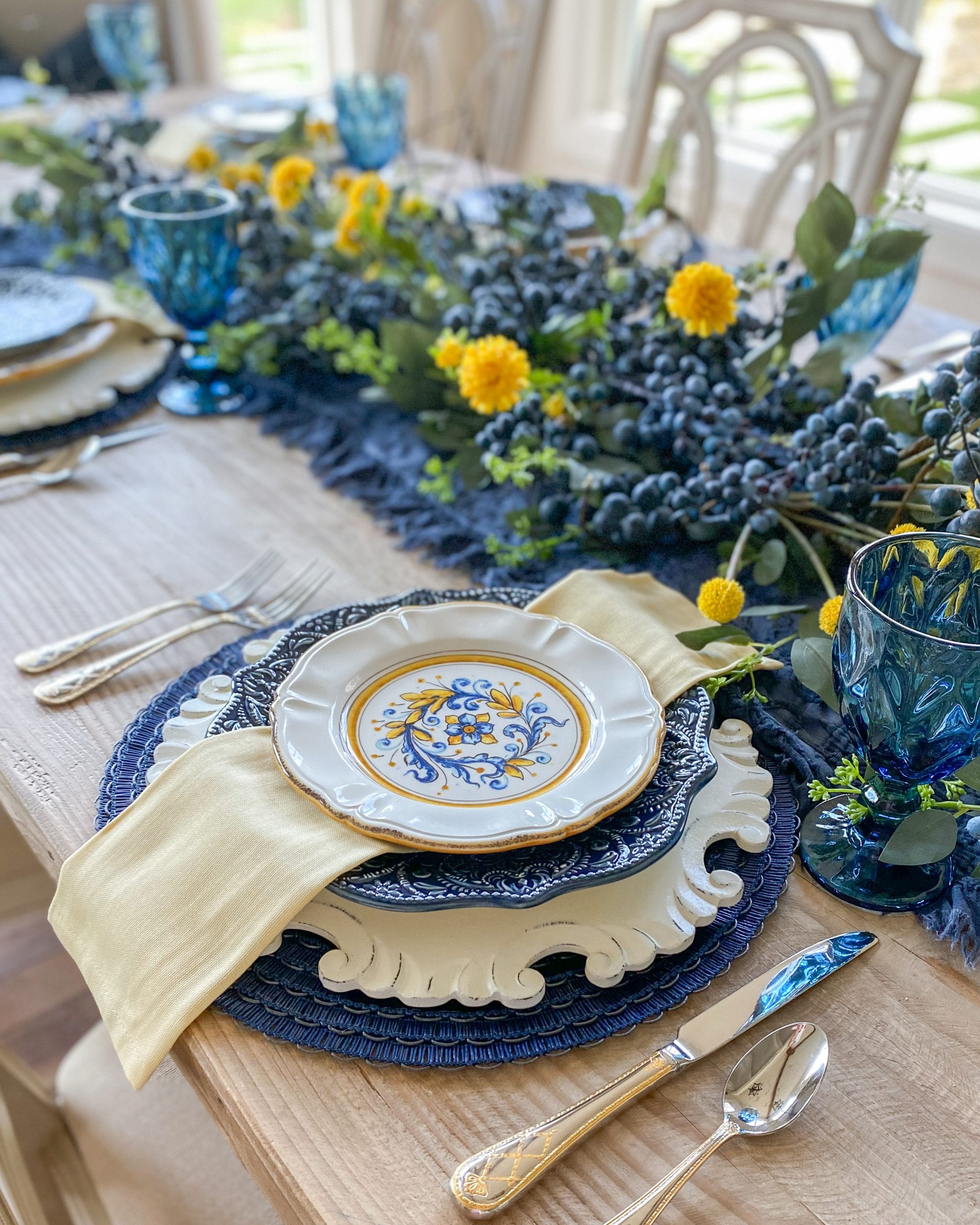 The Place-Setting
Layering is the key to a beautiful place-setting. Mixing solid and colors is also a great way to contrast patterns and solid colors. For the rest of the place-setting I started with a matching navy blue placemat. Next, I used a white wood charger and then alternated the dinner and salad plates.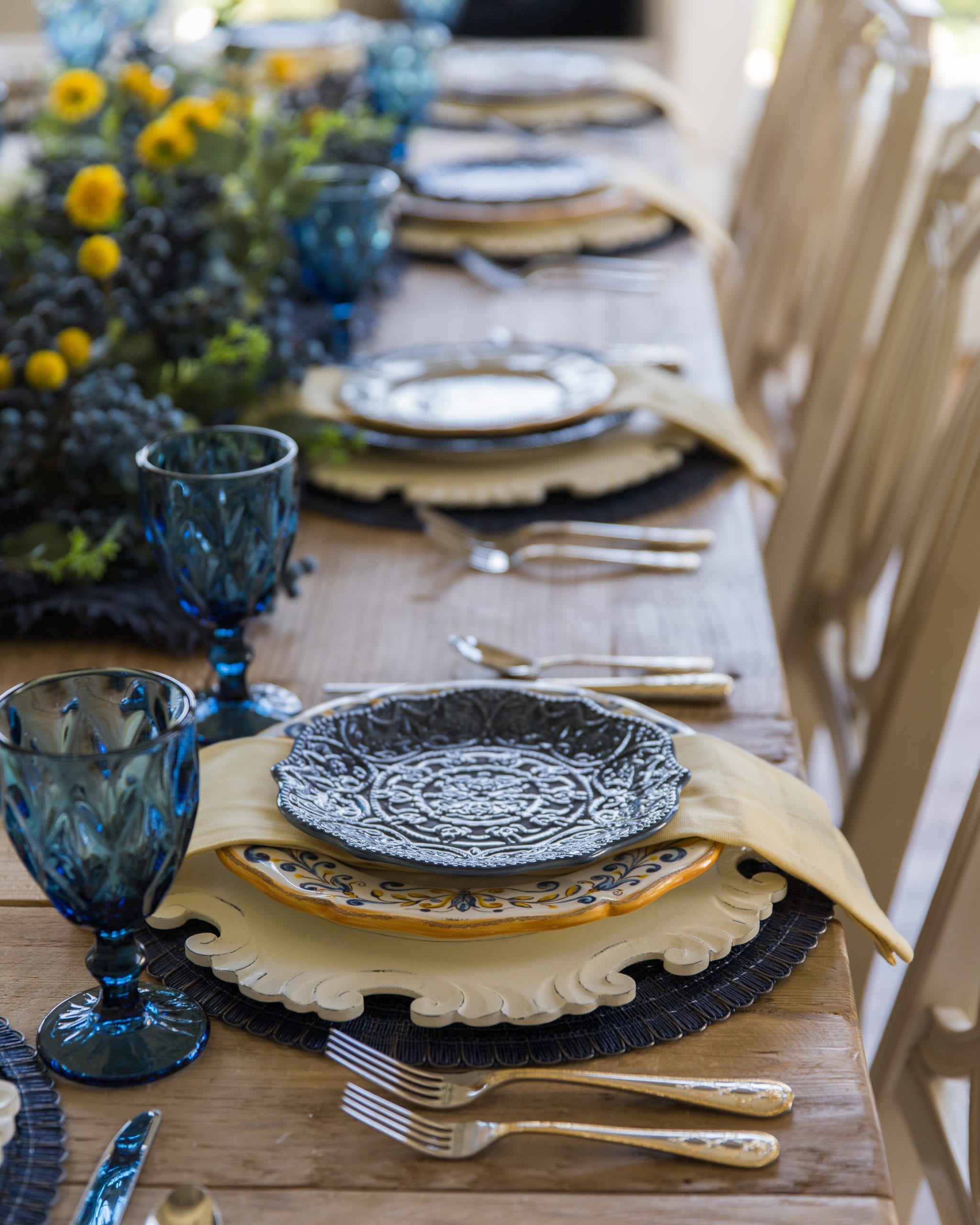 I used my gold and silver flatware and some dark blue goblets.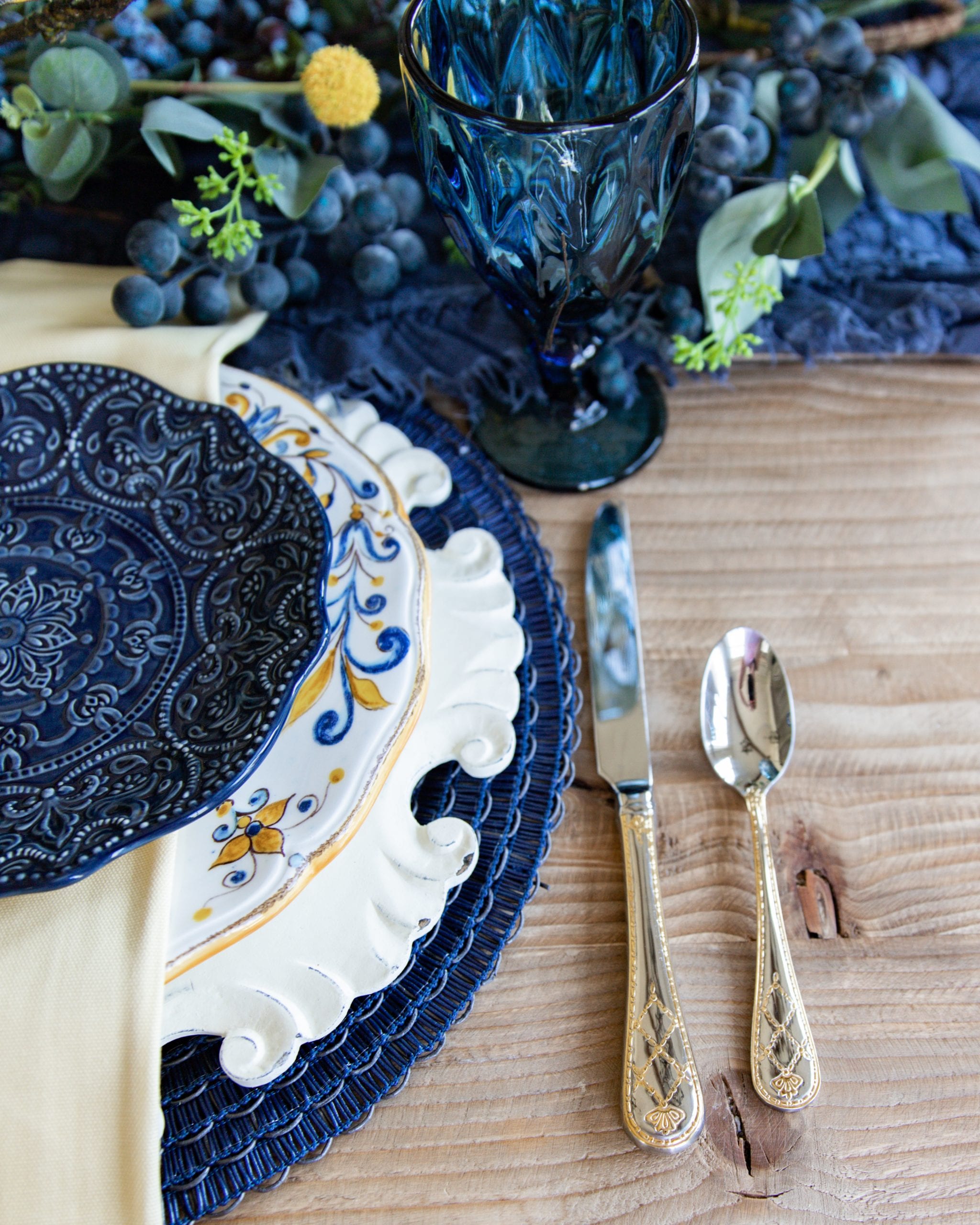 The Centerpiece Garland
To create the centerpiece garland I layered a base faux eucalyptus garland on top of a navy blue table runner. I always "fluff" my garlands and faux greenery and florals. This makes them look more natural and real!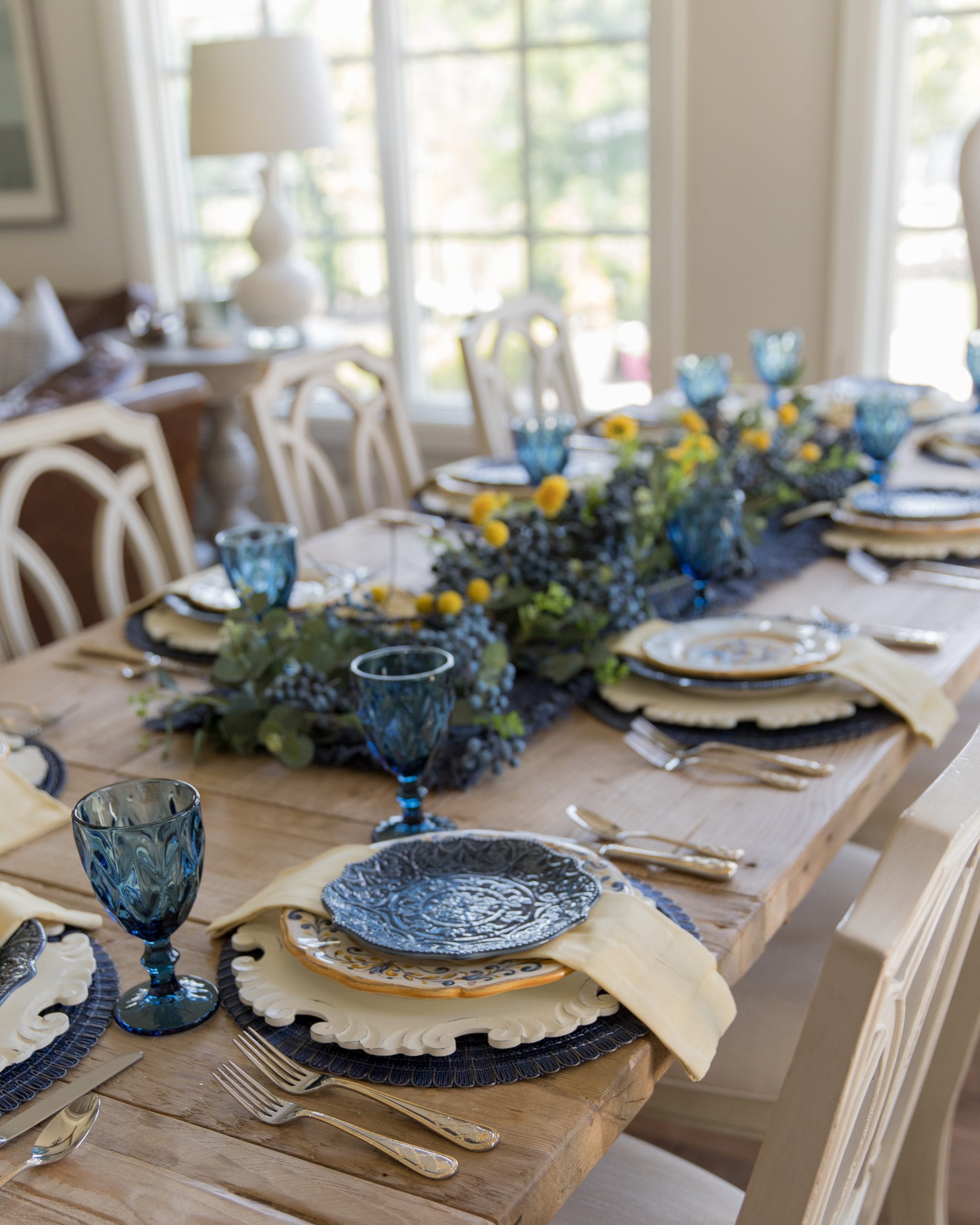 Next, I took some faux blueberry stems and slid them into the garland.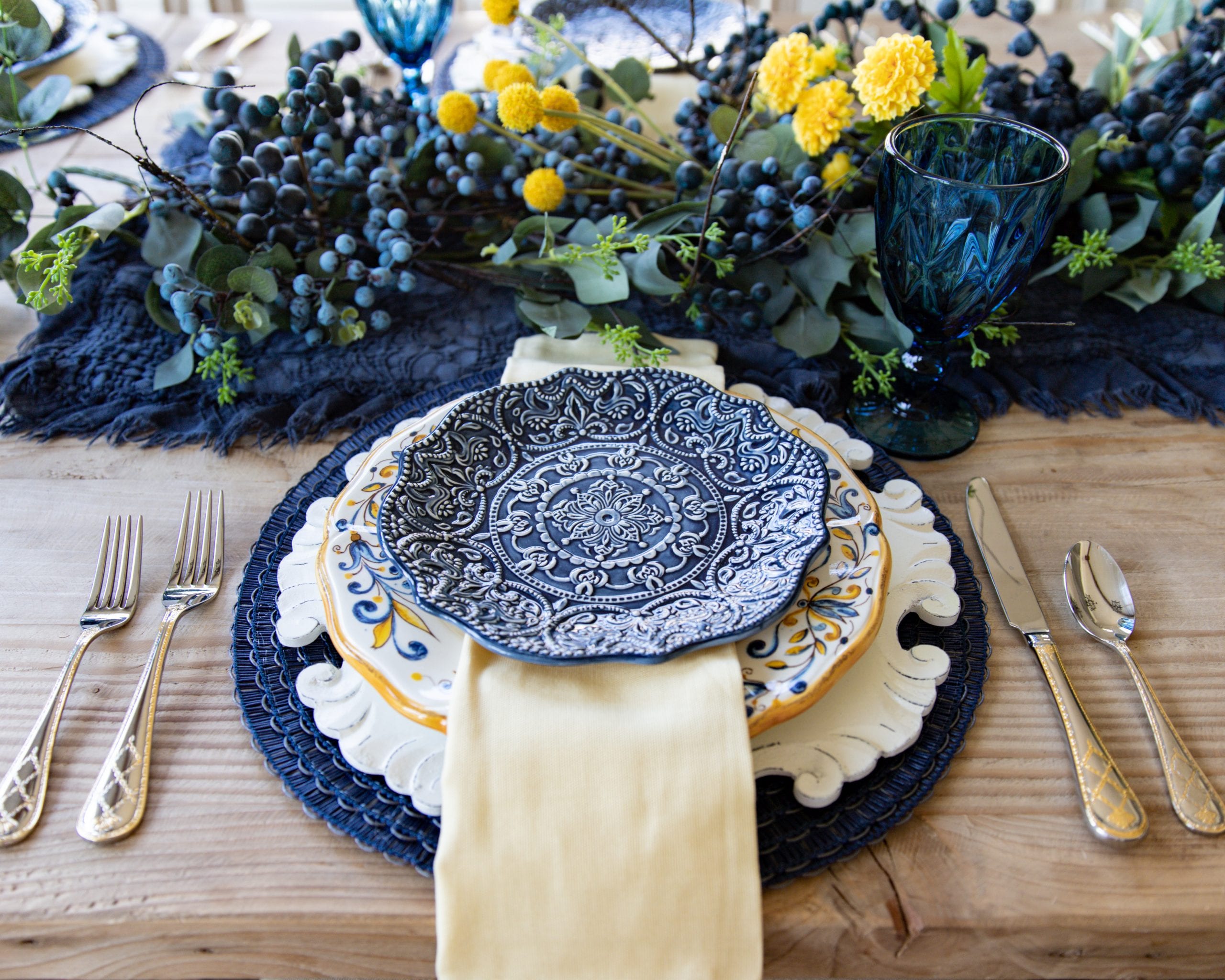 I then slid in some yellow faux flowers to add a pop of color to the garland.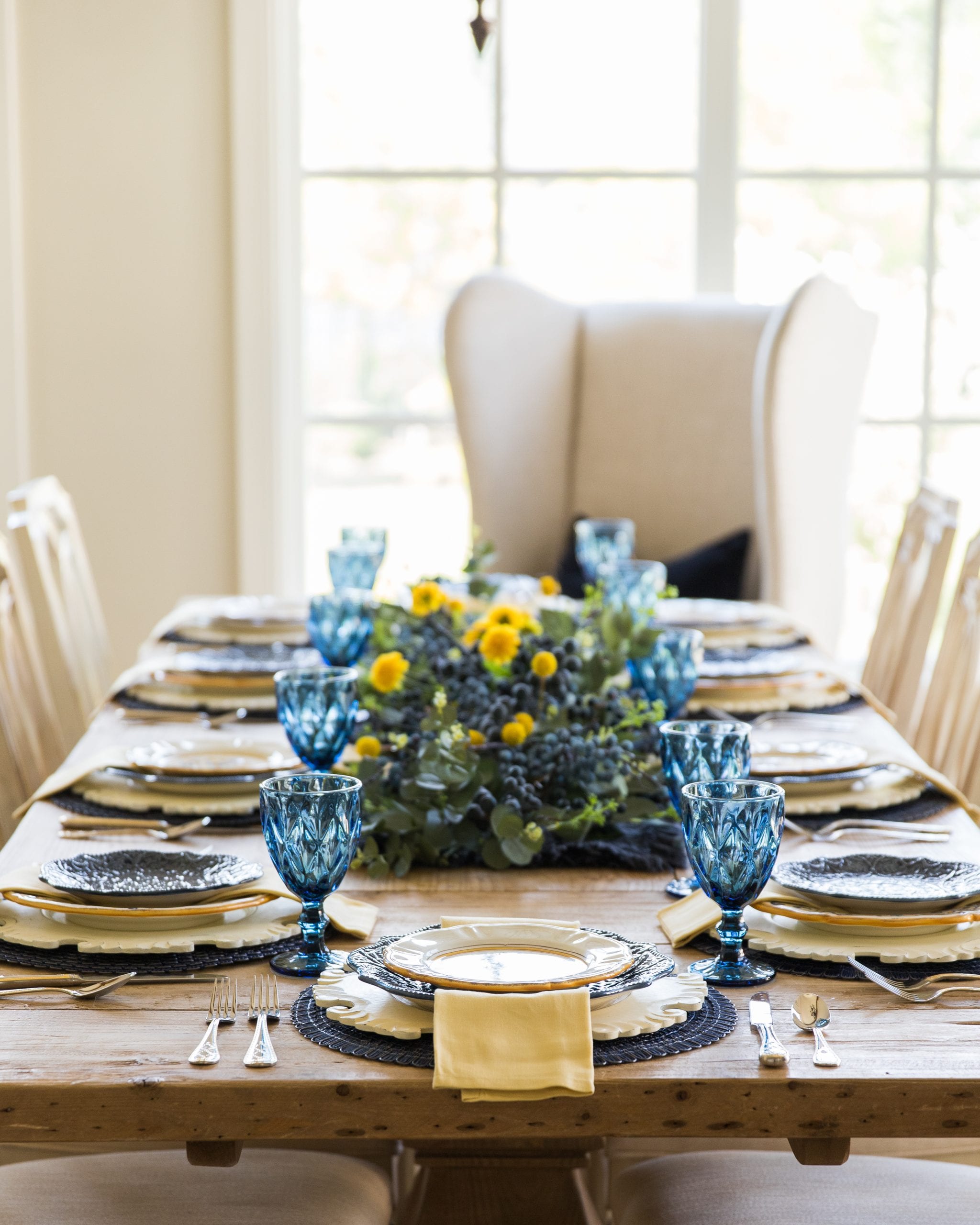 You can also leave the centerpiece garland on the table without the dishes as table decor.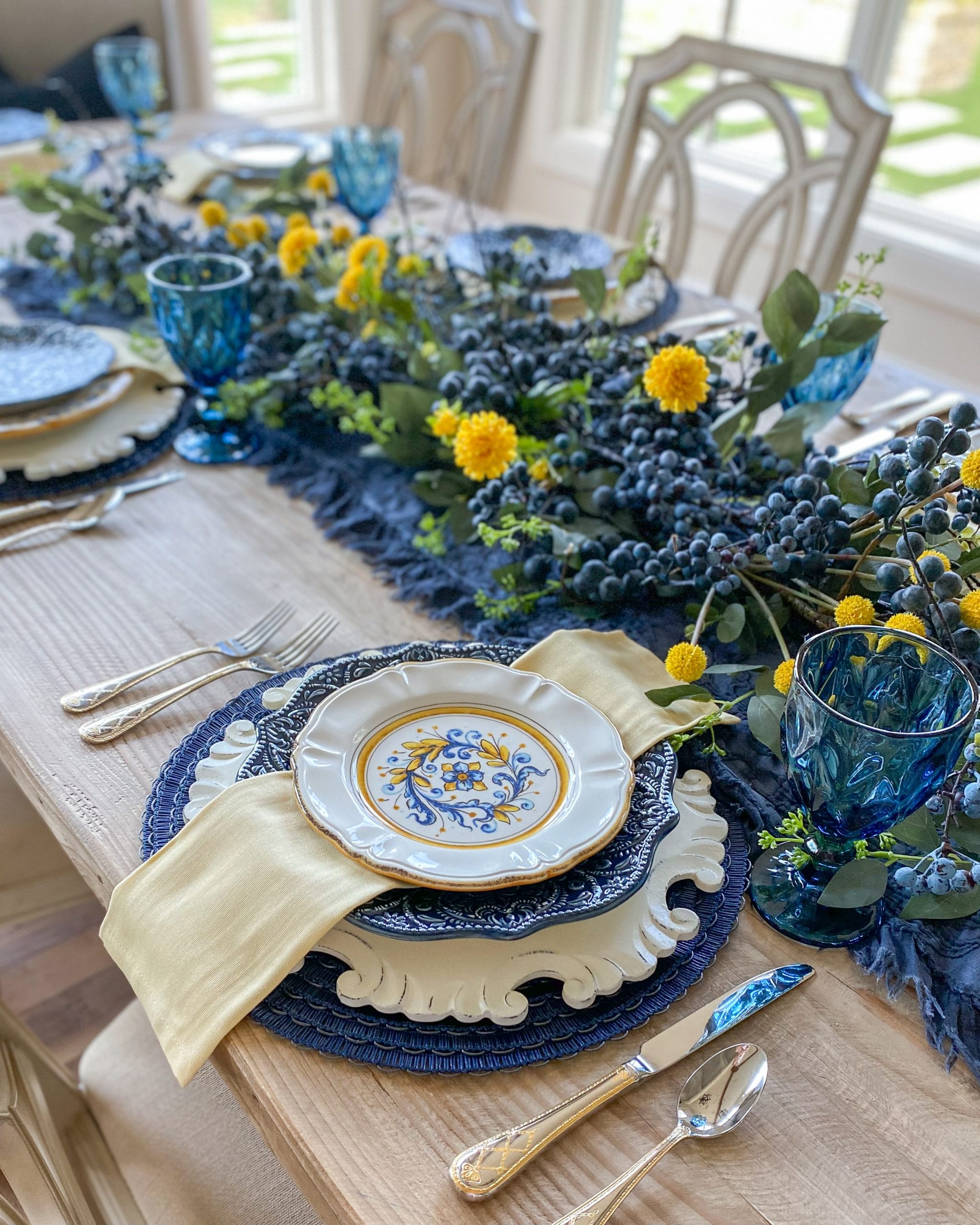 I hope you enjoyed seeing all the details of how I created this Blue and Yellow Summer/Fall Tablescape and that you found some inspiration for your own home decor. Here are a few more photos of the tablescape and I'll link all the sources or similar items below so you can source things and replicate this look if you like!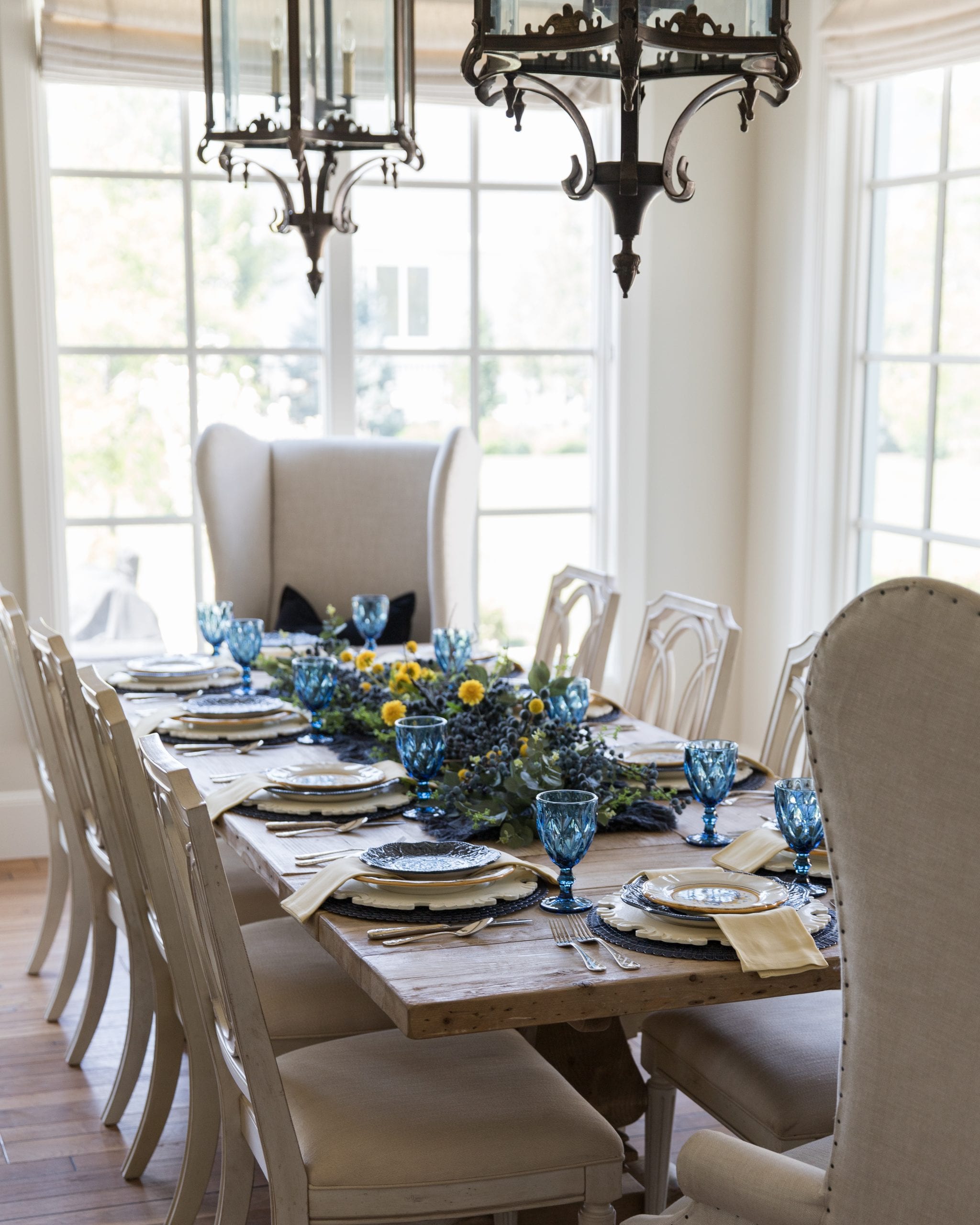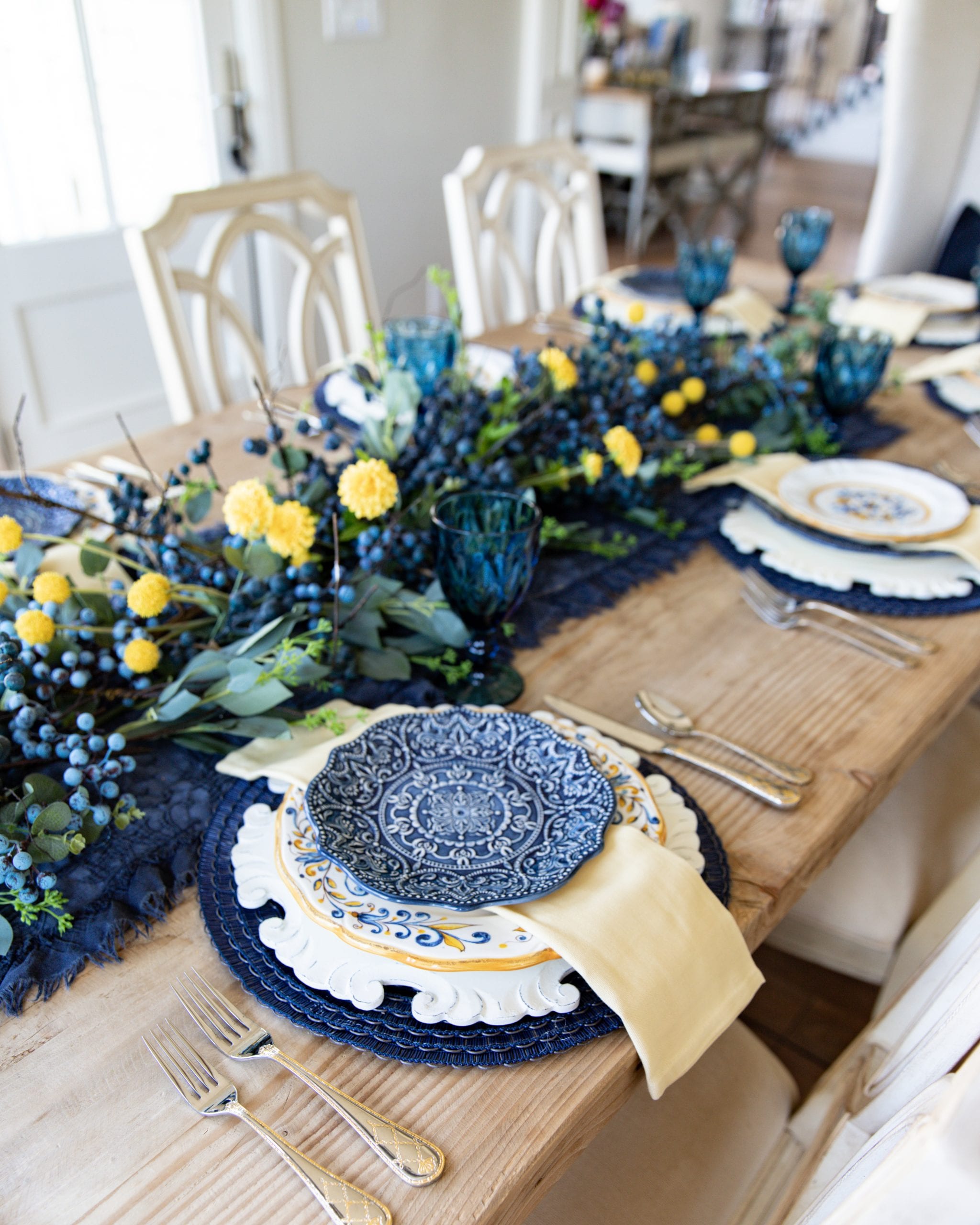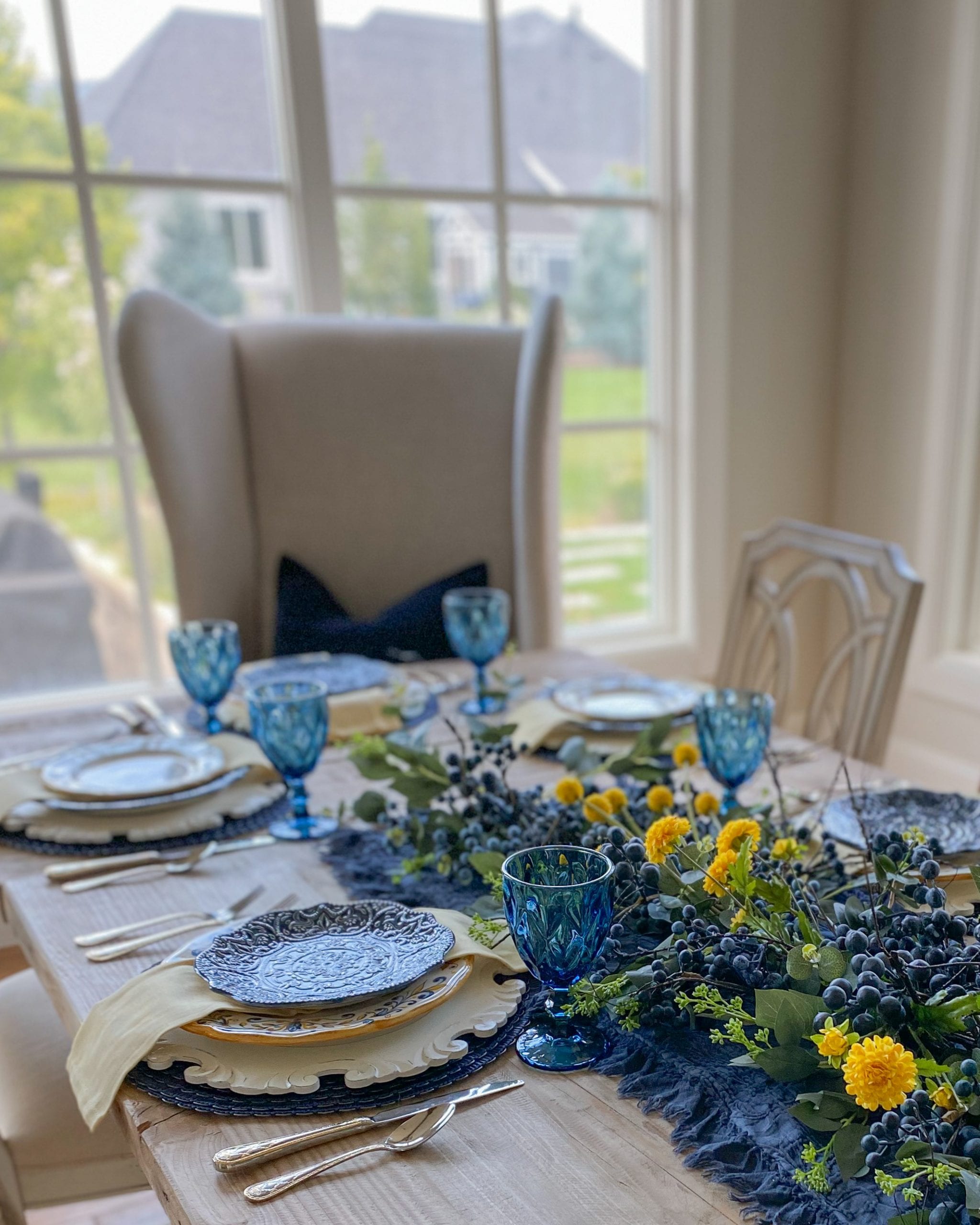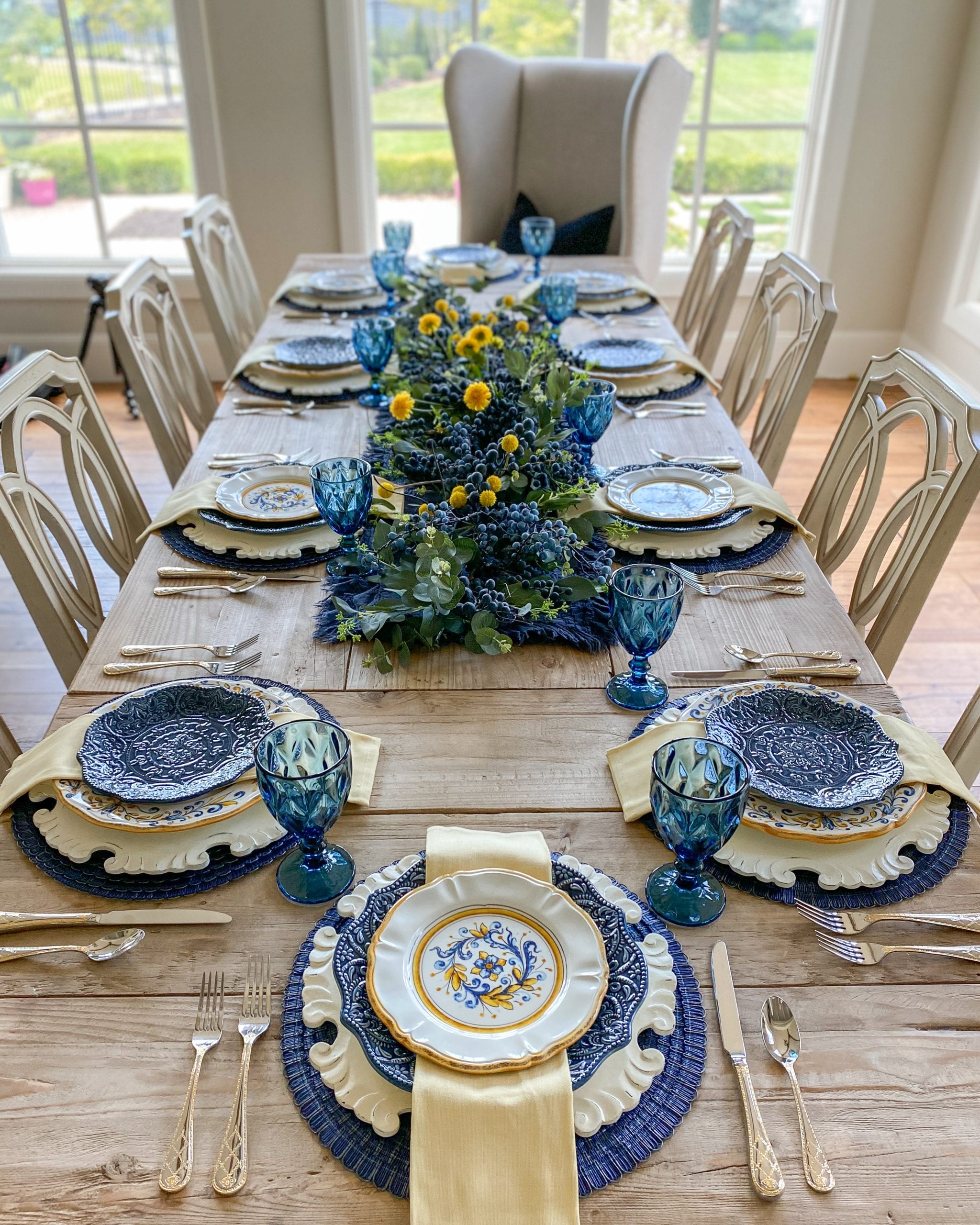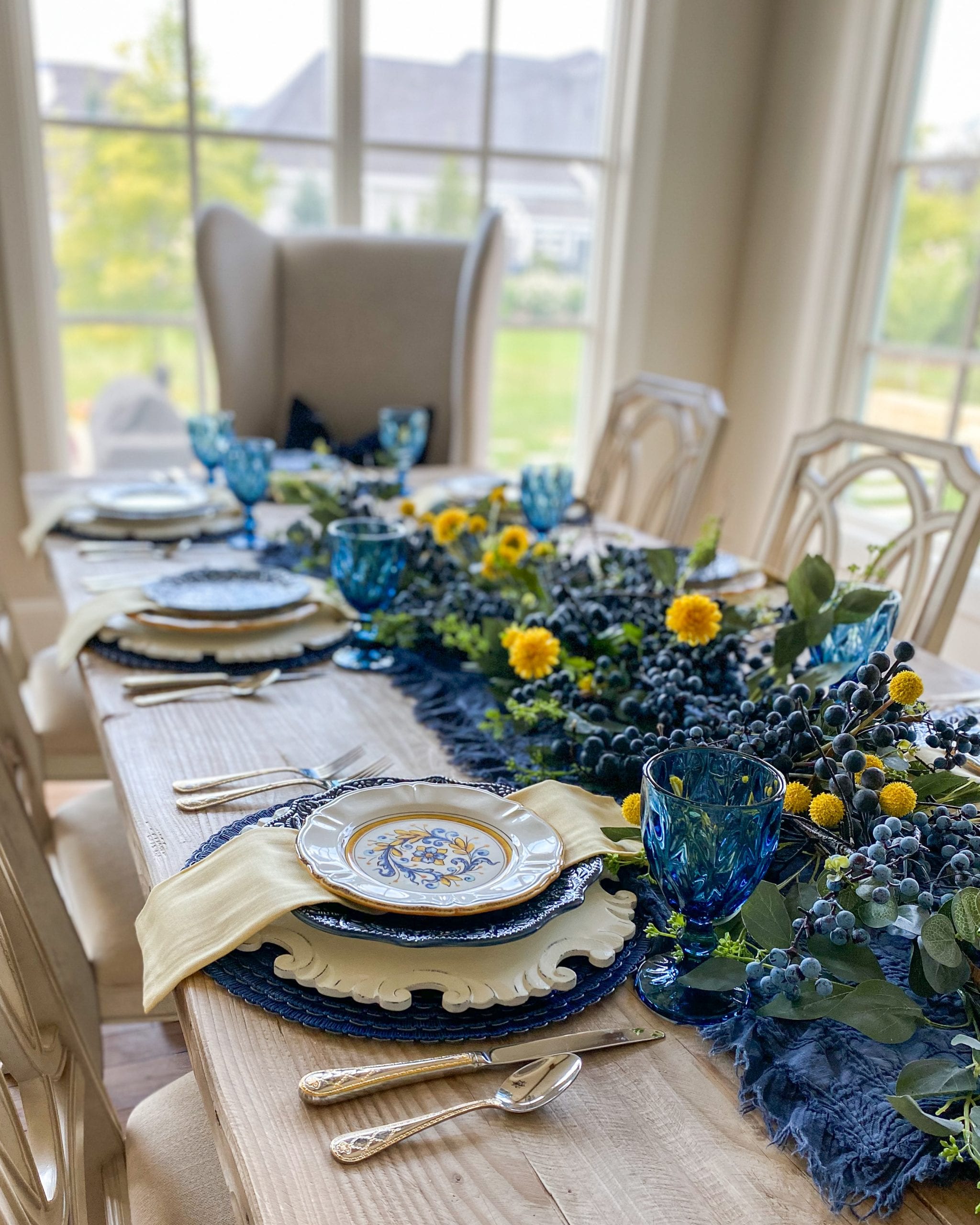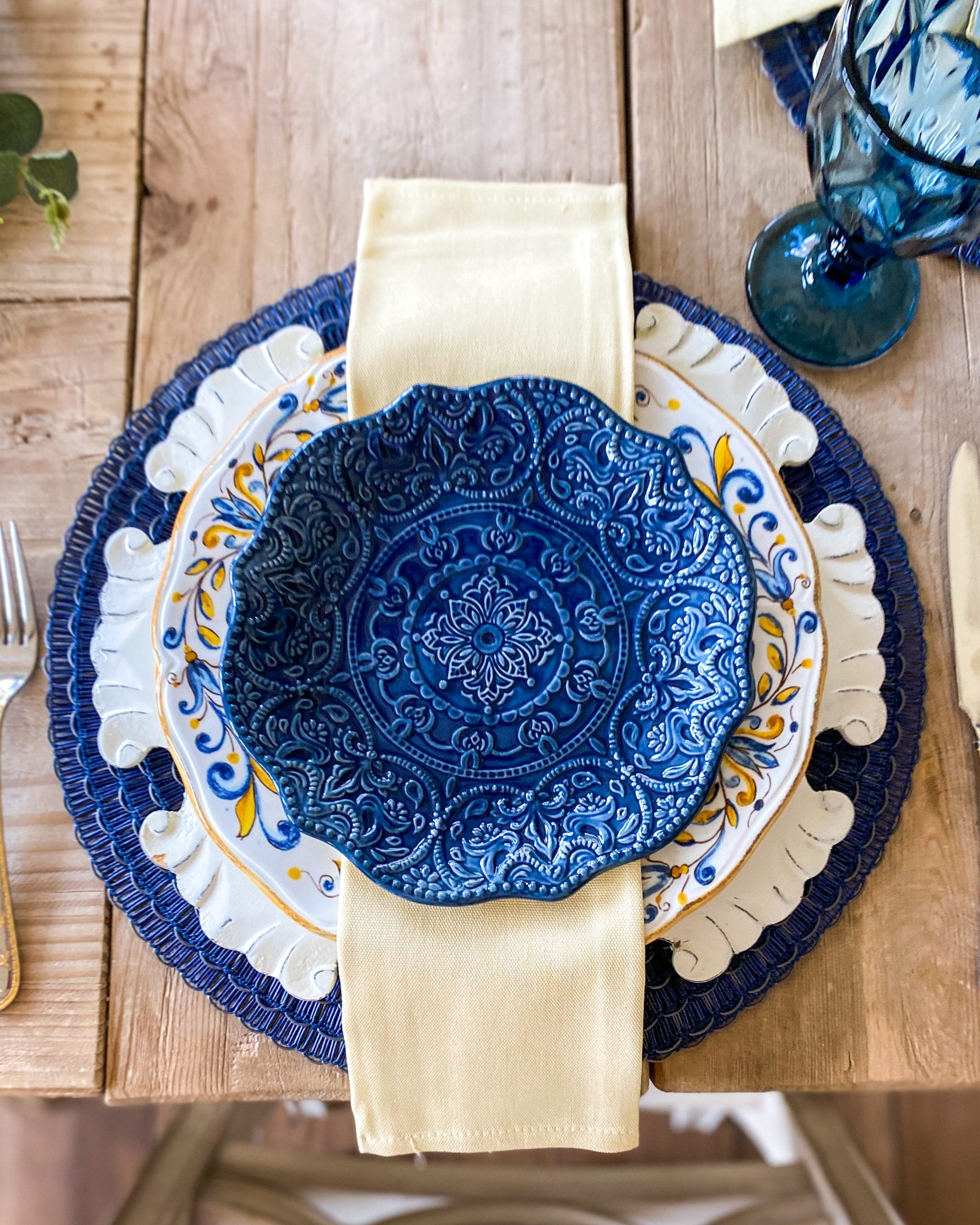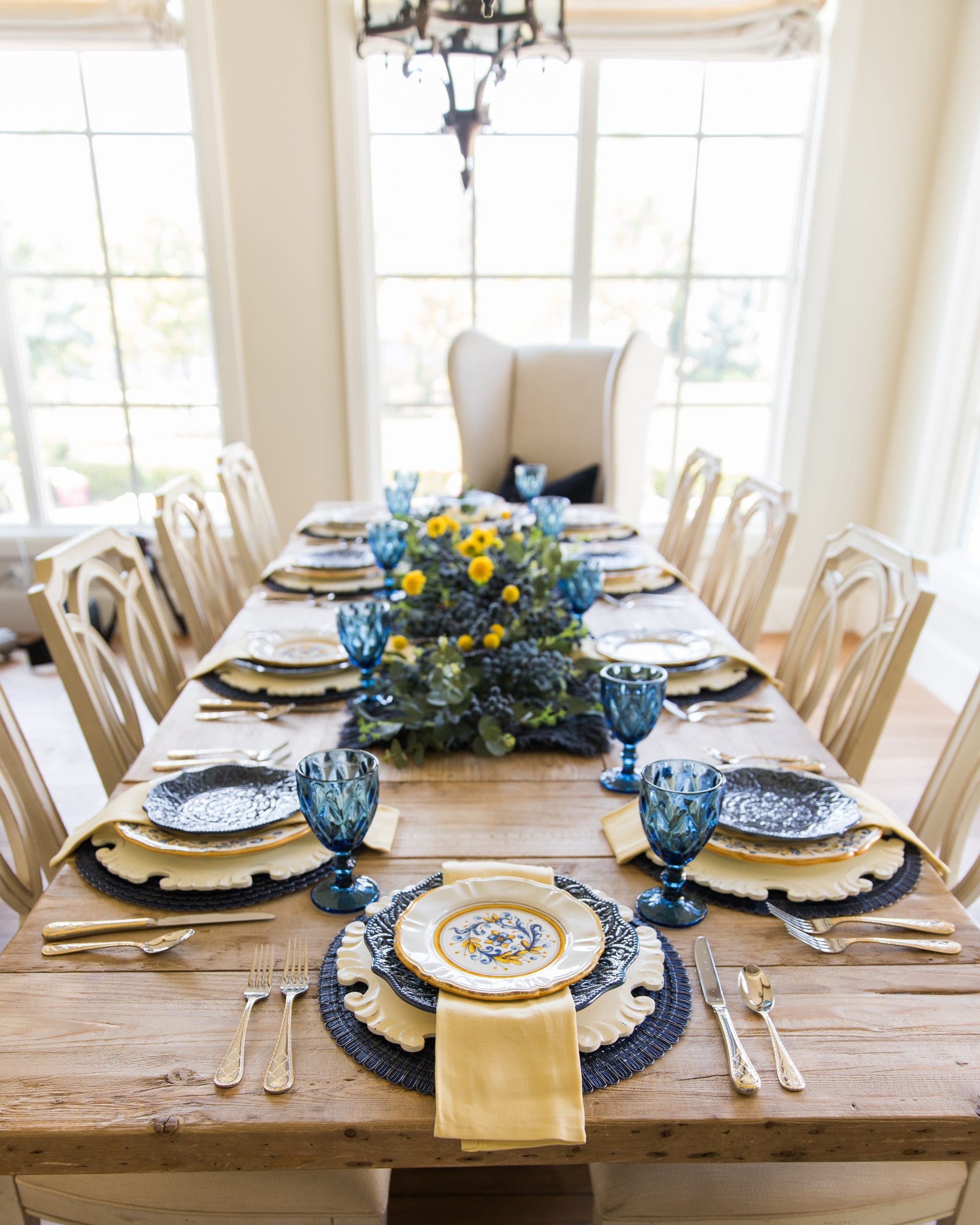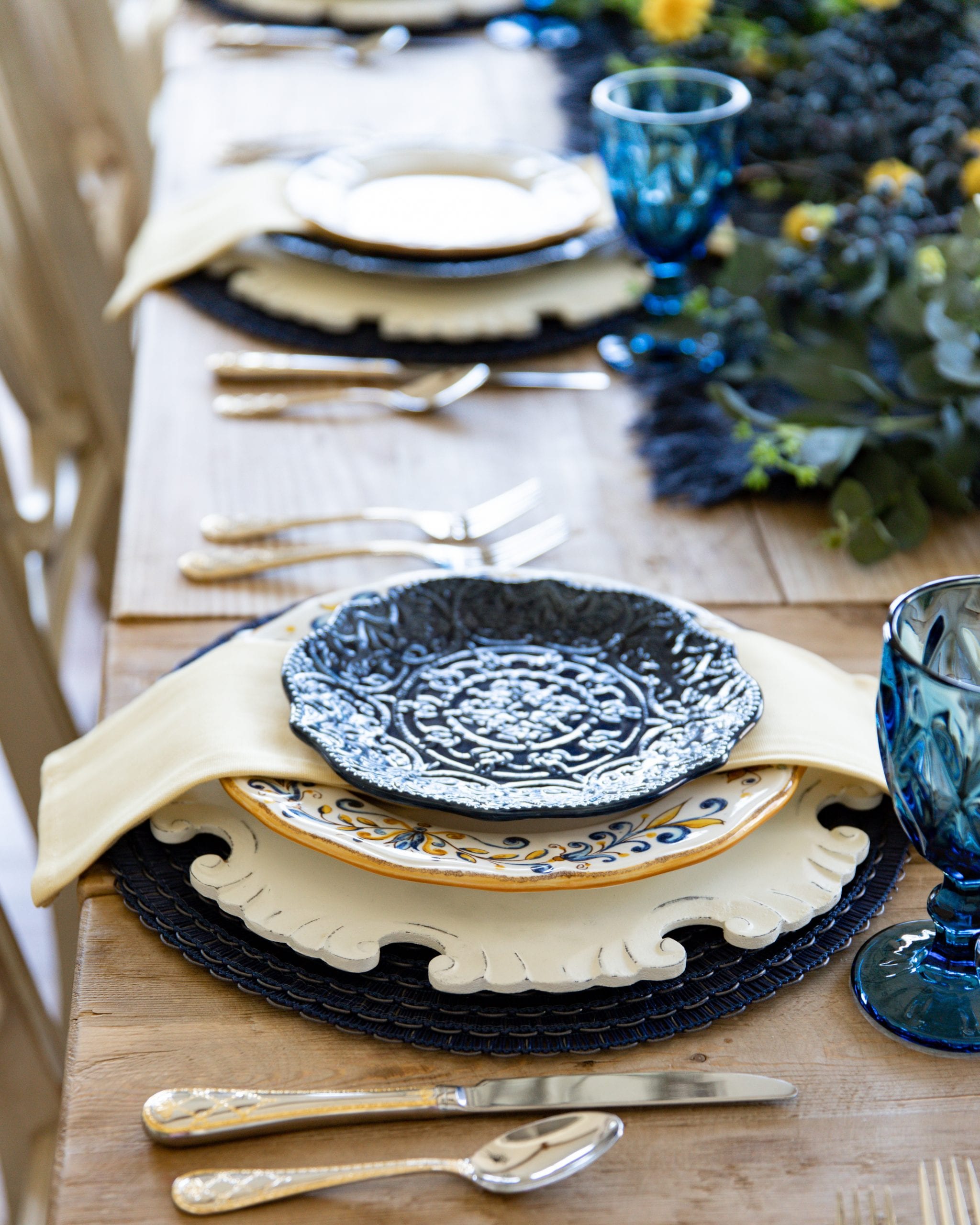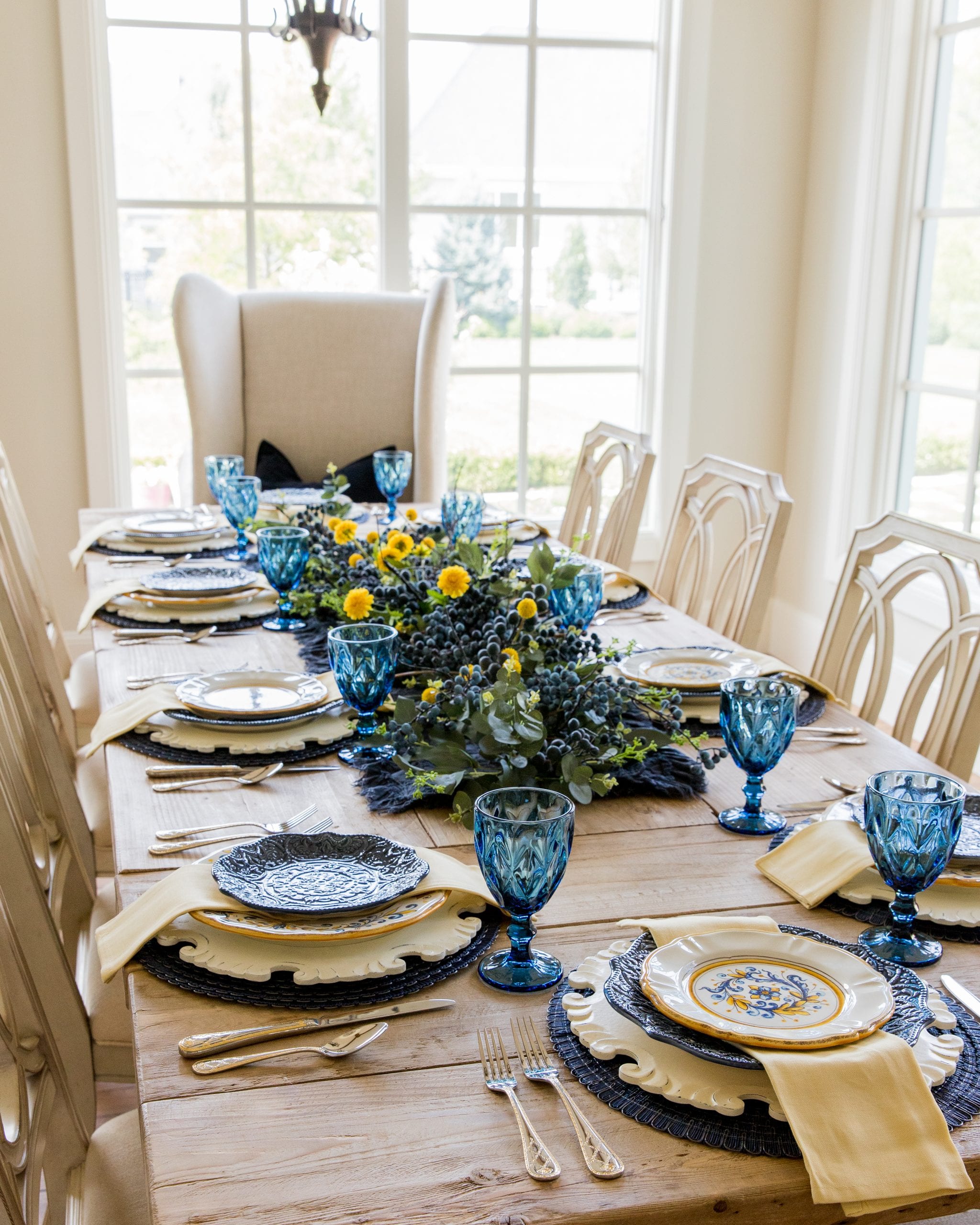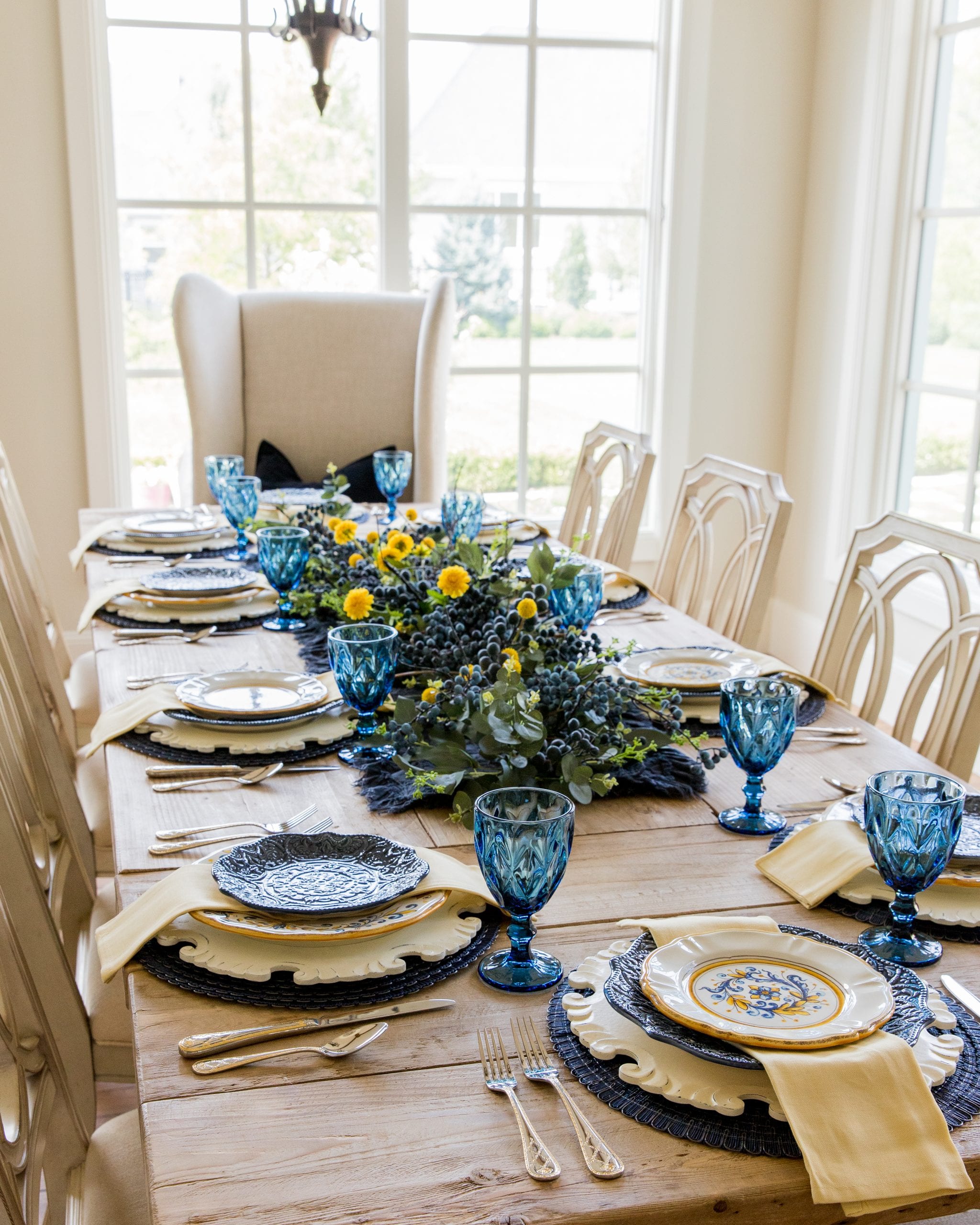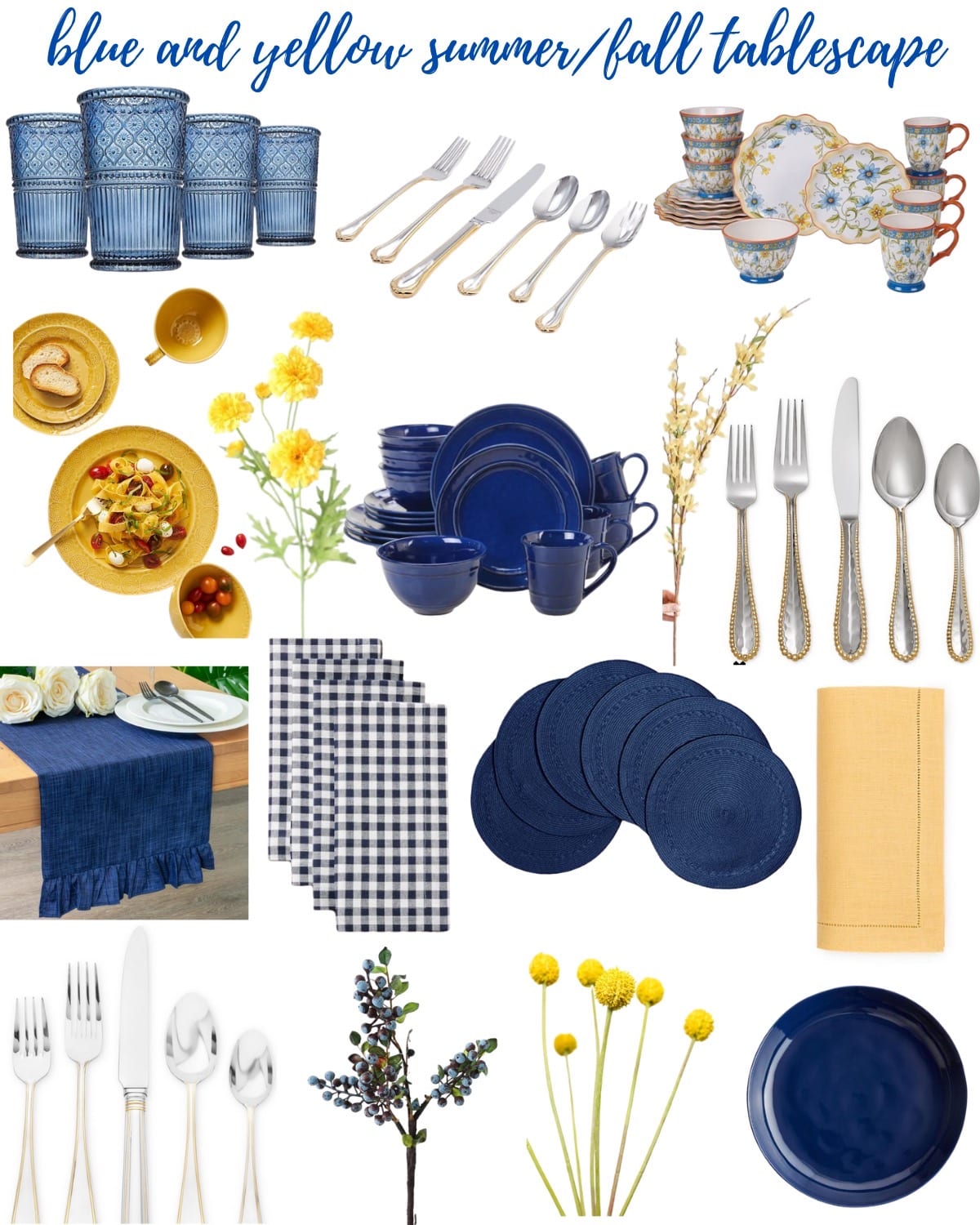 Pin This Image For Later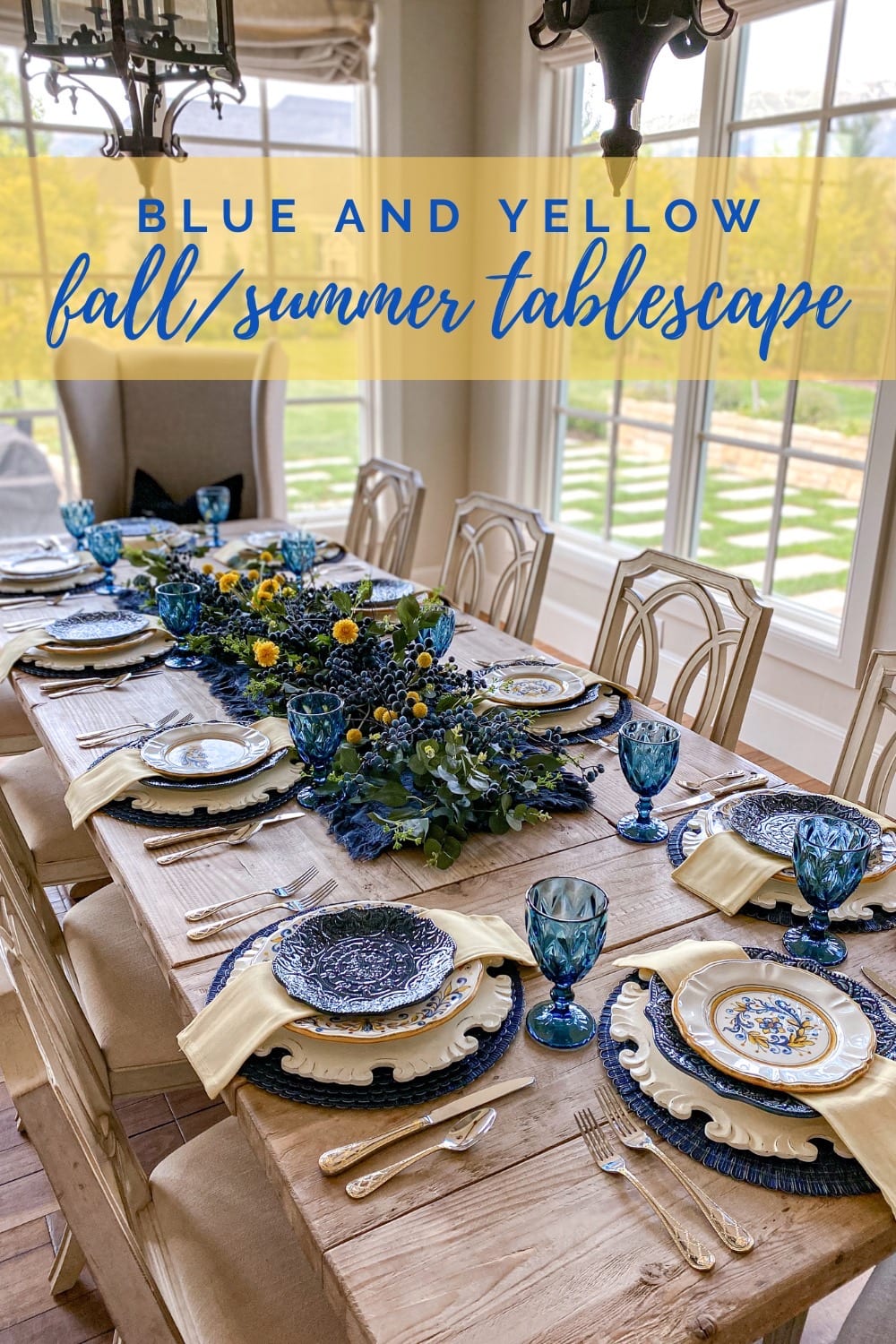 Enjoy!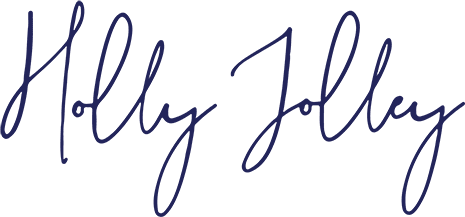 Here's the sources I could link for you to the replicate this look. The blue dishes were from Pier 1 which is out of business and the other plates are a HomeGoods find and I've yet to find any more but they often have other patterns that are similar. They are Italian made dishes.

DECOR TRANSITION INTO FALL