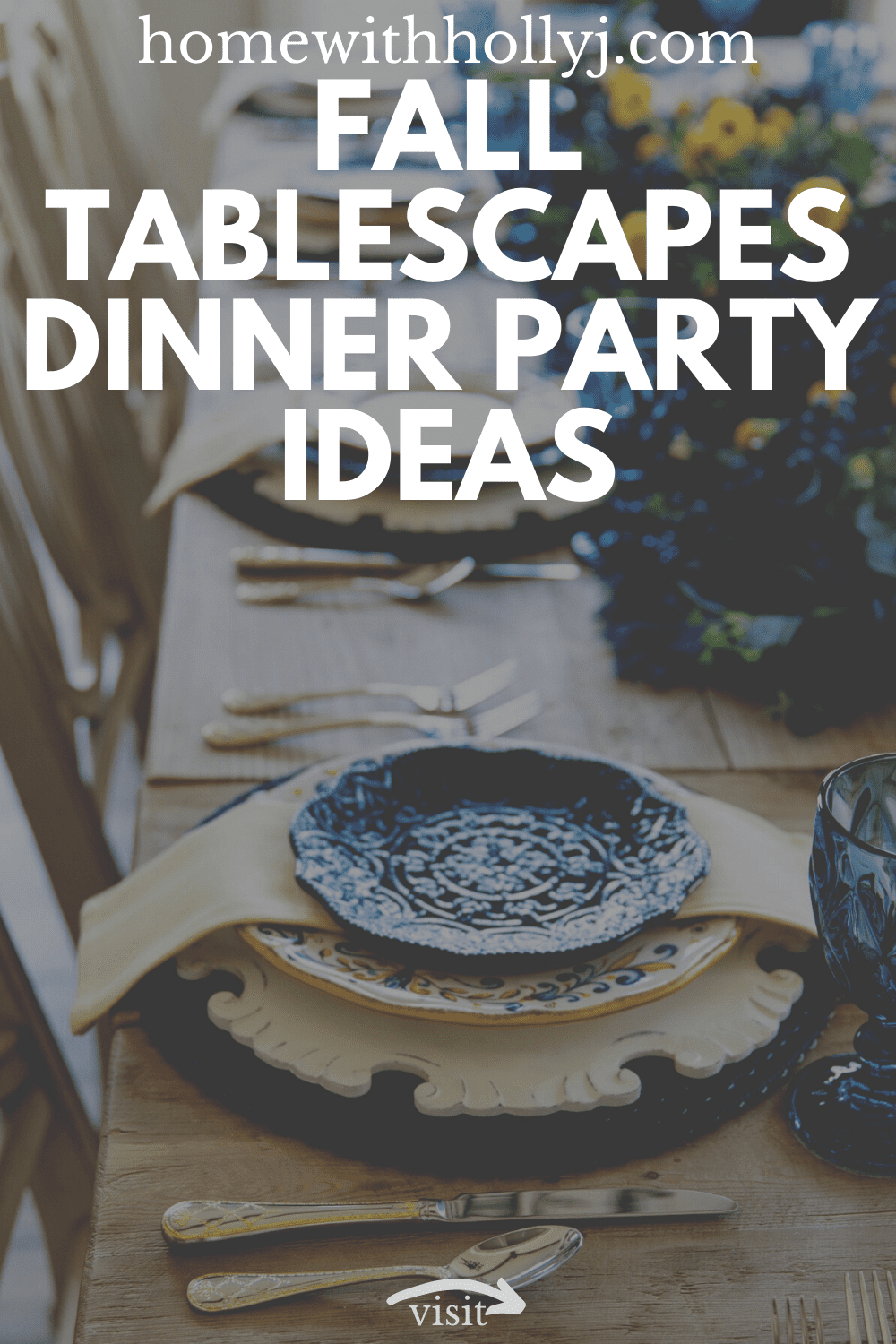 Sharing the best fall tablescape ideas featuring fall themed table decor including autumn, thanksgiving, pumpkins, and more.

I'm sharing 10 of the best Fall Themed Tablescape ideas all in one post! I thought it would be fun to put them all in one post and hopefully these will inspire you to create a Fall Themed Tablescape of your own.
Many of these tablescapes have pumpkins, some have fall colors, some have turkeys for Thanksgiving, and some are all of the above! All of them can be used for Thanksgiving or during the Fall season. l will share a little bit of information about each tablescape below and you can click on each link for all the details of each one!
Blue and Yellow Summer/Fall Tablescape
Click here to see the post.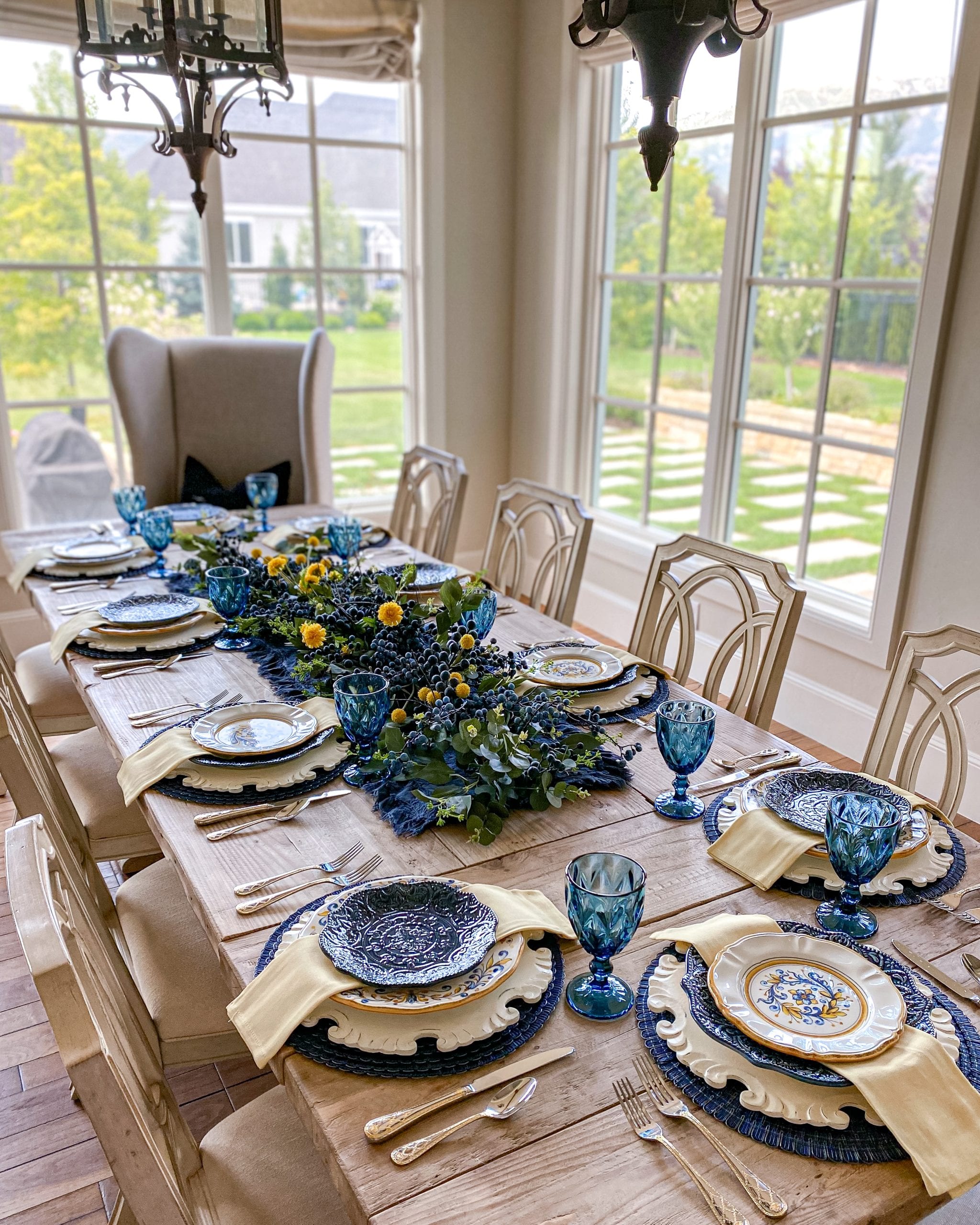 This is what I call an "end of summer and transition into fall tablescape". I used colors that work for both seasons and I alternated the dishes to create ten place settings.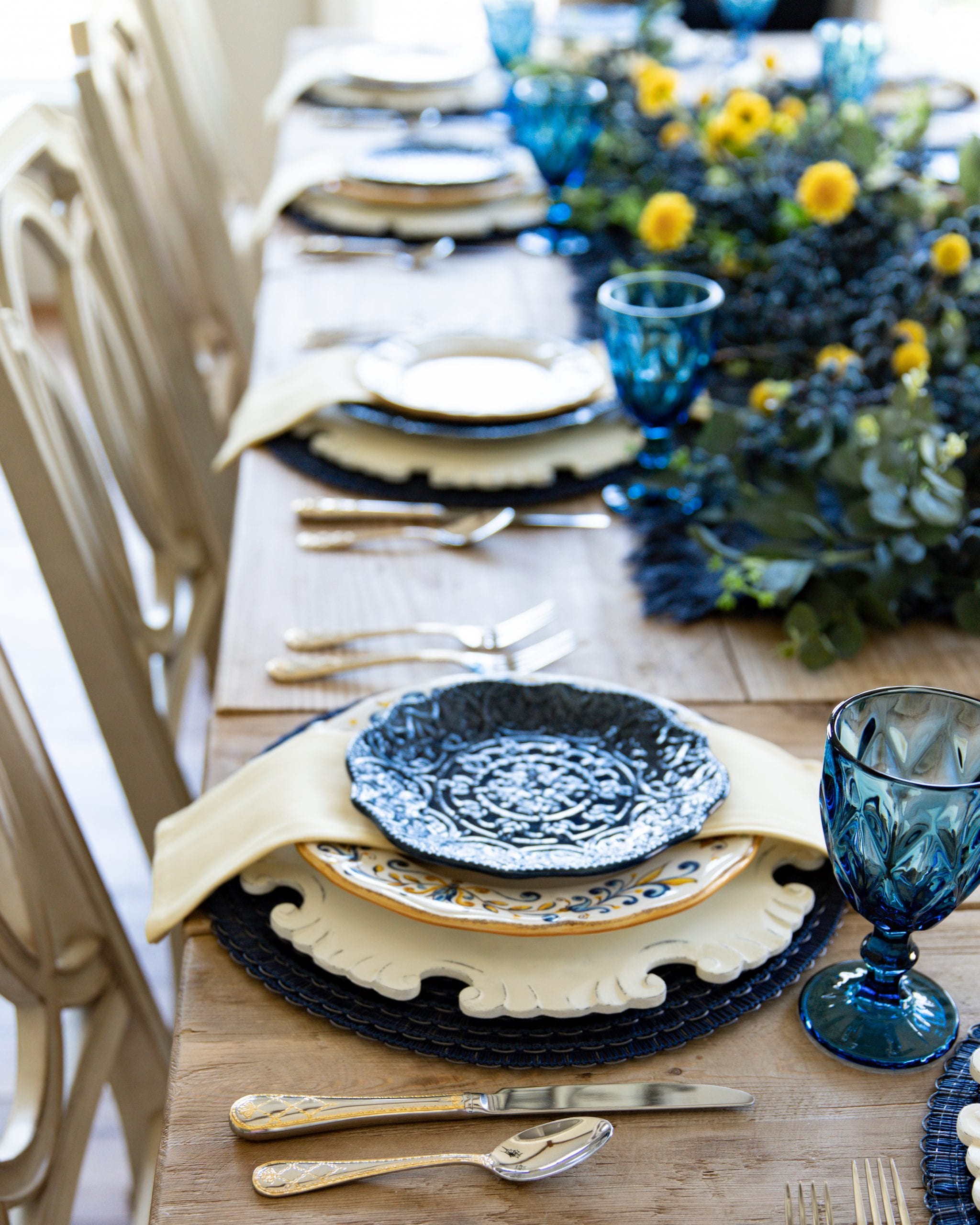 Pumpkin Themed Fall Tablescape
Click here to see the post.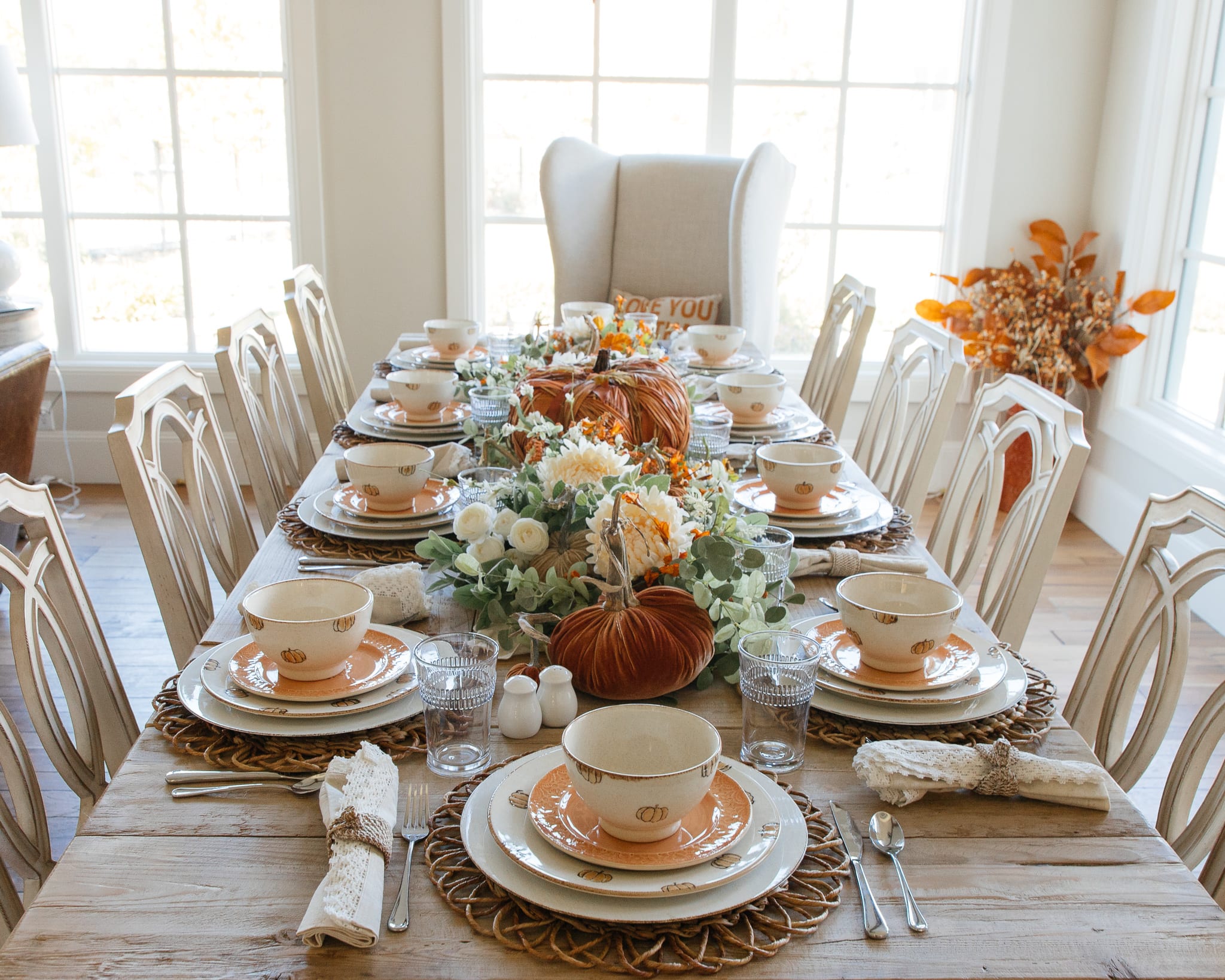 This burnt orange and tan pumpkin themed tablescape is still one of my favorites ever! The dishes have pumpkins painted on them and I just love the color combo. I also love the velvet pumpkins nestled into the garland centerpiece.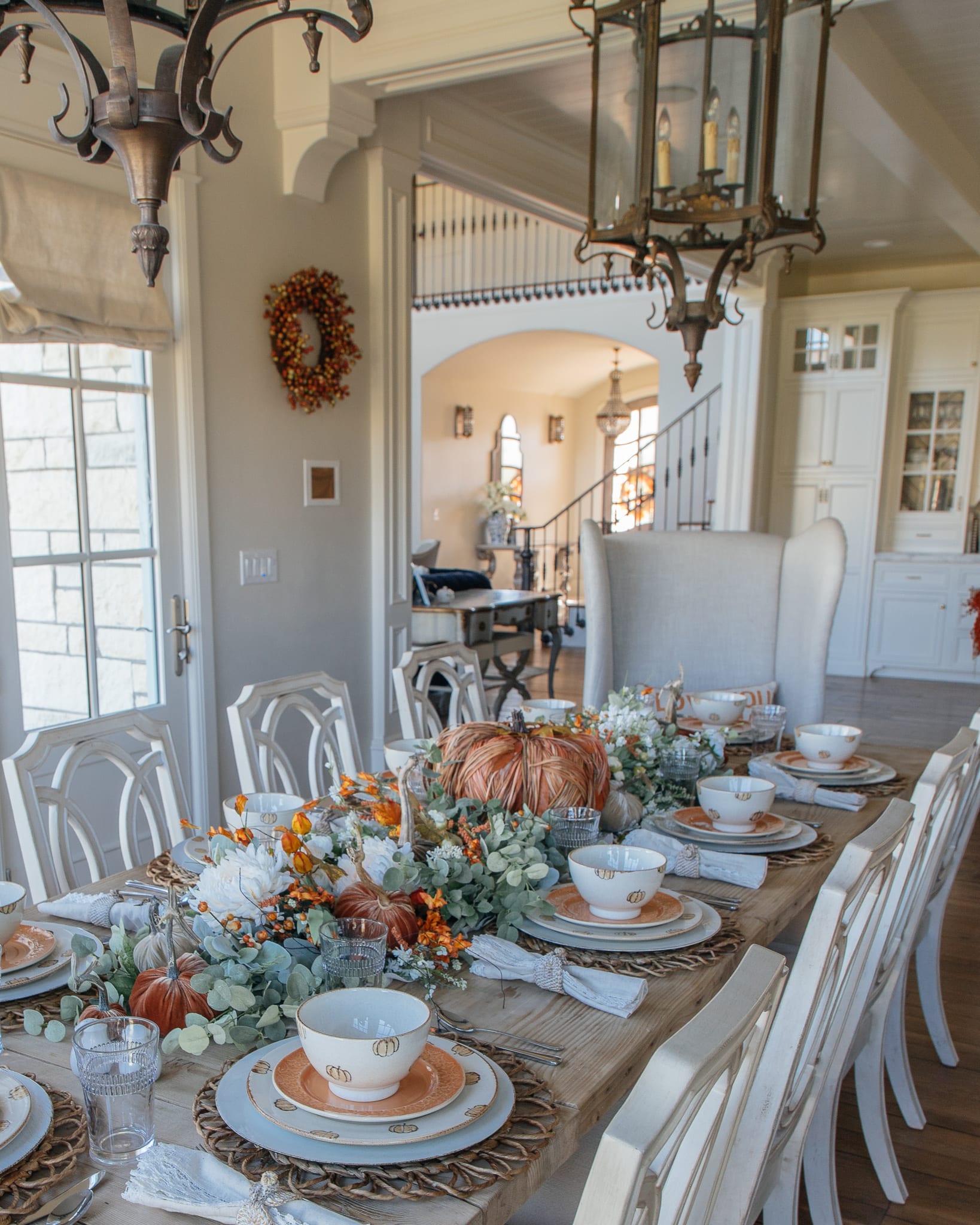 Green and Gold Fall Harvest Tablescape
Click here to see the post.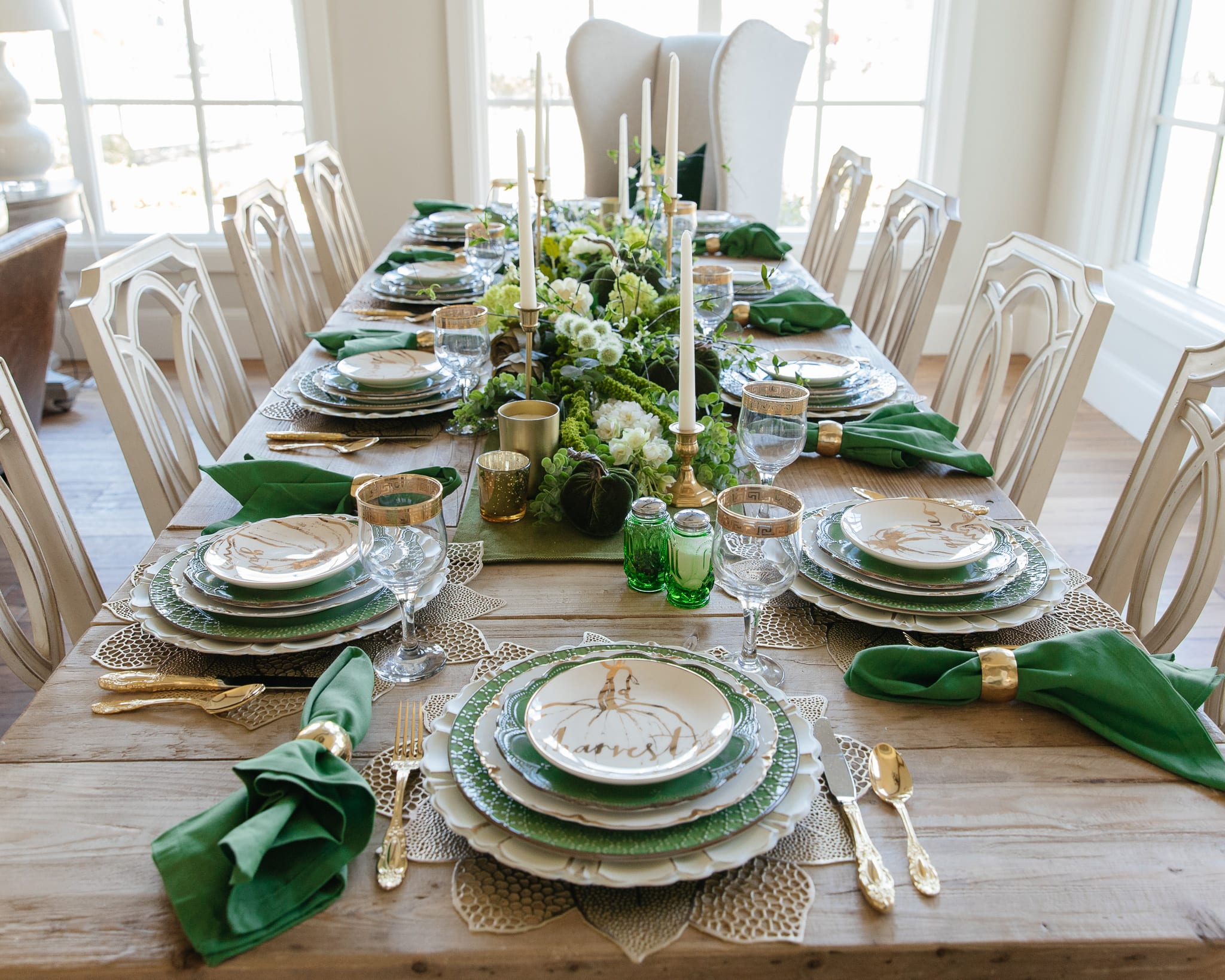 This tablescape is a mix of old and new dishes. I mixed my vintage Limoges Haviland gold and white scalloped plates with some newer solid green dishes. The top plates with the gold pumpkins on them are from my local Fred Meyer/Kroger Co. grocery store!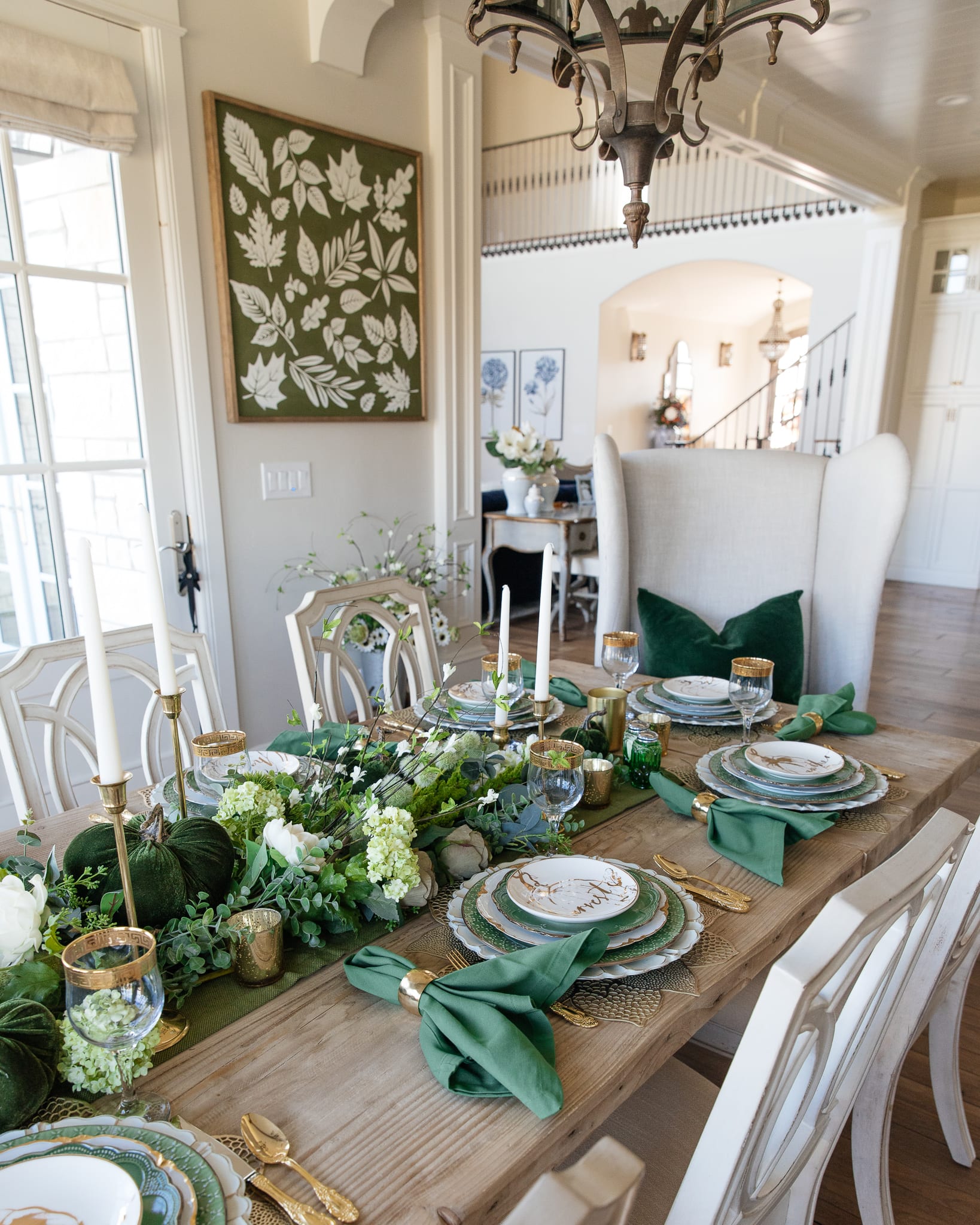 Sage Green and White Fall Transitional Tablescape
Click here to see the post.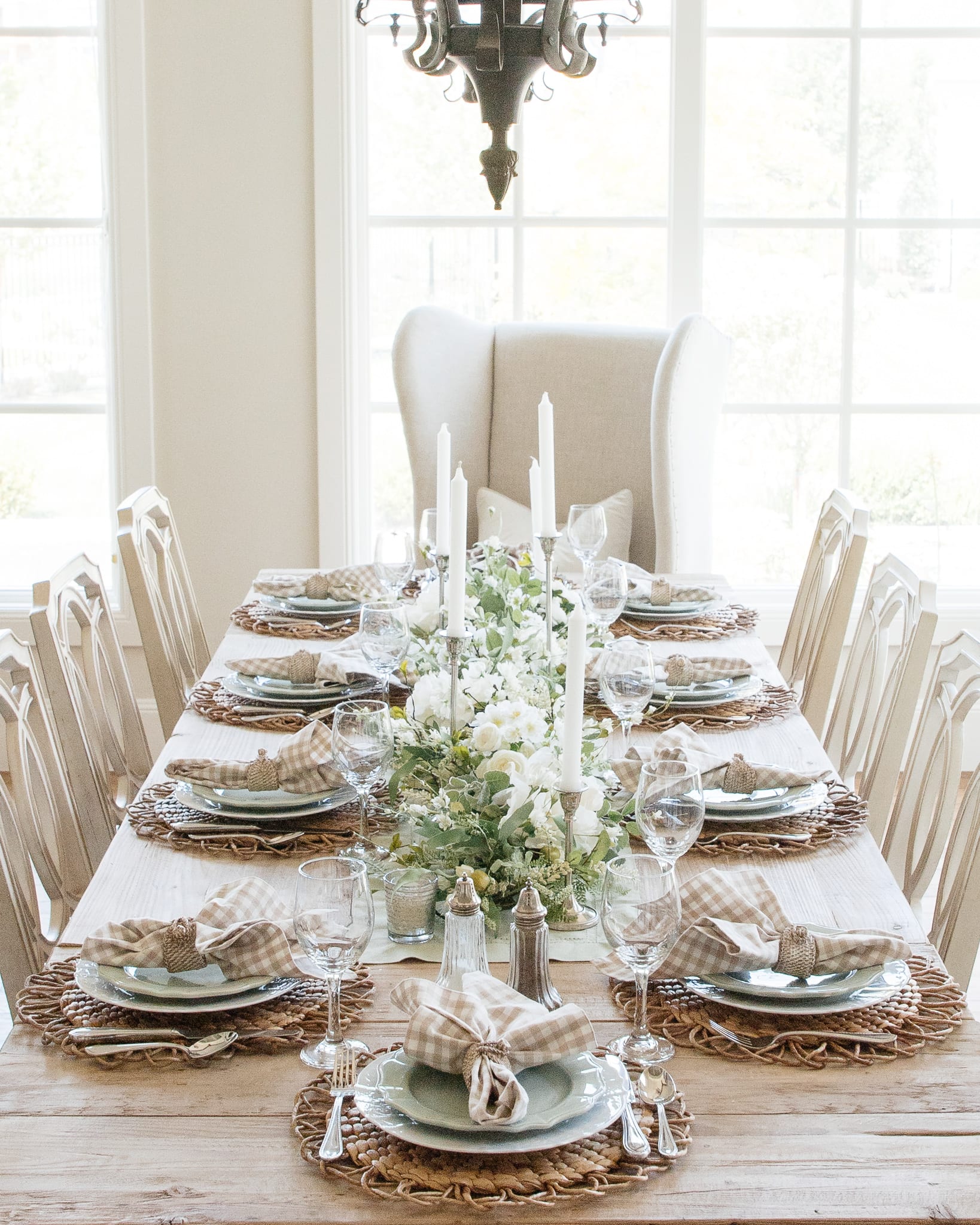 I actually created two tablescapes using two sets of dishes. This is another one of my "end of summer and transition into fall" tablescapes. There's no pumpkins or turkeys in the garland but you could easily set this tablescape for early fall and then add some thanksgiving touches with pumpkins and turkeys.
I set one tablescape outside for the kids and one inside for the adults. I alternated the plates from the two sets of dishes and made it possible to create enough place-settings for sixteen people. This is a great way to make enough place settings when you don't have enough dishes for a larger group.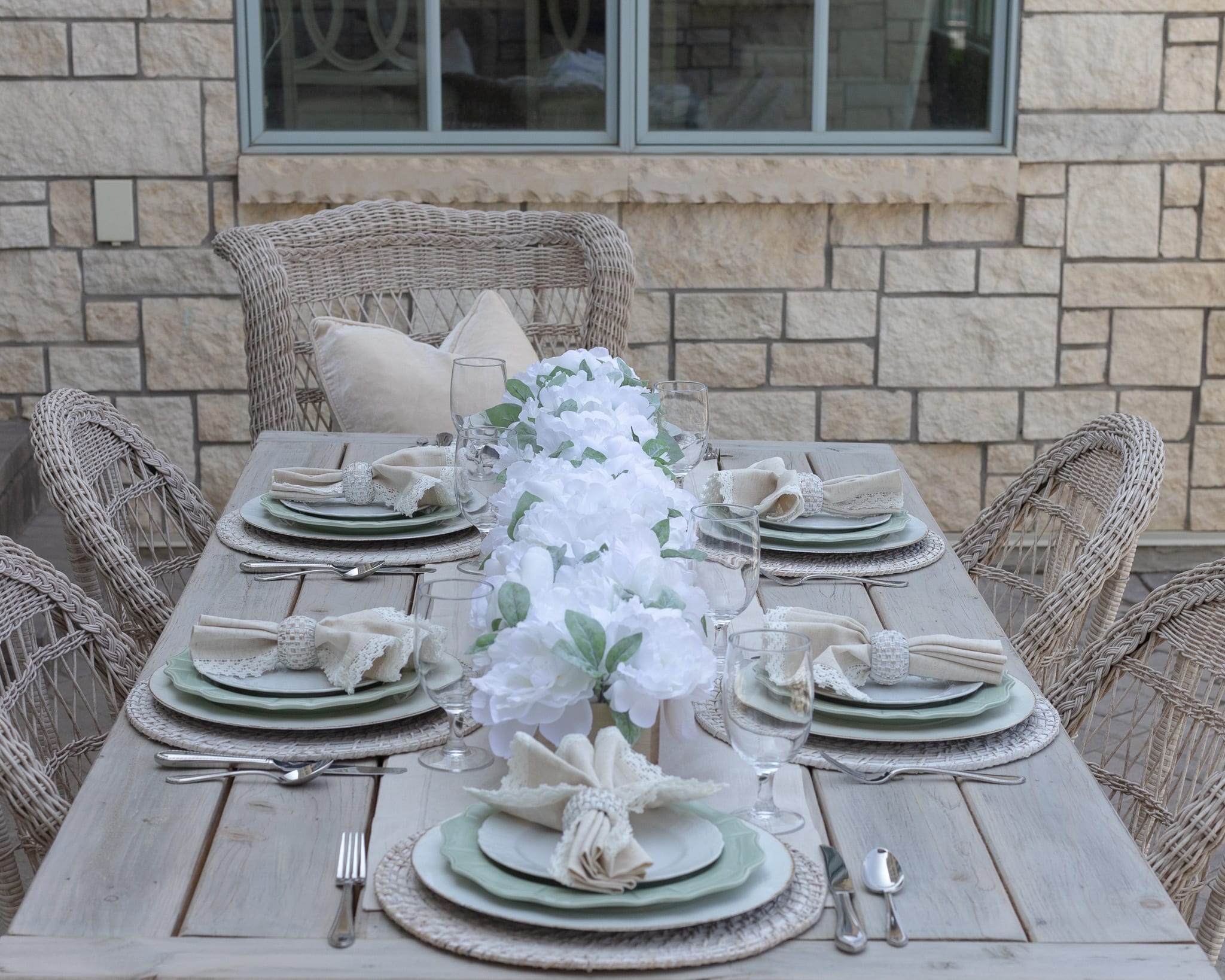 Blue and Orange Pumpkin Themed Tablescape
Click here to see the post.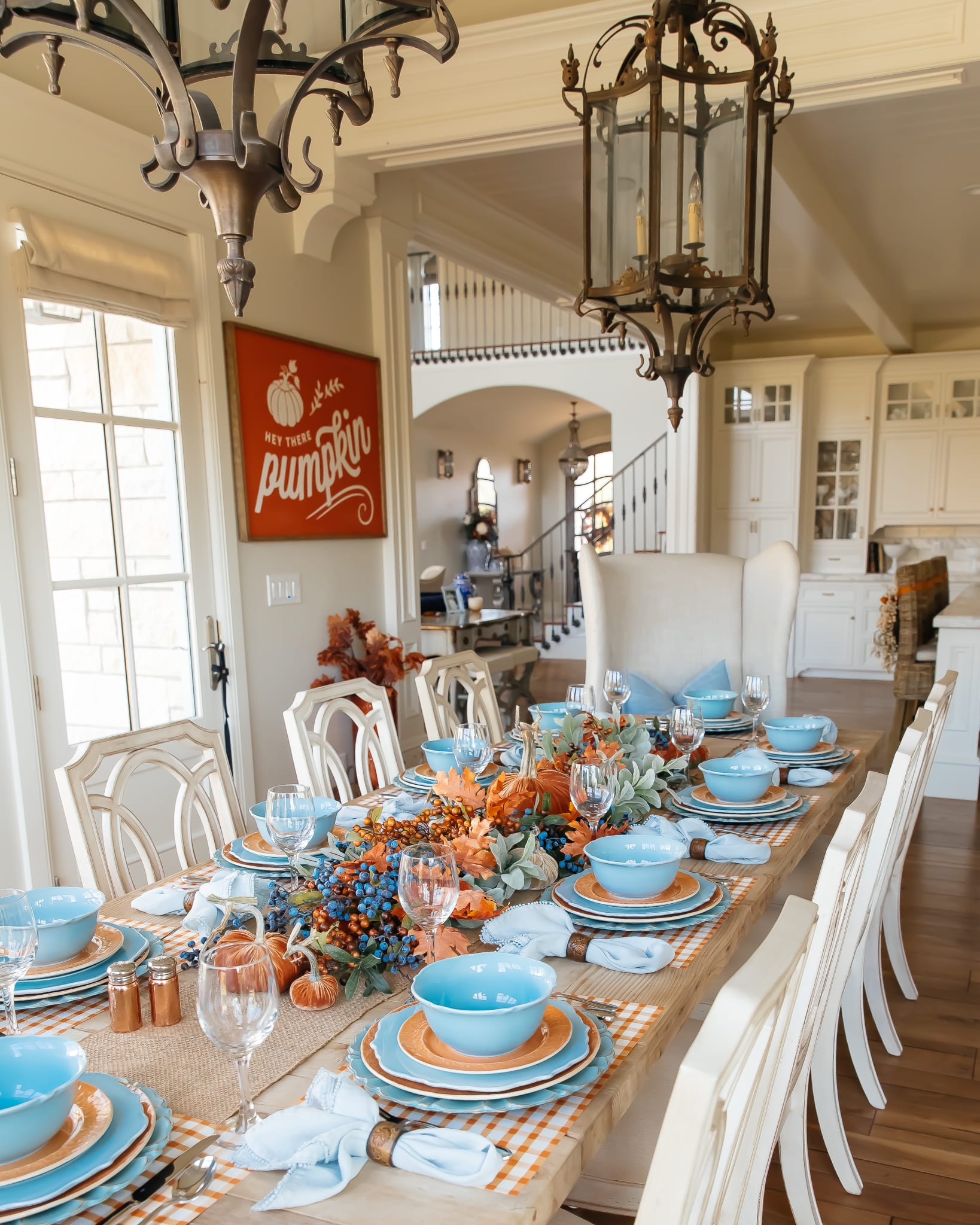 This blue and orange tablescape sort of came about on accident. I never intended it to turn out this way but nothing I had planned to do was working and so I started playing around with different dishes I had and this is what came about. I used paper placemats that added a pop of color to the table. The garland is full of velvet pumpkins, faux flowers, and faux blueberries.
This one was so much fun! I took a poll on my Instagram stories to see how many liked it and 10% of the people who answered didn't like it! Hahaha, that's ok, because I liked it and 90% of the people I asked did too. Can't please everyone! LOL! I did two variations of it! With and without the bowls. Which do you prefer?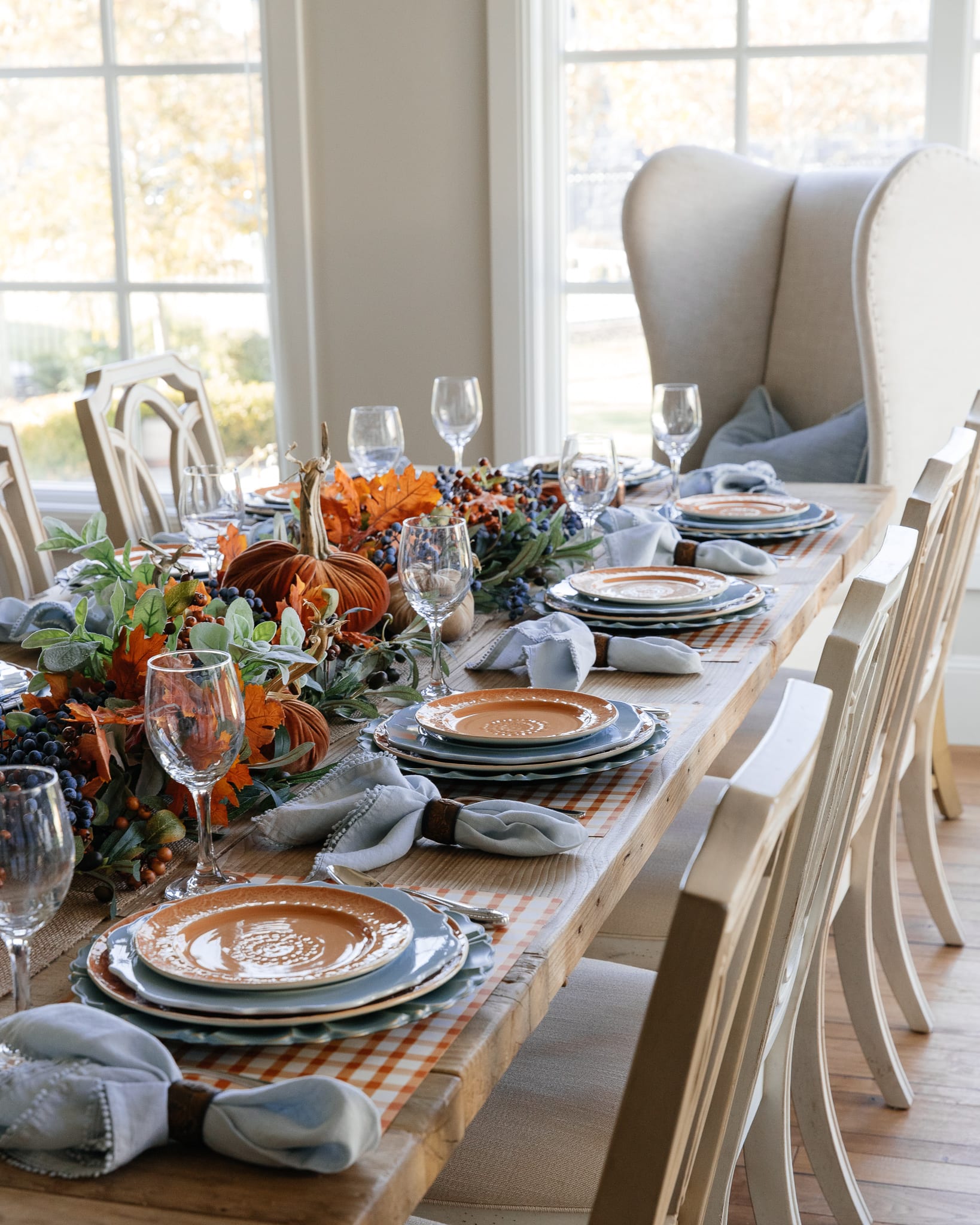 Black, Yellow, and White Cabin Tablescape
Click here to see the post.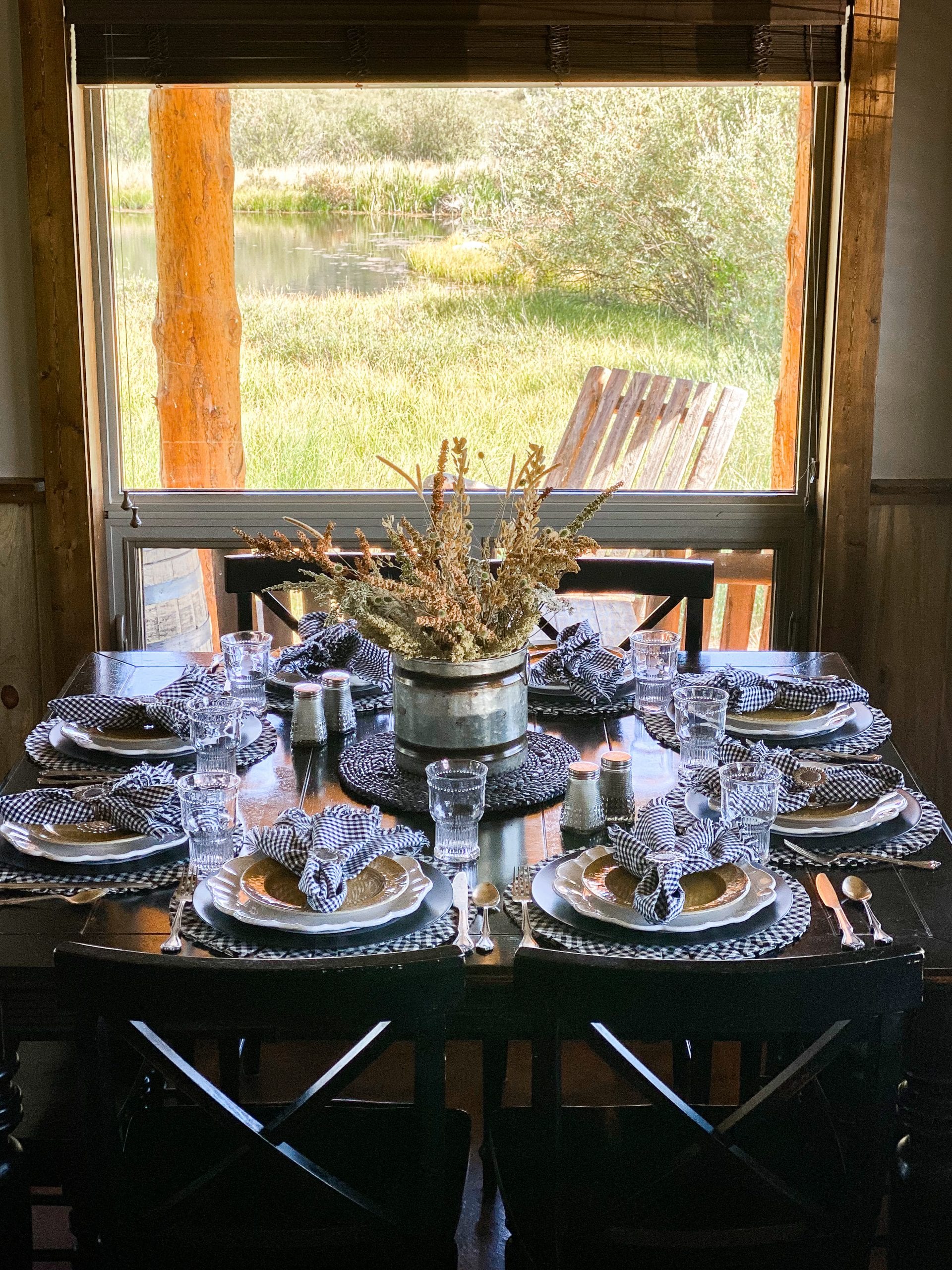 Every summer I set a new tablescape at our cabin in Montana. This is the one I did this year (2020). I put the leaf of the table in to make it seating for eight and the theme was black and white check with a touch of mustard yellow. I foraged for some wild grasses and flowers around the cabin and that became the centerpiece. I love how this one turned out!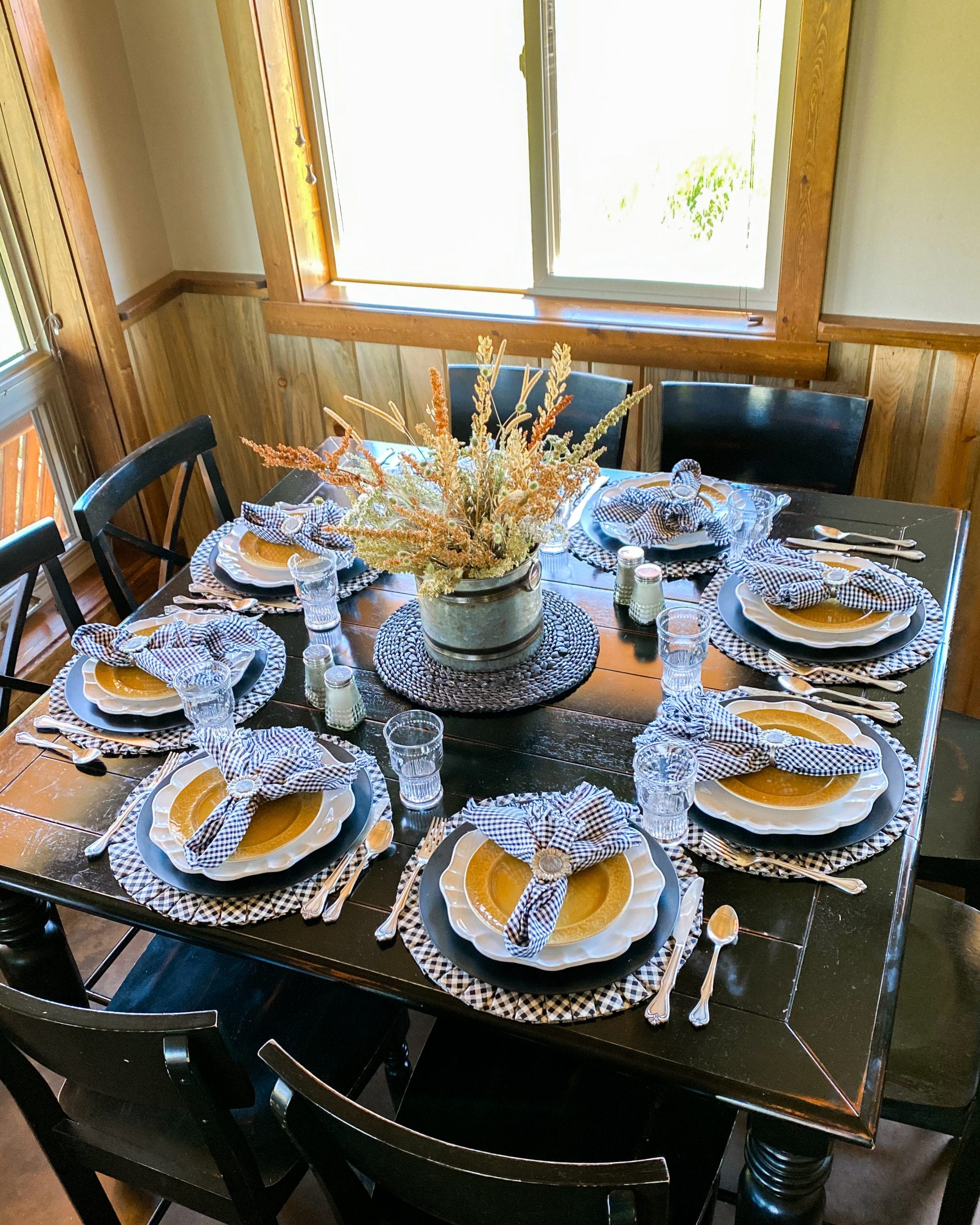 Green, Gold, and White Thanksgiving Tablescape
Click here to see the post.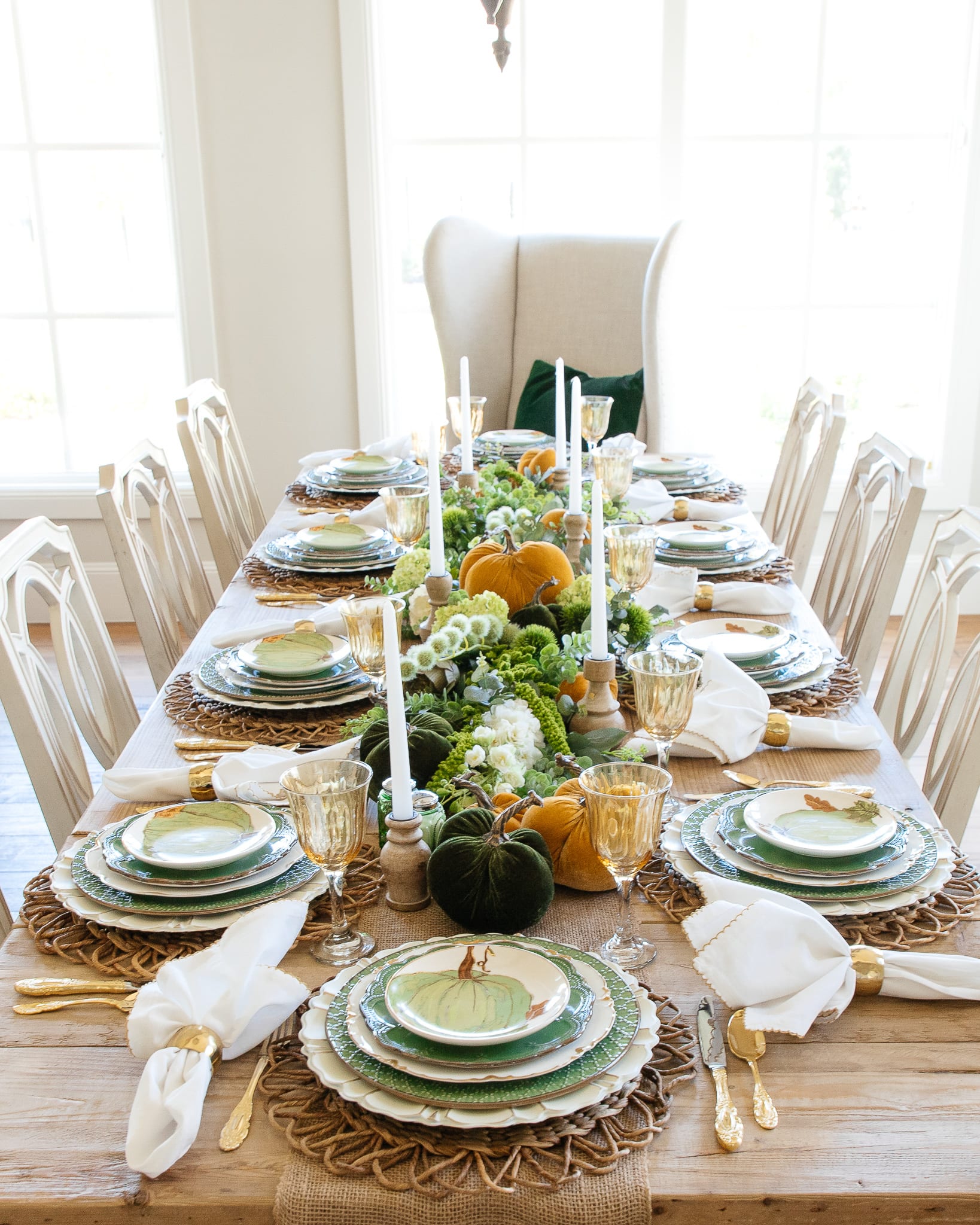 Here is another variation of the green and gold pumpkin tablescape above. I changed out the top plate for these green and gold pumpkin plates and changed out the napkins and drink-ware. I love how simple it was to switch things up.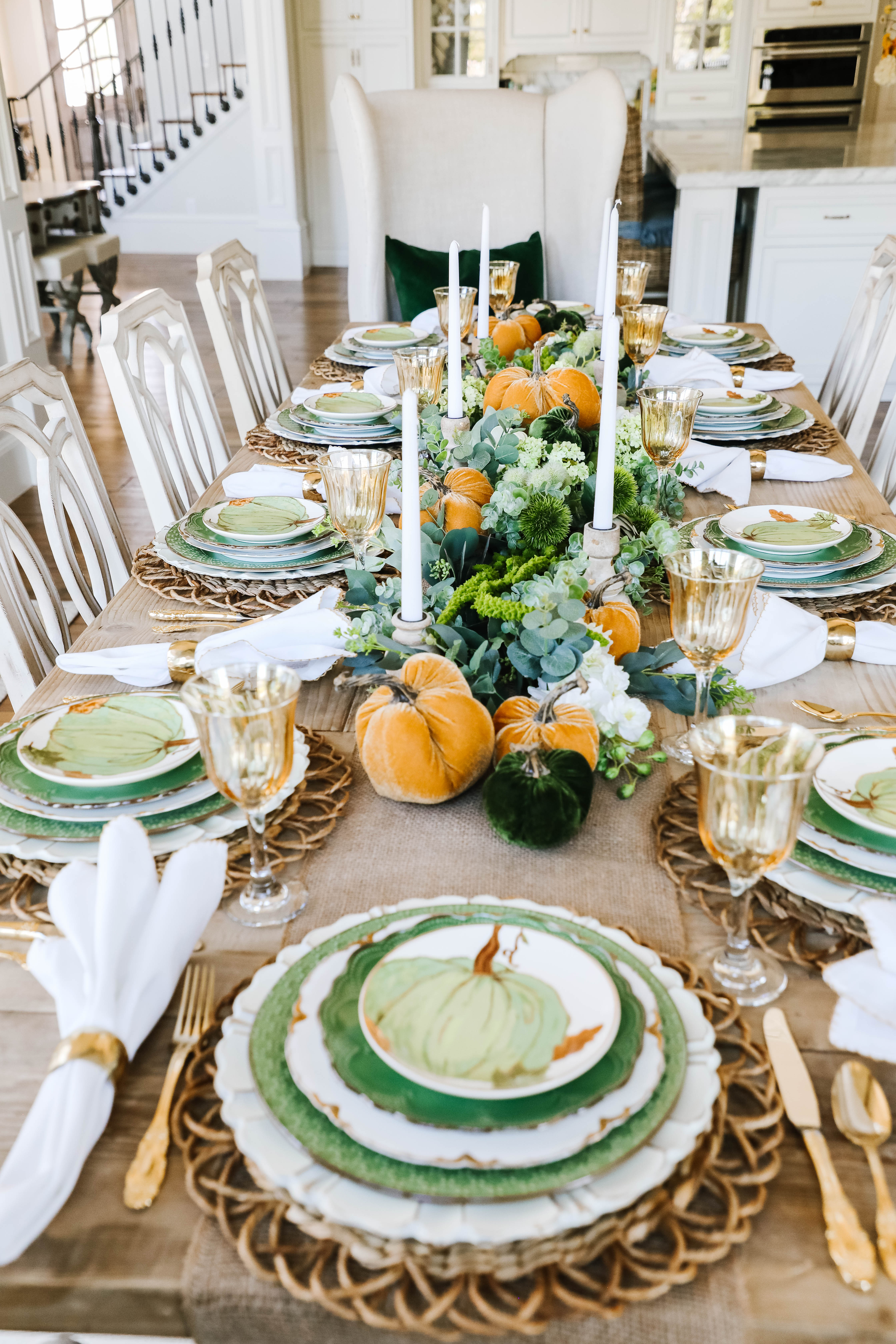 Rustic Thanksgiving Tablescape
Click here to see the post.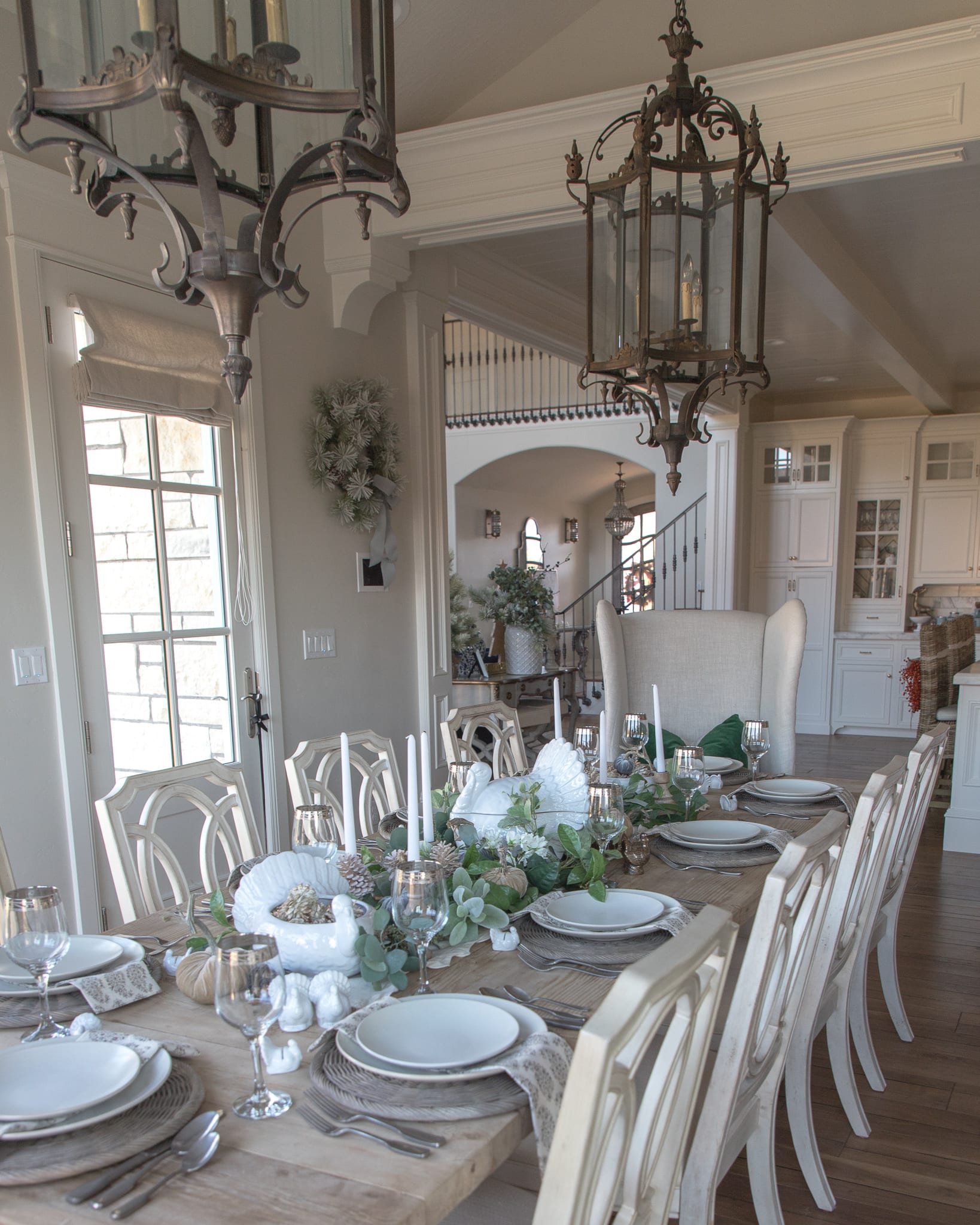 This is what I jokingly call my turkey tablescape! I love the using the turkey shaped serving pieces as part of the tablescape. I also used some tan colored velvet pumpkins and the little turkey placard holders. The turkey shaped salt and pepper shakers also made it perfect for Thanksgiving.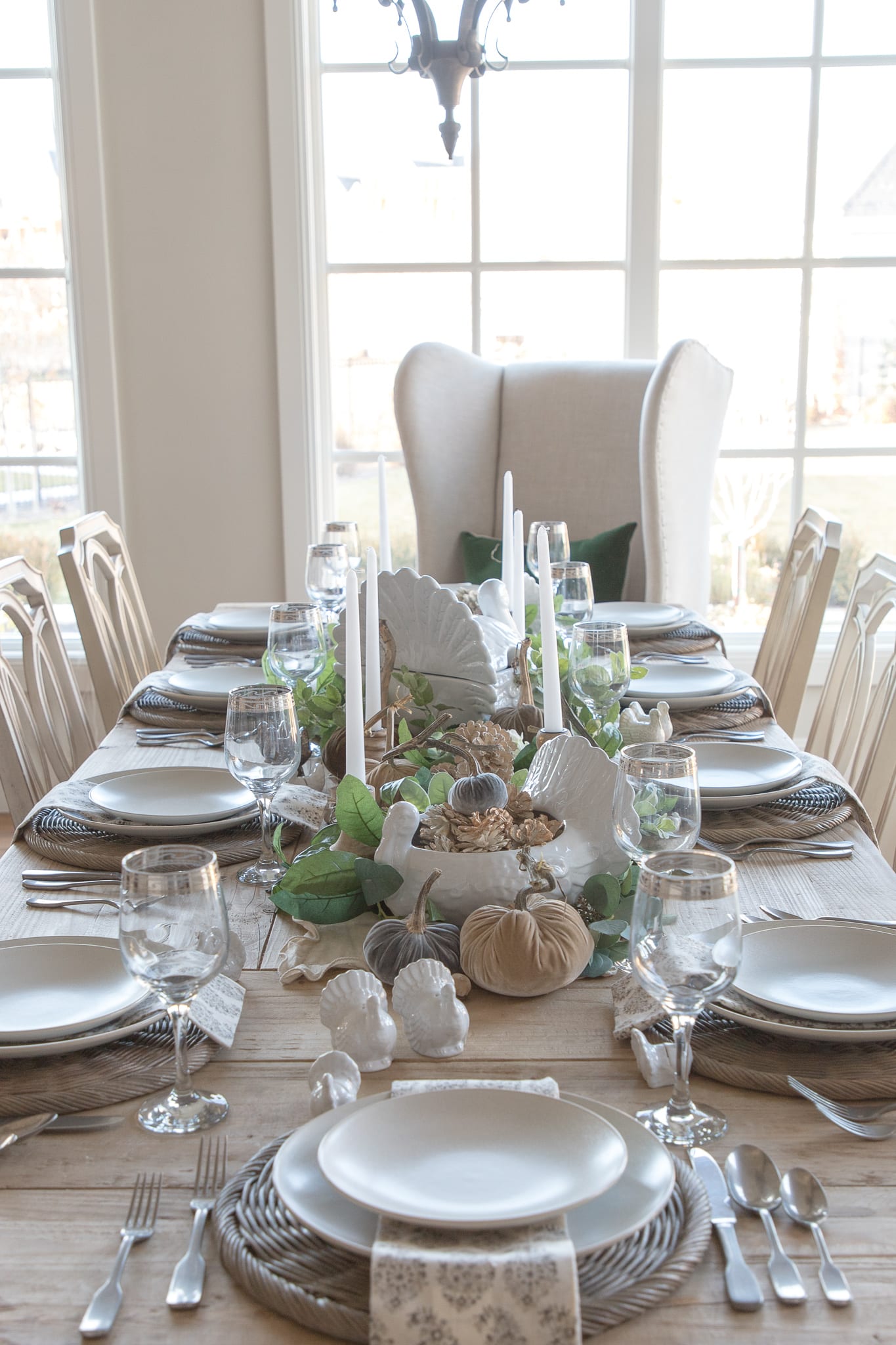 Thanksgiving Silver and White Tablescape
Click here to see the post.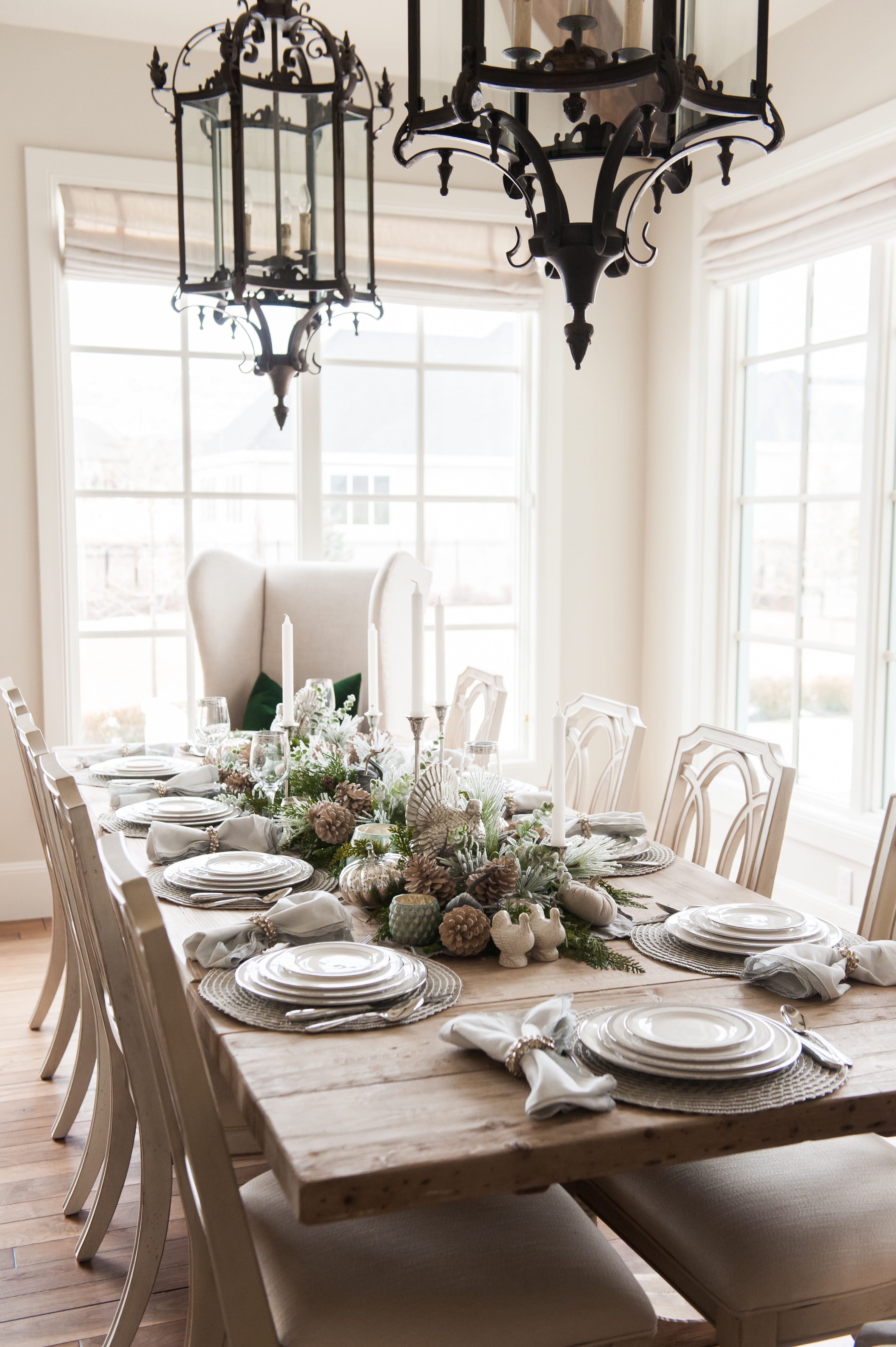 One thing I like to do is to set a table for Thanksgiving and then take out any of the decor that is thanksgiving or fall related and swap it out for Christmas. Here I used my fine china and added some silver mercury pumpkins and silver turkeys into the garland centerpiece. When Thanksgiving was over, I took all that out and added in some silver mercury ornaments and it became my Christmas tablescape.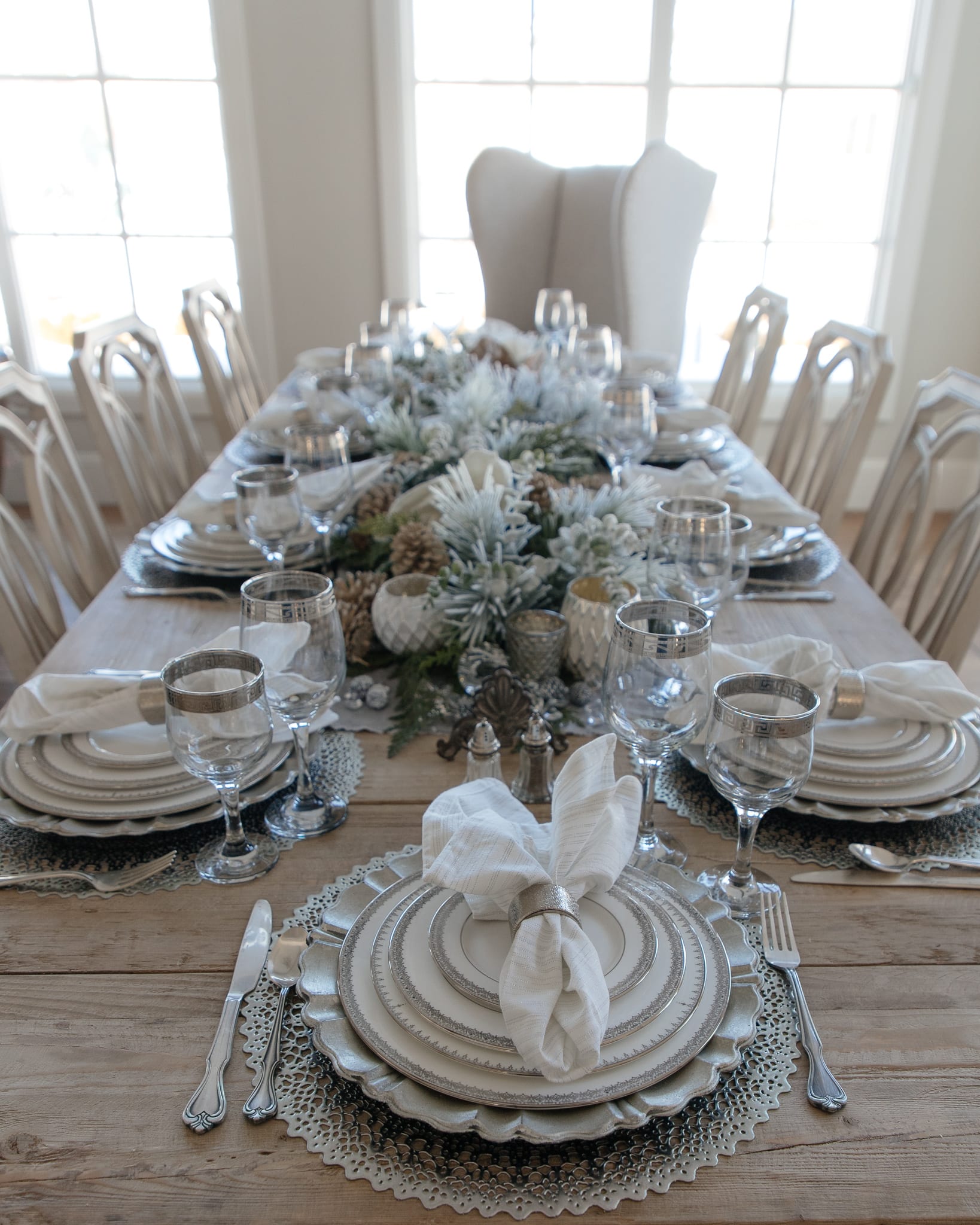 Outdoor Farm To Table Entertaining
Click here to see the post.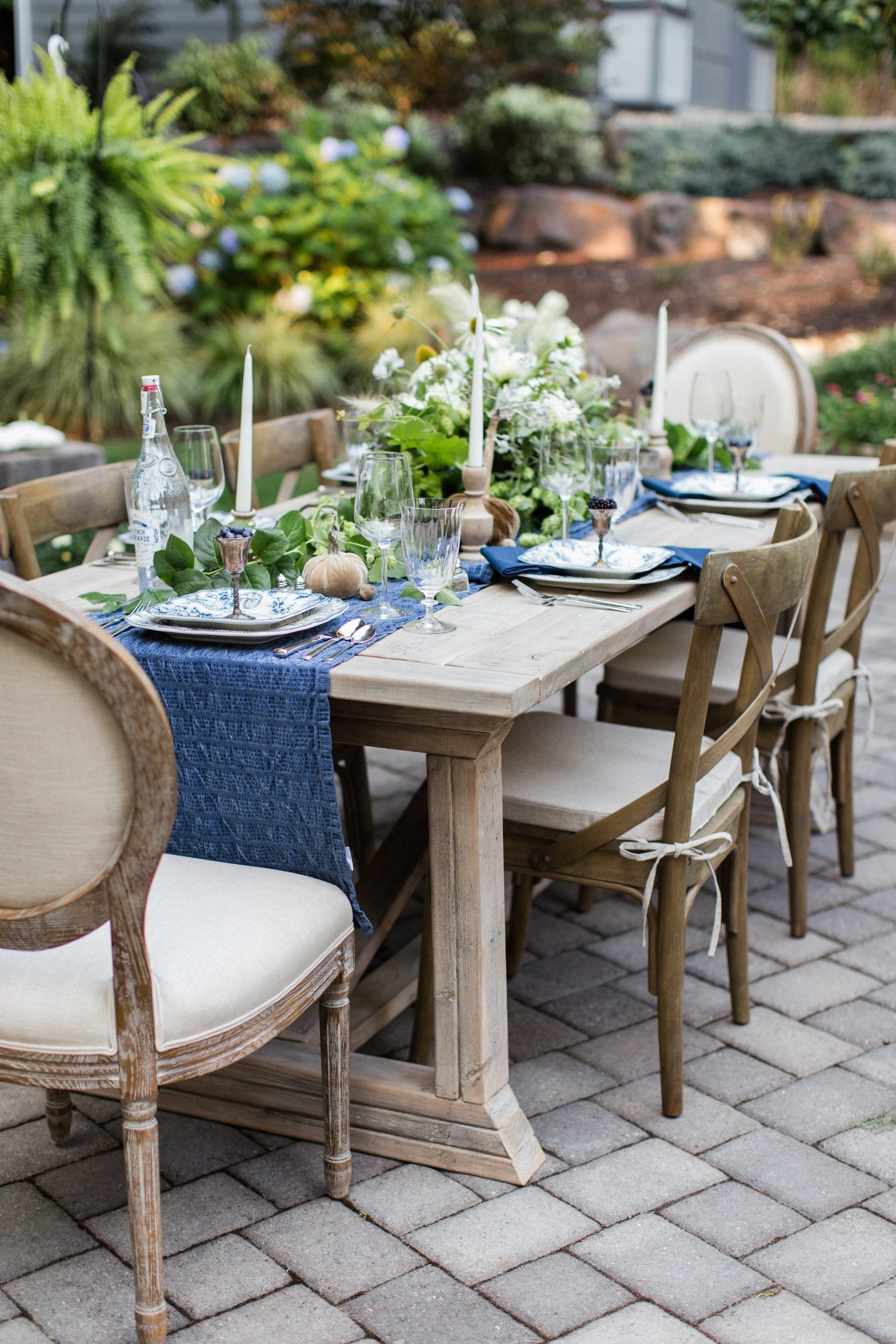 This is an outdoor, end of summer and transition into fall tablescape that I set for a dinner party in my backyard at our home in Washington. This is in my top five of favorite tablescapes. It was recently published in American Farmhouse Style magazine. I created this tablescape with the help of my friend Amy Brown who owns Laughing Goat Flower Farm. I cooked some of my homemade recipes with veggies from my garden and Amy's farm and we created the centerpiece and garland with flowers and greenery from the farm and my backyard. This was so much fun and I wish I could go back in time to this day!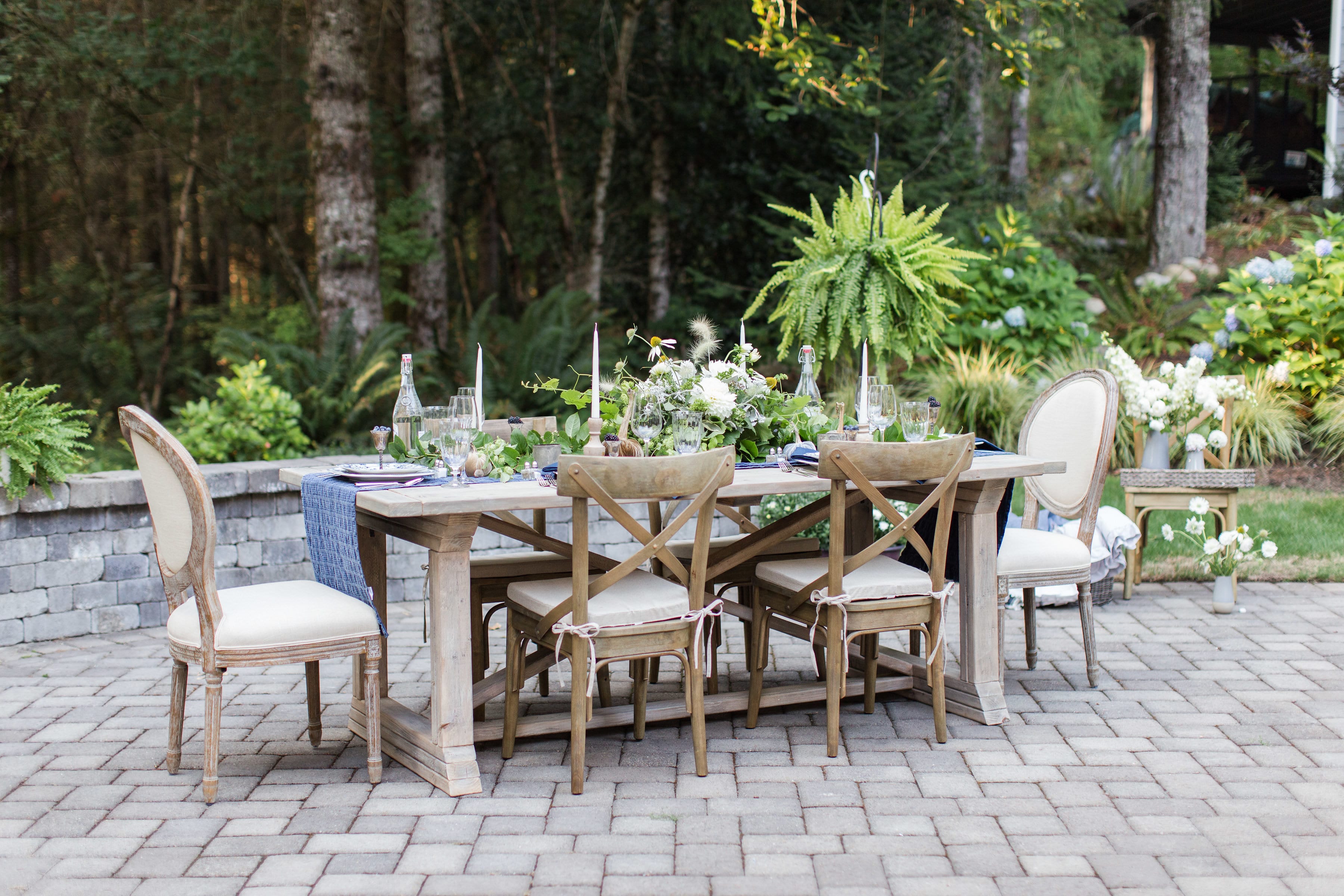 I hope you enjoyed seeing some of my favorite fall themed tablescapes! Thanks so much for stopping by! Please subscribe to my blog so you'll never miss a post! Happy Tablescaping!
xoxo,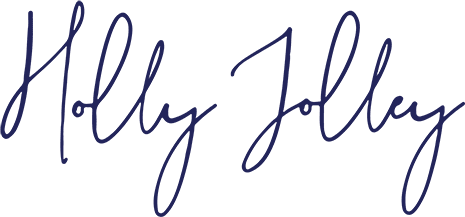 Sources for each post are in the individual blog post. Some of the sources may be out of date and I've tried to keep them updated but some items are no longer available.
Pin This Post For Later