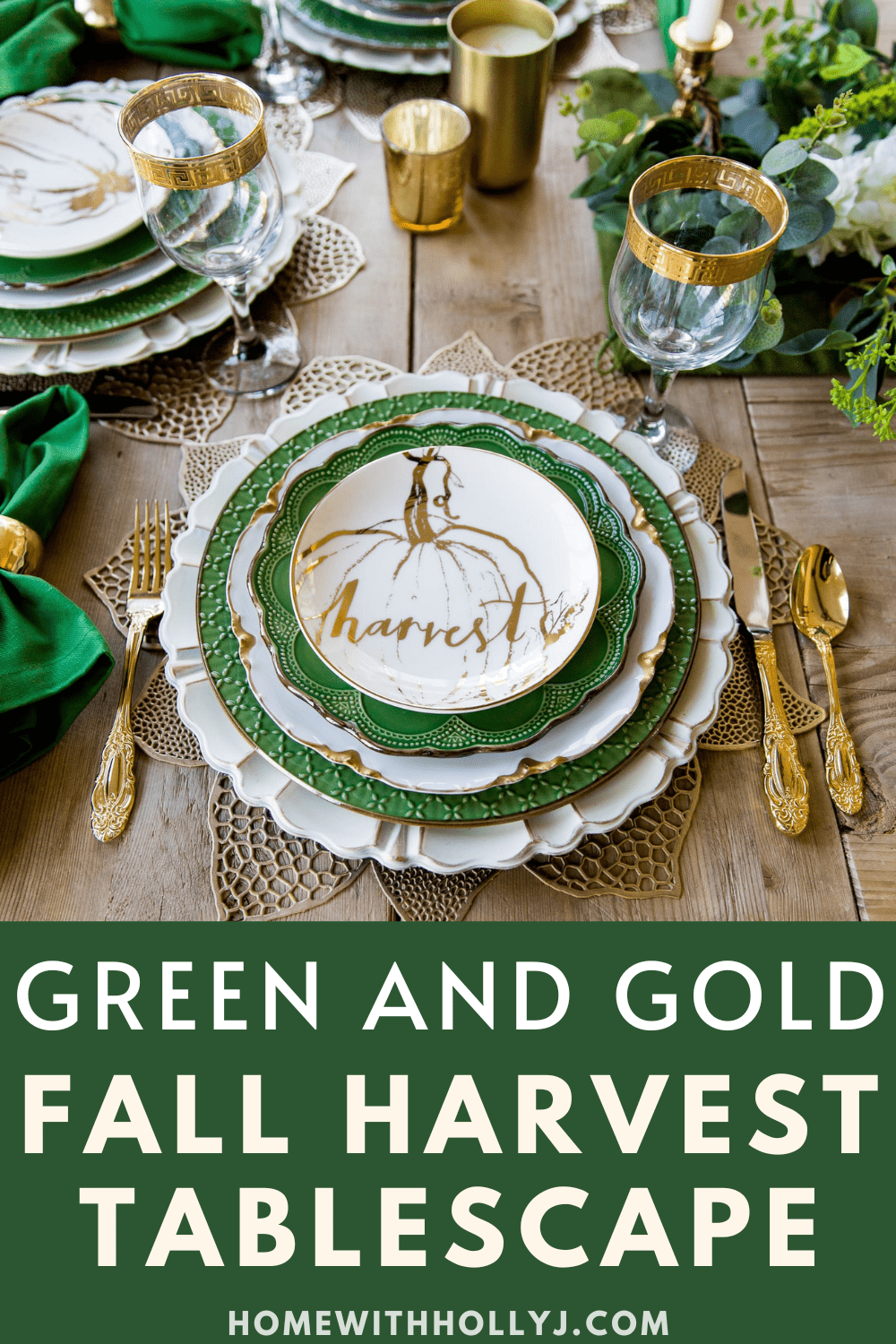 Get inspired to set your Thanksgiving table with this Green and Gold Fall Harvest Tablescape and beautiful centerpiece garland.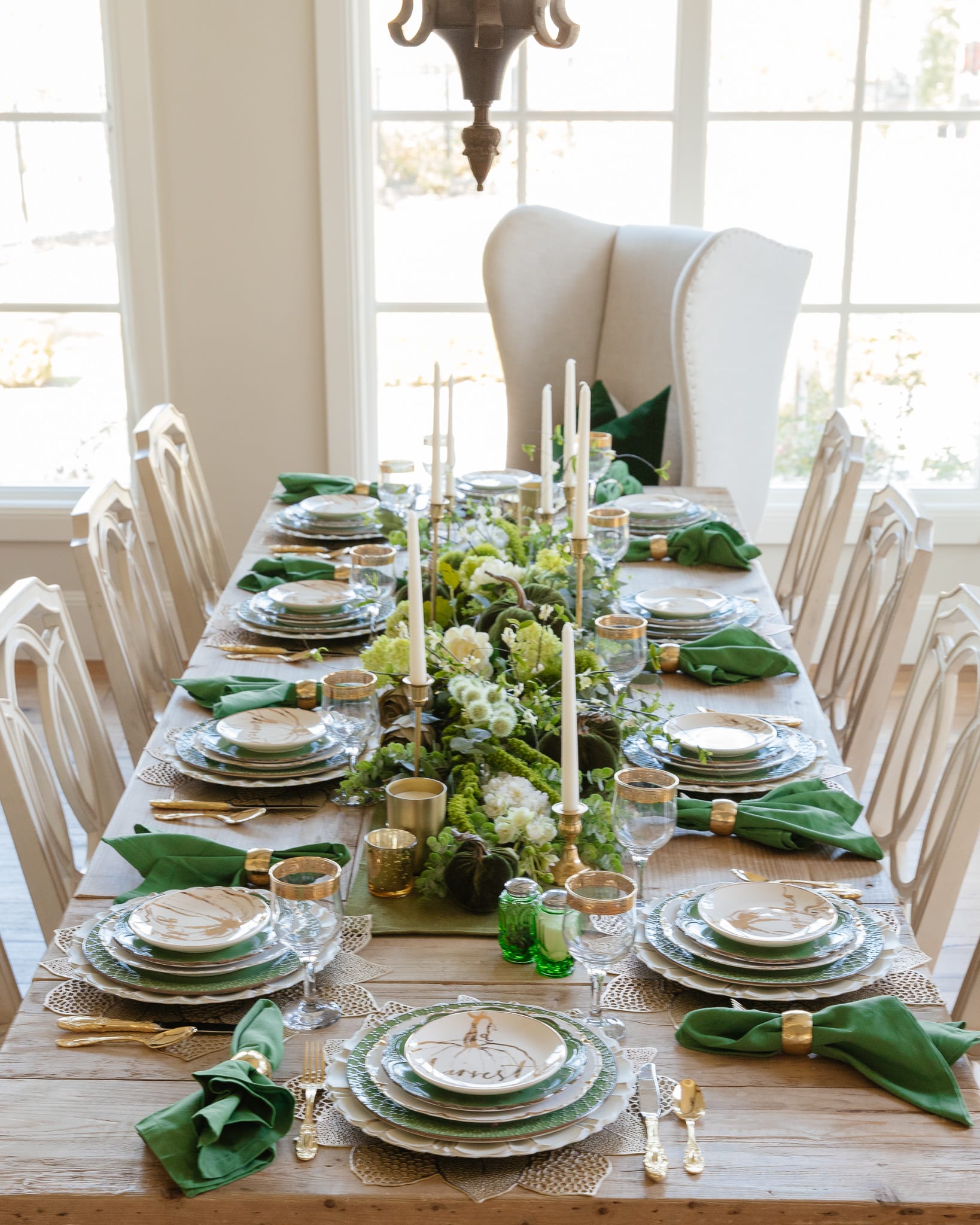 Disclaimer: This post does include affiliate links for your convenience. This is at NO additional cost to you but earns me a small commission. To read more, check out our disclosure policy.
Green and Gold Fall Harvest Tablescape
One of my favorite times of year to decorate and create tablescapes is Fall. There are so many beautiful colors to play with and pumpkins seem to come in all sorts of colors, sizes, and velvet! Who doesn't love a velvet pumpkin?!! This Green and Gold Fall Harvest Tablescape if full of dark green velvety pumpkins, beautiful faux flowers and some of my treasured dishes.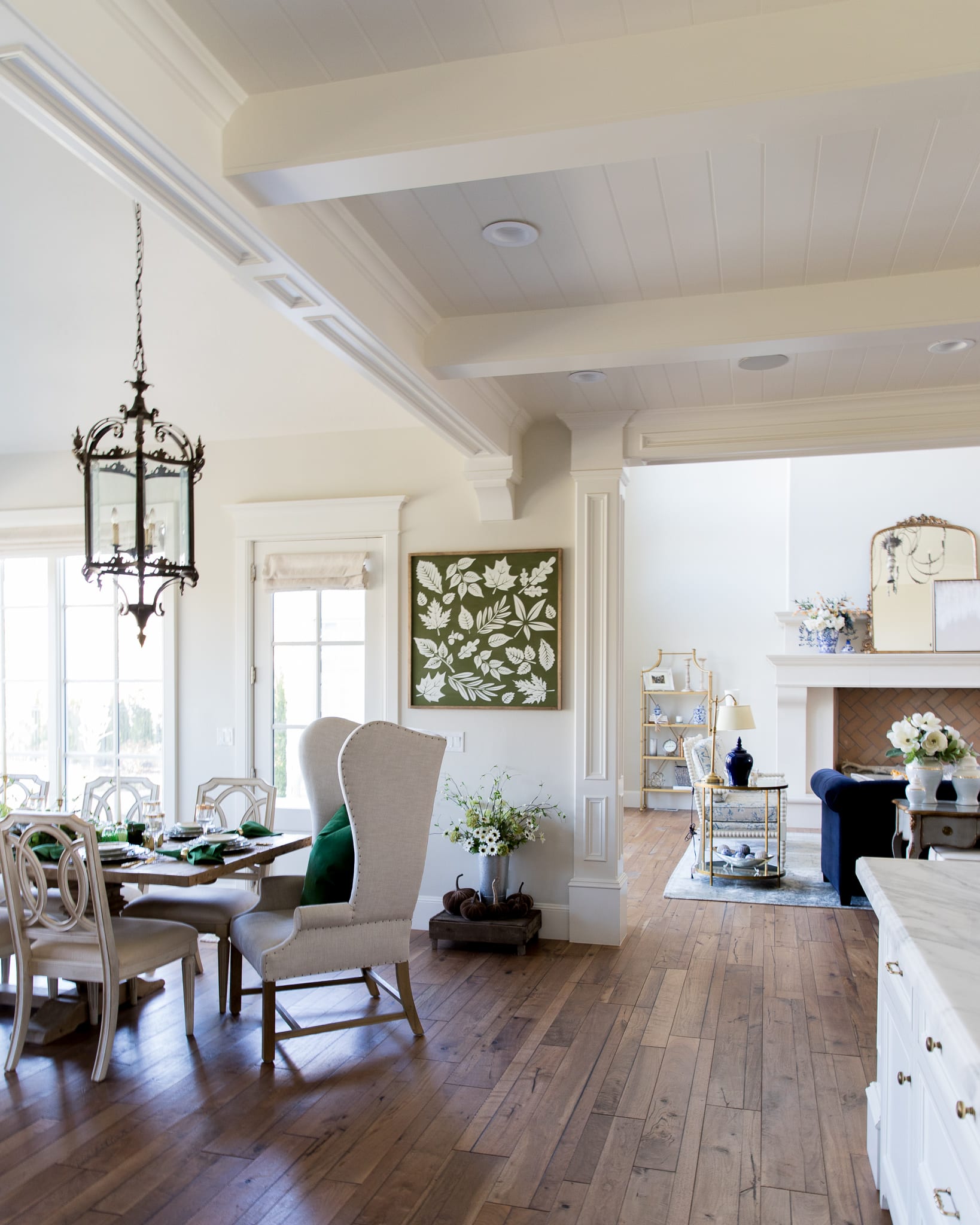 I love adding other elements in the dining room to compliment the tablescape. You can never have enough velvet pumpkins so I added more brown colored velvet pumpkins below this beautiful wood sign from Teal Barn Signs (link for this sign is at the end of the post in the slider with photos of items). To add some color to the space below the sign, I put some of the leftover flowers from the garland centerpiece in a galvanized tin bucket and set it on an old antique crate.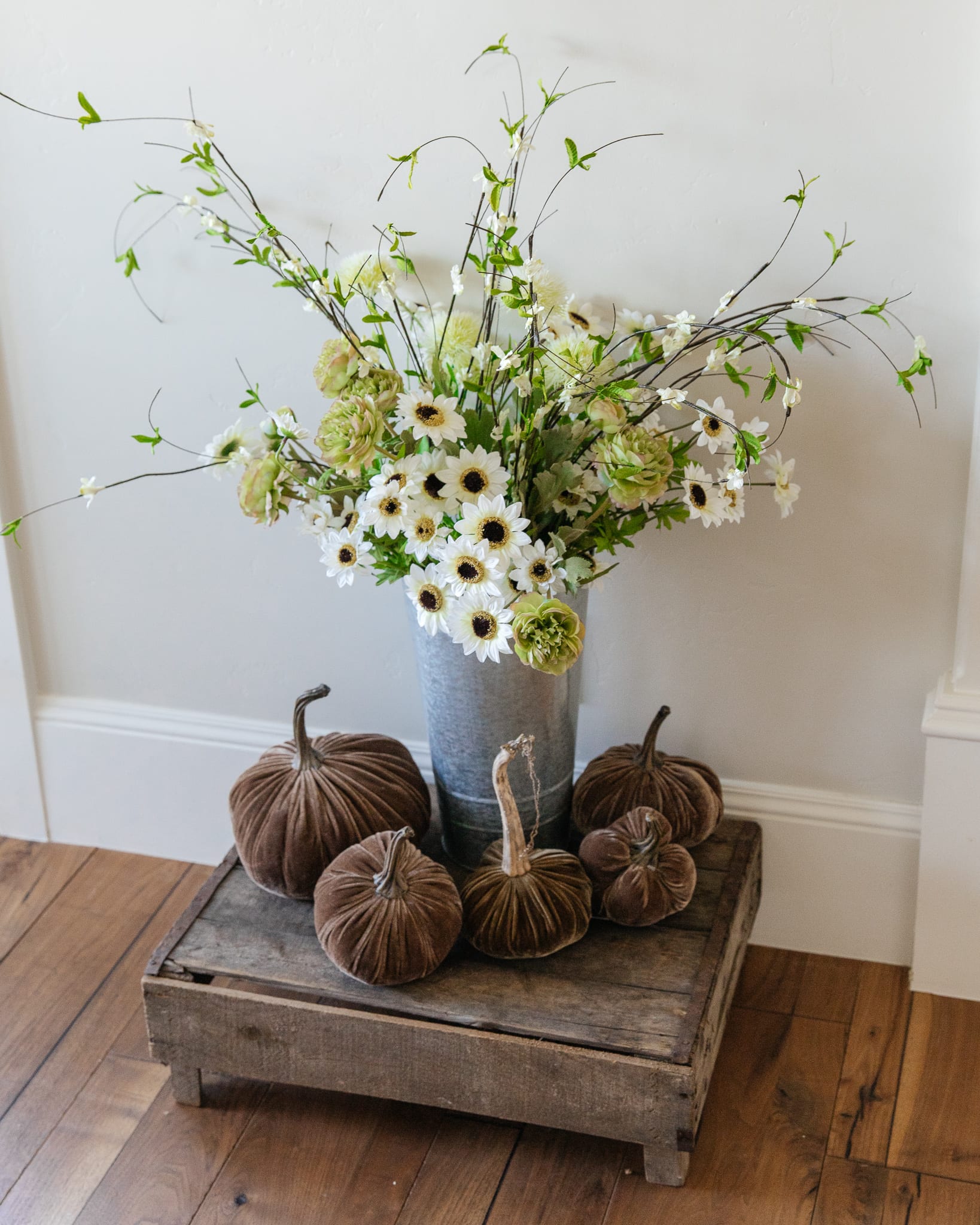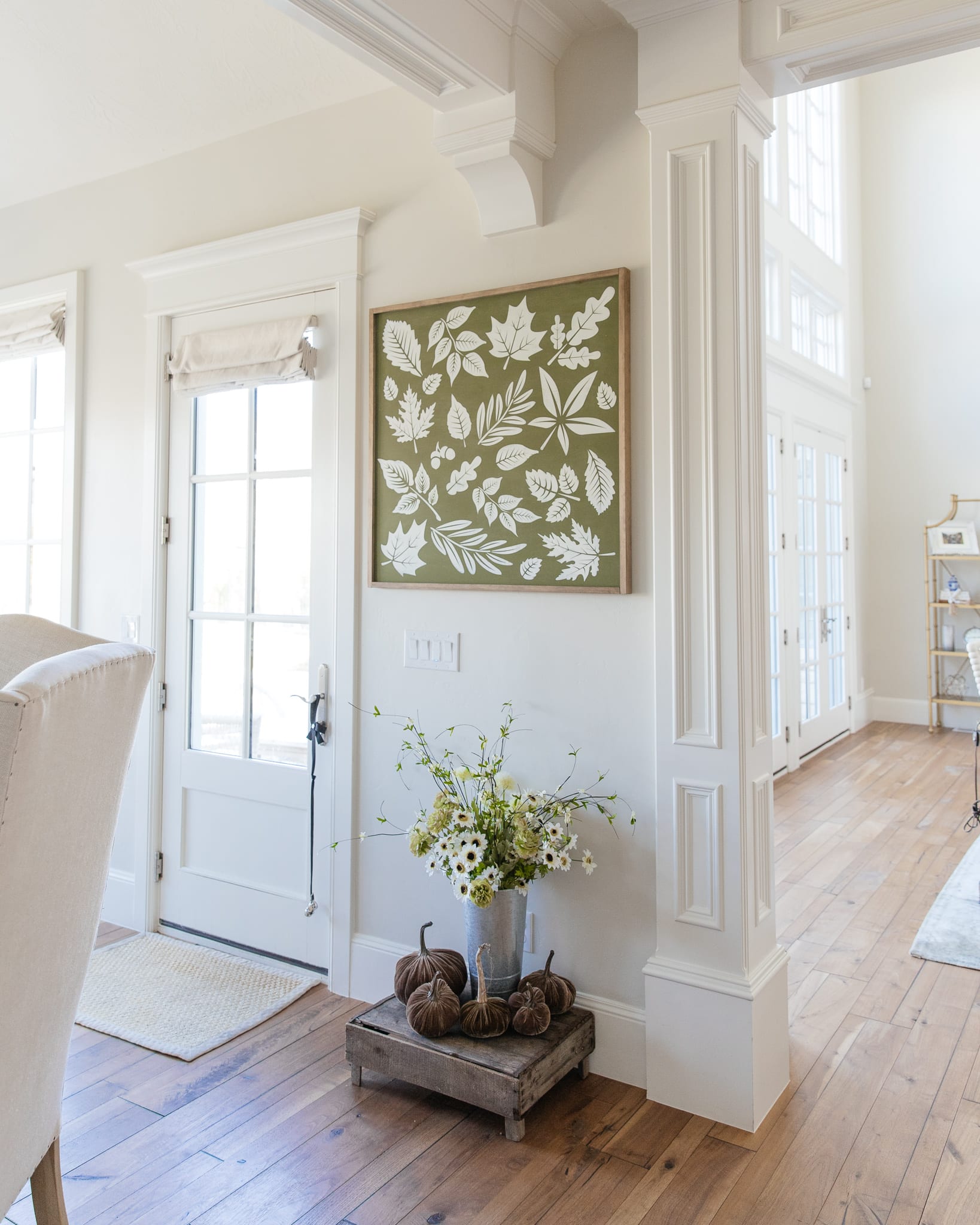 The Place-Setting
For the place-setting I used my dark green dishes layered with my favorite antique limoges haviland gold and white plates. I like mixing the old with the new.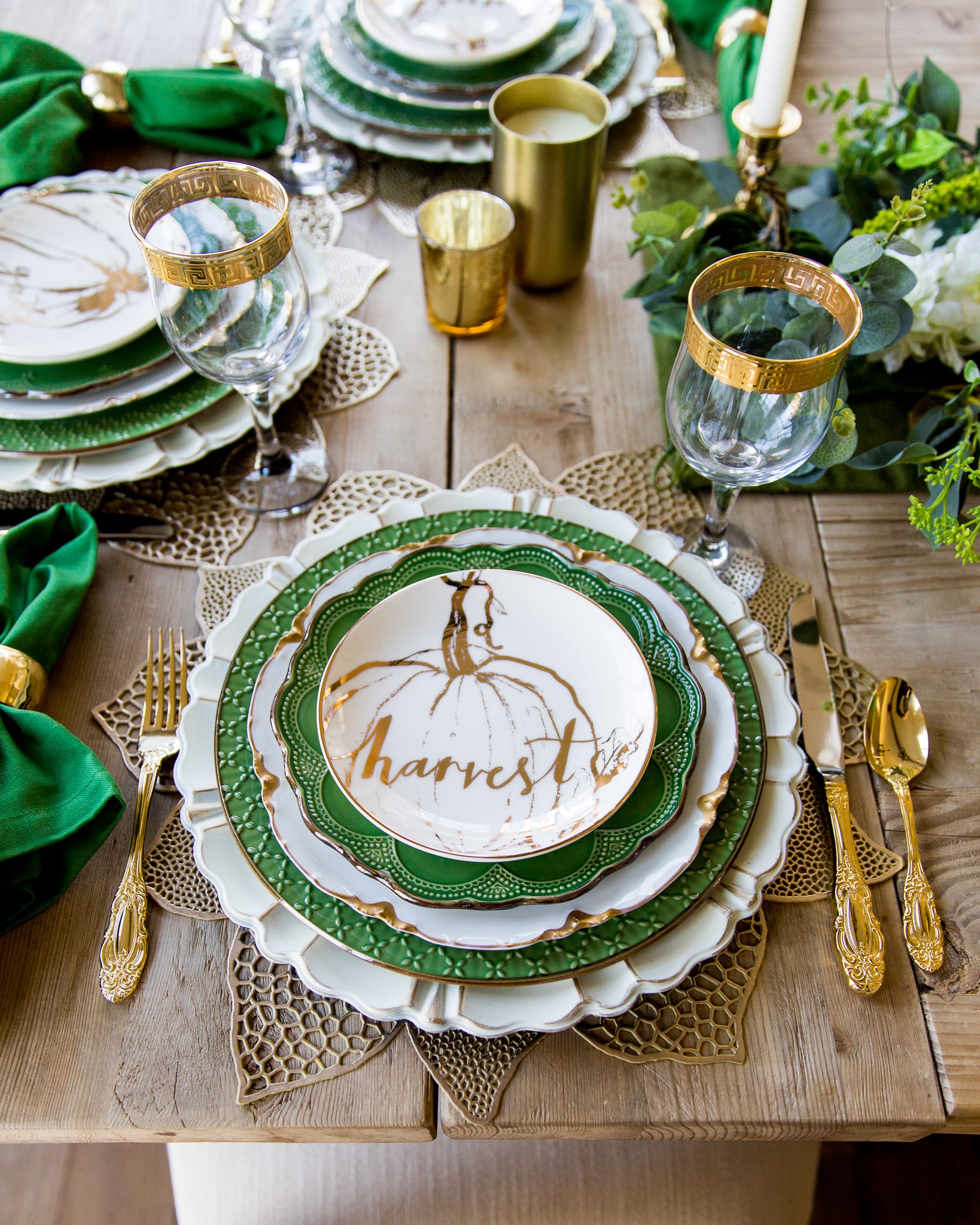 I used gold flower shaped placemats, gold flatware, a gold rimmed goblet and a dark green cloth napkin and gold napkin ring.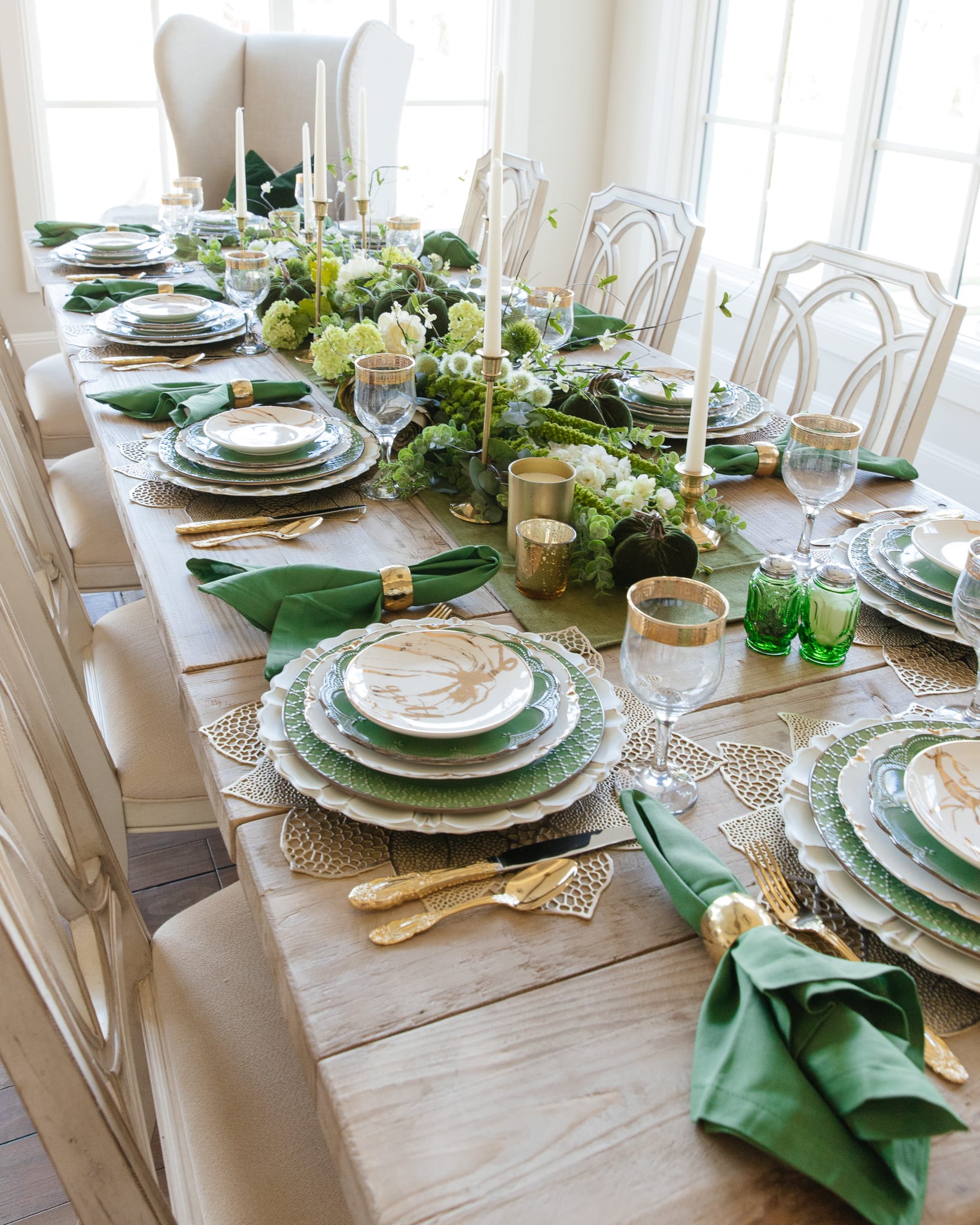 I added in accents of gold all throughout the table. Even the charger has gold antiquing on the edges.
The Garland Centerpiece
I like creating long garlands to fill up the middle of the table. My table is a large trestle table and I like the way it looks when there's not a lot of open space on the table when I create this type of tablescape. I don't typically put my food on the table as it's easily stained so if you prefer to add the food to the table you can use matching serving pieces and make the centerpiece or garland smaller.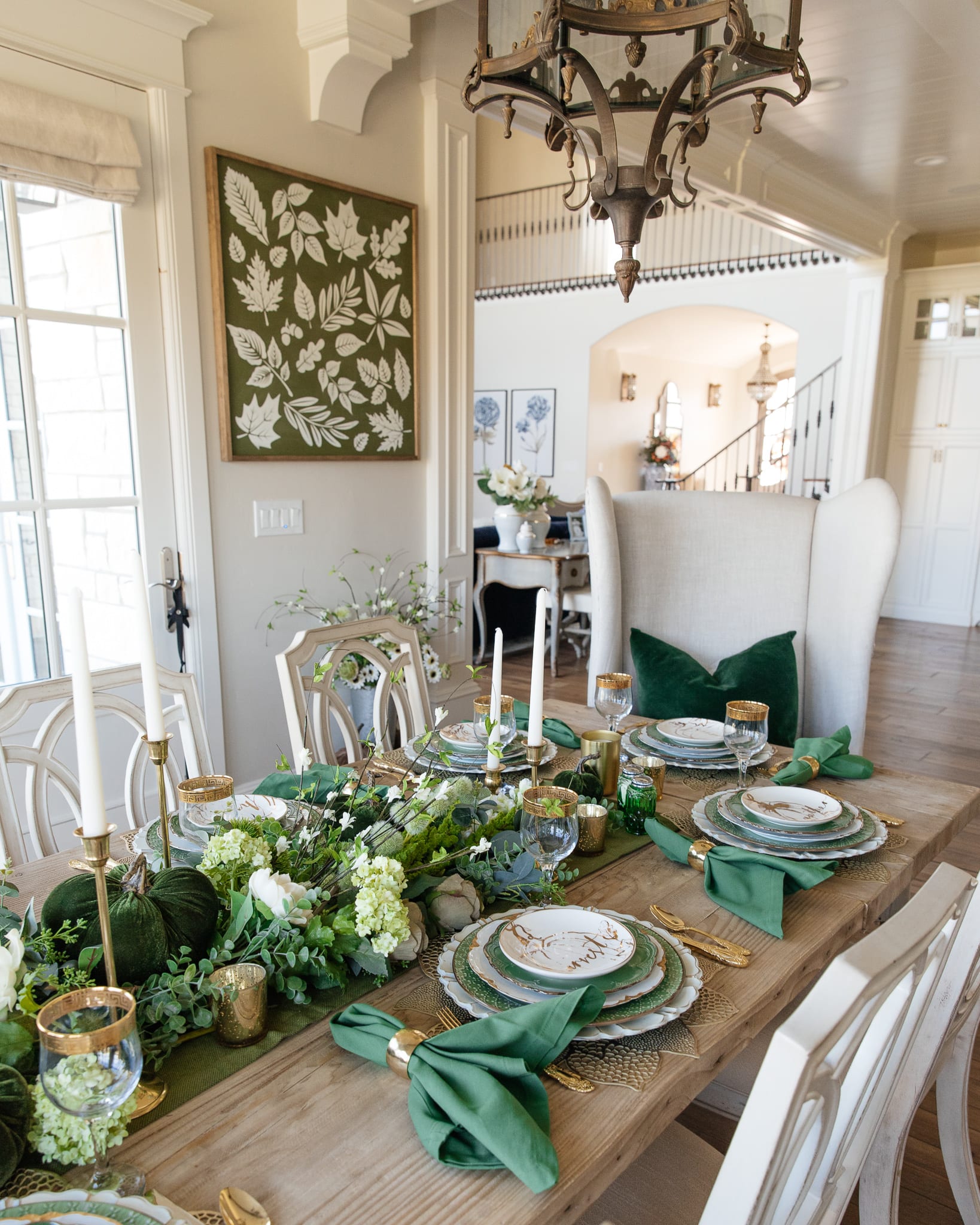 Another reason I like to do it this way is that it keeps the decor lower to the table so when you're seated for dinner, you can see the people across from you. A centerpiece should draw your eyes to it but not block your view of the other guests.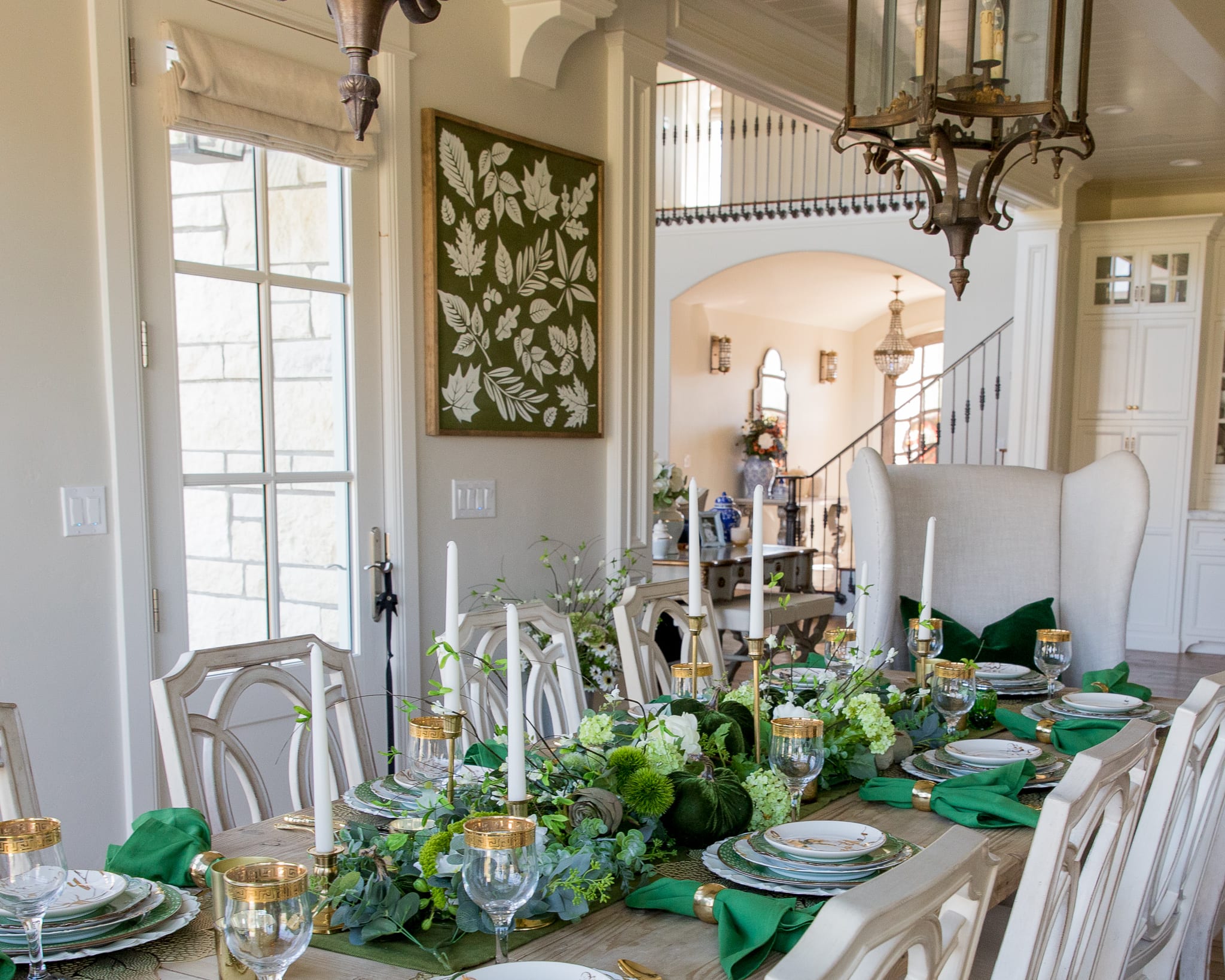 I like to create a little more height in the center of the garland and then let it taper off to the end. For this tablescape, I put the largest green velvet pumpkin in the middle of the garland and then the smaller ones off-set throughout the rest of the garland.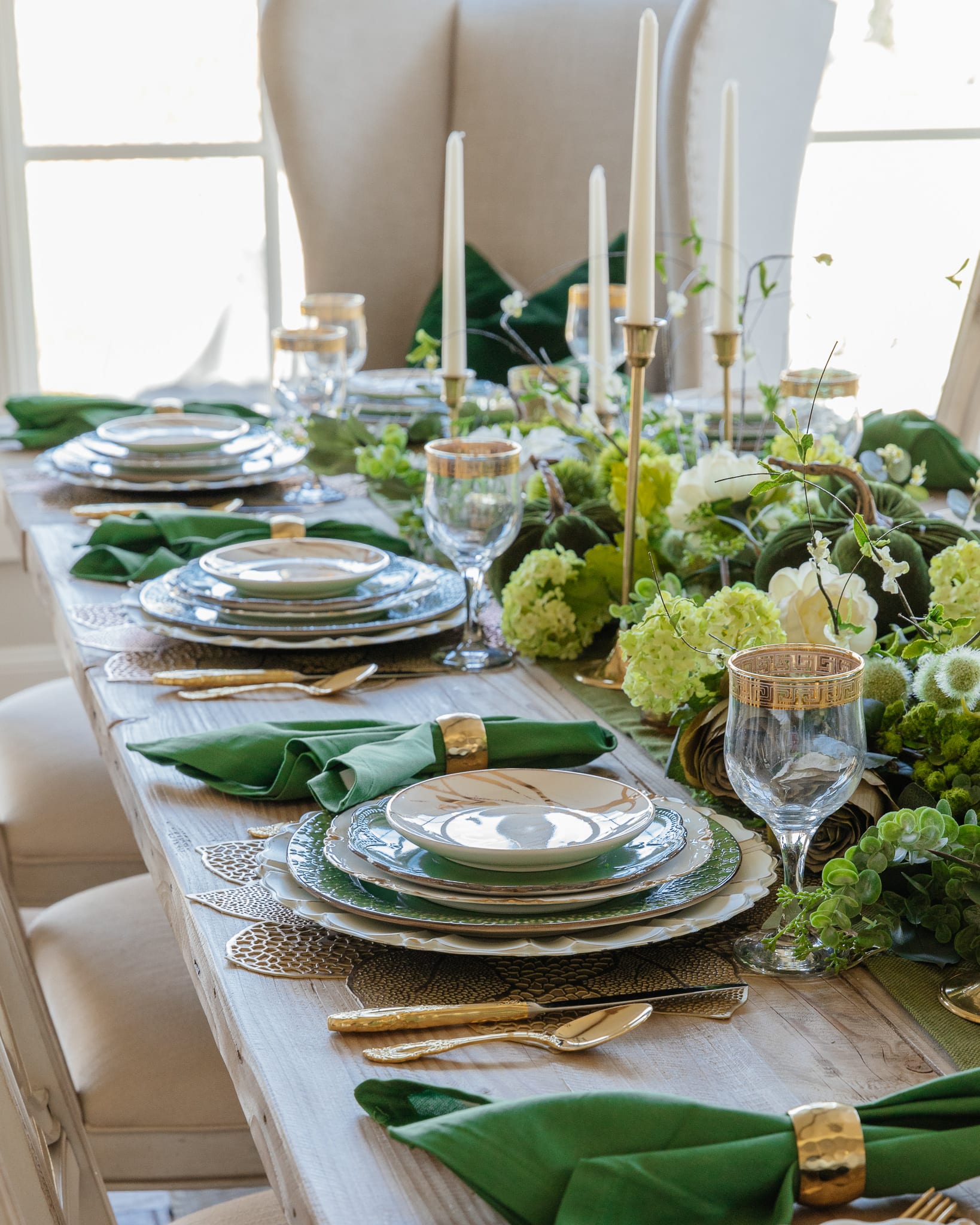 I started with a base green garland and then going in opposite direction from the center on each side I layered in different faux green stems and white flowers.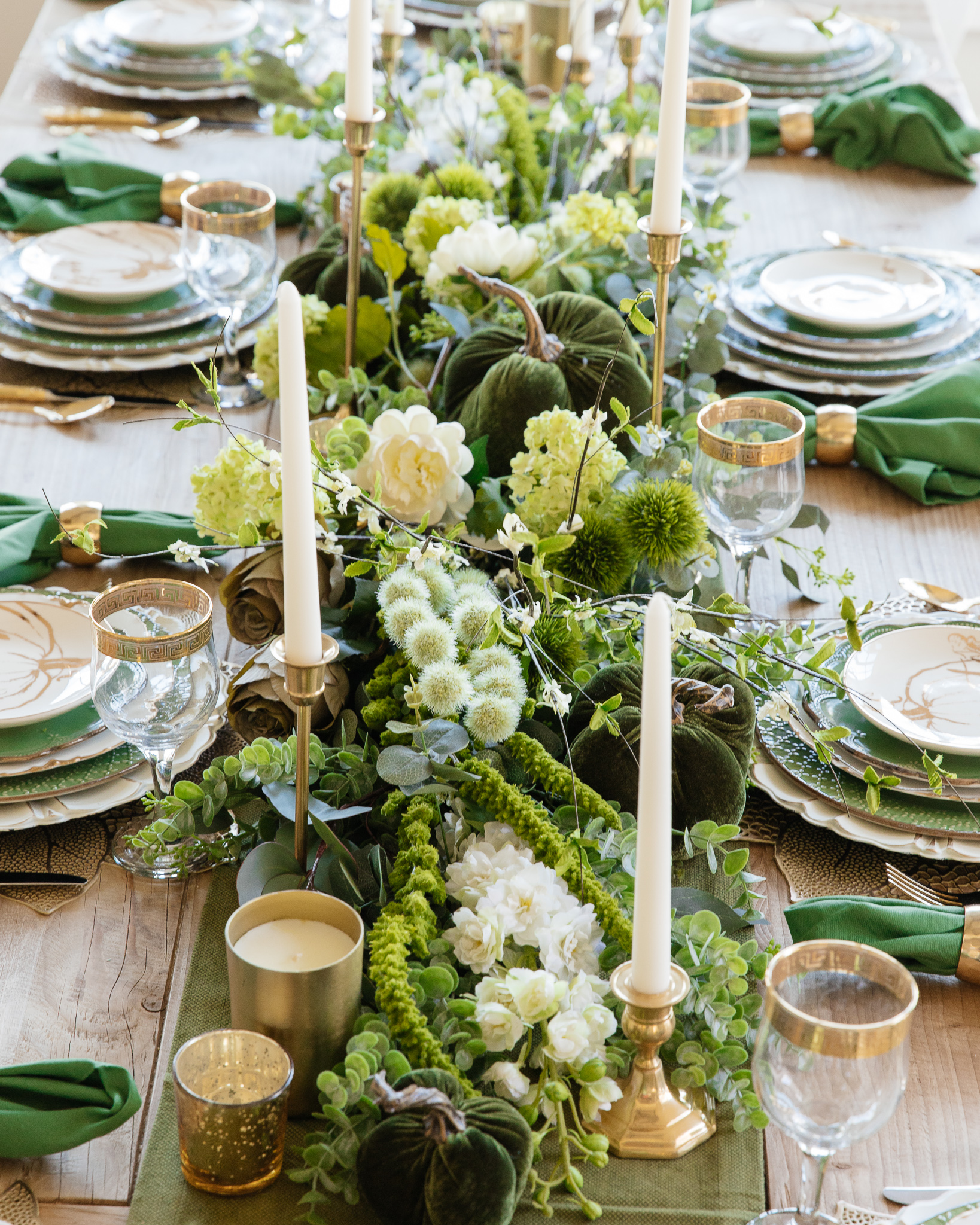 Then I added a few more green velvet pumpkins, gold candlesticks with ivory taper candles and gold votive candles filled in the rest of the open spaces.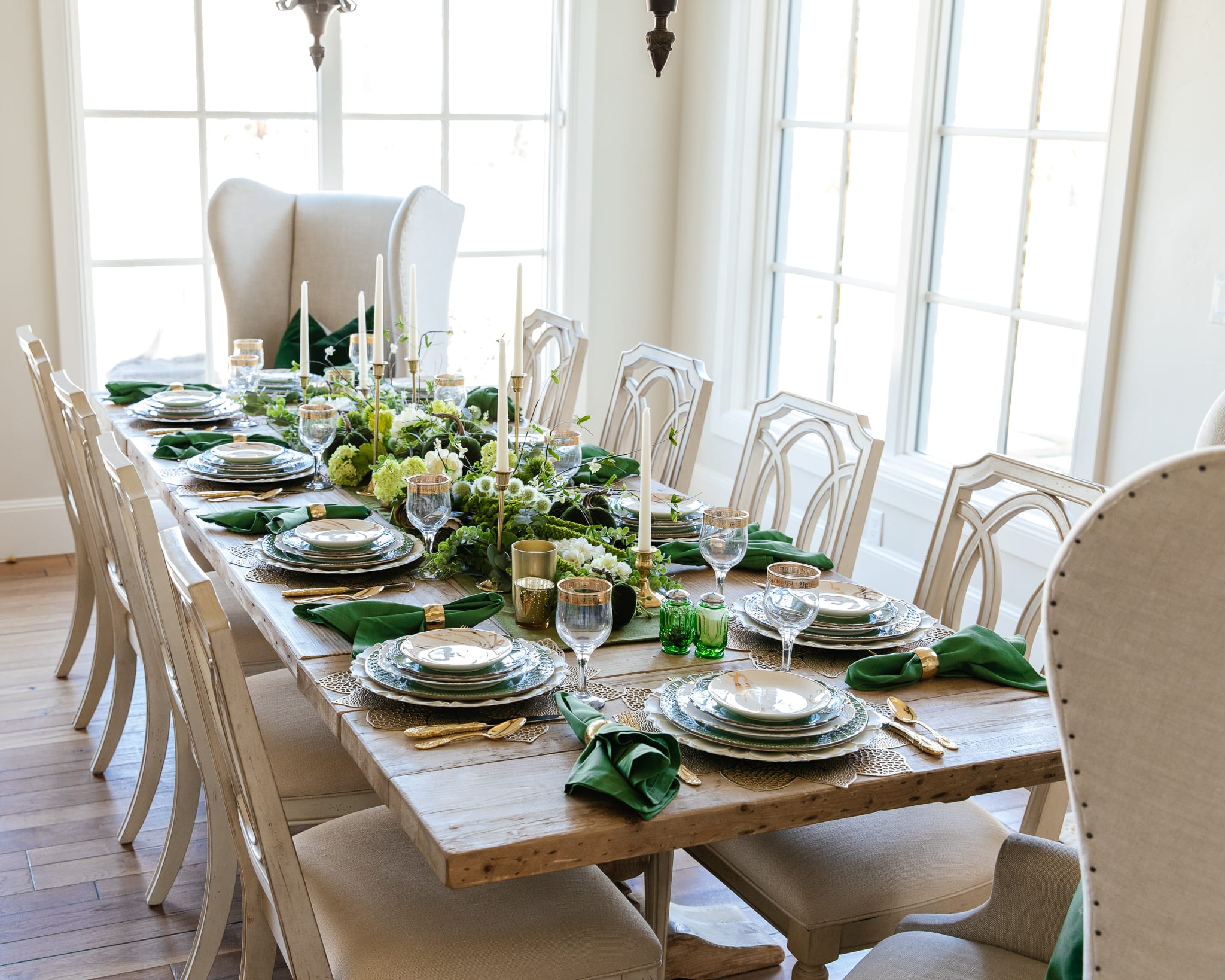 Final Details of the Green and Gold Fall Harvest Tablescape
I always say the beauty lies in the details and if you look closely at all the little details I think you'll agree with me! Here you can see one of the little details where I mix the old with the new is the antique green salt and pepper shakers. These were a gift from my mom. She is a dish lover too, so adding these onto the table reminds me of her and all the fun times we've had hunting for dishes in antique stores.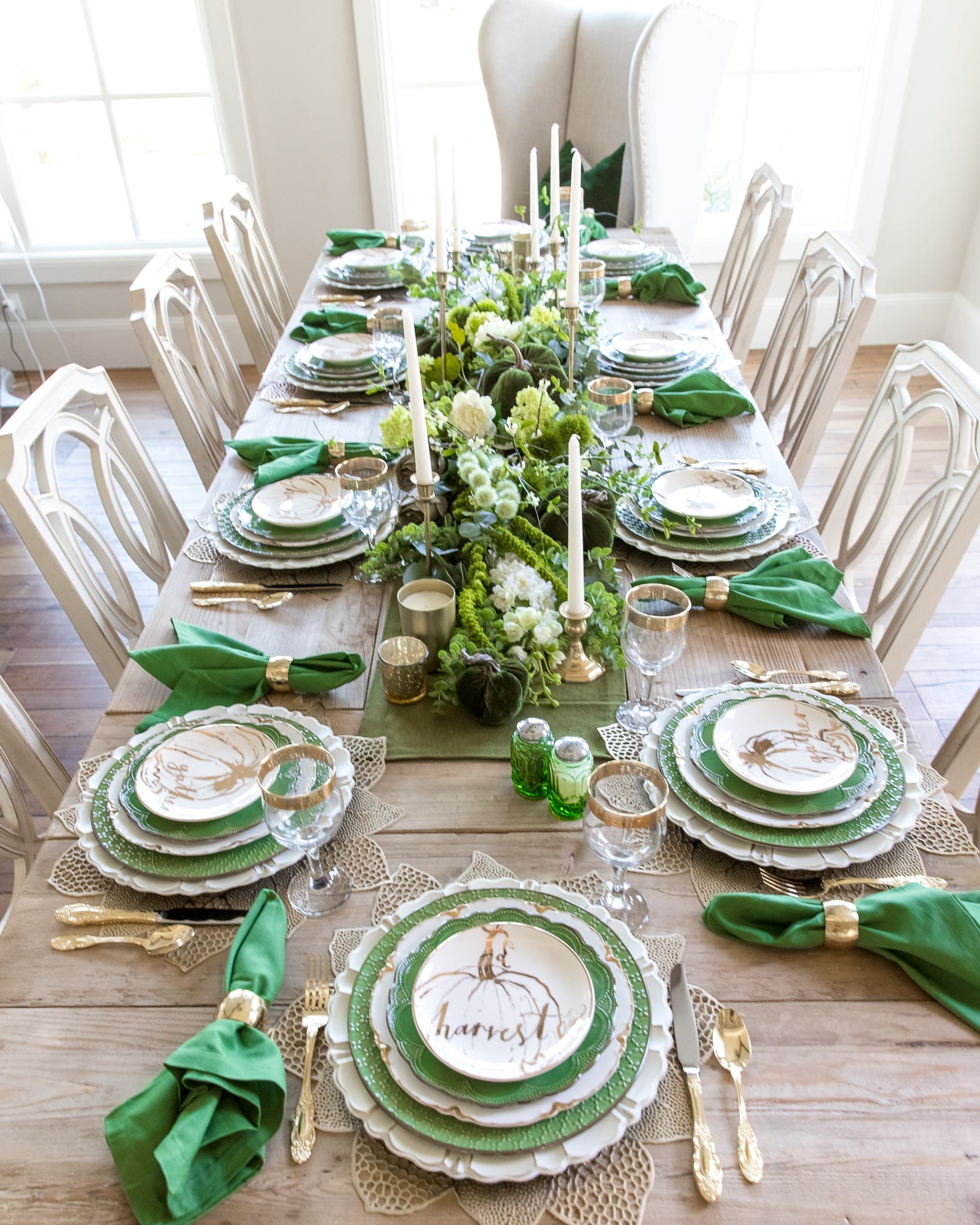 Another little detail I added was these gold and white bread plates that said "harvest" and "gather" on them. I alternated them on each place-setting and it brings in the fall element to the table. They also paired perfectly with the gold and with antique plates.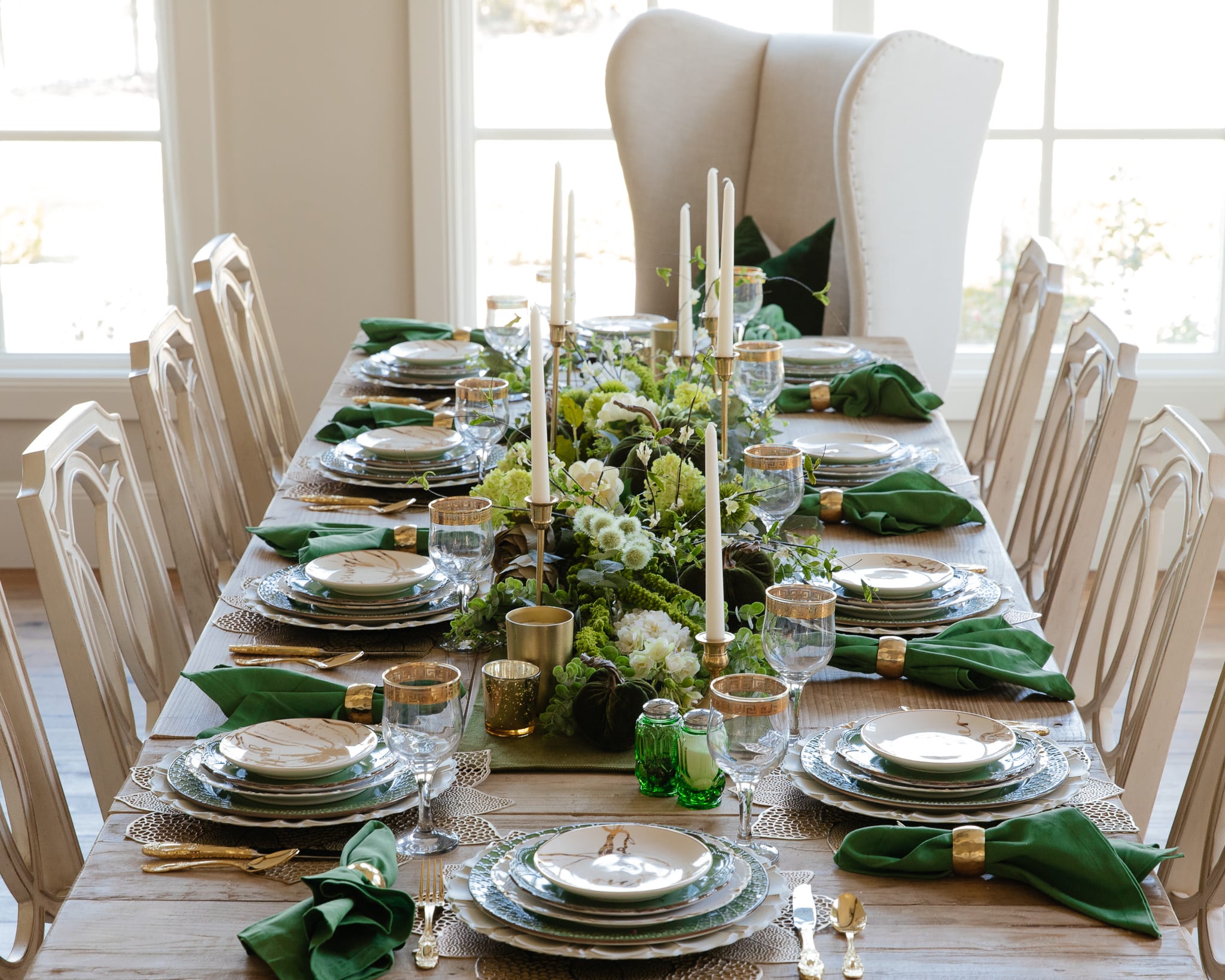 The last detail was adding these white and green velvet pillows to the end chairs. They paired perfectly with the green velvet pumpkins and it's the final piece to the entire tablescape that makes it perfect for a fall family gathering around the dinner table.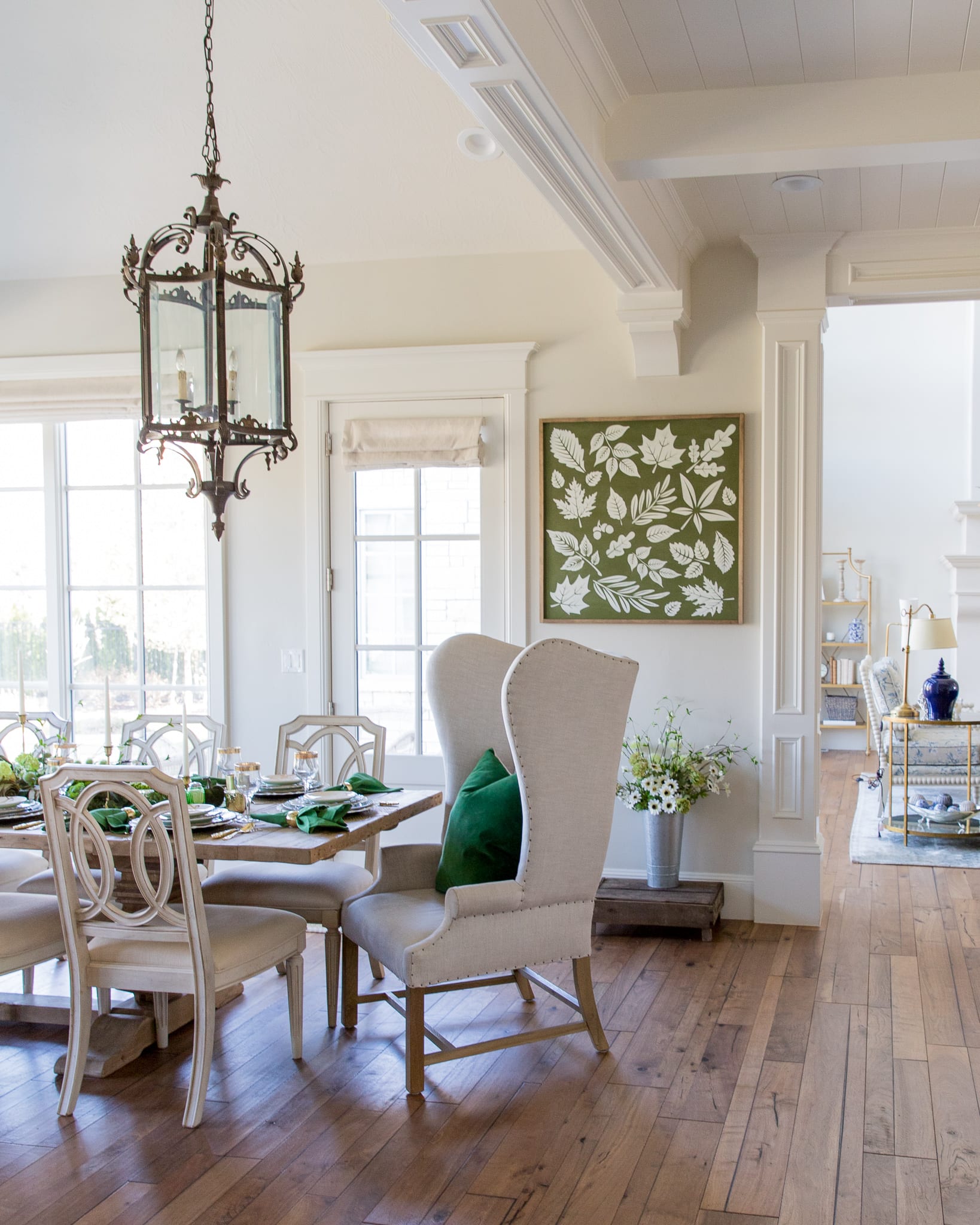 I hope you enjoyed seeing the details of this Green and Gold Fall Harvest Tablescape. Creating these tablescapes brings me such joy and I look forward to creating more memories with my loved ones around our dinner table.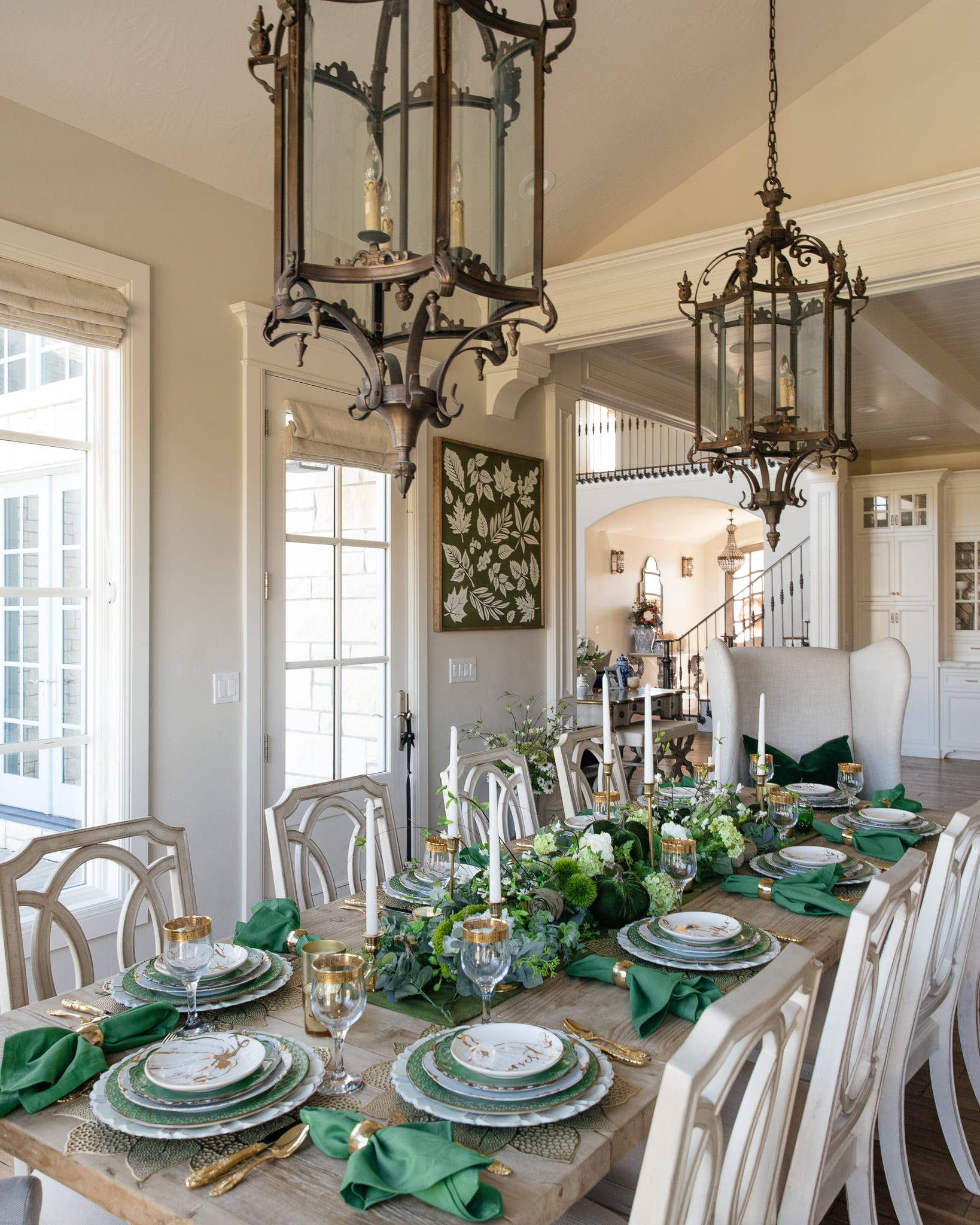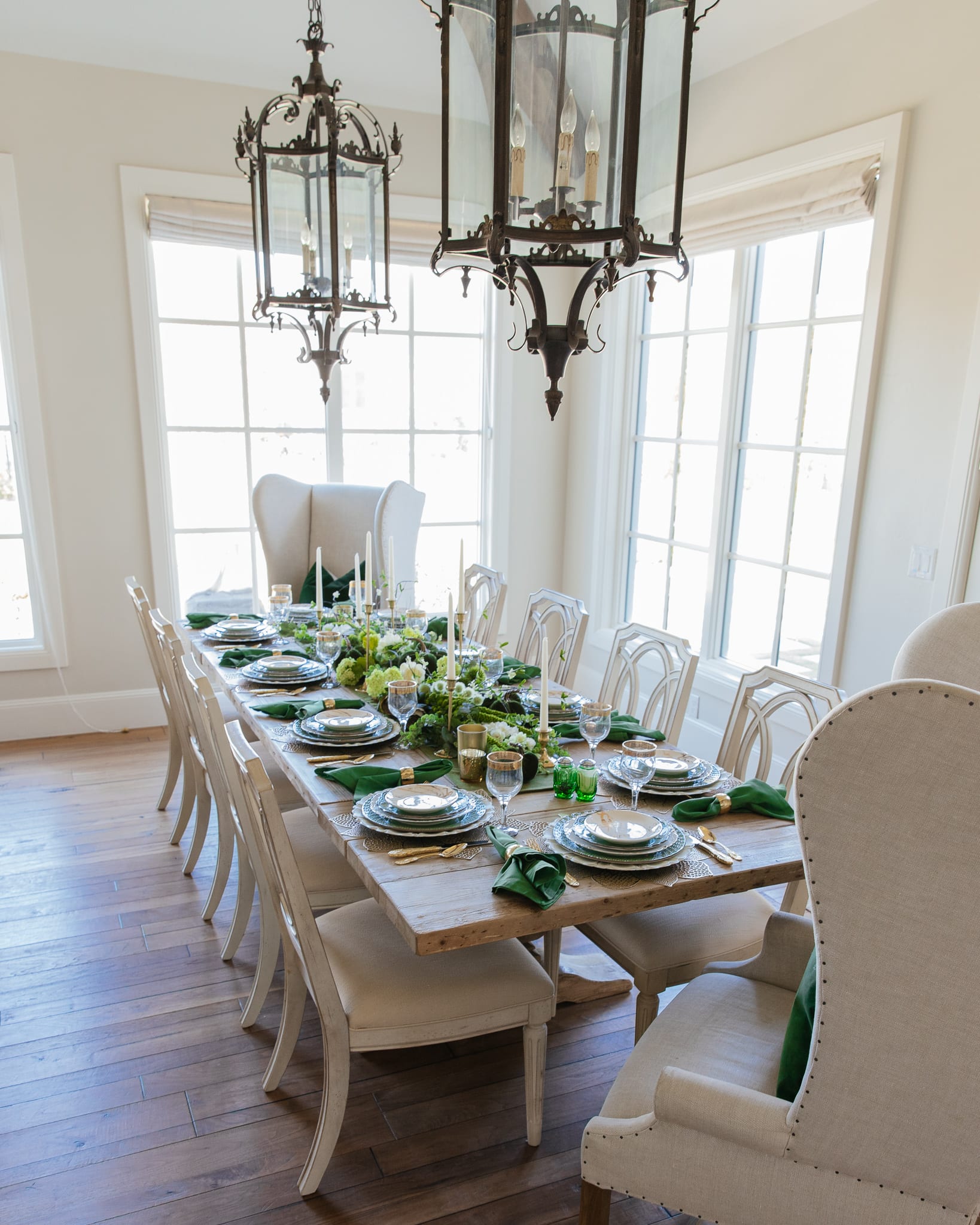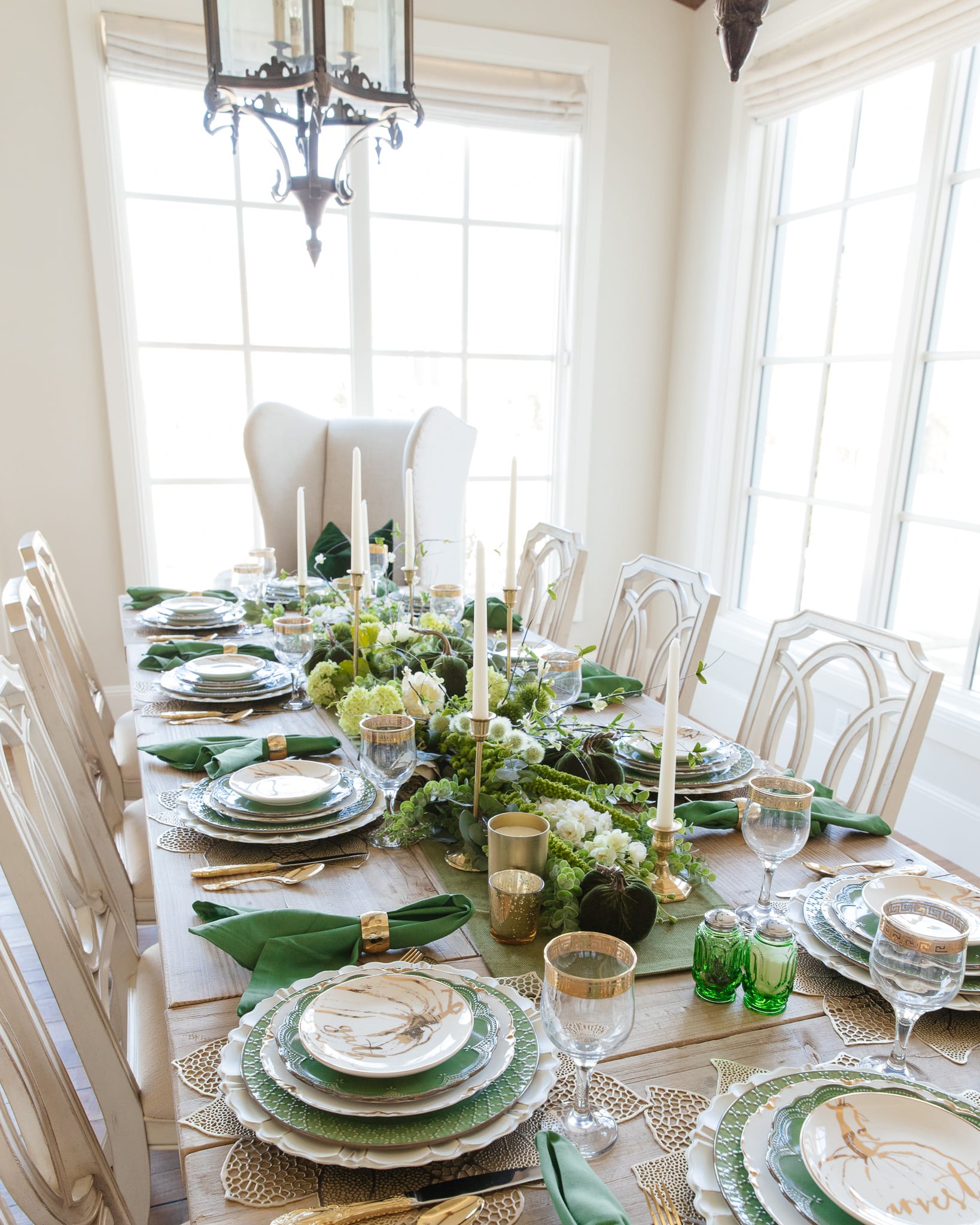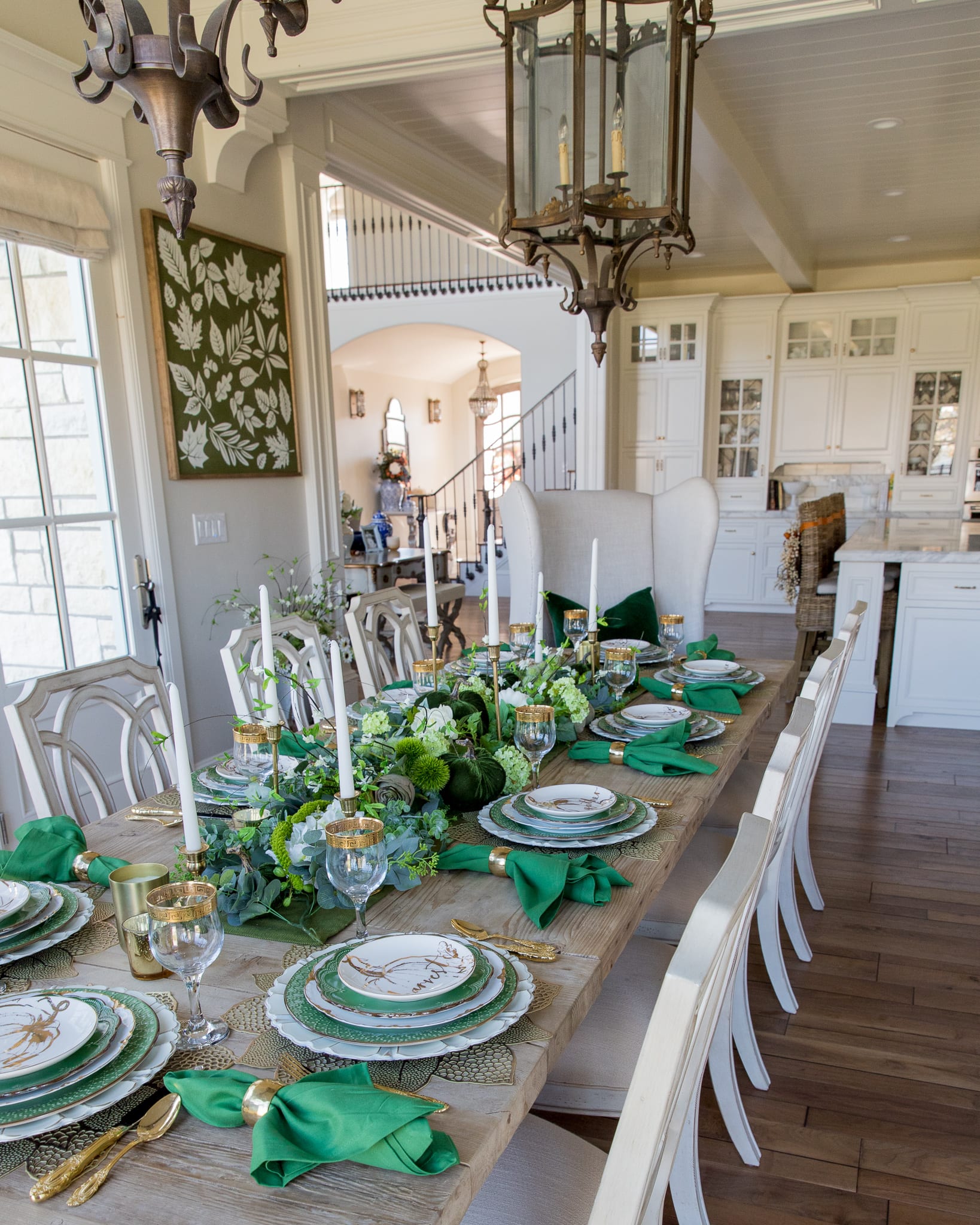 Wishing you all a very happy Thanksgiving in the coming month and as I reflect on what I'm grateful for, I am grateful for all of you! The fact that I get to share what I love with you and hopefully inspire you to create your own beautiful gathering table makes my heart happy. Thank you so much for stopping by and allowing me to do this!
XOXO,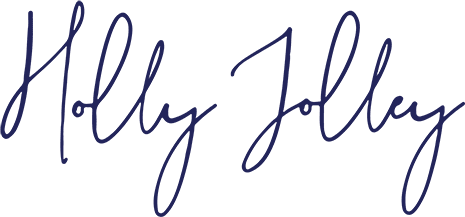 To see more of my Pumpkin Themed Tablescapes click here
All Sources Linked Below
Disclaimer: This post does include affiliate links for your convenience. This is at NO additional cost to you but earns me a small commission. To read more, check out our disclosure policy.

Gold Placemats: Hobby Lobby
White and Gold Pumpkin Plates: Fred Meyer/Smiths Grocery Store
Green Velvet Pumpkins: Debi Lilly
Green and White/Ivory Flowers: Aforal and A Matter of Style, Maple Valley WA
Green Velvet Pillows: McGee & Co.
Green Fall Leaves sign is linked in the slider of products right above this.
Pin This For Later