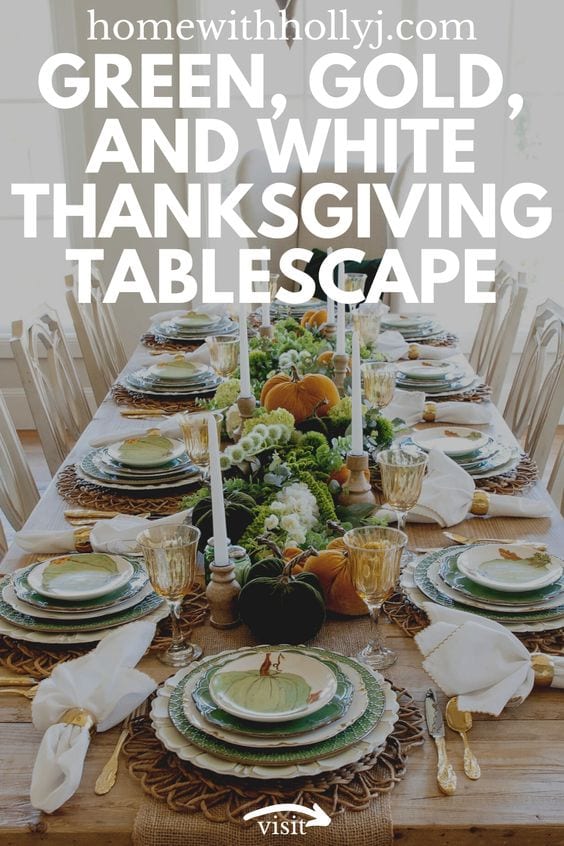 Create a beautiful green, gold, and white Thanksgiving tablescape for your friends and family. Get inspired in today's post.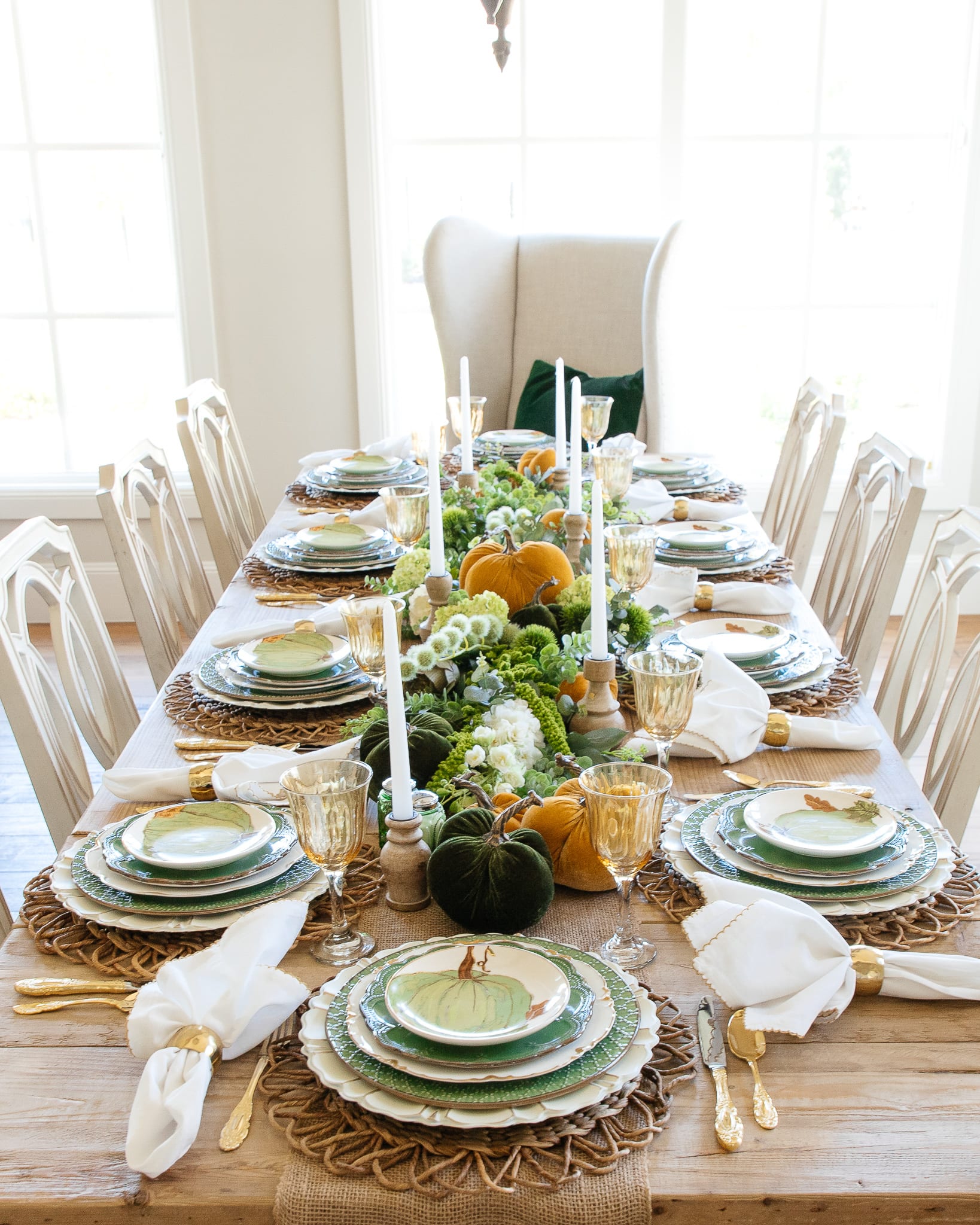 Disclaimer: This post does include affiliate links for your convenience. This is at NO additional cost to you but earns me a small commission. To read more, check out our disclosure policy.
Green, Gold, and White Thanksgiving Tablescape
One of my favorite things to do is create a beautiful Thanksgiving tablescape where we can gather as a family for Thanksgiving dinner. I thoughly enjoyed creating this Green, Gold, and White Thanksgiving Tablescape. I think this one is one of my favorites!
The Place-setting — Mixing Green, Gold, and White
I like to layer different plates, chargers, and placemats to create a more dramatic look. The top plate has a green pumpkin painted on it and it matches the green plates I had recently purchased.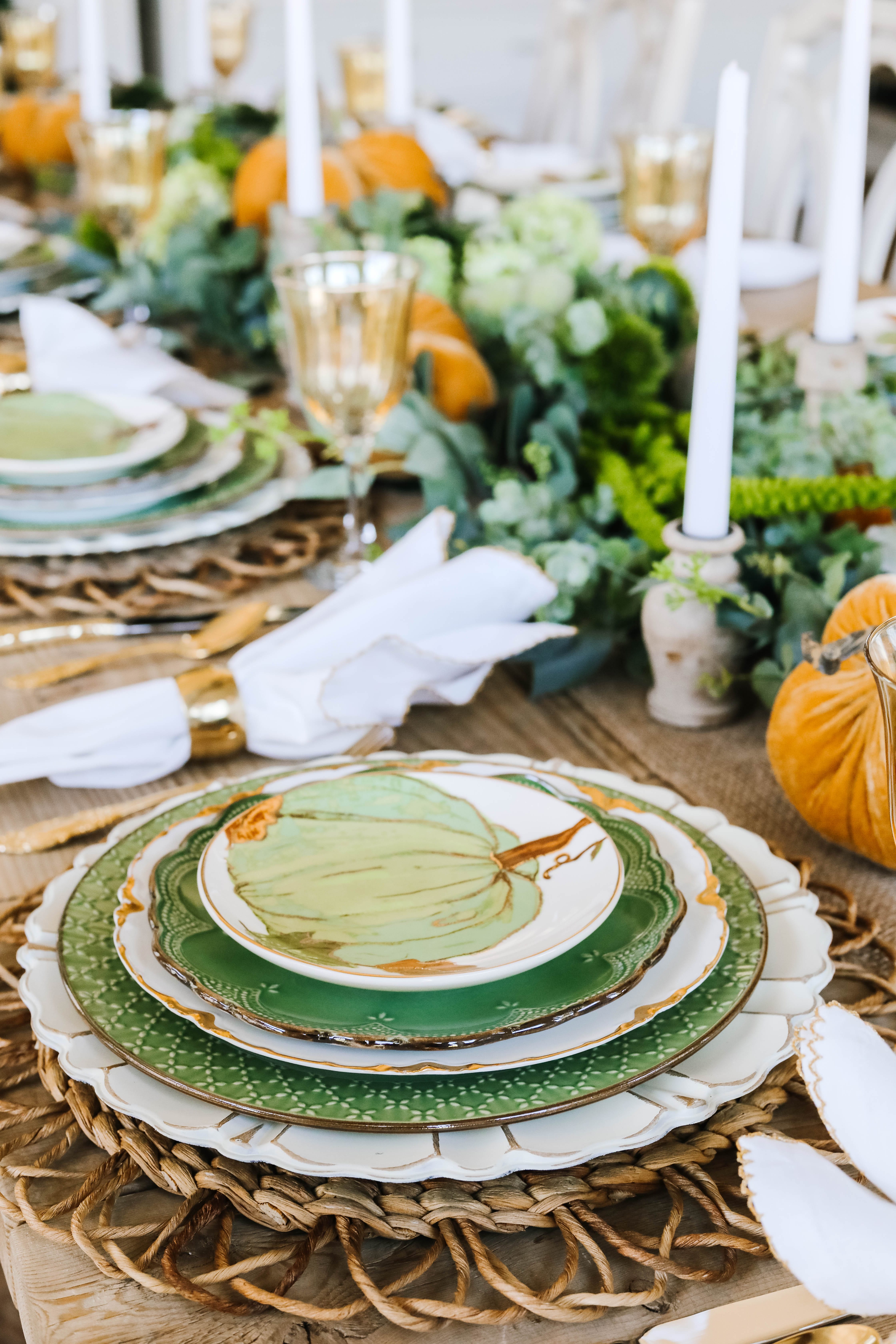 For the placemat I used this hyacinth placemat to add some different texture to the place-setting. The charger is one of my favorites as it goes with so many different place-settings.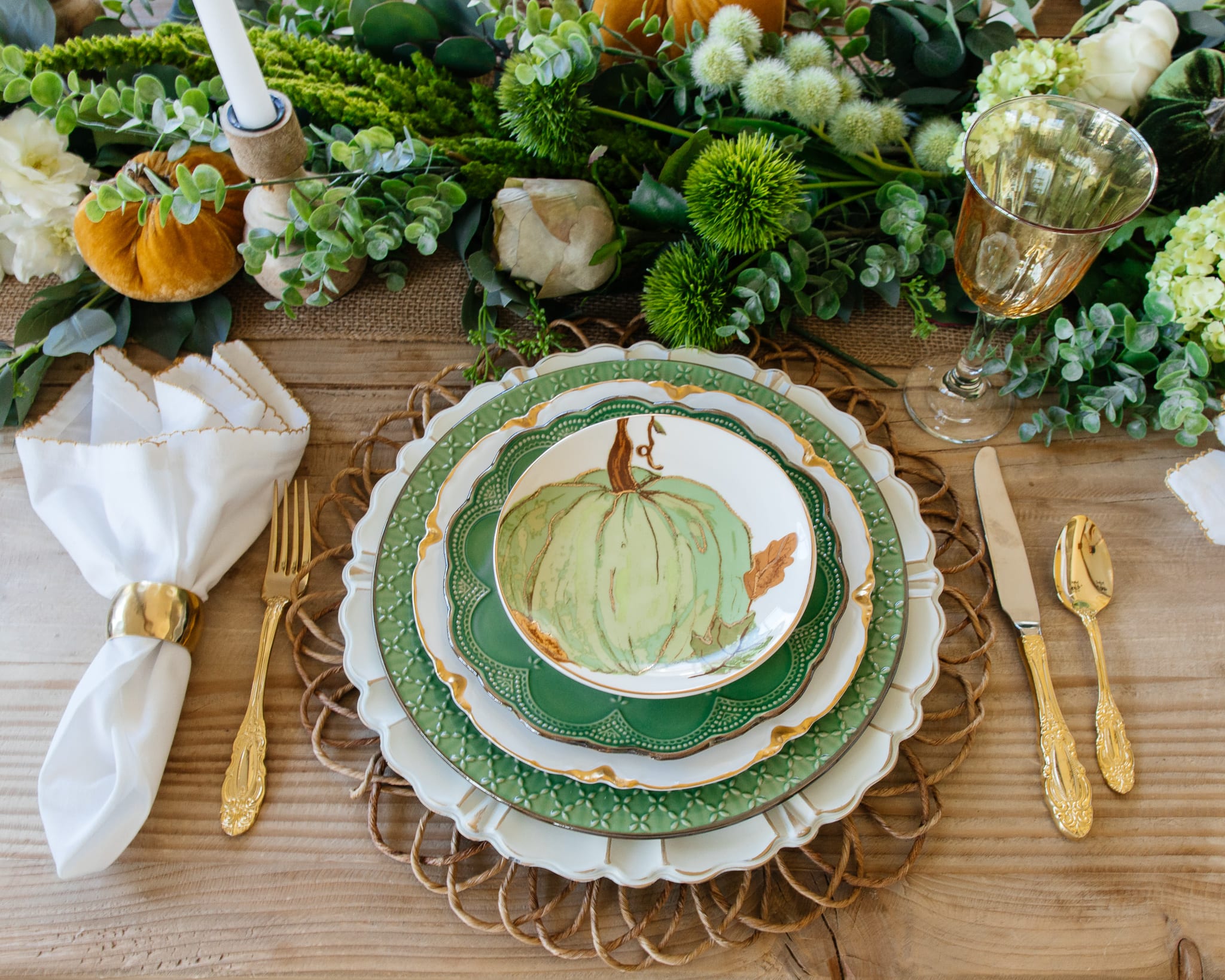 The green plates are one of my most versatile sets of dishes. I've mixed them with white and silver, green and gold, green and white and I may even use them with red for a Christmas tablescape!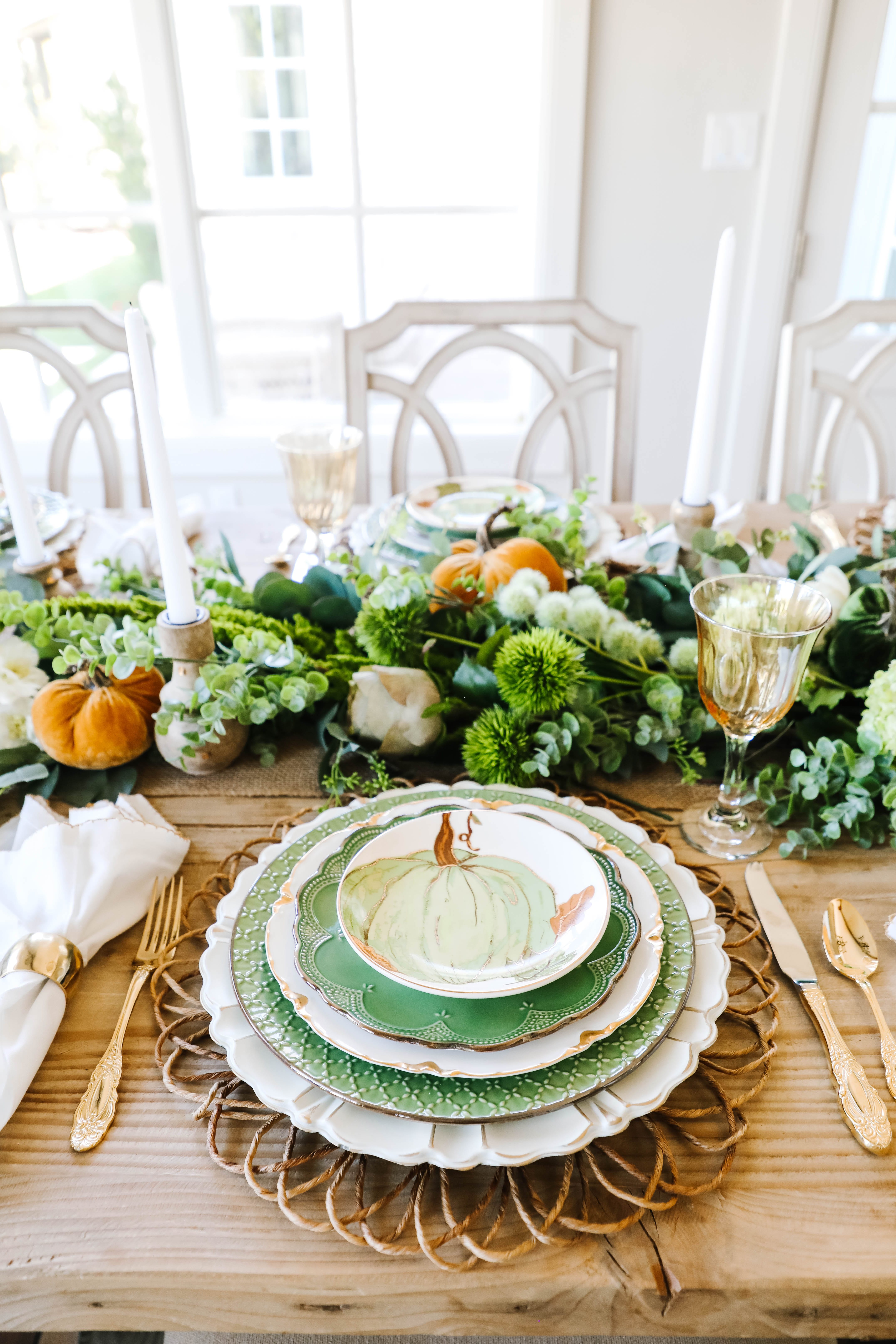 I also used my gold and white vintage limoges haviland (ranson pattern) antique plates. These are also versatile and I've used them in so many different place-settings. Mixing the old with the new is one thing I love to do.
The Centerpiece Garland
I like creating a garland down the middle of the table when I use my bigger tables at both my homes. It fills up the empty space in the middle of the table if you're not serving food on the table. Keeping it lower to the table doesn't block your view of the guests across from you.
For this garland I used faux greenery and flowers. One reason I like using artificial greenery and flowers is that it can be used over and over again. If you buy quality products and you take care to store them properly, they will last you for many years.
I started with two base garlands on the bottom. I then layered in eucalyptus and a mix of green flowers.
I love velvet pumpkins and they are one of my favorite items to add to a tablescape. They come in all sizes and colors. Some come with real stems and some are faux. Can you tell if these are real stems or faux? (they are faux!)
One thing to look for when buying velvet pumpkins is that they work better when they have something inside of them that helps weigh them down, like rice or small beans. This makes them a lot easier to decorate with and they stay in place. (I'll link some below at the end of the post)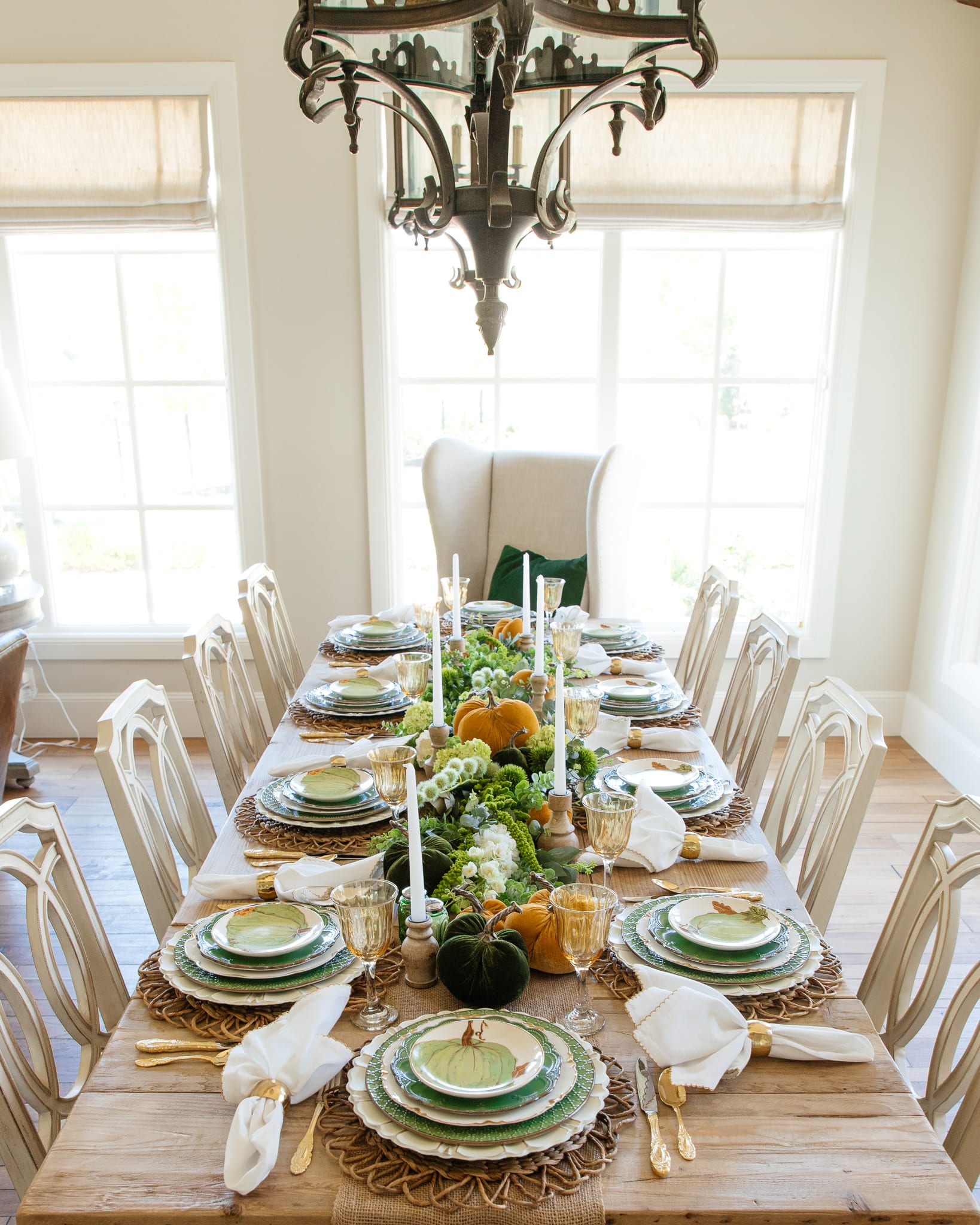 Last I added in wooden candlestick holders and taper candles.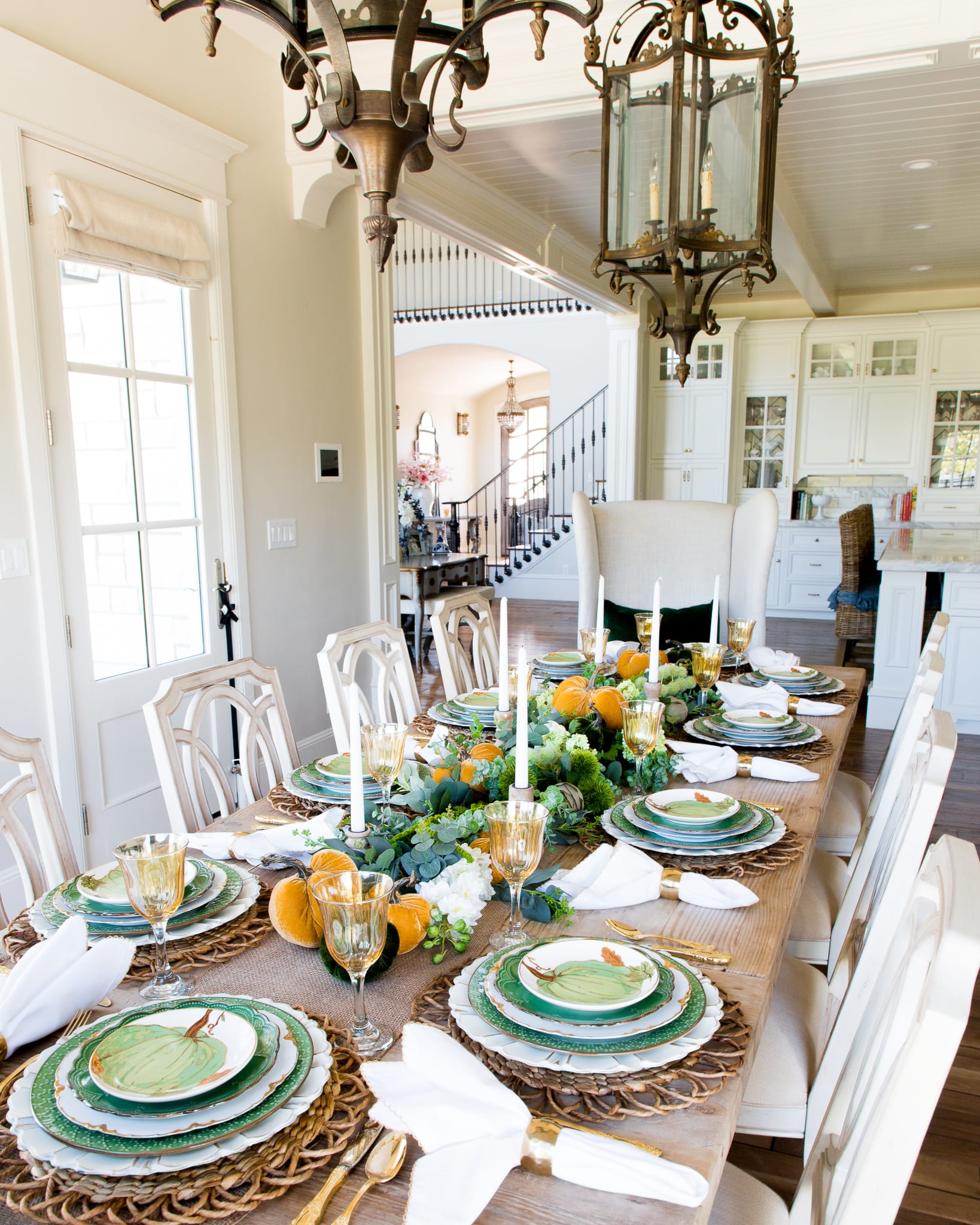 Mixing different textures and colors and layering them is key. The wooden candlestick holders and hyacinth placemats connect the reclaimed wood table to the place-setting. The velvet pumpkins match the pumpkin plates.
The white and gold plates tie the flatware and gold accents on the charger and pumpkin plates together. The gold and white napkins, gold napkin rings, and gold flatware connect all the gold and whites together. Lastly, the amber goblets I used tie all the gold and amber colors in the centerpiece and place-setting together.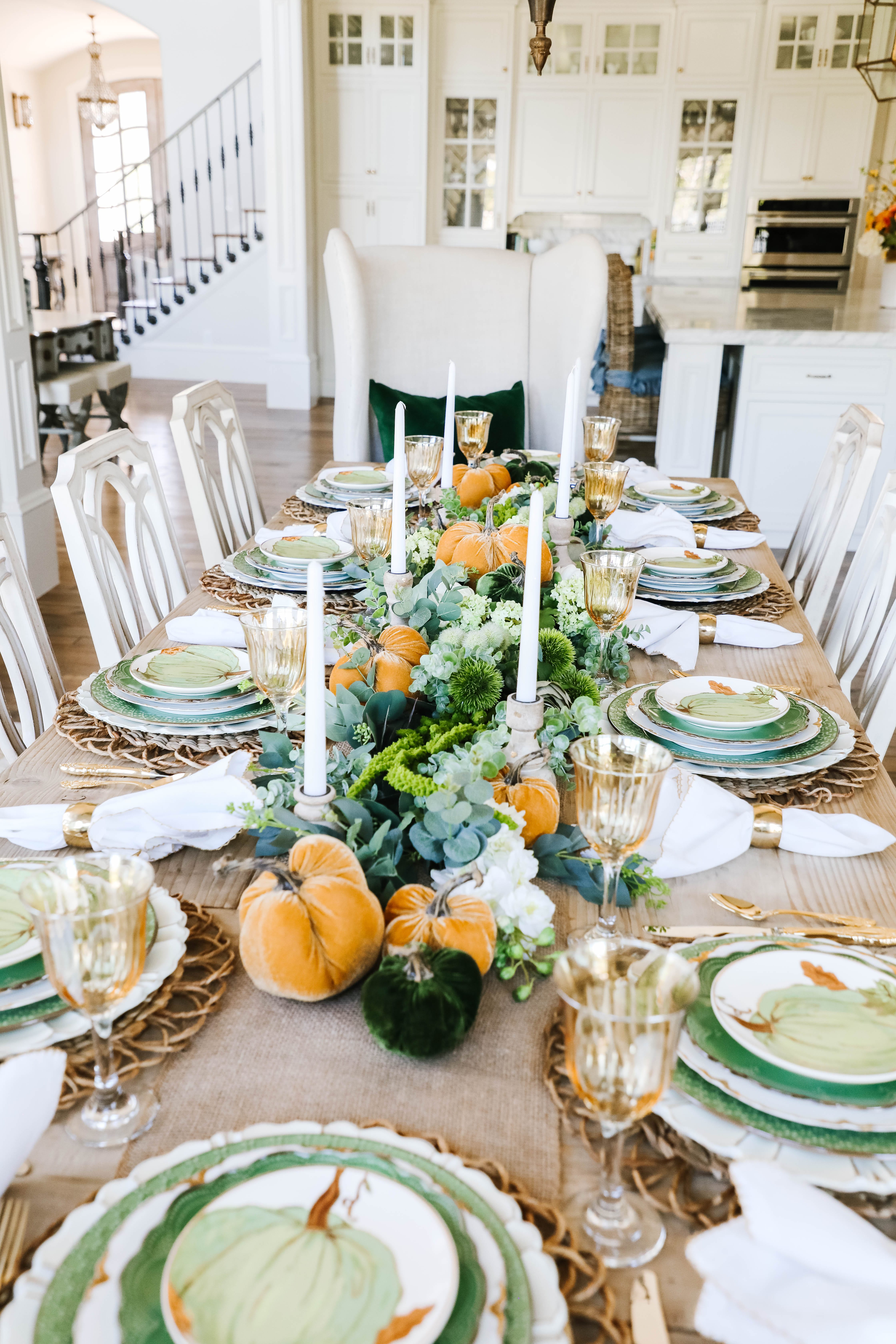 Details, Details, Details!
I am known to say "the beauty lies in the details" and I wholeheartedly believe that! In this green, gold, and white thanksgiving tablescape I paired rustic and elegant elements and connected them together with colors and textures. It's okay to mix these together!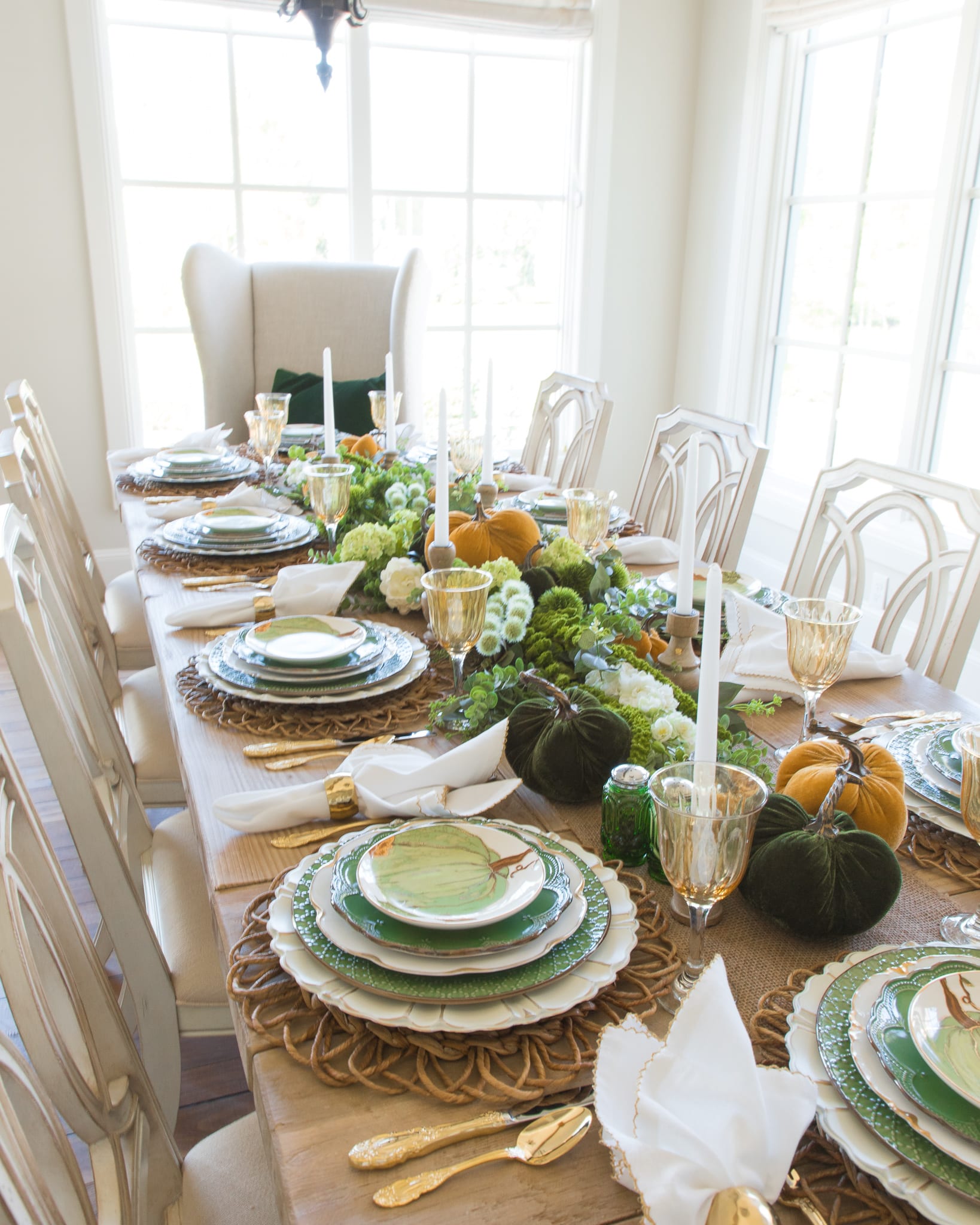 You don't have to have ten sets of dishes to pull this off. I have a handful of items that I use often, like the chargers. These chargers have been used in many of my tablescapes as have the placemats.
Invest in a few versatile items and dish sets, mix and match them and you'll be surprised at how many combinations you can make. Here is another version of a similar tablescape where I used many of the same items. Click here to see the full post. Green and Gold Fall Harvest Tablescape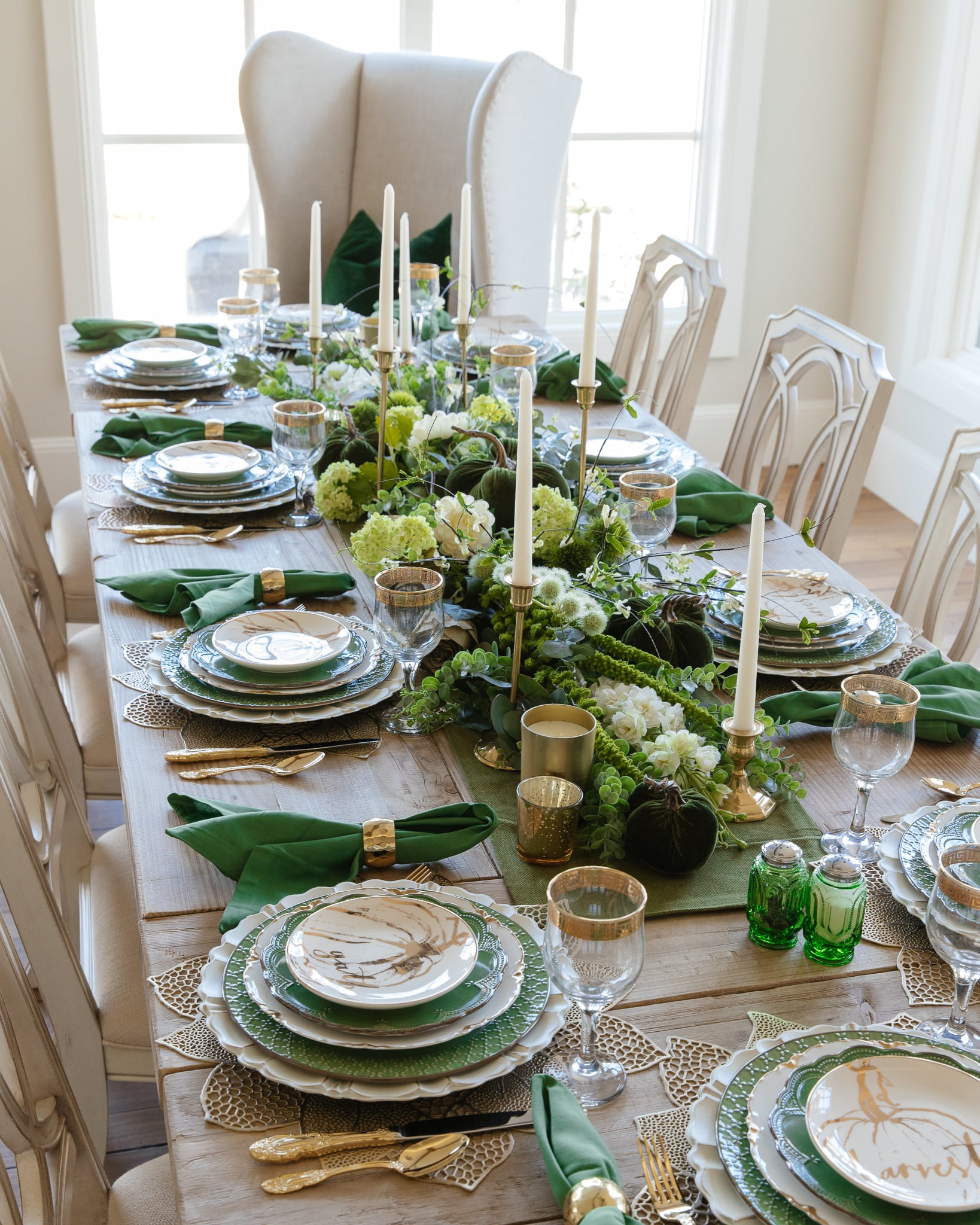 Here you can see some of the same items. The placemat and top plate are different and the napkins and goblets are different. I changed the candlesticks holders to these gold ones and took out the gold pumpkins. I also switched the burlap table runner to this green shorter one.
I turned the napkins upside down to create a different look. You can see how making just a few changes, this tablescape looks similar but different. This one is more elegant and doesn't have the same rustic components as the other.
Be Creative and Have Fun!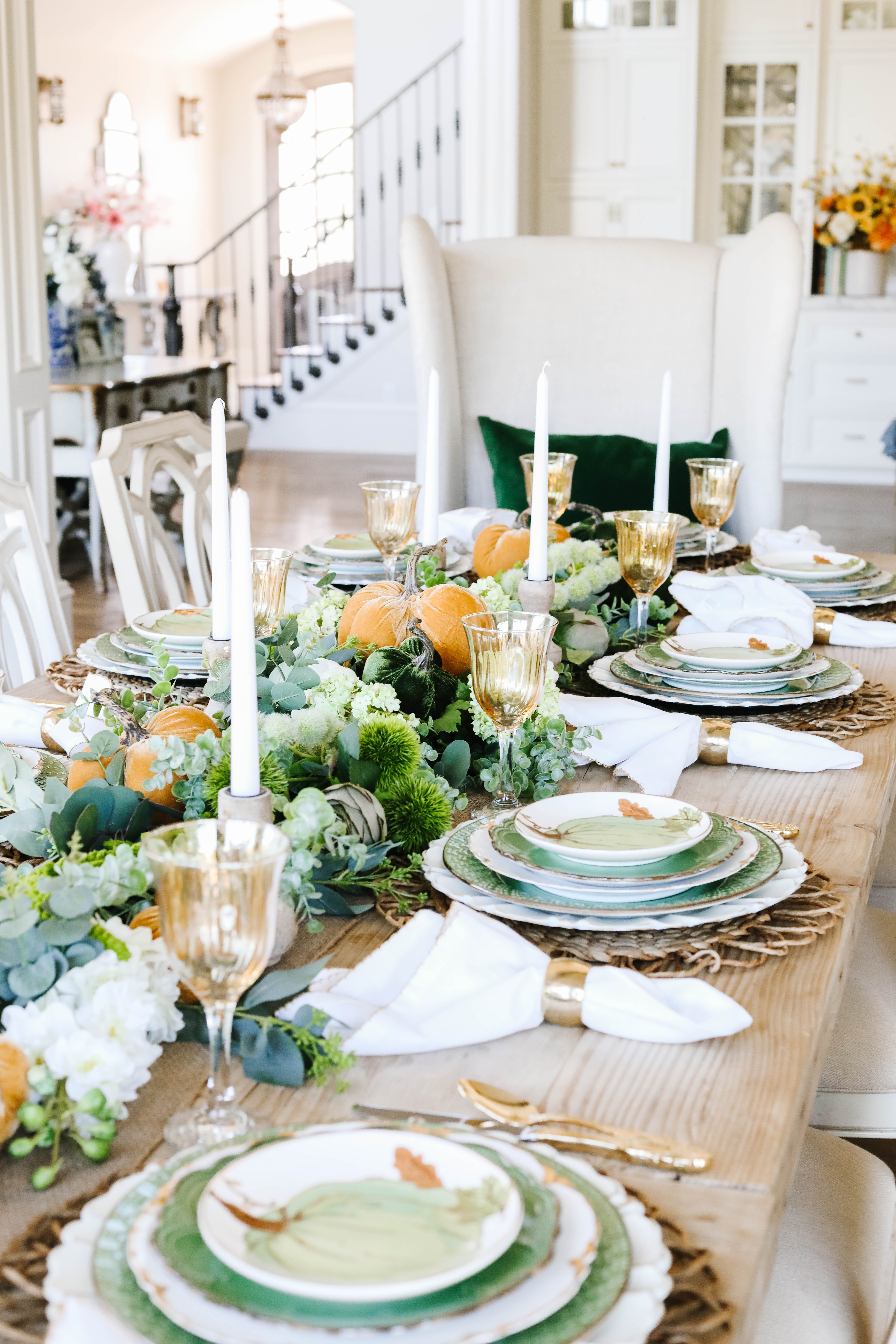 Most importantly, don't stress over creating a beautiful tablescape. Be creative and use items that reflect your personal taste. Most of the time I start out with an idea in my head and when I go to create the tablescape, it doesn't come out like I had envisioned it.
If something doesn't work, keep playing with different items you have in your collection and eventually you'll find something that works! You don't have to spend a lot of money. Invest in a few items that are versatile and build your collection of items slowly. I've accumulated a lot over the years and I use everything I have collected.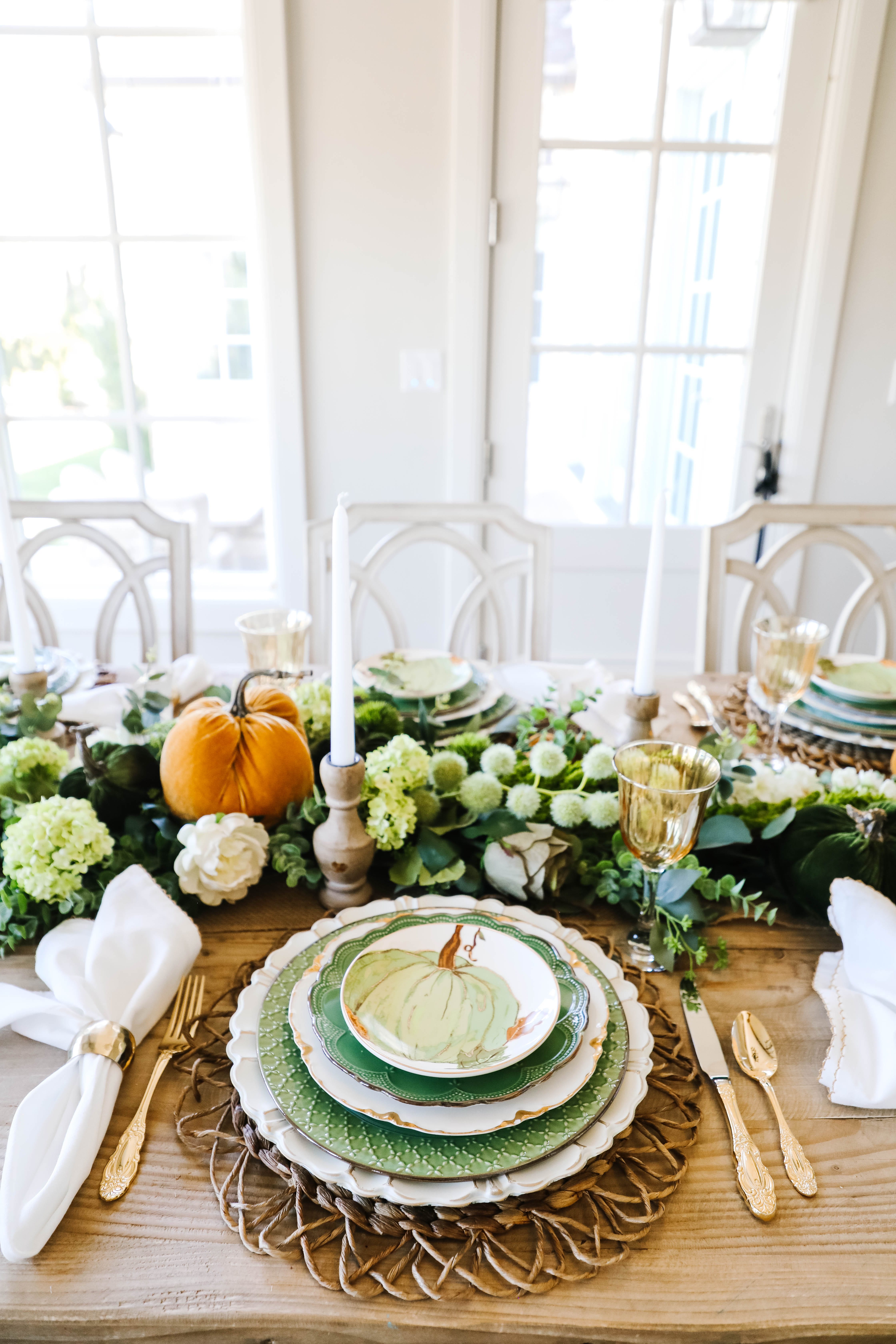 You can also check with local rental places that rent dishes and items for weddings or events. Many of them carry table linens, tables, chairs, flatware, and dishes. It's quite affordable if you don't want to accumulate a bunch of dishes or things you don't use that often or want different colors than you have. Storage can also be an issue so if you don't have the storage space, this may be a great option for you.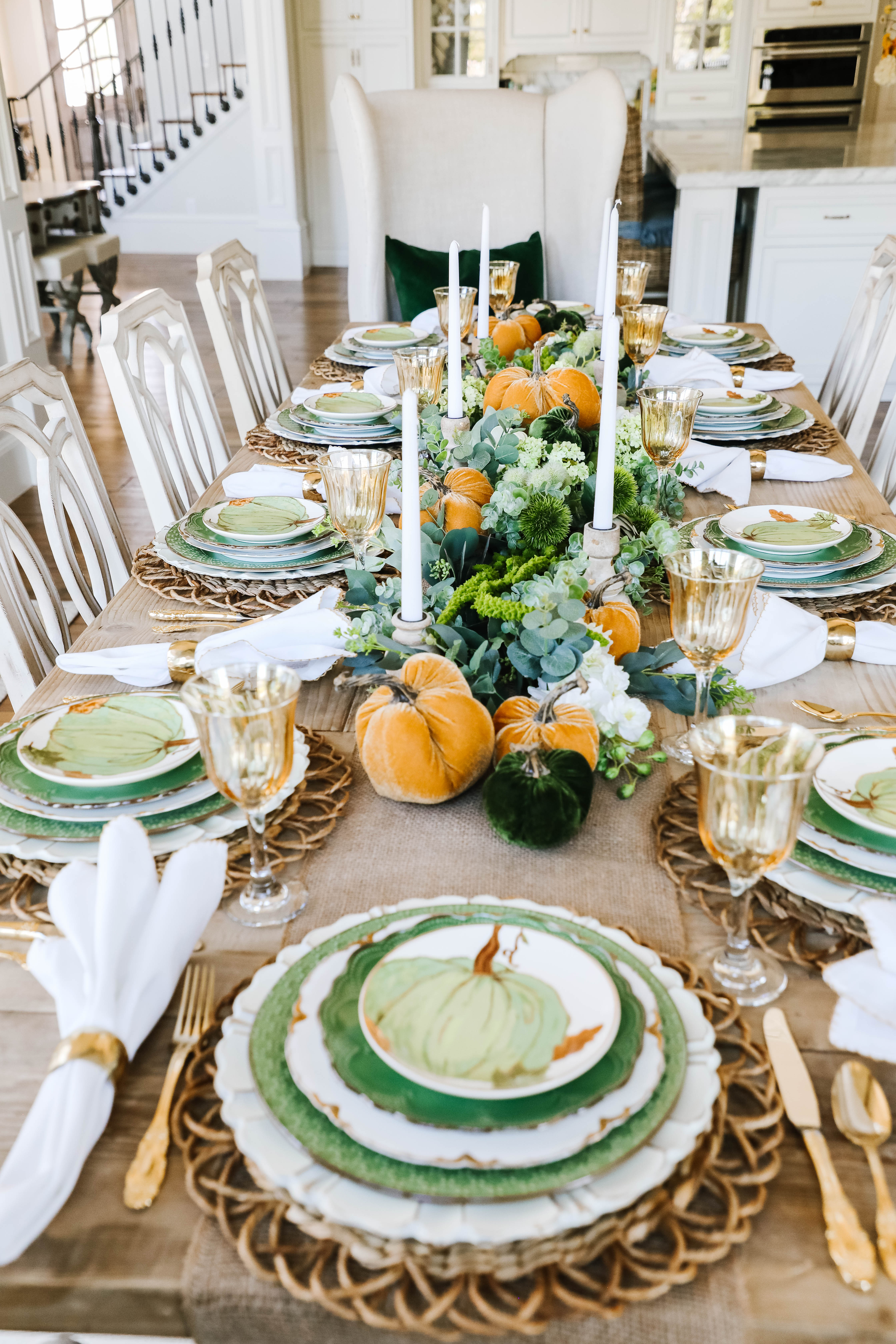 I hope this inspires you to create your own Thanksgiving tablescape and gather those friends and family you love for dinner. If you're looking for some good thanksgiving recipes, click here for my roll recipe: Best Homemade Rolls and here for my Brined Turkey Recipe.
If you'd like to see more of my favorite recipes, just click on the Recipes tab.
Happy Thanksgiving!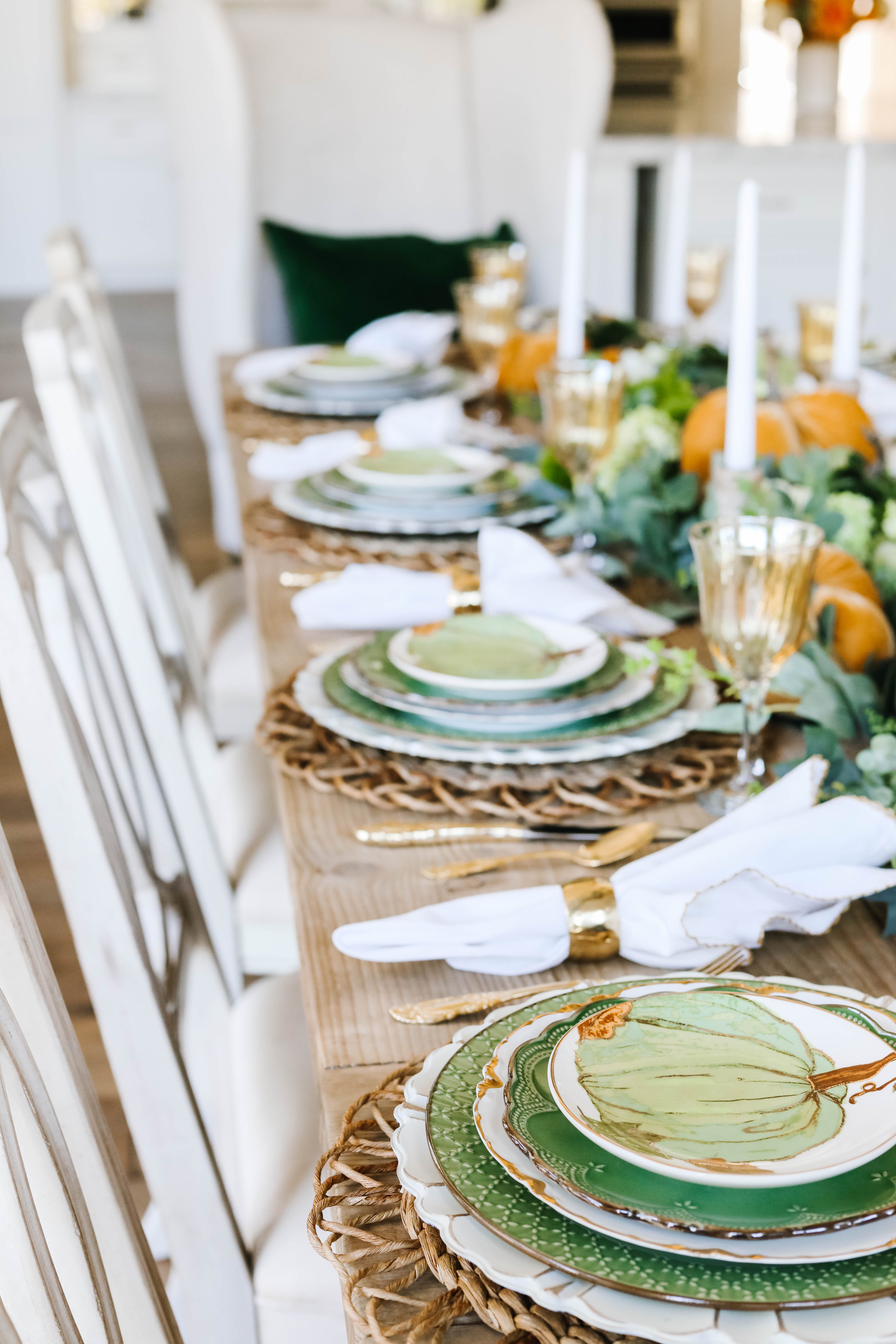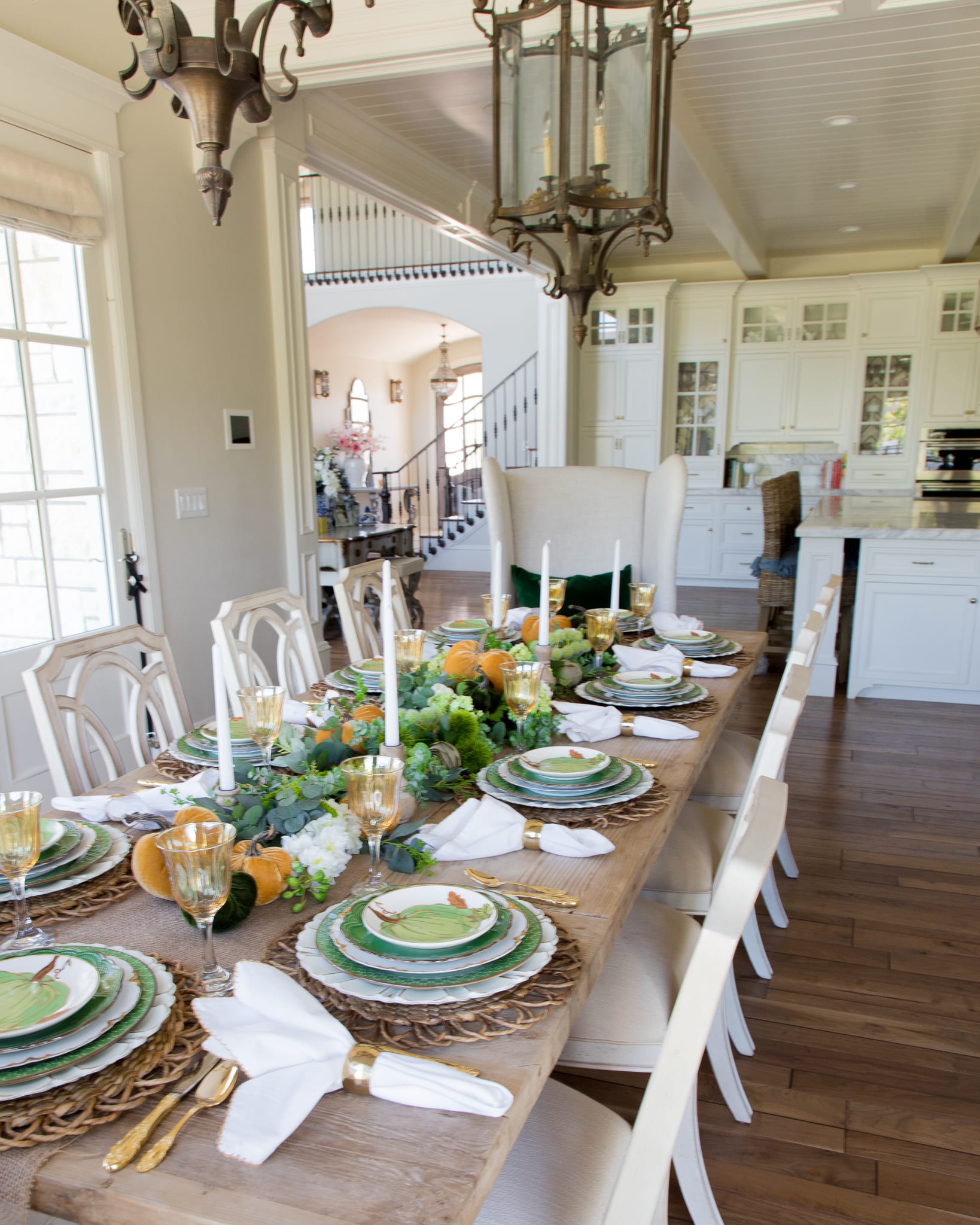 XOXO,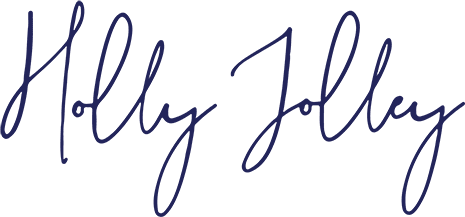 Sources
I've linked the items I used where I could and things I couldn't I linked similar items.
For more velvet pumpkins go to Hot Skwash
Another great resource for faux florals is Afloral.
Photography: Me @homewithhollyj and Cara @catcherintherye photography

PIN THIS POST FOR LATER