Daisy Themed Baby Brunch
I hosted a Daisy Themed Baby Brunch for my daughter-in-law (Aubree) to celebrate the arrival of our newest grand baby. Since my daughter-in-law was having a girl and it was her second baby girl, she didn't want a full on baby shower. We decided it would be fun to do a spring Baby Brunch!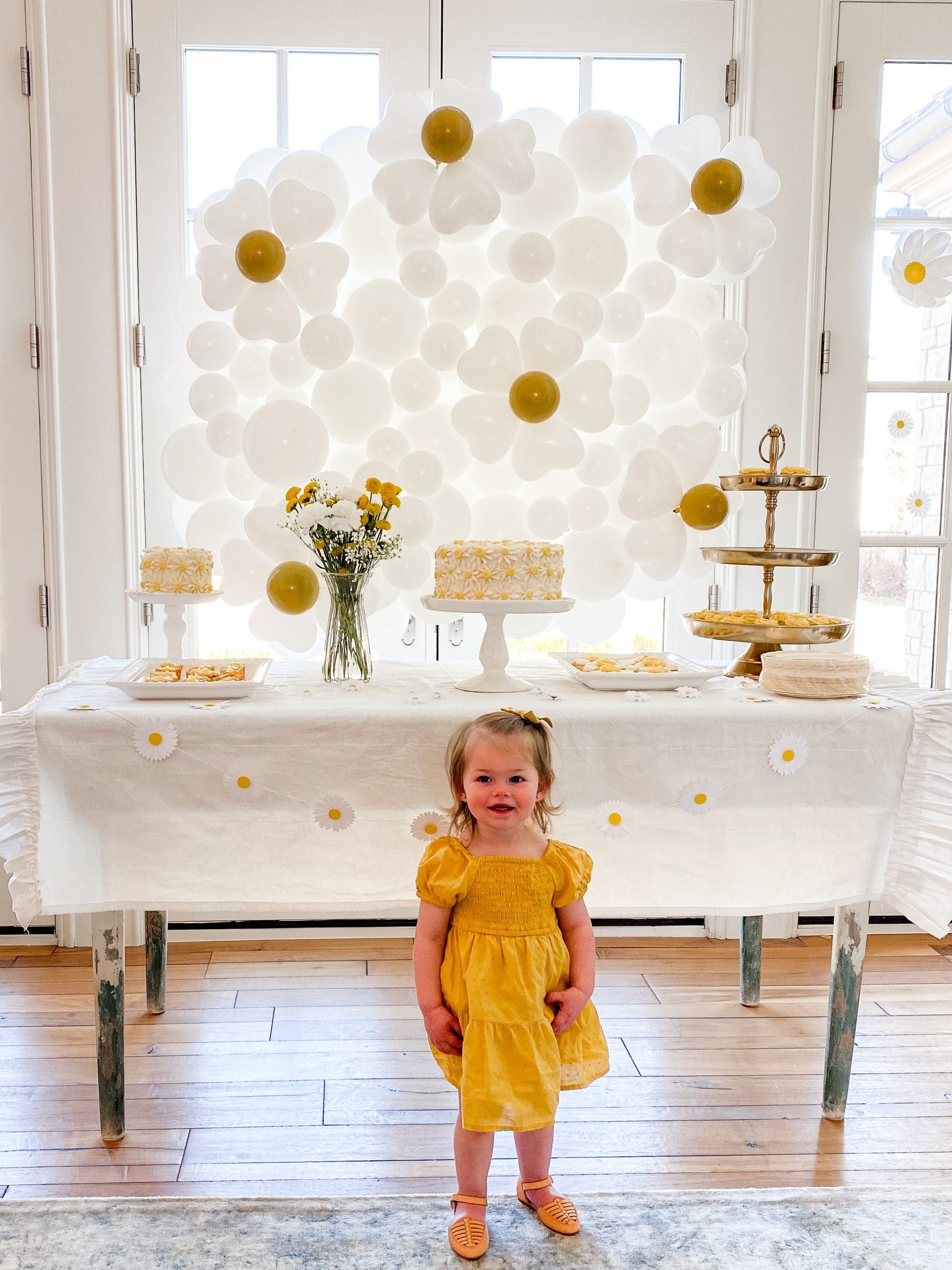 This is our first grandchild Quinn. She was so excited for all the festivities and came dressed to match the white and gold daisy theme!
The Invitation
It's so easy to design and send invitations nowadays. I was able to download this one from GreetingsIsland.com and customize it. I sent it out via text and email which was so amazing! It was only $7.99 to make this invitation! I edited out some of my personal information but you can see how easy and simple it is to create one of these for your next event!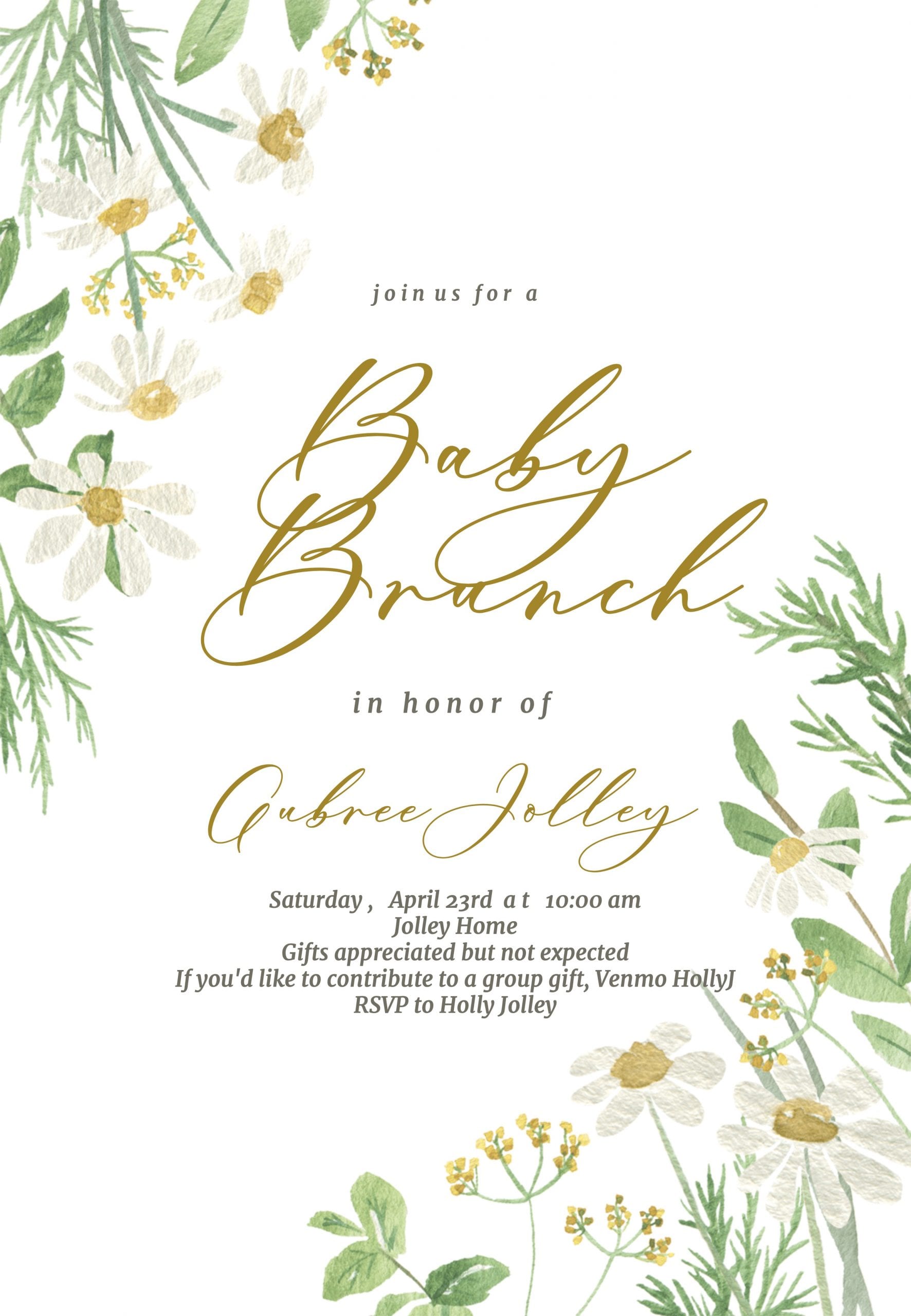 Daisys Themed Decorations
I had seen this daisy balloon backdrop on a local balloon shops (The Balloon Loft) instagram page and that's where I got the idea to make it daisy themed. I ordered this balloon backdrop from them and they delivered it and set it up for me the day before.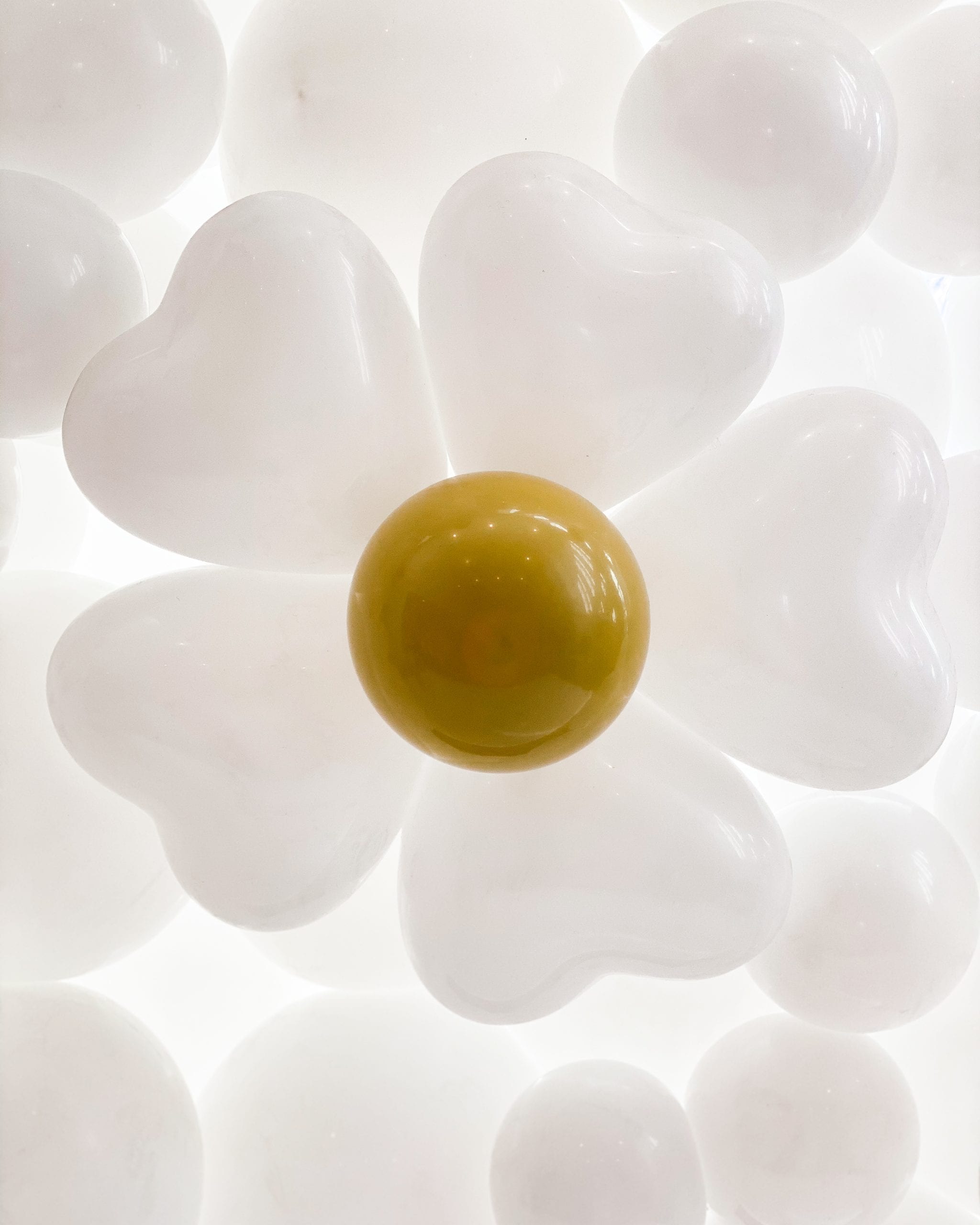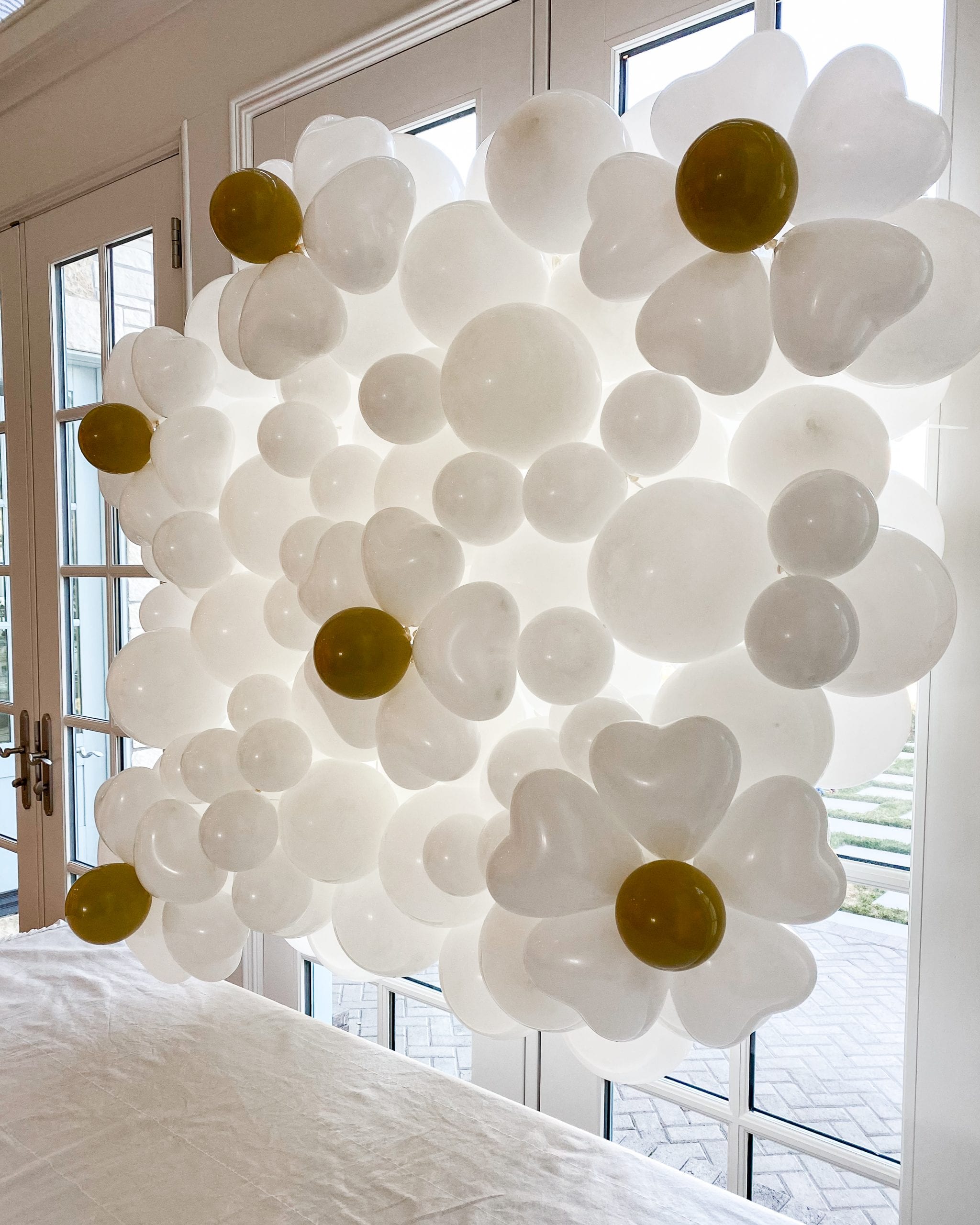 I used an old antique table and covered it with this ruffled white tablecloth.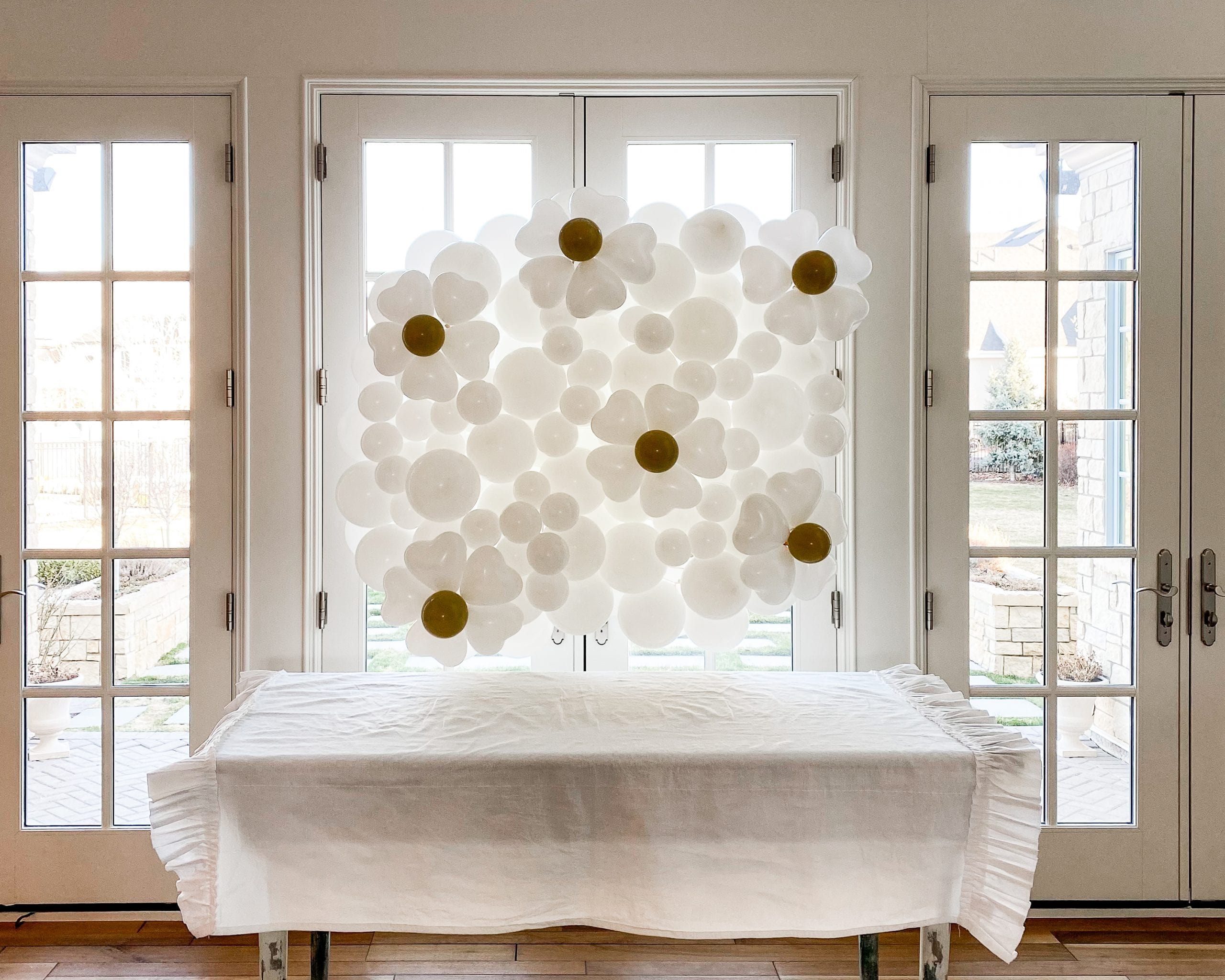 My other daughter-in-law (Hannah) generously agreed to make the paper daisy decorations and paper daisy chain for the shower. She has an Etsy shop and sells all sorts of cute party decor and garlands.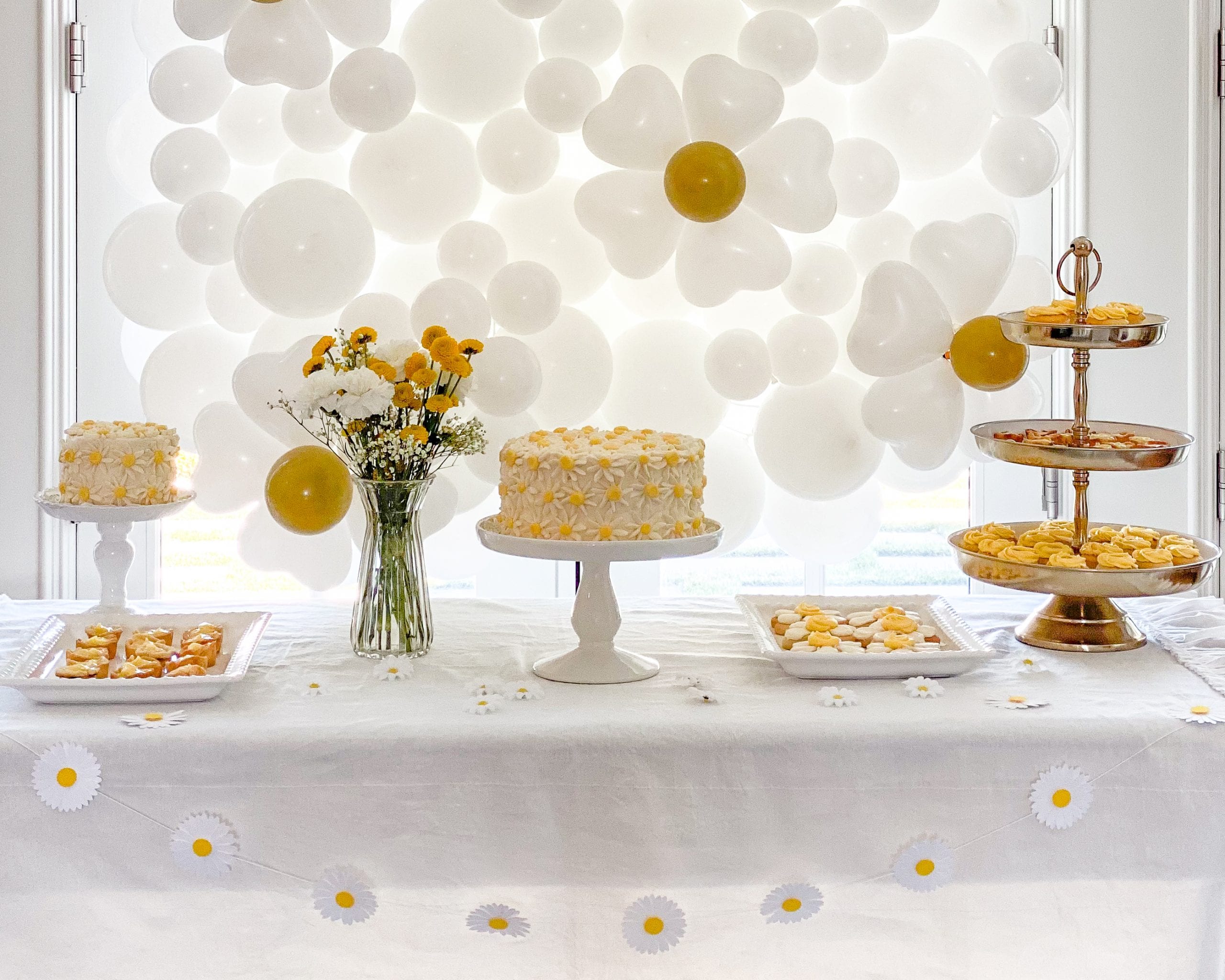 I put the daisy chain on the front of the table and scattered the rest of them around the table as you can see here. Then I took the rest of the small paper Daisys and the larger ones and used double sided tape to stick them to the windows.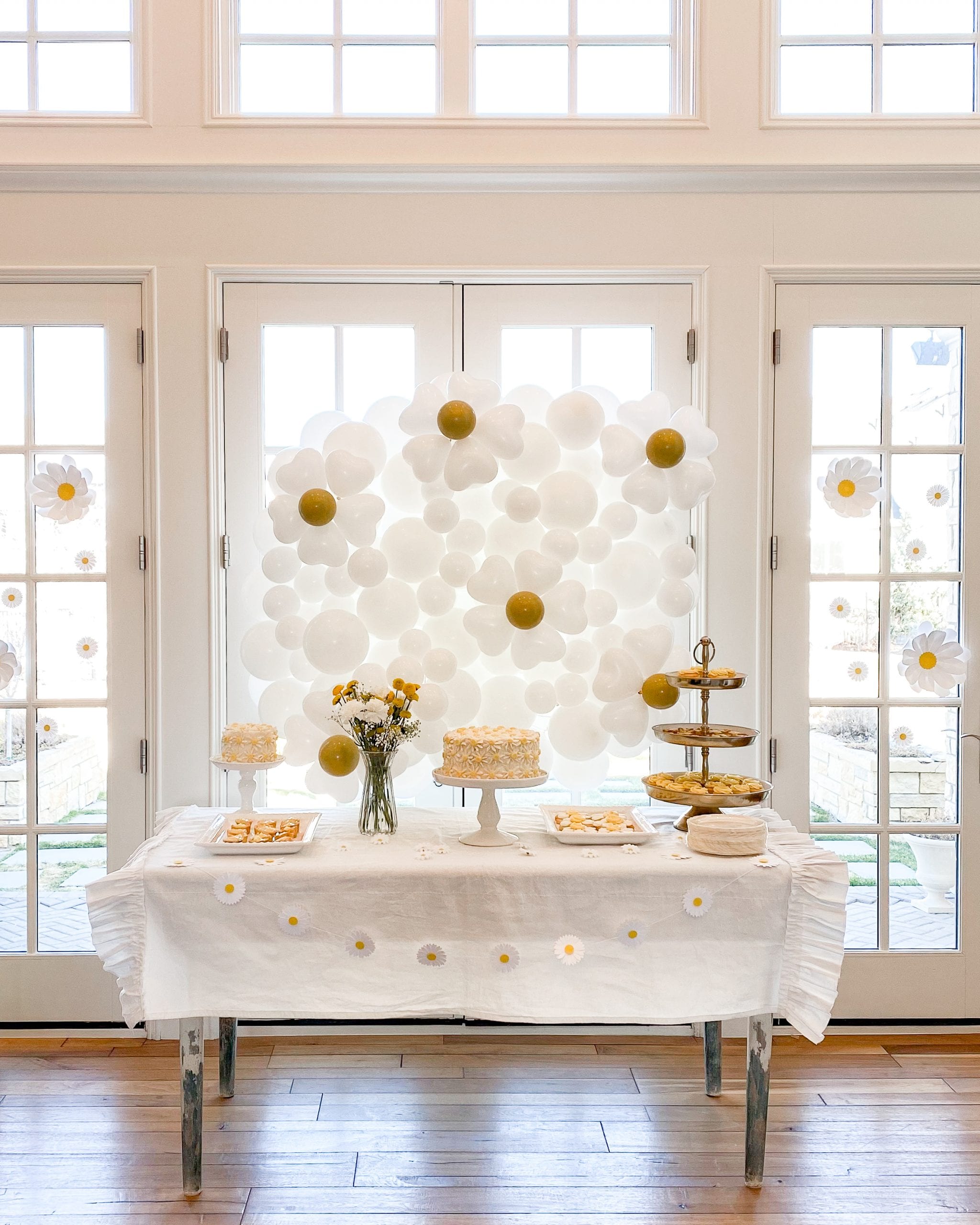 I sent one of my sons to the store to buy me some fresh Daisys and what he came back with were sunflowers and these other flowers. It was too late to do anything about it so we just went with what we had. I had hoped to find some Shasta daisies or one of the smaller varieties but I should have planned a ahead a little better!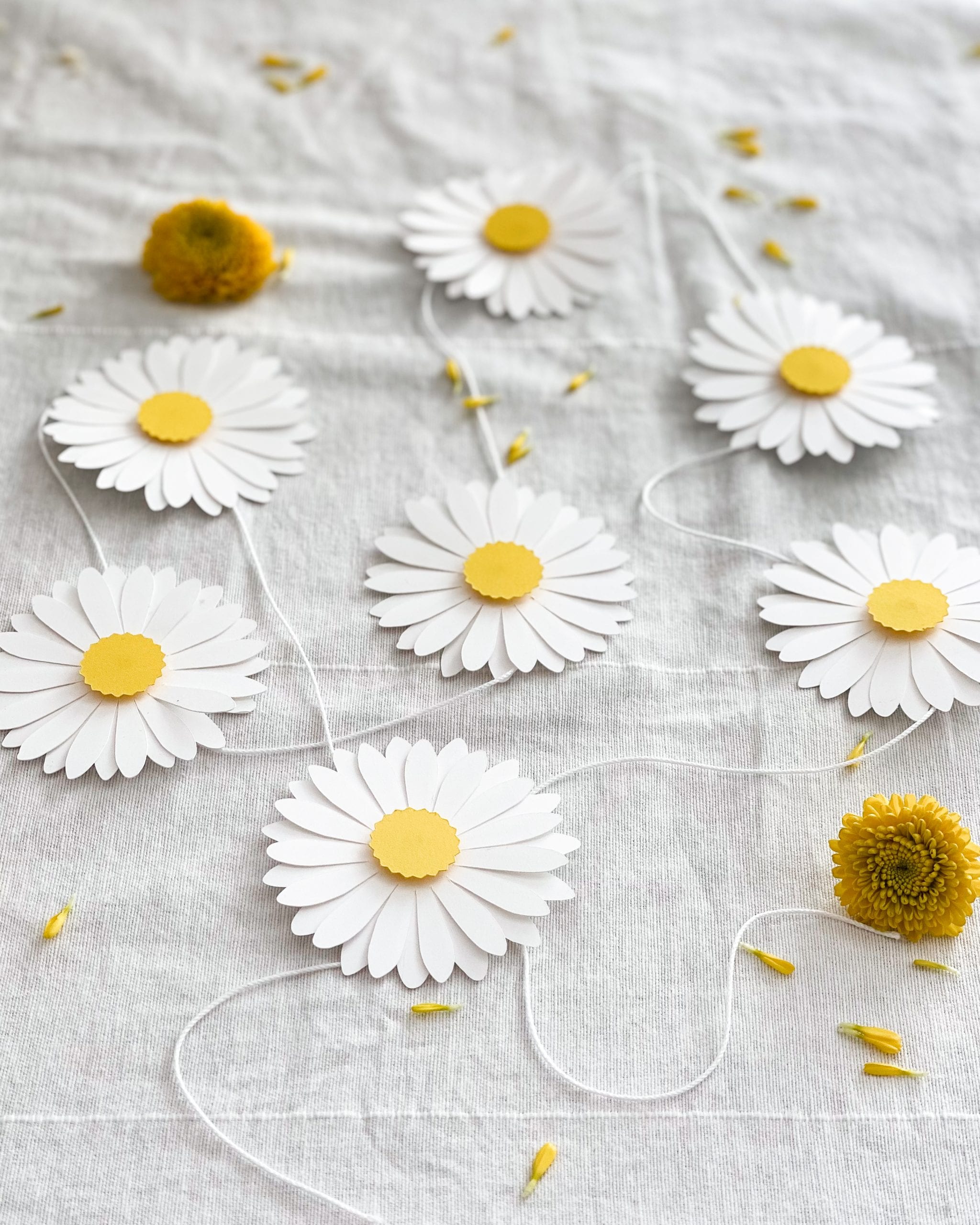 Here is the daisy flower chain up close. Linked here.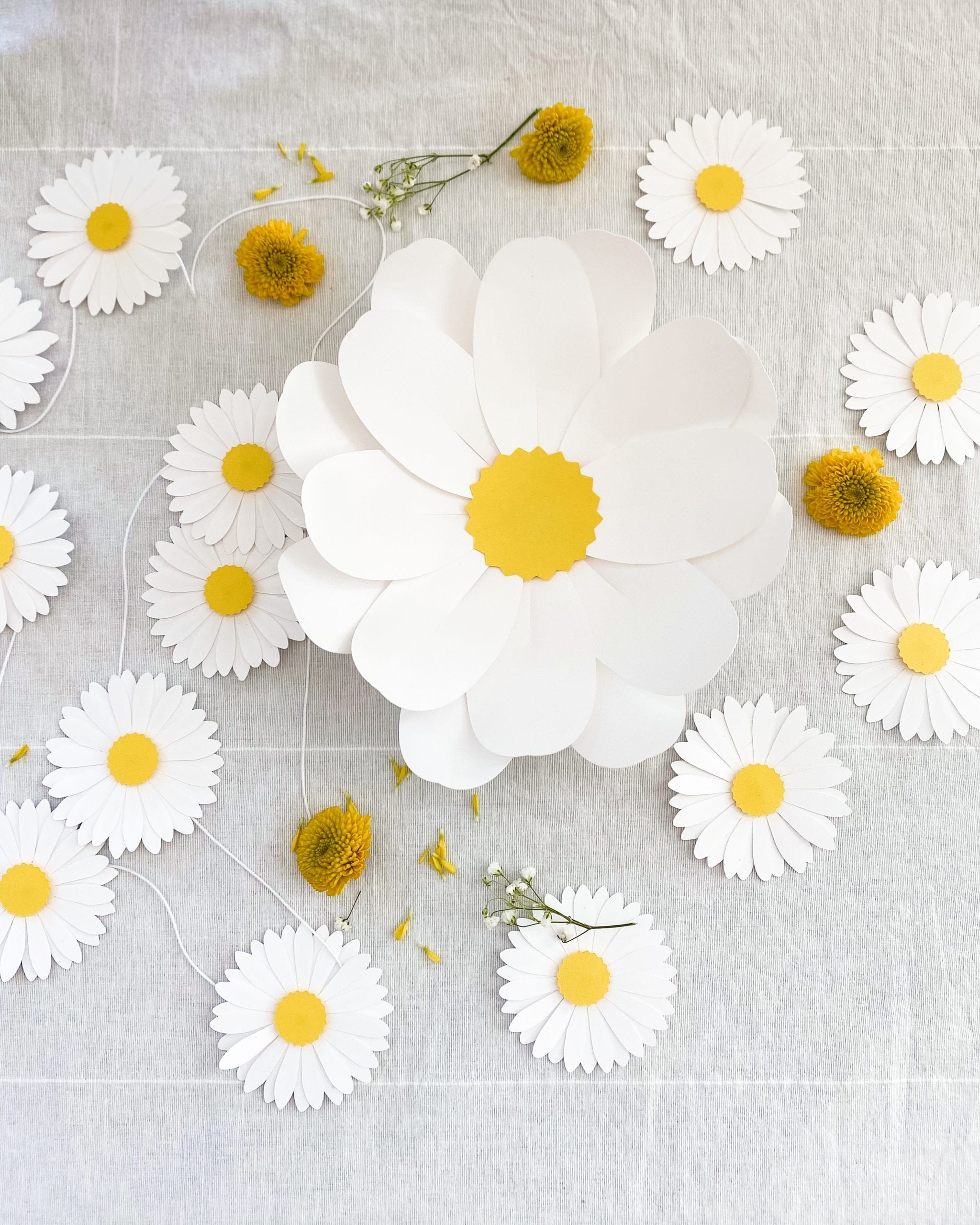 Here are the larger paper daisies. Linked here.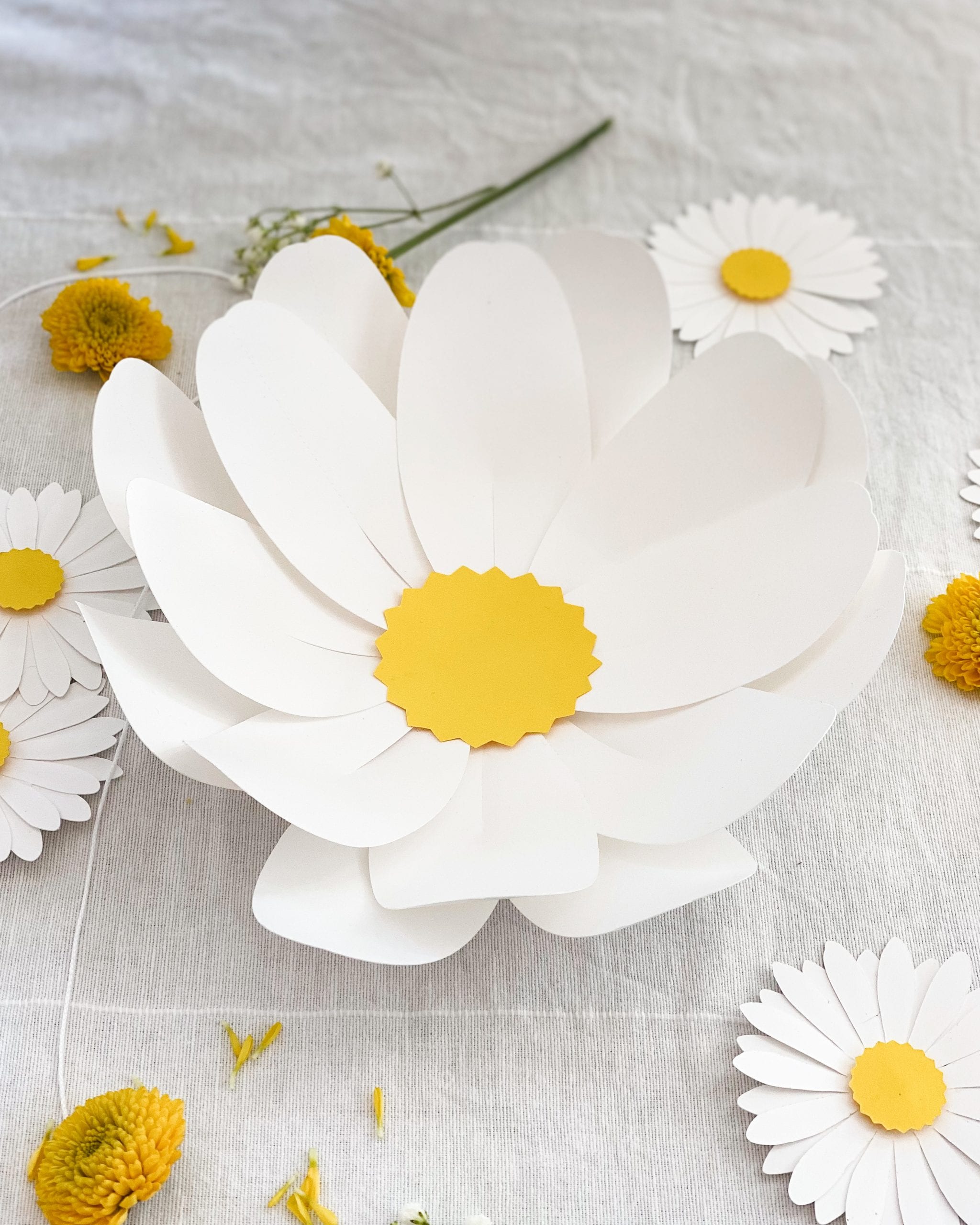 Here are the smaller daisies linked here, and you can also get them all in a set here.
The Dessert Table
The next thing I did was to order the daisy cakes and desserts from a local bakery here in Utah, called The Chocolate. They made these adorable daisy cakes, daisy sugar cookies, and Lemon curd cupcakes. Everything was lemon flavored. My daughter-in-law also made lemon tarts that were so delicious!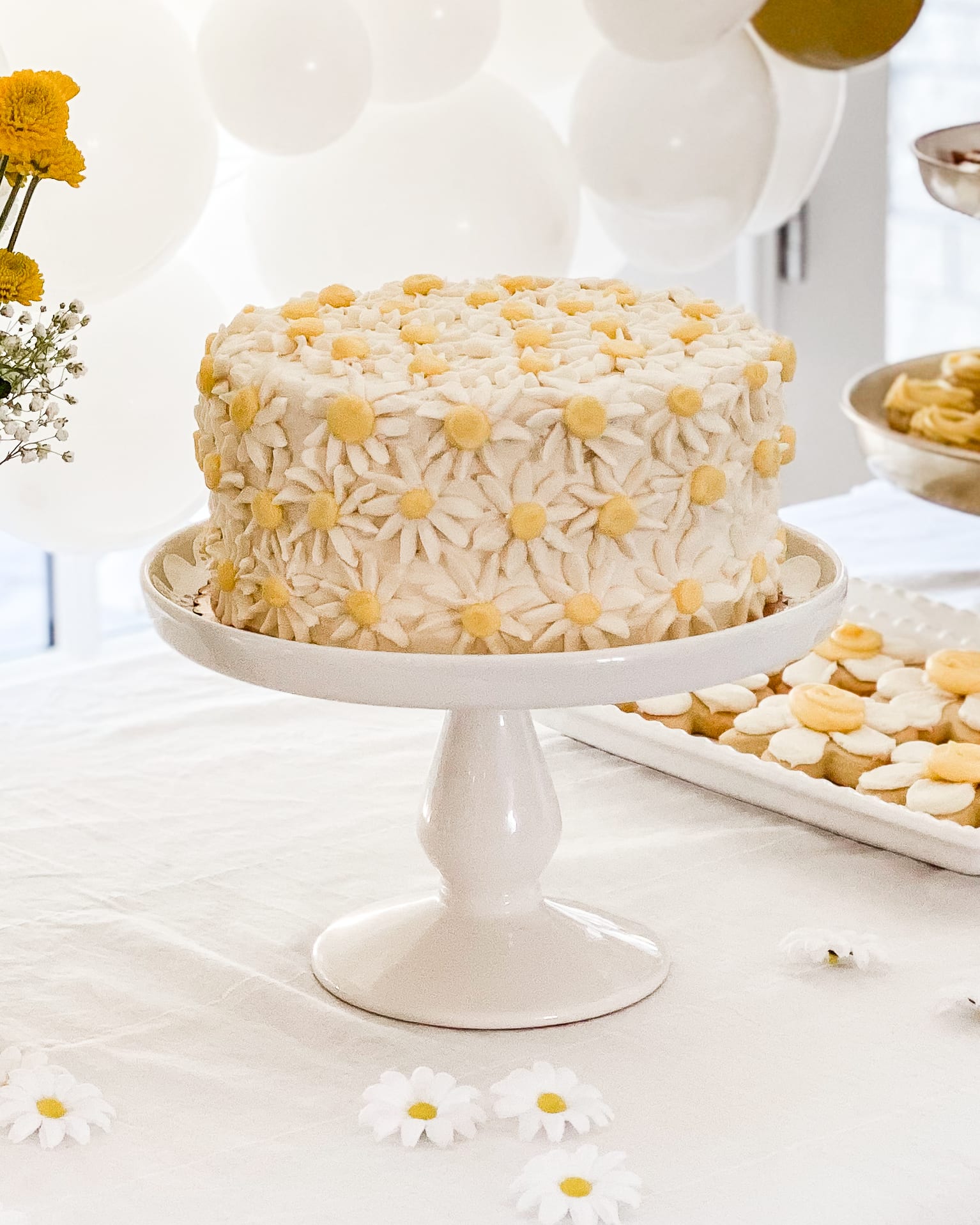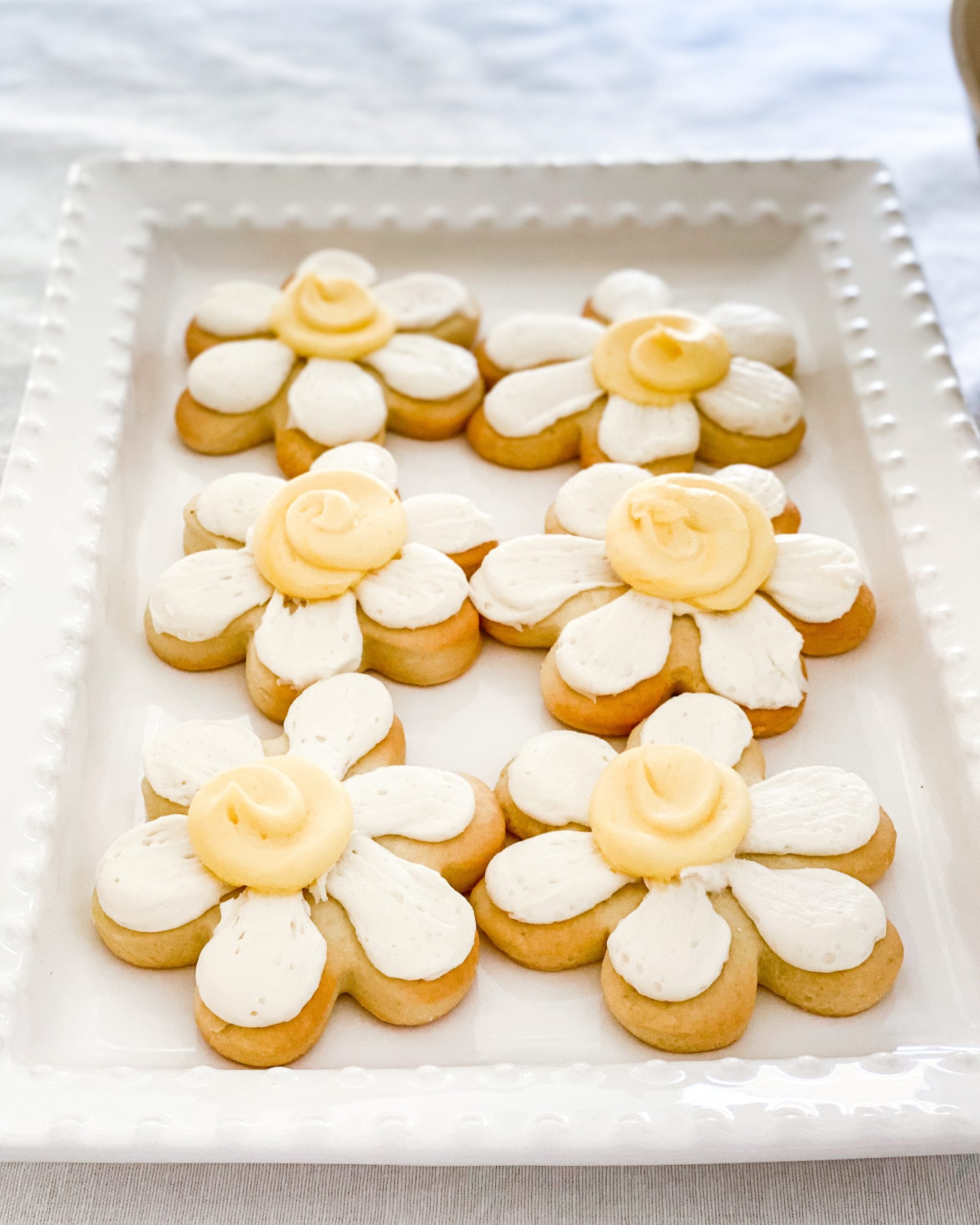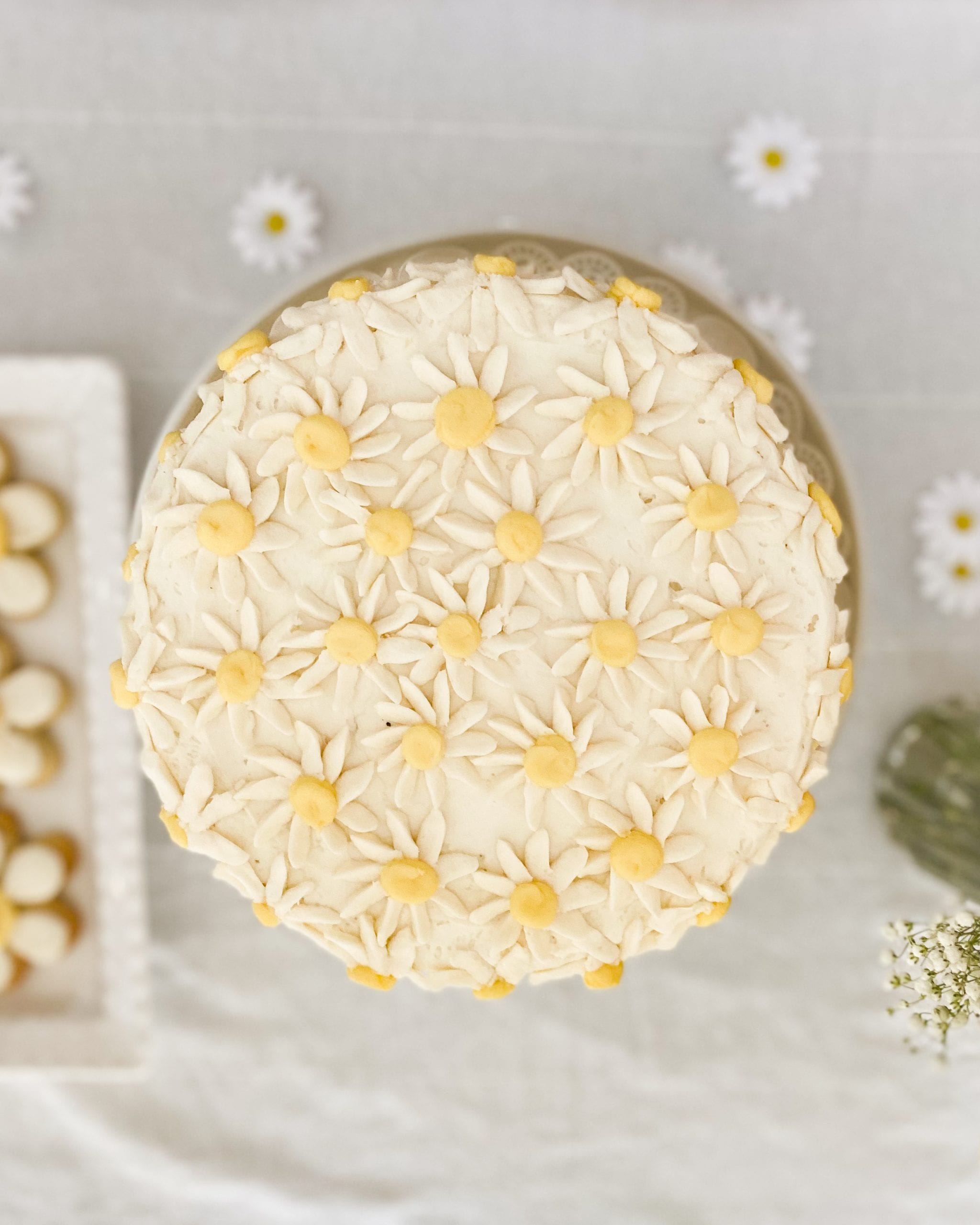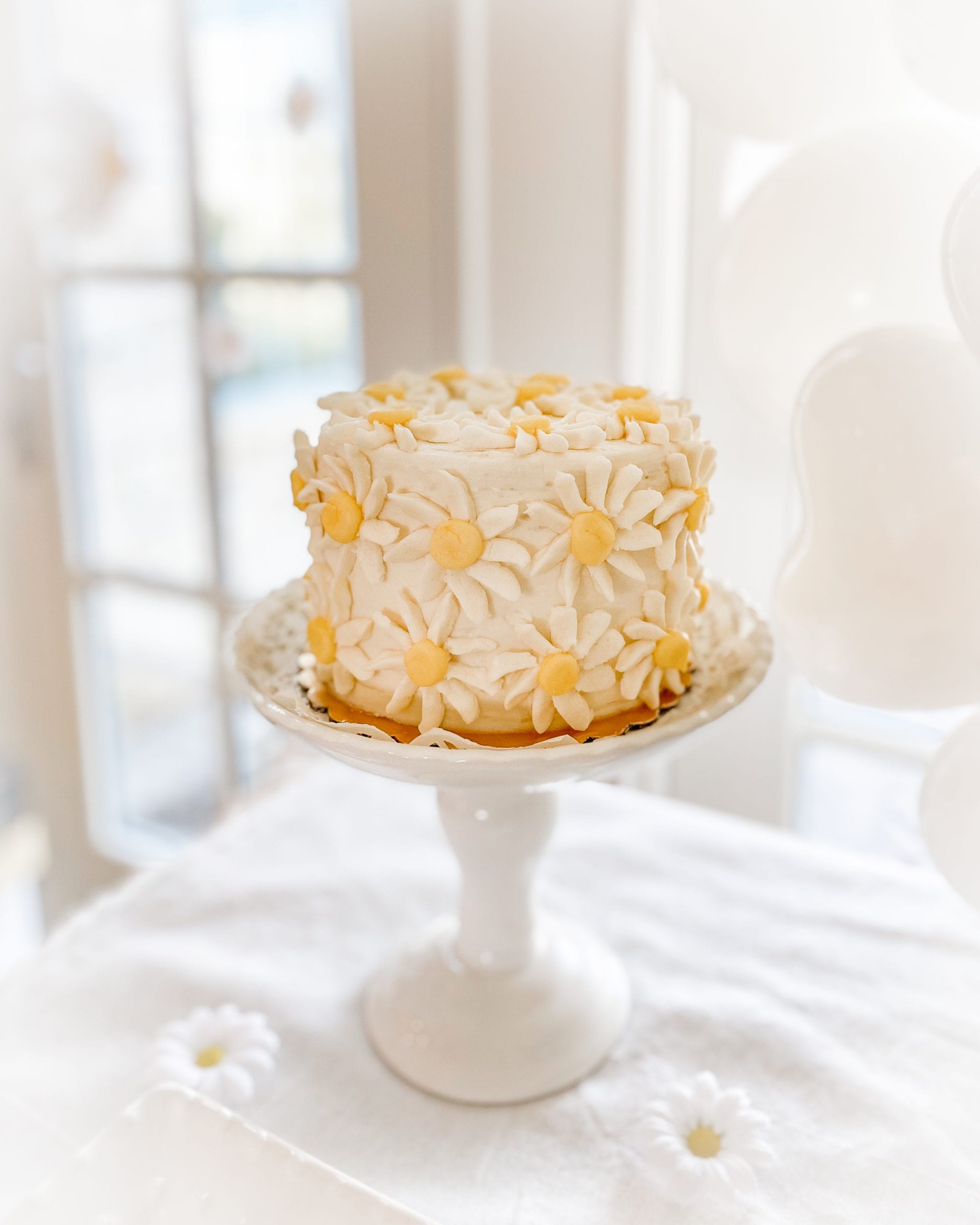 I had a smaller version of the daisy cake made for my daughter-in-law to take home after the shower. She loves lemon flavored desserts so the cakes were lemon flavored too.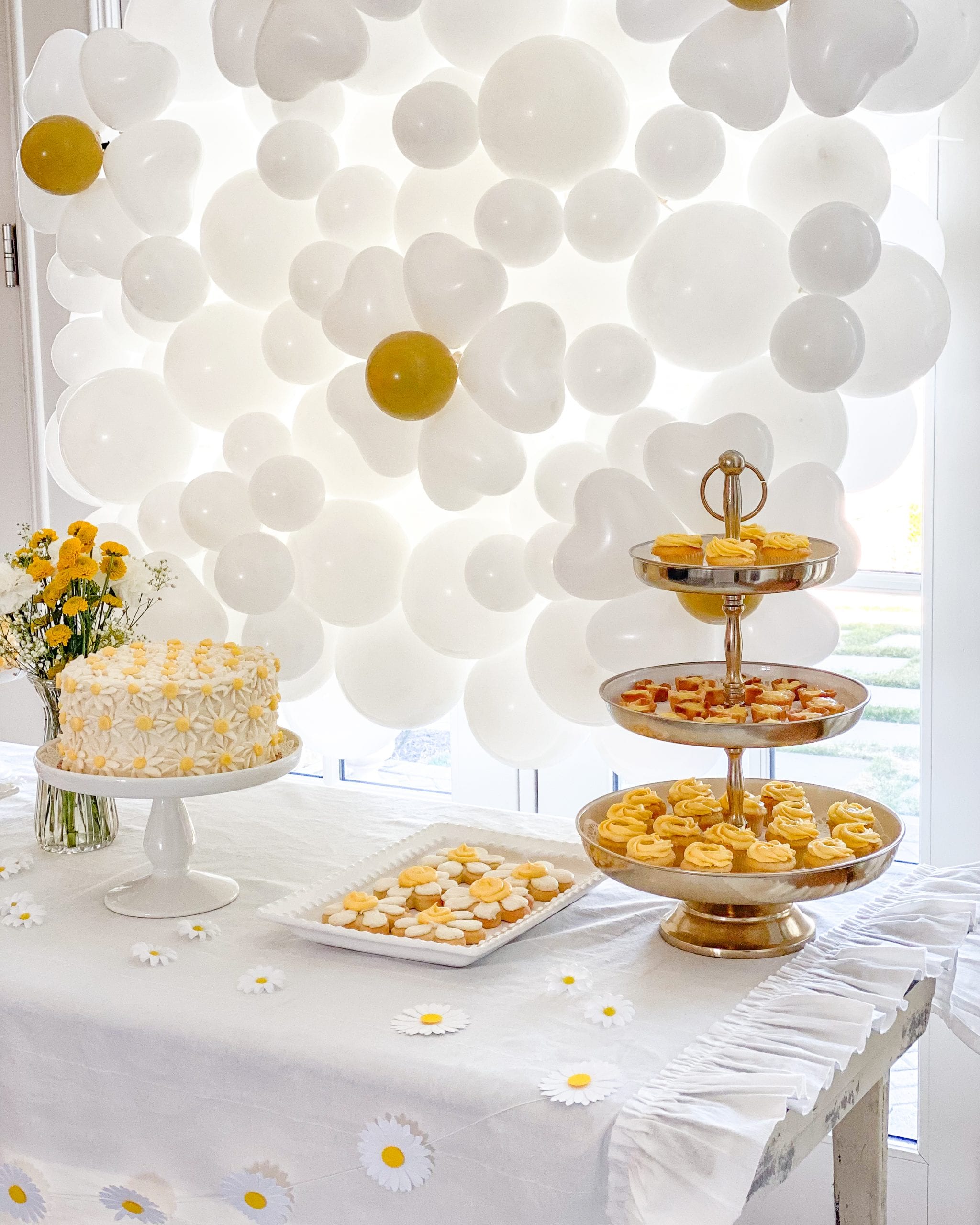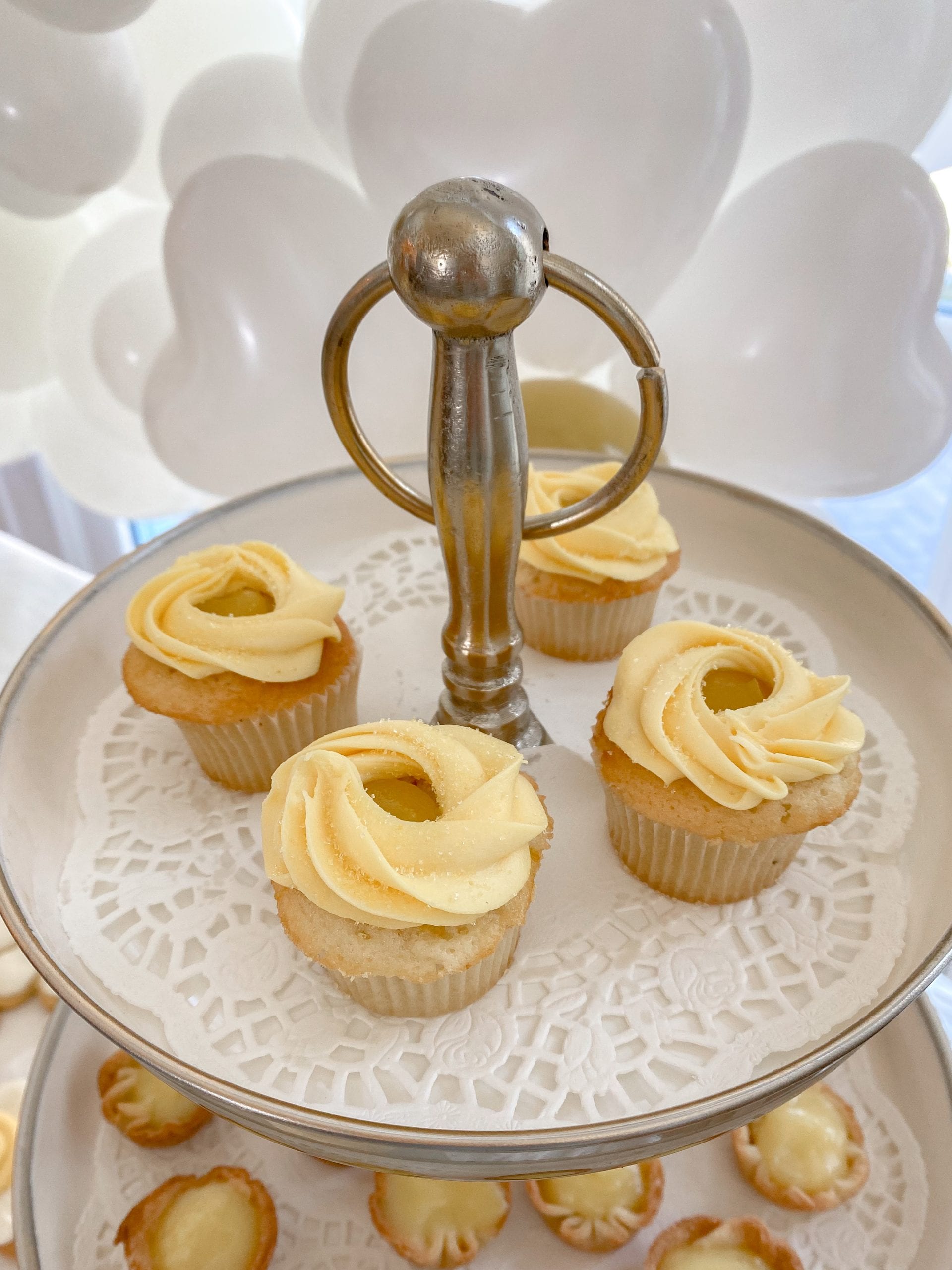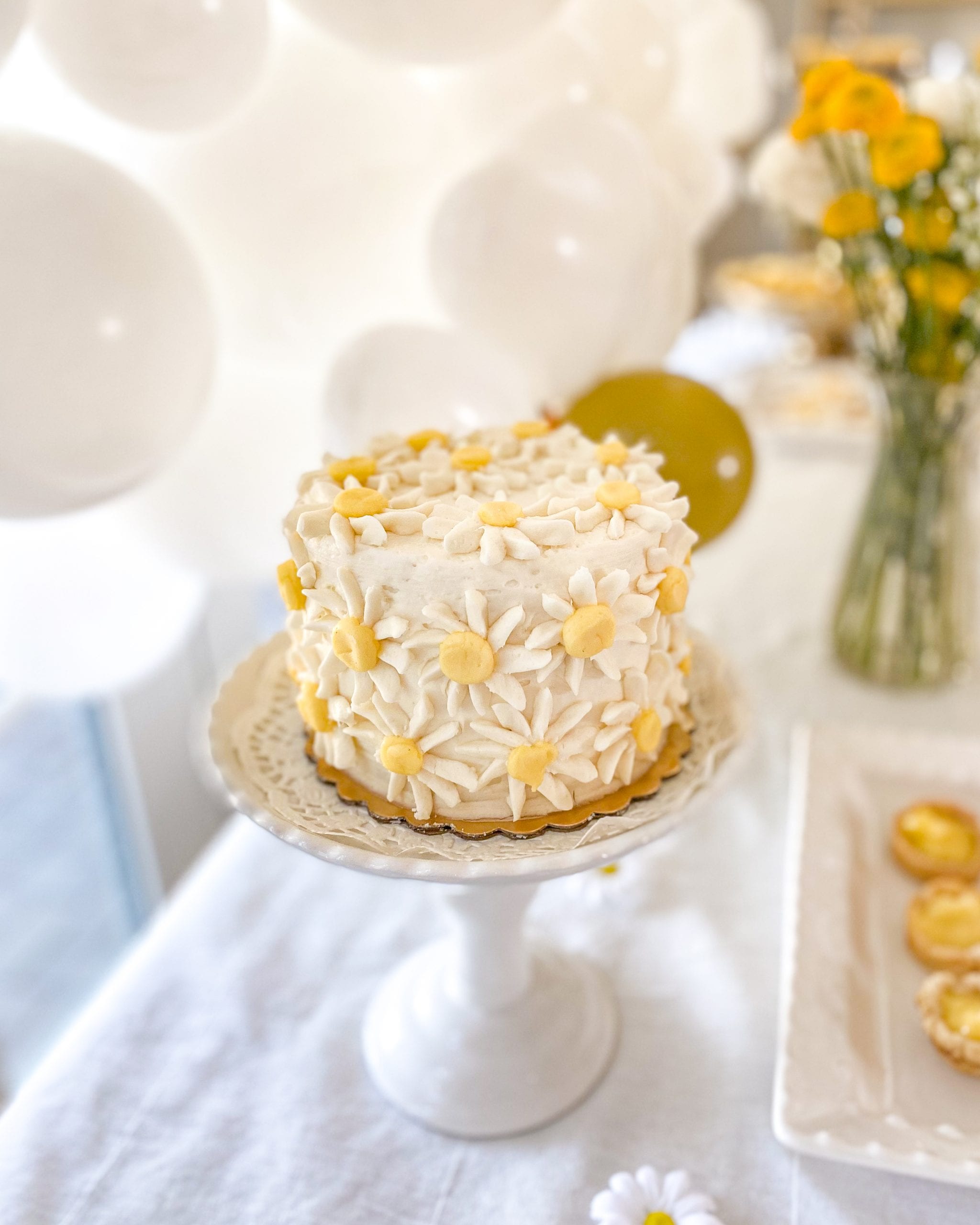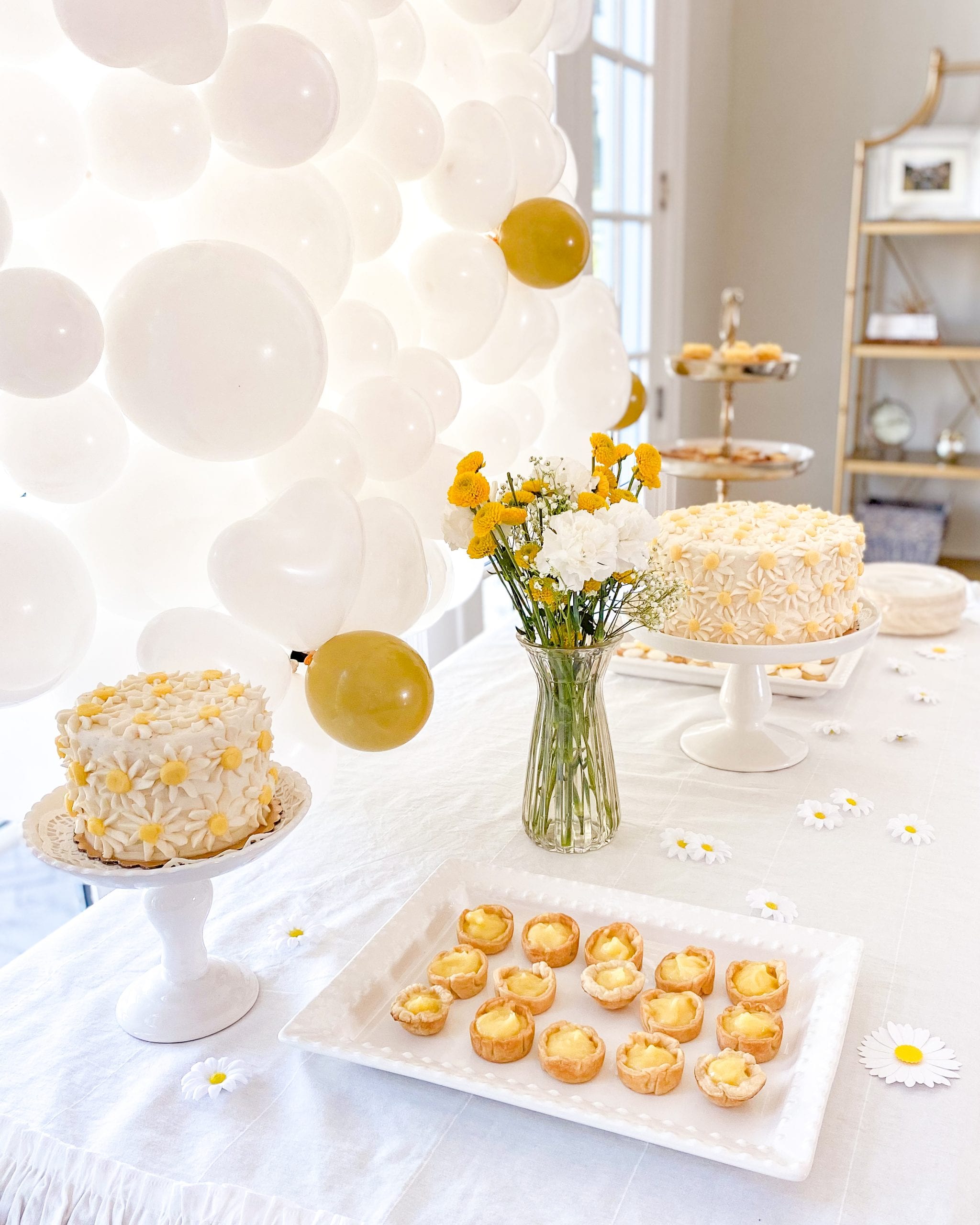 The lemon tarts were so yummy!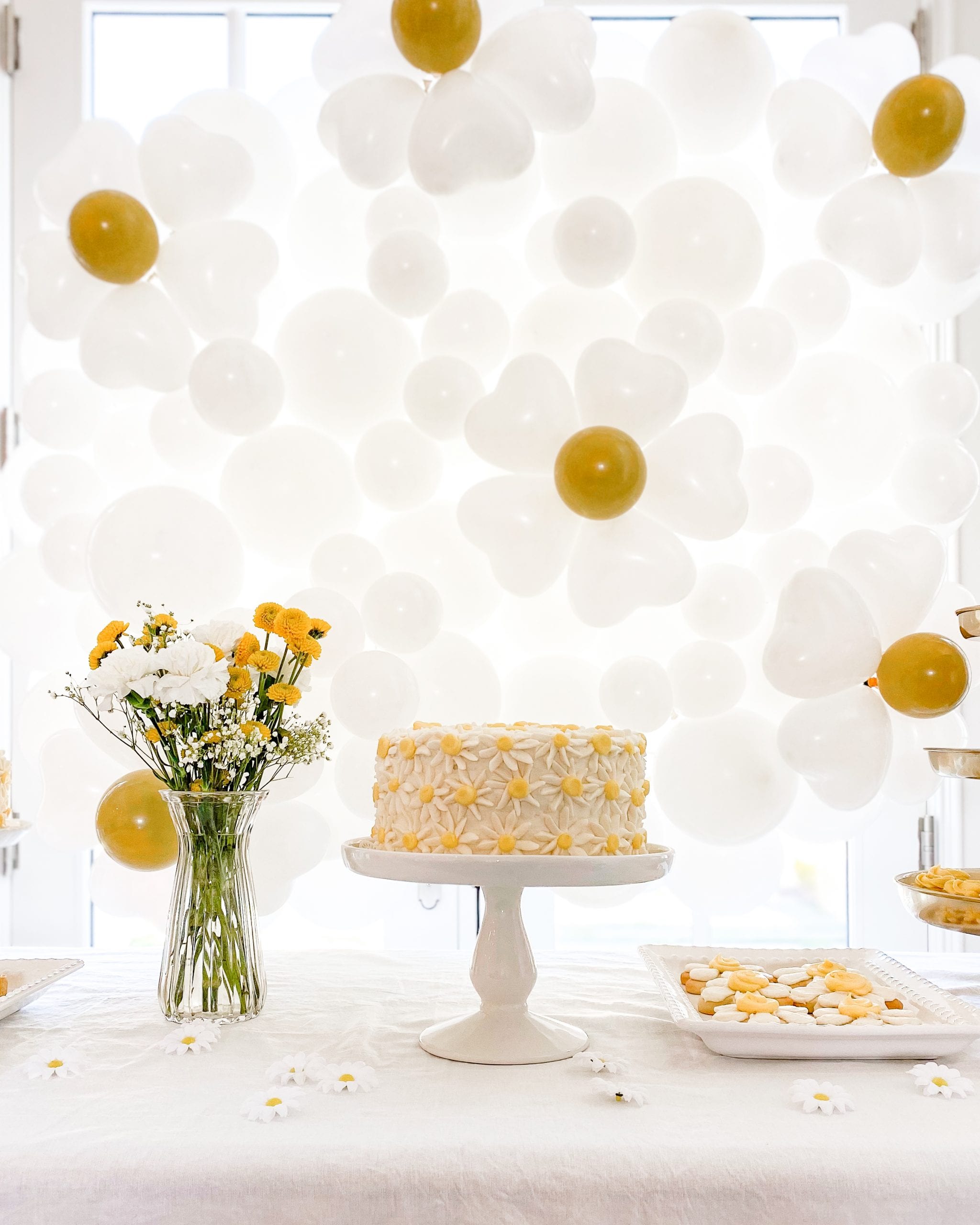 Since this was a baby brunch and to keep it simple, I catered the food from a local bakery called Kneaders. They make an incredible French toast and have delicious pastries. I set that up over in the kitchen and put the dessert table in the living room area where all the guests were sitting.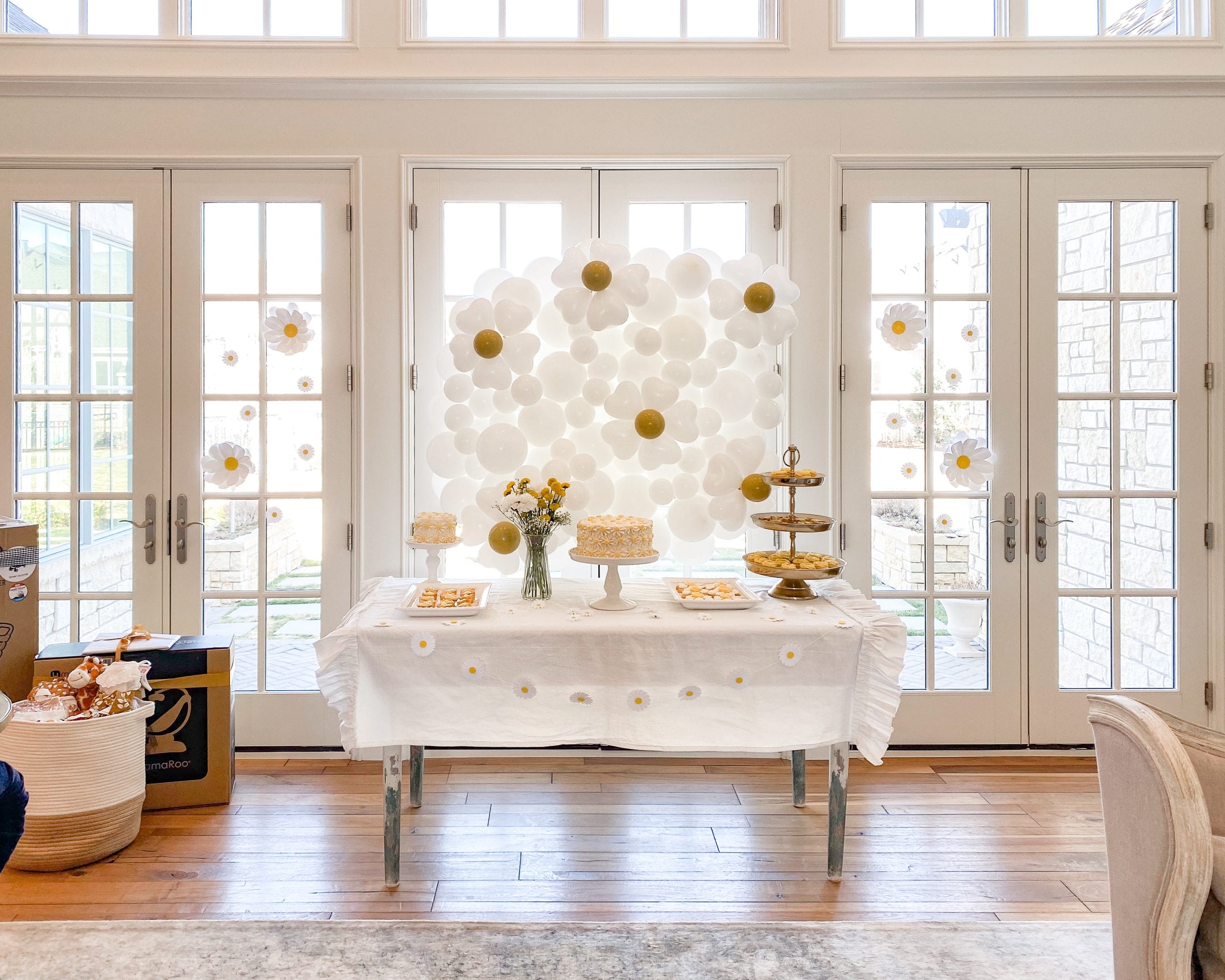 Since it was her second baby and another girl, my daughter-in-law (Aubree) didn't need any gifts but we did a group gift and those that wanted to contributed and we were able get them a new baby swing.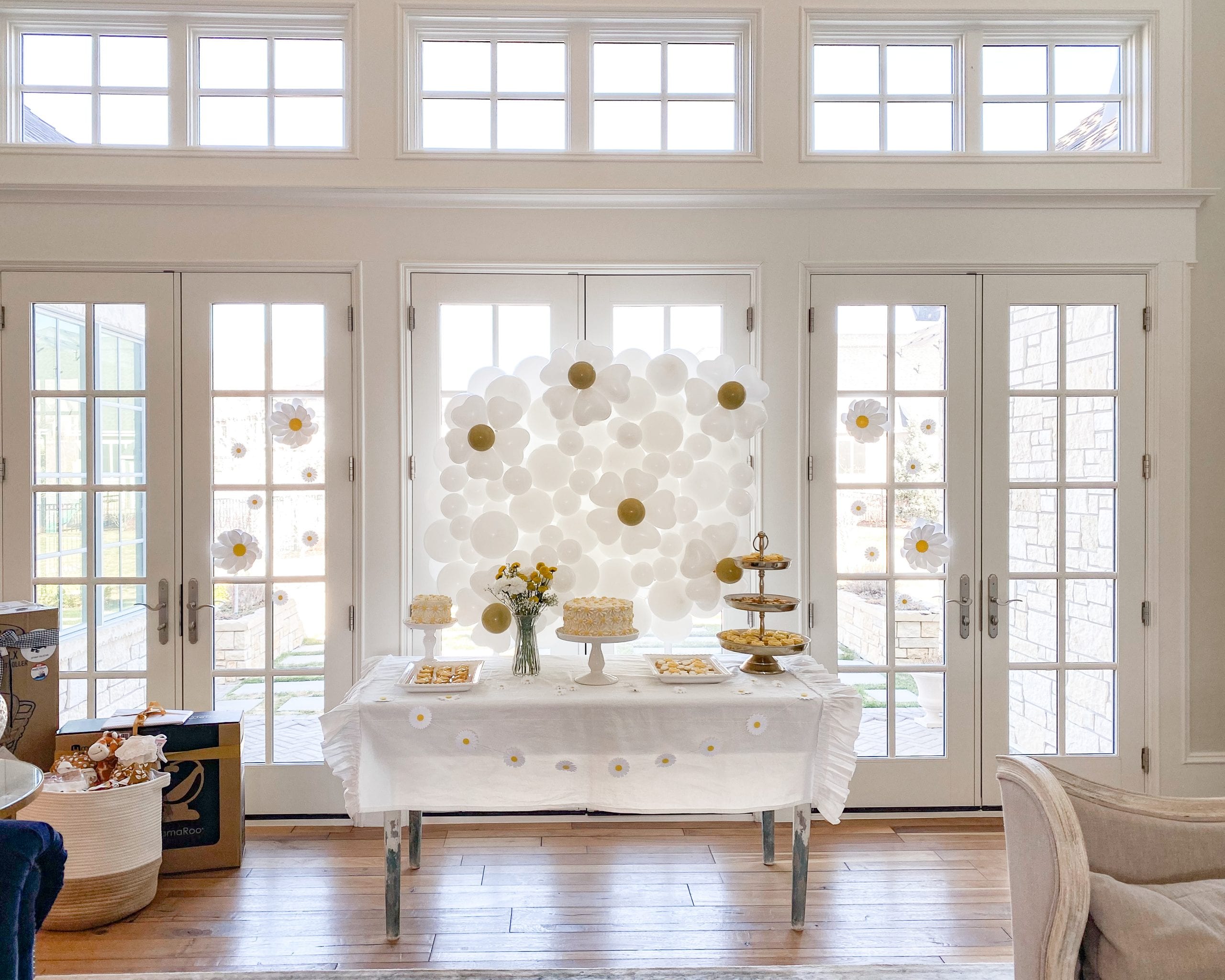 This is a great idea for second or third babies and the parents to be can get some of the larger items that you need when you have two little ones! We played some fun games as well and mostly everyone ate and visited with each other. We kept it to just family and it was so fun to celebrate our newest little grand daughter and her mama!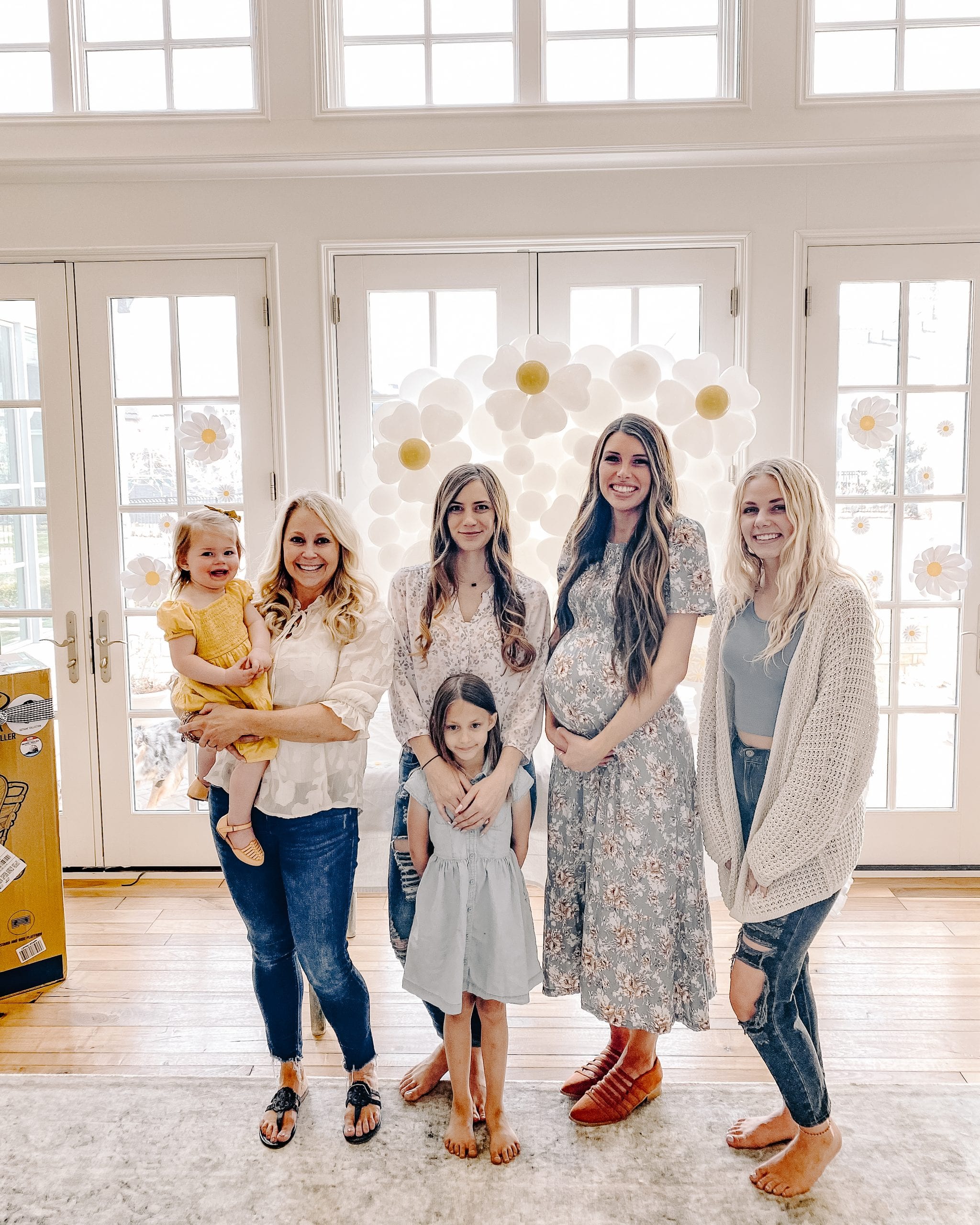 Me and all my girls! Quinn, Hannah, Emily, Aubree, and Maddy!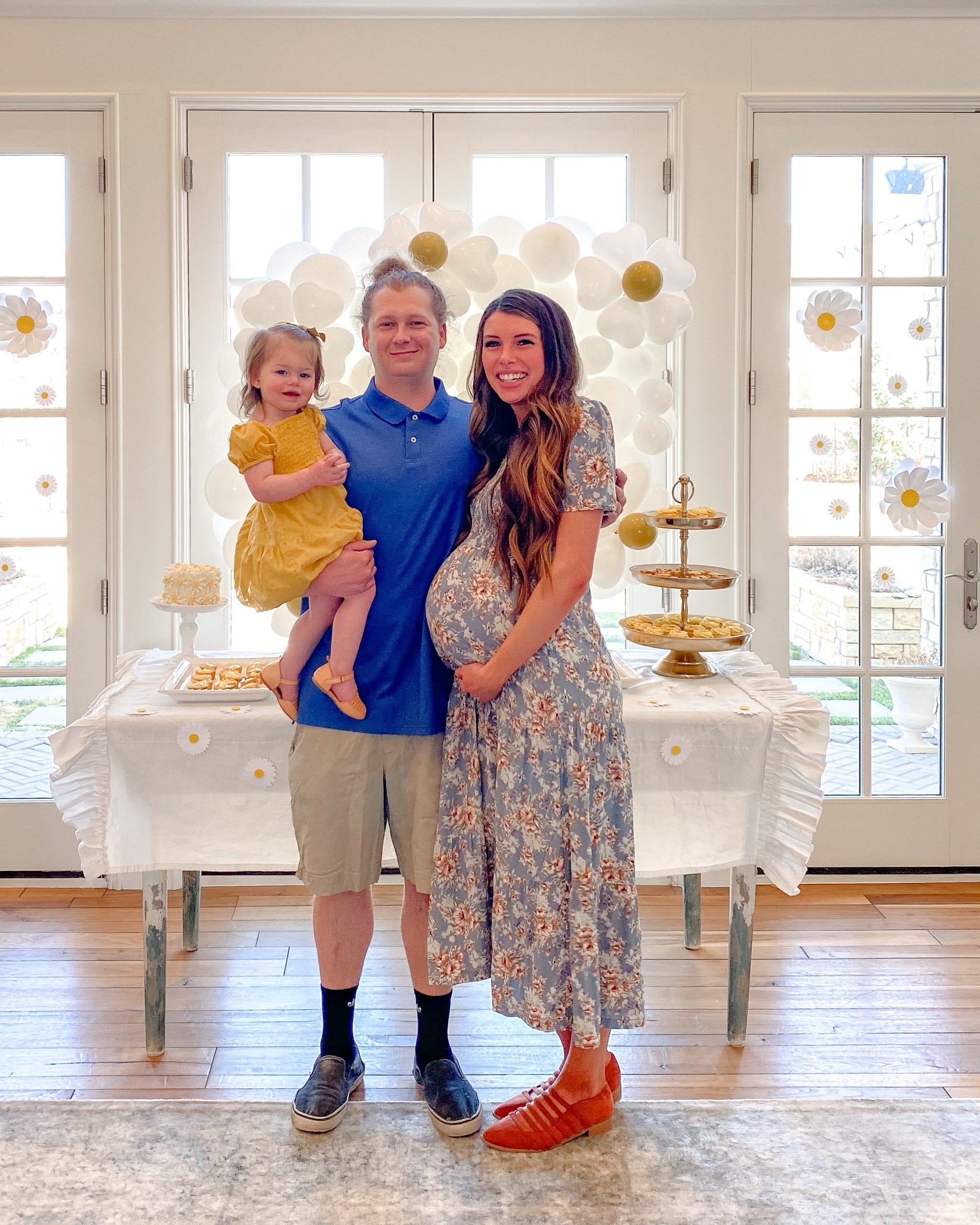 Update! Maizy Virginia was born just a few weeks after the baby brunch. Isn't she so darling?!!!!!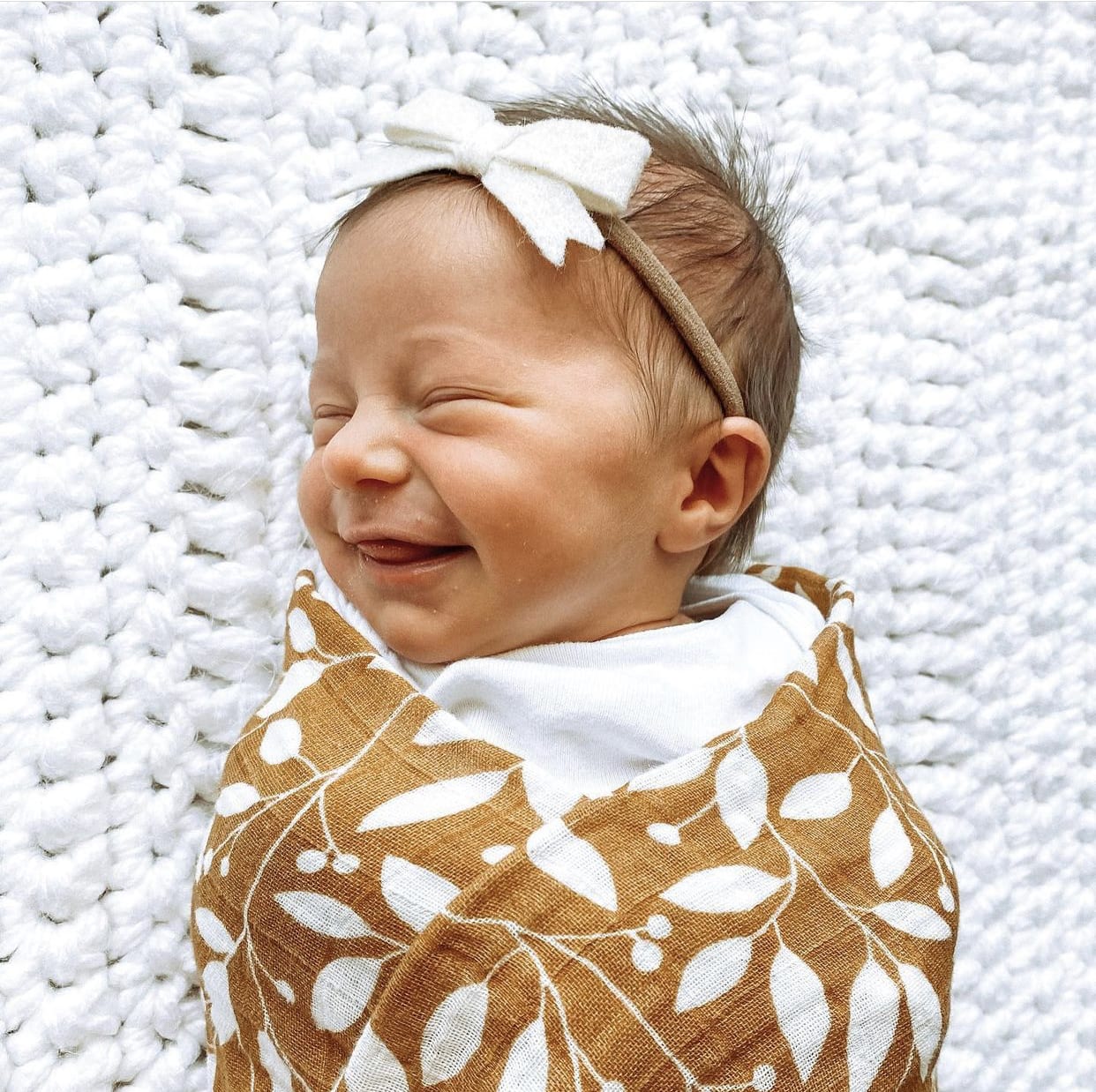 I hope you enjoyed this post and thank so much for stopping by! Please leave a comment or email me with any questions and you can always find more of my content on Instagram @homewithollyj and Pinterest!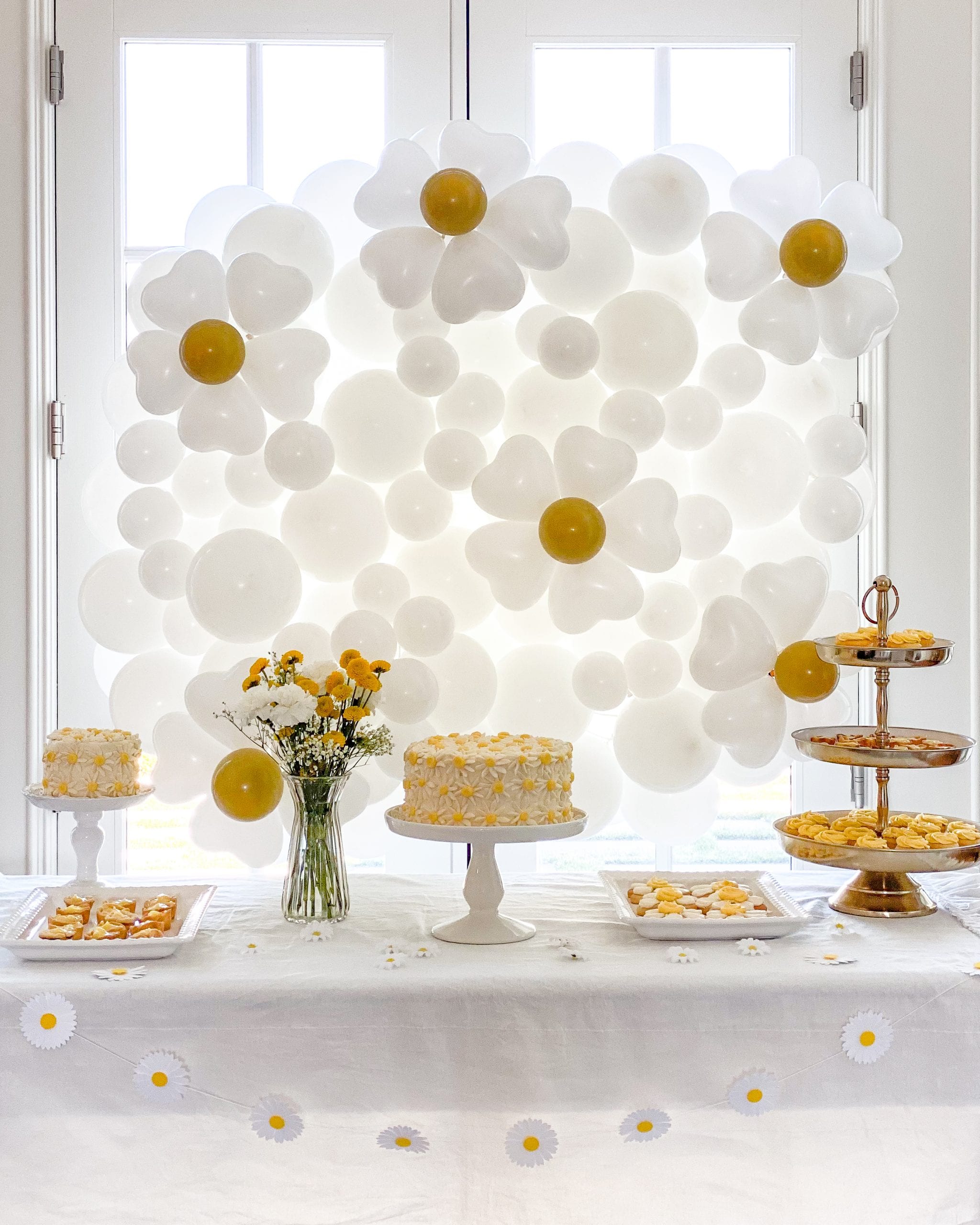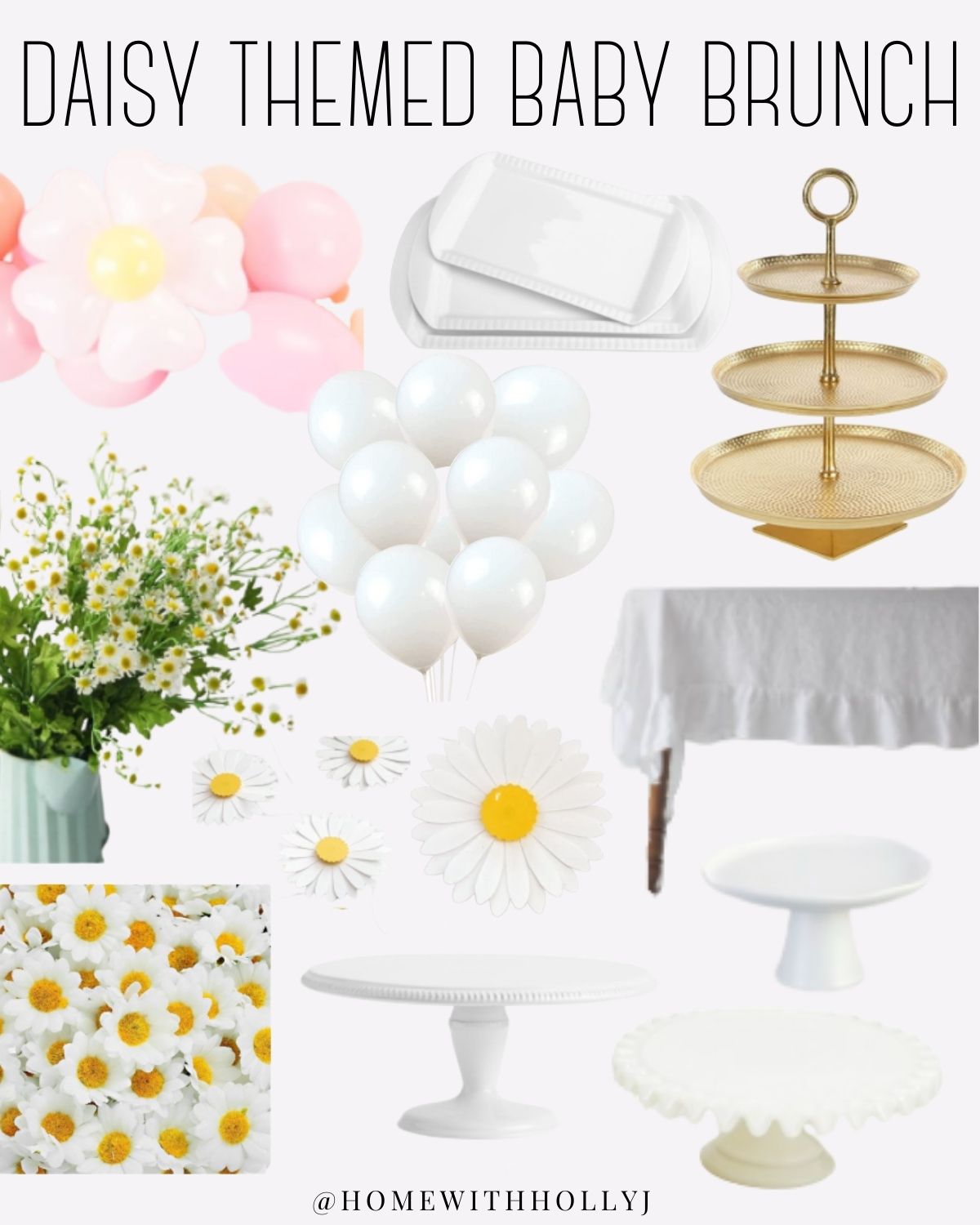 xoxo,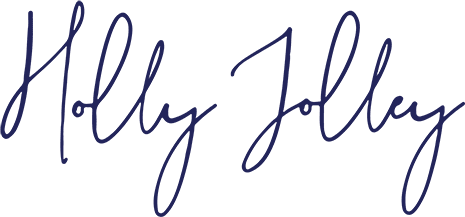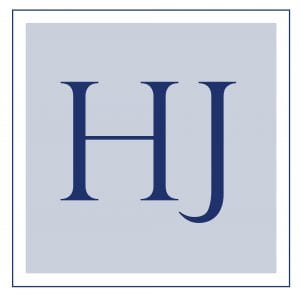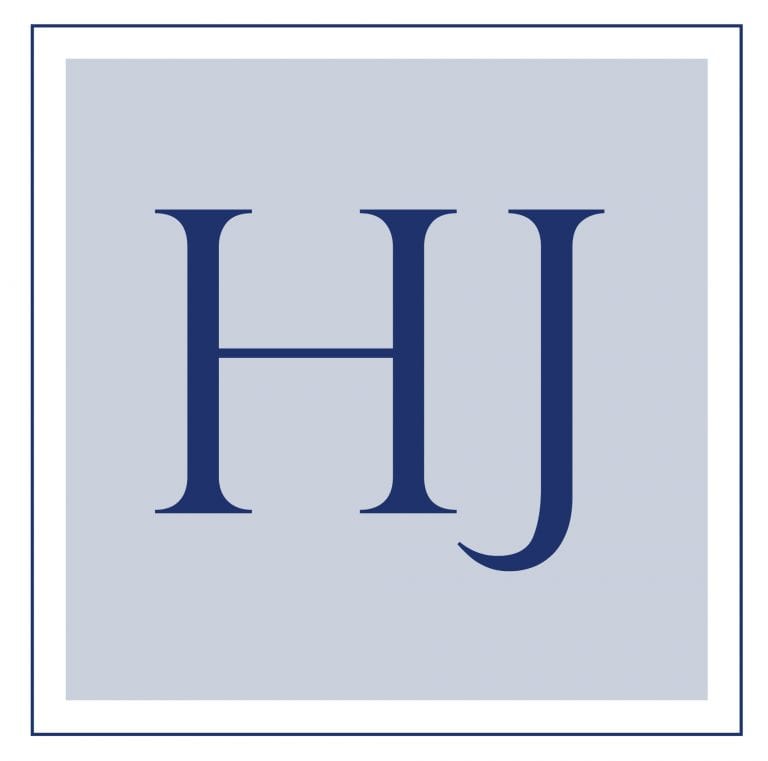 I've linked some of the same items I used and some that are very similar below!

If you chose to use this theme for your baby shower or baby brunch, you could also make my Laizy Daisy Cake Recipe!
PIN THIS FOR LATER: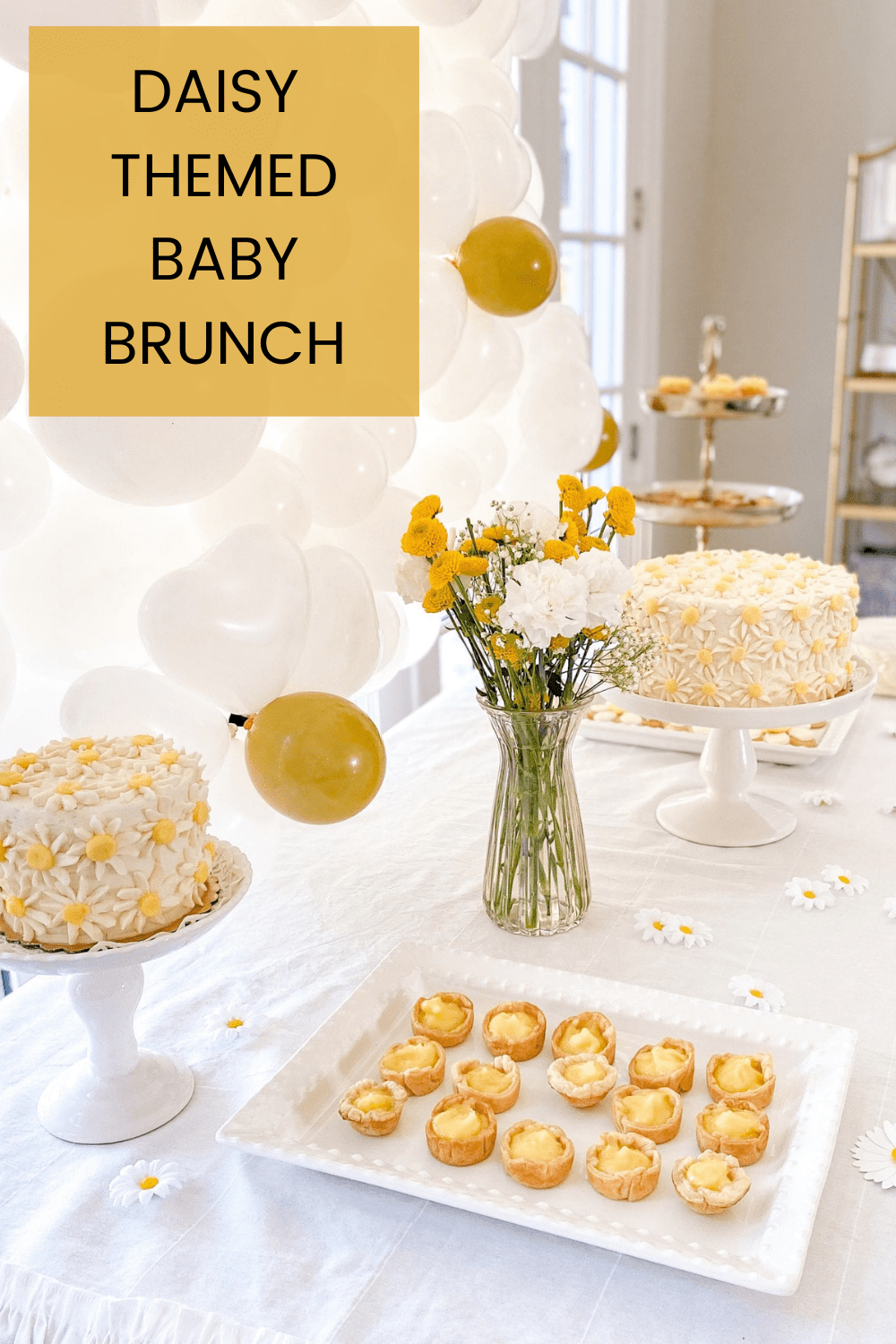 SPRING BABY BRUNCH