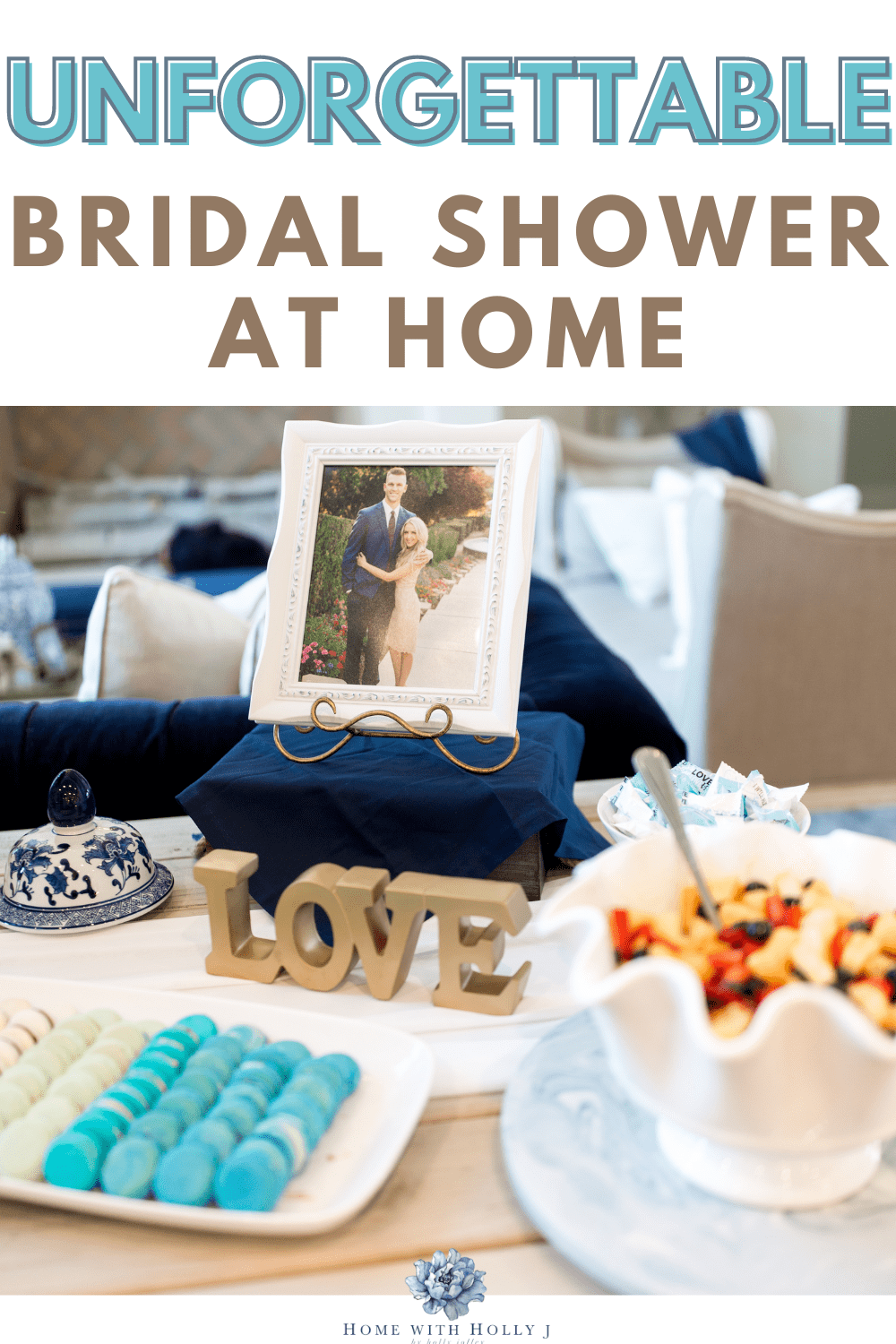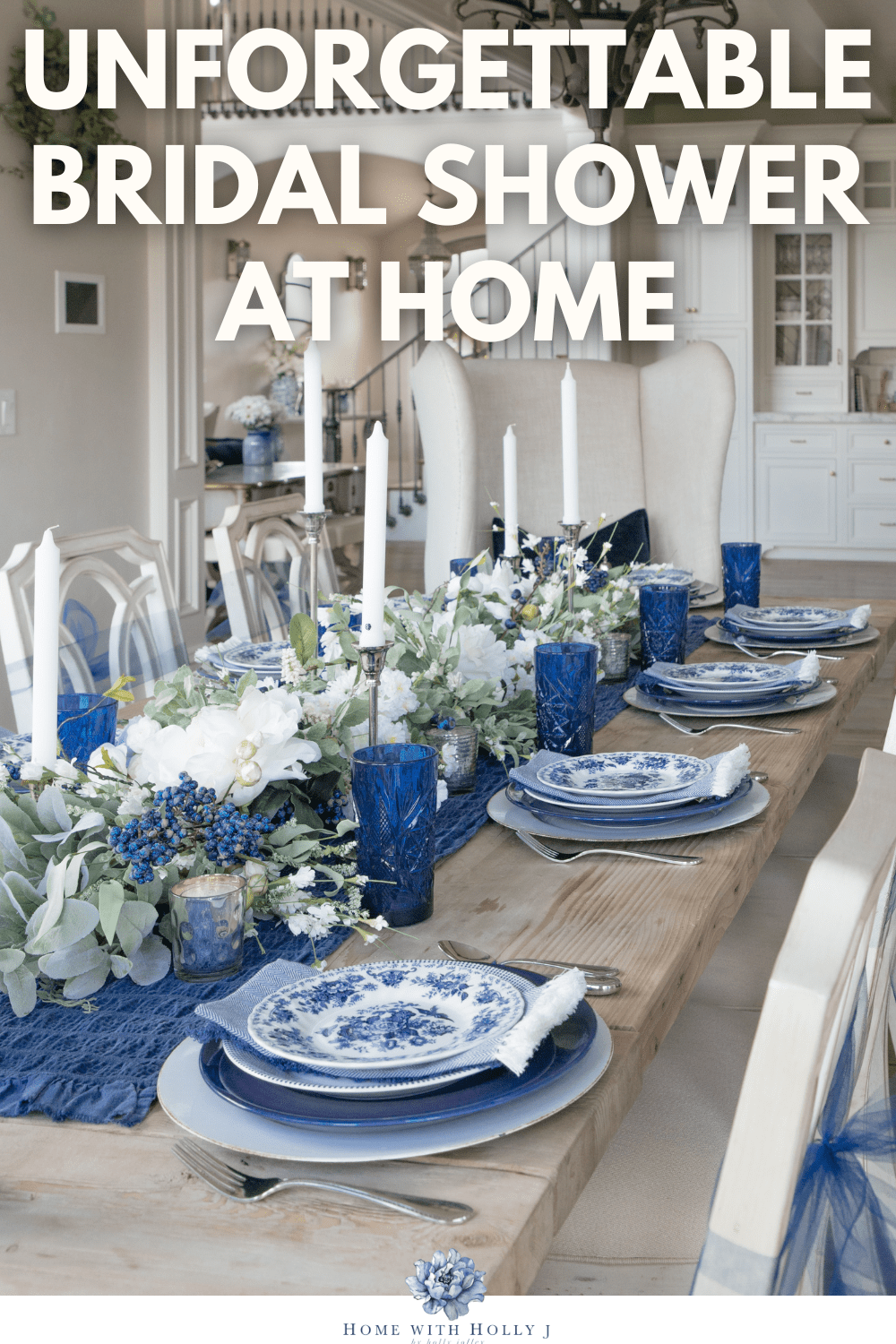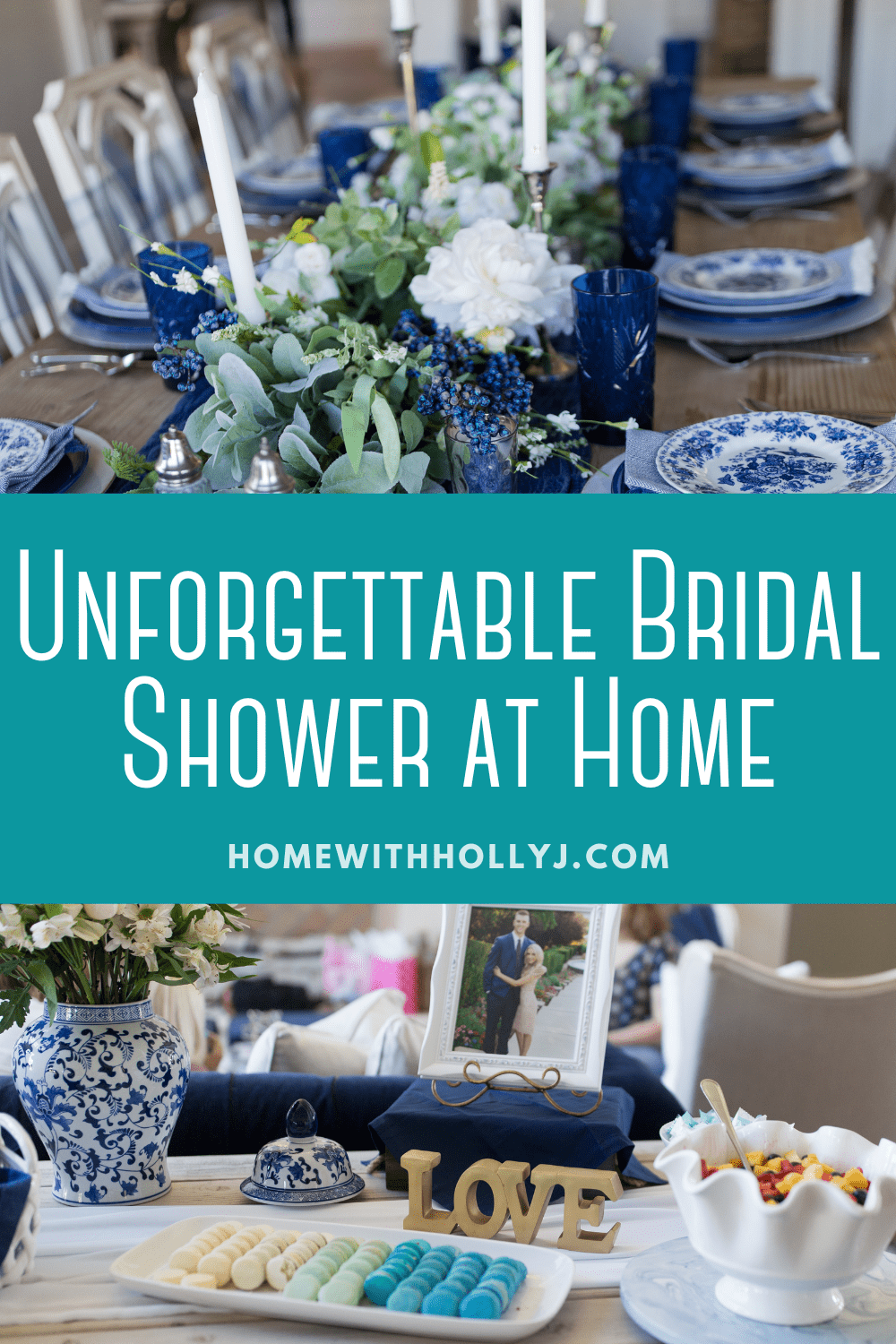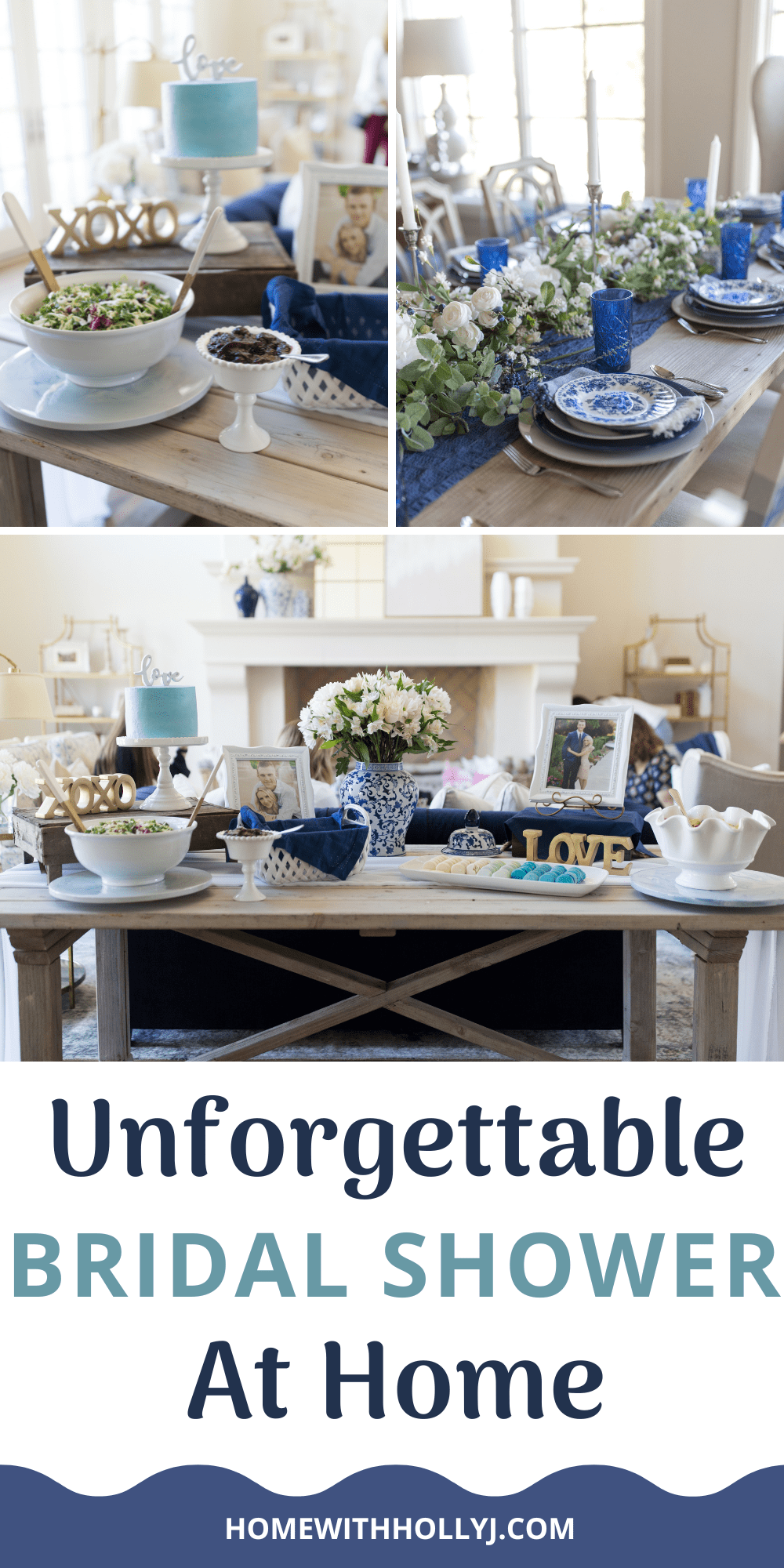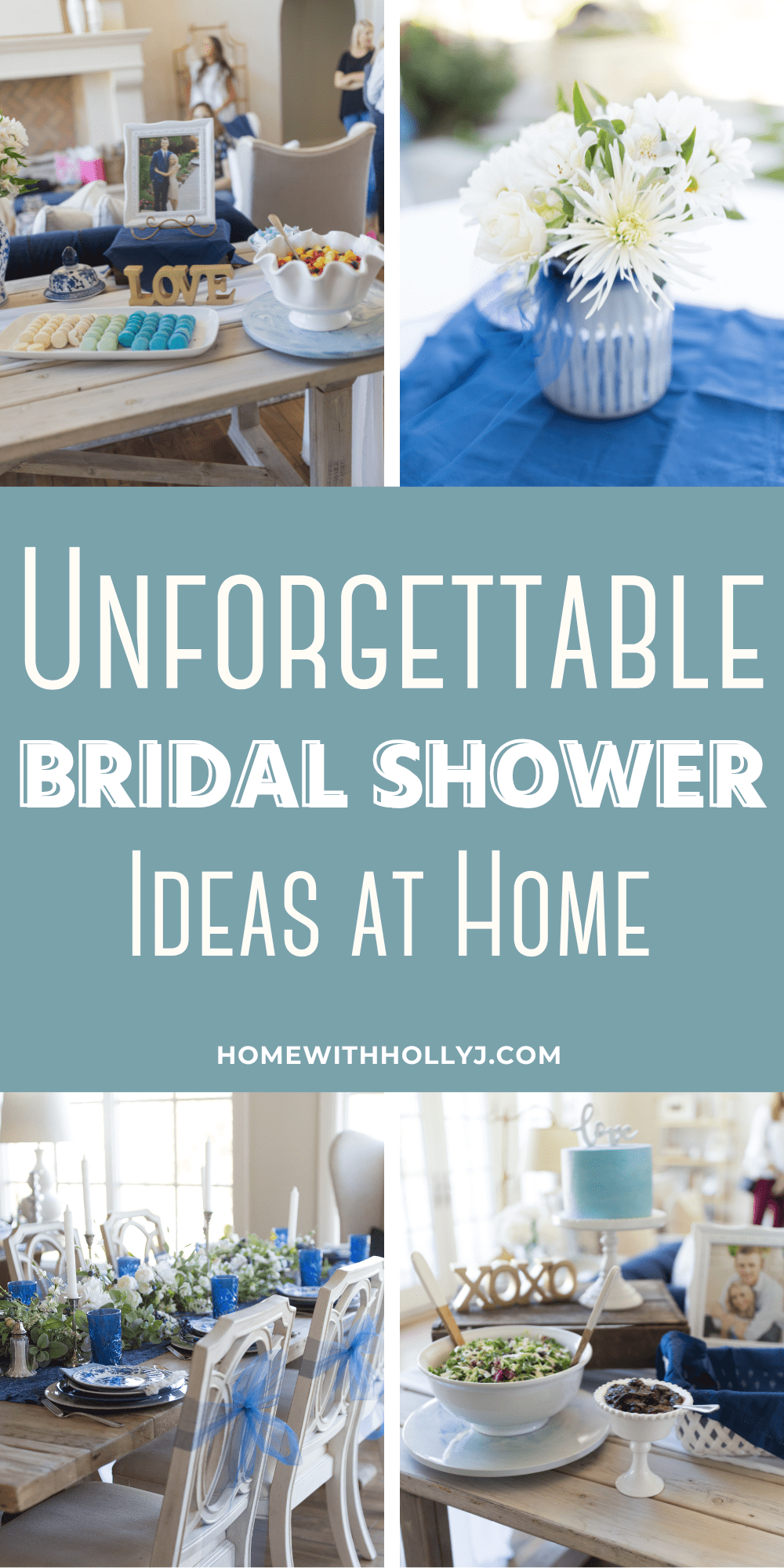 Discover creative and unforgettable bridal shower ideas at home to plan the perfect celebration for the bride-to-be. Read more here.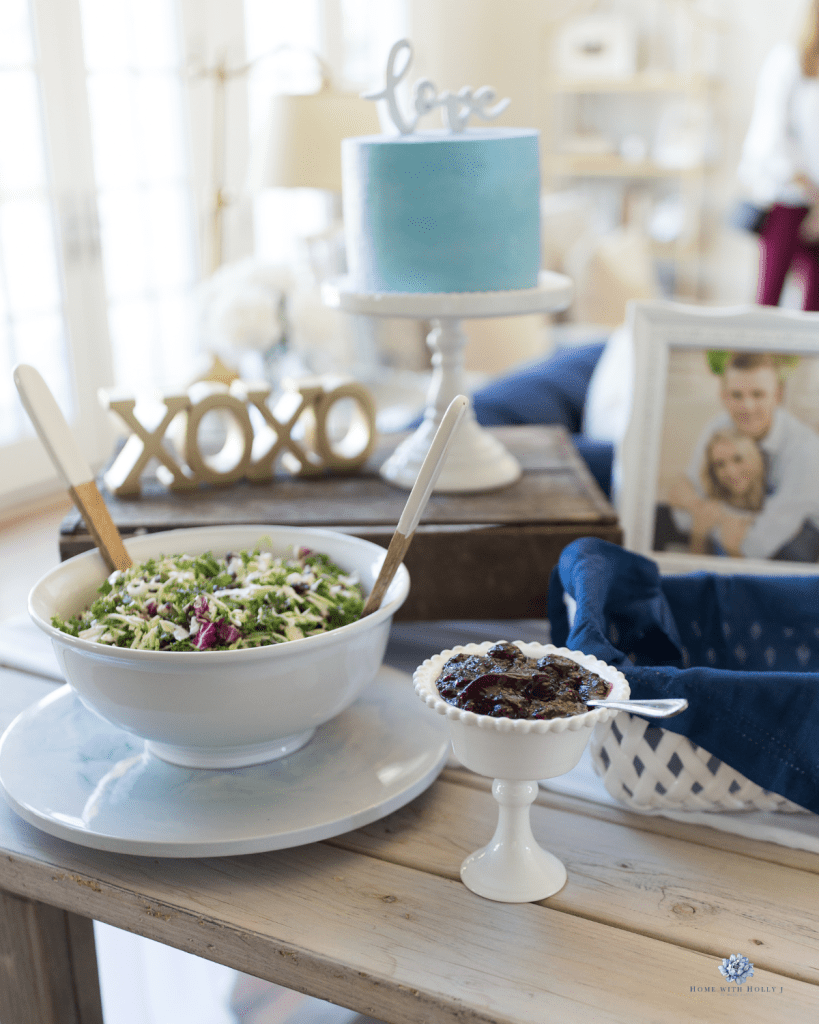 Bridal Shower Ideas at Home
Love is a beautiful journey that deserves to be celebrated in style. When it comes to bridal showers, choosing a theme that captures the essence of the couple's love story adds an extra touch of magic to the occasion. If you're a bride-to-be or a friend planning a bridal shower, why not consider a breathtaking blue ombre theme? Symbolizing tranquility, depth, and the vastness of the ocean, a blue ombre bridal shower will create an atmosphere of romance and elegance that your guests will remember forever. So, let's dive in and explore the wonderful world of a blue ombre themed bridal shower! I hope you enjoy todays post with inspiration on hosting bridal shower ideas at home.
Disclaimer: This post does include affiliate links for your convenience. This is at NO additional cost to you but earns me a small commission. To read more, check out our disclosure policy.
Setting the Scene for an Unforgettable Bridal Shower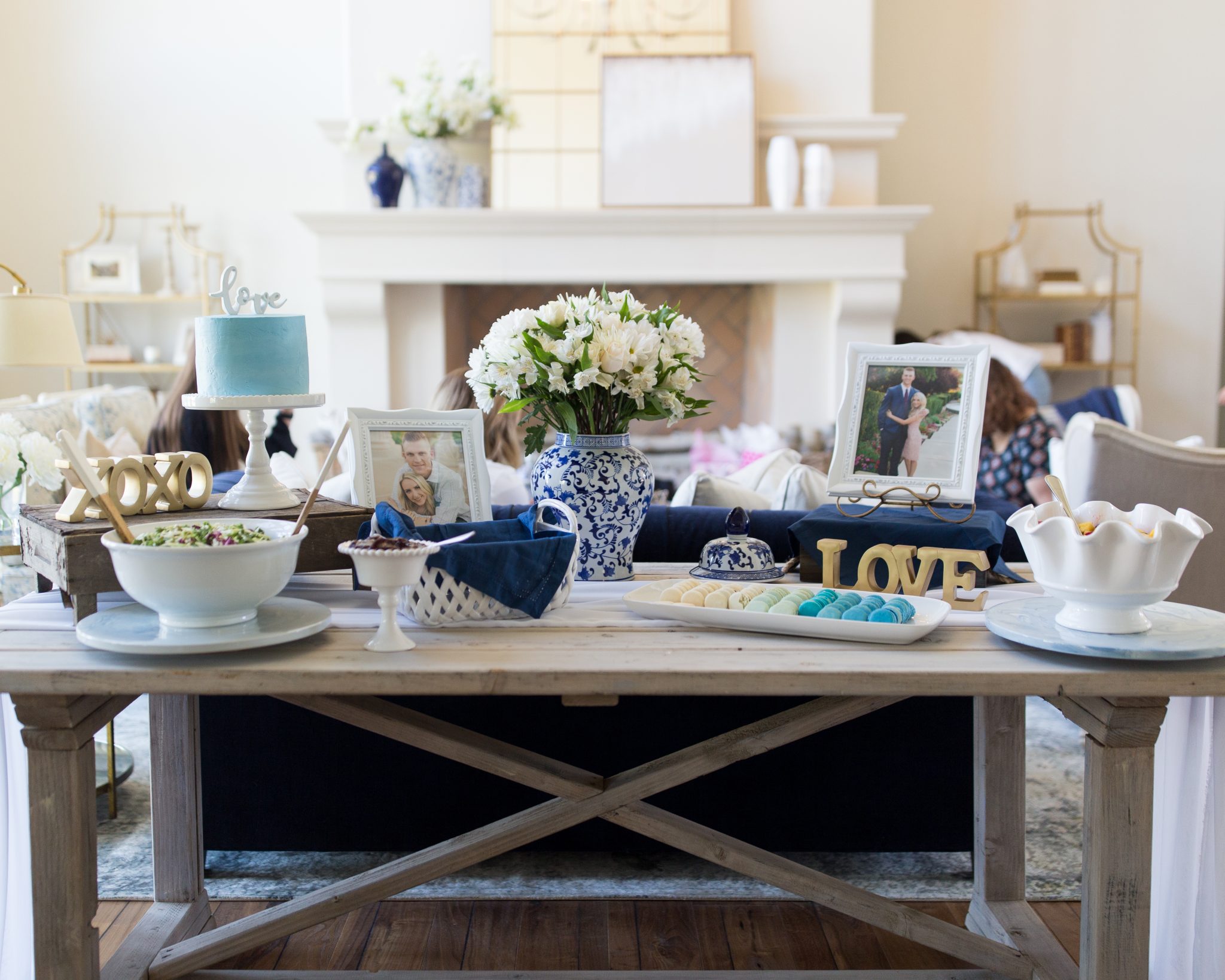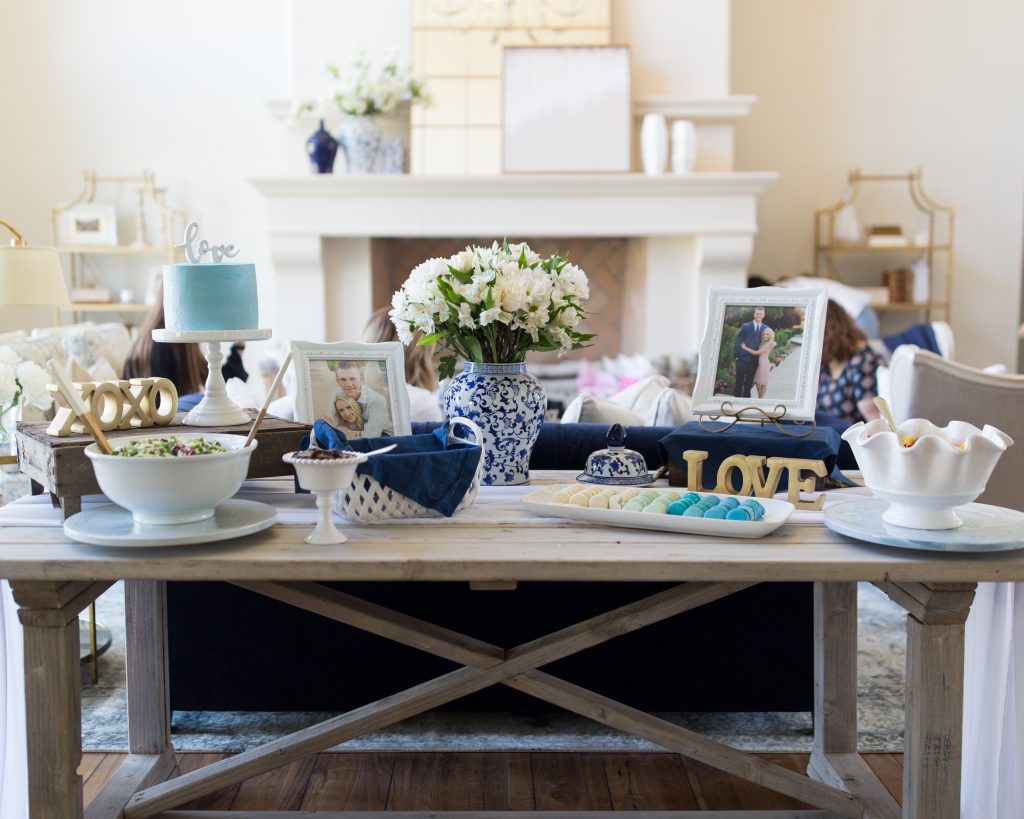 The venue or location plays a vital role in bringing the theme to life. I chose to host this bridal shower at home and I love the coziness that I was able to create with this warm color palette.
My home has a lot of blue decor so using the many different shades of blue helped to create this pretty color palette.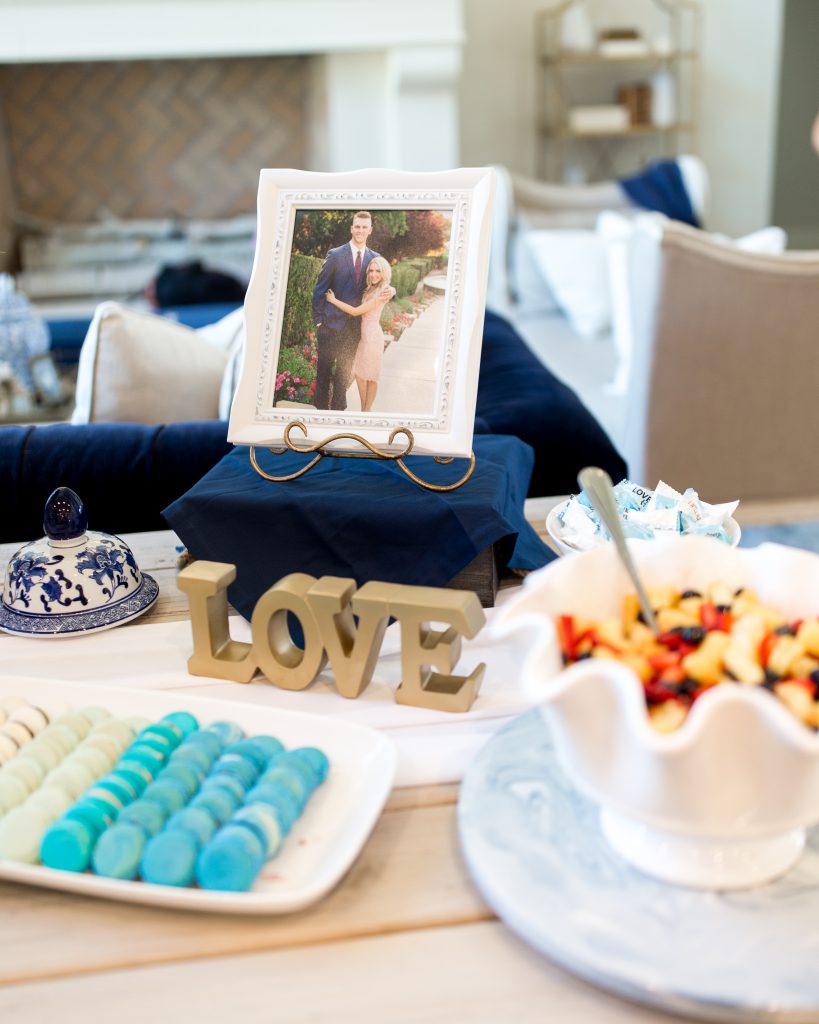 I decorated my home using various shades of blue, starting from lighter hues and gradually transitioning into deeper tones. From the table decorations to the food and dessert tables, you can see all the different shades of blue I used throughout.
I also placed other decor in and around the food and dessert tables. I found these LOVE letters a few years ago at Homegoods. Hobby Lobby also has some that are similar. I also added a little love sign on top of the cake too.
Invitations and Stationery
Capture the imagination of your guests from the very beginning by sending out homemade or custom invitations. Incorporate shades of blue or whatever color you're using into the design of the invitations.
One of my favorite ways to make invitations is to go onto Greeting Island and customize one from a template. Here is the blue invitation I used for this bridal shower.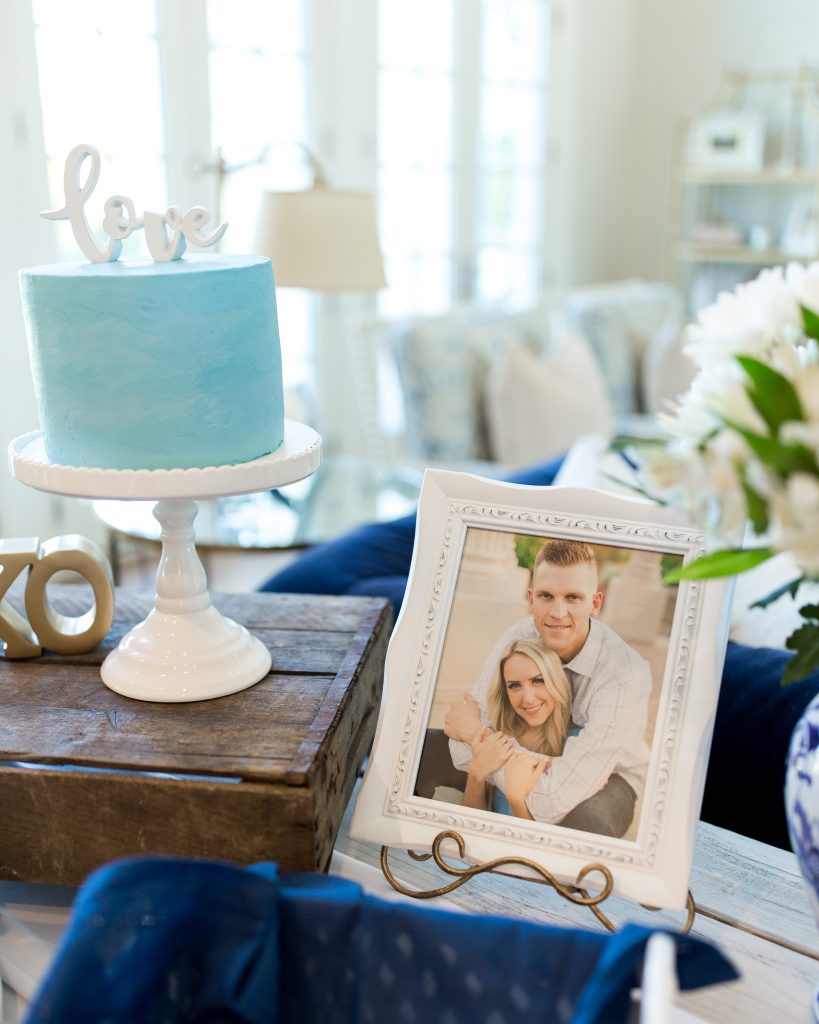 This will not only set the tone for the event but also create a sense of anticipation for what's to come. Carry the theme through all the stationery elements, including menus, place cards, and signage, to maintain a cohesive look and feel. I also like to use balloons throughout the house and on the signage, tables, and front porch. It's a great way to let your guests know which house is yours if you're hosting at home. This can also be done at other hosting venues.
Etsy is also a great resource to find printable invitations, menus, place-cards, and signage for any party or shower you're hosting.
Check out this past post on my Daisy Themed Baby Brunch Shower that I hosted at home for my daughter-in-law a few years back.
Tablescapes and Centerpieces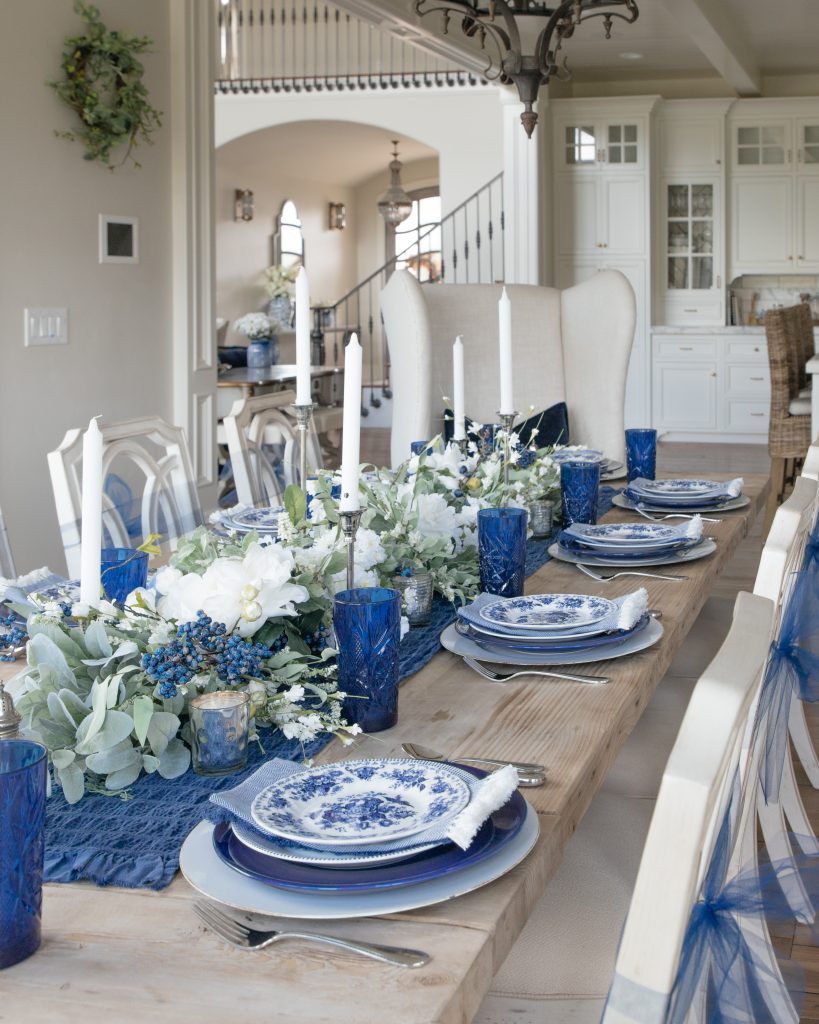 I set my indoor dining table with different shades of blue and white dinnerware. To add some more blue to the dining chairs, I used tulle ribbon and tied bows around each chair. I also carried this over to the outdoor table and chairs.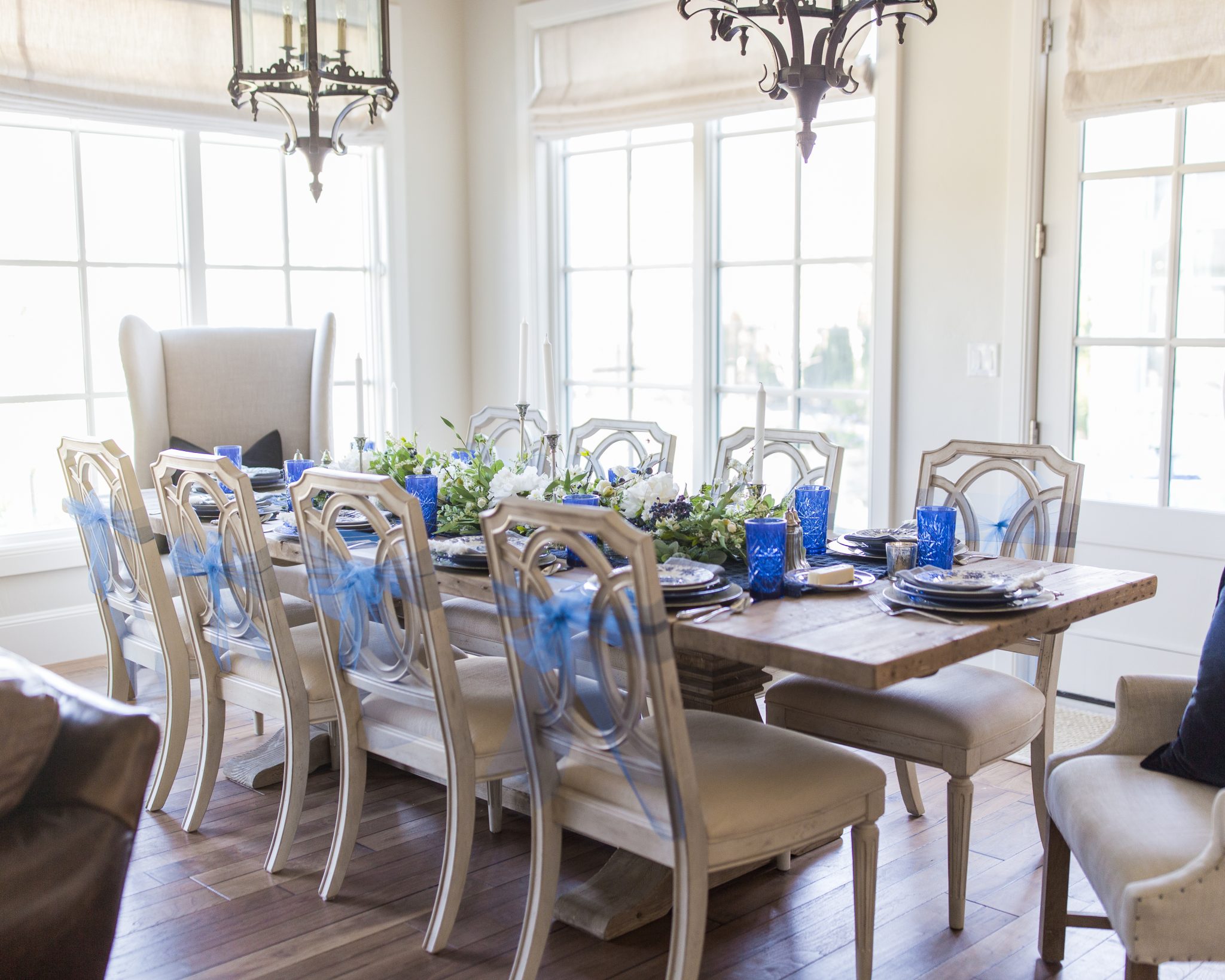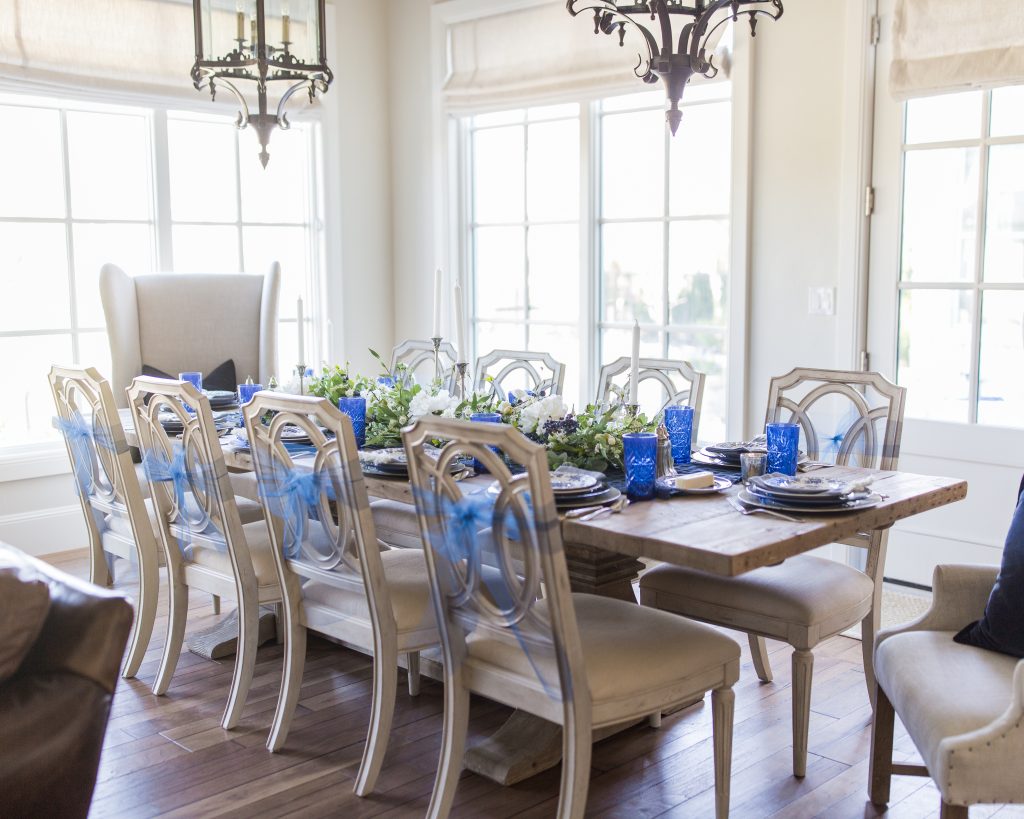 To finish off the tablescape, I added navy blue throw pillows to the end chairs.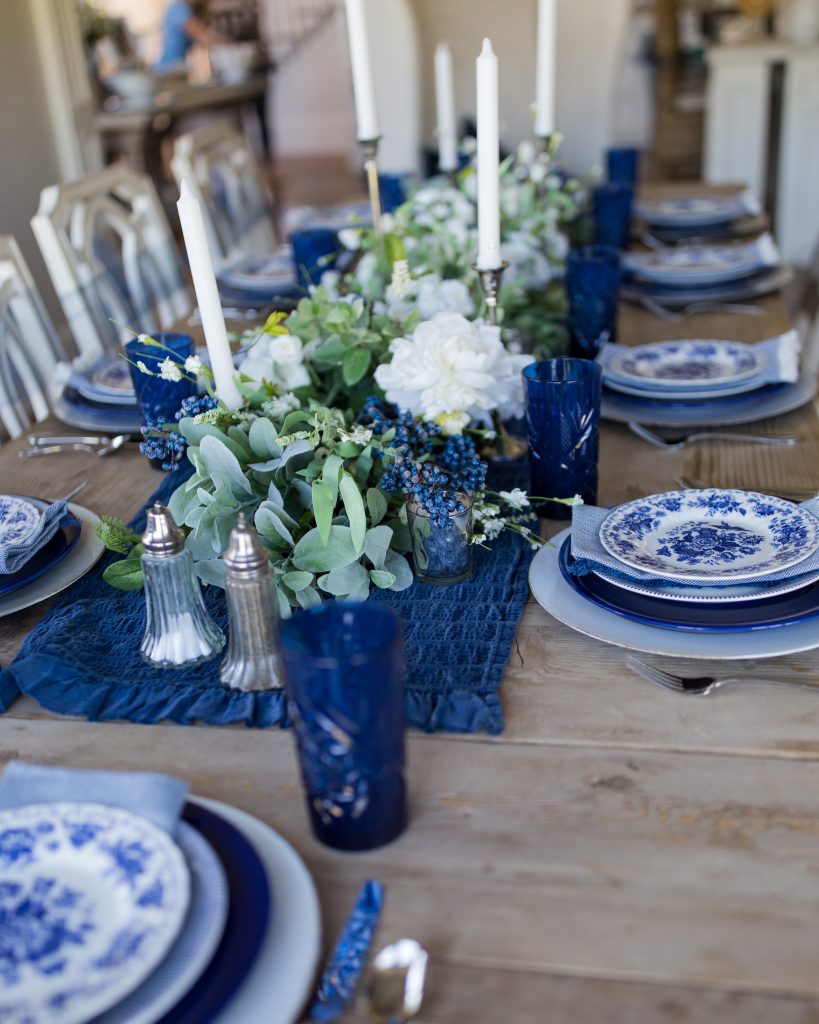 For the indoor tablescape centerpiece, I used a navy blue table runner then created a centerpiece garland using faux flowers and greenery to run down the enter of the table.
To make this garland, I used a five foot long greenery type garland on the bottom. Then I added in some white faux peonies and ranunculus flowers. To add a pop of blue to the garland, I used faux baby's breath flowers.
I love to mix and match dishes when setting a table and I have a lot of blue dishes in my dish collection so I pulled out a variety of them to set the tables with.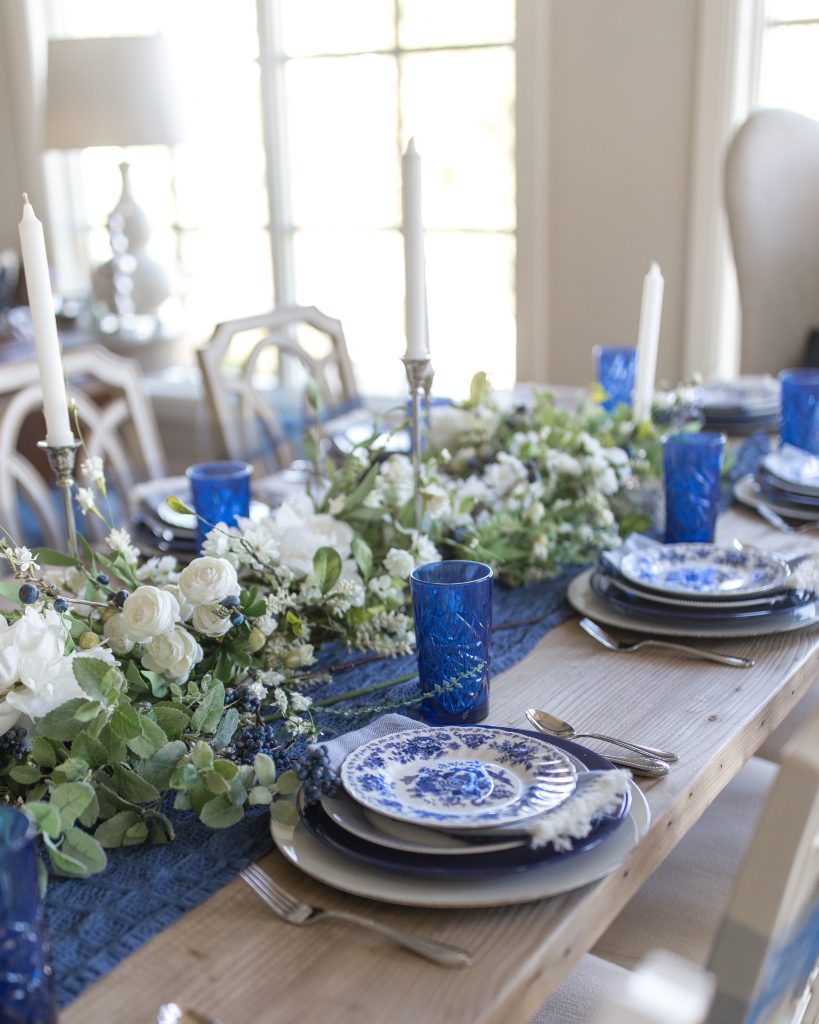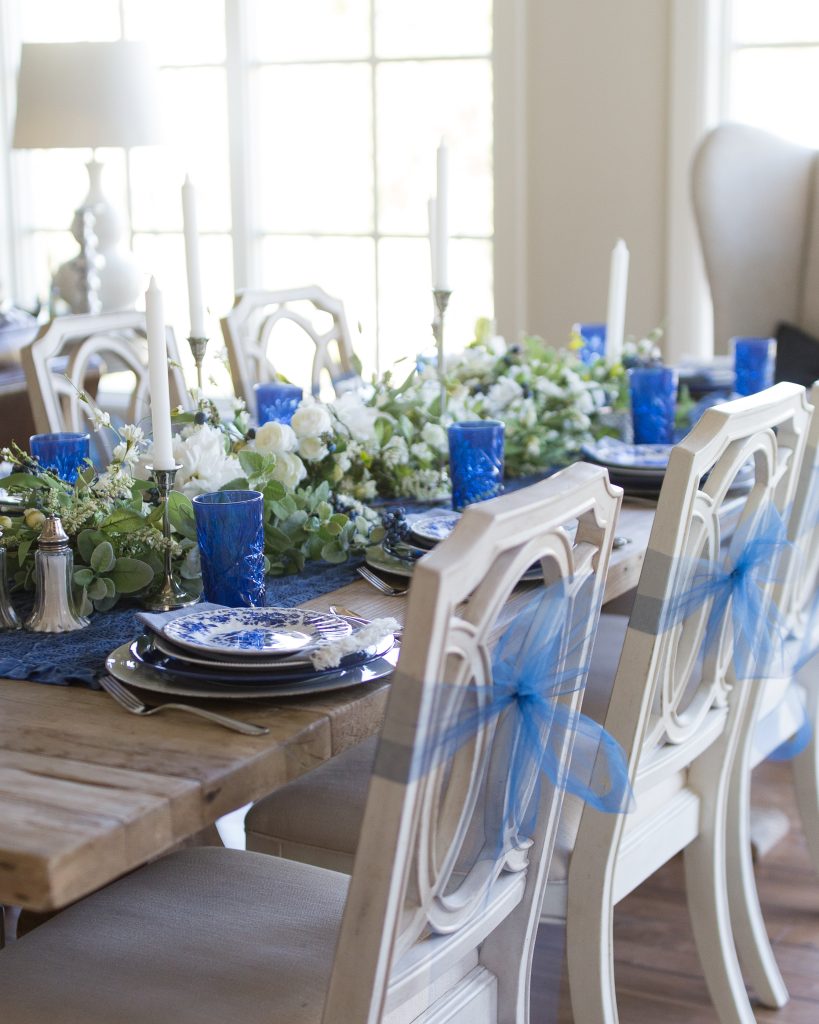 For the outdoor tables, I rented some round tables and white chairs and set them up on my patio just outside our back door. The weather was still very warm for this early fall bridal shower and it was so nice to have these outdoor seating options for everyone to enjoy their lunch and to visit with other guests.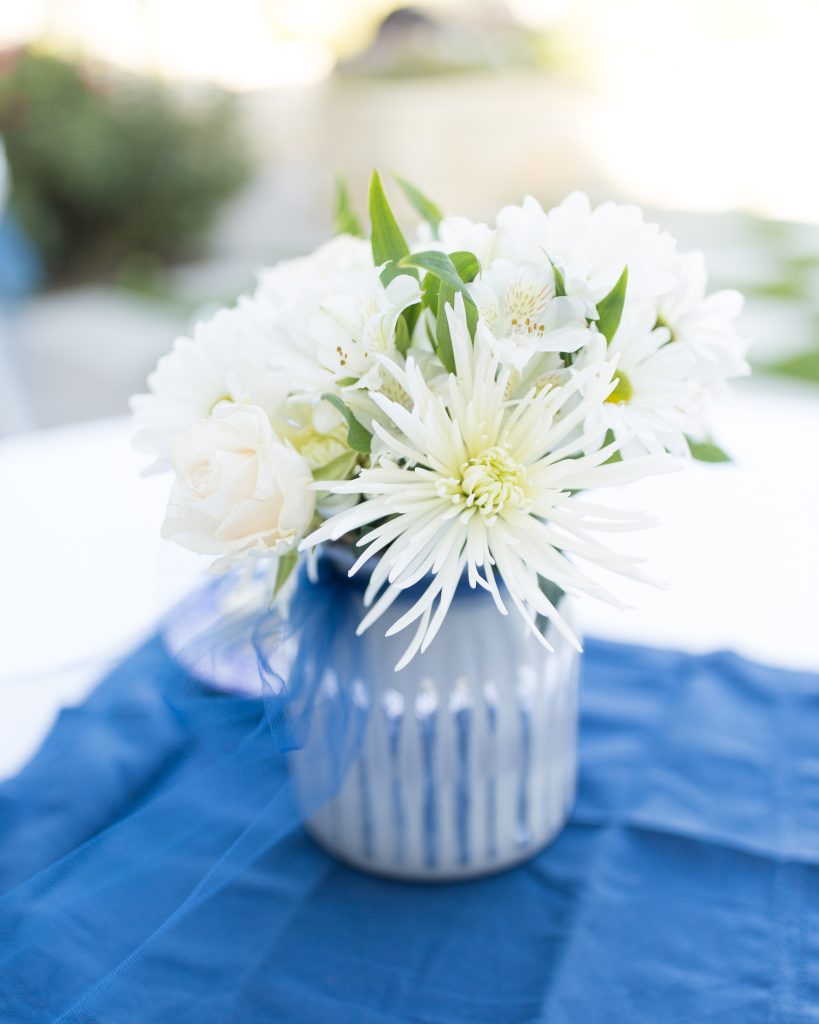 Adding the tulle ribbon bows to the chairs helped break up all the white on the outdoor tables and chairs.
For the outdoor tablescapes, I kept it simple and used white, round tablecloths. One of my favorite ways to add a layer of color to a white tablecloth is to used a cloth napkin in the center. Then I put the centerpiece in the middle on top of the napkin. It's an inexpensive doily and my go to when keeping costs down when hosting a shower or party.
To finish off the outdoor table decor I made a handful of these fresh flower centerpieces and I also tied a tulle ribbon bow around the vases. So many ways to carry over the same decorating tricks to all the spaces that you're hosting the shower in.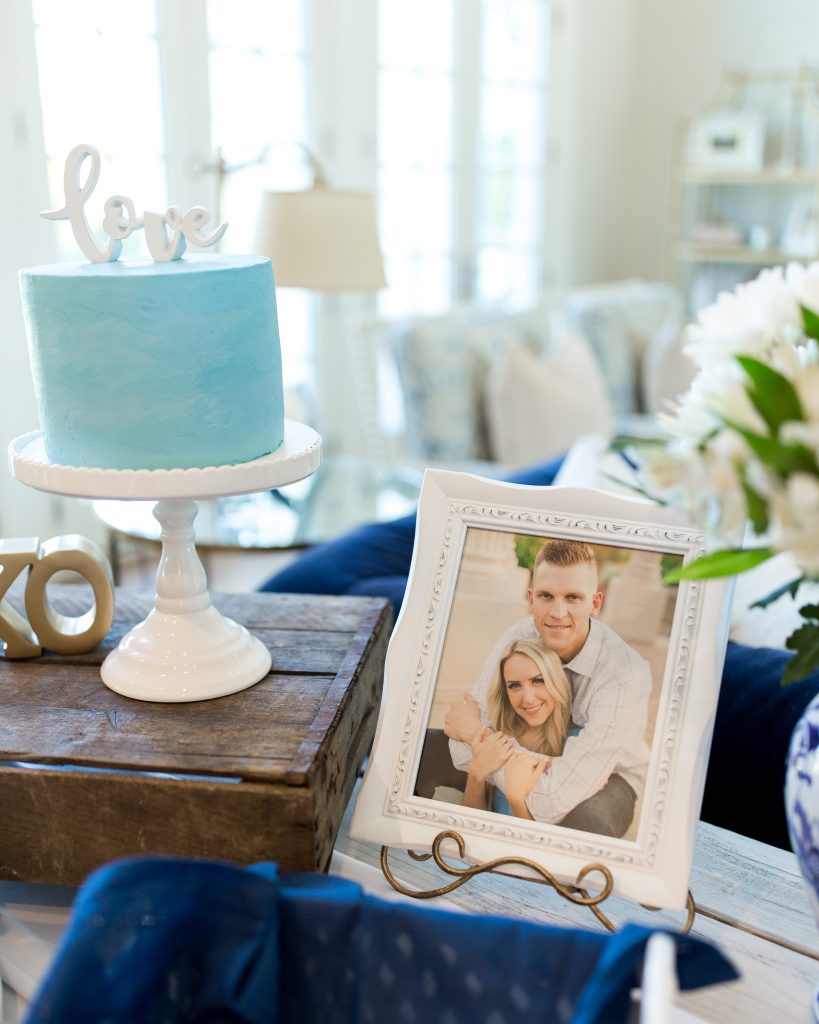 Another easy and affordable decor trick is to put photos of the couple in picture frames and put them on all the tables. This adds a personal touch to the decor.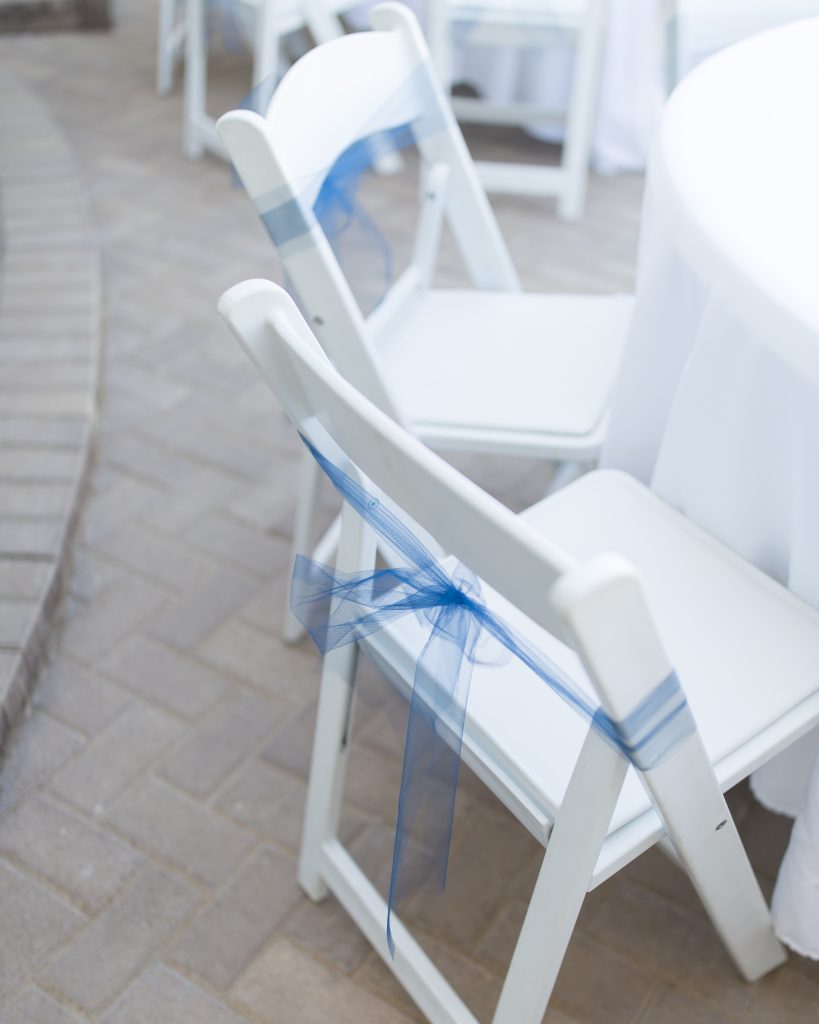 Delicious Homemade Cuisine for Hosting a Bridal Shower at Home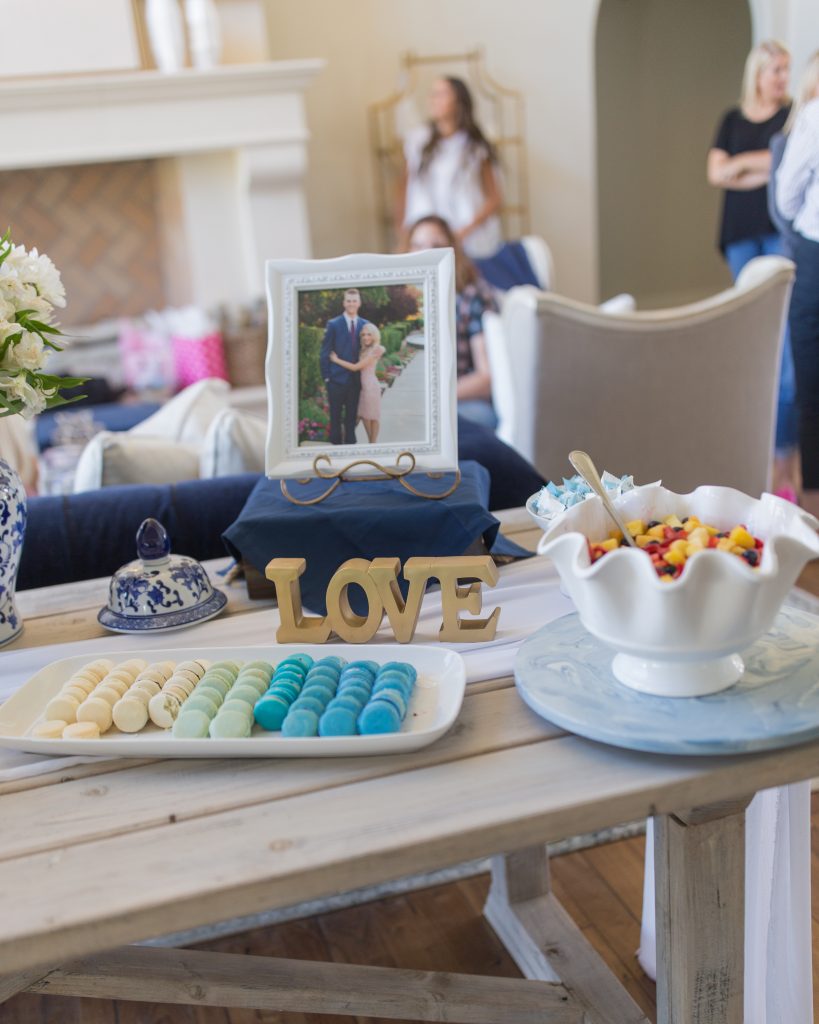 Food and beverages are an essential part of any celebration, and a blue ombre bridal shower offers the perfect opportunity to get creative with your culinary delights.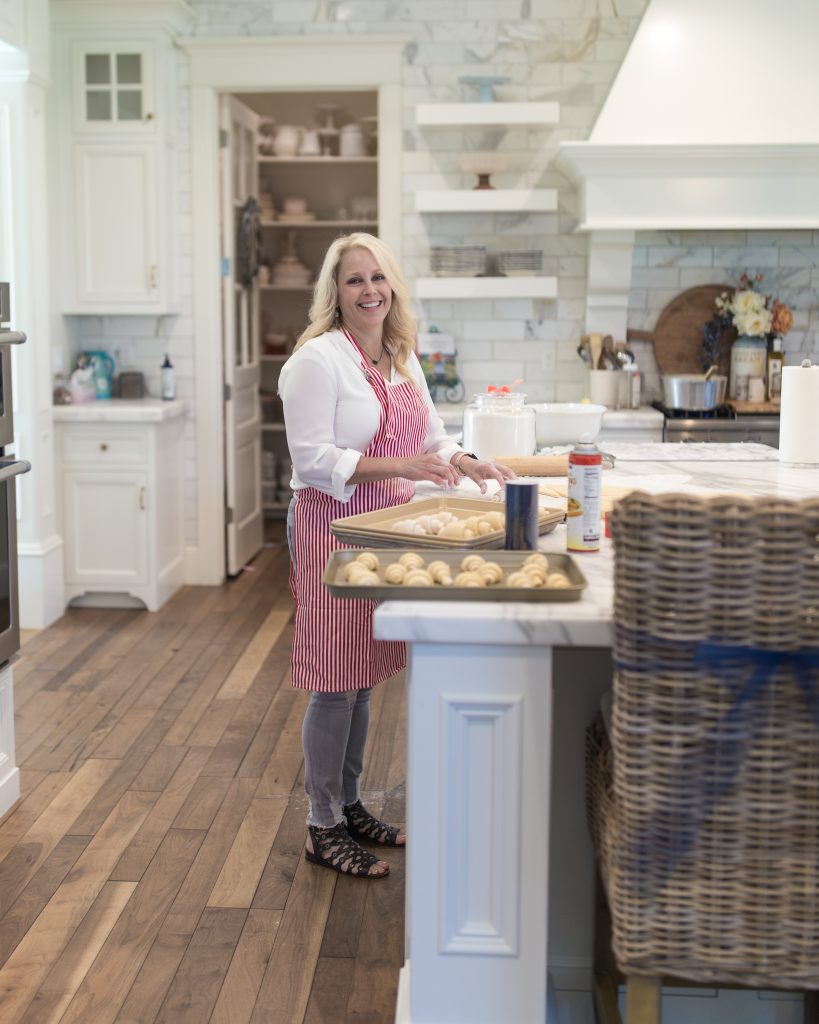 Since the bridal shower was during the day, I decided to serve soup, my homemade rolls a fresh fruit salad. Everyone loved the food so I'm adding those recipes here below! I'm so glad I made a double batch of the these yummy rolls (each batch makes about 40 rolls)! They were all gone by the end of the shower! I promise these are a hit whenever you make them! Everyone also loved my homemade soups and they are super easy to make and, a much more cost effective way to make a nice lunch for a large crowd.
If you want the convenience of catering the lunch, that is always an option too!
Homemade Chicken Noodle Soup (recipe coming later this week so check back or subscribe to my blog so you'll get an email when it's published)
Homemade Potato Soup (recipe coming later this week so check back or subscribe to my blog so you'll get an email when it's published)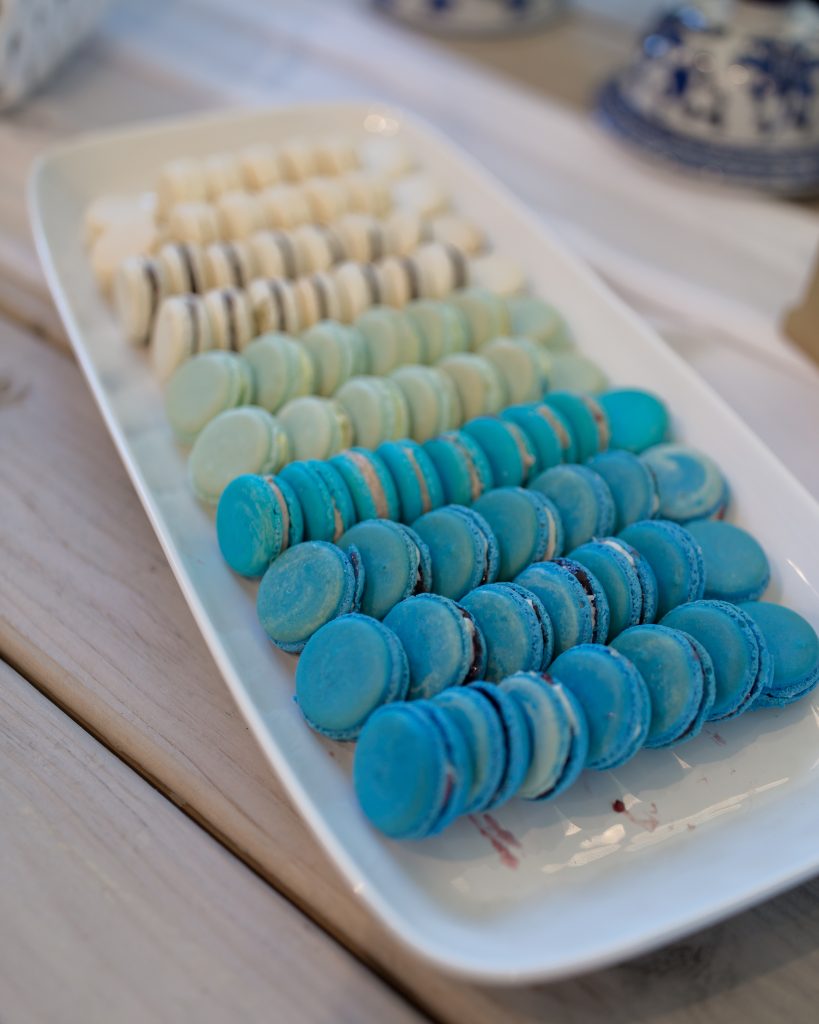 I ordered blue and ivory macarons and had a custom ombre cake made from a local baker. These macarons were so good and just like the homemade rolls, they didn't last long!
Captivating Activities and Favors
Engage your guests with interactive activities that embrace the blue ombre theme. A fun and creative idea for a bridal shower activity is to set up a DIY flower crown station using blue and white blooms, allowing guests to create their own personalized headpieces.
Another fun idea is to set up a little table and leave out some nice stationary or notecards, a journal type book and pens. Ask everyone to write something special about the bride and groom or share some advice that you have for them. Then have a tape runner out so everyone can paste them into the book. You can also have a polaroid camera there so guests can take photos that can also go in the book.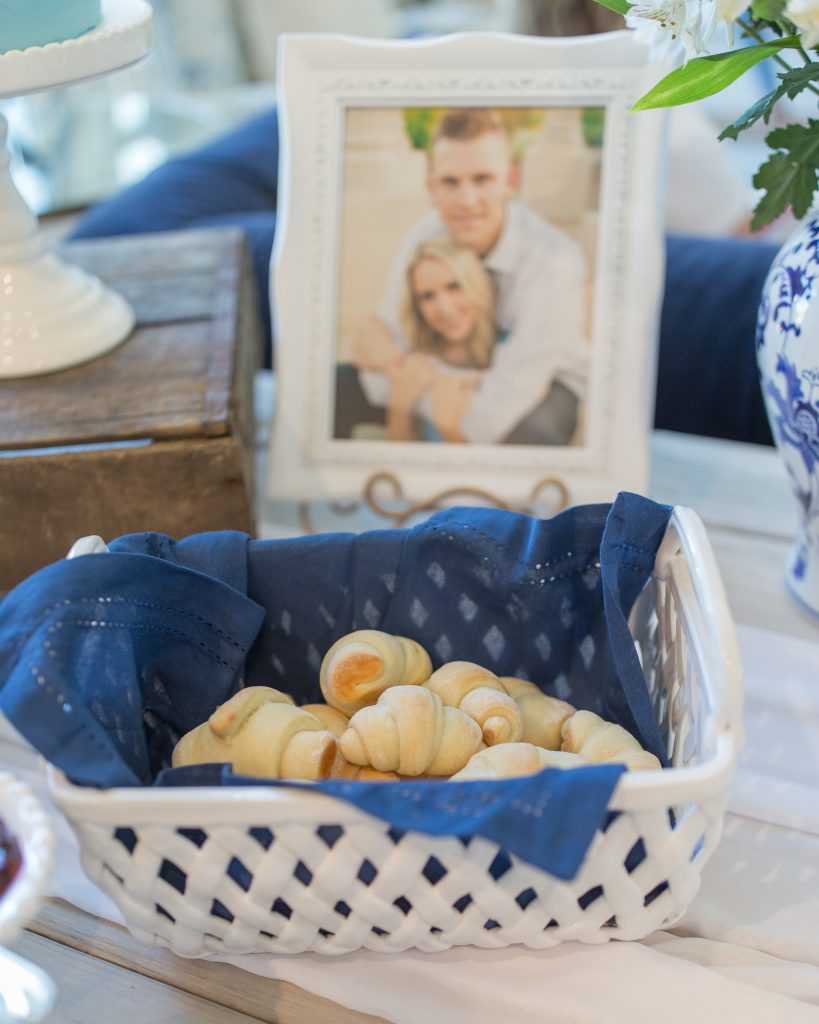 The bride to be! My cute friend Kim! We call her Kimmy and she's like another daughter to me!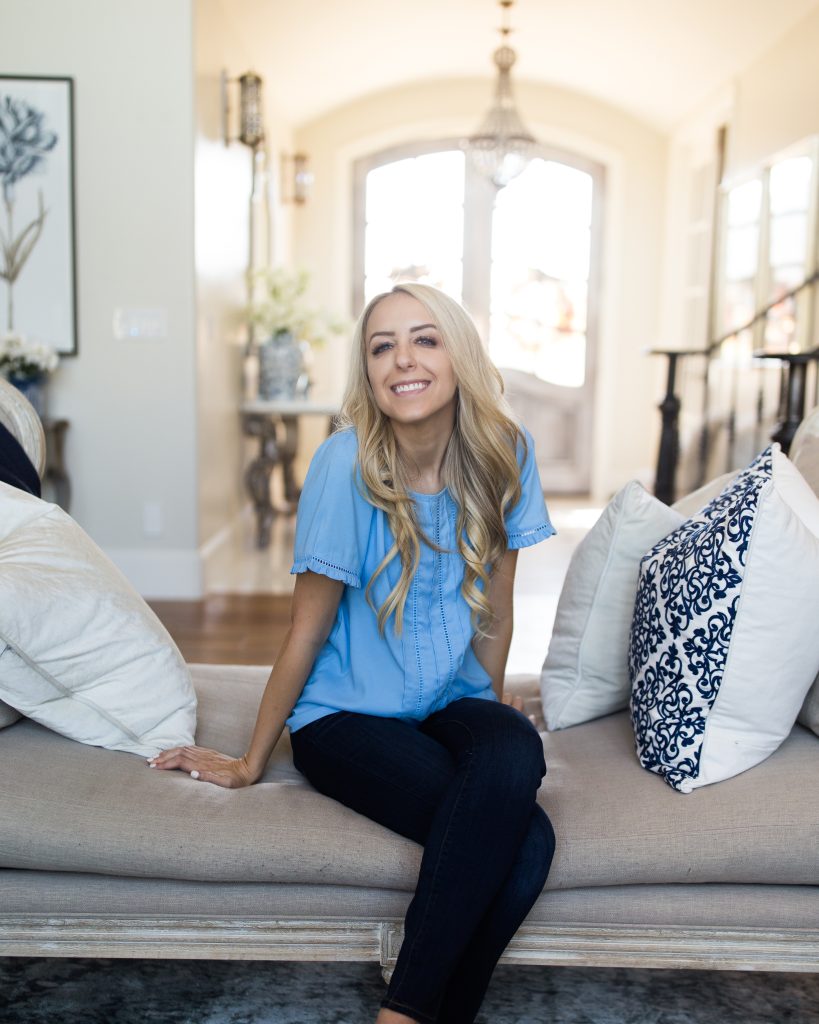 A blue ombre themed bridal shower is a captivating and unique way to celebrate the love and impending nuptials of a special couple. The bride to be also wore blue to match the blue which was so cute!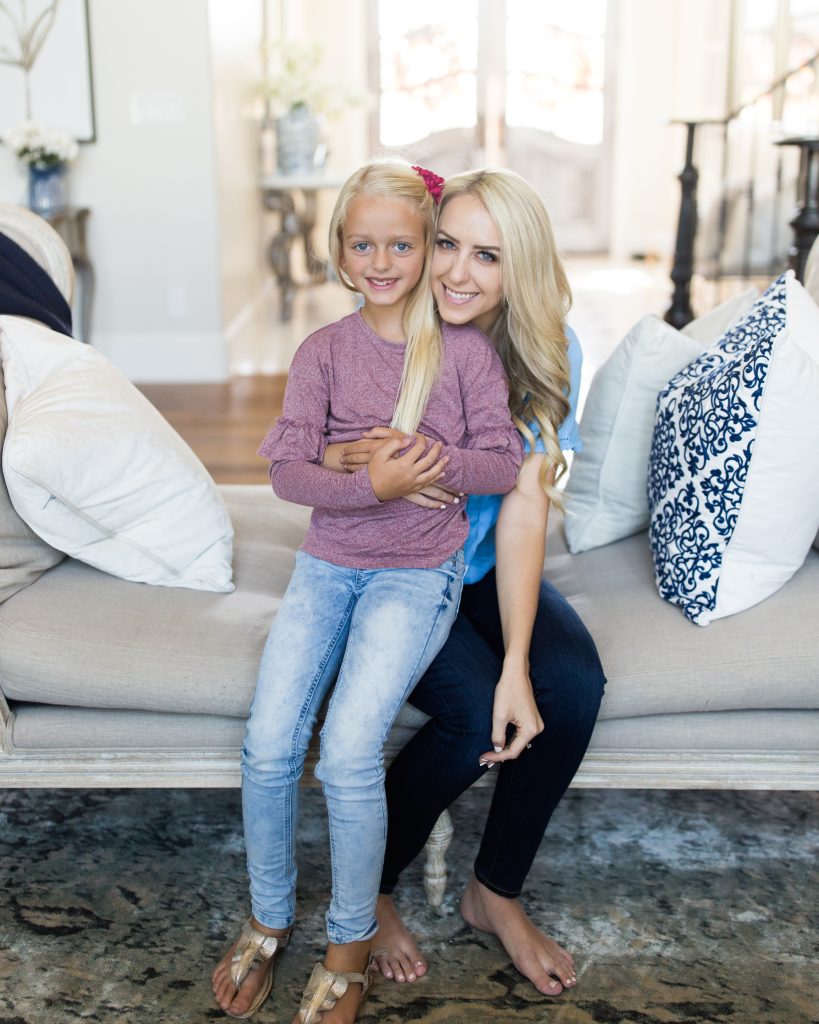 Remember, attention to detail is key when planning a bridal shower. From the venue and invitations to the tablescapes and menu, each element should be thoughtfully designed to enhance the overall ambiance.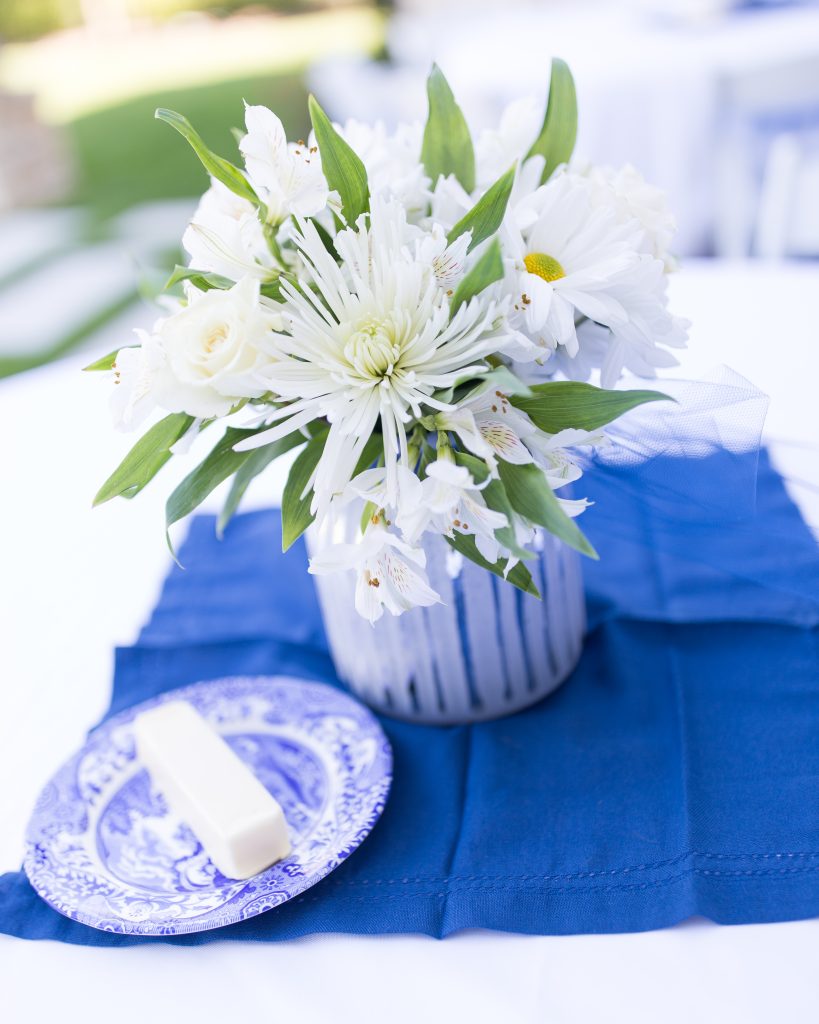 I loved creating this blue ombre themed bridal shower that truly captures the essence of love and celebrates the upcoming union in the most magical way.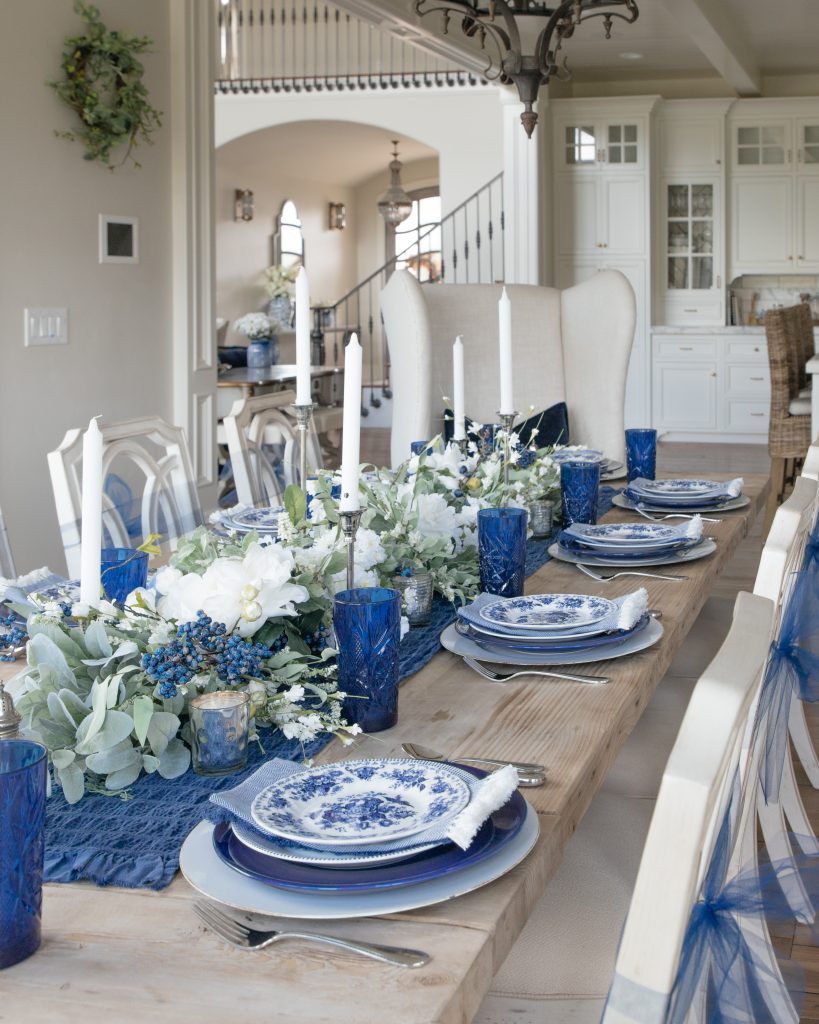 Whether you're the bride-to-be or the friend entrusted with planning the bridal shower, embracing the beauty of a blue ombre theme will ensure an extraordinary celebration that leaves everyone in awe.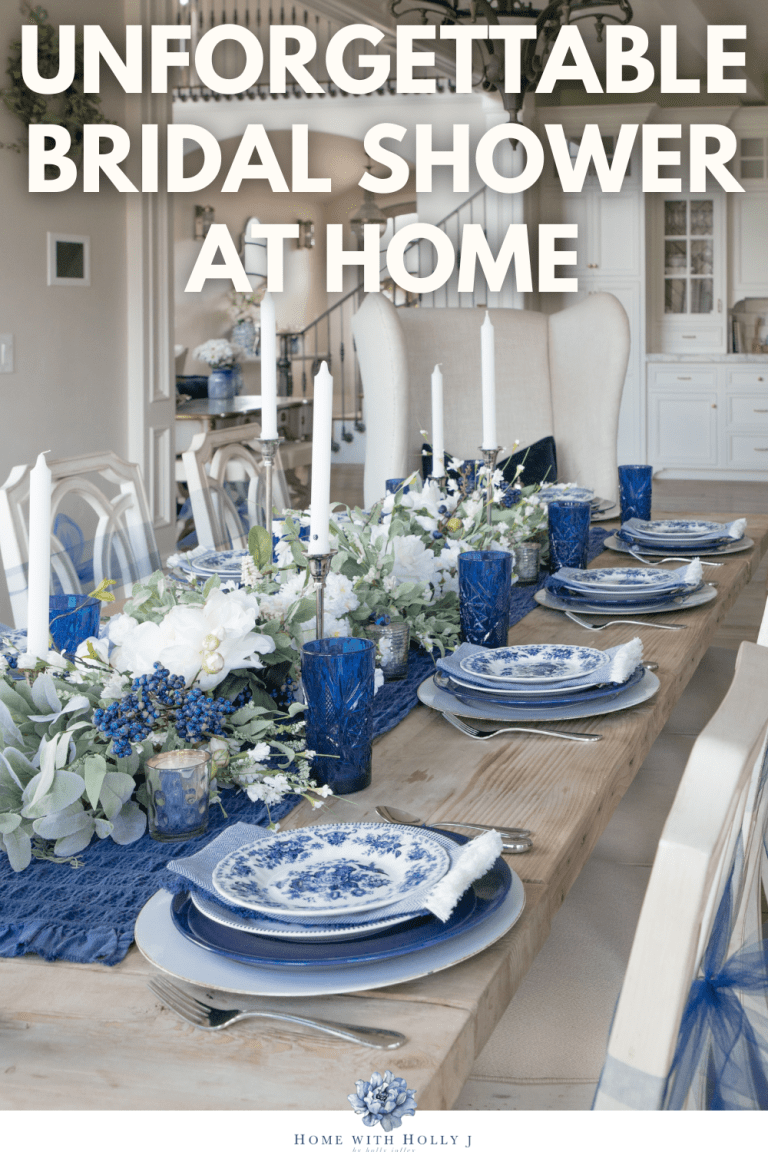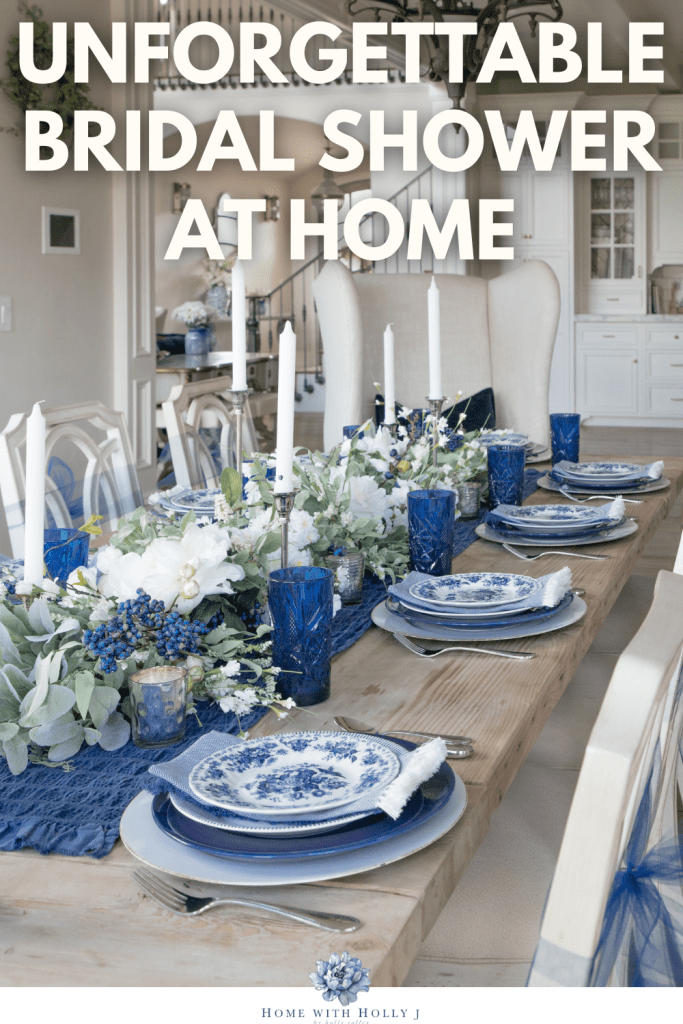 I hope you enjoyed seeing all the details of this unforgettable bridal shower ideas at home post. I love hosting a party and making yummy homemade food for everyone. This day was so much fun and I can't wait to host another bridal shower in the near future! Thanks so much for stopping by!
xoxo,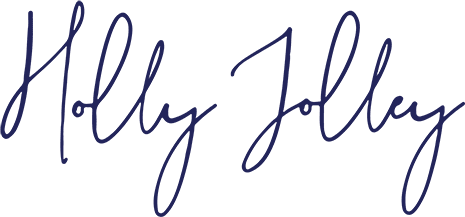 Shop the Look

Pin this Post for Later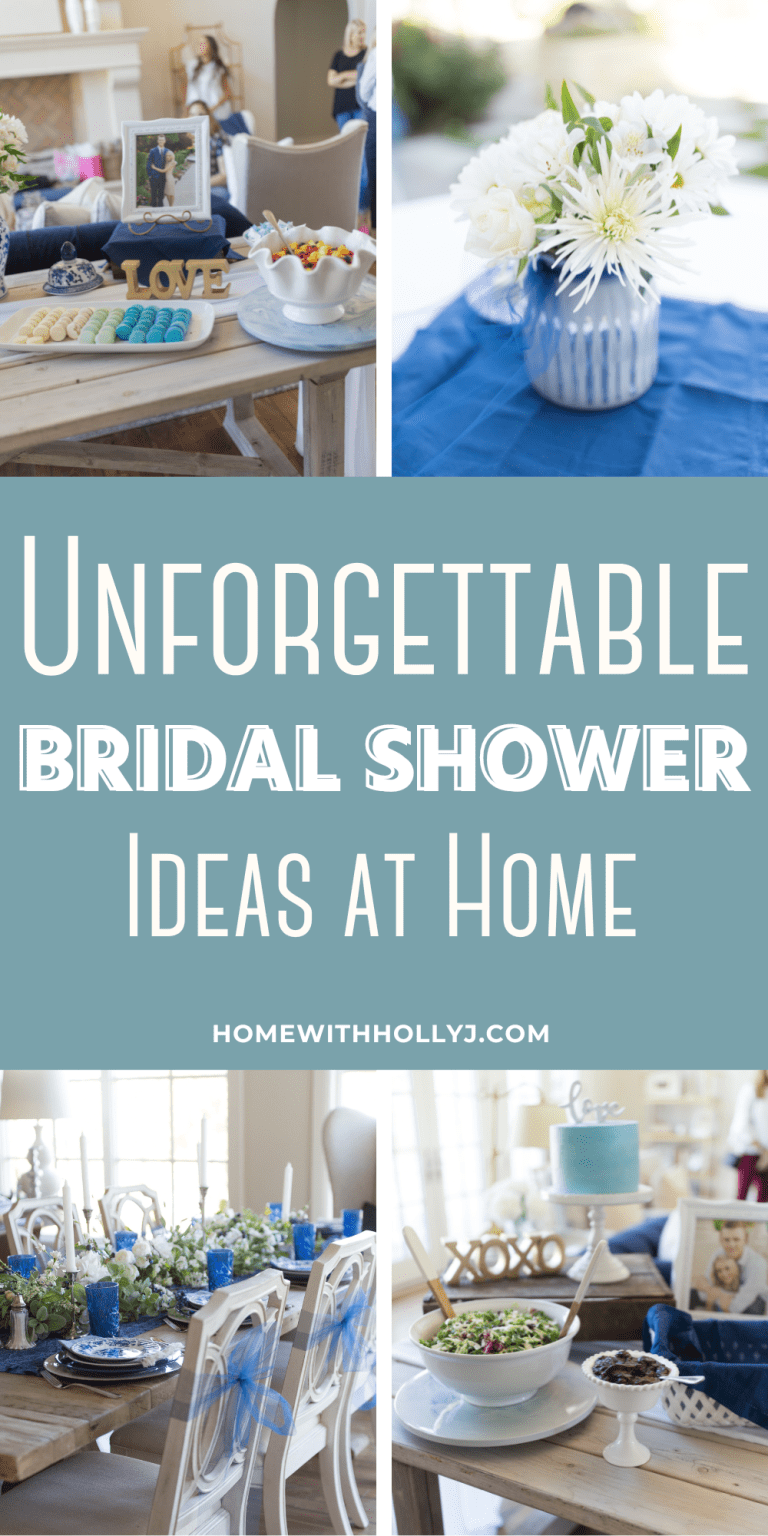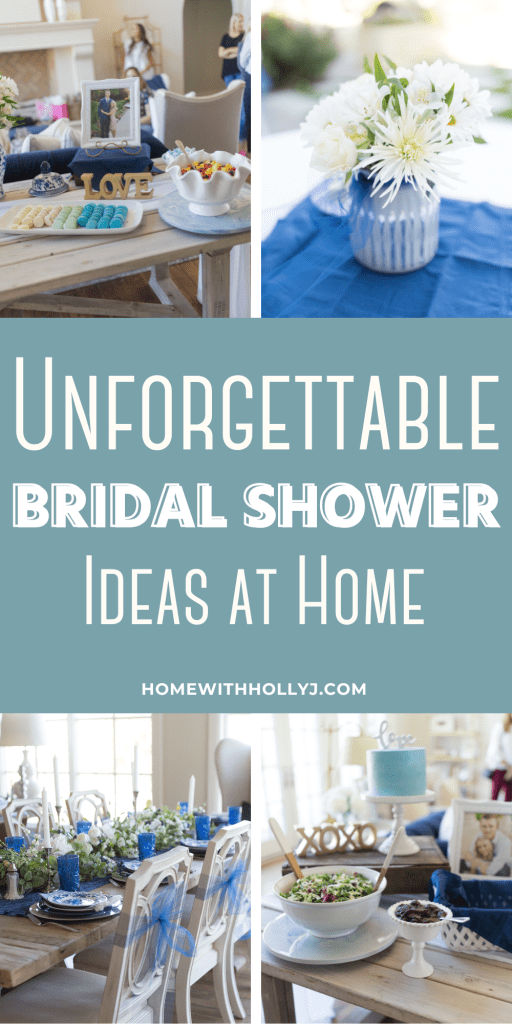 If you liked this post you'll want to check out this Jungle Themed Baby Shower. I hosted this baby shower for the same friend featured in this bridal shower post! So fun to see her little family grow!