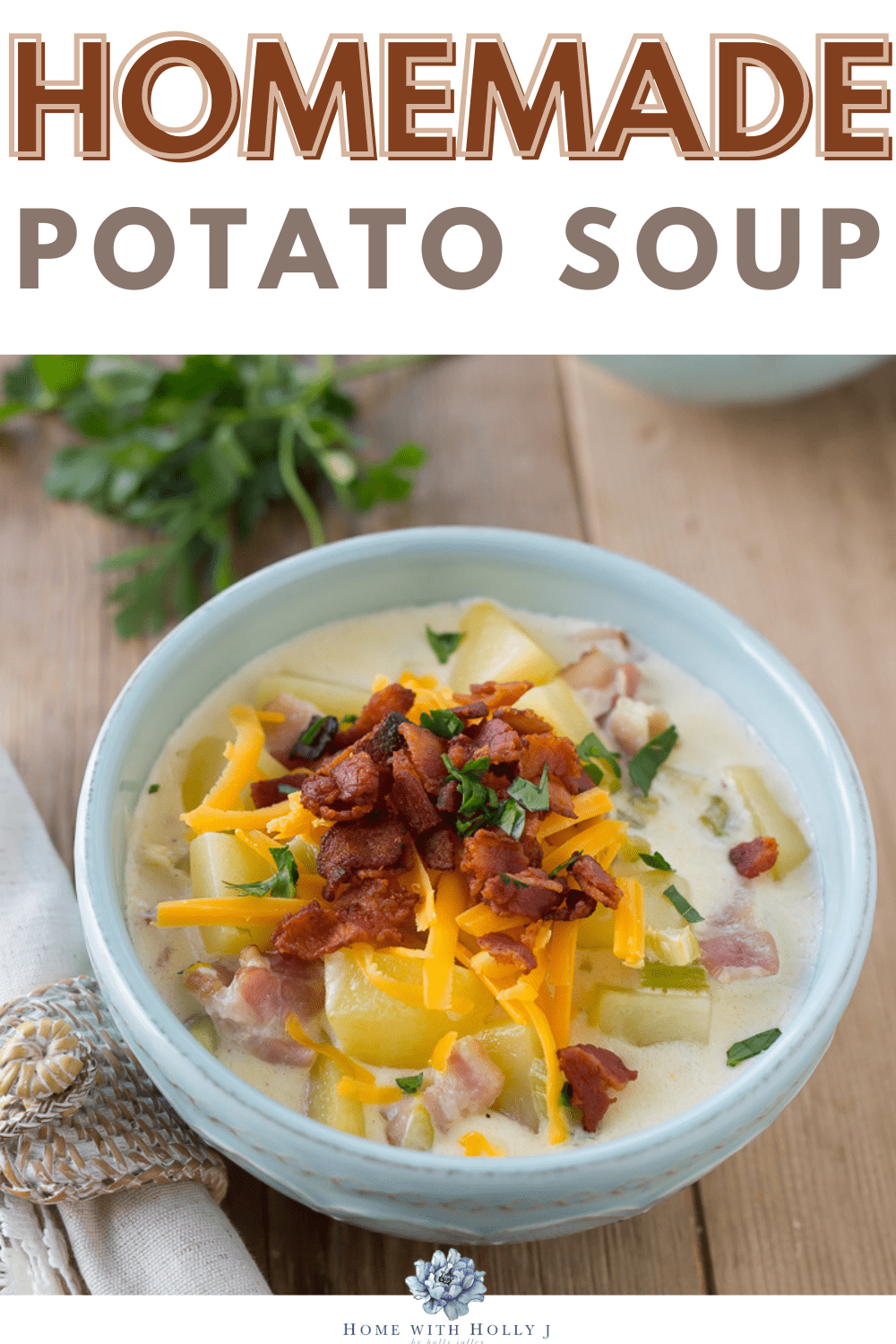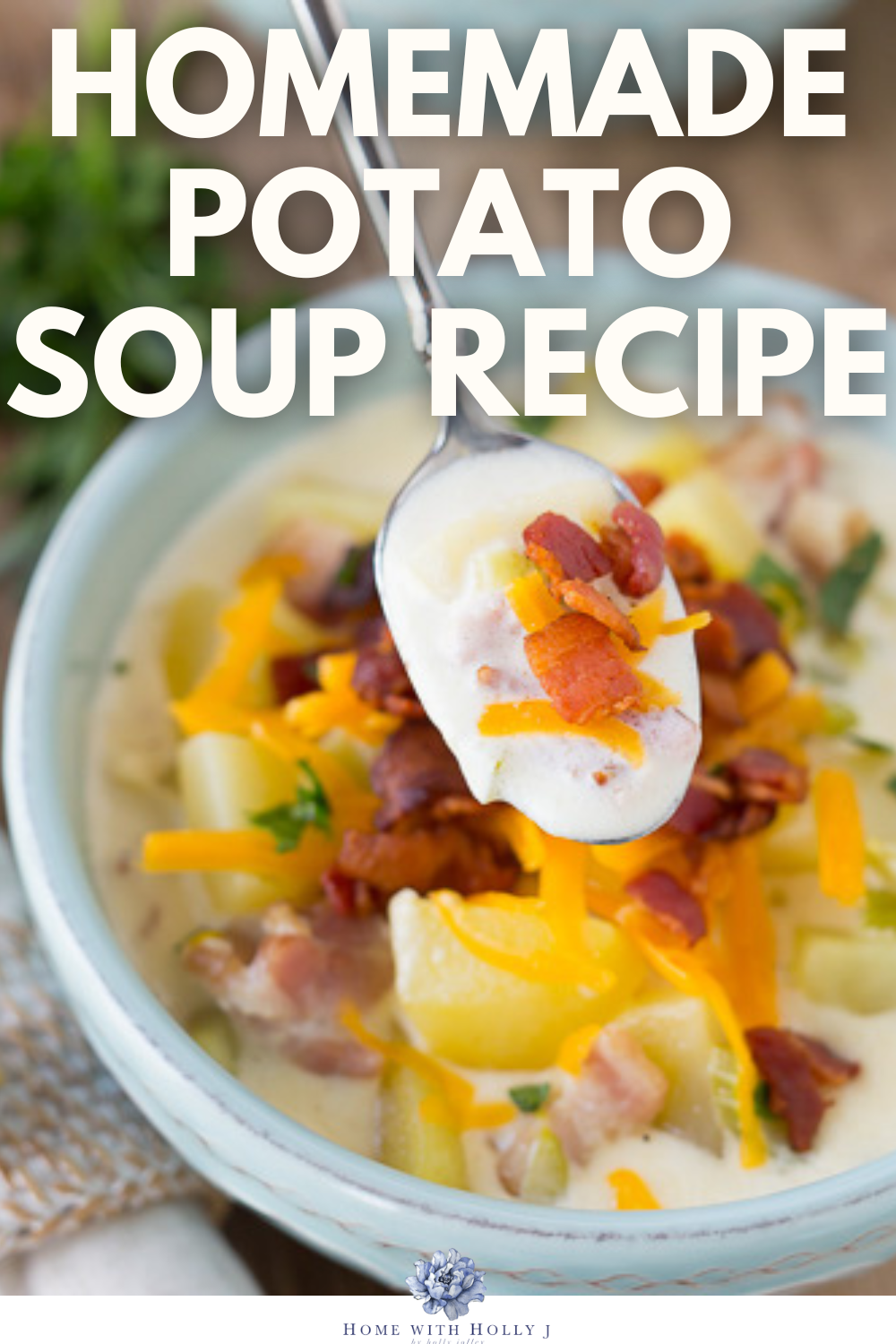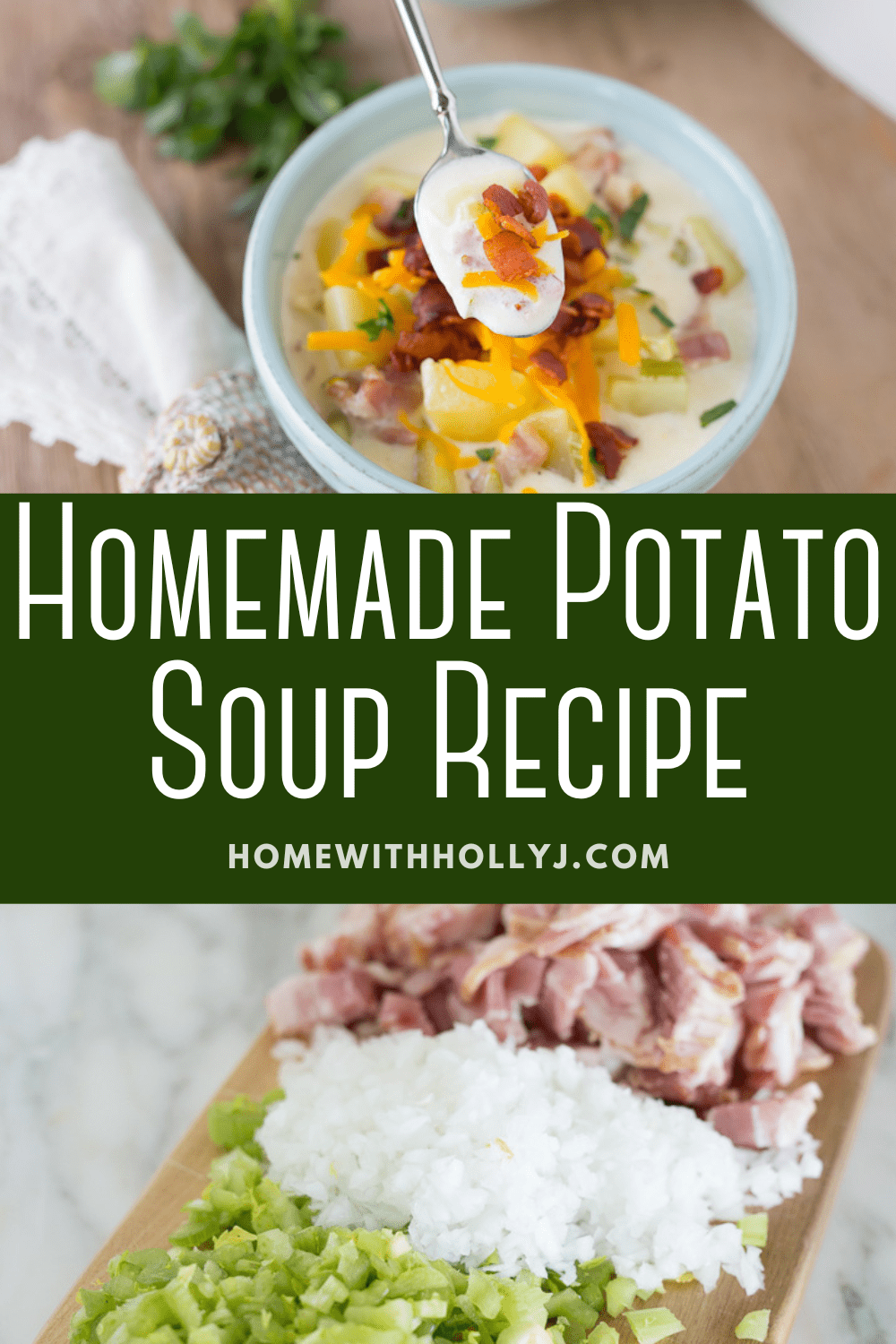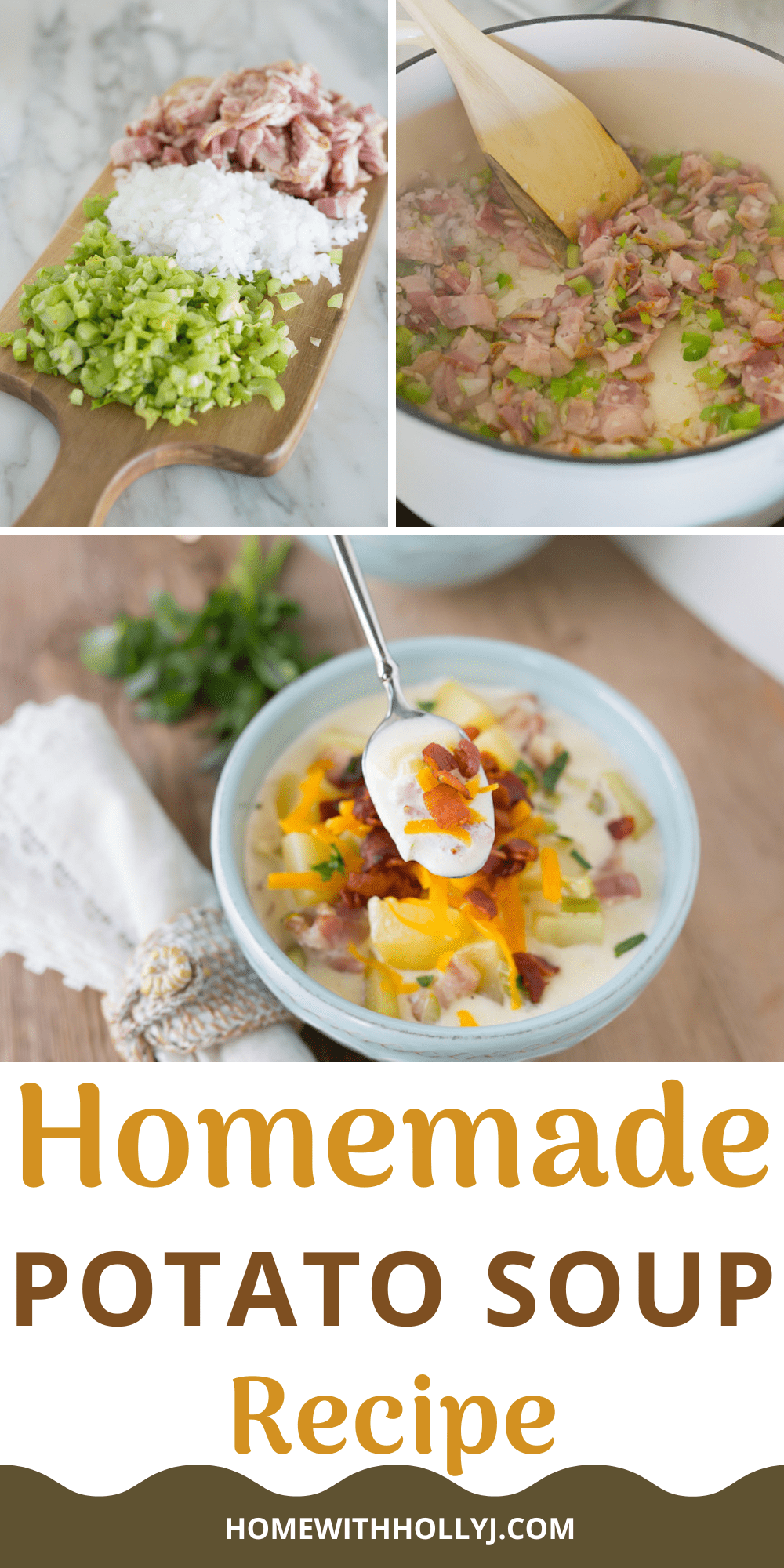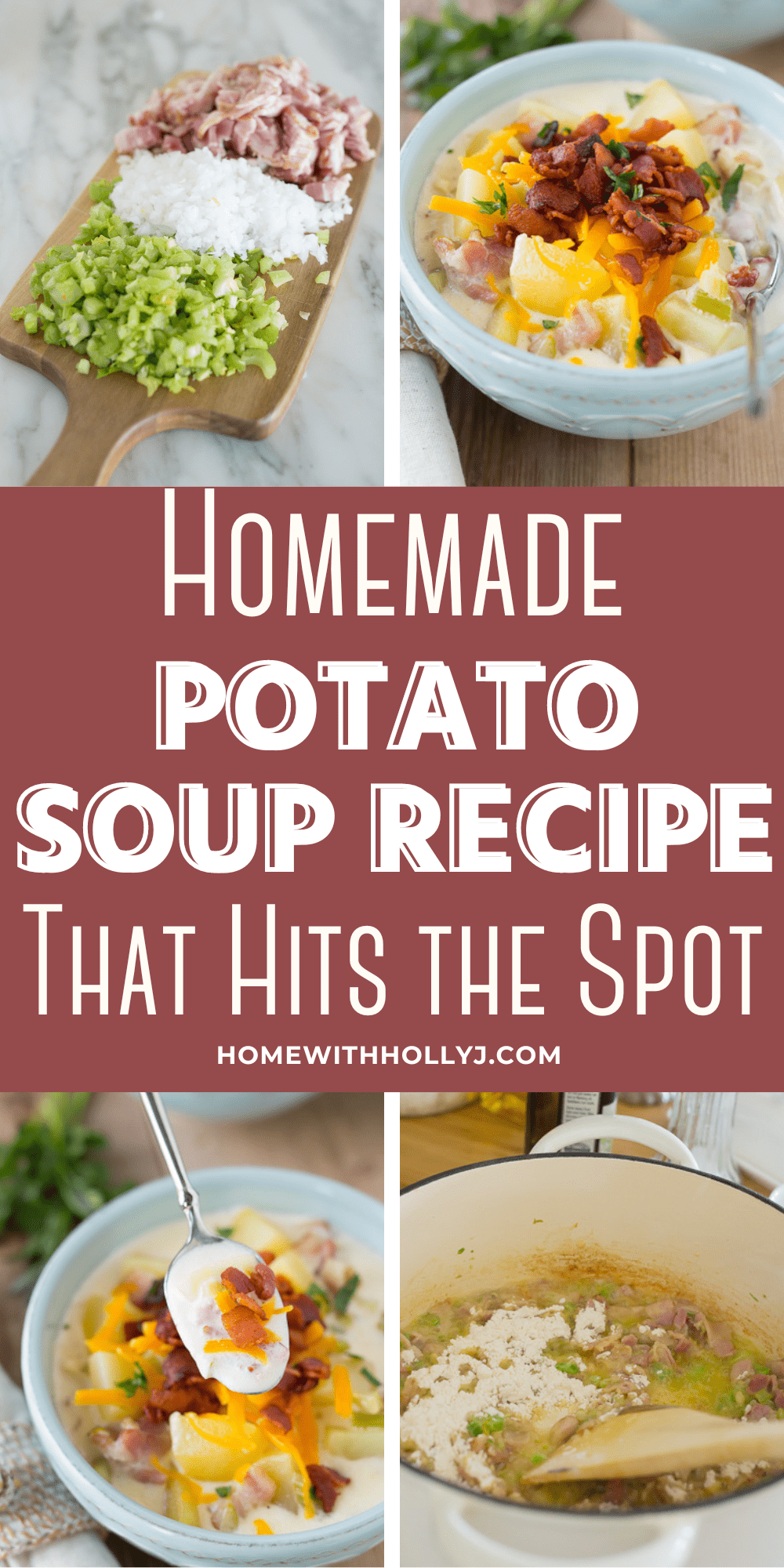 Today I'm sharing another family favorite! My Homemade Potato Soup Recipe is so delicious and filling and it always hits the spot no matter the time of year! I promise you're going to love this soup recipe!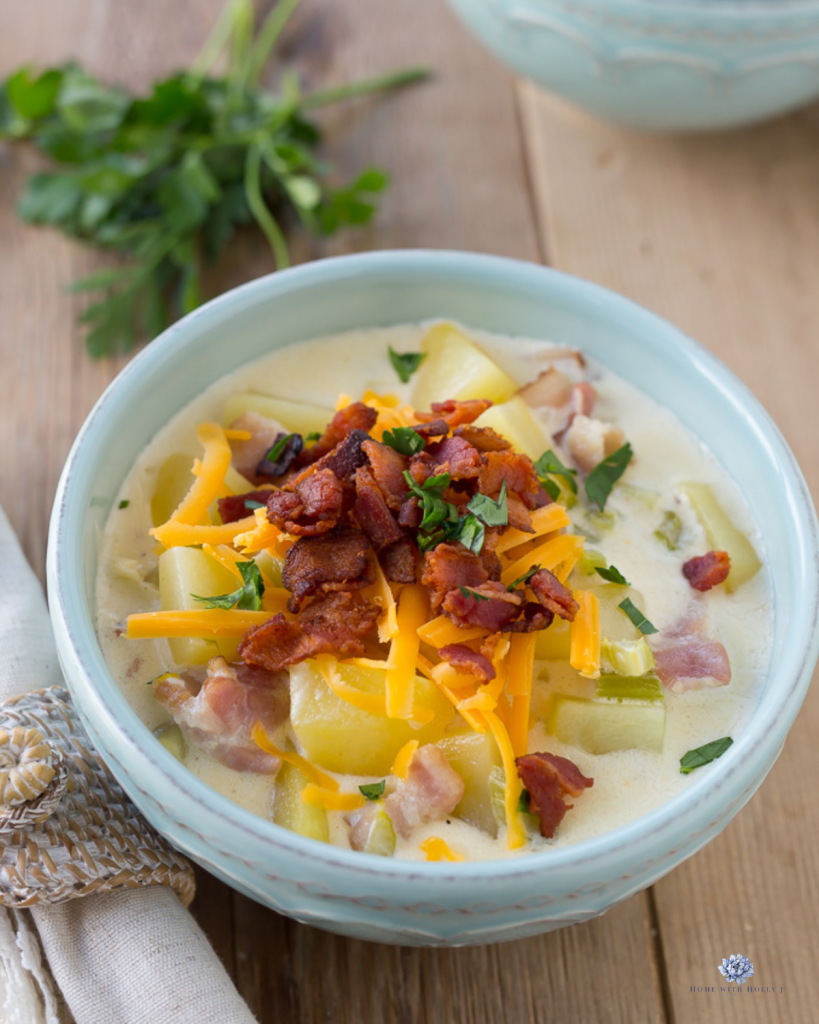 Today, we're diving into a classic comfort food that warms the soul and is perfect for any time or year. My homemade potato soup is a creamy and hearty dish that is perfect for any occasion, whether it's a chilly winter night, a simple family dinner, or luncheon.
Disclaimer: This post does include affiliate links for your convenience. This is at NO additional cost to you but earns me a small commission. To read more, check out our disclosure policy.
Homemade Potato Soup Recipe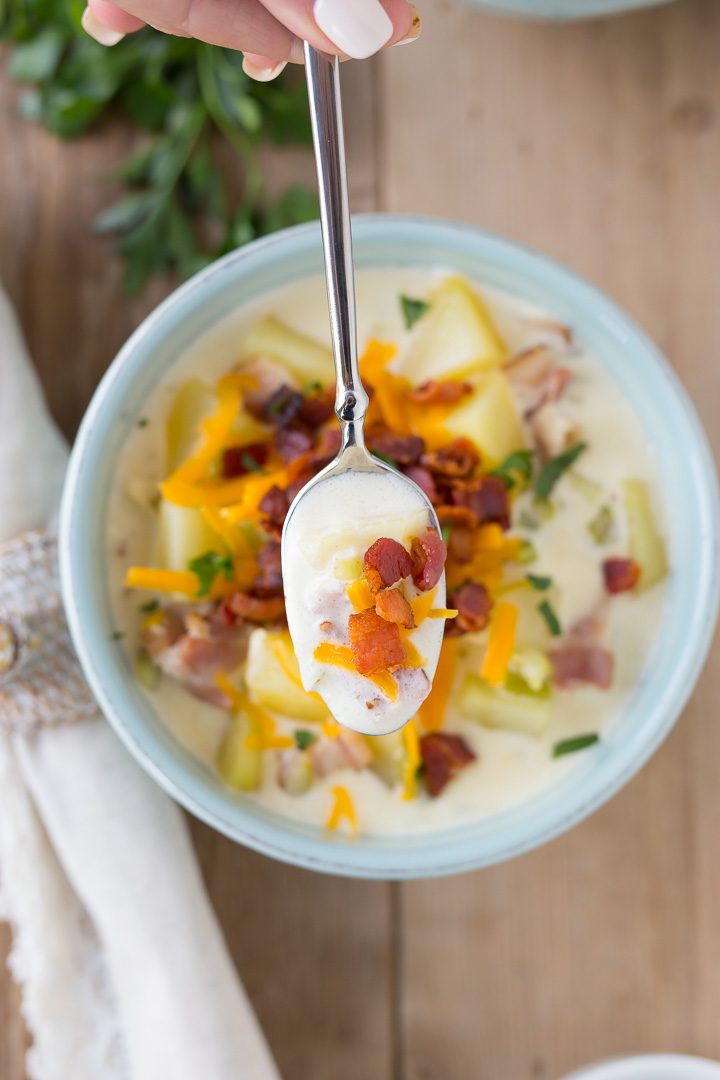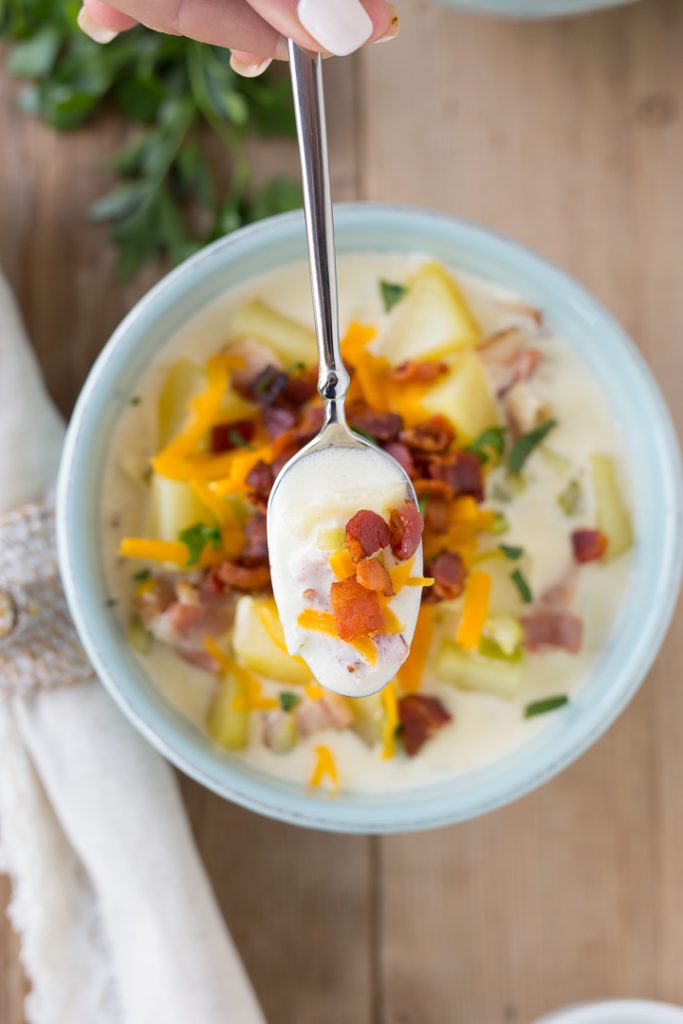 Potato soup is a timeless recipe that has been passed down through generations. It's a dish that can be customized to suit your taste and preferences, and it's also a fantastic way to use up those extra potatoes in your pantry. With just a handful of simple ingredients, you can create a delicious and satisfying bowl of homemade goodness.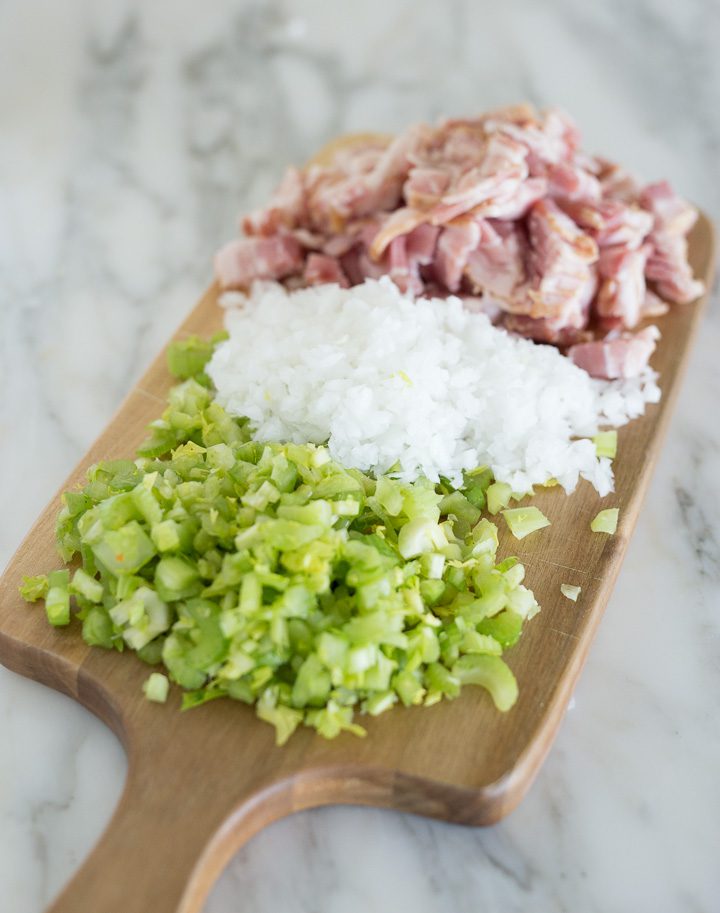 Here's a link to my favorite chopper! I can't live without this amazing kitchen gadget!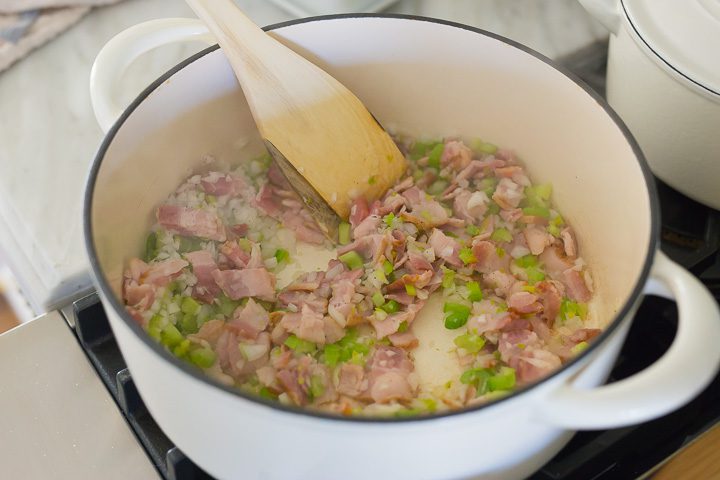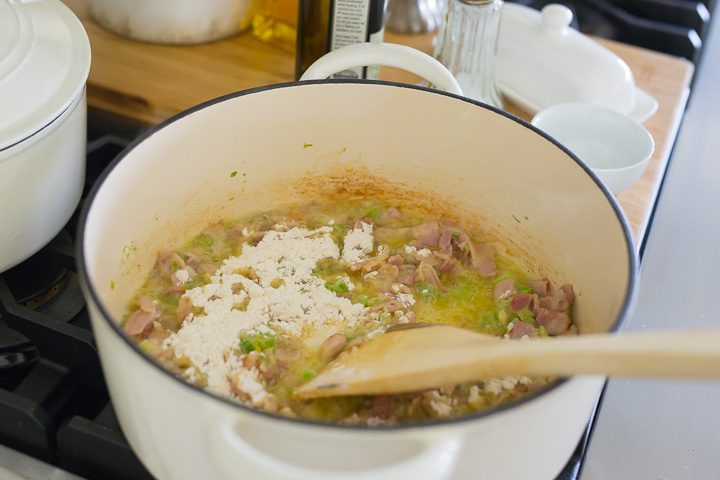 Now For the Recipe
Homemade Potato Soup Recipe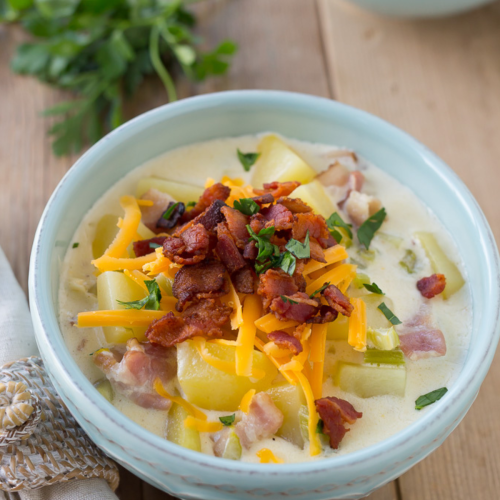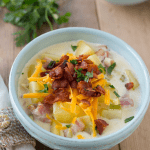 Homemade Potato Soup
This homemade classic potato soup recipe is so creamy and delicious. It's the perfect comfort food for any time of the year, I love making this for a potluck or luncheon and when the cooler temperatures in fall arrive.
Ingredients
4

large

potatoes peeled and diced

1

small

white onion finely chopped

3

stalks

celery, diced into small pieces

1

package

bacon, chopped into ¼ inch pieces

½

cup

butter (one cube)

⅔

cup

flour

5

cups

chicken or vegetable broth

2

cups

heavy cream

2

cups

milk (Whole Milk or 2%)

2

tsp

salt to taste (may need more)

1

tsp

pepper (to taste)

1

tsp

onion salt

1

tsp

Johnnys Seasoning Salt (or any seasoning salt)

1-2

cups

grated cheddar cheese (to your liking)

1

bunch

green onions for garnish. (optional)
Instructions
Peel and dice 4 large potatoes into one inch pieces and set aside in cold water. I like to use Yukon Gold potatoes but any potato will do! Grab the largest ones you can find. Then, chop up the onions, celery, and bacon.

In a large pot or enameled cast iron pan, melt the butter on medium heat and add in the onions and celery. Stir frequently and sauté for about 3-4 minutes. Then add in half of the chopped up bacon. Sauté for another 5-6 minutes until the onions and celery start to get a little soft. Add in the salt and pepper.

Add in the flour and cook for about 1-2 minutes until the flour is well combined with the bacon, onions, and celery, cook until it starts to bubble up. This allows the flour to cook a bit and gets rid of the flour taste.

Add in the chicken or vegetable stock and stir until all the flour mixture and vegetables are well combined. Add in the diced potatoes and the onion salt and seasoning salt. Bring to a simmer and let cook for 5-10 minutes until the potatoes become almost fork tender.

While the soup is coming to a simmer, add the remaining bacon to a small frying pan and cook the rest of the bacon pieces until crispy to use as a topping and grate the cheddar cheese if you are not using already shredded cheese.

Add in the milk and heavy cream and stir frequently over medium heat until the soup starts to thicken up. Be sure to use a spatula to stir gently and scrape the bottom after adding the milk and cream. Once this is added you want to make sure that the milk and cream do not scorch on the bottom of the pan. Keep the temp around medium to medium low.

Give the soup a taste to see if you need to add more salt or pepper. The chicken or vegetable stock has salt in it as well as the bacon so add more to your preferred taste if needed.

If for some reason, the soup is too thick once it's done, add in a little more heavy cream or milk to thin it out to your liking. If it is too runny and not thick enough, take 1/4 cup of butter and melt it in a small sauce pan then add in 1/4 cup of flour and stir until the the lumps are gone and and starts to bubble. Once this is done, add it into the soup and gently stir until it's mixed into the soup well and continue to cook over medium to medium low until it thickens further. This should help it to thicken up a bit.

Serve in bowls and garnish with the cheese, crispy bacon pieces, and green onions.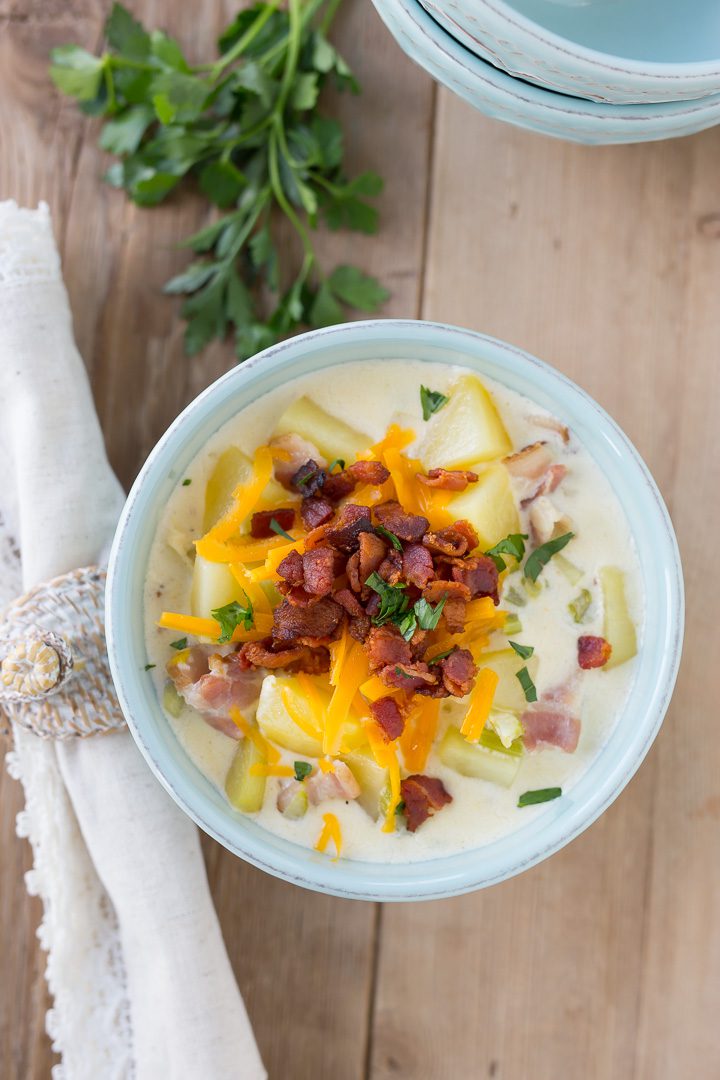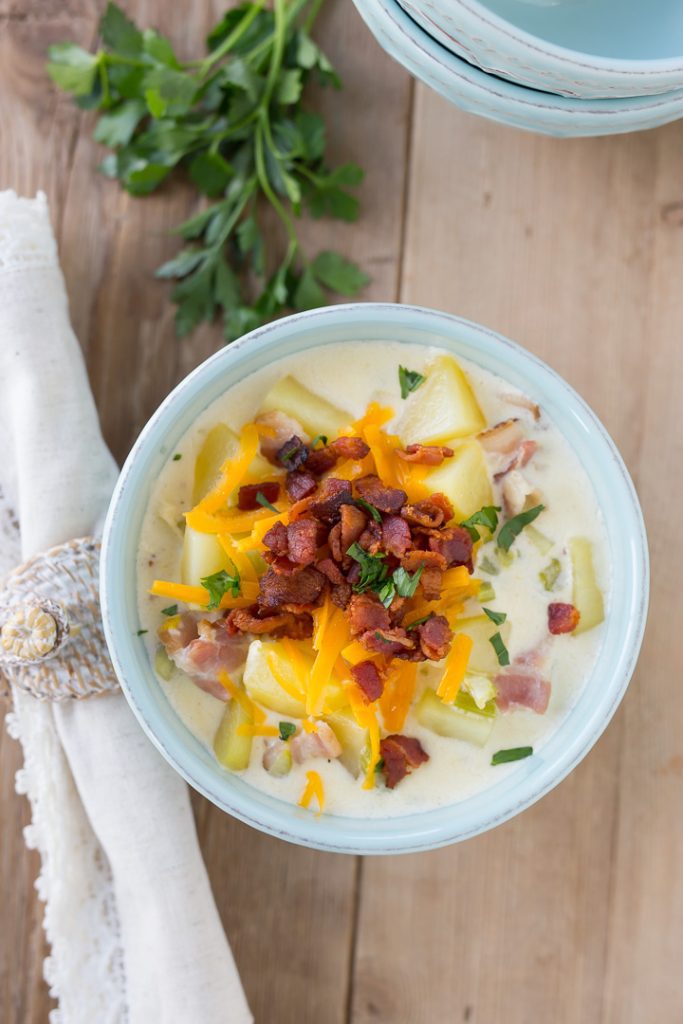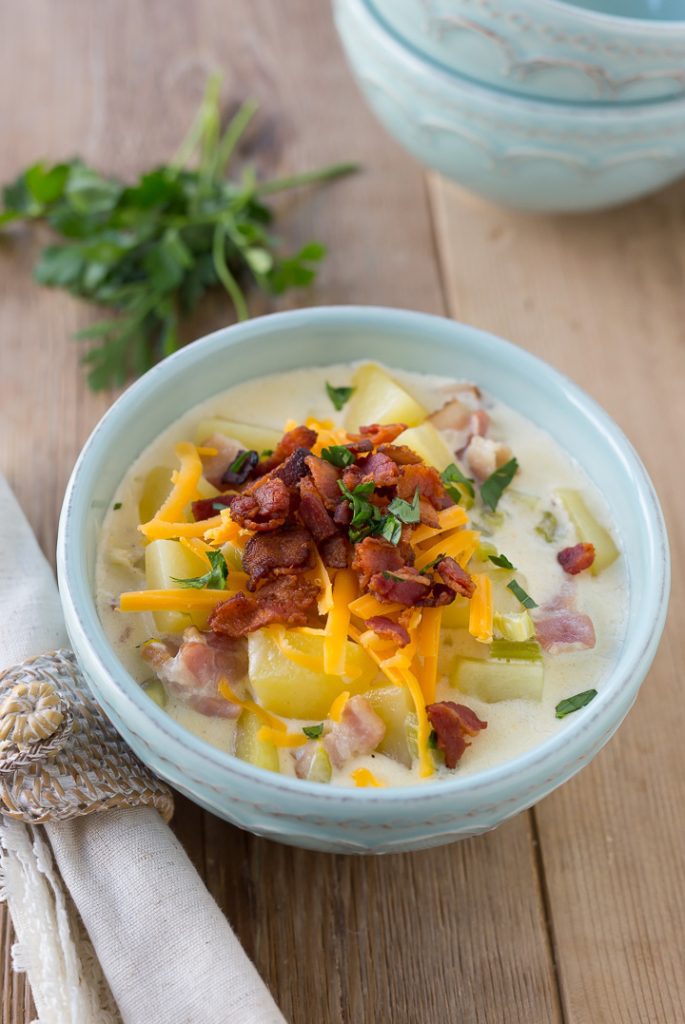 Now, sit back and savor the comforting aroma that fills your kitchen. Each spoonful of this homemade potato soup will wrap you in a warm embrace of flavors and memories. This recipe is comfort food at it's finest!
Remember, cooking is an art, and each dish is a reflection of the love and care we put into it. So, take the time to enjoy the process, experiment with flavors, and make this potato soup your own. From my kitchen to yours, happy cooking!
Enjoy!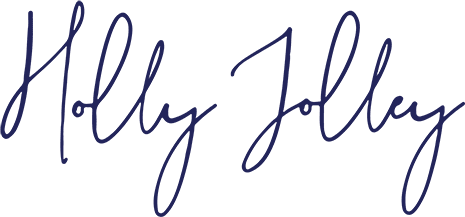 Unforgettable Bridal Shower Ideas: I made this soup recipe and my Homemade Chicken Noodle Soup and Homemade Rolls for this Bridal Shower. Click to see each post!
Pin this Post for Later