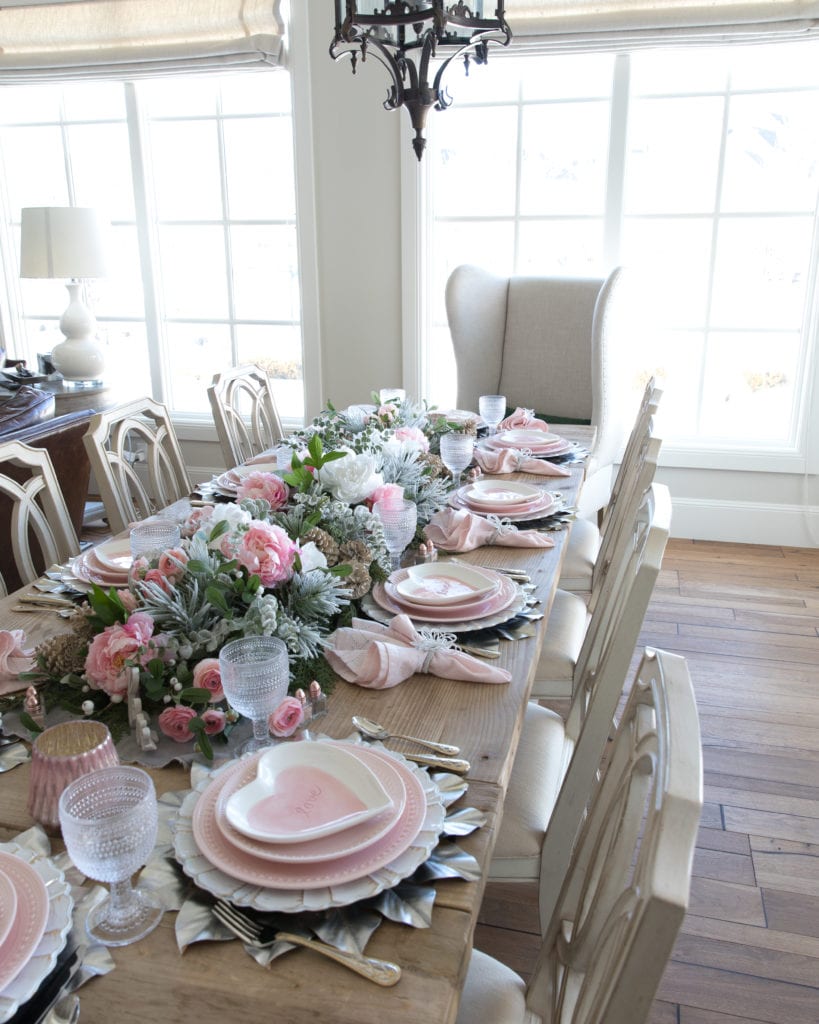 How to Mix Valentines Day Decorations into your Winter Decor
This past holiday season I decorated our Highland, Utah house with different shades of green and ivory. When I was taking down all the Christmas decorations, I decided to leave up the more neutral decorations that would double as my winter decor. I always enjoy decorating for each season and I think Winter is often overlooked! When I think of Winter colors, I think of green, silver, white, and gold. Now that it's time for Valentines Day, I decided to keep it simple and add in some pink decorations for valentines day. I'm excited to share with you how simple and easy it is to mixing valentines day and winter decor.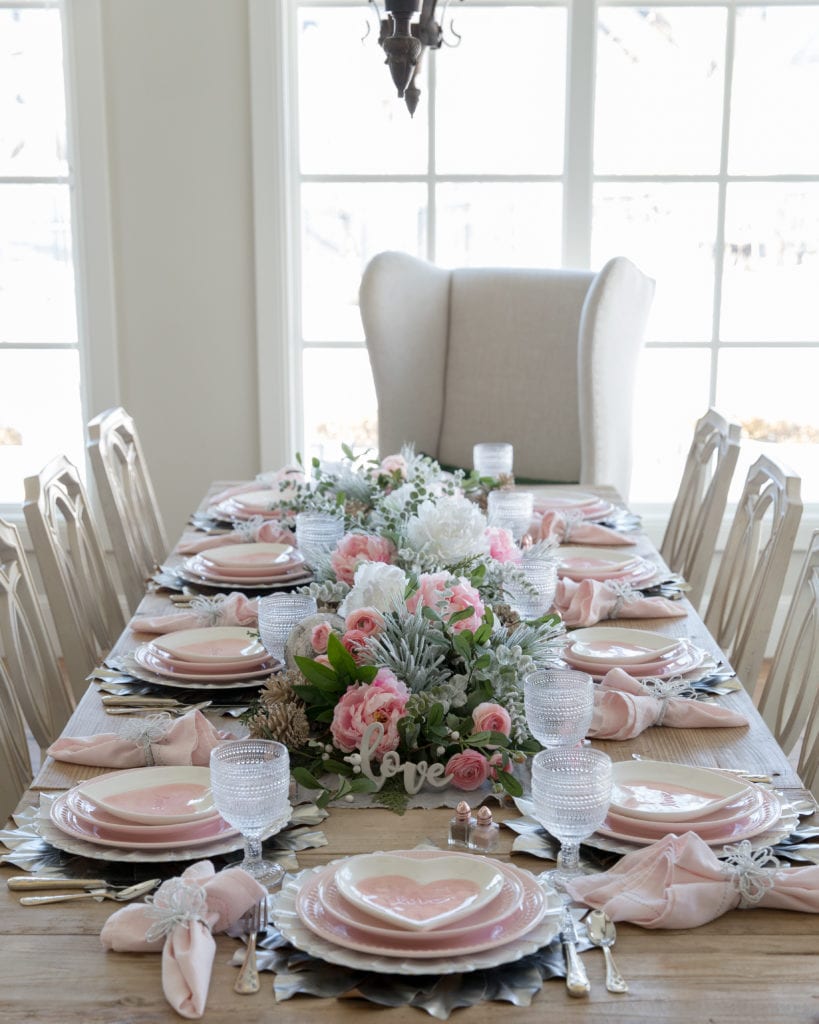 The Tablescape
First and most importantly (at least to me) is the tablescape! If you've followed me for awhile, you'll know how much I love creating a Tablescapes and Valentines is always one of my favorites because I get to use pink!
Below is the Winter garland centerpiece I created out of faux cedar garland, a mix of faux greenery picks, white frosted peonies, and mistletoe stems. I made this in November and my plan was to use it for Thanksgiving, Christmas, and the Winter season. Then I had this great idea to add pink flowers to it for Valentines Day. Mixing in the pink was so easy and I just used some faux pink flowers I already had so it didn't cost me anything extra to turn this into a Valentines Day garland and tablescape.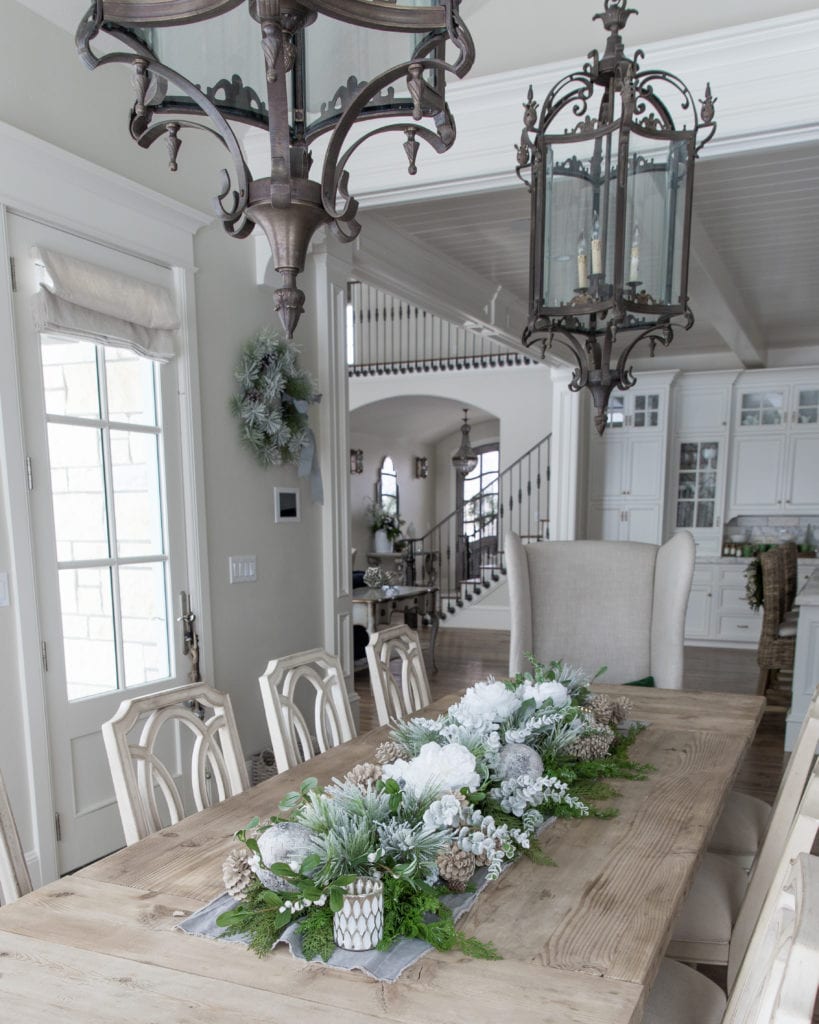 Next, lets talk about the place-setting! Once I added the pink flowers into the garland, I pulled out my pink dishes and ordered some pink heart plates I found online.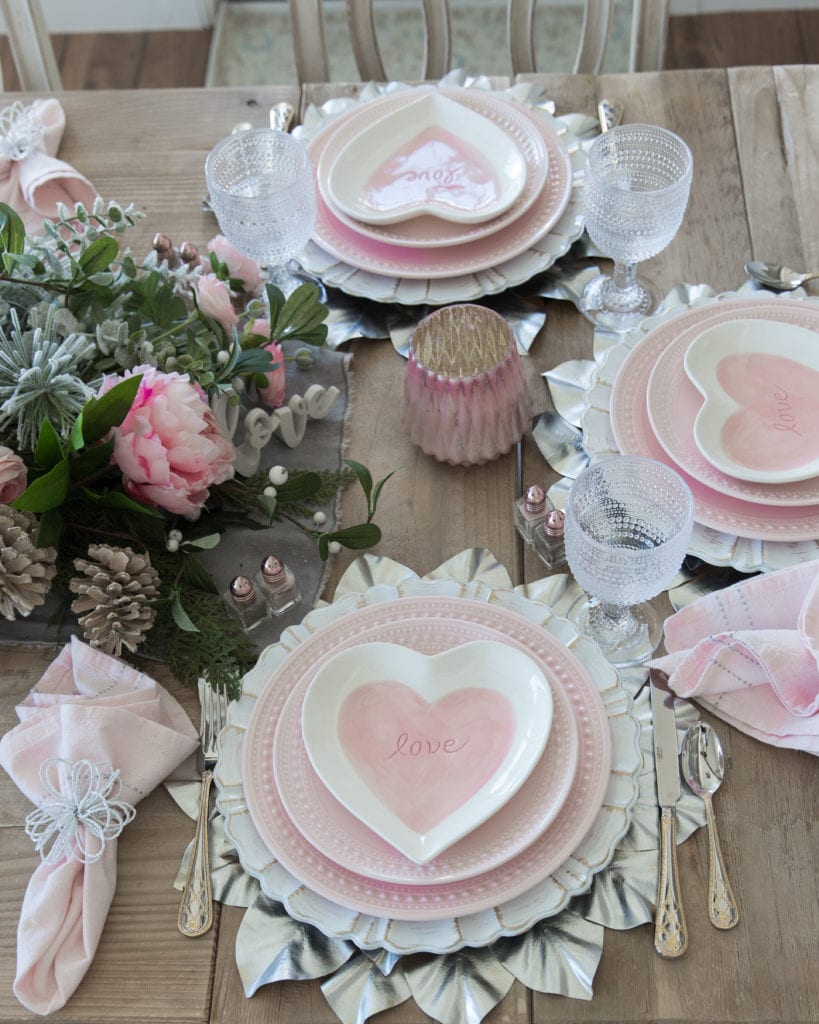 I used pink napkins and white beaded napkin rings. For the placemats, I used silver leaves which had little hints of gold brushed over the top of the leaves. I used my gold and silver flatware and goblet glasses. One extra detail I like to add to my tablescapes is individual salt and pepper shakers. Then no-one has to ask to pass the salt and pepper! These rose gold miniature salt and pepper shakers are so cute too!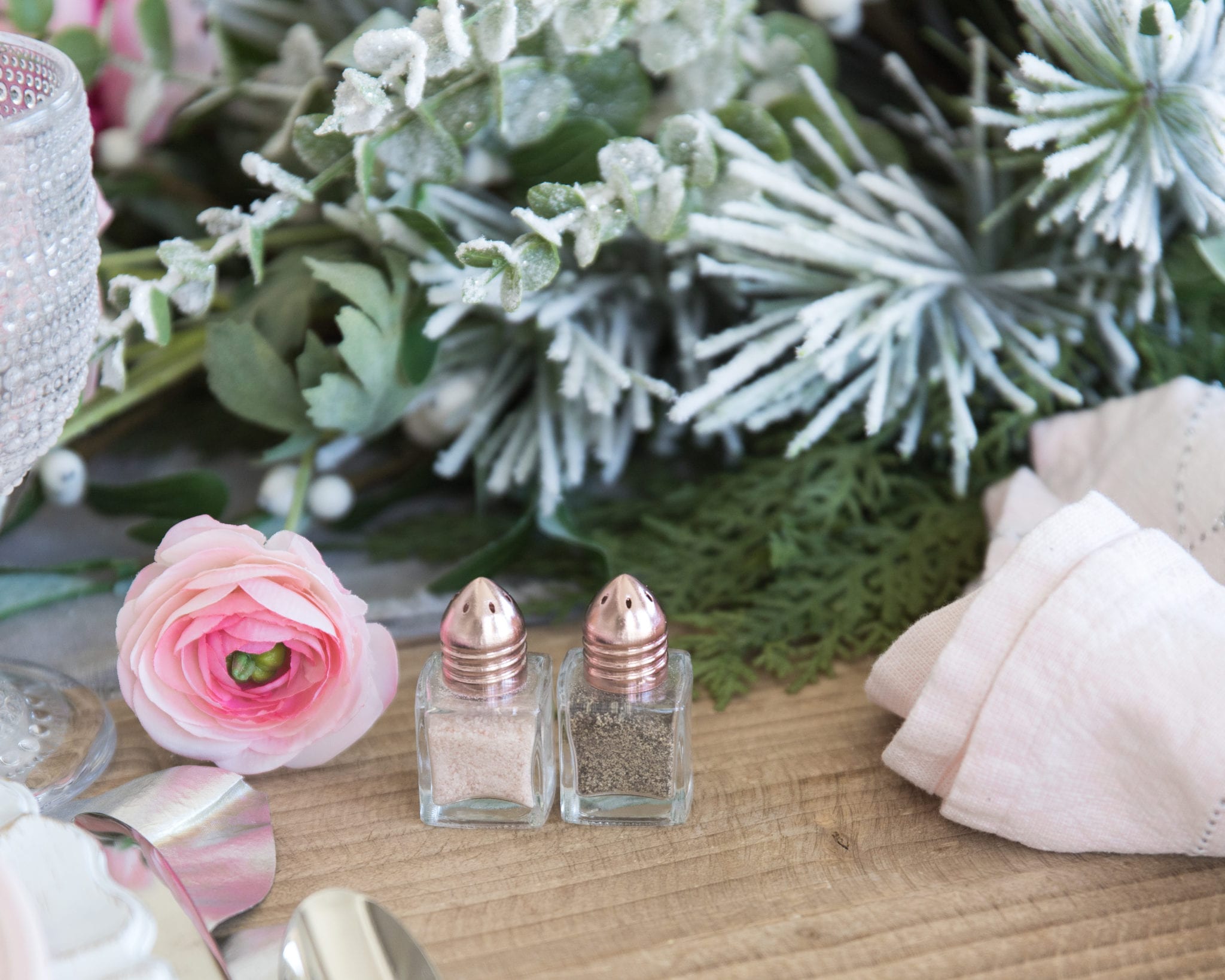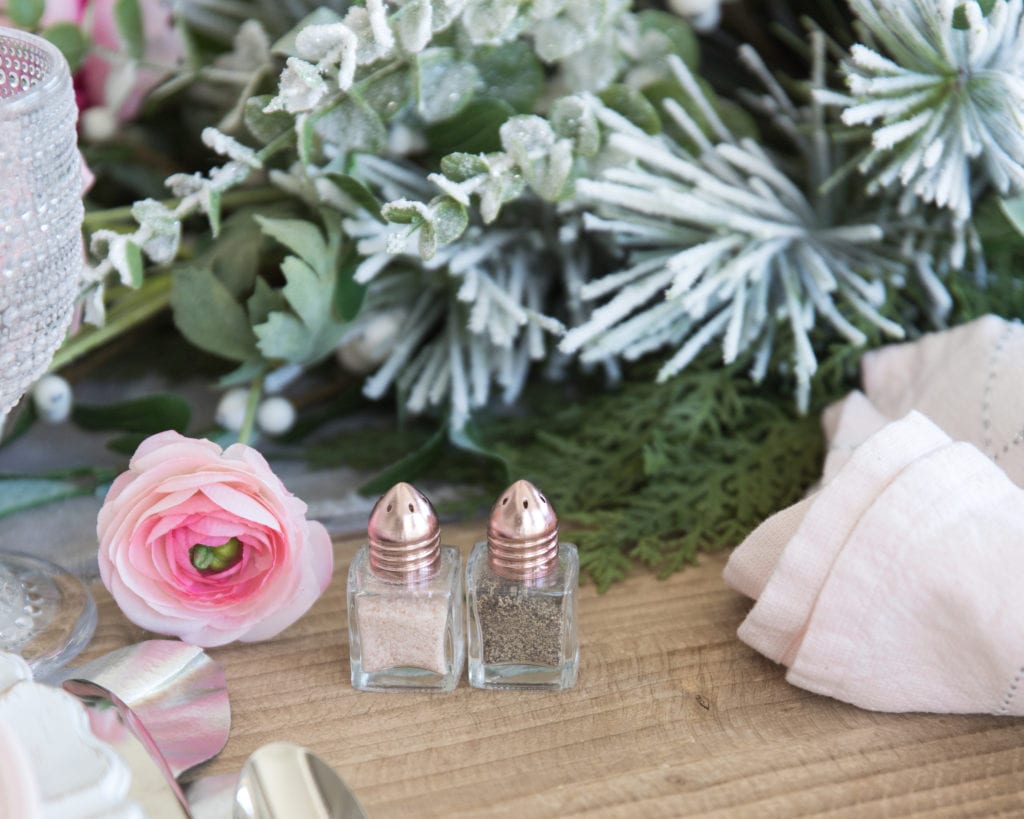 Setting a beautiful table is one of my favorite things to do and I liked how quickly I was able to set this table using things I already had. The only thing I had to purchase was the heart plates.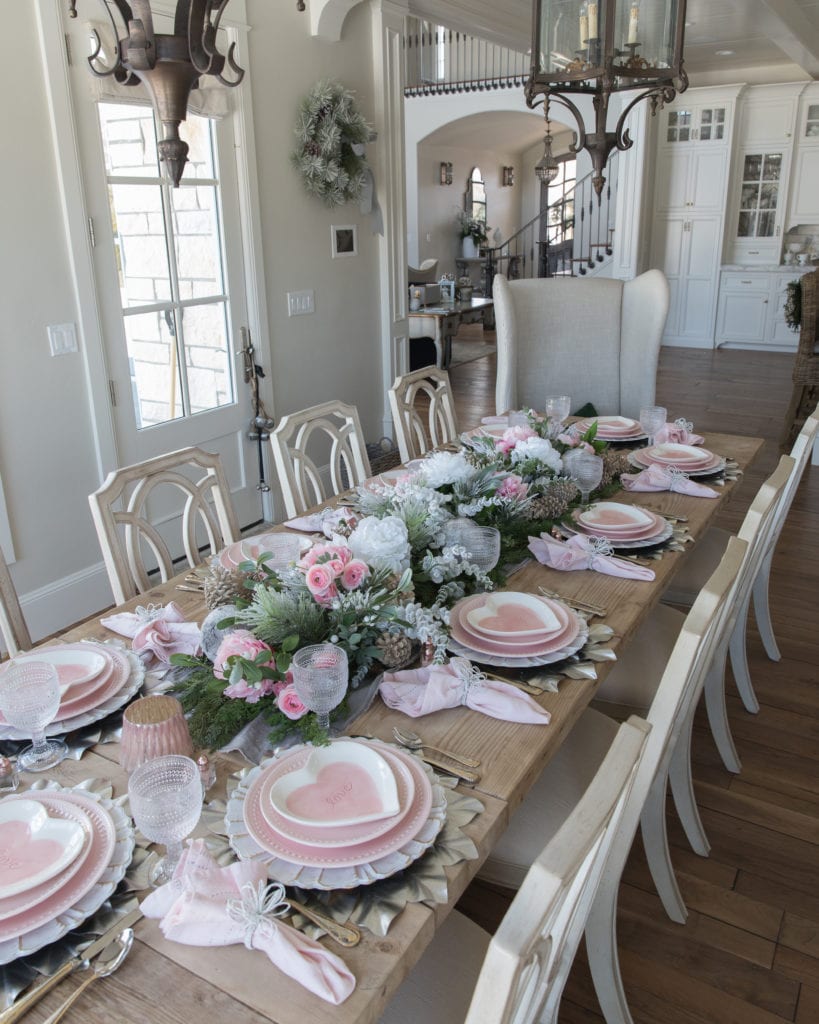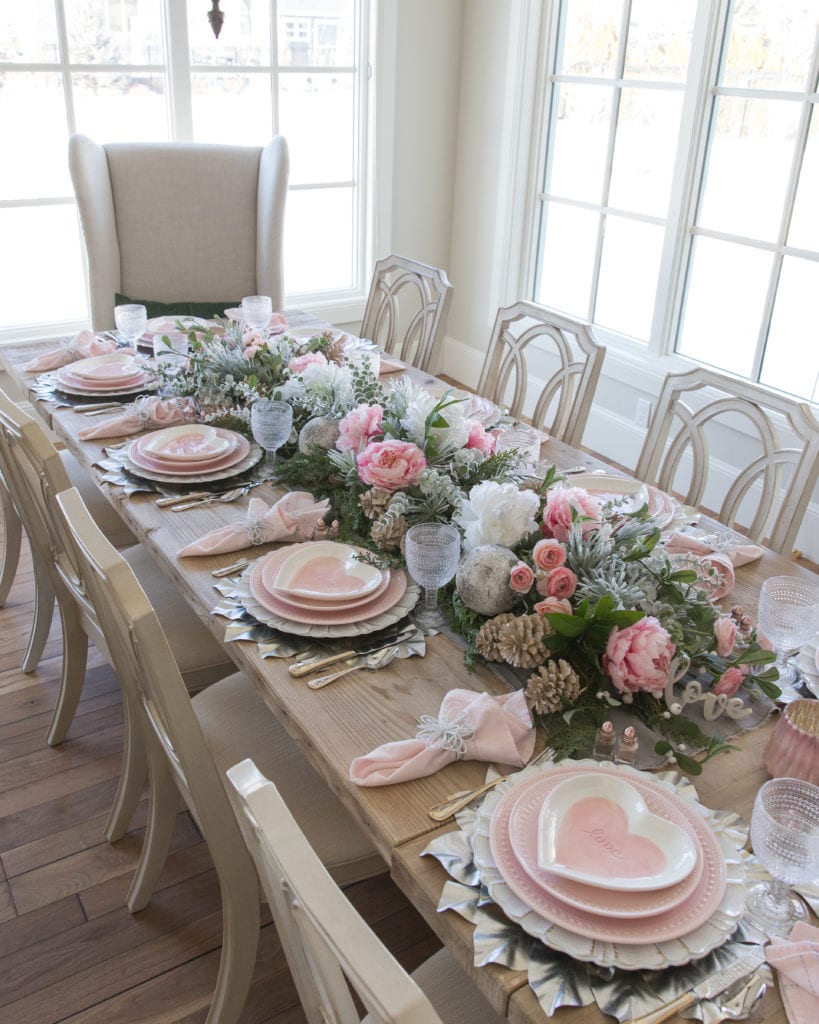 The Kitchen and Open Shelving
One thing I enjoy doing is using flowers in my home, especially the kitchen. I tend to use faux or artificial flowers when real ones are not in season and this allows me to purchase them once and use them over and over again. Adding flowers to a vase or ginger jar is a great way to bring color into any room. I like to fill a ginger jar full of pink flowers and set it on my island. This pretty pink ginger jar is from Lauren Haskell Designs and I'll link it below.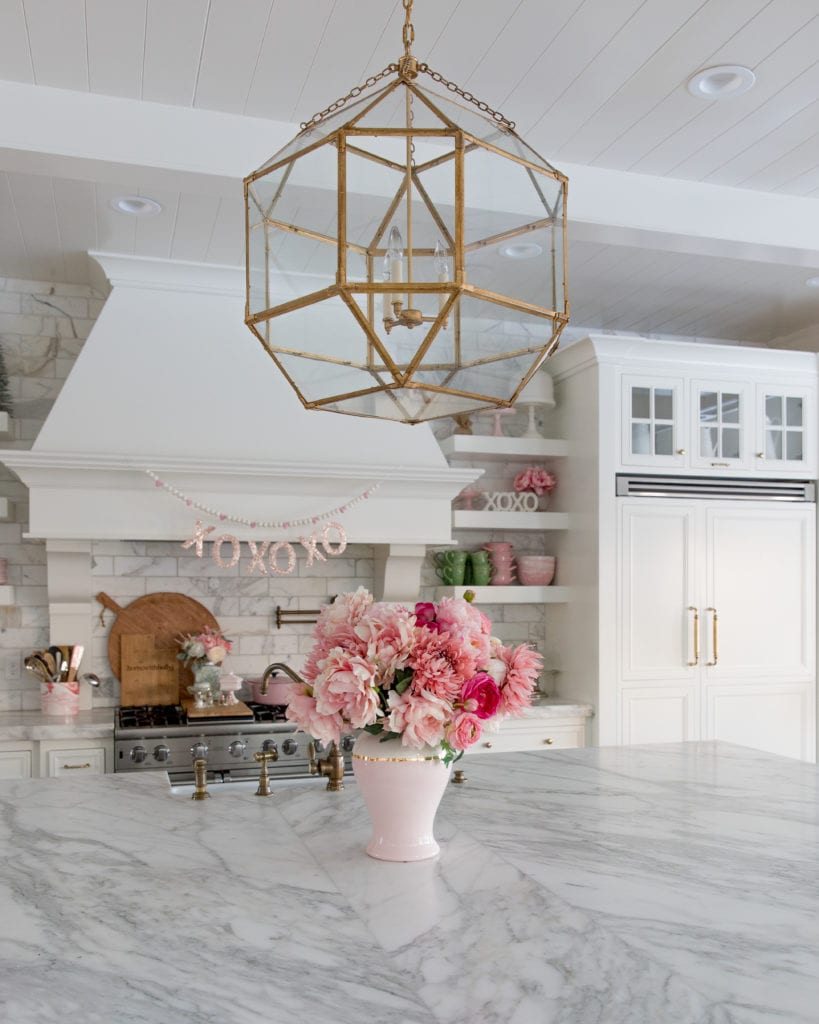 Styling the open shelves and counter tops is also something I like to do. I left up some of the winter green decor items on the open shelves and mixed in the pinks dishes, flowers, and other items to create the winter and valentines mix.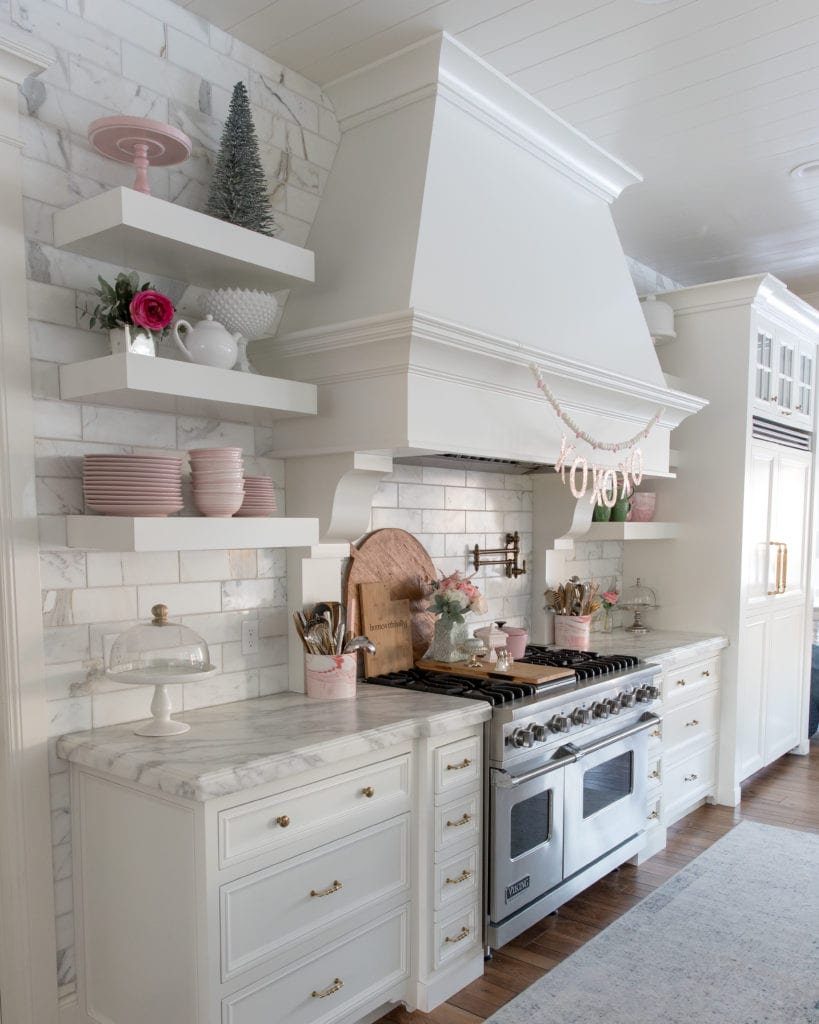 Then, I used this adorable XOXOXO valentines banner and felt ball heart garland on the range hood, ( I'll link these and everything else below). I don't know why I hadn't thought before to mix my pink and green dishes together but I love how pretty they are together.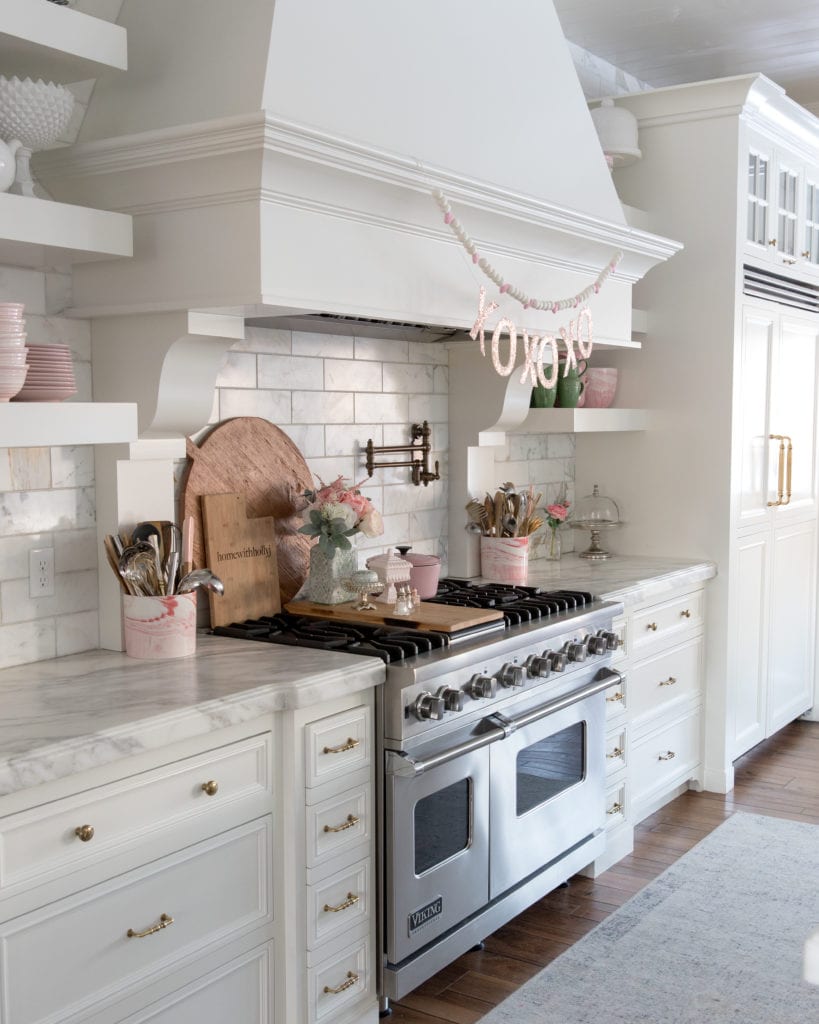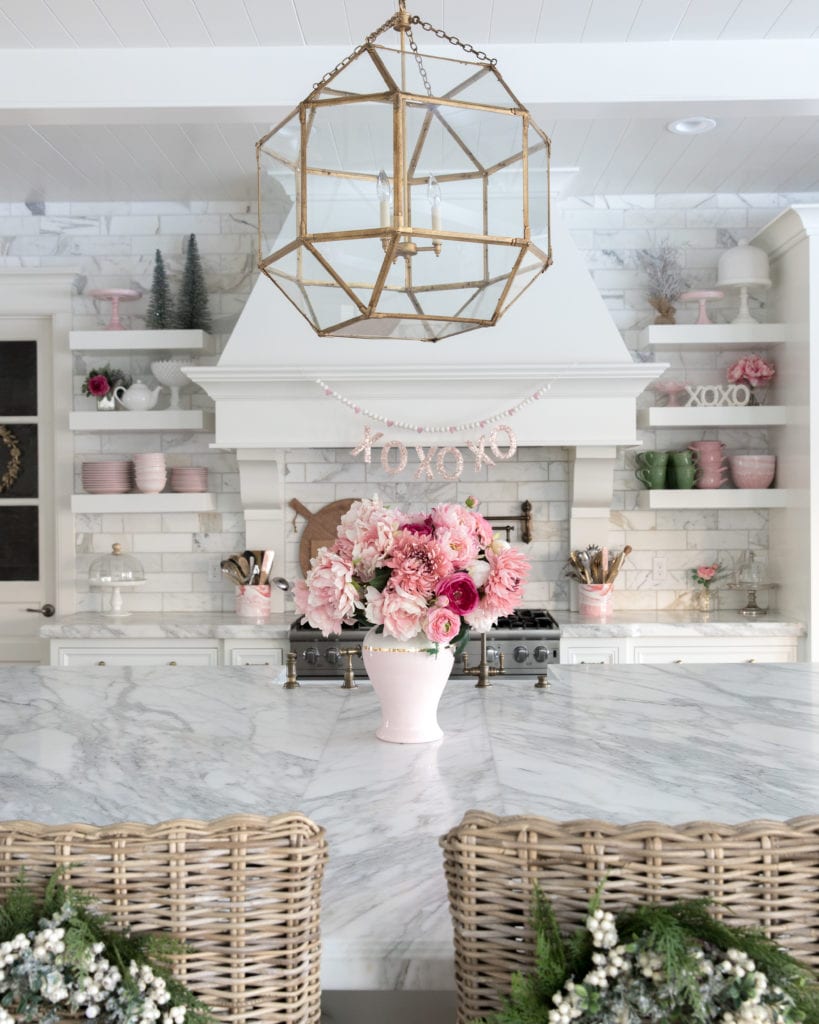 Instead of taking my winter berry and cedar wreaths off my bar stool chairs, I left them up. Such a pretty contrast to the pink flowers on the marble counters. I wish I'd had more time so I could have added a pink ribbon!
The Hot Cocoa Bar
I almost always have my hot cocoa bar set up during the cold months of the year. I enjoy changing it up with each season. I make my own hot cocoa mix (its the only recipe I don't share) and its a family favorite! Those who've had the pleasure of my hot cocoa can attest to how good it is and that's why I leave it out! Anyone who comes over can always find a cup of cocoa in my home!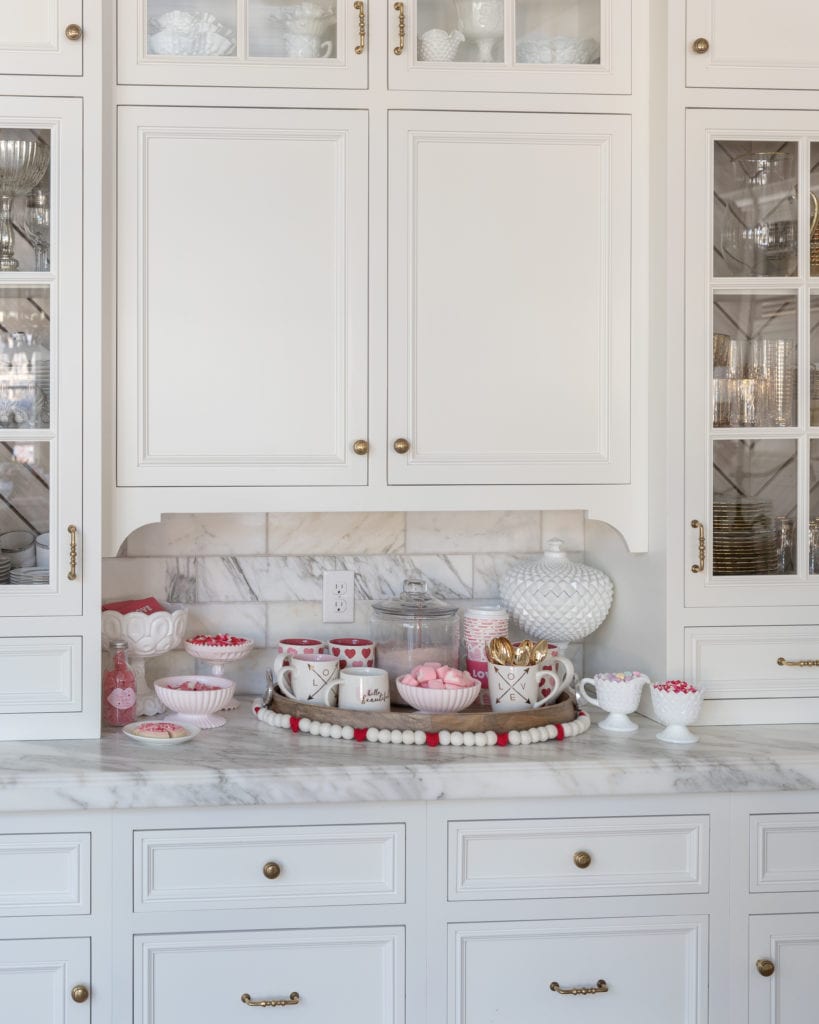 If you look toward the back of the tray where the hot cocoa jar is, you'll see these cute paper cups and lids that I set out in case anyone wants to take some on the go! The pink heart marshmallows and the cups I found at Homegoods.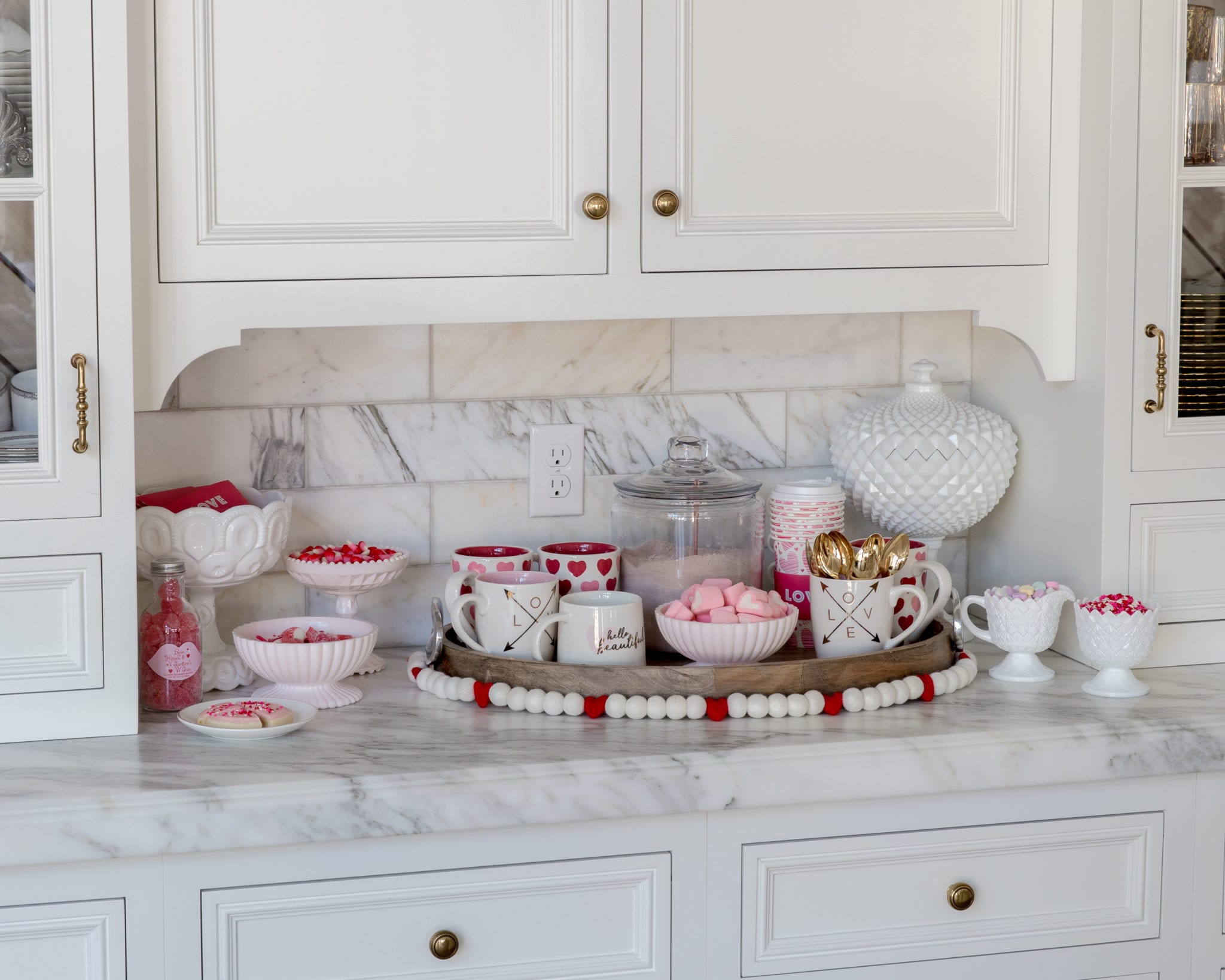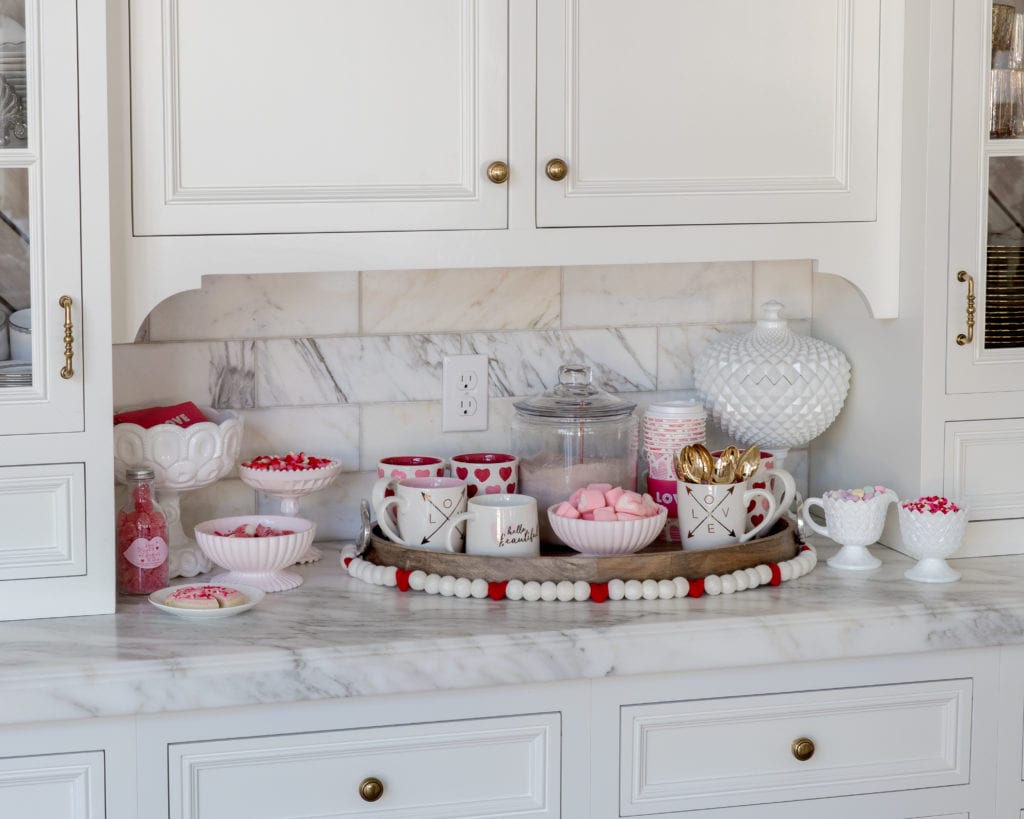 I put some valentines candy in some of my vintage milk glass bowls and wrapped a red and white heart felt garland around the tray. I collect different coffee and cocoa mugs and found so many cute ones this year at Homegoods. This is a great place to find things for your home and hot cocoa bar!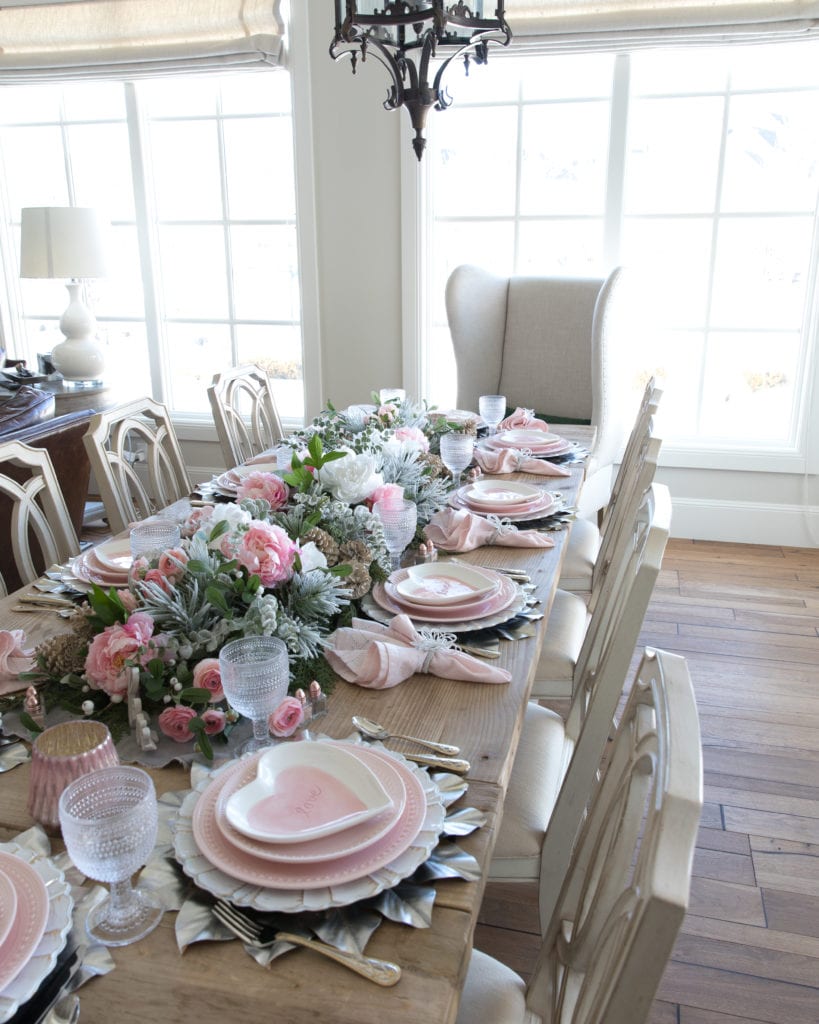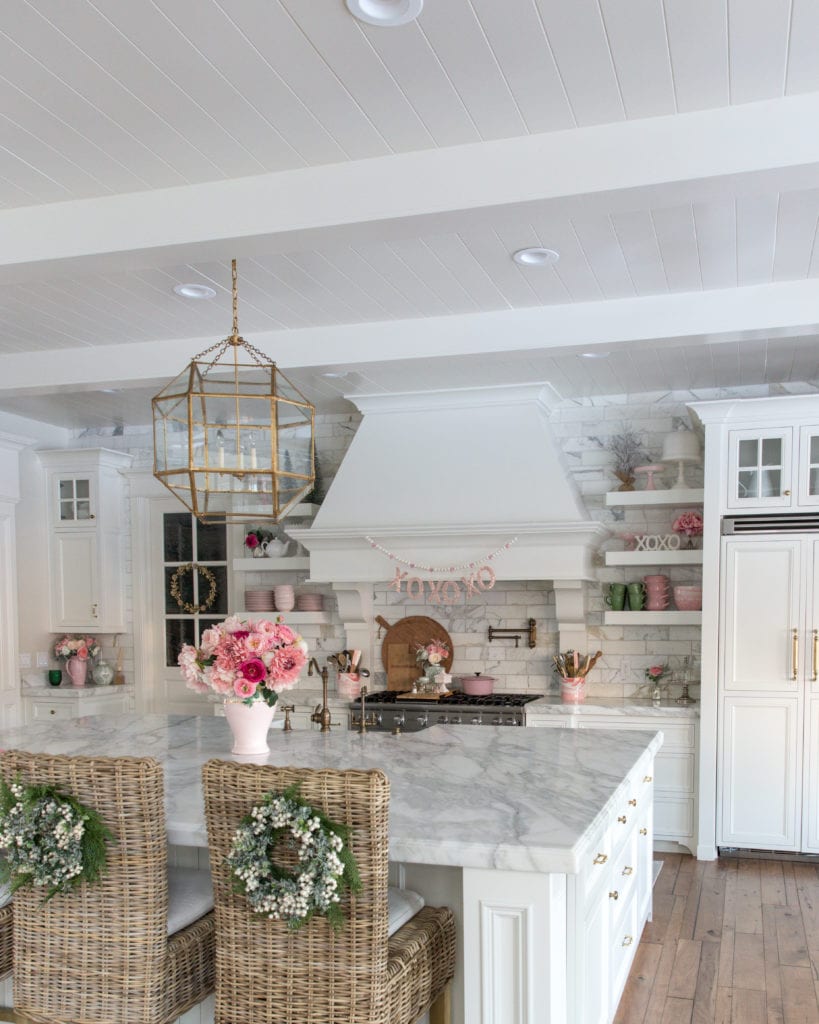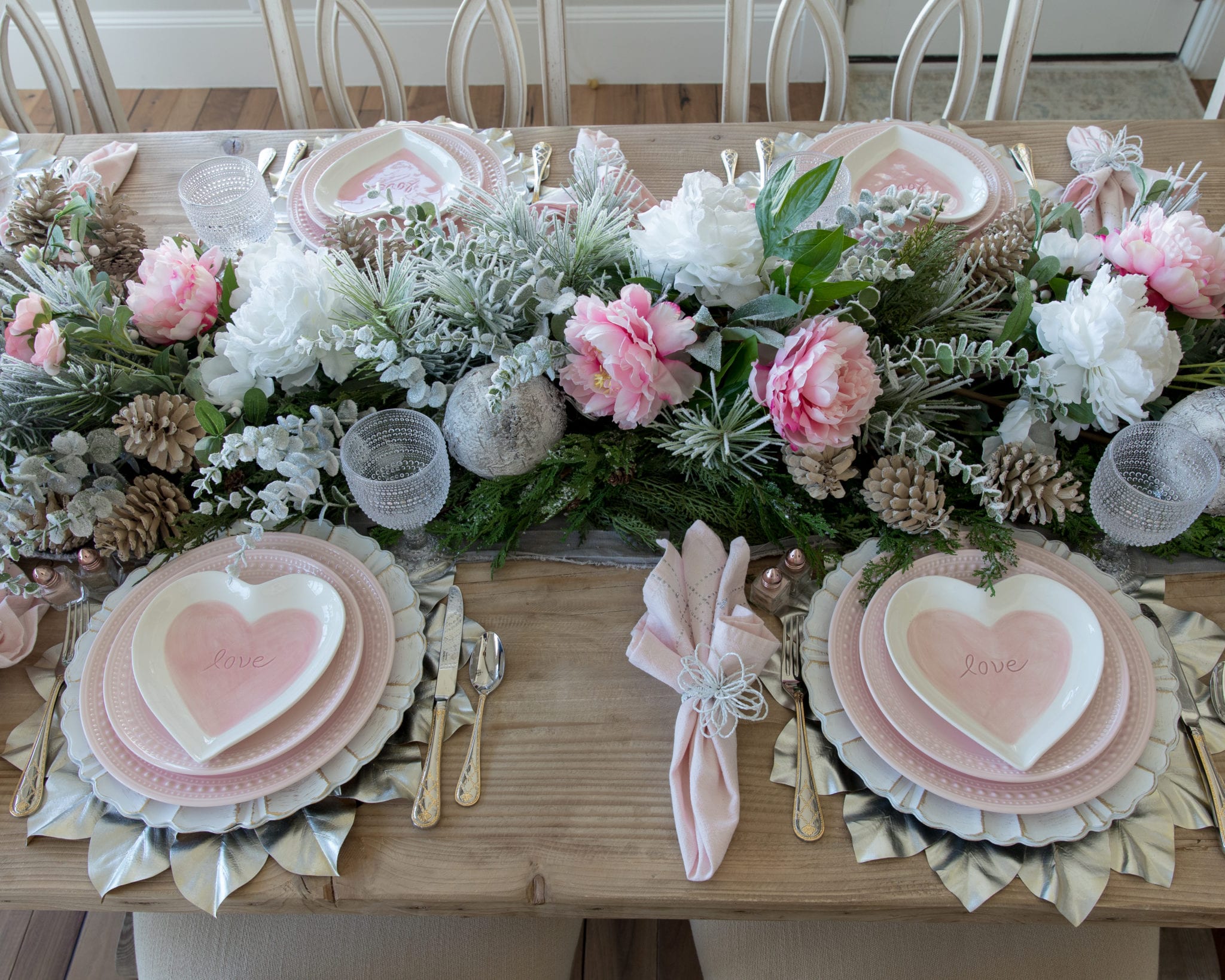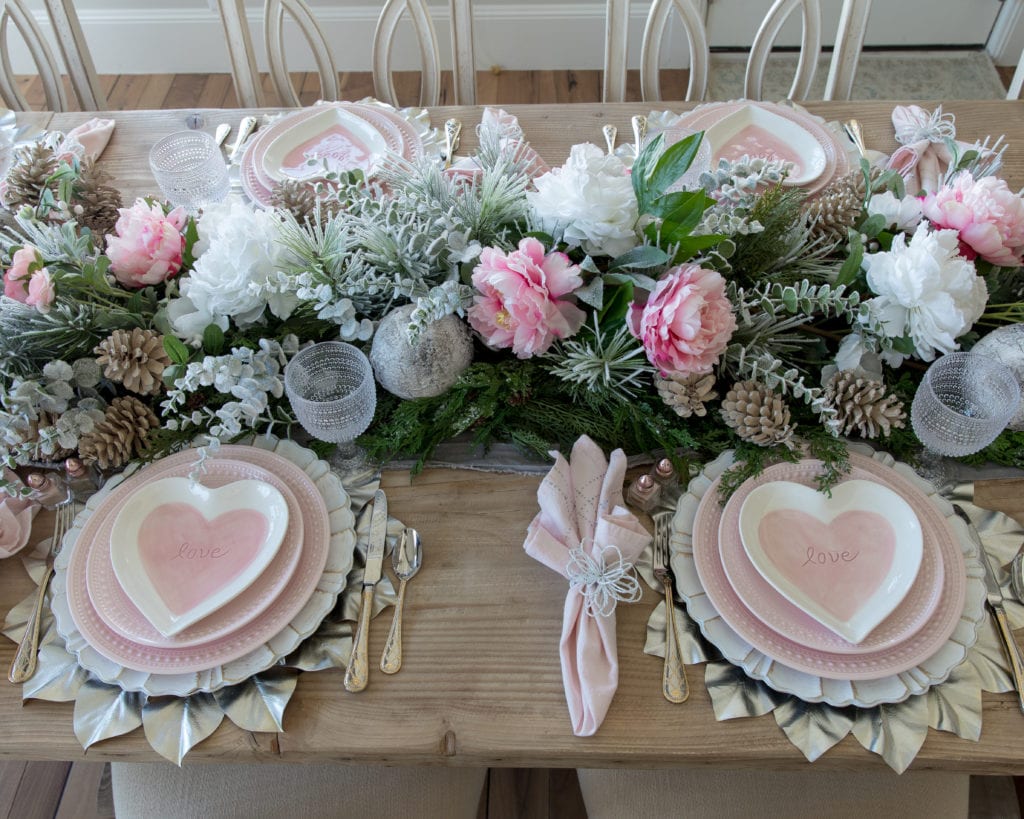 I hope you enjoyed seeing the simple and easy ways to transition your Winter home decor into Valentines Day without a lot of work, time, and money. This was way easier than it looks because I had already done a lot of the work before the holidays. Enjoy!
Happy Valentines Day!
XOXO,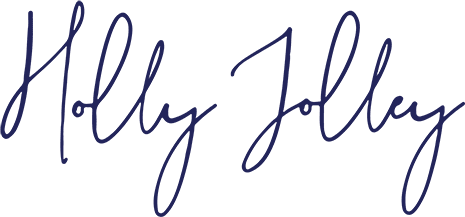 Here's another Valentines Day Tablescape you might enjoy!
Sources and Links to Shop Items or Like Items:

Ginger Jar from Lauren Haskell designs. There are so many colors to choose from!
Mixing valentines day and winter decor