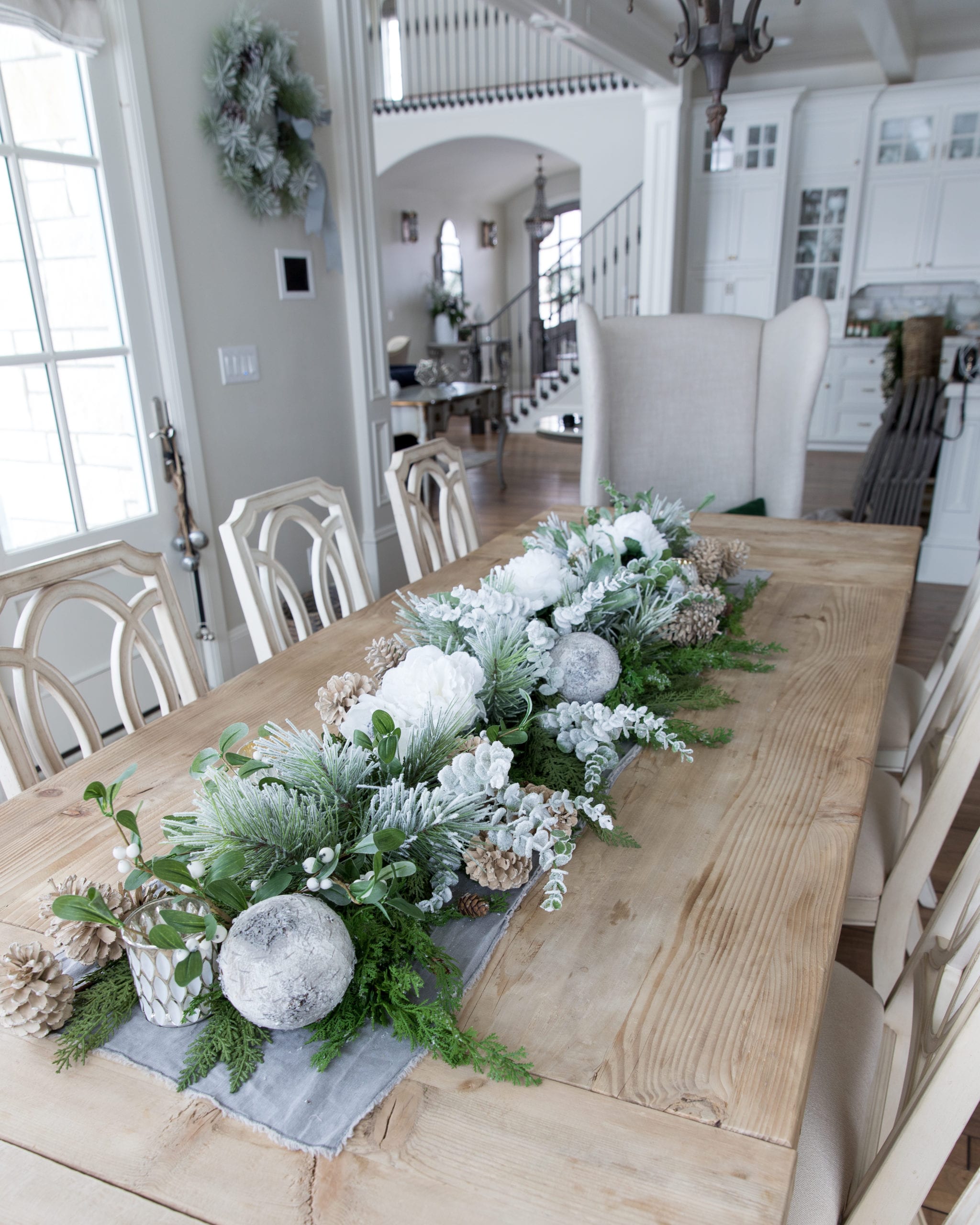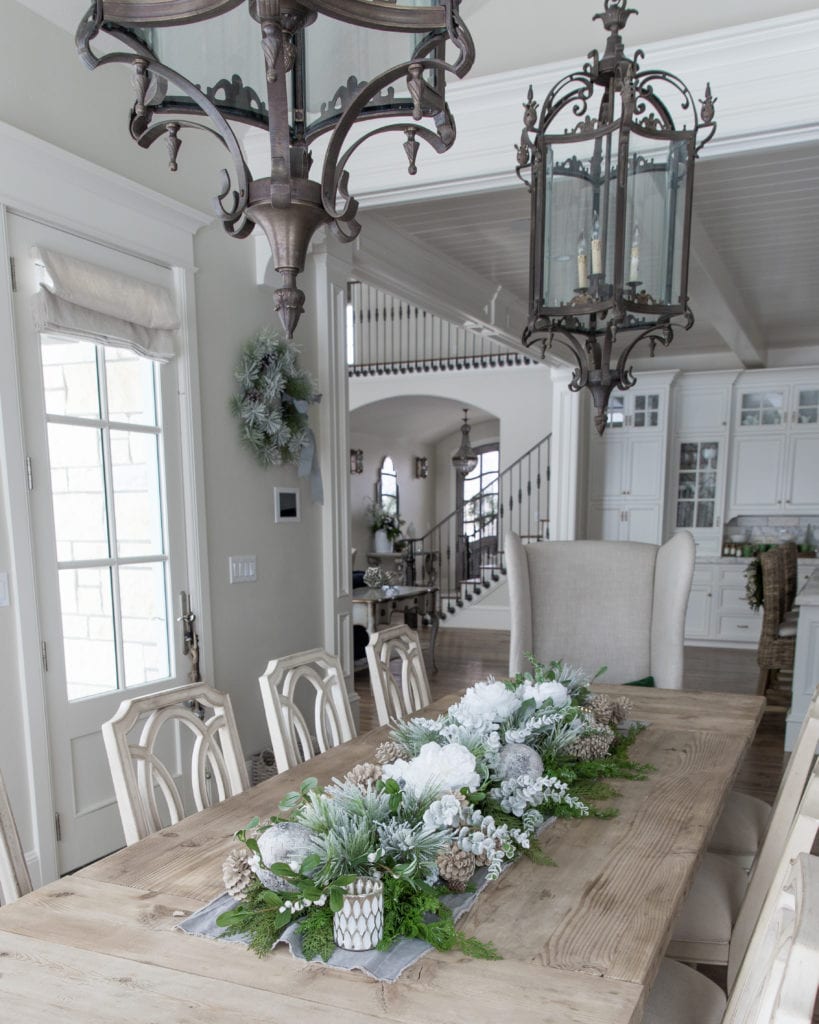 How to Create a Versatile Winter Centerpiece Garland
Today I'm sharing how to create a versatile winter centerpiece garland for my dining table. This is the most versatile garland centerpiece and I've used it over and over again to create different Tablescapes for Thanksgiving, Christmas, Winter, and Valentines Day.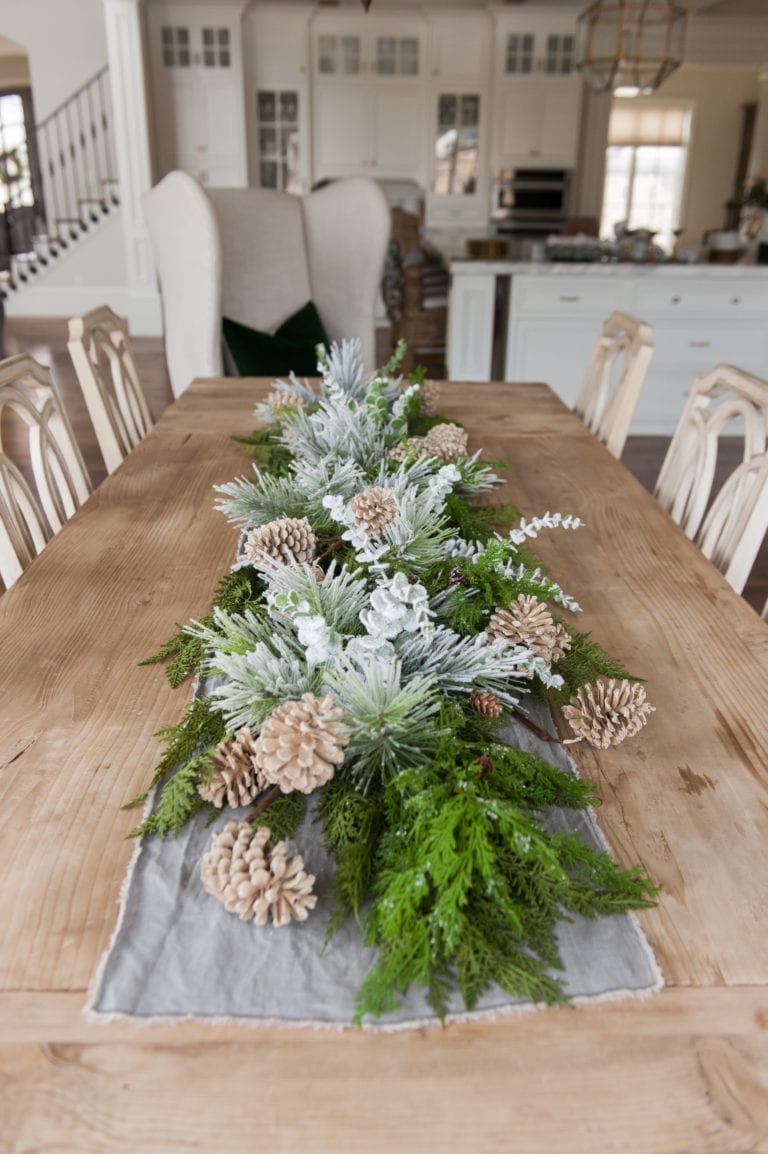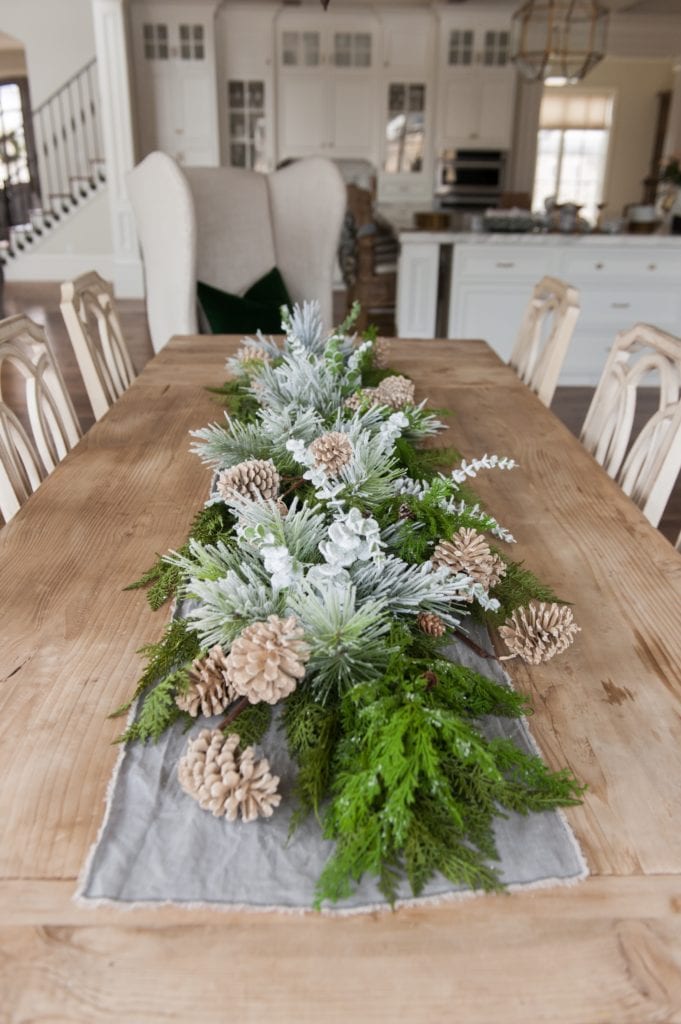 I created this garland centerpiece out of one faux cedar garland and then added different types of faux branches and picks into it. I added frosted eucalyptus and painted pine cone picks. All of this is laid on top of a table runner.
To store it and re-use it again, I cut up a large cardboard box and folded the sides up. I slide it onto the cardboard box using the table runner to help slide it and then wrap it in plastic. Doing it this way keeps it in tact and makes it easy to move to the storage room.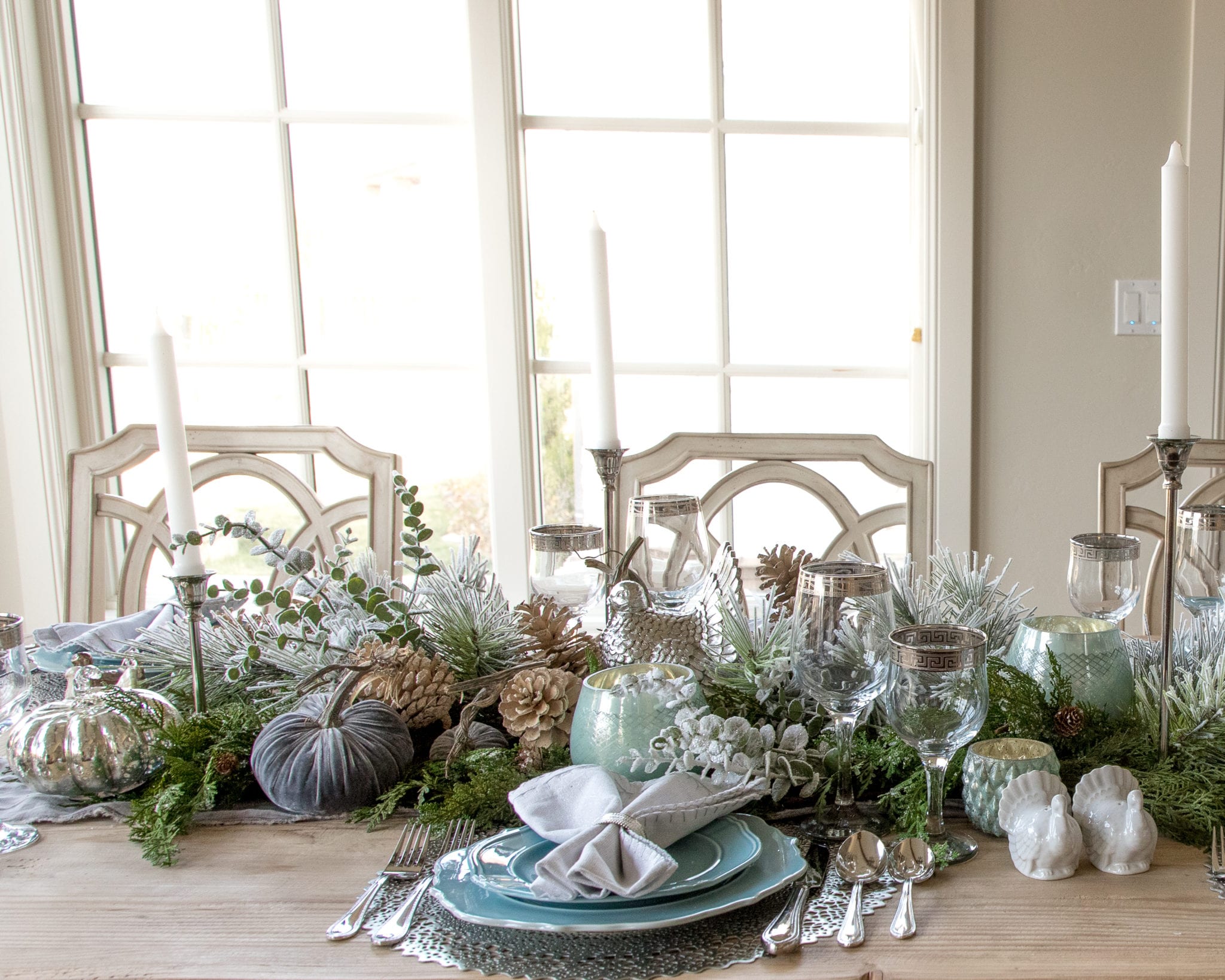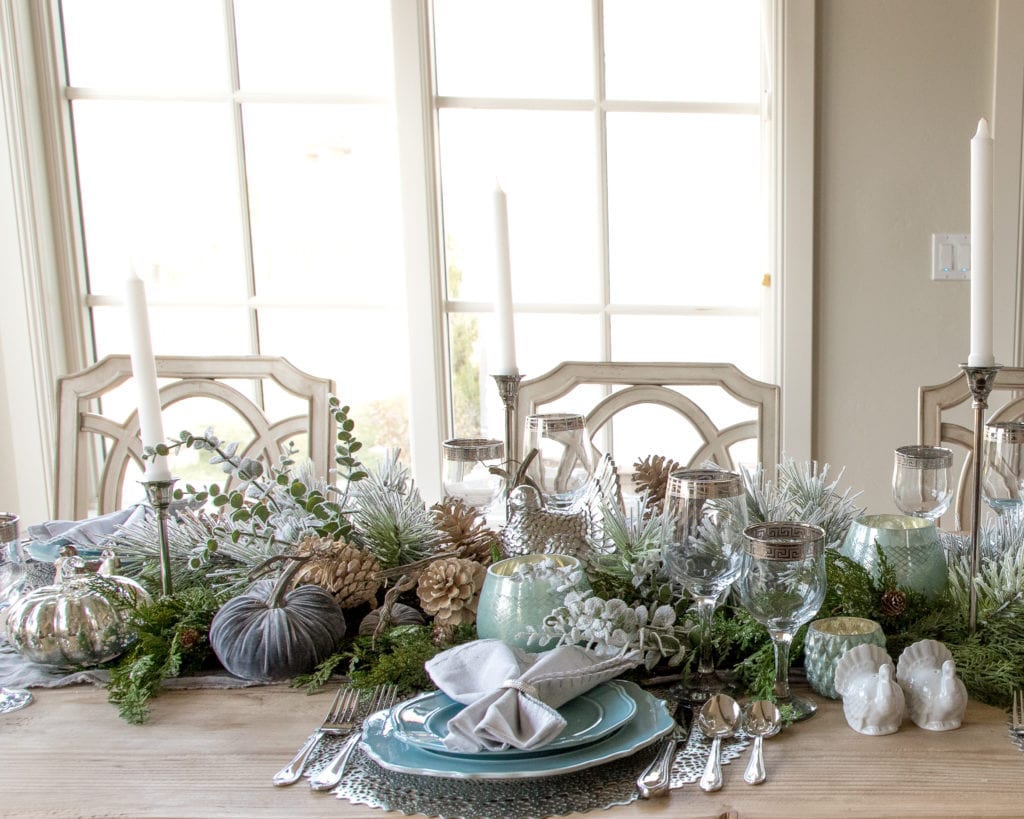 Why This is my Favorite Garland Centerpiece
One of the reason's I love this centerpiece garland so much is that I can put it on the table in early November and use it all the way through winter. I'll share all the different Tablescapes I've created using this same base garland. Even I was surprised at how many versions I've done when I put them all together in this post.
Using this same centerpiece garland over and over again is a great way to reuse your holiday decor and it save time and money. You can also do this with real branches and flowers but it won't last as long! I've done it both ways mixing faux and fresh. Be creative and do what works best for you!
Thanksgiving, Christmas, Winter, Valentines Day and More!
I usually decorate for Christmas in early November and so I always try to create a versatile garland centerpiece that can be changed multiple times in multiple ways.
I'll share all the different versions and little detail on each tablescape below. Not only can you add different things into the garland for each holiday and winter season, but you can also change it up by using different dishes, table linens, votive candle holders, and candlesticks. I always change out the pillows in the end chairs to match too.
2017 Thanksgiving, Christmas, and Winter Versions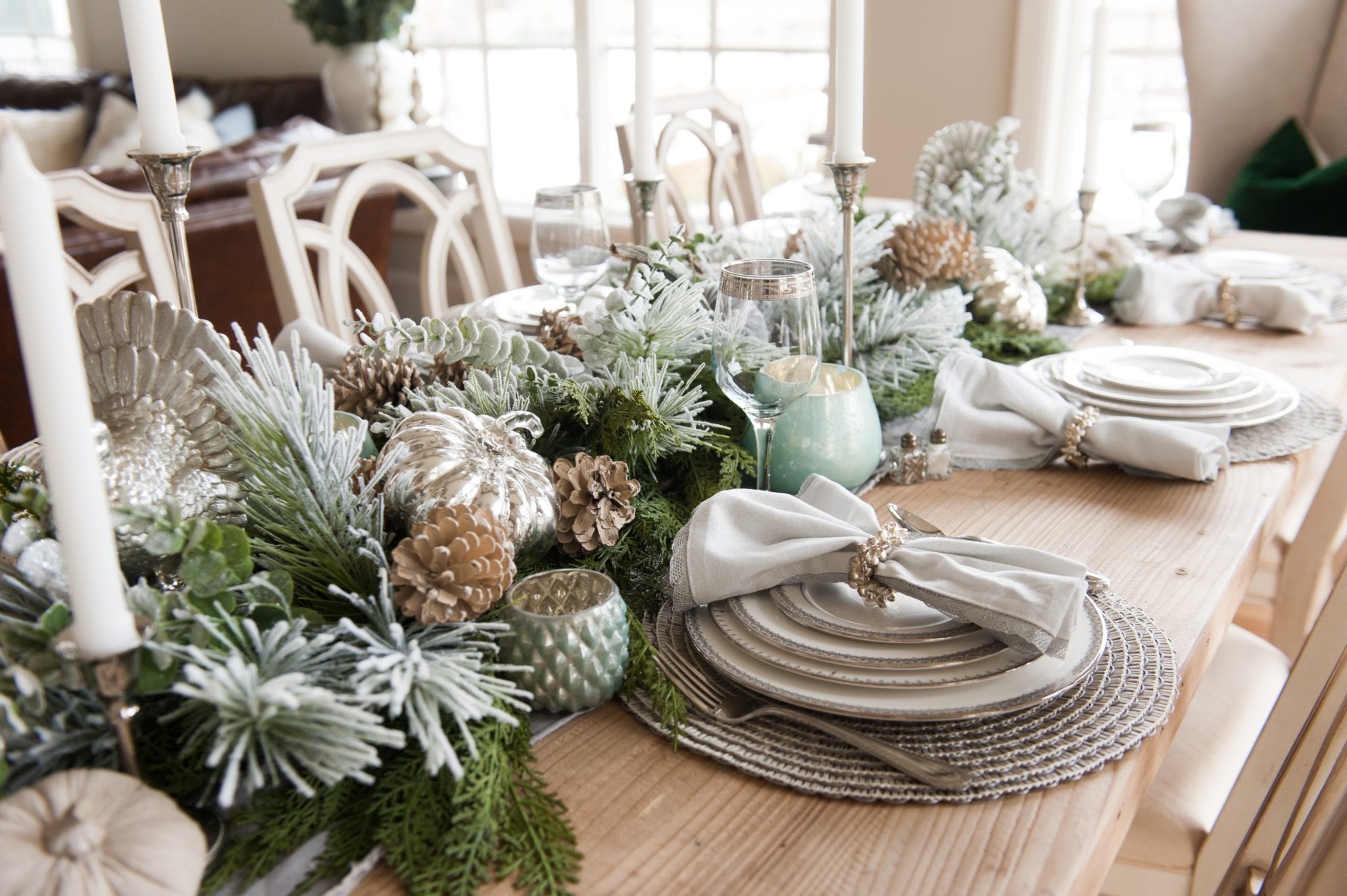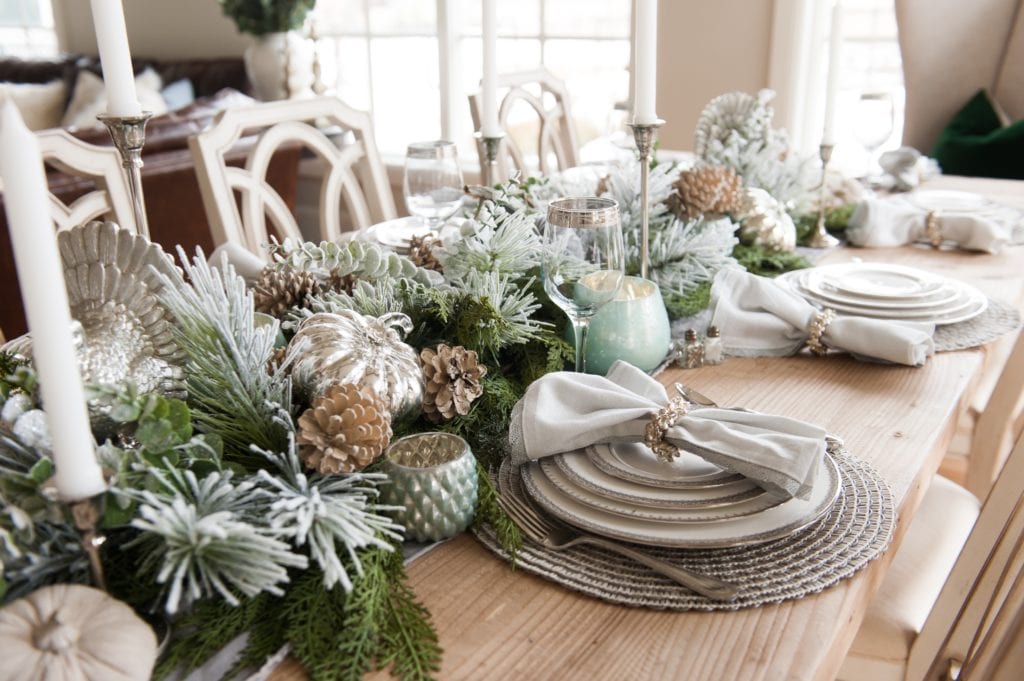 This is the first Thanksgiving tablescape I made with this garland. To make it work for Thanksgiving, I added in silver turkeys, silver mercury pumpkins, and some other taupe colored pumpkins made out of fabric. For the place settings I used my white and silver fine china which was a gift from my husband for our twentieth anniversary. To make it more elegant, I used votive candle holders nestled into the garland and silver candlesticks with white pillar candles.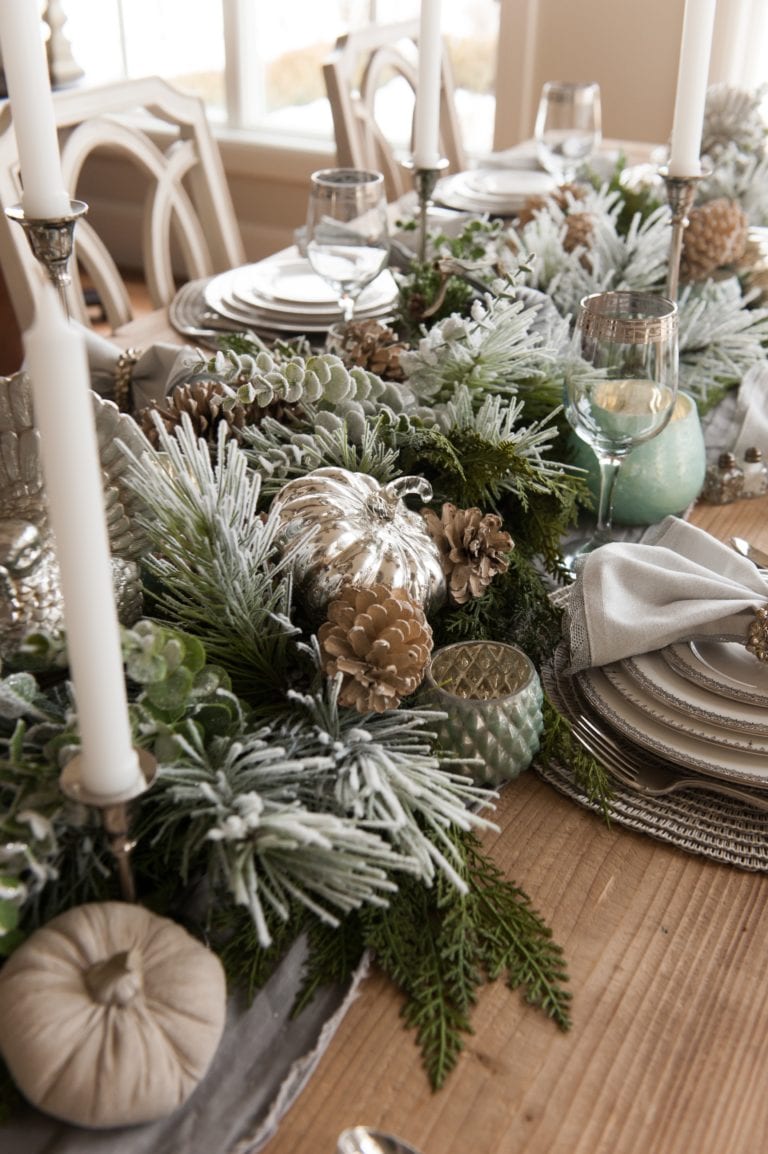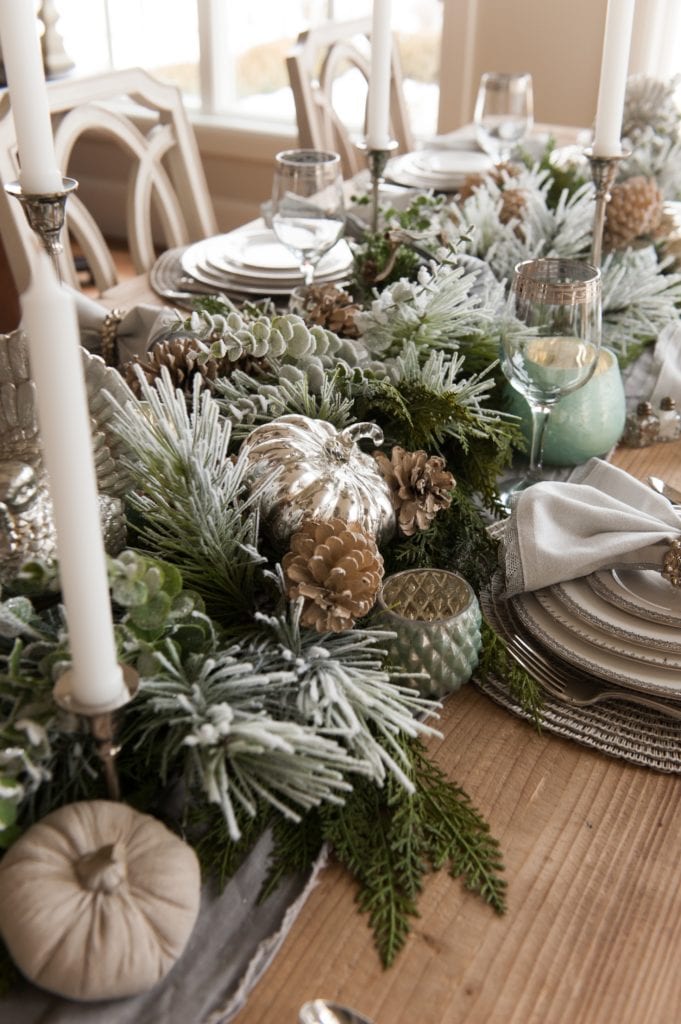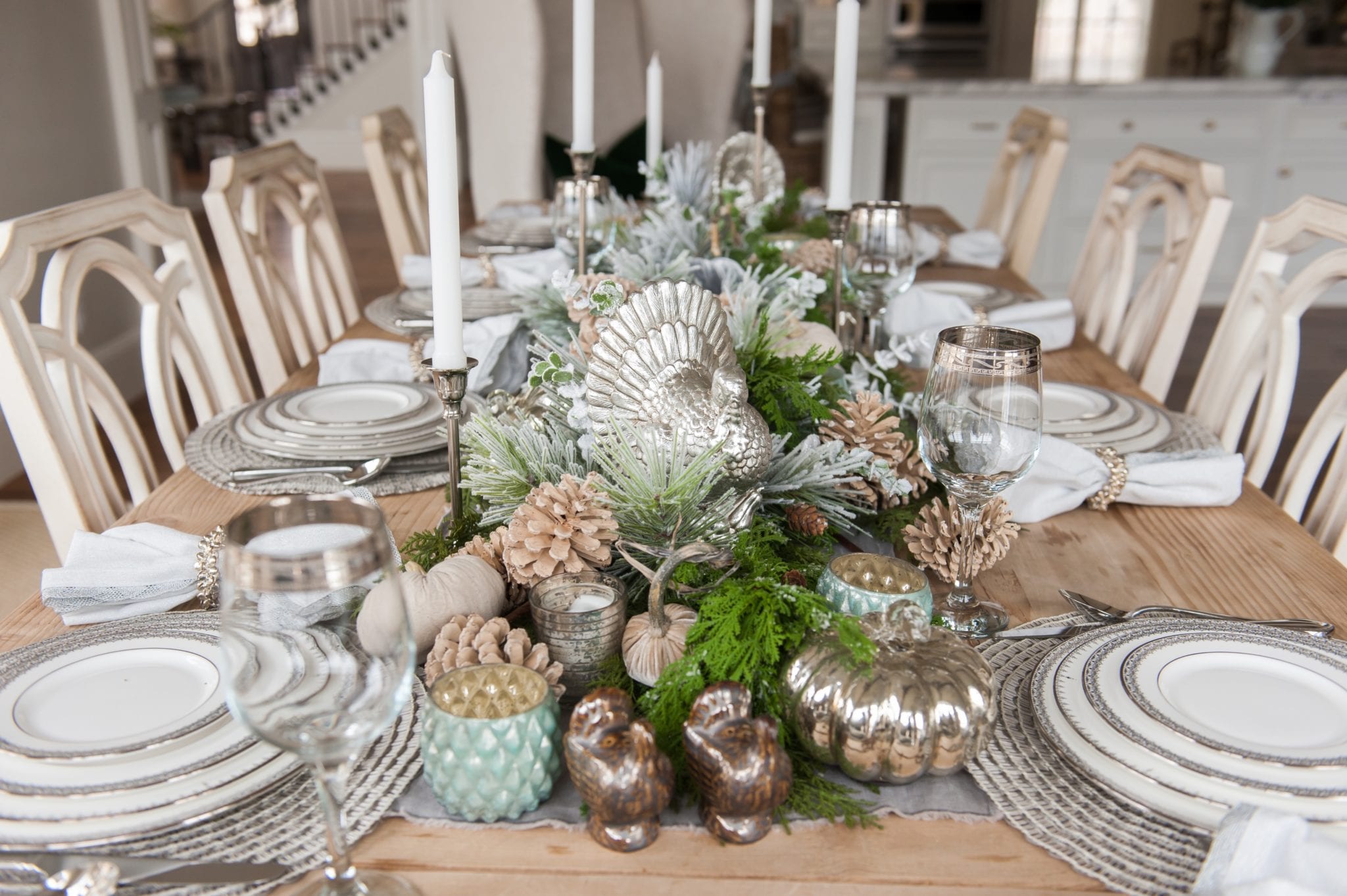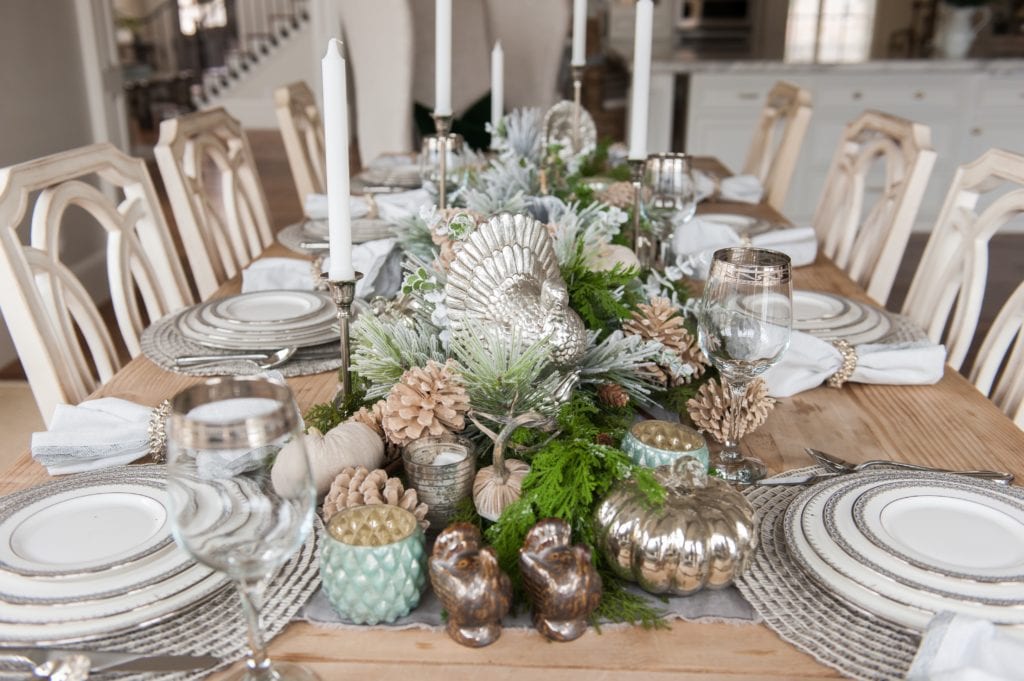 As soon as Thanksgiving was over I took out all the pumpkins and turkeys and added in silver mercury ornaments to transform it to my Christmas tablescape. I also changed the dishes to my everyday blue dishes and switched out the napkins. These simple changes changed the entire look of the table.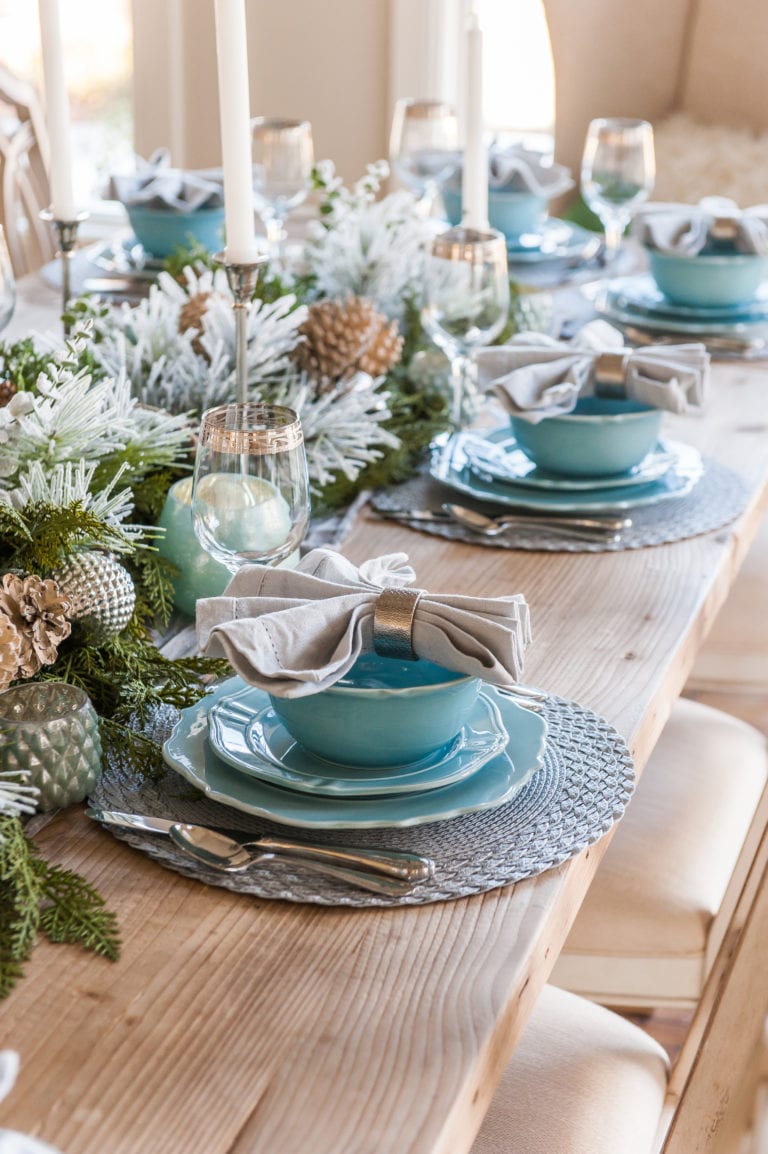 I added the little reindeer salt and pepper shakers. I love adding these small details!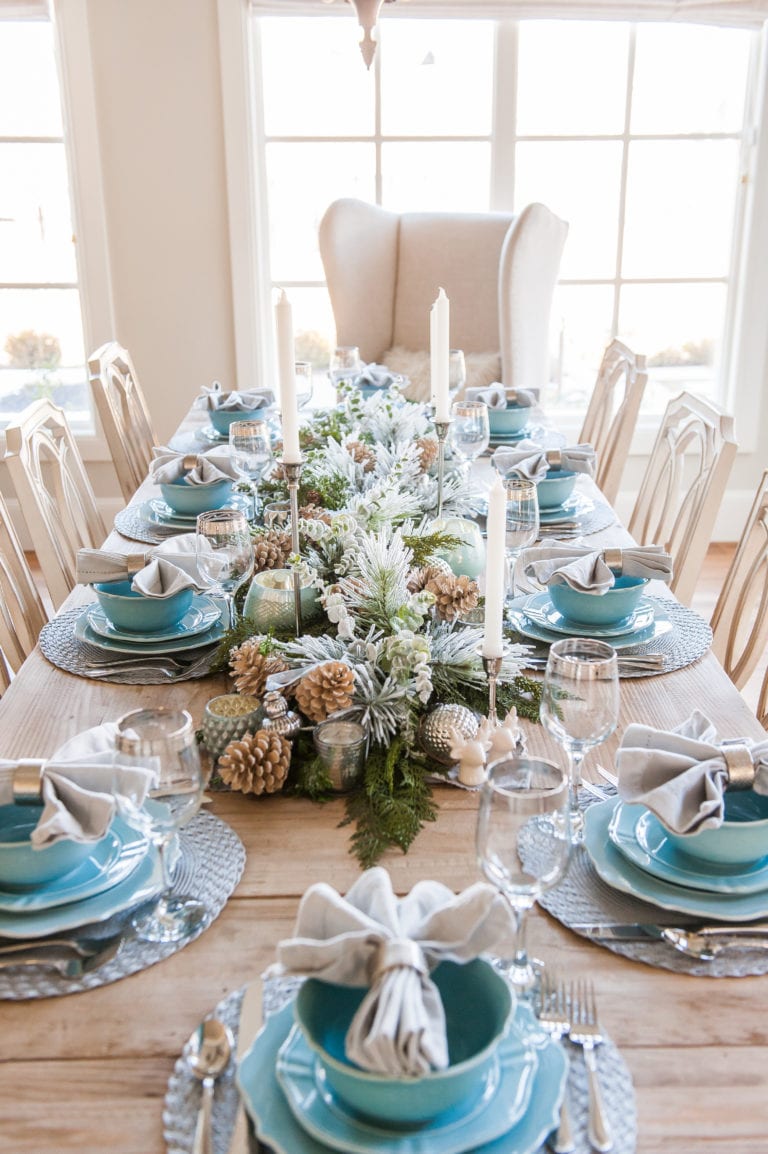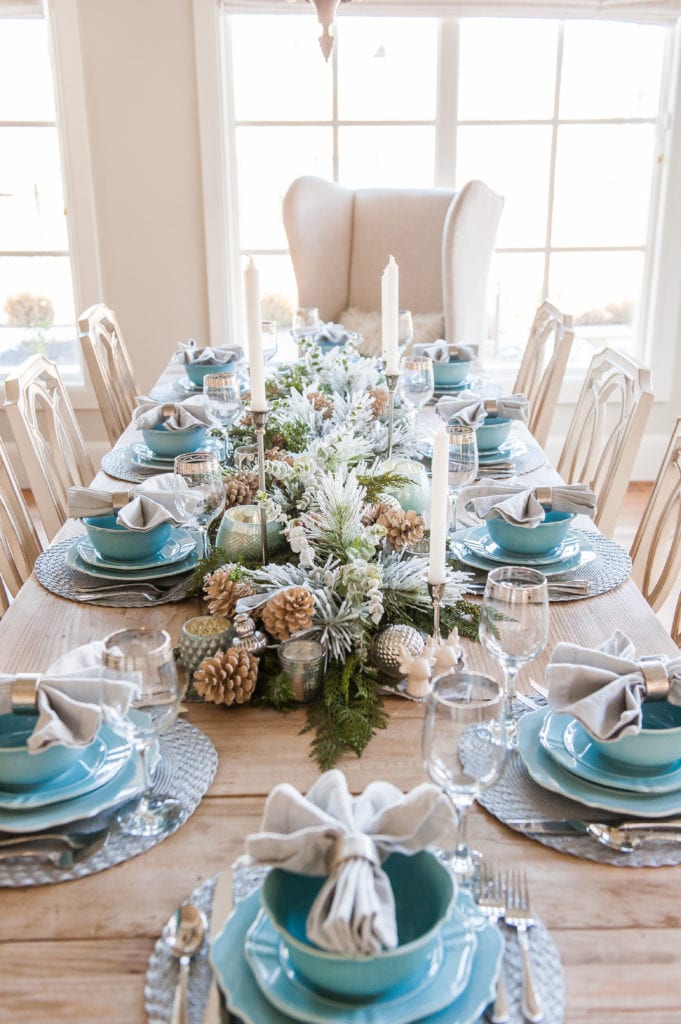 When Christmas was over, I took out all of the ornaments and changed the place-setting again to make it more neutral for the rest of the Winter season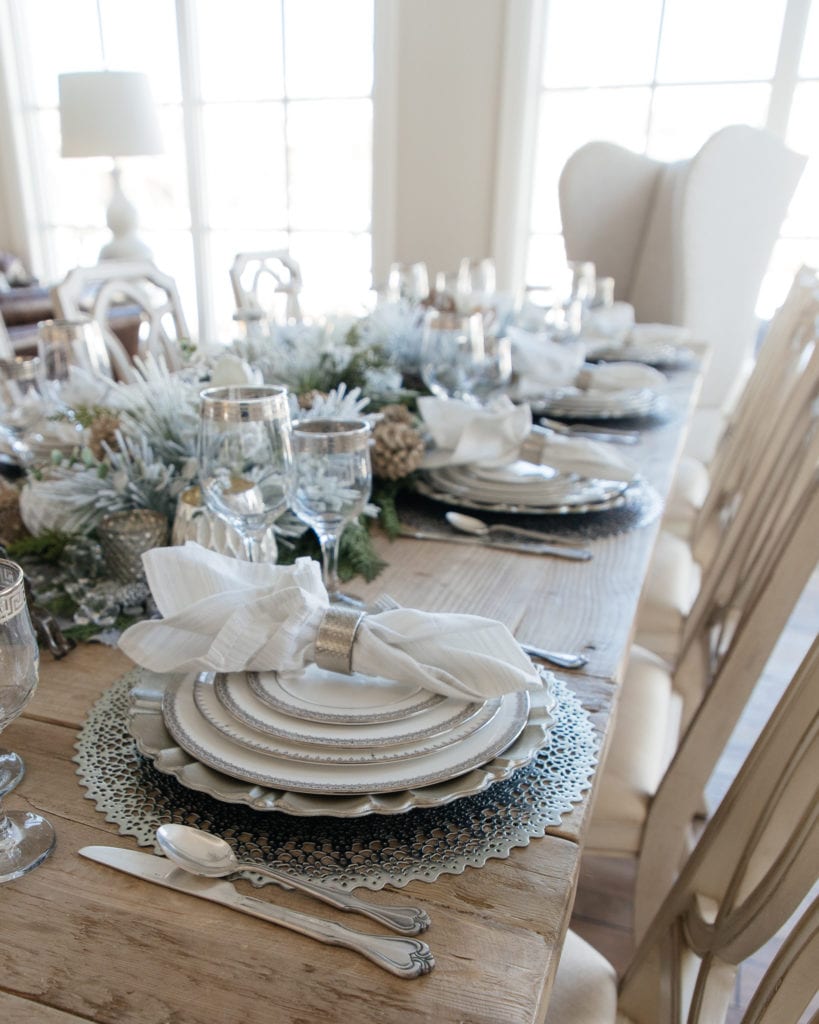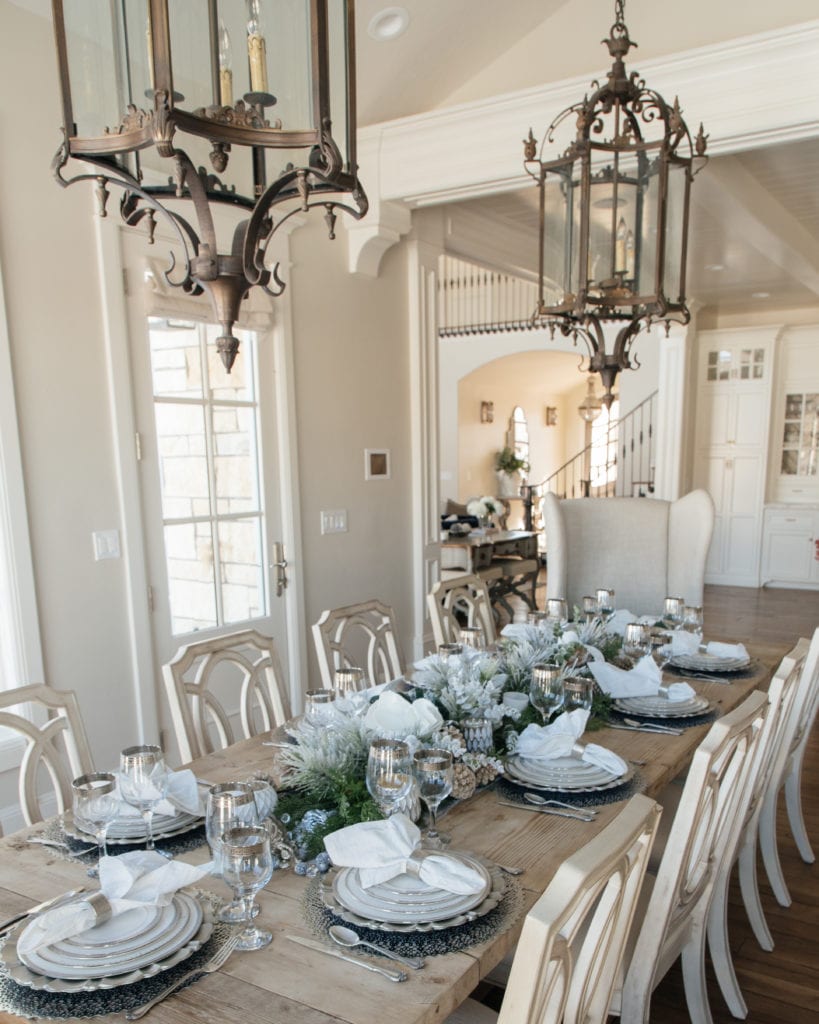 You can see how different it looks by changing things up with the place-setting, linens, and other items added to or removed from the base garland.
Here are some other versions for 2018 and 2019.
2018 Thanksgiving, Christmas, and Winter Versions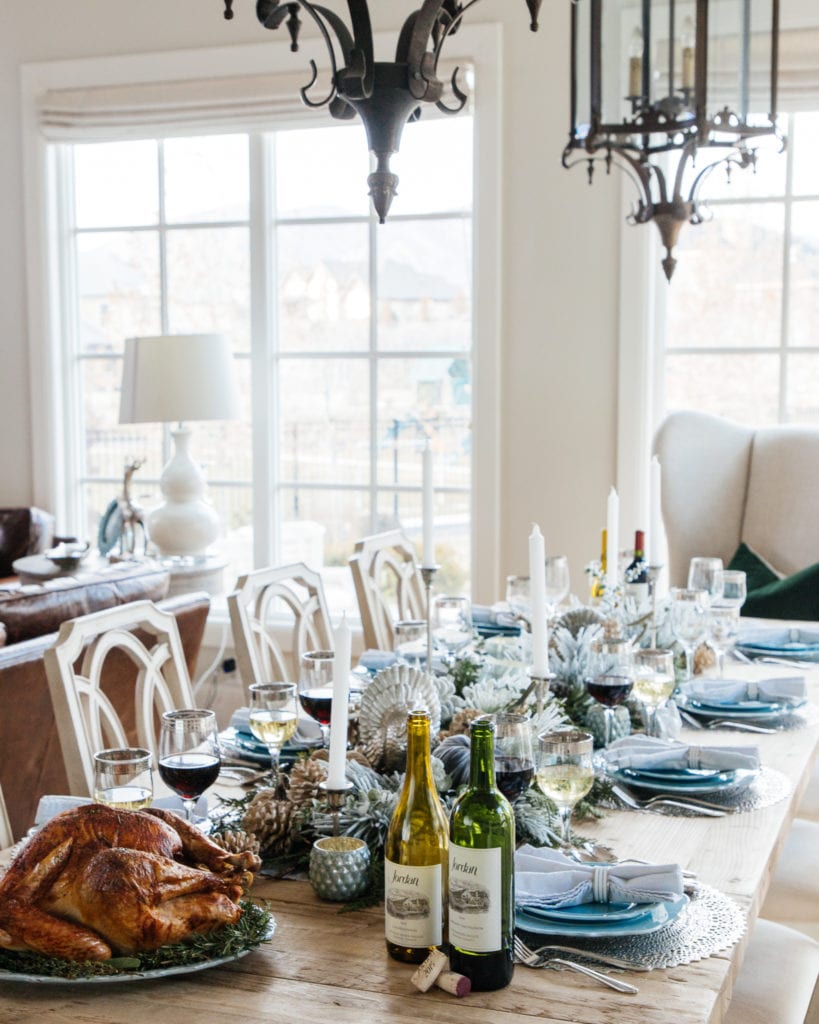 This is a tablescape I created for Jordan Winery. I used my blue and white dishes with silver napkins. I added in velvet pumpkins as well as the silver turkeys. I love how the blue and green look together.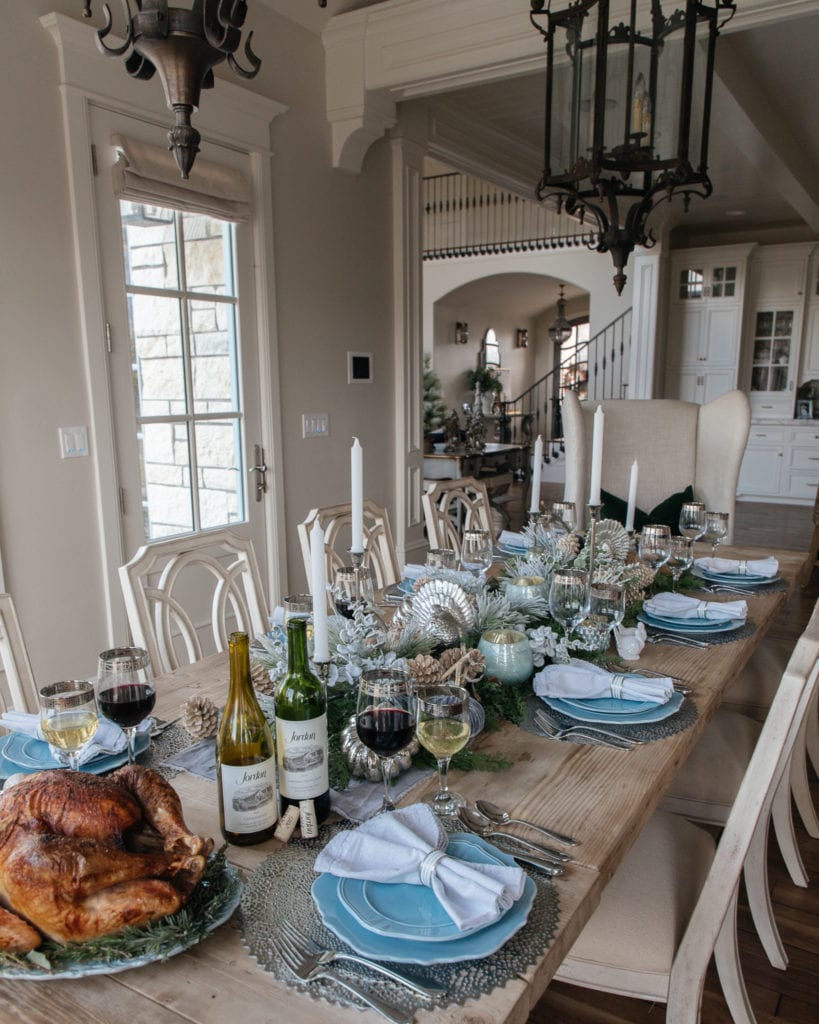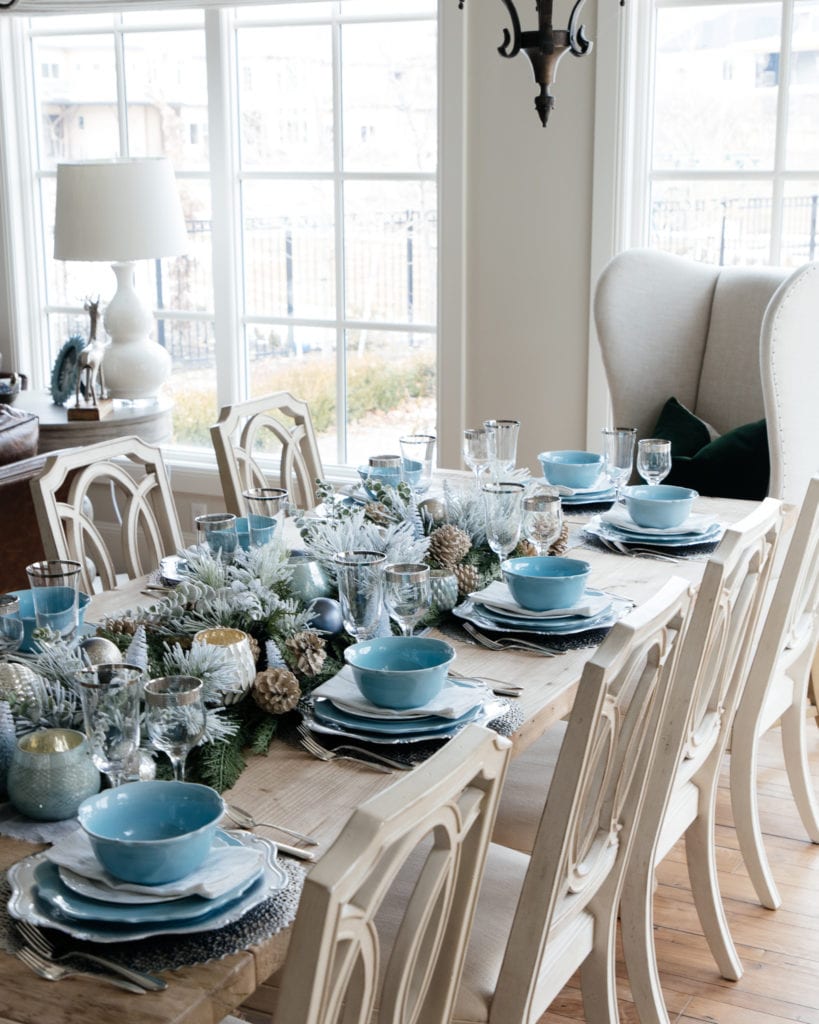 To change things up for this years Christmas tablescape, I added in blue tiny bottle brush trees and blue ornaments along with the silver mercury glass ornaments.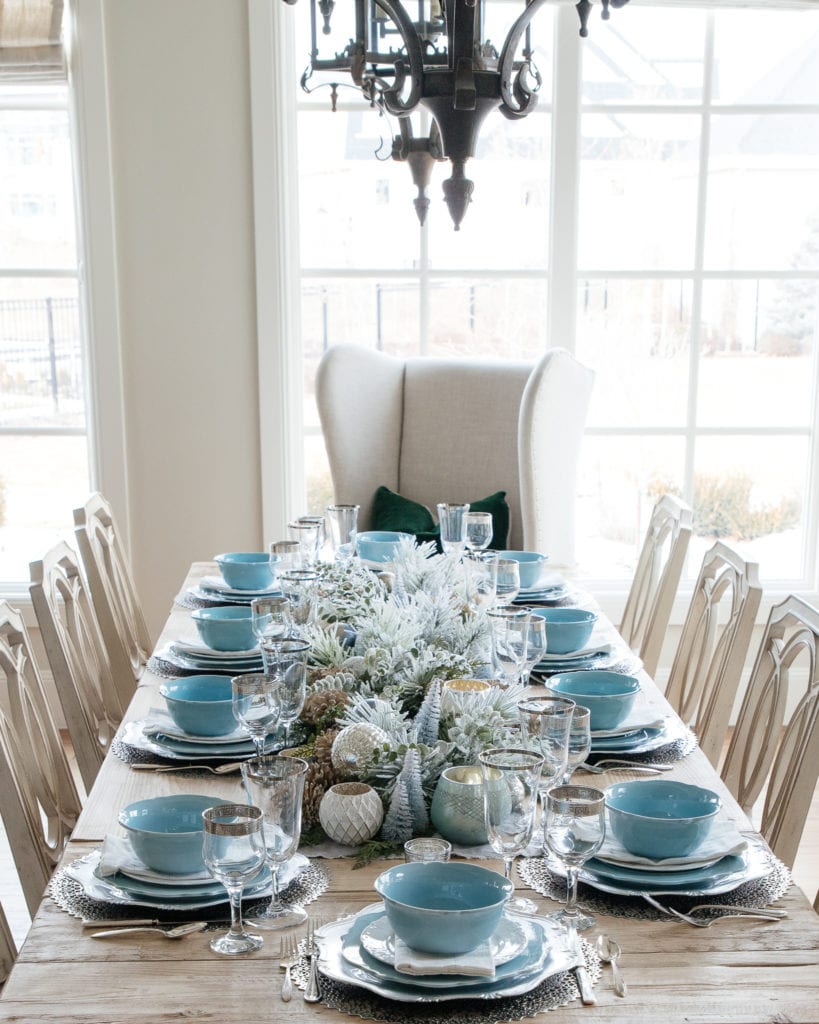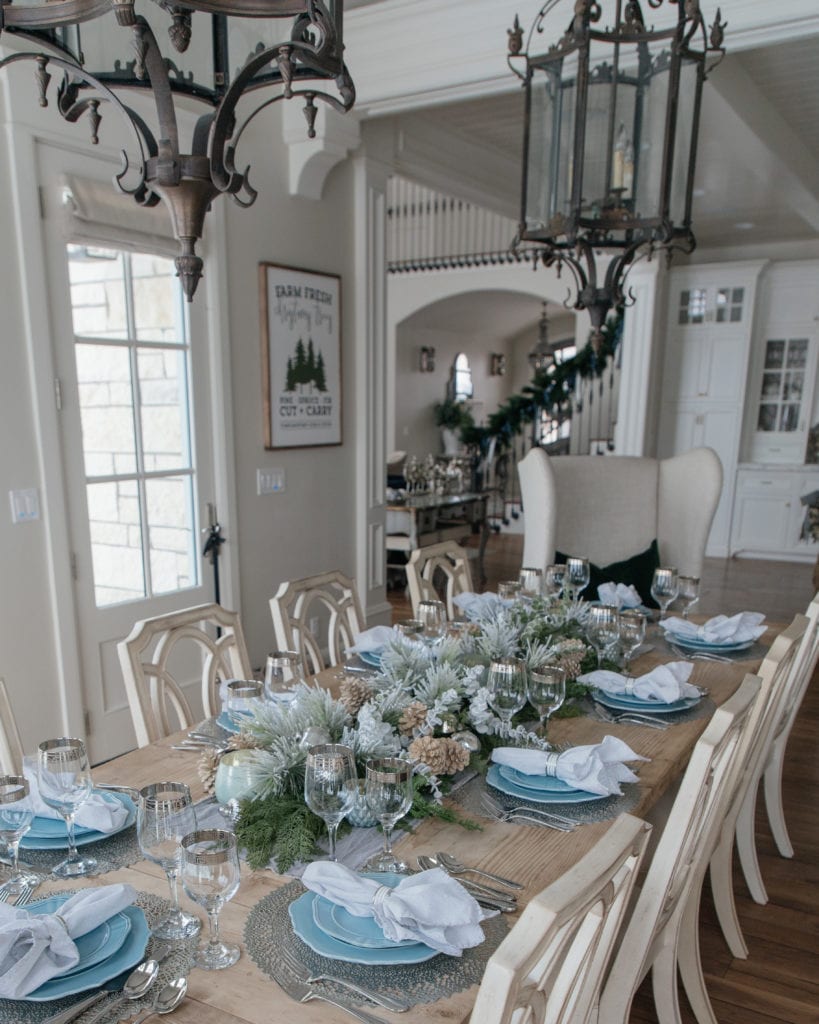 2019 Thanksgiving, Christmas, and Winter Versions + a Valentines Version for the Beginning of 2020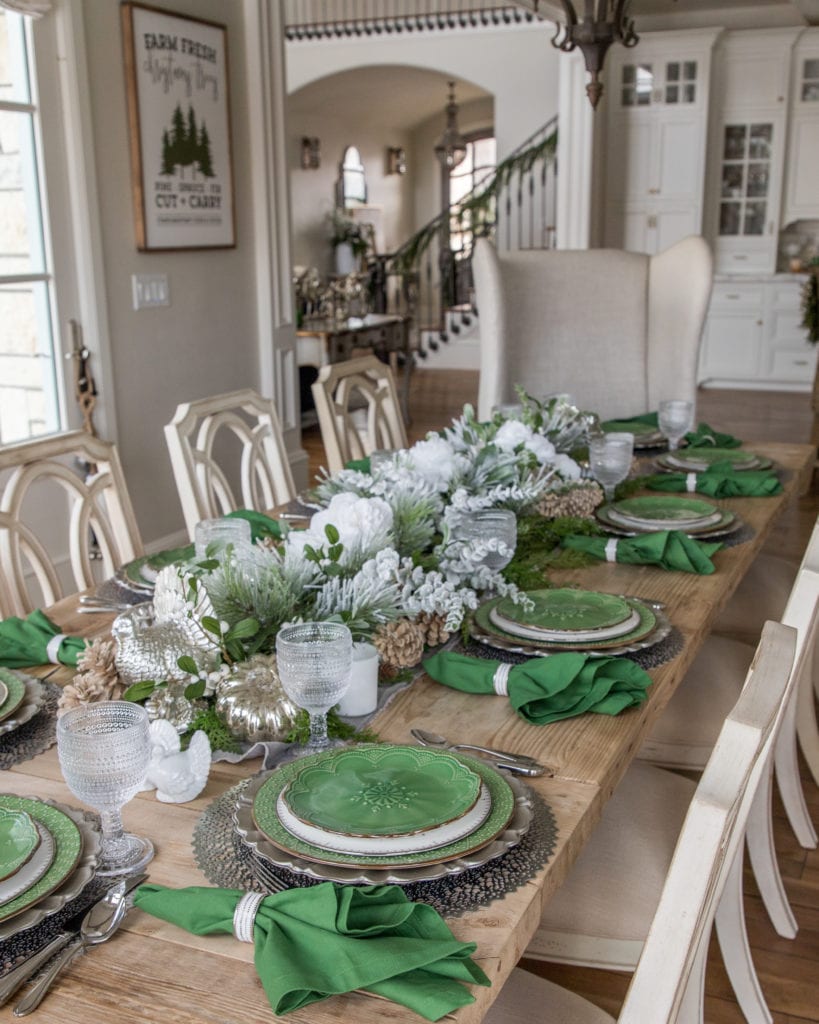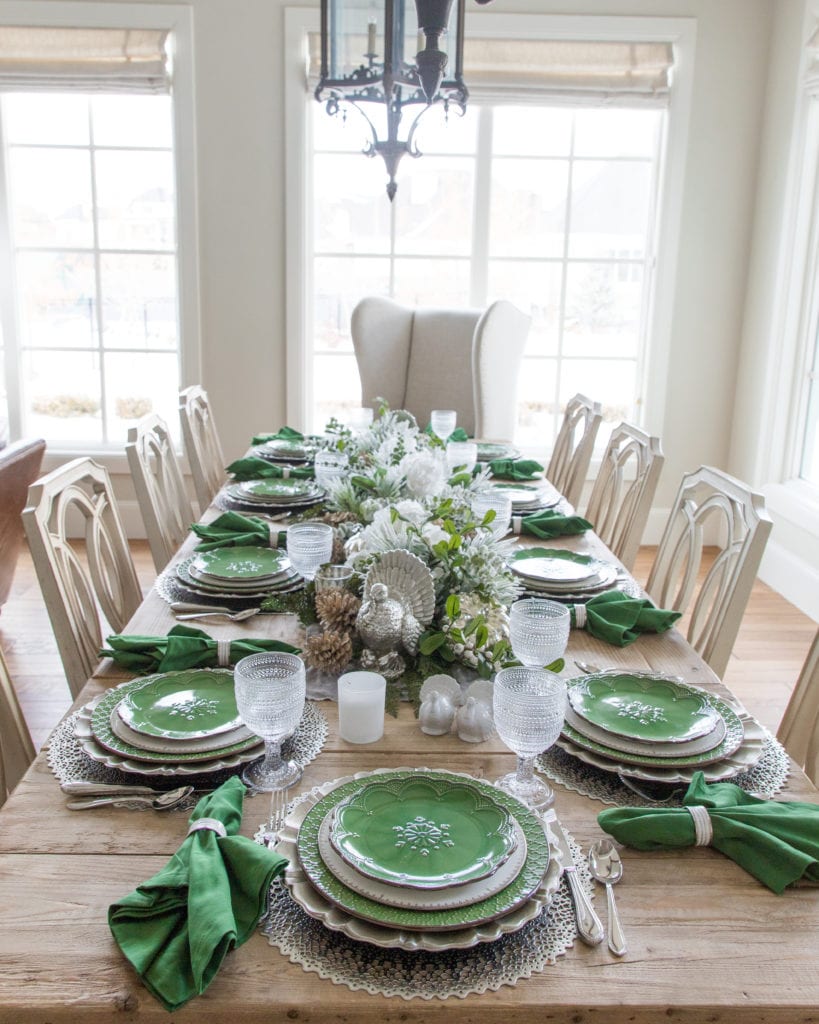 Here's one other way I used the same garland as a centerpiece. I host a Christmas cookie exchange every year and the garland was a perfect centerpiece.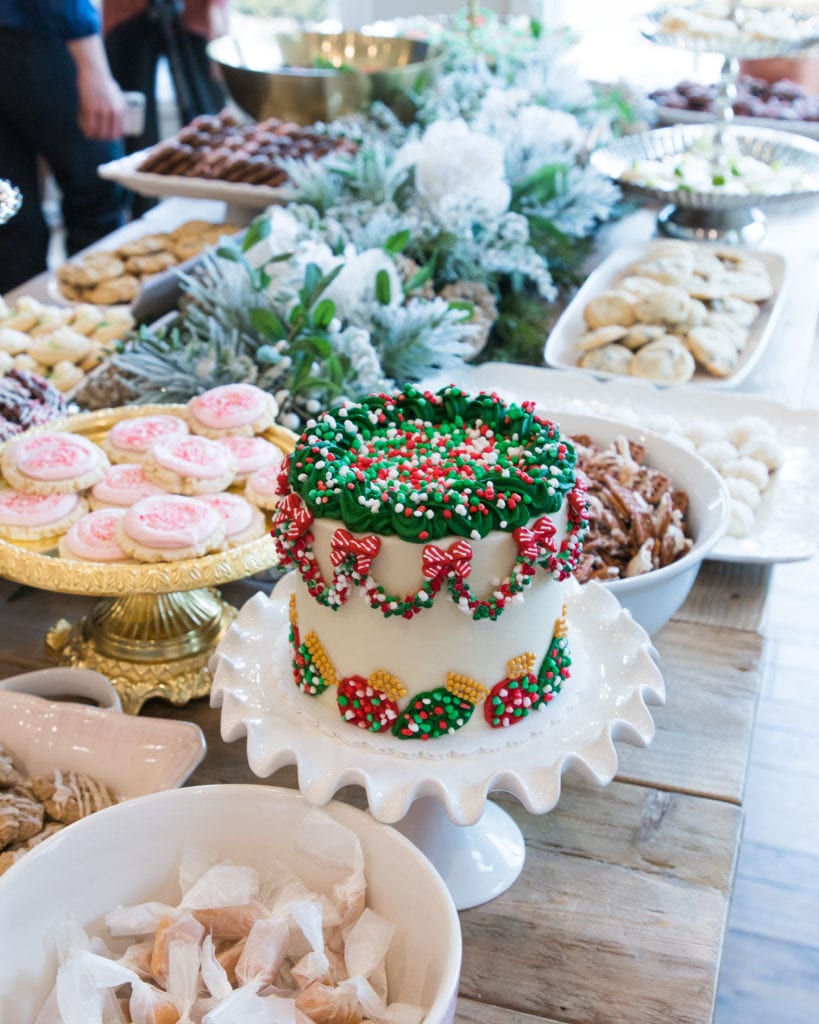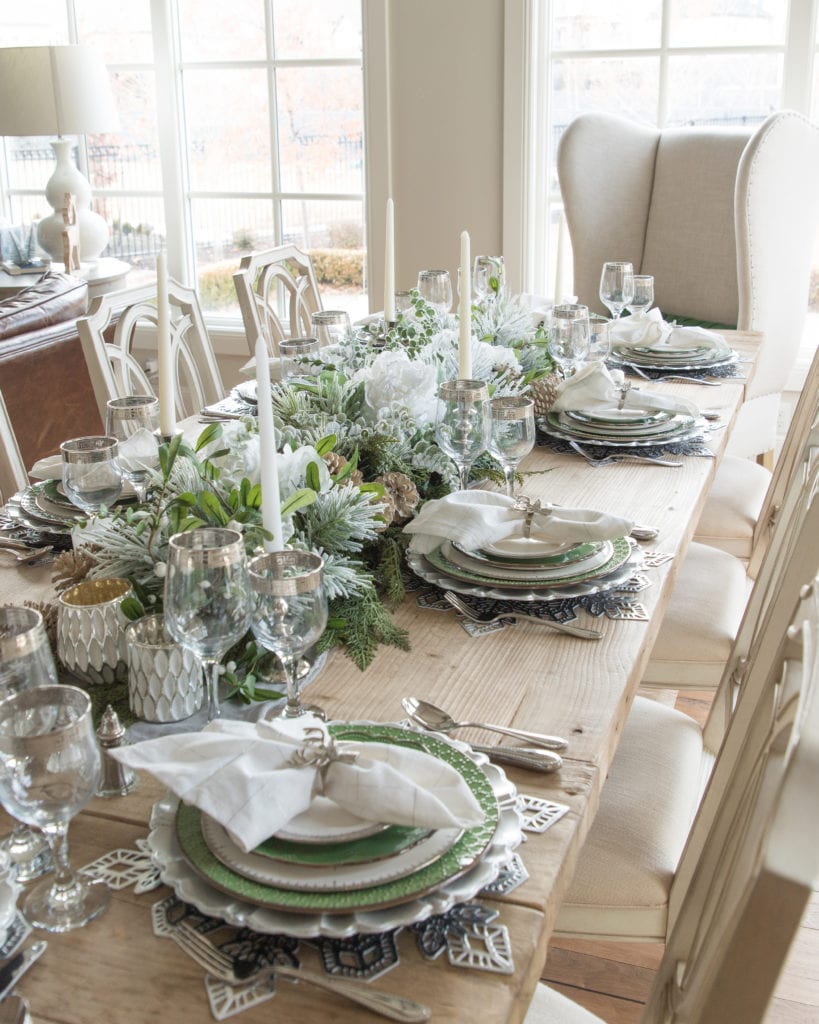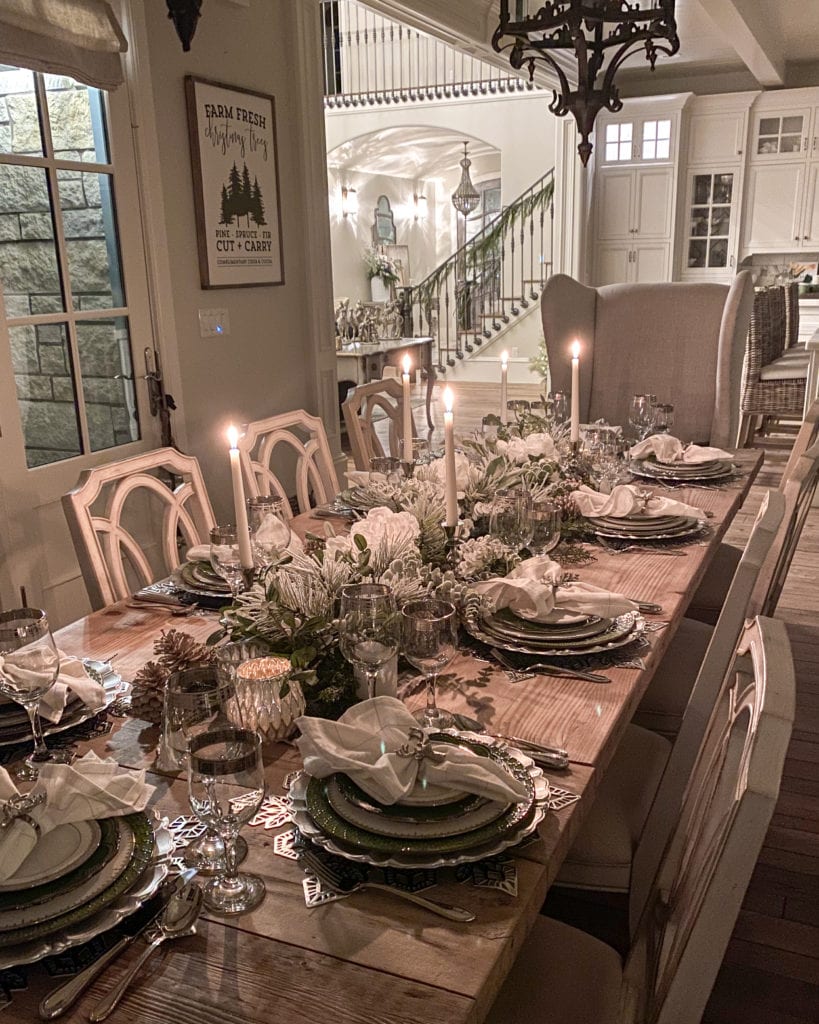 Sometimes after we've had family dinner, I will take all the dishes off the table and just leave the garland centerpiece on it's own. For this one, I left the winter white frosted peonies and the mistletoe stems I had put in the tablescape for this years decor. Each year I add something new into the base to make it different.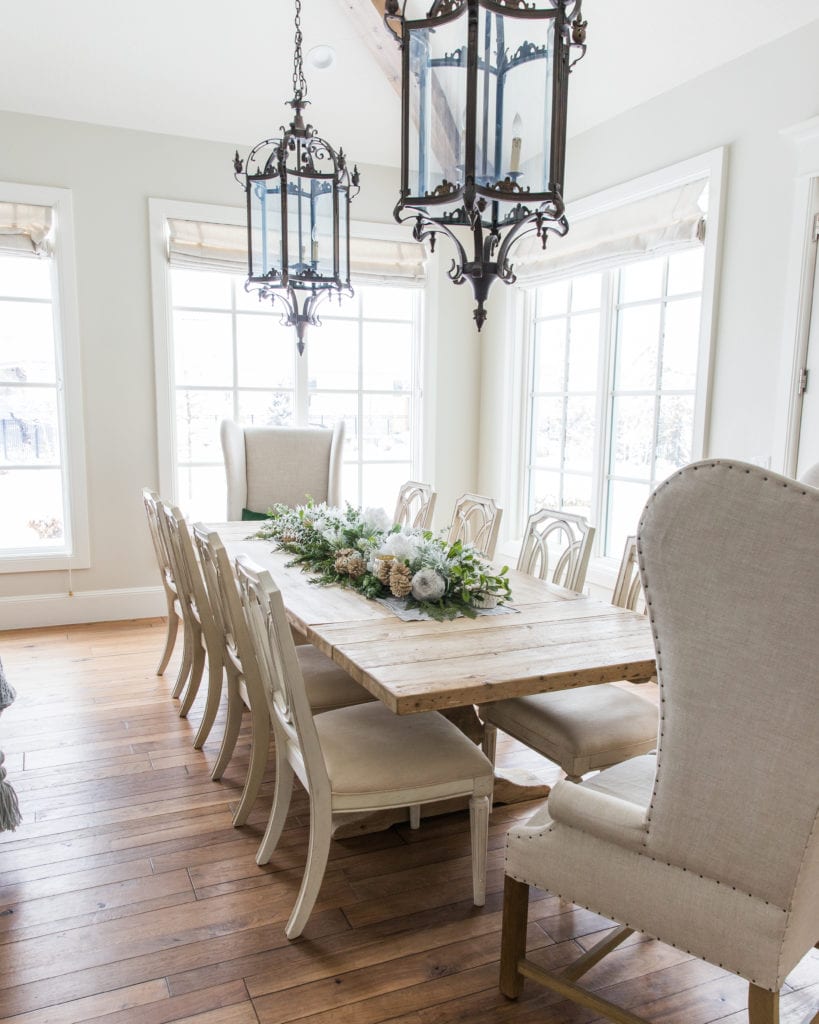 I wanted to enjoy the winter decor I'd left up after Christmas and I had this idea to add some pink flowers into the garland and use it for Valentines Day! I don't know why I didn't think of this before!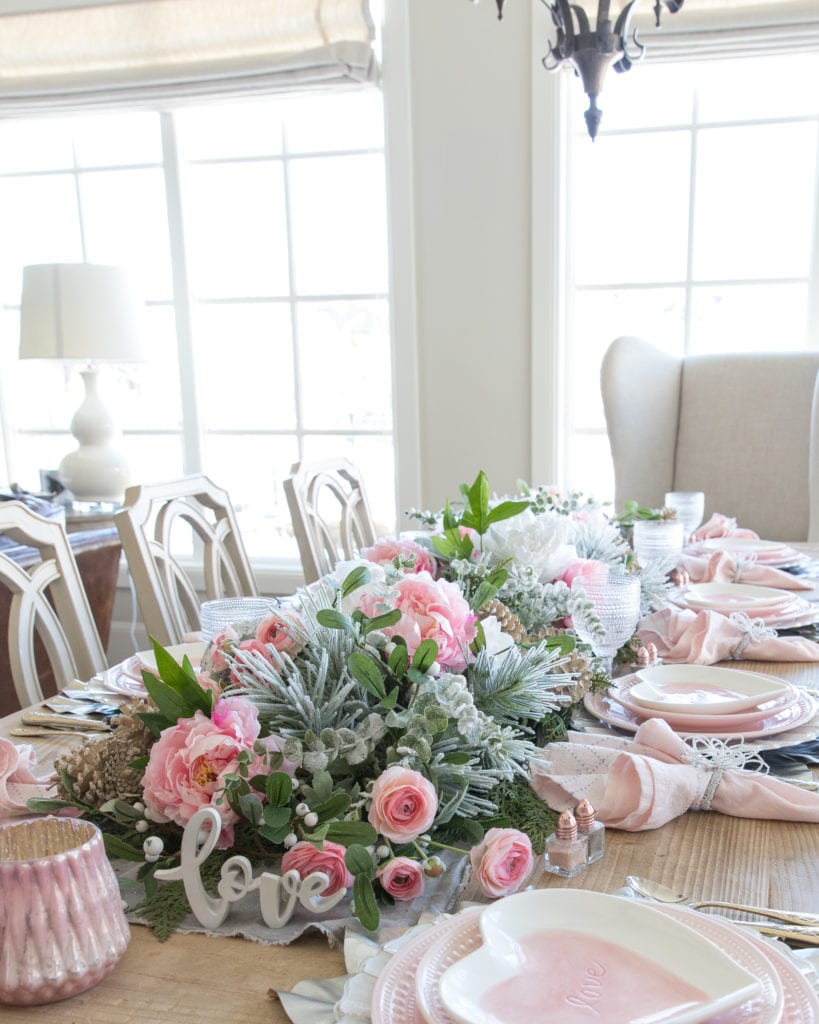 I love how it turned out and it's now on my list of favorites! I like the idea of combining my Valentines Day decor with my winter decor. This saved me so much time and money! The only thing I bought for this Pink and White Hearts Valentines Day Tablescape was the heart shaped plates. I love it when I can pull something like this off without a ton of effort!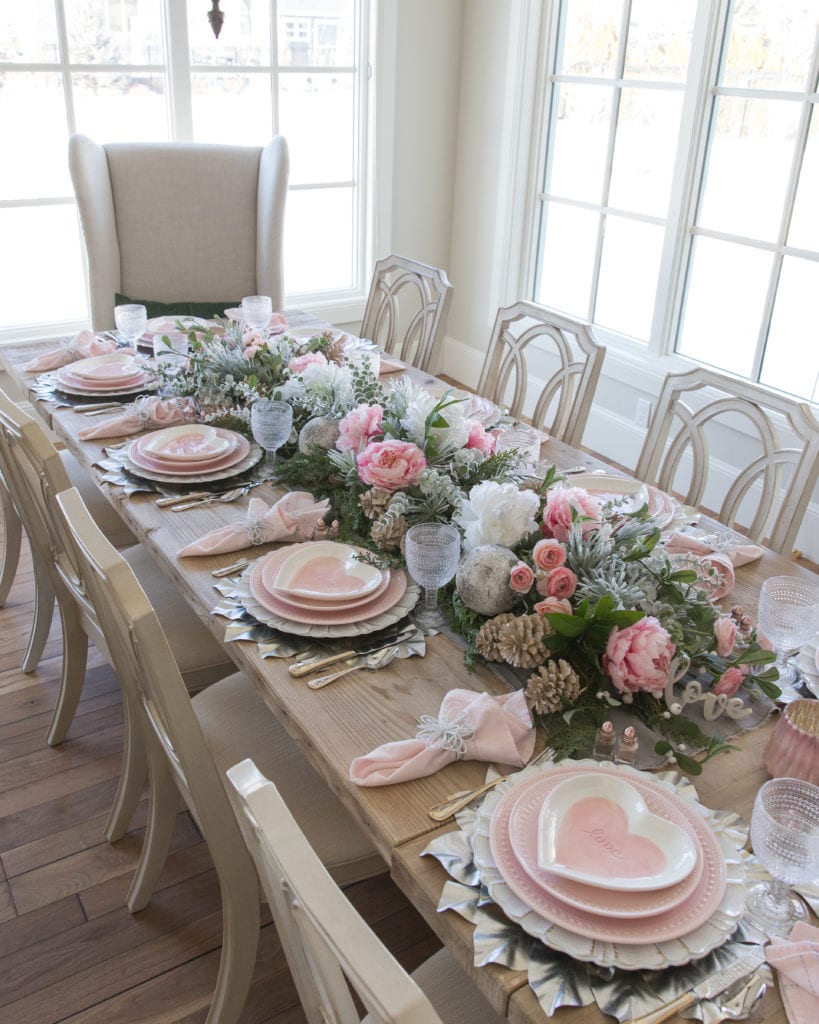 I added in some pink votive candle holders and the little "love" sign at the end of the garland. I also used rose gold miniature salt and pepper shakers. I filled the salt shakers up with pink Himalayan salt and they are so cute!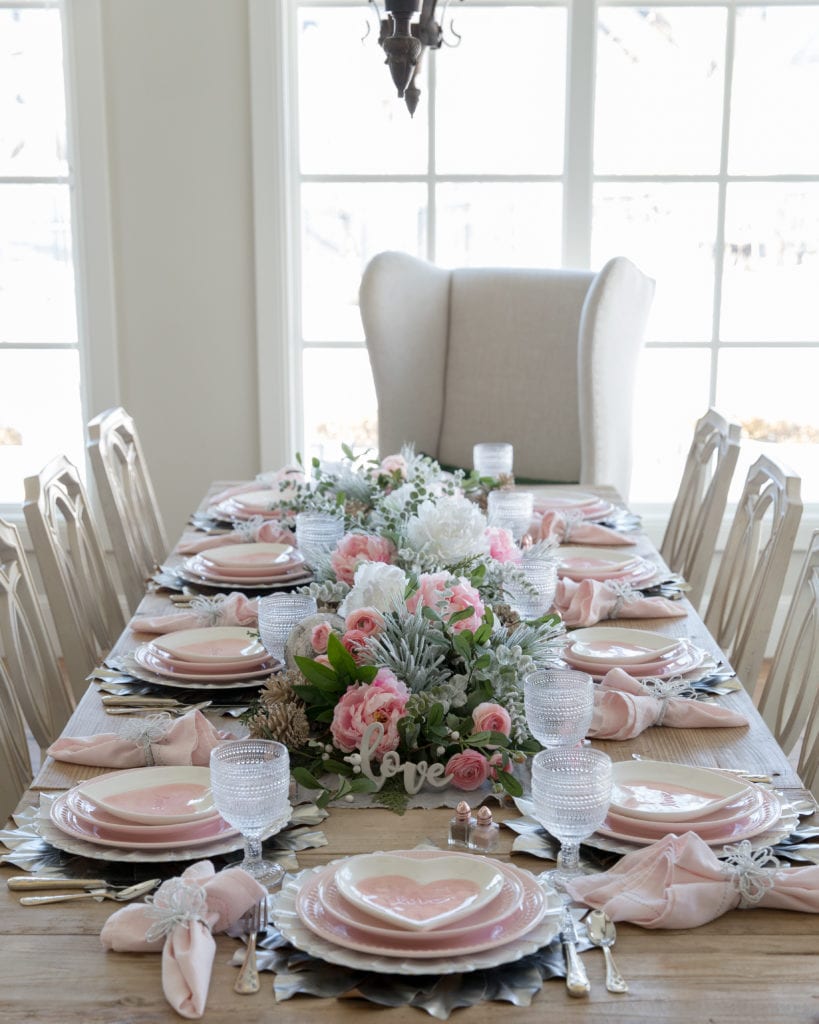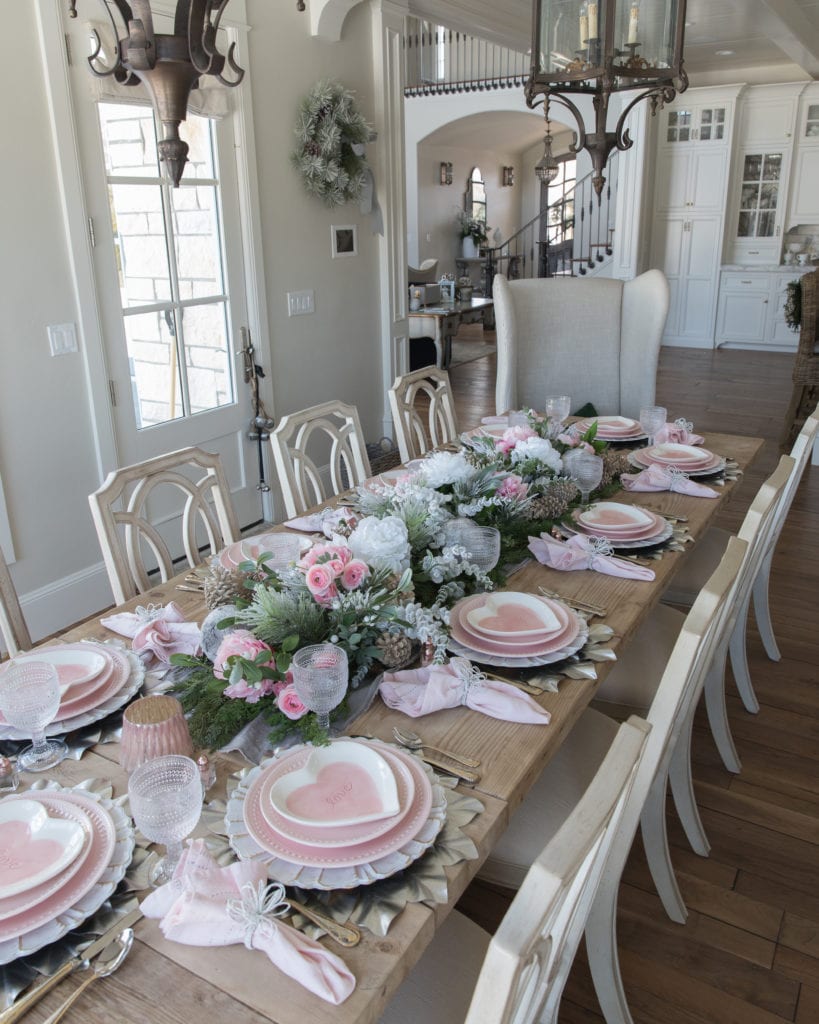 I hope you've enjoyed seeing the all the different ways I've reused this same winter centerpiece garland. I might just keep it up until Saint Patricks Day! I counted twelve different Tablescape variations with this one base garland!
Enjoy!
XOXO,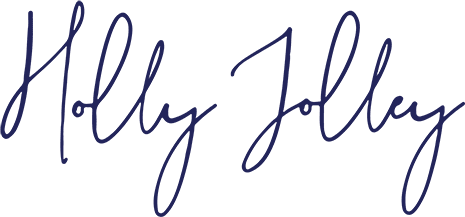 For Sources and Shopable Links:





Other posts you might like to see:
Thanksgiving Silver and White Tablescape
How to Mix Valentines Day Decor into Your Winter Decorations
WINTER CENTERPIECE GARLAND