Sharing my homemade banana pudding recipe with a vanilla wafer and cool whip topping in glass mason jars perfect for a picnic.

Disclaimer: This post does include affiliate links for your convenience. This is at NO additional cost to you but earns me a small commission. To read more, check out our disclosure policy.
Homemade Banana Pudding Recipe
When I went to NYC for the first time last fall, I asked for recommendations on what to do and where to find the best food.
A friend of mine told me about the banana pudding at Magnolia Bakery.
I had never heard of banana pudding and so the first thing we did after arriving and checking into our hotel was to hunt down this famous bakery.
It was so good and I shouldn't admit that I ate it almost every day we were there.
Good thing we worked out every day and walked a lot or I would have gained five pounds!
After coming home, I was craving this yummy dessert and I decided to try making it myself.
I think this homemade banana pudding recipe I came up with is pretty close to the one I tried in NYC and its all homemade.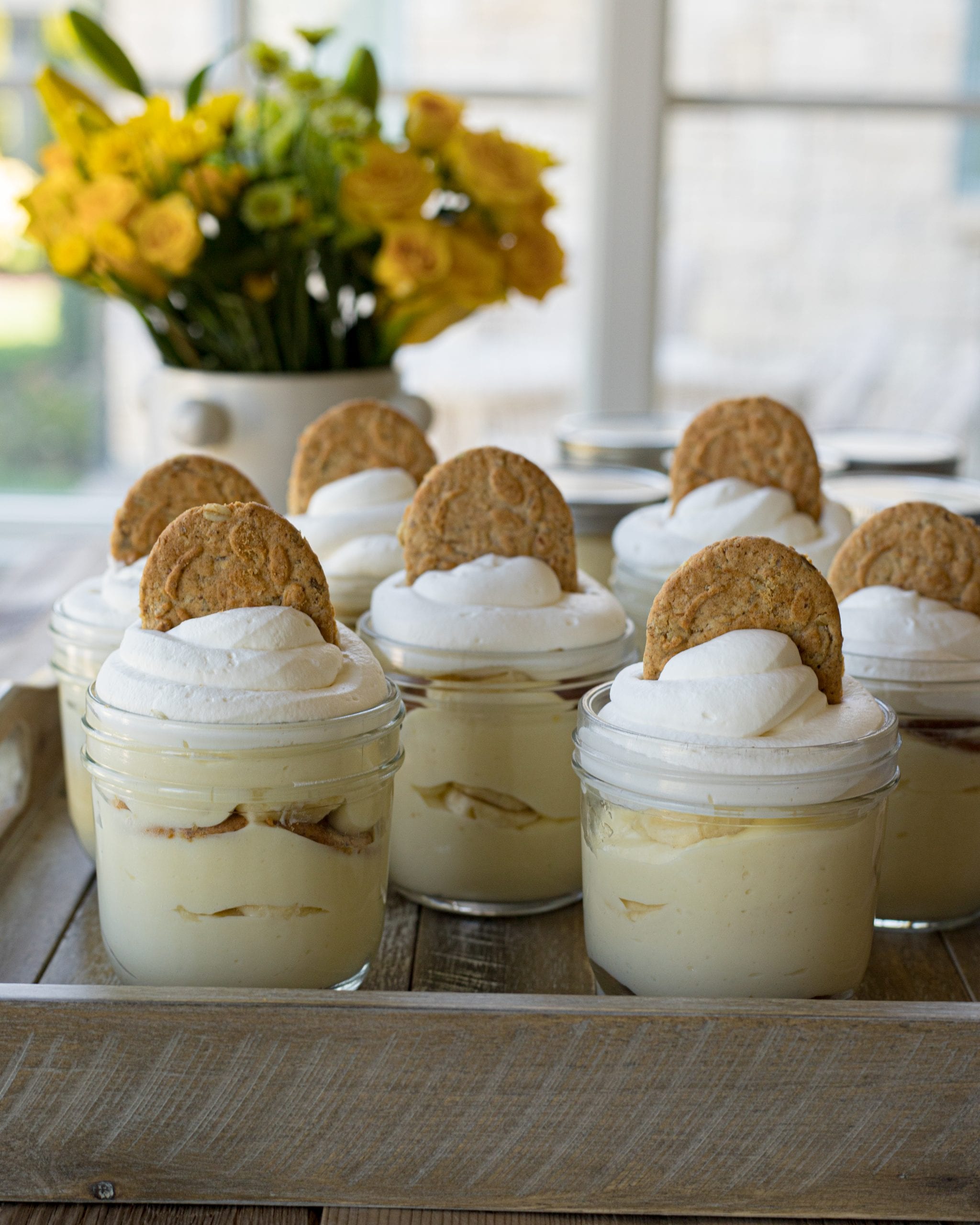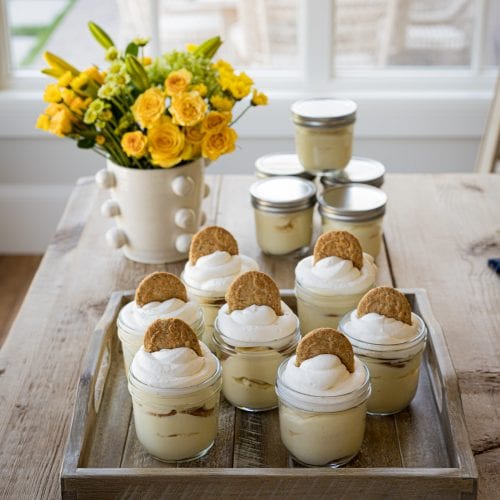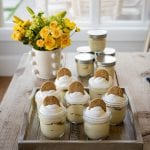 Homemade Banana Pudding
This is my version of Magnolia Bakery in NYC Banana Pudding made from scratch.
Ingredients
6

cups

Whole Milk

1 ½

cups

Sugar

⅔

cup

All Purpose Flour

½

tsp

Salt

6

Egg Yolks

(lightly beaten)

4

tbsp

Butter

2

tsp

Vanilla Extract

6

Bananas

(Green or barley ripe)

1

box

Nilla Wafers or Belvita Cookies

(I used the Belvita toasted coconut cookies this time but nilla wafers are traditonal)

Optional: Salted Caramel Sauce

1

quart

Heavy Whipping Cream

¾

cup

Powdered Sugar

(this is for the whipping cream)

1

tsp

vanilla

(this is for the whipping cream)
Instructions
Dump the milk into a medium sized saucepan or dutch oven. Scald the milk (If you haven't scalded milk before here is the directions: place milk in sauce pan and heat up the milk on medium heat. Once the milk has begun to steam and show small bubbles, it should be done. Milk is considered to be scalded once it exceeds a temperature of 180° F. You can use a thermometer if you like but be careful to not burn the milk).

In another large saucepan or dutch oven, combine the sugar, flour, and salt; whisk them together and then gradually stir in the scalded milk.

Over medium heat, stirring constantly, cook until thickened.

Cover and, stirring occasionally, cook the pudding mixture for two minutes longer.

In a small bowl, have the egg yolks, slightly beaten, ready; when the pudding mixture is done cooking for the two minutes, add a cup of the mixture into the bowl with the eggs. Use a whisk to stir. This is called tempering the eggs and will prevent them from scrambling when you dump them into bubbling pudding mixture. Once the cup or so of pudding and the eggs are thoughoughly combined, add the egg mixture into the pudding slowly, stirring constantly.

Cook for one minute longer, stirring constantly to prevent scorching.

Remove from heat; the pudding should be thickend at this point.

Add in the butter and vanilla and stir until butter is melted and everything is well blended.

Let sit in pan until lukewarm, stirring occaisionally.

Put the pudding into a large bowl and cover the pudding with plastic wrap. Dont cover the bowl though, actually put the plastic wrap right on top of the pudding to prevent it from getting a skin on the top. Refrigerate overnight or for a few hours until its cooled.

When you're ready to assemble the pudding, whip the quart of heavy whipping cream with 3/4 cup powdered sugar and 1 tsp vanilla. Whip the cream until stiff.

Take half the whipped cream and gently fold into the pudding until well combined.

You can make the puddings individually or you can do it in a 9×13 pan or trifle bowl. I did these in individual pint mason jars.

Put 3 nilla wafers (or whatever cookie you're using) in the bottom of the jar, then layer some of the pudding on top of the cookies. I use a piping bag or zip lock bag to pipe the pudding into the jars.

Add a layer of bananas; about 5-6 slices.

Add aother layer of pudding on top of the banans and then add 2 or 3 more nilla wafers.

Add one last layer of bananas and one last thin layer of pudding to cover the bananas. Top with the rest of the whipped cream and then stick a nilla wafer or whatever cookie you're using on top of the whip cream. I also use a piping bag to for the whip cream but you can spoon it in as well.

Refrigerate until ready to serve. I will sometimes add a layer of salted caramel to the middle and then drizzle over the top when I'm ready to serve. This is optional.

You can also fill the jars up a little less and put the lid on them to take on a picnic or to give to the neighbors as a little treat.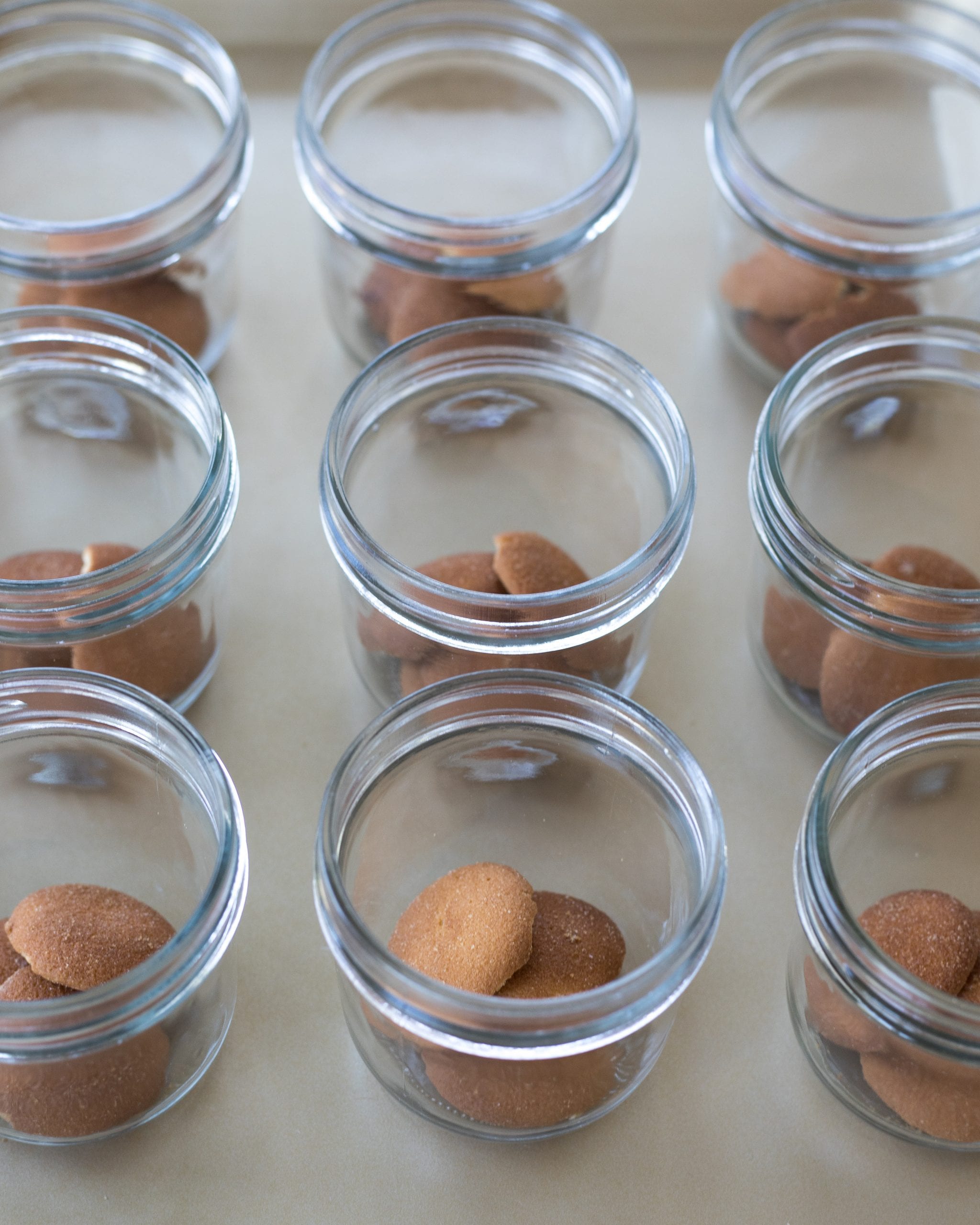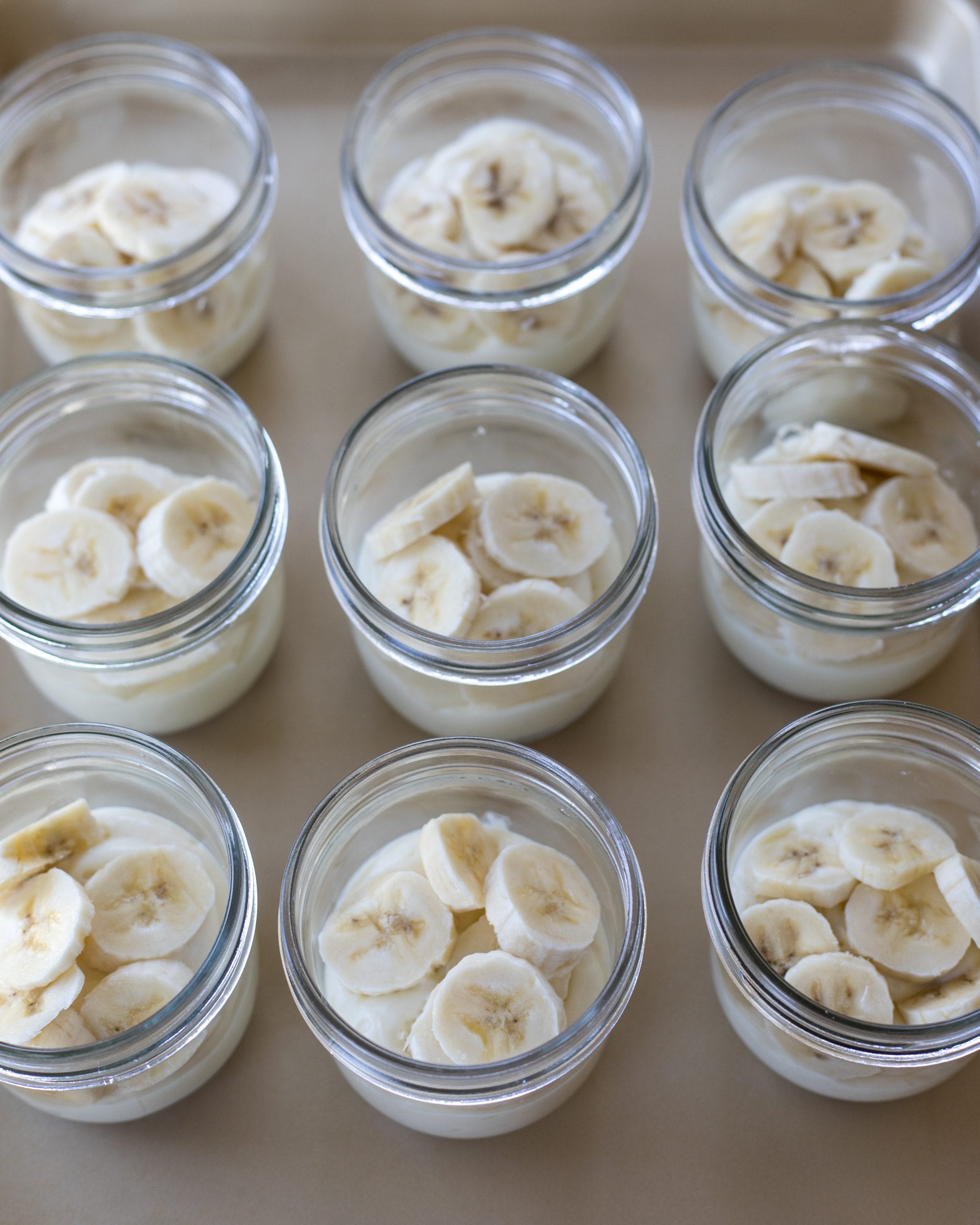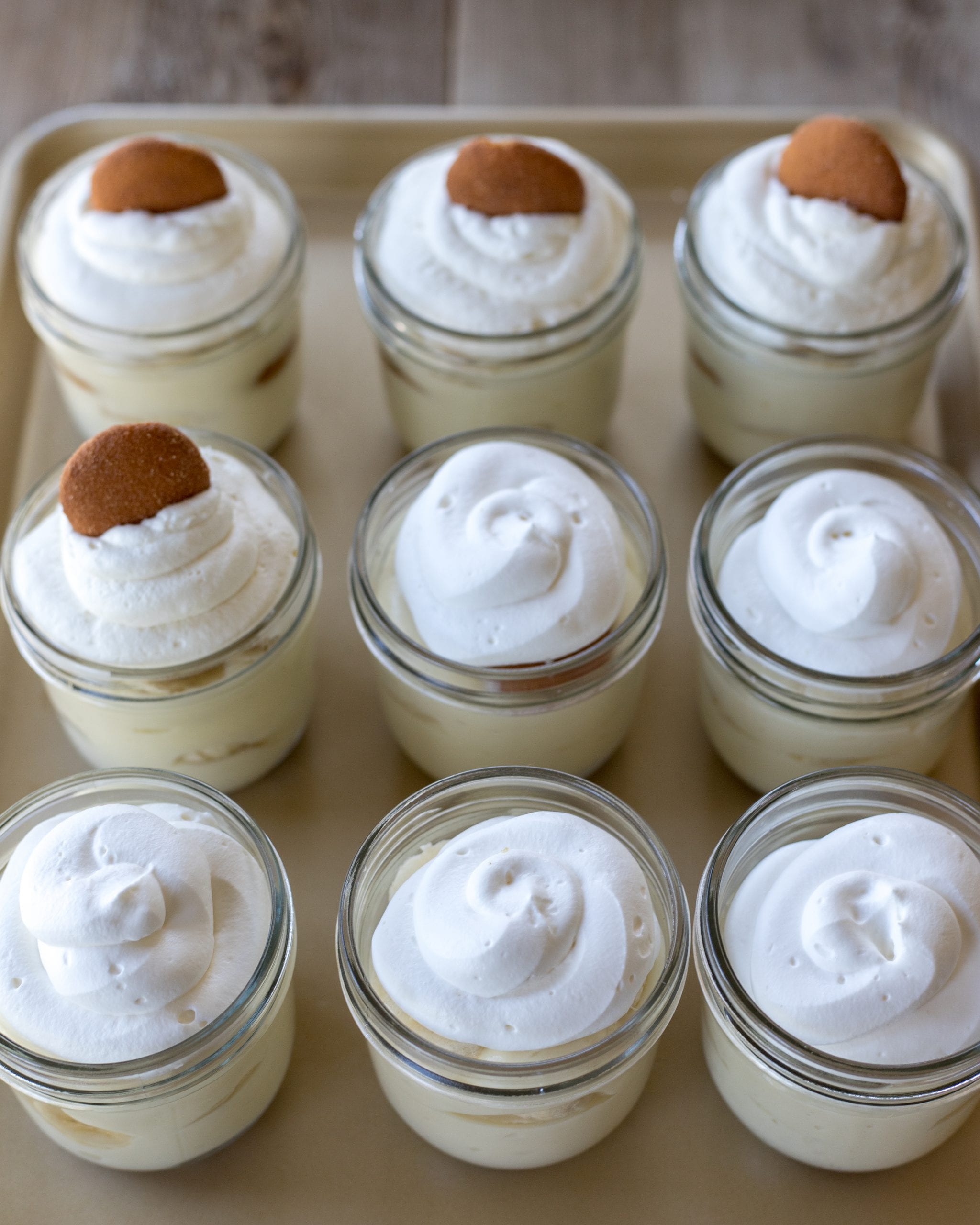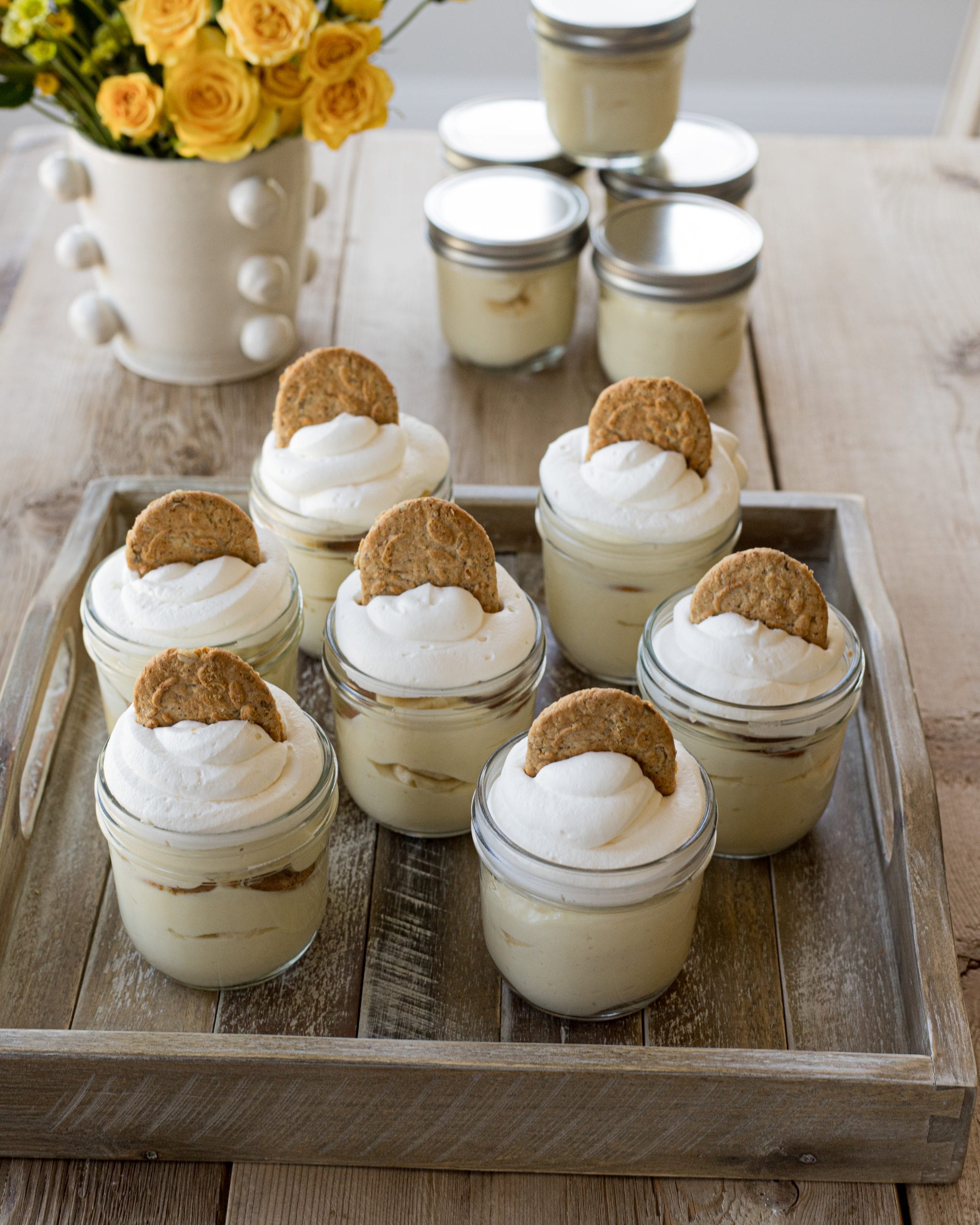 One thing I like to do is to fill them a little less full and then put the mason jar lid on and take them as a treat to my neighbors or make these ahead of time for a picnic. It's really fun for everyone to get their own little mason jar filled with this yummy banana pudding.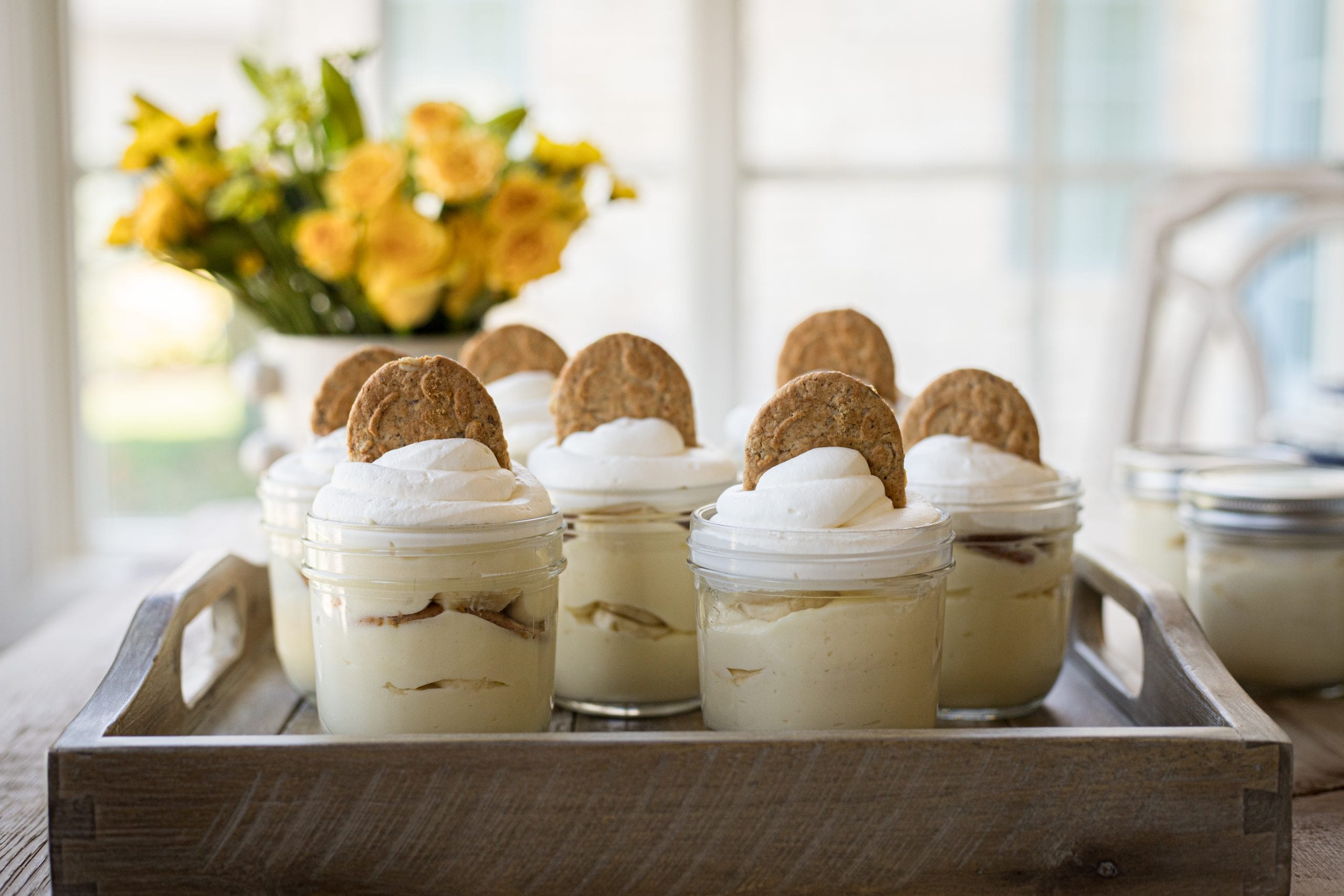 As I mentioned earlier, I used Belvita toasted coconut cookies instead of Nilla wafers this time but Nilla Wafers are the traditional way and I like them both! Try adding the salted caramel to them too! It's another delicious layer!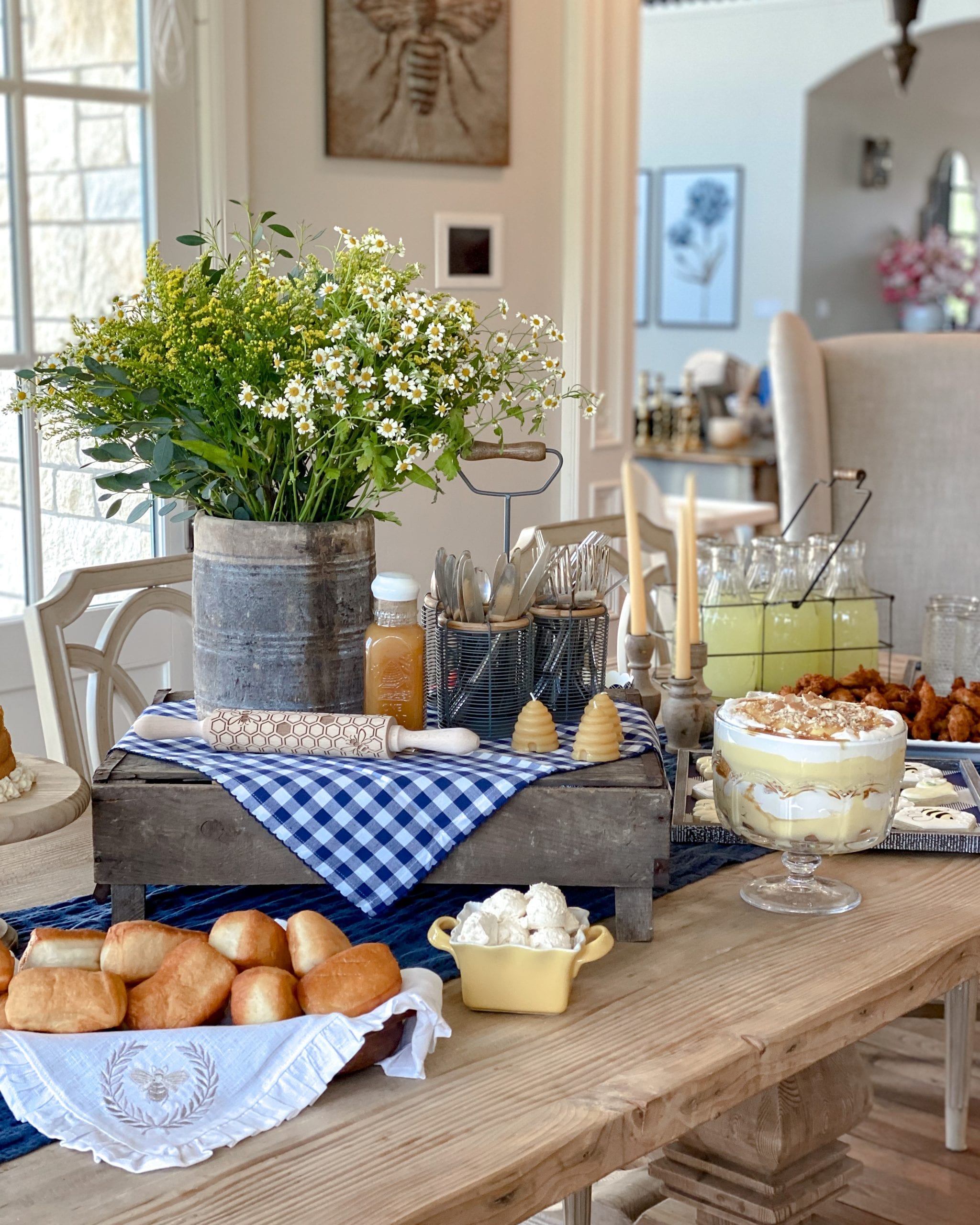 I made the Banana Pudding in a trifle dish for our Utah Pioneer Day Party.
I added salted caramel in the middle layer and crumbled the Nilla Wafers on top.
Then I drizzled the salted caramel on top.
The funniest part about this trifle was that I forgot the bananas! I cut up bananas right before I served the food and set them in bowl beside the pudding so everyone added them on top.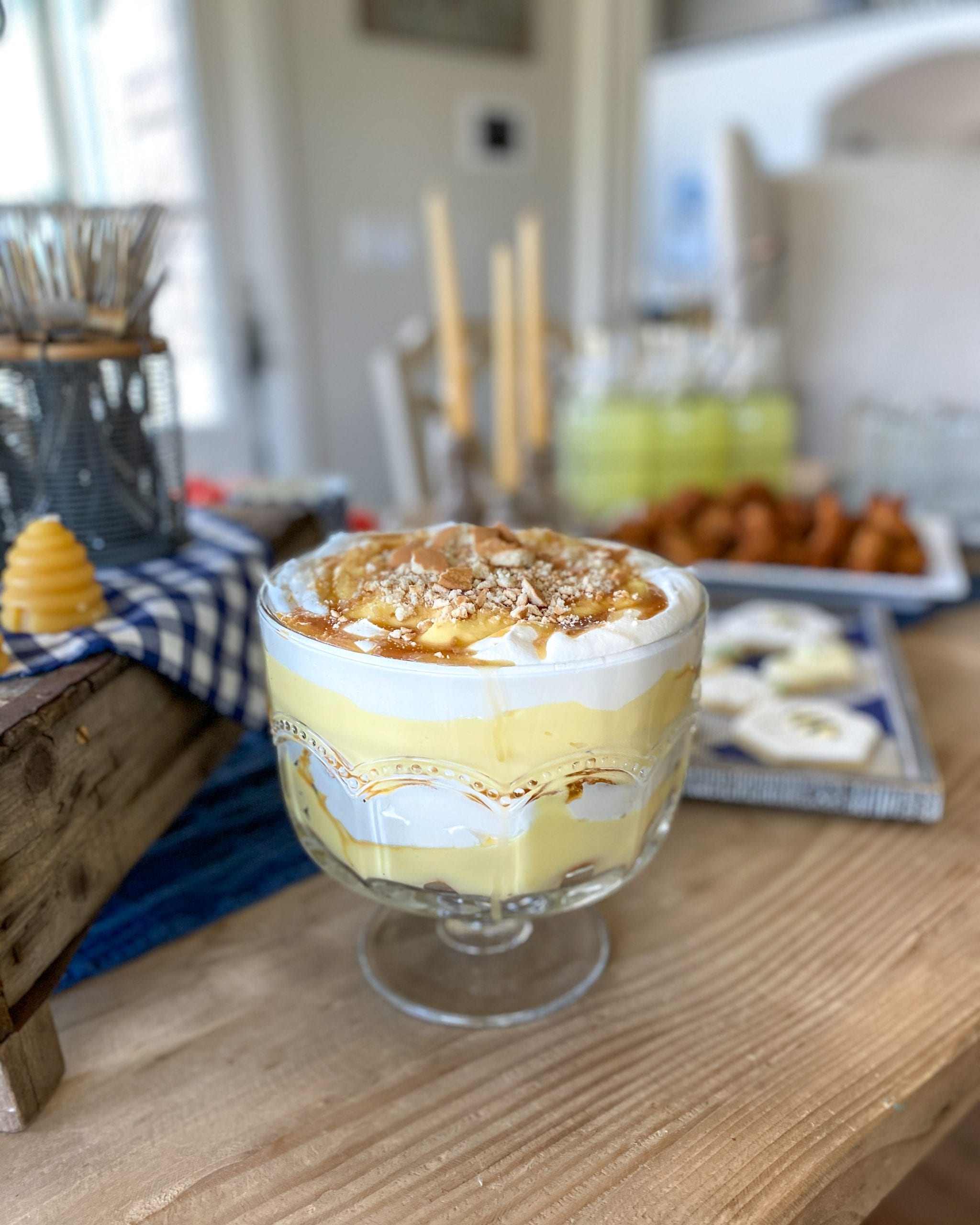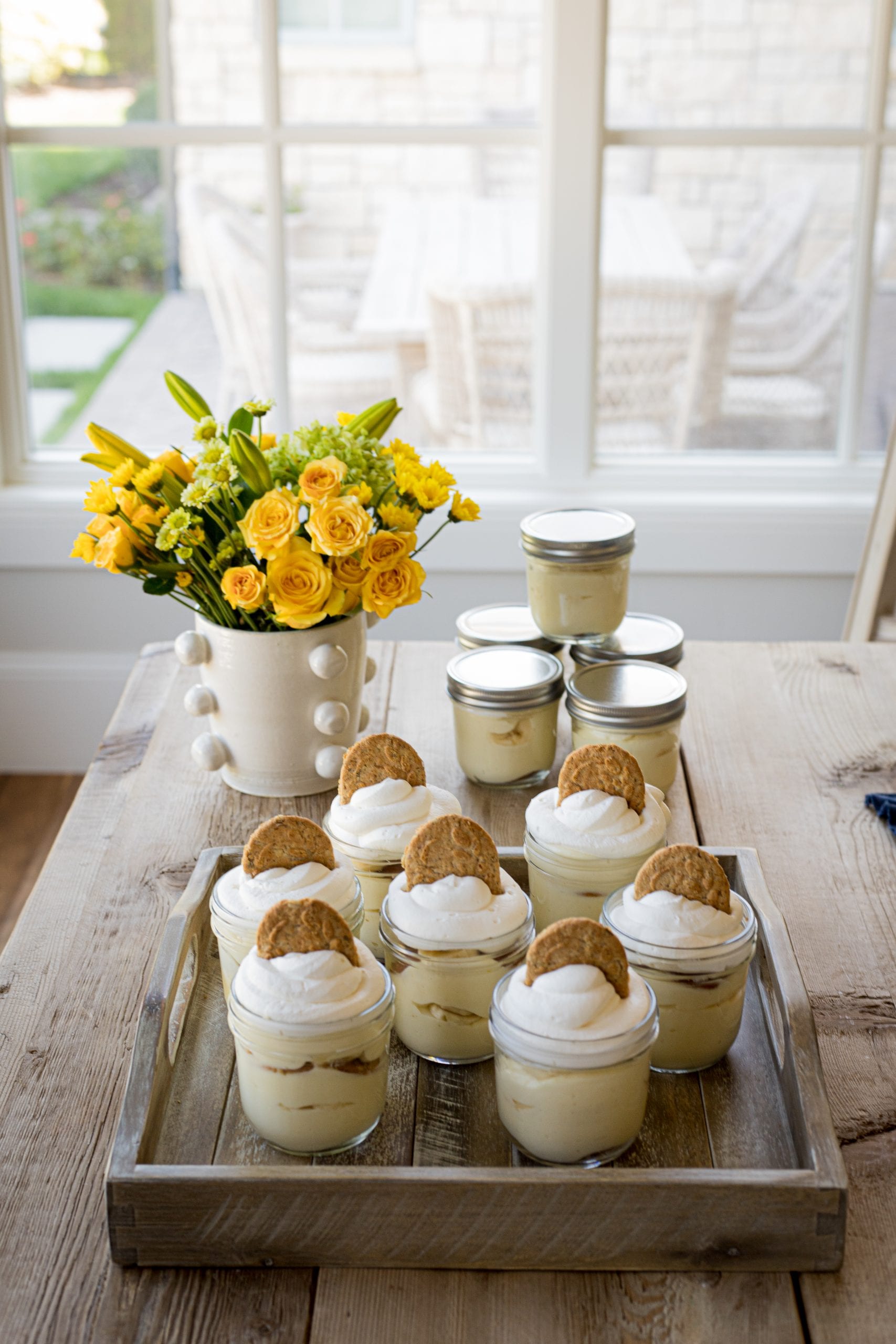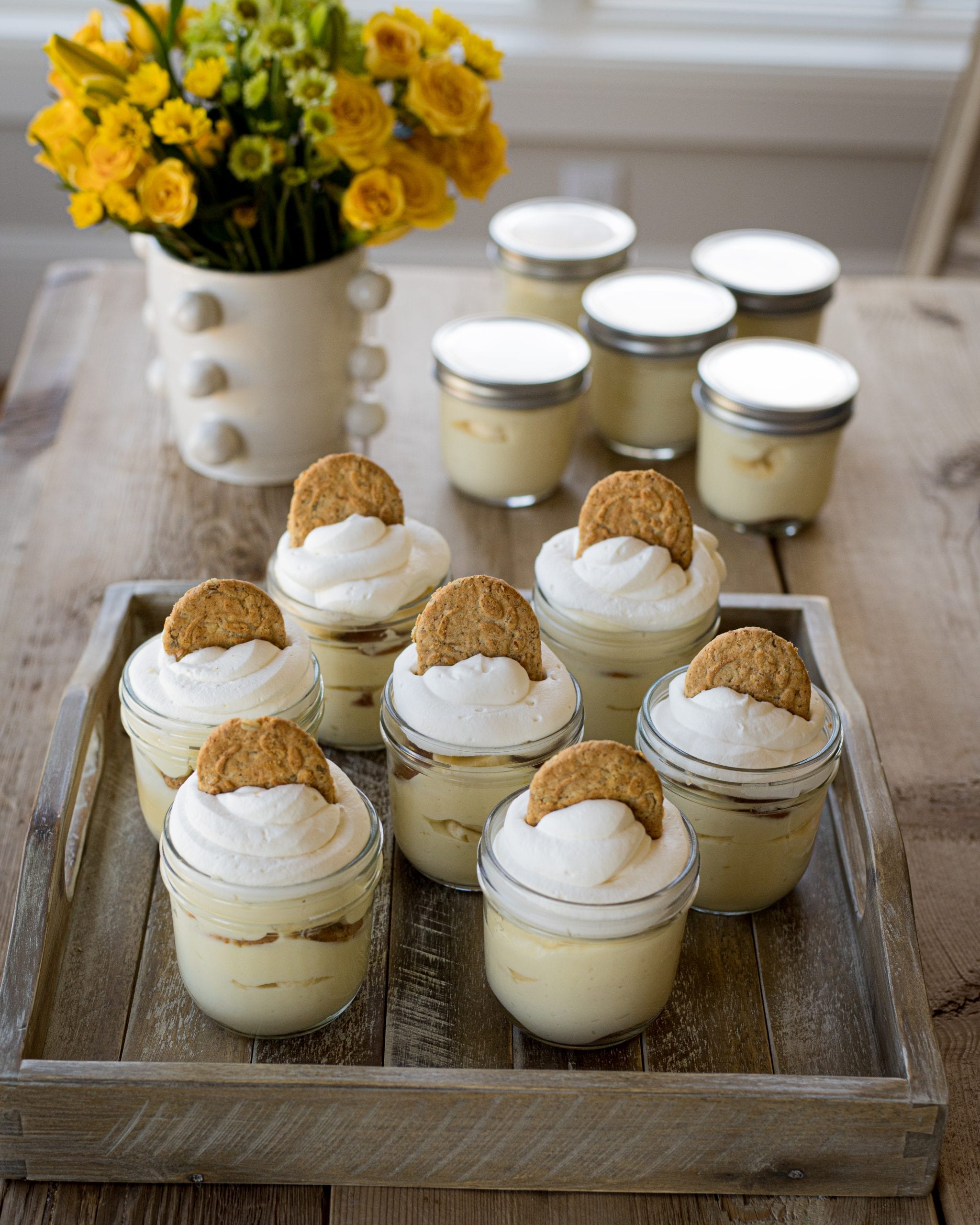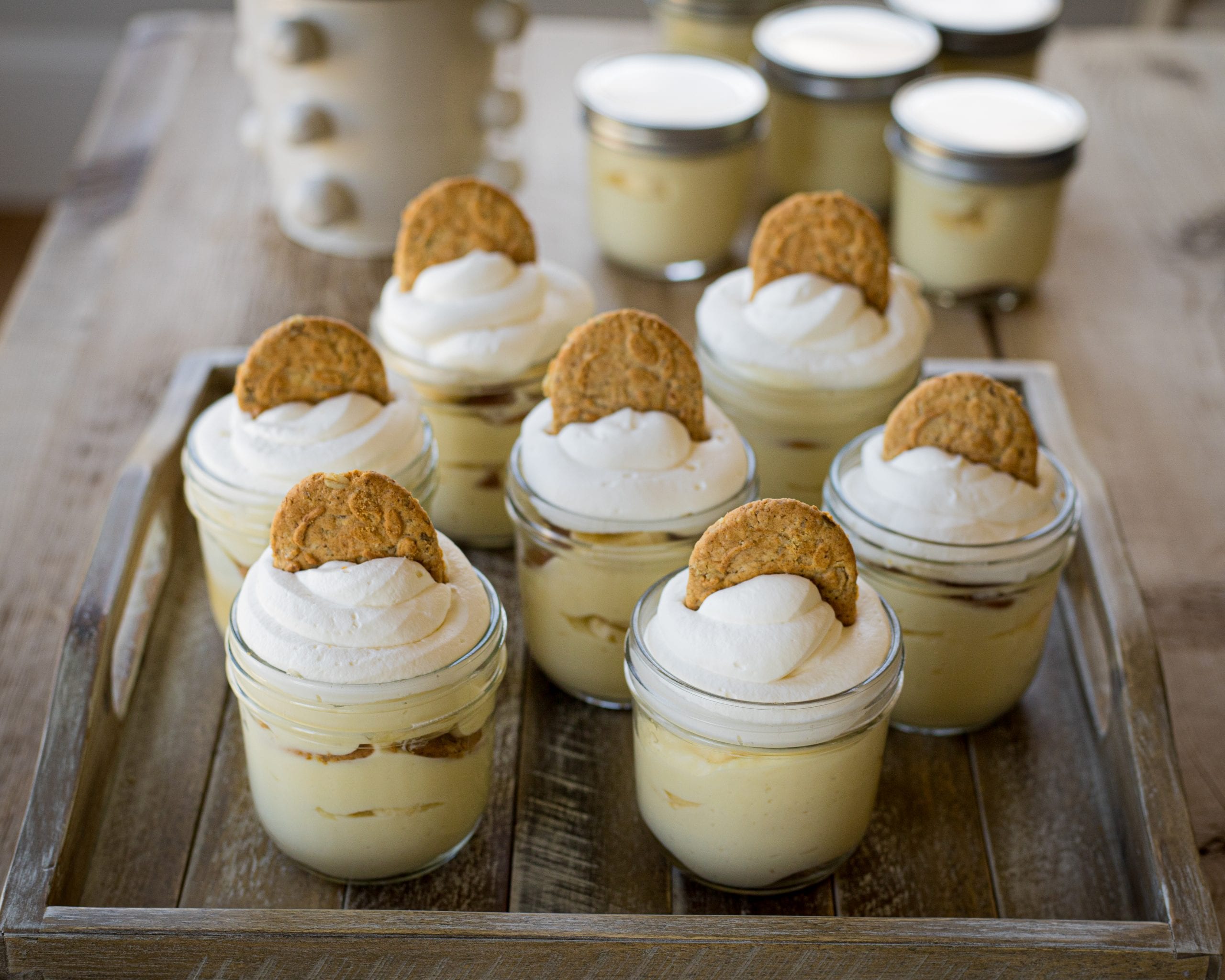 I hope you give this recipe a try. Some people make it with jello pudding and cool whip which is always an option but I prefer this one that's all homemade. It tastes better when it's homemade and it's not full of preservatives. Homemade is always better in my humble opinion.
SHOP THE POST:

PIN THIS FOR LATER: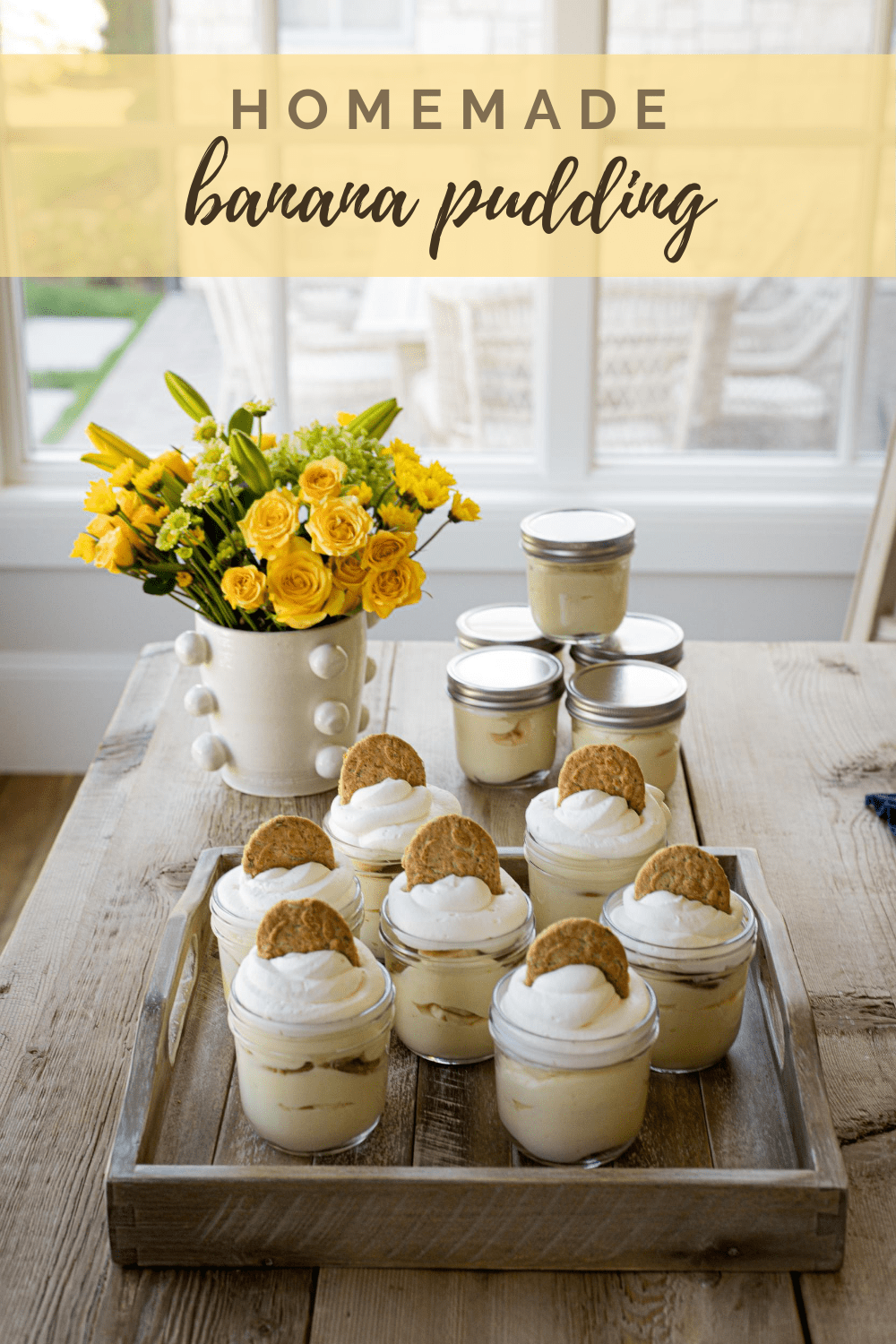 Enjoy!
xoxo,