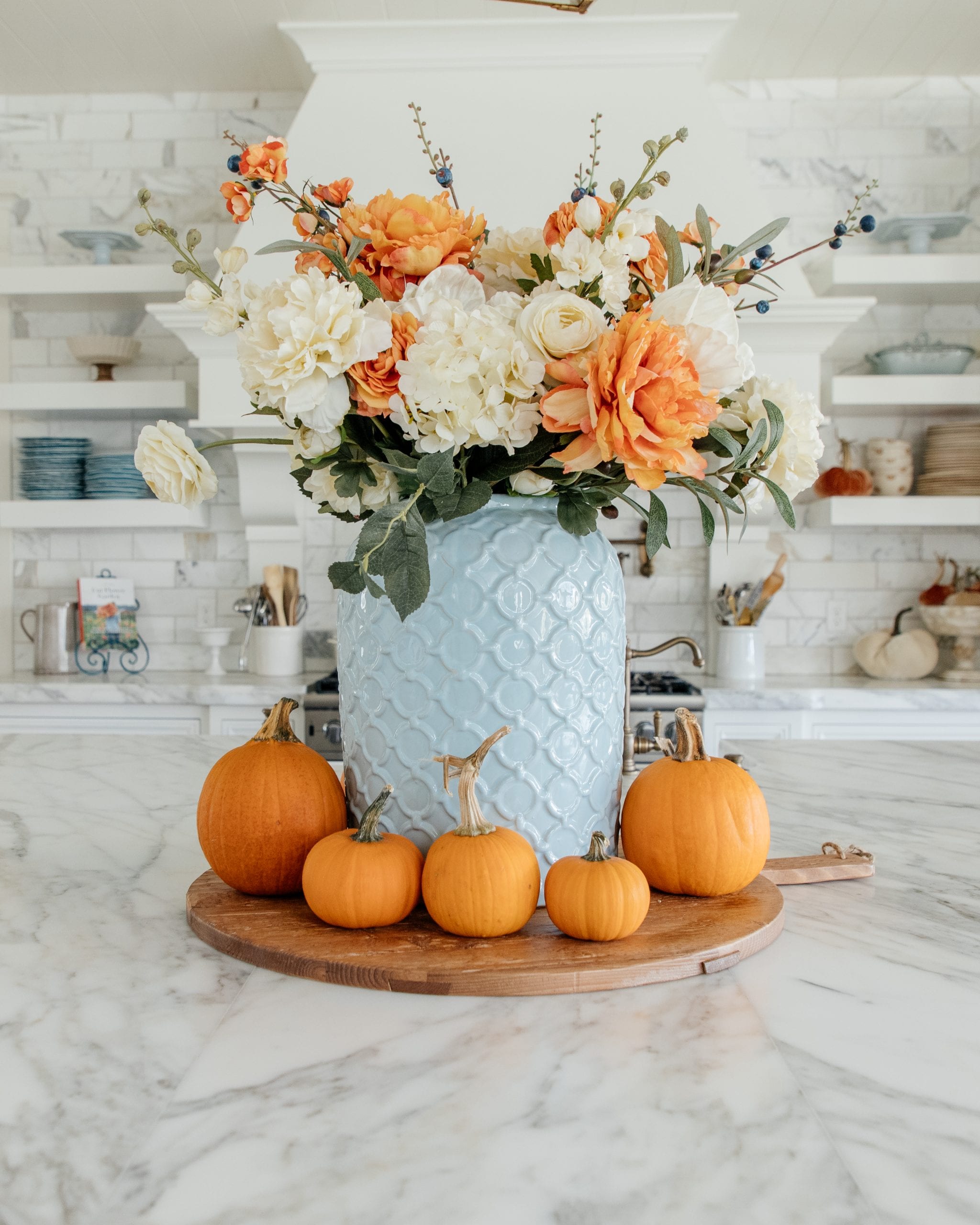 Blue and Orange DIY Fall Centerpiece
Fall is quickly approaching and I've already started my Fall decorating! This Blue and Orange DIY Fall Centerpiece is so easy to make and adds a pop of color anywhere you place it. I set mine in the middle of my kitchen island and I love how it turned out.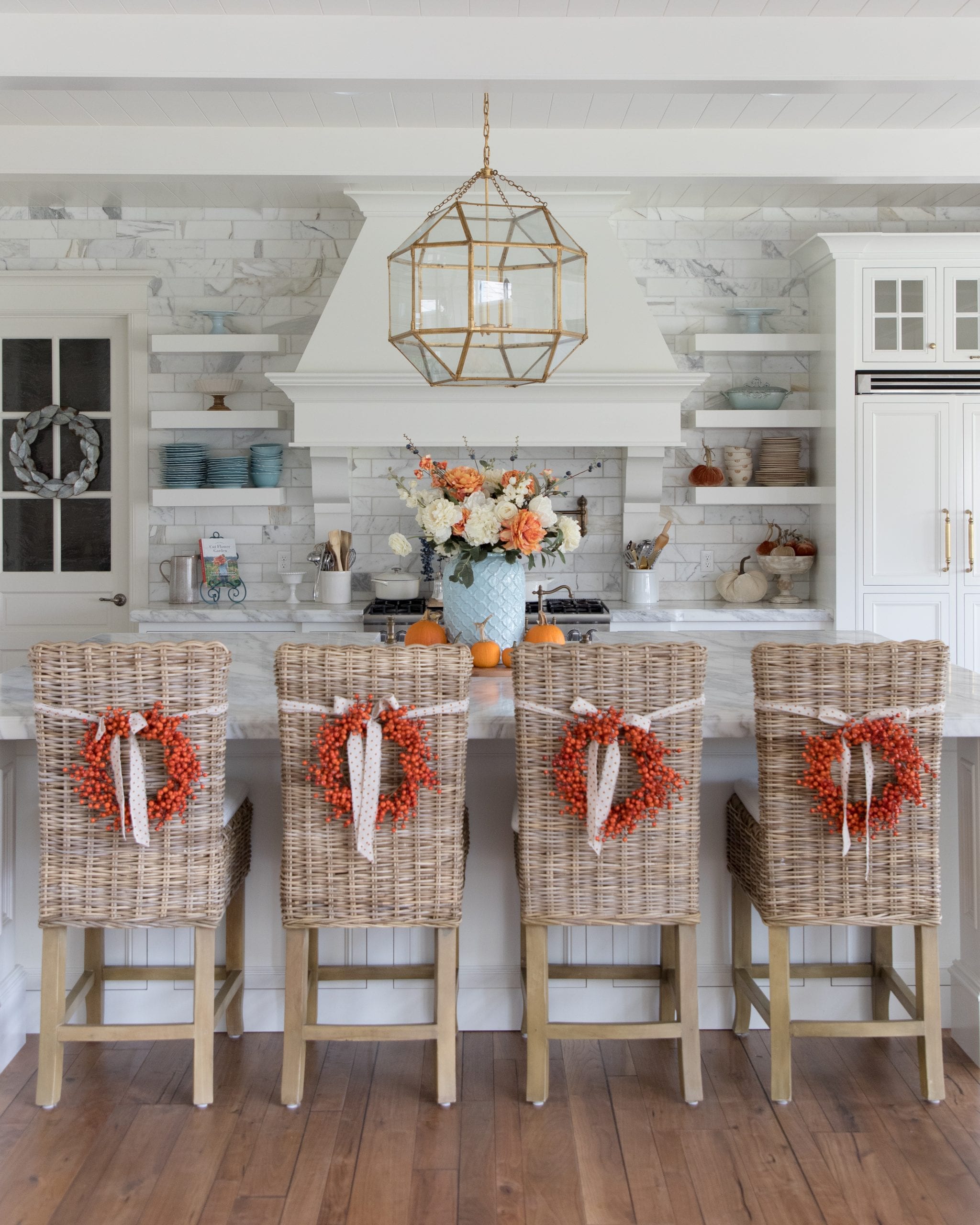 Picking my Fall Color Decor Palette
I have a lot of blue in my Highland, Utah home and decided to go with a light blue and orange color palette. I wasn't sure if I would like it or not so I started with this faux floral centerpiece. Once I was done making this I set it out on the island on top of a round shaped wood cutting board and I knew I'd made the right choice for colors!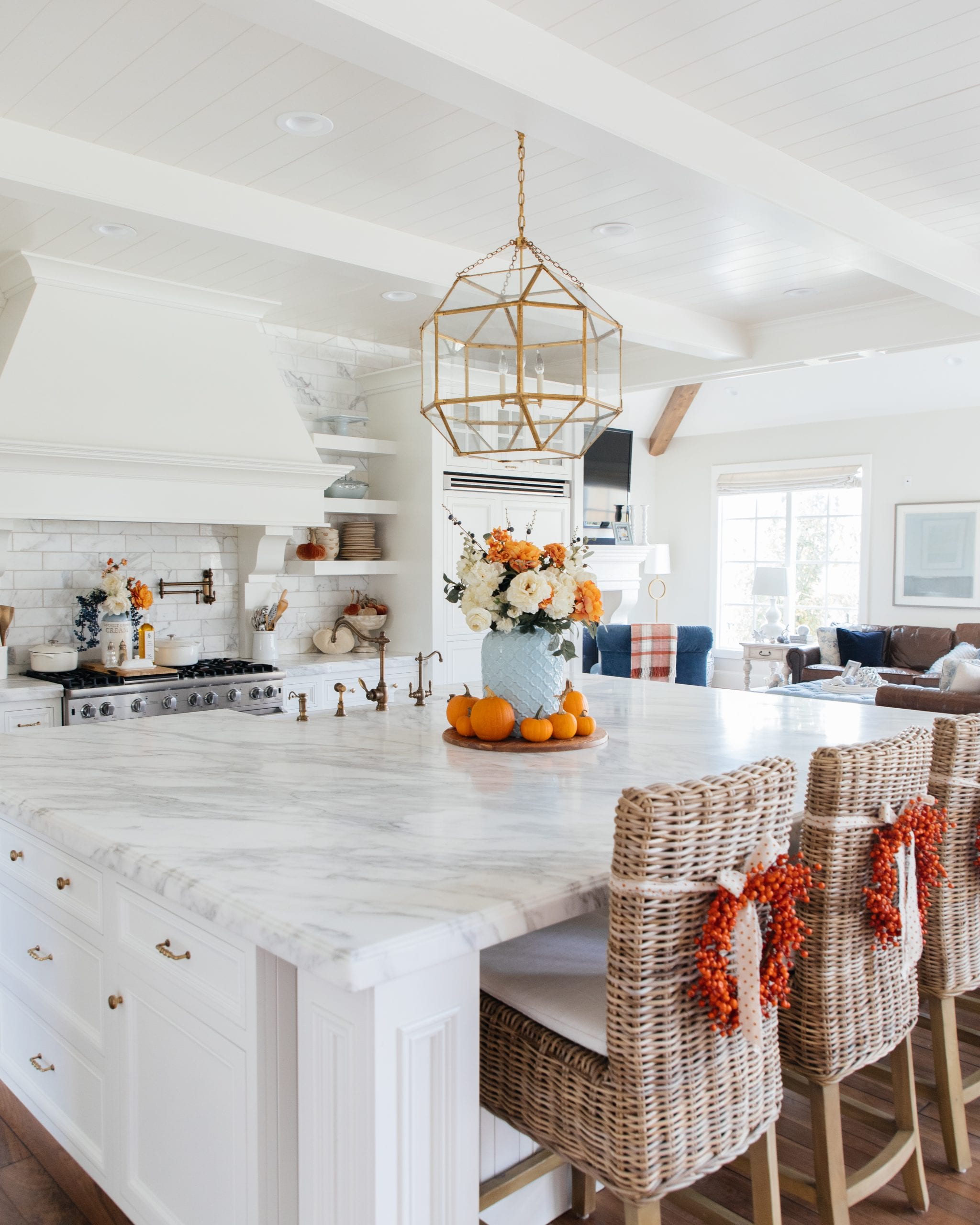 After placing the centerpiece on the island, I started adding other decor in the same color palette to my open shelves and the rest of my kitchen, family room, and dining room. I also used tan and ivory colors around my home to compliment the blue and orange.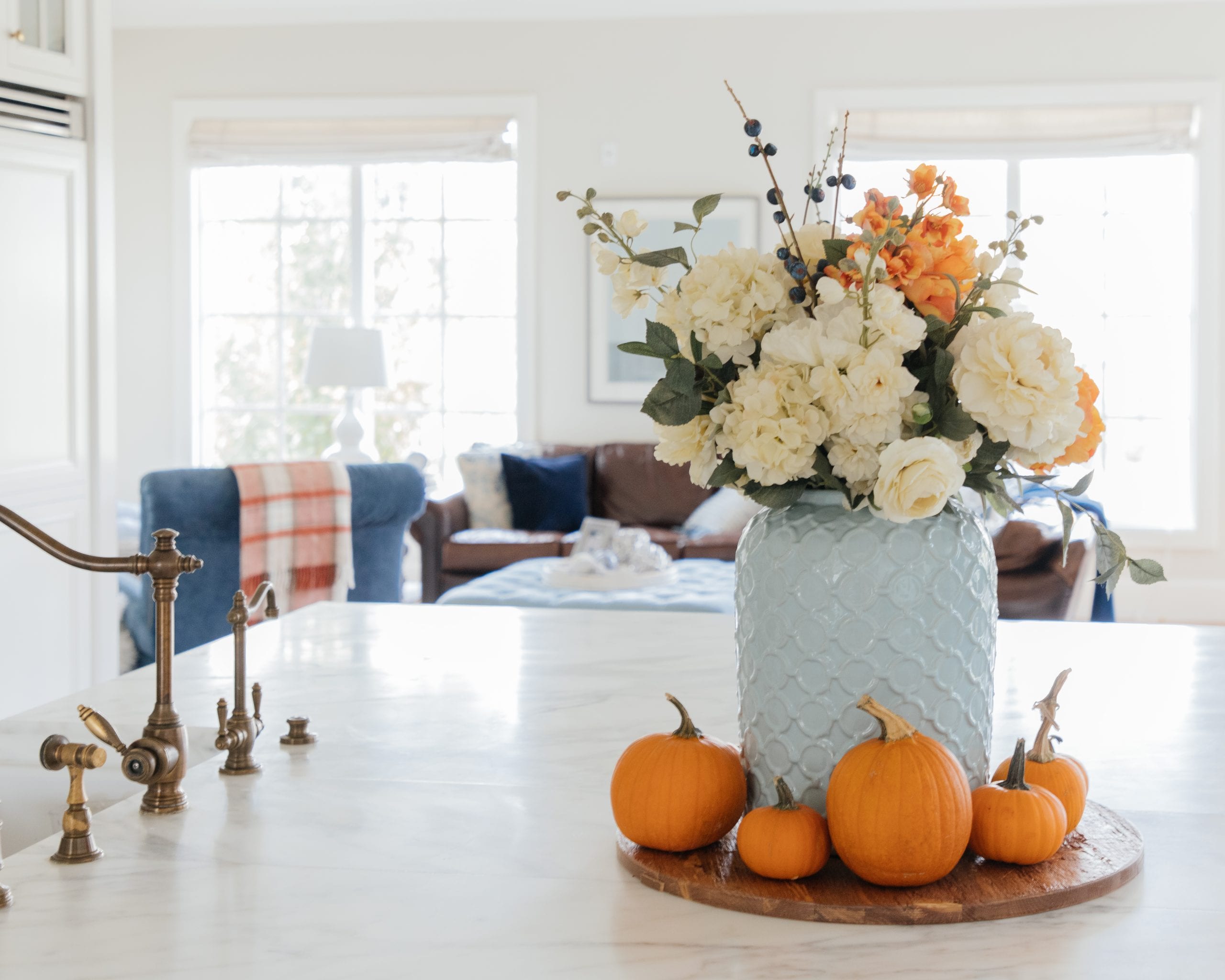 Using Artificial Florals
One of the reasons I like to use artificial or faux flowers is that they last forever and you can use them over and over again. I only use high quality florals though, as that makes all the difference in the overall quality of your centerpiece or floral arrangement. Here are some of the items I used in this fall centerpiece and in my kitchen decor. I'll link the sources below at the bottom of the post.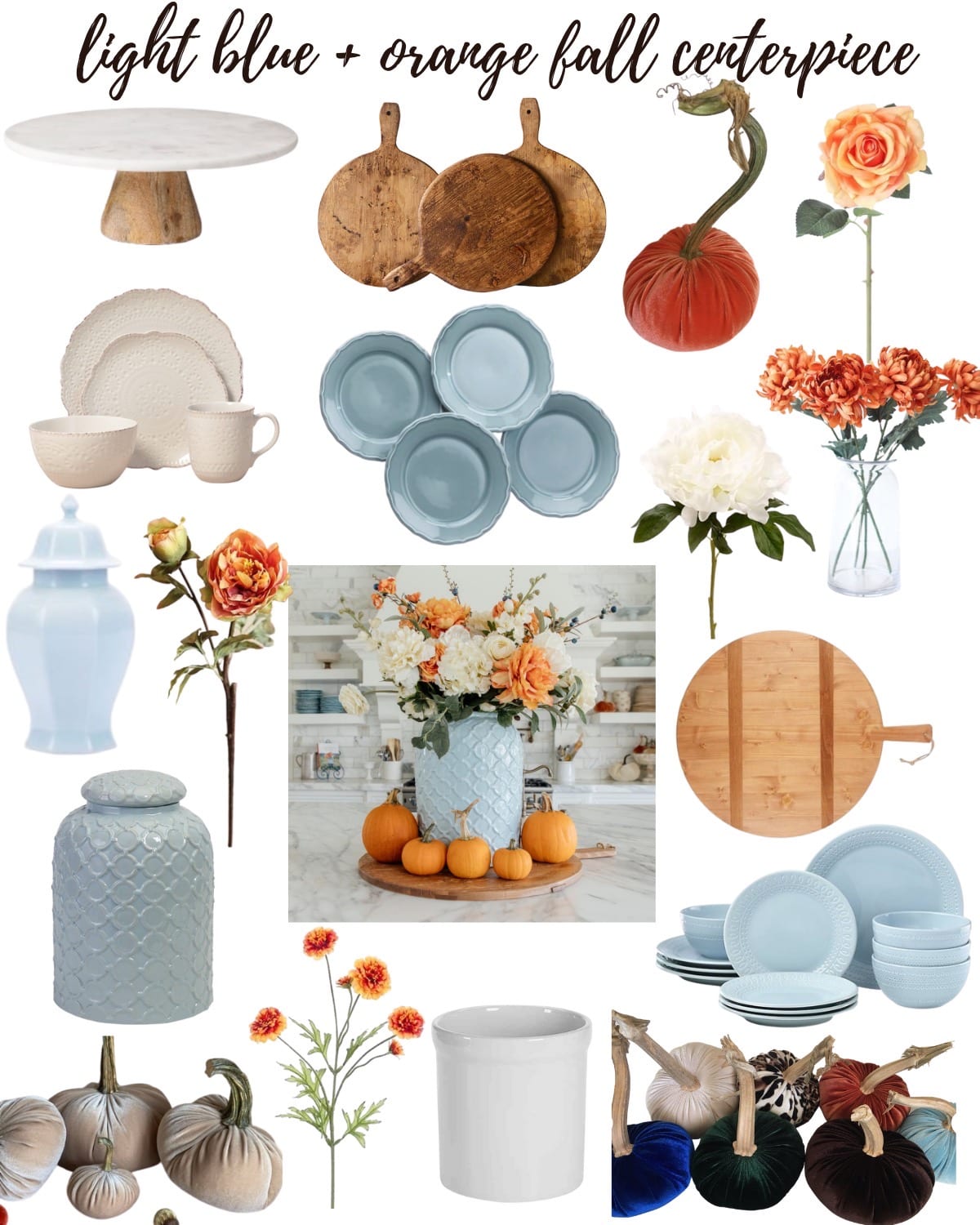 Here you can see how I styled the rest of the kitchen and open shelves.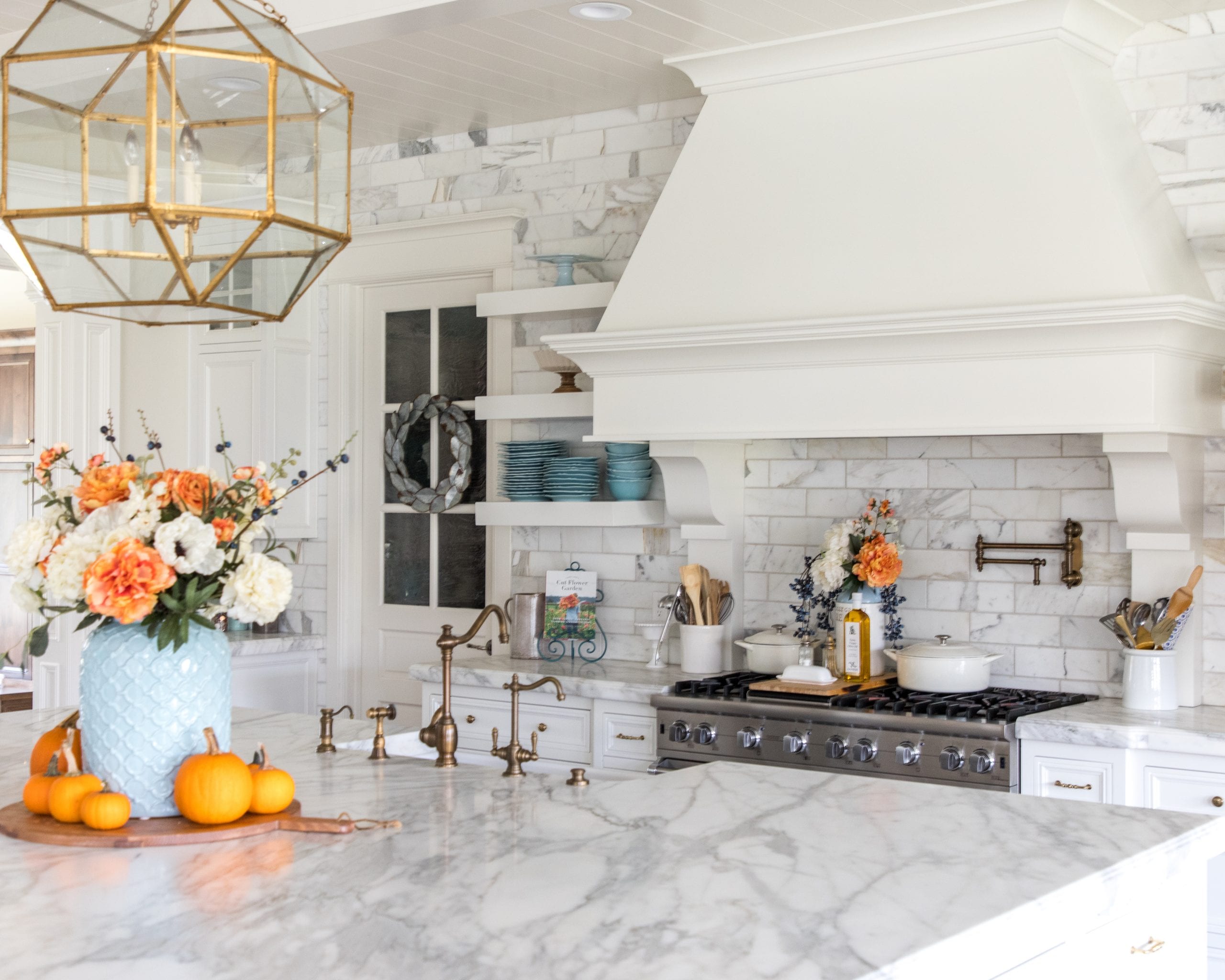 Another reason I like faux flowers is that you can get almost any color in many different types of flowers. I don't know if a burnt orange peony actually exists, but I sure love that there is a faux version available! Faux flowers are easy to arrange because you can shape and bend the stems and cut off the stems if they are too long.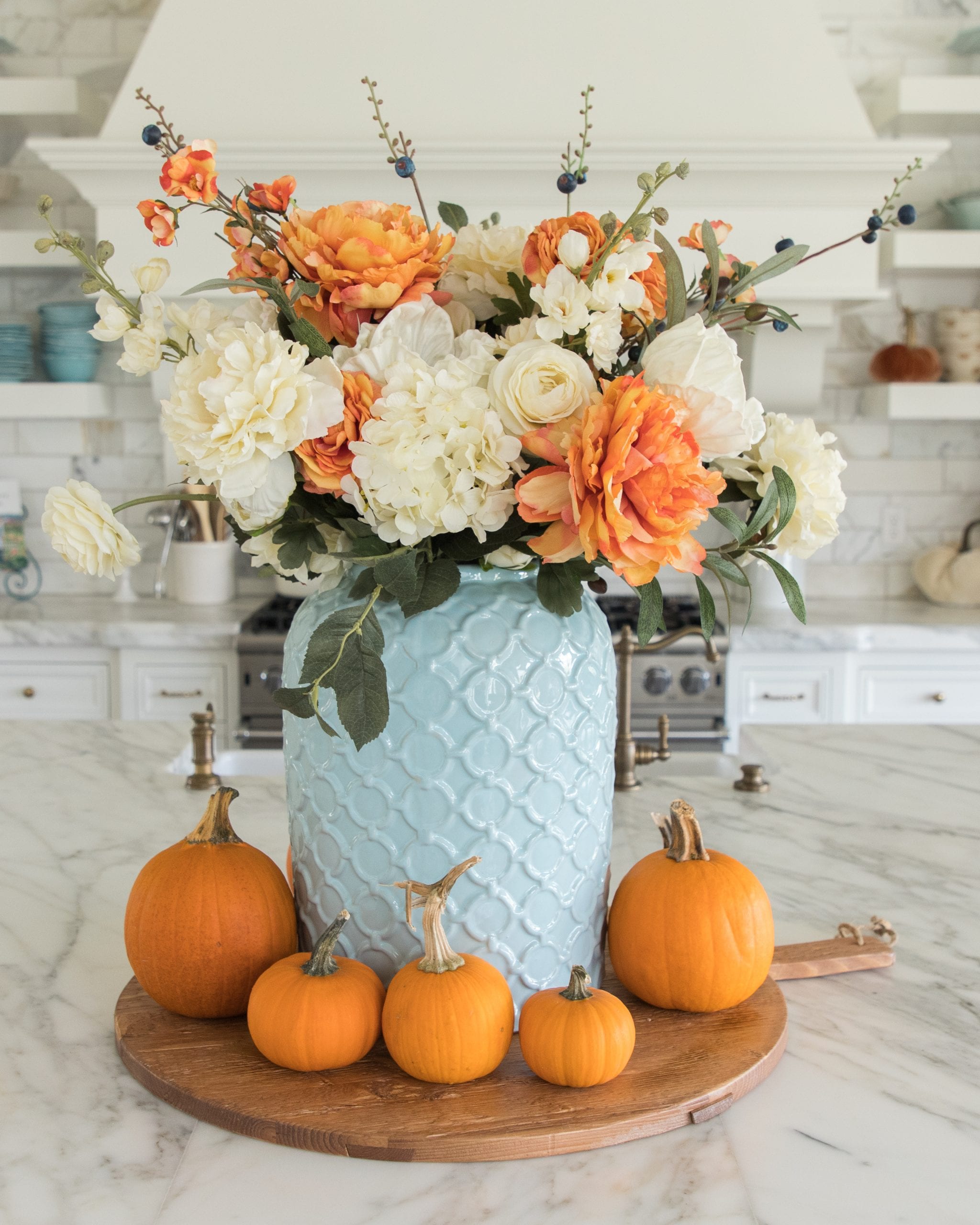 I used a mix of artificial hydrangeas, peony's, roses, and few others smaller flowers that add height and shape to the larger flowers.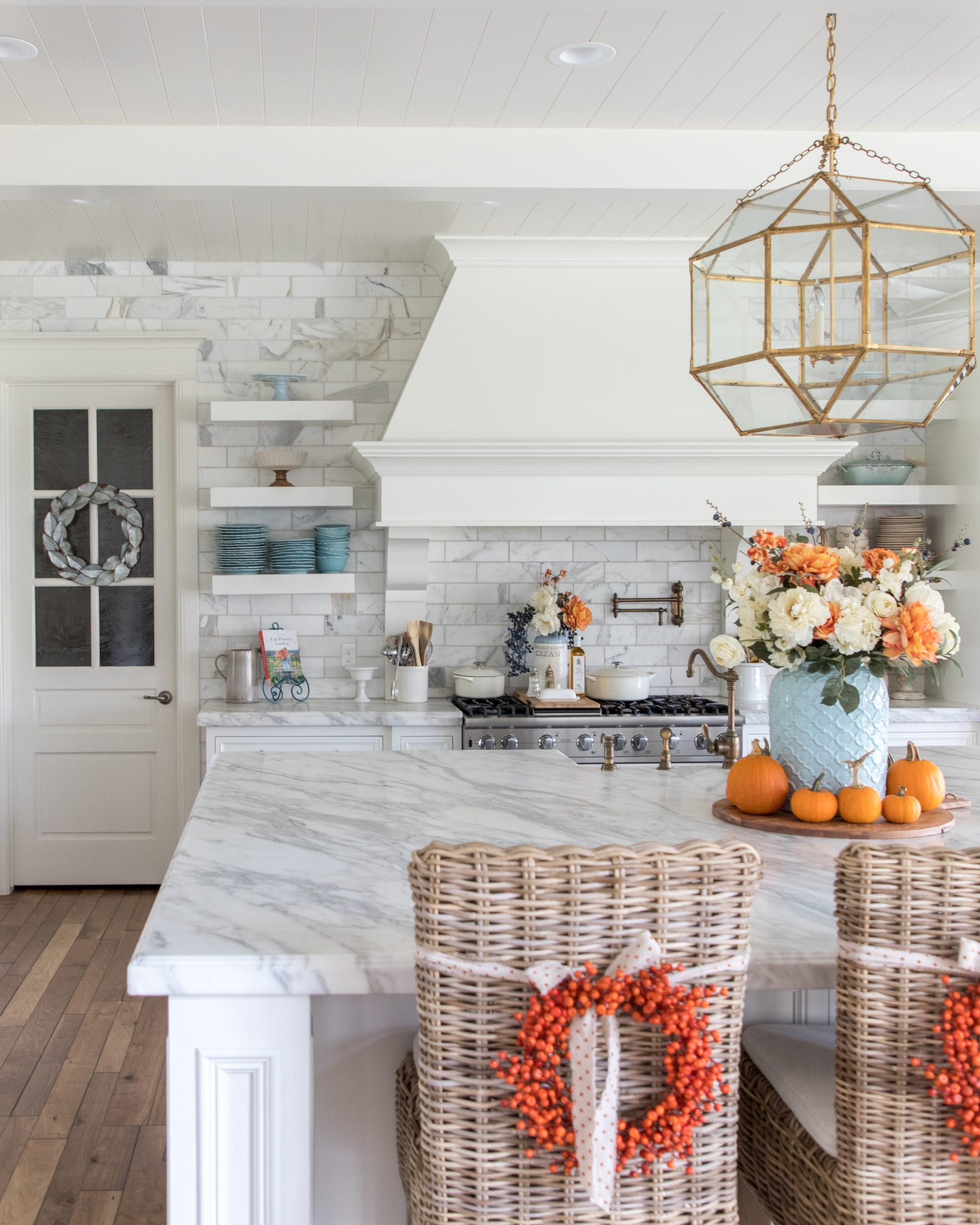 How to Arrange Faux Flowers
First, pick a ginger jar or wide mouth urn or vase to recreate this look. This particular vase has a lid so I removed it and then started filling the jar with my flowers. I added three each of the roses, hydrangeas, ivory peonies, and orange peonies into the vase, and then added in the taller delphinium flowers. I always use odd numbers of flowers so 3 of each is a good formula for this type of arrangement.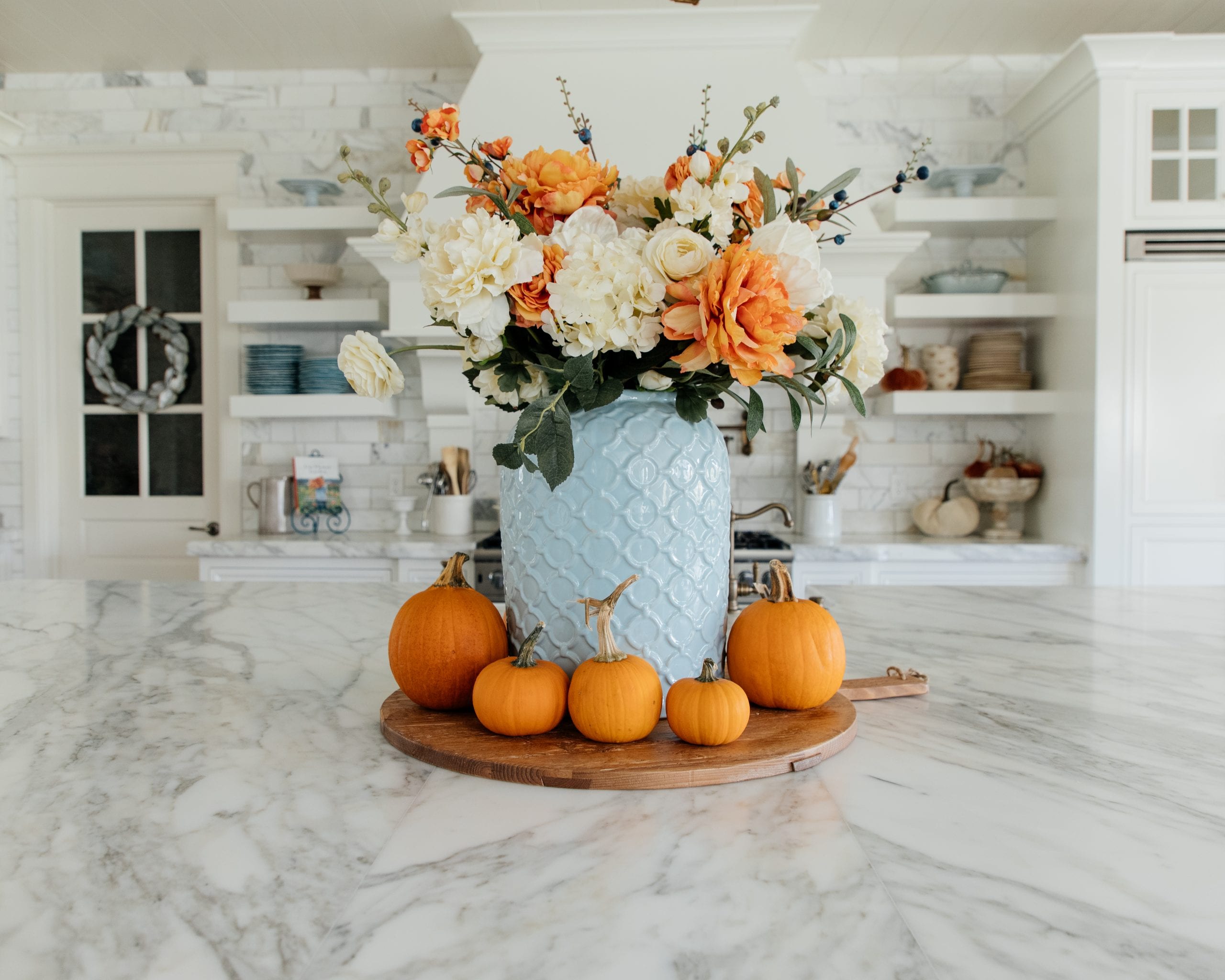 I then added in some of the smaller cream colored roses on the outside and bent them over to look like they are falling out of the vase. You want it loose and not overfilled. Then add in some of the smaller orange flowers to fill in any holes. The last thing I do is check all sides to make sure there are no holes on the sides or back of the arrangement. Since this one can be seen from all sides, every part needs to look good!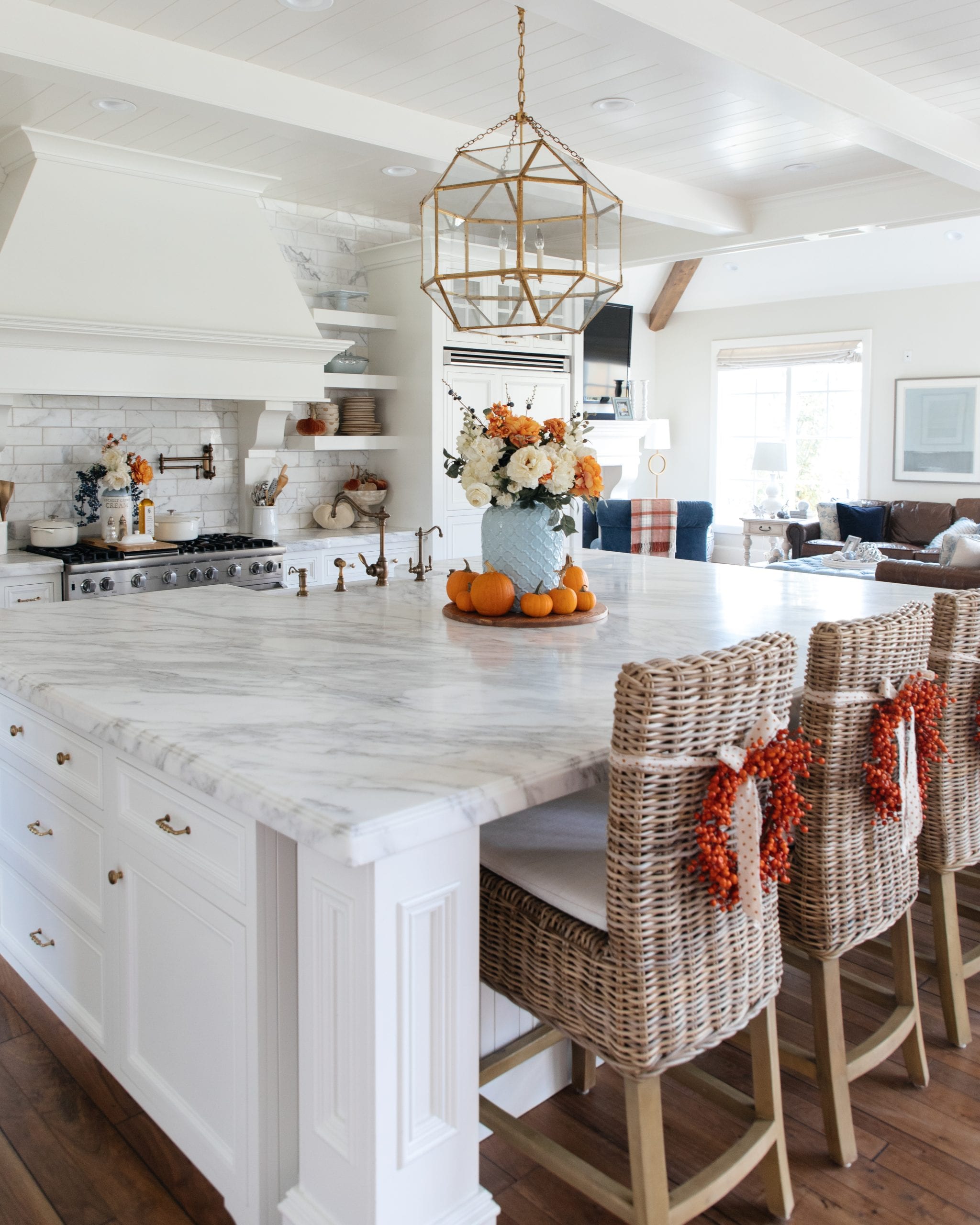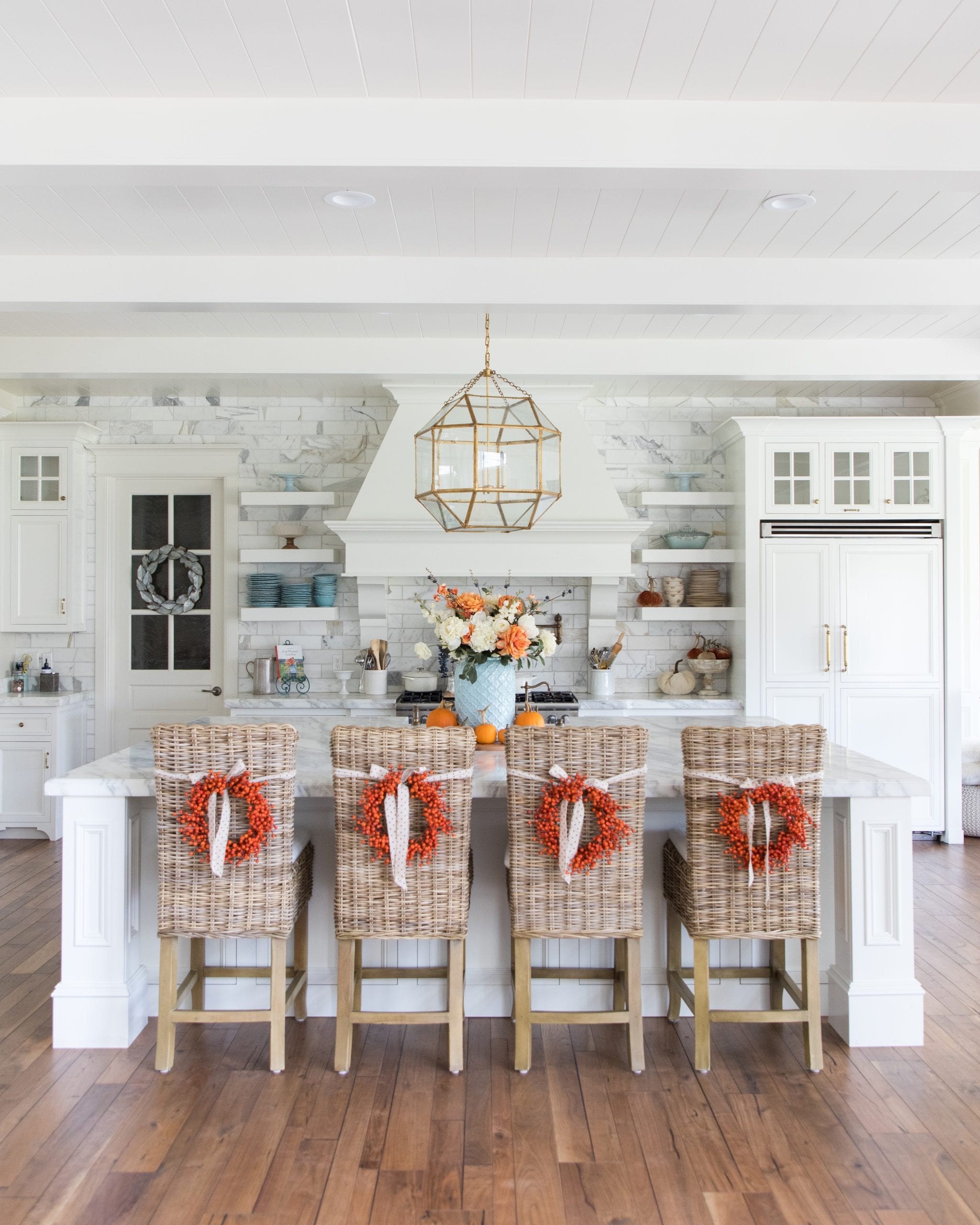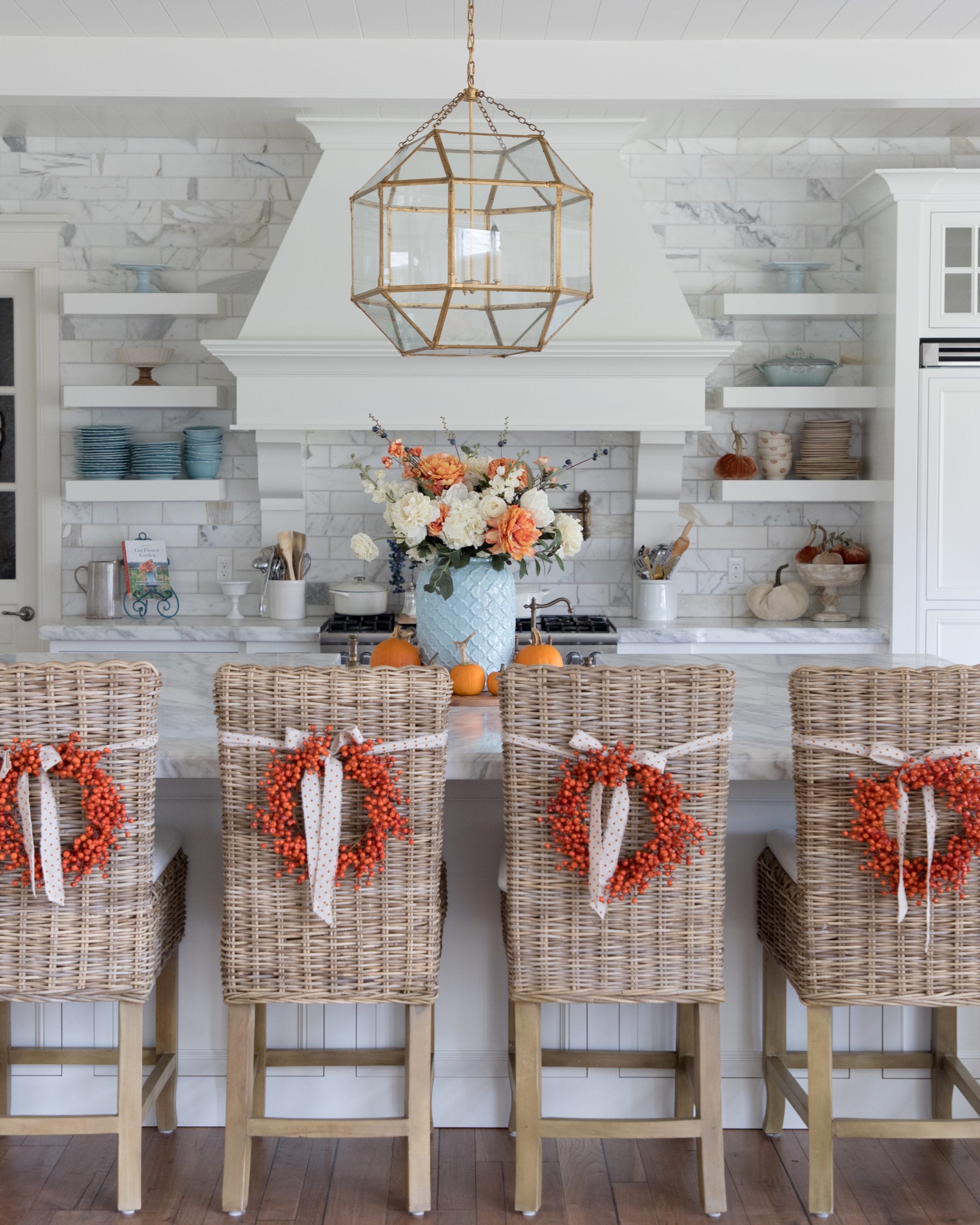 I hope you enjoyed seeing how I created this blue and orange fall centerpiece flower arrangement for my kitchen island. This would also be perfect for a dining table or entry table. You could make one larger one and two smaller ones to accent the larger one and place the smaller ones throughout your home.
xoxo,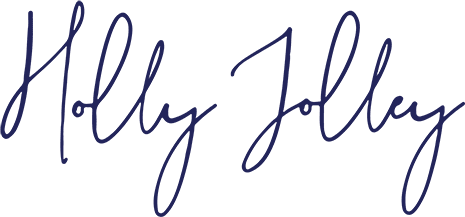 Here are all the sources for the fall centerpiece and some of the other items I used to decorate my kitchen. For more fall inspiration, check out my Summer/Fall Sunflower Centerpiece and my Fall Home Tour 2019

Cream colored Delphimium stem linked here.
PIN THIS FOR LATER: