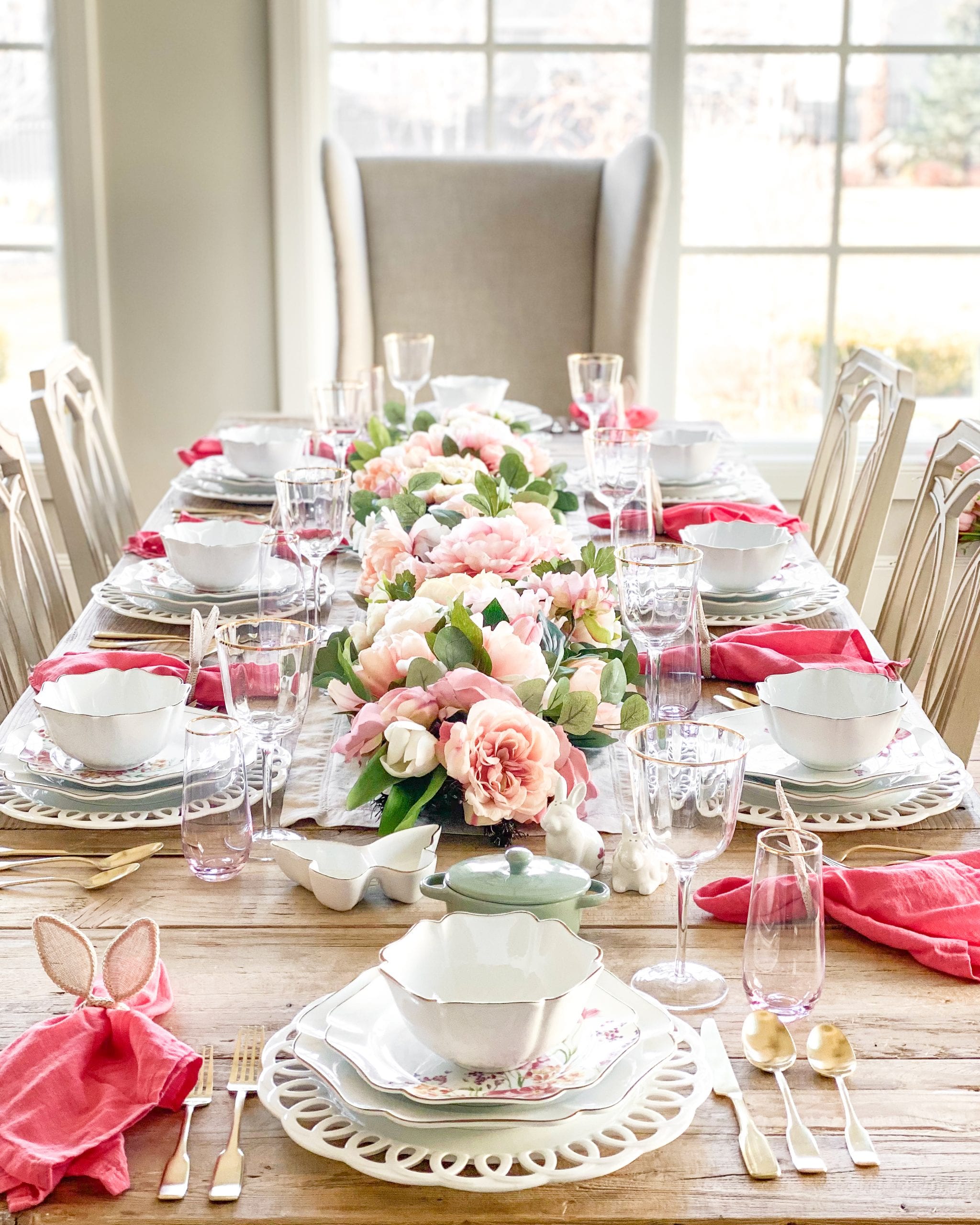 Martha Stewart Collection Spring and Easter Tablescape
I created this Spring and Easter Tablescape using the Baroque Dinnerware and other items from the Martha Stewart Spring Collection from Macy's. I love the colors of this collection and the versatility of the dinnerware and other serving pieces.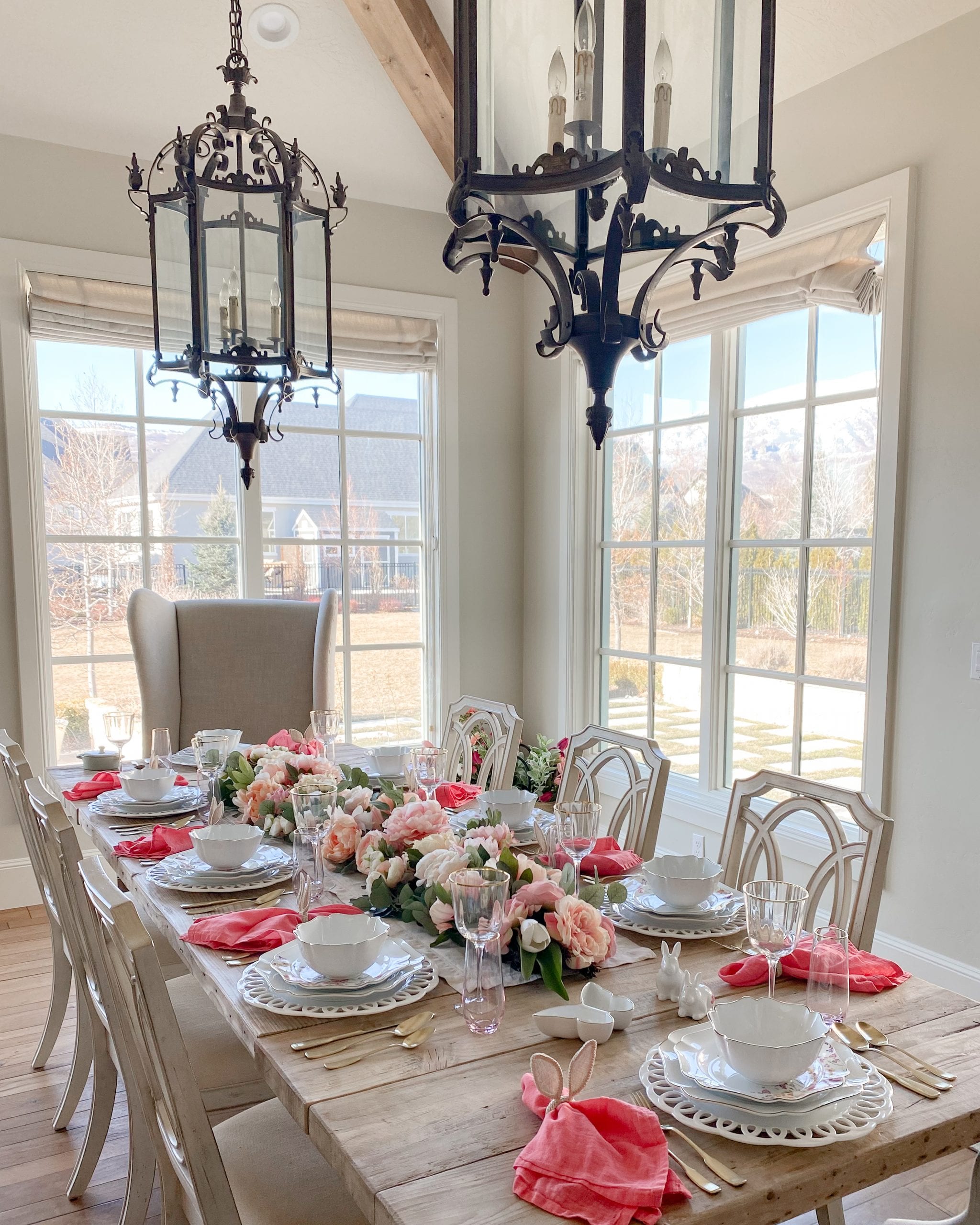 This post contains affiliate links. Everything is linked throughout the post and also at the bottom. I do my best to link all the items in the tablescape and other items that are similar when possible.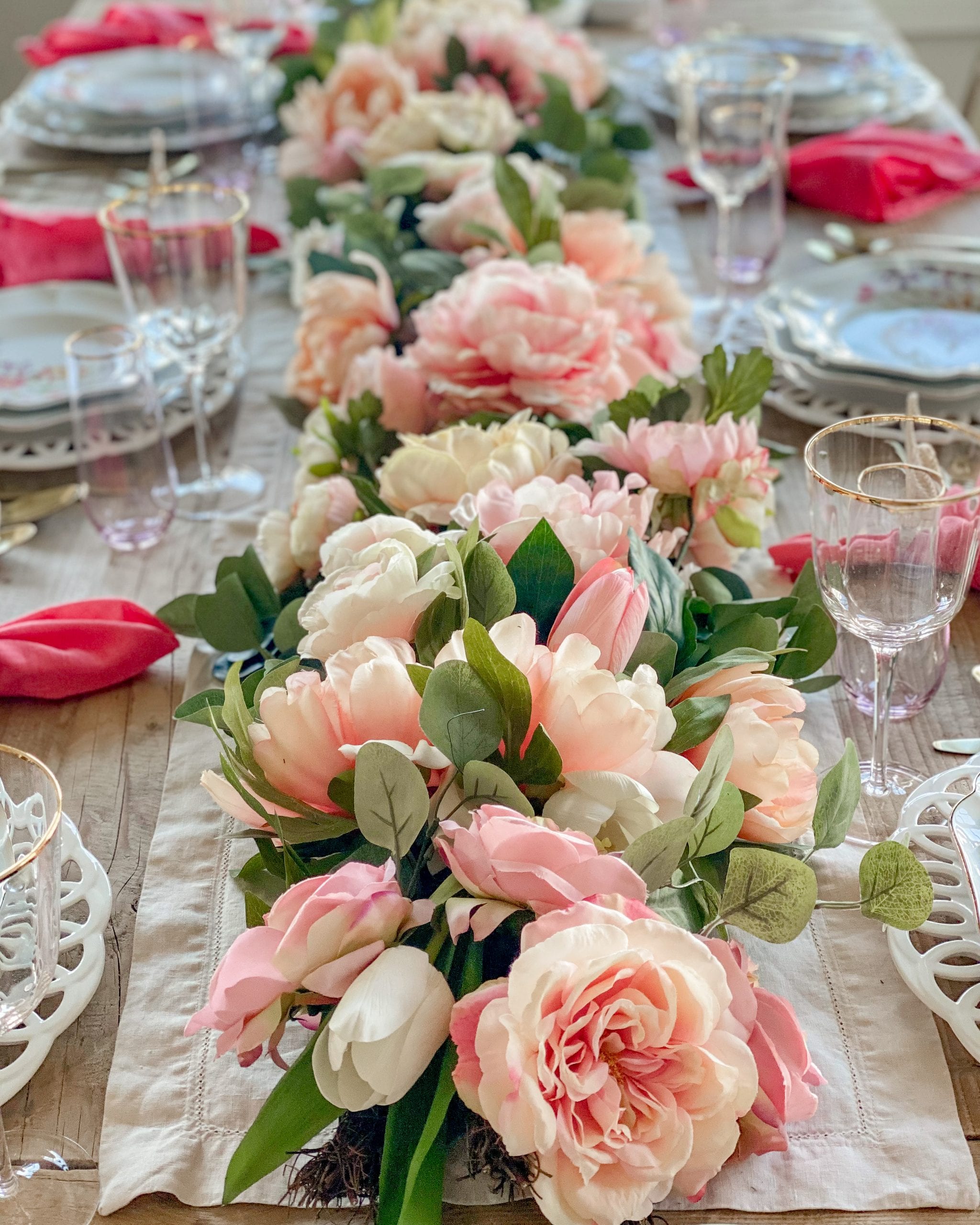 The Centerpiece
I created a longer centerpiece garland to cover the center of the table. One reason I do this often in my tablescapes is because I have a very long table and there's a lot of space fill up. It tends to look bare when I don't have much of a centerpiece. These garland centerpieces I am known for creating are the perfect solution for a long table. You can recreate this on a smaller table as well.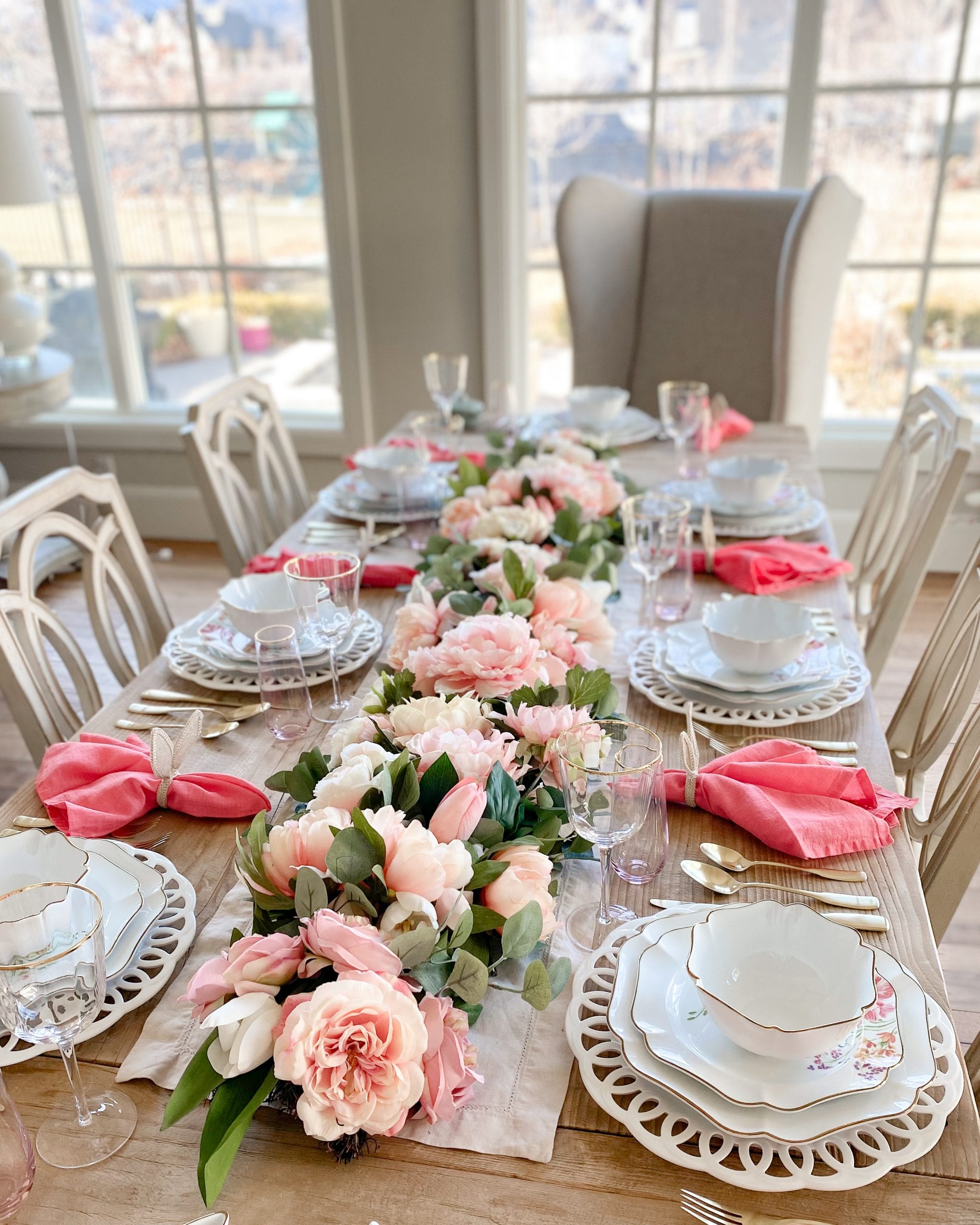 To create this garland centerpiece, I started with three individual artificial floral garlands and then wired them together to make them a bit fuller.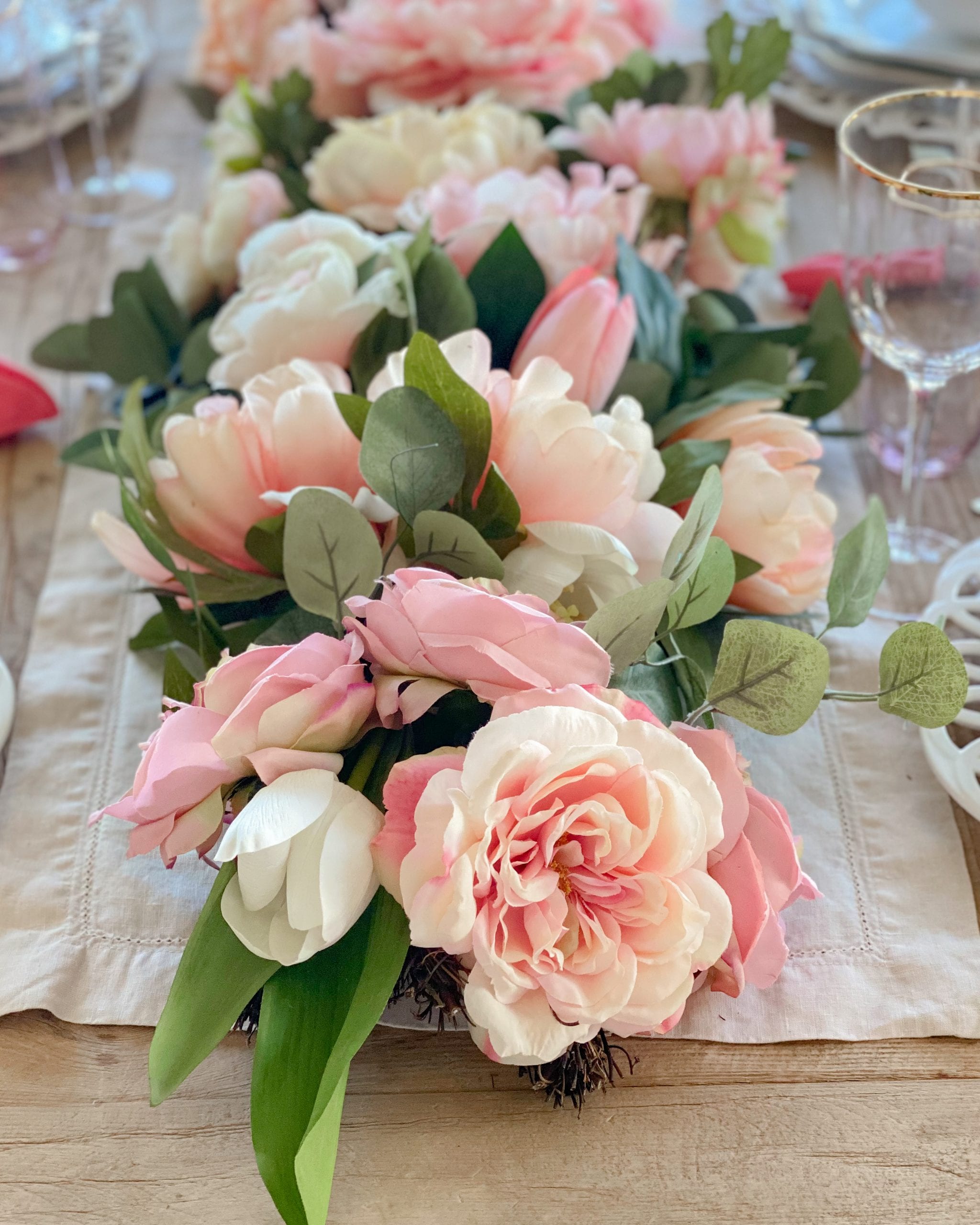 Next I filled in any holes and areas that looked uneven using faux eucalyptus stems and faux tulips and peonies.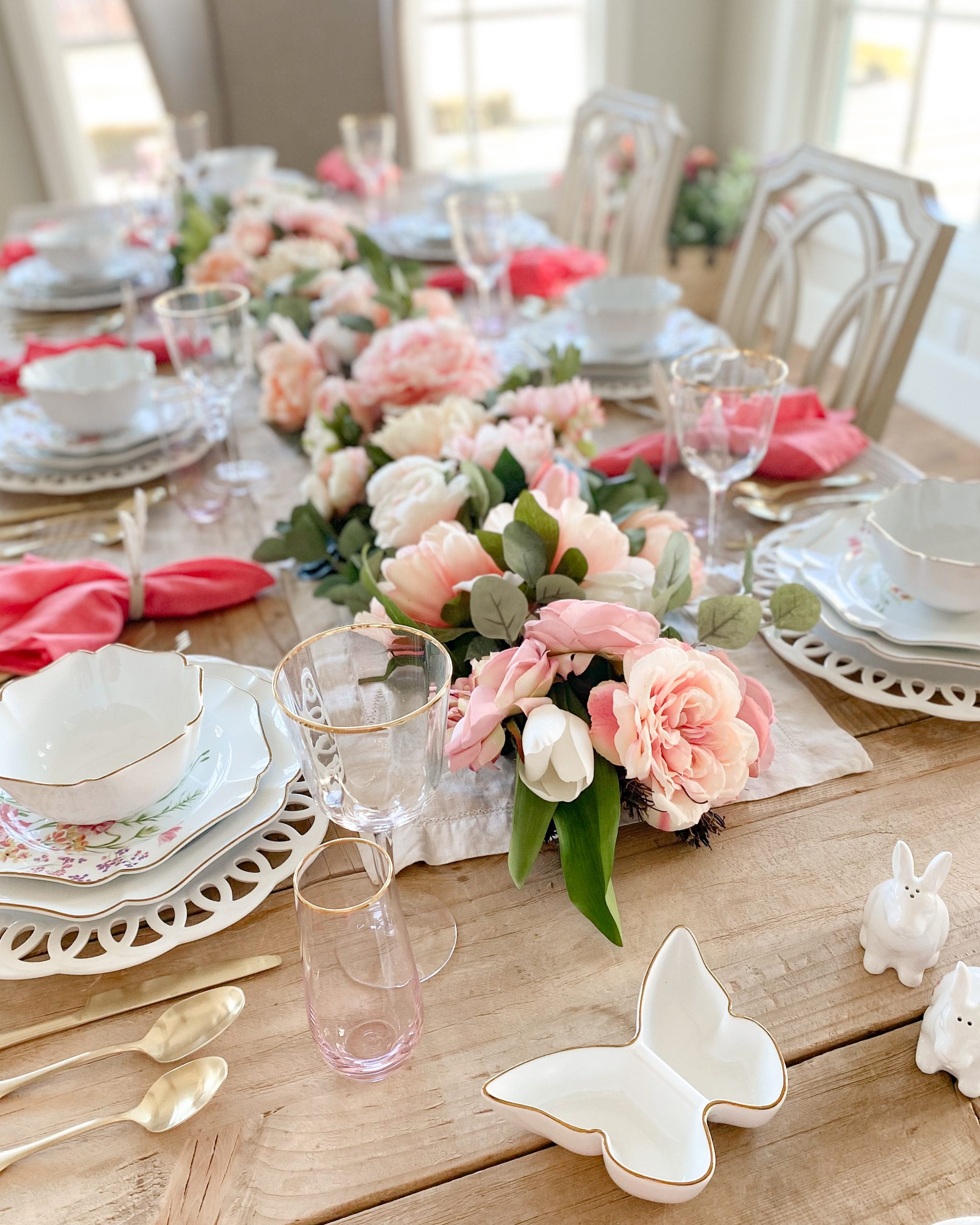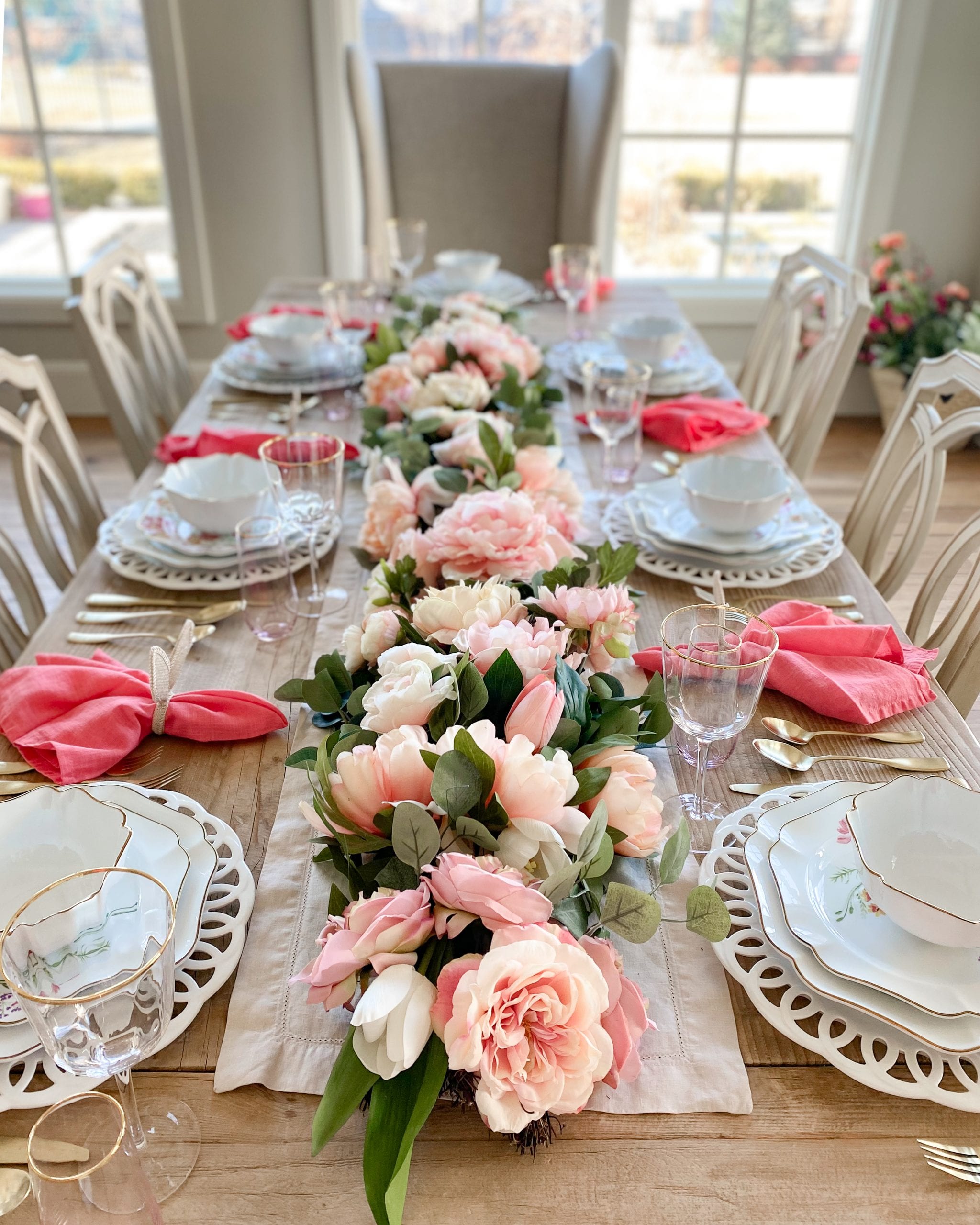 I always "fluff" my flowers to make them fuller too. I also used a table runner underneath.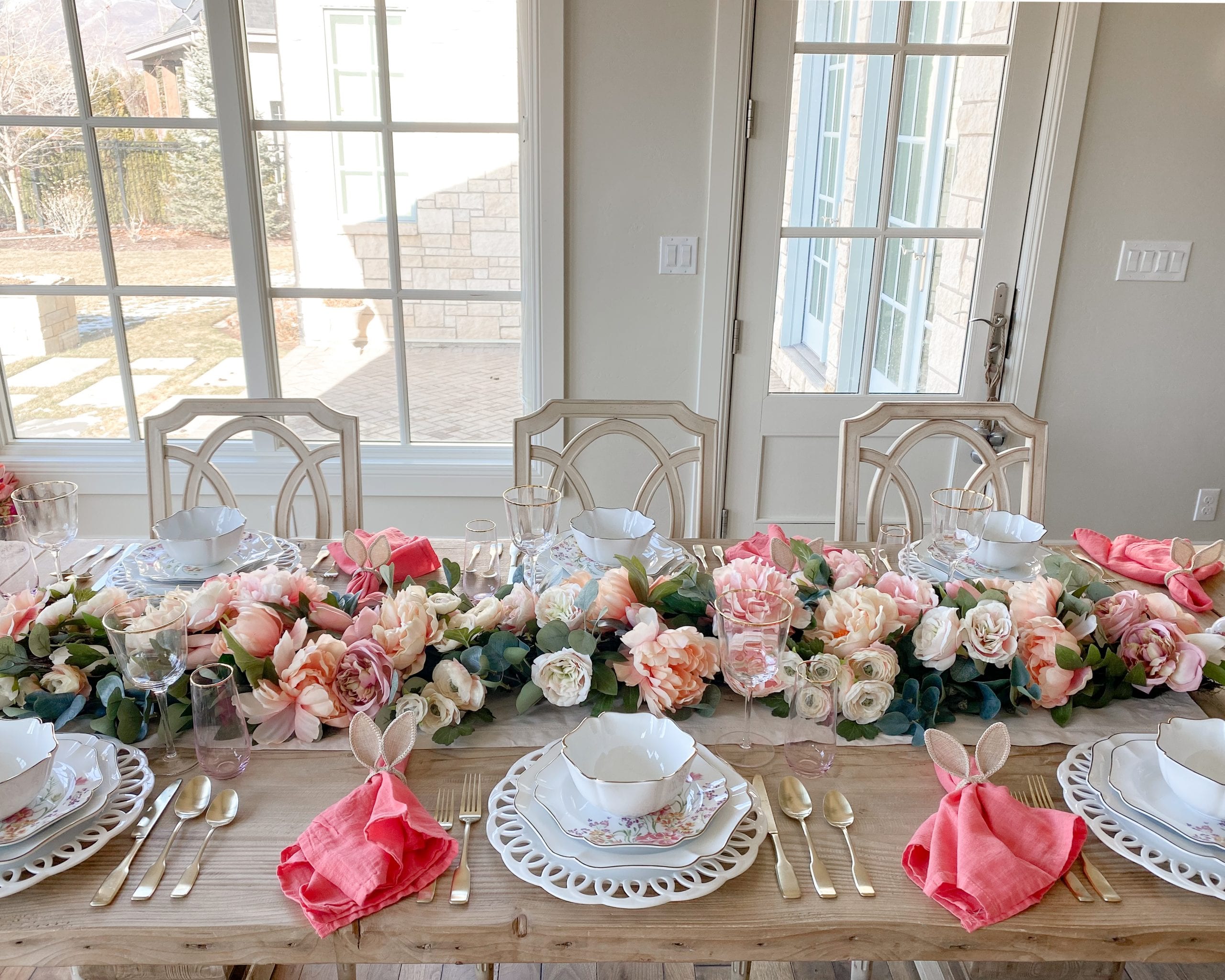 The Place-Setting
For the place-setting I like to layer the dinnerware.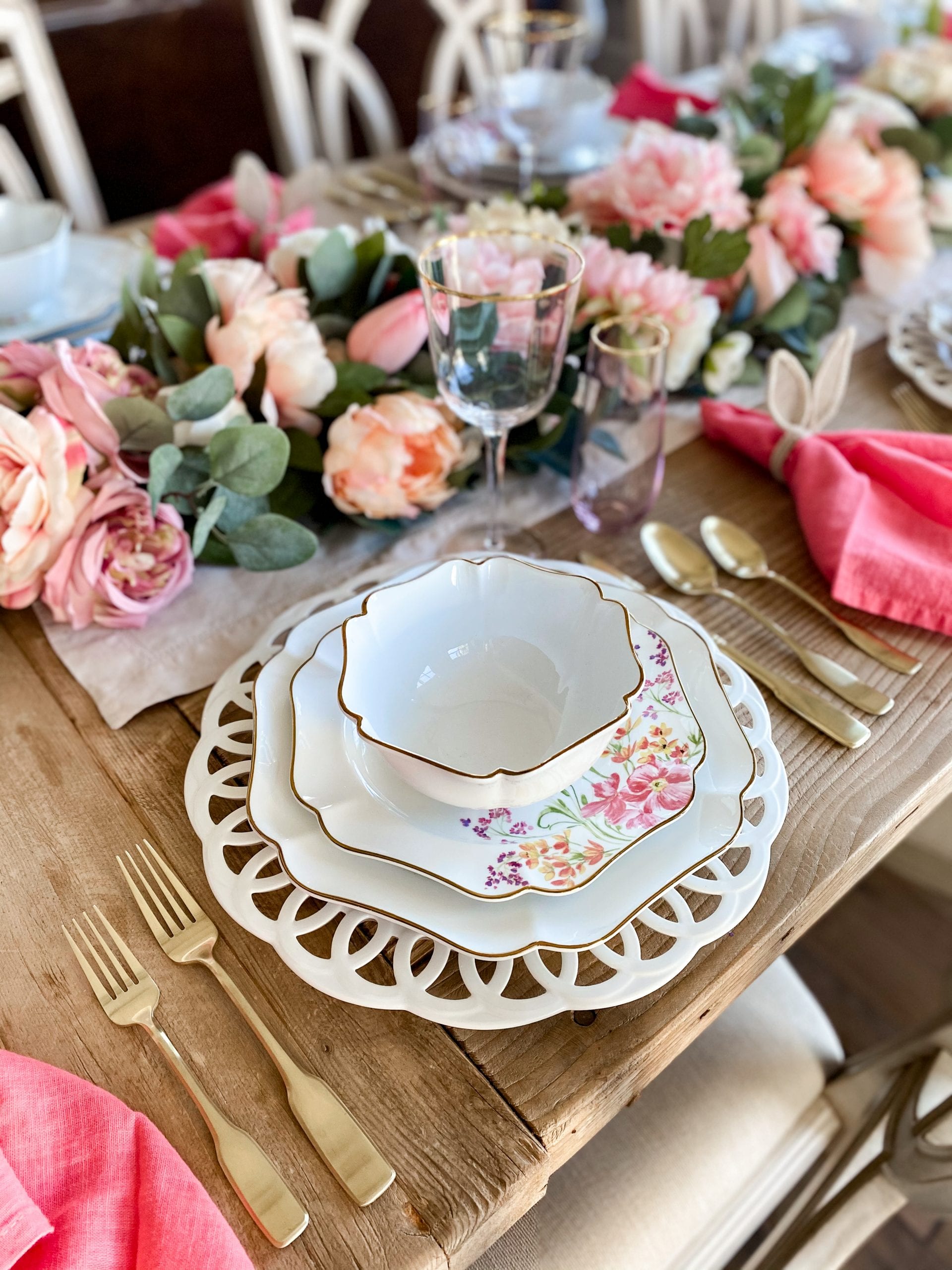 I used the Baroque Dinnerware from Macy's and it is one of my favorite sets from the Martha Stewart Collection. It's a beautiful and versatile set. They added this floral salad plate for Spring to this collection. If you click here you can see the dinnerware without the floral salad plates. I did a tablescape in the fall with the same dinnerware.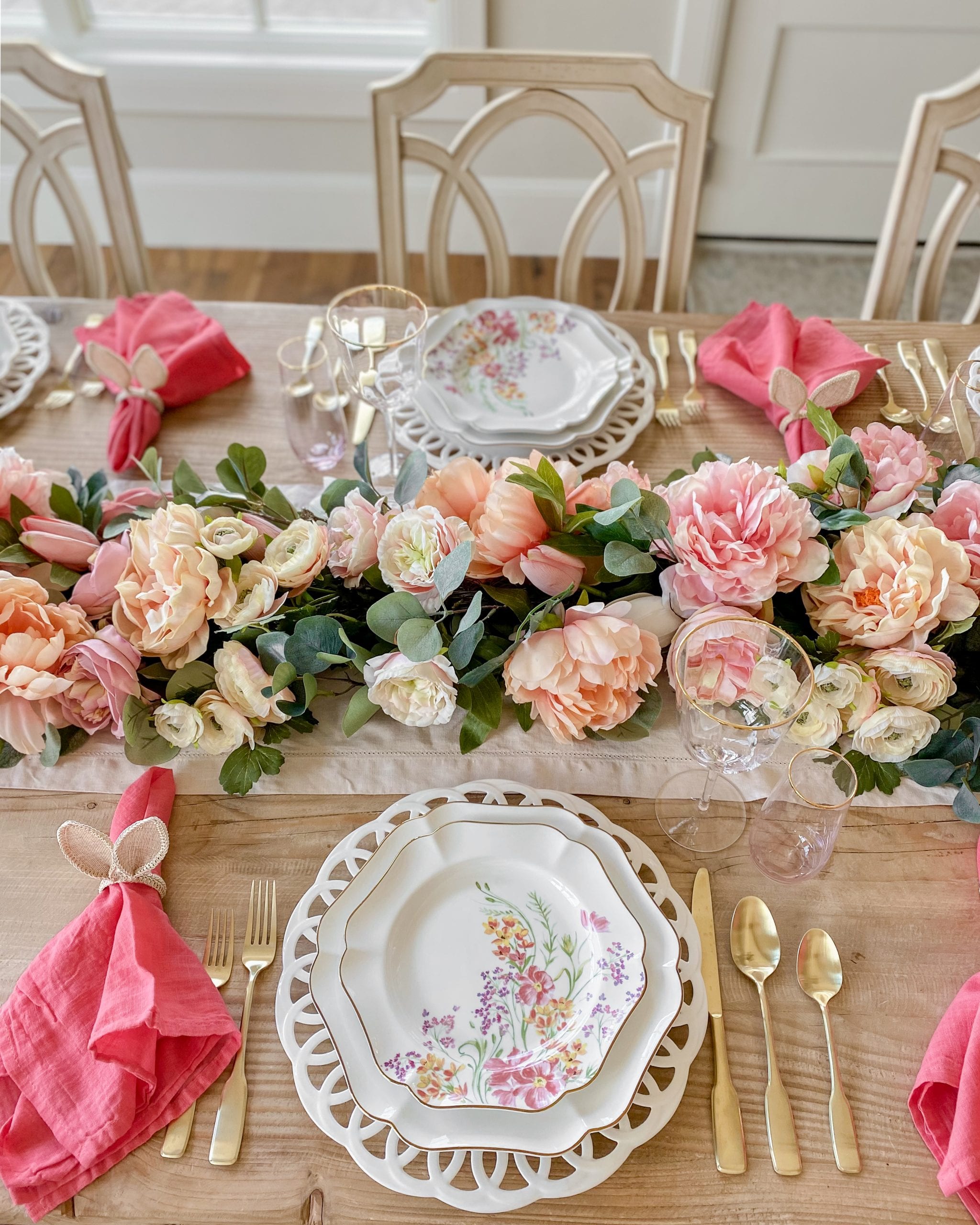 Here you can see the tablescape without the bowl on top. I like it both ways so I took photos of both to show how versatile this dinnerware set is. I also like the flexibility of having the bowl on top of the plates, depending on what I'm serving. The bowls and salad plate can be used for your desert.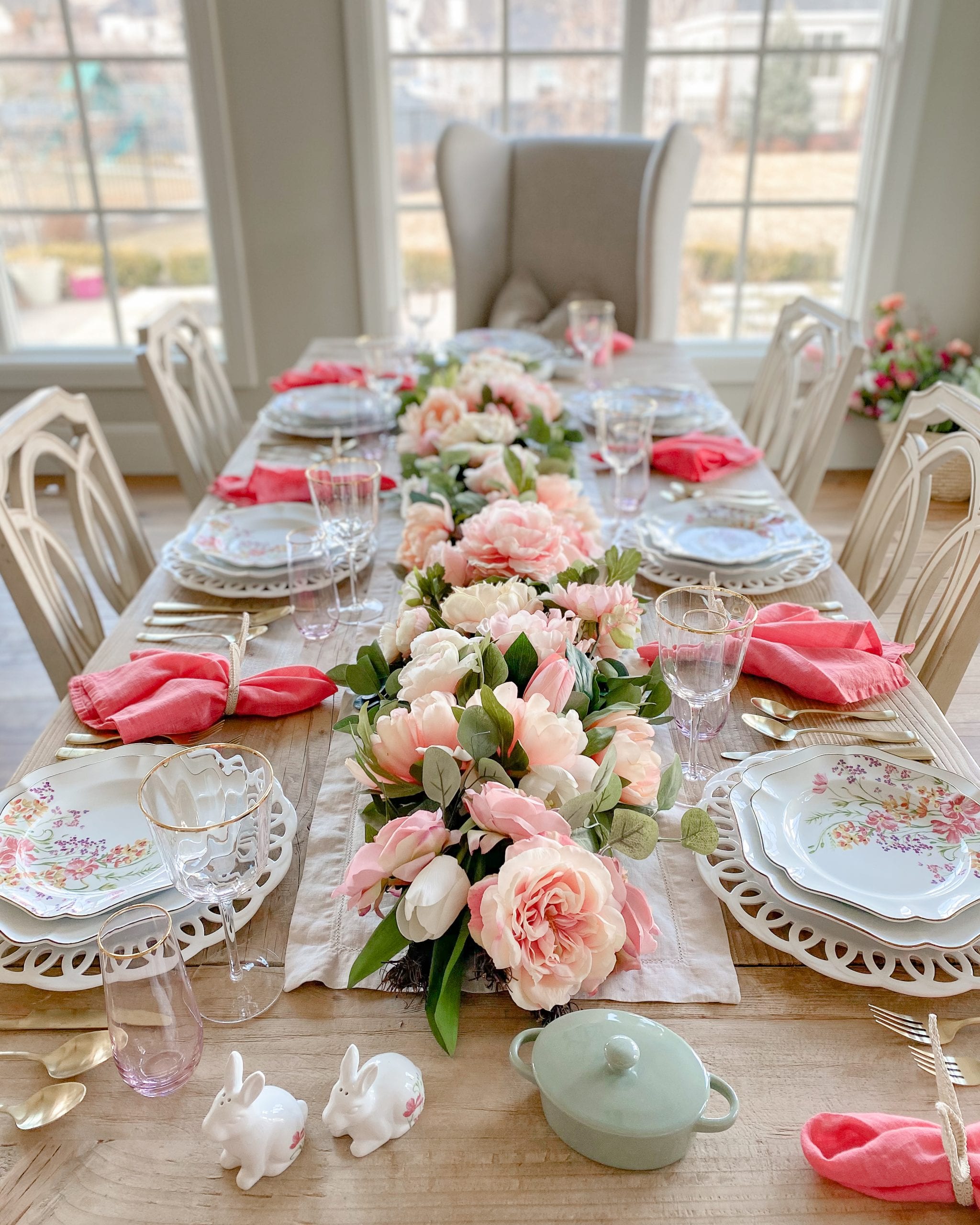 Here's another look at the table without the bowl. Which do you prefer?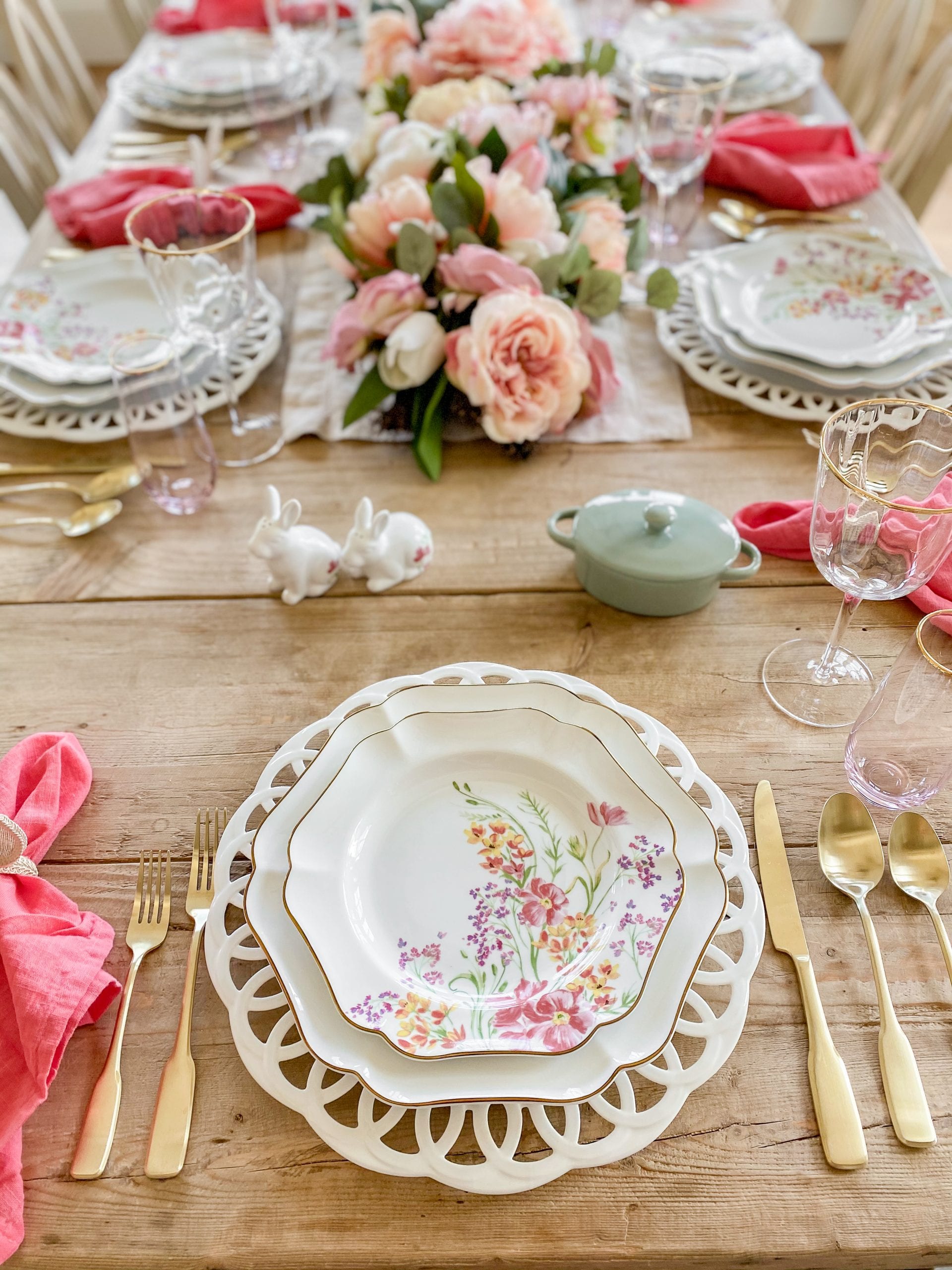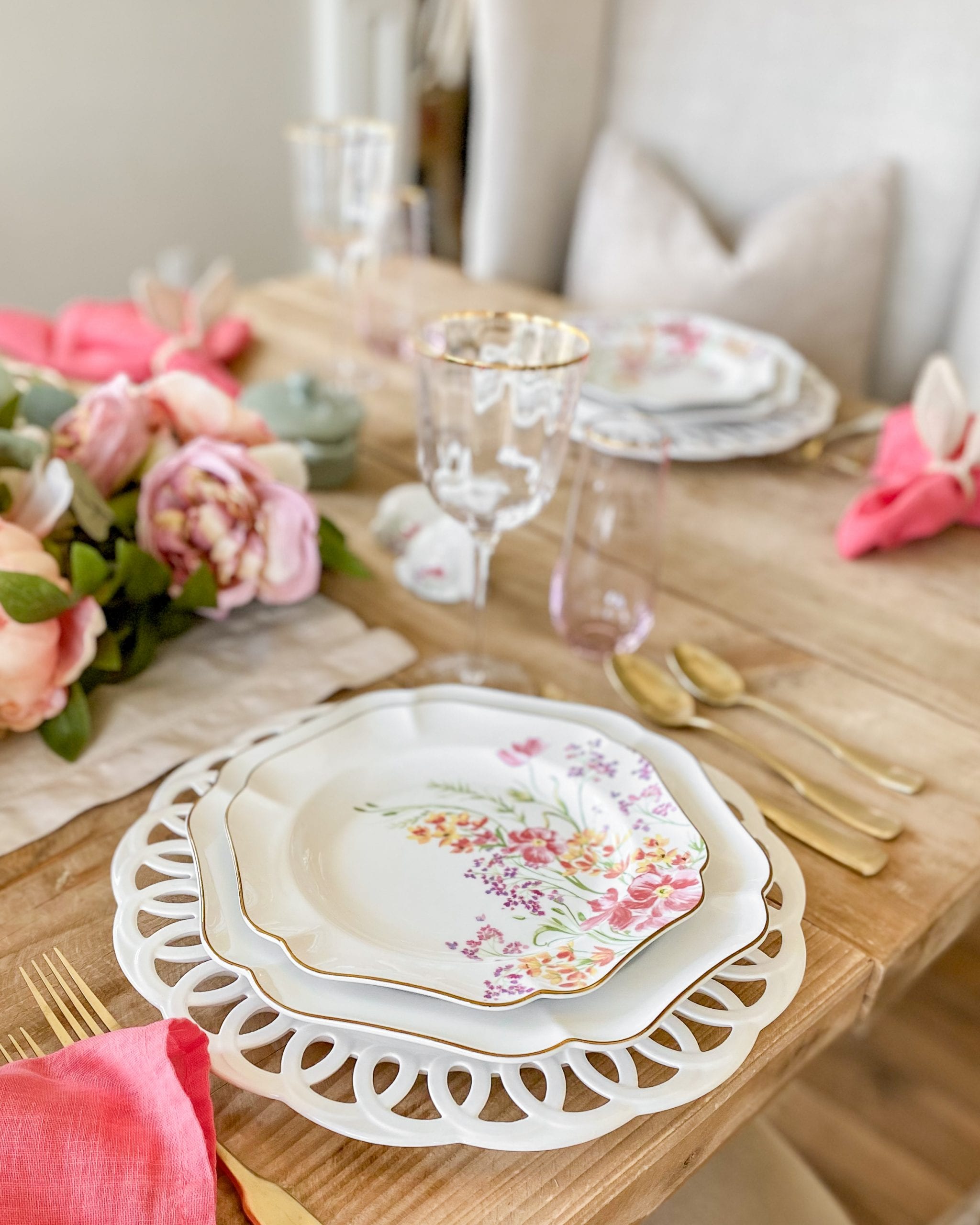 I decided to use bright, solid colored linen napkins to compliment the Baroque Dinnerware. With the dinnerware being so white and bright, I wanted to add a pop of color to tie into the floral design on the plates. The gold flatware and glasses also compliment the gold rim on the plate! I love those little details and how they bring everything together.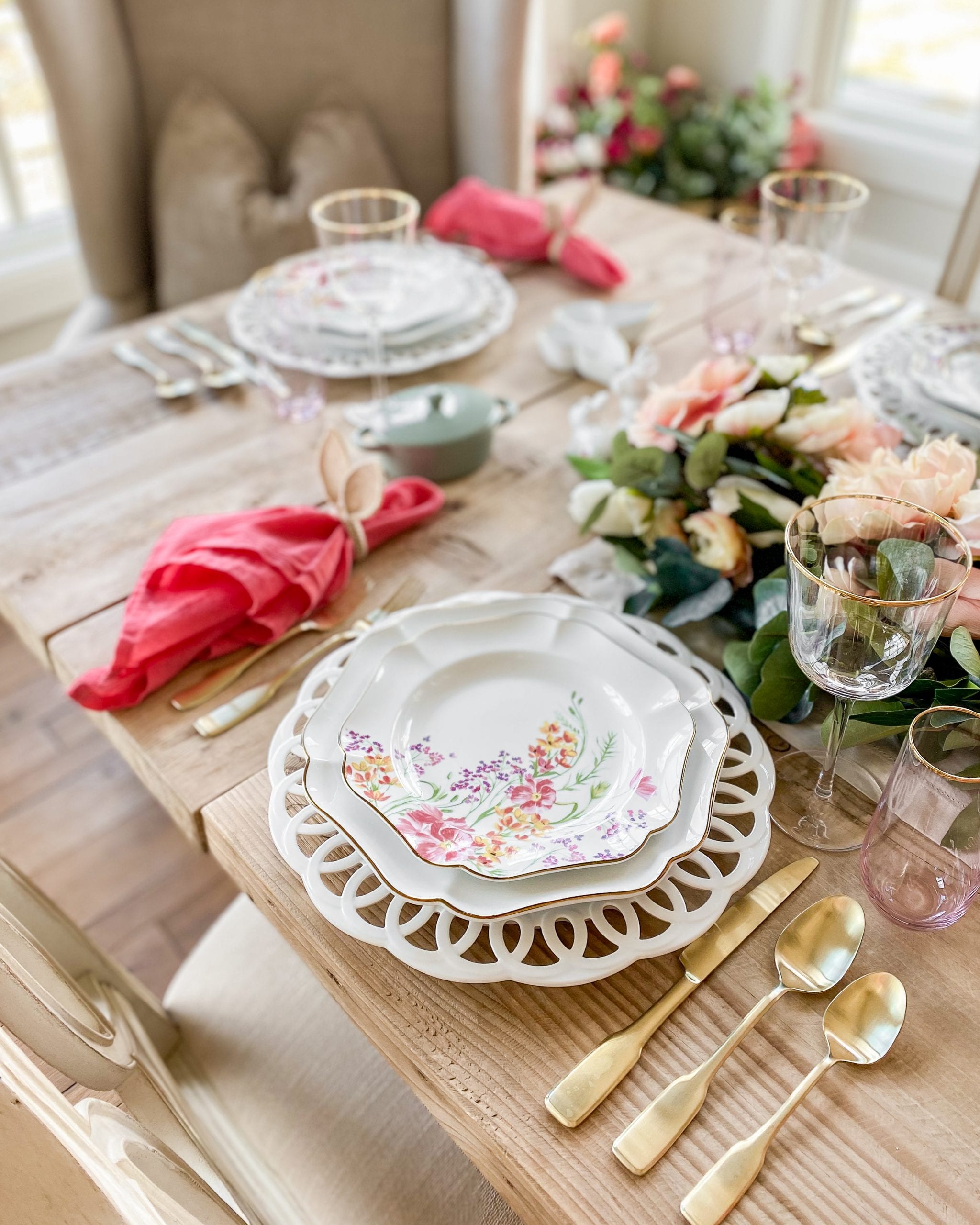 The bunny ear napkin rings also give the table a touch of easter decor and make the table a little less formal which I like.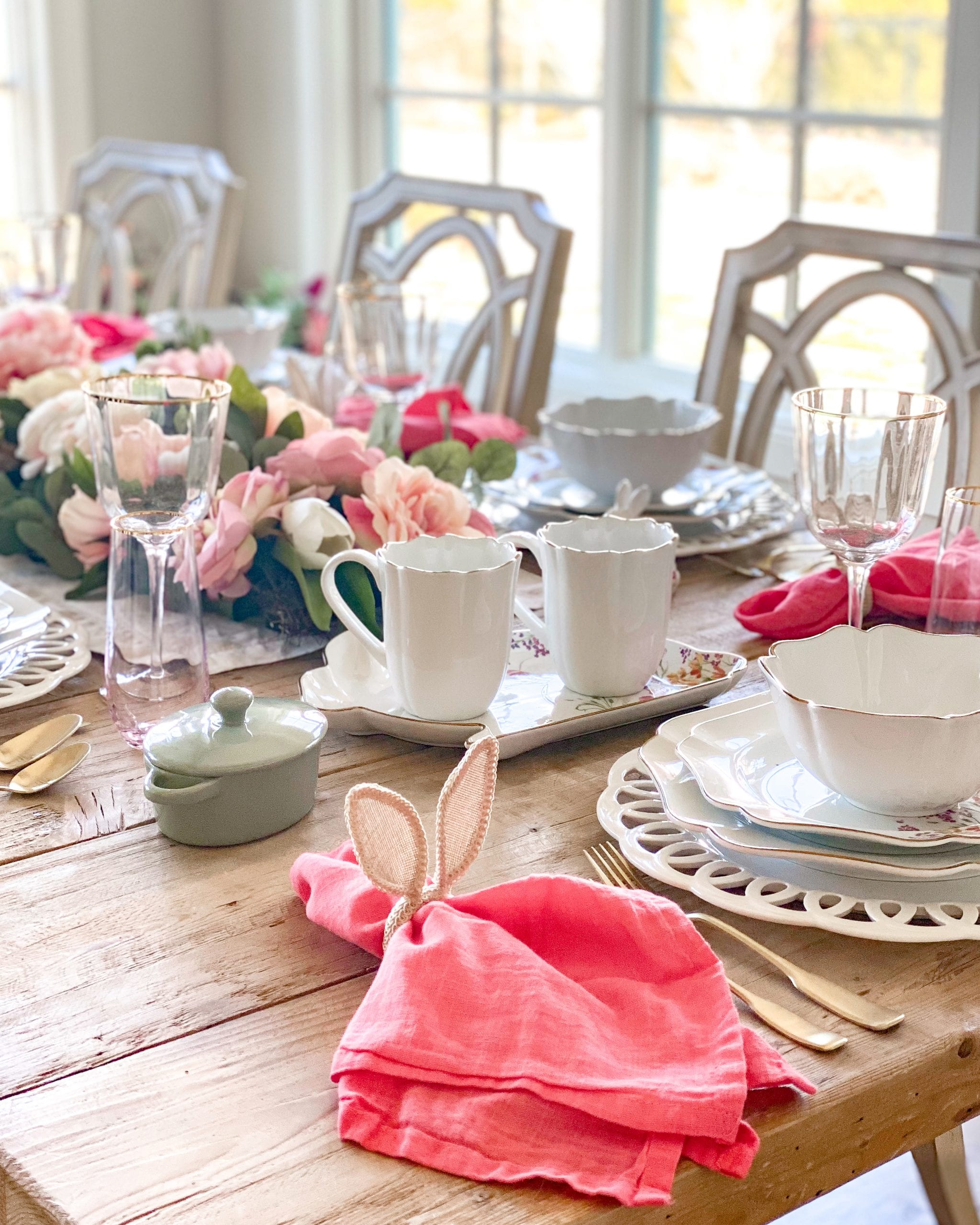 How to Transition this Tablescape from Easter to Spring
I am a big fan of creating versatile table decor and tablescapes. To transition this Easter tablescape to a Spring tablescape, you could replace the bunny napkin rings with something neutral or don't use a napkin ring at all. You can change out the napkin to a different color and style it differently. I also remove anything from the table that is "Easter" themed but you can always keep it on the Spring if you like!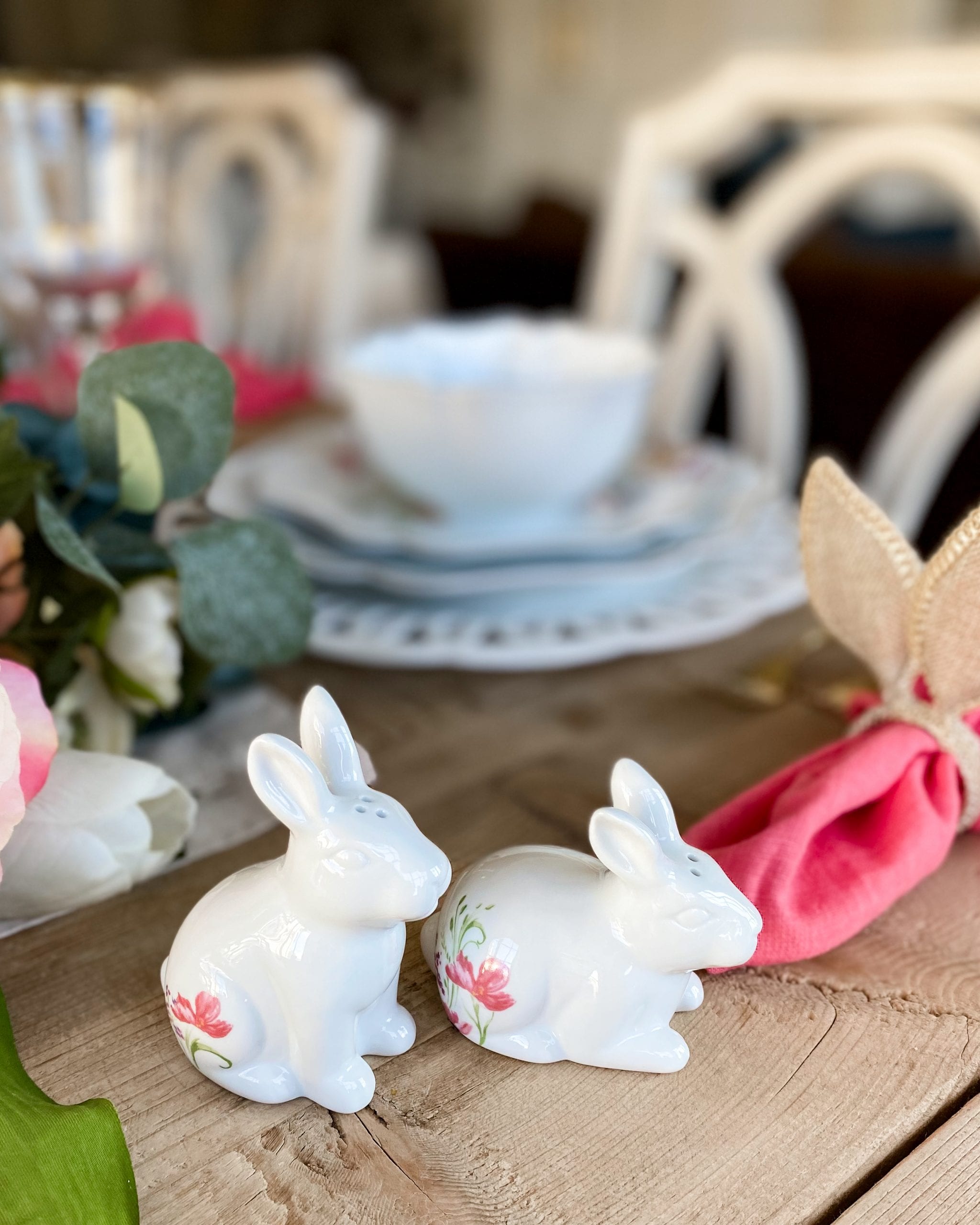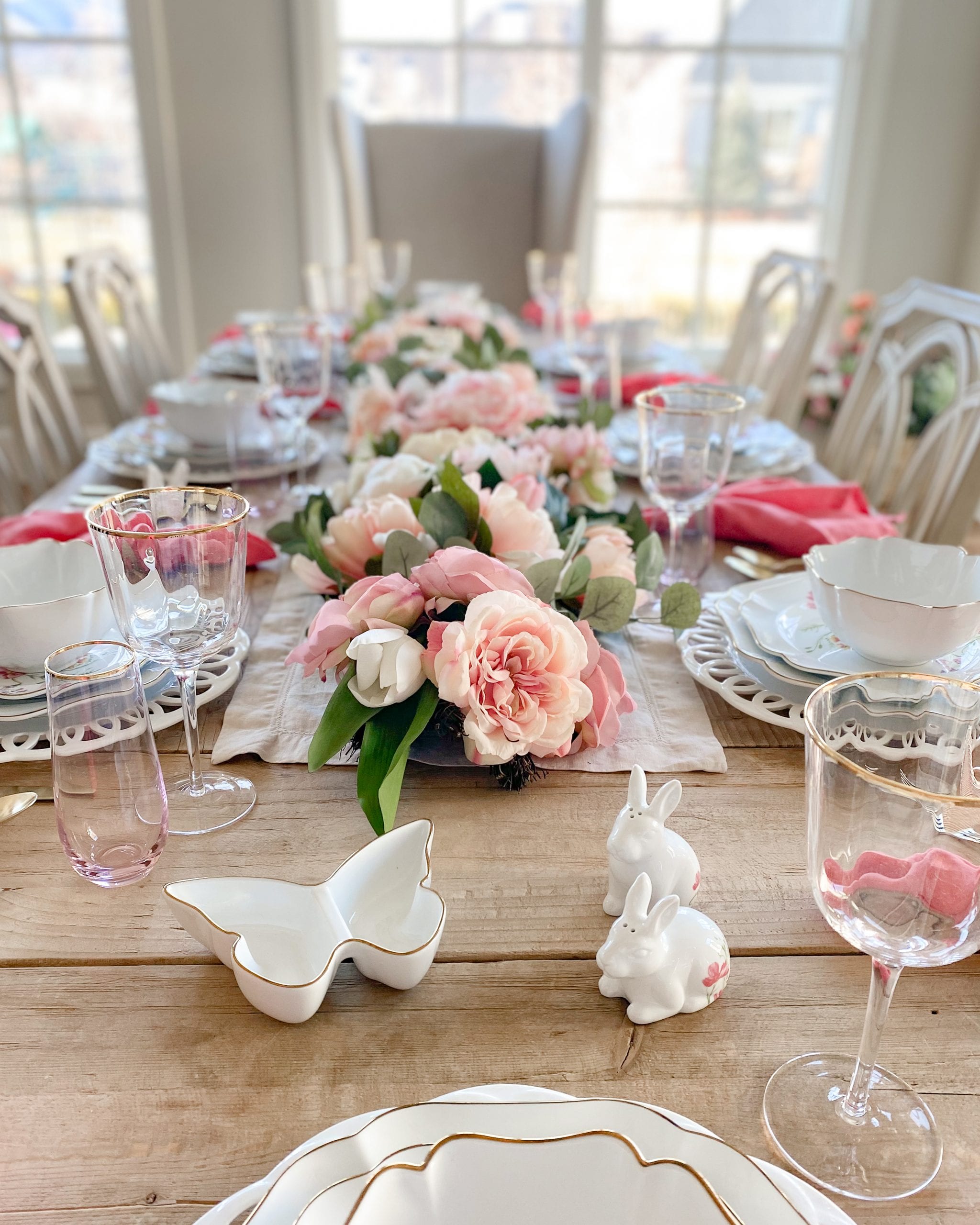 More Details
You can also add other details, serving pieces, and decor items that are decorative as well as functional. I've added in some different options here to give you some ideas.
Above, you can see the Easter Bunny salt and pepper shakers as well as a butterfly shaped dish. This could be used for jam and butter if you're serving bread. It could also be a salt and pepper holder if you wanted to transition this to spring and not have the bunnies on the table.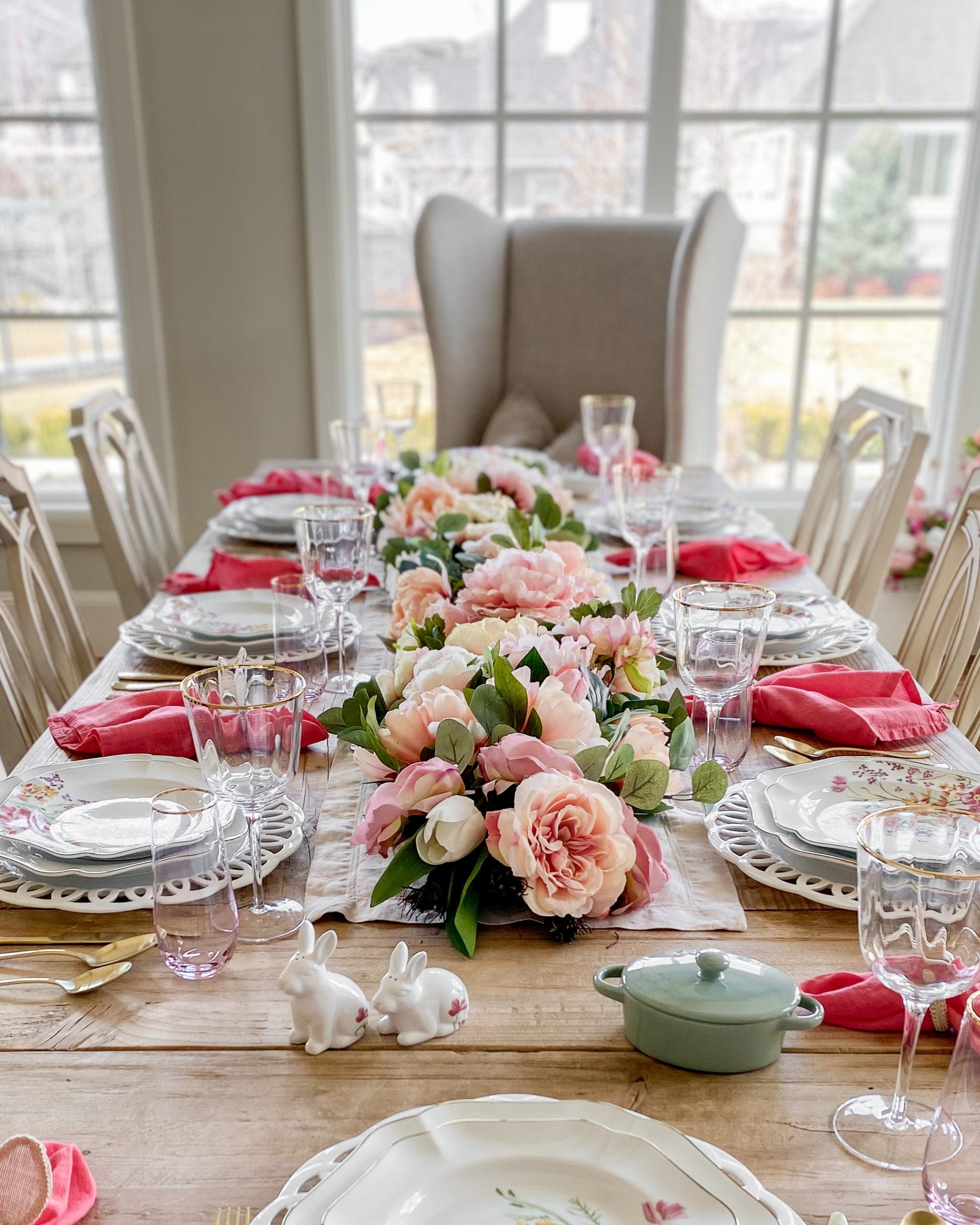 Here you can see I removed the butterfly dish and added these cute little mint green coquettes. These are also great for serving items like jam and butter as well. They are also really cute and add color and detail to the table.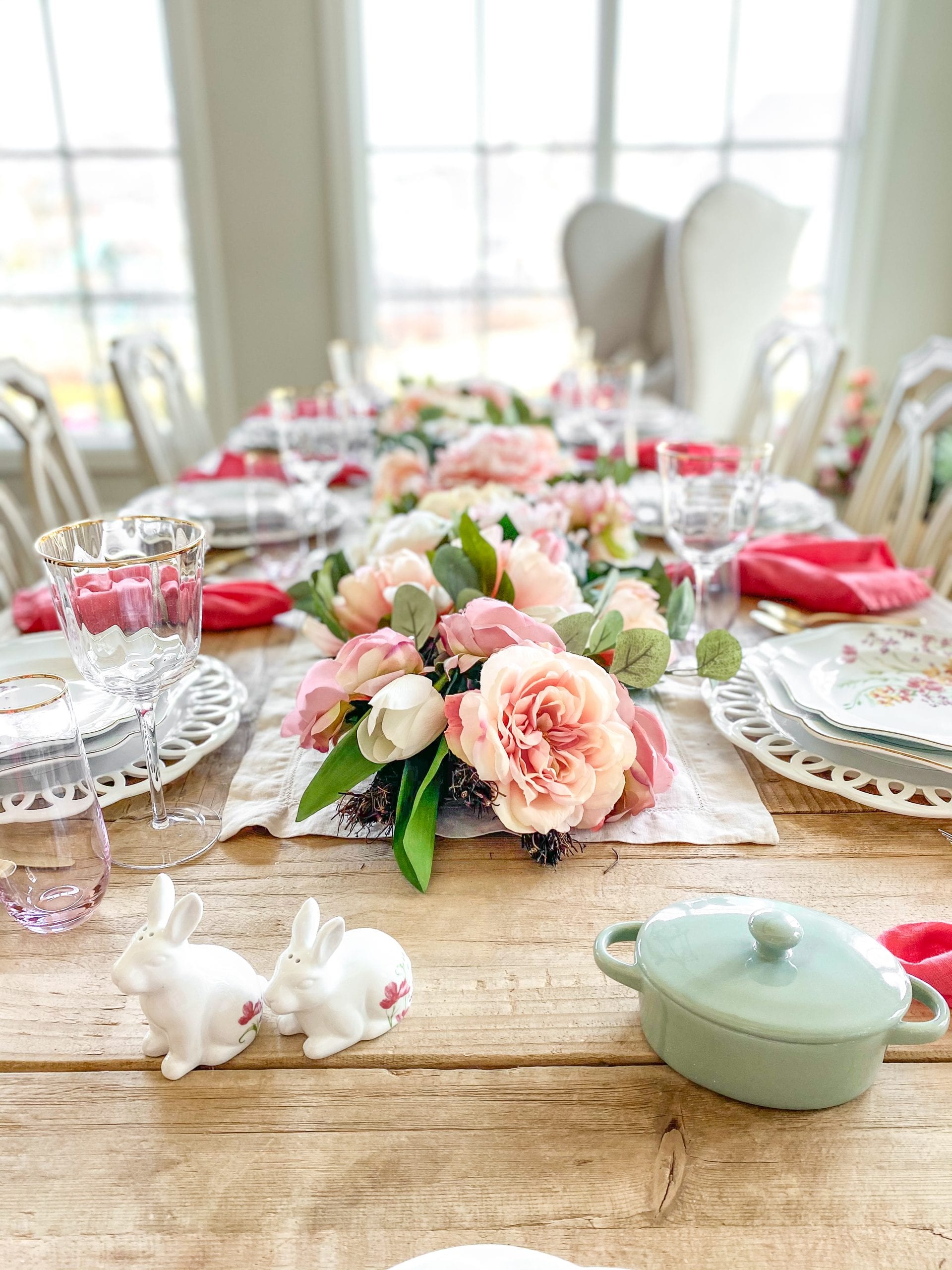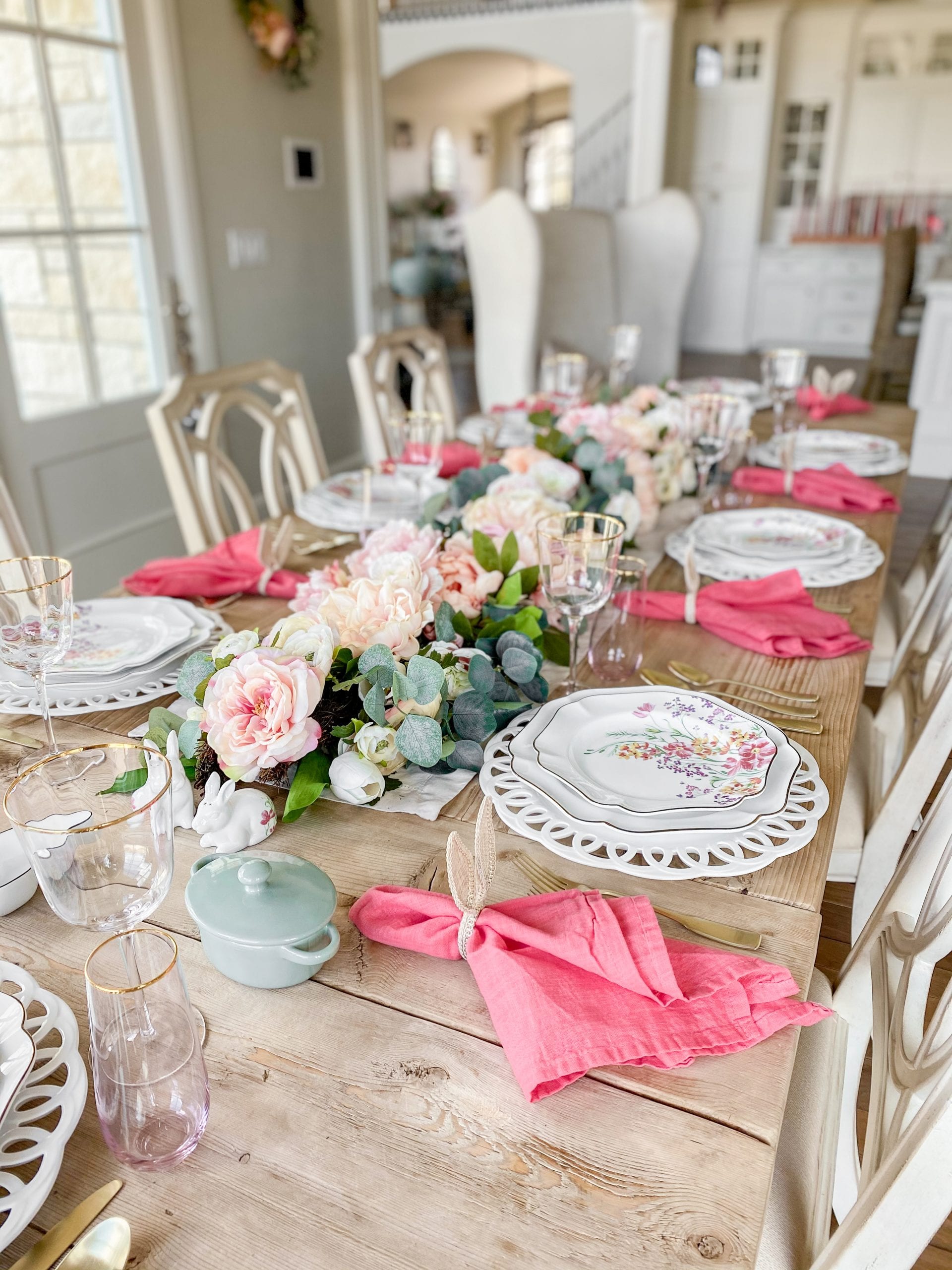 I like to have the same items at each end of the table because it's so long but you could mix and match items you have too!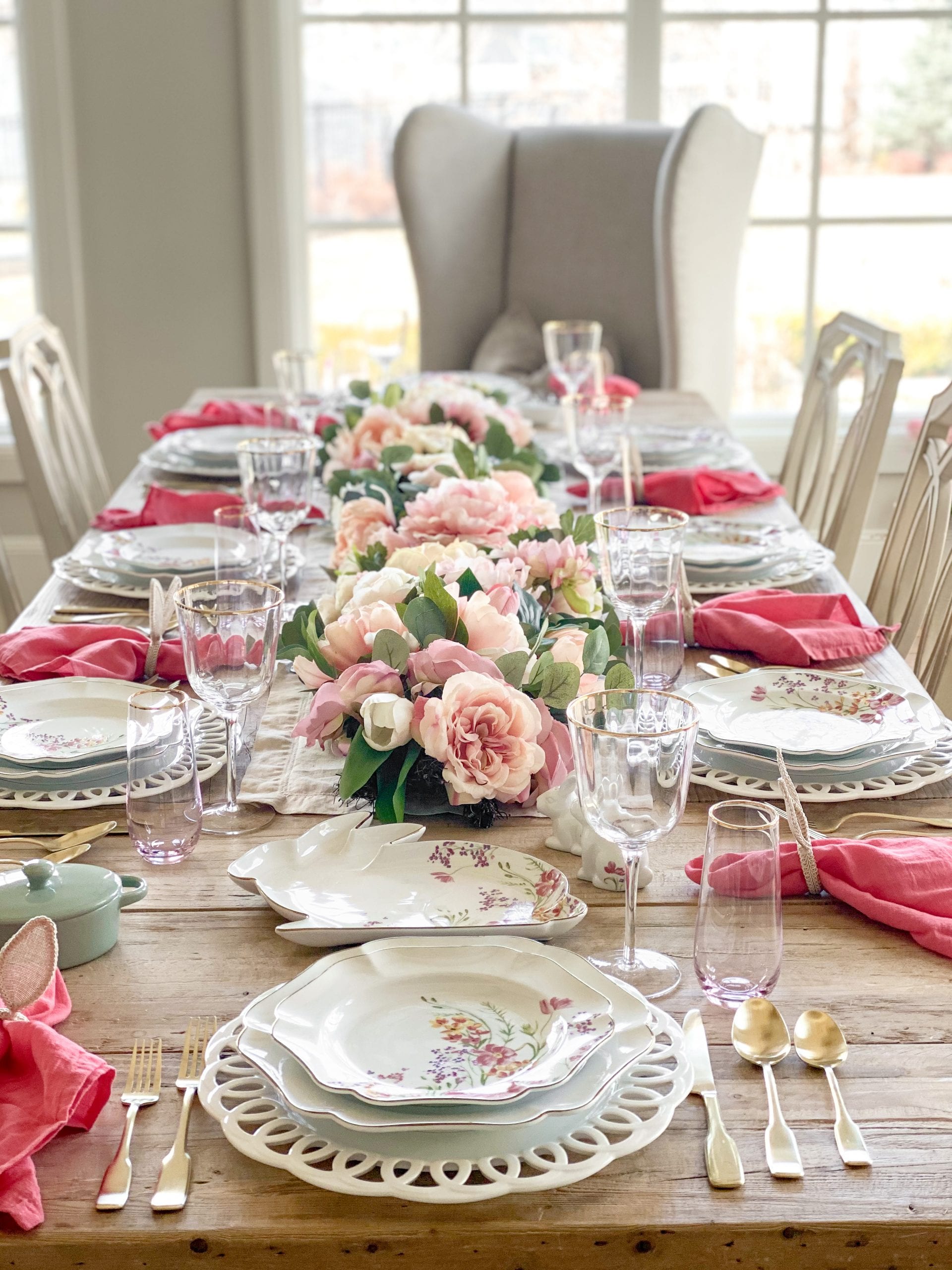 Here I added a matching bunny serving platter. This would be great for bread or rolls or for whatever you're serving. I often get asked if I ever put the food on the table and the answer is yes, but it depends on who's eating! My table is reclaimed wood and stains easily, so to help keep in in good condition, I tend to serve buffet style, especially when there are kids! Okay, some adults can be messy too but I will never disclose who that may be in our family! LOL!!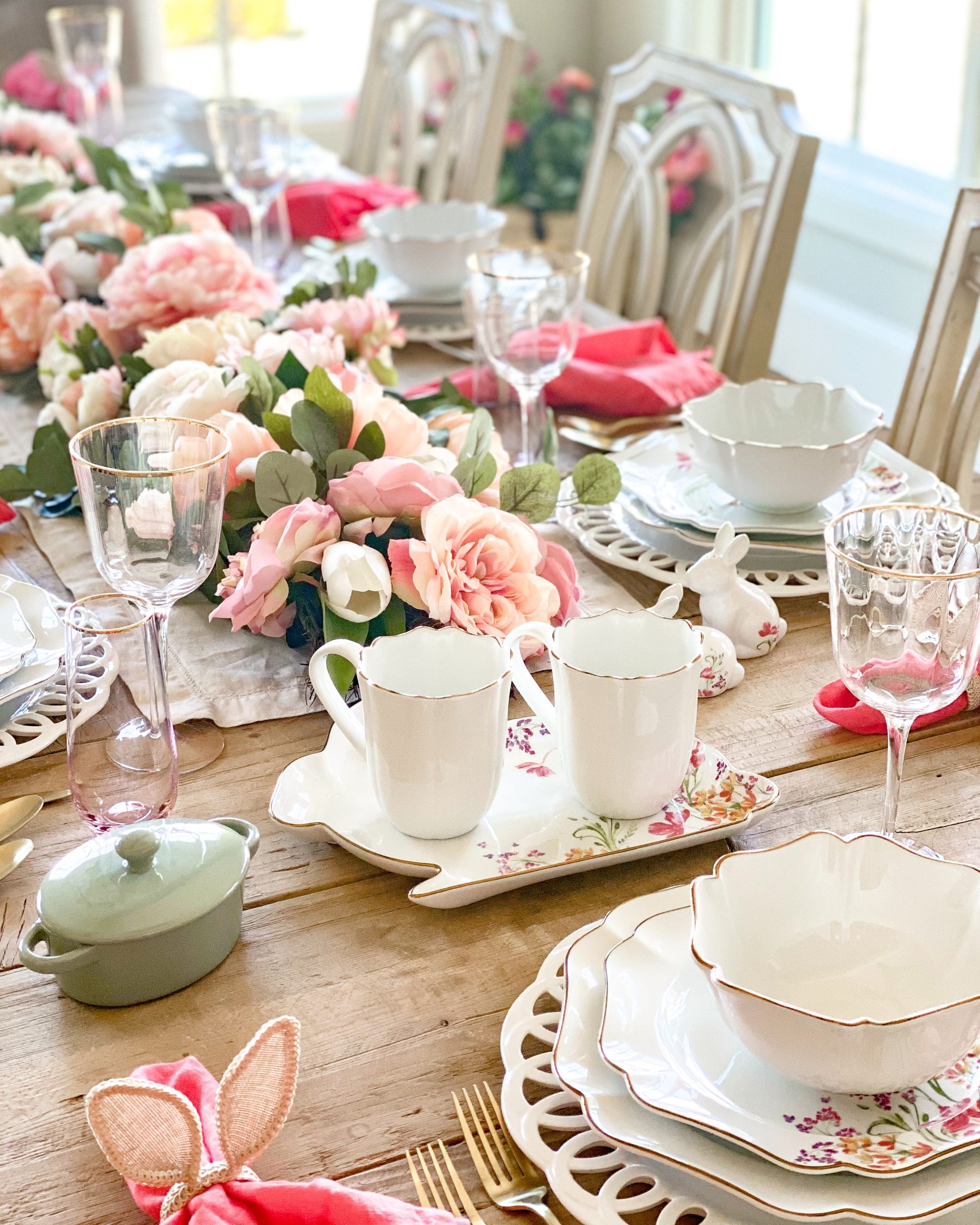 These darling mugs also come with the dinneware collection and you could also add these to your table if you'd like to have coffee after your dinner. Aren't they the cutest mugs?!!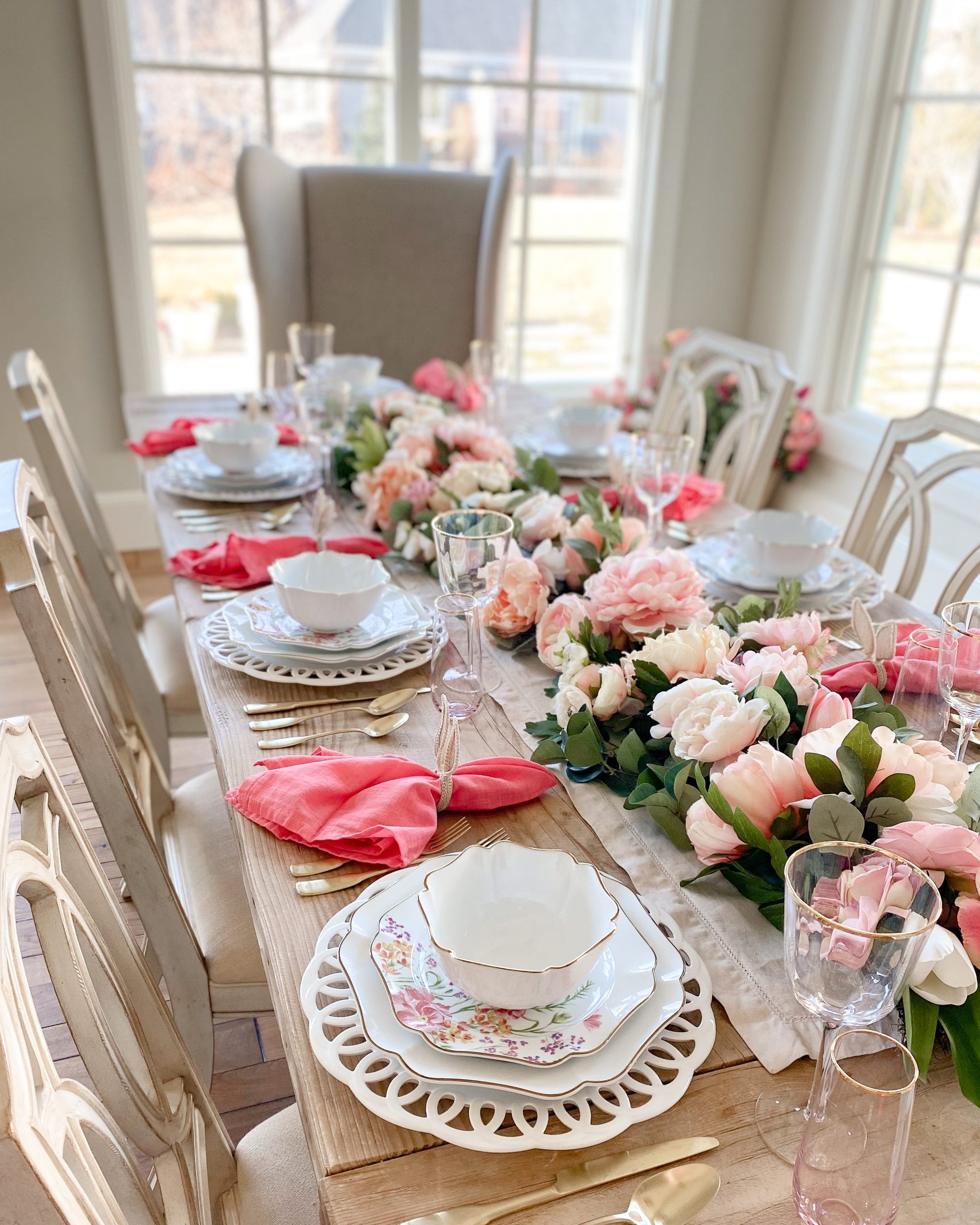 I will link all the sources I can below, but feel free to email me or message me here in the comments or on Instagram. Follow along with me there @homewithhollyj, on Pinterest, and please subscribe to my blog so you'll never miss a post!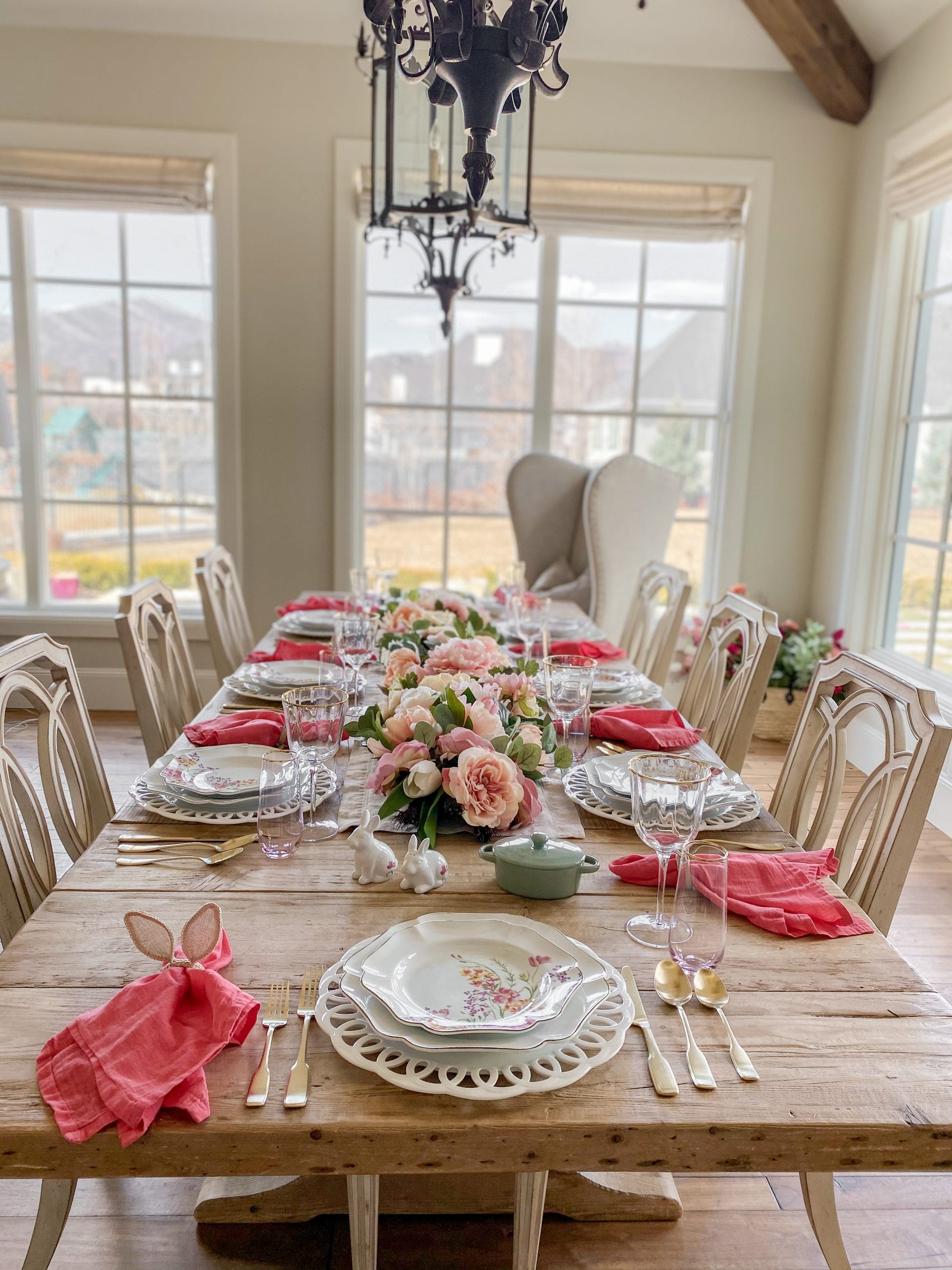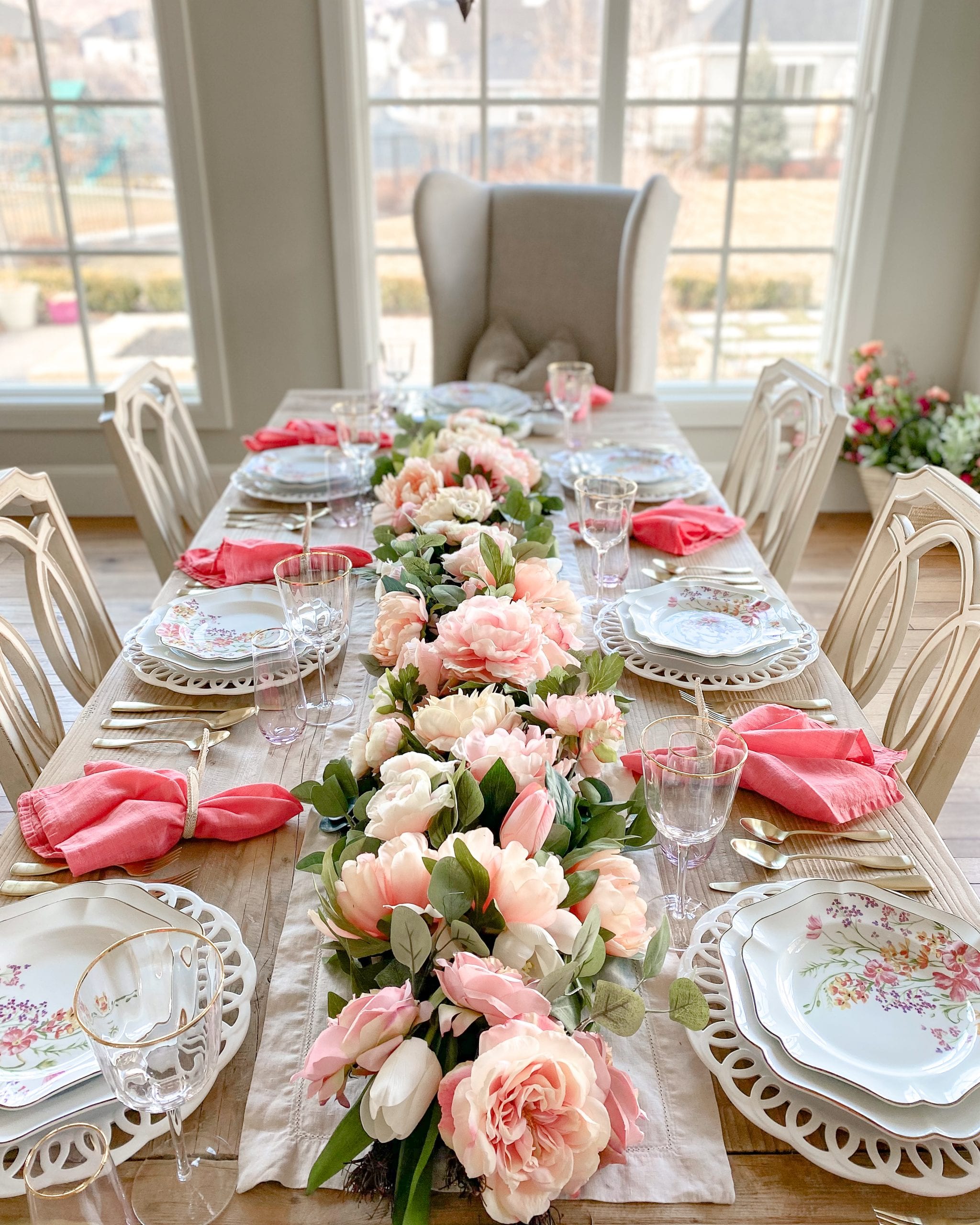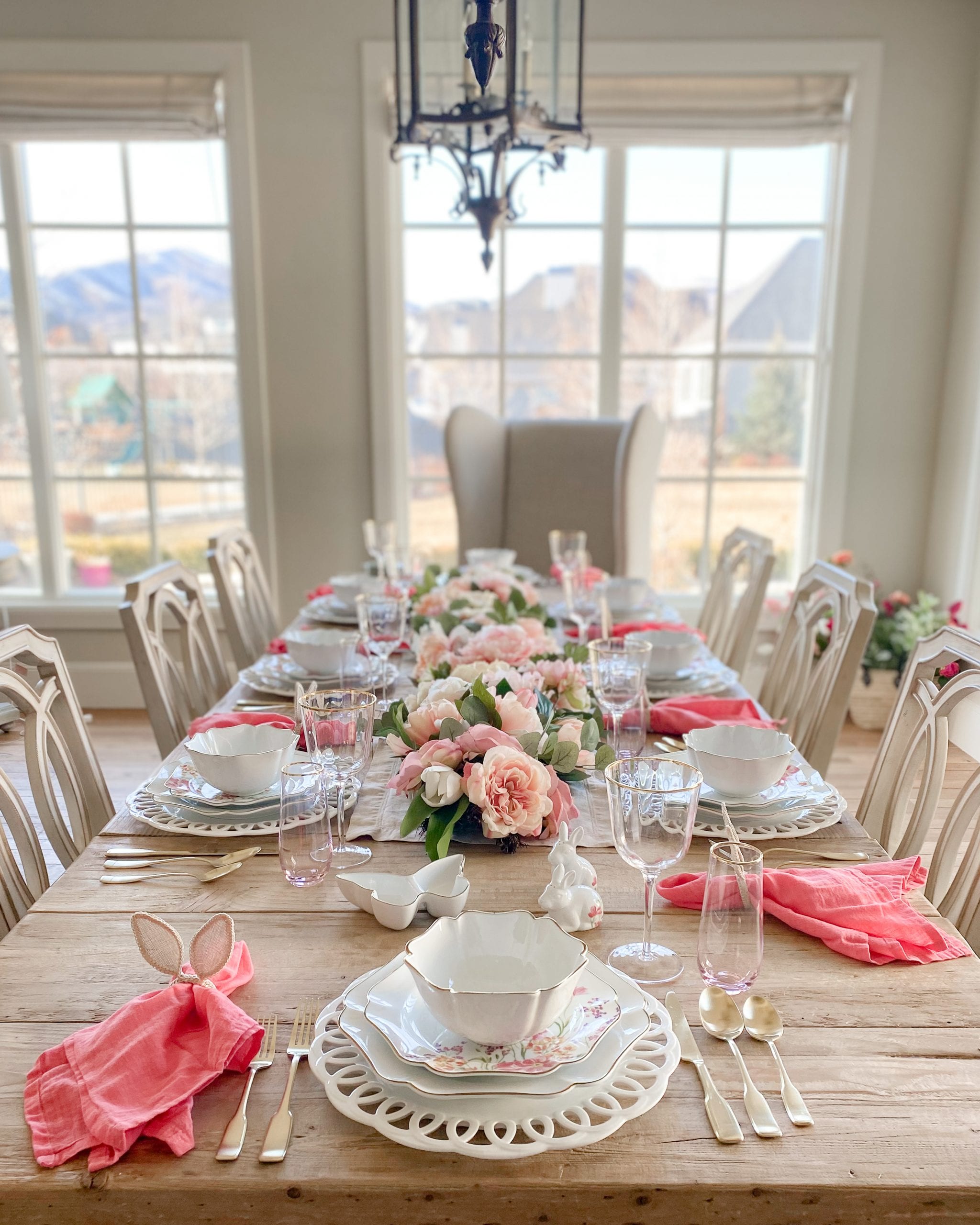 Thanks again for stopping by!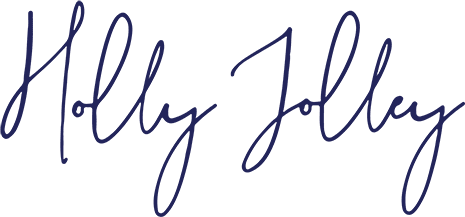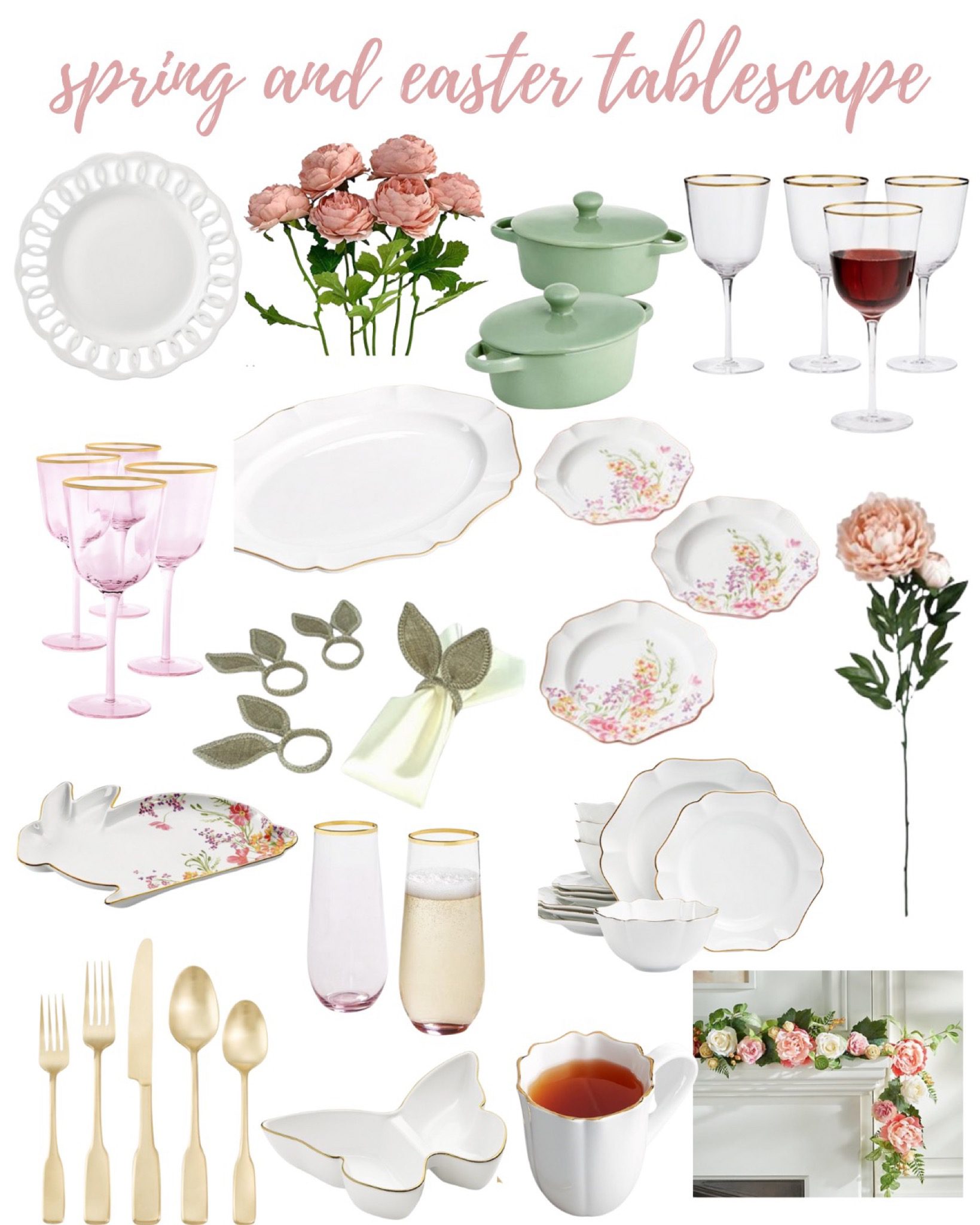 Sources linked below:

PIN THIS FOR LATER: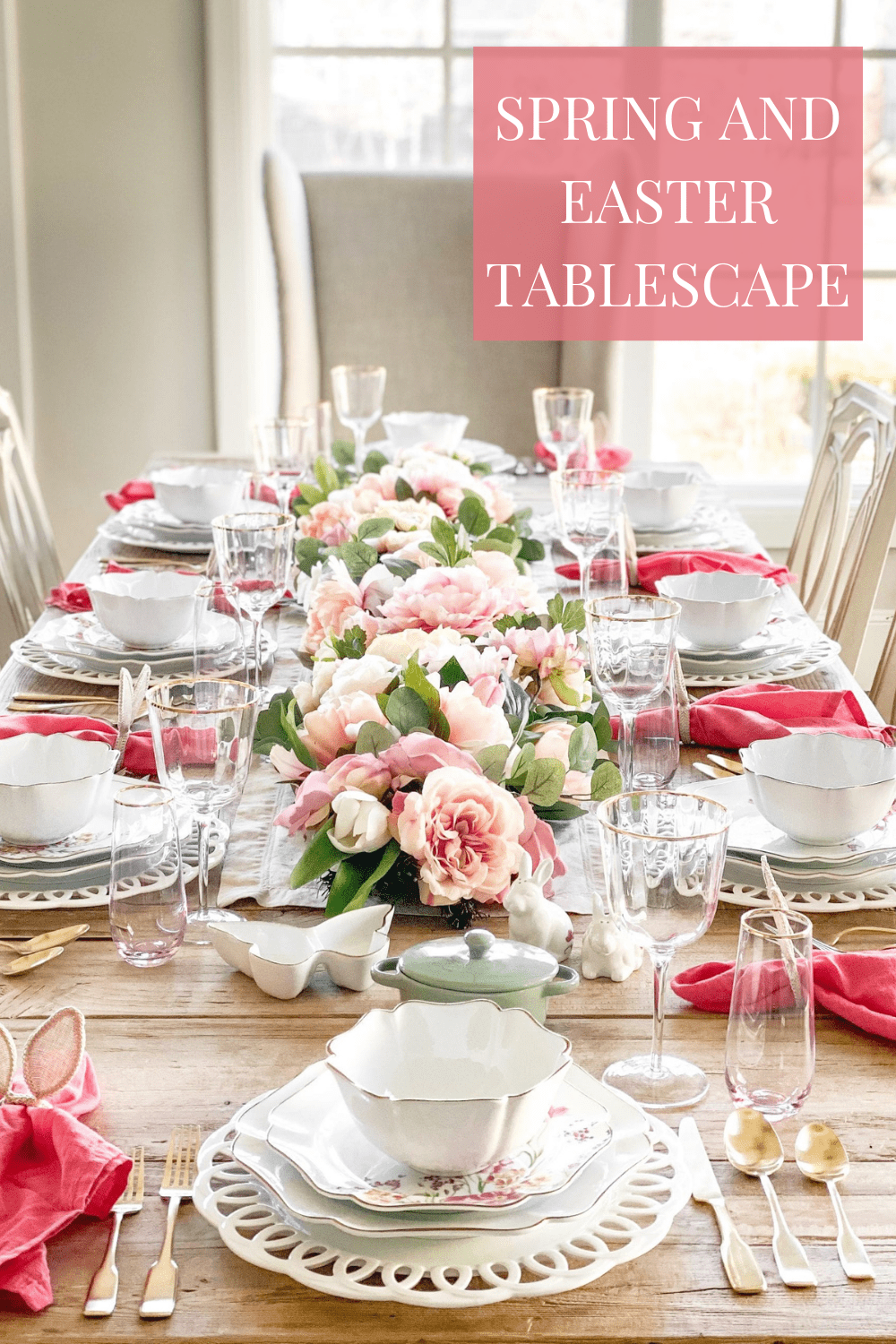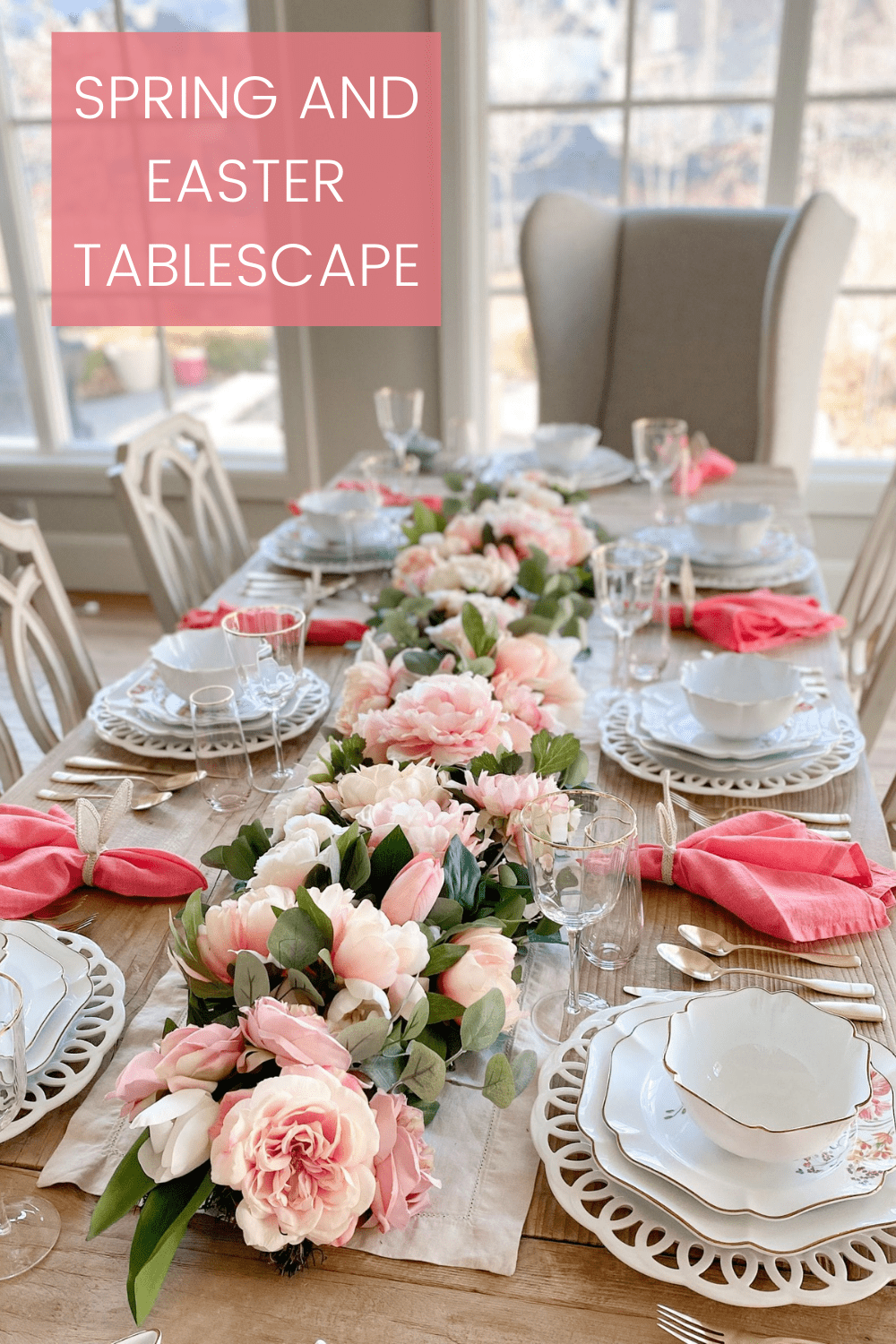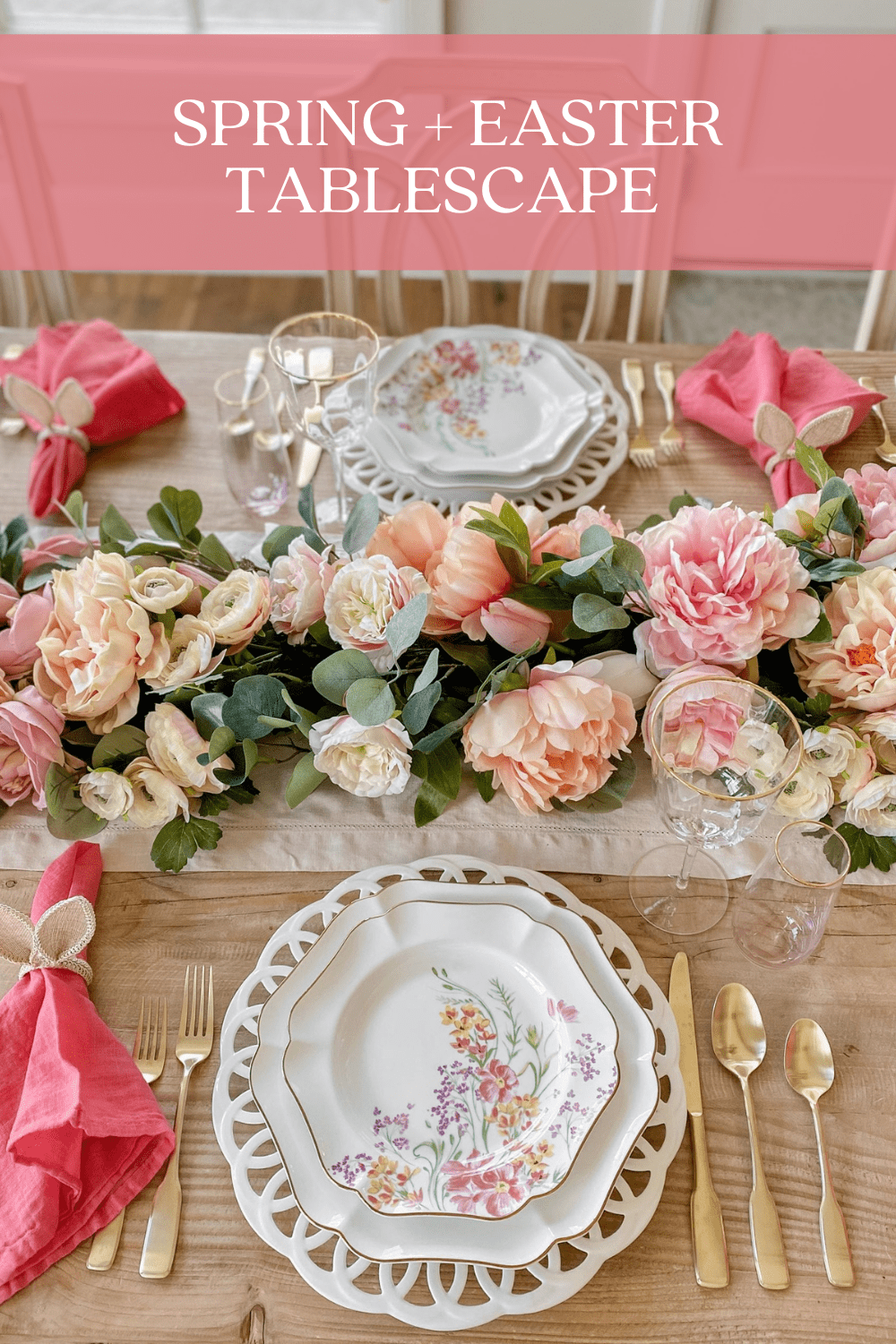 SPRING AND EASTER TABLESCAPE