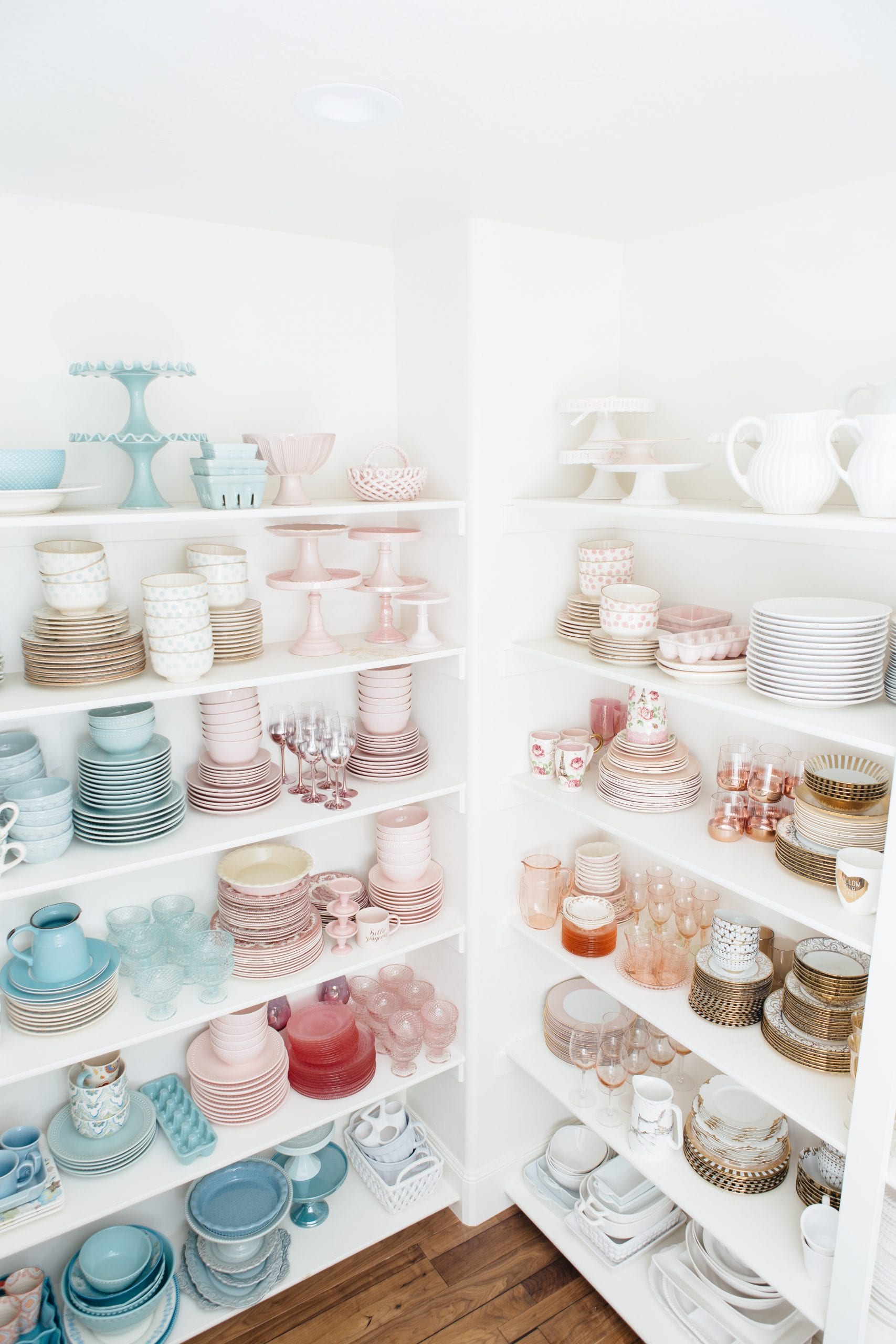 How I Organize and Store My Dish Collection
One of my most asked questions is how and where I keep my dish collection. If you've followed me for awhile, you'll know that I have a lot of dishes. I figured it was finally time to share all the details of my dish pantry and how I organize and store my collection. Keep scrolling for dish organization tips.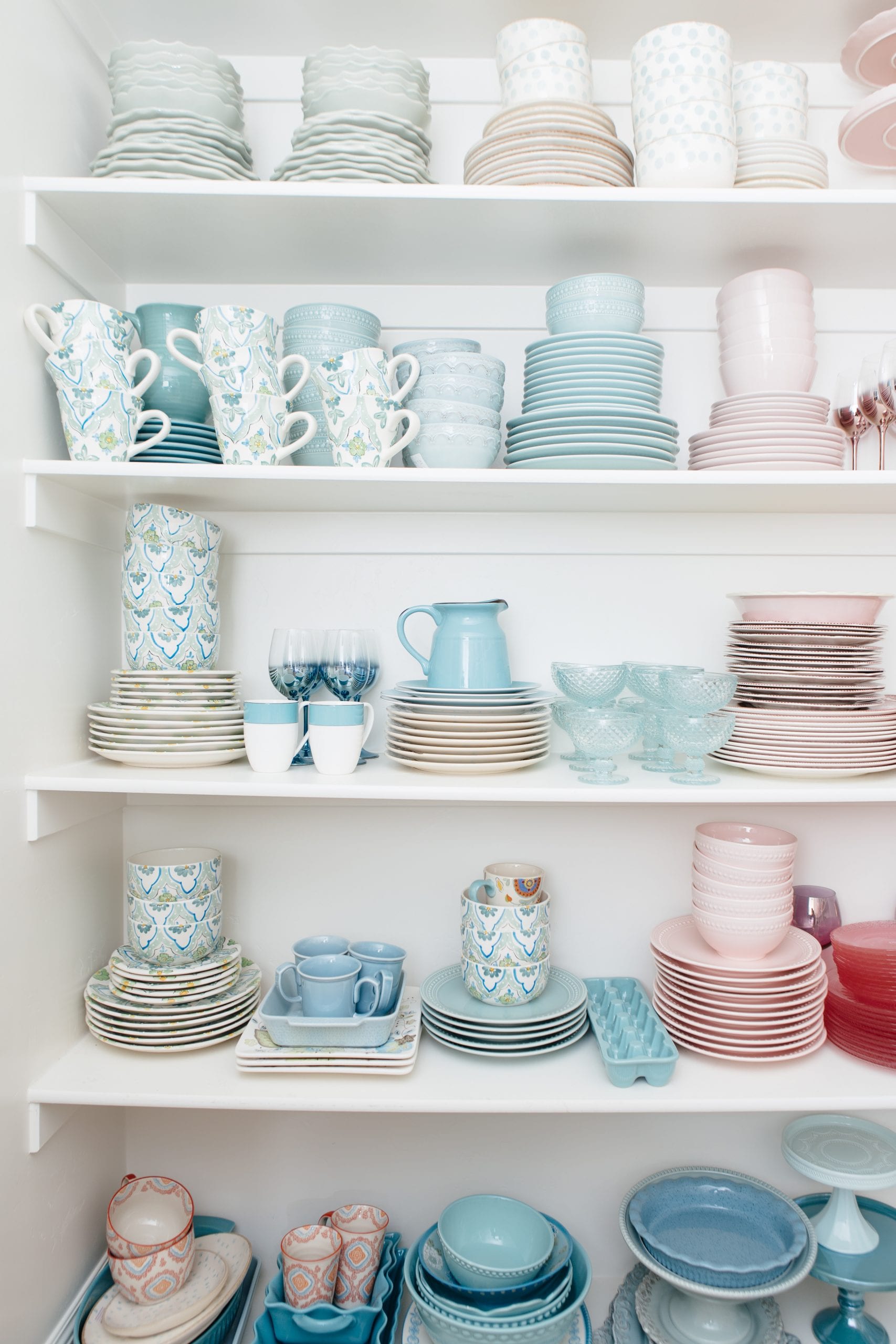 Organize by Color
One of the easiest ways to keep track of what I have is to organize by color. It makes it much easier when I'm creating a tablescape to be able to see everything in color order. It also looks really pretty!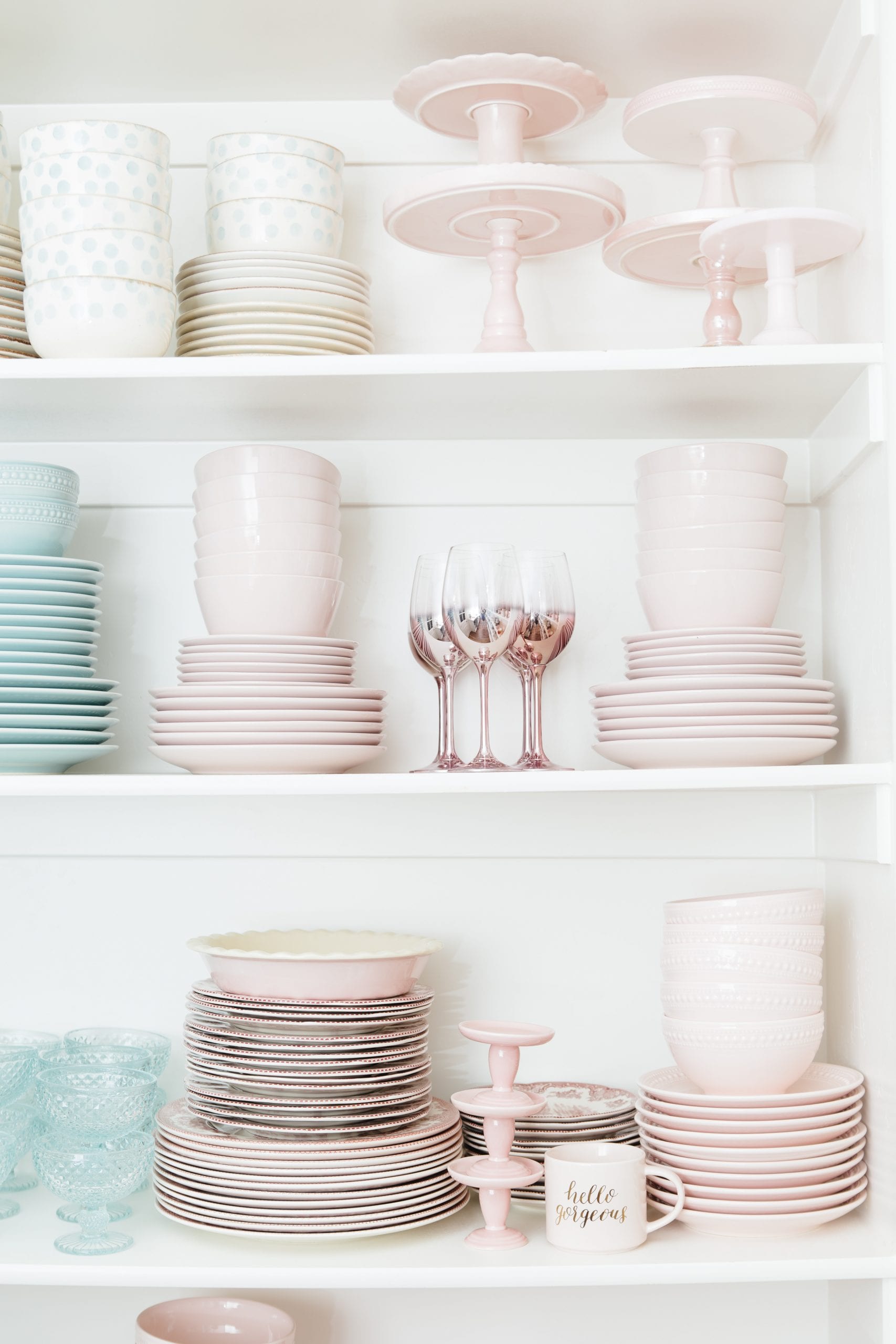 I love how the pastel colors are in one section.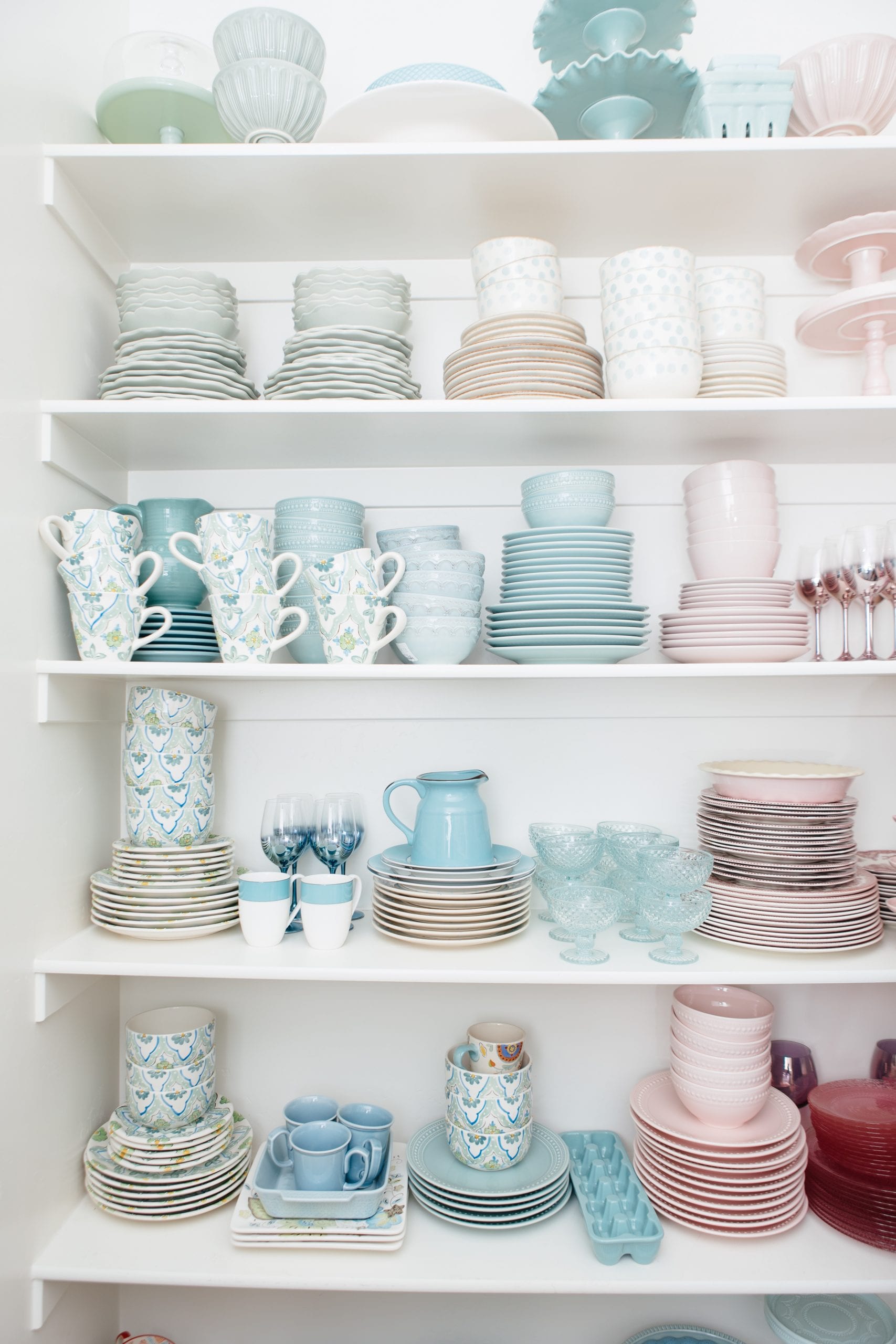 Another question I get asked often, is where do I buy or find all my dishes. Many of them are from Homegoods, some are from the dollar store, many are vintage that I've found in antique shops and online from Replacements, Etsy, Mercari, and eBay. I am really good at finding dishes anywhere! My husband can attest to that!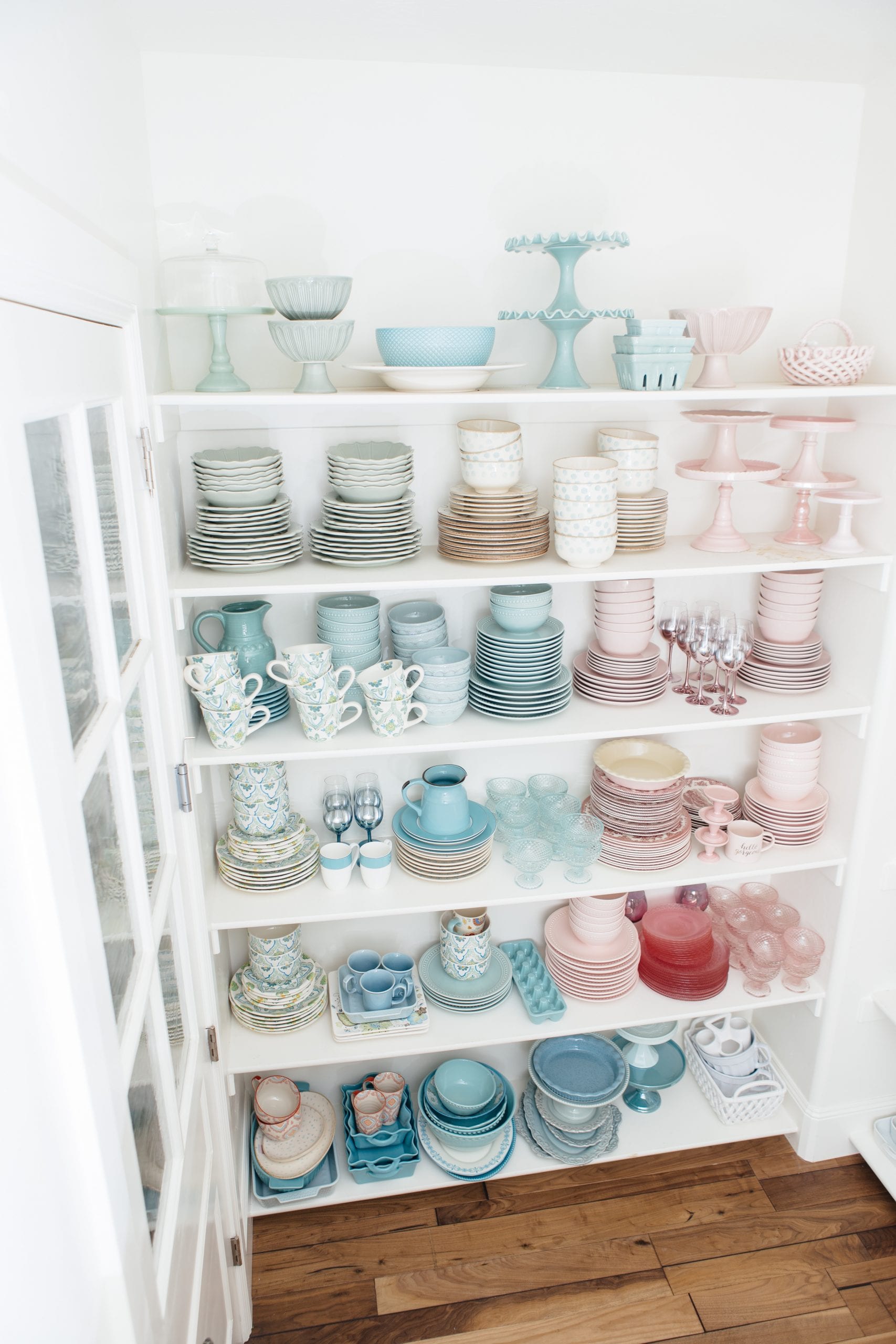 I also store my serving pieces, pitchers, and cake stands in color order.
Utilize Extra Storage in the Kitchen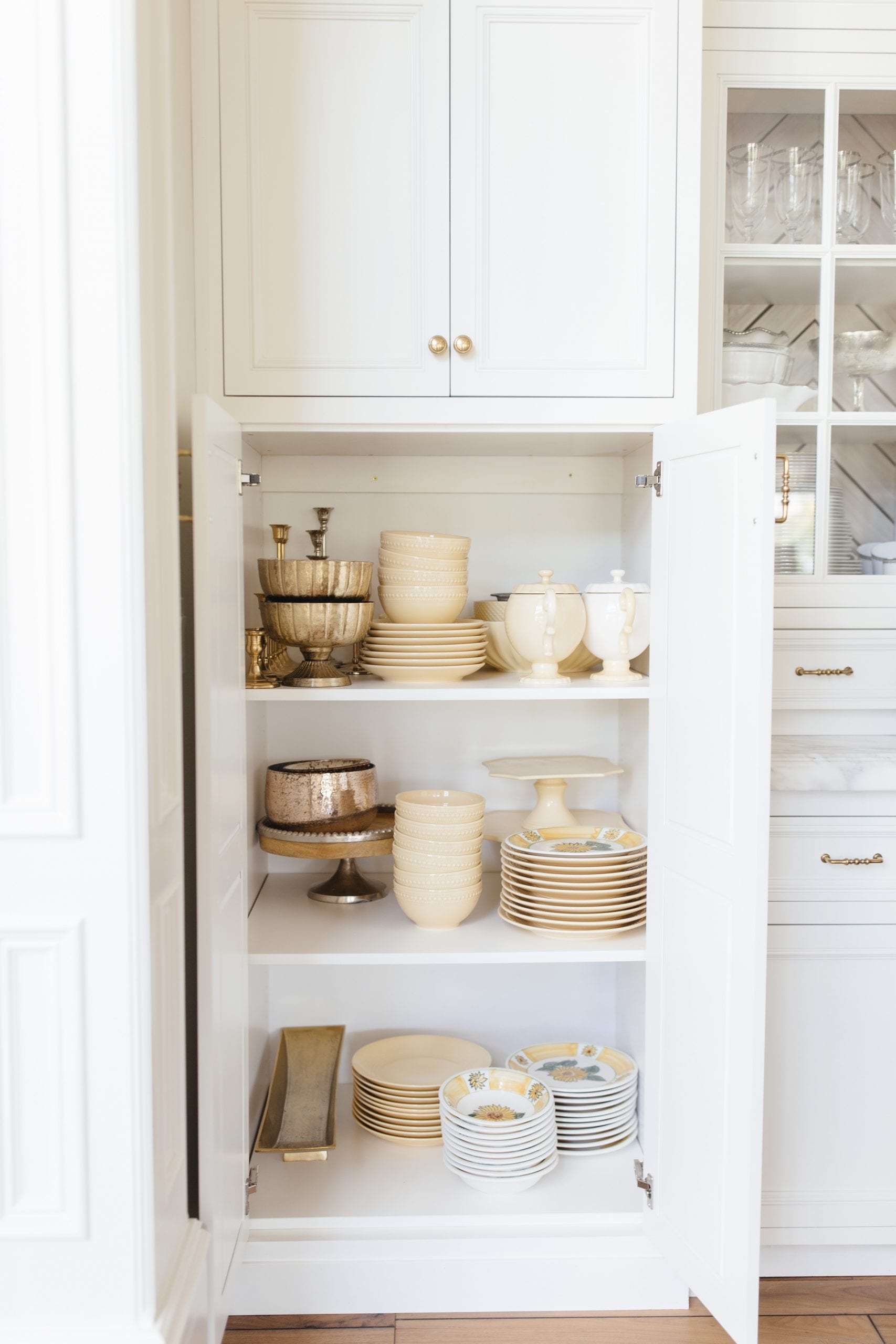 I am also fortunate to have a lot of storage in the kitchen area and I've managed to fill up those extra spaces with dishes too!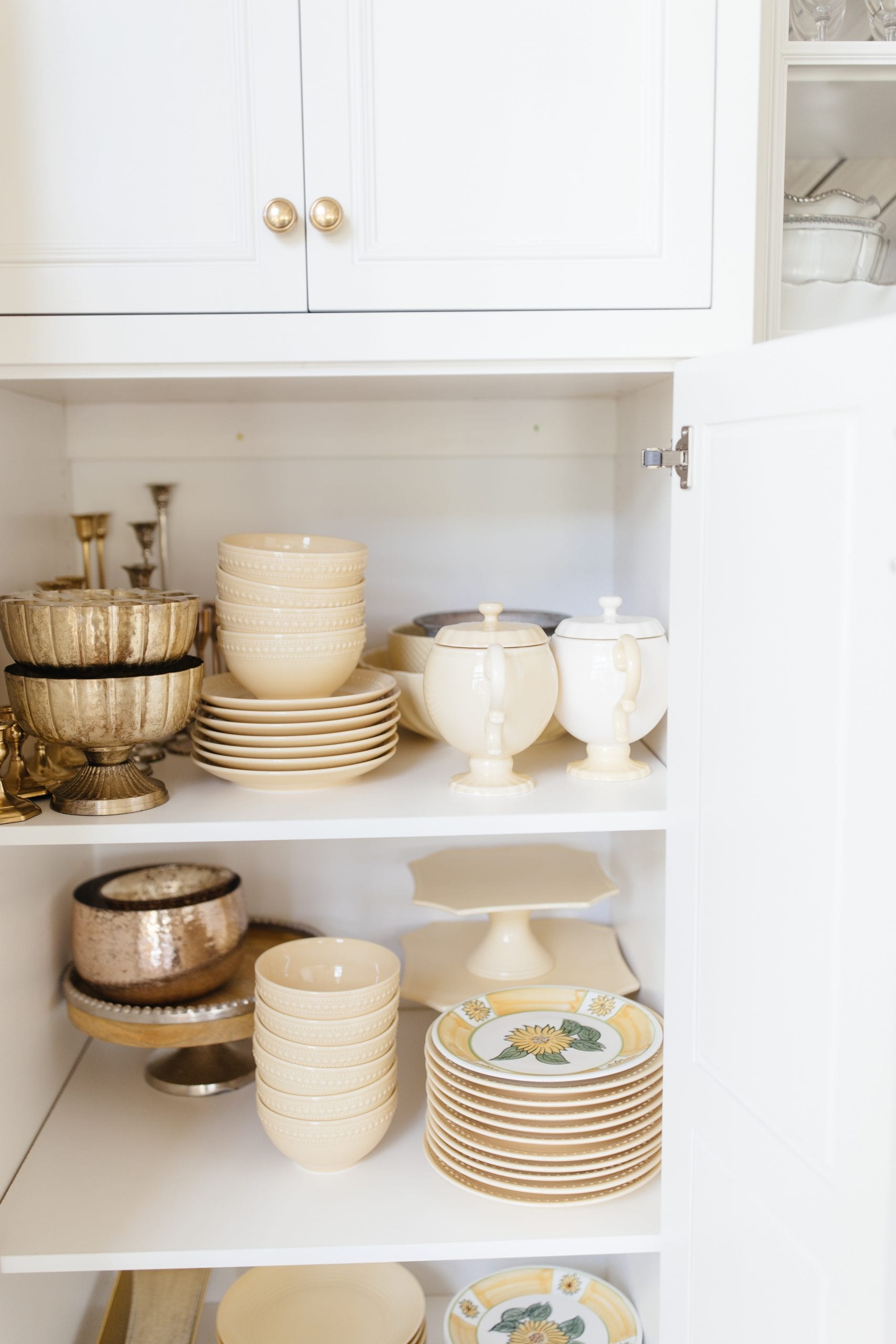 The yellow and white sunflower dishes are hand painted and I found them at a dollar store almost 20 years ago when my husband was stationed in Kansas in the US Army. I still love these dishes as much as I did when I bought them and I'm so glad I saved them!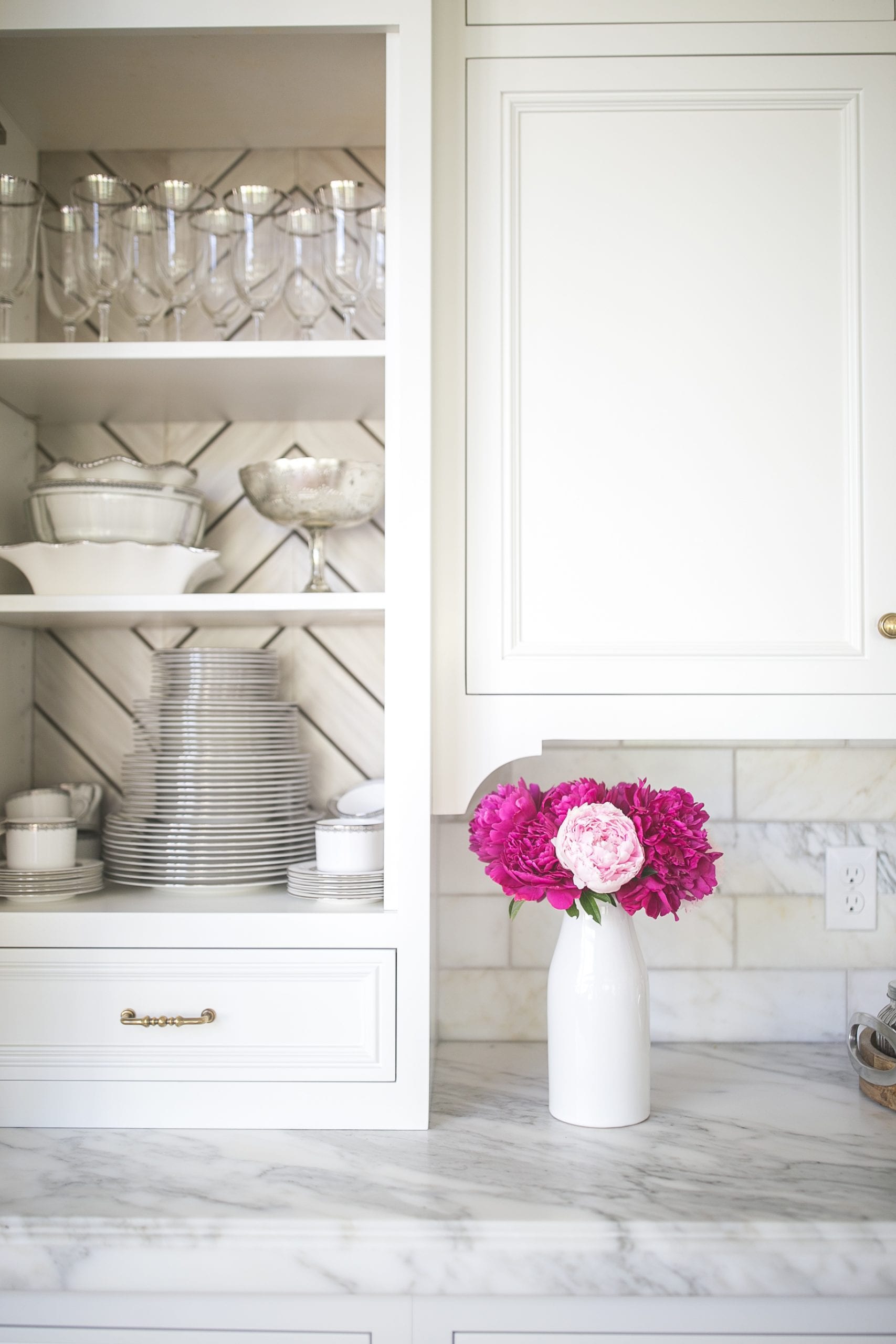 One thing I really love about my kitchen area is that there is a built in china cabinet and side bar area. I have filled up this space with dishes too! I know, shocker! LOL I store my favorite silver and gold sets in this cupboard along with some antique milk glass.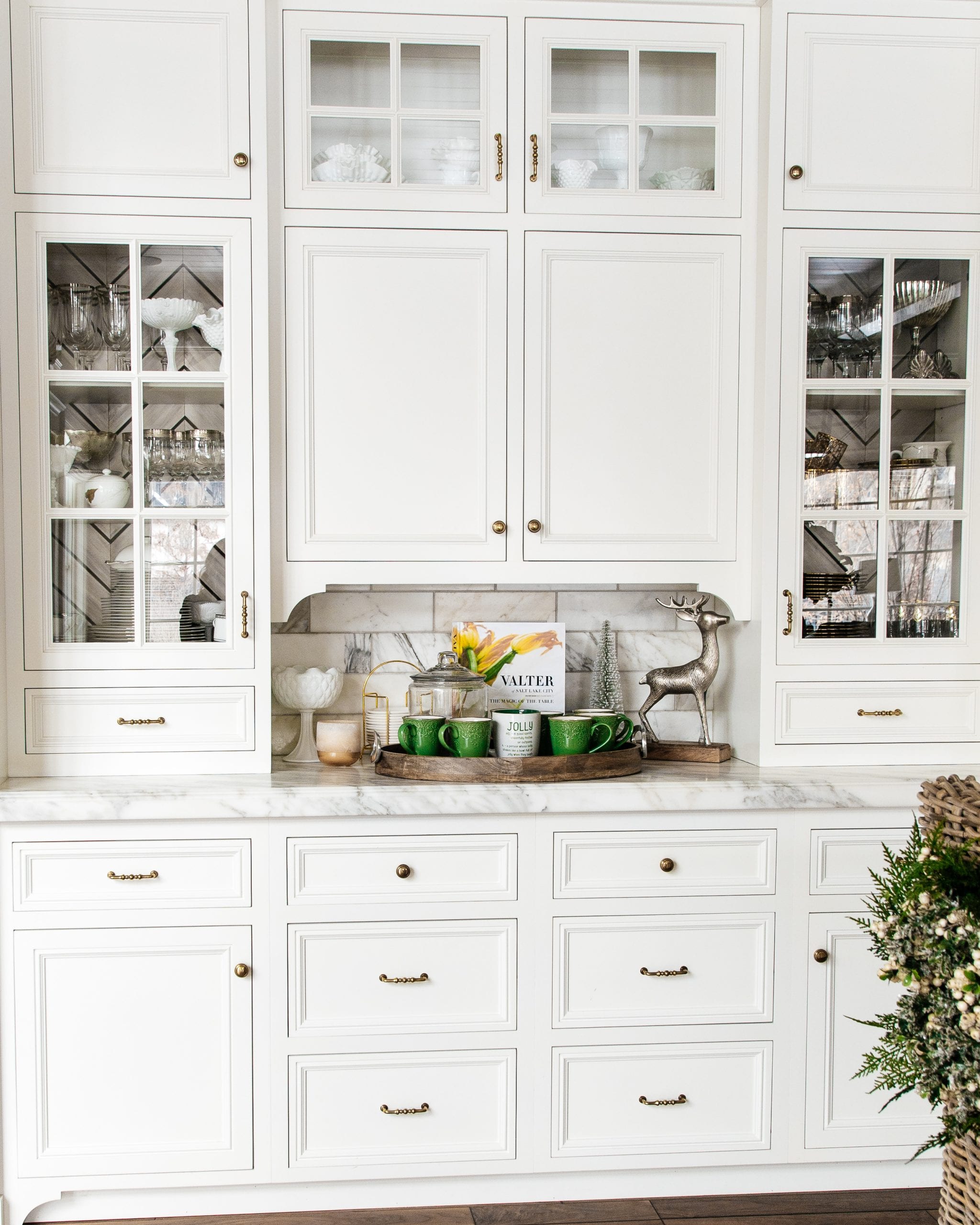 How to Store and Organize Cake Stands and Serving Dishes
I store odd shaped items like cake stands and pitchers on the top shelves and I put my serving dishes and trays on the bottom shelf as they tend to be heavier and are easily stacked on top of each other. I organize them by shape and color.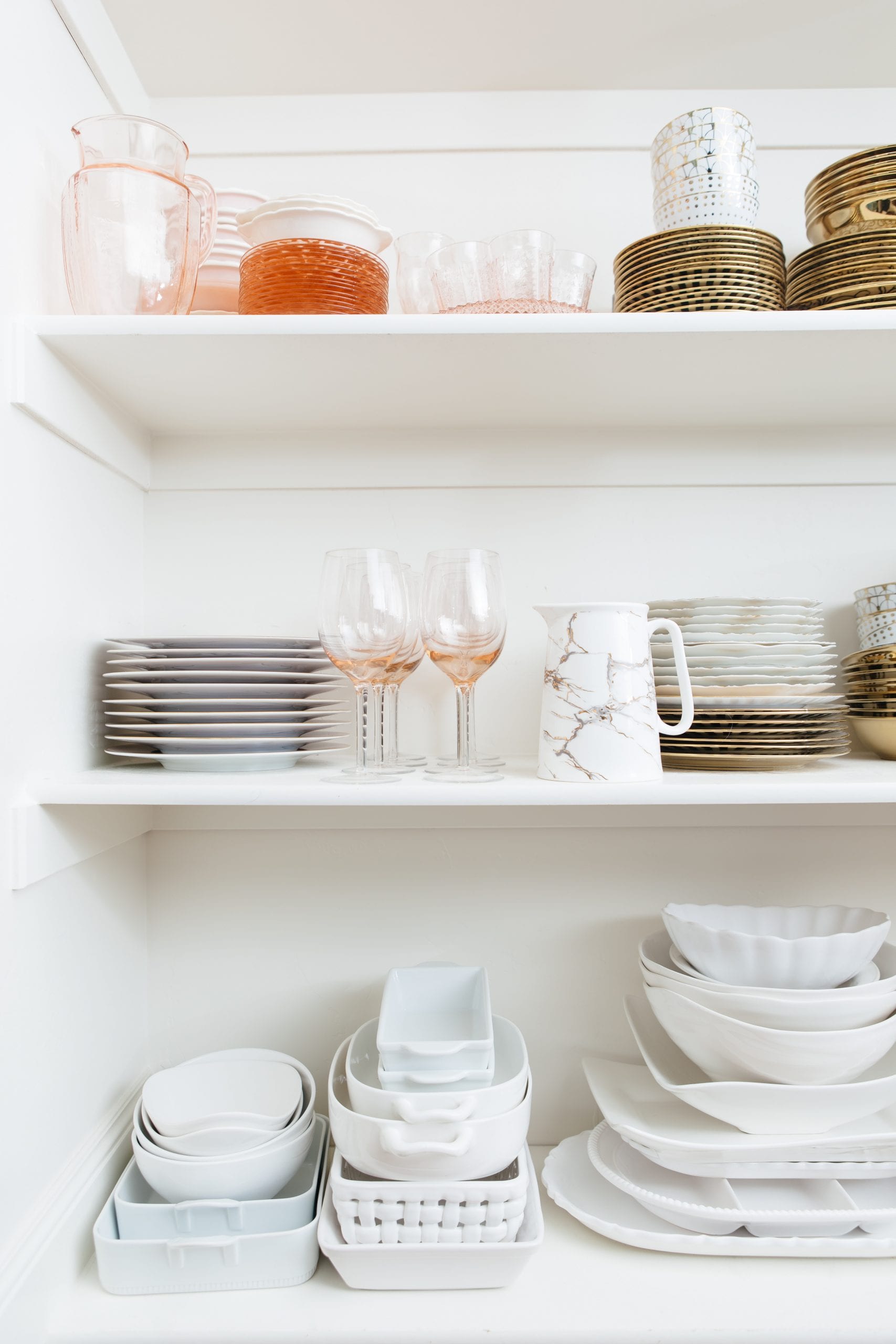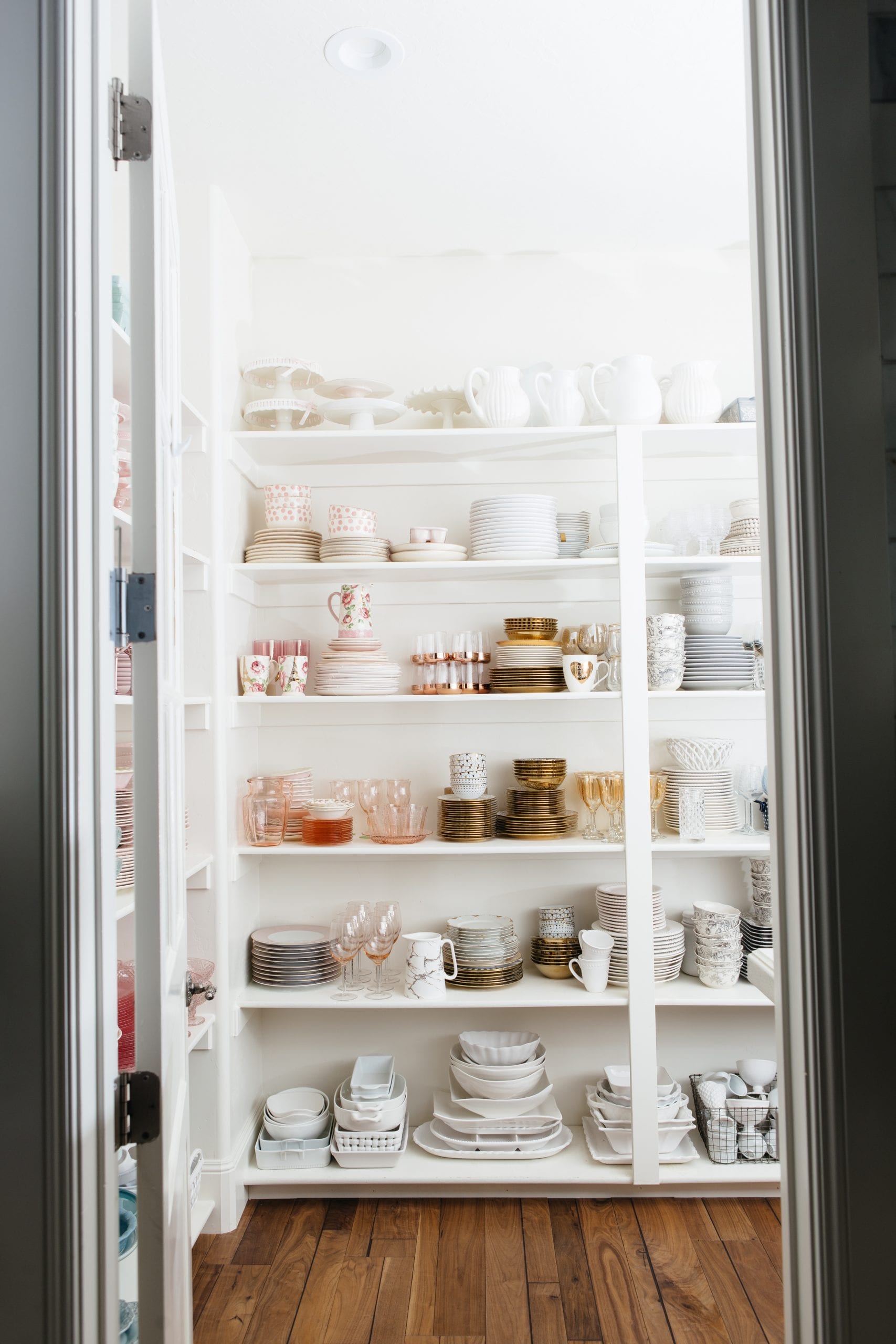 I also use wire baskets to store smaller items.
Mixing the Old with the New
I collect vintage and antique dishes. Some of these have been gifts from my mother and the rest I have found one piece at a time. One of my favorites is depression glass. Mixing vintage dishes with newer items adds character and charm.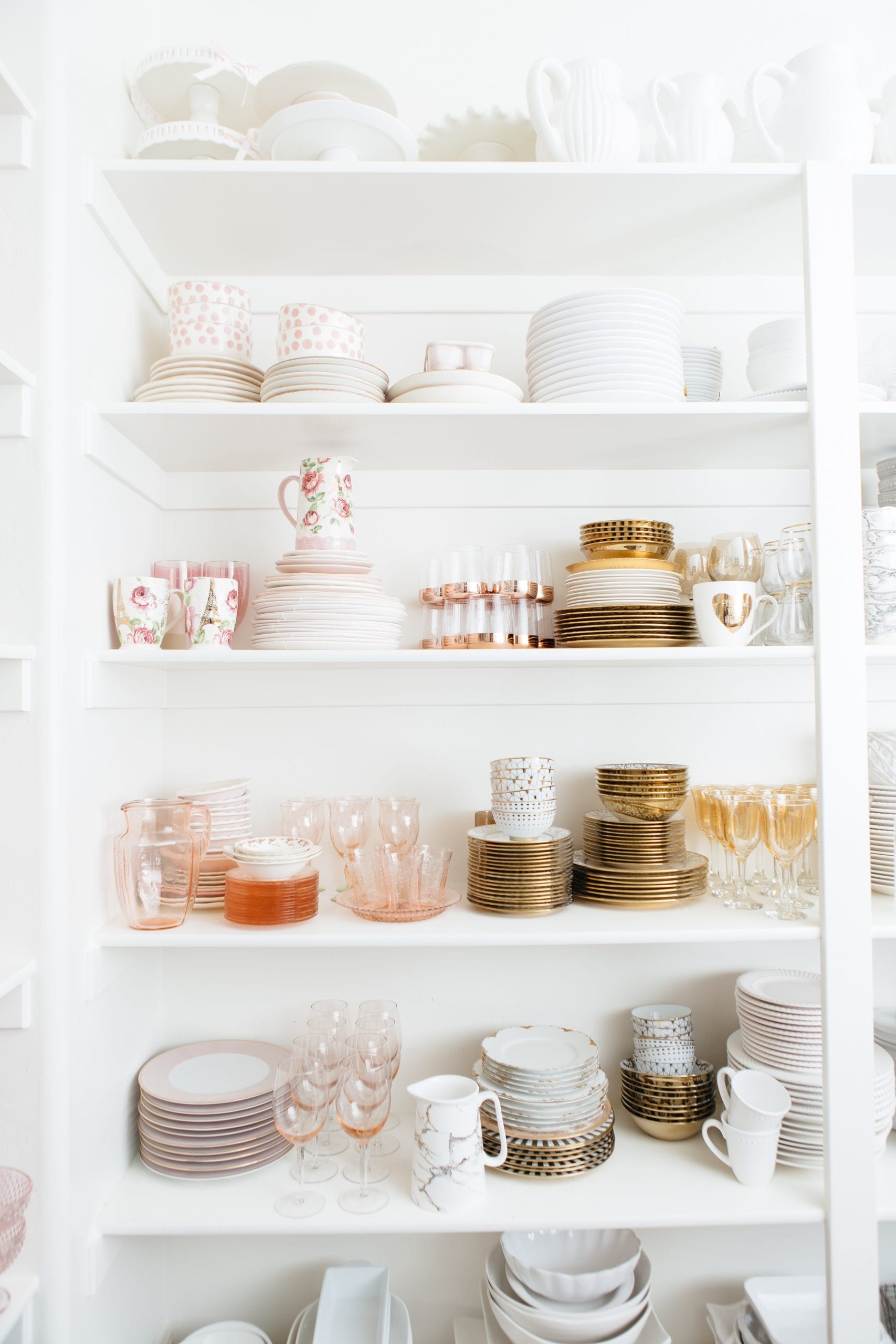 My Blue Dish Obsession
I don't know why I'm drawn to blue so much but I can never pass up blue dishes! Maybe it takes me back to my Danish, Swedish, and English roots.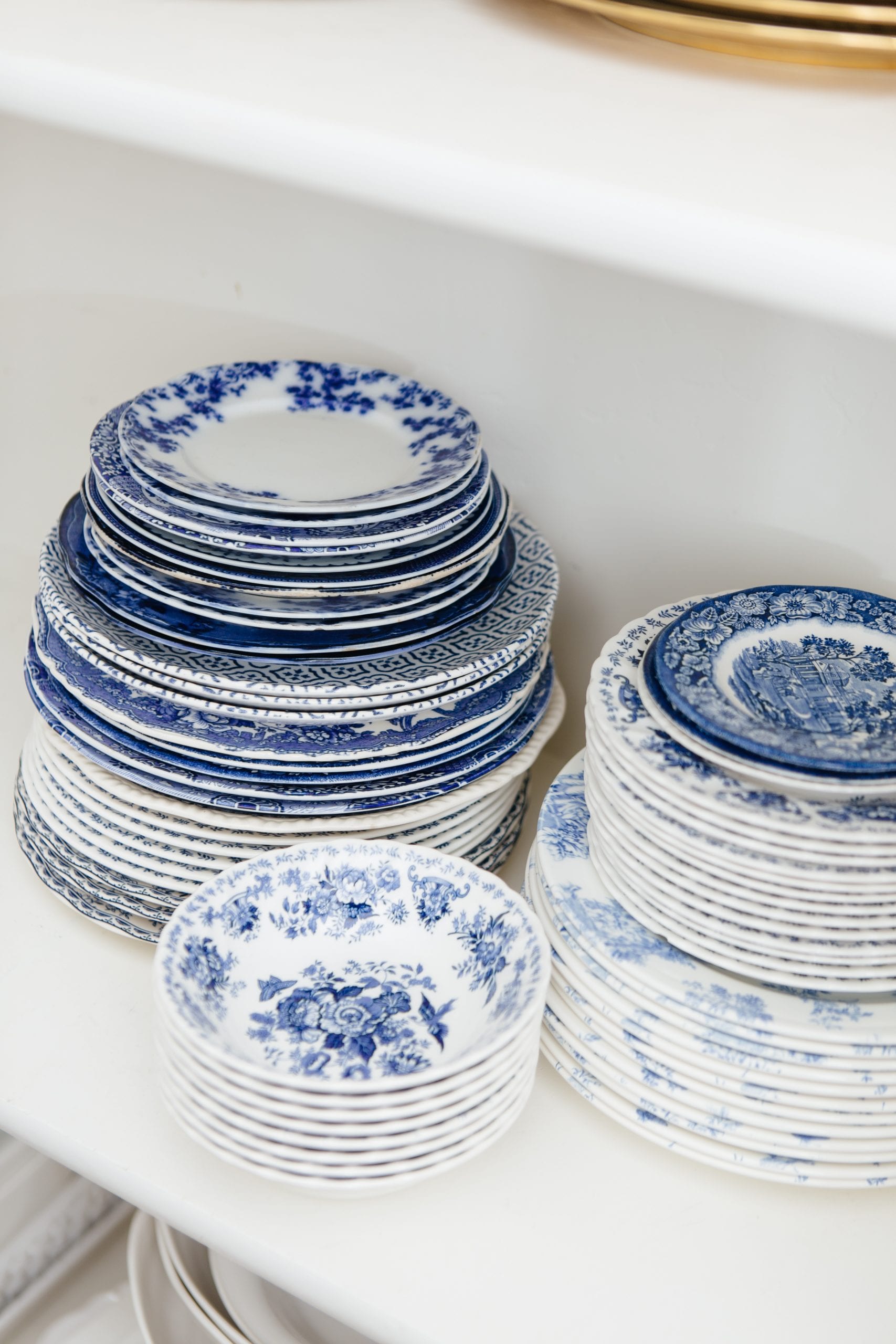 I'm especially drawn to English china patterns. Some of these are antiques and some are replicas that are making a come back. I've mixed the old with the new in the this section. I also love Royal Copenhagen and hope to have a set of it someday!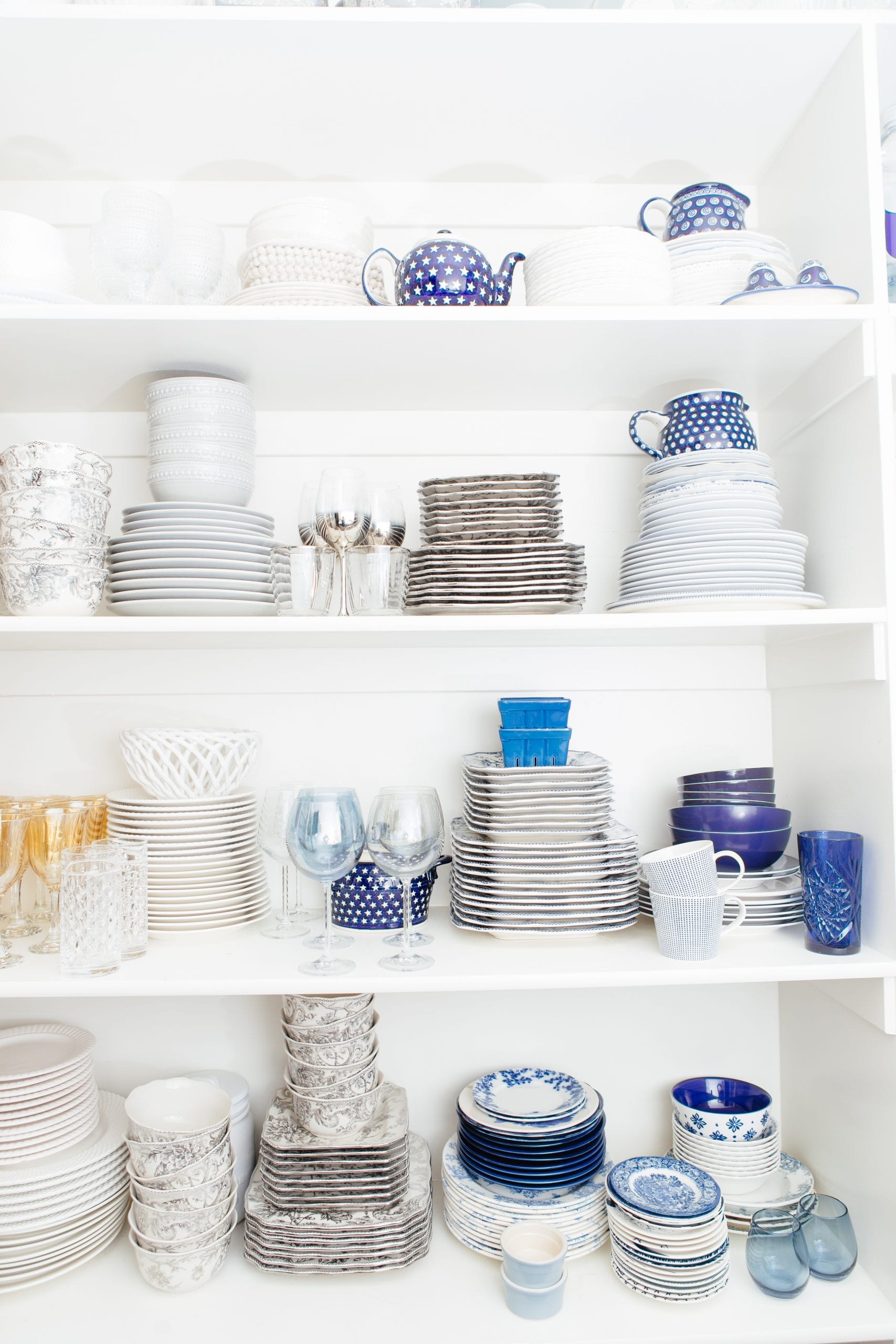 I also collect Polish Pottery which is hand made at a handful of different factories in Poland. I dream of visiting these factories someday!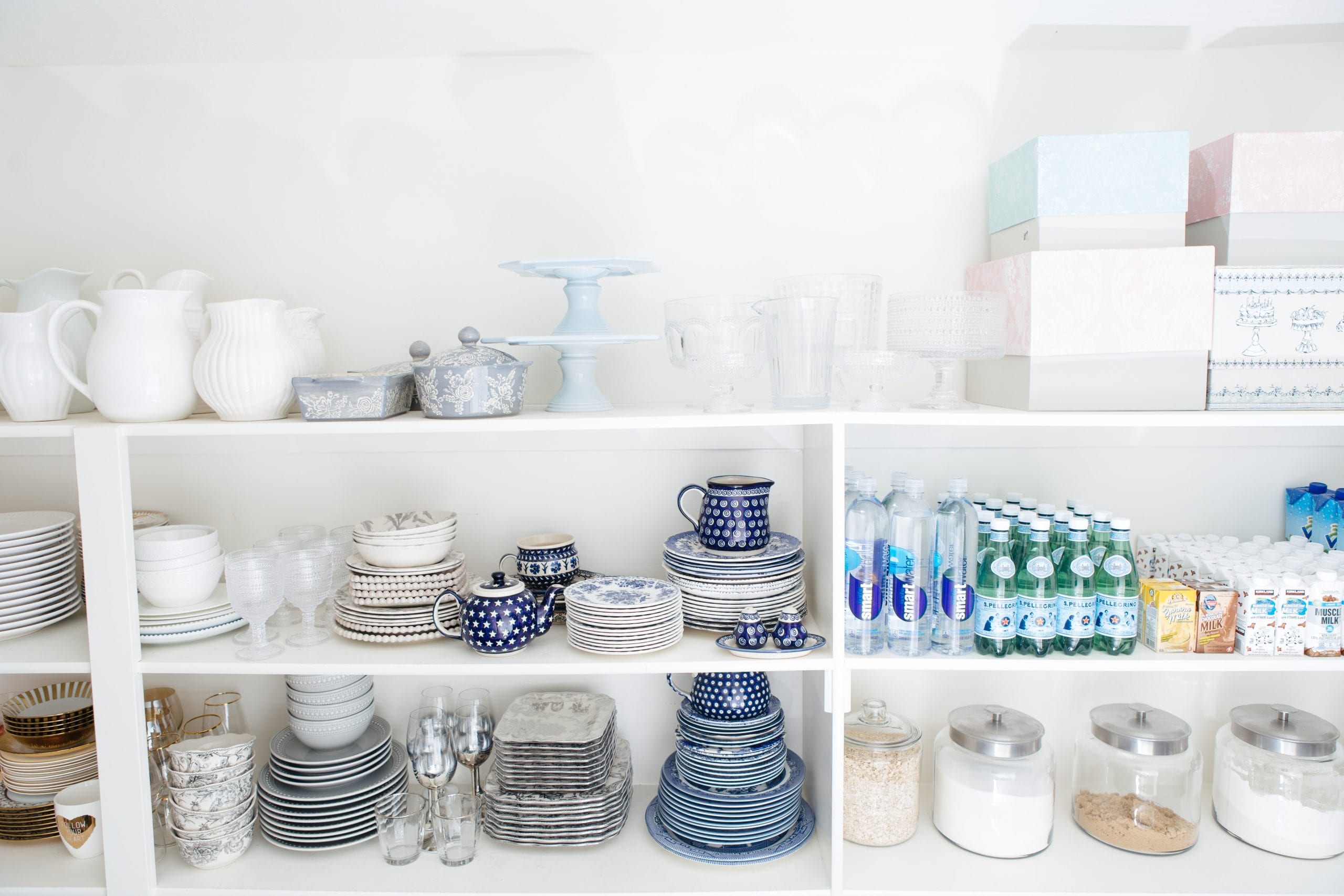 Last year, I had already outgrown this space in the pantry so I decided to do a little remodel of the space to make it more functional as well as create more shelf space.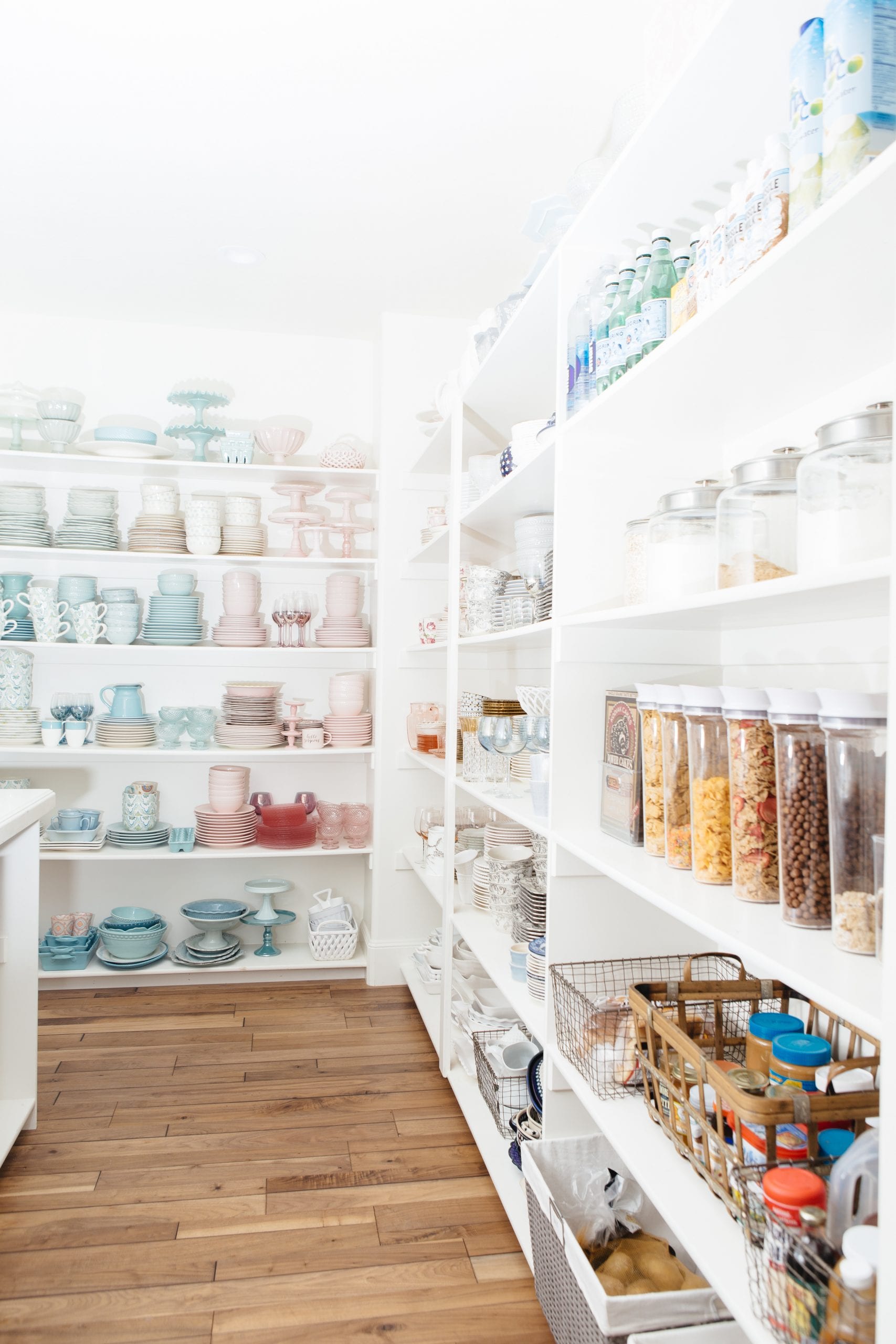 You can see in the photo above that the shelves are starting to bow a little in the middle. We added new supports to the shelves and replaced some of the shelves that were damaged.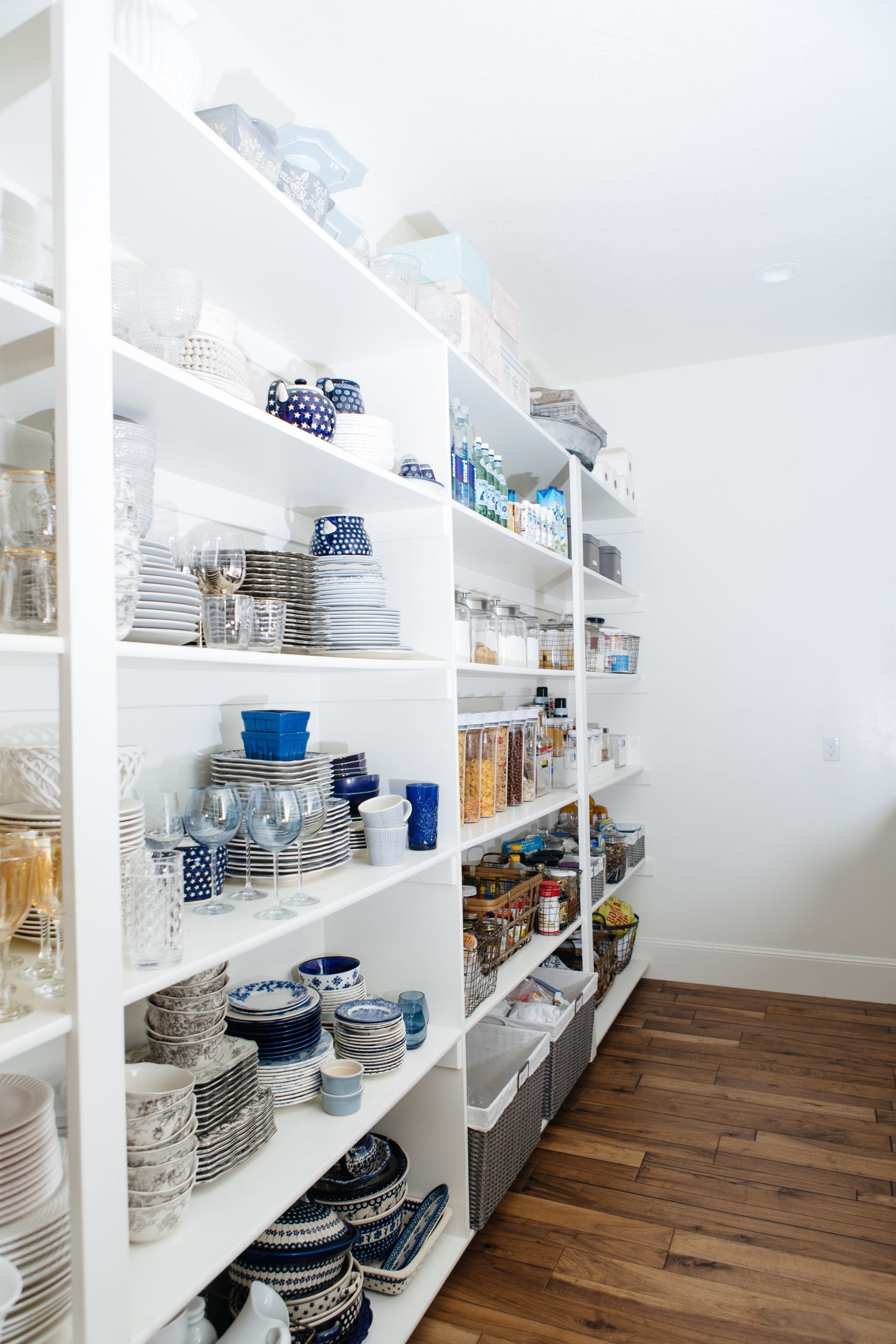 The dish storage now extends all the way to back of the pantry where the food is, and the bare wall now has shelving that wraps around to the other side. I shifted all the food and other pantry items to this back section.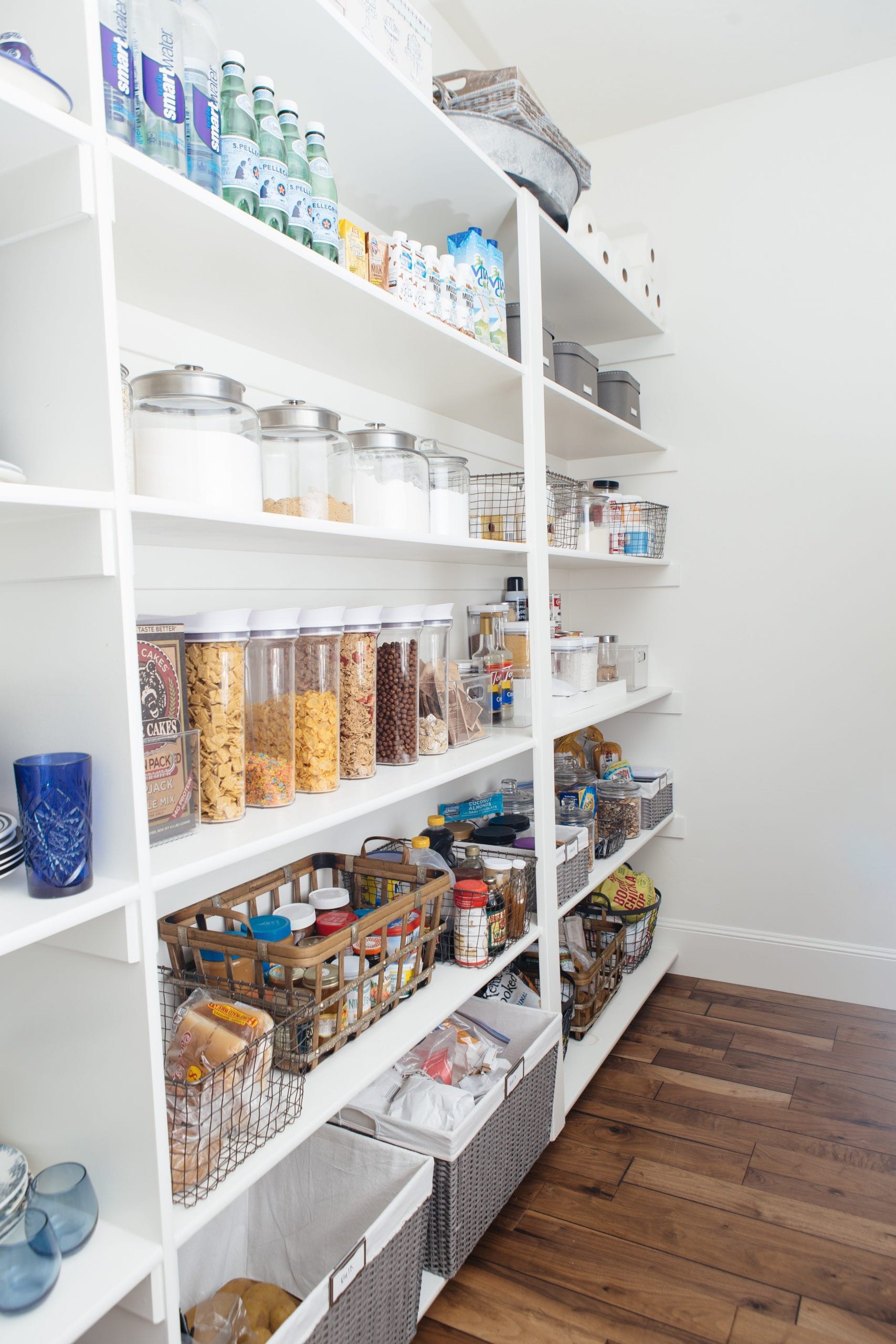 I like to keep my pantry staples in bins and containers so that it's easier to find things and stay organized.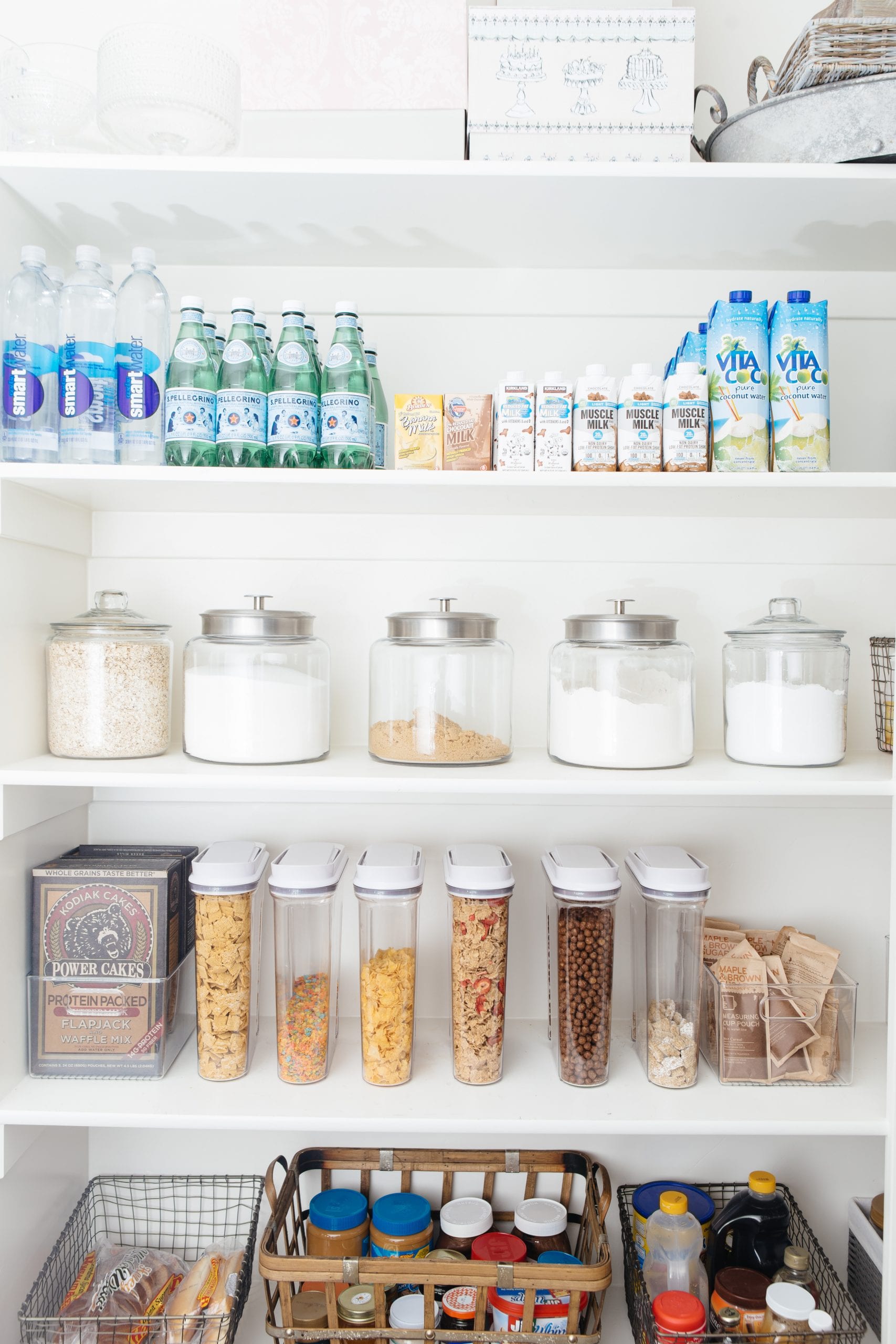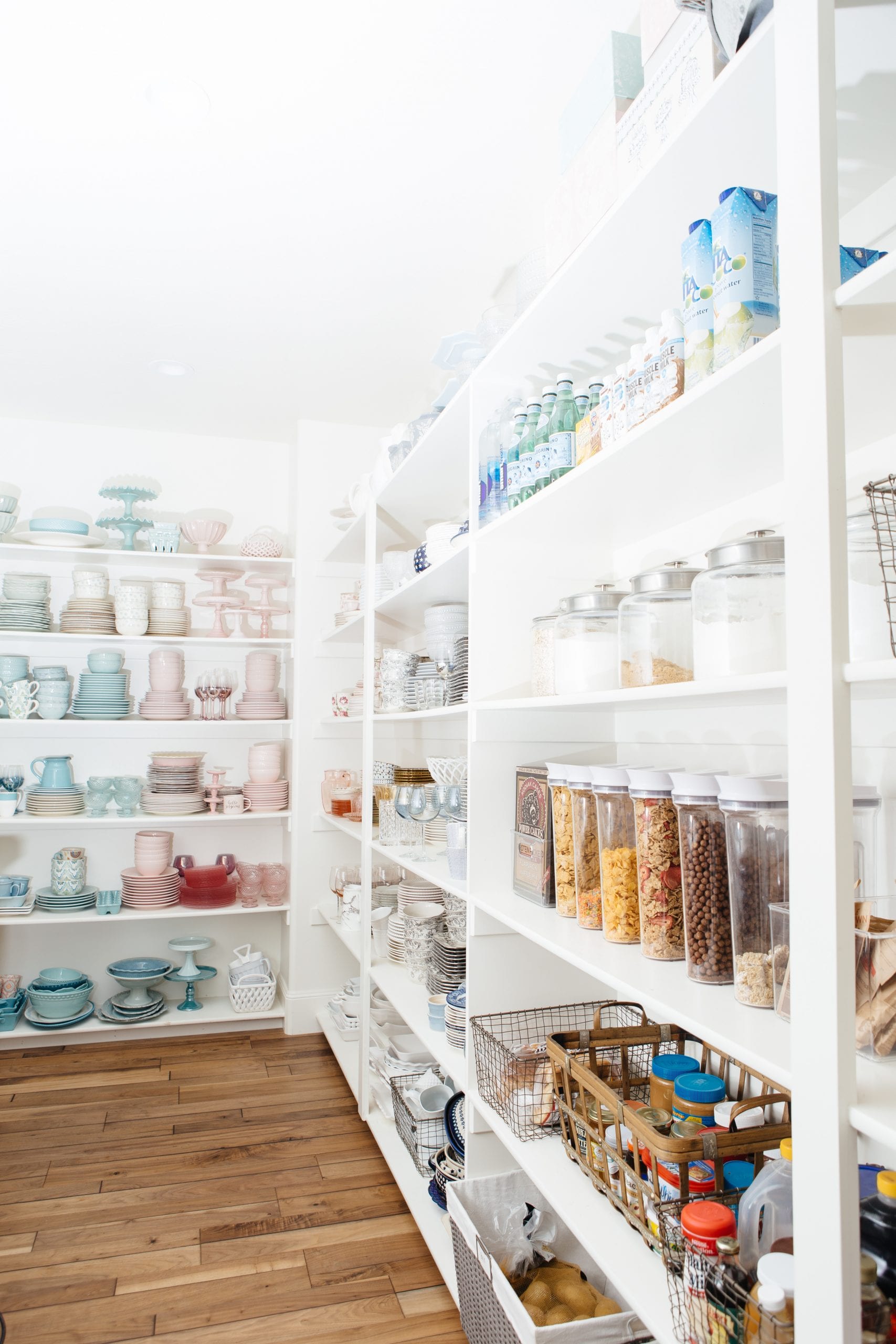 Organizing by Season
Last summer I had this crazy idea to put all my red, white, and blue dishes in one section during the month of July in honor of Independence Day. It was a lot more work moving the dishes around than I anticipated and I was regretting my crazy idea, but, when it was all done, I was glad I did it. To see more of my Patriotic Pantry click here: Patriotic Dish Pantry Post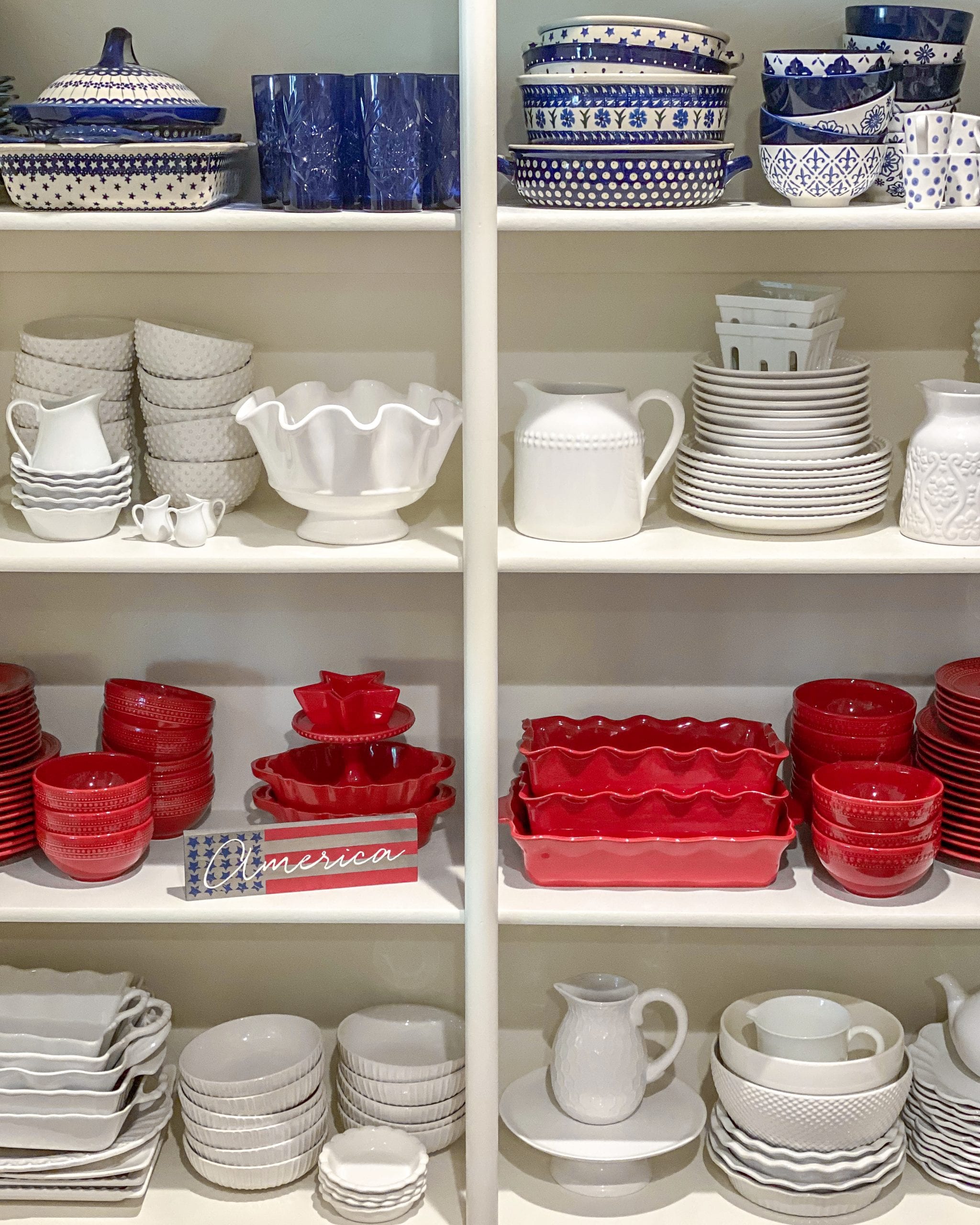 I put all the red, white, and blue dishes and serving pieces in one section then added a flower arrangement and few other items to the shelves.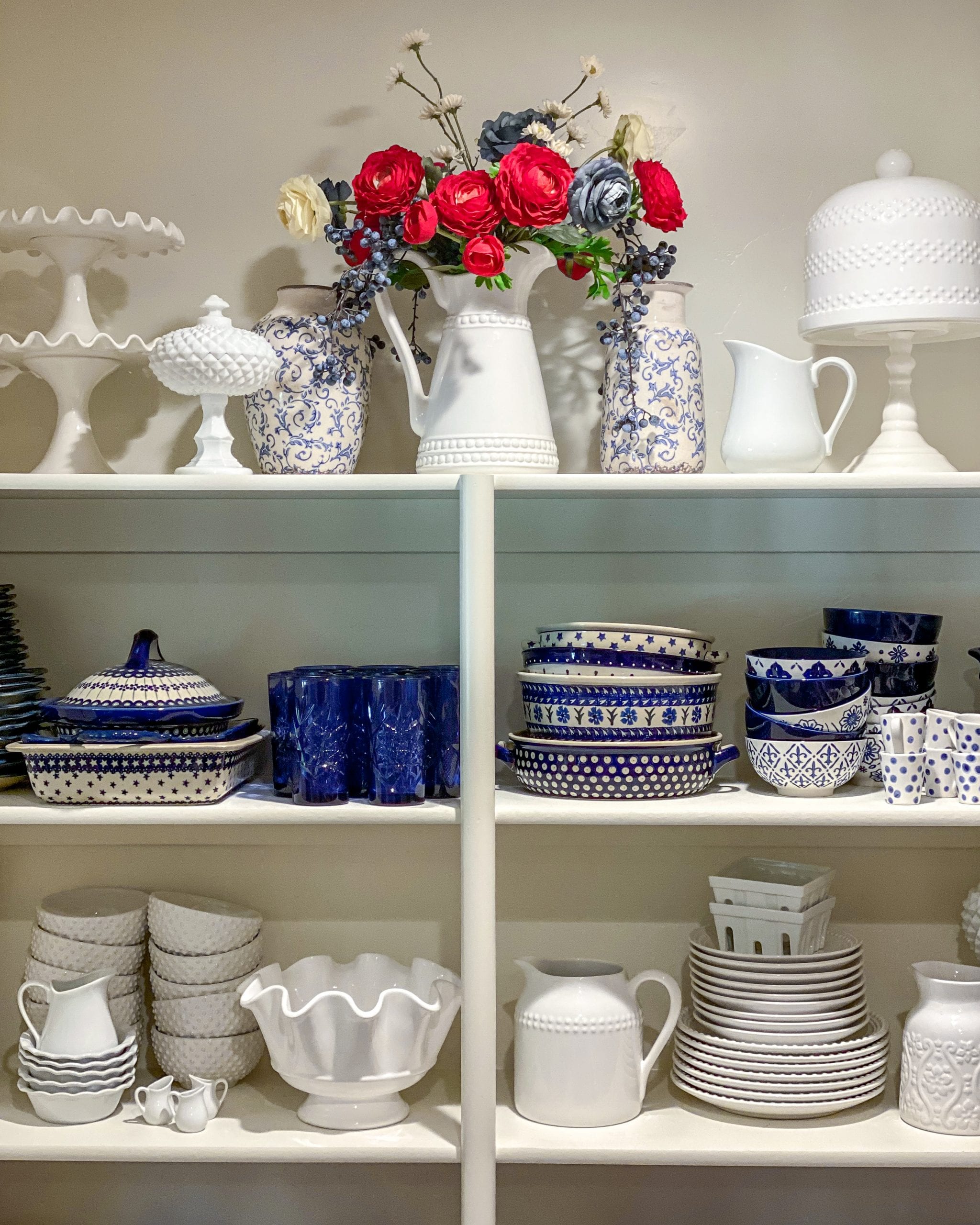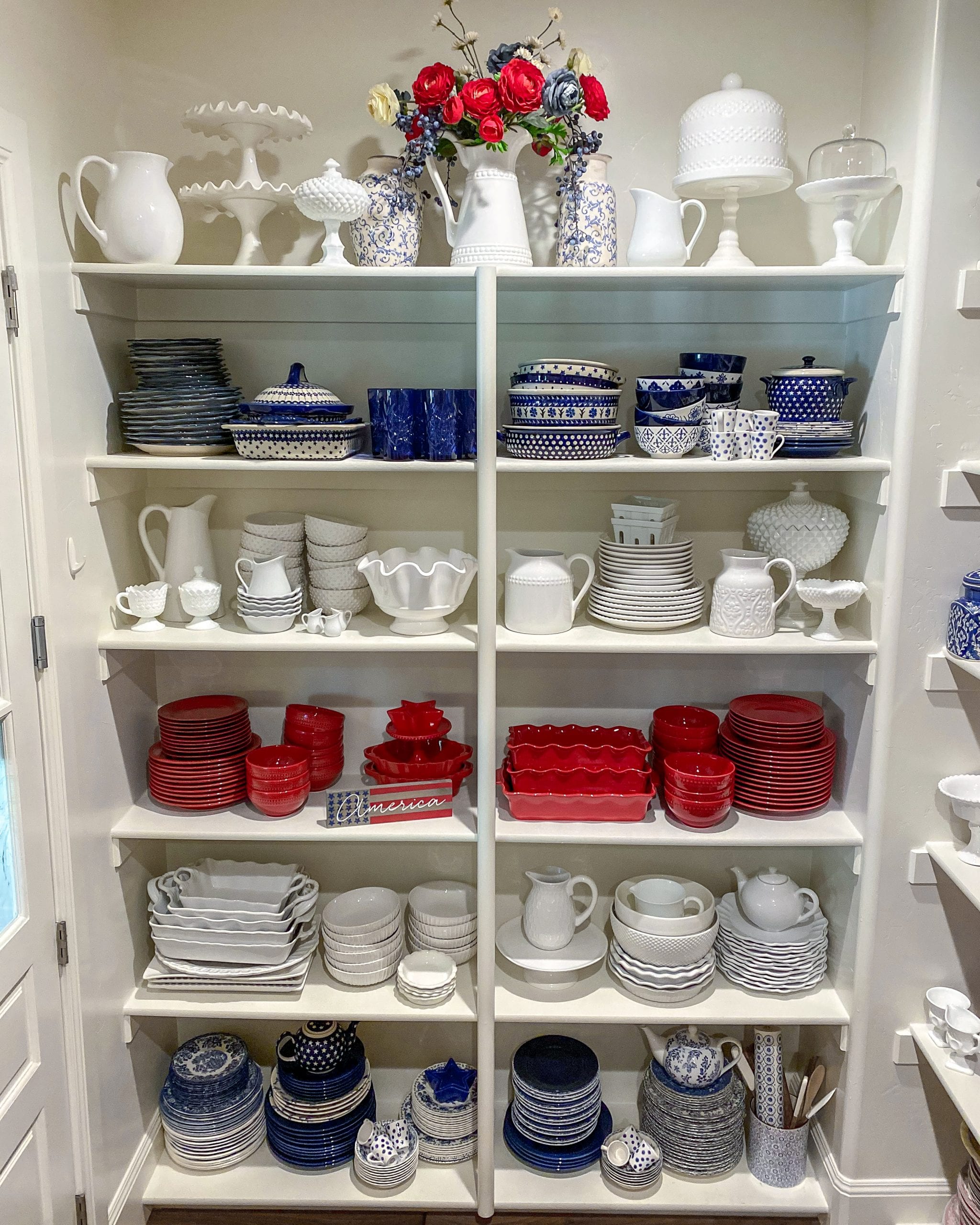 You can also see the supports we added to shelves above. This has helped keep the heavy dishes from bowing the shelves.
The Details
I'll share a few more of the close up photos of all the dishes below for those that love to see the details! I know many of you will want to see some of the dish patterns up close.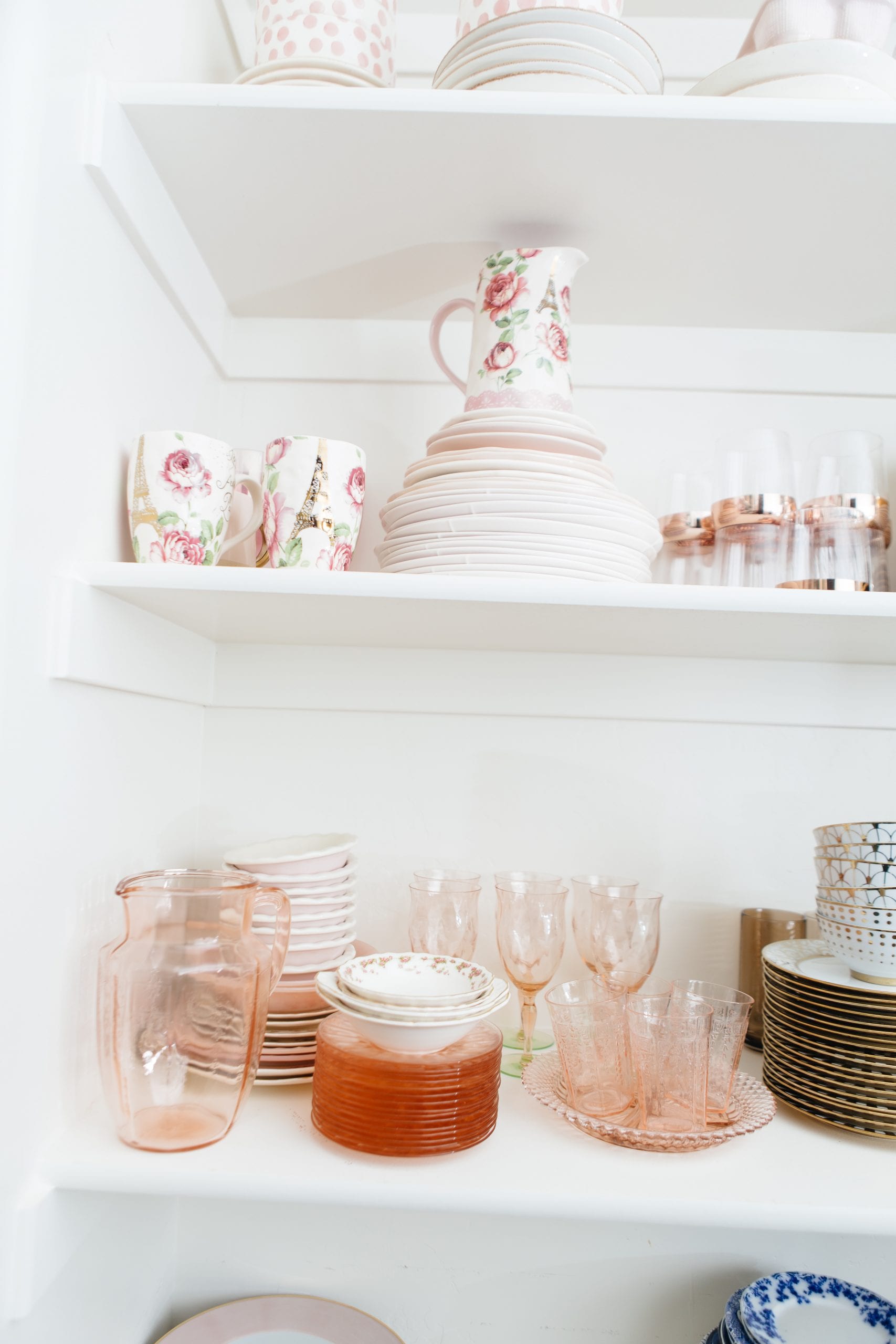 The light pink dishes are depression glass.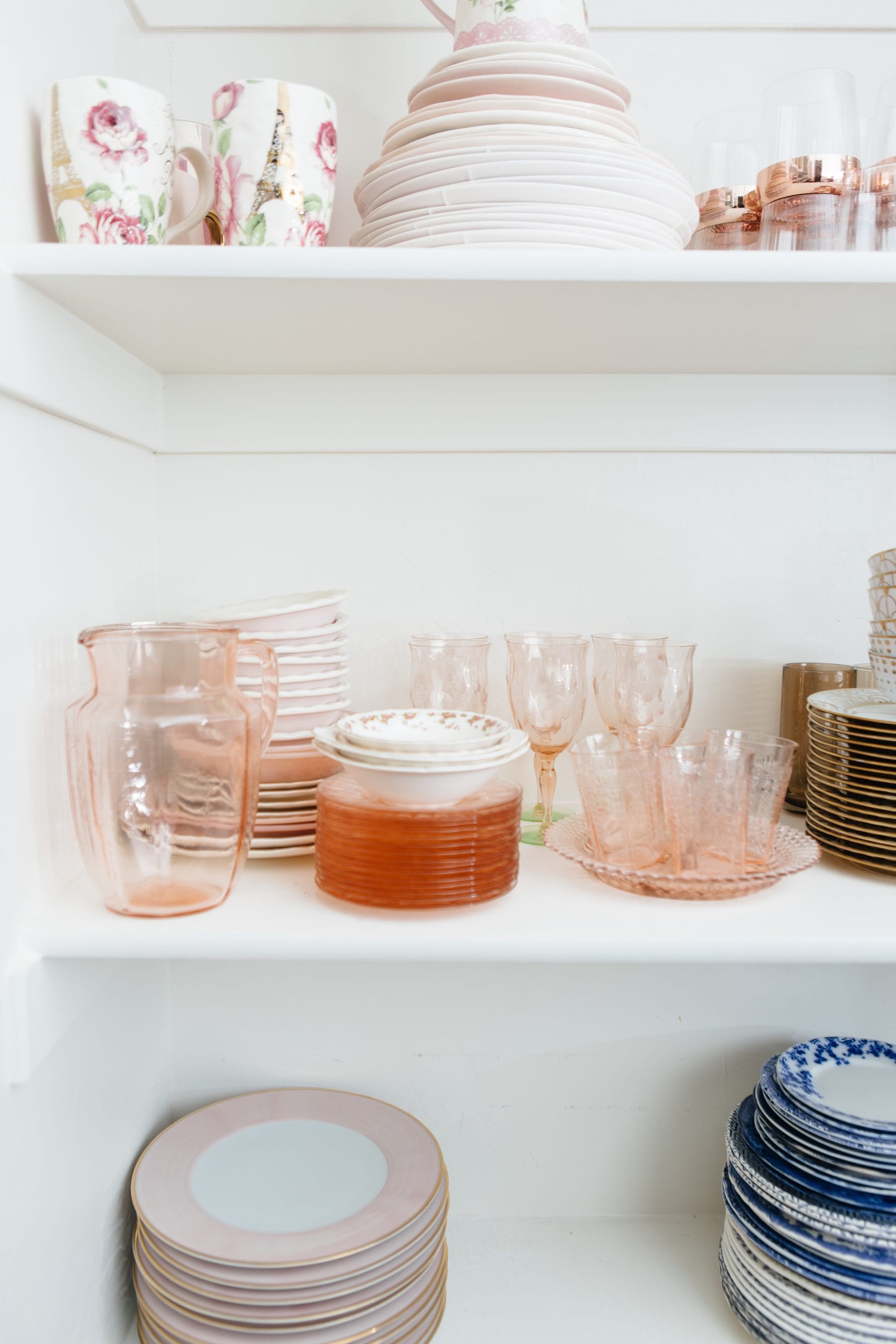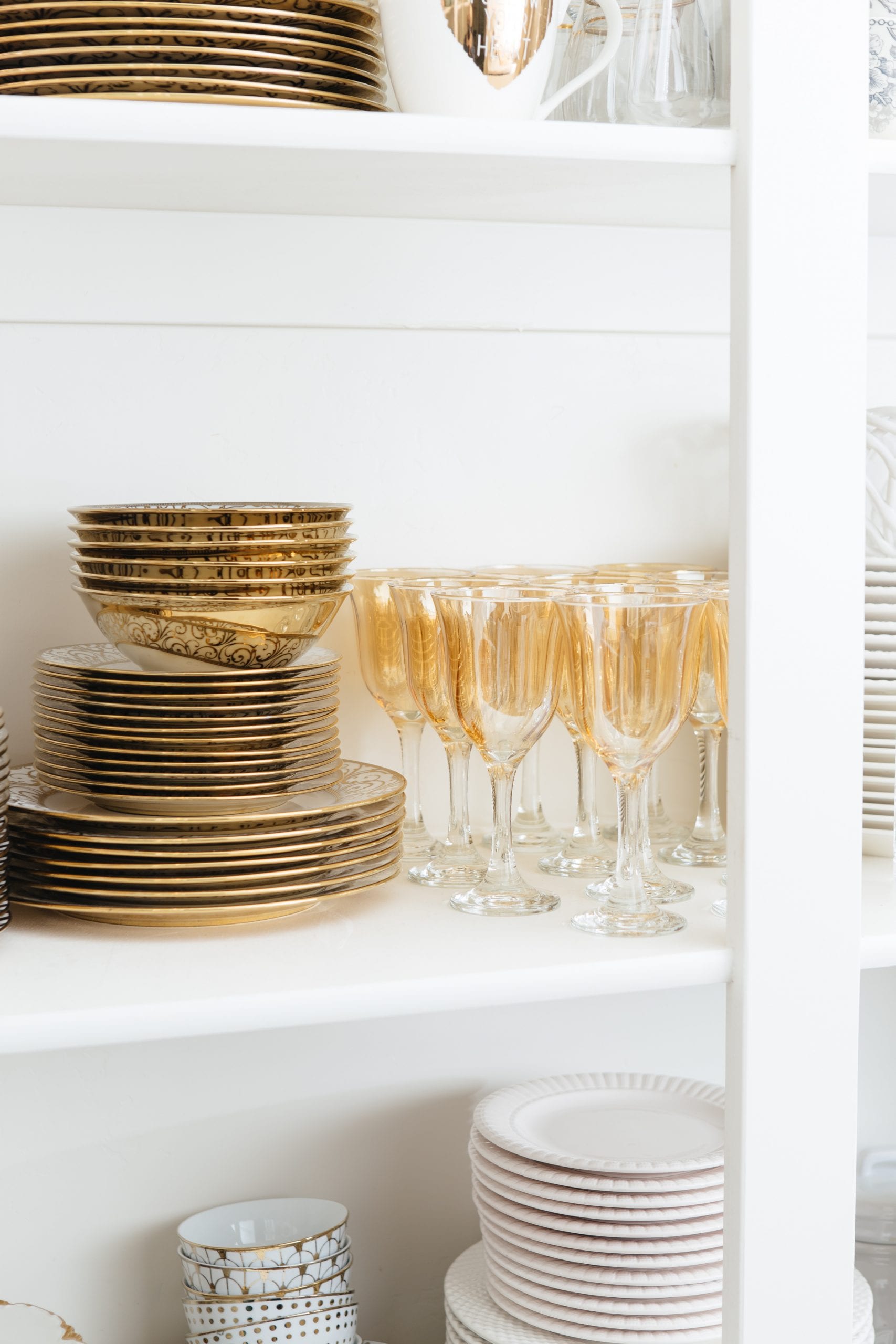 I love gold and white dishes. The gold and white scalloped plates are vintage pieces that I've collected one by one. They are Limoges Haviland Ranson Pattern. I love mixing these older dishes in with the newer sets I have.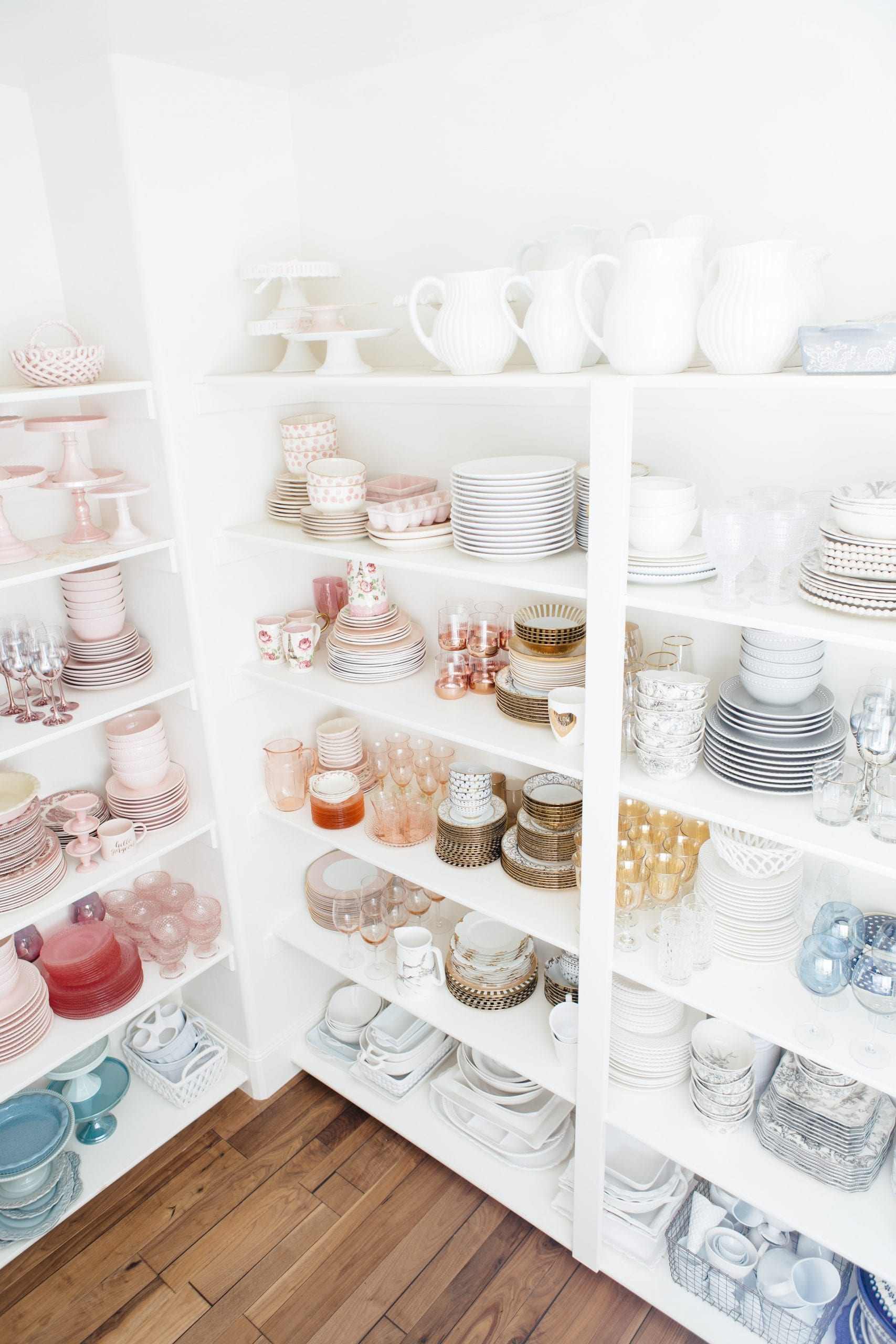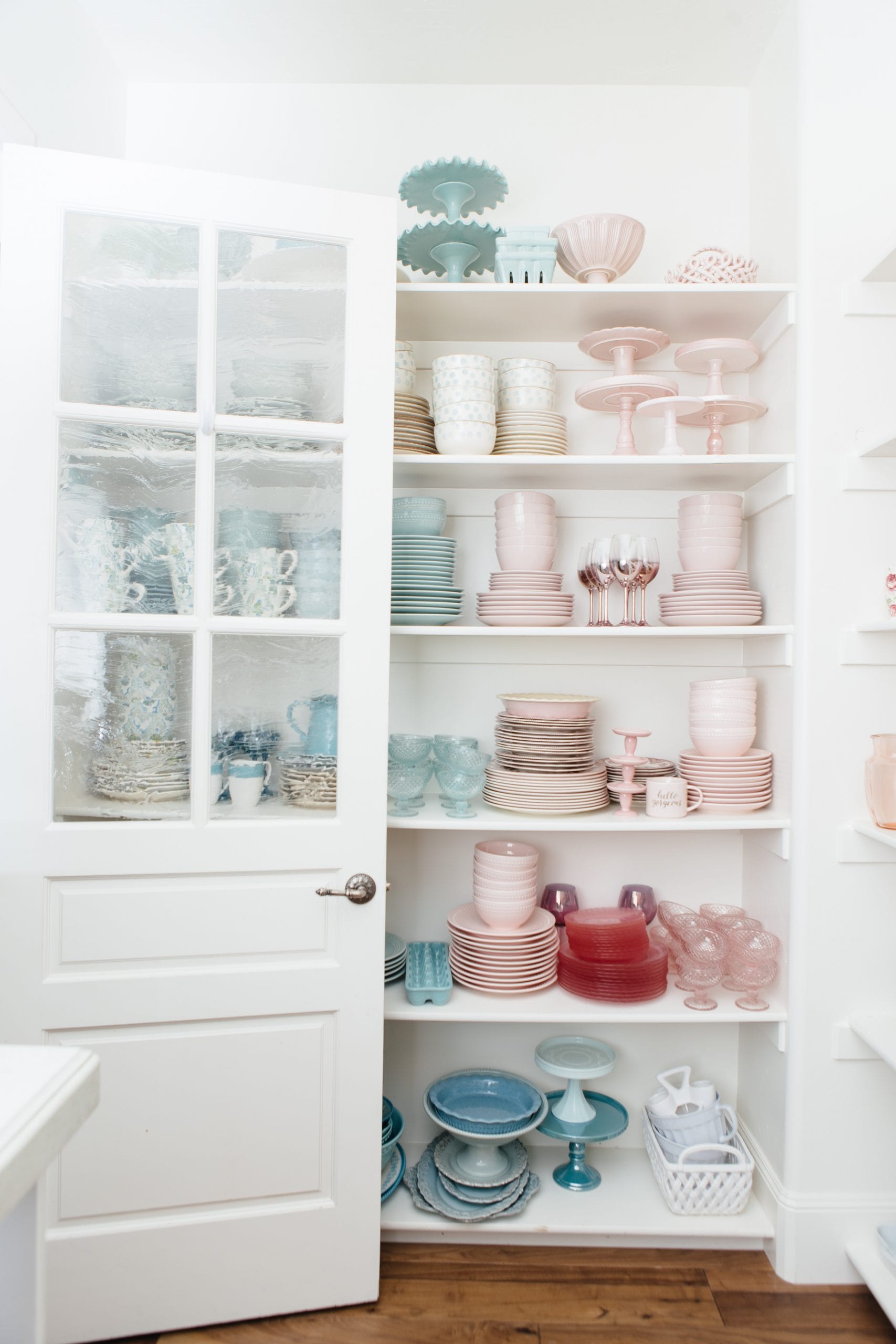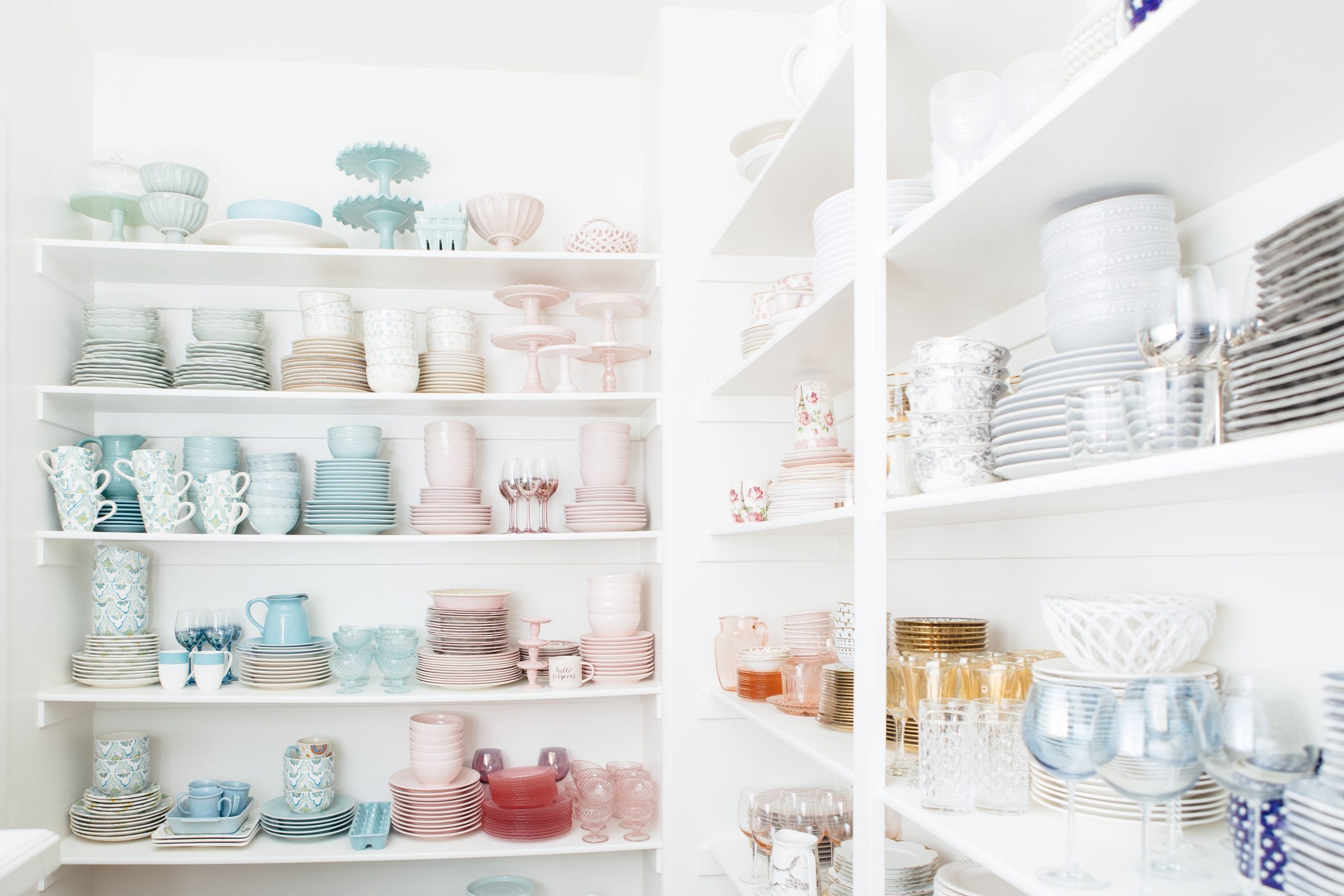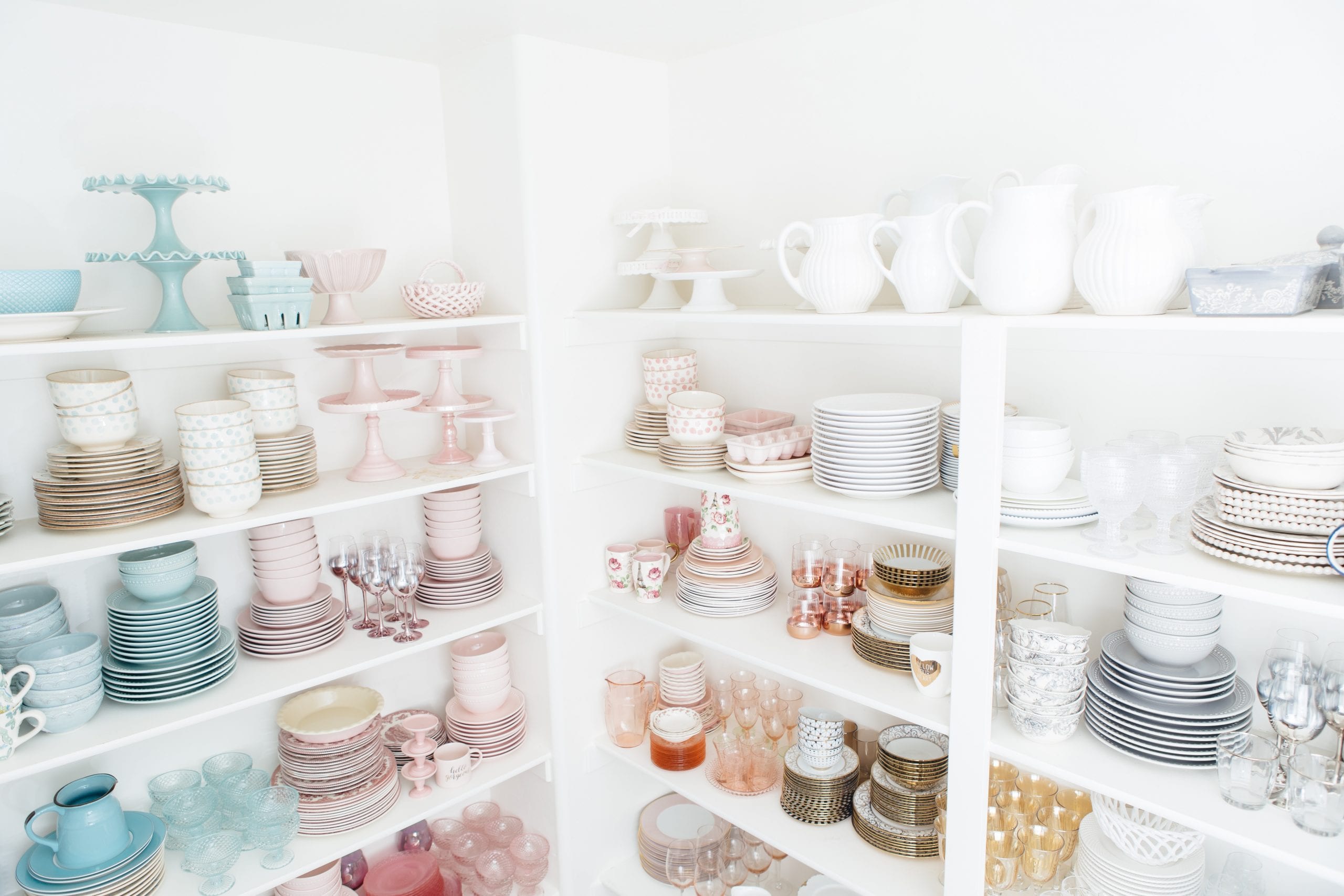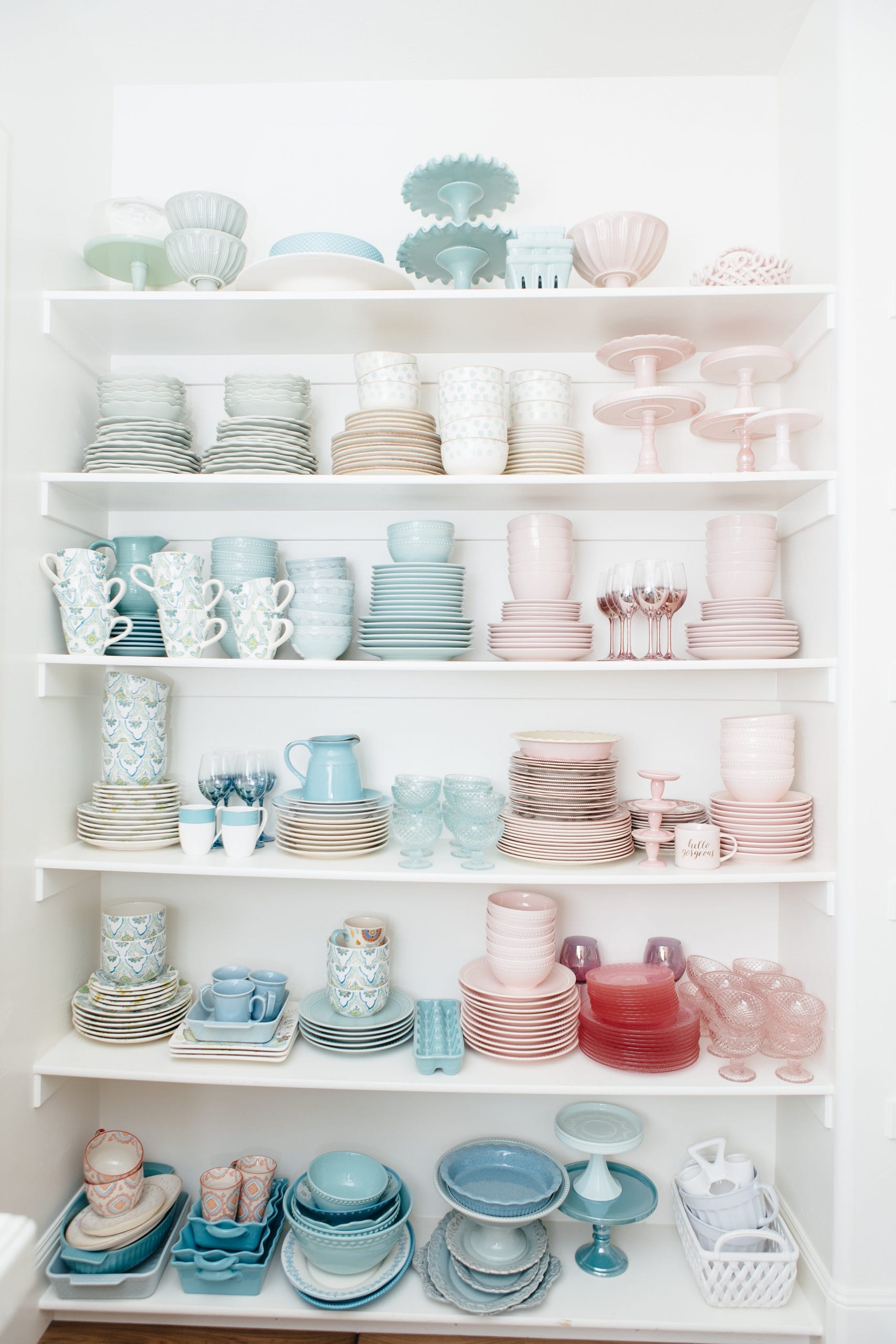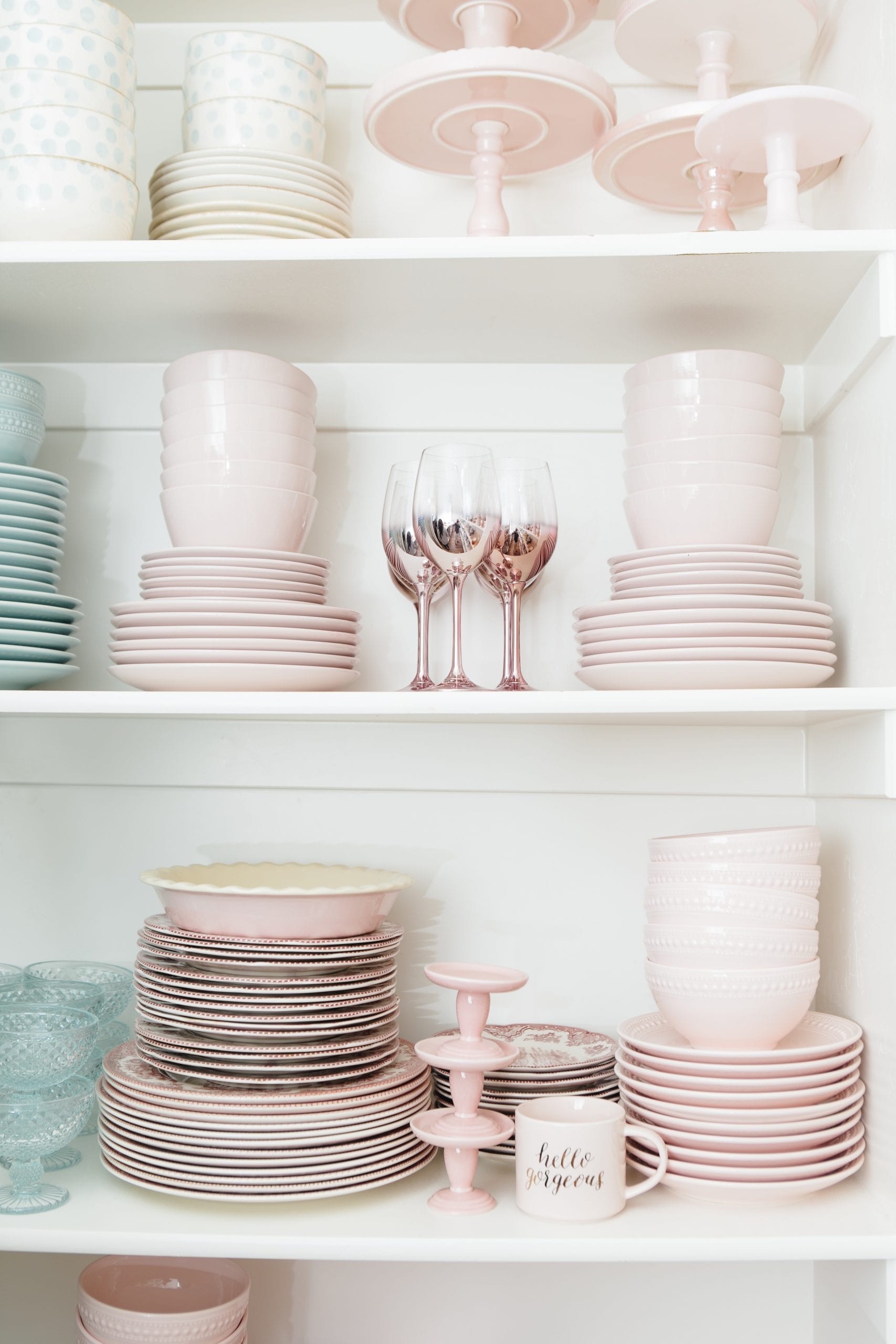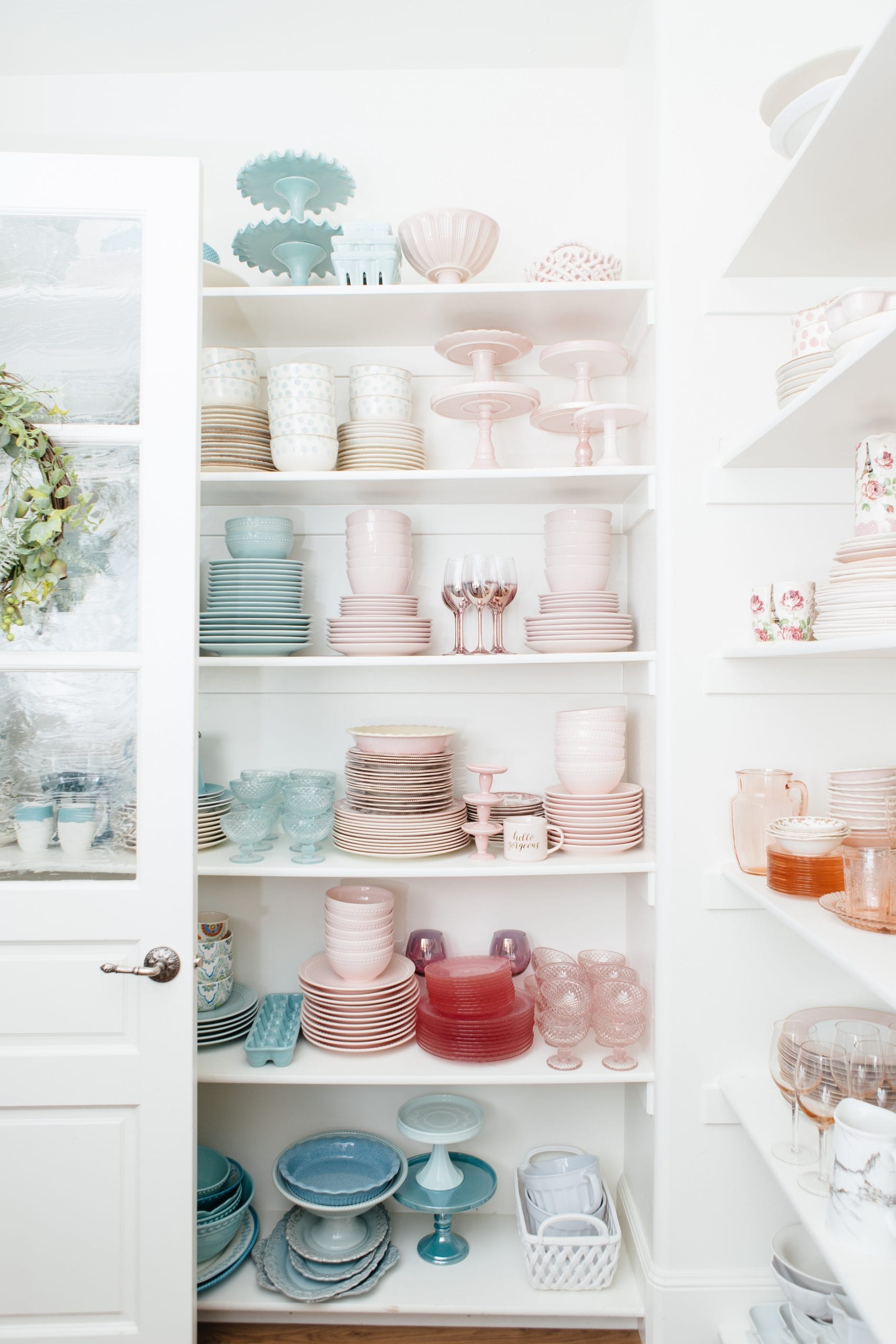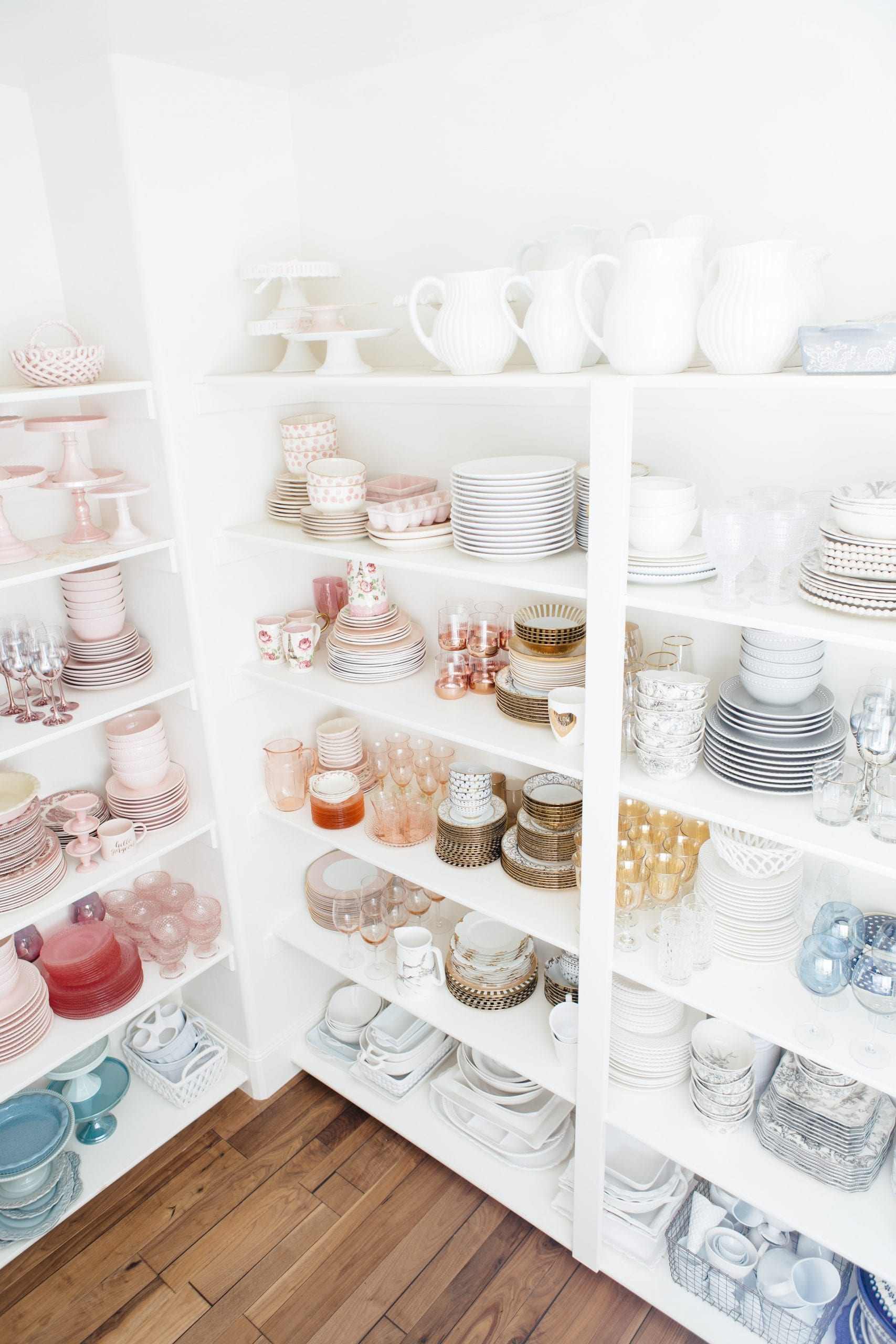 PIN THIS FOR LATER: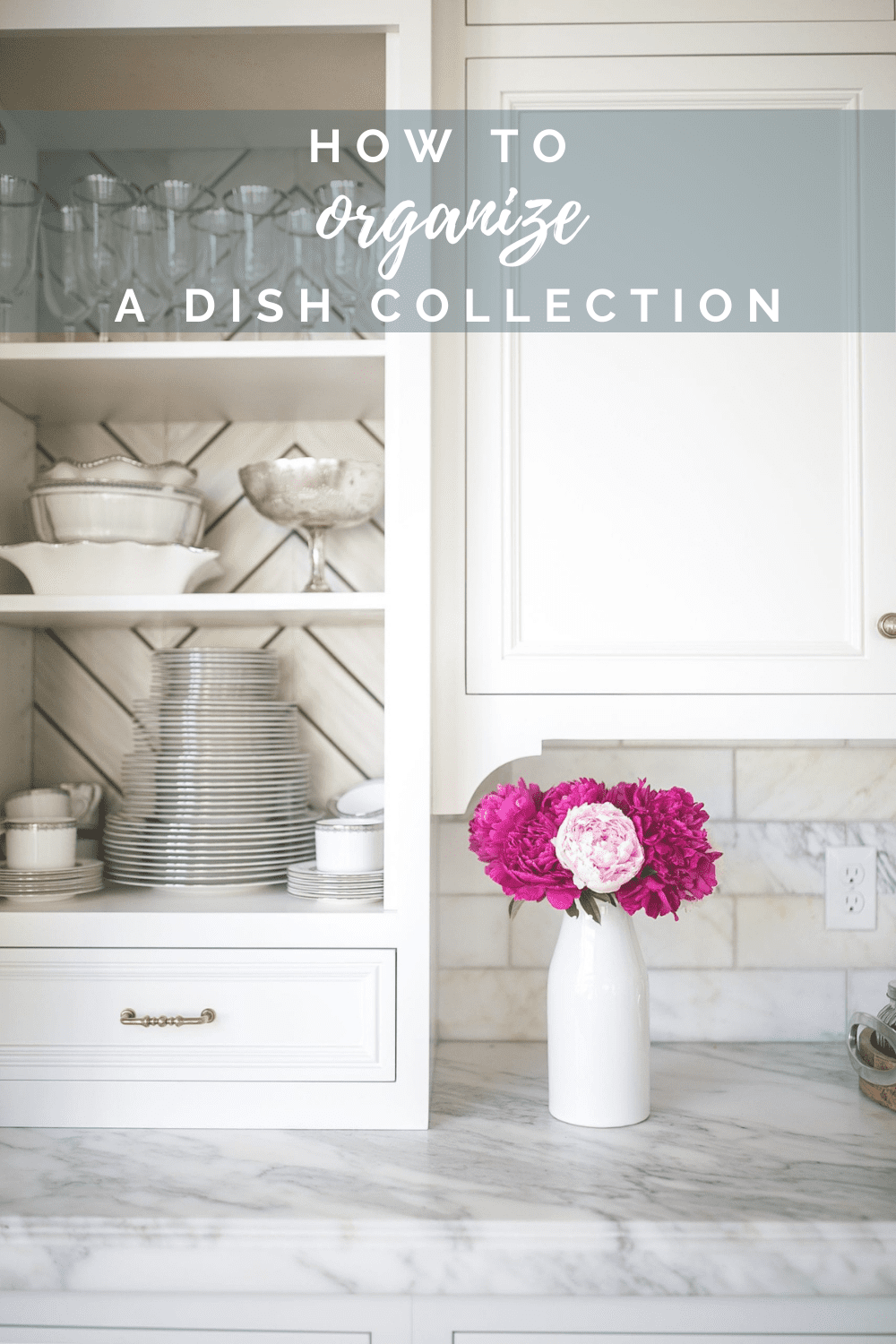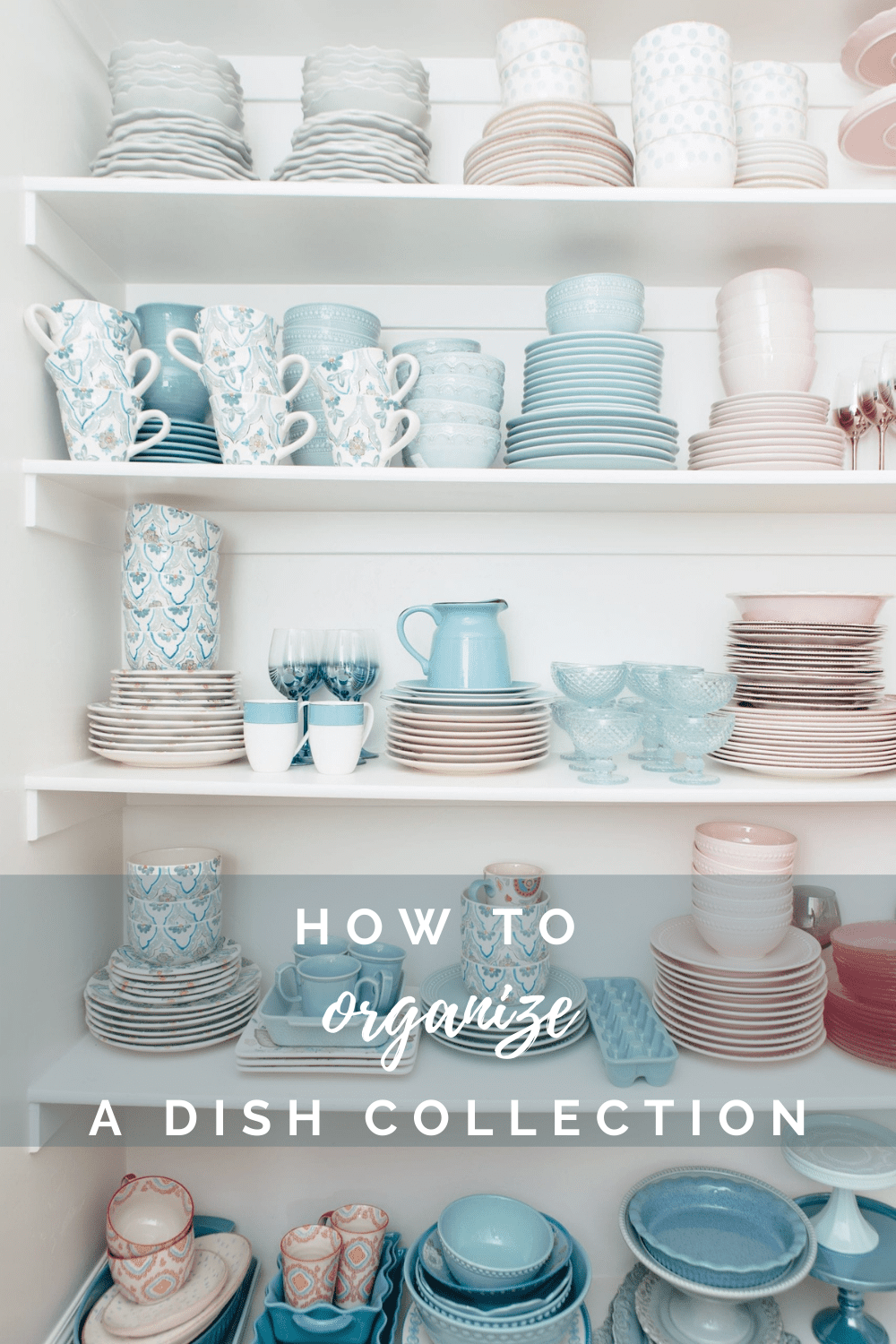 Thanks for stopping by and don't forget to subscribe to my blog so you'll never miss a post!
xoxo,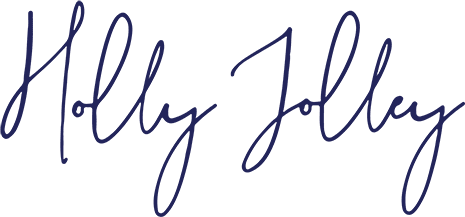 I'll link some of my favorite dishes below!
Here's a link for the Antique Limoges Haviland Ranson Pattern China a mentioned above. You can find depression glass at antique stores and online. It comes in many colors.