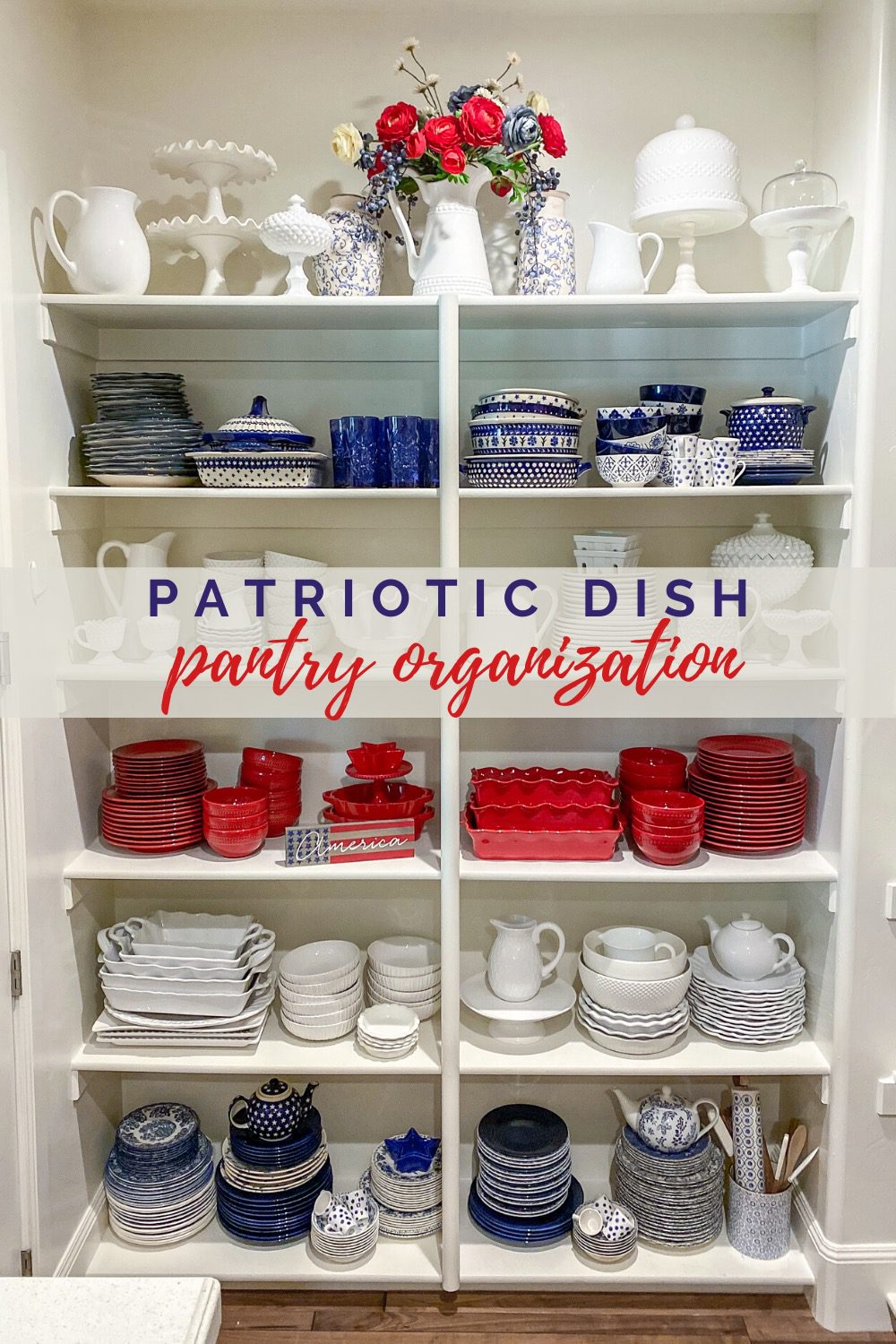 Sharing my red, white, and blue Patriotic Dish Pantry Organization today for an easy organization project to do in the kitchen.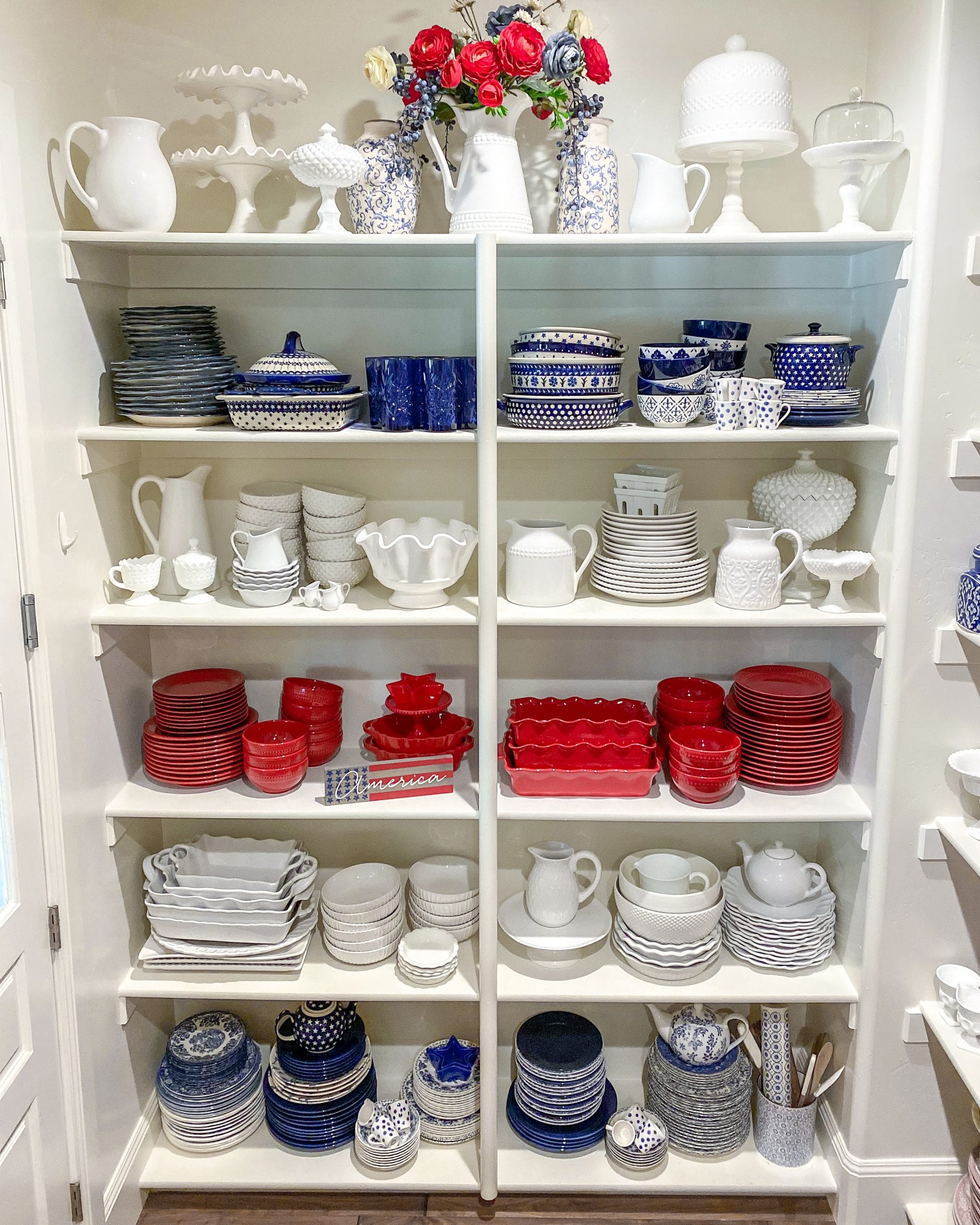 Patriotic Dish Pantry Organization
I have so many red, white, and blue dishes so I thought it would be fun to organize them by color. This patriotic dish pantry organization project was definitely more work than I had expected and I was wondering what the heck I was thinking after I started! At first, I did it with all the colors mixed together and I didn't like it very much. I have a lot more blue and white dishes than red dishes and there was not enough red to balance it out. I then moved all the red to the middle and did white and blue above and below with more white on the top shelf.
Disclaimer: This post does include affiliate links for your convenience. This is at NO additional cost to you but earns me a small commission. To read more, check out our disclosure policy.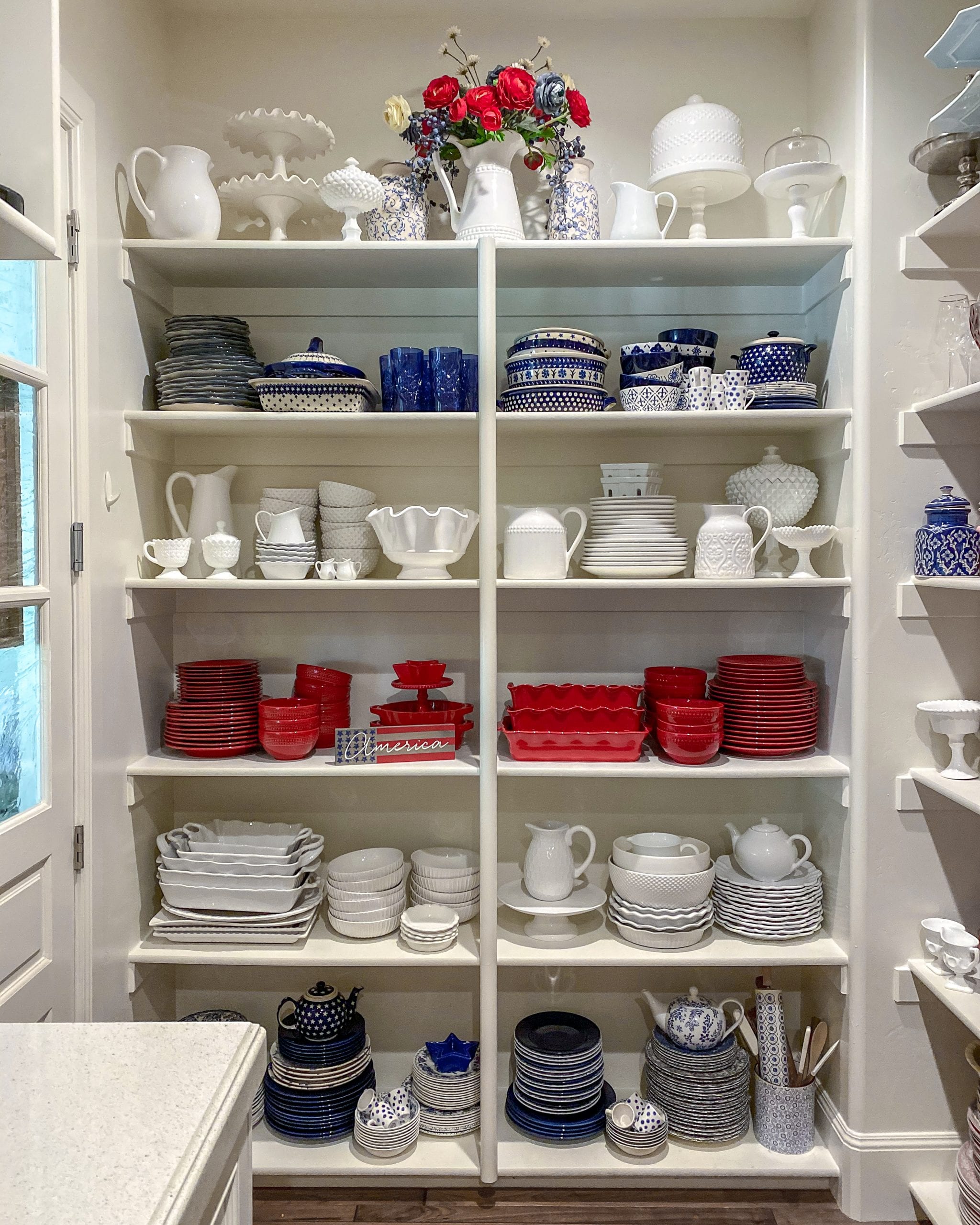 Dish Collecting
I have been collecting dishes since my early twenties and I've accumulated some really beautiful pieces over the years. One of my favorites are polish pottery dishes. I have a lot of the blue stars pattern which is so fun to use for the patriotic holidays. I collected many of these when my husband was serving in the military twenty years ago.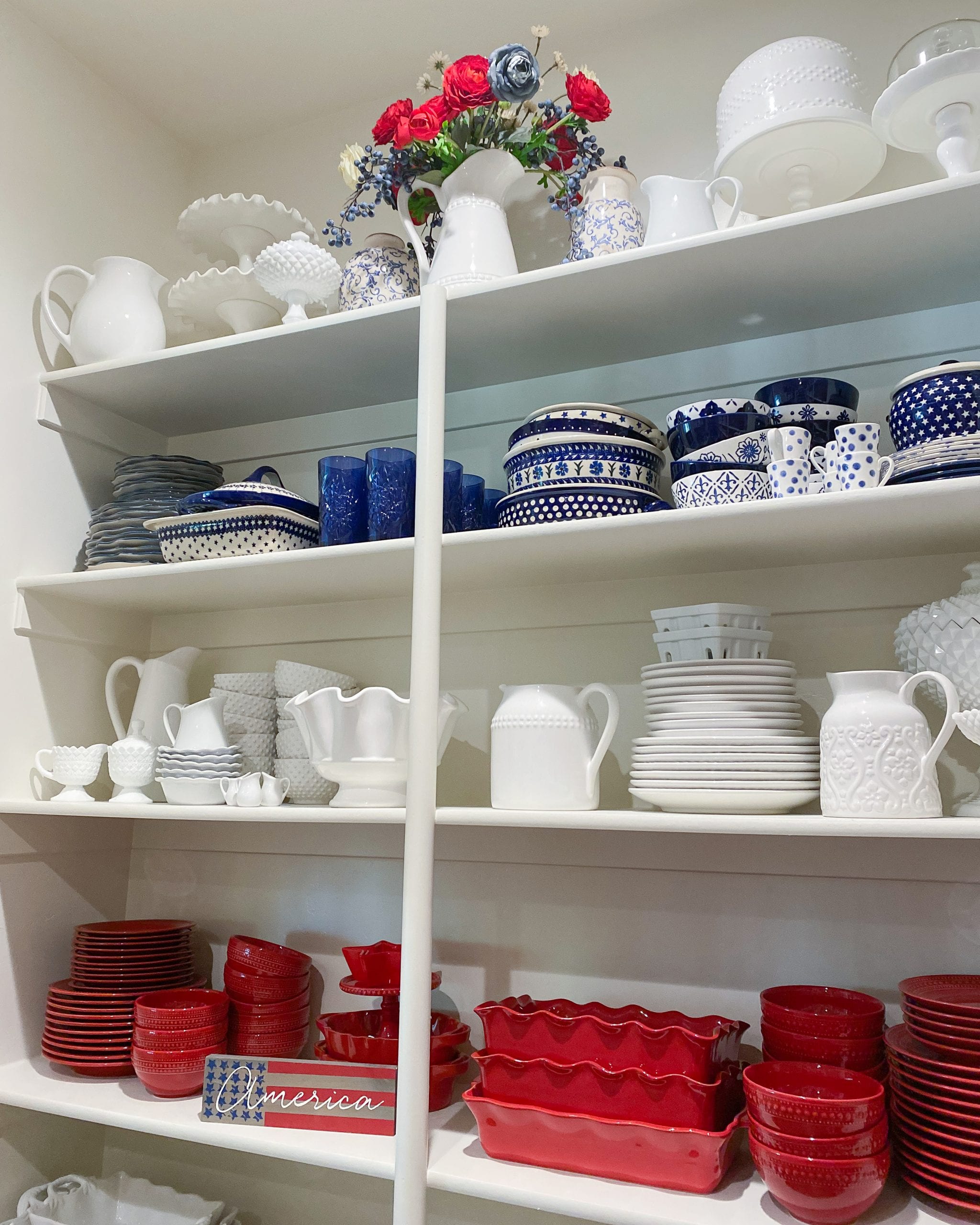 I like collecting a variety of dinnerware as well as serving pieces. I'm a sucker for a pretty serving bowl or cake stand!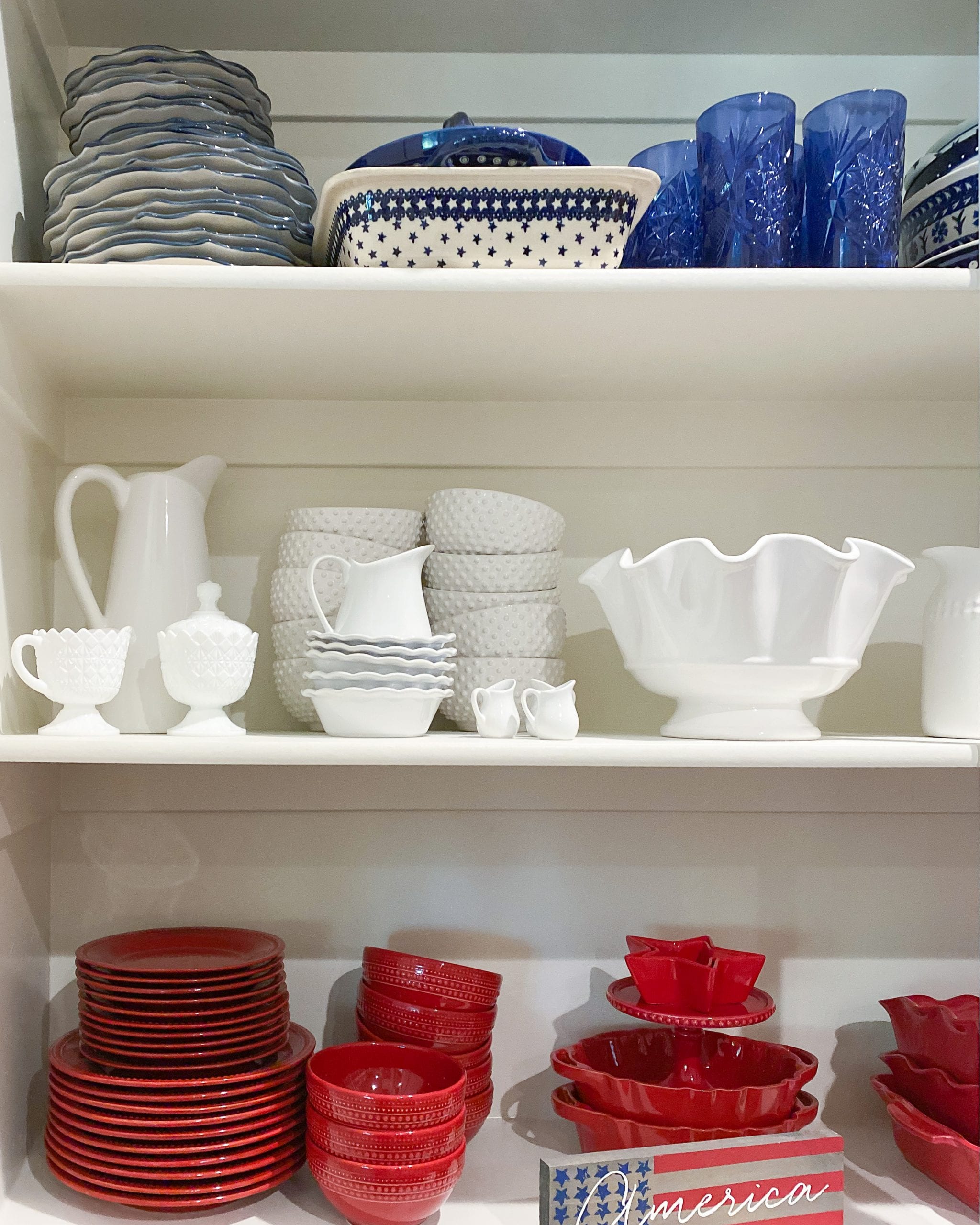 The red and white dishes also work for the Christmas season. I love dishes that do double or triple duty in that they can be used for multiple seasons and occasions.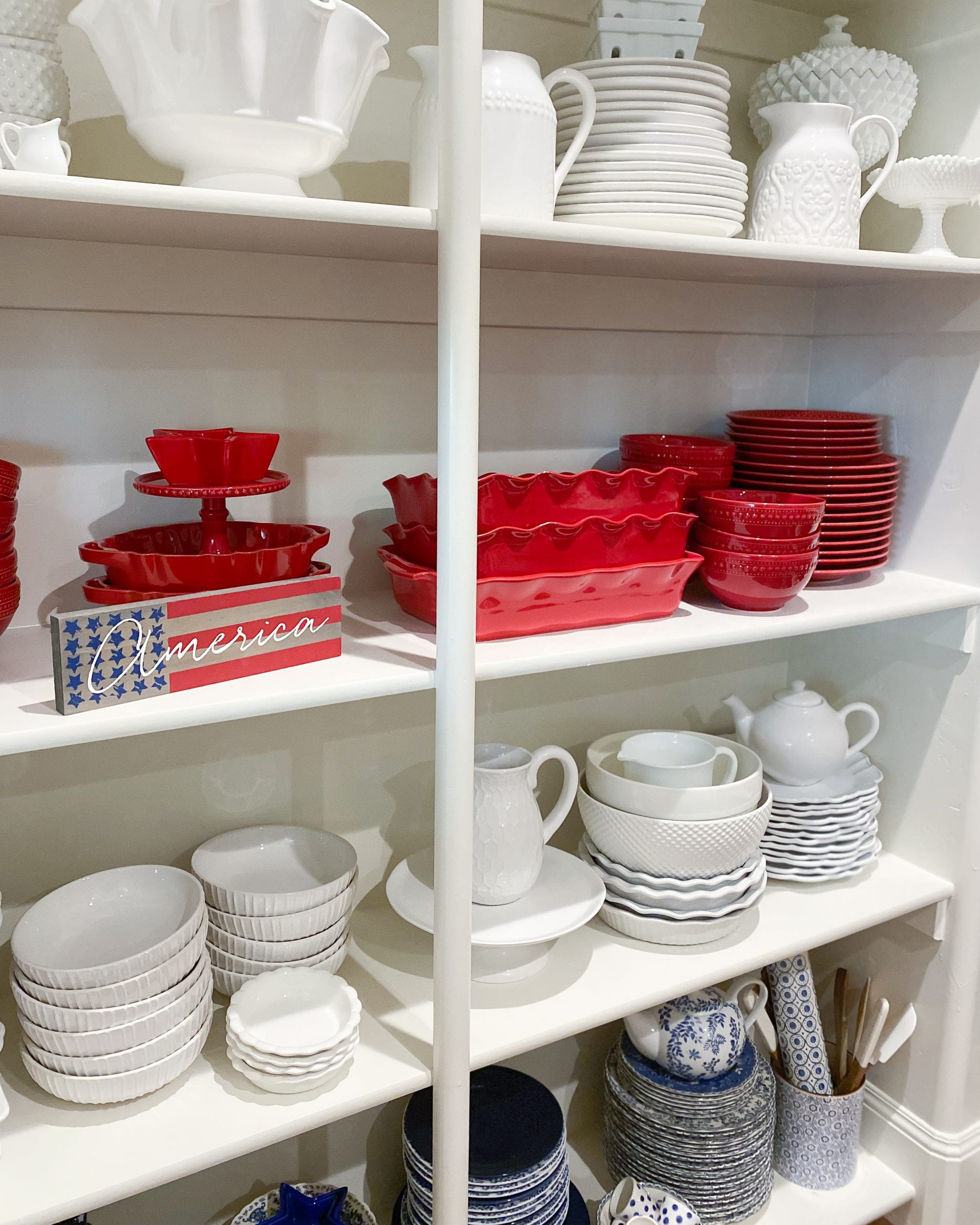 Another thing I love to collect is white milk glass. There are so many beautiful patterns that were made years ago that add so much character to my collection.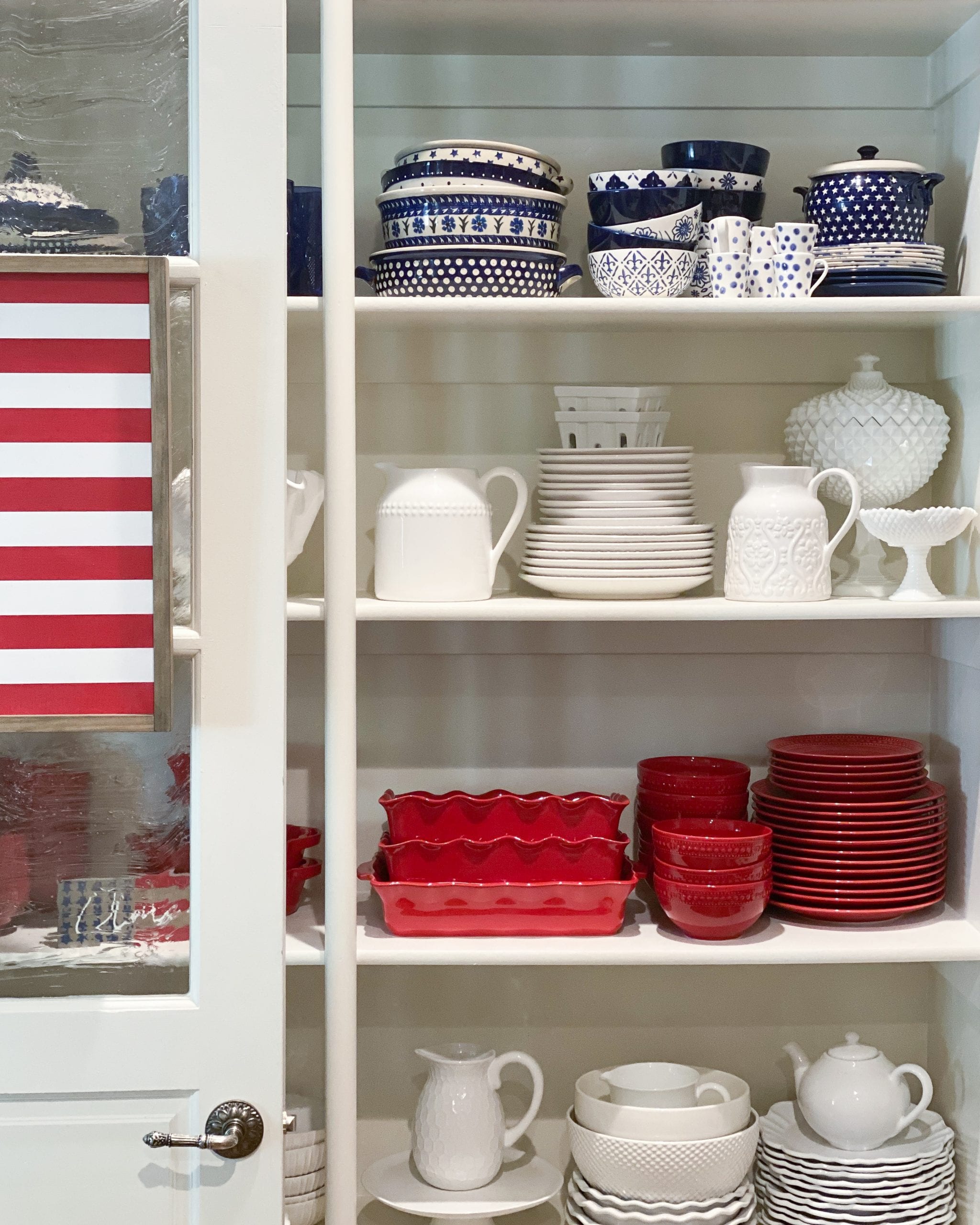 Organizing Your Dishes and Serving Pieces
Organizing the dishes is not as hard as it may seem. I try to keep like colors together and then stack plates biggest to smallest. I also like to stack similar shaped items.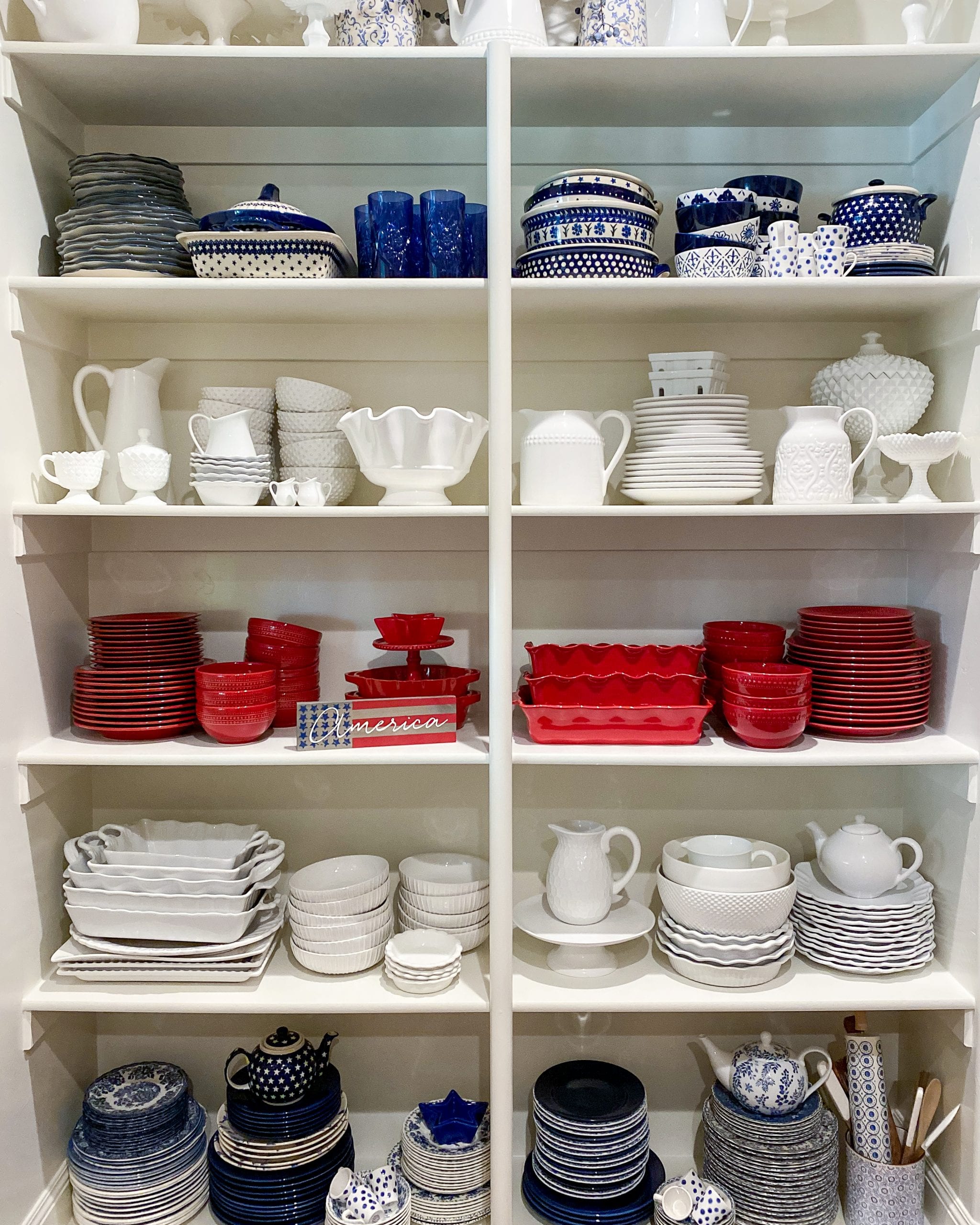 Set smaller items like teapots on top of the stacked plates or serving pieces. This saves room and allows you to have the smaller, lighter things on top that are easier to access.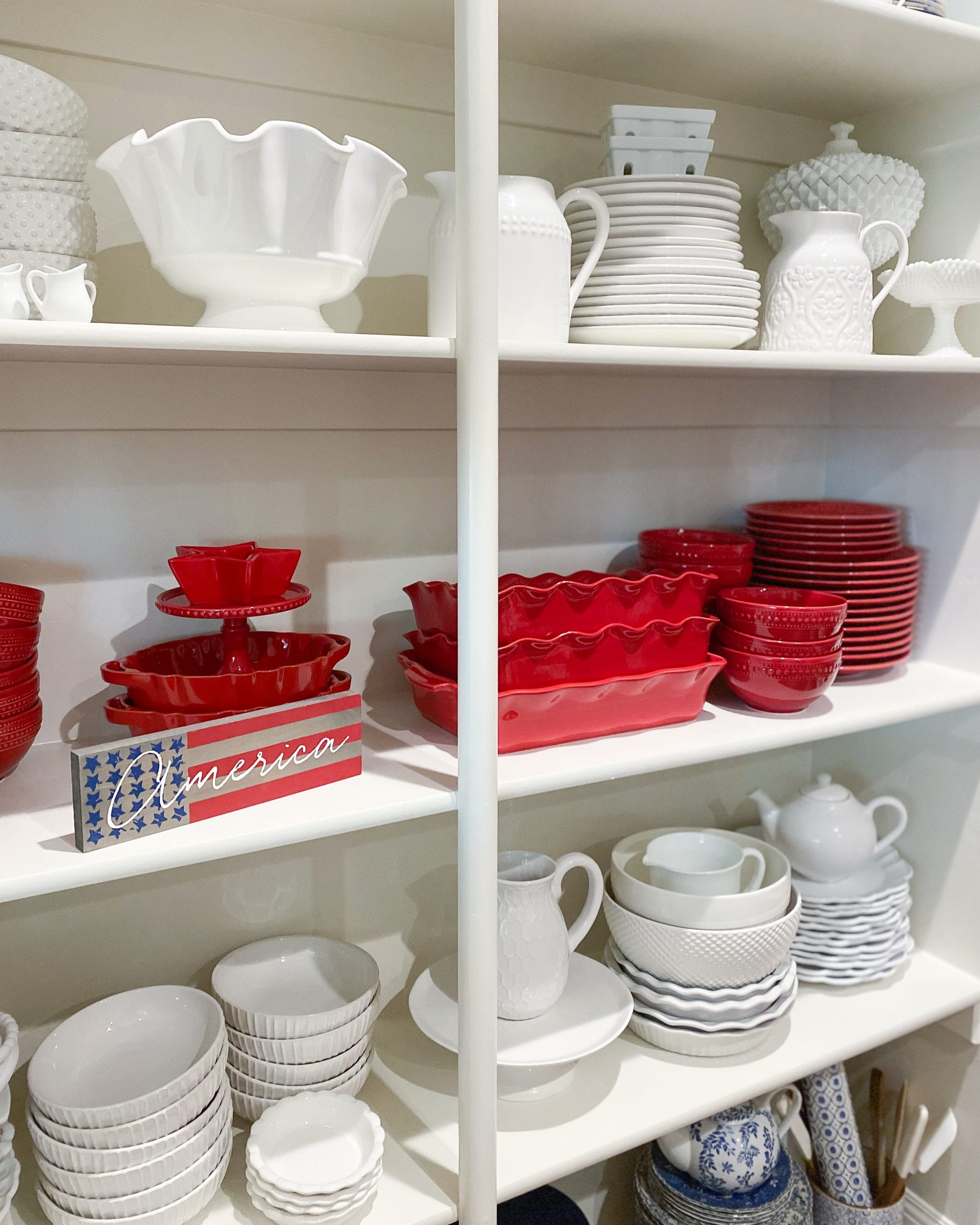 Alternate the heights of the different pieces. You can see here on the top shelf that I put the taller items in the corners, smaller items next to them, and then a taller focal point in the middle using the pitcher.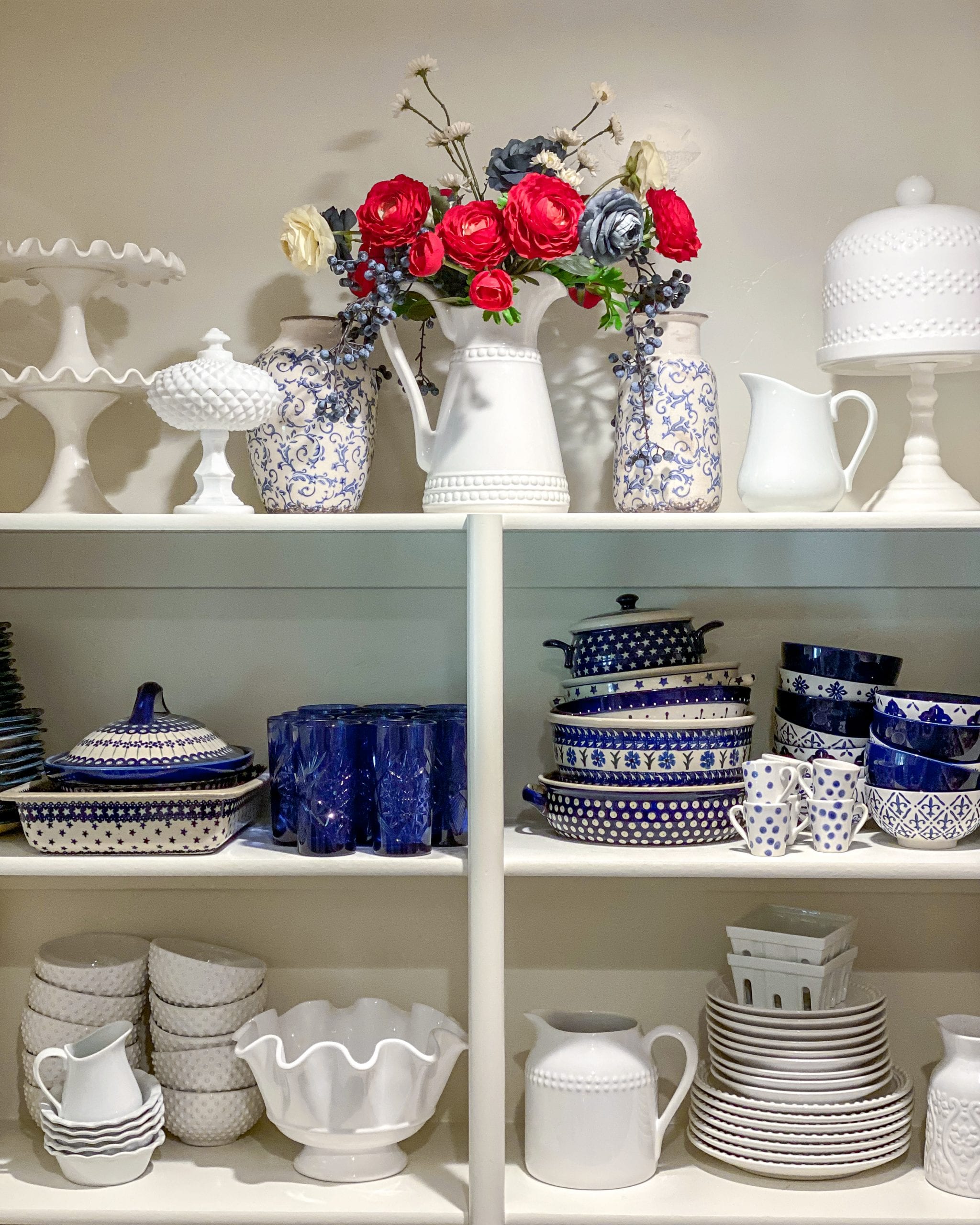 Add Some Character to Your Shelves
I added some red, white, and blue flowers to one of my tall white pitchers and set it on top to add some character and color. Since I had all white up top, I added a few of my favorite white and blue vases. This adds a little pop of color to the upper shelf and a pretty focal point.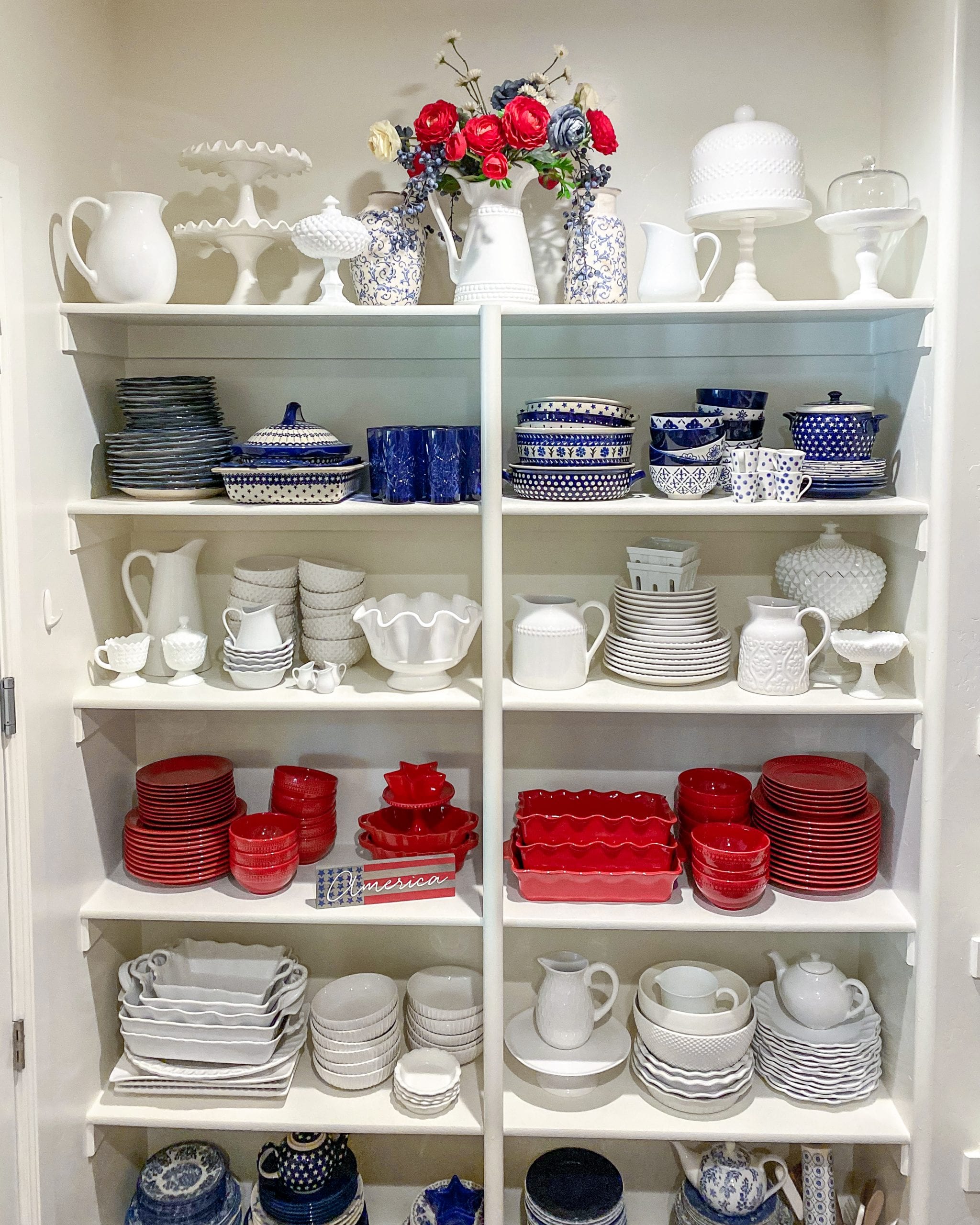 Add some signs or other accessories to fill in gaps. It's fun to dress the shelves up!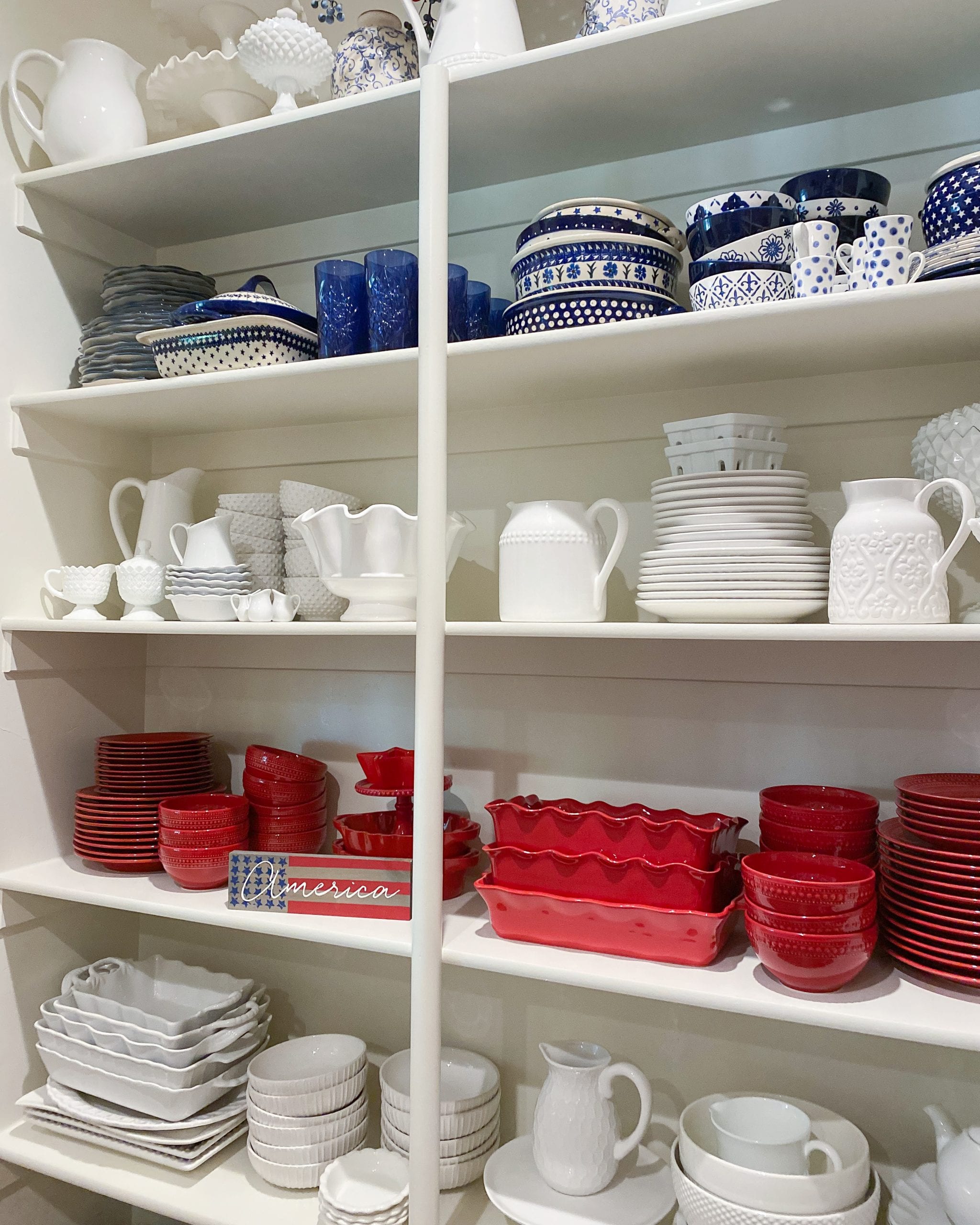 I hung this flag sign on the door that leads into the pantry.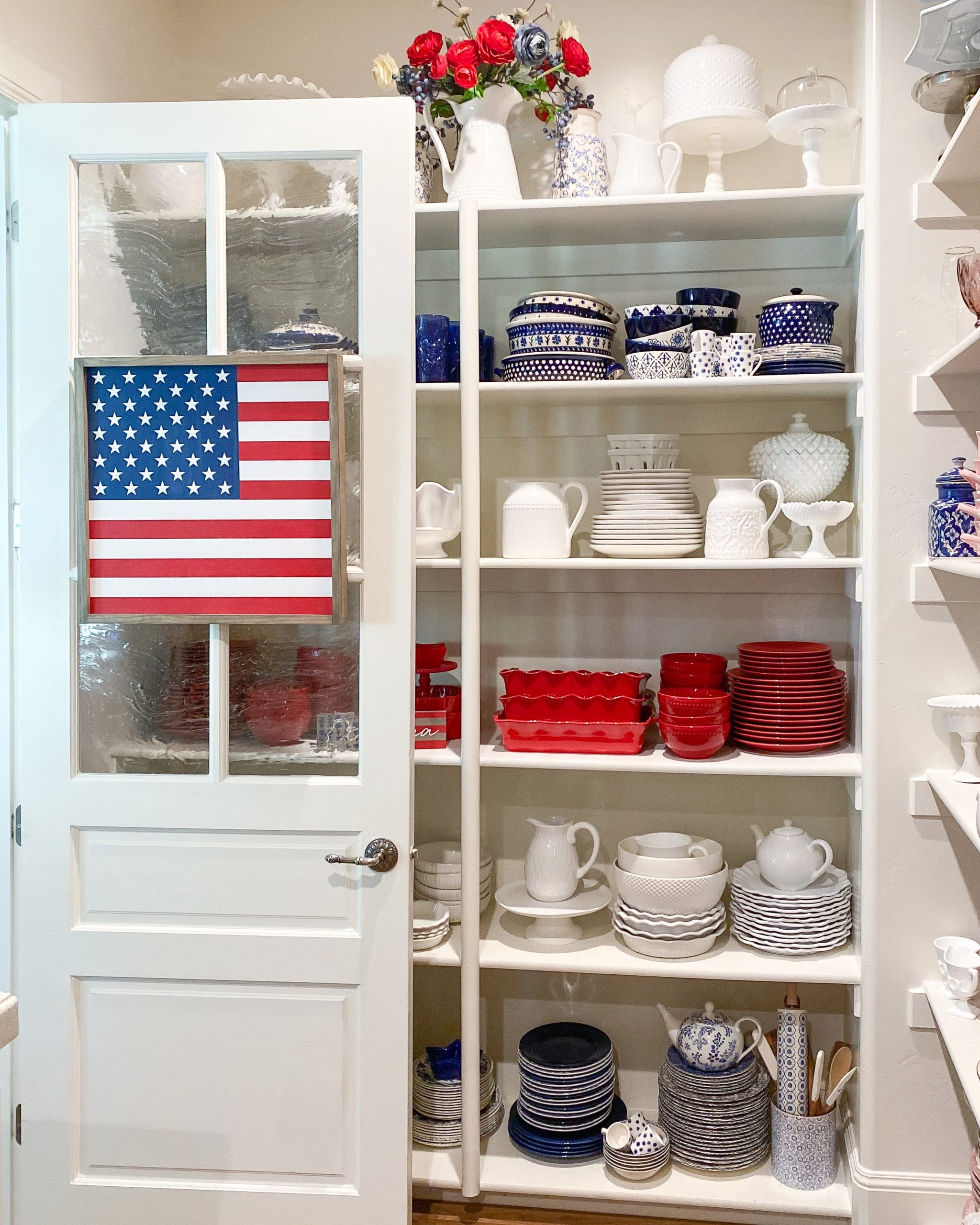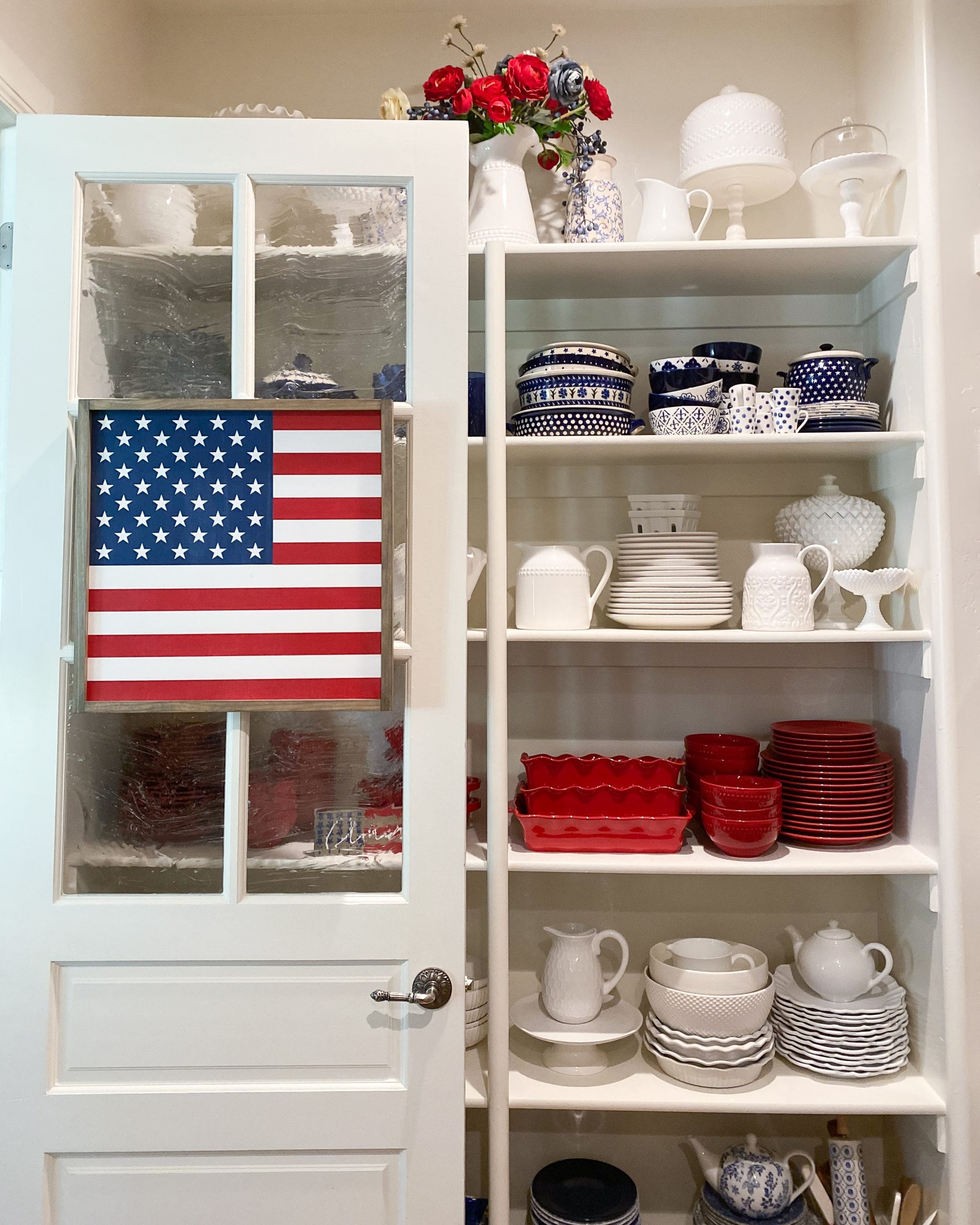 You don't have to have a ton of dishes in every color to create something like this. Start small and if you enjoy collecting dishes and have the storage space, pick one color and search for those pieces. I tend to be inspired by what season it is and that helps me refine what I'd like to add to my dish collection.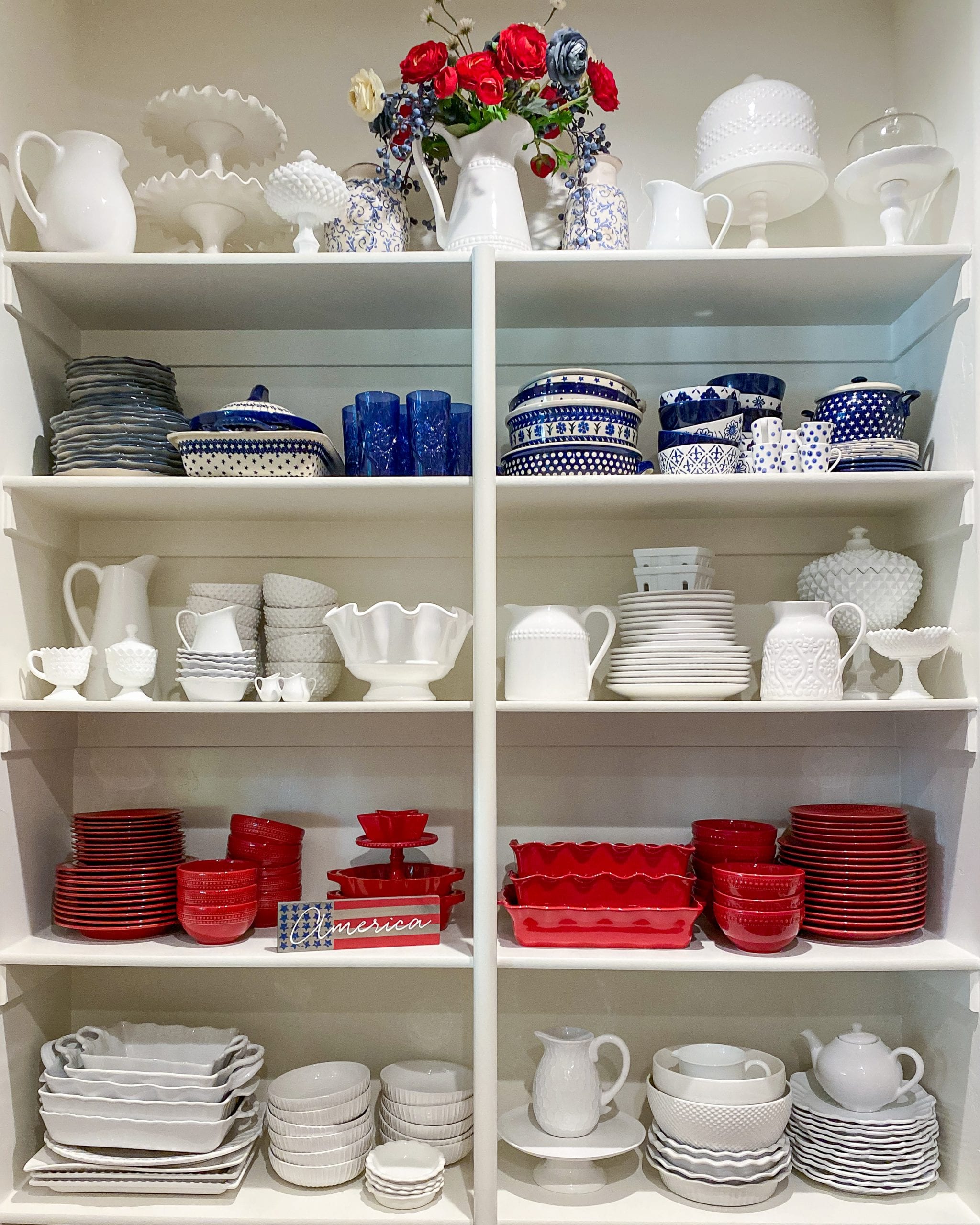 You can never go wrong with collecting white dishes. They go with everything and you'll get a lot of use out of them.! I use ALL my dishes. Nothing is off limits and I figure they were meant to be used and enjoyed.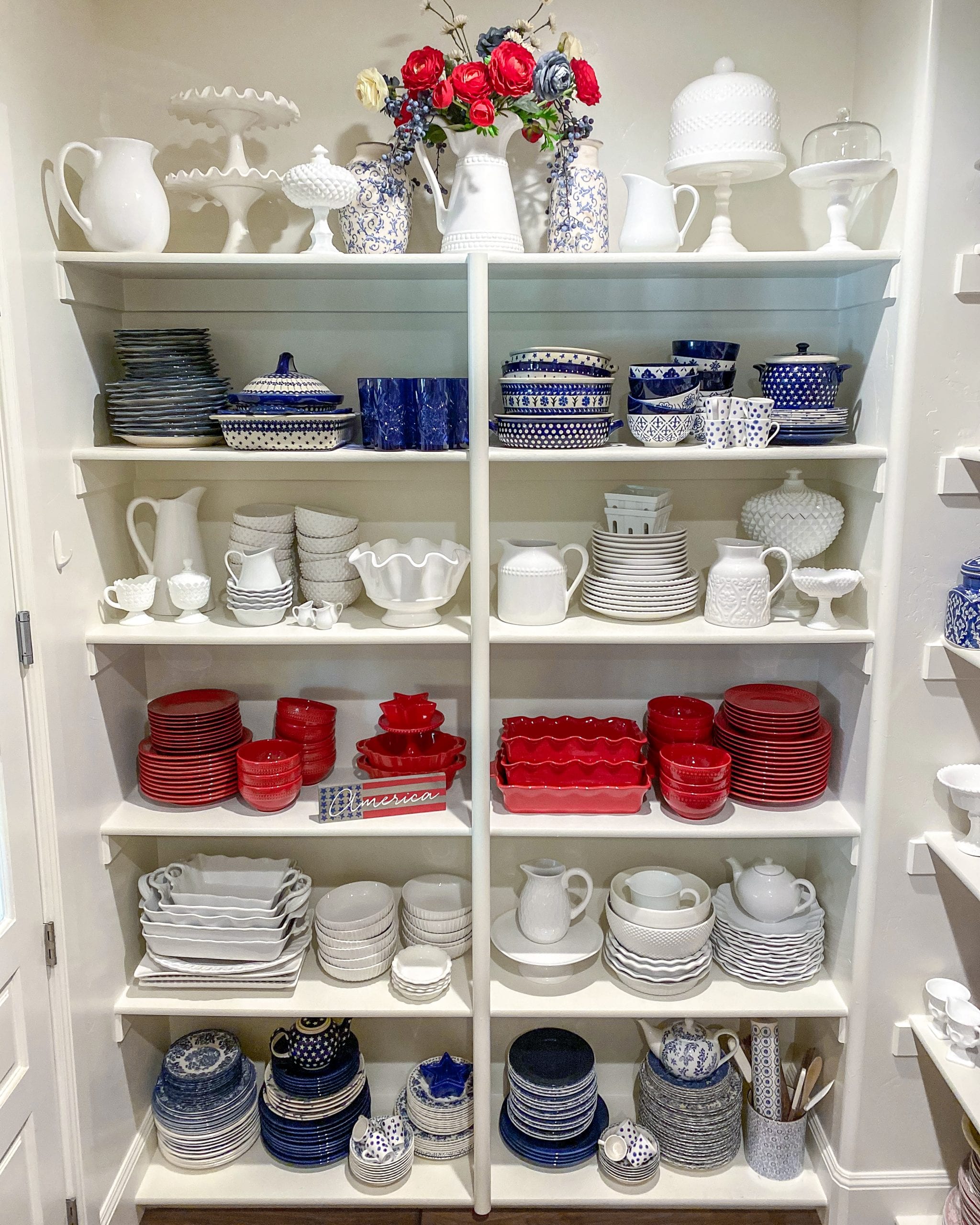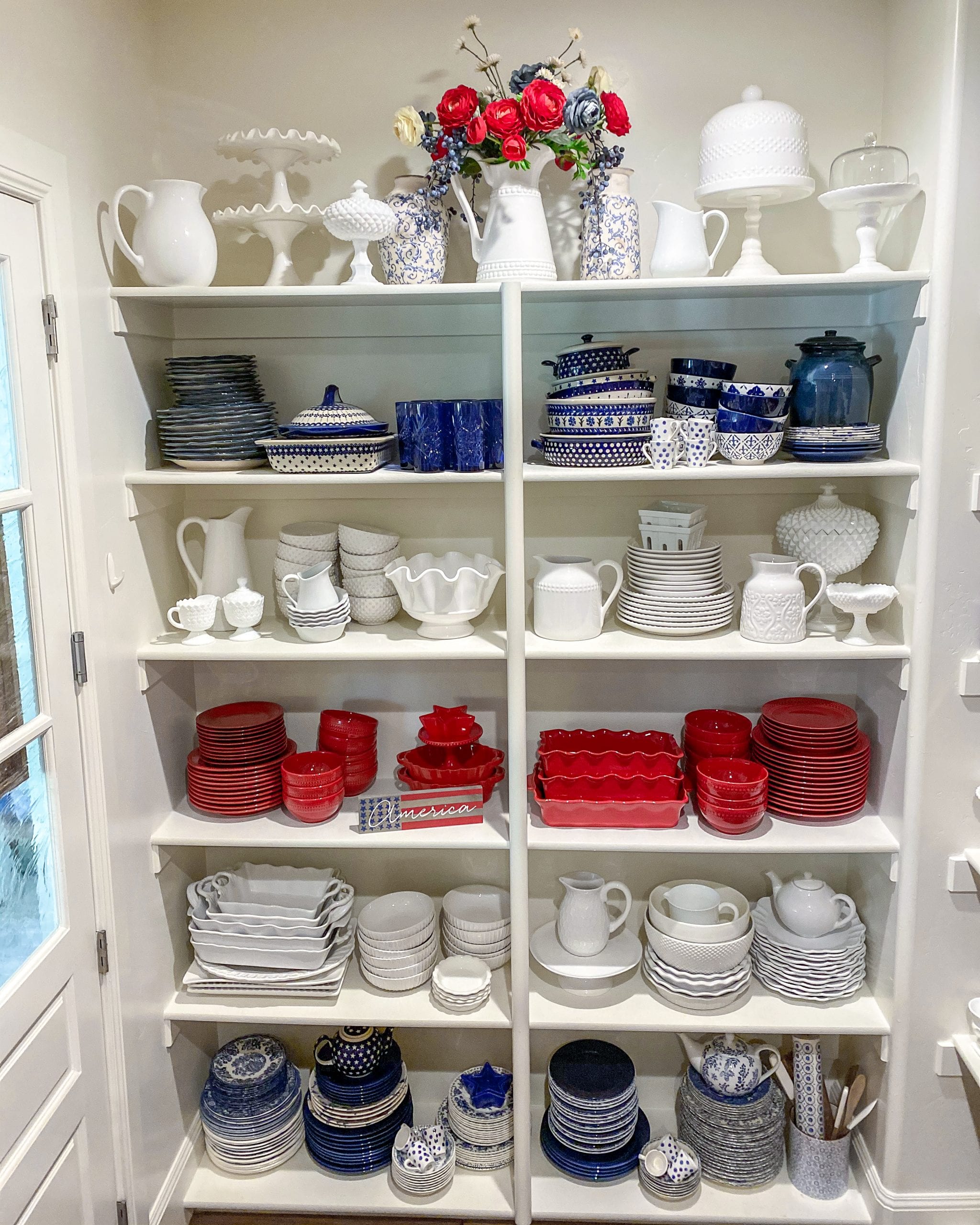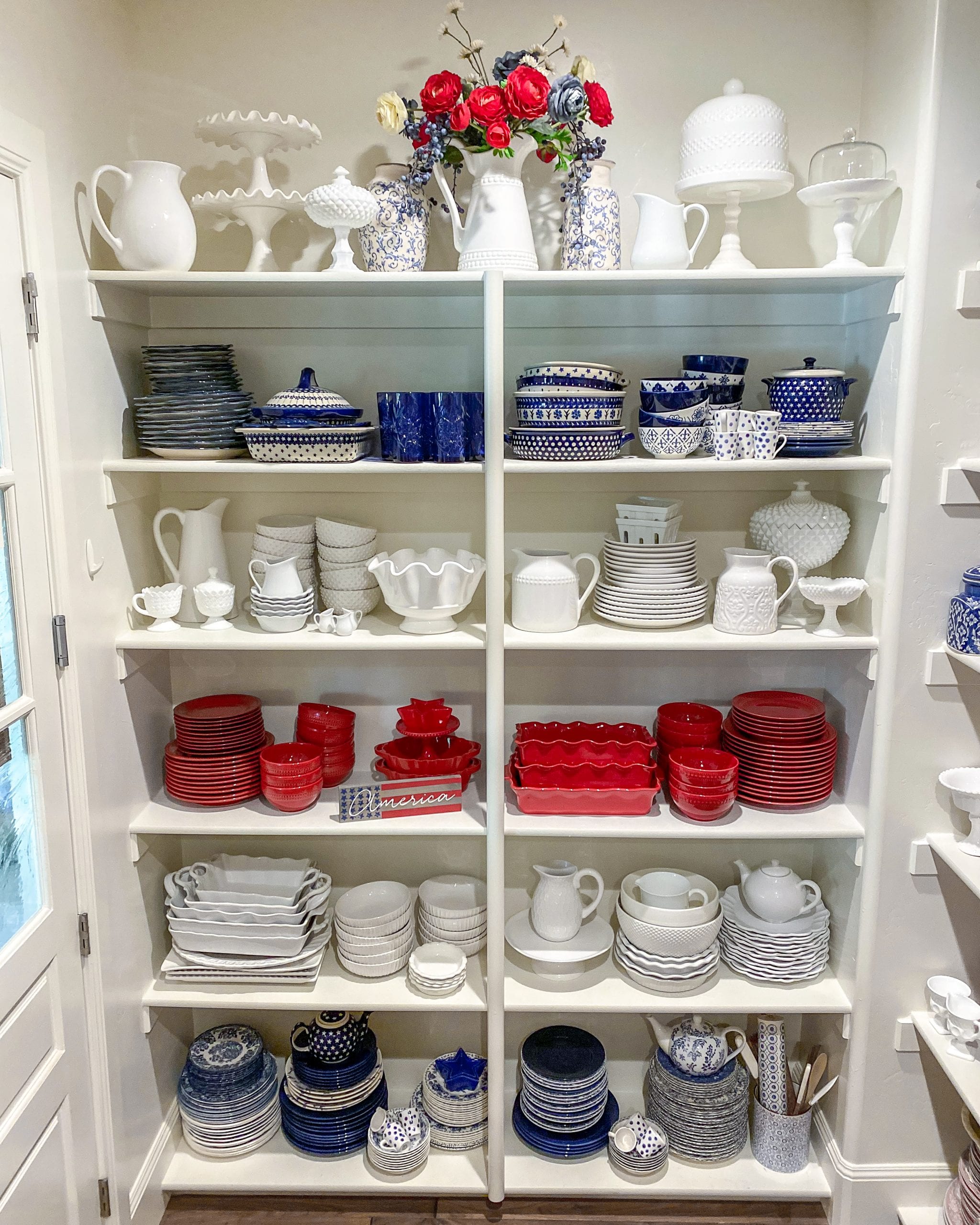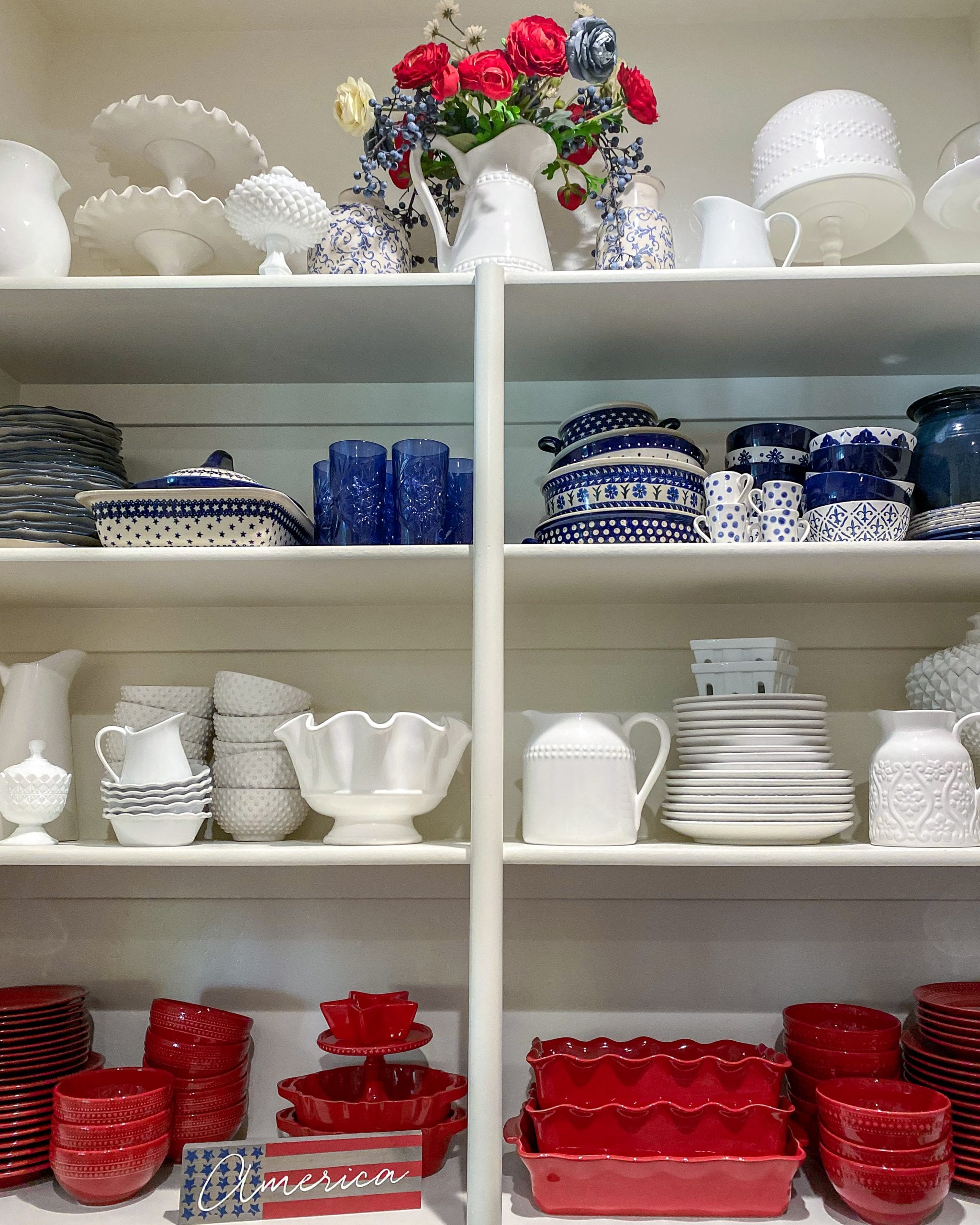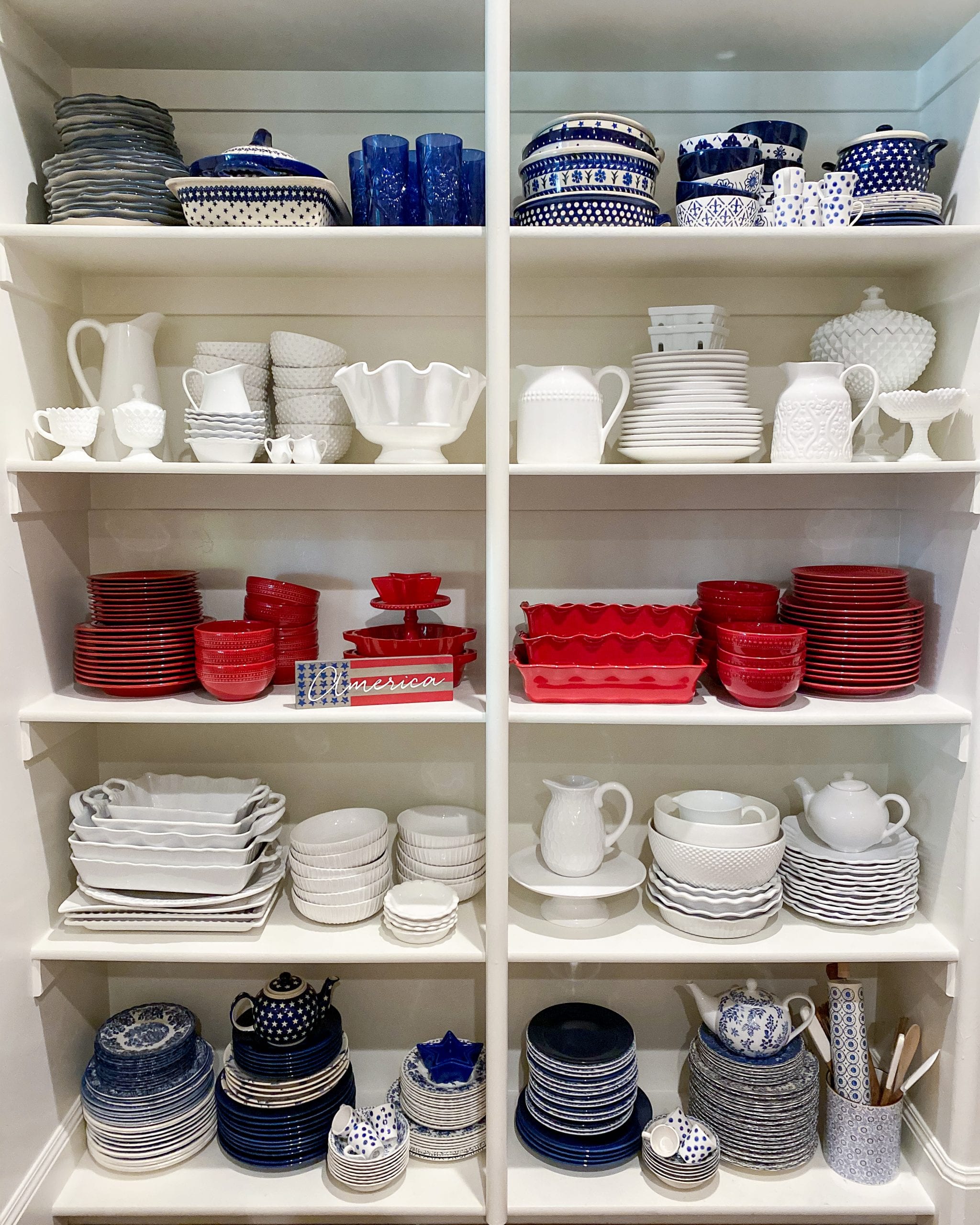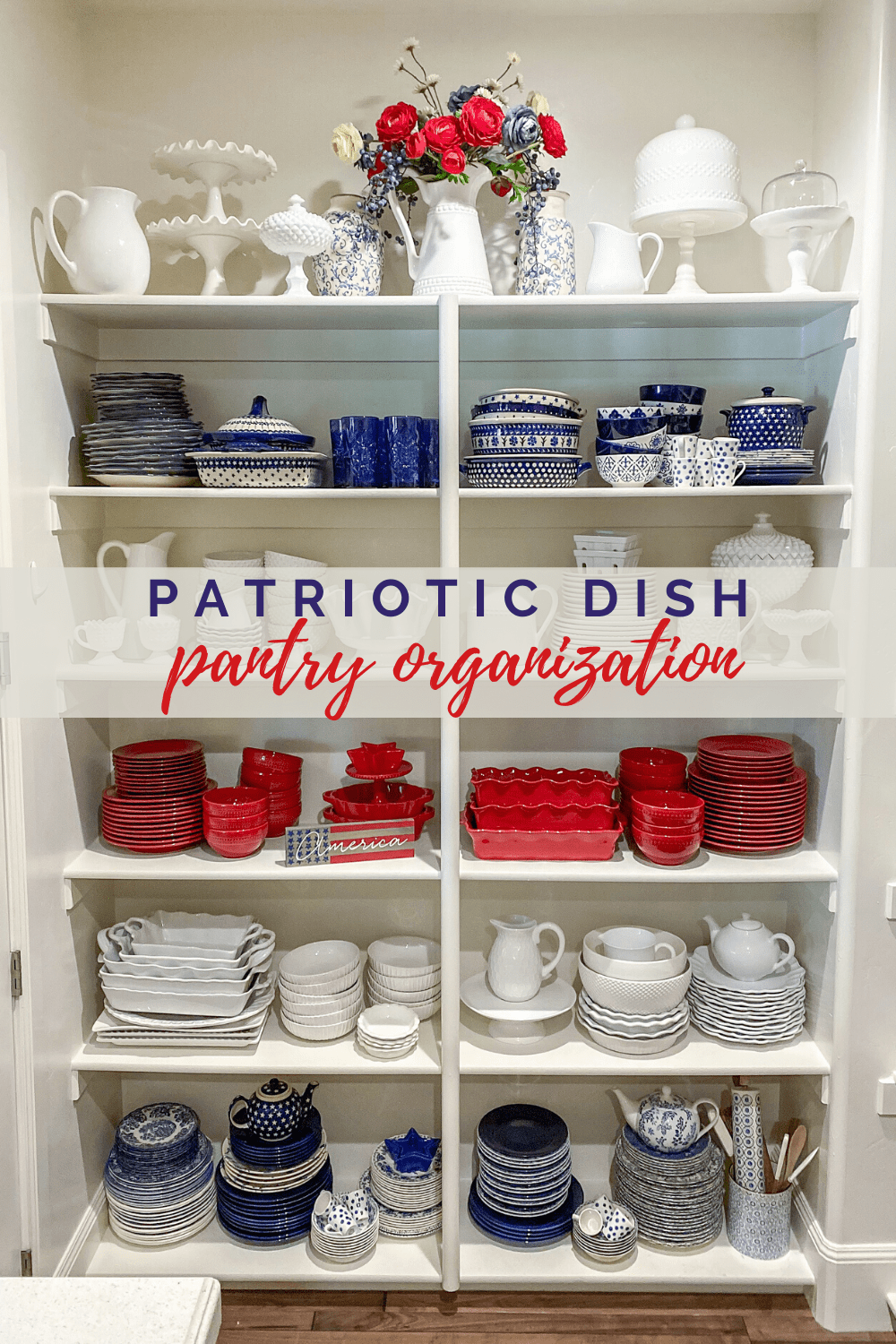 I hope you enjoyed seeing this fun little project of organizing my red white and blue dish collection. This was a lot of work to move so many dishes around but now that it's done, I'm so happy I took the time to do it!
To see more of my dish collection check out this post: My Pantry Organization Project
Enjoy!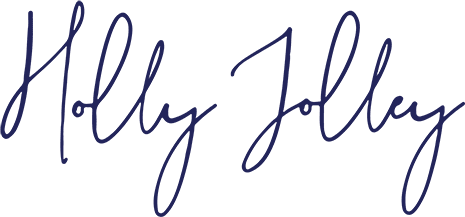 Here are some of the sources or similar items I have collected to create this patriotic pantry.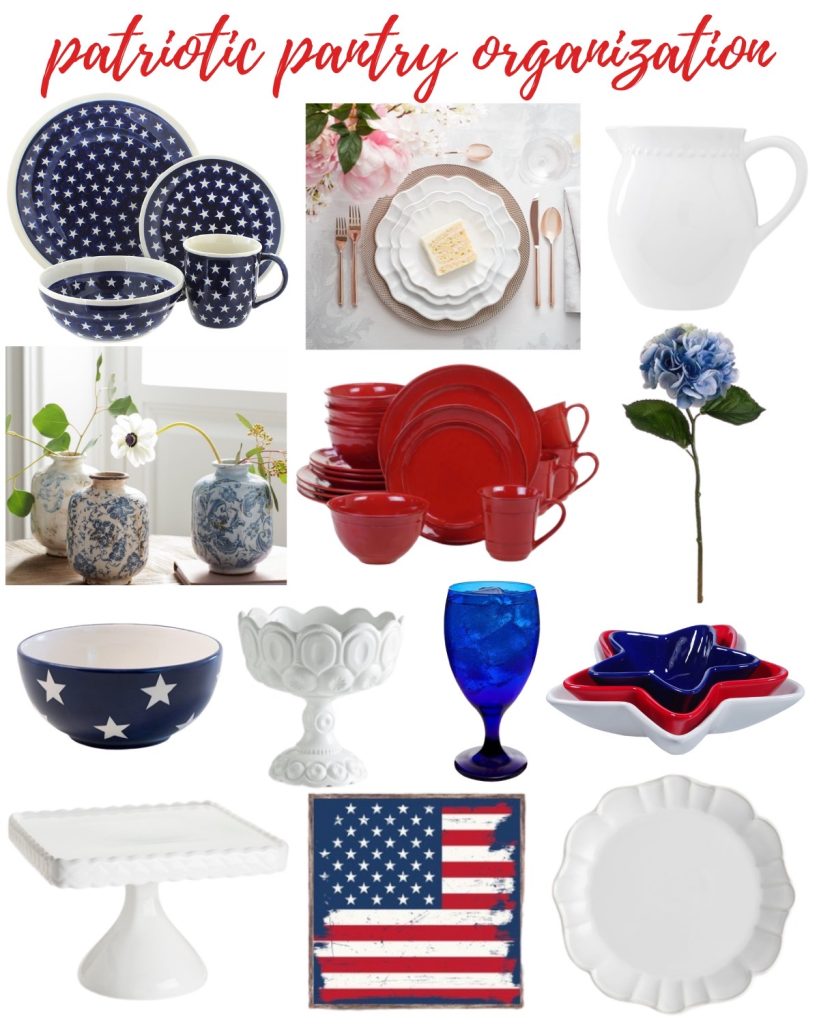 Pin This Post For Later