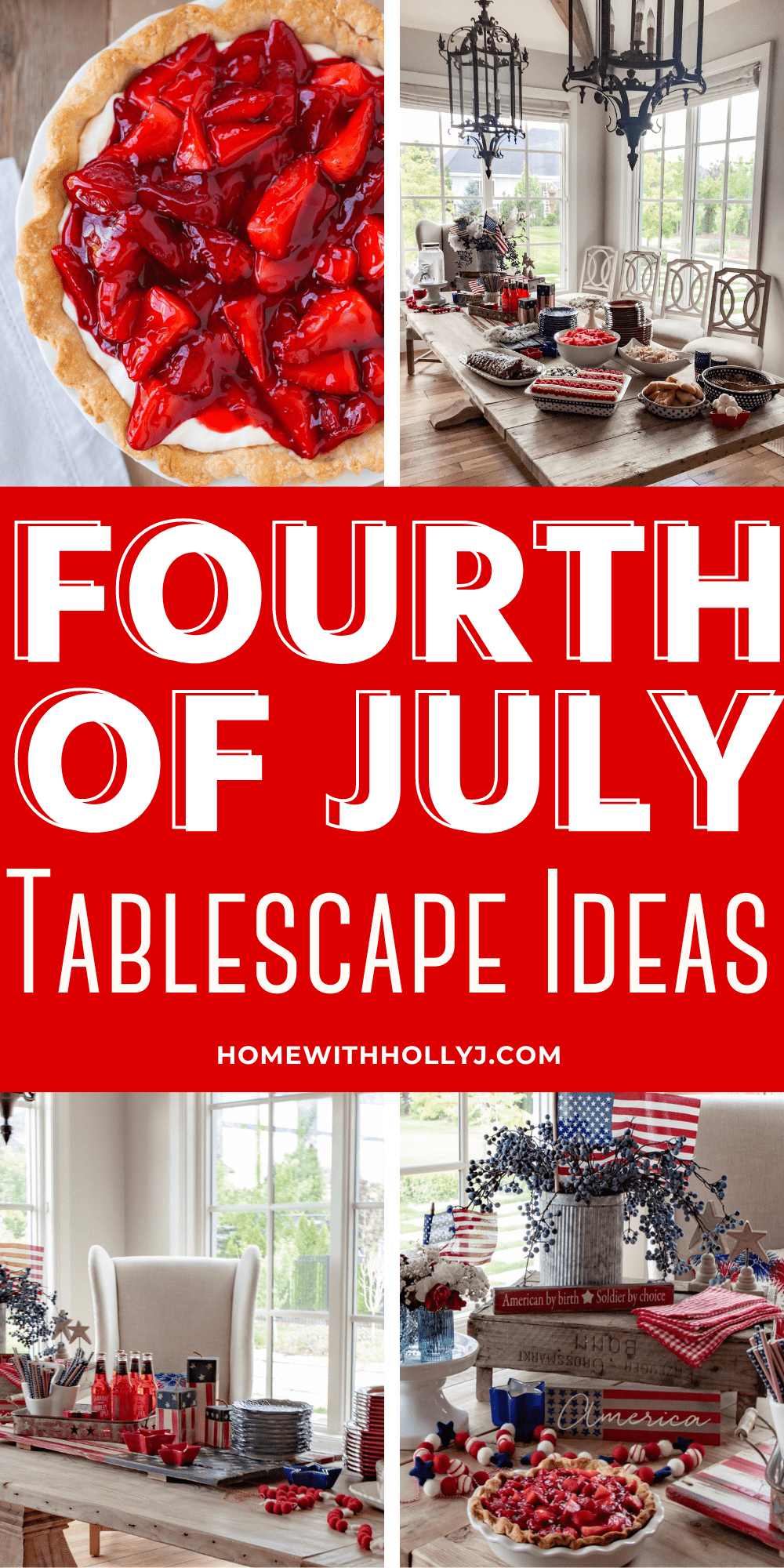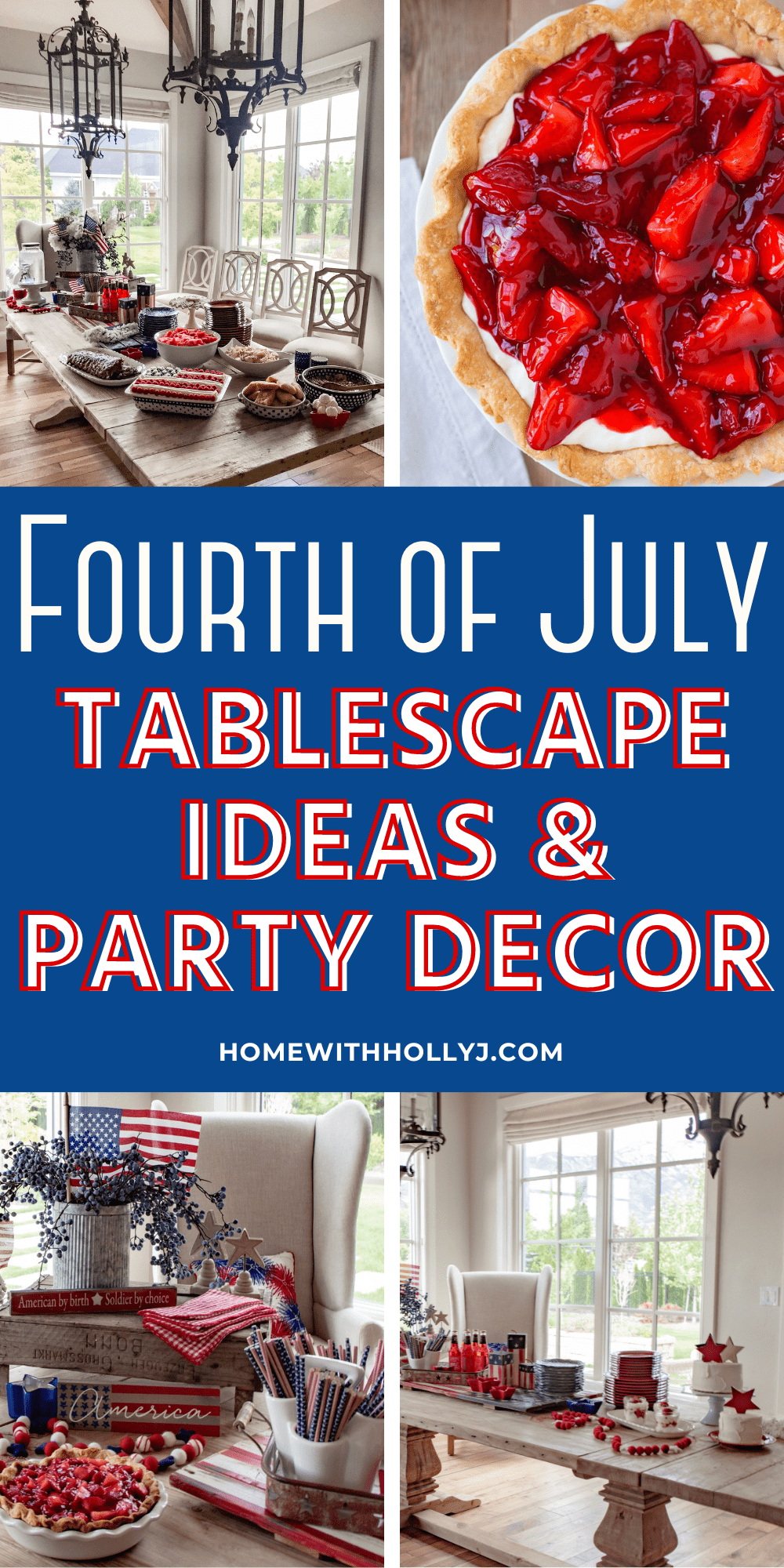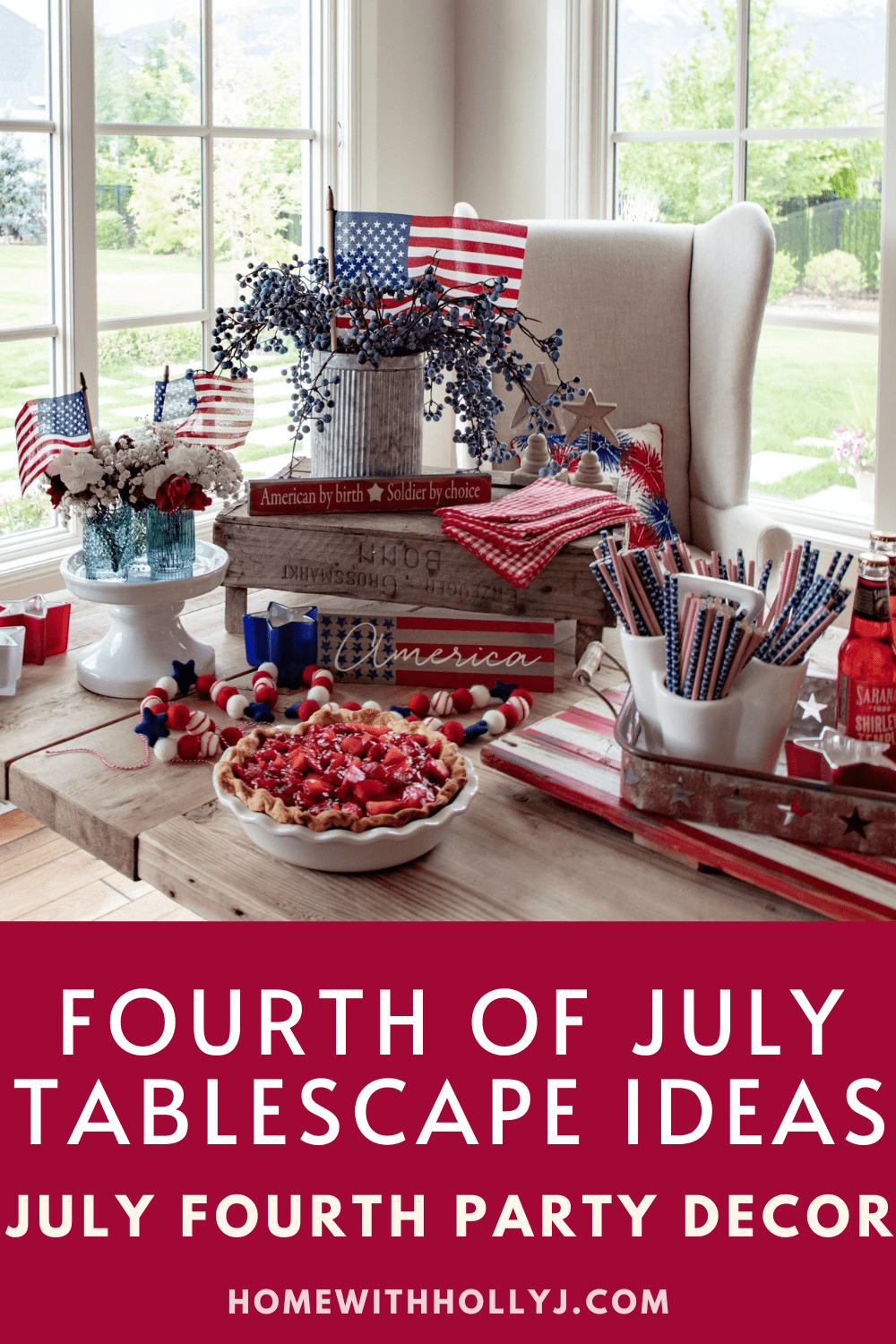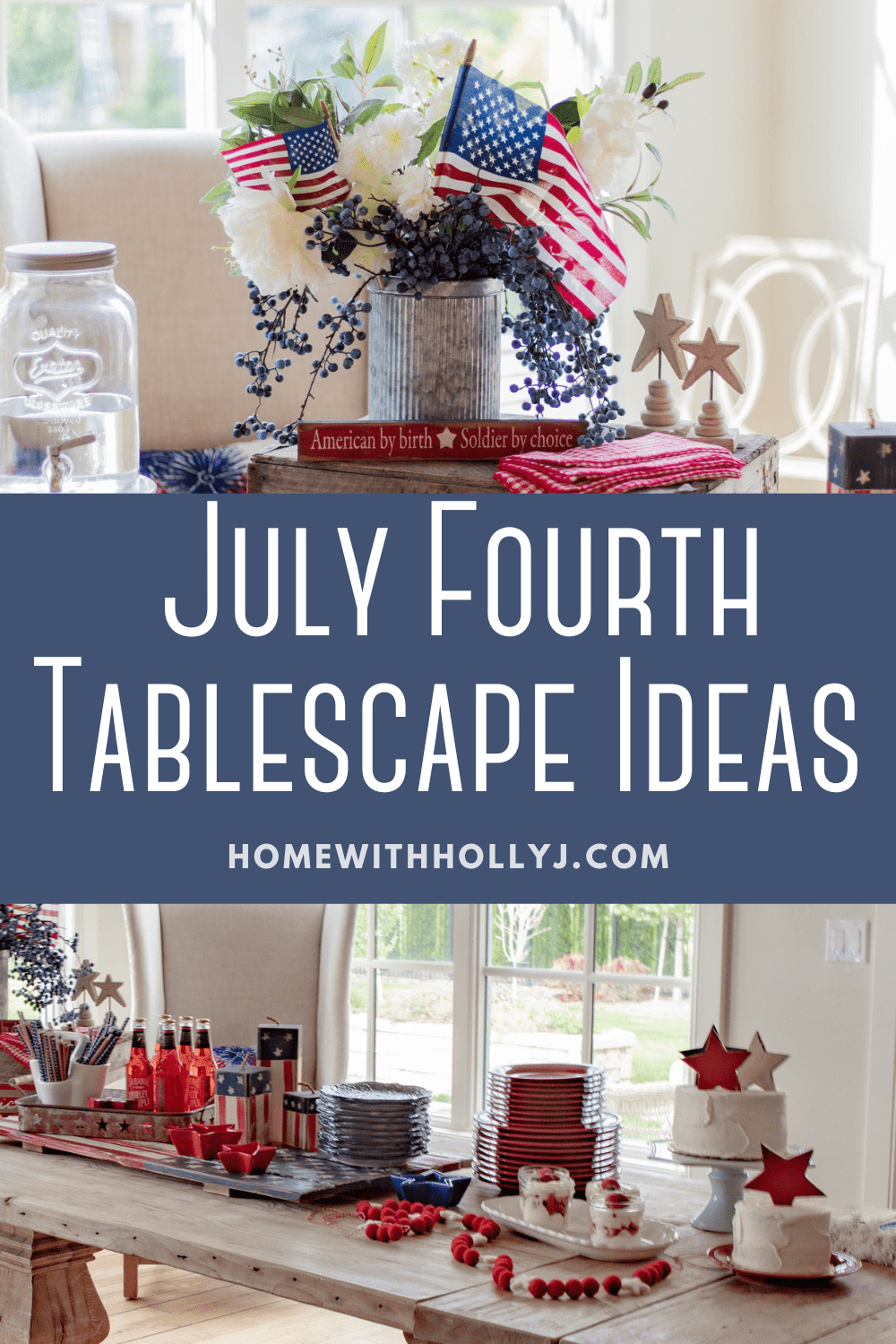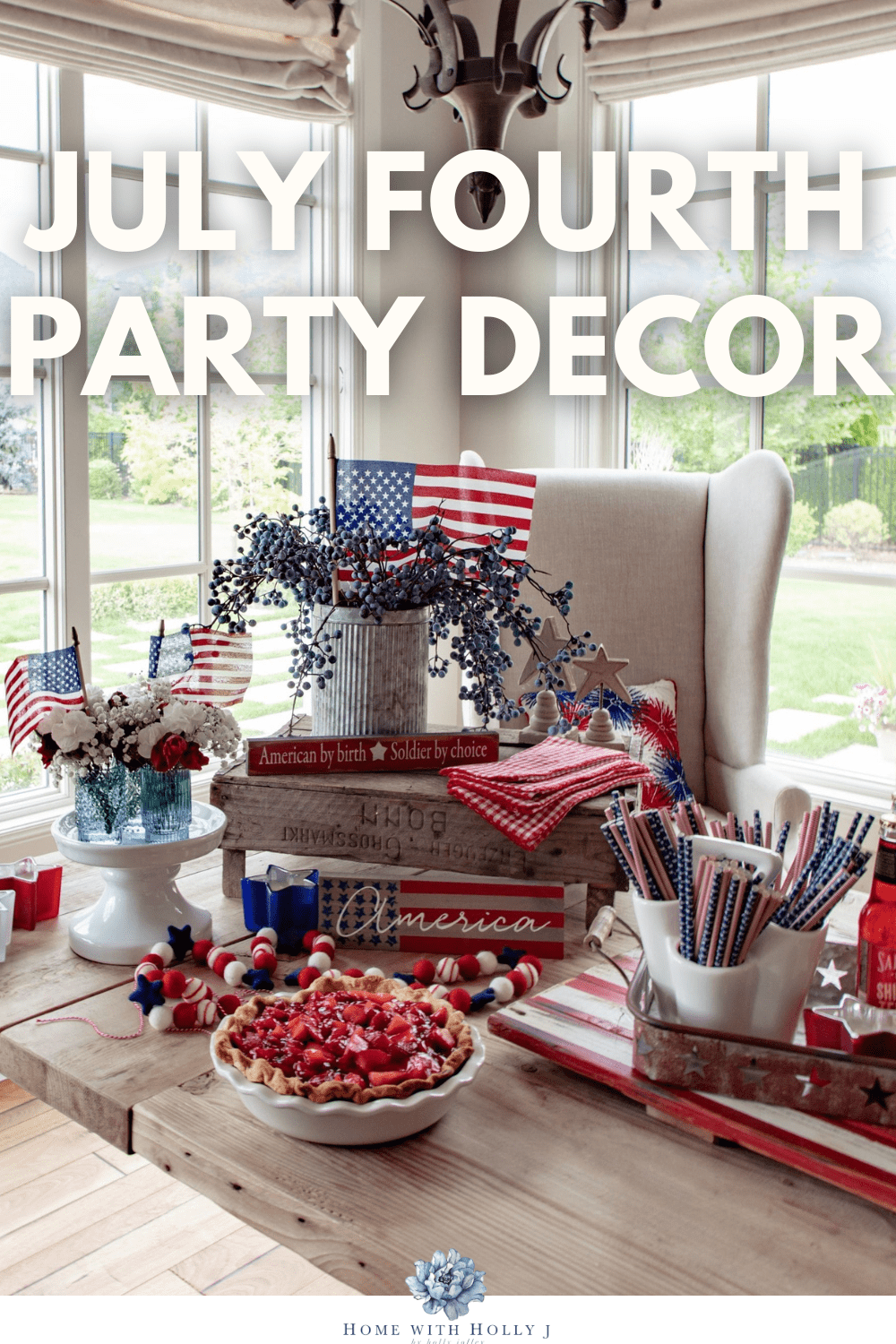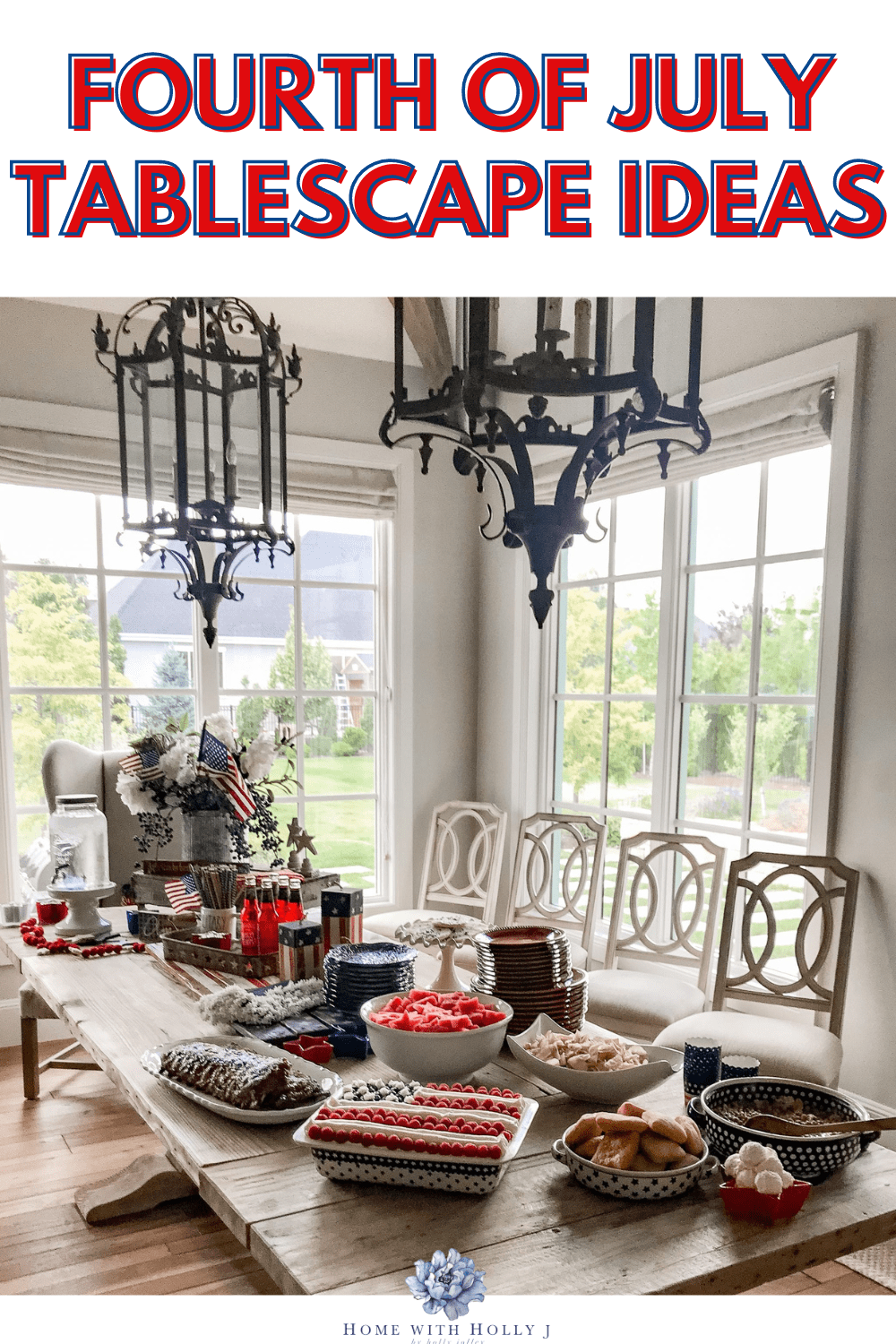 Sharing all my Fourth of July Party Tablescape Ideas here. Get all the sources, recipes and how to make a stars and stripes flag cake.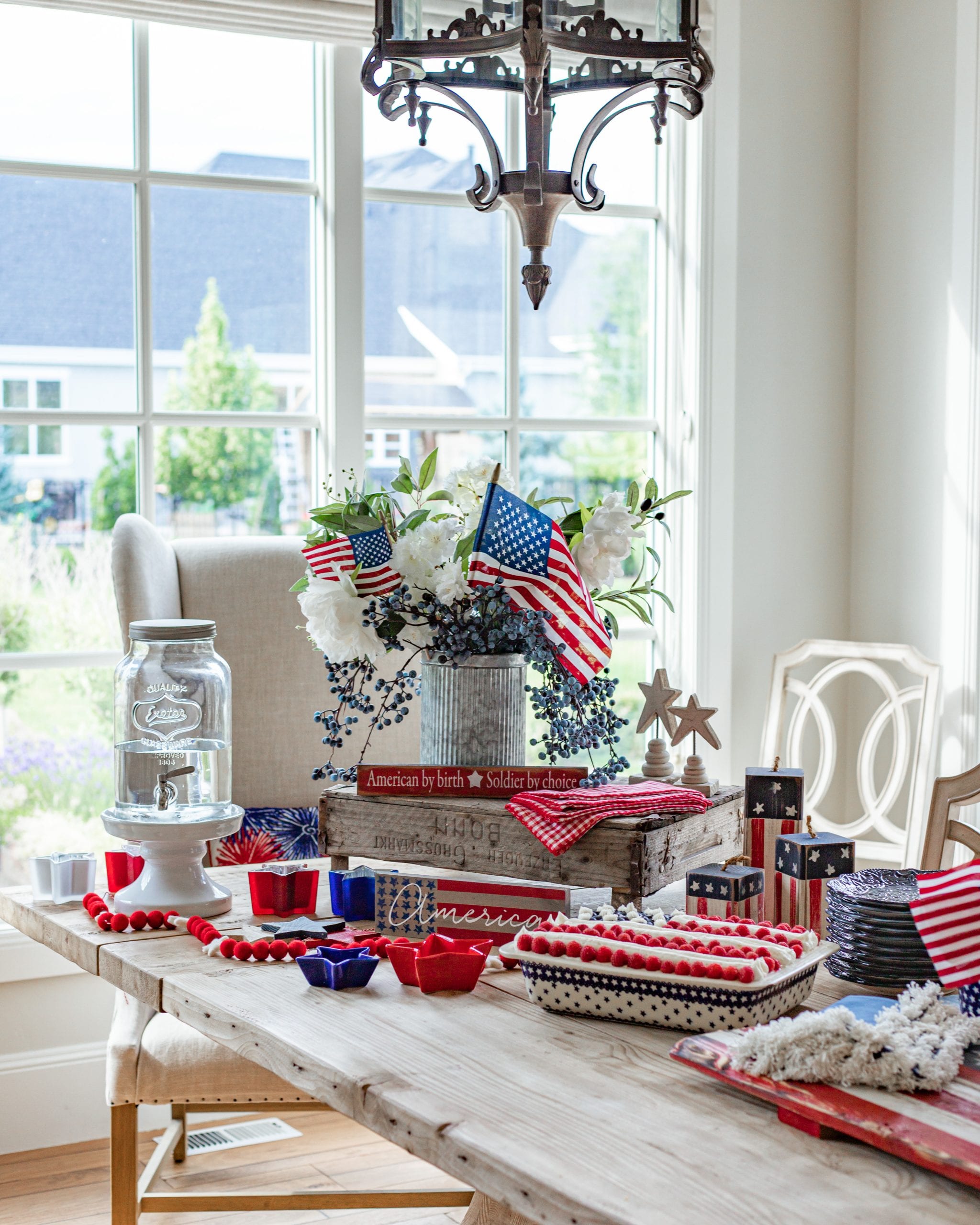 Disclaimer: This post does include affiliate links for your convenience. This is at NO additional cost to you but earns me a small commission. To read more, check out our disclosure policy.
Fourth of July Party Tablescape Ideas
The Fourth of July is my favorite holiday besides Christmas. I absolutely love decorating with red, white, and blue and celebrating with friends and family. I'm sharing my Fourth of July Party Tablescape Ideas and all the details of how I set it all up.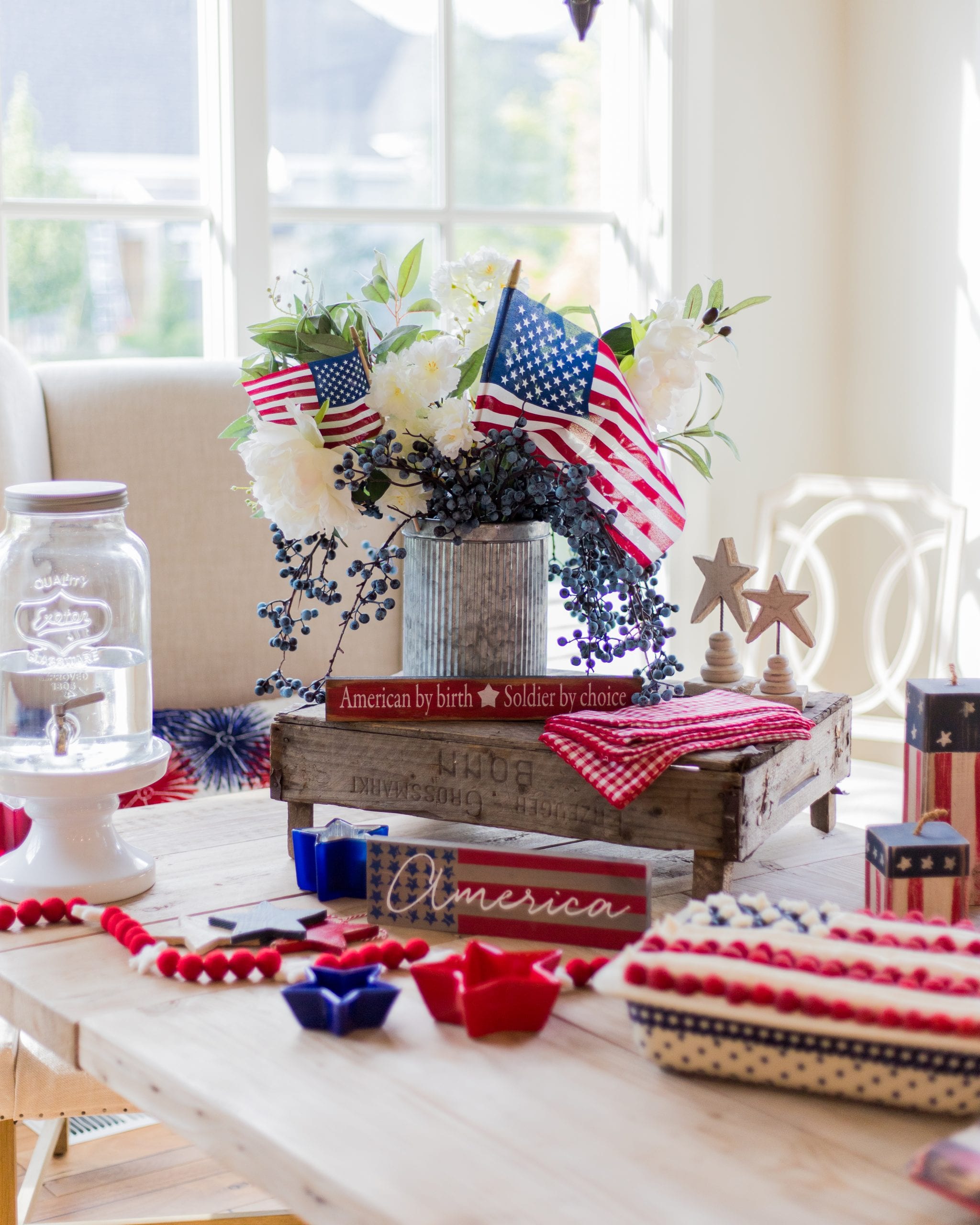 I actually set up and photographed two different versions of this table because I was asked to be on a local TV station to share my scones and honey butter recipe and a patriotic tablescape. We taped the show three weeks before so I had to create it twice! I'm sharing all the photos of both set ups so you can see a few different variations here.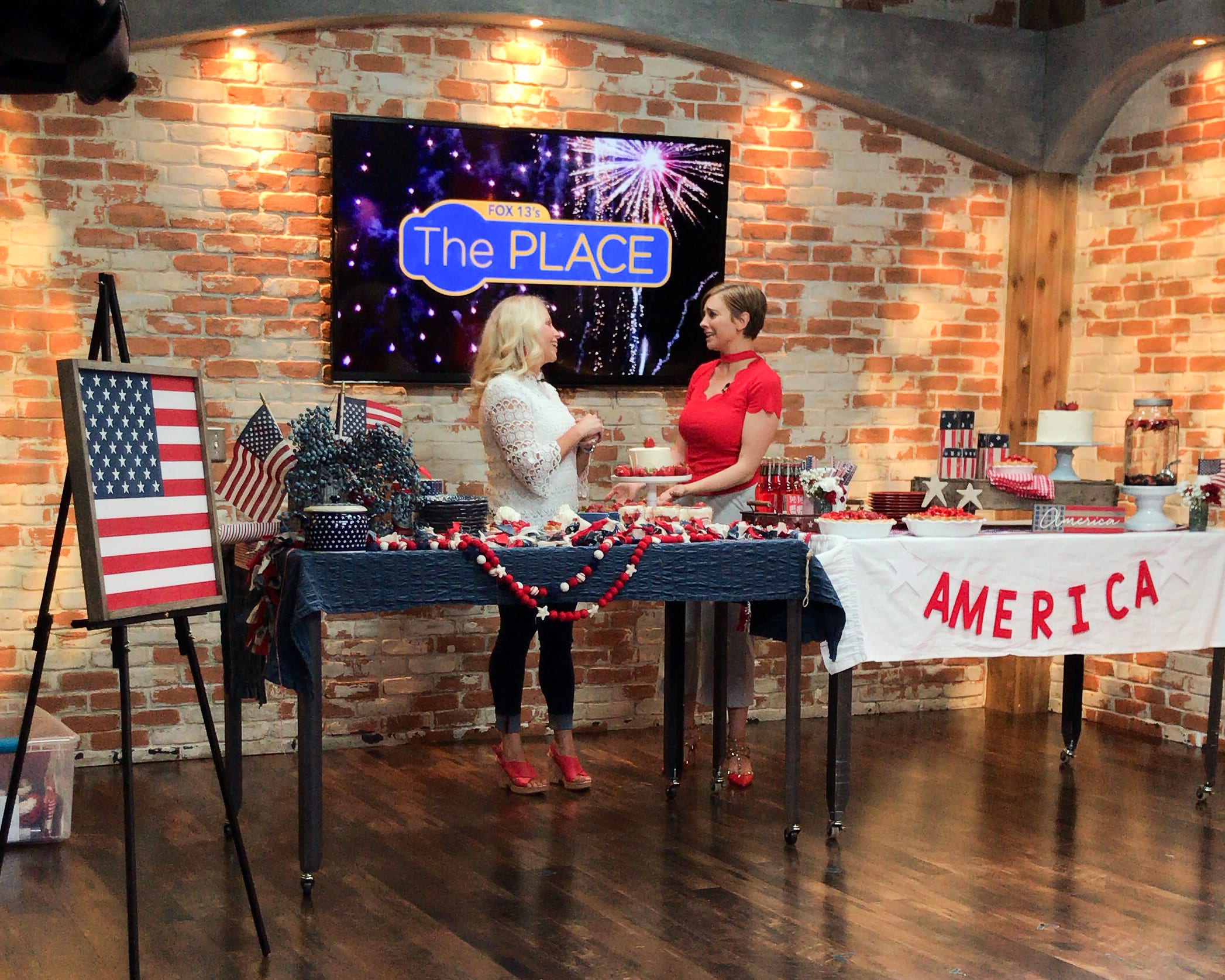 I am very patriotic and my country means a great deal to me. I have always had this love of country and I think it's only grown stronger as the years have gone by and after being a military family. I'm proud to be an American and will always honor my flag and country. I am grateful for those that have sacrificed their lives for my freedom. I take that to heart. I am also grateful for those men, women, and families that are serving our country now.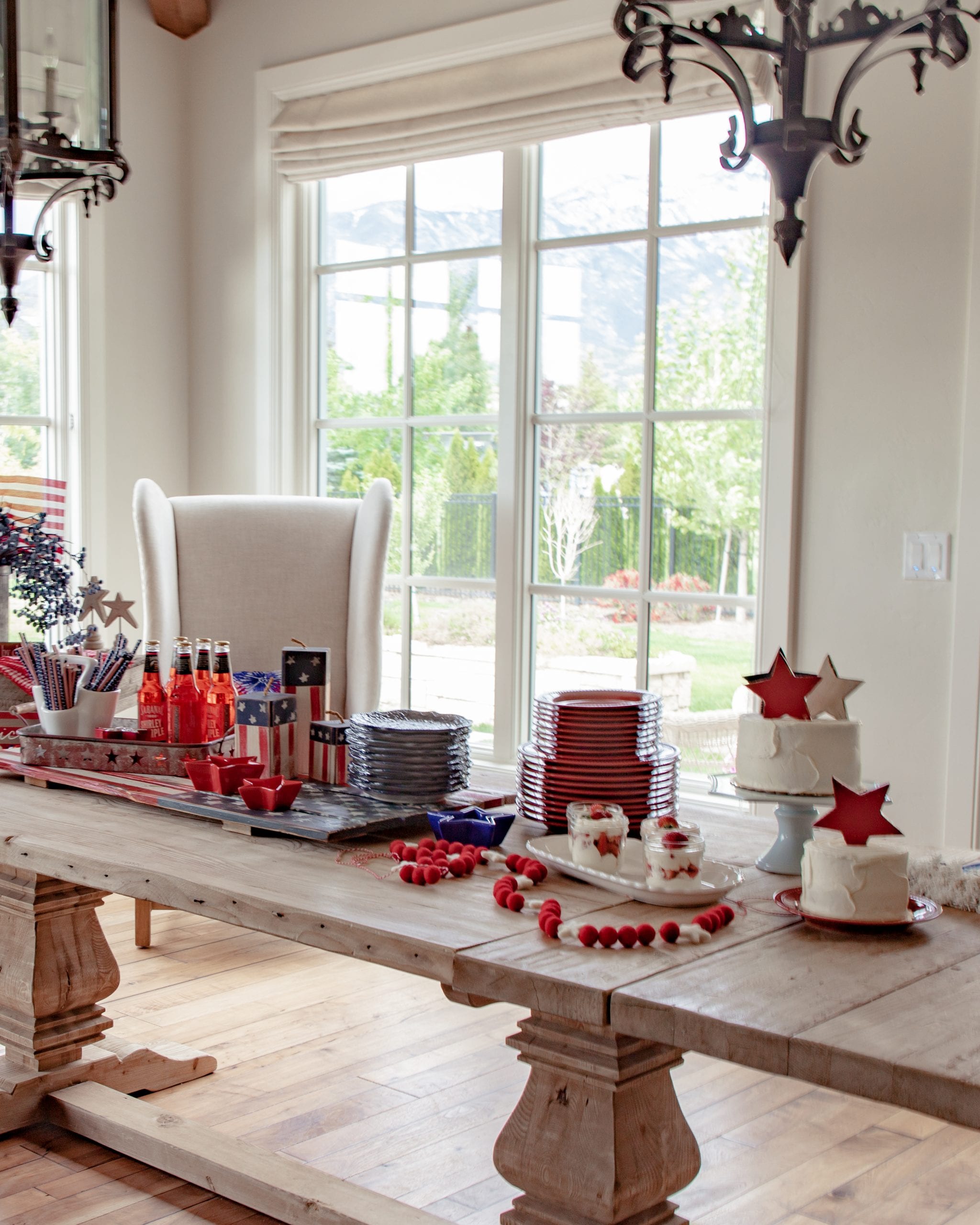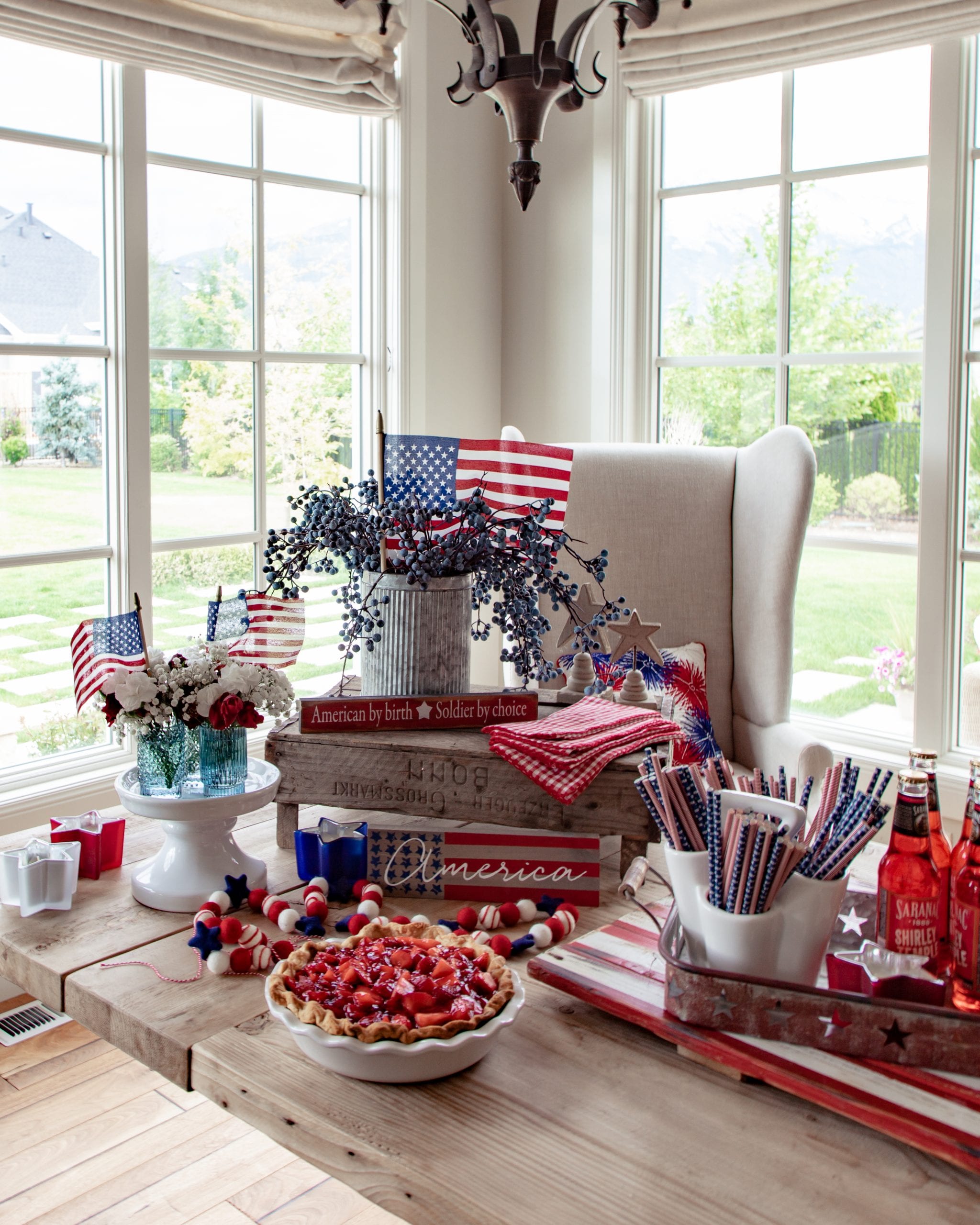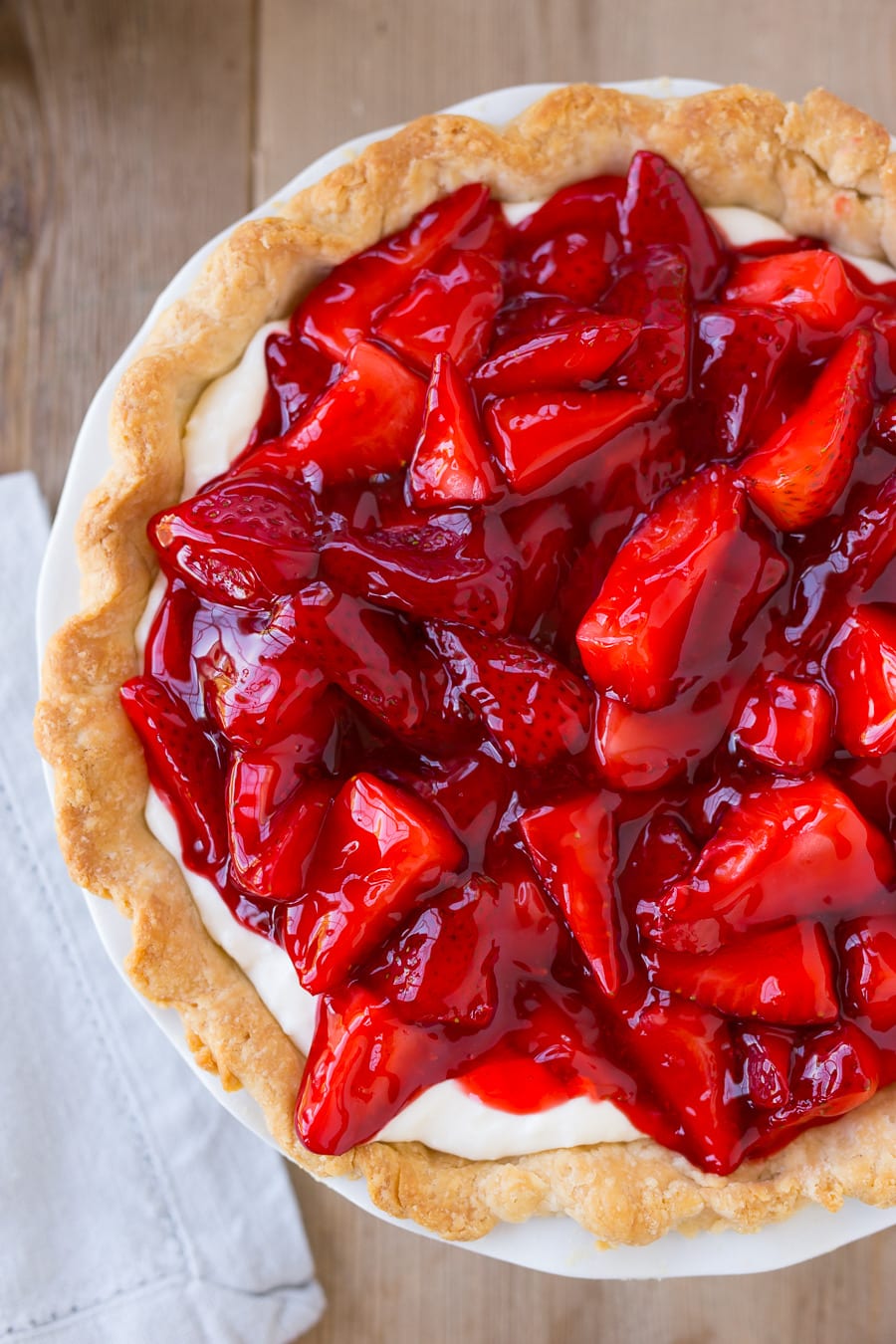 Some of my Favorite Items I used for this tablescape.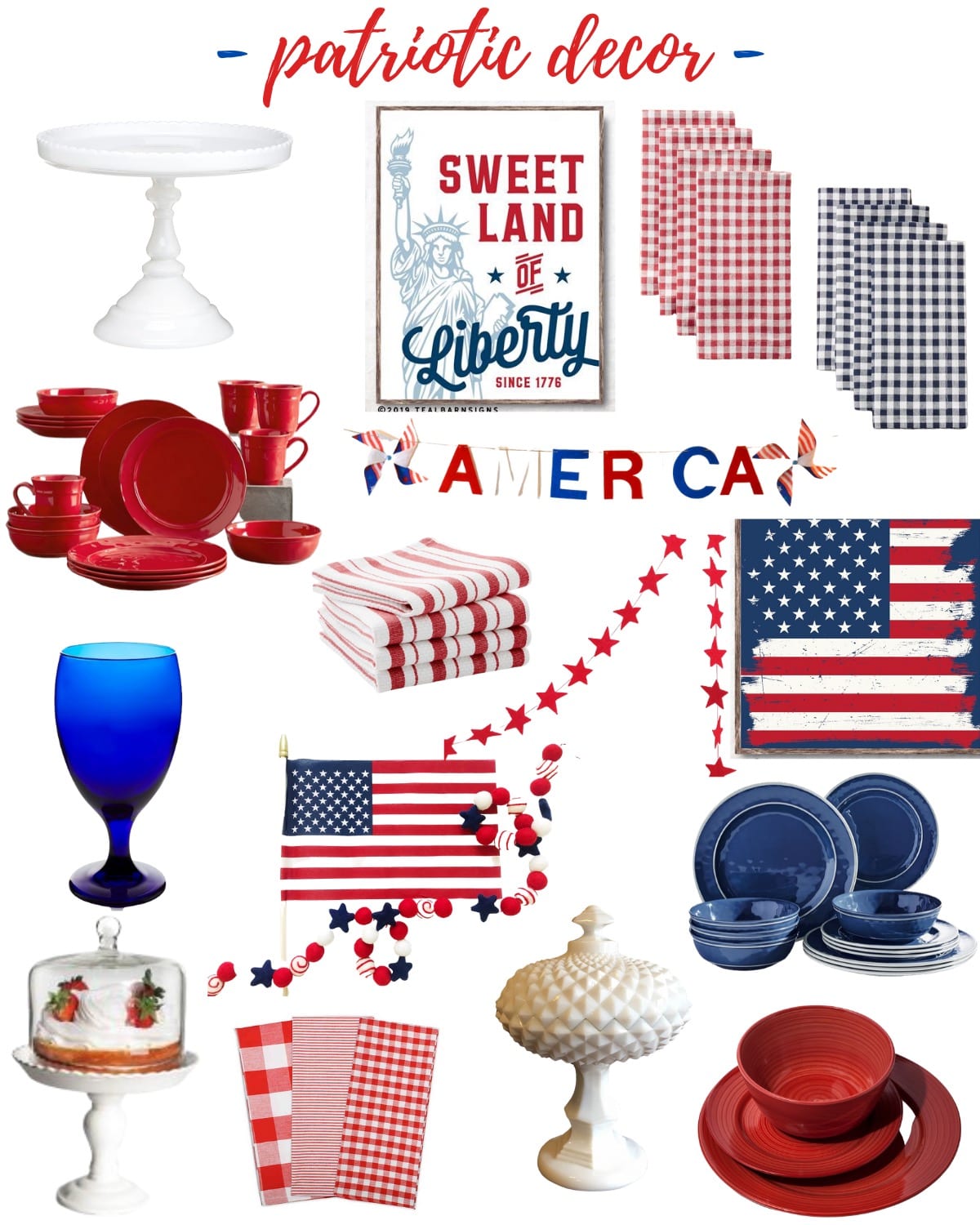 I'll link the sources at the bottom of the post.
Hosting a Fourth of July or Patriotic Gathering
When hosting a Fourth of July party I like to set up a tablescape that has some fun decorations as well as all the yummy food I'm going to serve. Since this was a backyard party, I set up the tablescape with all the food and drink indoors because we don' have any shaded areas in our backyard.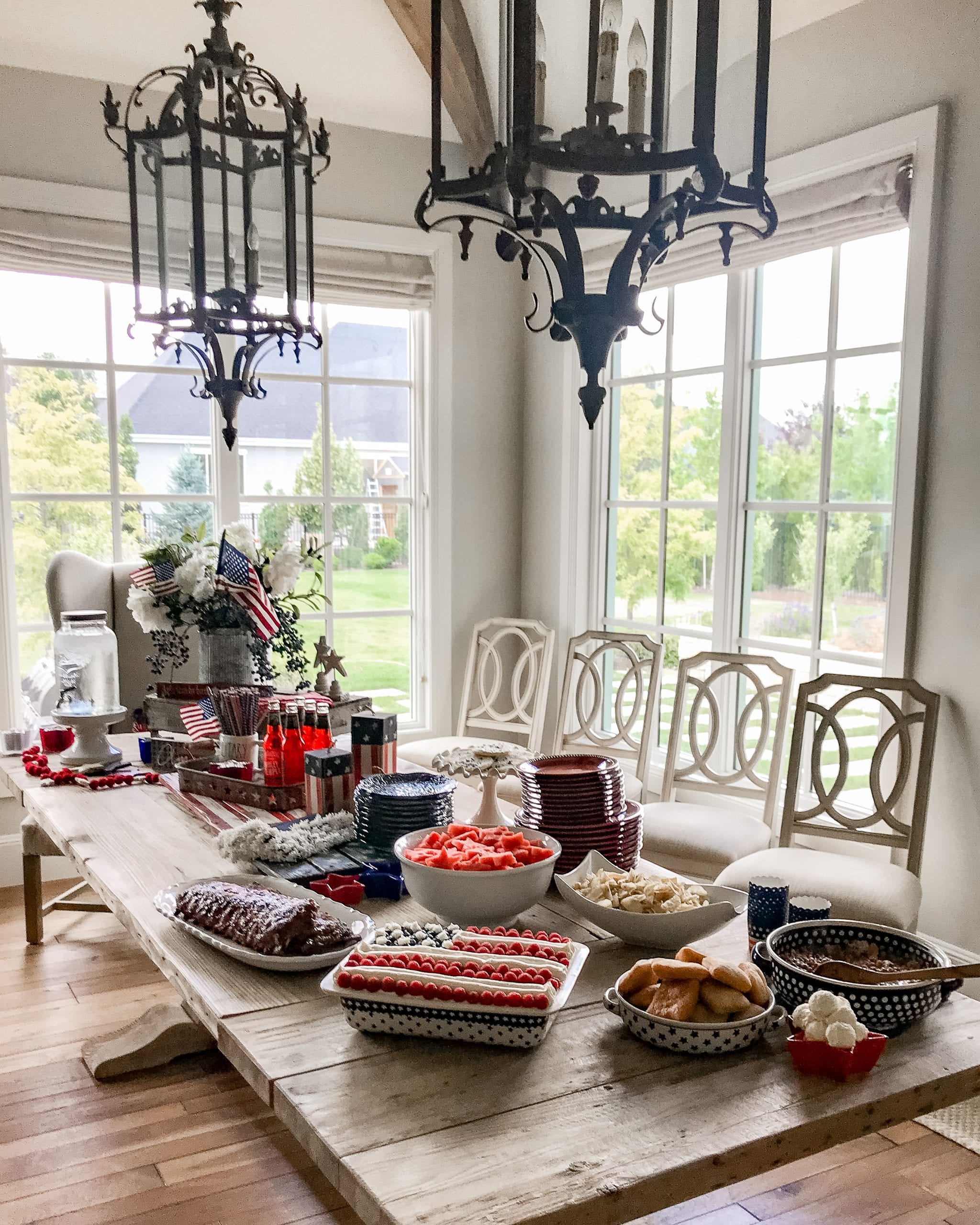 The Menu
Barbecuing is a tradition in our house on the Fourth of July and my husband and sons all like to use the grill and smoker. I plan the side dishes around the meats we are barbecuing. I'll try to share some of these recipes soon! I've linked the ones I have shared already.
Baby Back and St. Louis Style Ribs
My Favorite Baked Bean Recipe
Watermelon (cut into star shapes)
Potato Chips
Stars and Stripes Cake
Chocolate Cake with Butter Cream Frosting
Mason Jar Strawberry Trifles
Bottled Shirley Temple Sodas
Lemon Water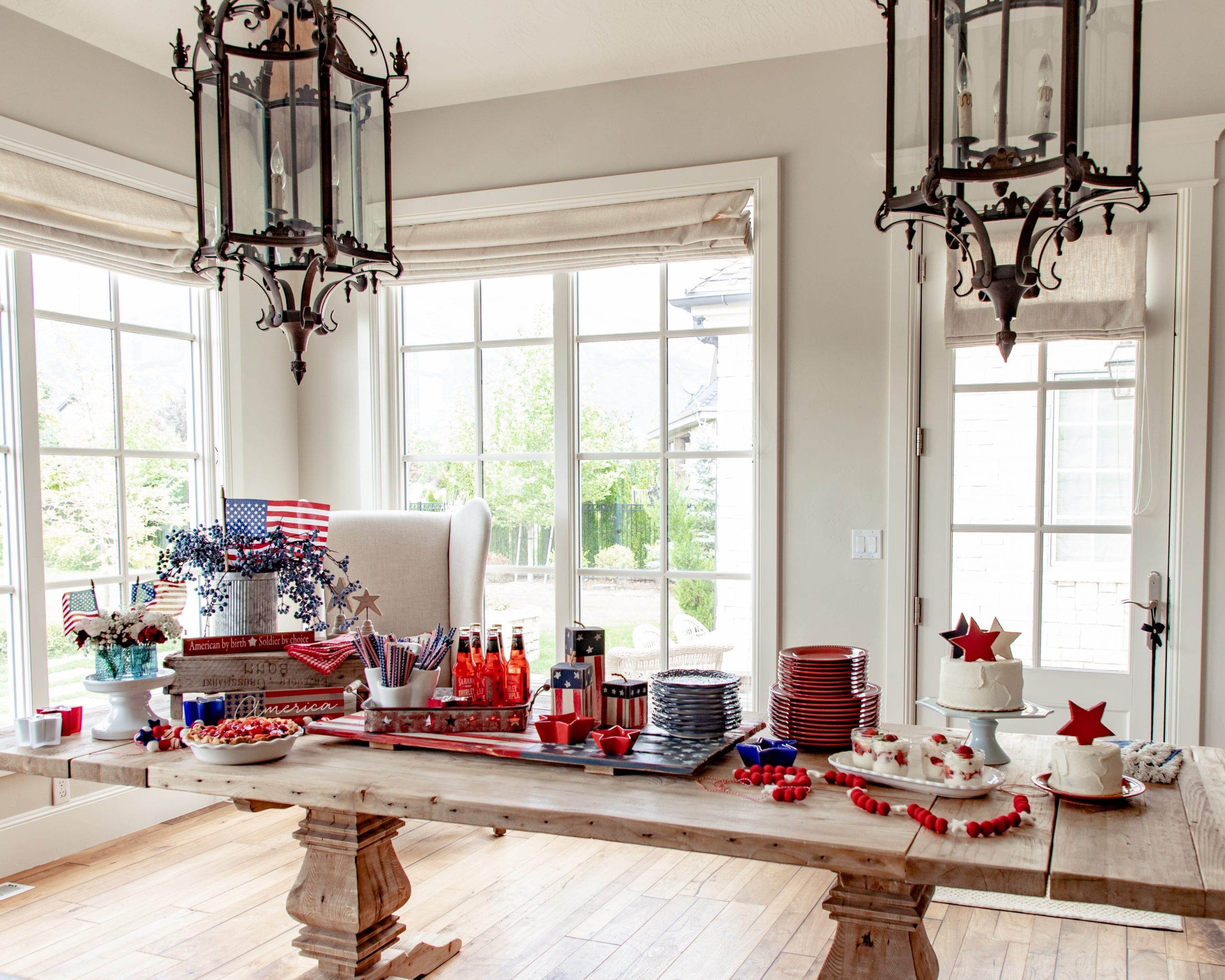 The Table Decorations
When setting a food and dessert table I always have a focal point using a centerpiece with some type of decoration. In this table the focal point was the centerpiece I made using a galvinized tin can filled with faux peonies, blueberries, and sage greenery. To add a touch of red, white, and blue, I added a few flags into the centerpiece and set it on top of an old vintage crate at the far end of the table.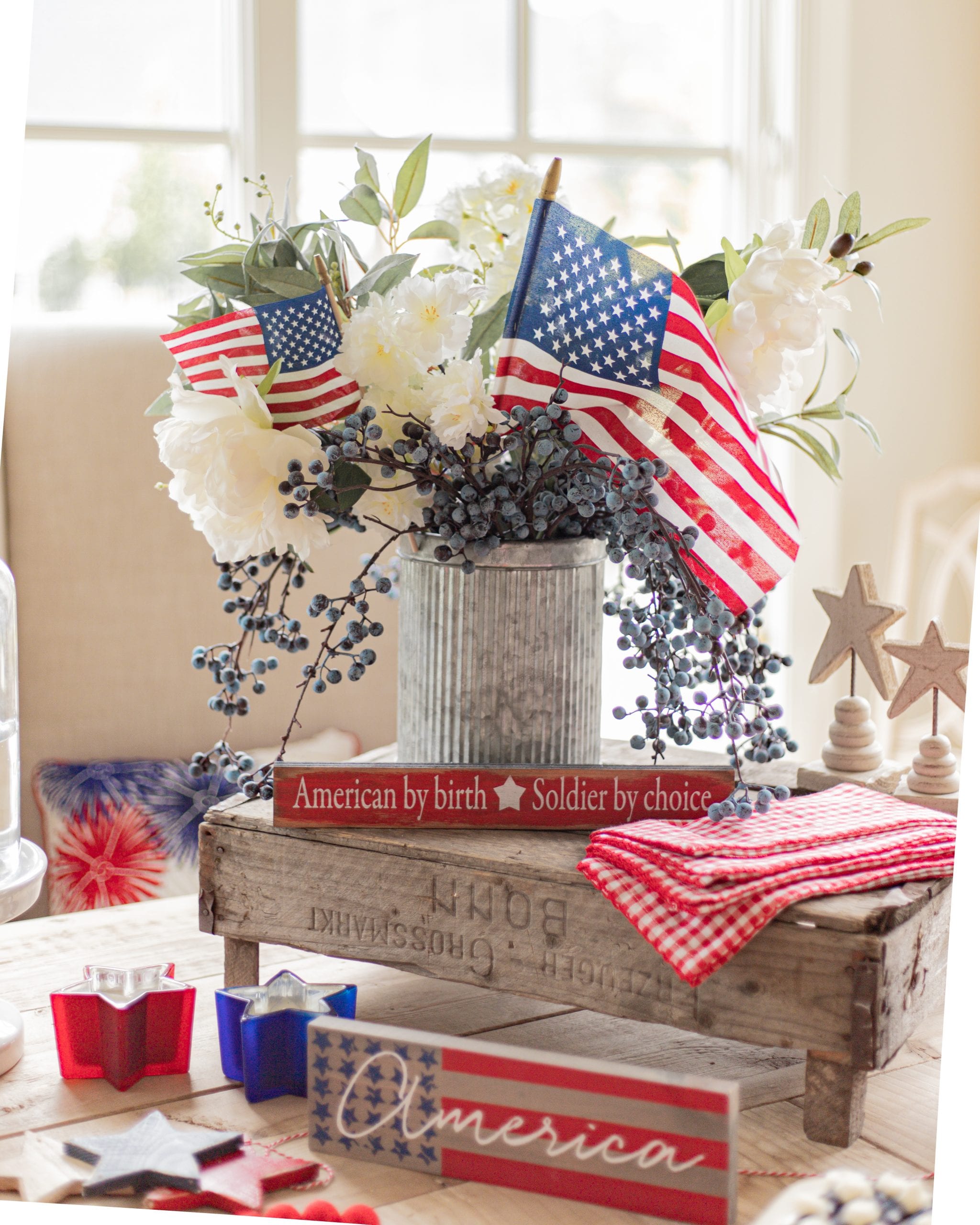 I like using different things like crates and cake stands to add different heights when displaying decorations and the food.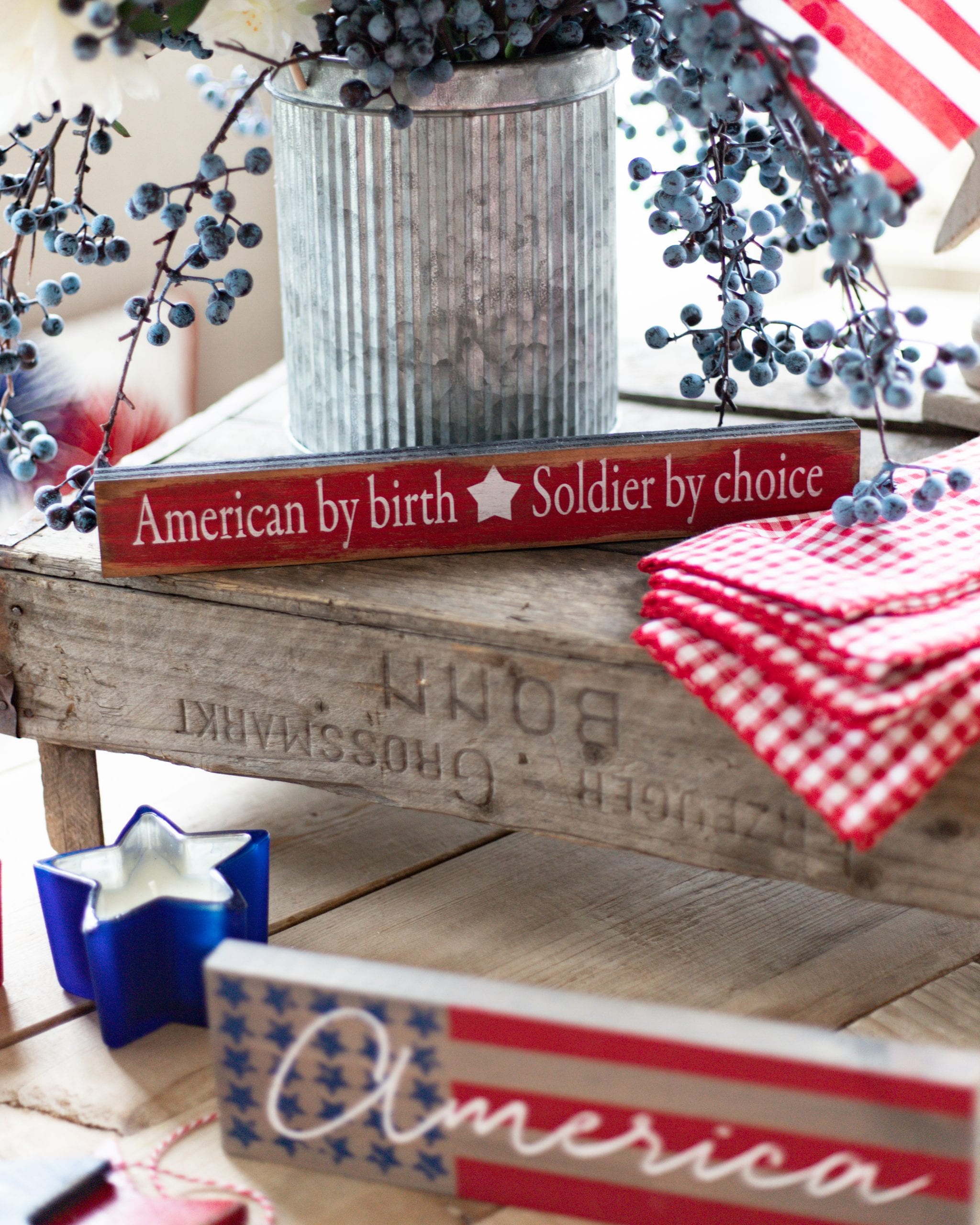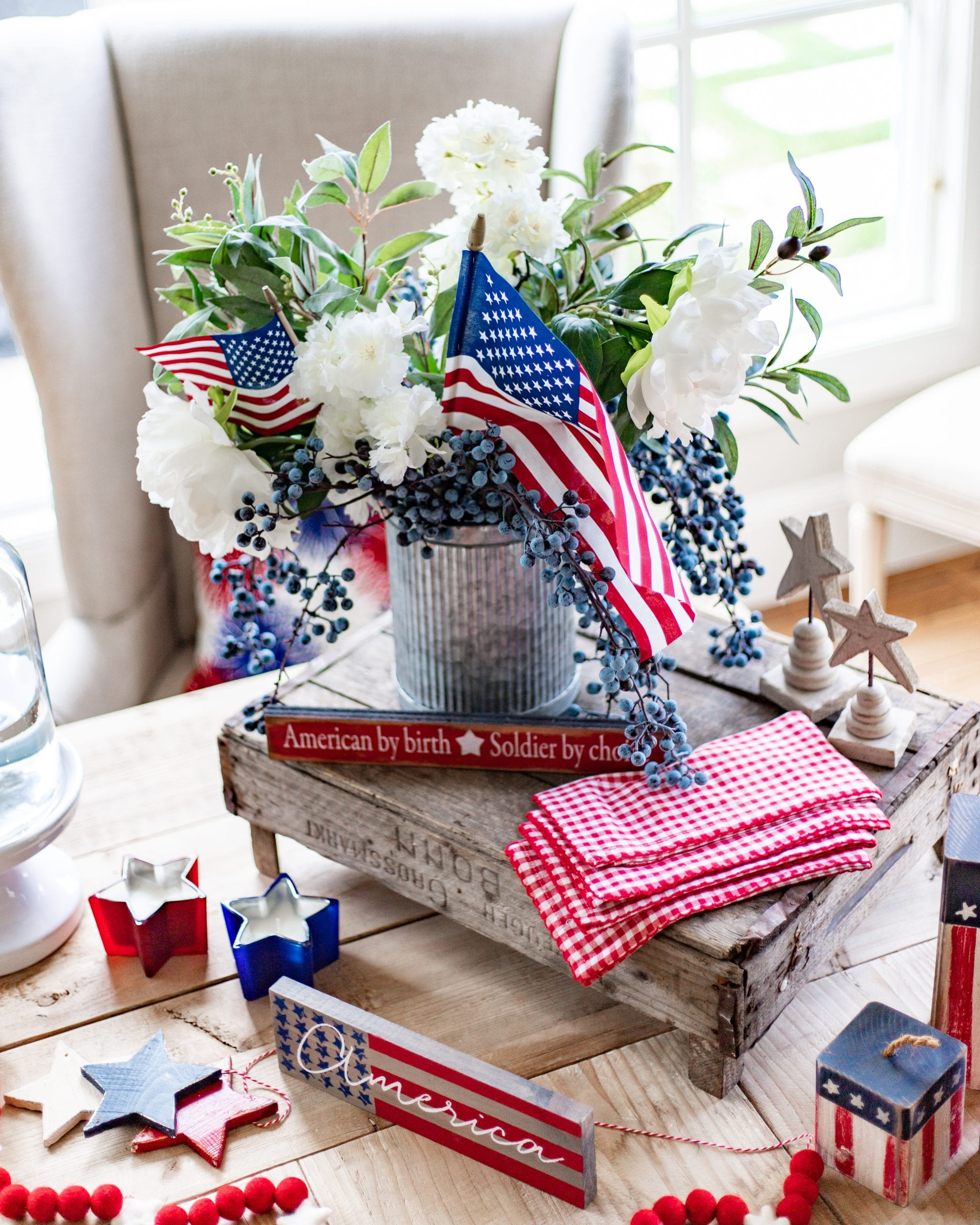 I used a rustic wood flag sign in the center of the table to set other items on. This was a great way to add some color to the middle section of the table and incorporate another flag into the decor.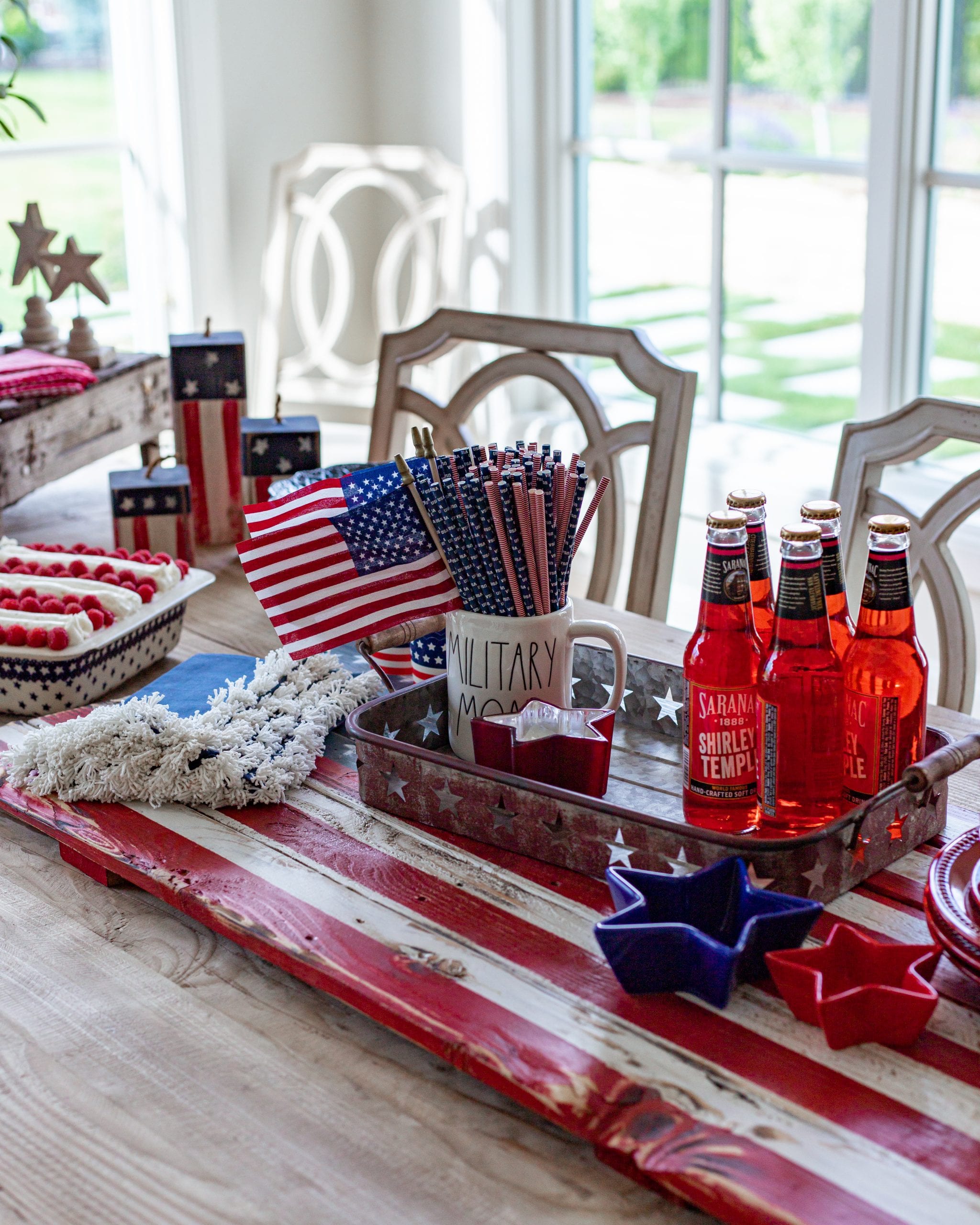 The wood flag sign has wood supports on the underside which worked even better because the sign set up off the table an inch or so. If you have a flag sign you want to use for this on your table, just put some wood or something underneath it to lift it up a bit. This will make it look a little nicer. In these photos you can see the supports under the flag.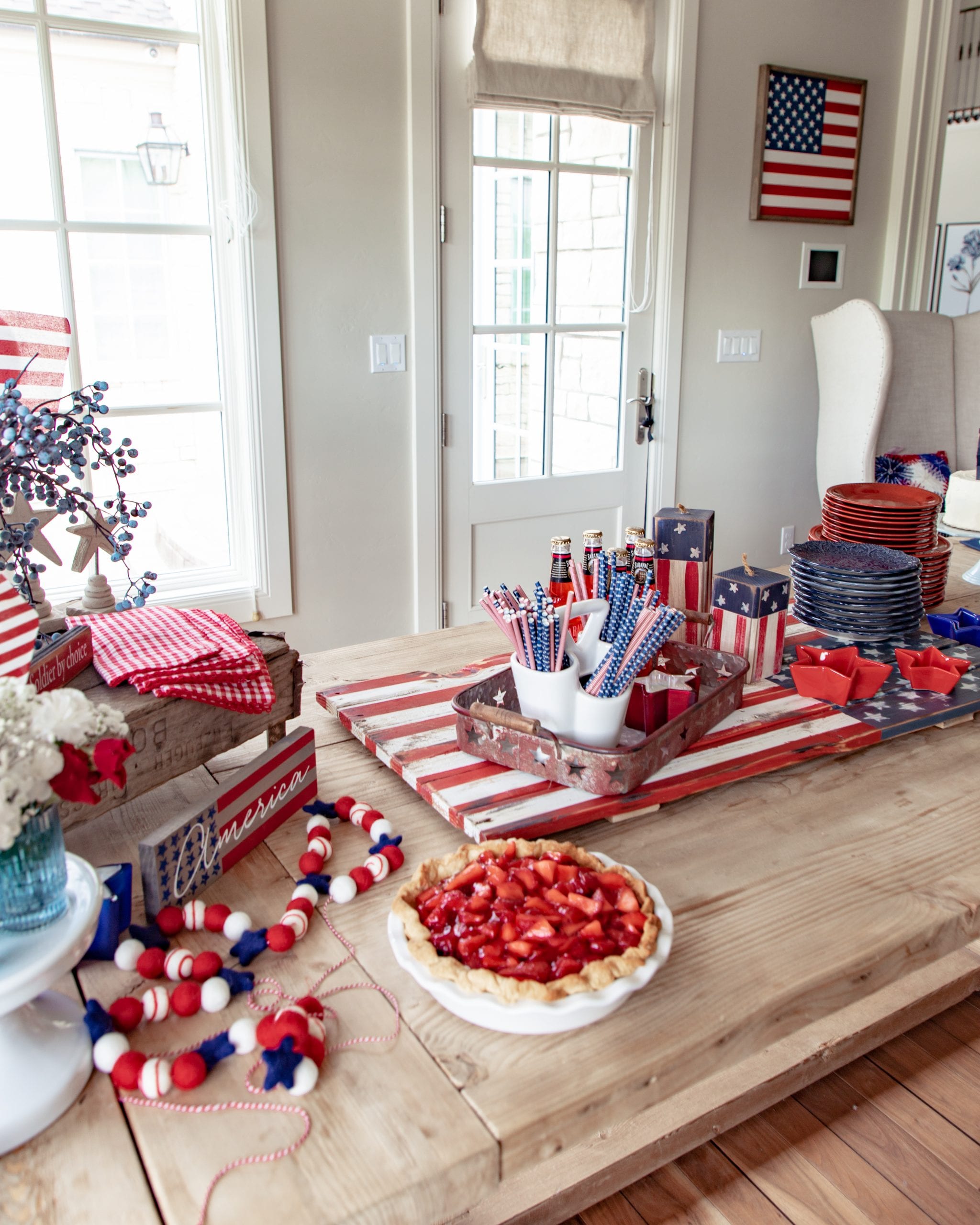 I set the drinks in an rustic red tray with star cut outs and the straws in a Rae Dunn mug that said military mom. I'm the proud mom of a US Marine, an airman in the US Airforce and I was an army wife for six years.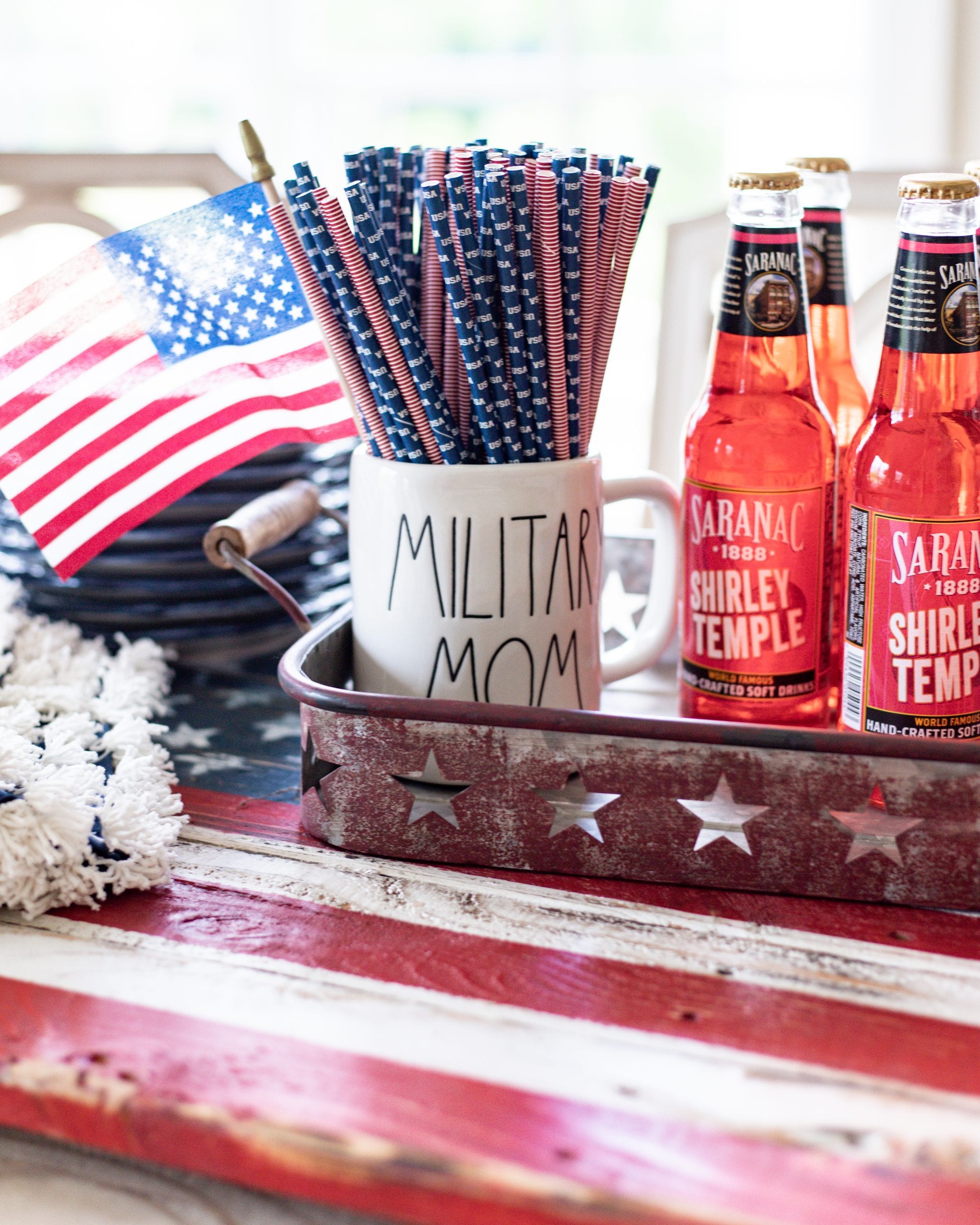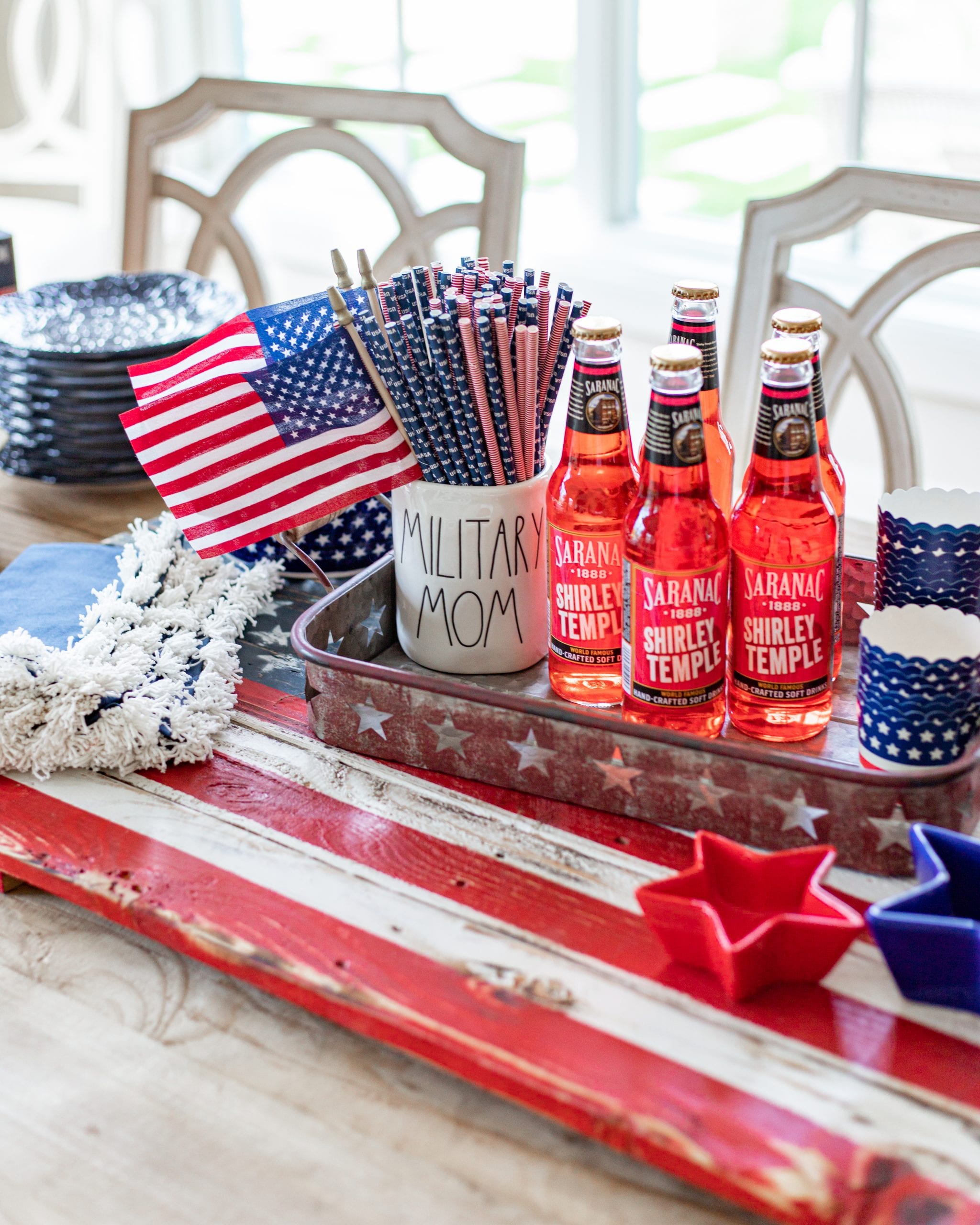 I also found some cute little signs on etsy and in some local shops that you can see here.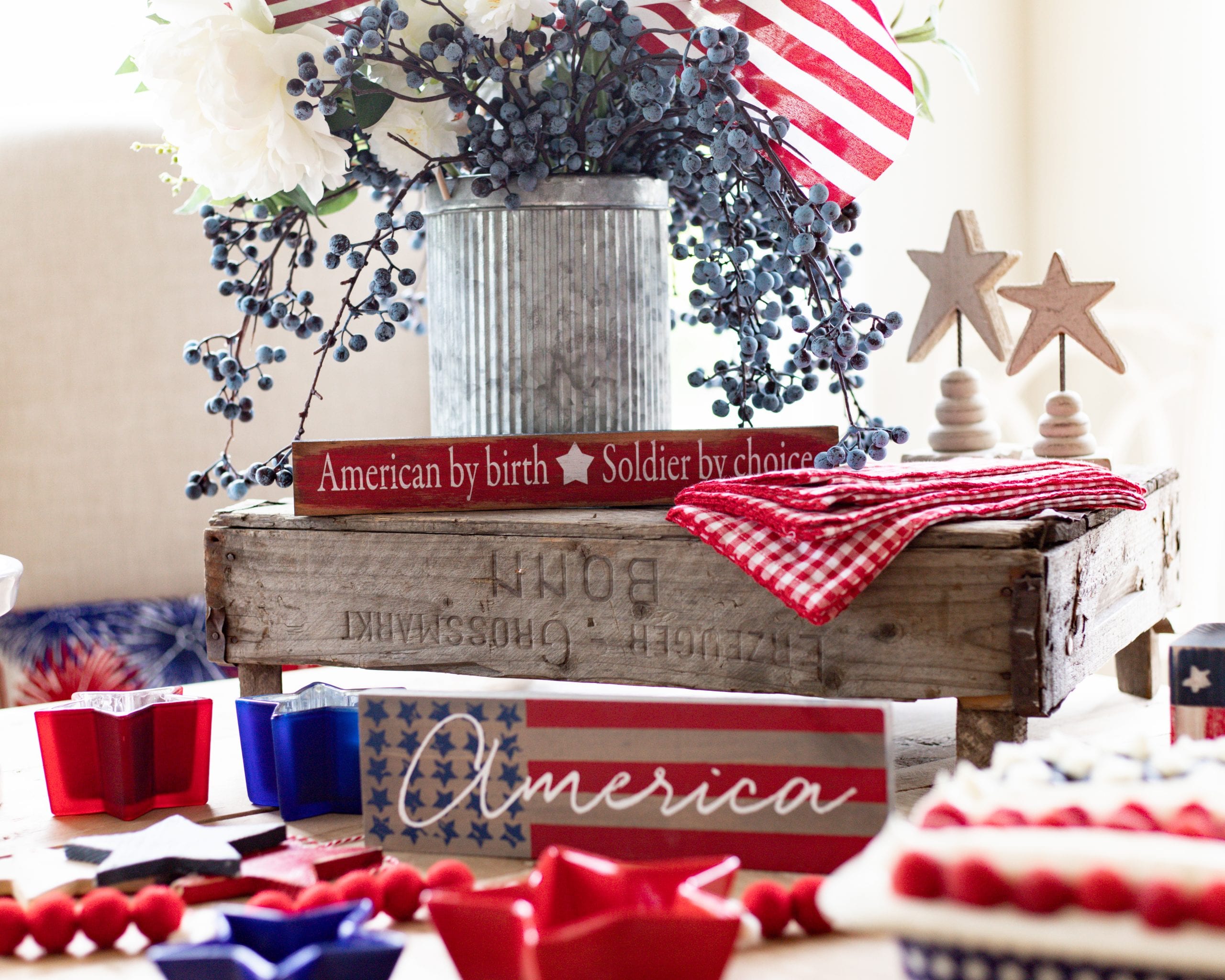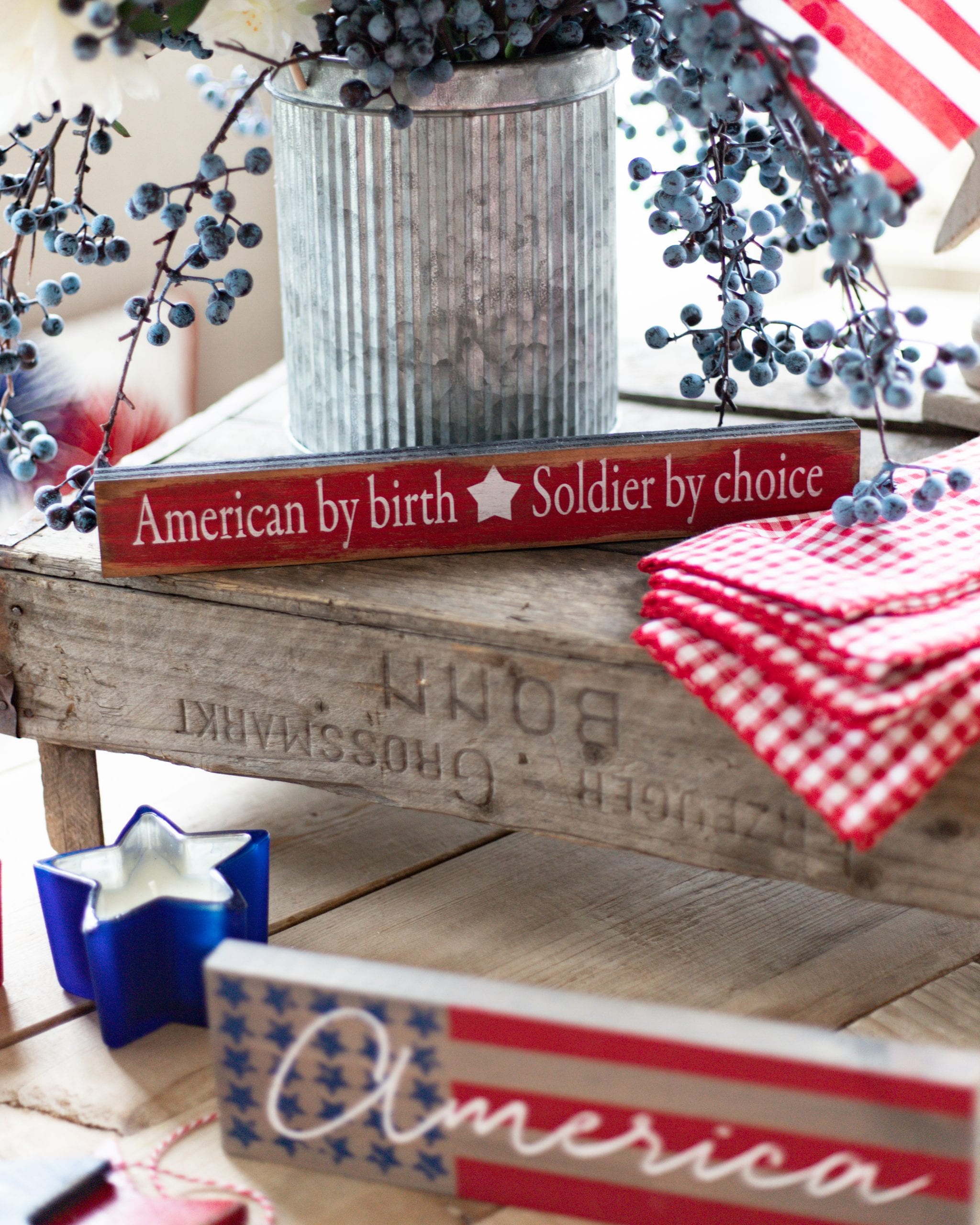 Serving Pieces
Get creative with your serving pieces and ways to display your food. Some of my favorite items are my polish pottery serving dishes that I collected years ago when my husband was serving in the US Army. Many of the army wives collected polish pottery and I certainly did my share of collecting. If you want to find this pattern google Polish Pottery Stars Pattern and you'll find some things online. One of my favorite pieces is this big rectangular baking dish that I made my Stars and Stripes cake in.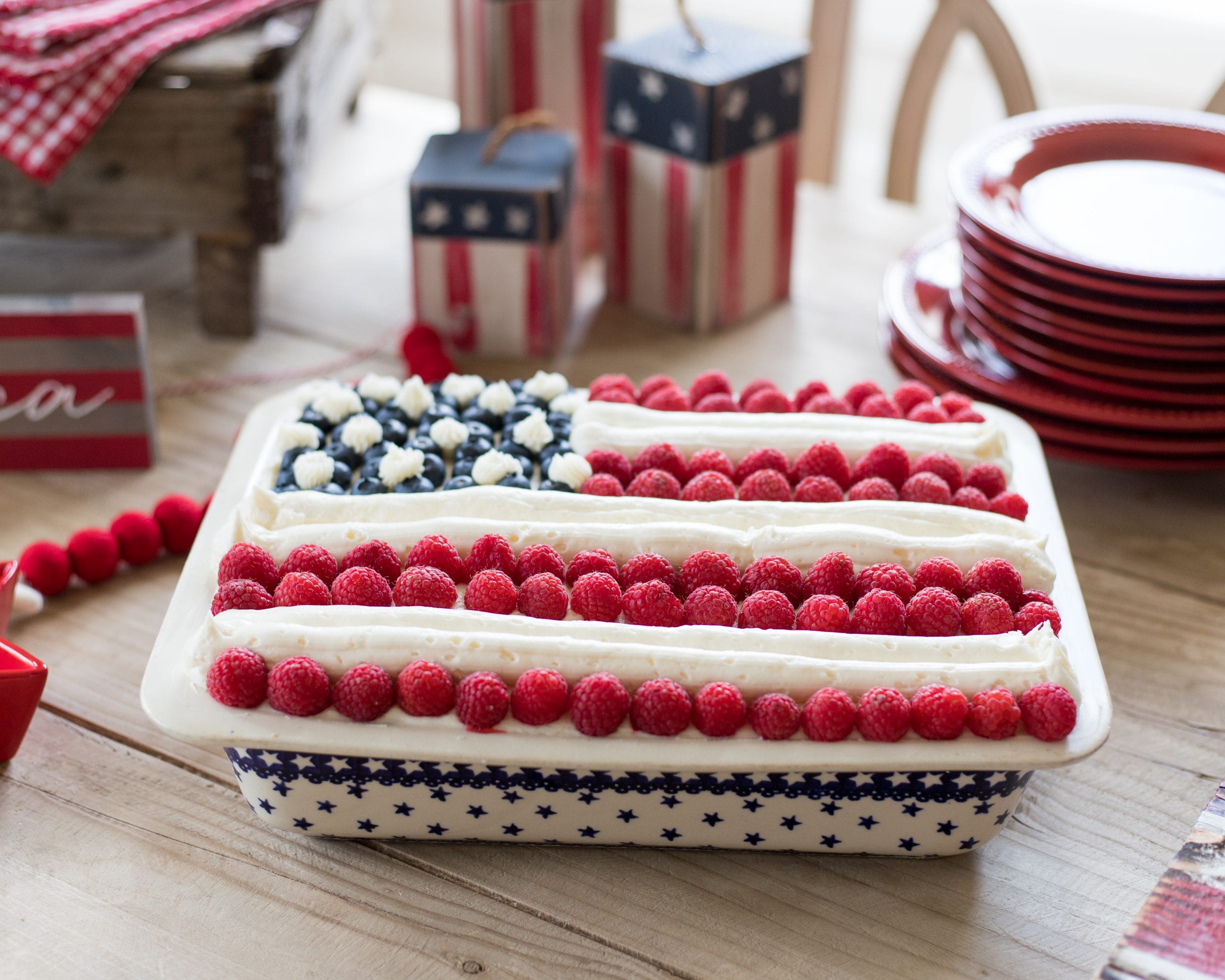 I used all my red, white, and blue dishes and checkered napkins and set them in different parts of the table. They are useful parts of the decor!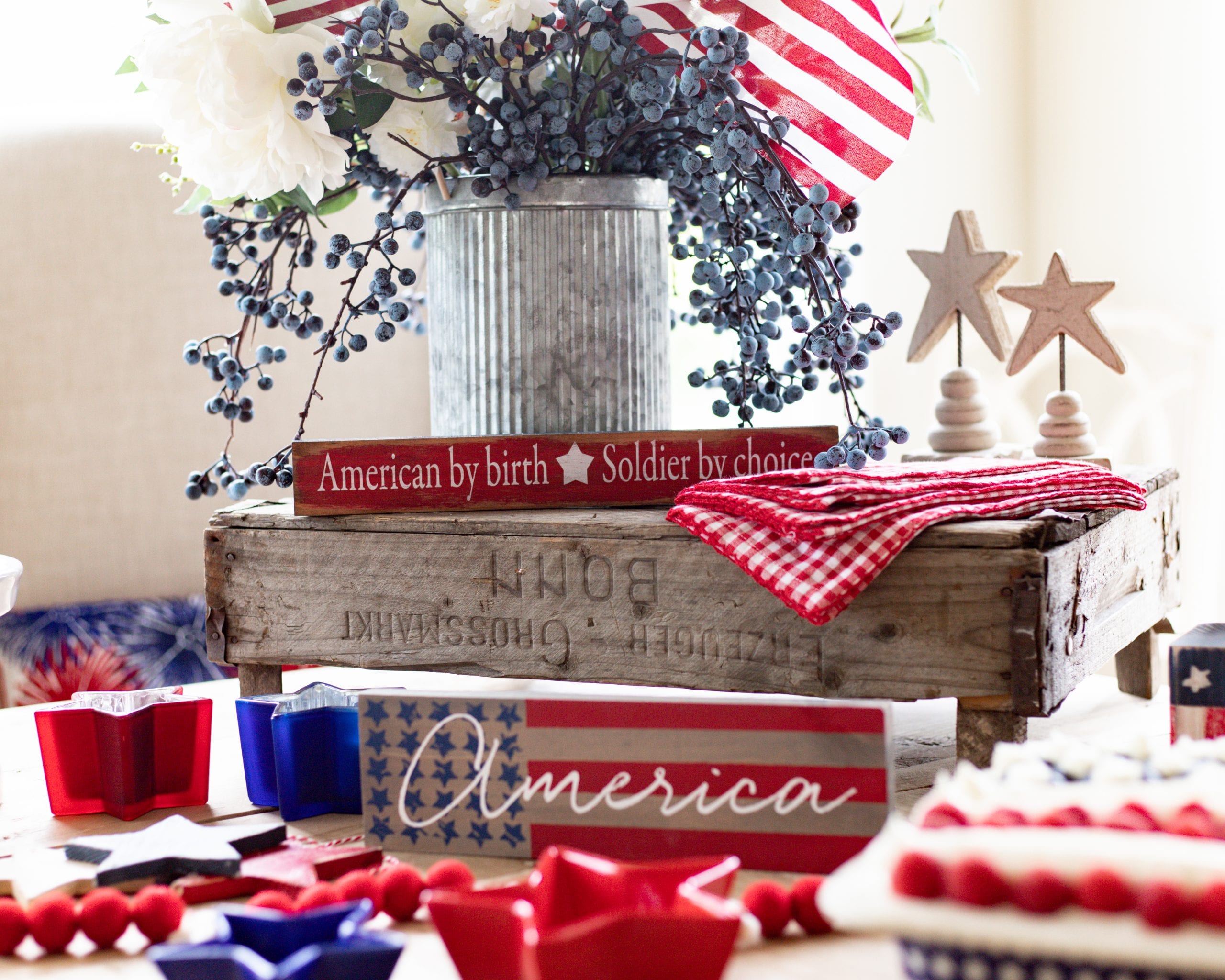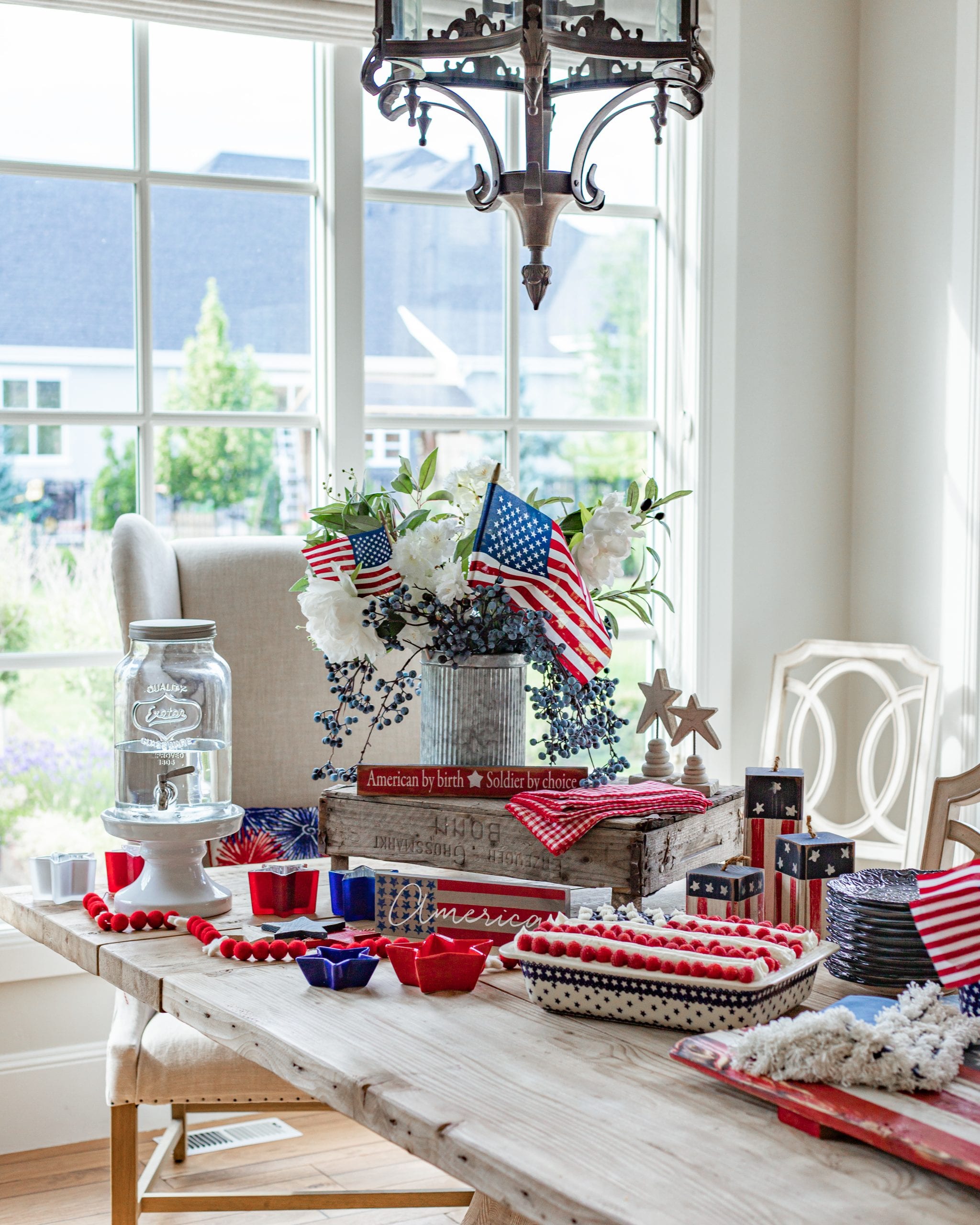 Stars and Stripes Cake
This cake was really easy to make believe it or not. I'll be sharing the recipe soon so check back for it or check the desserts section under the recipe tab. I'll link it here when I've added it to this post.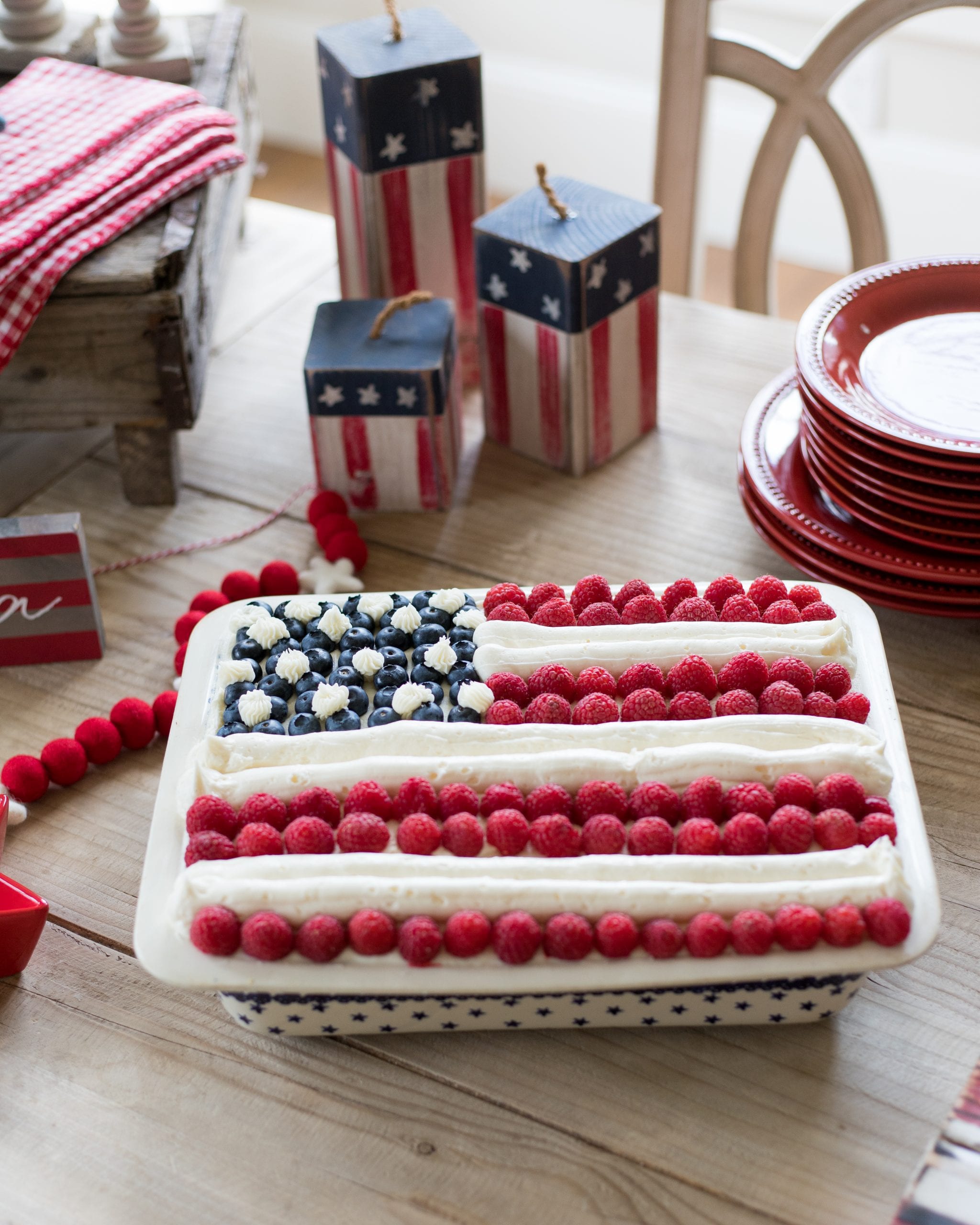 I just sort of made this up and crossed my finger it would turn out. I used a white cake and baked the cakes in sheet cake pans so they were thin. I took one layer and set it inside the polish pottery star baking dish then added a layer of cream cheese filling then another layer of cake. I then did a light layer of butter cream frosting on top and then piped the Stars and Stripes intermixed with the fruit to create the flag. This is a rustic cake and not meant to look perfect. It tasted yummy too!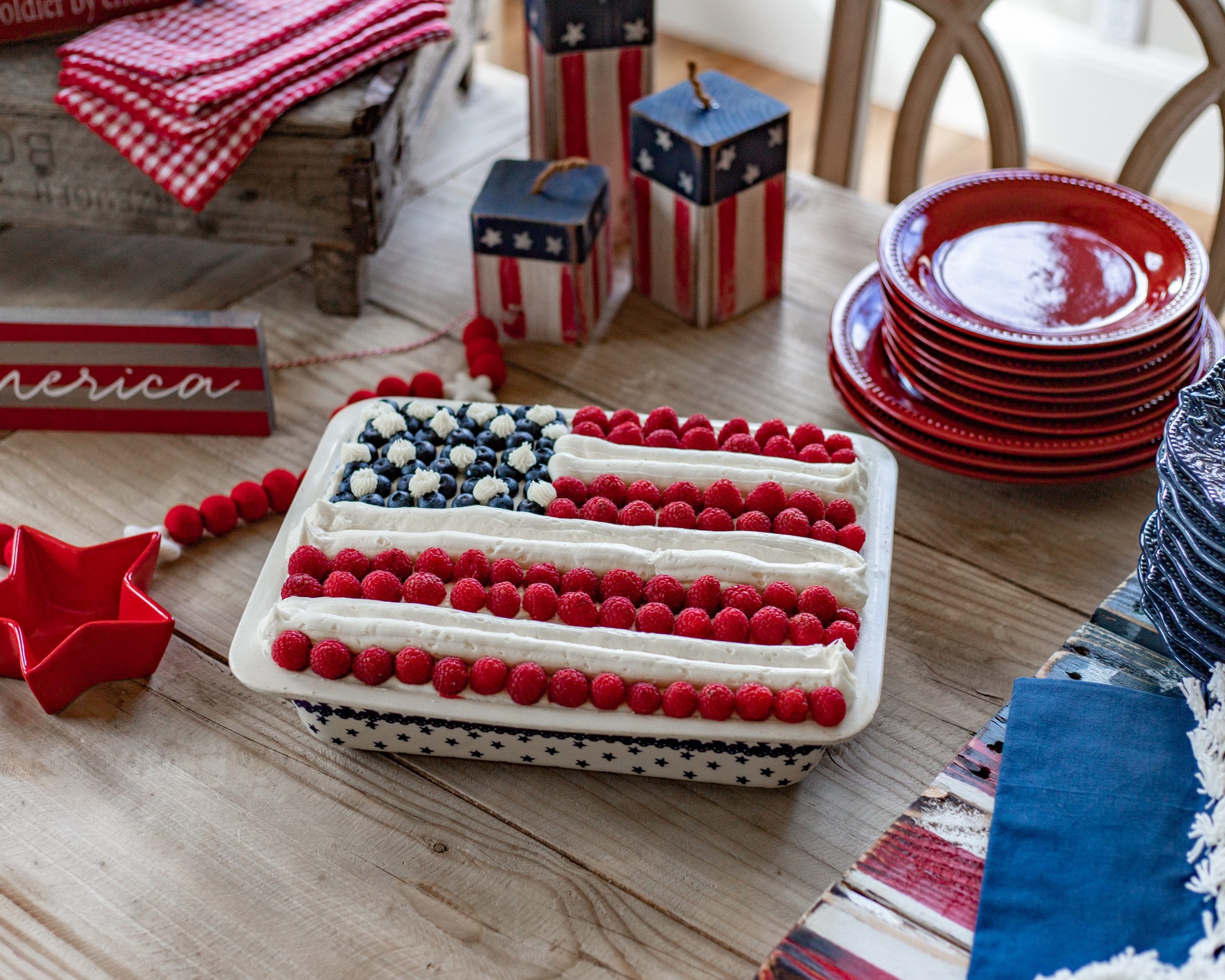 I hope you enjoyed seeing the details of my patriotic Fourth of July Tablescape. I always look forward to this holiday. Happy Fourth of July and God Bless America!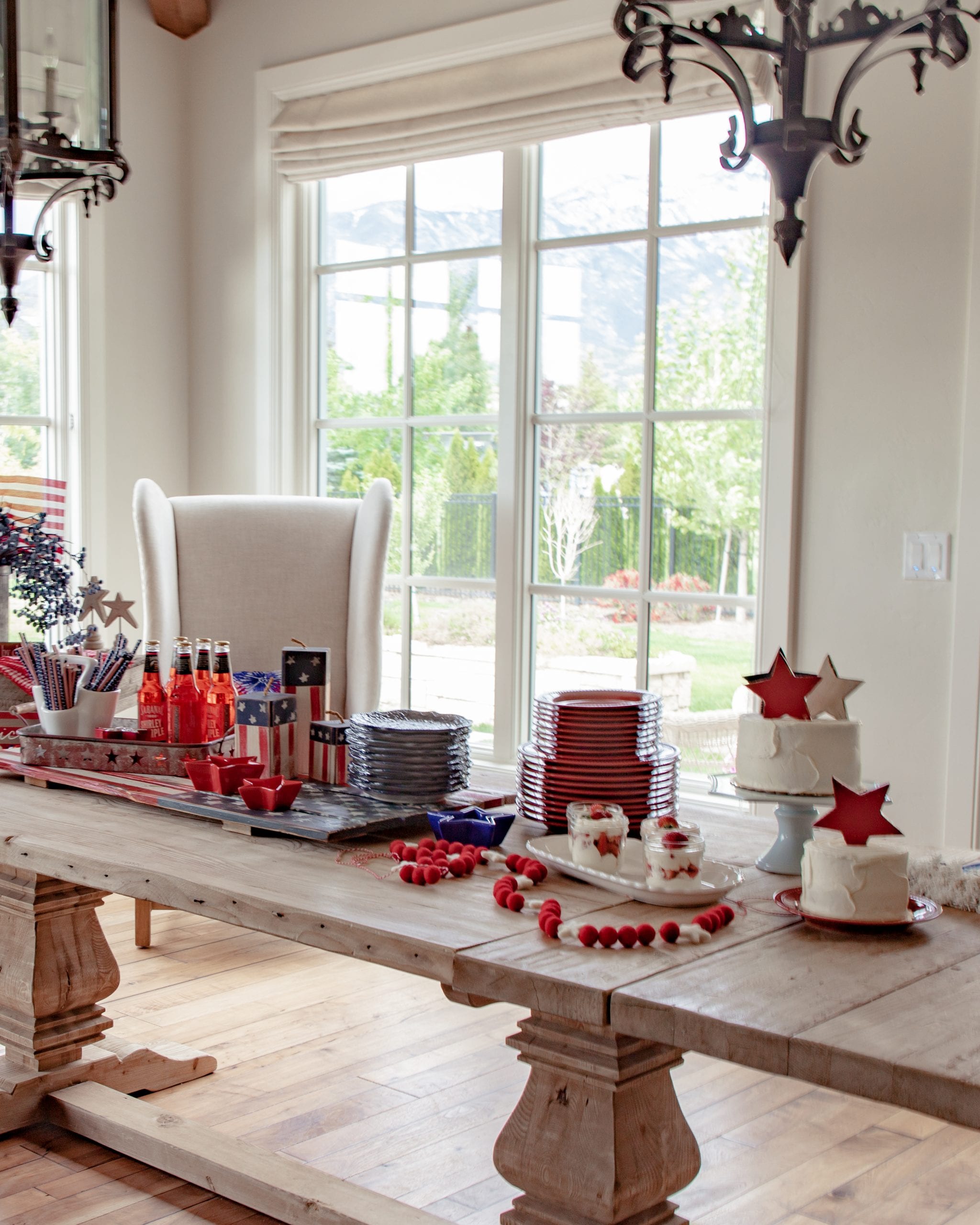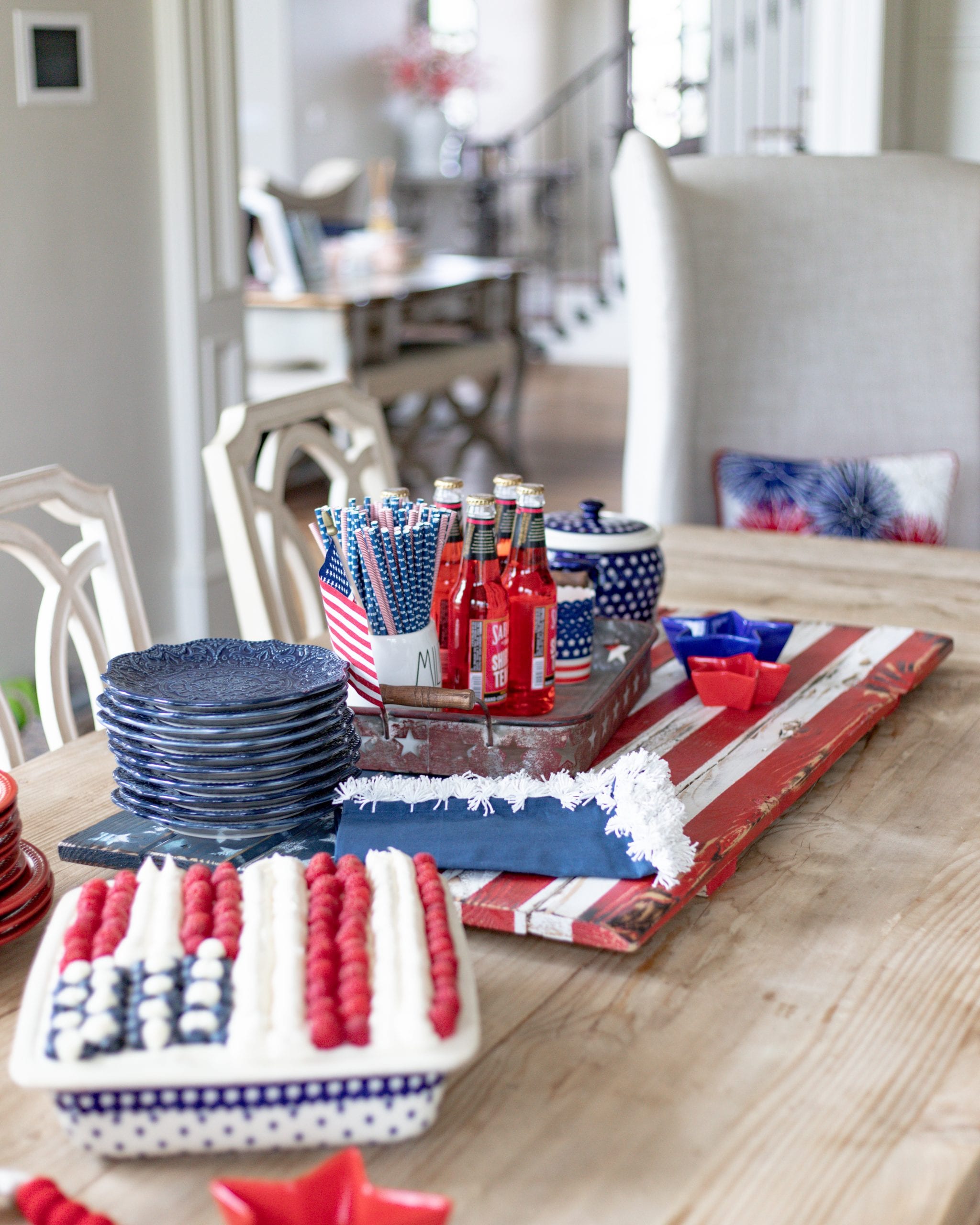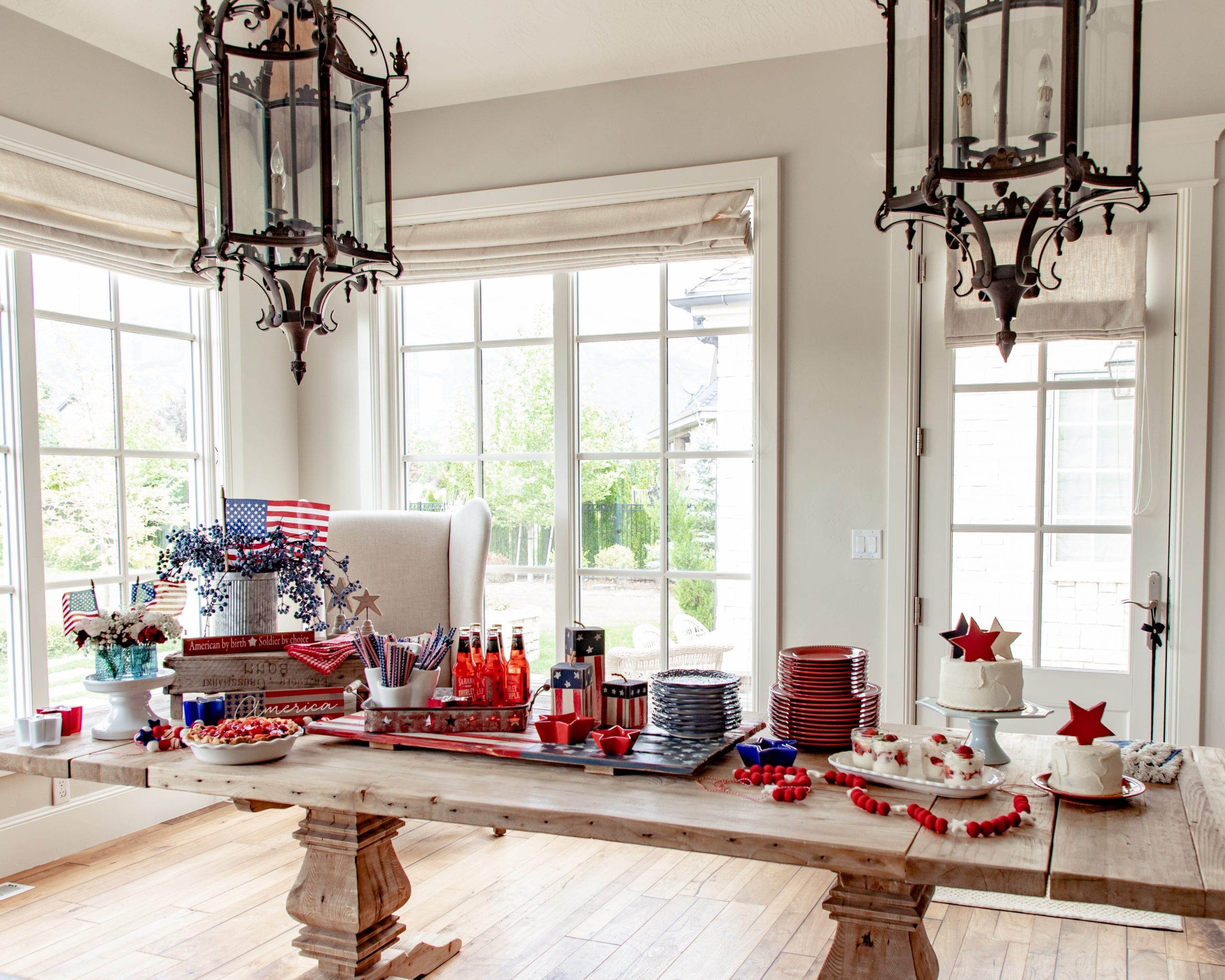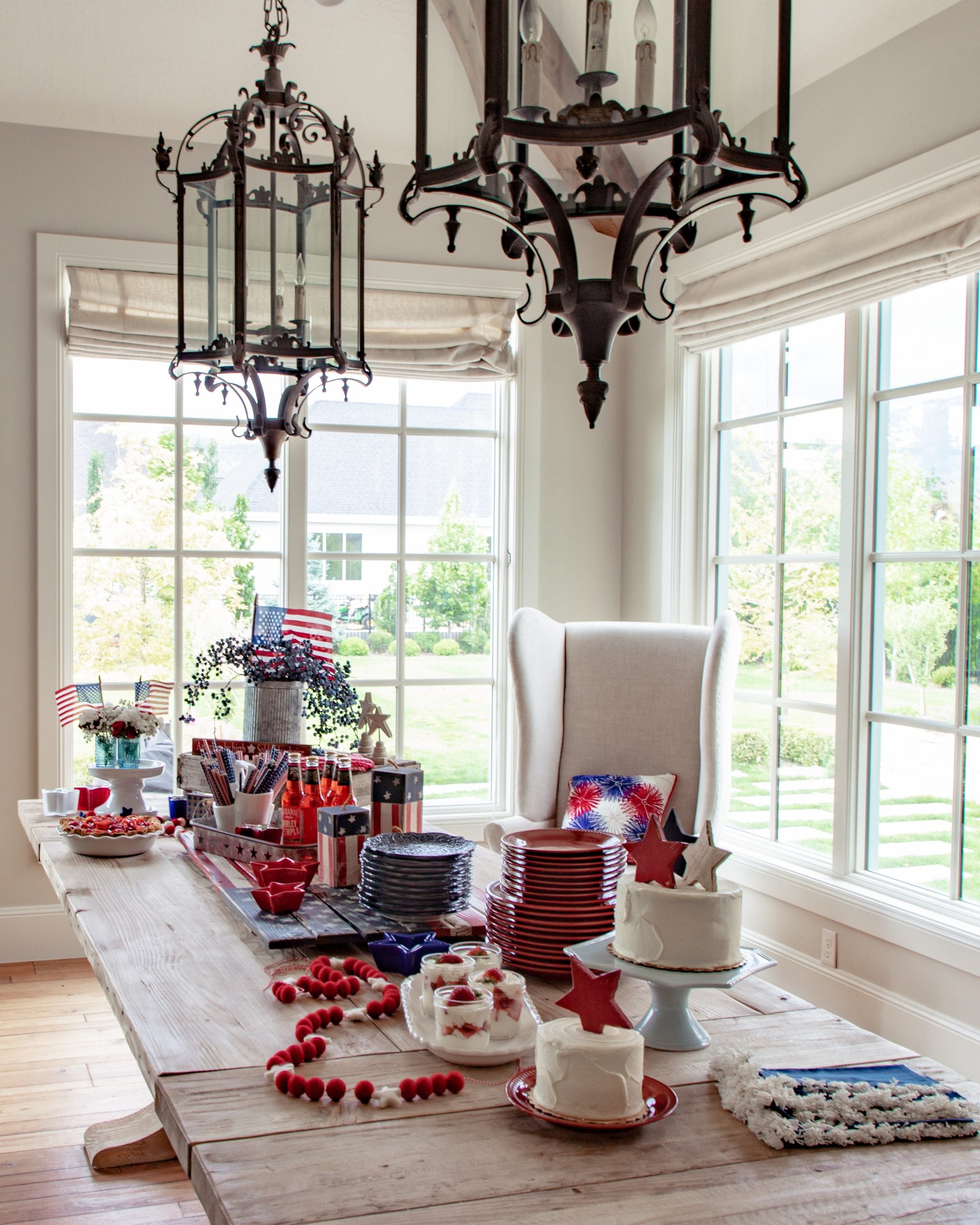 Happy Independence Day!
Sources are linked below!
XOXO,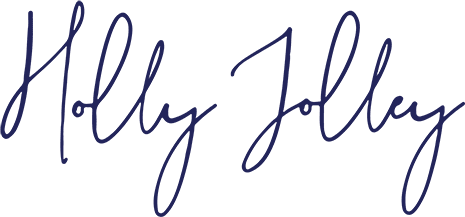 Pin For Later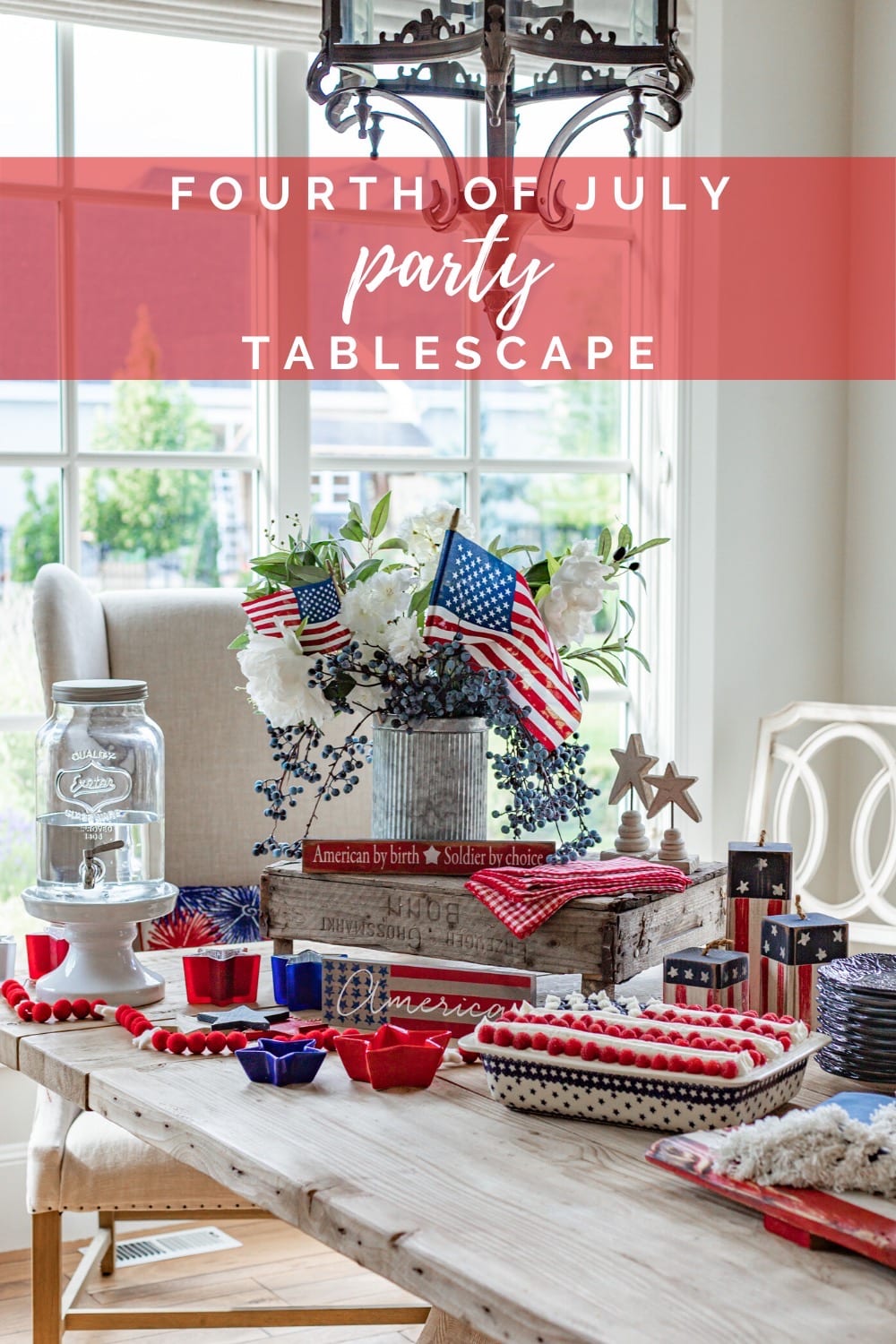 Shop the Look

Polish Pottery Sources –