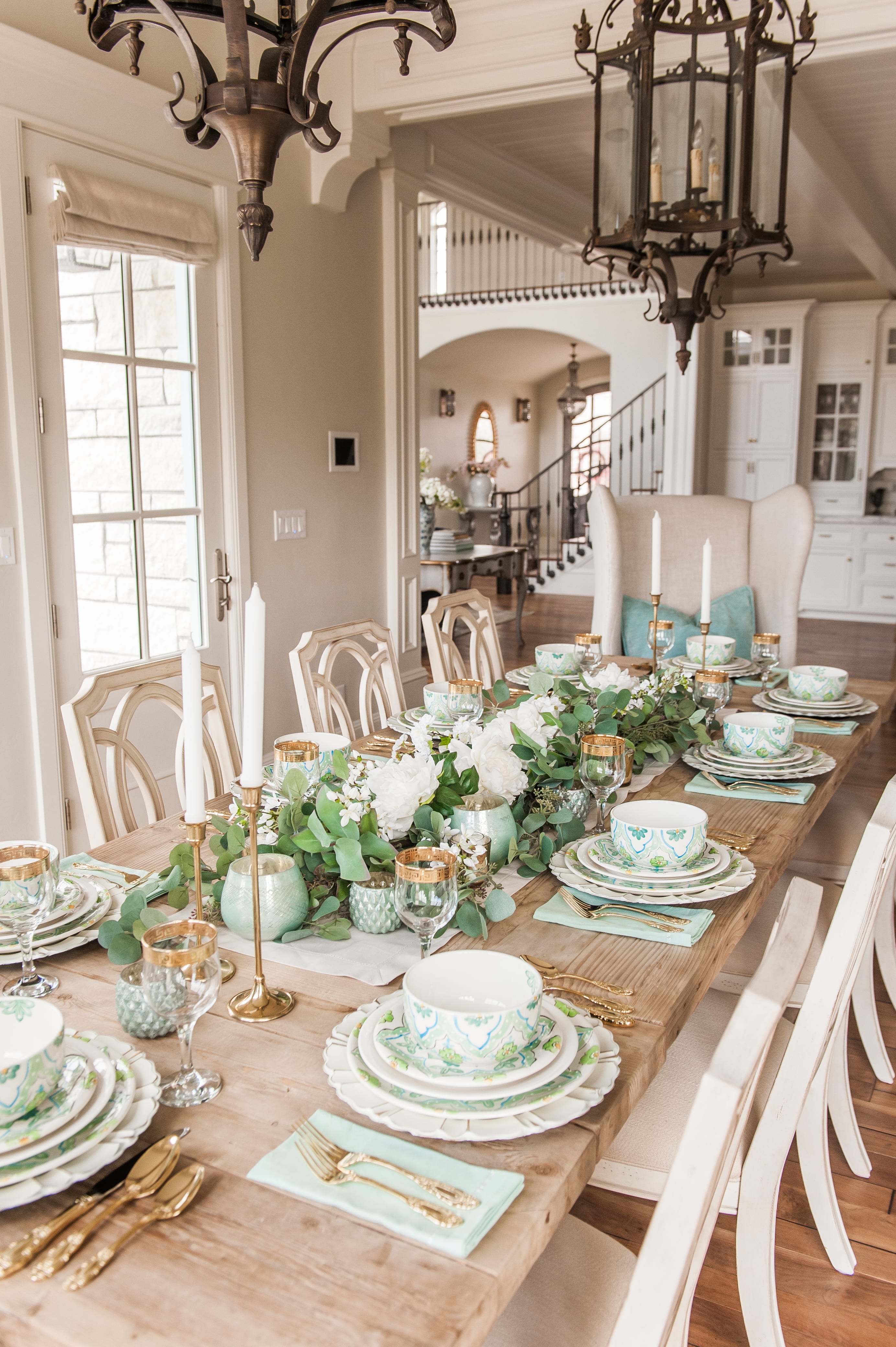 One Tablescape, Three Occasion's
I created this tablescape for St. Patricks Day but it also works well for Spring and Easter and I had these beautiful dishes with the prettiest colors of green and blue that I'd been saving for something special. I decided they would be perfect for this versatile tablescape. Creating beautiful tablescapes is something I've always loved to do and when I can create one that works for an entire season, I love it even more! It's almost a challenge to create something that I can use for multiple occasions.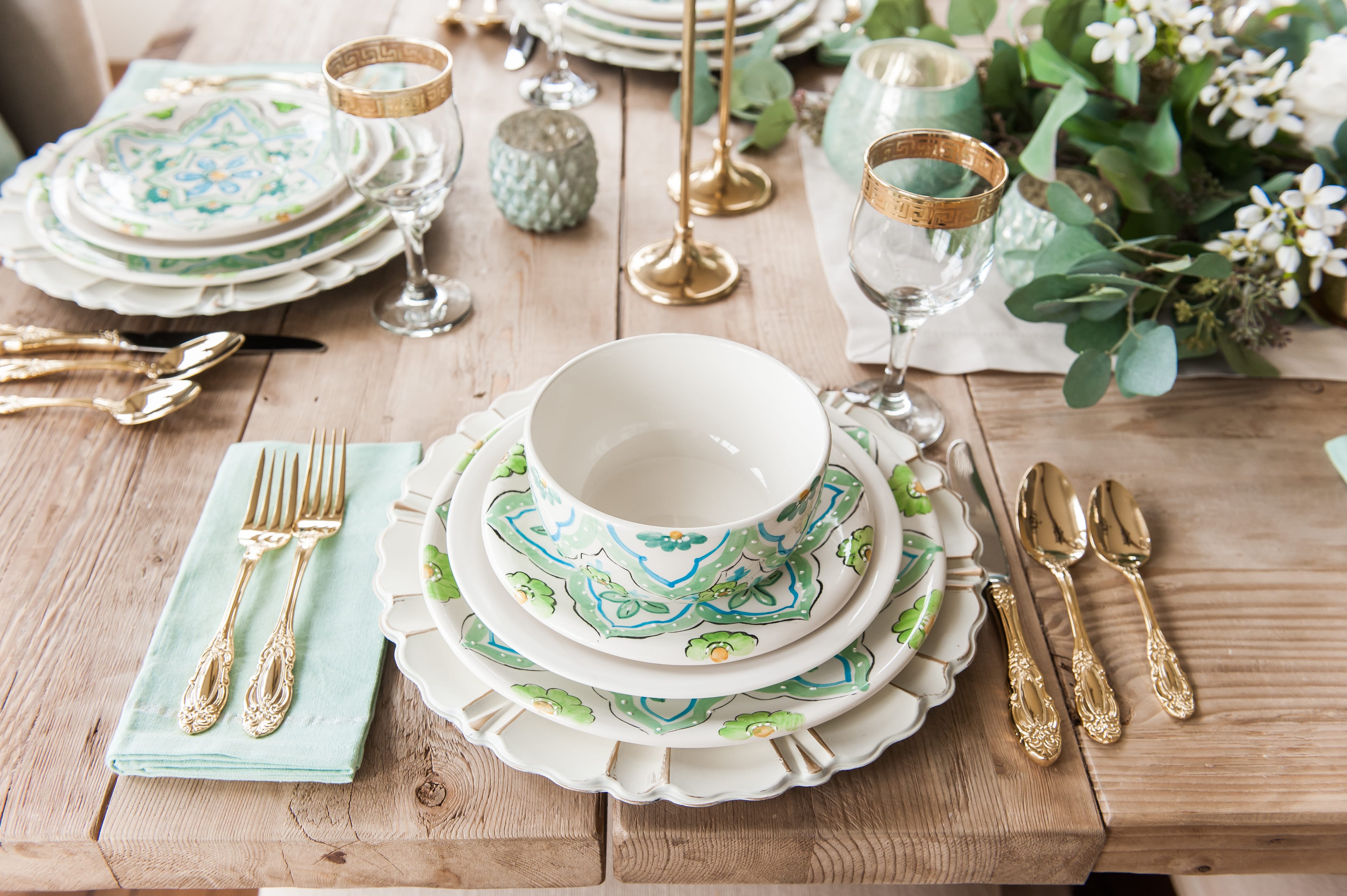 The Centerpiece
When creating a tablescape, I first start with a centerpiece or garland. Spring flowers are still a ways off so I used faux flowers. If you use quality faux flowers, they can be used again which I'm always a fan of.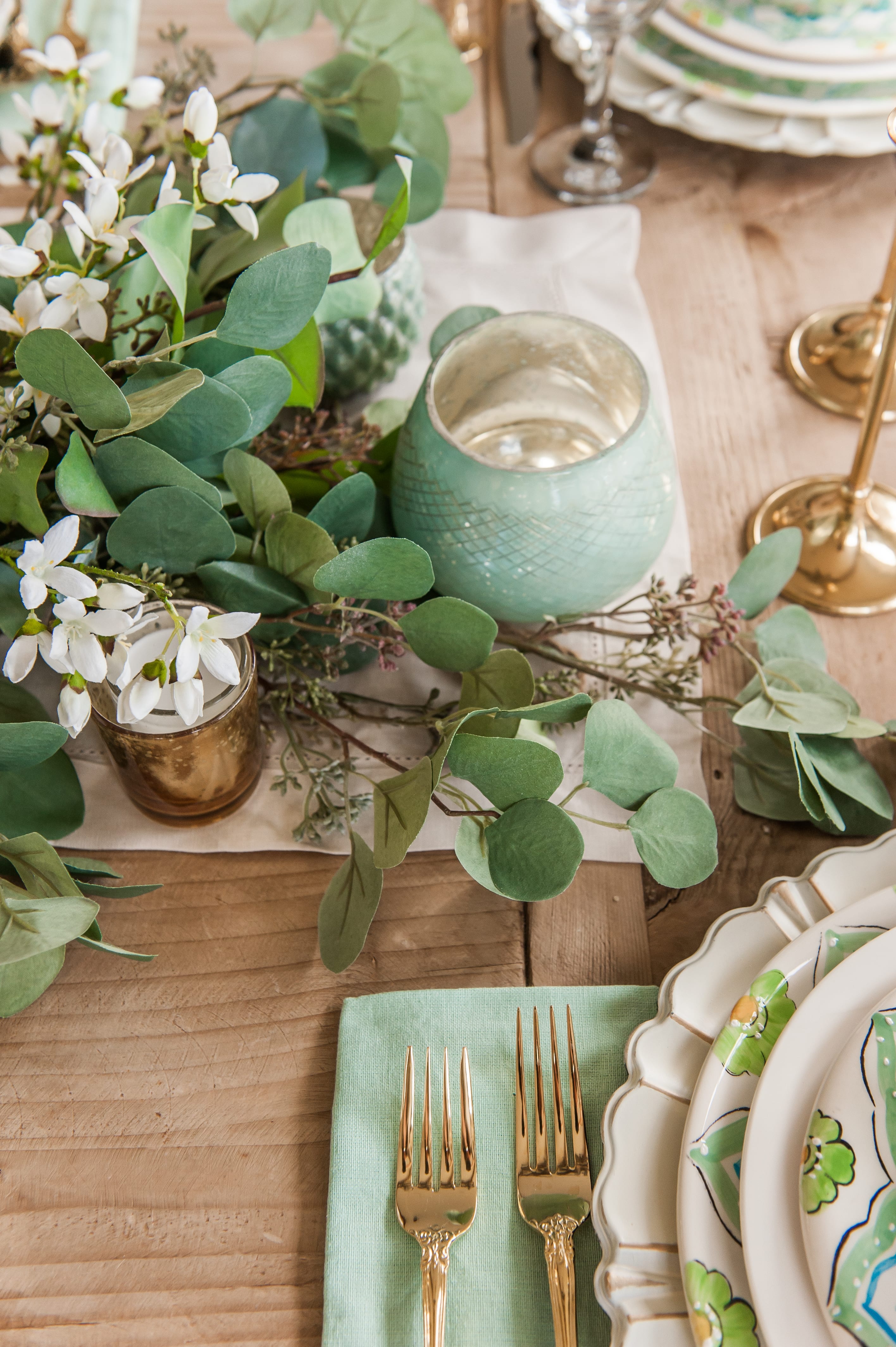 To create the centerpiece, I used a long, faux garland and laid it on top of a table-runner for the base of the centerpiece. After fluffing the garland, I start layering in the other stems and flowers. I used long stemmed faux eucalyptus, white peonies, and some other white floral stems to fill it in and then I added in some gold and teal votive candle holders and gold candlesticks. Adding the touches of gold give the table an elegant look.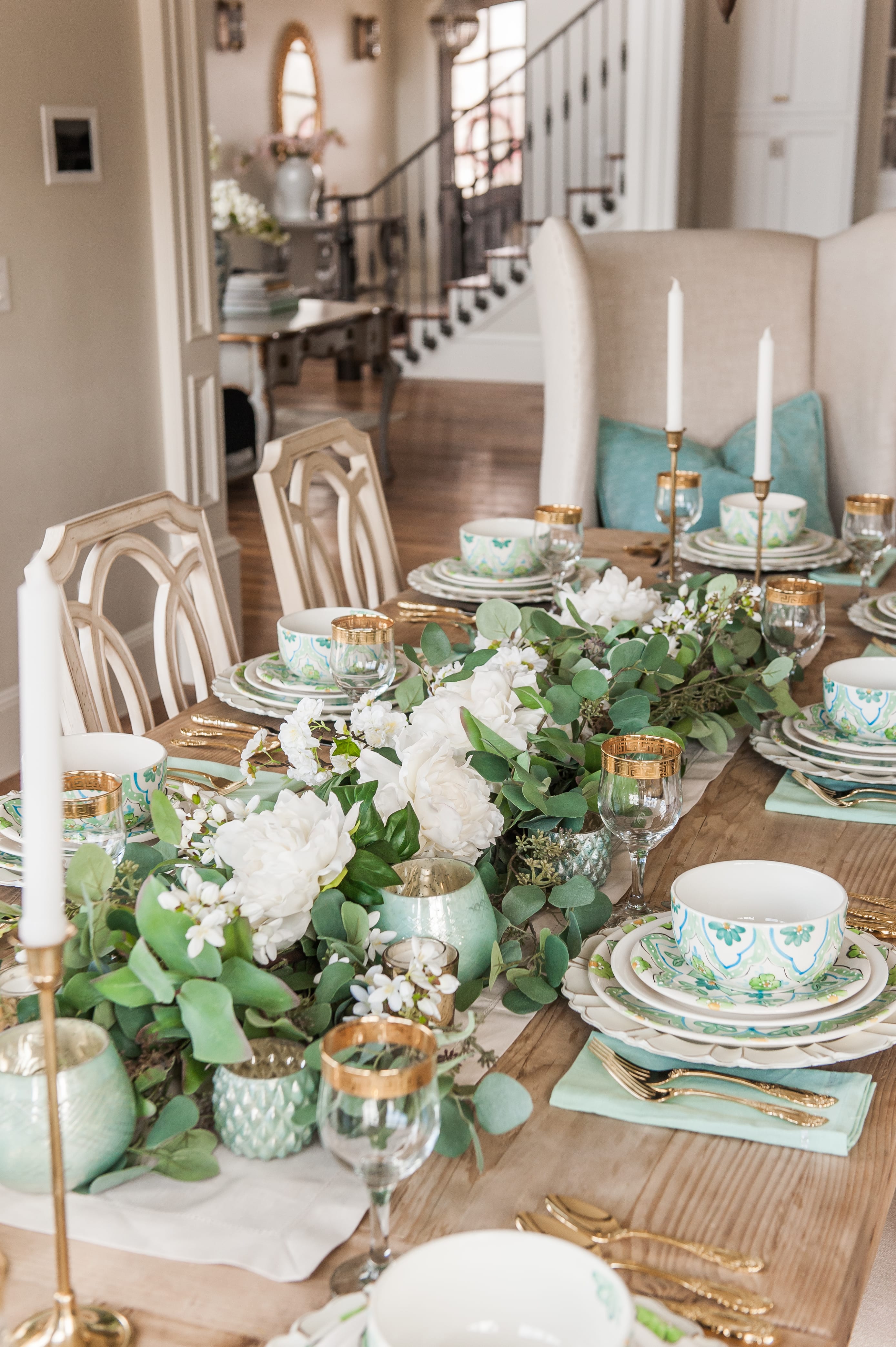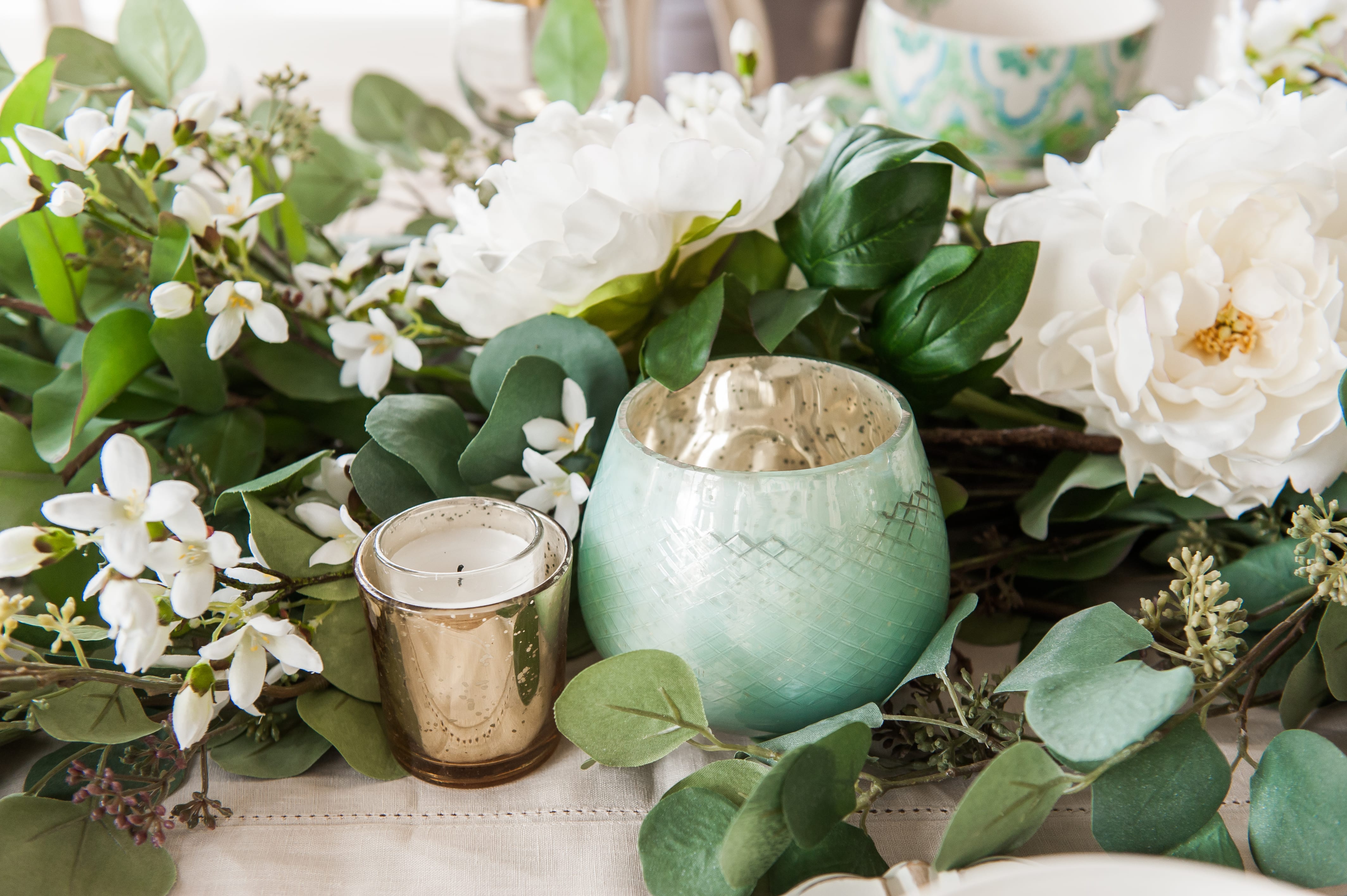 The Place-setting
For the place-setting, I chose cream colored chargers with a hint of gold and mixed in white salad plates between the the green and blue dishes. This adds some contrast and breaks up the busy pattern of the dishes. For the flatware, I used a gold set with an elegant pattern and gold rimmed stemware to coordinate with the other gold accents in the dishes and candles. I used mint green solid colored napkins and laid the flatware on top of them. The dishes have a lot going on with the pattern so I thought it would tie the colors together with a napkin that was simple.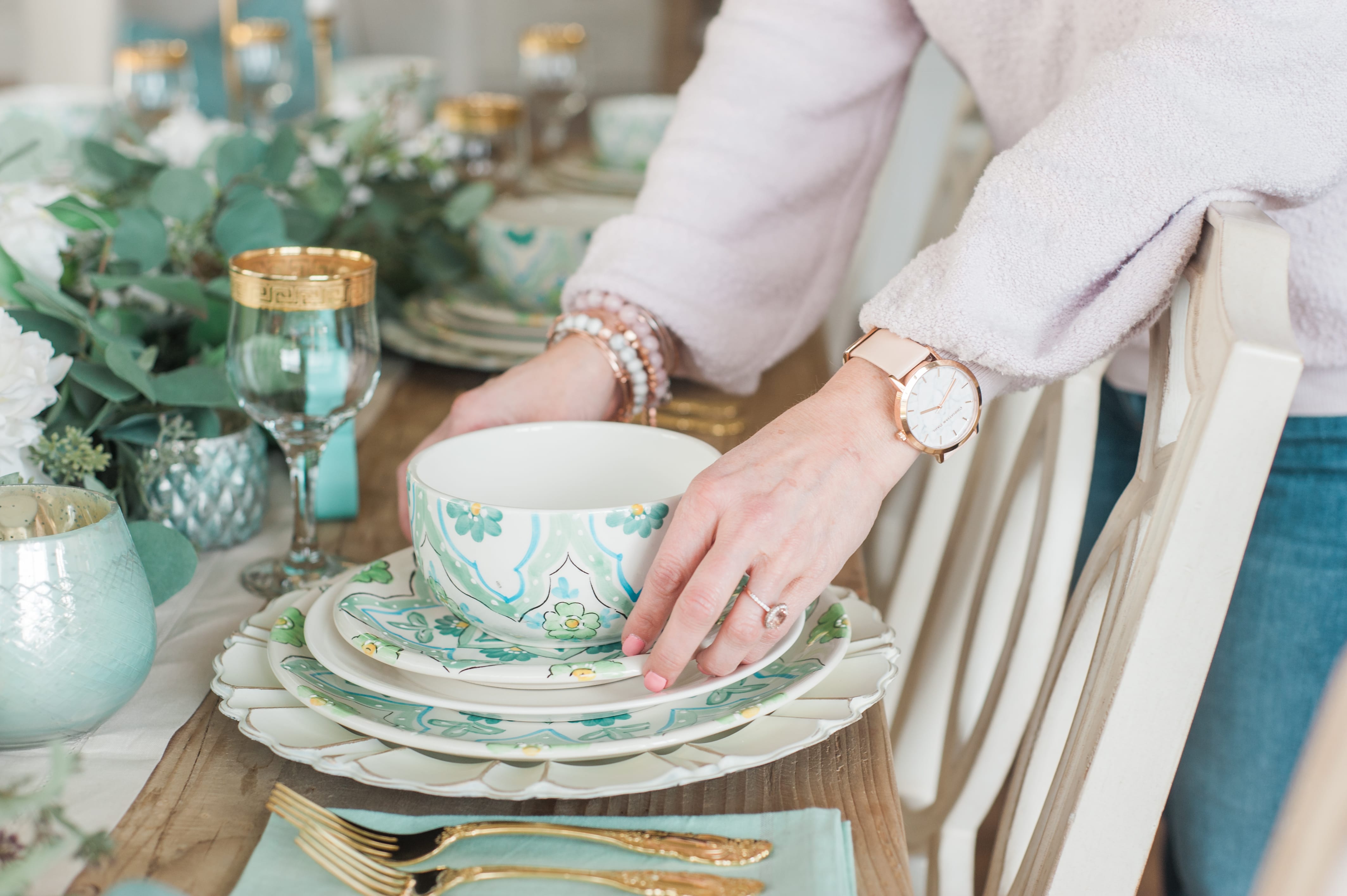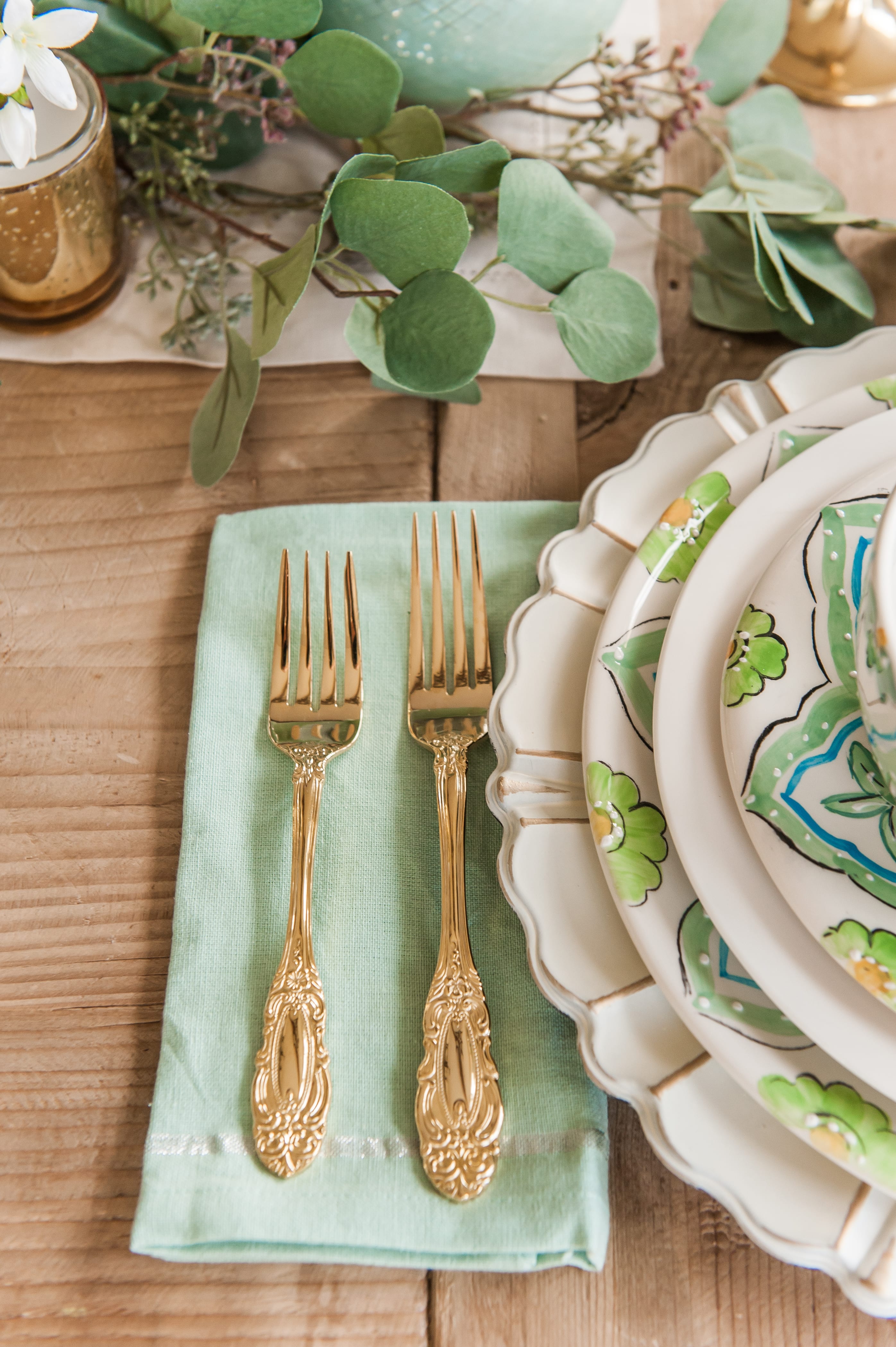 St. Patricks Day or Spring Version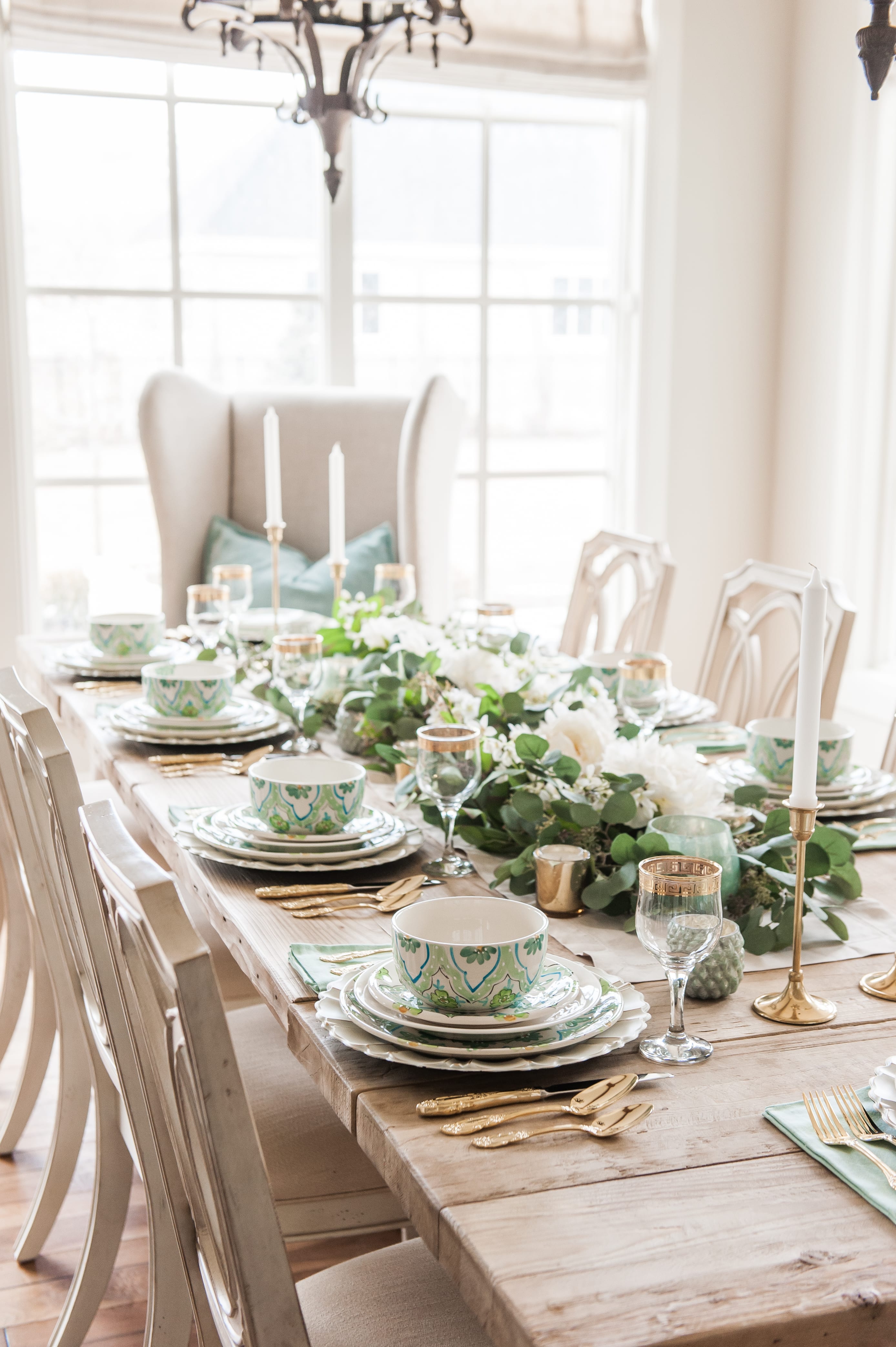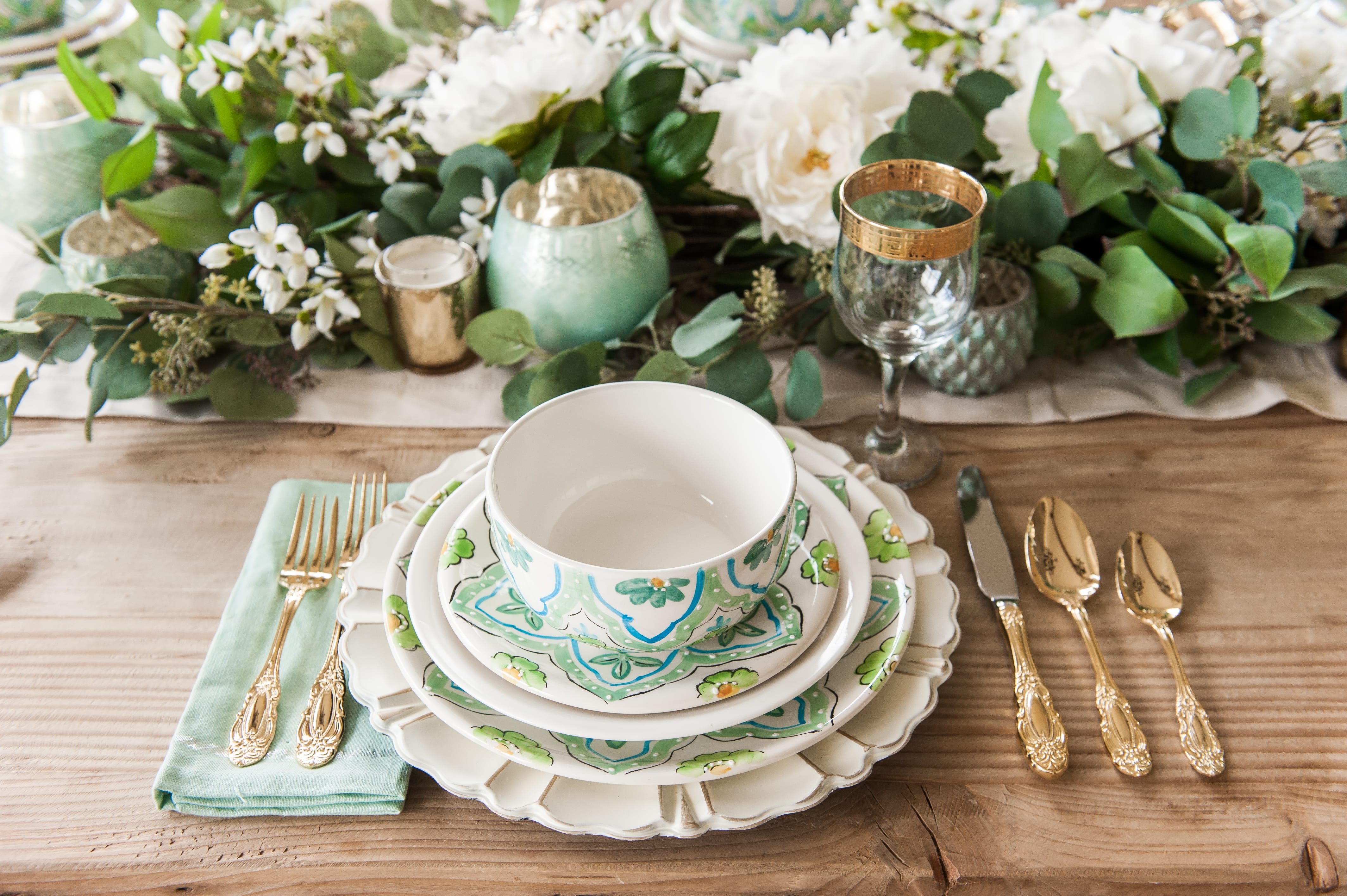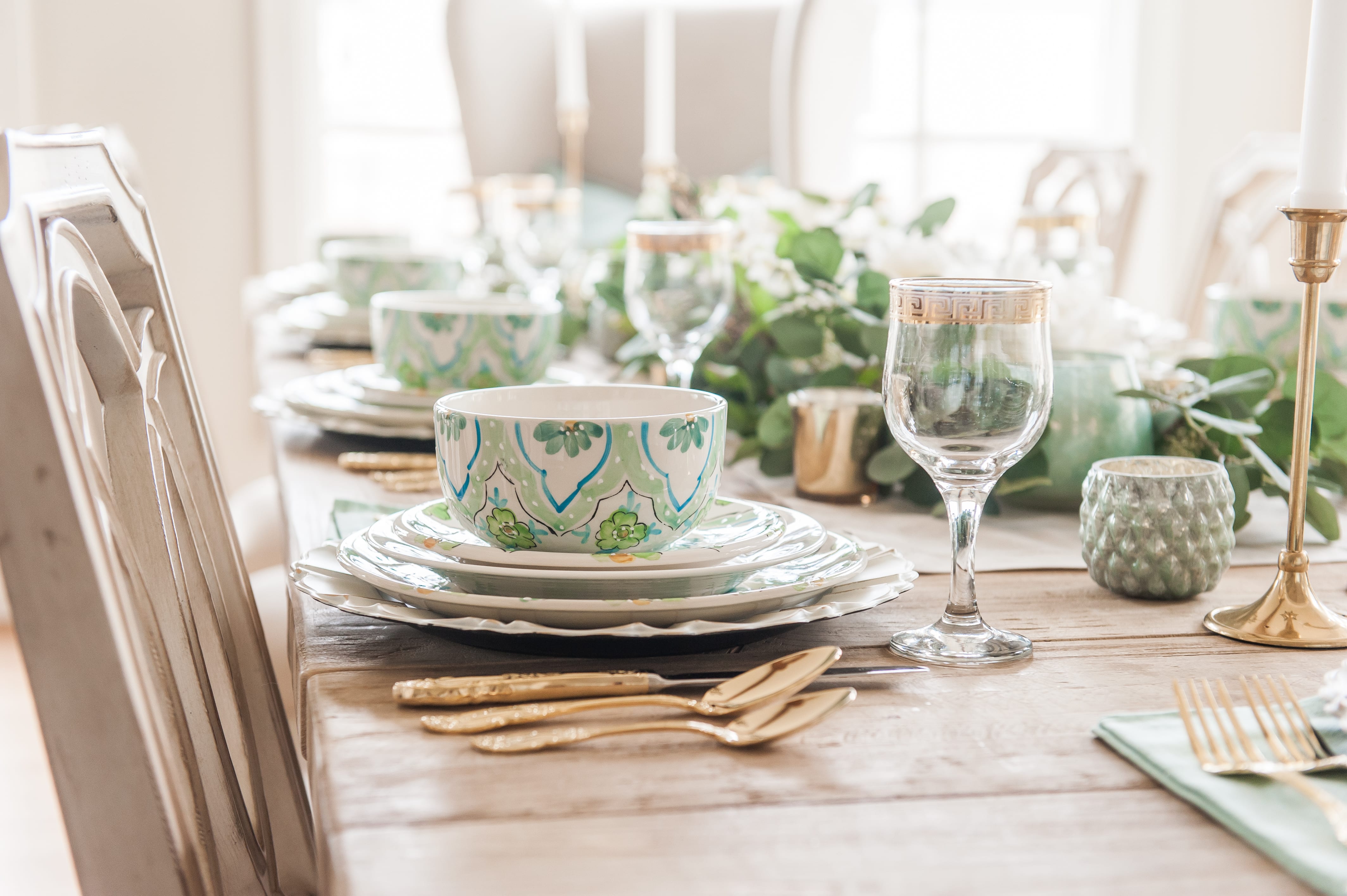 The Easter Version
For Easter, I placed an Easter sign in the middle of the table next to the garland with similar colors and then I placed small porcelain white easter bunnies and white eggs (not shown) into the garland and at the end of the tables near the candlesticks. Just a few small additions and this tablescape is now an Easter table.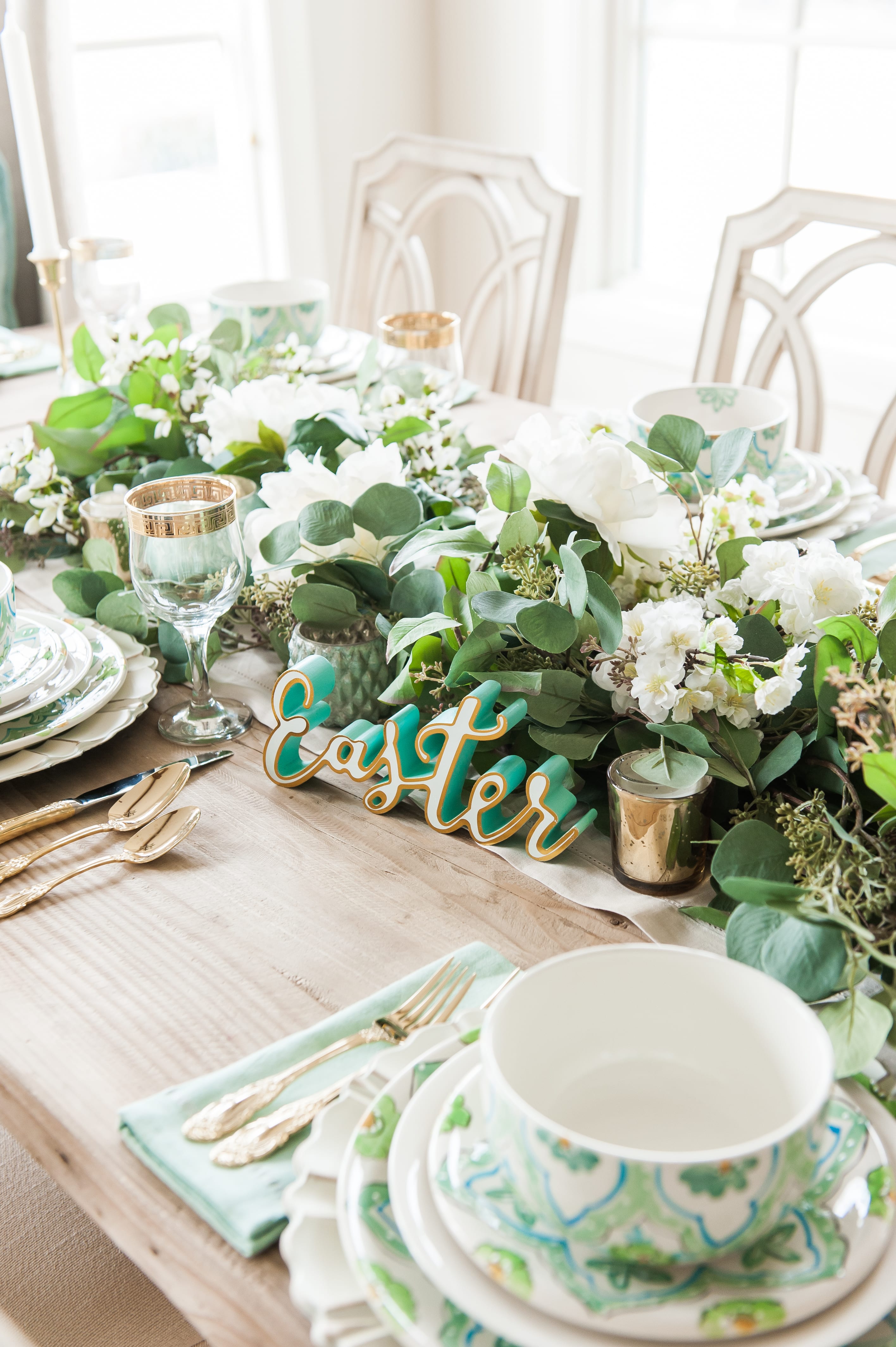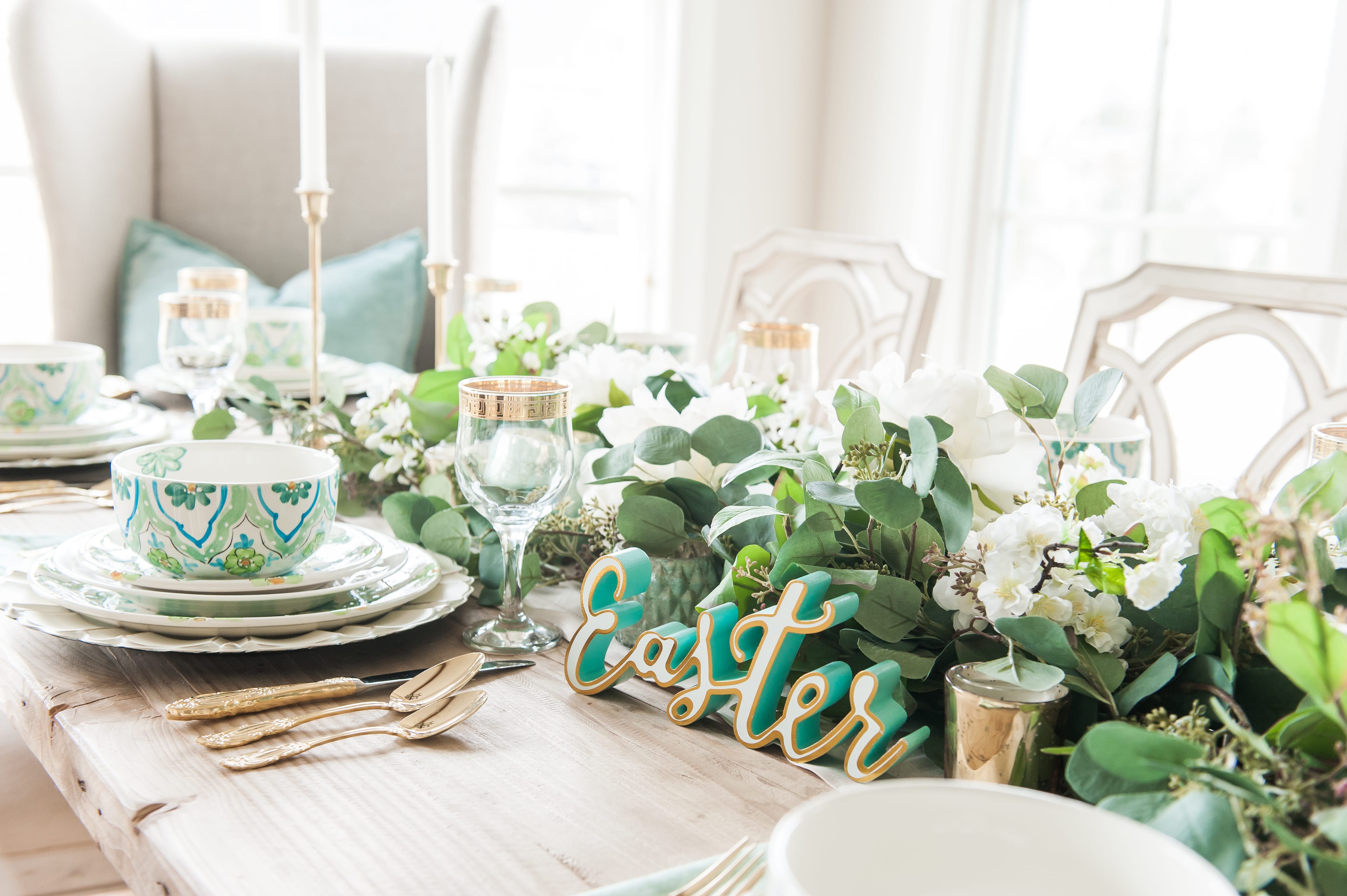 I hope you enjoyed seeing how you can create one tablescape and make it work for multiple holidays and occasions. Everything I used in this tablescape were things I already had. It's easy to change it up by switching out one of the plates, adding different napkins, flatware, or candles. The beauty always lies in the details! I hope this inspires you to create your own beautiful table to host your friends and family!
XOXO,

Shop The Post Here:

Photo Credit: Rebekah Westover @rebekahwestover