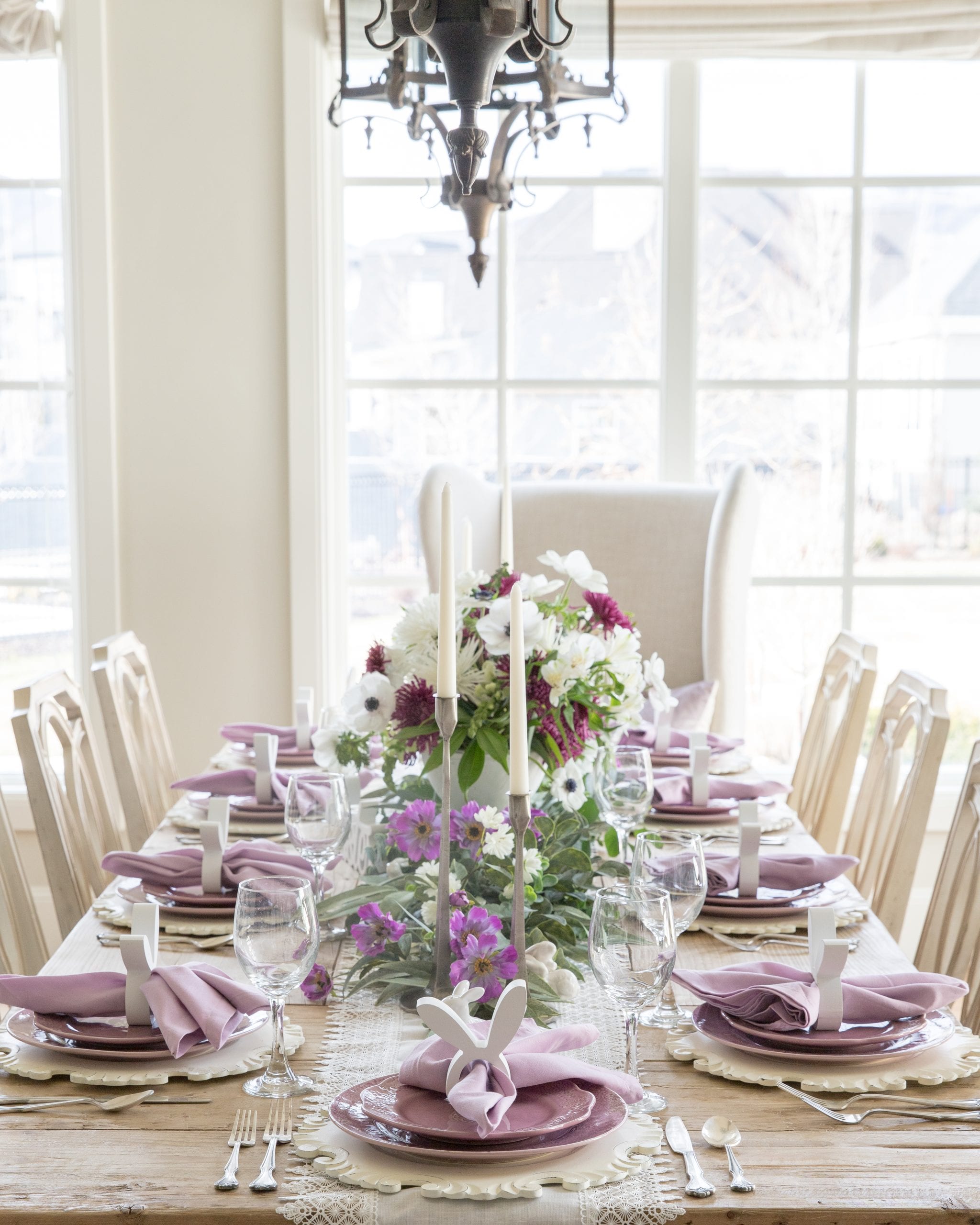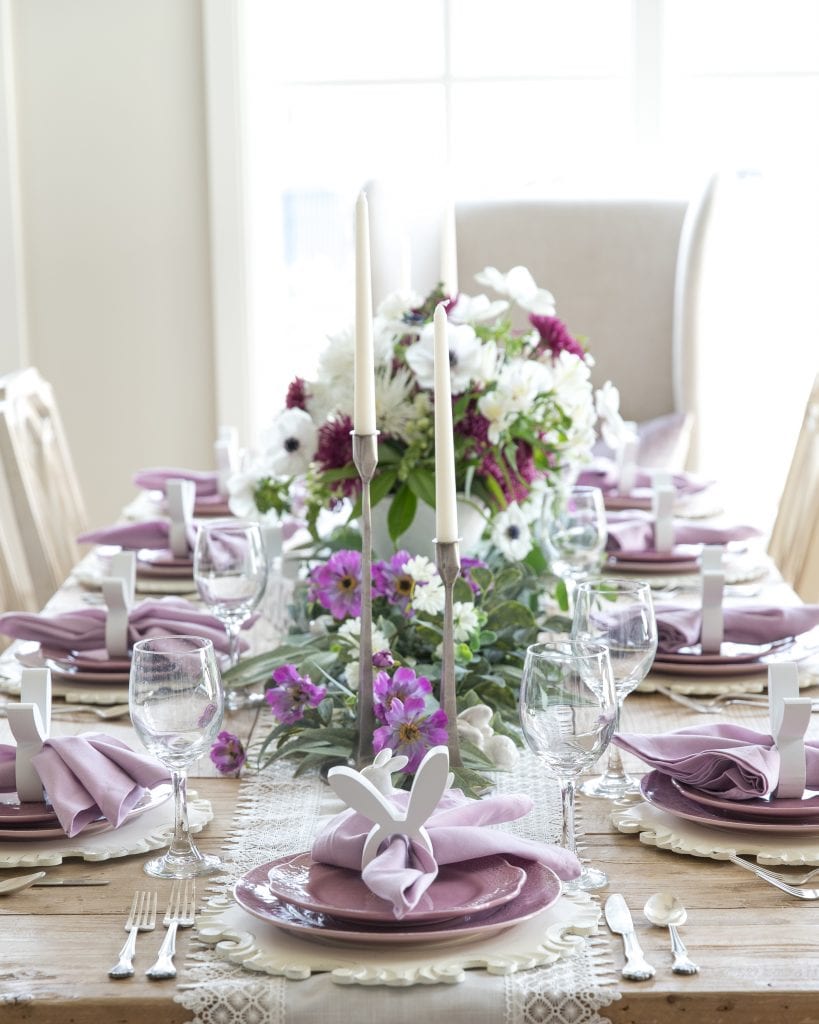 Lavender and White Easter Tablescape
Welcome friends! I'm excited to share my Lavender and White Easter Tablescape with you!
If you arrived here from Home With Holliday, I'm so exited you're here! Holliday Johnson "Holly" is Home With Holliday and I'm the other Holly at Home With HollyJ! We have become good friends after finding each other on Instagram! Holliday loves entertaining and setting a beautiful table as much as I do. We are so alike its crazy! Don't forget to check out the other ladies in our Easter Tablescape blog hop for more inspiration! I'll share the links at the bottom of the post!
It's so hard to believe that we will most likely be celebrating Easter without all our extended family due to social distancing and stay at home orders due to the corona virus pandemic. It's not looking like we will be able to attend church services on Easter Sunday or gather with our large family for Easter dinner. I know we will make the best of it and find a way to make it a special day. No matter what happens though, one thing is for sure! My Easter table will be set and ready to host whoever is here with us.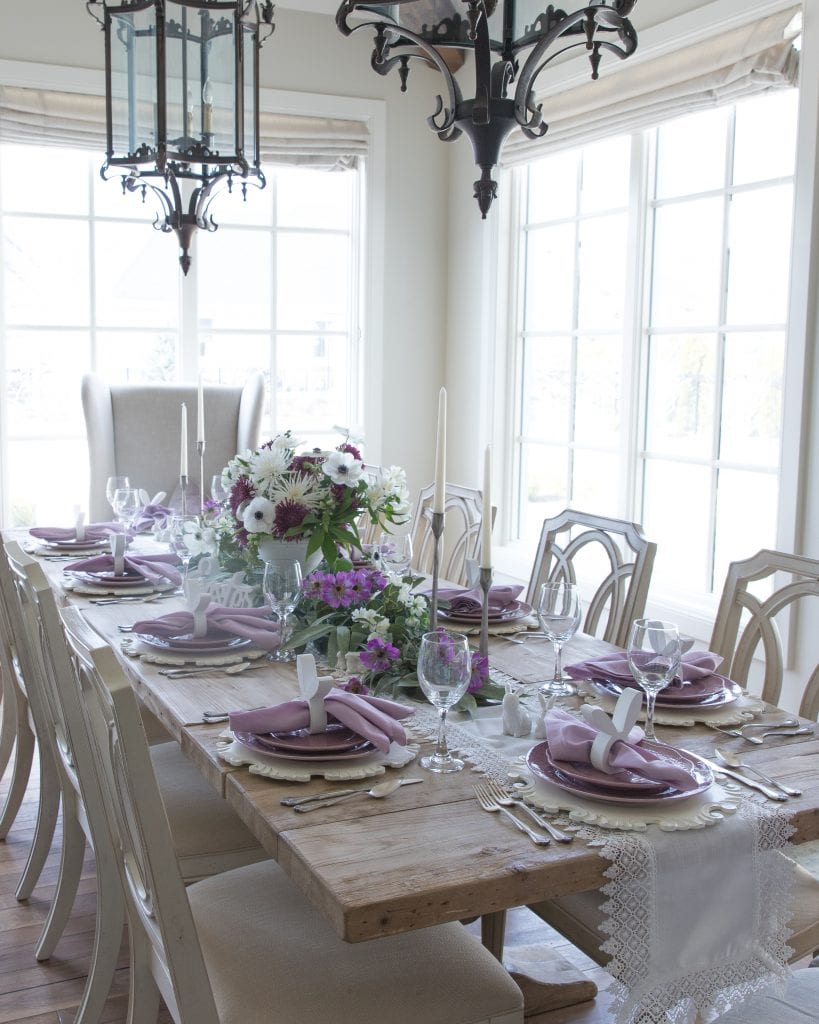 I have really been on a lavender kick lately! I keep finding the most beautiful lavender colored dishes which inspired this Lavender and White Easter Tablescape. I bought these Anthropolgie plates over the summer and have been waiting for the right time to use them. I think you'll love this tablescape just as much as I do.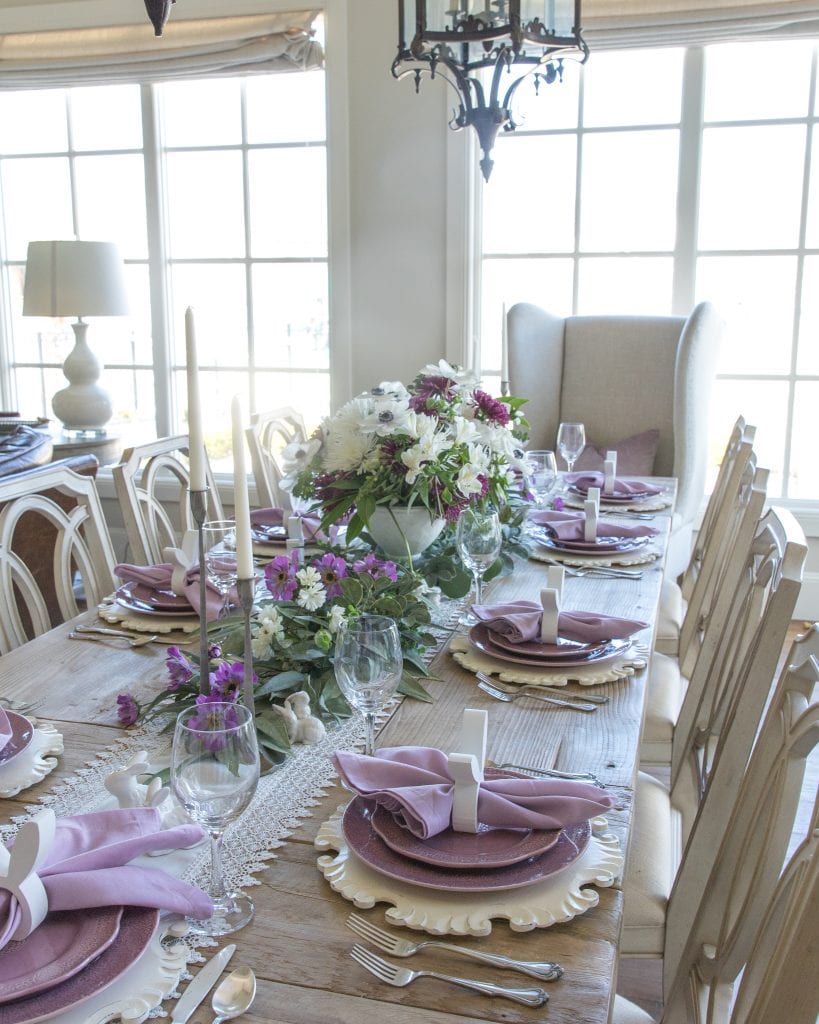 The Inspiration for this Tablescape
What inspired this tablescape? Two reasons! First. it's Easter (and spring) and a perfect time to use this color combo and second, I had another tablescape photoshoot using these purple and white poppy dishes for a collaboration I was doing for a ceramic company.I figured I'd get the most out of the centerpiece arrangement I made for that photoshoot.
Look at the flowers on the dishes I received from Bico Ceramics! The anemones look very similar to their Poppy dishes. These dishes are out of stock at the moment but when they are back, I'll link them here for you!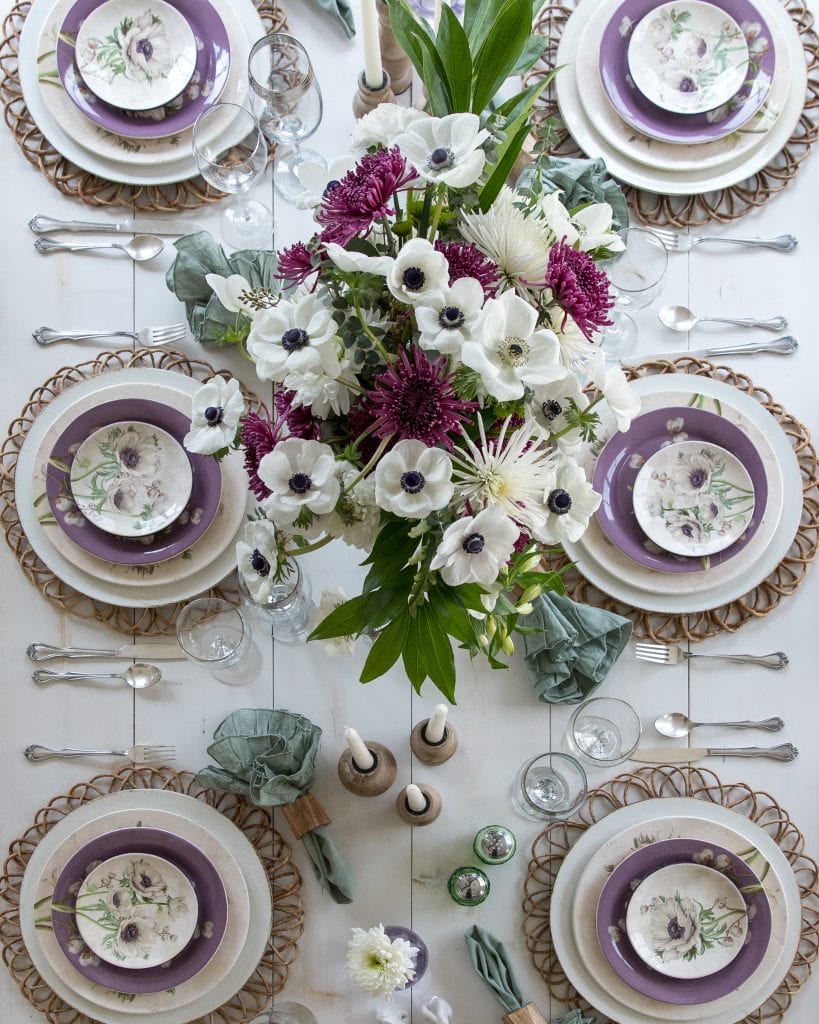 I was able to get some fresh anemone flowers from my friend Amy's beautiful flower farm while I was home in Washington. These flowers look very similar to the flowers on the dishes. (Laughing Goat Flower Farm)
Amy is a dear friend of mine and her farm is near my other home in Washington. She cut the anemones the morning I was flying back to Utah and I carried them on the plane with me for my shoot the next day. I was so happy that they lasted long enough for me to create and photograph this Easter tablescape. It's such a blessing to have a friend that grows amazing flowers and shares them with you. My photo doesn't do either the dishes or the flowers justice!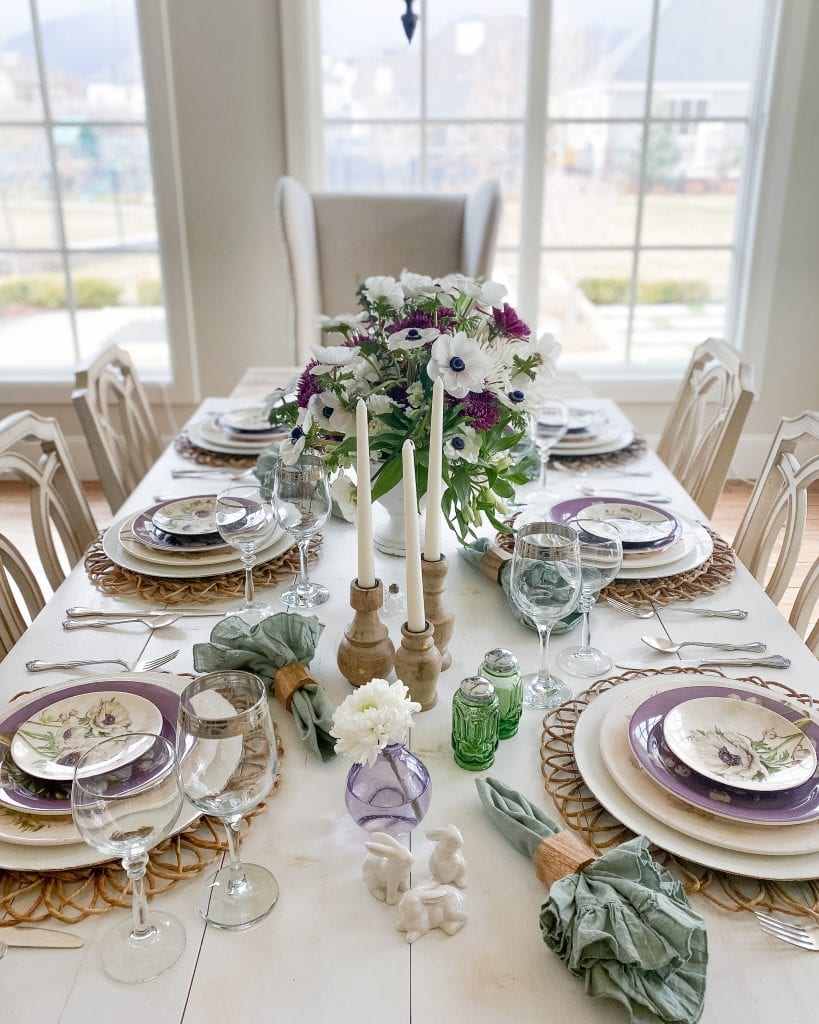 Okay! Now back to the tablescape! I just had to share a few of those photos of the other table!
The Centerpiece
I created an asymmetrical centerpiece for the middle of the table using the anemones from Amy's farm and then filled in the rest with store bought flowers.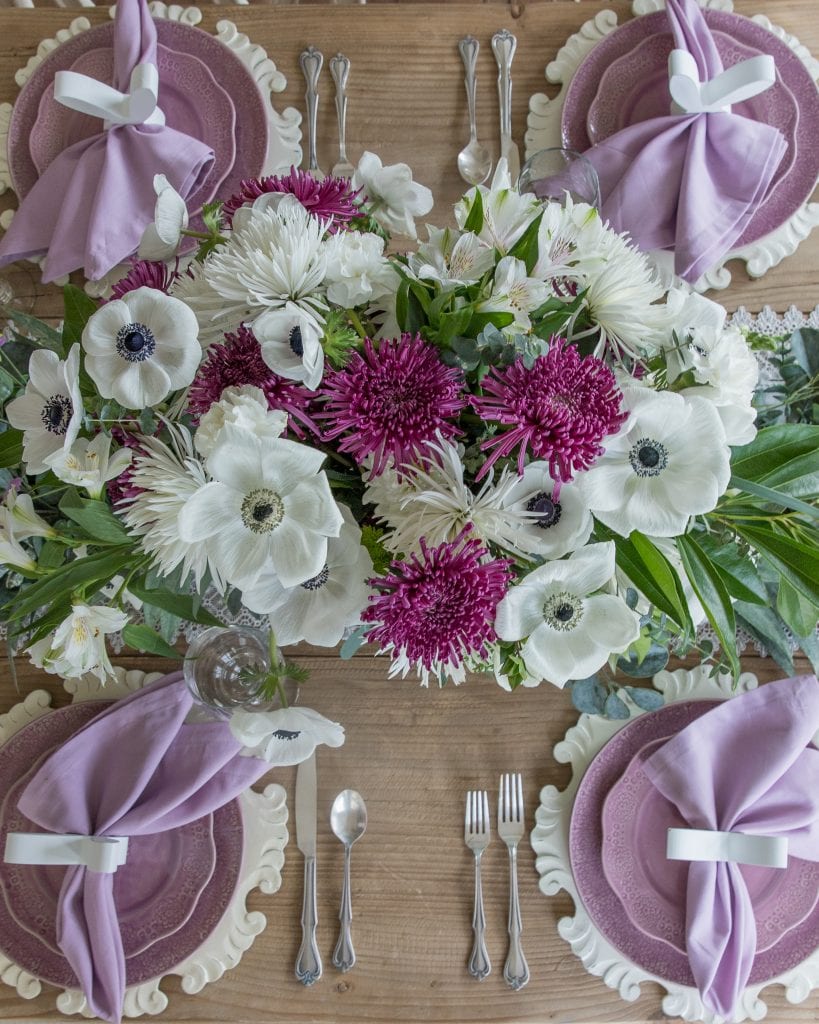 By the time I was ready to shoot the second tablescape, the purple color in the center of the anemones had faded some but they were still beautiful. I kept the centerpiece in the refrigerator which helped it to last longer.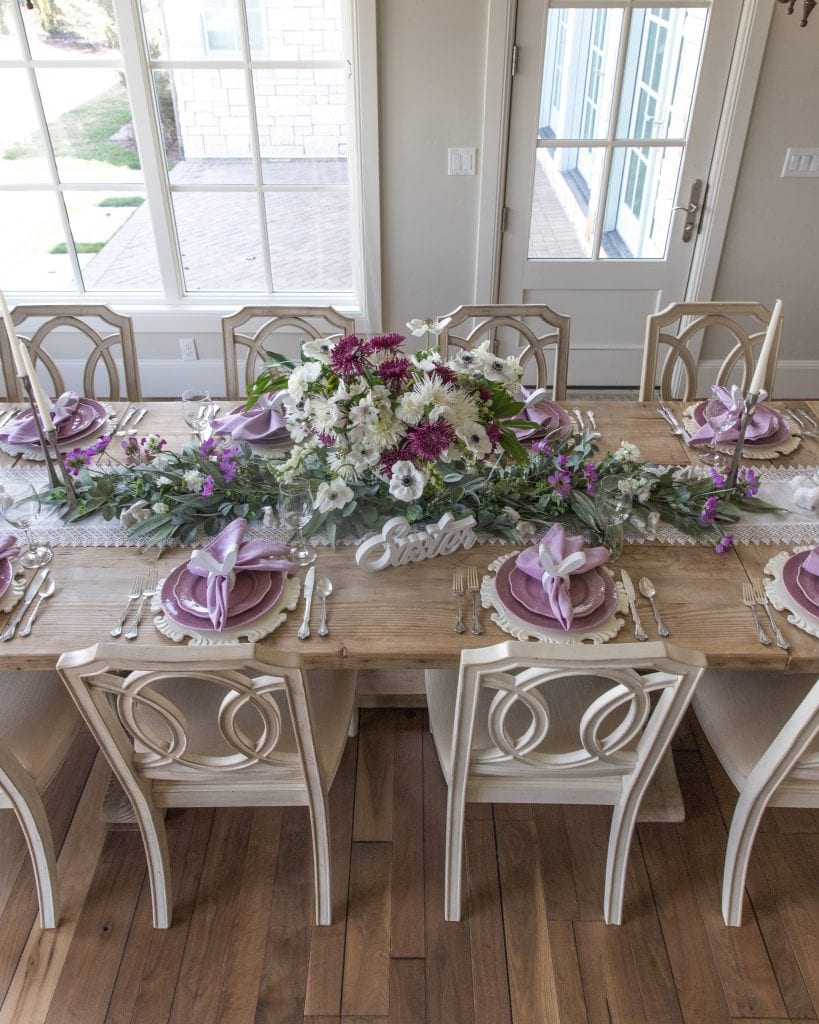 Since my table is so large, it can feel a little empty in the middle with just one large centerpiece. To fill in the space some, I pulled out some artificial greenery and layered it on either side of the centerpiece. I then added a few faux flower stems into it. Can you tell the difference between the fresh and faux flowers? I often mix fresh and faux flowers depending on what I'm doing and if what I need isn't in season. The good thing about faux is they never die and you can use them many times over if you take care of them and store them properly. I still prefer fresh flowers of course, but sometimes you just use what you have!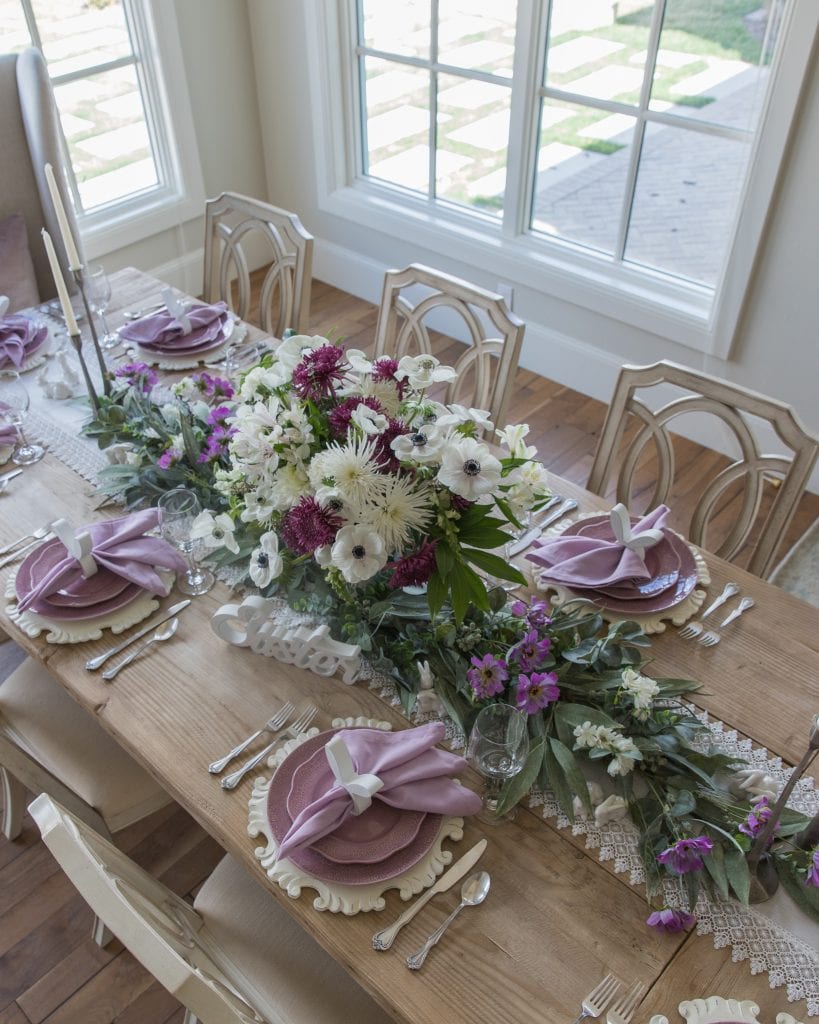 Lastly, I added the white Easter sign from Krumpets Home Decor in the middle of the table and tucked some small white ceramic bunnies throughout the garland. I then added these bunny salt and pepper shakers on either end of the table. Right when I was finished setting the table and getting ready to photograph it, the rustic candlesticks I had ordered from Magnolia arrived! Just in time! I love how they tie into the rustic silverware I used.
I forgot to mention the table runner! It's actually two of them! (HomeGoods) My table is so long that I have to buy two of them usually so that they hang over the edge. You don't have to have them hang over the edge though and one will work too. I just like to change it up and these lace table runners are so pretty. Another white element in the table to compliment the lavender dishes and tie into the charger and napkin rings.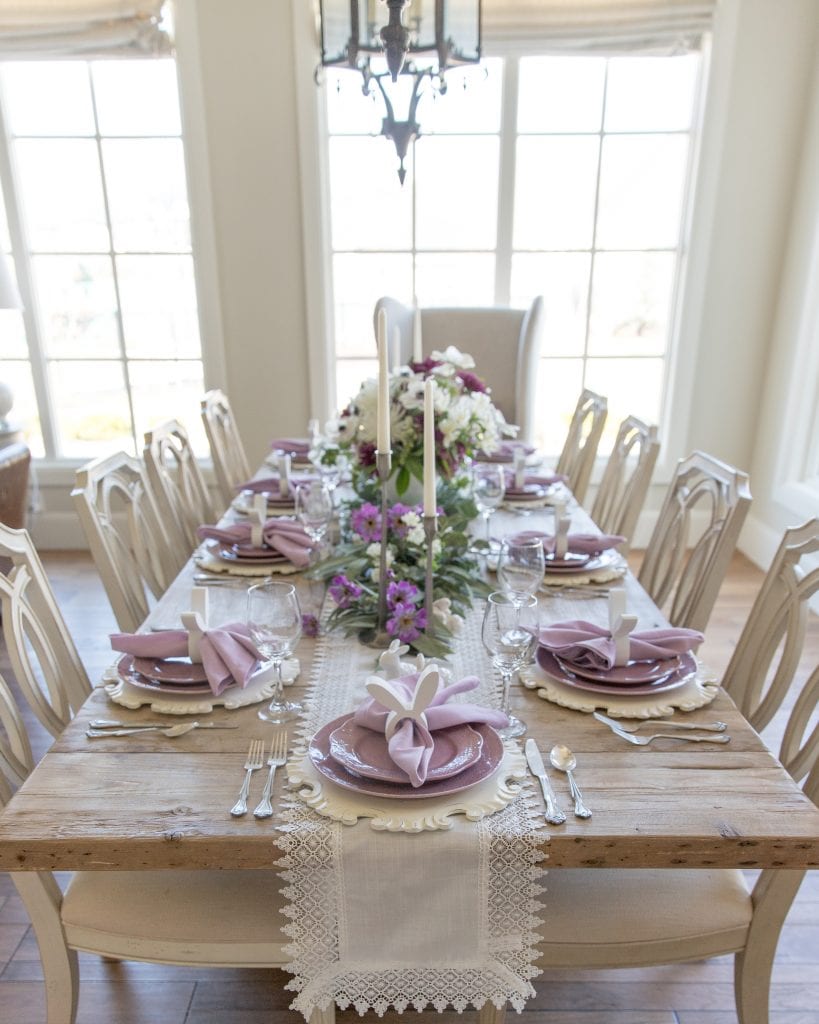 The Place-setting
The dishes are from Anthropolgie (linked below~~ the photos are incorrect in the source section so just click through the photos that look like multi colored napkins) and they are even more stunning in person. I started with a white wood charger then layered the dinner and salad plate on top.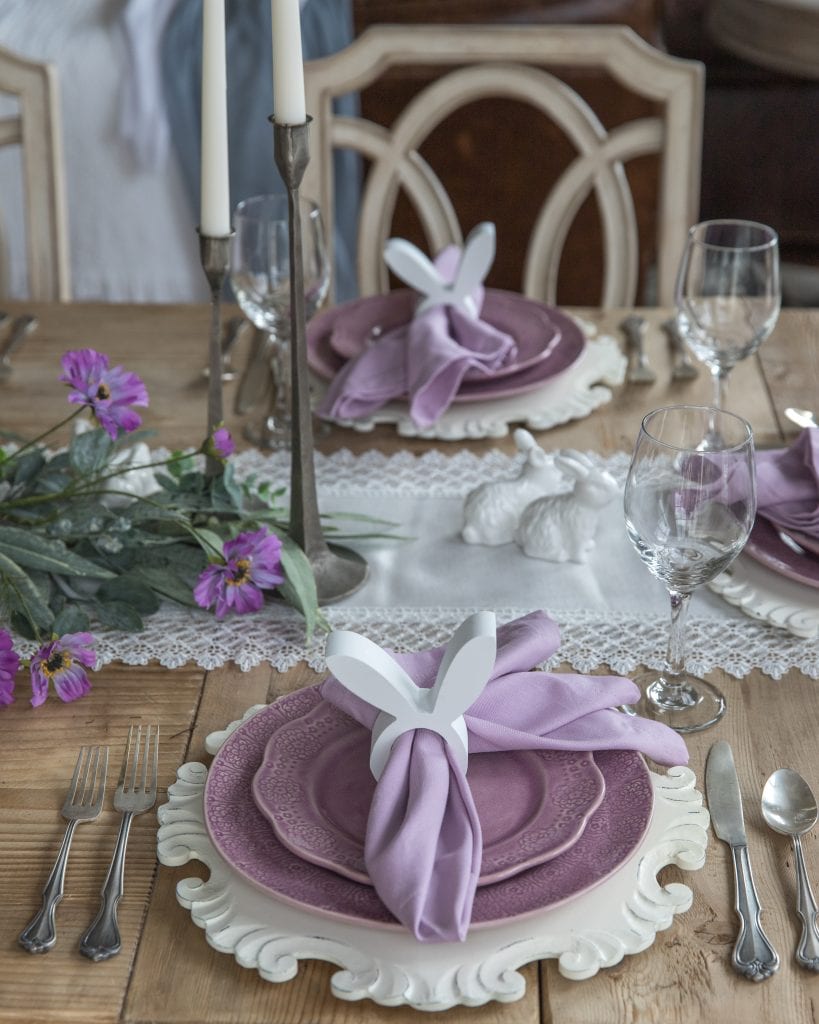 You can see the detail of the plates in this close up shot. I love how the white charger compliments the dishes. I used my silver rustic silverware which goes so nicely with the rustic reclaimed wood table and candlesticks. To make it Easter themed, I used these adorable bunny ear napkin rings from Krumpets Home Decor. I love how the napkin ring is flat on the bottom so it stands up once you slide the napkin in and this is one fun element that the kids will love! How cute are these?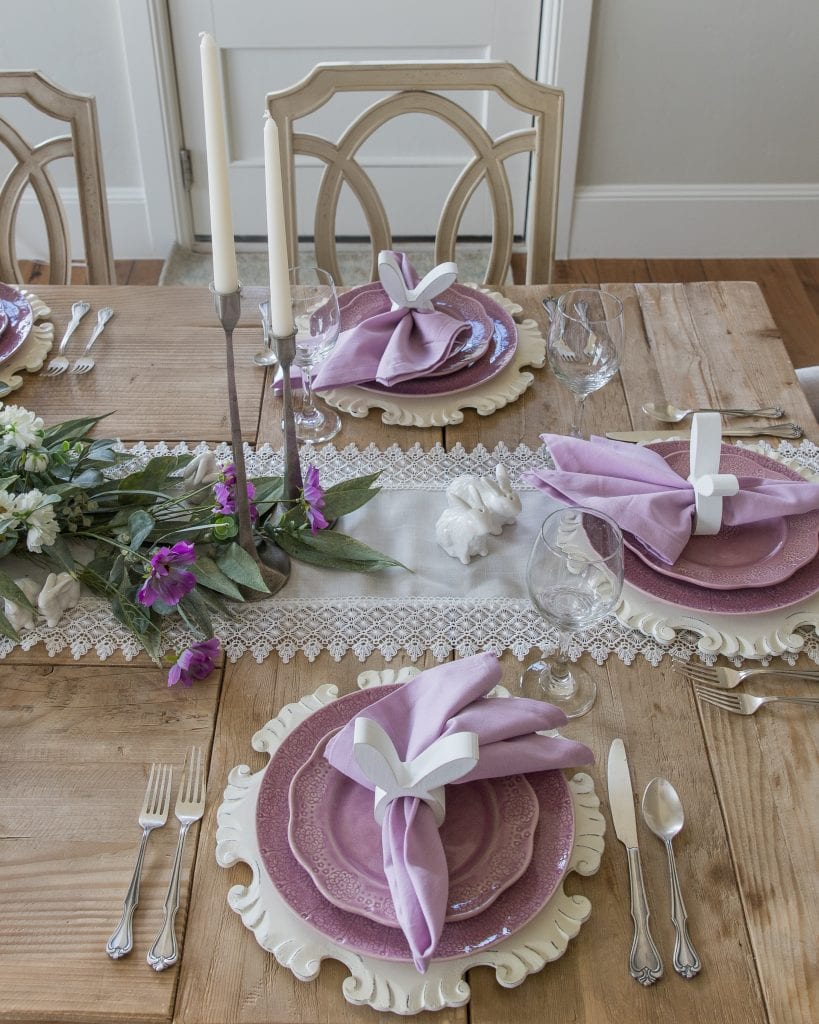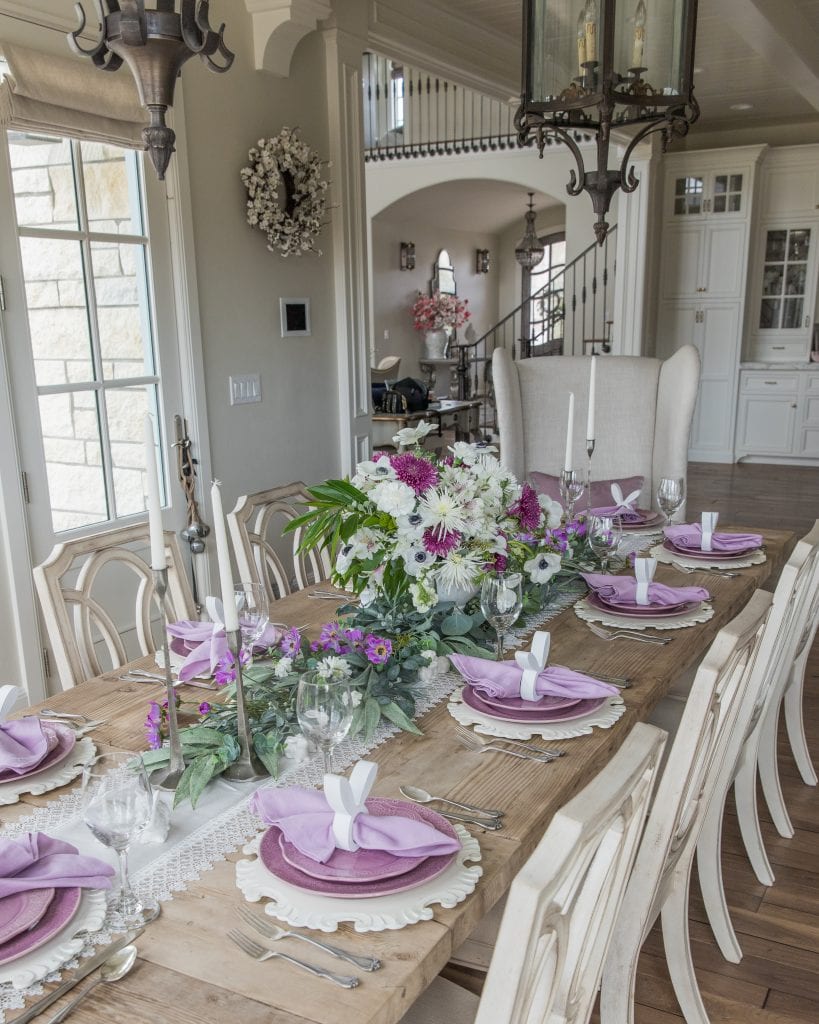 The Easter Tablescape that Transitions to a Spring Tablescape
One thing I always try to do when decorating for any holiday is to decorate for the season too. I try to create my tablescapes to be versatile to save time and expense. I'll create a garland centerpiece for the table for Spring and then I'll add different items into the garland for Easter. When Easter is over, I can take out the Easter decor and leave as is for Spring or I can change up the dishes or napkins for Mothers Day. So many possibilities!
Here's an example of one I did for Spring, St. Patricks Day, and Mothers Day! This is one of my favorites! This one here is one I made for Winter, Thanksgiving, Christmas, and Valentines Day! I created eleven different tablescapes with the same centerpiece garland!
Also, here are some other tablescapes I've created that all have a lavender theme. I didn't realize how much I liked lavender until I noticed how much I've used it in my tablescapes this past year. I created this first one for a Yankee Candle collaboration in the fall but this would work perfectly for Easter and Spring too!
Click here to see the entire post! Lavender and Mint Green Tablescape.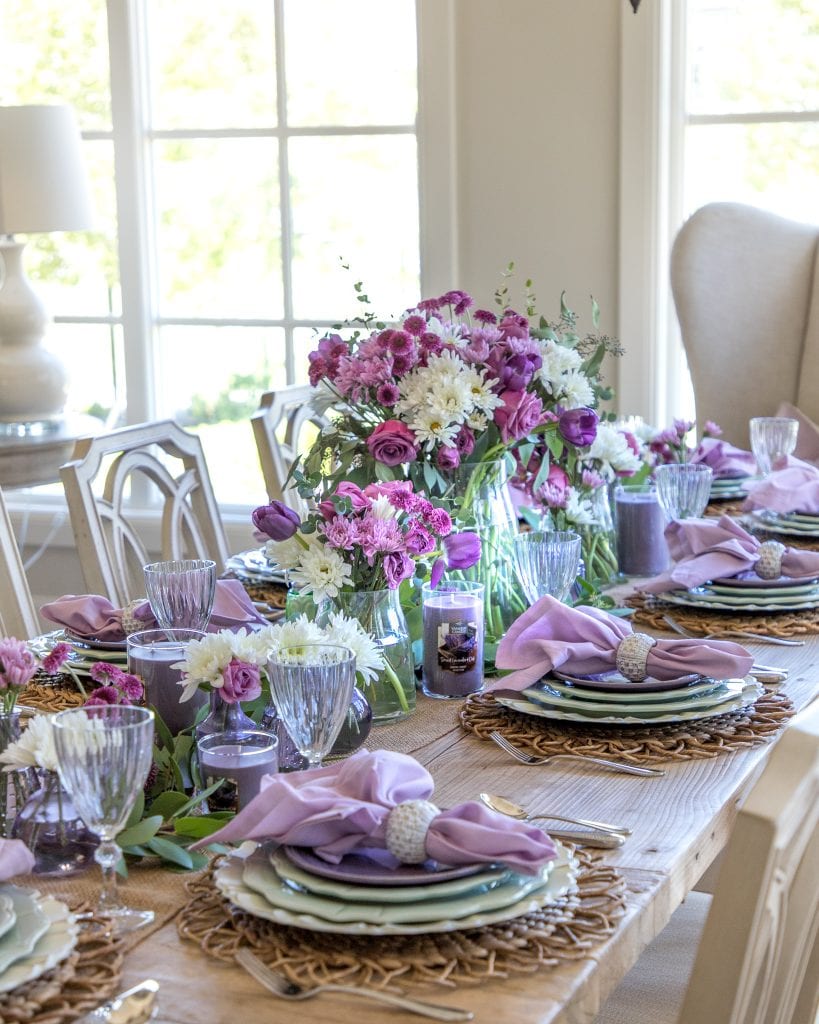 Here's another tablescape I created last summer with Teal and Lavender. I've not done a blog post on this one yet but here's one of the photos from it. I'll be sharing this soon! The polka dot plates and the robins egg blue colors remind of Spring and Easter!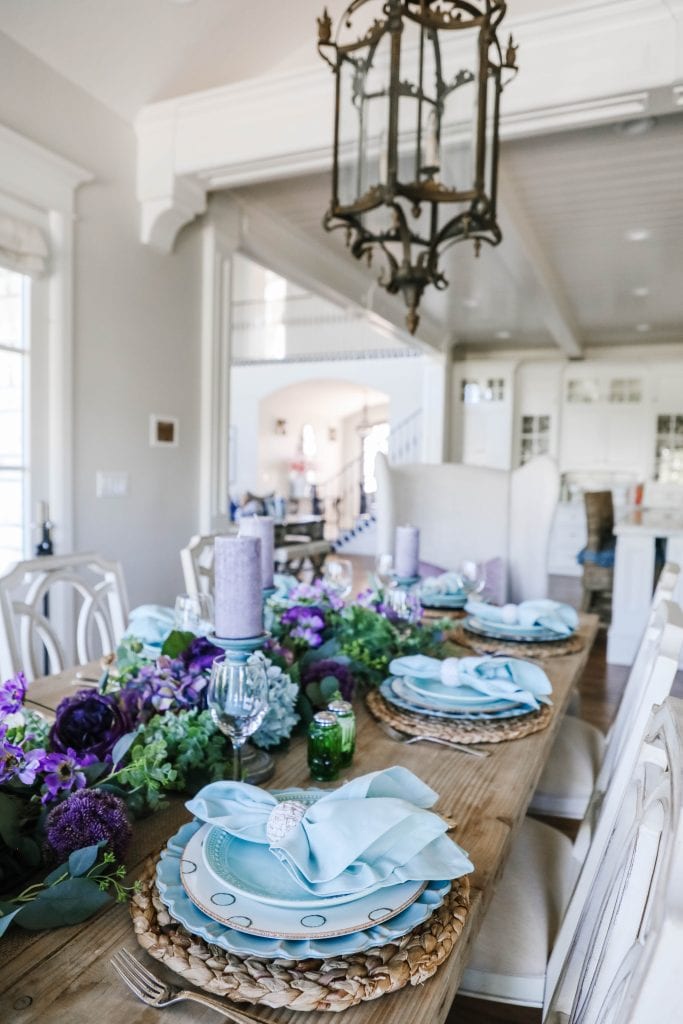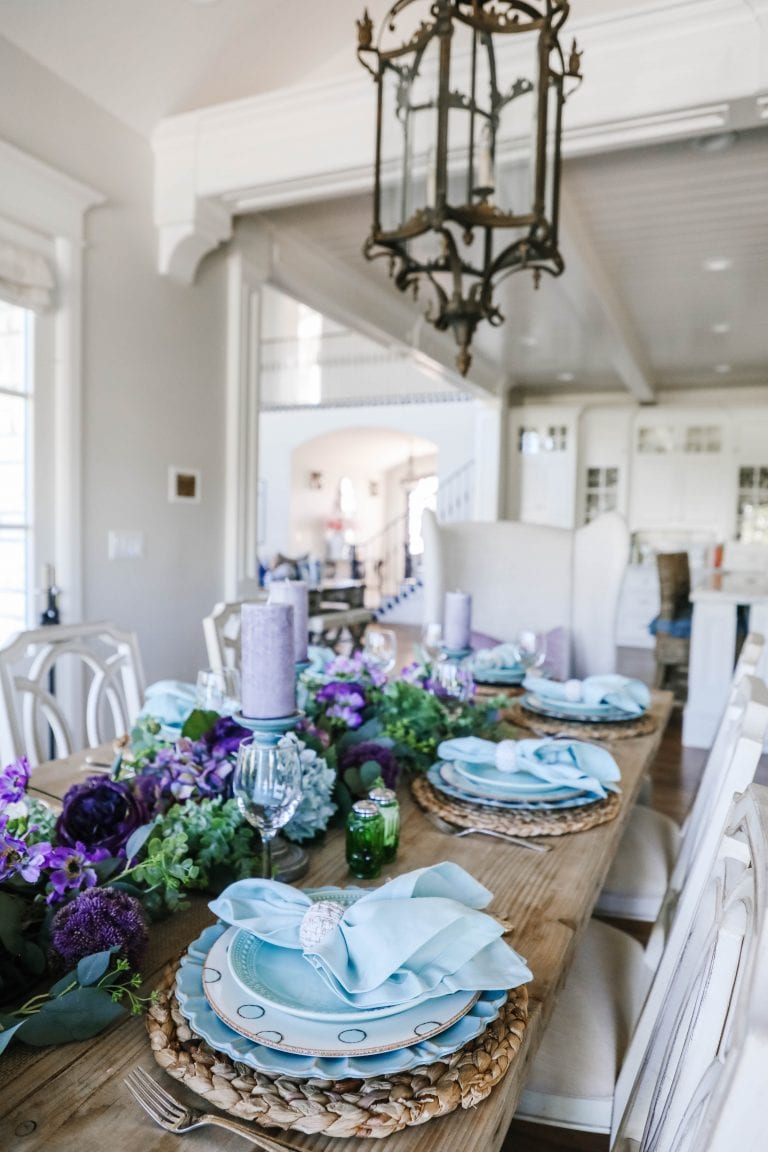 One last Lavender themed tablescape! I set this table in my backyard at my home in Washington last summer when I hosted a dinner party for my girlfriends. I used fresh lavender plants as the centerpiece. Oh…..this makes me excited for summer and outdoor dinners! Click here to see more of the Simple Lavender Inspired Centerpiece.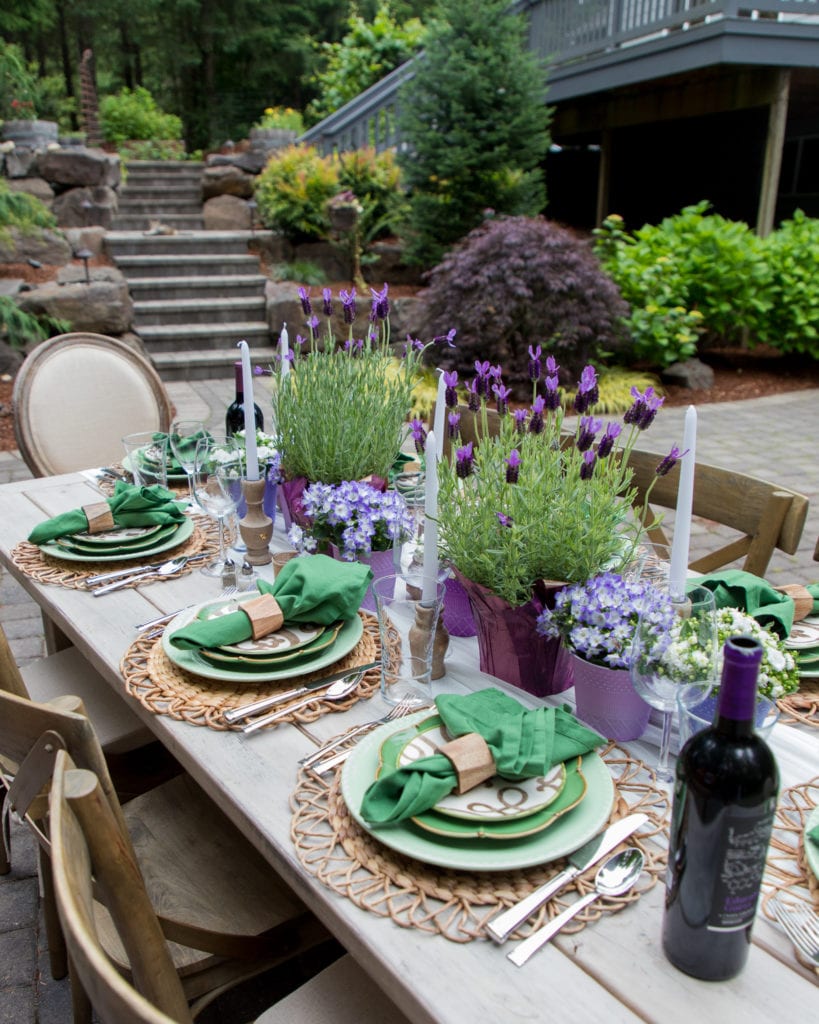 Whew! That was a lot! I hope you enjoyed this post and that it inspires you to set the table and gather your friends and family. Sometimes it's good to go all out and other times its nice to keep it simple. Hopefully you've seen a little of both!
Thanks for stopping by! Now, head on over to my other tablescaping bff, Lory, To Have To Host to see how she set her Easter table. Lory and Holliday and I have met up in person and become real life friends. It's so fun making friends with these amazing ladies who all love to host and entertain! Happy Easter and I hope you're all staying healthy and safe and that you have a wonderful easter celebration however that may be.
Here are the links to other ladies in the Easter Tablescape Blog Hop or you can click on the links above each photo (above)!
Lory Parson's Easter Table Ideas
https://jennifermaune.com/easter-table-setting/
https://homewithholliday.com/2020/04/01/blush-pink-and-green-easter-tablescape

Happy Easter and God Bless,
xoxo,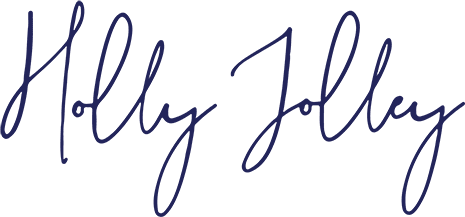 Sources:

Some of the links are affiliate links.
PIN THESE FOR LATER: