Lavender and Mint Green Tablescape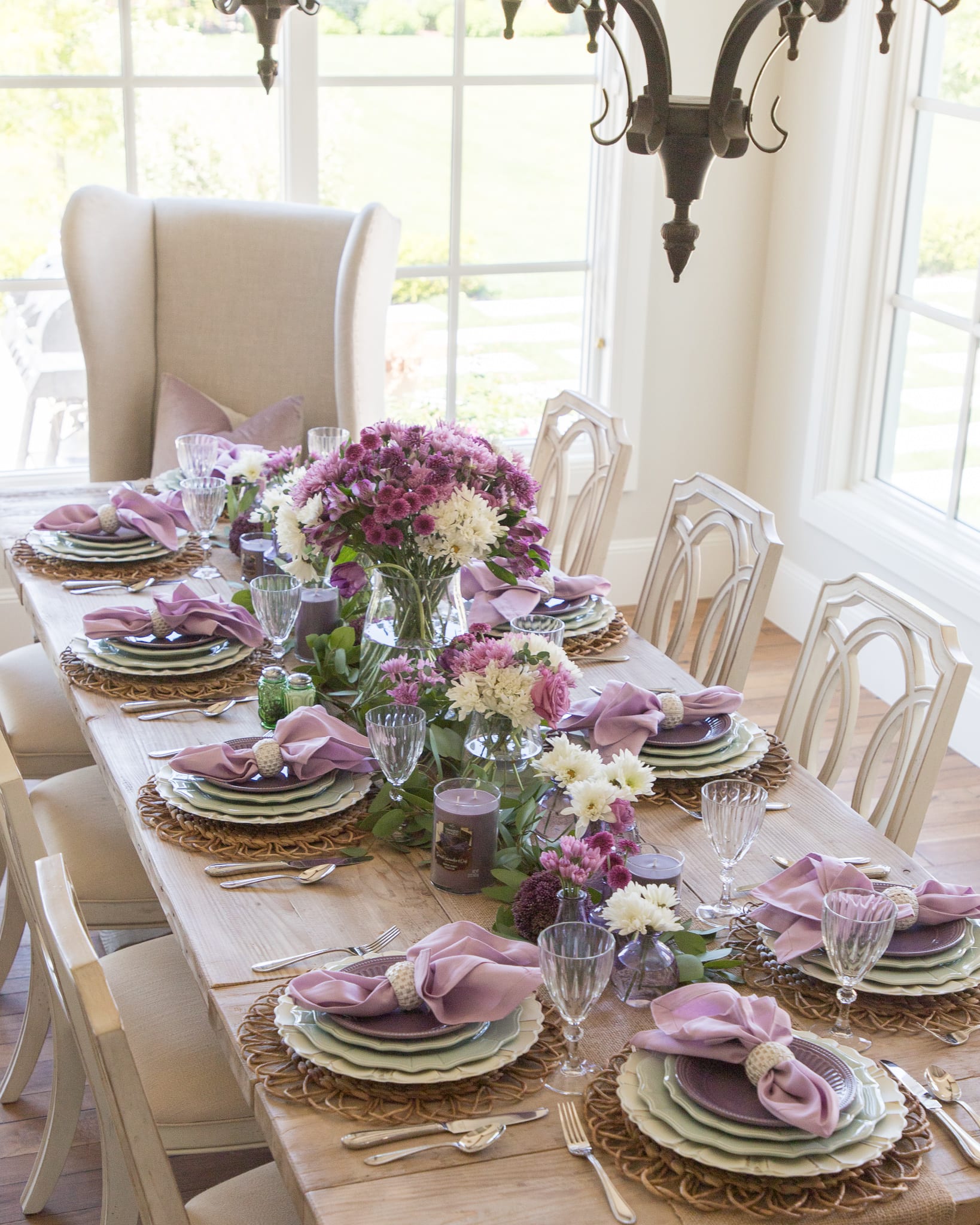 I absolutely love lavender season and look forward to it every summer! I dream of creating a beautiful outdoor tablescape in a lavender field somewhere. Since I wasn't able to do that this summer, I was inspired to create this Lavender and Mint Green tablescape for a luncheon I was hosting at my home.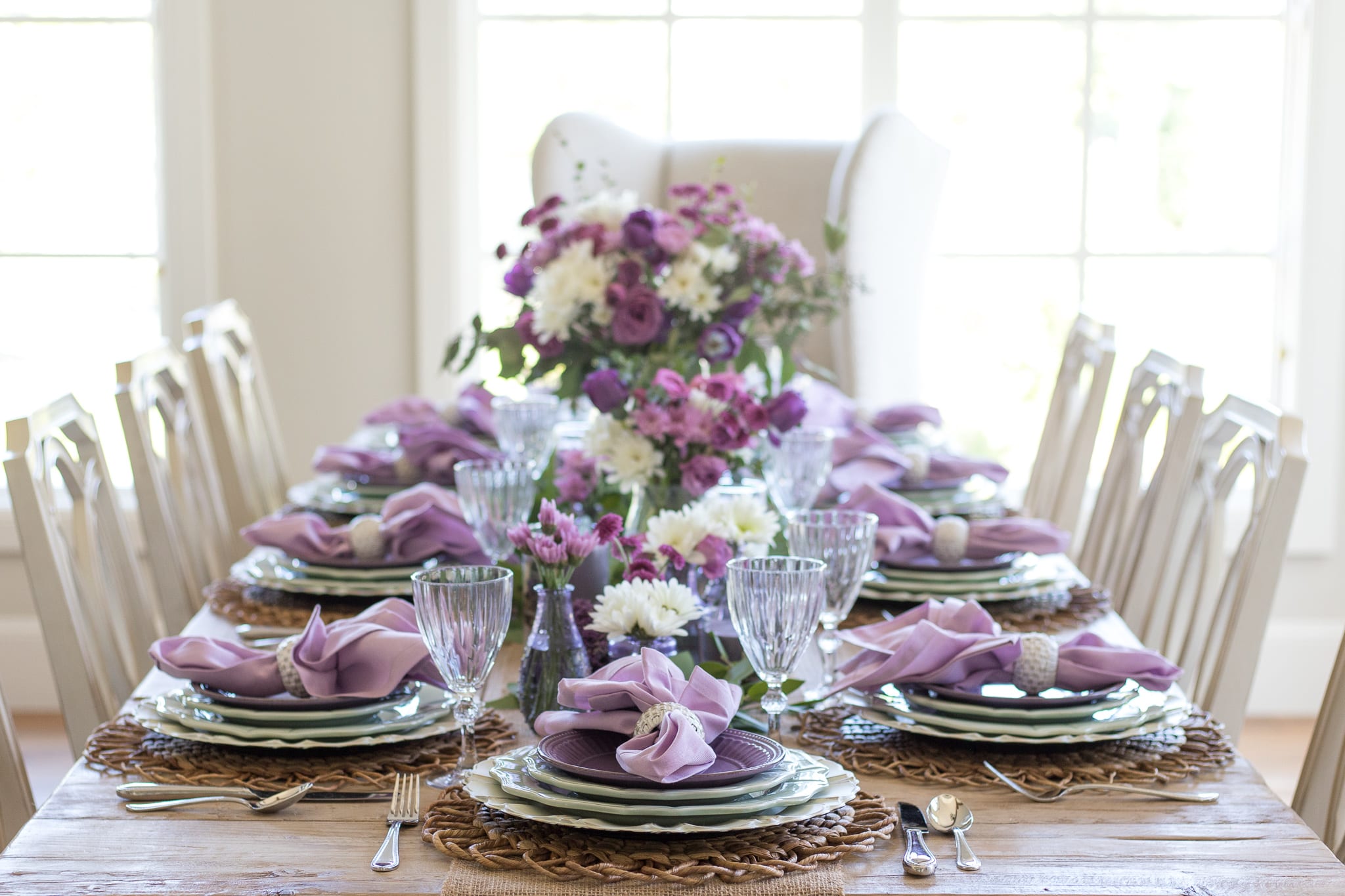 I had planned this tablescape out in my head for months and just before I was ready to start putting it together, Yankee Candle Company reached out to me and asked if I would like to use their new Dried Lavender and Oak candle from their Farmers Market Collection.
Of course, I was thrilled because I love using candles in my tablescapes. These candles not only look nice, they smell amazing. The timing of this couldn't have been more perfect.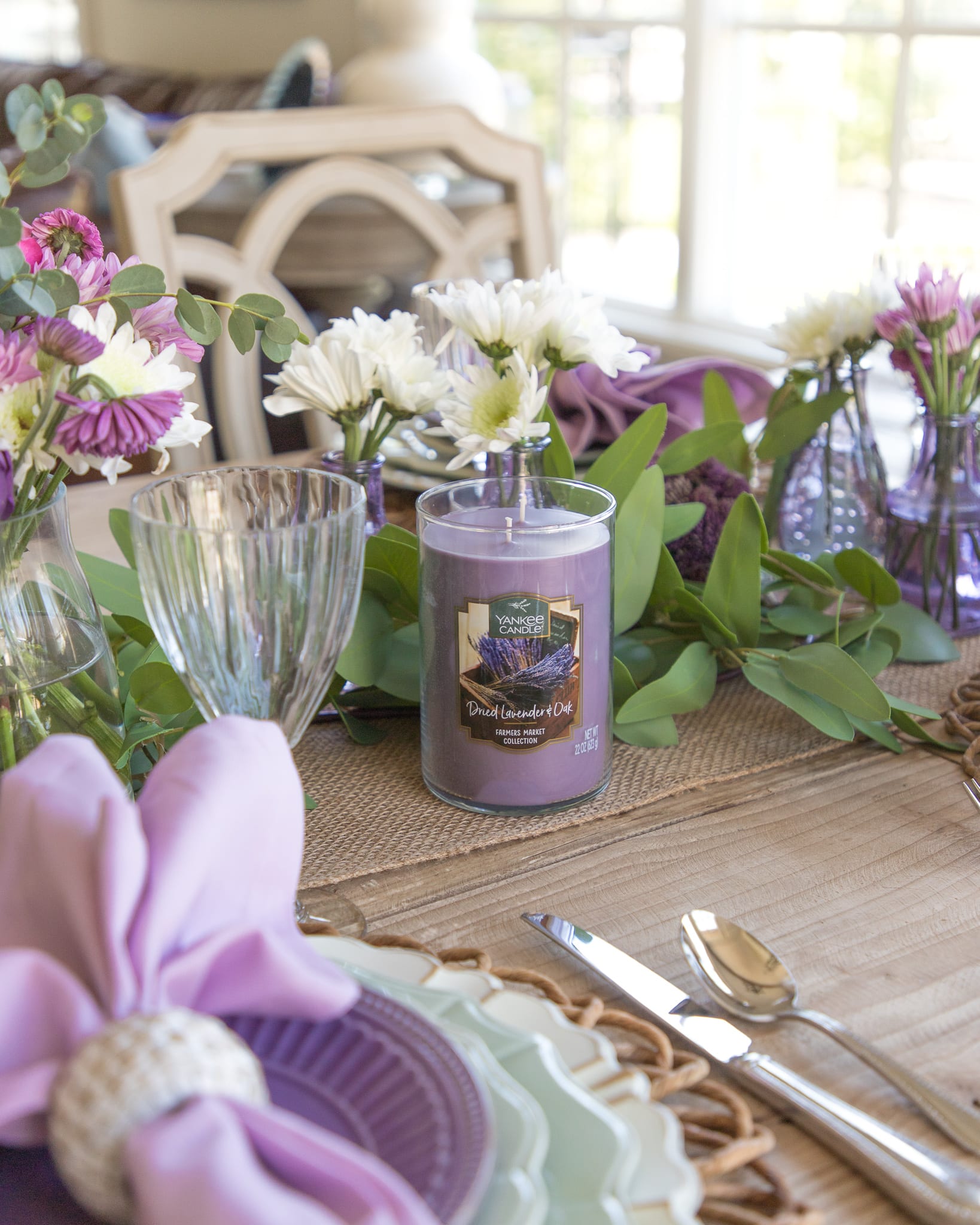 Lavender and Mint Green Place-Setting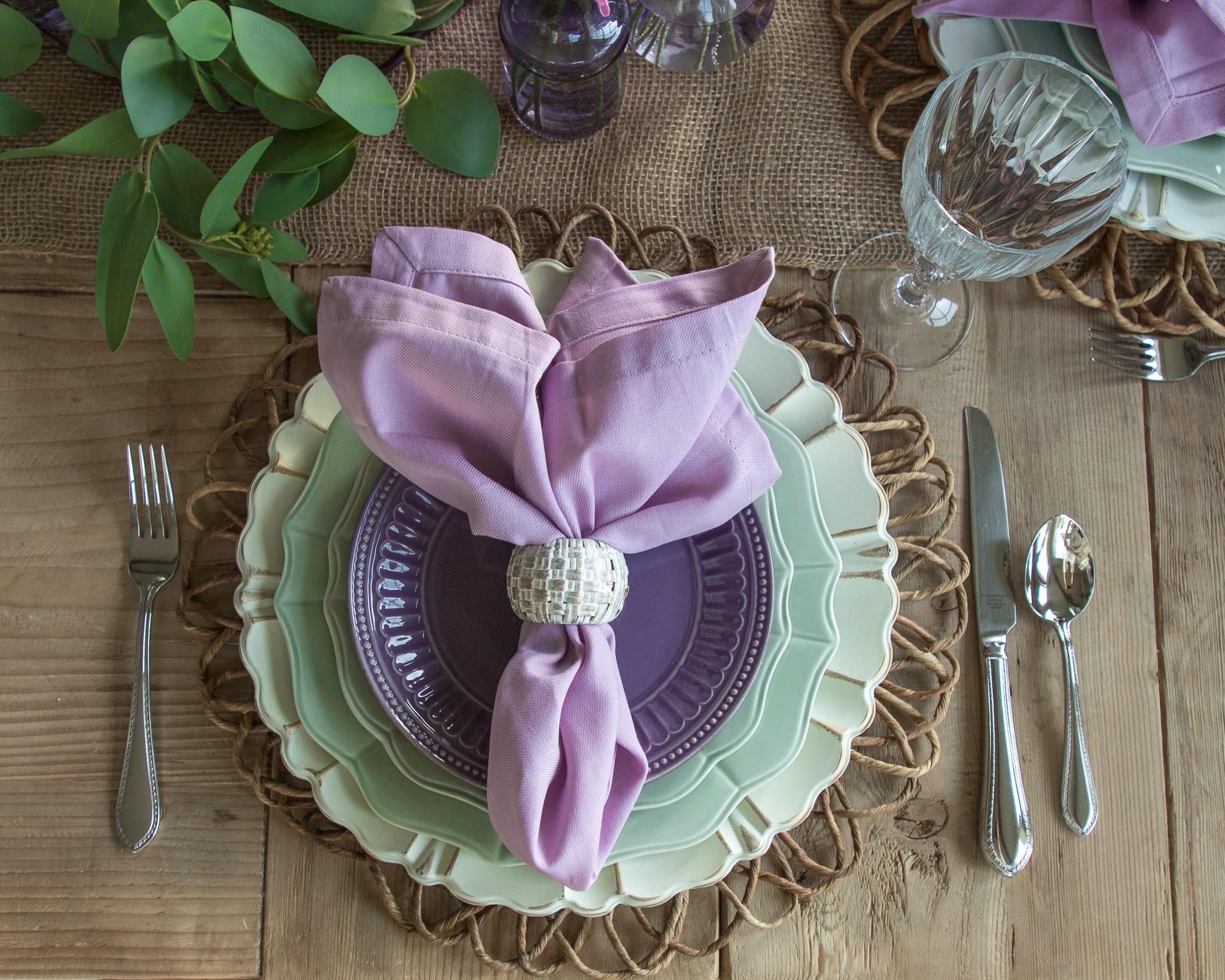 For the place-setting I chose these hyacinth placemats. I like layering different textures and patterns and these worked perfectly. I used mint green scalloped dinner and salad plates and for the top plate these colorful lavender dessert plates.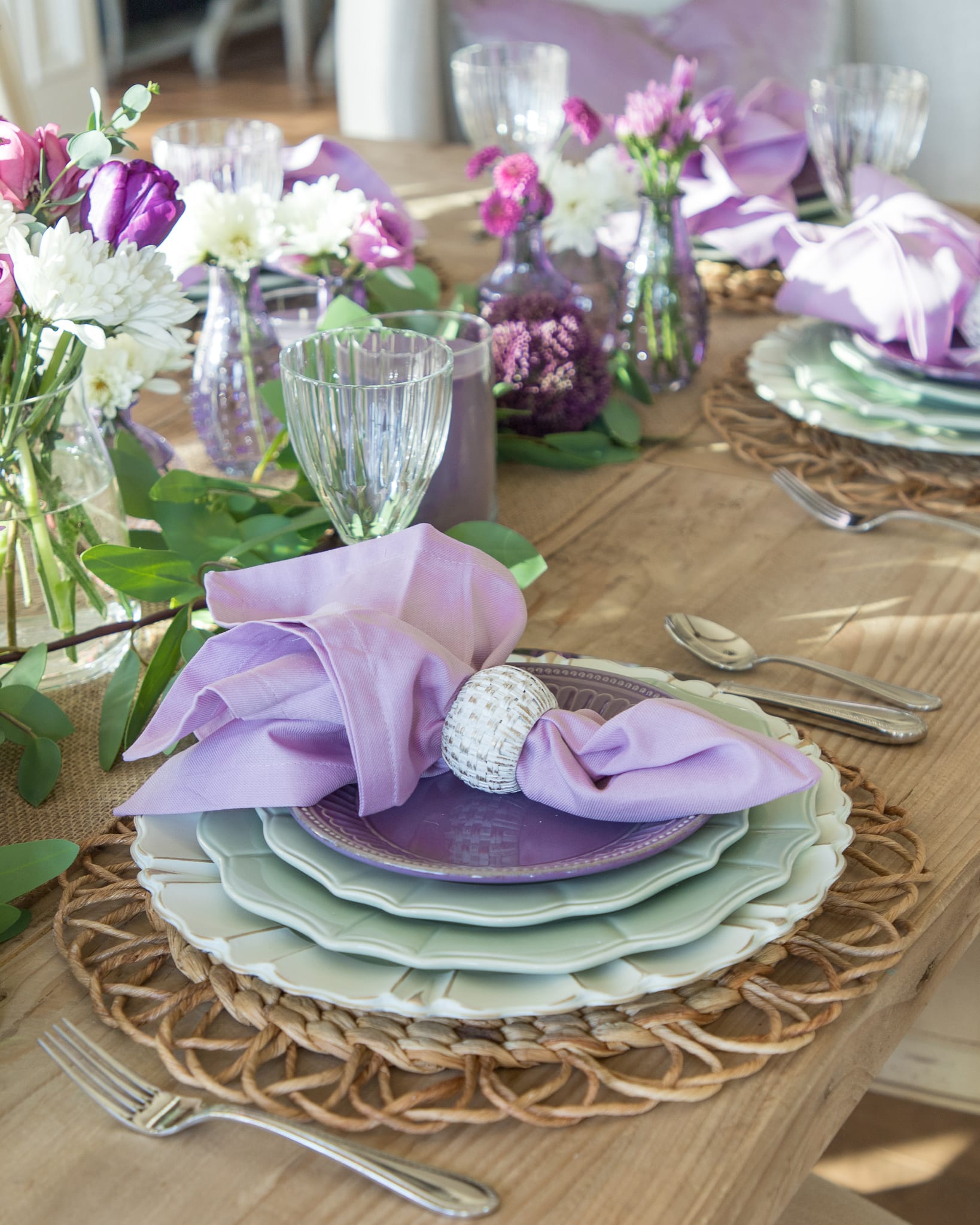 I chose a bright lavender cloth napkin and the napkin ring matches the charger. For the flatware I used a simple sterling silver pattern. The clear crystal wine glasses mixed well with the vases in the centerpiece so that is why I chose them.
The Centerpiece
For the centerpiece, I decided to use fresh flowers and a mix of vases and greenery to fill up the center of the table. I like to keep the centerpieces lower on the table so you can converse with the people across from you. A centerpiece should enhance and bring beauty to the table but not interfere with your ability to engage with the other guests at your table.
First, I layered a few faux eucalyptus garlands thru the middle part of the table and on top of a burlap table-runner.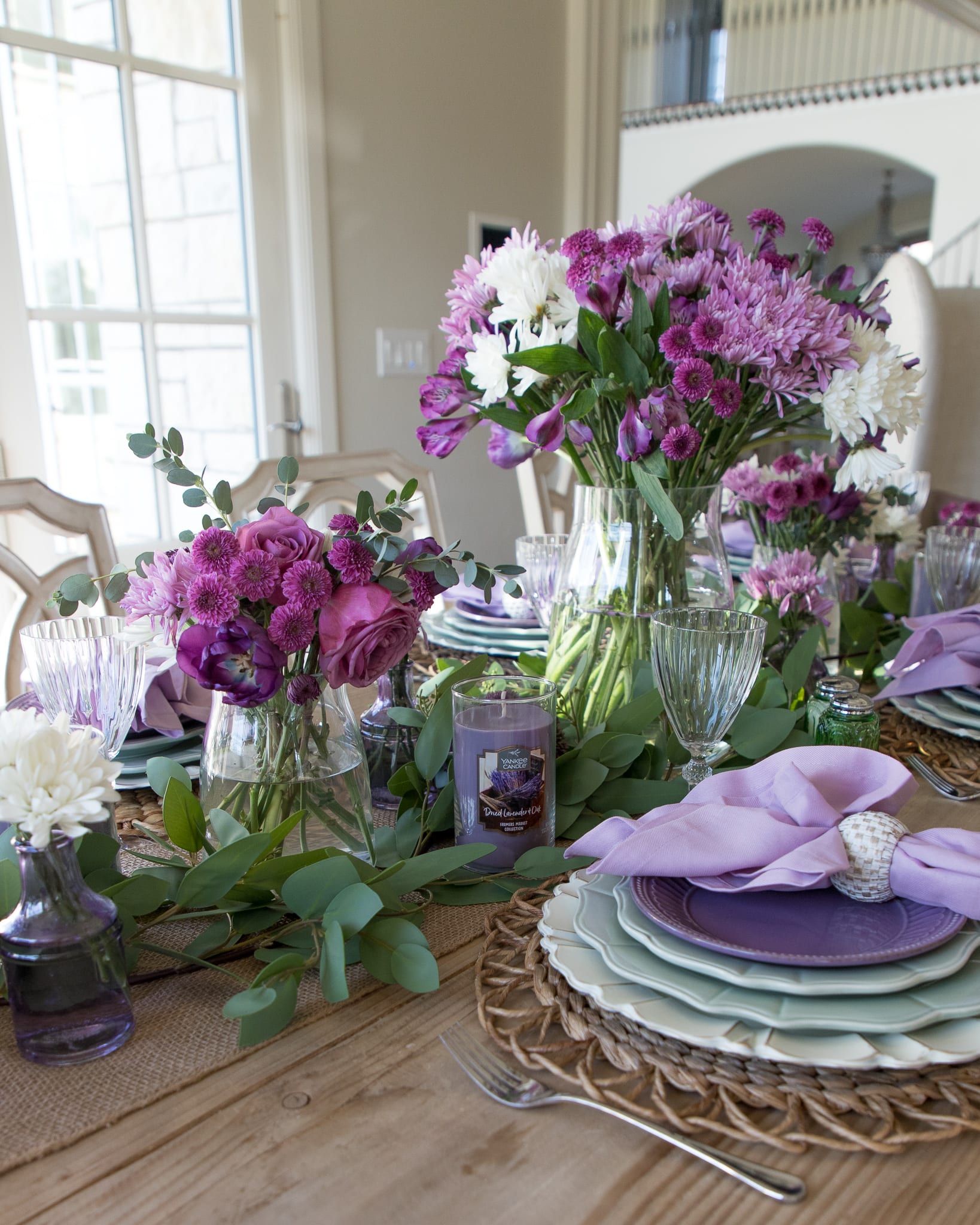 I filled a large clear glass vase with purple, lavender, and white flowers for the main centerpiece and then added two smaller vases filled with more flowers on each side. Creating height in the middle draws your eye to the centerpiece.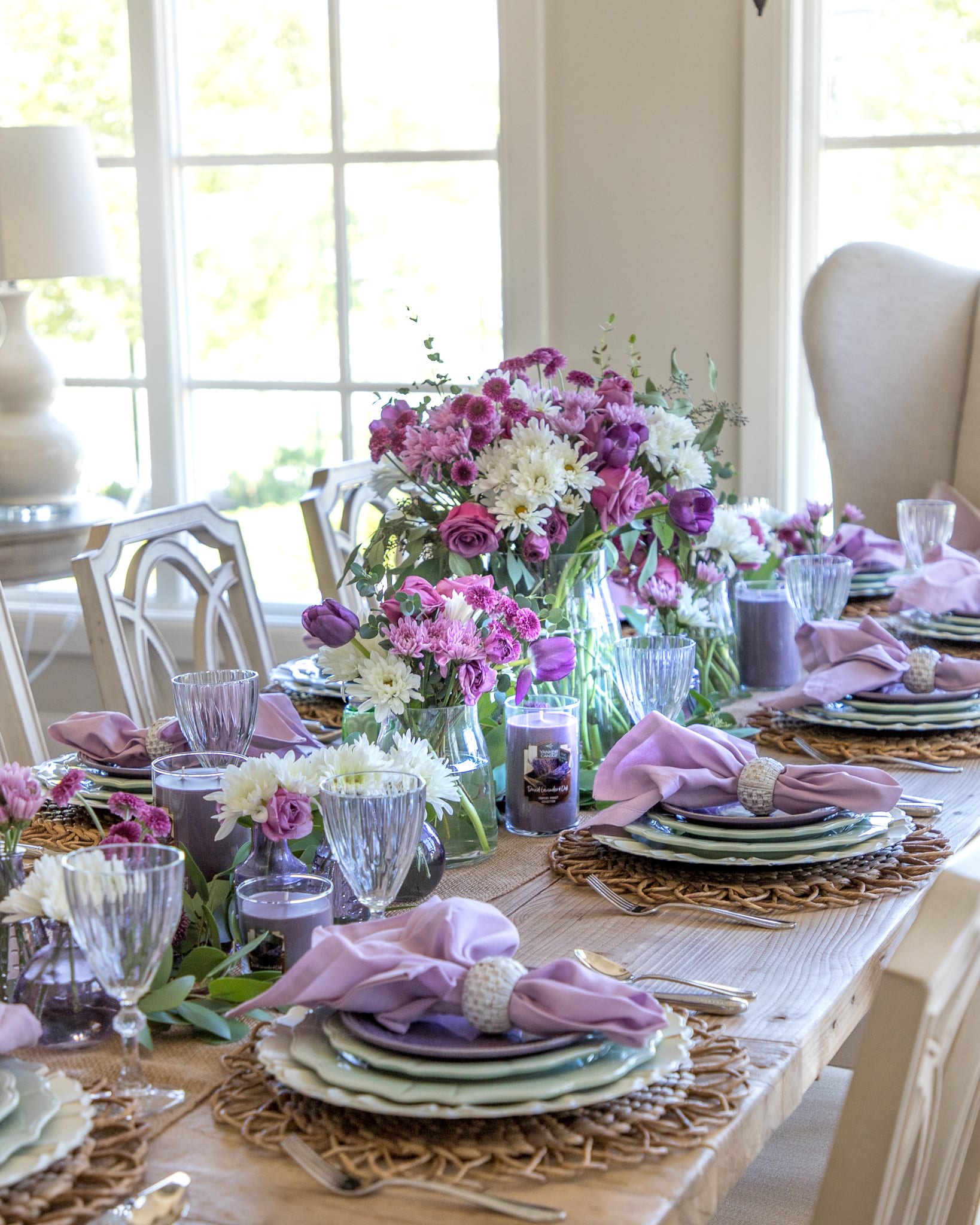 To fill in the rest of the center of the table, I nestled in small purple bud vases and filled them with the leftover flowers and then set the Dried Lavender and Oak Yankee Candles all throughout the garland.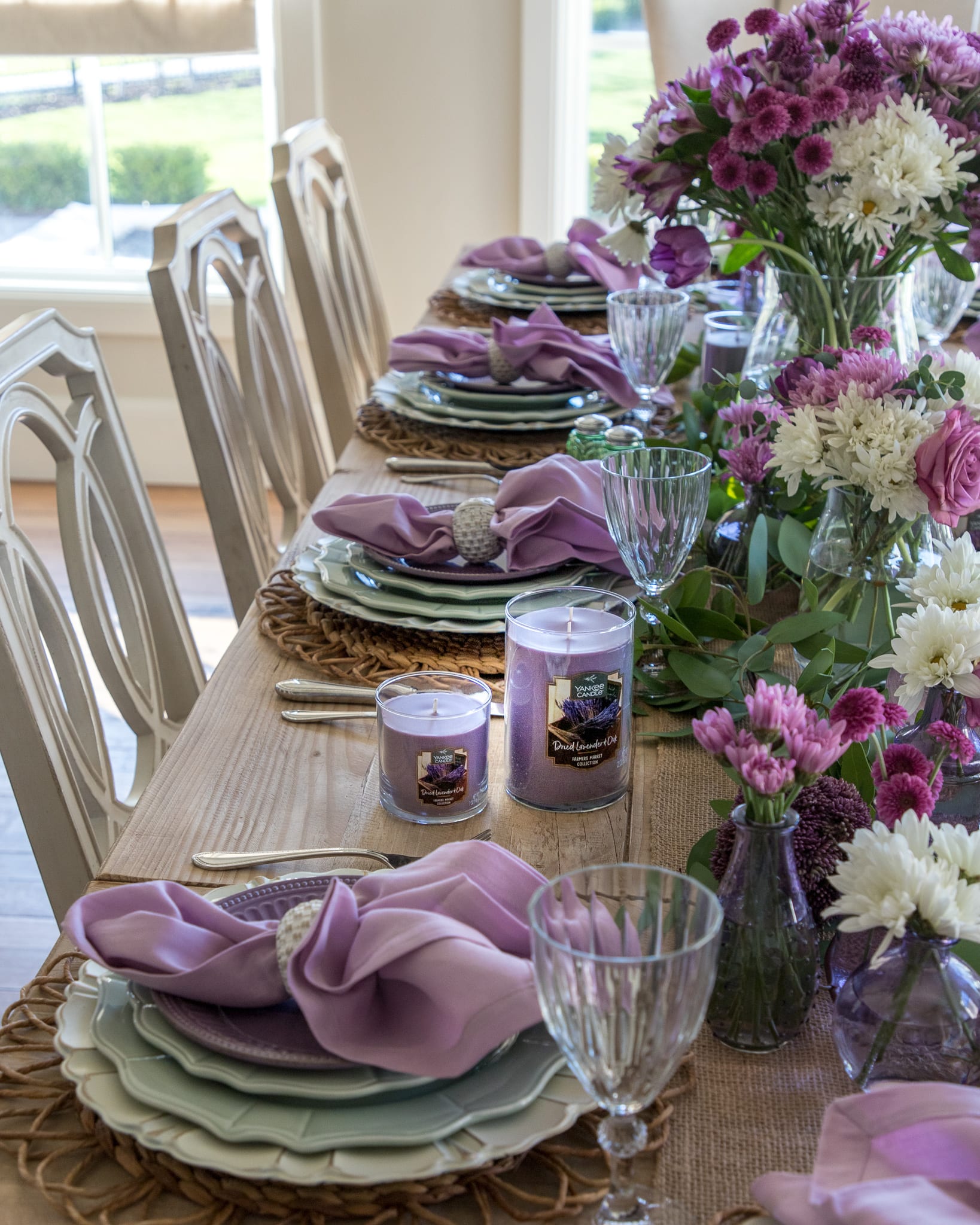 Mixing Fresh and Faux Flowers and Greenery
I get asked often if it is okay to mix fresh flowers and greenery with faux flowers and greenery? I say YES! I do it all the time! The faux eucalyptus is easy to work with and lasts forever! I have invested in some quality faux garlands and I use them over and over. I chose to use fresh flowers in vases in this tablescape but you could use faux too!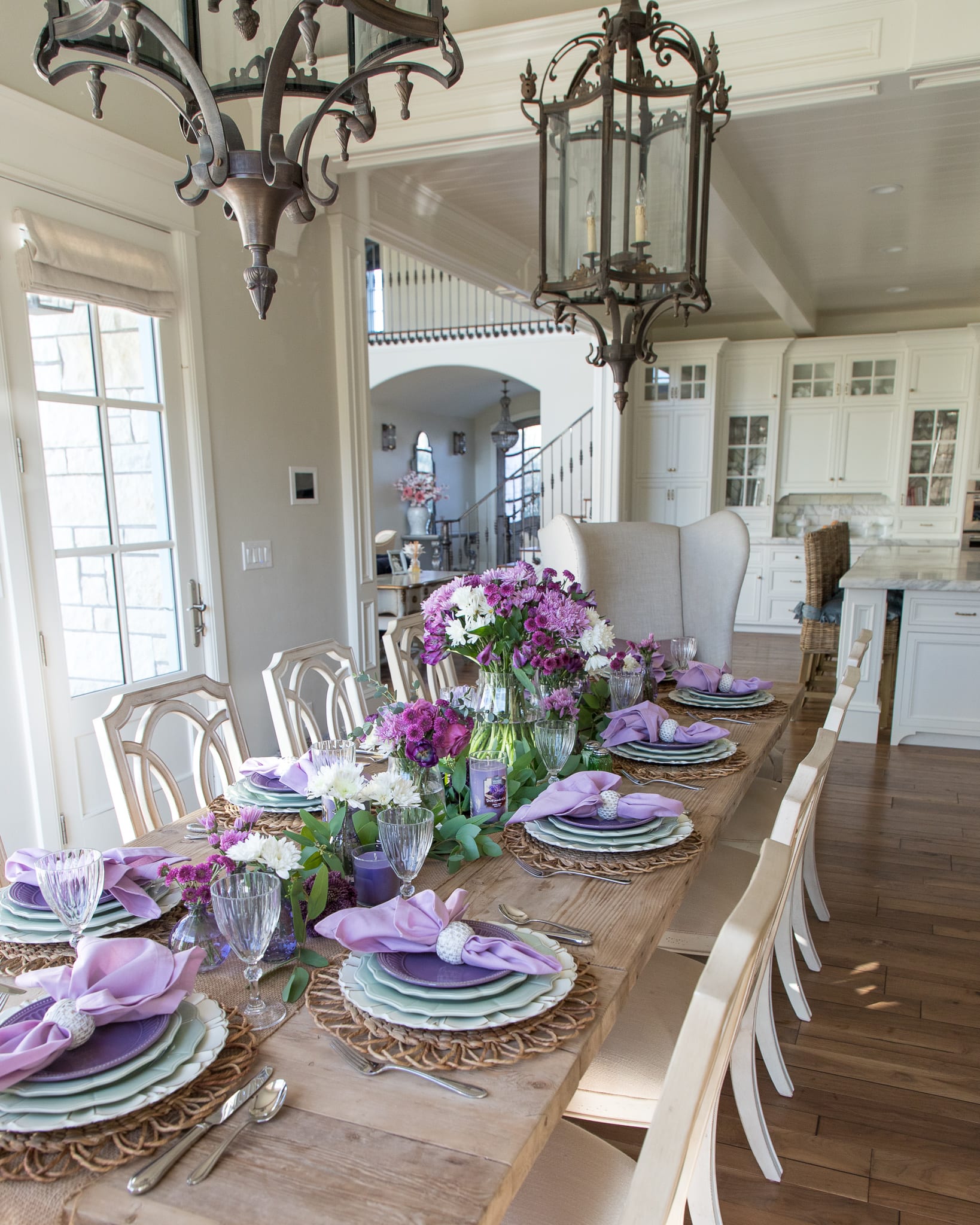 The Dried Lavender and Oak Yankee Candles added the perfect accent to the tablescape!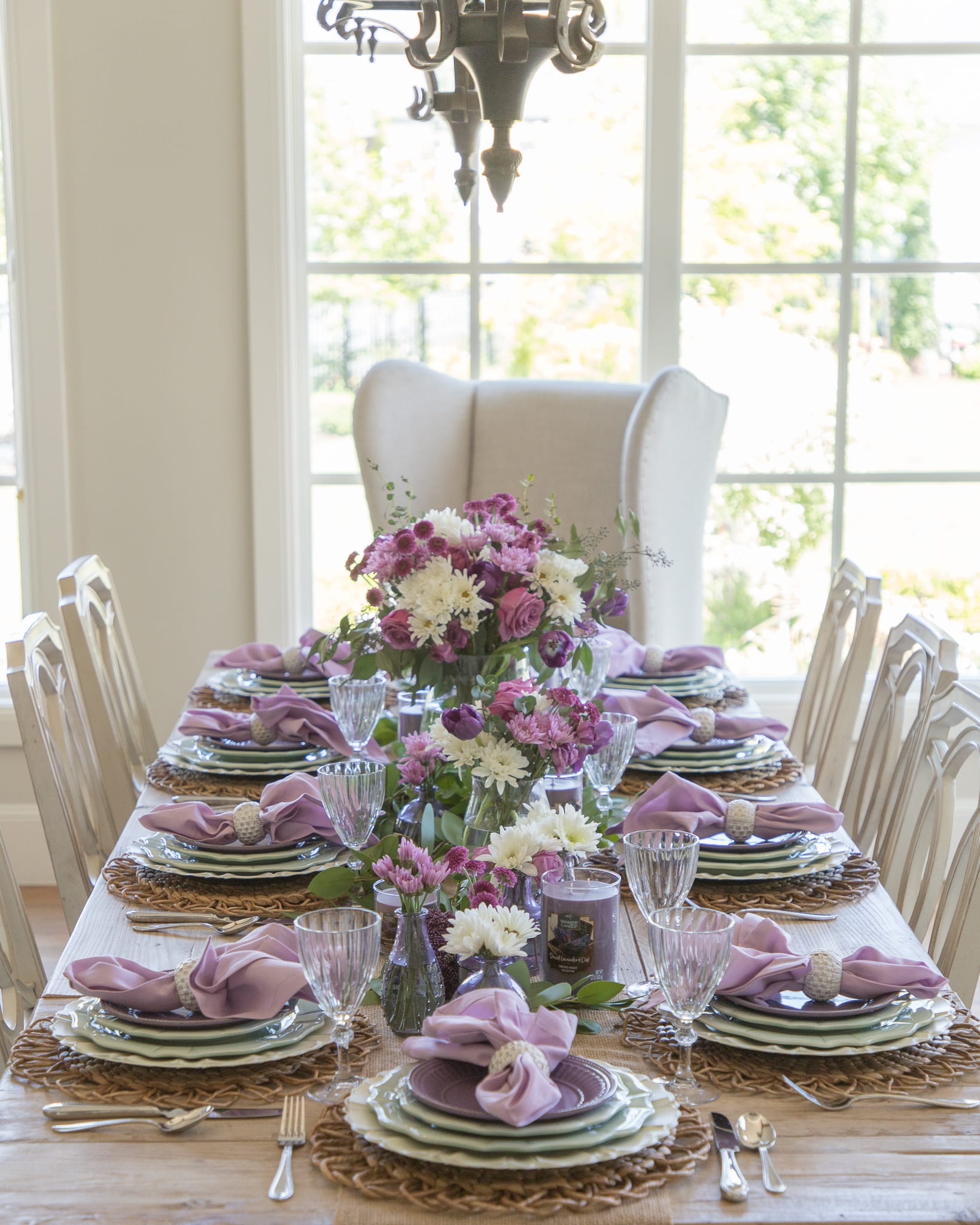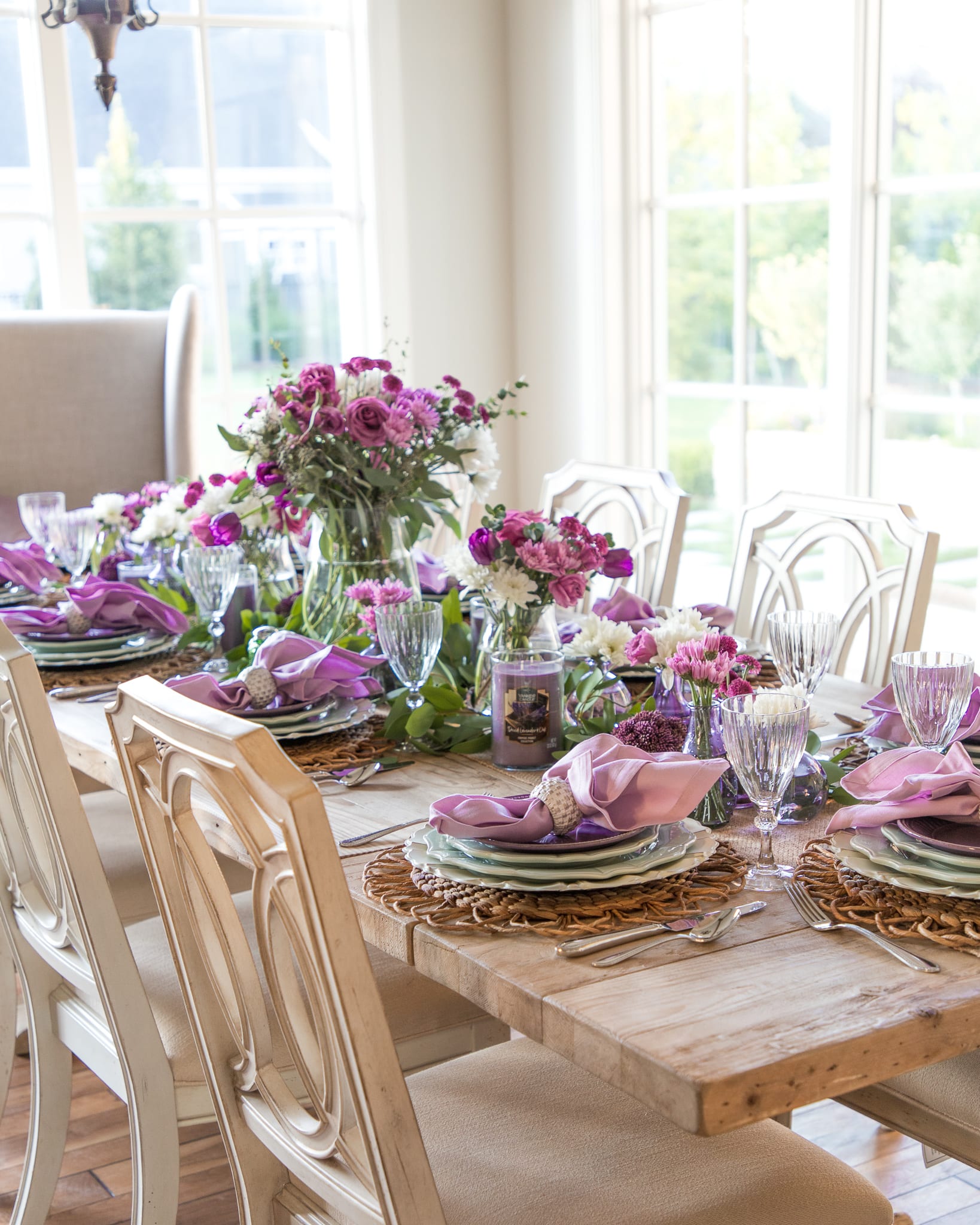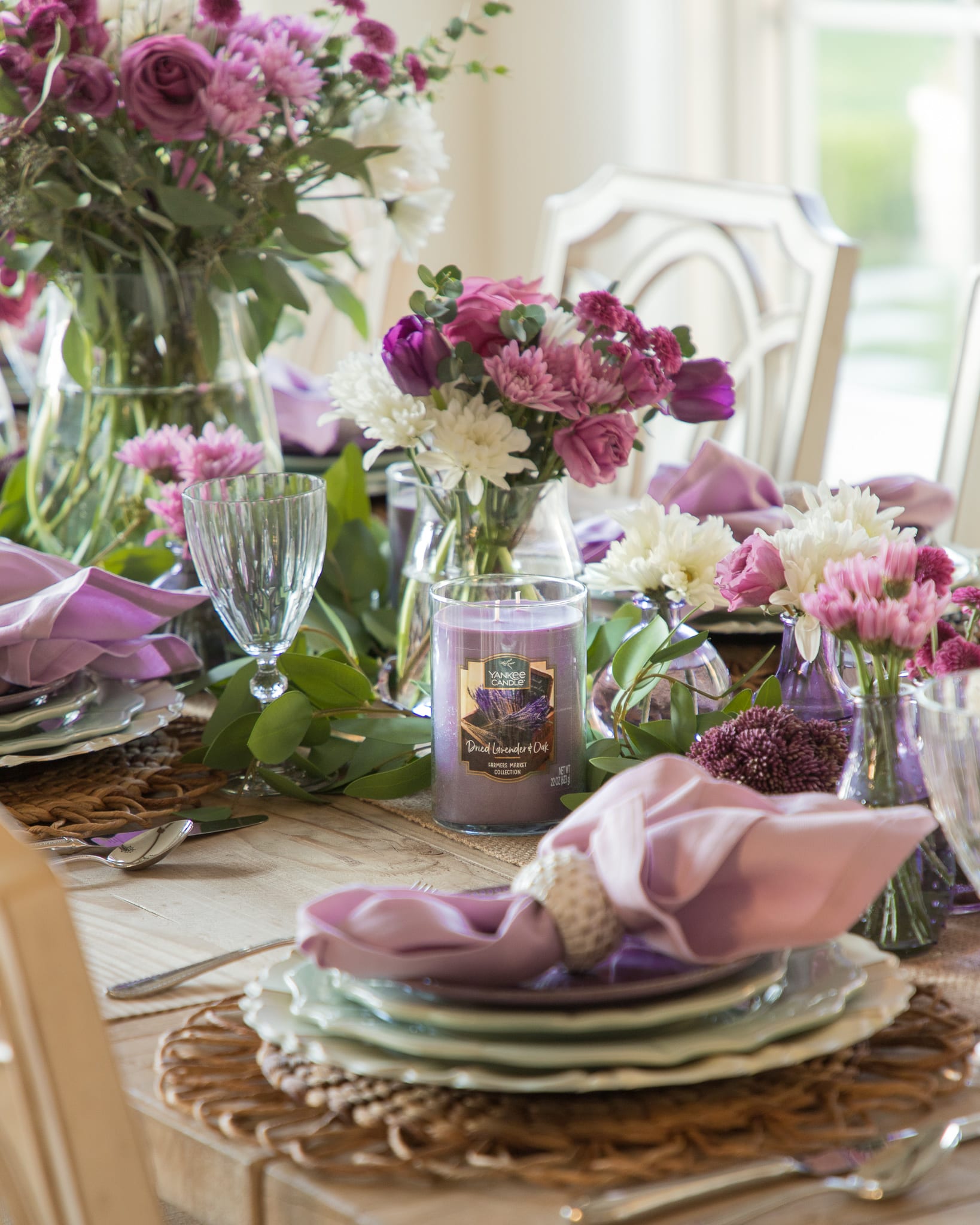 I've shared all the sources I can below! I hope you enjoyed seeing all the beautiful details of this lavender and mint green tablescape. As always, I hope to inspire you to set your own beautiful table and gather with those you love!
XOXO,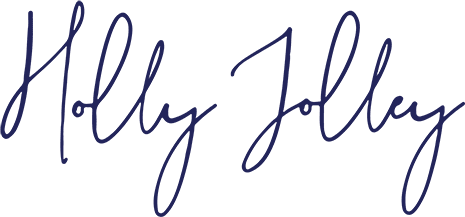 Sources:


Yankee Candle Dried Lavender and Oak Farmers Market Collection Candleshttps://www.yankeecandle.com/product/dried-lavender–oak/_/R-1623672