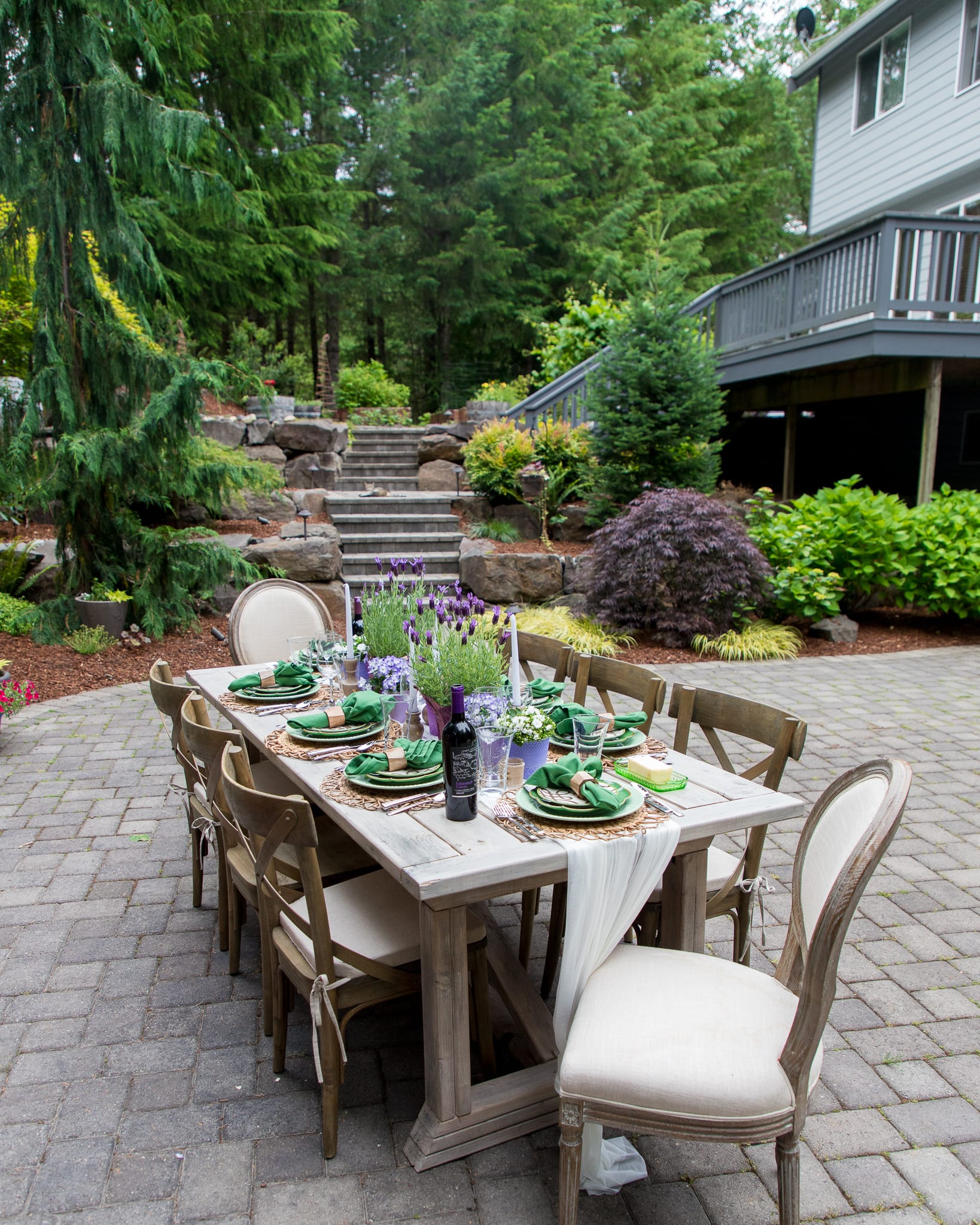 Create a Simple Lavender Inspired Centerpiece
I love entertaining and there is nothing better than a warm summer night in the Pacific Northwest and having my girlfriends over for an outdoor dinner party. I created this simple lavender inspired centerpiece for a dinner party I hosted in my backyard a few weeks back.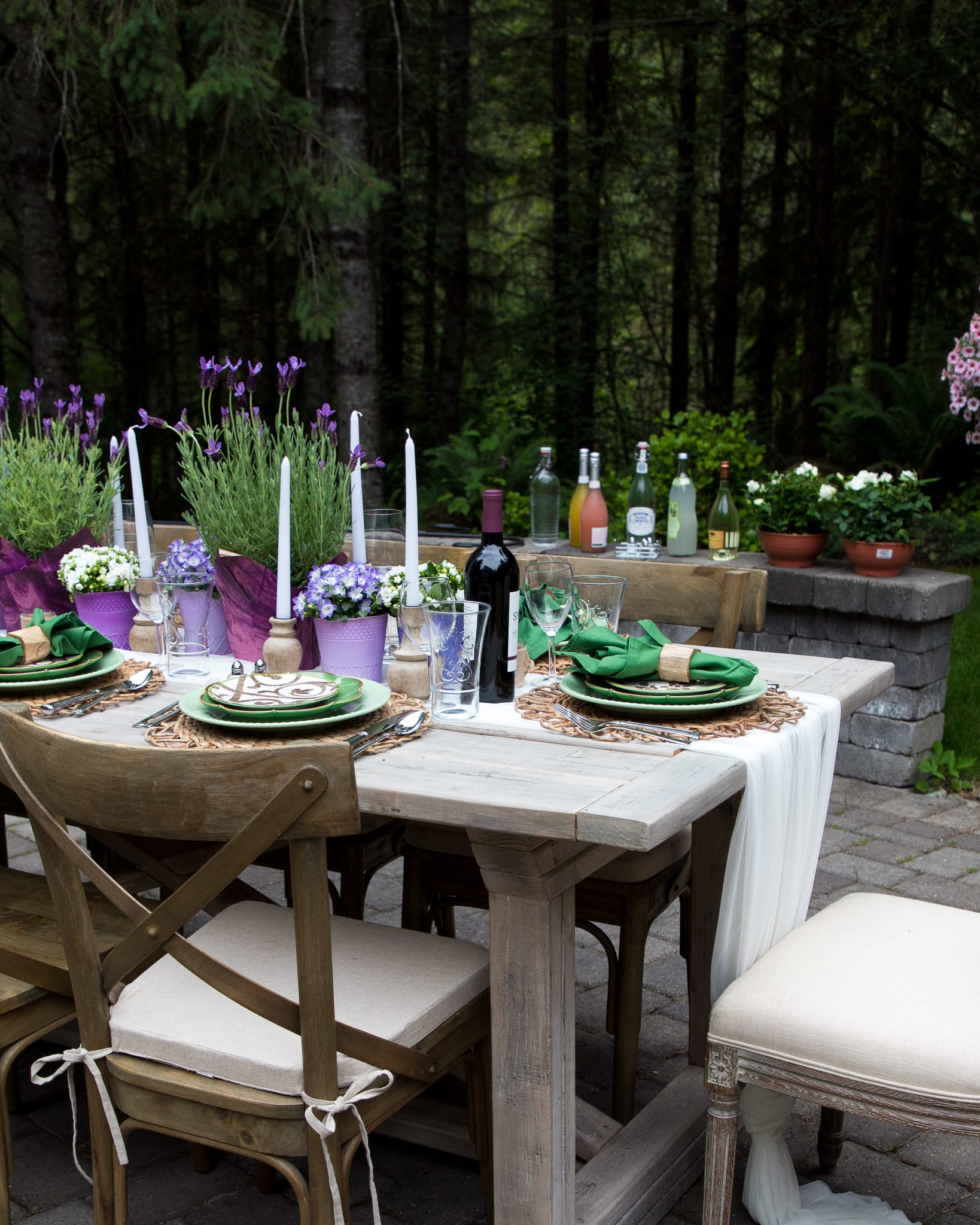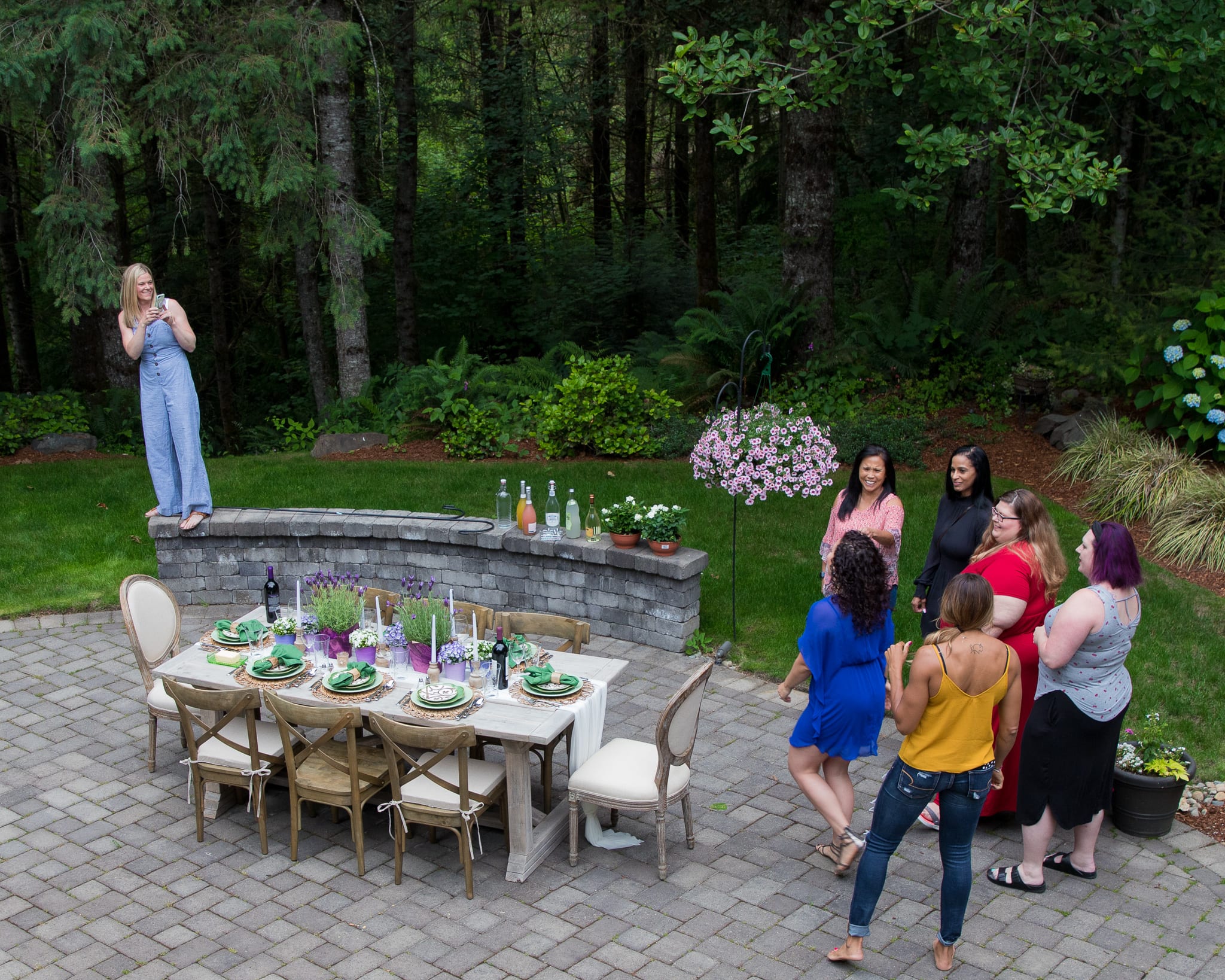 For this dinner party, we were celebrating my sweet friend Gina's birthday. I didn't have a lot of time to prepare so I kept this one simple and sweet. One way to keep it simple is to create a centerpiece out of potted plants that you can purchase at a grocery store.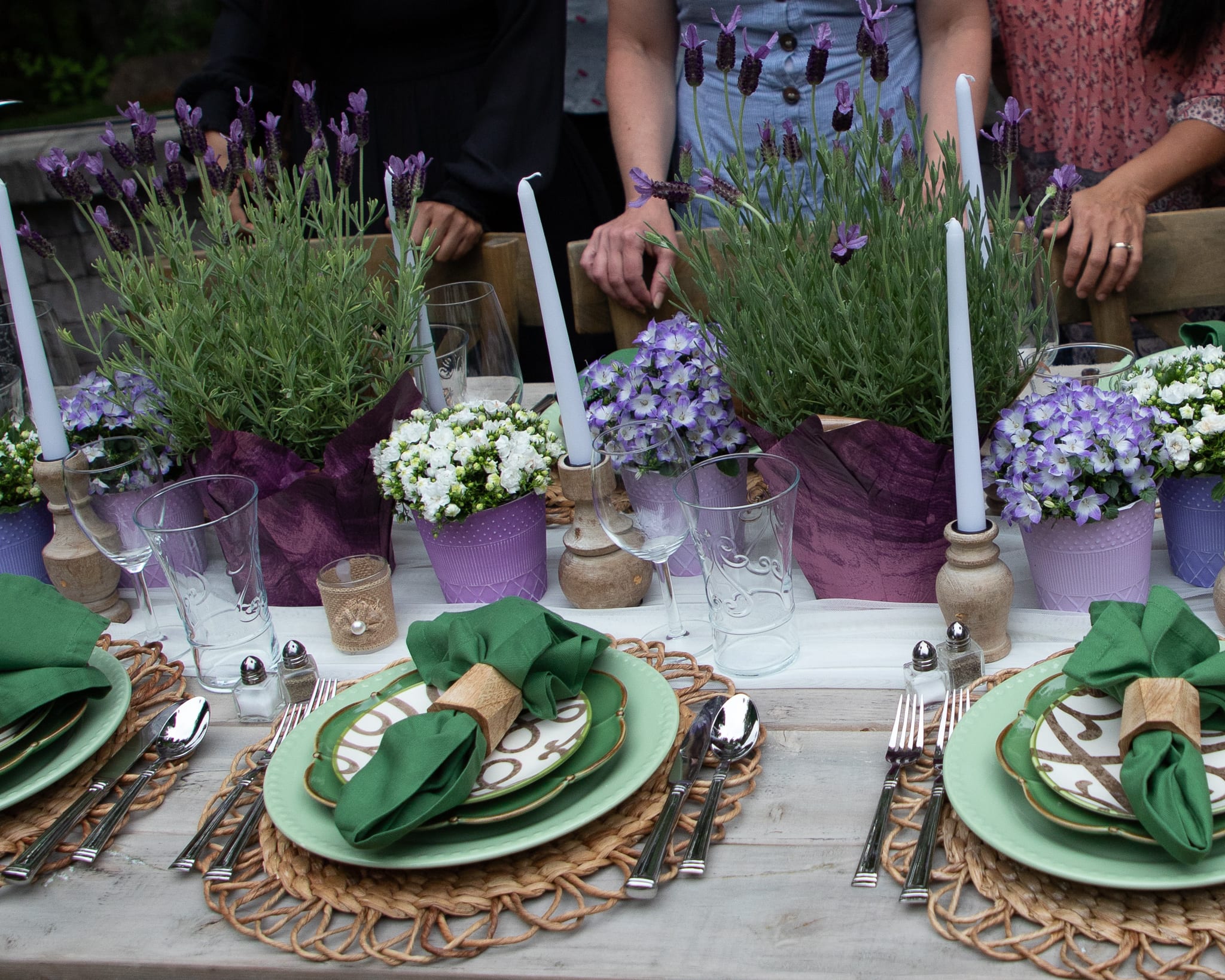 Choose a Theme or Color Palette
I always choose a theme or pick a color palette based on something I see that inspires me. When I was planning this party, I had gone to Trader Joe's to see what flowers they had and to shop for ingredients for the food I was planning to make. As soon as I saw these potted lavender plants and the smaller flowering plants in purple and lavender containers, I knew what my theme was going to be. Fresh, locally sourced lavender plants along with some smaller purple and white flowering plants in varying shades were the perfect pairing.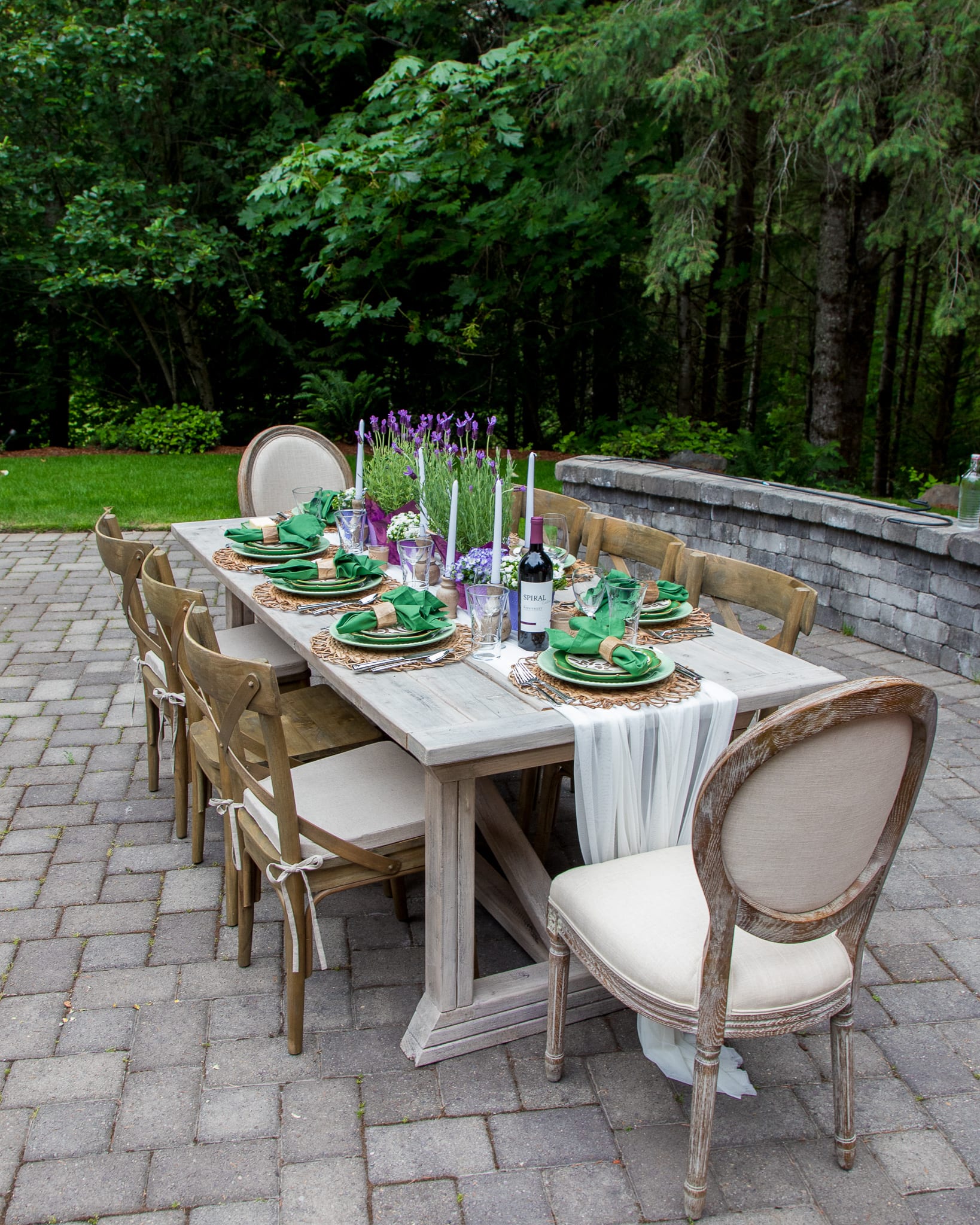 I like to choose my color and then I vary the shades of that color, usually using 3 different shades. This also adds depth and character to any tablescape. Here I chose the color lavender for the centerpiece inspiration and then I've varied the shades of lavender and purple throughout.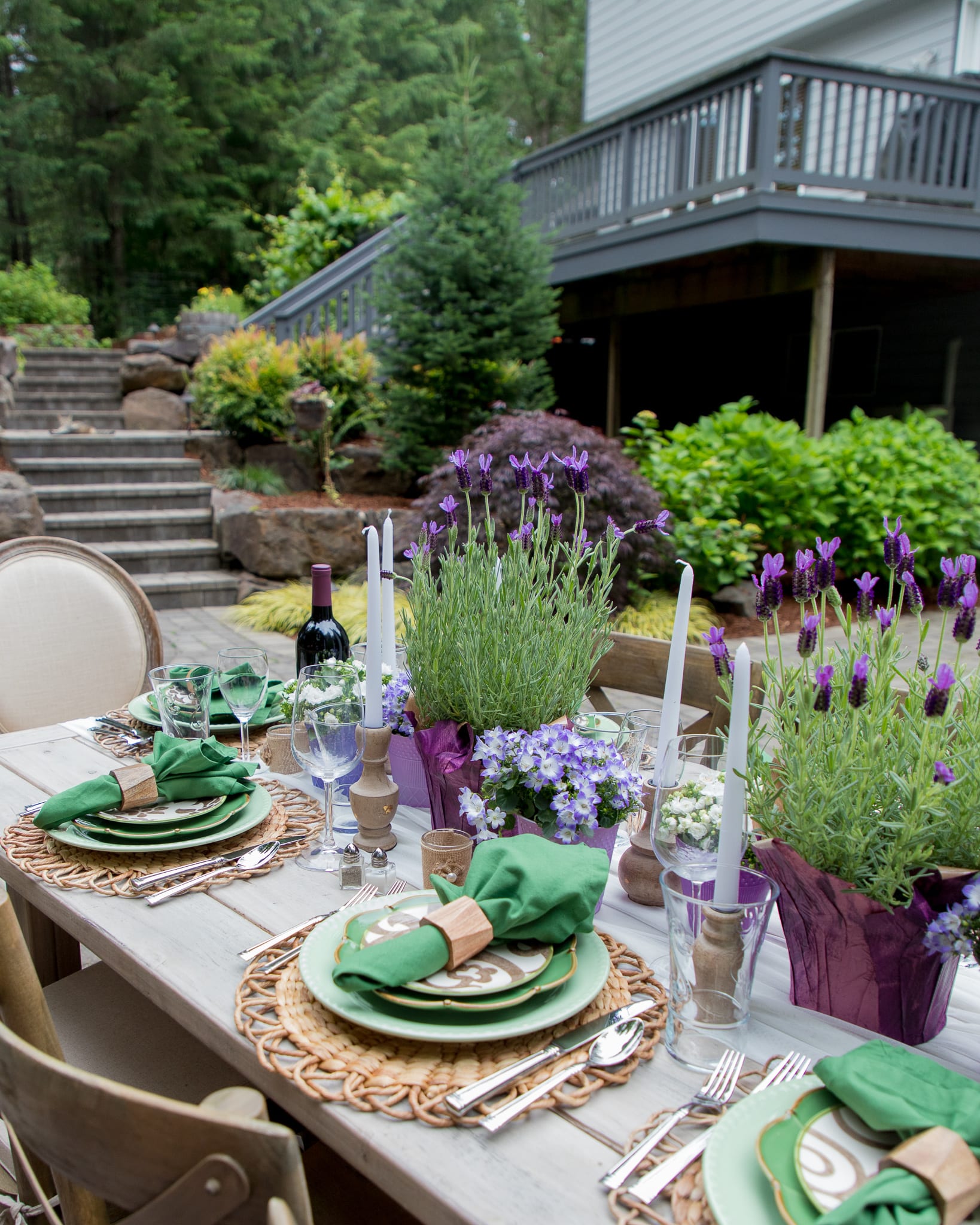 Create Different Heights and Layers
When creating a centerpiece, you want something that is lower to the table so you can see your guests and converse during dinner. I chose two of the taller lavender plants to create some height and then I used the smaller containers of flowers to fill in-between the larger containers.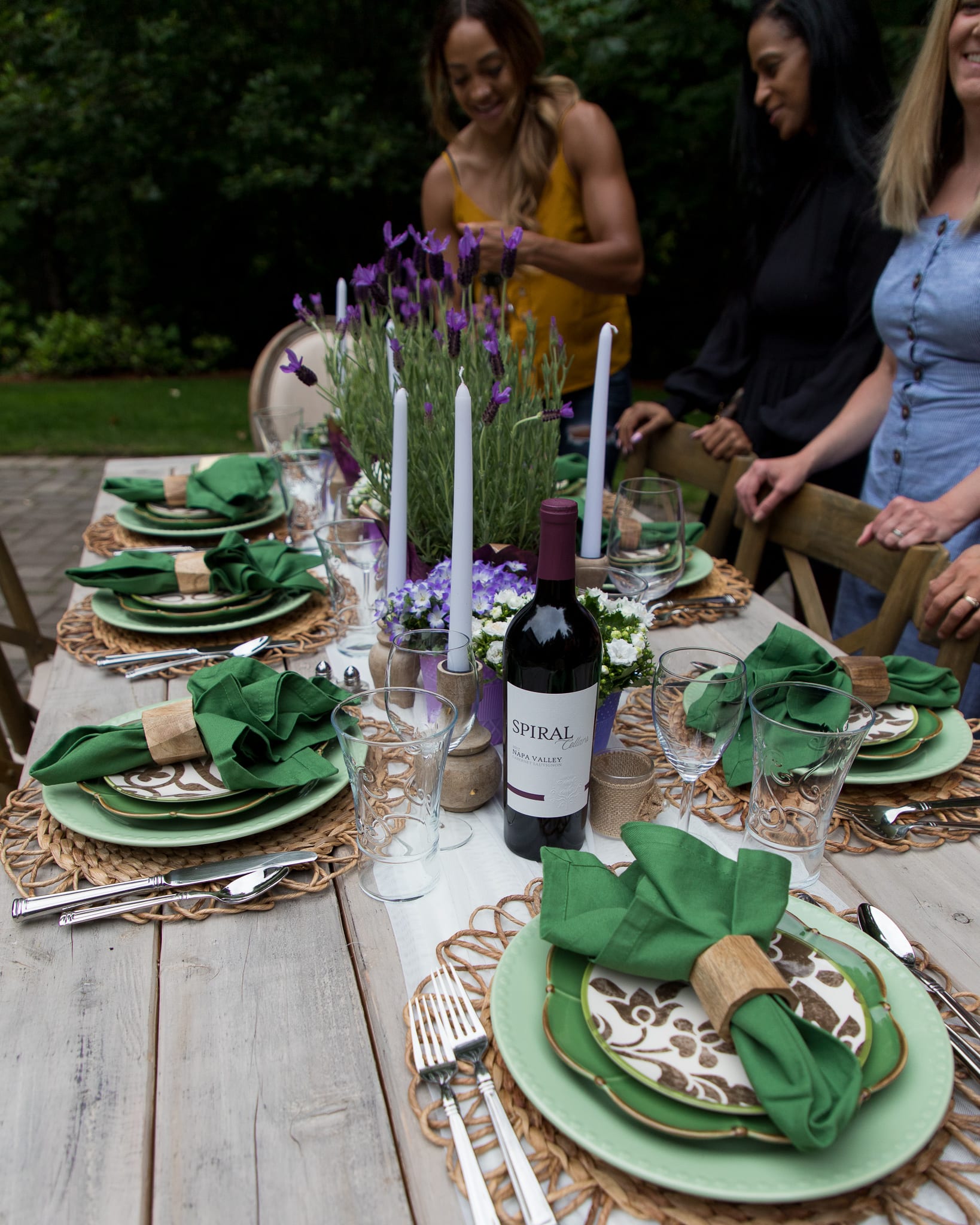 To add layers into the centerpiece, I added in some rustic candelsticks and some votive candles that were wrapped in burlap. This adds texture and variety to the centerpiece as well as fills in some of the gaps and holes. I also used a long, sheer, ivory colored table runner and I layered everything on top of.
Using a table runner is not required but it adds another layer of color and texture and helps fill up the middle of the table. I always use a corresponding color in the palette I've chosen for the table runner. The dinnerware has some cream or ivory shades and it ties in with the dinnerware.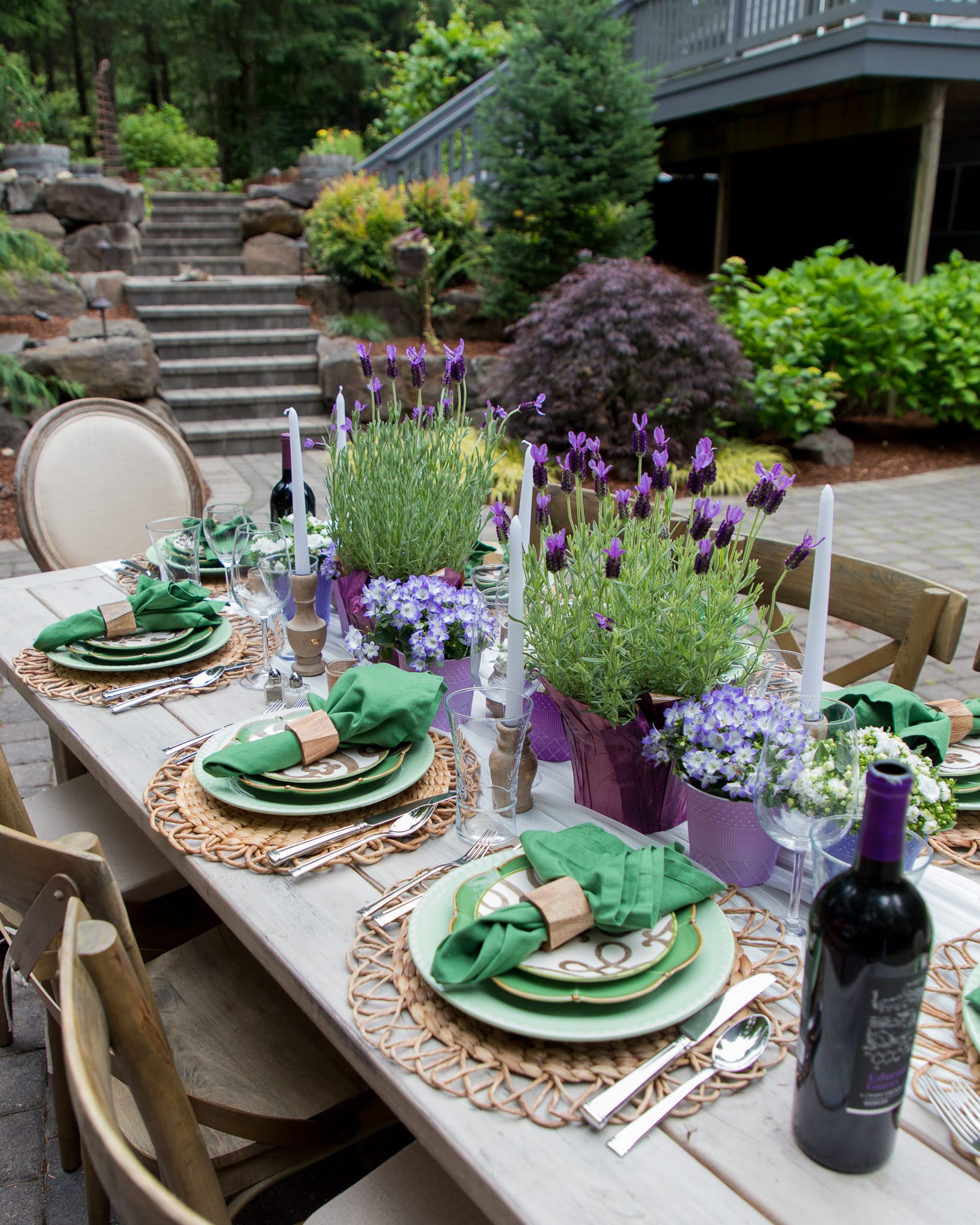 The Place-settings – Lavender and Green
For the place-settings, I chose wicker placemats and wooden napkin rings that matched well with the brownish colors in the dinnerware. I used silver flatware and a solid green napkin that matched the salad plate. I like to stack different plates in different shades and match the napkin to the stack of dishes.
You can see in the dish stack that I also varied the shades of green I used. I did this in the centerpiece and in the dishes and tied them all together with some warmer rustic elements.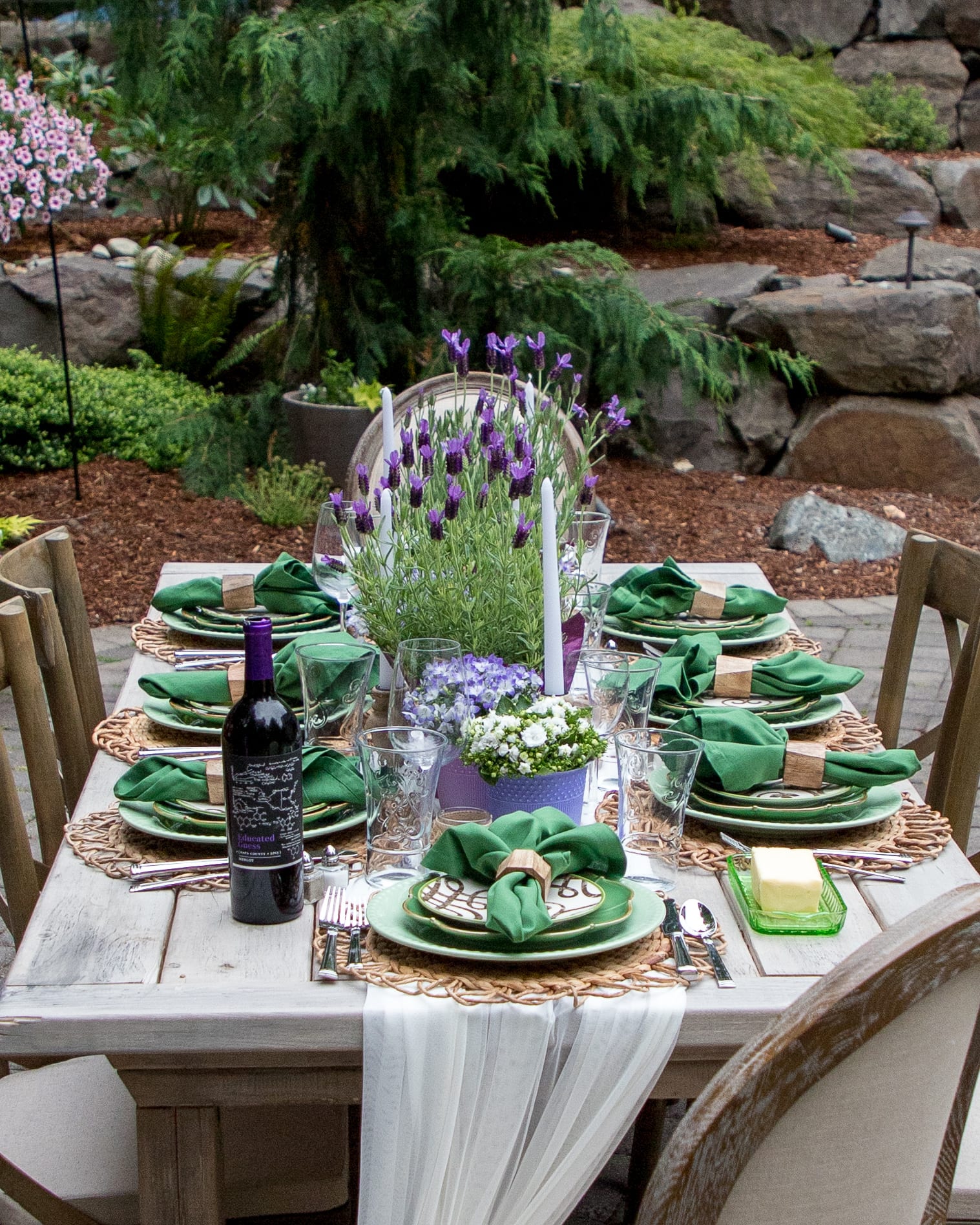 I picked the wine I was serving based on the color of the wine bottles. The wine bottles had purple labels so of course, those were the picks for the dinner party! I may be the only person that picks wine based on what the label looks like! My friends all liked the wine so I think it worked out!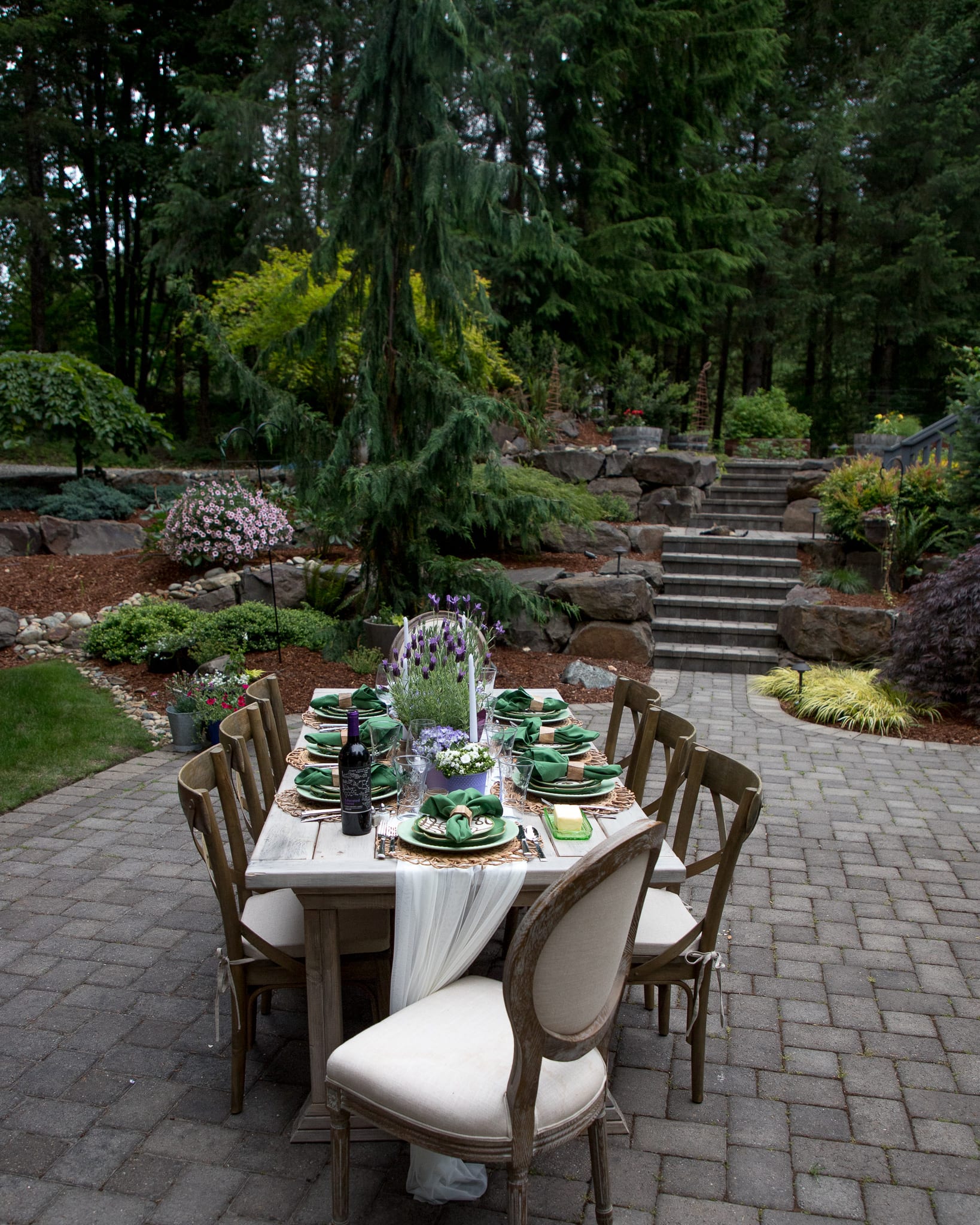 I hope this simple lavender inspired centerpiece inspires you to host your own dinner party with your besties! One of the reasons I enjoy hosting these dinner parties is that it creates connections and memories. Life is too short to not connect with the people you care about and I enjoy taking the time to create something warm and inviting for my friends who lift and inspire me each day.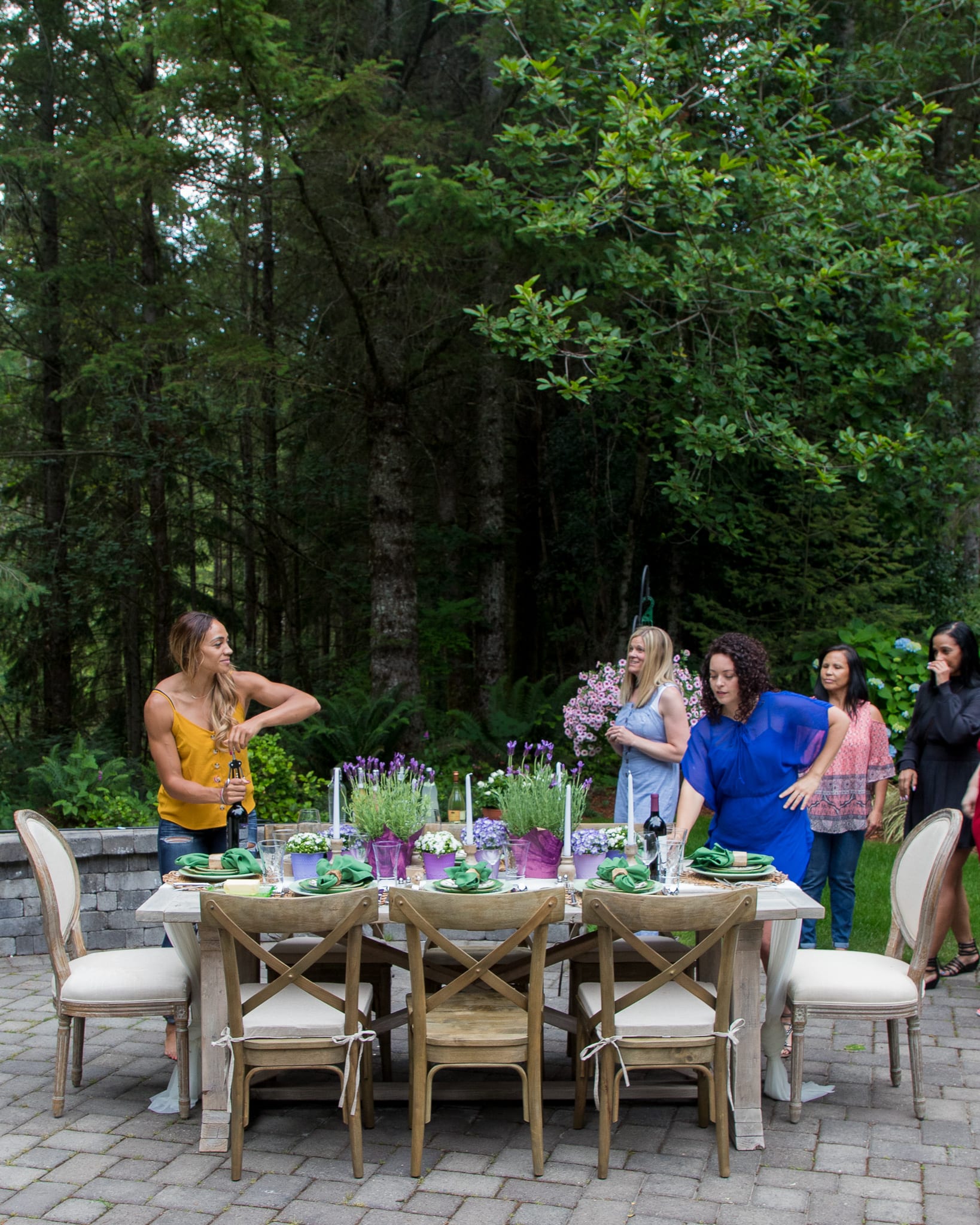 You don't have to be a professional floral arranger or have any experience with flowers. This is something everyone can do. Just pick a theme or color palette and make a simple centerpiece out of store bought flower pots and be creative! Most importantly, take time to gather and cherish the moments with good friends and good food!
P.S. At the end of the evening, I sent each of the girls home with one of the smaller potted plants as as a little token of my appreciation for their friendship. Your centerpiece can also become a little gift!
I have teamed up with a few of my friends to give you even more summer centerpiece ideas! Click on the links below for more inspiration. I have some seriously talented friends! Go check them out!
More Summer Centerpiece Ideas

Rustic Summer Centerpiece with Dahlias at Modern Glam
Outdoor Summer Centerpiece at My 100 Year Old Home
5 Minute Summer Centerpiece at Happy Happy Nester
Summer Table Decorations at Lolly Jane
French Country Centerpiece at Sanctuary Home Decor

Easy Summer Centerpiece at The Handmade Home
Edible Summer Tablescape at Twelve on Main
Lavender Inspired Centerpiece at Home with Holly J
Simple Summer Centerpieces at The Happy Housie
Enjoy!
XOXO,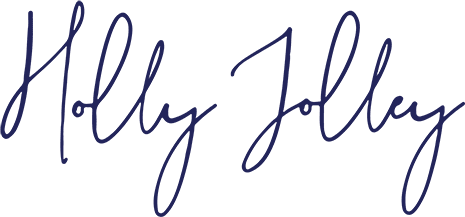 For more outdoor tablescape inspiration check out my Outdoor Farm to Table Entertaining post.
Sources from this Simple Lavender Inspired Centerpiece:
The green dishes are from SoutherLiving but are no longer available. You can find some here at Replacements.com
I've linked a similar set with the other items I've linked: