Pink Peony Summertime Tablescape
Who doesn't love farm fresh pink peonies? I was inspired to create this pink peony summertime tablescape after visiting my friend Amy Brown's flower farm. She and her husband Steve, own Laughing Goat Flower Farm located in the beautiful town of Enumclaw, Washington. Enumclaw is a farming town located southeast of Seattle and sits just below the foothills of the Cascade Mountains and majestic Mount Rainier.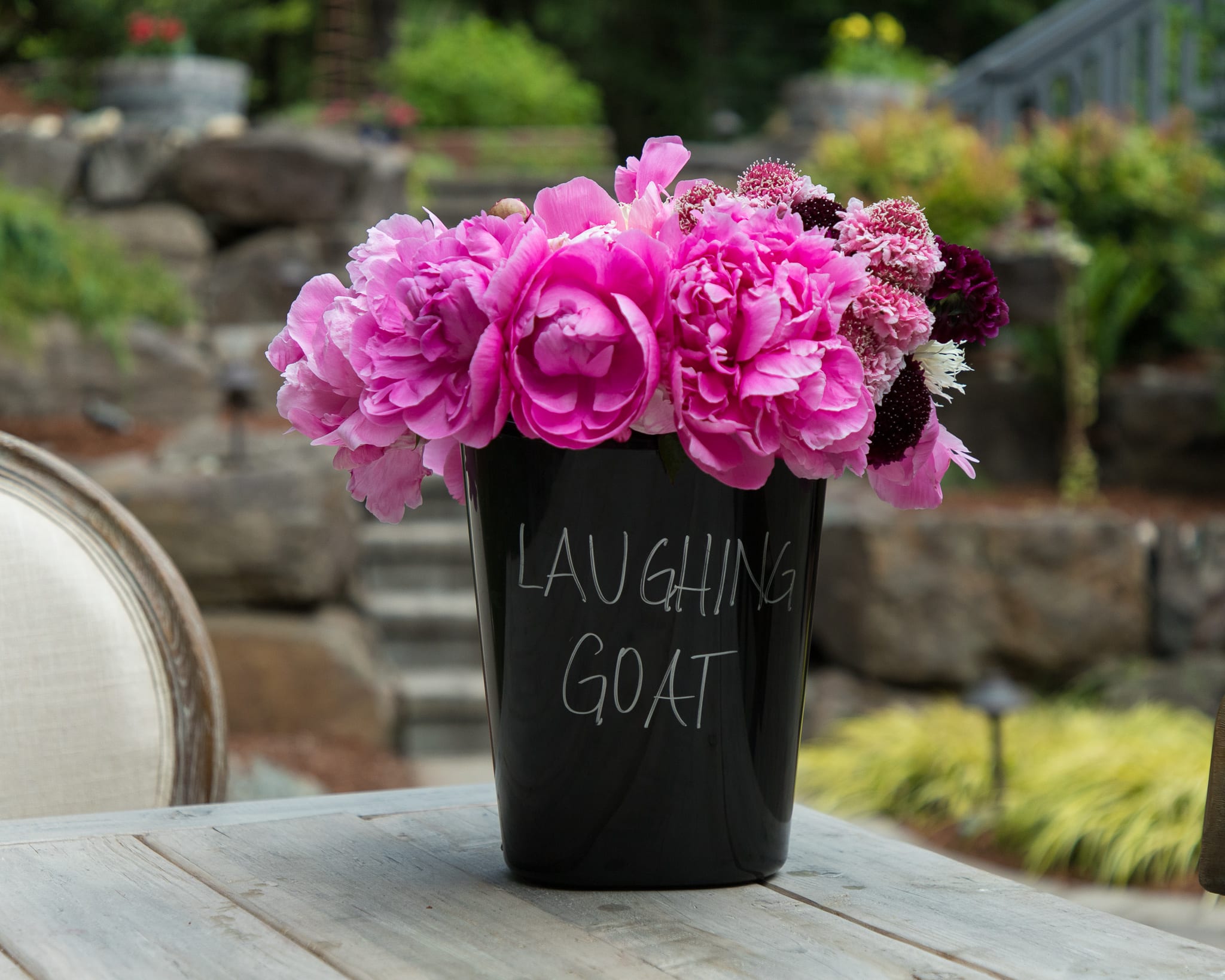 A Match Made In Heaven
Amy and I met last summer at a floral arranging workshop and it was a match made in heaven. We became fast friends and realized we lived near one another. We bonded over our love of flowers and gardening. I love going to visit Amy and Steve at their farm and seeing all the beautiful flowers, vegetables, and of course, the adorable goats, pigs, and the farm dog Sheila.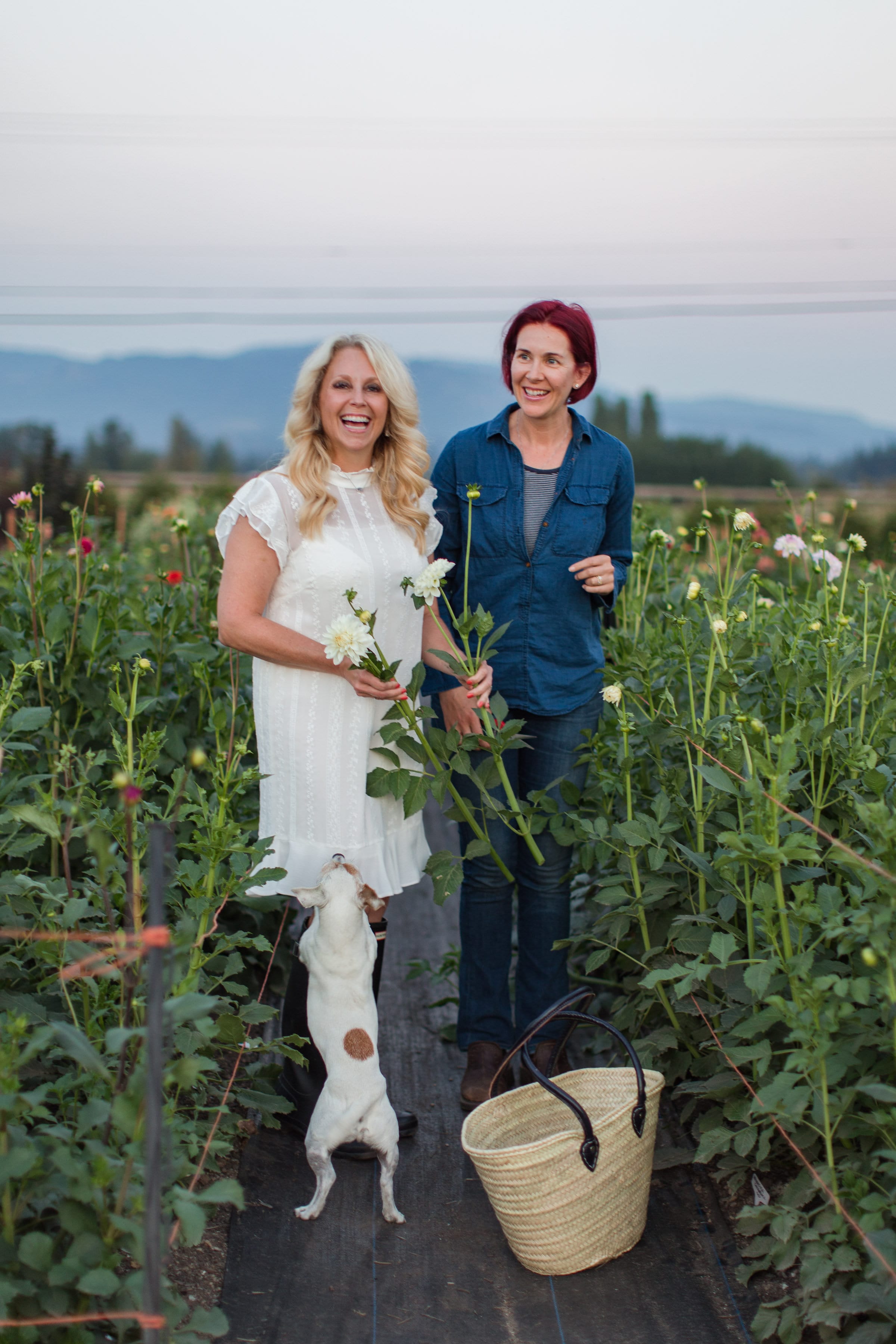 Laughing Goat also grows beyond organic vegetables and both Amy and I love growing and eating our own food. Amy is much better at gardening than I am and I thoroughly enjoy learning from her. She's very knowledgeable and generously shares it with me. The farm is beyond organic and practice's sustainable based growing practices.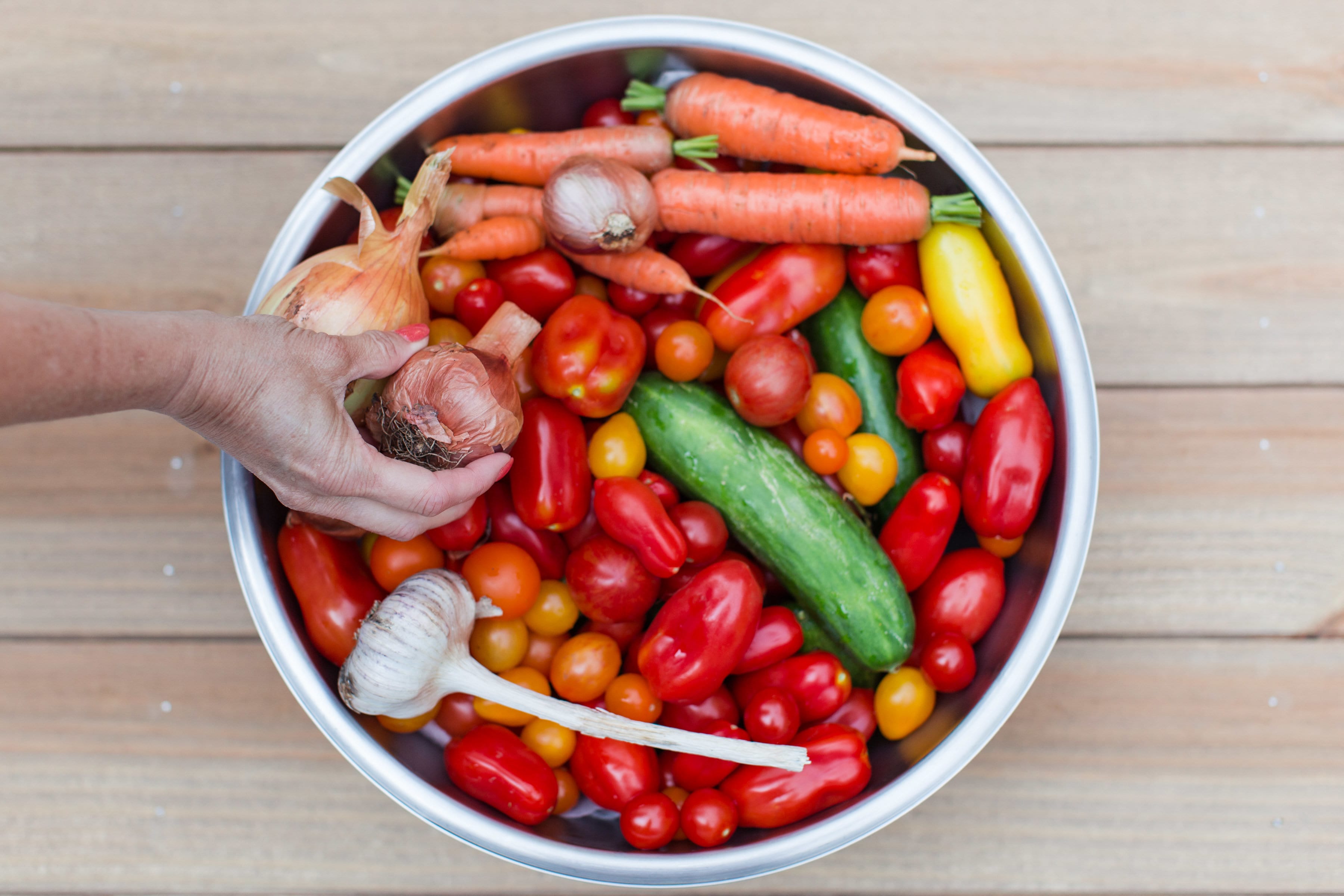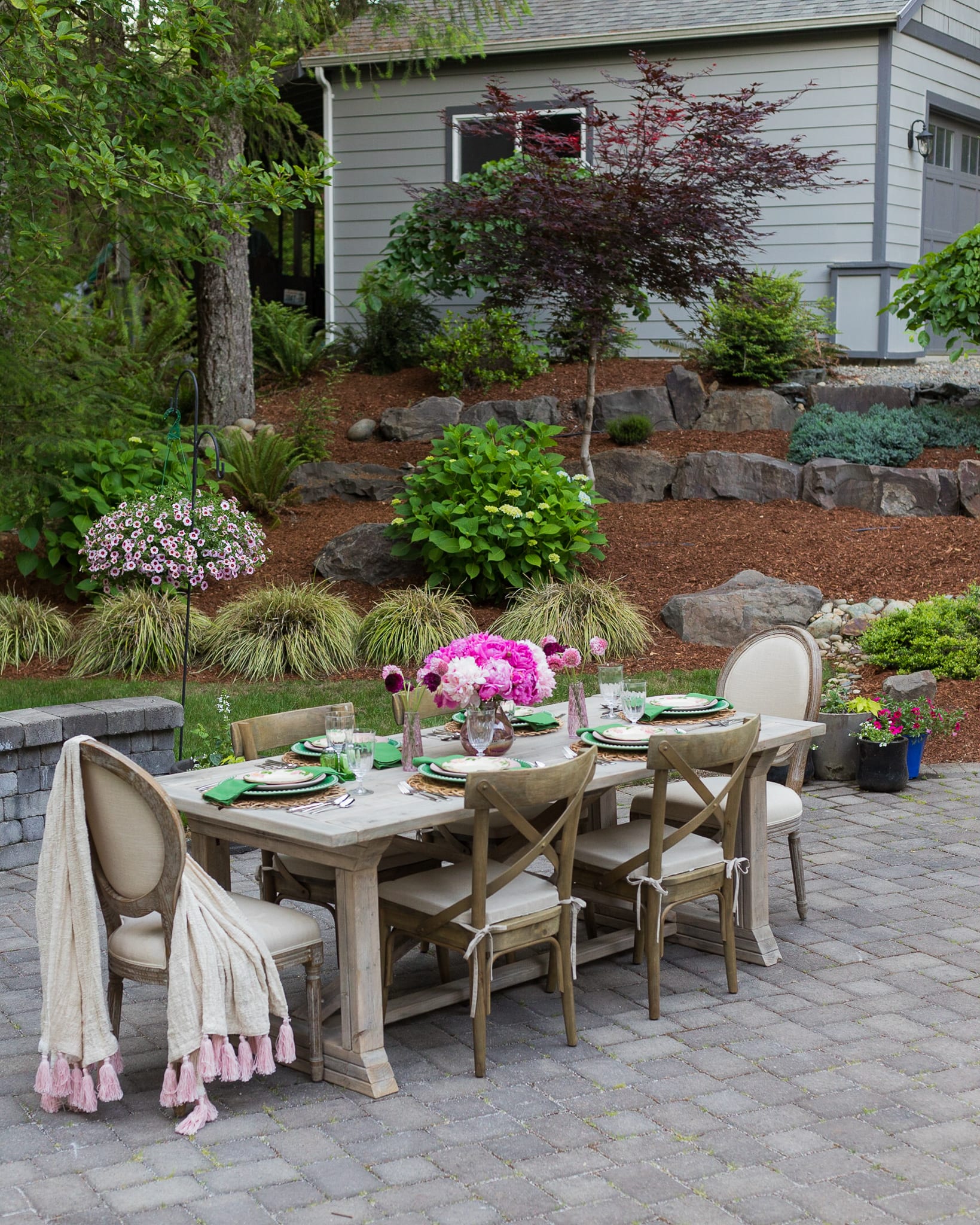 Sourcing Locally
As I've learned more about the farming industry I've become more aware of how important it is to source flowers and produce locally. Amy practices beyond organic, pesticide free growing methods and is very conscious of the environment. I believe it's important to support your local farmers when you can, especially those that are considerate of the environment. The flowers last so much longer because they are local and most of the time I can buy them the same day they are cut.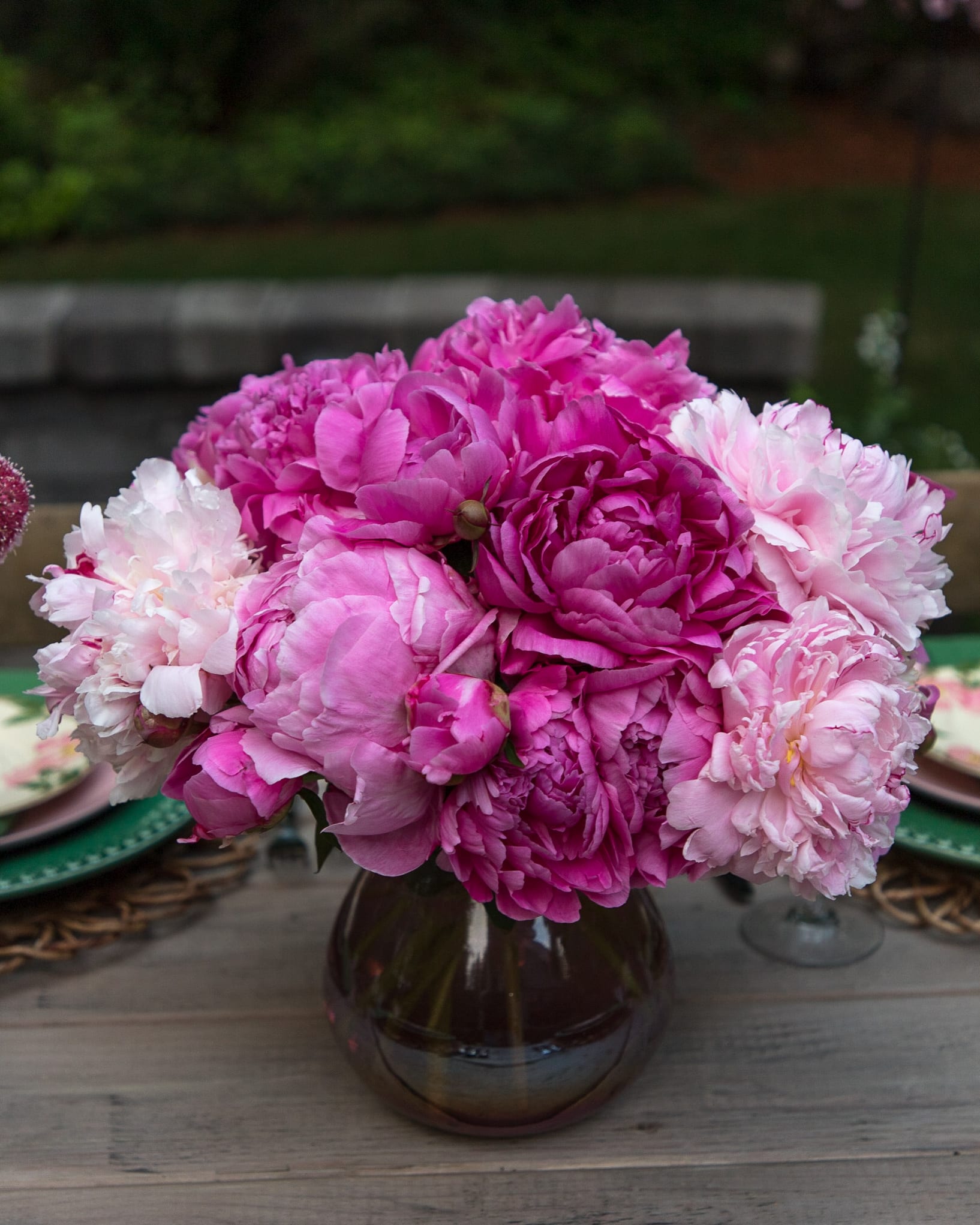 Amy's farm has the most beautiful flowers and I'm so lucky to have Laughing Goat so close to me. It's always a fun day when I can drive out to the farm, visit Amy and come home with gorgeous flowers and produce I know has been grown without the use of sprays and pesticides.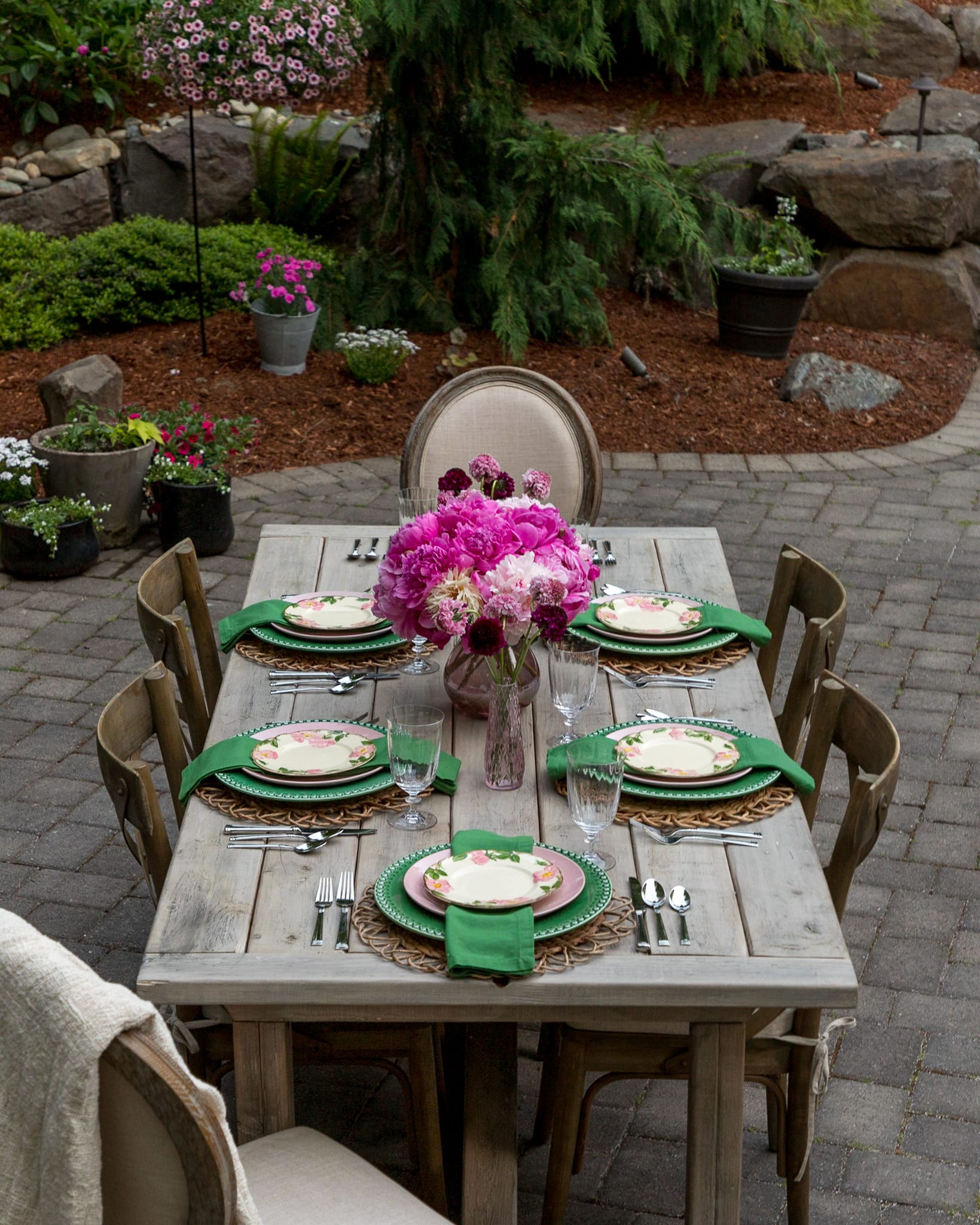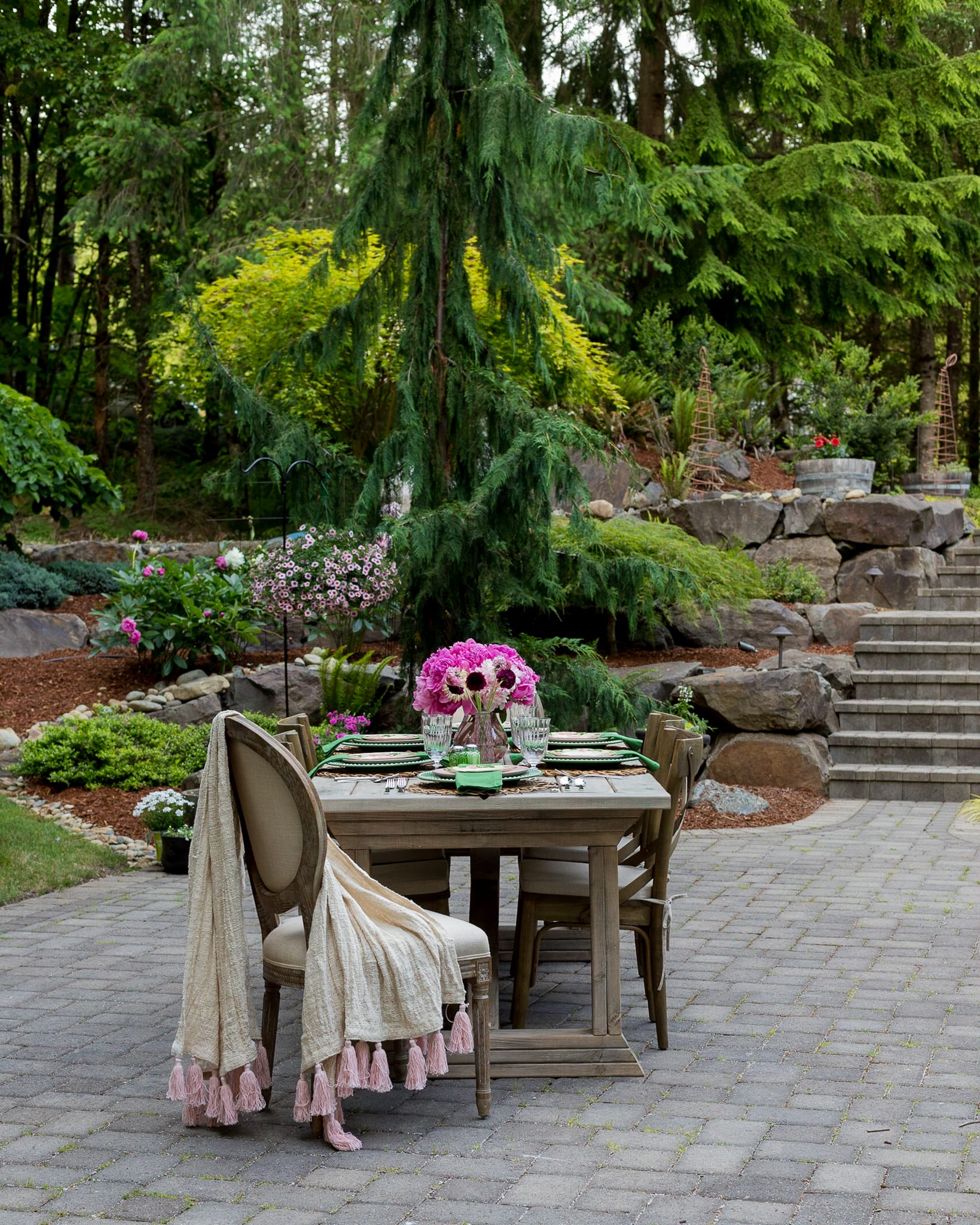 Pink Peony Summertime Tablescape Details
Mixing The Old With The New
I wanted to create a tablescape using my vintage dessert rose salad plates that I bought at a local antique store. Amy and ventured out one day to see what pretty dishes we could find and I was quite happy to have found these gems!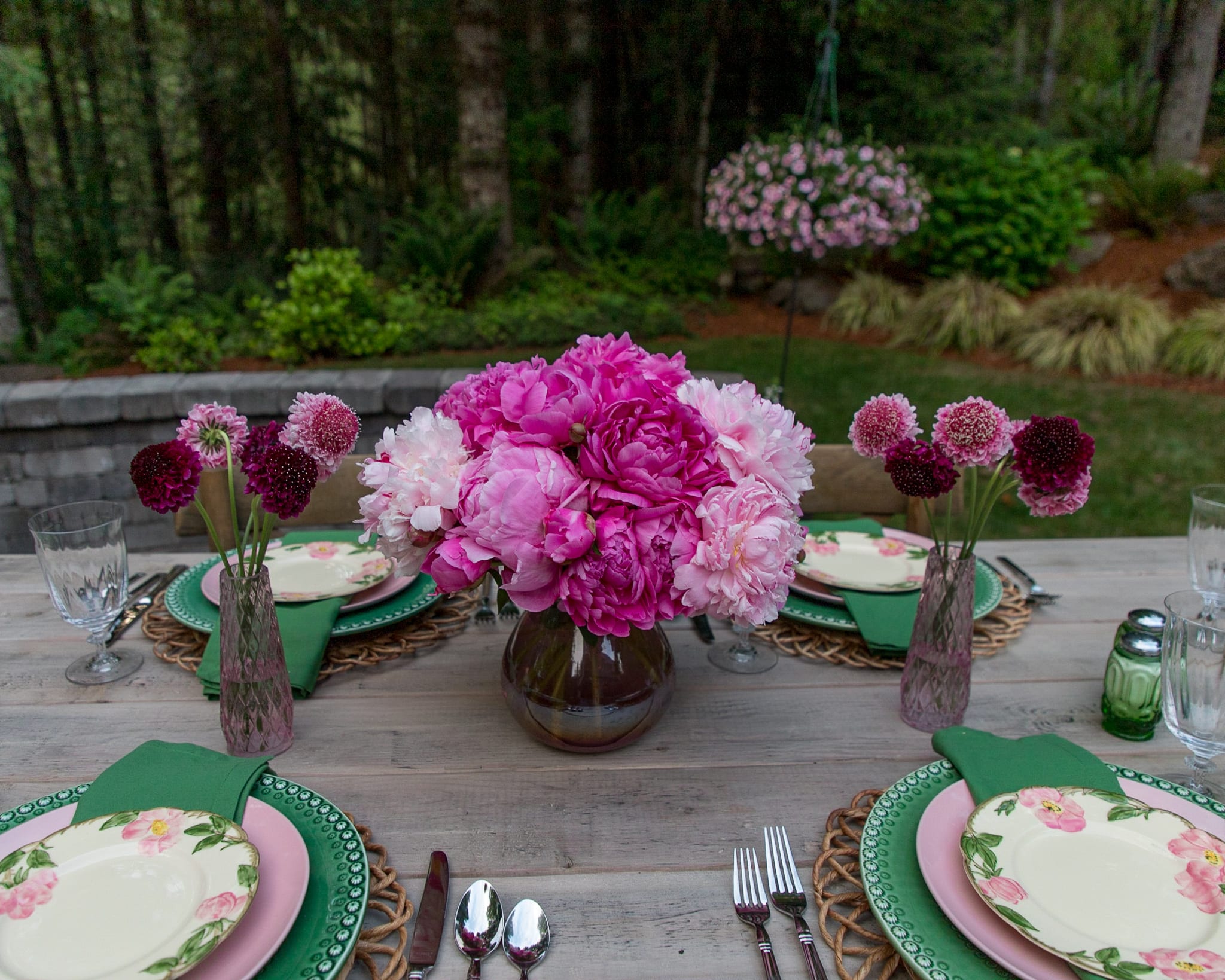 I paired them with dark green chargers that I found years ago at Homegoods and pink dinner plates that I found recently Walmart. They were $1.88 each if I remember correctly! I chose a solid green napkin and layered it under the salad plate to give some contrast. Mixing vintage dishes with newer dishes is something I really like to do. It adds charm and character to the place-setting. I picked a hyacinth placemat to add texture and warm tones to the color palette and silver flatware. The goblets are crystal and have a vintage look.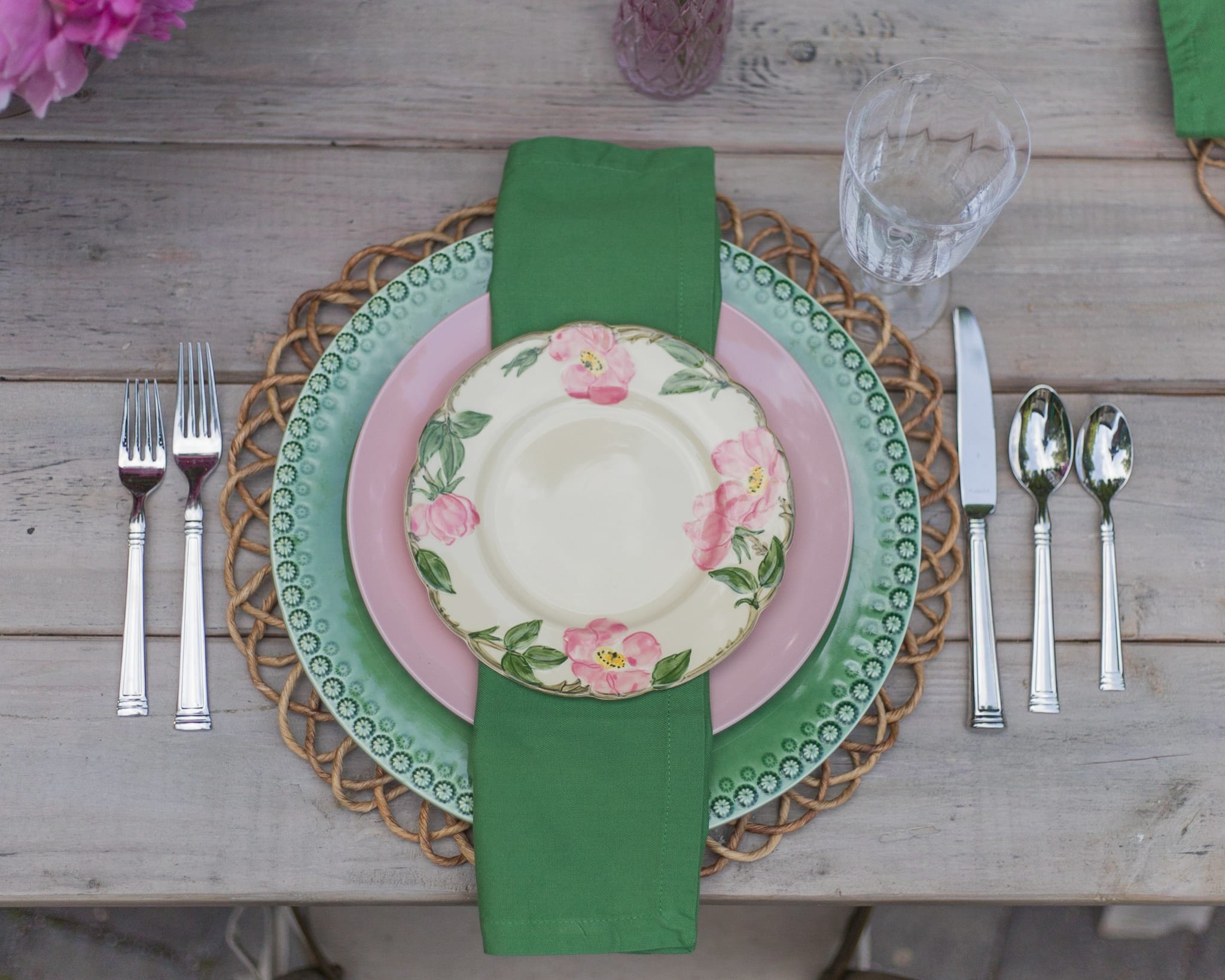 The Centerpiece
For the centerpiece, I arranged the pink peonies in a pink vase. The flowers were so beautiful on their own. I wanted the focus to be the flowers. Amy also had scoop scabiosa flowers so she cut a few of those for me too. I put them in two smaller vases on each side to fill up the empty space on the table.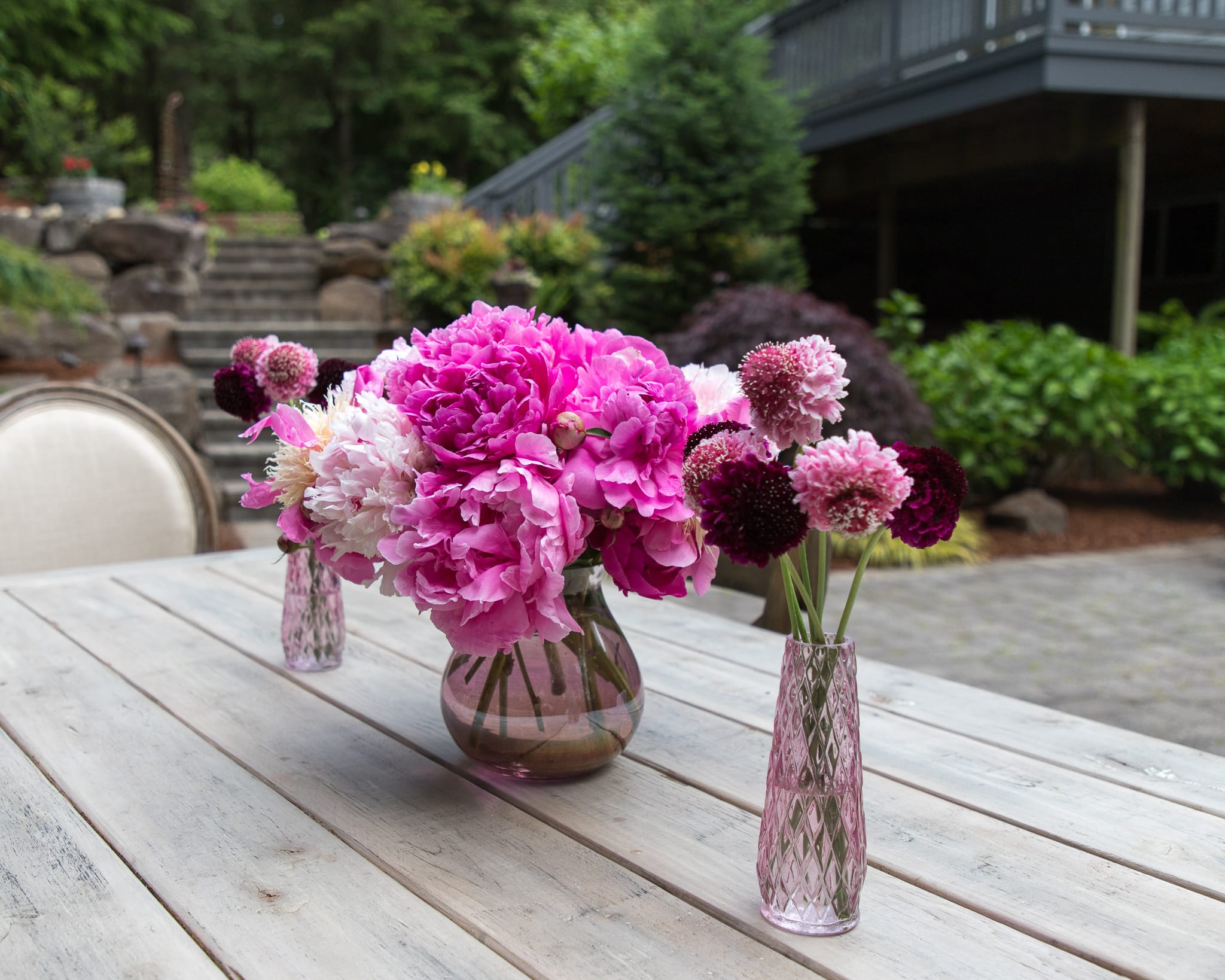 Keep It Simple
Sometimes less is more. Let the dishes and the flowers do the work! I typically do a lot more to fill in the empty space on the table but this time I just wanted the flowers to be the center of attention.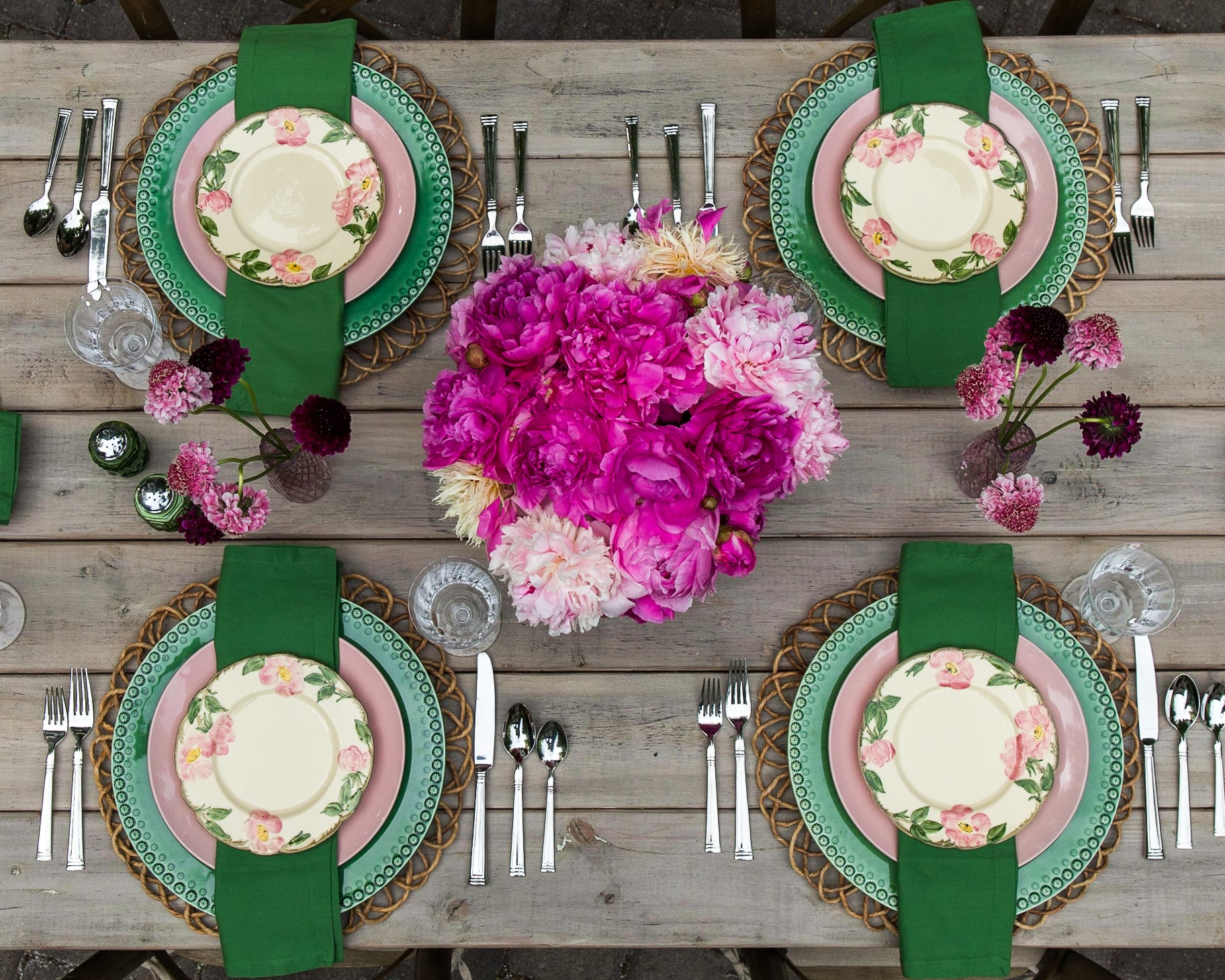 I hope you all enjoyed this pretty pink peony summertime tablescape. I truly love creating a beautiful table and sharing a home cooked meal with friend and family that I love.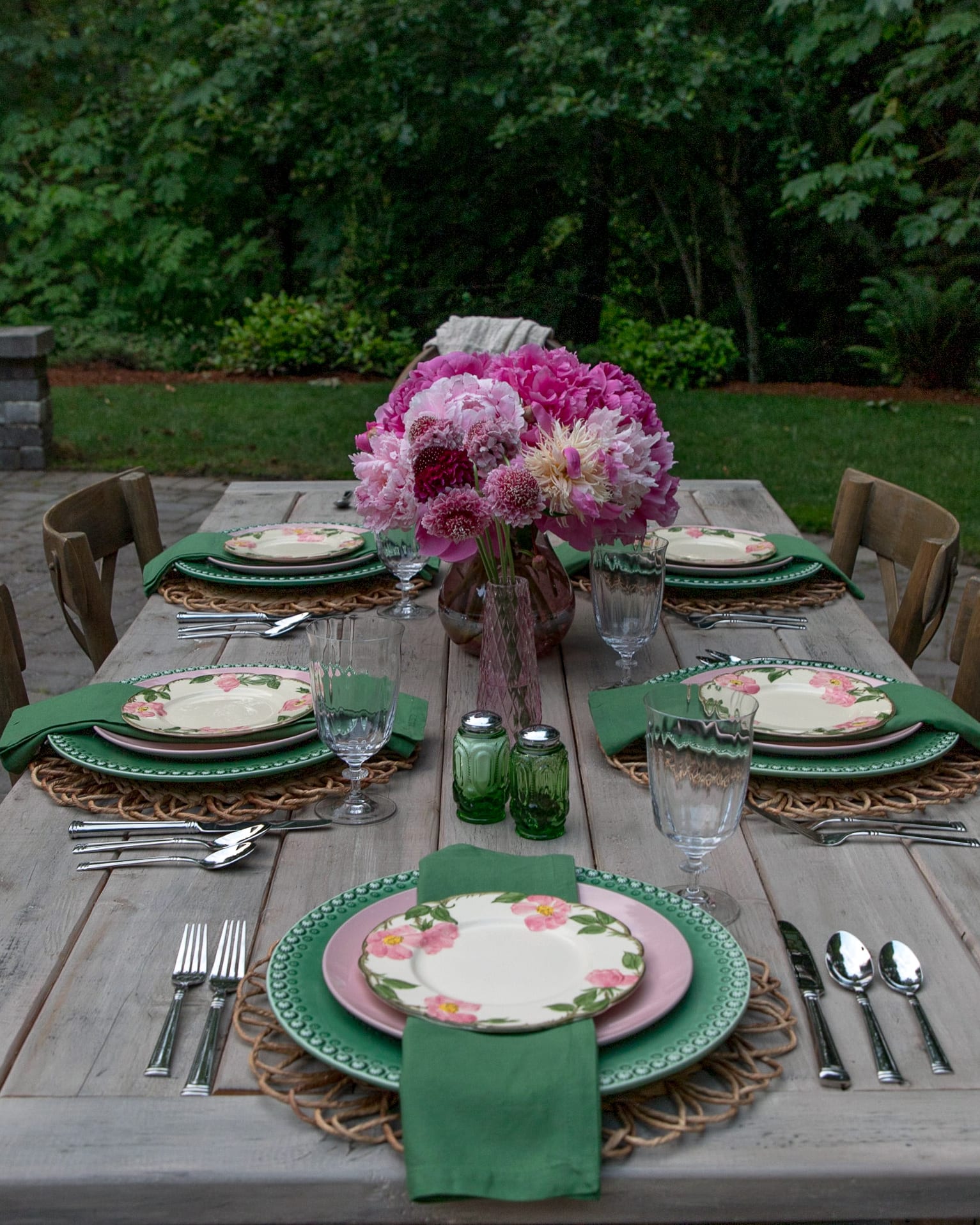 Some of my talented friends have also shared Summertime Tablescape Ideas and Inspiration!
Click on the links below to see each post.
XOXO,
HollyJ
Click here for more information on Laughing Goat Flower Farm.
Check out this Outdoor Entertaining Farm To Table post with more flowers from Laughing Goat Flower Farm.
Sources and similar items: