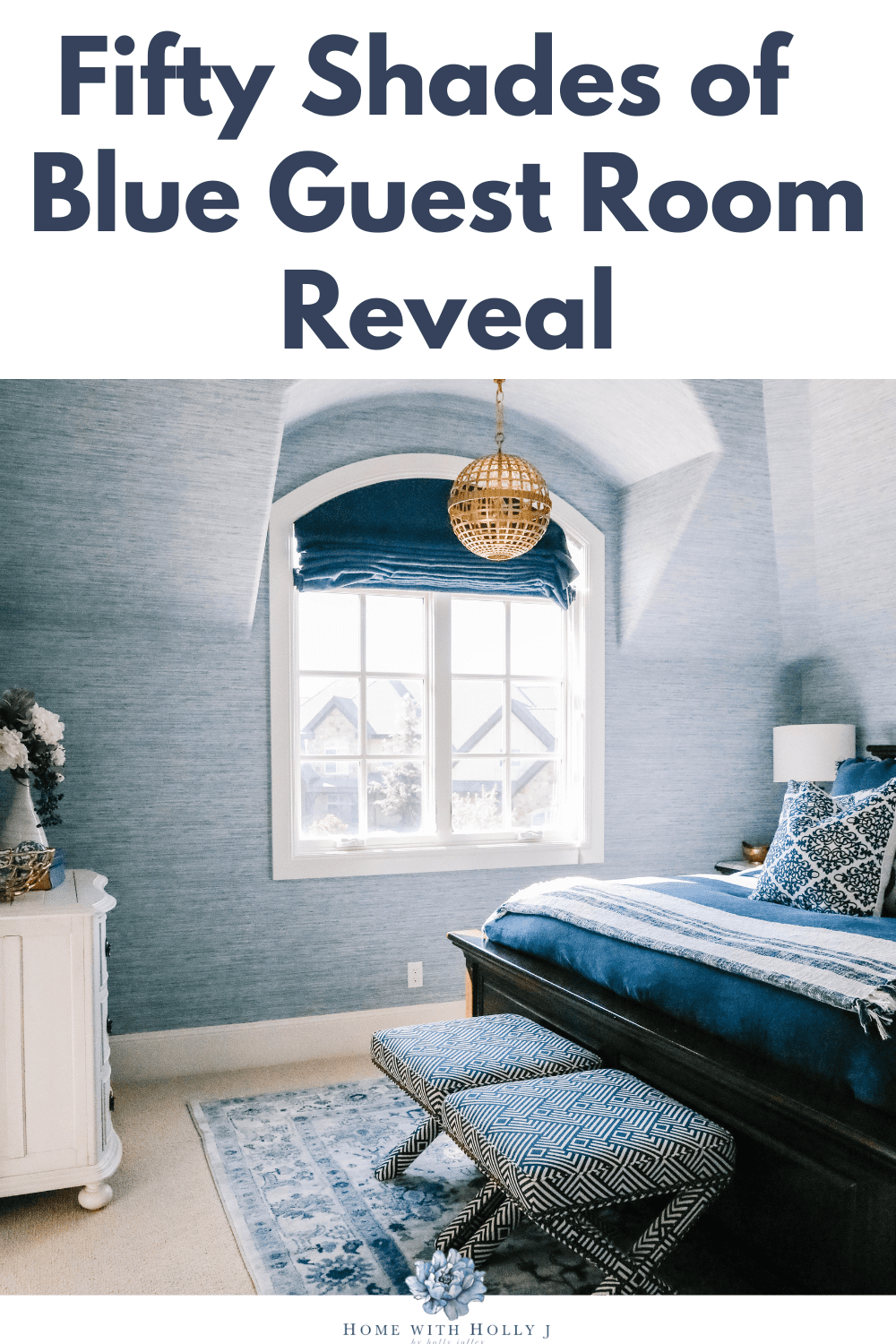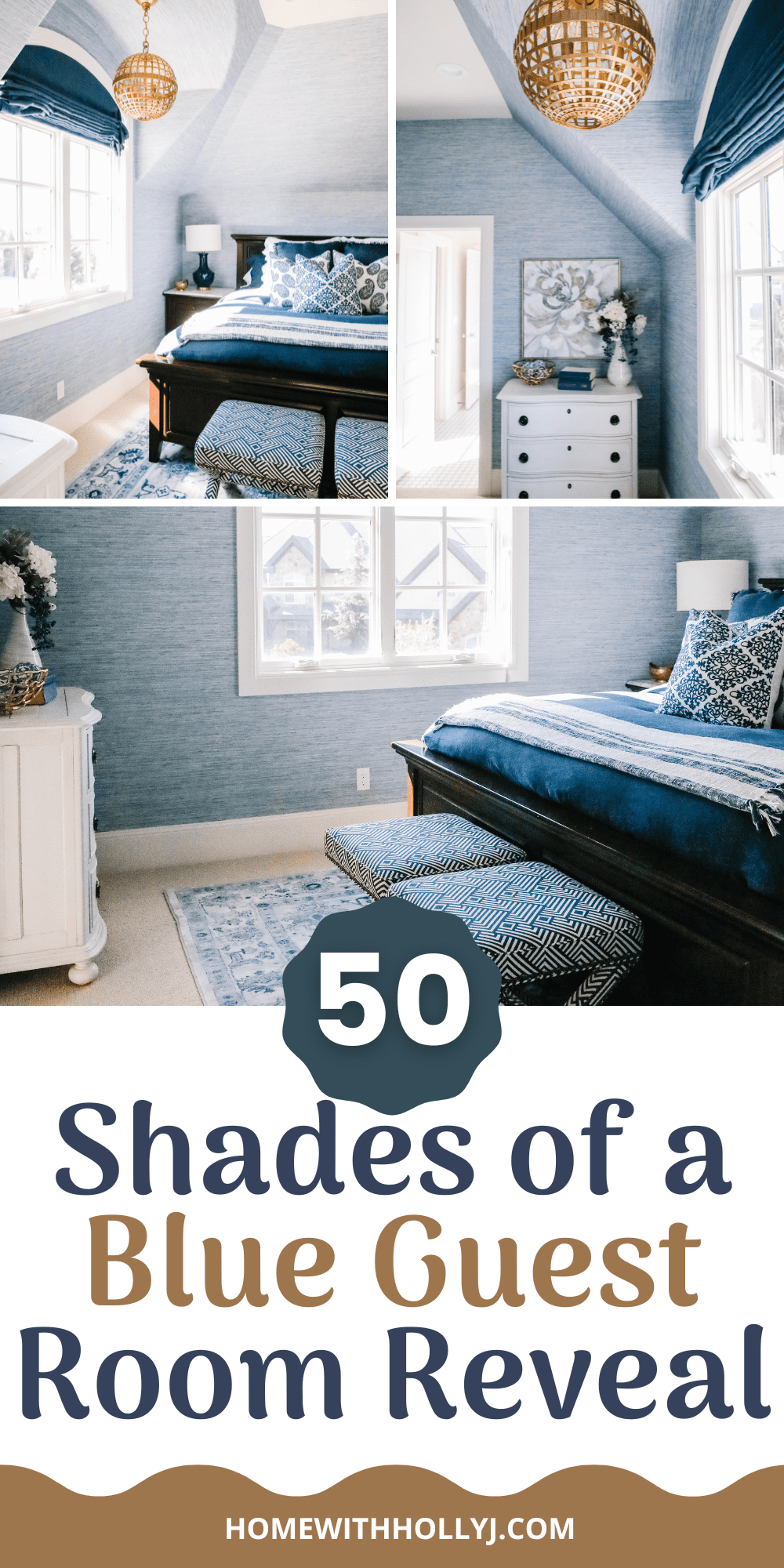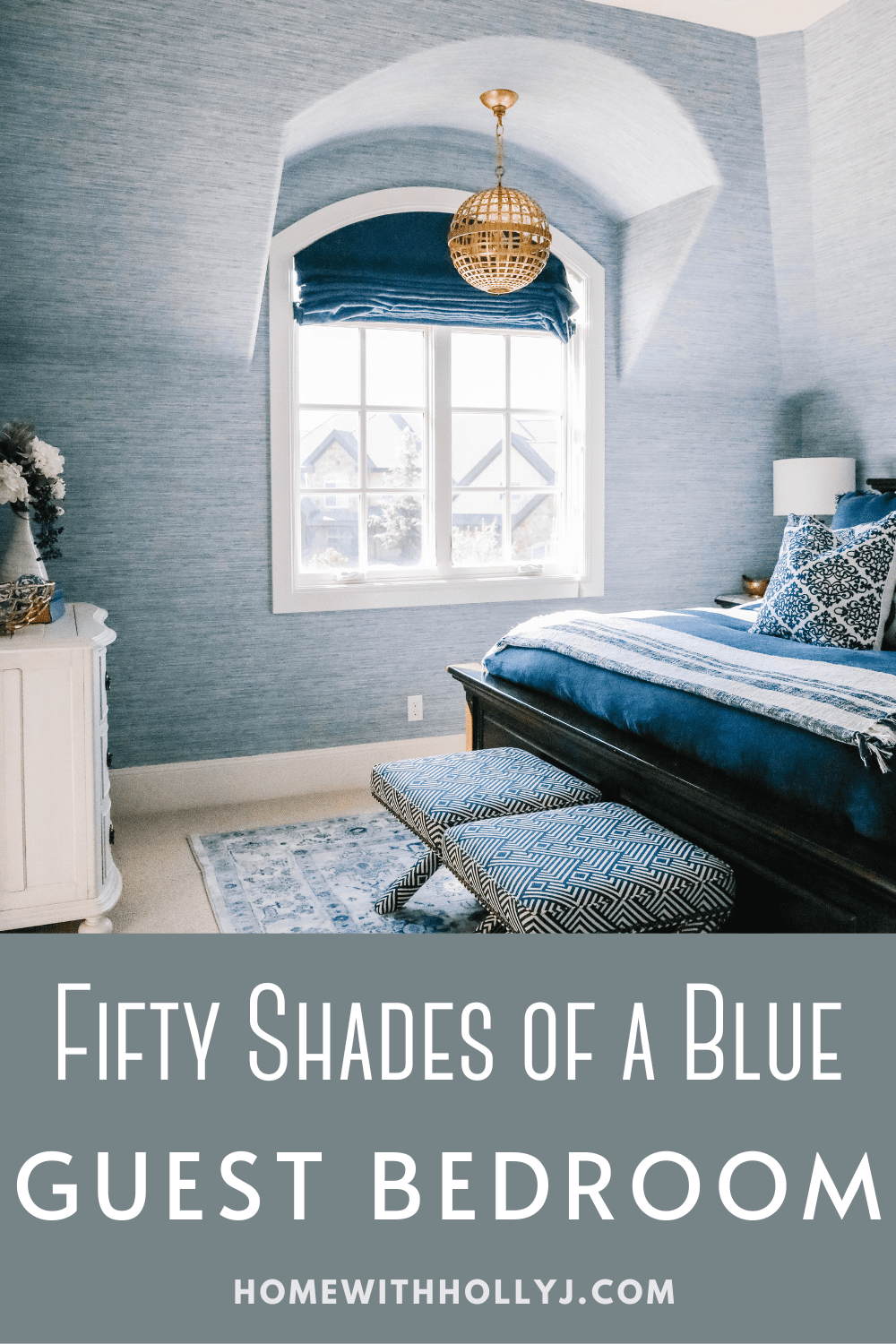 Check out my Fifty Shades of Blue Guest Room Reveal at the Highland house. See how I styled this well-used guest room.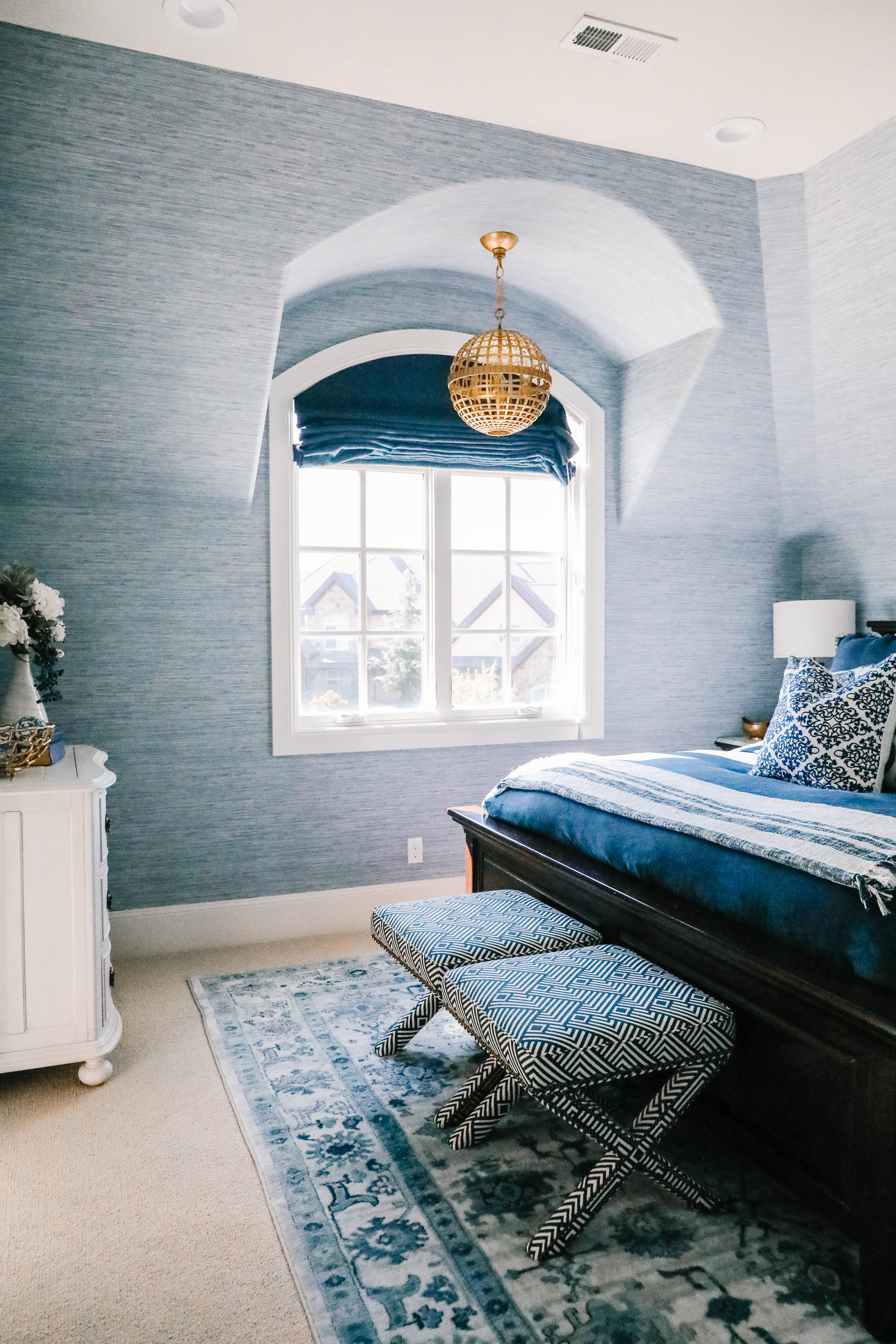 Disclaimer: This post does include affiliate links for your convenience. This is at NO additional cost to you but earns me a small commission. To read more, check out our disclosure policy.
Table of contents
Fifty Shades of Blue Guest Room Reveal
I'm finally sharing one of our guest rooms that we call the "blue" room. When we first moved into the Highland house, we somehow named each bedroom by color. This room had blue wallpaper and was a baby boy's nursery so it naturally became the blue room. There is a lot of blue going on in here so that's why I've called it the fifty shades of blue guest room reveal.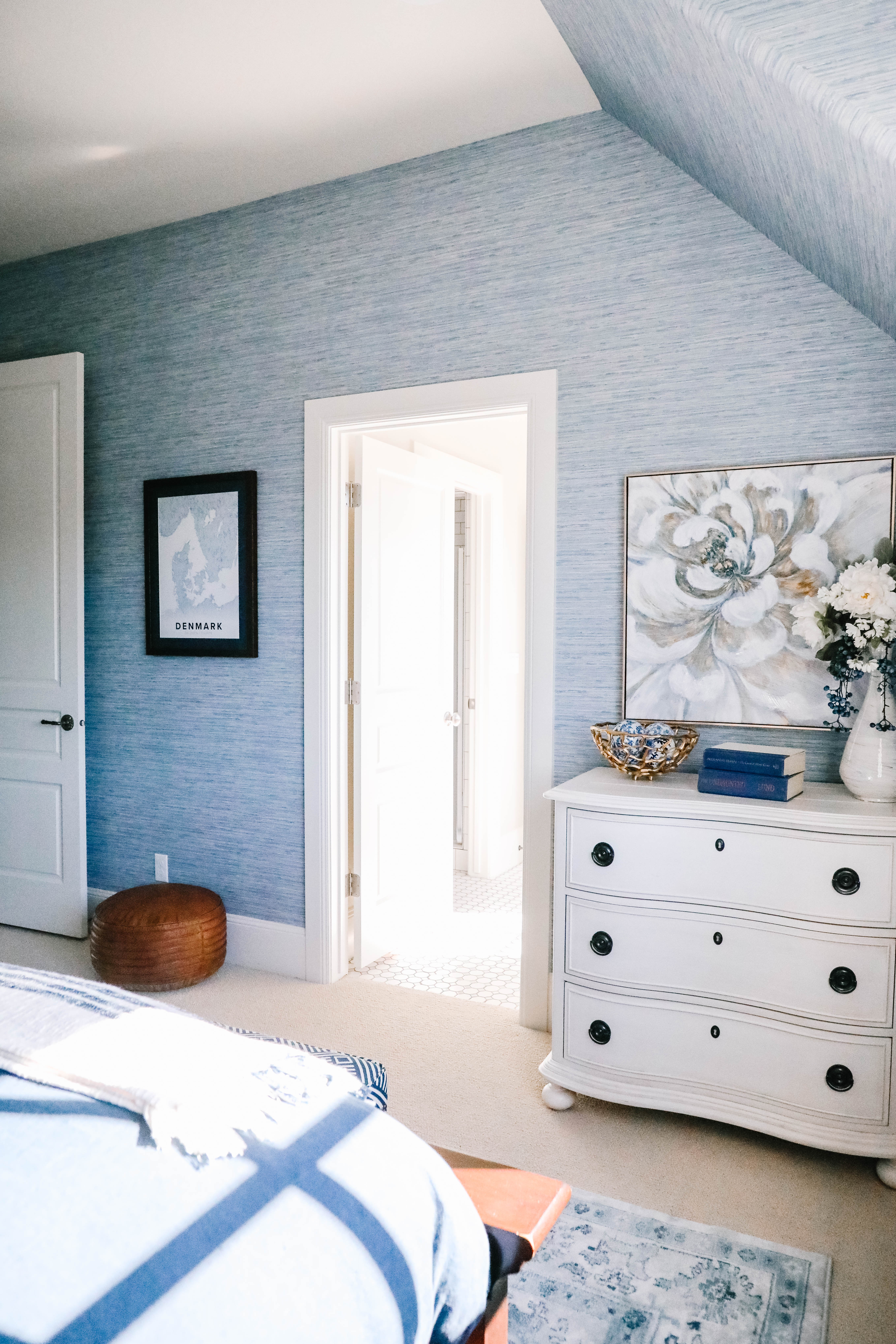 It took me awhile to share this room because it's usually being used by one of the kids home from college or guests. We jokingly call our Utah house the Holly Hotel because we have a lot of family and friends that come to stay.
There is a Jack and Jill bathroom between the blue room and what I call the "gray room" on the other side.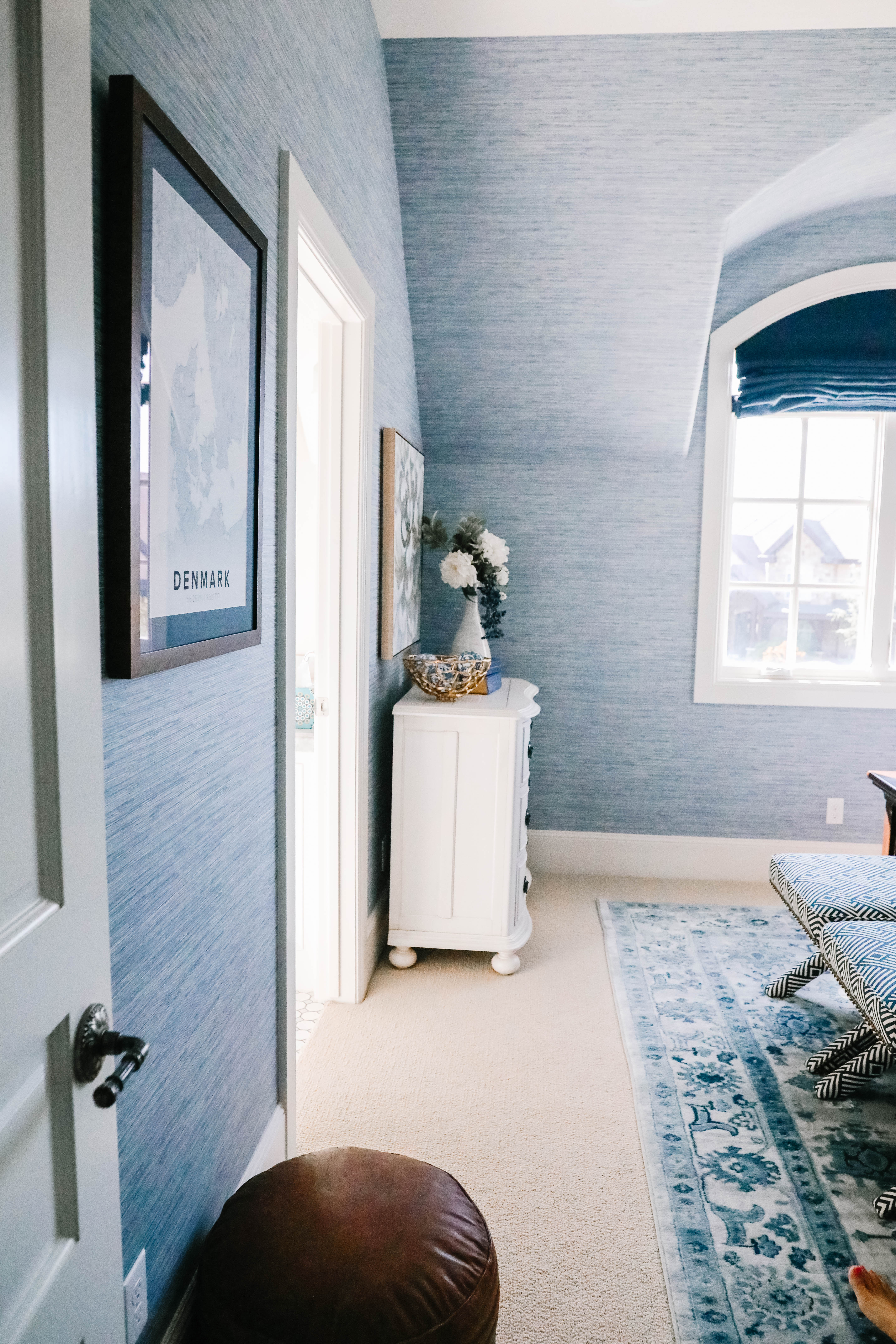 Guest Room Reveal -Blue and White Bedding
I bought this dark navy duvet for the top blanket and a quilted white blanket to go underneath. I usually keep a heavier blanket on top that can easily be folded down for when it's warmer weather and a lighter blanket underneath for those that like to sleep a little cooler.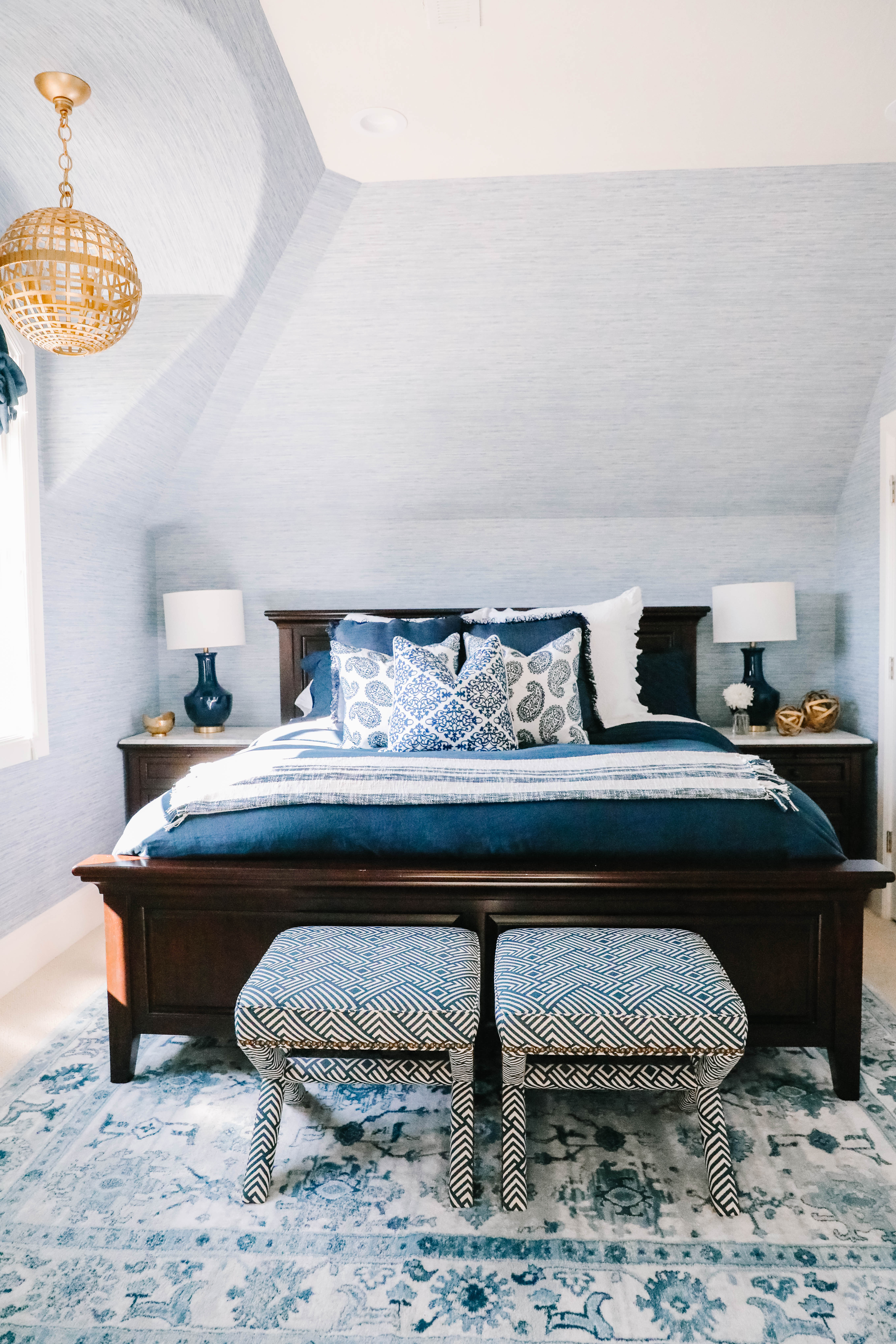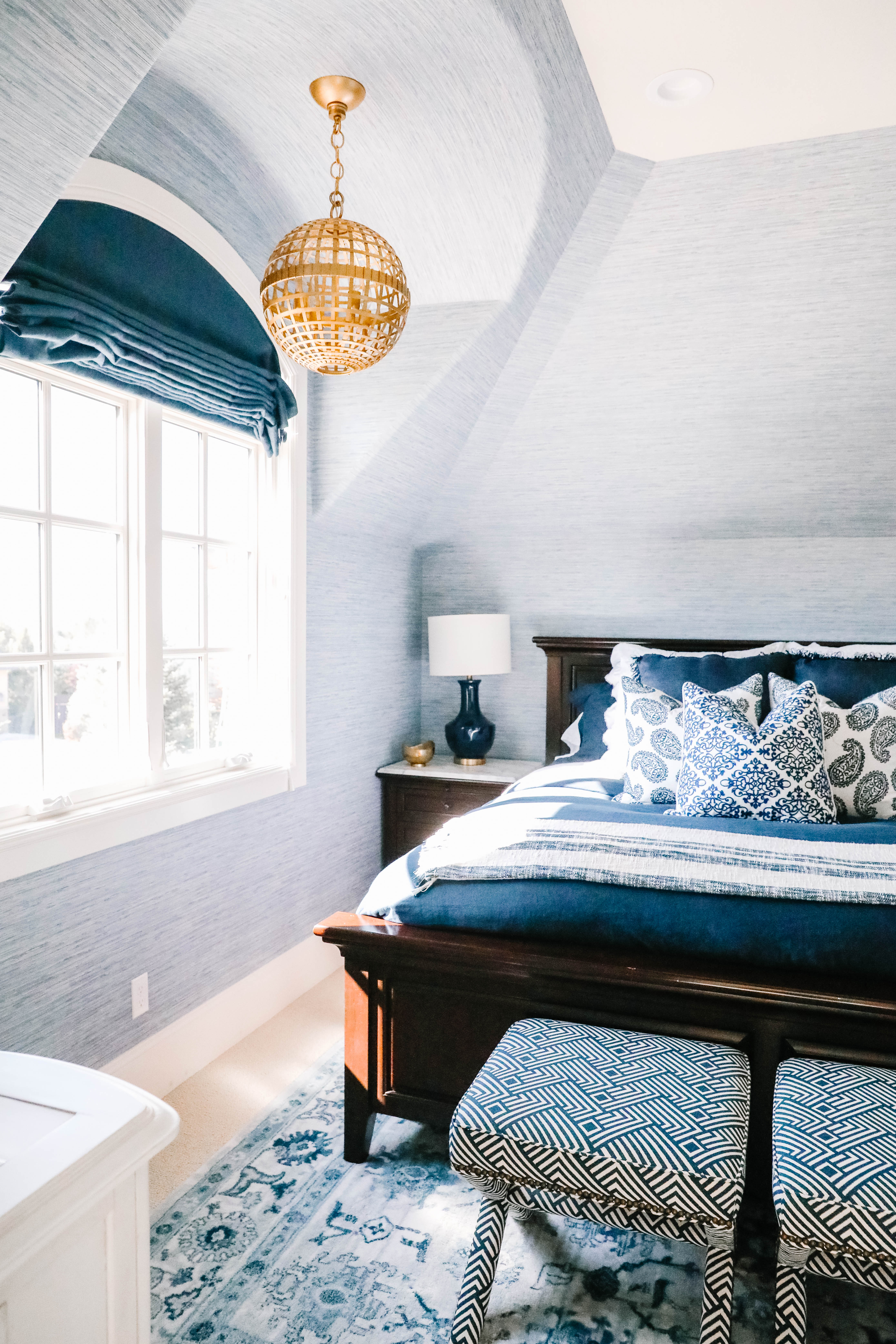 One thing I always use is a mattress cover underneath the sheets and pillow covers that go over the top of the pillow and under the pillow case. This way the pillows and mattress stay cleaner. I always have a throw blanket at the end of the bed and a few more in a basket nearby.
I always have a lot of throw pillows on my bed. I'm pretty sure some of my guests are overwhelmed by this as I'm teased on occasion. If they only knew that I have a pillow and throw blanket closet! There are actually three Euro Pillow Shams for this bed but after taking the photos I realized I had stolen one for another bed in another room! Oh well! I can't always have everything perfect right!
Blue and Gold Decor Accents
I had a hard time finding the right artwork for this room because the walls are a little quirky and there's a lot going on with the pattern in the wallpaper. A company called Mapiful reached out to me and asked if I would like one of their unique maps. When I looked at their website, I knew exactly what map I wanted and where I would put it.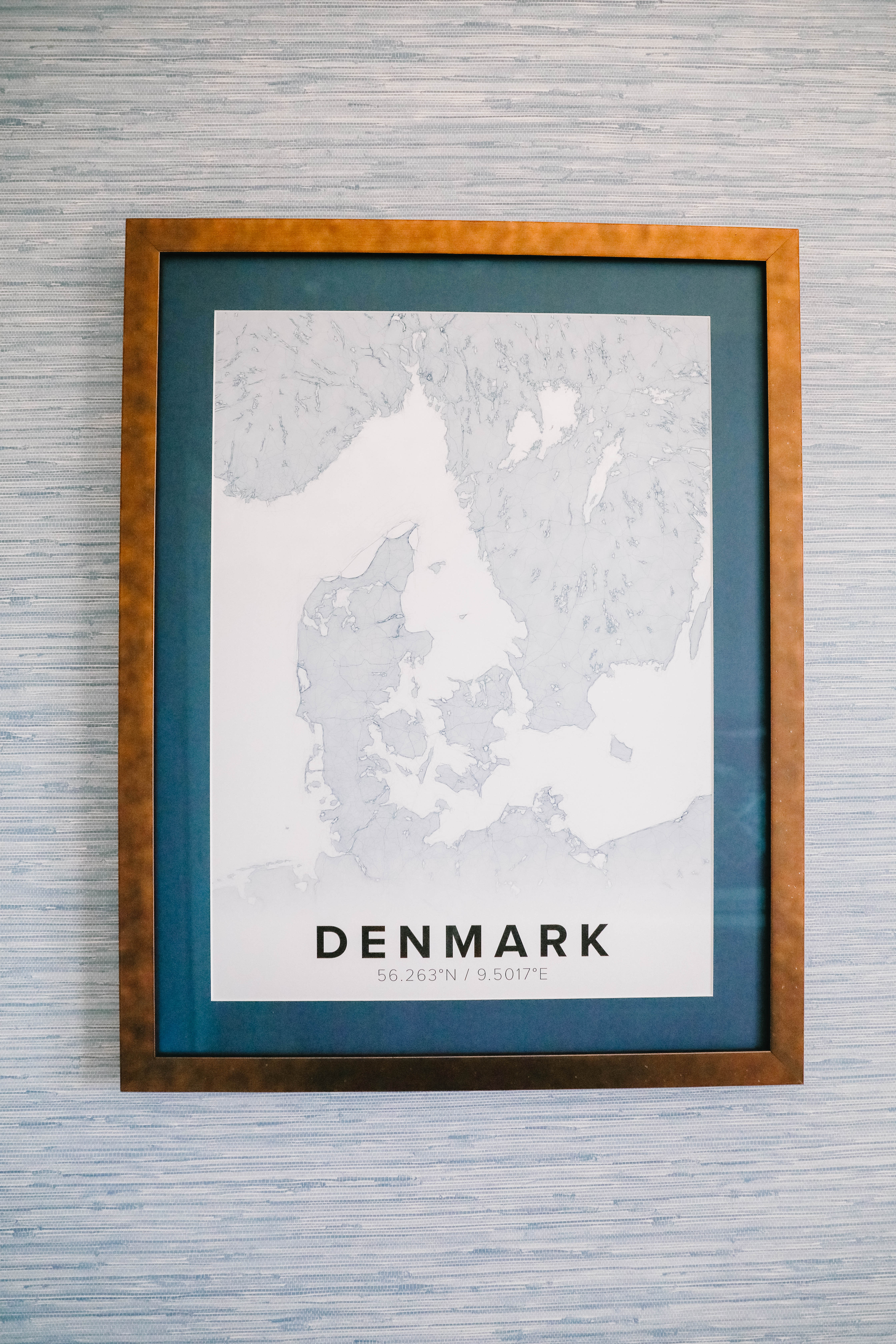 It was so easy to create this map on Mapiful's website. I chose a blue print color and a place that is special to me. My fathers side of the family is from Denmark and I've spent a lot of time there. When I have visited Denmark, I've felt a connection to it and this was a special way to remember how special it is to me.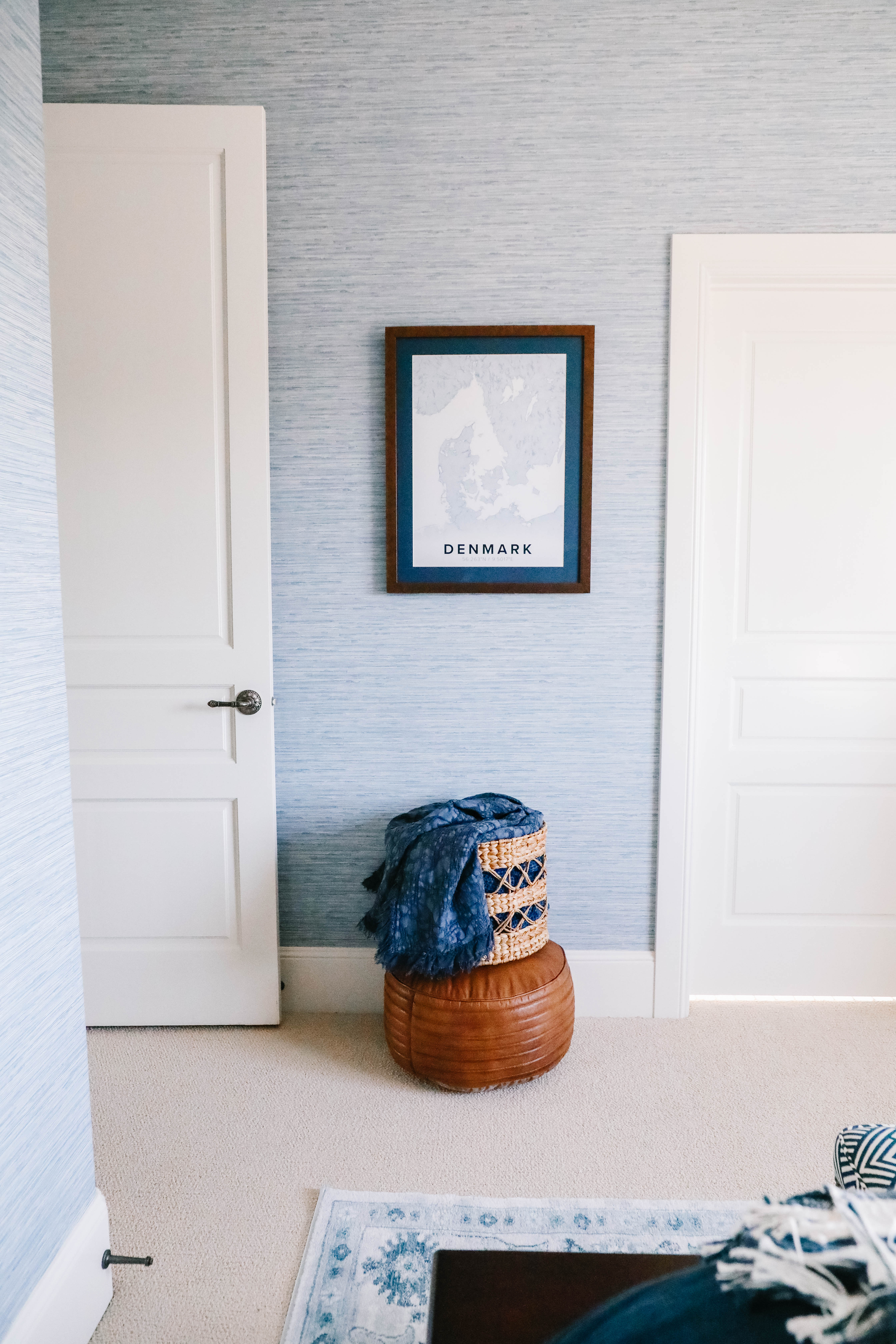 I took the print to my local framing store and had it matted and framed. It was supposed to be in a gold frame but when I went to pick it up, it wasn't what I'd ordered. It was a little darker in color but I think I actually like it since the bed is dark brown ties them together. I probably could have gone a little bigger on the frame but I do love how the map turned out and I love that it's sentimental.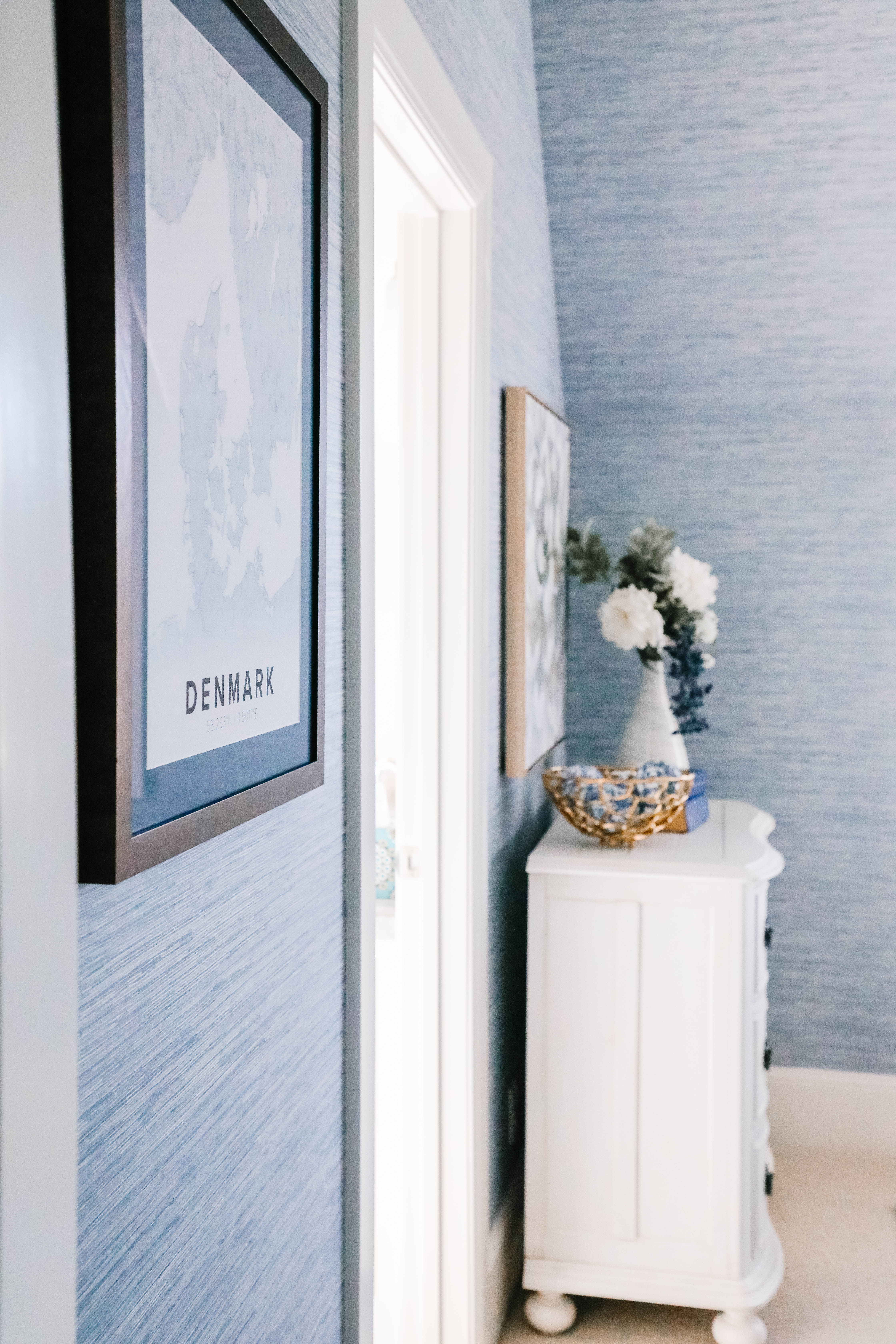 I found this cute little pouff at a local store in Utah called Highland Gardens. I had been looking for something leather and a darker brown to go in this space and as soon as I saw this pouff, I knew it was perfect.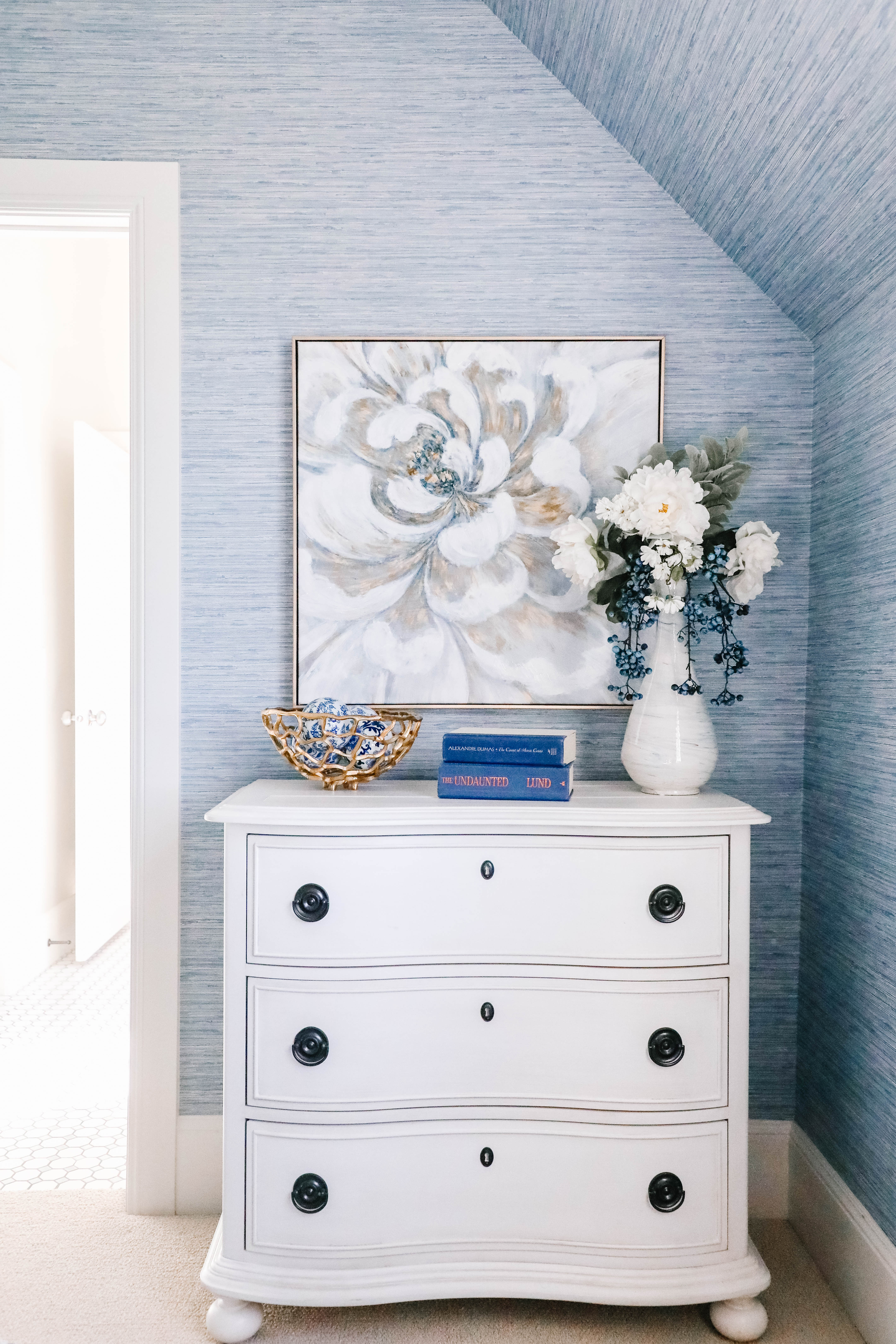 I put this off white dresser in the room (it's twin is in the gray room on the other side of the bathroom) and added a faux flower arrangement, some blue books and a gold metal basket with blue and white porcelain balls.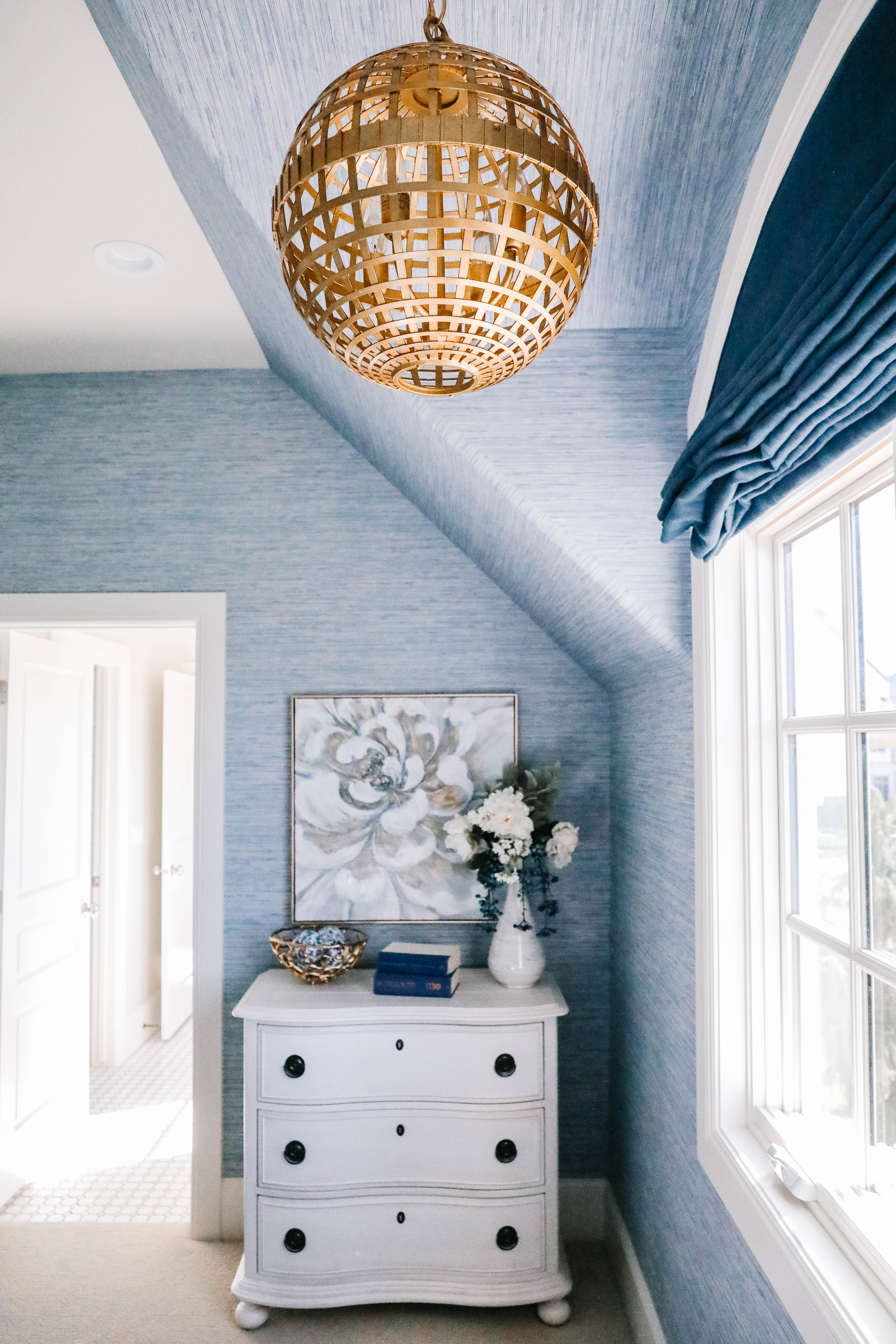 Lighting and Window Treatments
The gold pendant was installed by the previous owners and I love it. This same pendant light is also in the master bathroom. I think its the perfect light for this room and space.
I put two blue lamps with gold trim on the night stands. I searched for these lamps for over a year and finally found the perfect fit! I always like to have a nice scented candle and a little bud vase with fresh flowers.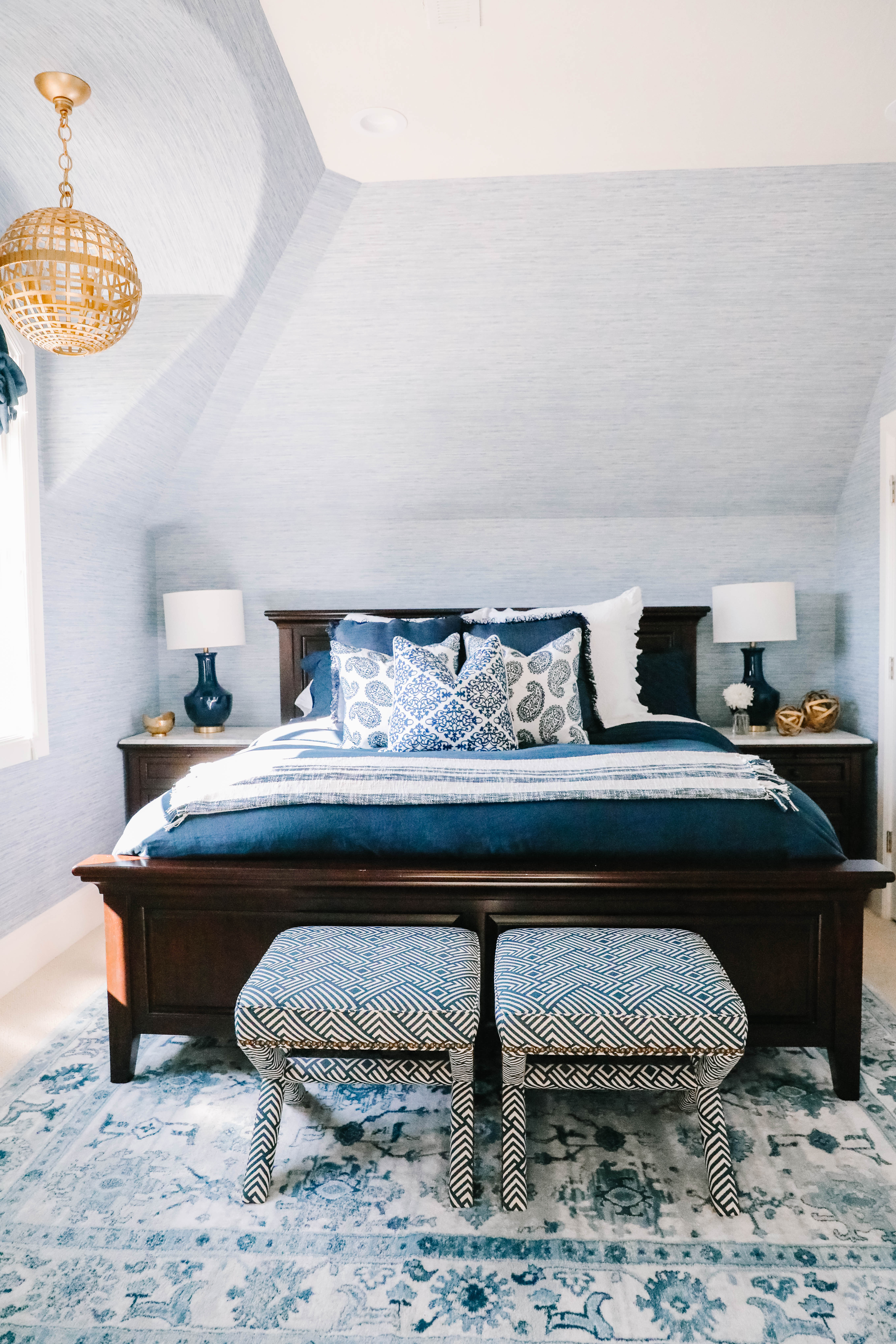 The windows upstairs in our home are all arched which is a challenge for window treatments. This blind was installed before we moved in but after doing some research, I discovered that any kind of custom fabric blind for this size of a window was about a thousand dollars per window! Yikes!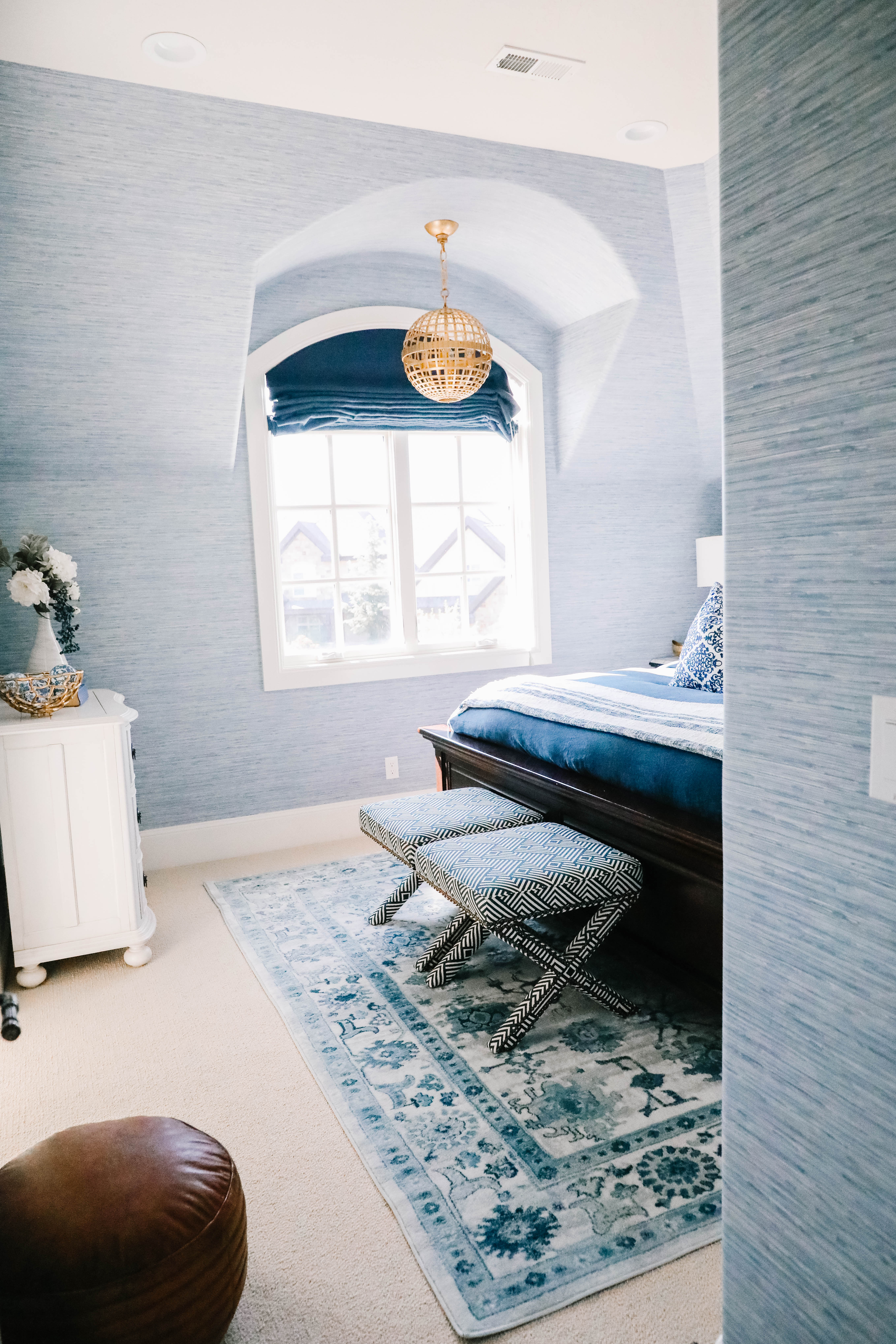 This was the preferred guest room for awhile since it was the only room upstairs with a blind! Everyone who is a frequent visitor to the Holly Hotel are quite happy that there are now blinds in all the upstairs rooms, especially the bathroom!
The last thing I added to the blue room was this blue and white rug. I'm still not sure that I like it. There's a lot of different patterns going on and it may be a little too busy but I'm leaving it for now. I'm sure I'll find something I like better before long.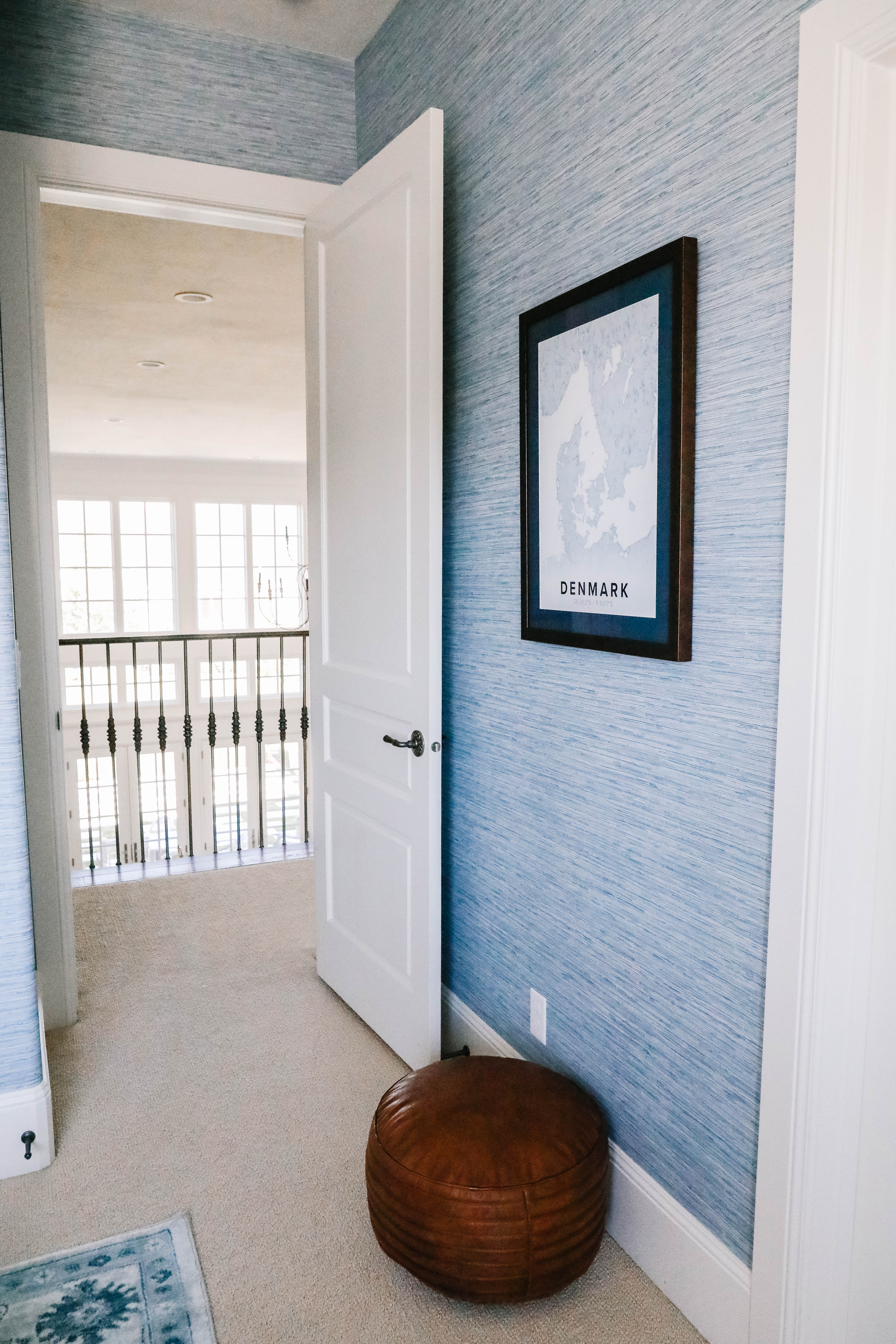 I have bought some nice picture frames and that's all I'm missing for now. I'm notorious for not putting photos in picture frames! I have a stack that need photos in them but this always seems to get knocked down to the bottom of the my to-do list. I think family photos in a nice frame bring warmth to any room.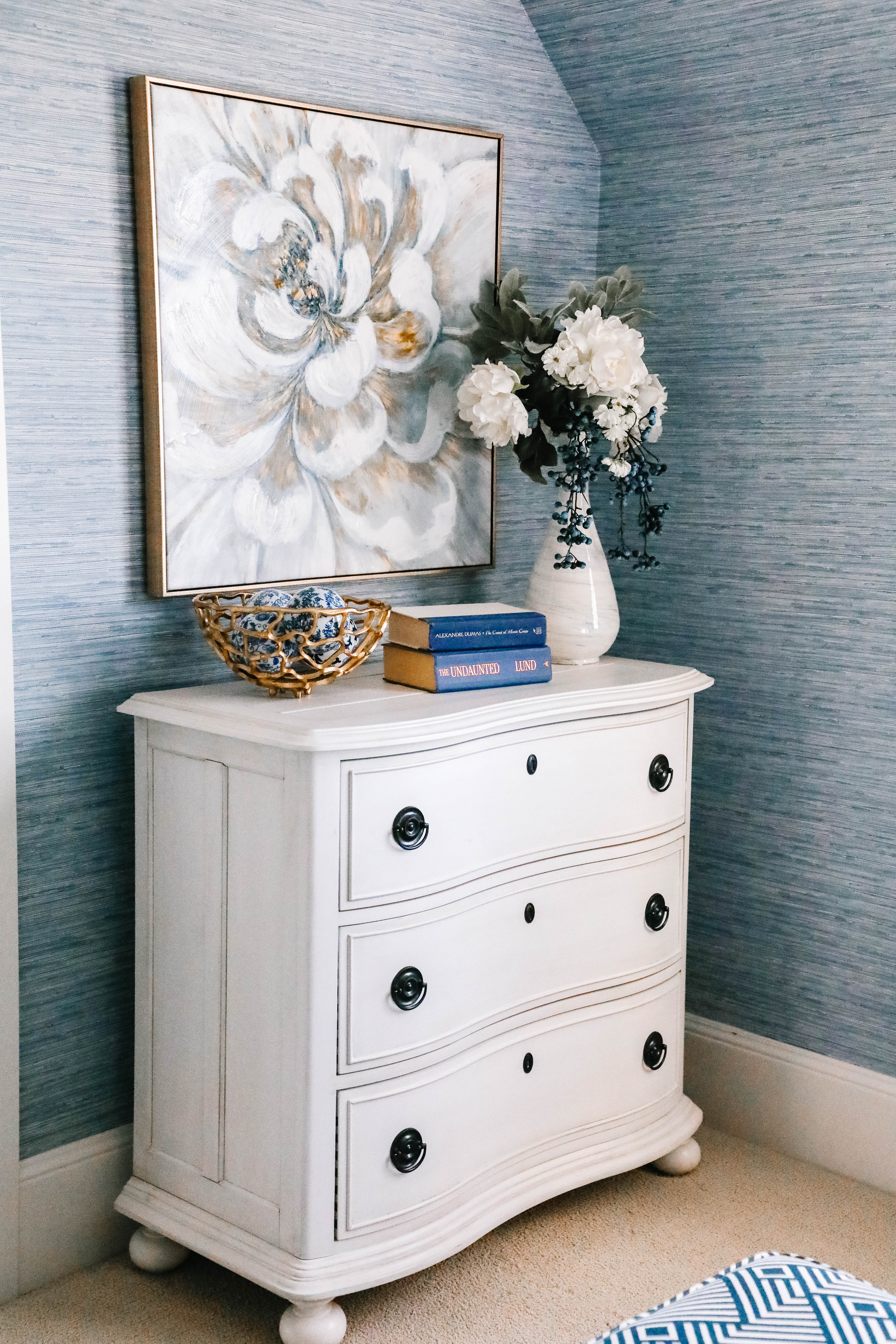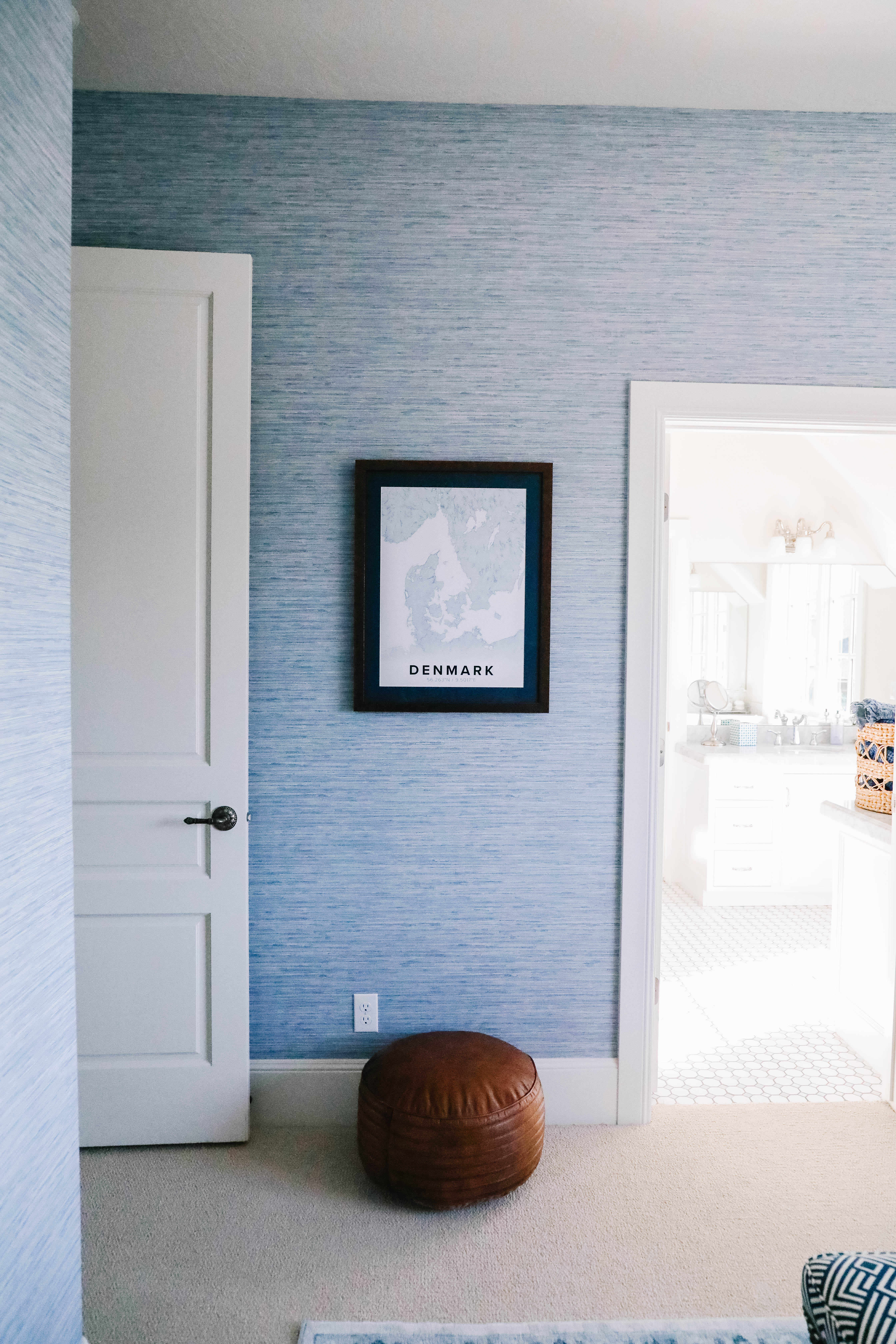 I hope you've enjoyed a seeing our blue guest room reveal! This room is definitely fifty shades of blue! I'll link sources where I can below.
XOXO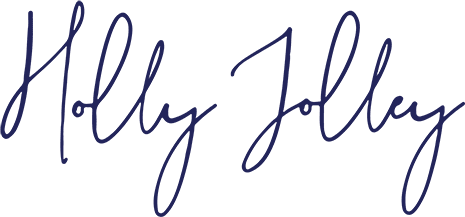 The beautiful photos are by @catcherintherye.cara www.catcherintheryephotography.com
Room Sources:

Click here to learn more about creating your own map from Mapiful.
Click here for details on Highland Gardens:
I bought the leather pouff and throw blanket basket at Highland Gardens in Utah but linked similar items if you're not in Utah.
The dresser, throw pillows, and artwork above the dresser are from Homegoods.
Framing for the Mapiful artwork was done at Joanne's.
Window coverings Osmond Designs in Orem/Lehi Utah
Click here to see more of my Highland home: Fall Home Tour
Pin this Post for Later