Today, I'm sharing a Fifty Shades of Gray Guest room that features a beautiful gray headboard and lots of gray home decor pieces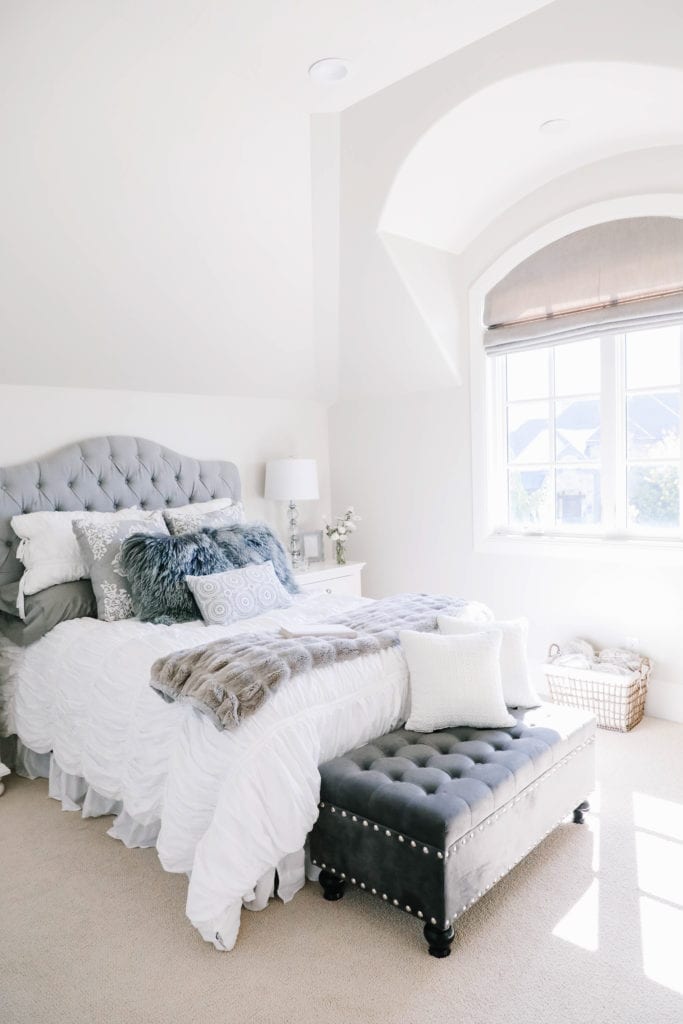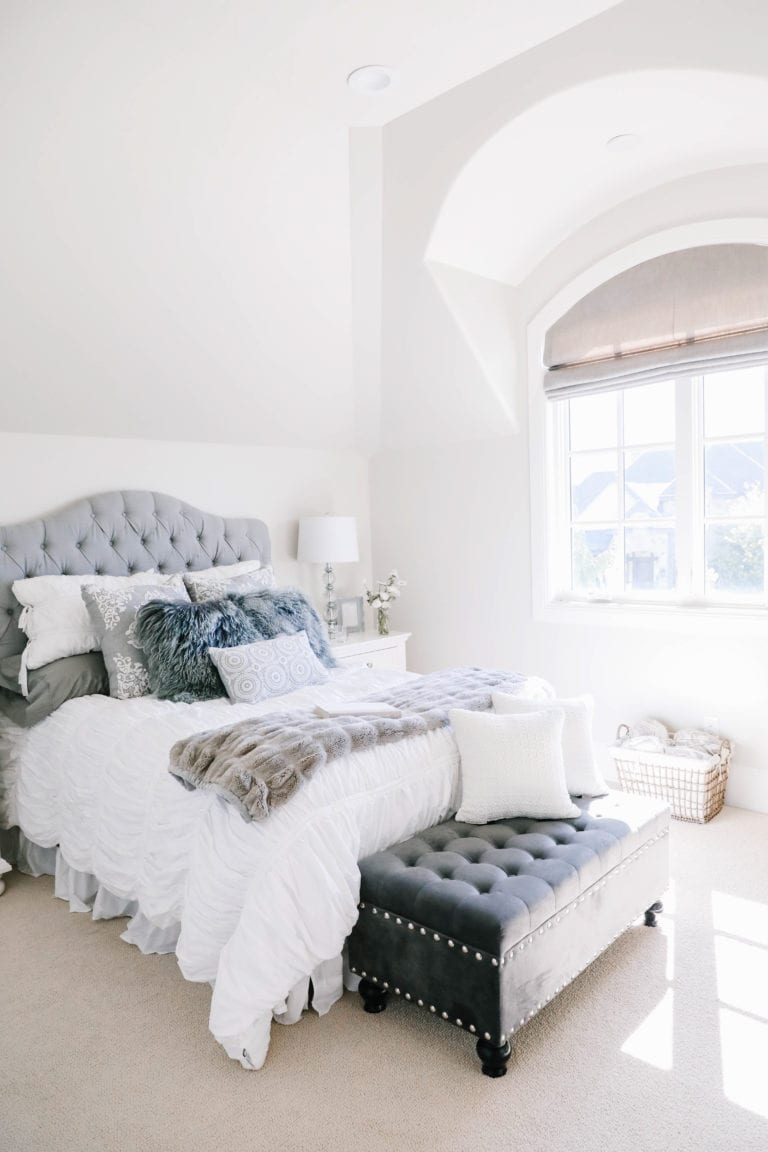 Disclaimer: This post does include affiliate links for your convenience. This is at NO additional cost to you but earns me a small commission. To read more, check out our disclosure policy.
Fifty Shade of Gray Guest Room Reveal
I'm so excited to finally be sharing another one of the bedrooms at the Highland, Utah house.
I decided to title this post Fifty Shades of Gray Guest Room Reveal because there are so many different shades of gray and, it's just like the Blue Room, which I shared earlier this year, in that there are many shades of blue. (Click here to see Fifty Shades of Blue Room Guest Room Reveal)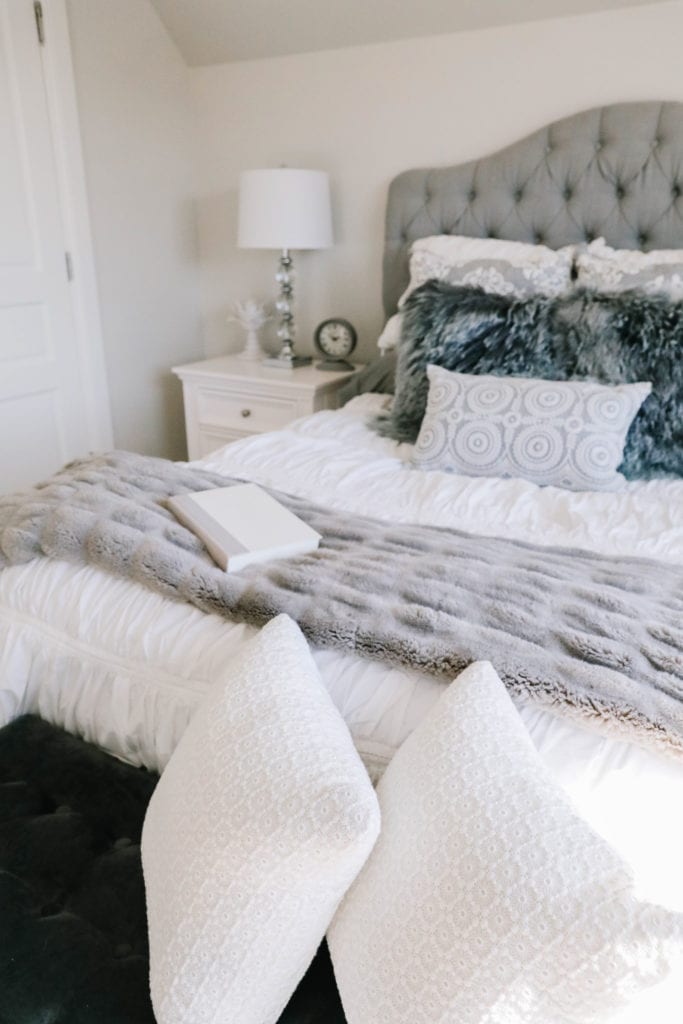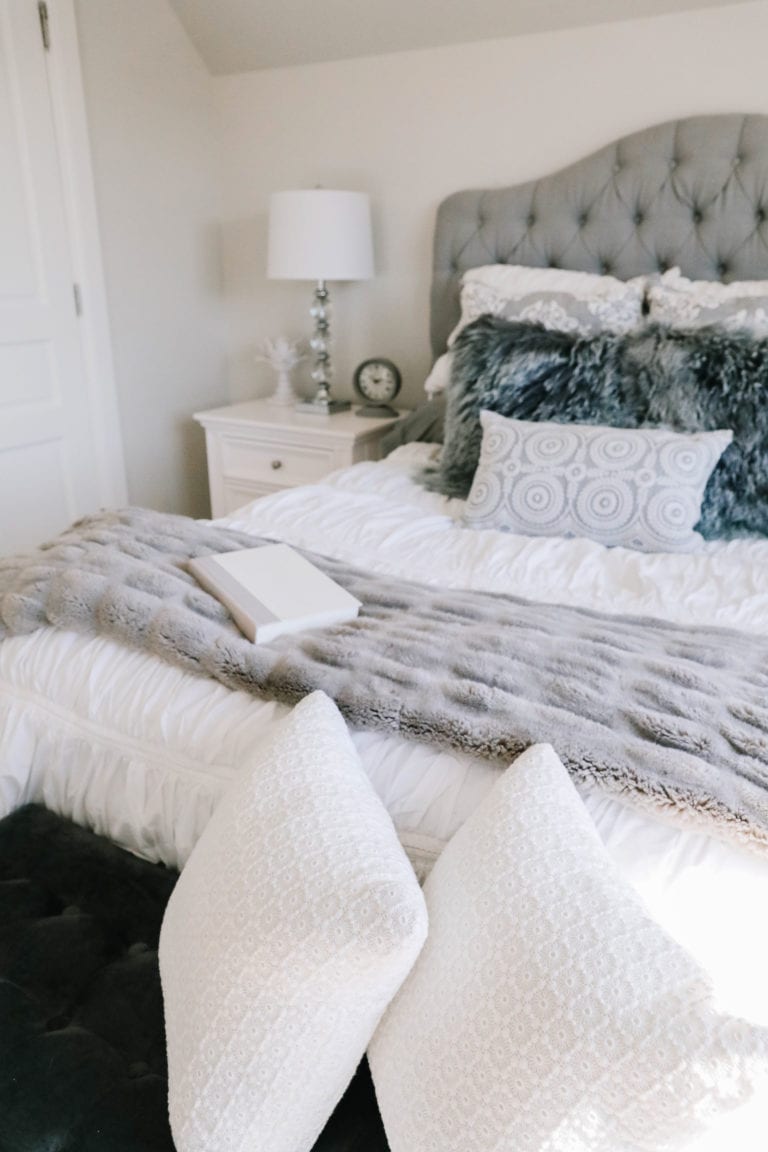 The Bedding
I layered the bedding by using dark gray sheets, a lighter gray blanket, and a white comforter.
I like using a lot of throw pillows and throw blankets. I also used pillow shams that match the comforter.
It gets cold here in Utah so I like using a lot of layers during the winter months and when it gets warmer in the summer, the comforter can be folded down.
I also used a bed skirt on the bottom to cover up the bed frame.
My FAVORITE sheets and blankets to use are from Cozy Earth Bedding.
The bamboo sheets and blanket are the softest sheets I've ever found and they help regulate temperature while you sleep.
I have a set of the white sheets and a white blanket that I like to use that's under the more decorative comforter. They are linked here (sheets), here (comforter), here (duvet)
If you use code HOLLY50 you can save 50% off too!!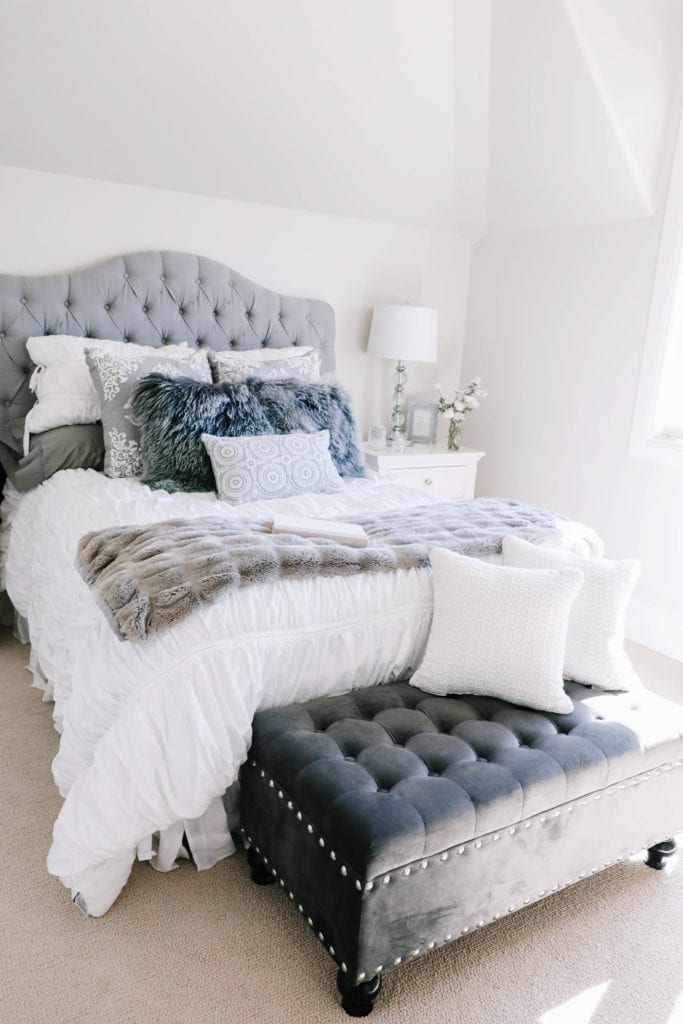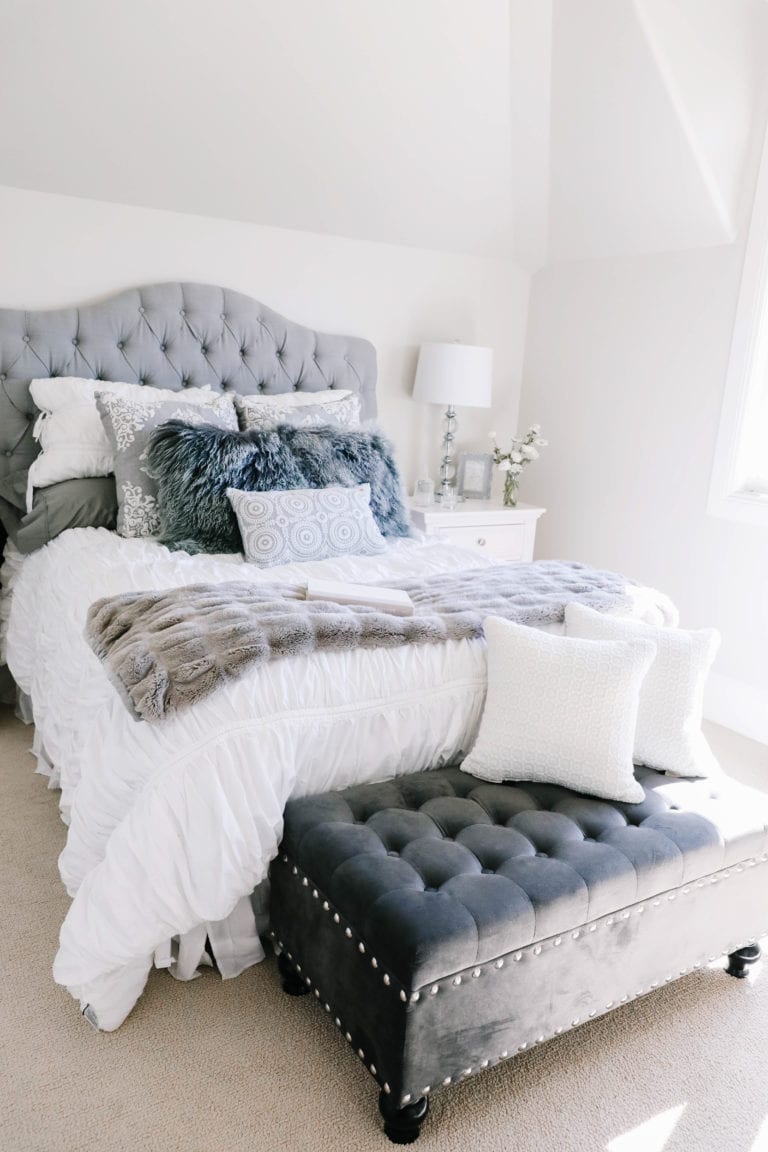 Furniture
When we bought the Utah house in 2016 I knew we'd have a lot of company so I needed to get beds right away.
I already had a set of full sized mattresses so I bought this upholstered headboard online and it arrived just in time.
I had a lot of rooms to furnish in the house and I didn't want to spend a lot of this room. The headboard and frame were under $350!
I brought the ottoman bench at the end of the bed and the dresser from the Washington house and they matched perfectly. (both Homegoods)
I still needed nightstands and some lamps and found some for a great deal at Osmond Designs Furniture.
I kept my eye out for some lamps and found these at Homegoods as well as the mirror over the dresser and some accessories for the room.
Window Treatment
When we bought the house there were no blinds in any of the rooms except the blue room.
When I priced out window treatments for the arched window, I was shocked at how much they were!
They had to be custom-made and are large windows and the best price I could find was around $1000!
Yikes.
The window blind in this room cost more than the entire bed and bedding! It took me about a year before I had blinds in all the bedrooms upstairs.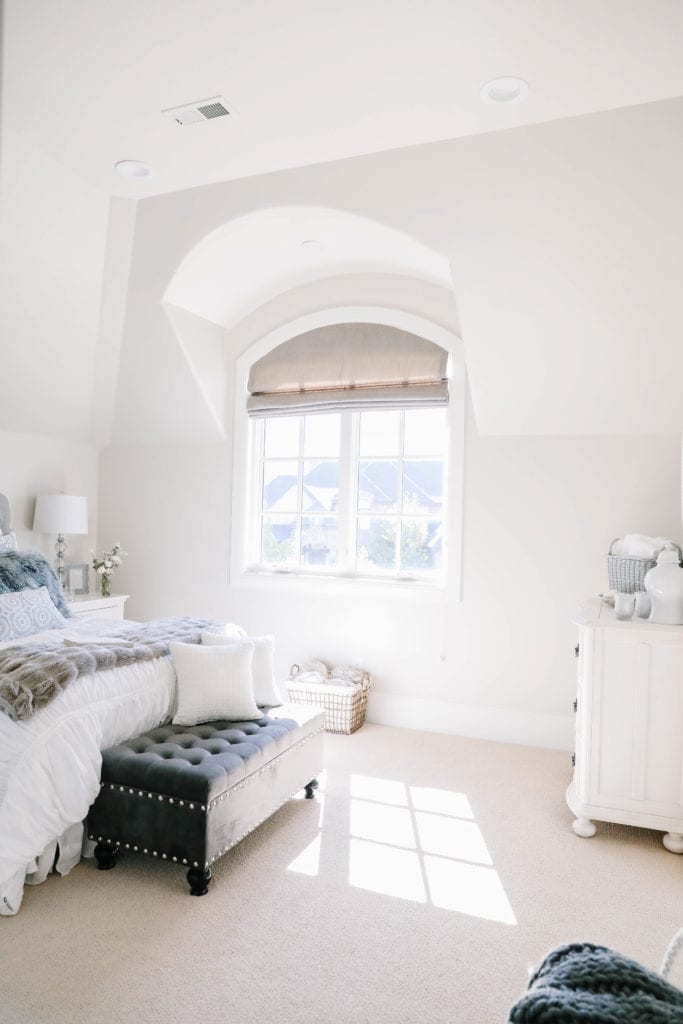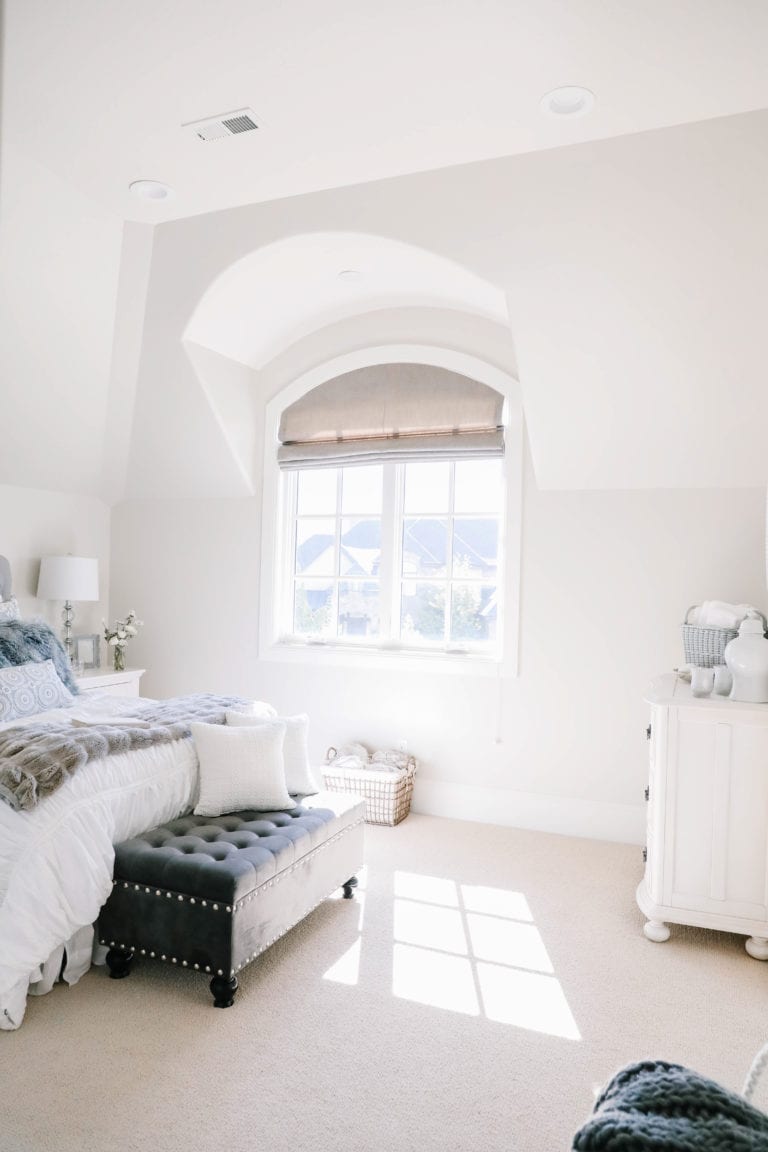 Accessories and Knick Knacks
One thing I love to use that adds warmth and color to any room is throw blankets and pillows.
I purposefully chose a white and grey neutral color palette because it's so easy to change it up by changing those items out.
I recently added some pink into the room to give it a fresh look.
The ottoman at the end of the bed also has some extra blankets inside for when I want to change it up.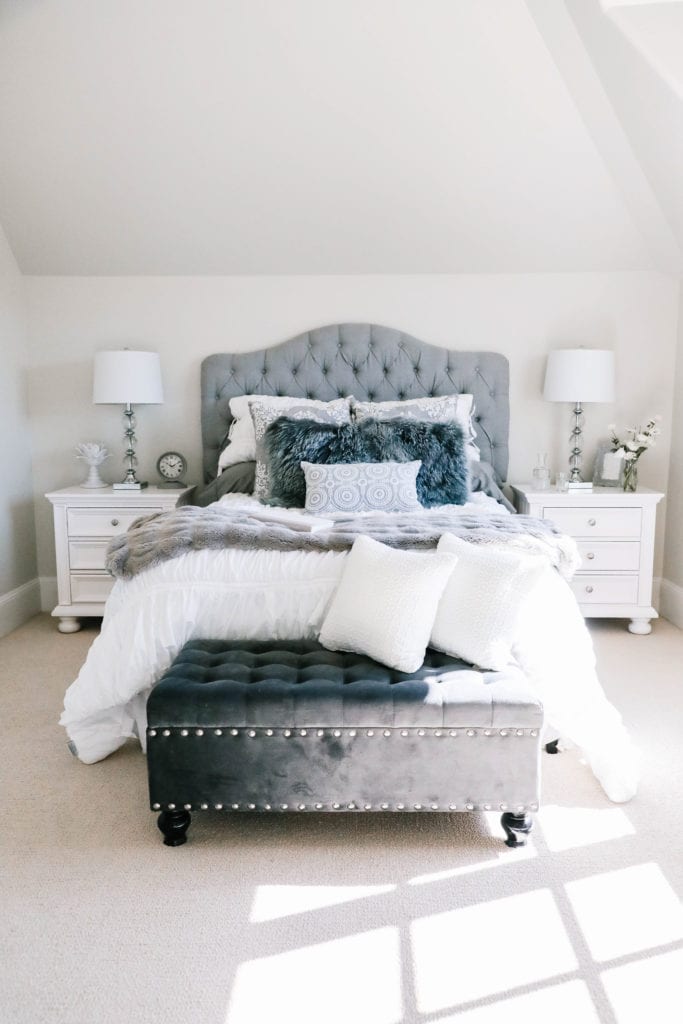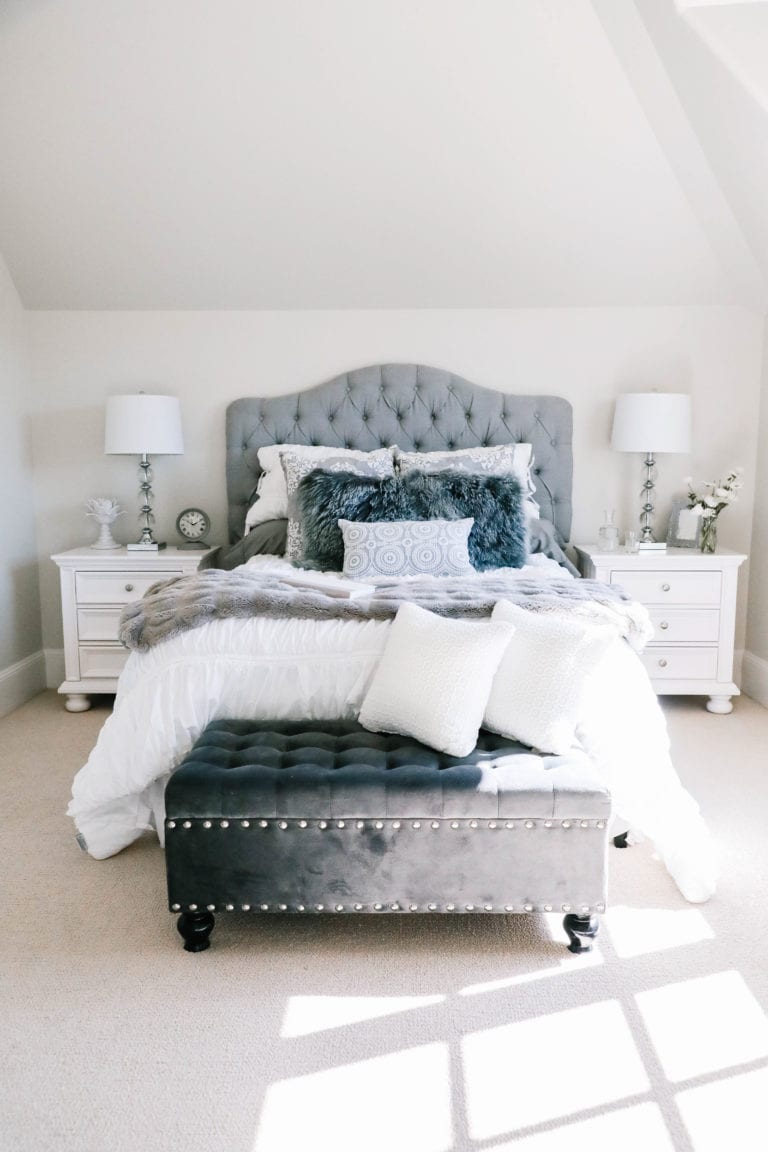 I added some picture frames with family photos, fresh flowers, a clock, ginger jar, and a basket full of yarn (someday I'll get to crocheting a blanket with it) to add some coziness to the room.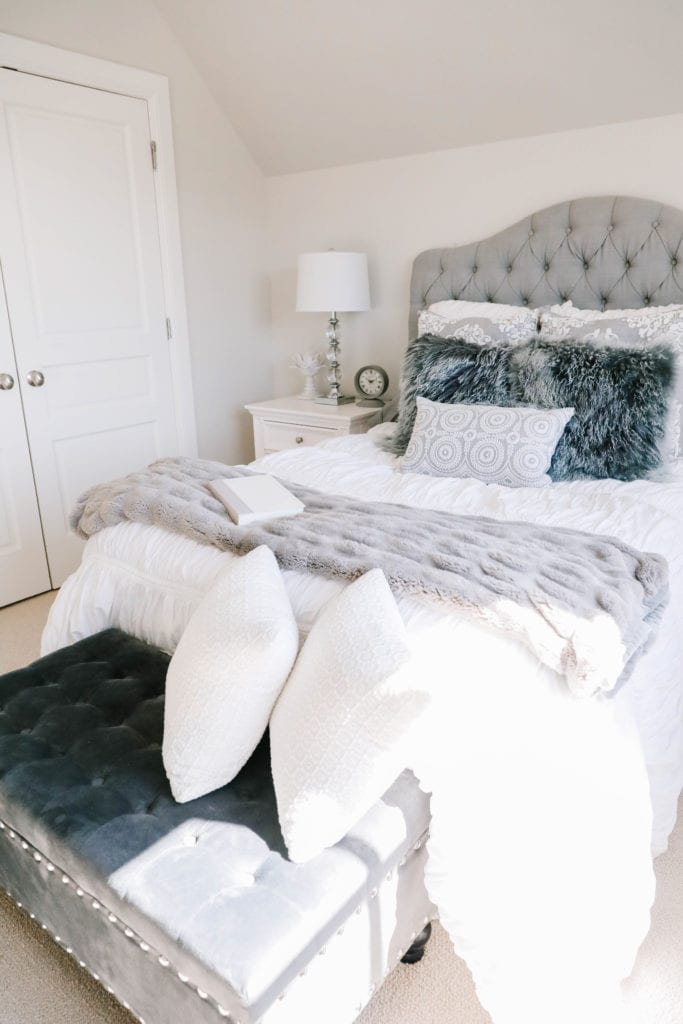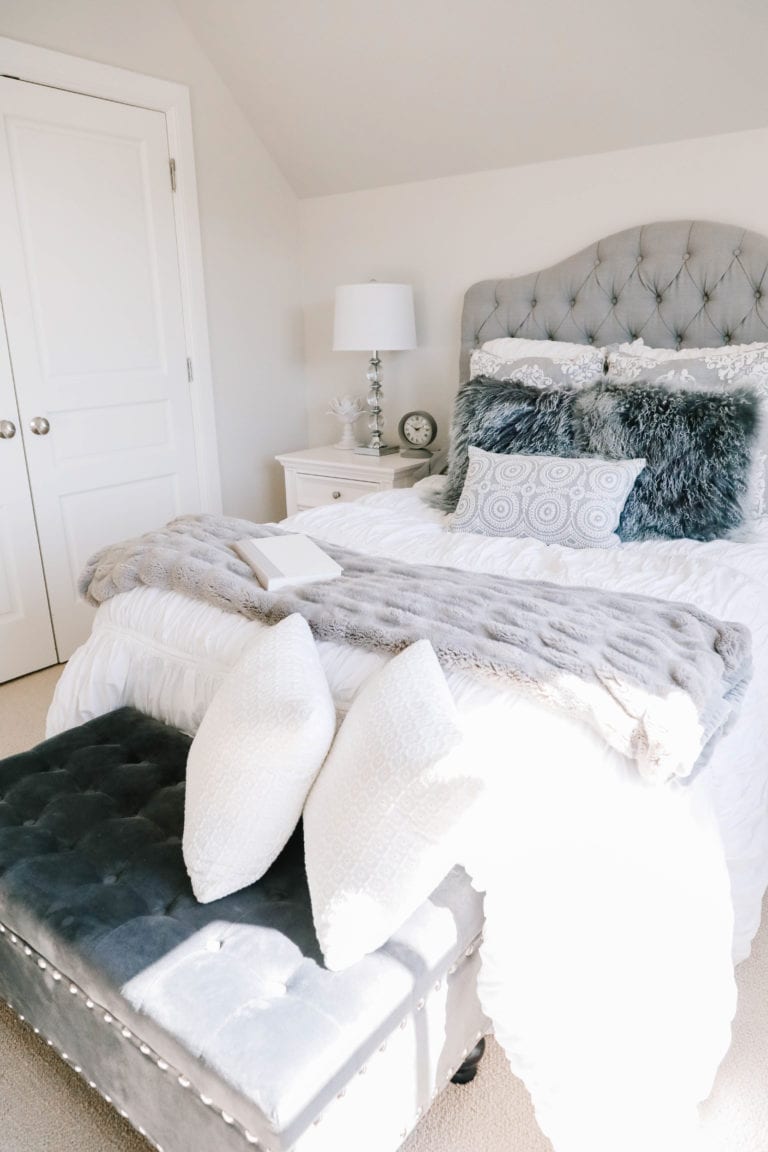 I put the white wood mirror above the dresser and a basket full of towels for my guests to use.
We have so many guests come to stay so I have 3 sets of sheets that I rotate after guests come.
I store them in the closet of each bedroom so I can change them out quickly and easily after guests leave.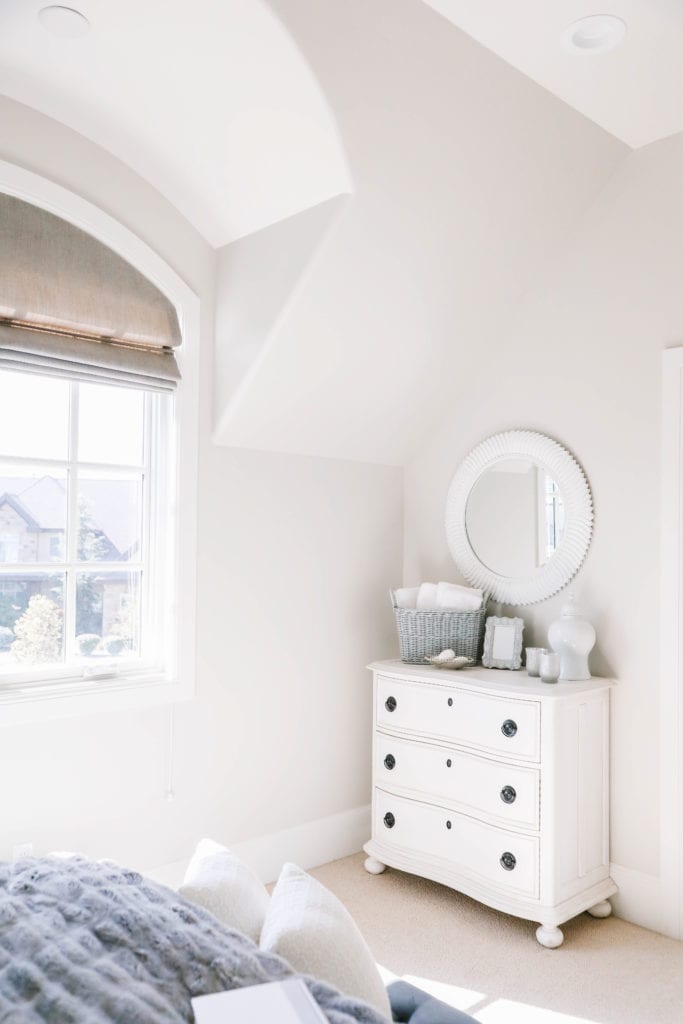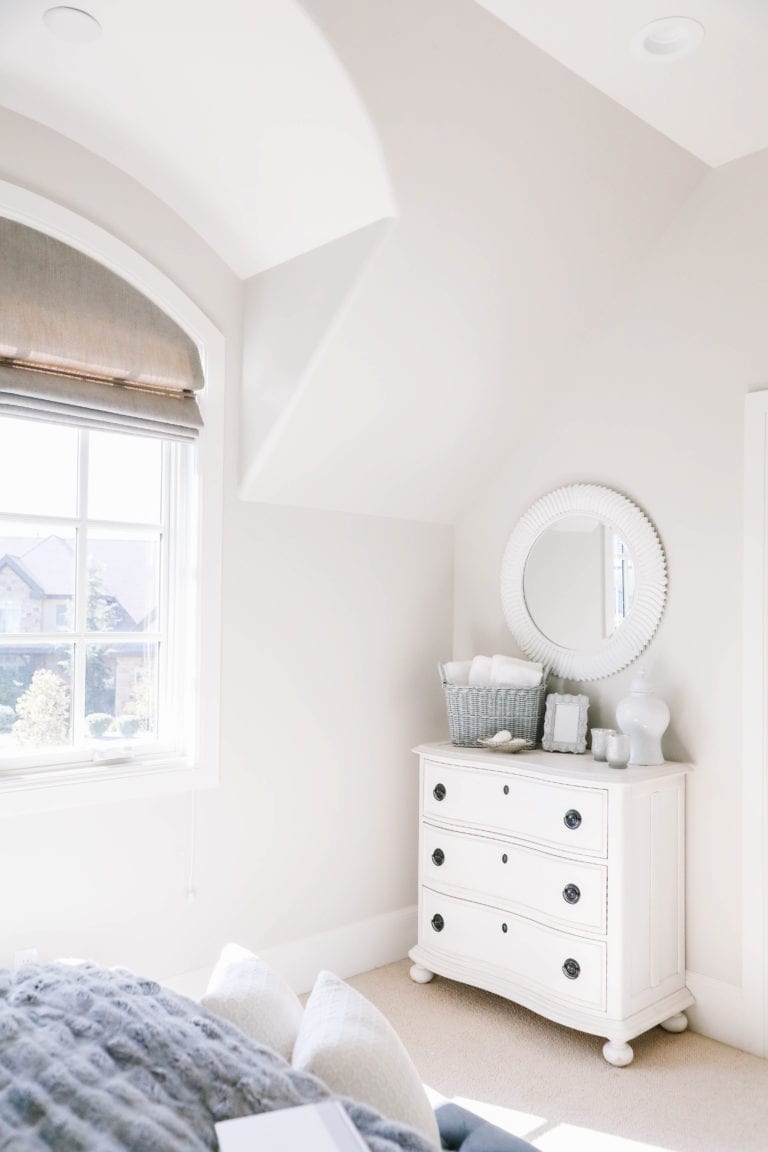 I also like to leave some nice scented soap in a dish for my guests next to the towels.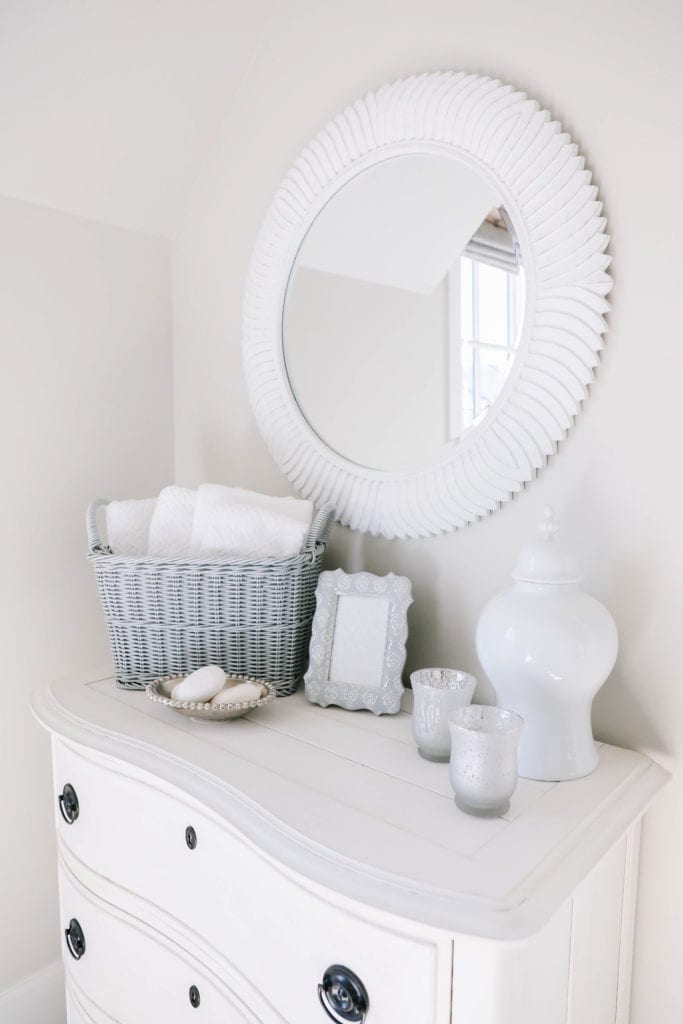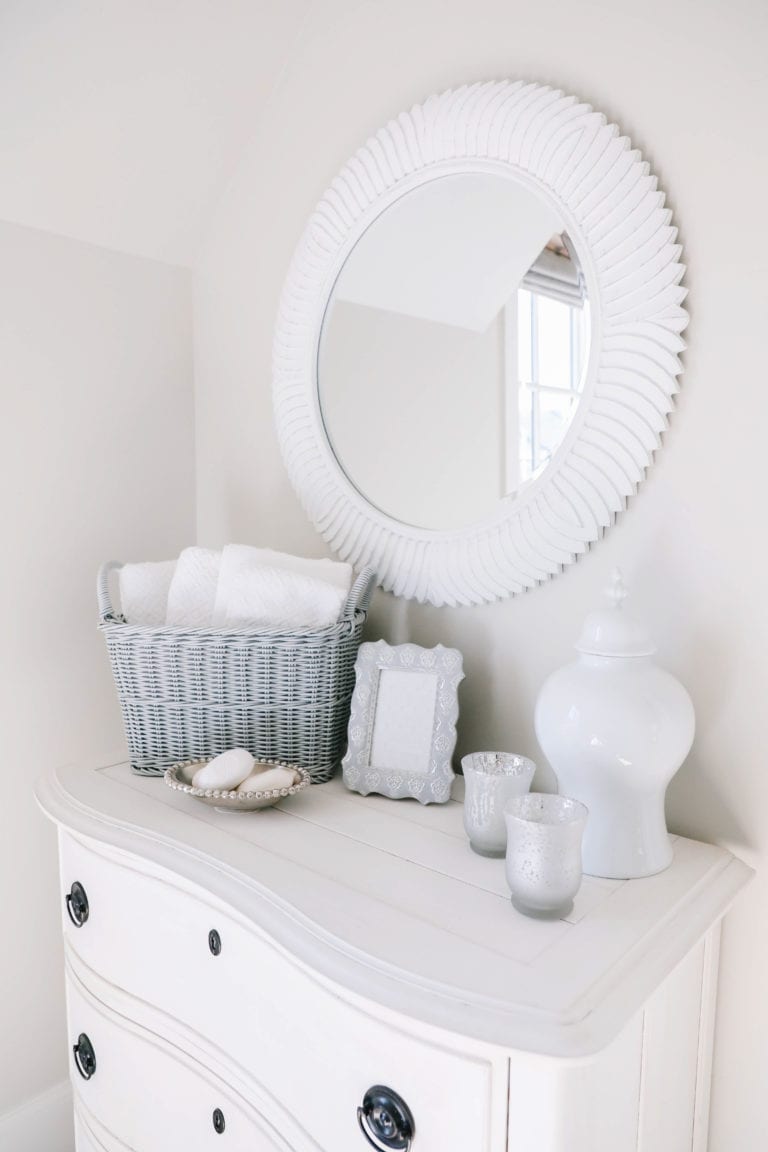 The Jack and Jill Guest Bathroom
There is a jack and Jill bathroom between the Gray and Blue guest rooms.
Each has it's own sink and counter and the shower and toilet area are separate so two people can be using the bathroom at the same time.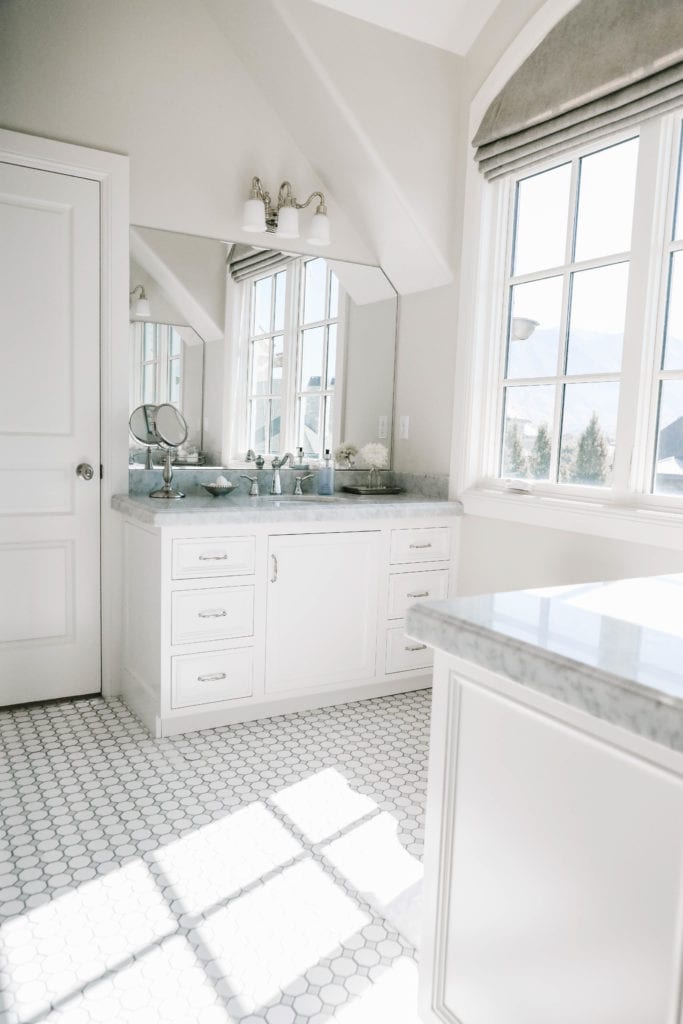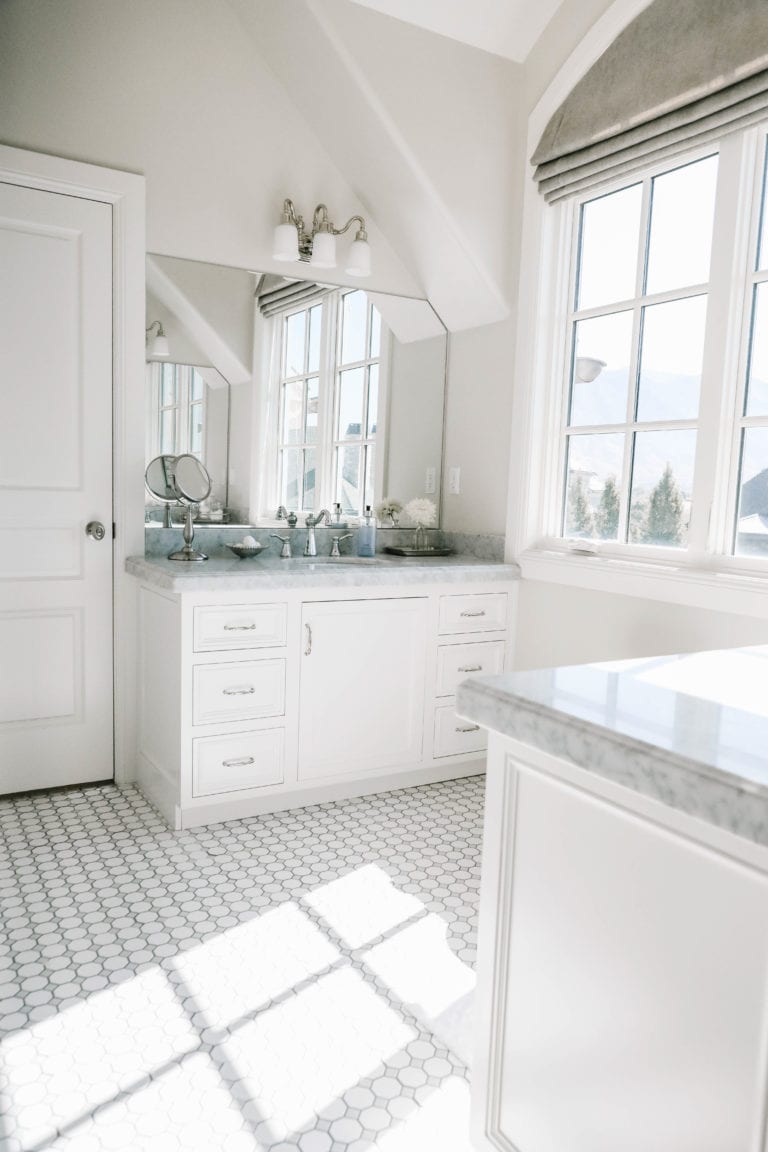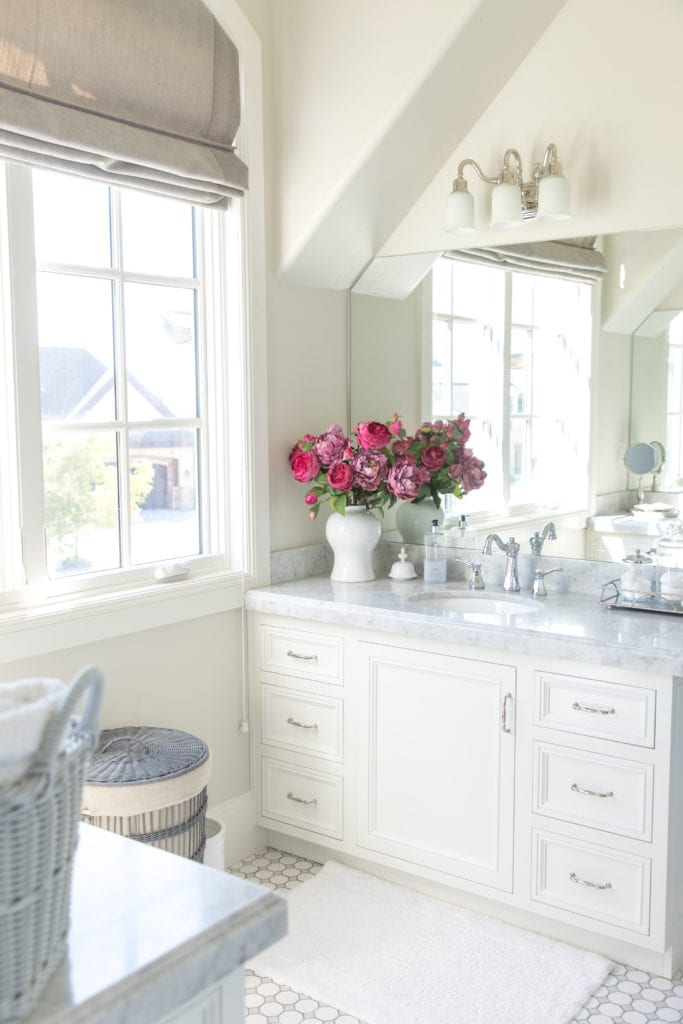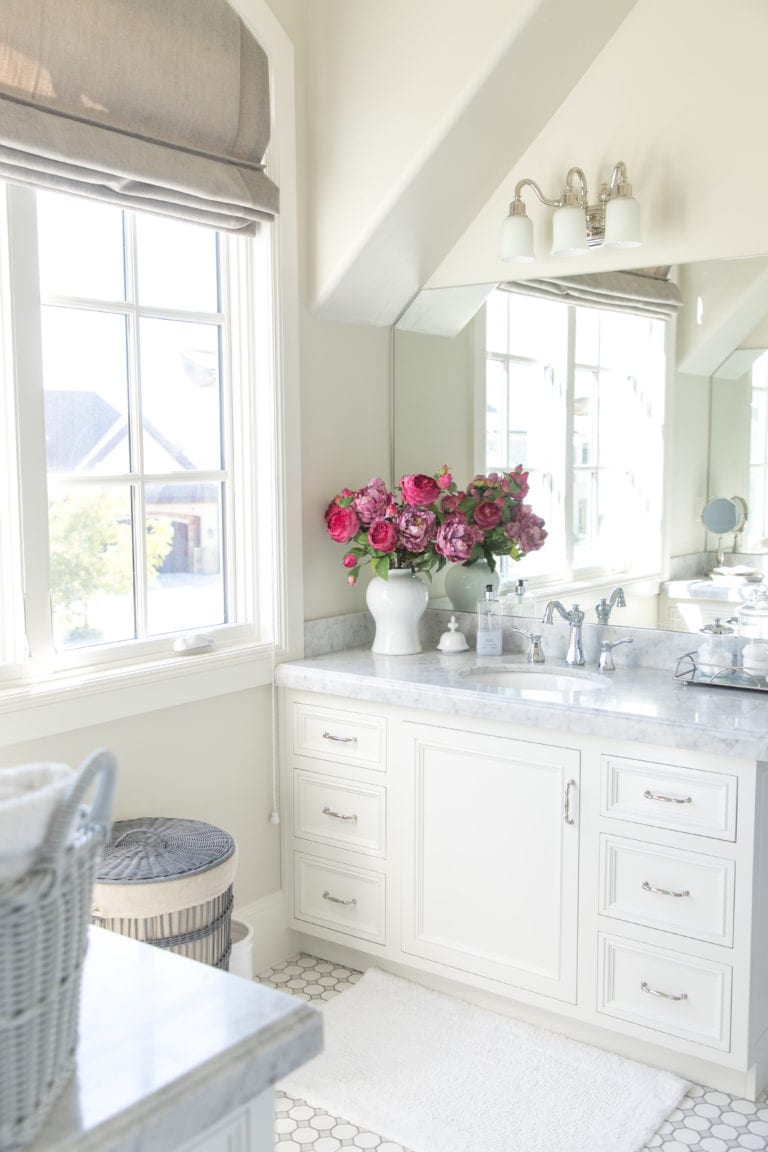 I hope you enjoyed this Gray Guest Room Reveal and all the different shades of gray!
I have a few more things I want to add to this room including a hanging light in the arch of the window, a rug, and maybe wallpaper the wall where the bed is.
Stay tuned because I'll probably change it up soon!
XOXO,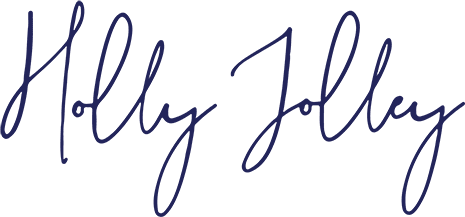 Room Sources

Pin For Later