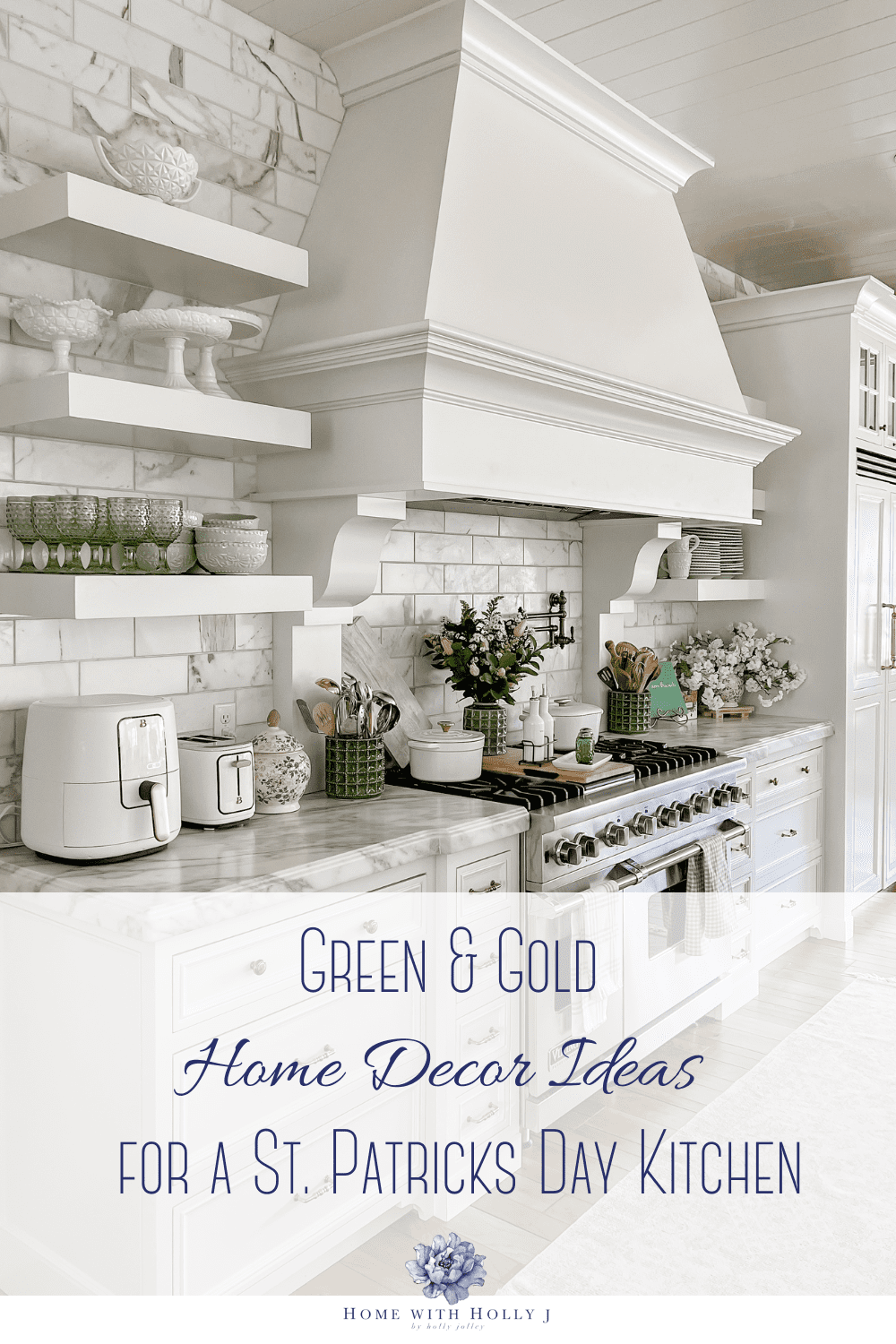 Transform your kitchen and dining room with St. Patrick's Day-themed home decor in green and gold. Find all the information here.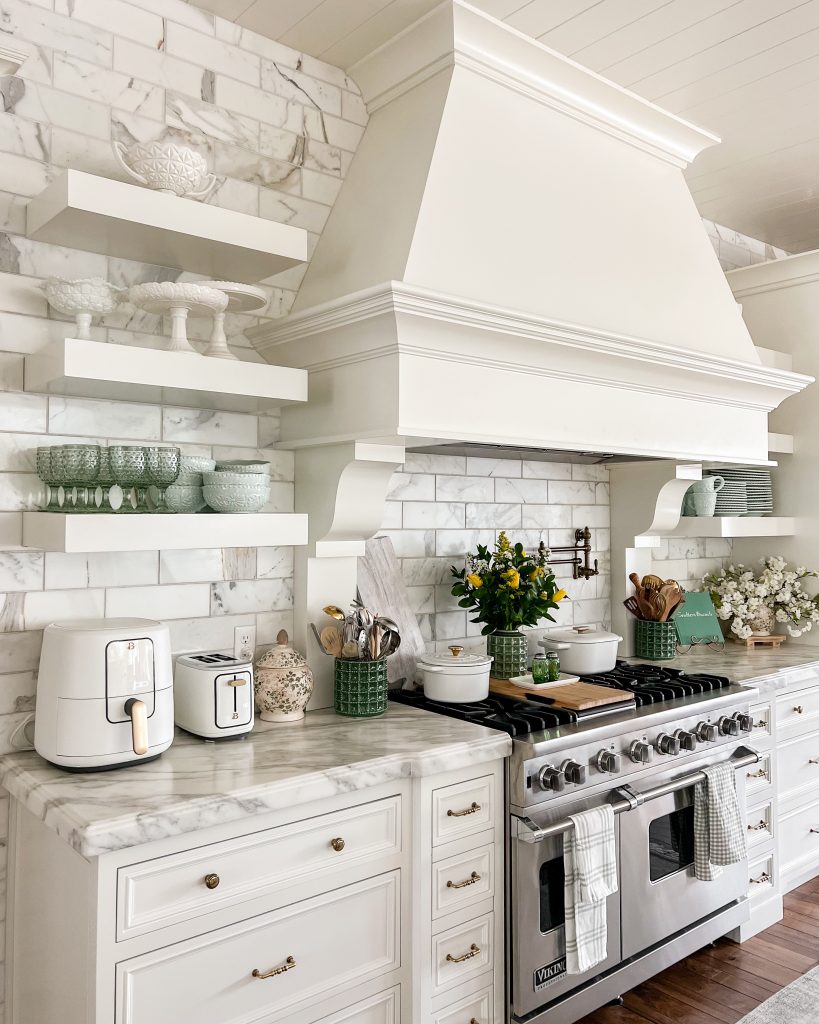 St. Patricks Day is a festive time of year and an ideal opportunity to bring a little bit of festive green and gold into your kitchen. In today's post, I'll show you some green and gold inspiration to transform your kitchen into a vibrant and festive space.
You can source and shop all the items featured in this post. Just scroll down to the bottom and tap on each photo for the links to shop.
Kitchen Countertop and Shelves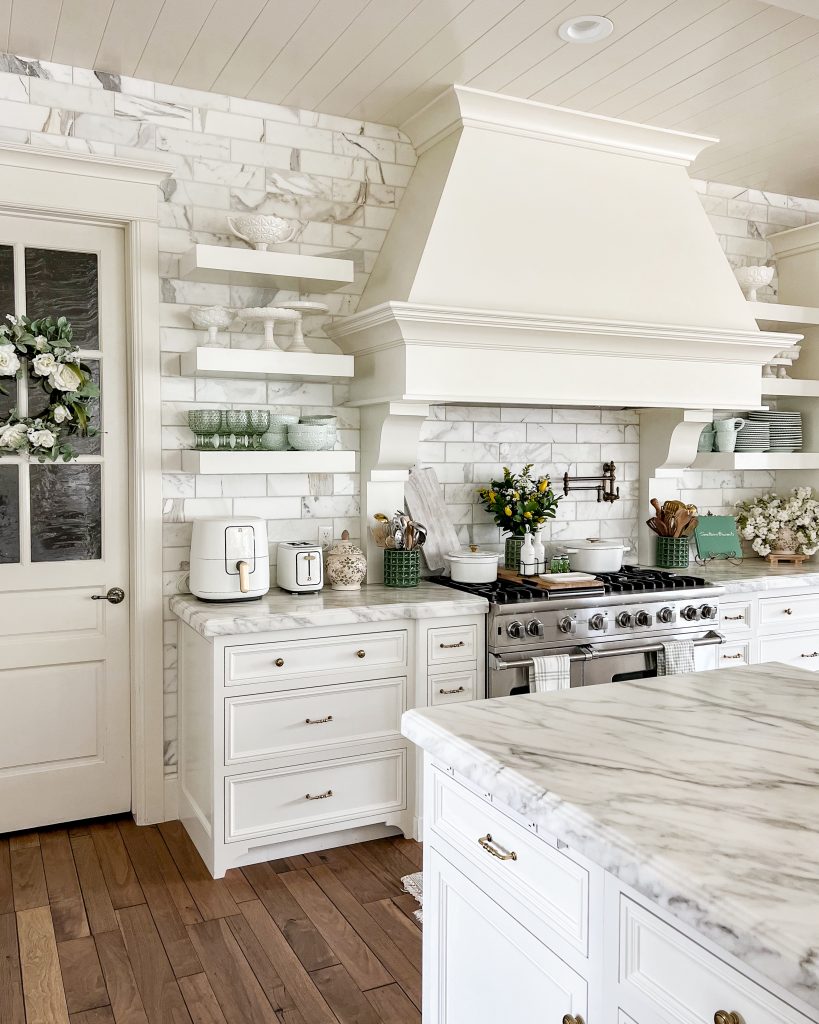 I'm so excited to share some inspiration on how to add touches of green and gold as well as St. Patricks Day decor to your kitchen. You don't have to go all out to make it festive, you can keep it simple and use subtle items like dishes, flowers, vases, and serving bowls to create a touch of spring that also doubles as St. Patricks Day decor. I used different shades of green to bring in some color as well and white and green accents throughout my kitchen and dining area. I kept this seasons decor simple and then on St. Patricks Day, I added in a few other items that made it work for both St. Patricks Day and spring!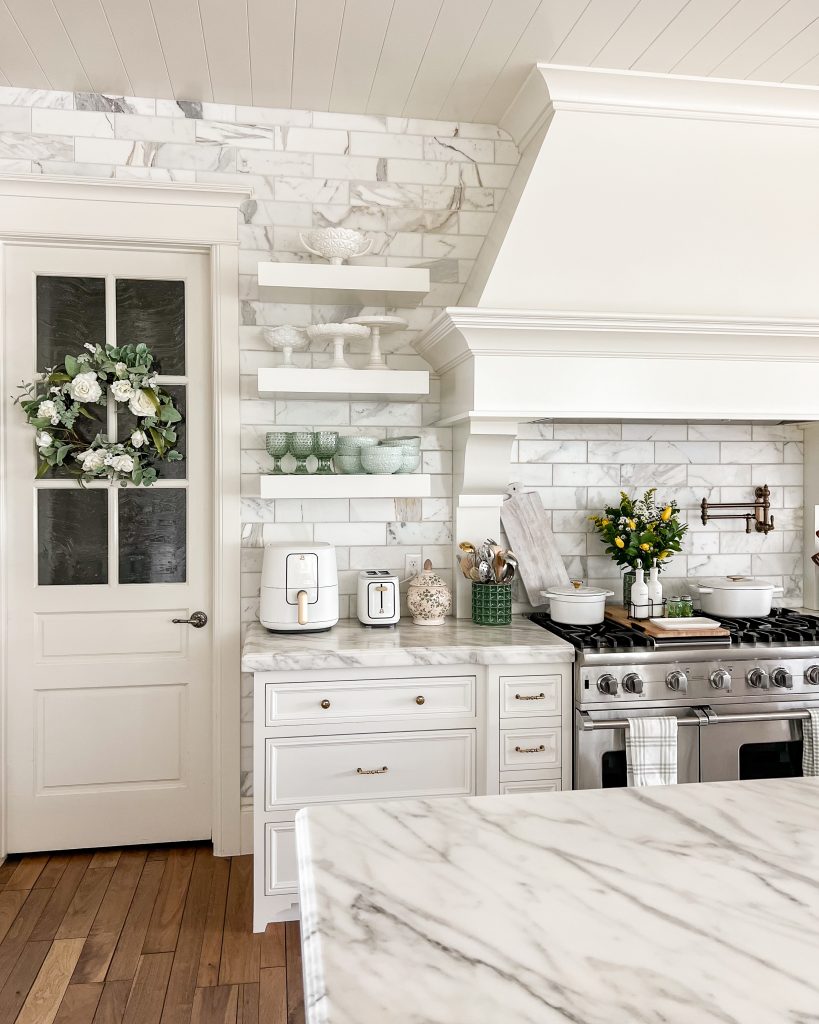 I added some white serving bowls and cake stands, some of them antique milk glass and mint green dishes to the open shelving. I also added a spring wreath with white and green colors.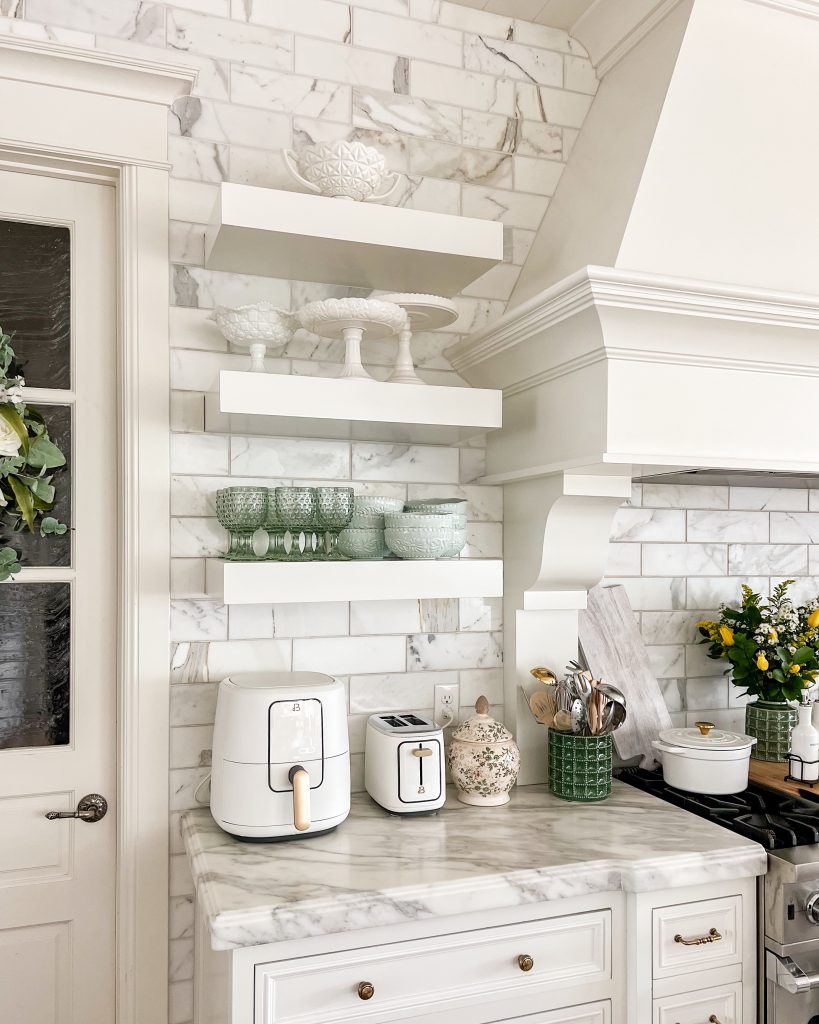 I love these kitchen appliances that I discovered recently. They come in white and gold and a handful of other colors including green! The are aesthetically pleasing as well as functional! I've linked some of them below! They work amazing too and are a great value!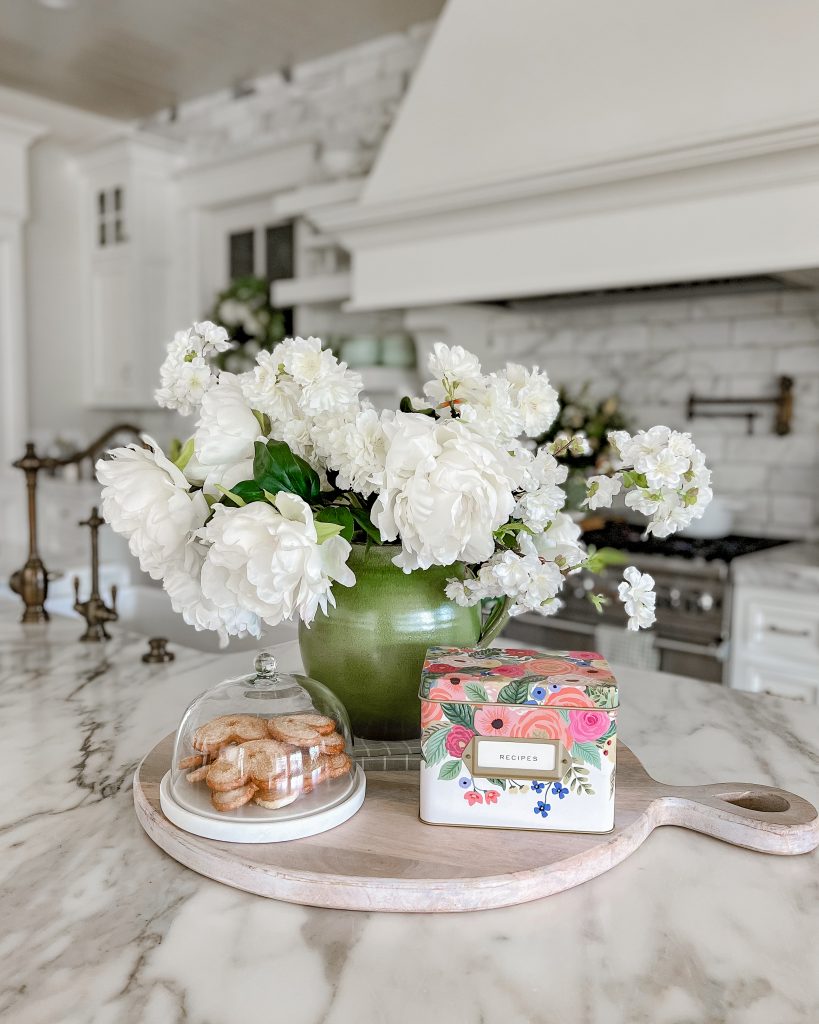 Another way to add in color and warmth to your kitchen that works for St. Patricks Day decor as well as Spring, is to add a charcuterie or cutting board to your island or counter and then add some flowers in a vase. I also used this cute recipe card holder and some cookies for snacking later.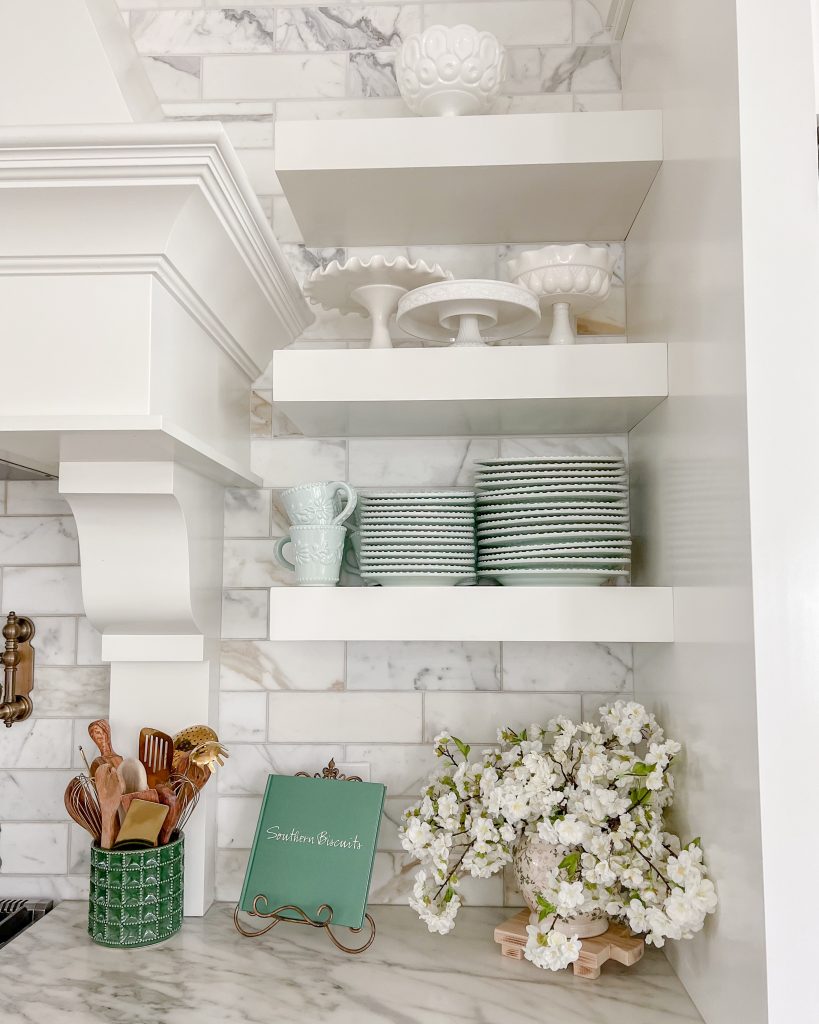 I added little touches of green throughout my kitchen including the utensil crocks, a cookbook set up on an easel, and I arranged some faux apple blossoms in a green and white floral vase.
Stovetop Decor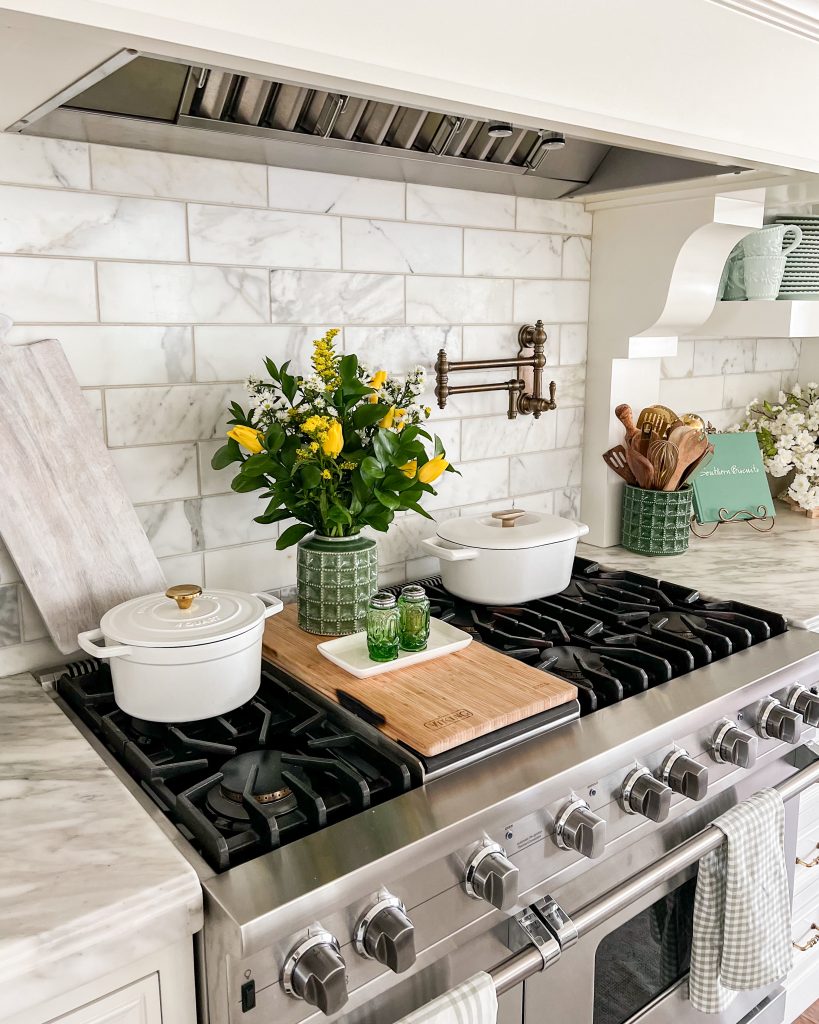 I like to add in fresh flowers as well as faux. I made up this arrangement using grocery store flowers.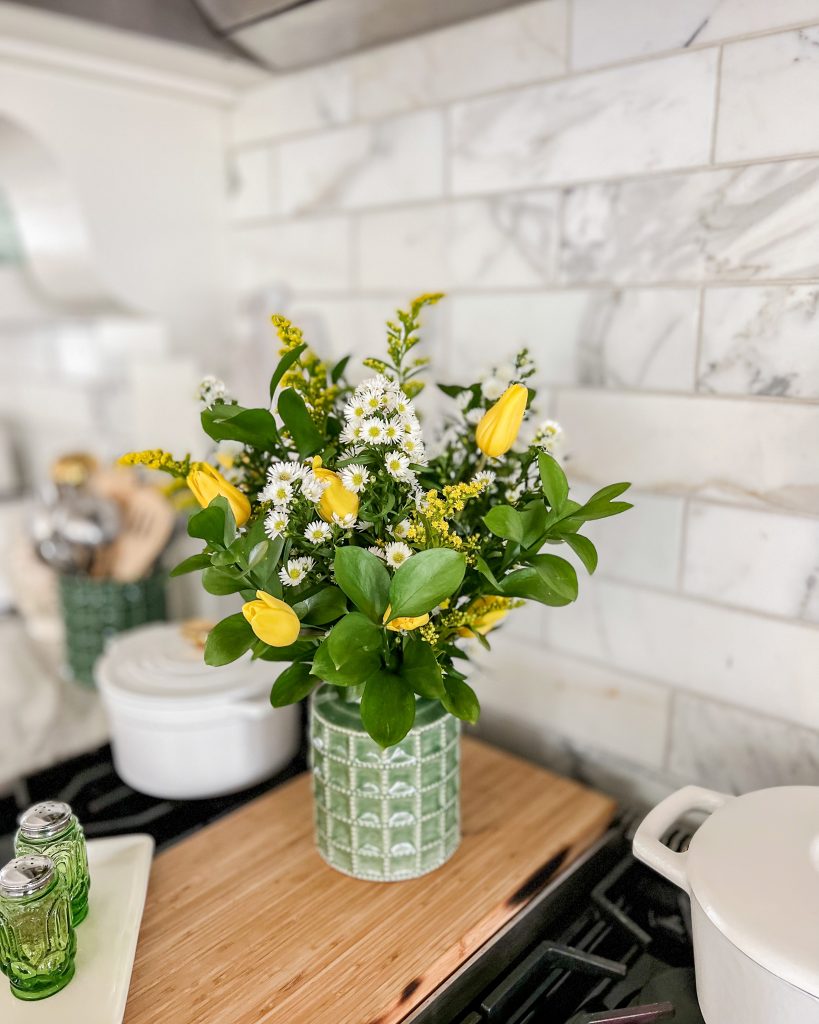 I like to mix new and old decor items and you can see here how I used antique milk glass and mixed it in with some newer cake stands and other compote dishes. I also like to swap out some of the enameled cookware that I use often and here I used the ivory/white colored pans that I have.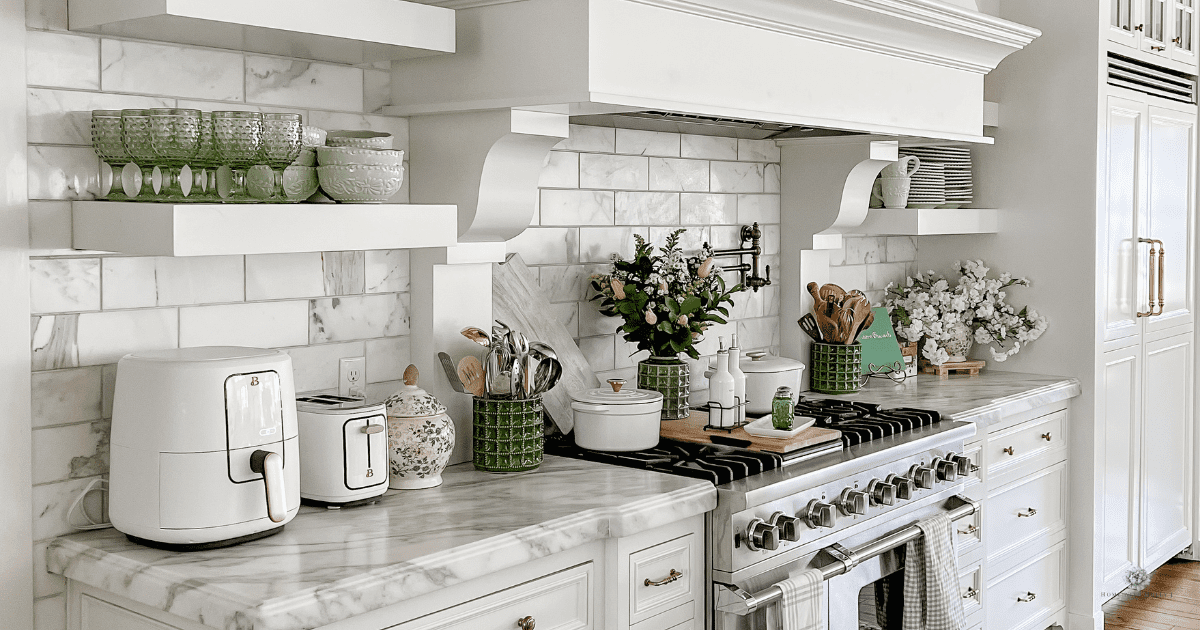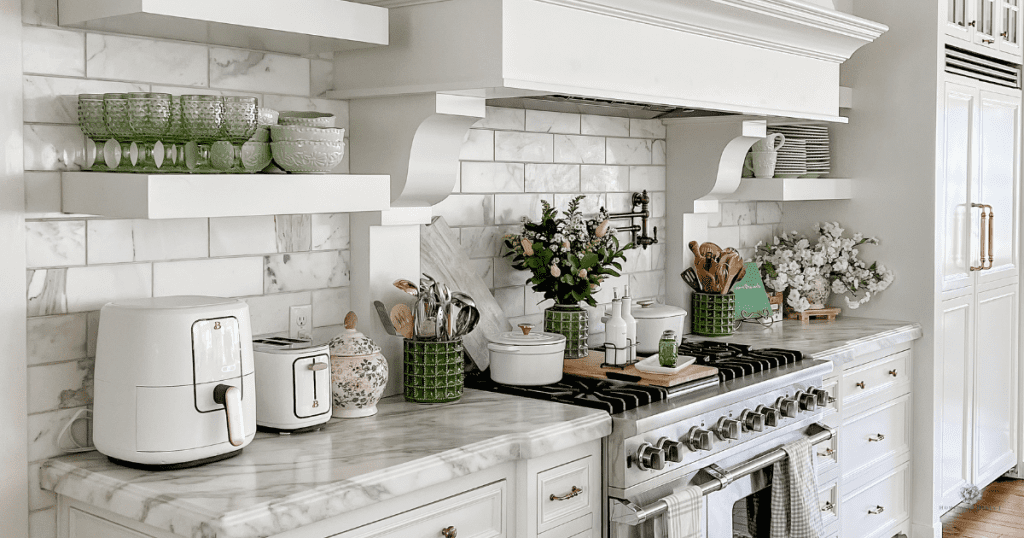 Because my kitchen has a lot of white, it's fun to dress it up for each season and holiday. One of my biggest tips for decorating your home is to style for the season and to also make it versatile for whatever holidays fall within that season. This saves me so much time! It's a challenge sometimes to make it all work but I hope this post gives you some ideas and inspiration on how to decorate for both Spring and St. Patricks Day.
Green and Gold Tablescape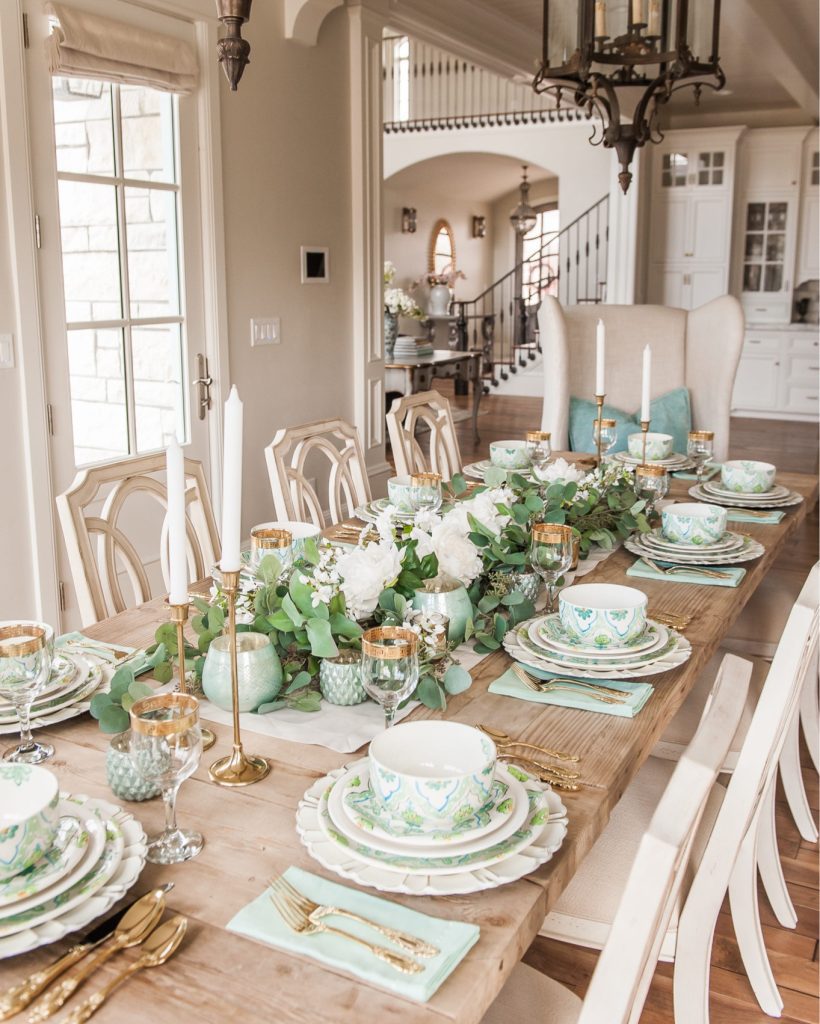 This is a green and gold tablescape that I set a few years back. I used this for St. Patricks Day, then Spring, and Easter! I just changed up a few things for each holiday. Click here to see all the details of this tablescape. I think it's still one of my favorite tablescapes ever!
St. Patrick's Day Accents
On the actual St. Patricks Day holiday, I added this fun little dessert tray to for everyone to enjoy.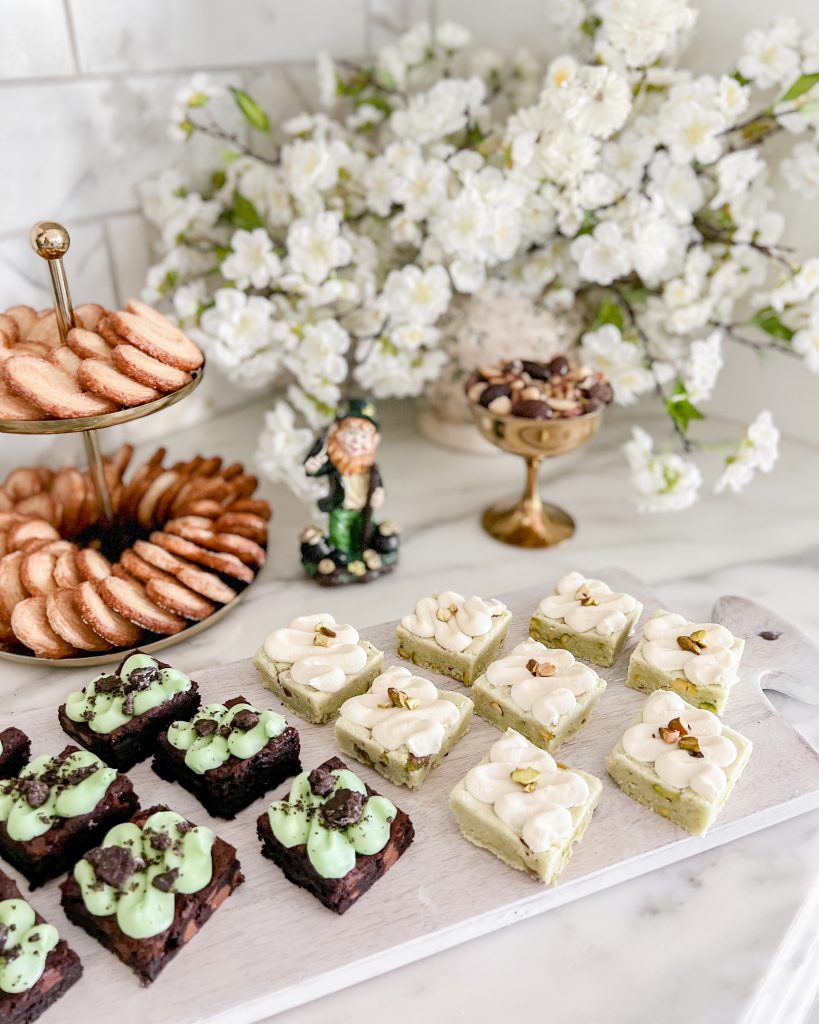 My daughter made these yummy St. Patricks Day treats and they were so good! She's quite the little baker!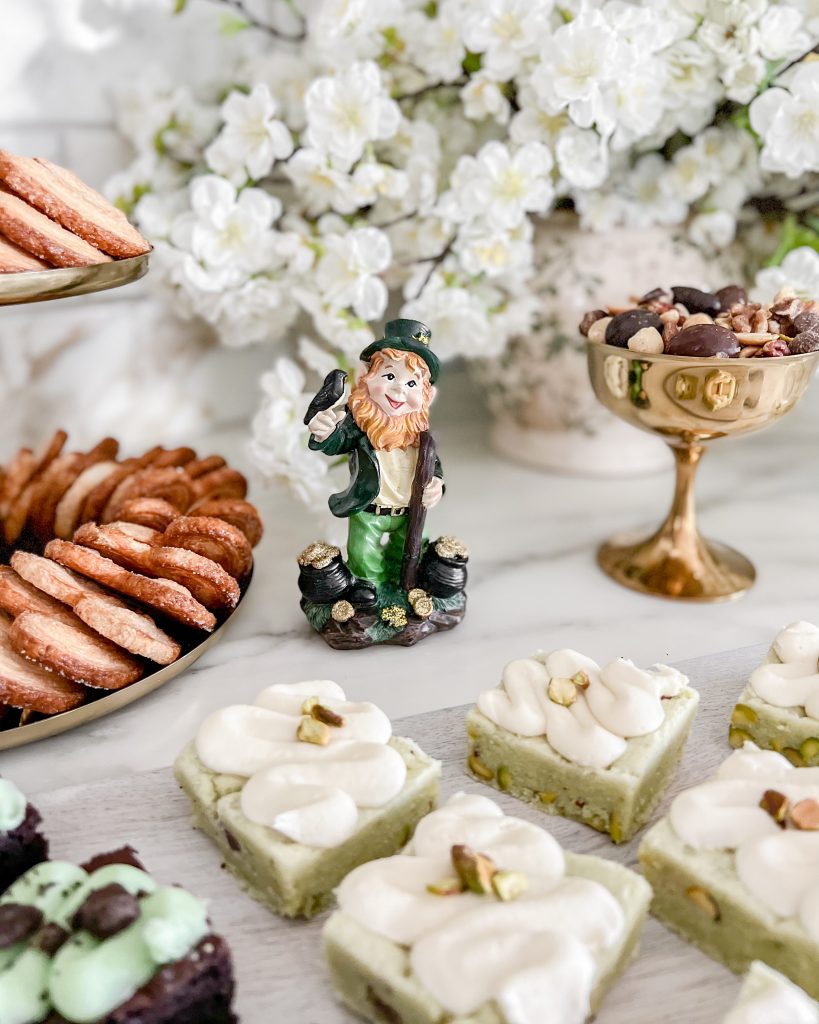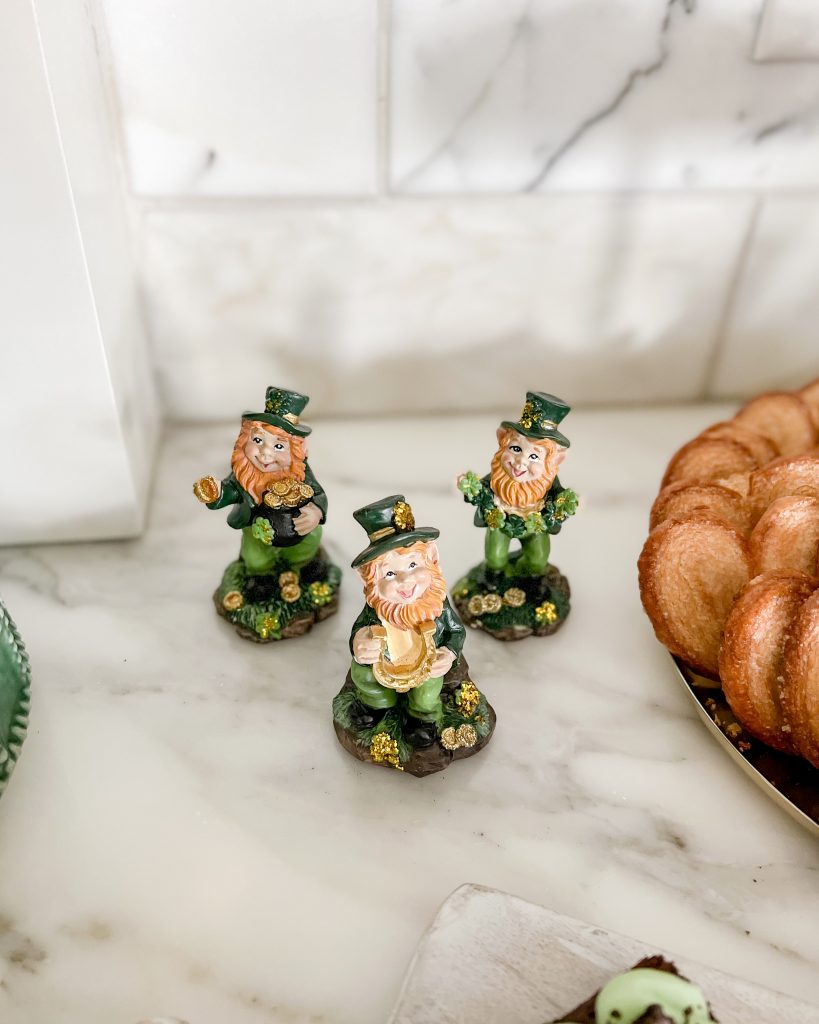 I hope you have a wonderful St. Patricks Day and can have a little fun decorating for this holiday. You don't have to go all out to make it cute and festive. Sharing all this today sure makes me excited for spring to arrive!
Shop the Look
Tap the images below for links to all the sources. St. Patricks Day figurines are from Hobby Lobby.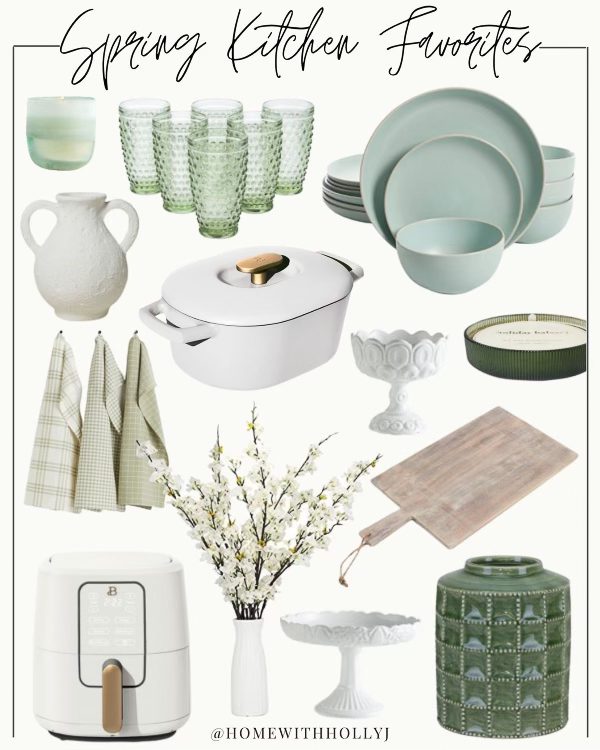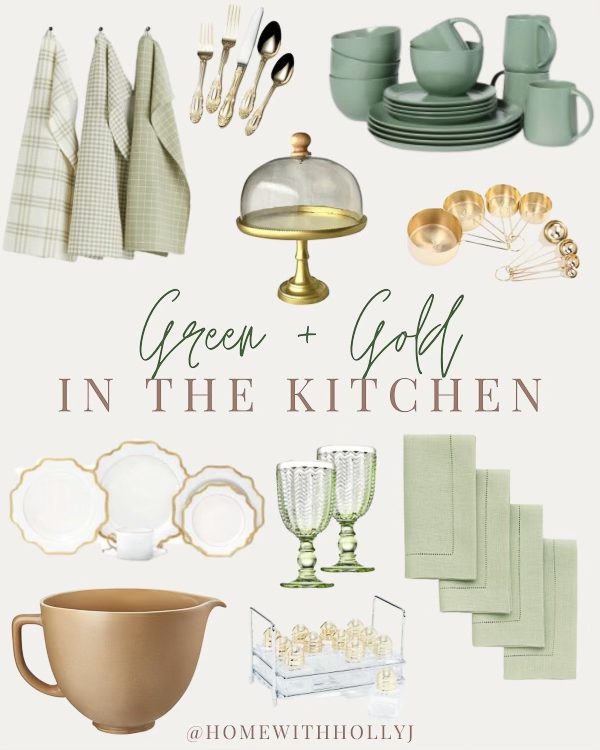 Tap the links below to shop!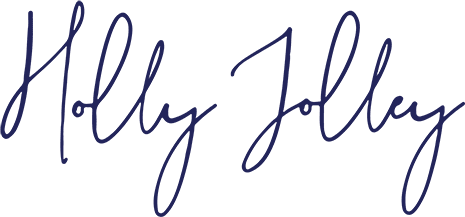 Pin this Post for Later