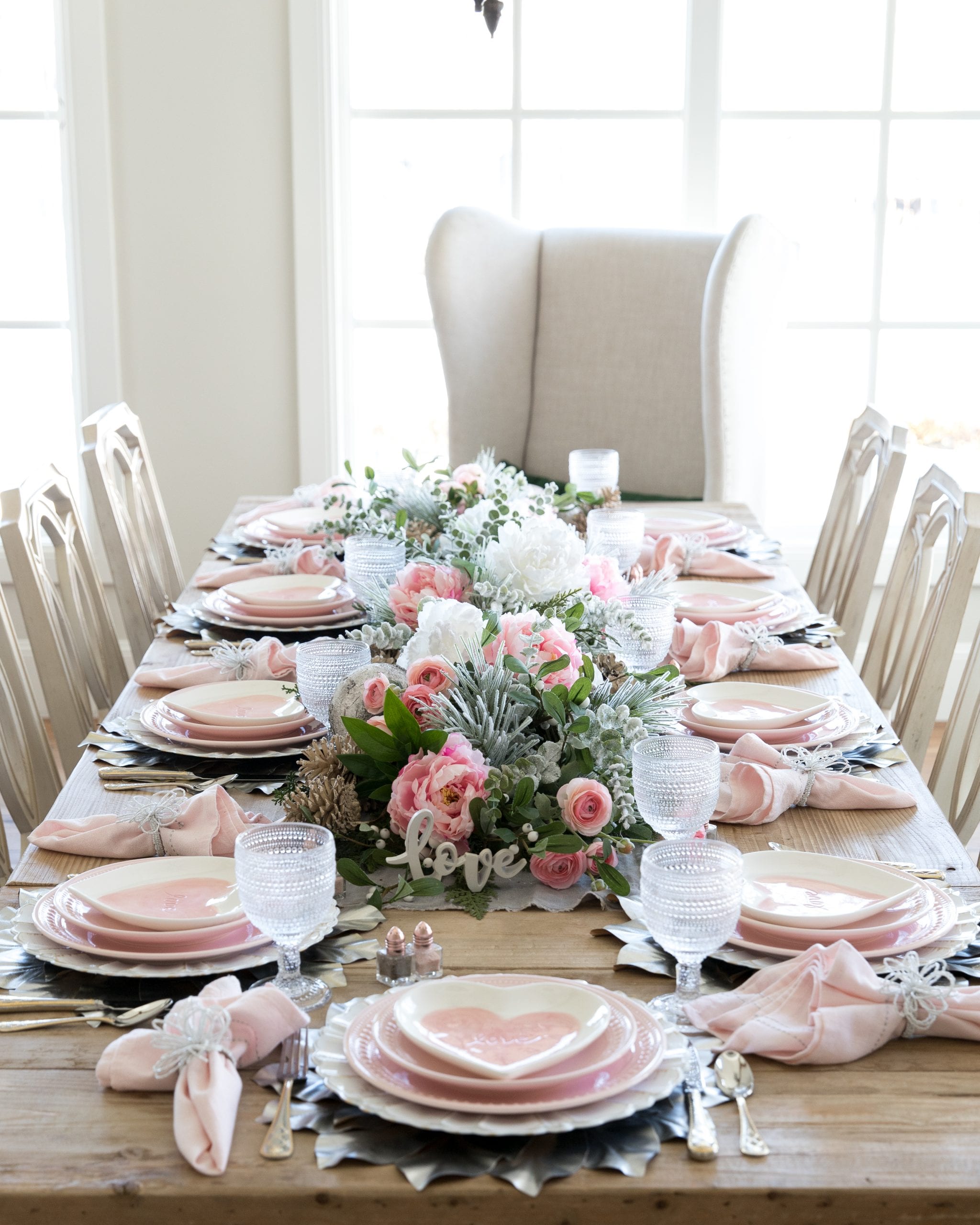 Pink Hearts Valentines Day Tablescape
Valentines Day is just around the corner and I wanted to share this darling Pink Hearts Valentines Day Tablescape. I shared some of these photos last year in a post titled How to Mix Valentines Day Decorations into your Winter Decor, but this is the first time I've shared all of the details and some close up photos. I'll also include all the sources and like items that I can find at the bottom of the post.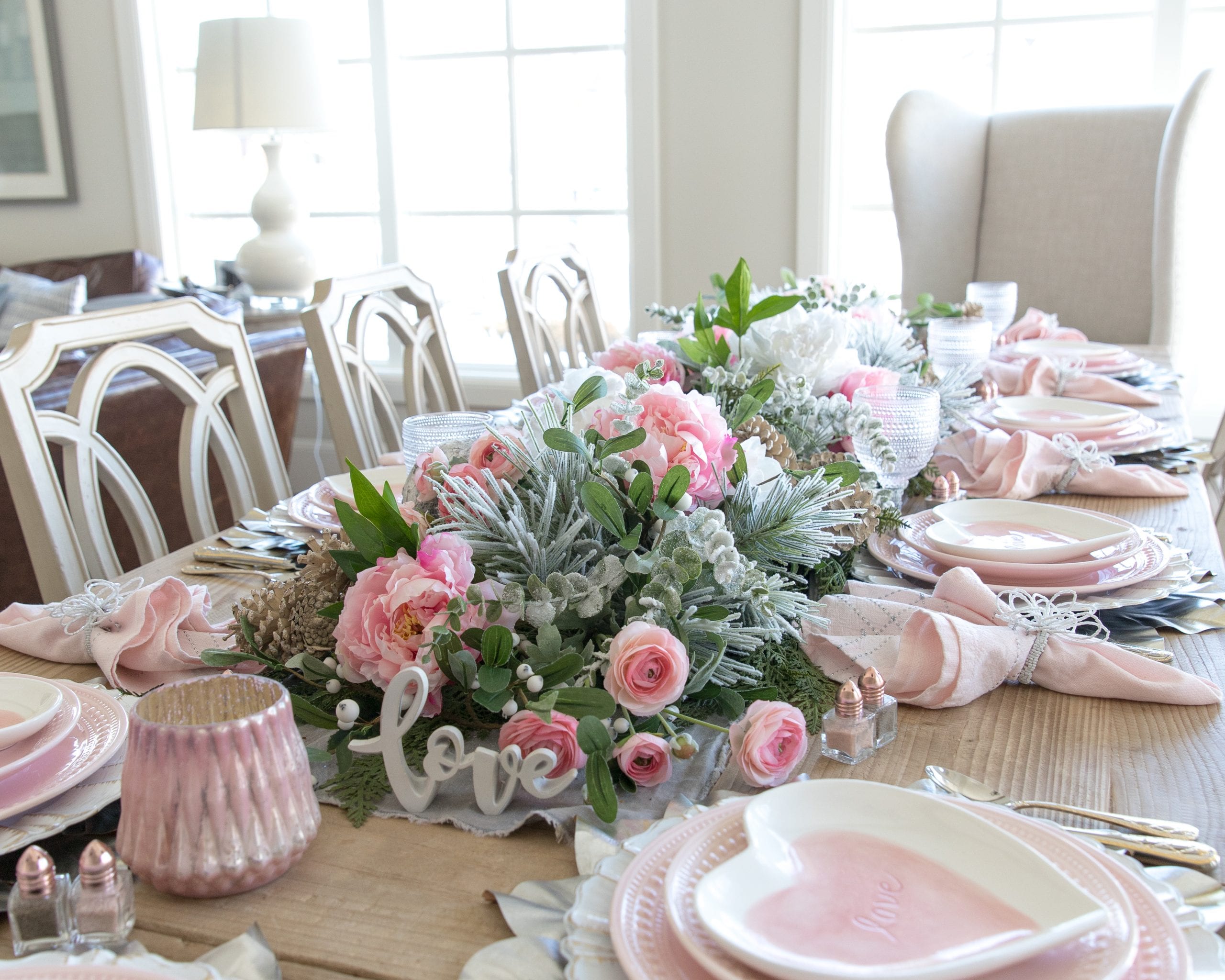 The Place-setting
The place-setting was inspired by the pink watercolored heart dishes. I mixed them in with some other pink dishes that I found at Homegoods. I love layering dishes and the pink heart plates matched this set I already had perfectly. To keep with a wintery theme, I used a silver leaf placemat and a scalloped silver charger.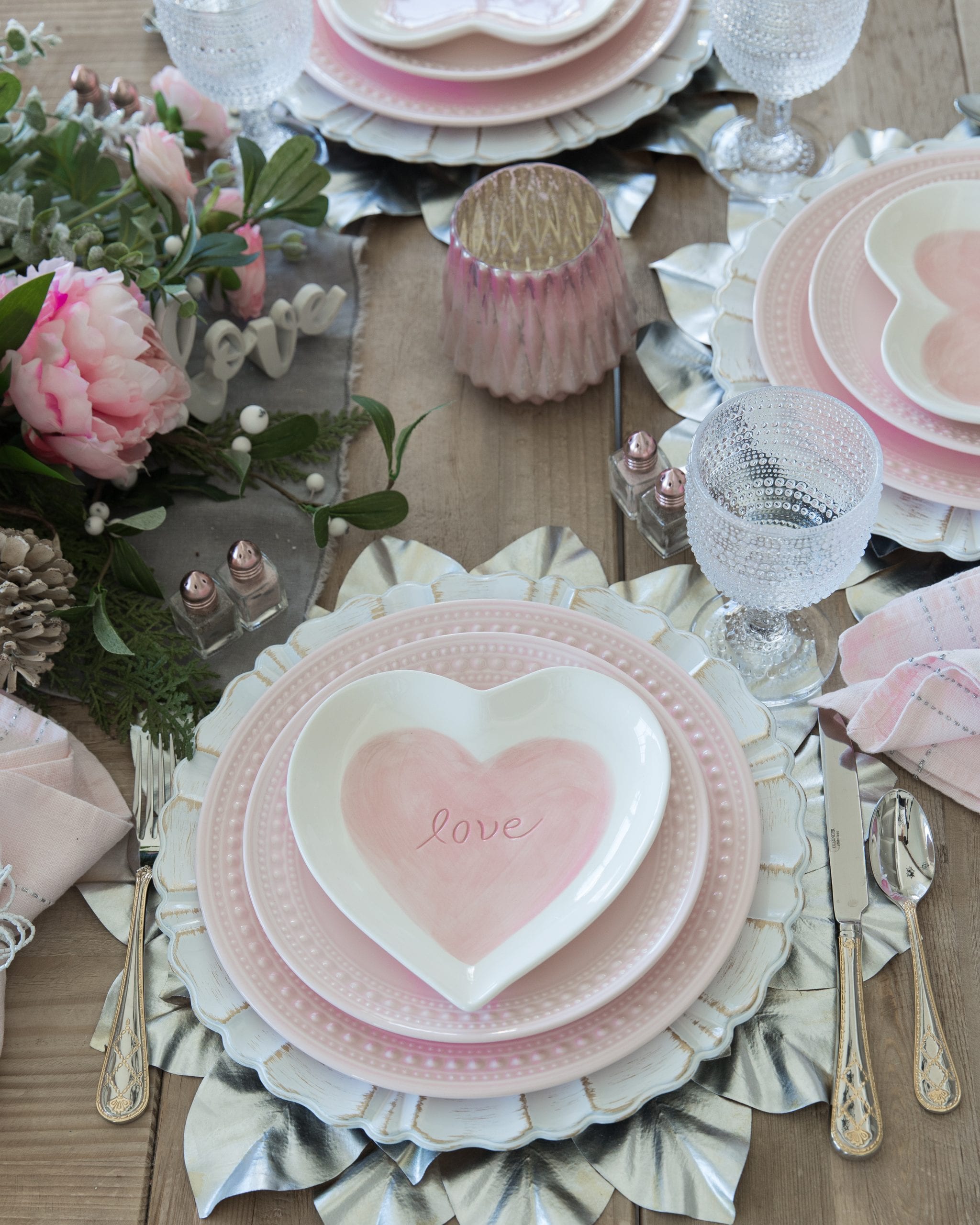 I used some frosty white goblets, a pink napkin with silver stitching, and a white napkin ring.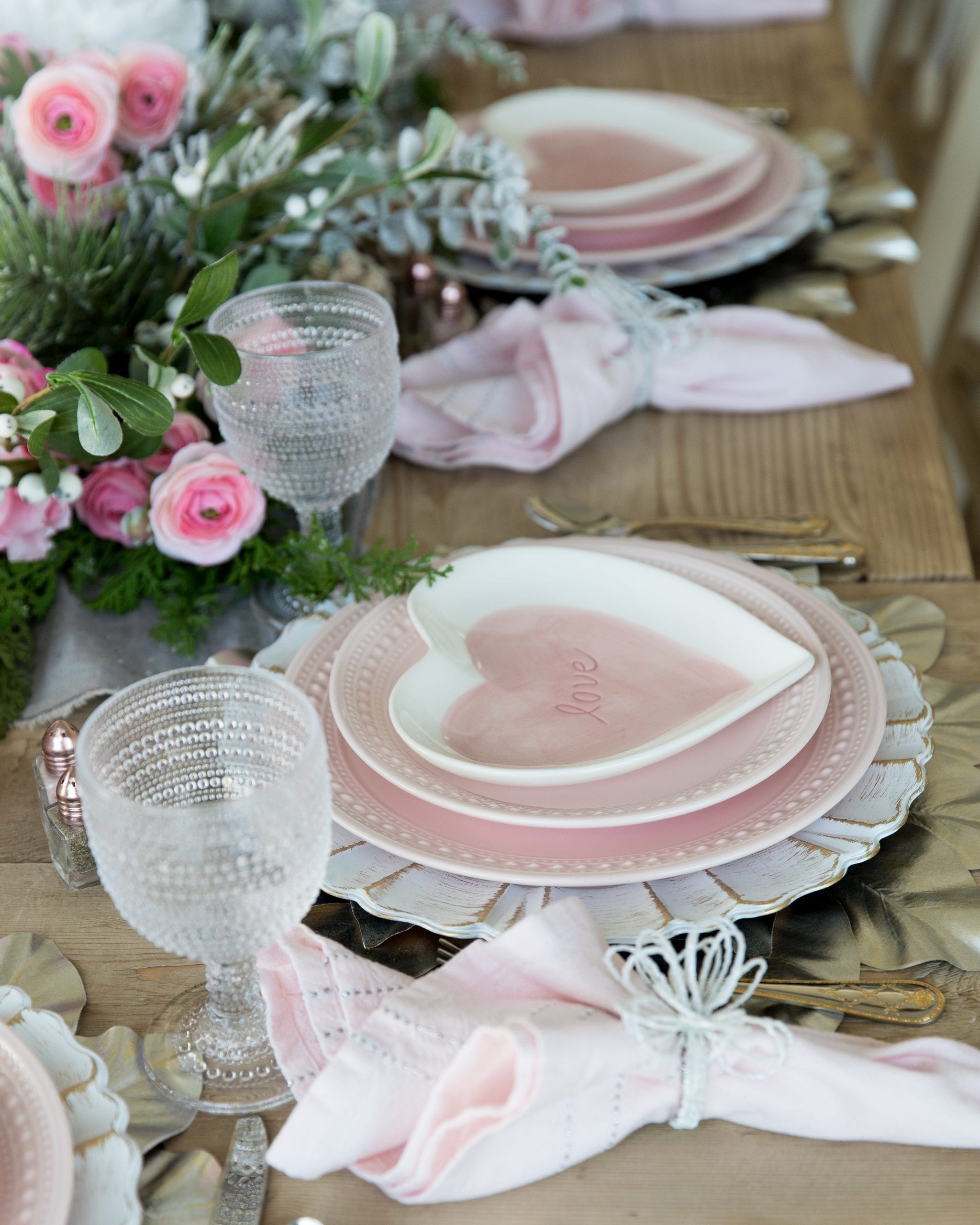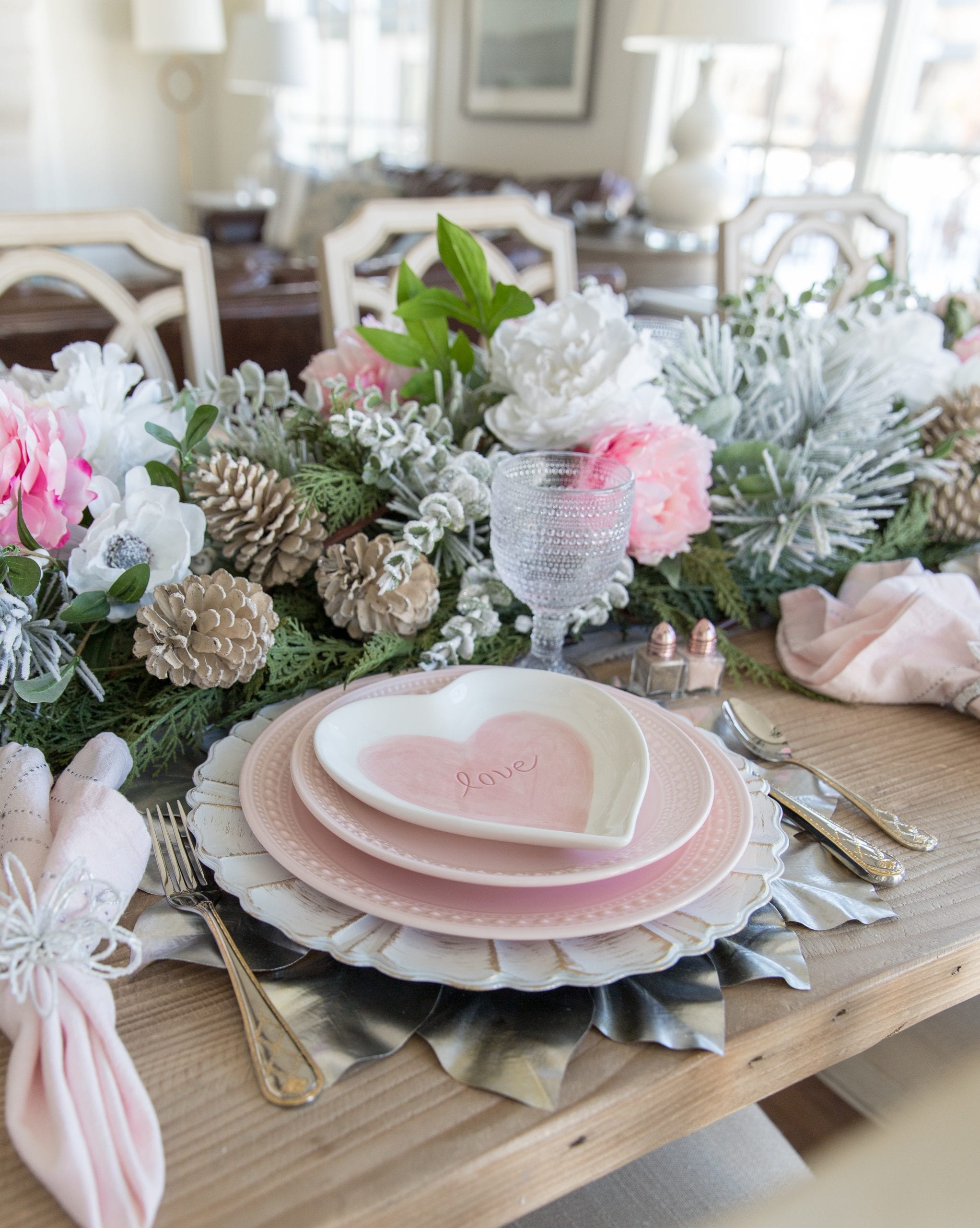 One of my favorite things is the word LOVE painted on the heart plates.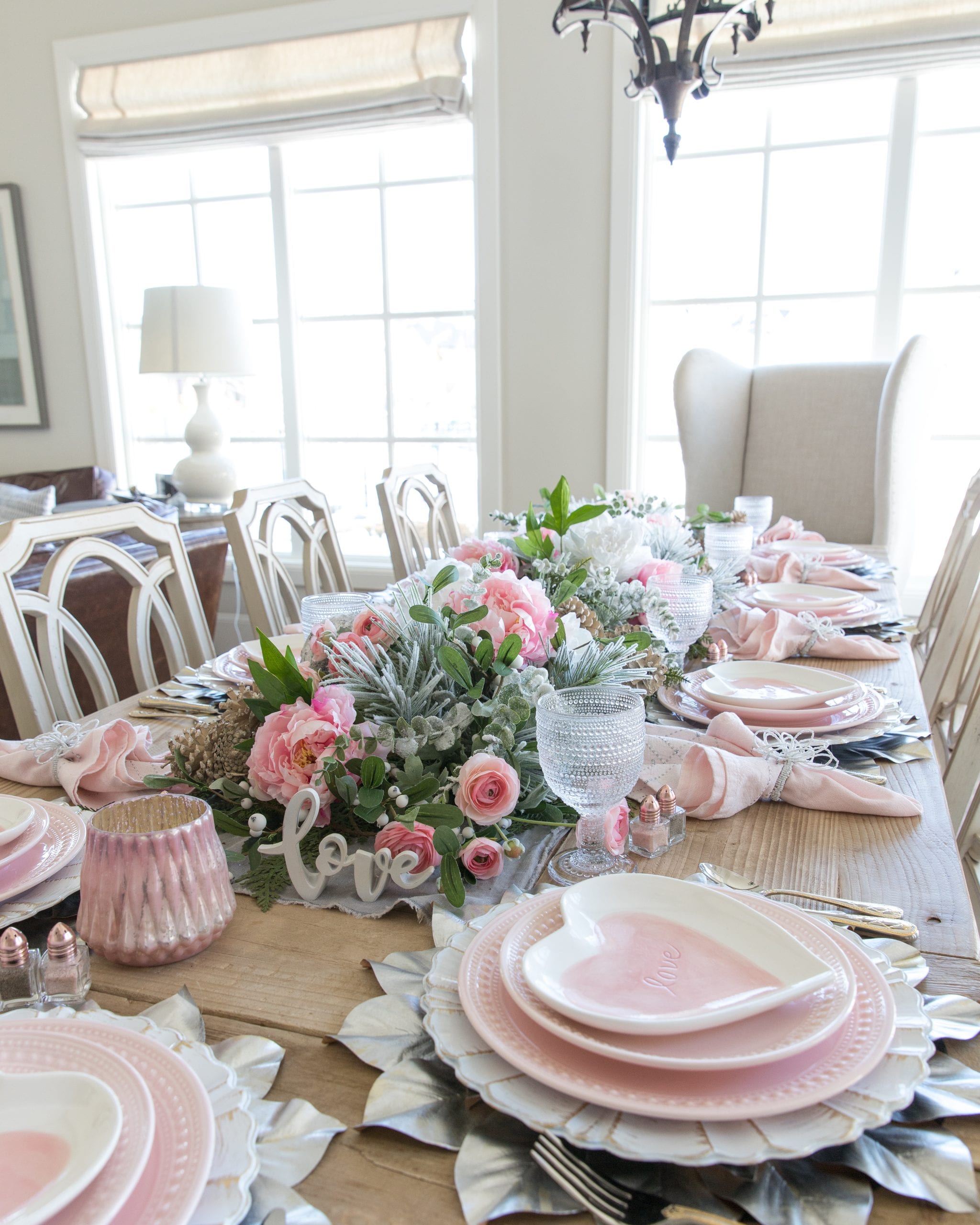 The Centerpiece Garland
I have an obsession with centerpiece garlands! I just love filling up the middle of the table with a garland and adding in items that correspond to the rest of the table.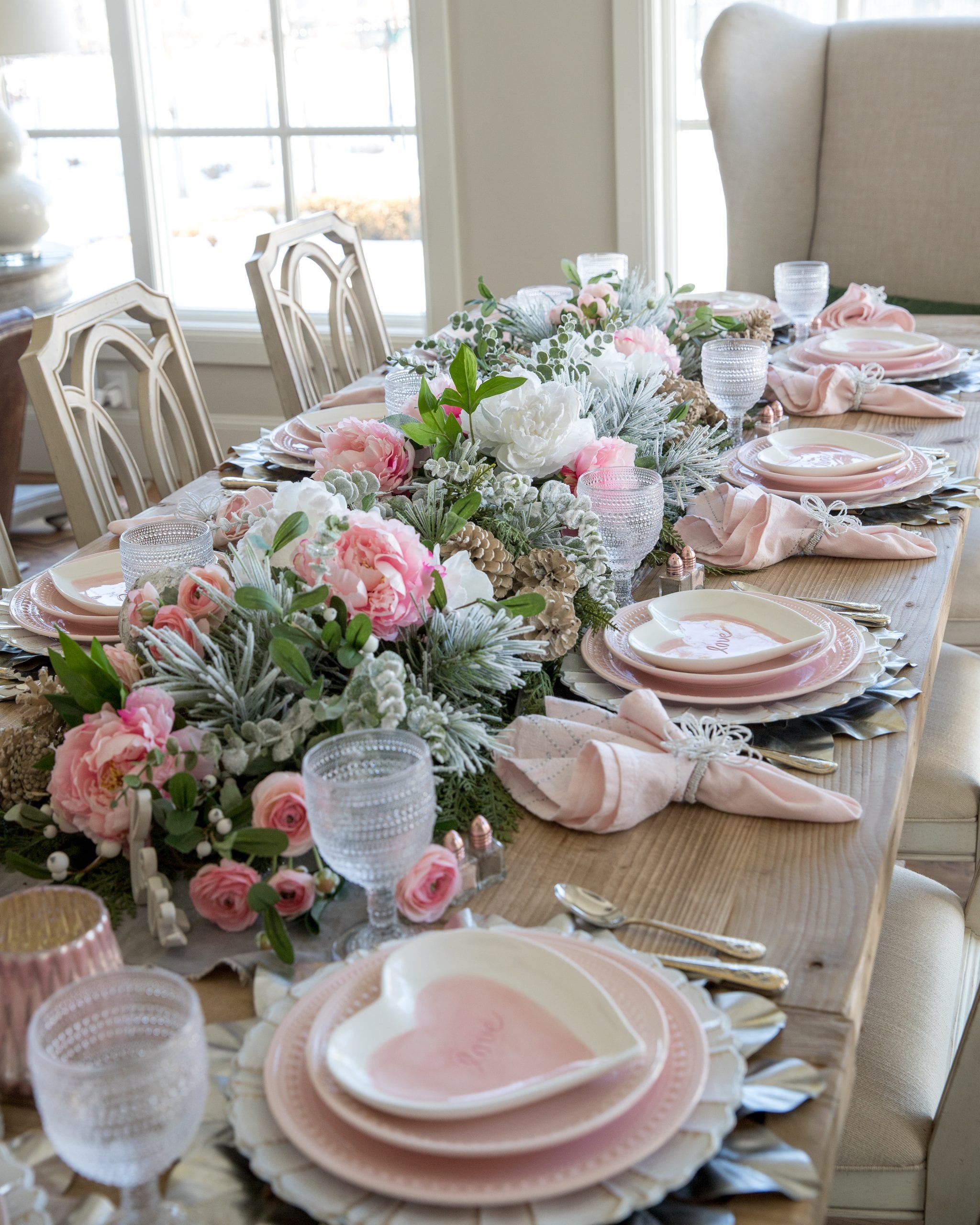 How do I make these? Well, I've been promising a video tutorial so I'll post that on my Instagram TV soon and if I can figure out how to add a video to my blog I'll do that too!
I always start with a base later of greenery. On this particular one, I had already made a versatile winter green garland for the holiday season. I decided to add some pink flowers into it and I have to say that it's one of my favorites! The frosty faux greenery mixed with the pink peonies and spray roses, as well as the frosted white peonies, made this one extra beautiful. Everything in this garland is artificial! Faux flowers and greenery have come a long way!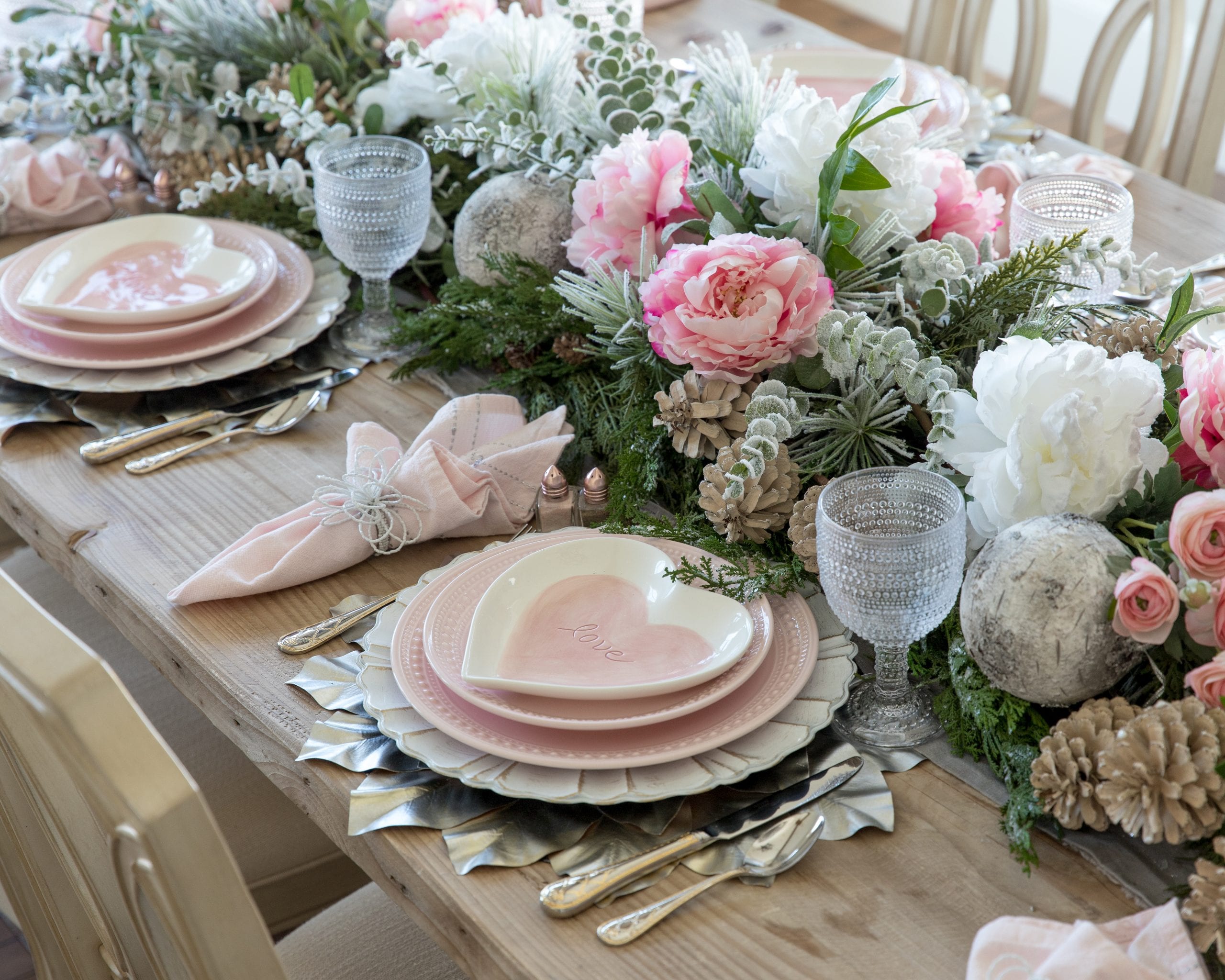 I also added in some painted pine cone picks and some ornaments left over from the holidays that looked like aspen tree bark. I like adding in the different layers and items to fill up the centerpiece. All these elements add texture and color.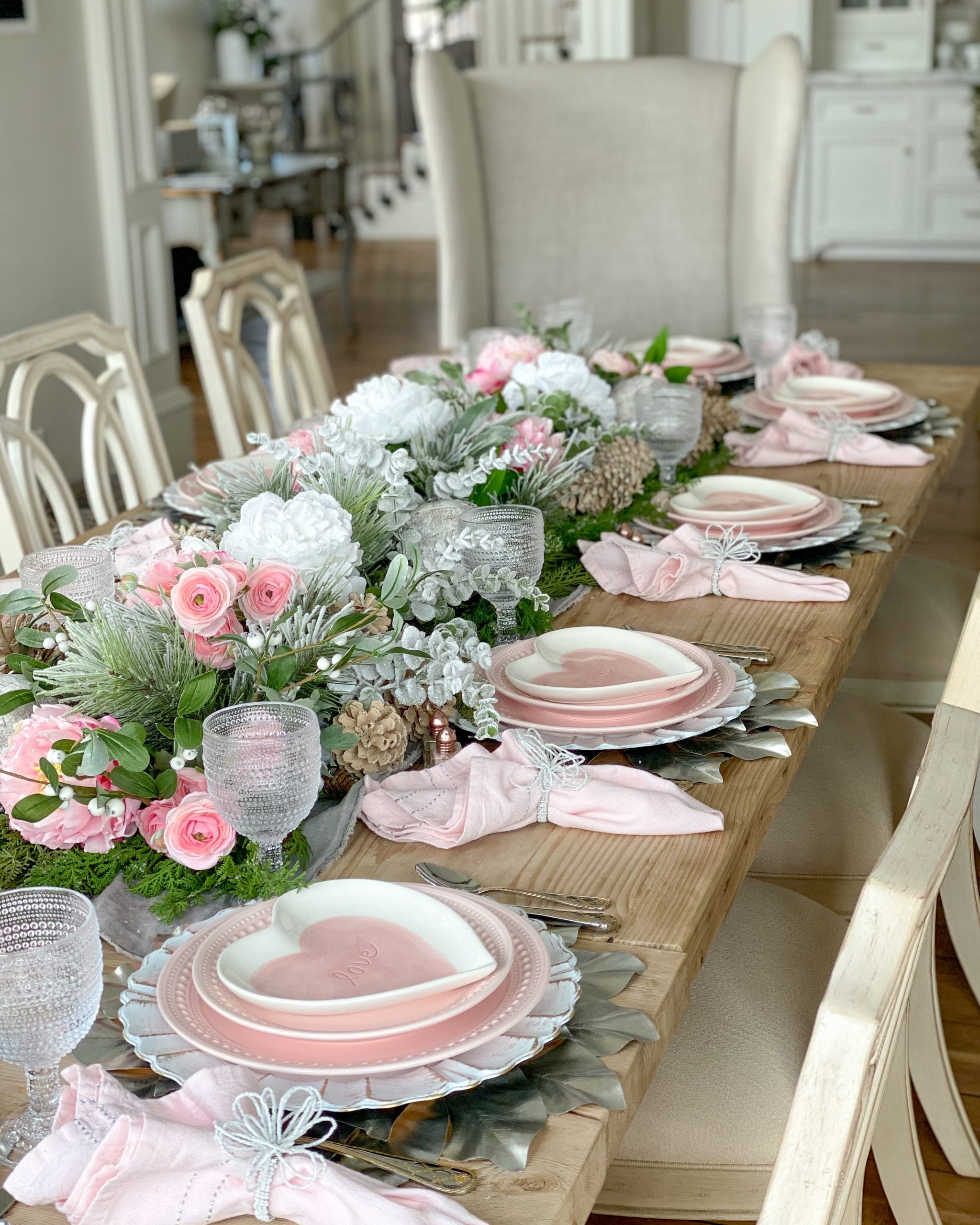 In these photos you can see some of the details of the base garland. On the bottom there is a cedar garland and cedar branches. Next I layered in frosted pine branches and frosted eucalyptus. Then I finished off the greenery with some white frosted mistletoe stems with white berries and then added the pine cone picks.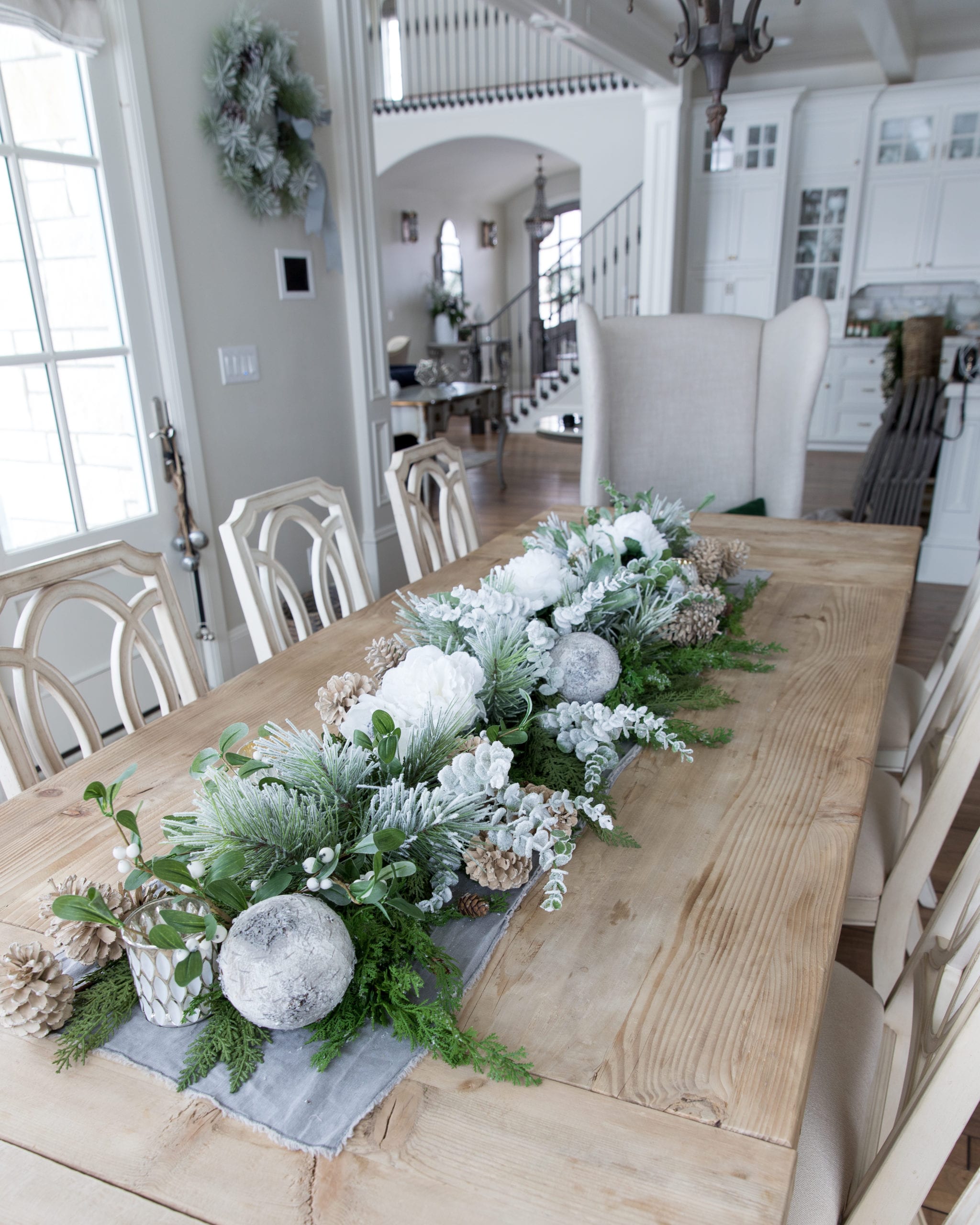 Here is what it looked like on top of the table runner before I added in the pink valentines accents.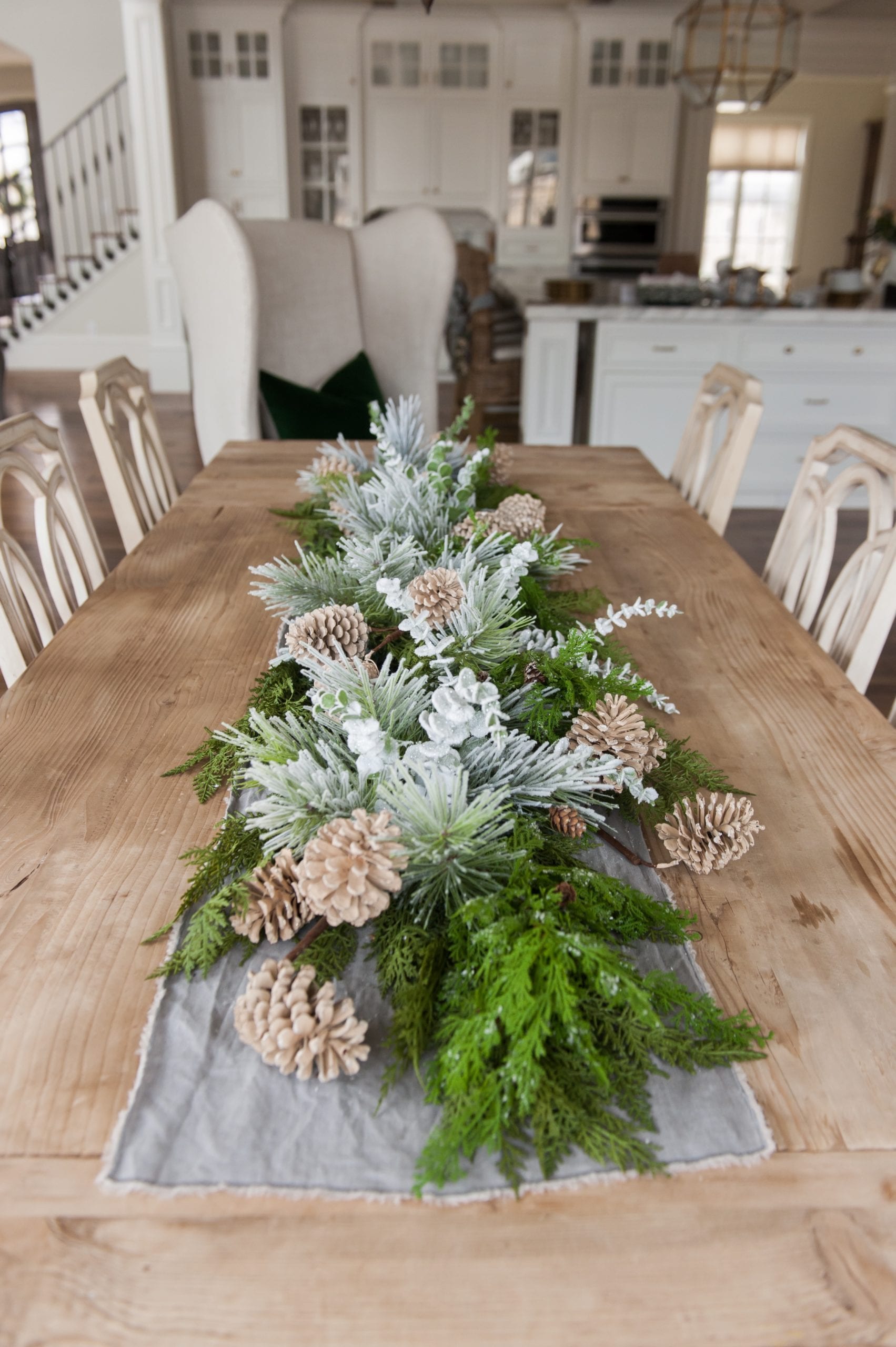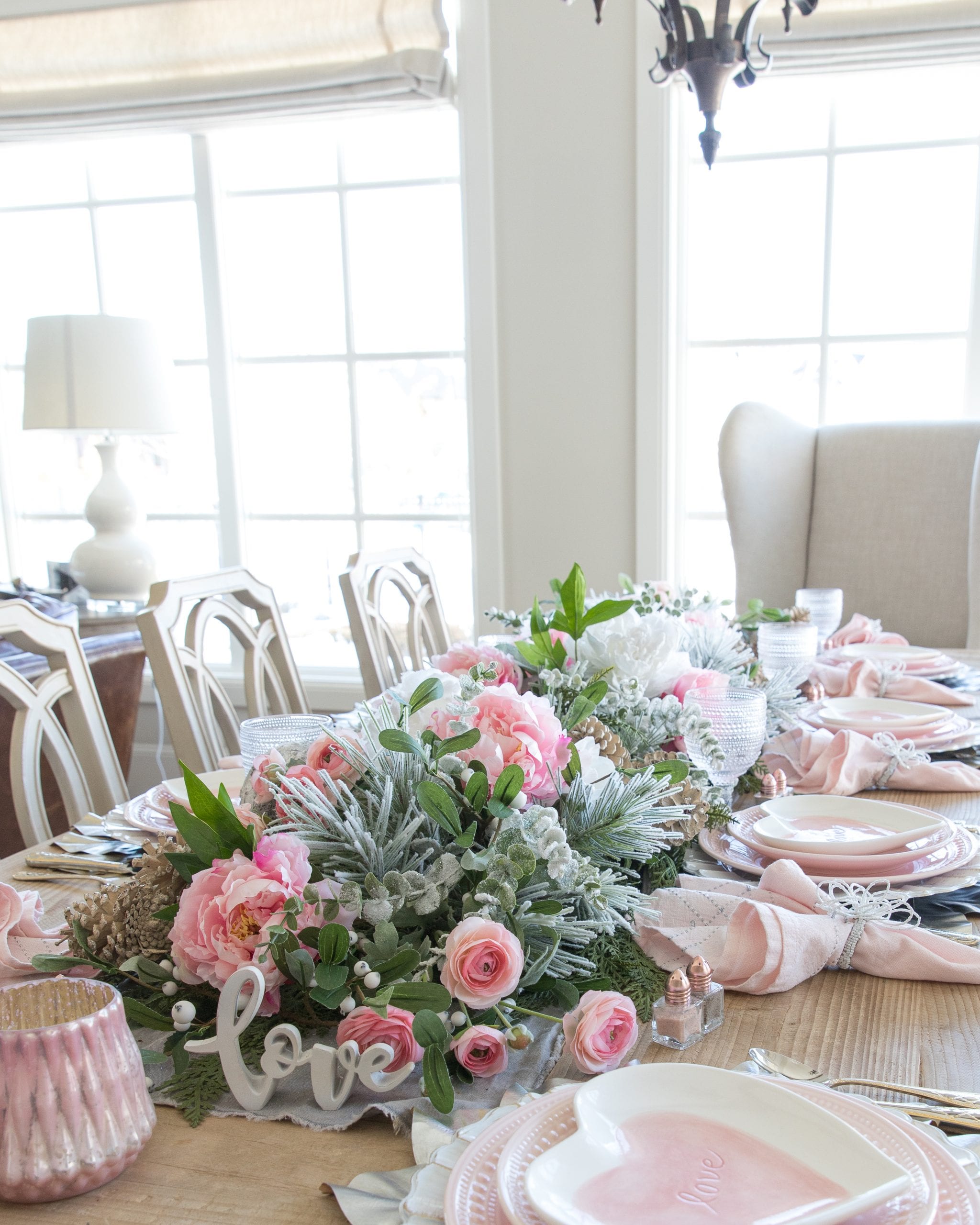 Adding in all the extra pink and white flowers made it a lot fuller. You can see how I've reused this same base greenery for the past three years with multiple tablescapes here: How To Create a Versatile Winter Centerpiece Garland. I've lost count on how many tablescapes I've done using this same garland. I store it by sliding it onto a large piece of cardboard and then I pull up the sides and tape it shut. Then I wrap it in plastic to keep it from getting dusty and store it with my winter and holiday decor in my basement.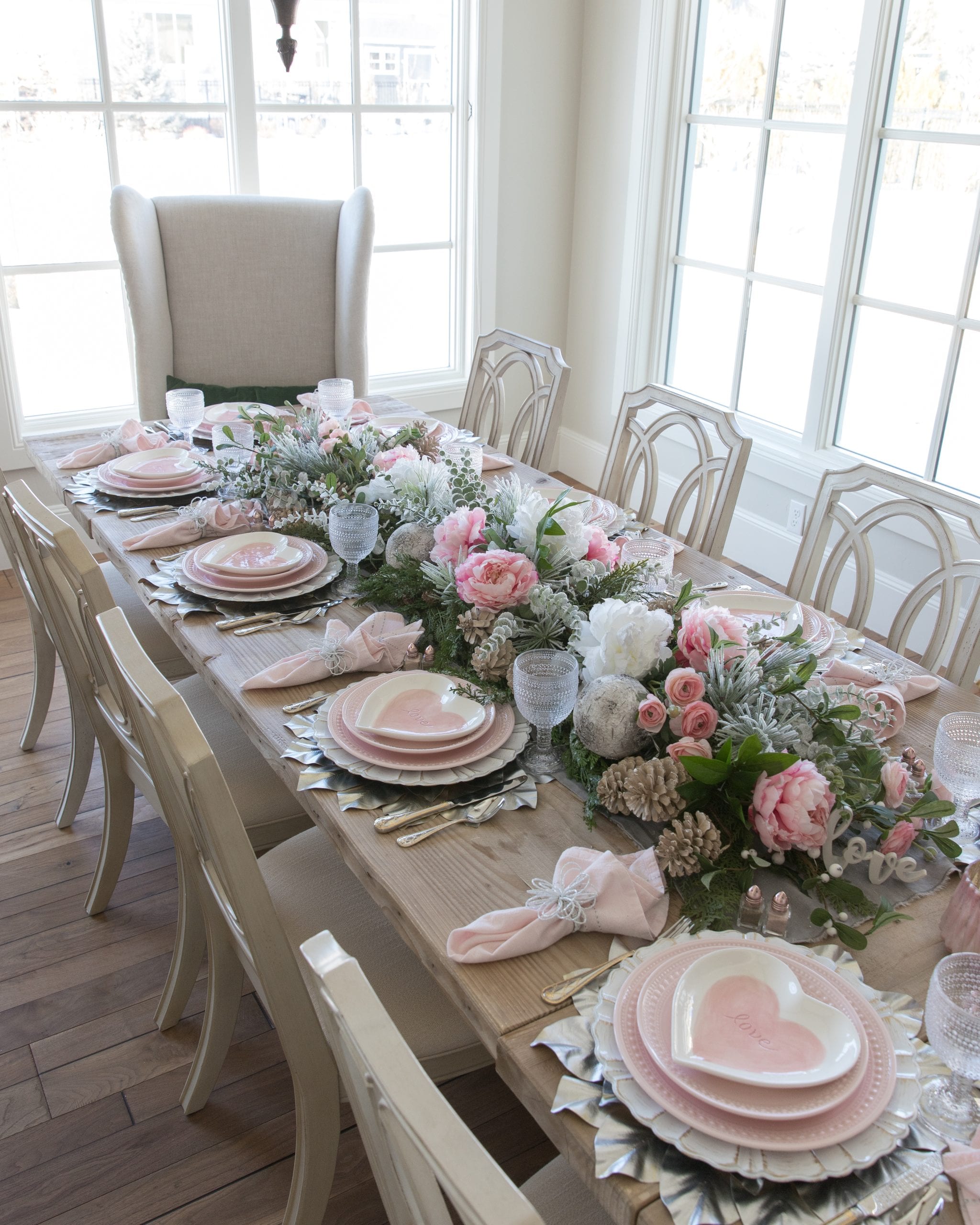 The Extra Details
One thing I love adding to my tablescapes is mini salt and pepper shakers. Its nice to have your own set close by so you don't have to ask to pass the salt and pepper. The lids on these are pink and they added another cute layer to this table. I also used pink Himalayan salt! You could use white pepper too if you wanted to be extra creative! I couldn't find anywhere to link these but I linked similar ones below and you could use rose gold spray paint on the lids if you wanted to achieve this same look.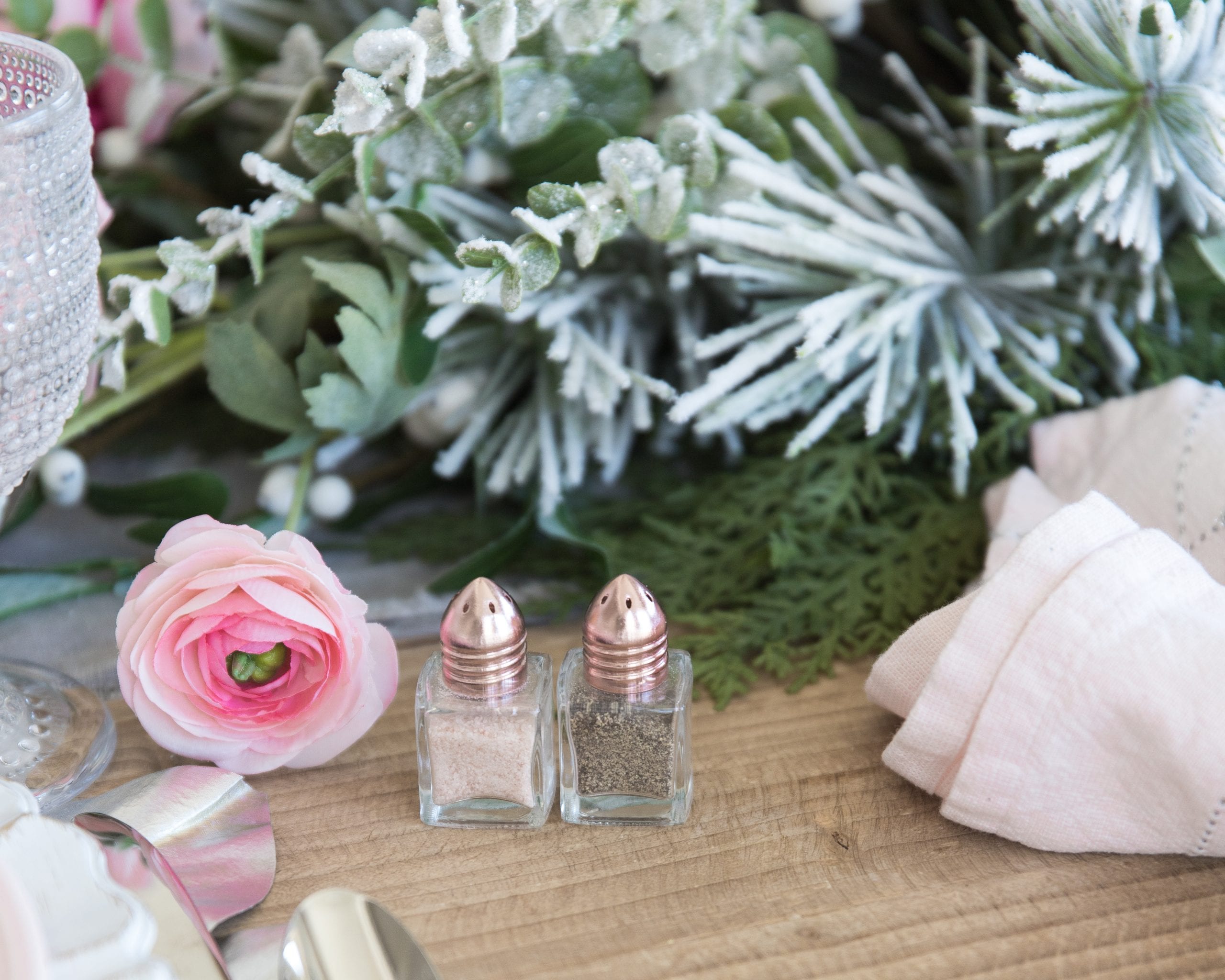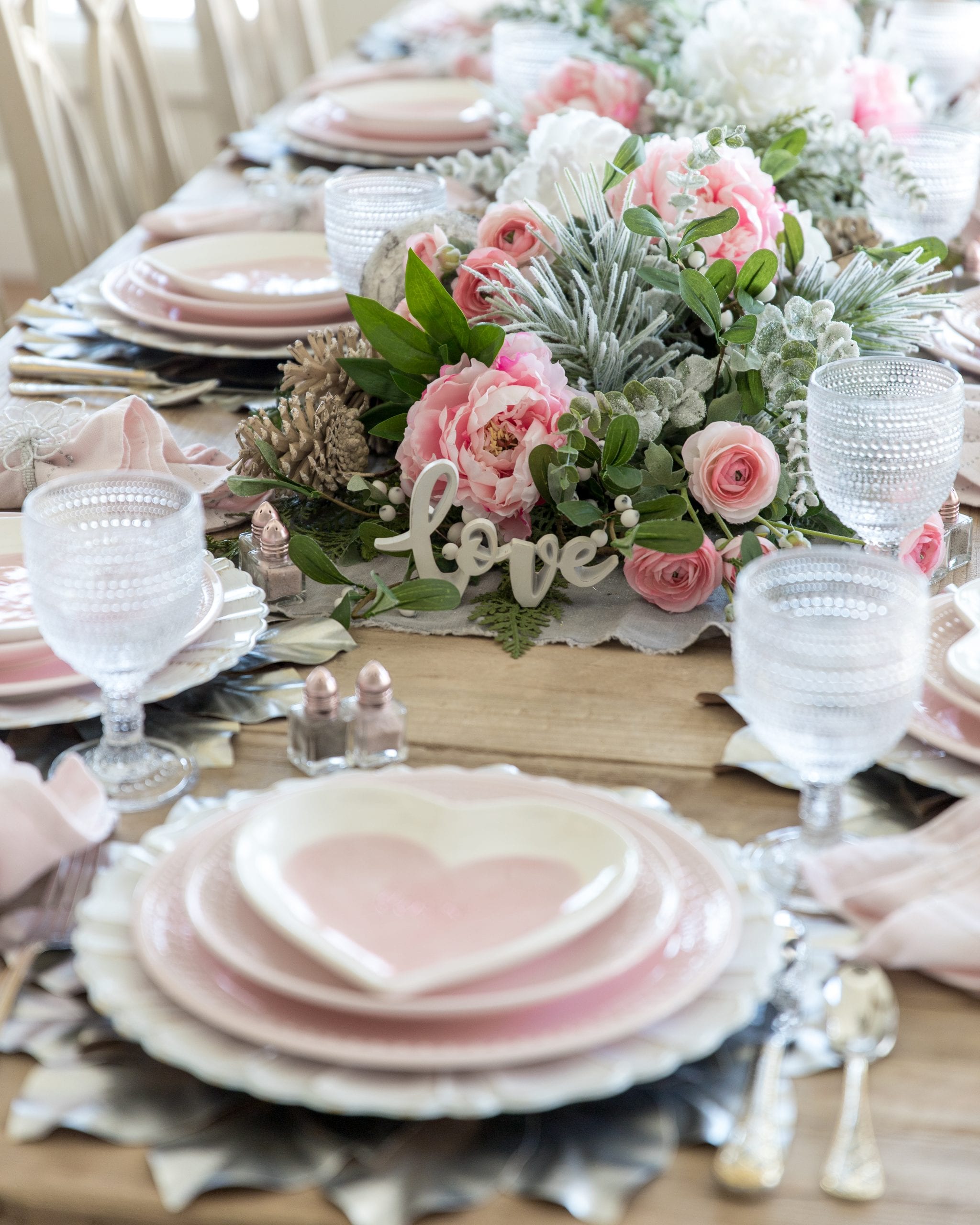 I also added these mini love signs at the ends of the garland and it's just an added touch. I always say the beauty lies in the details.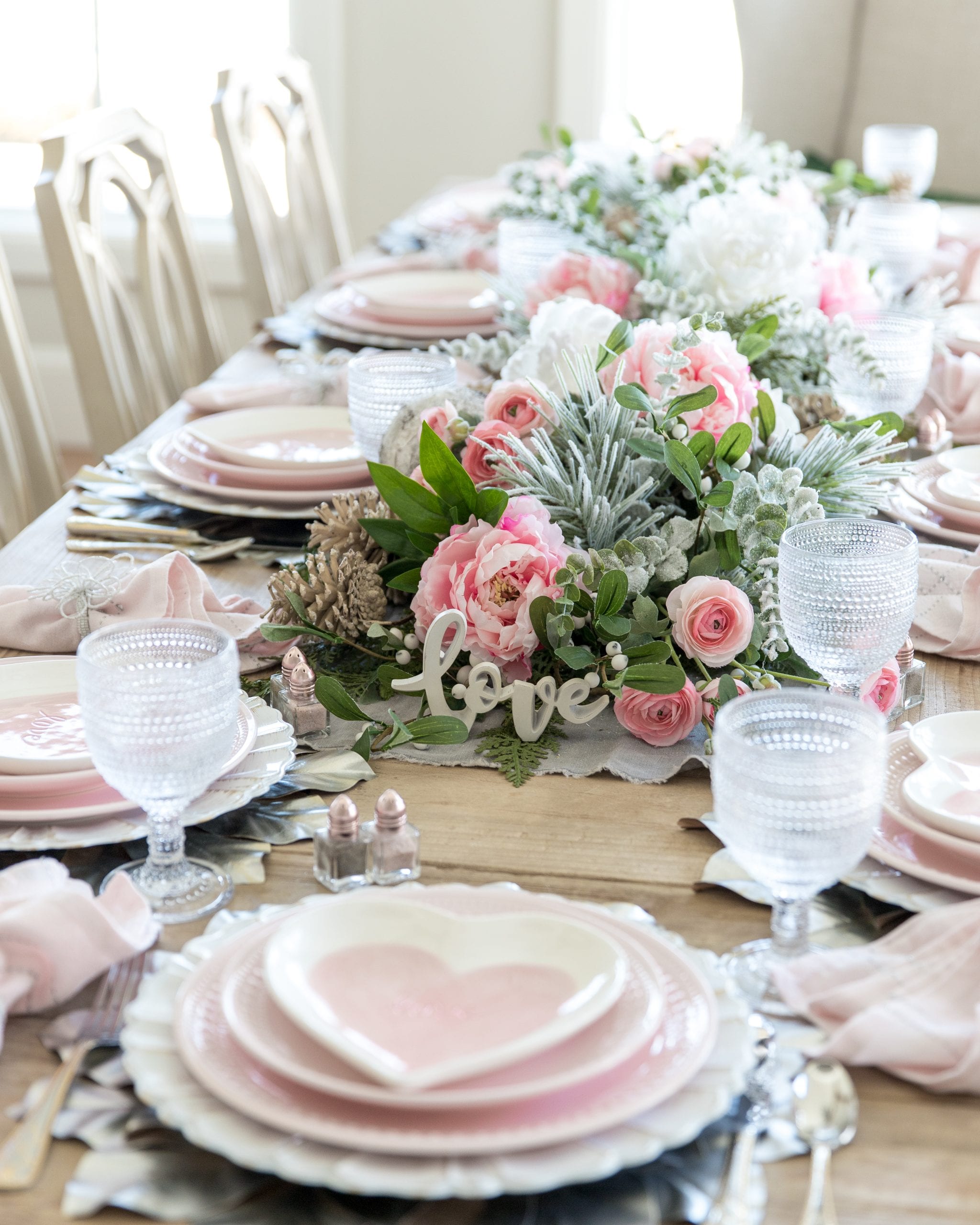 I hope you enjoyed all the beautiful details of this Pink Hearts Valentines Day Tablescape. I sure LOVED doing this one! I'll share a few more photos below and then all the items will be linked at the bottom of the post. If I can't find identical items, I'll link like items if I can find them so you can recreate this or something close!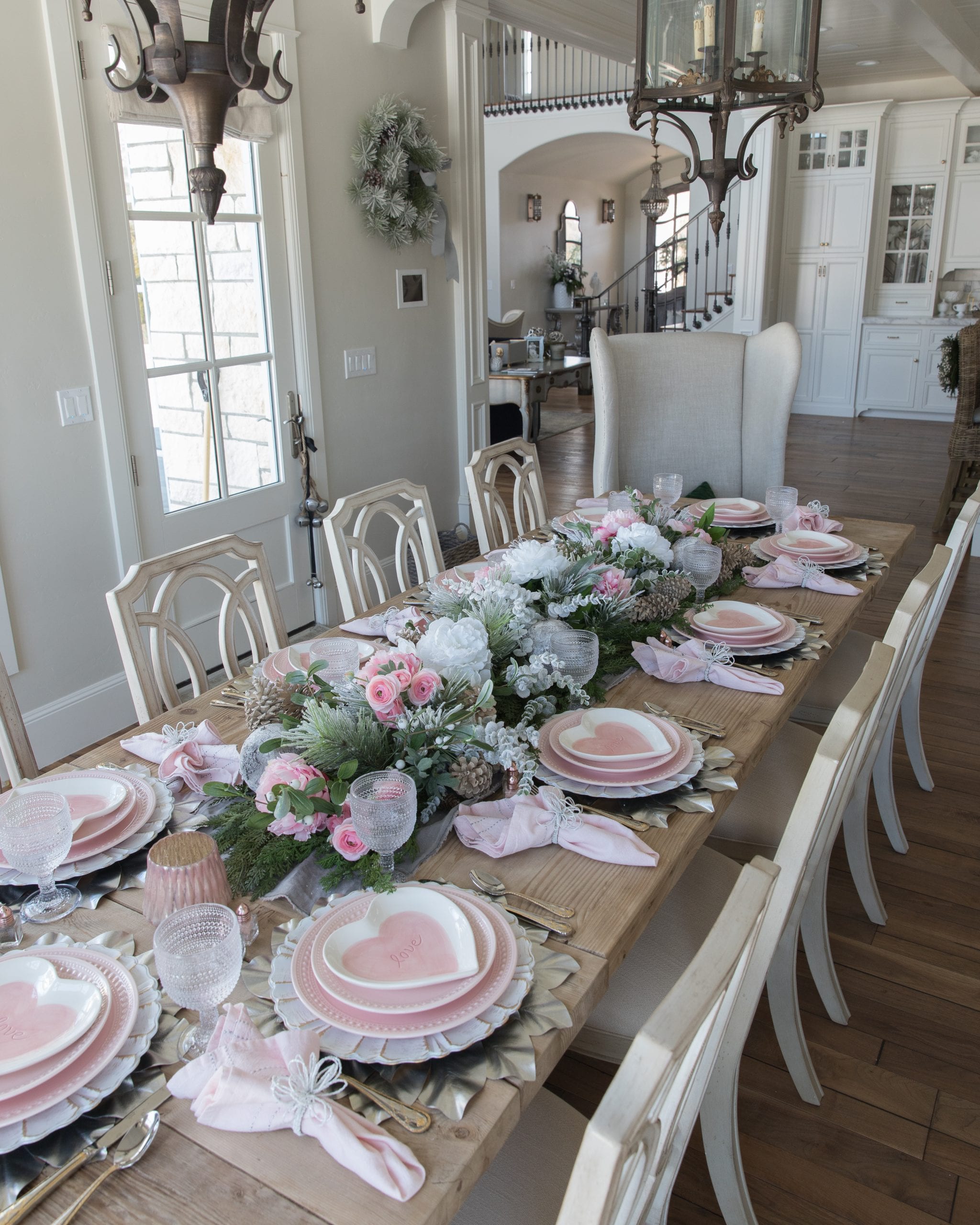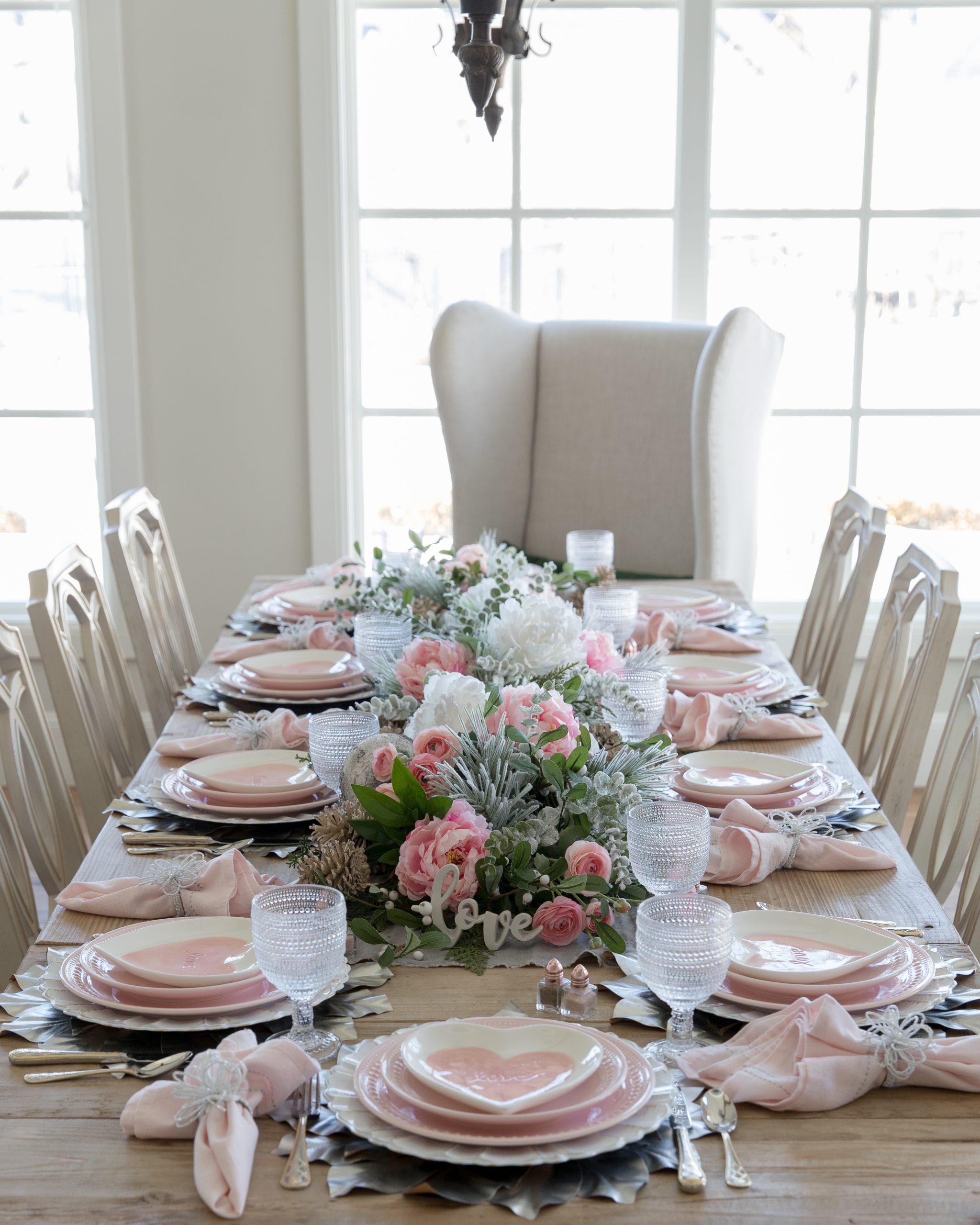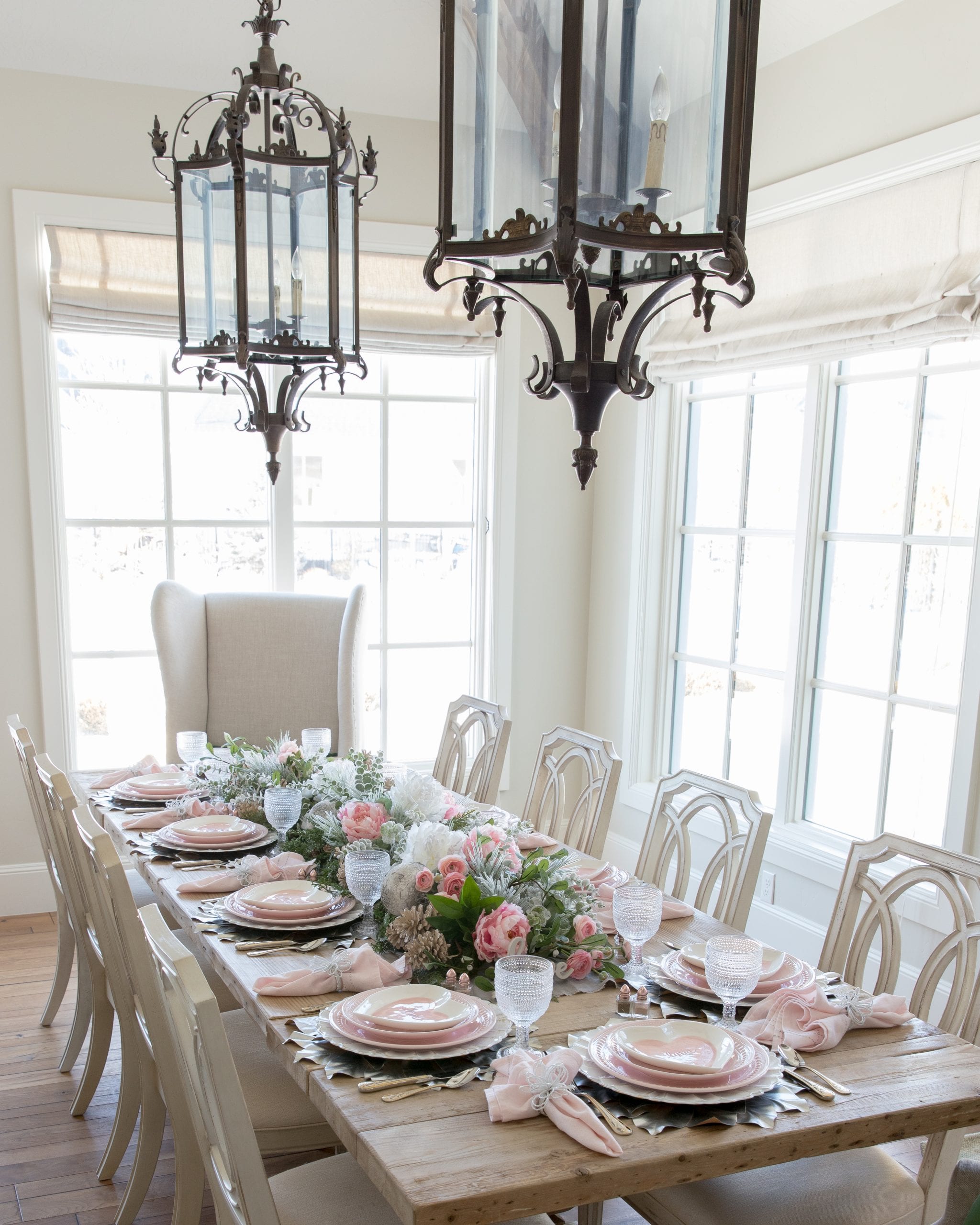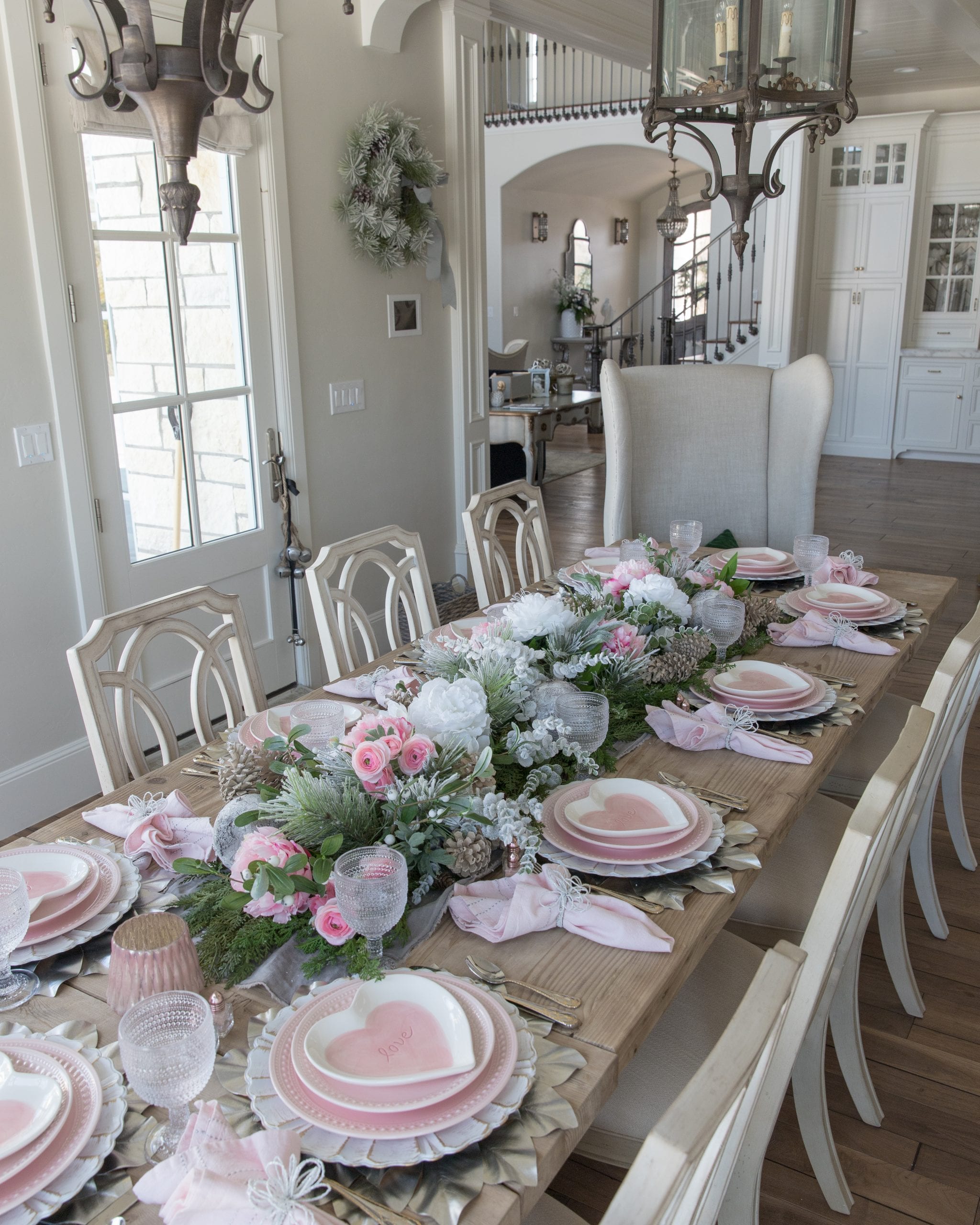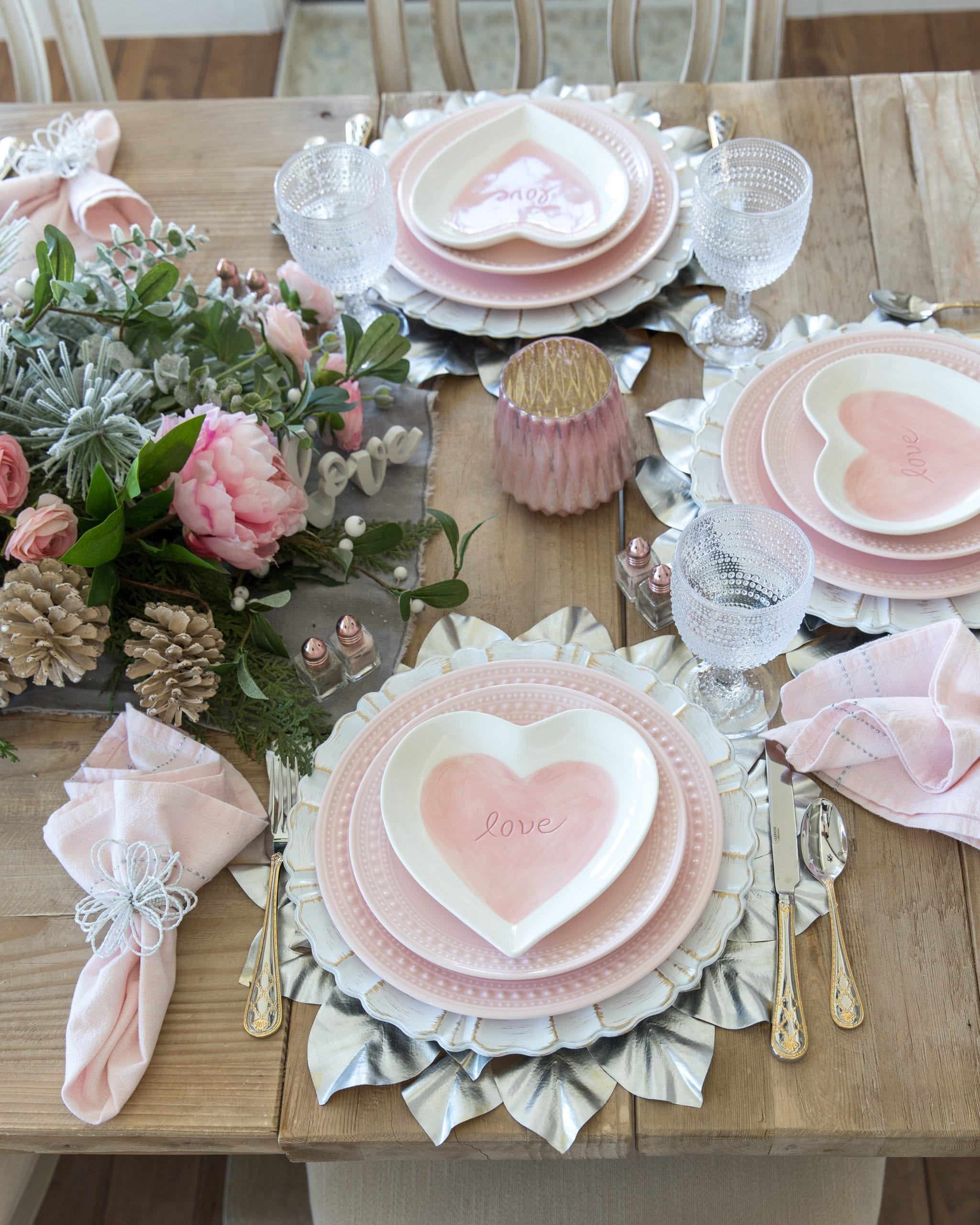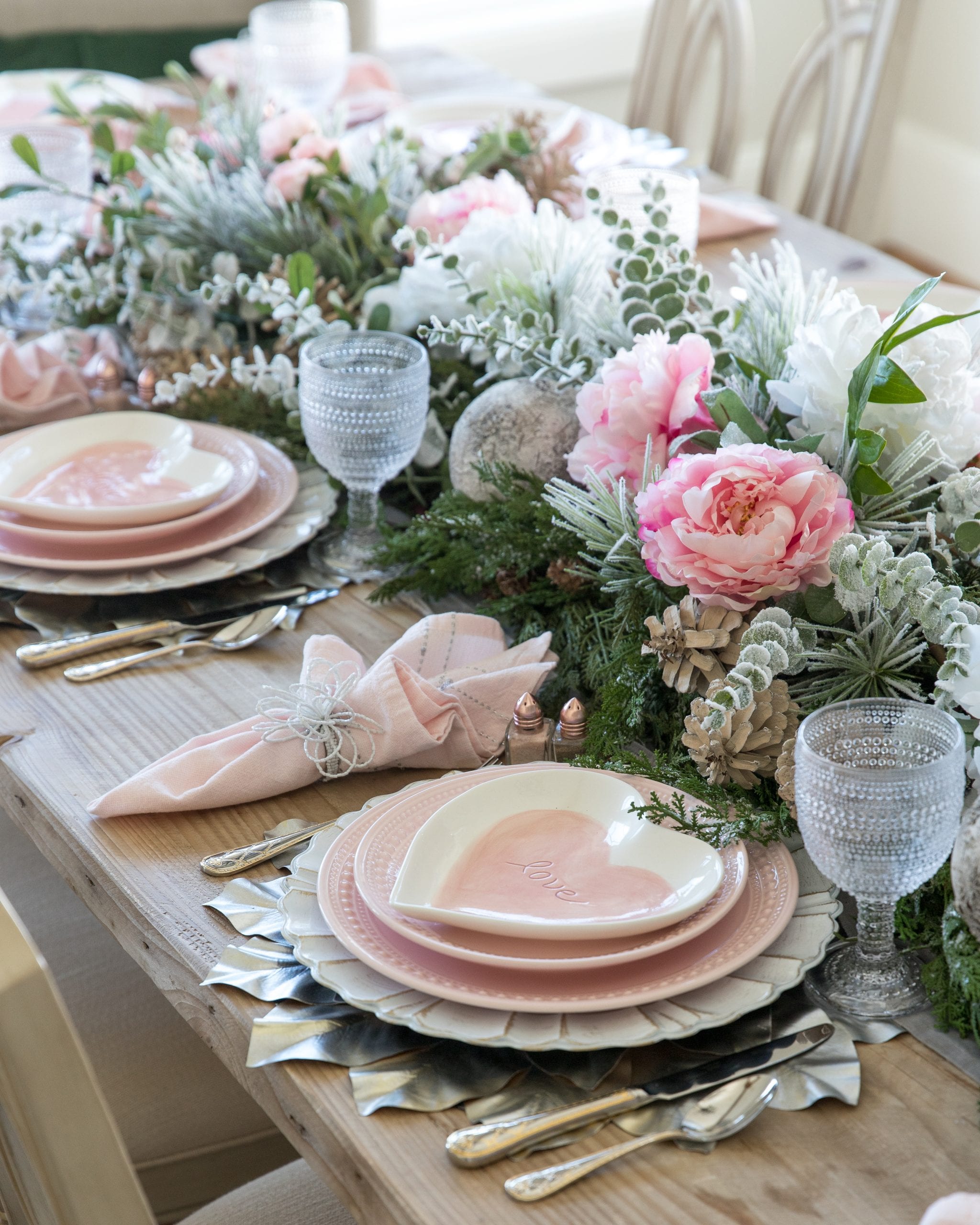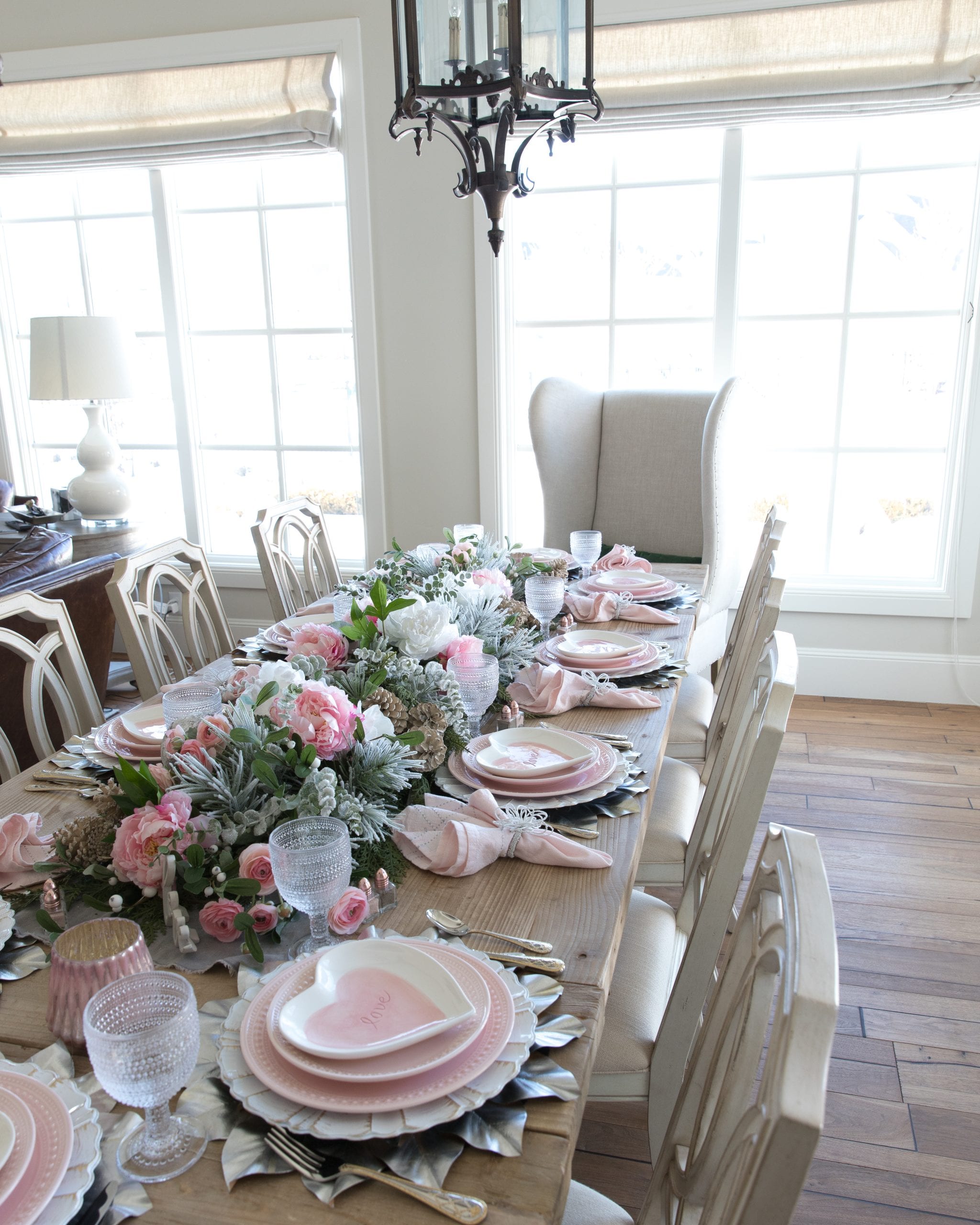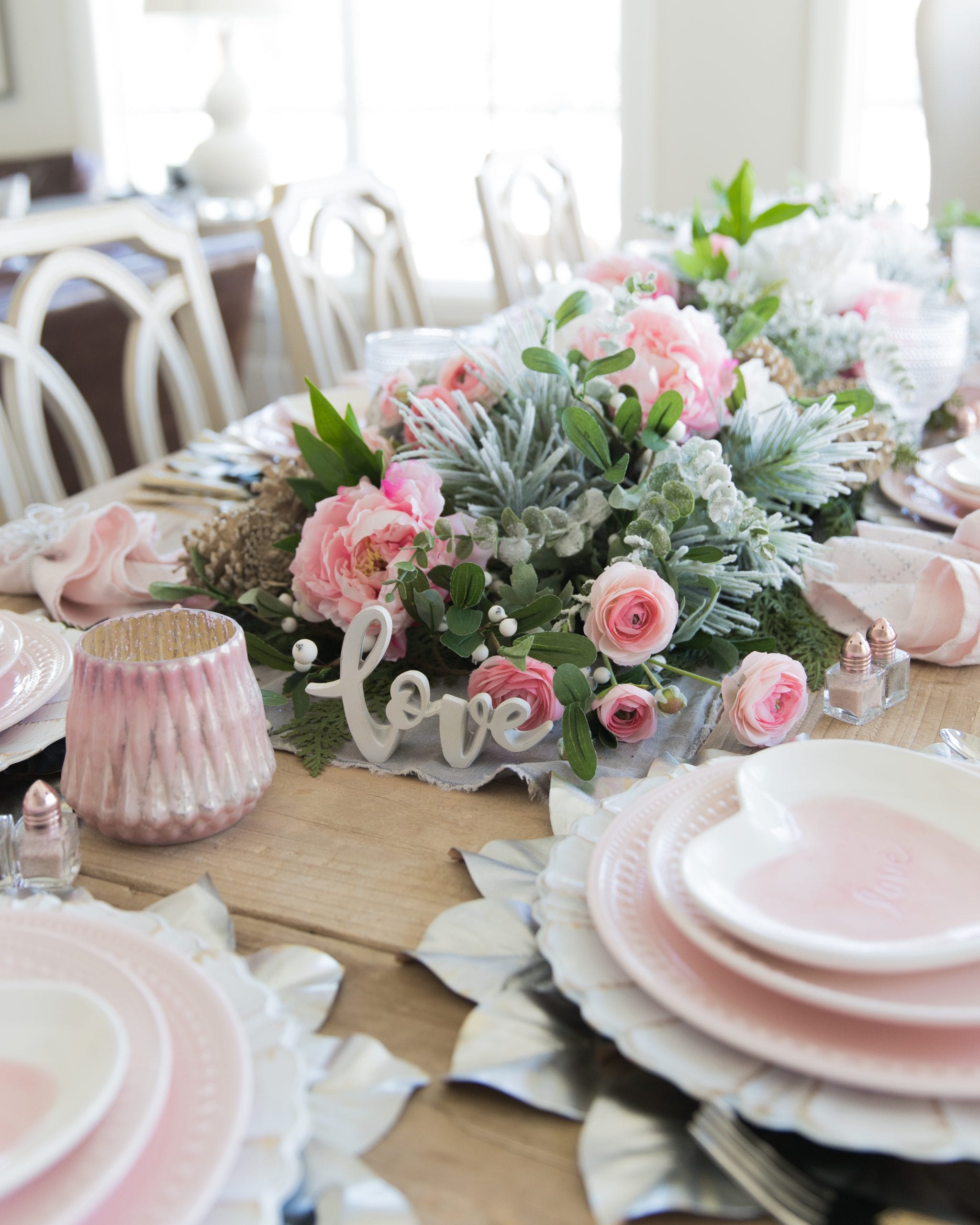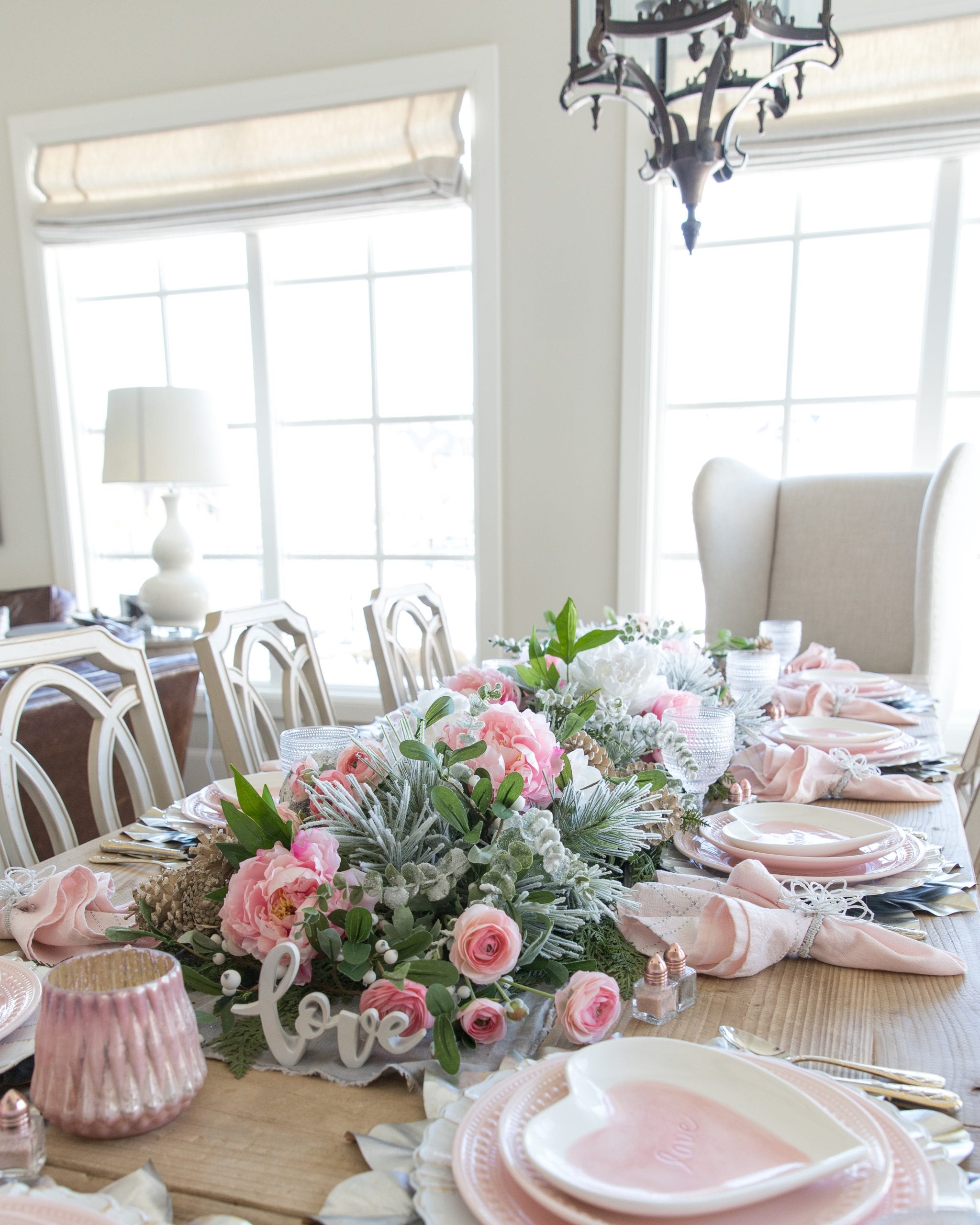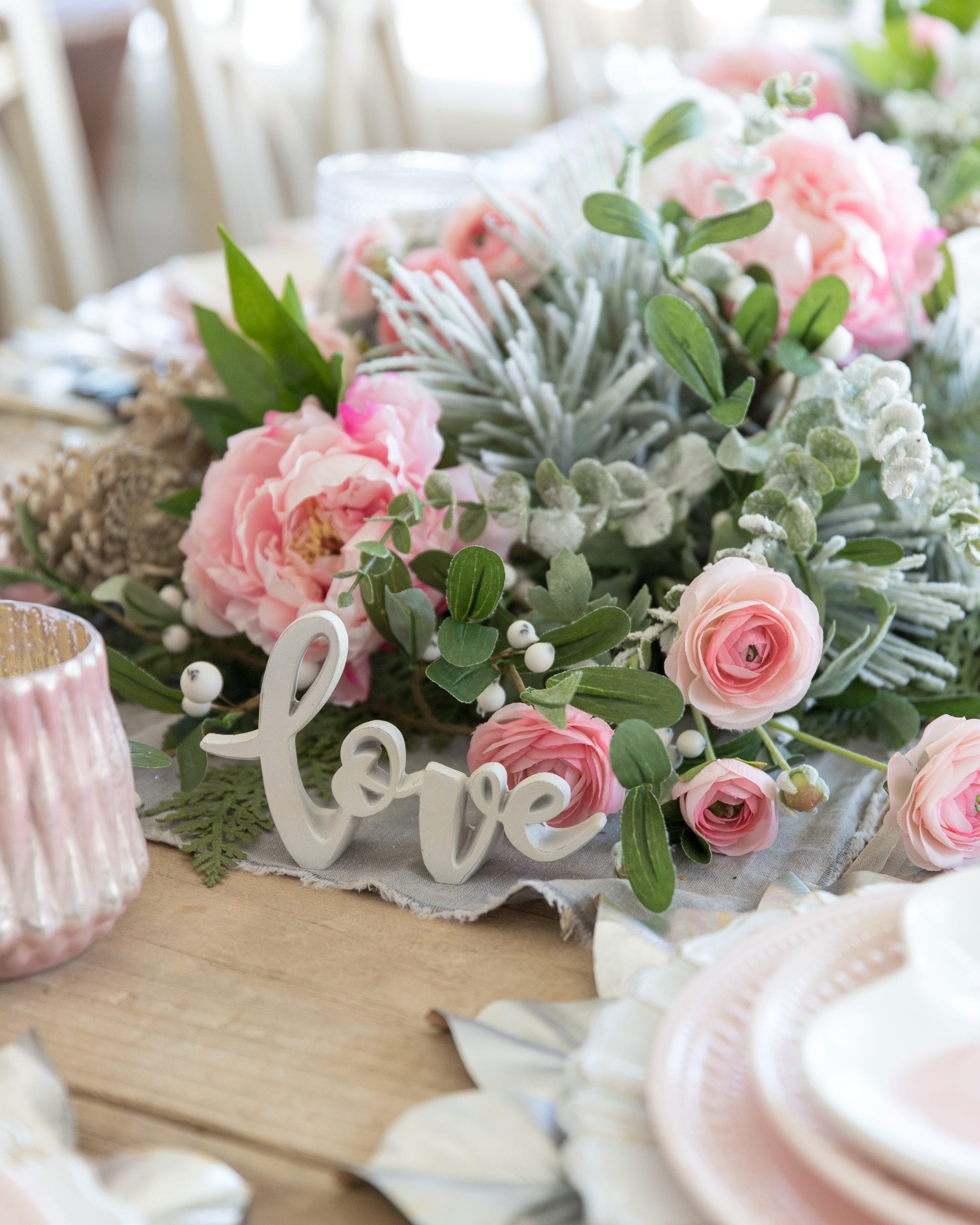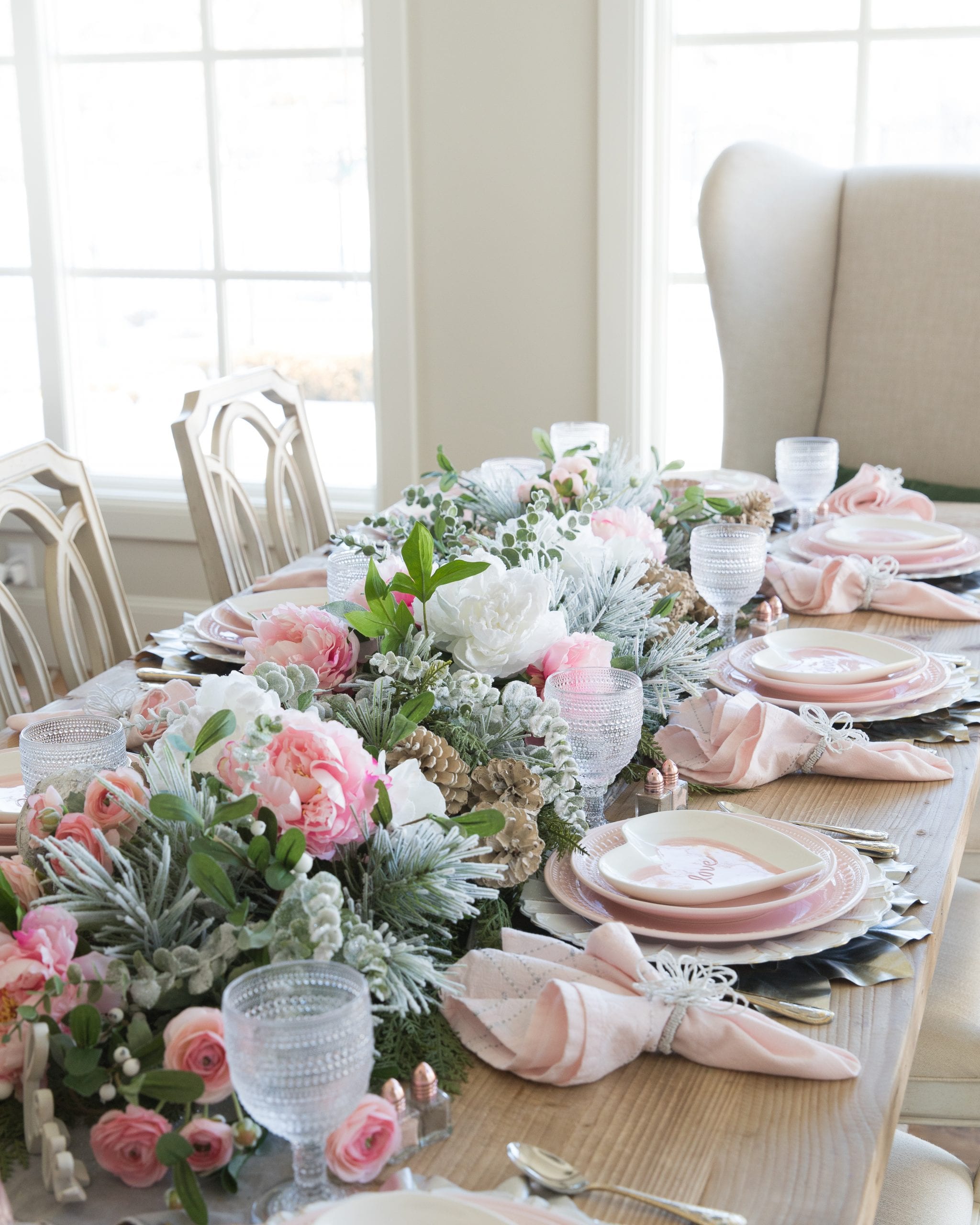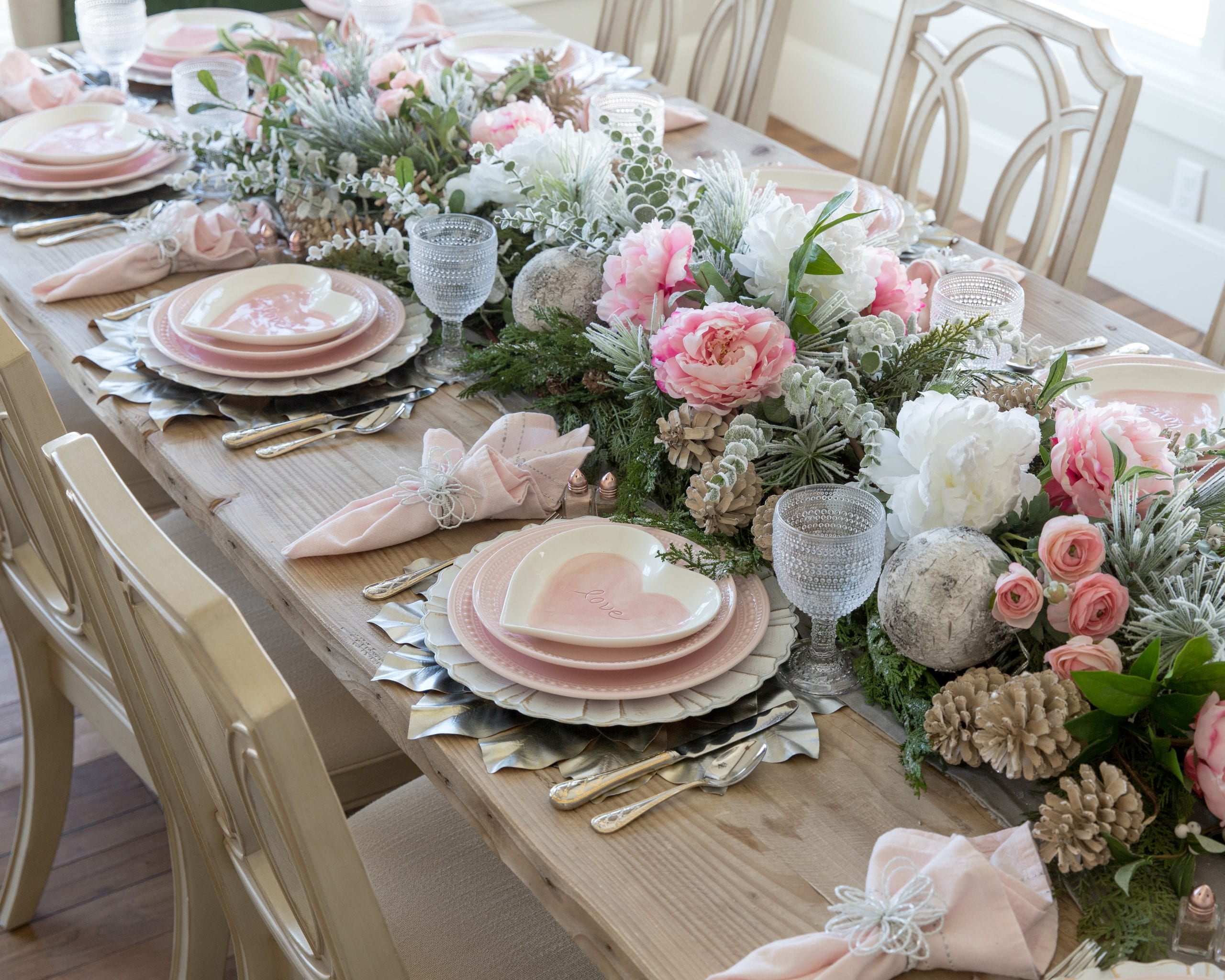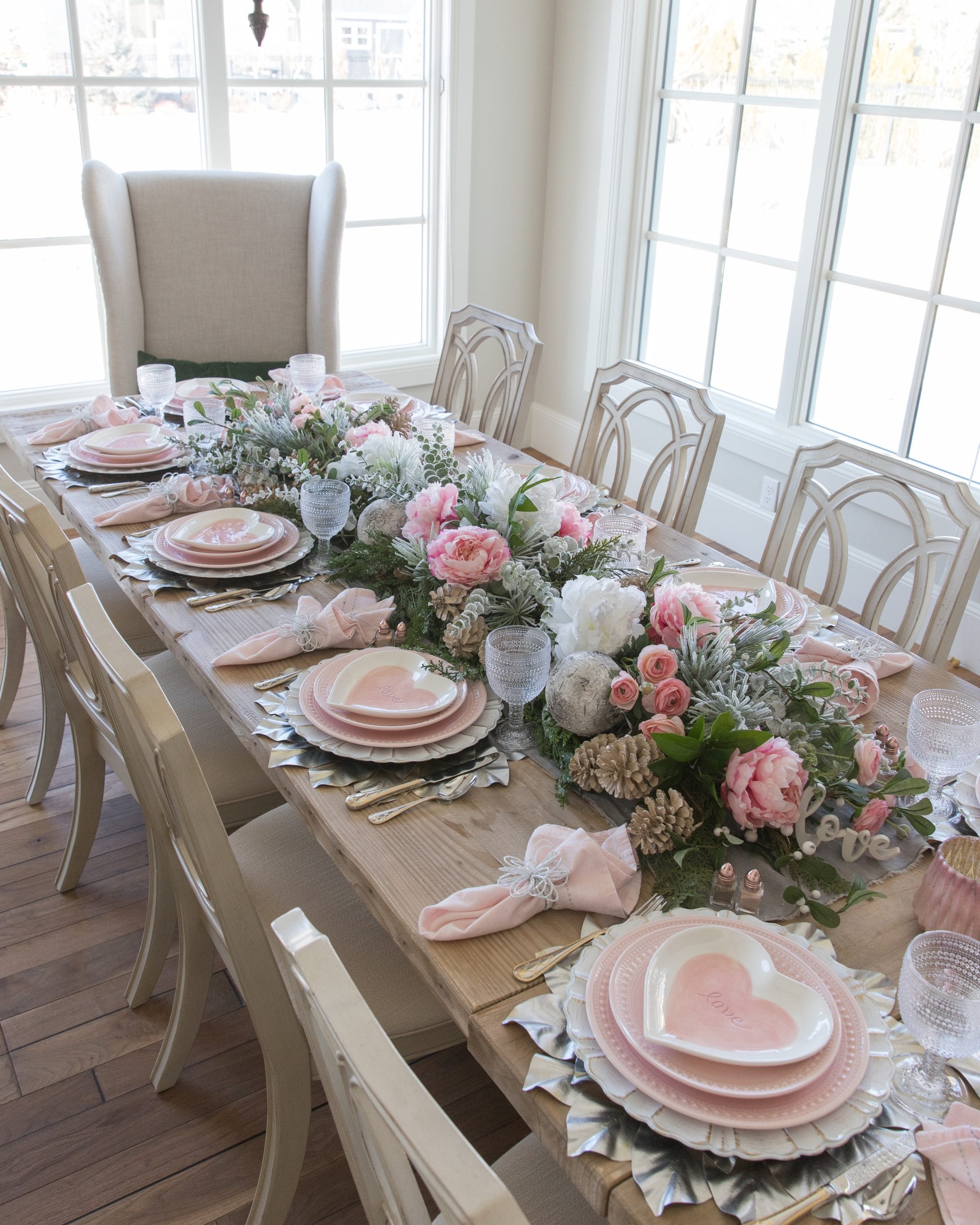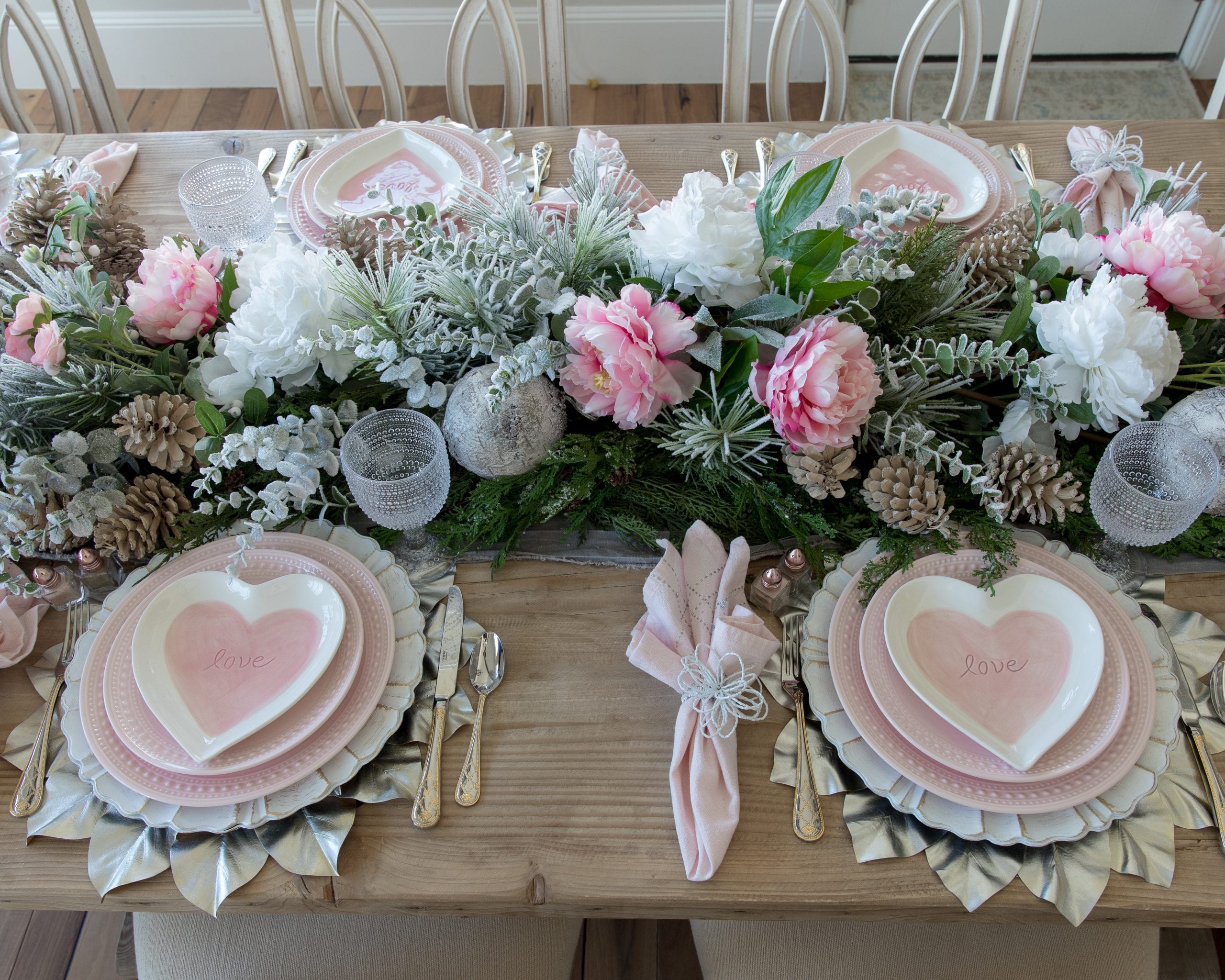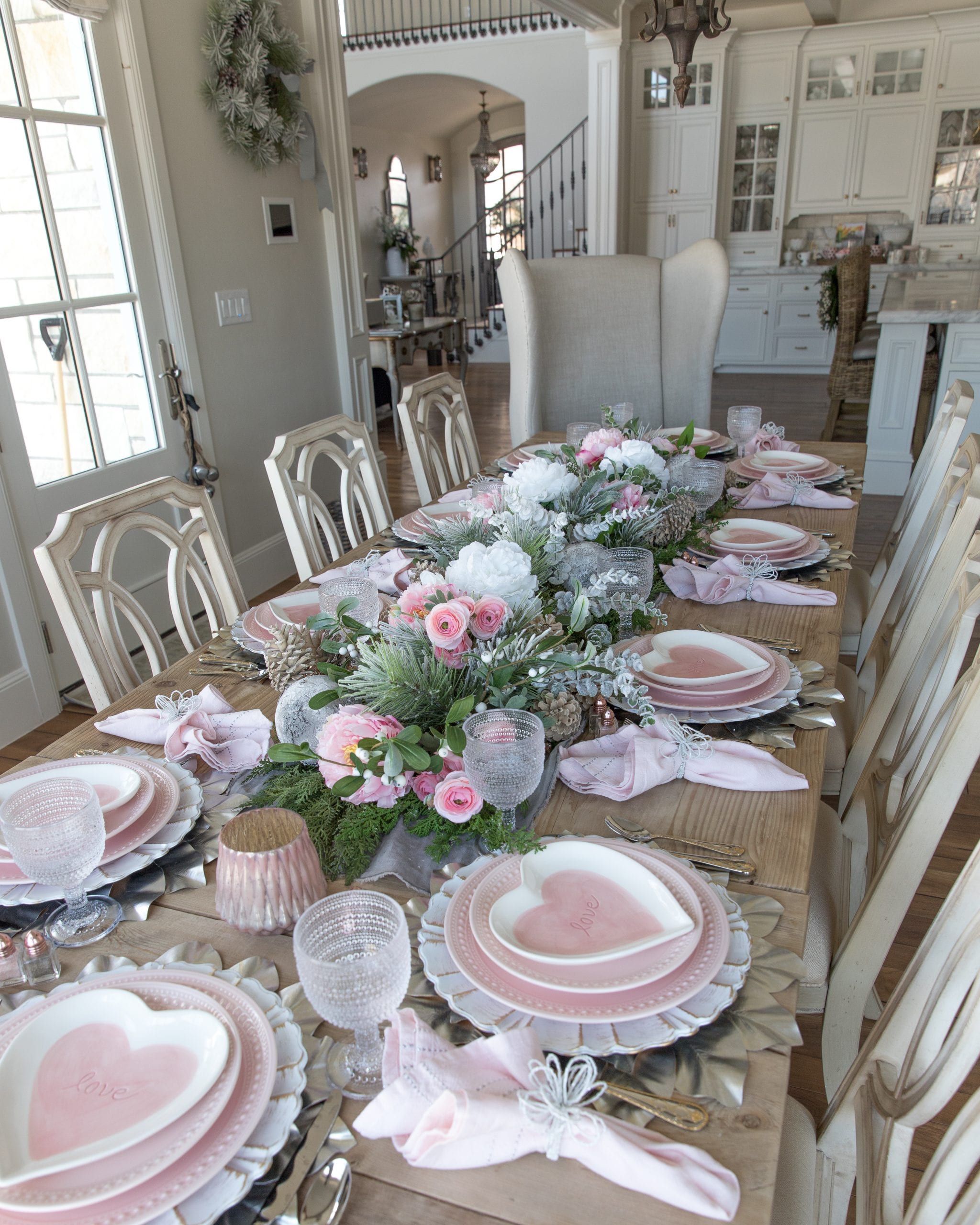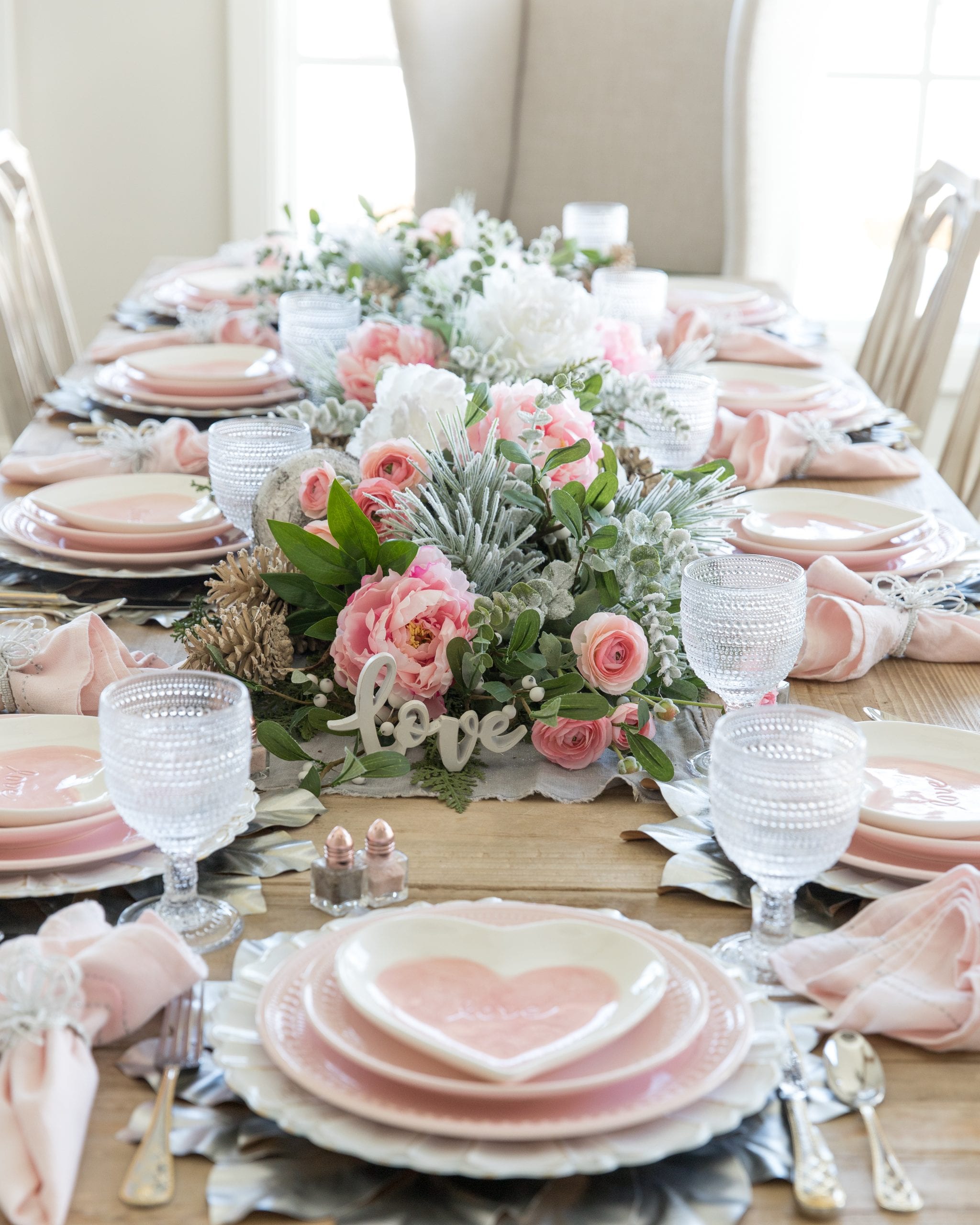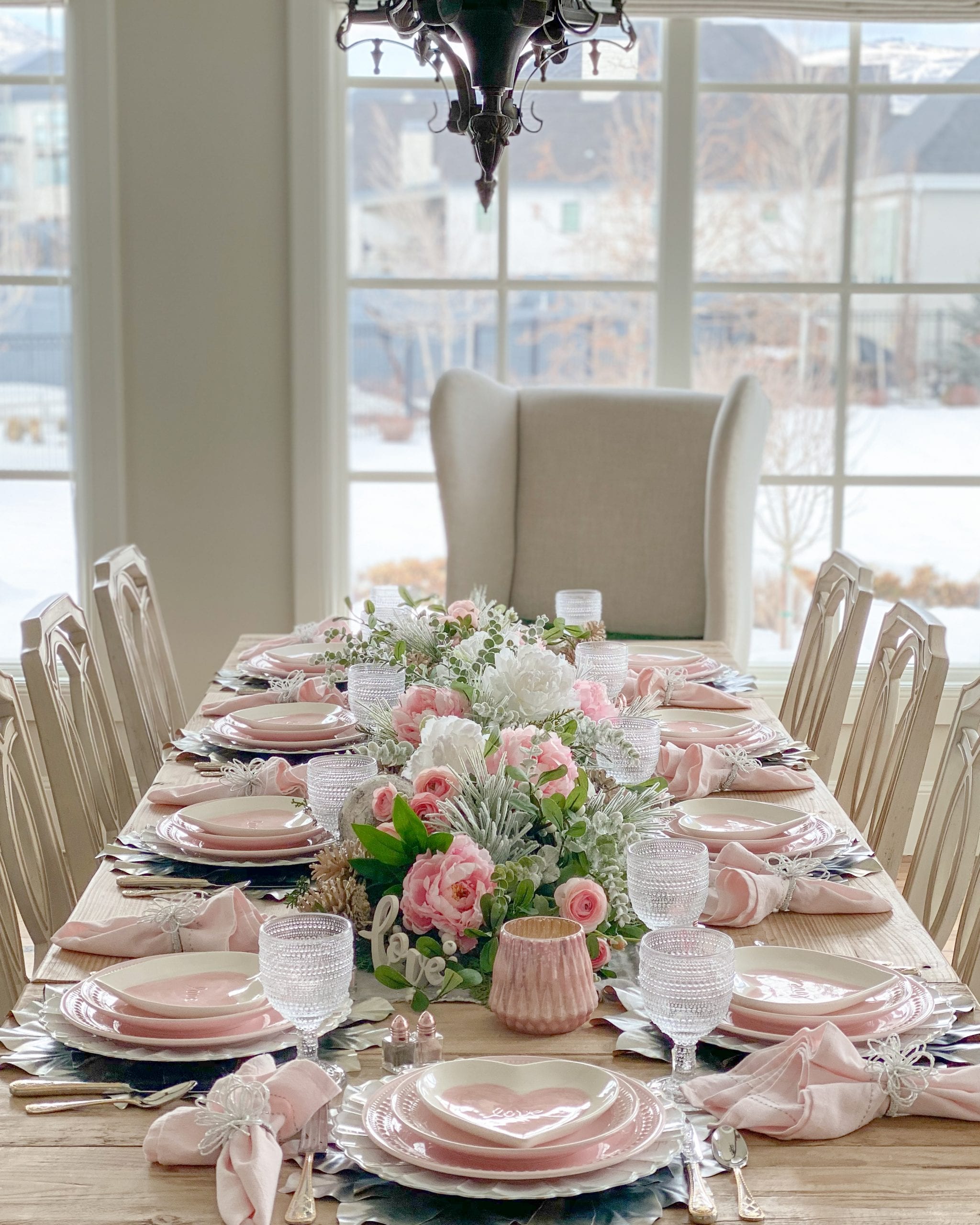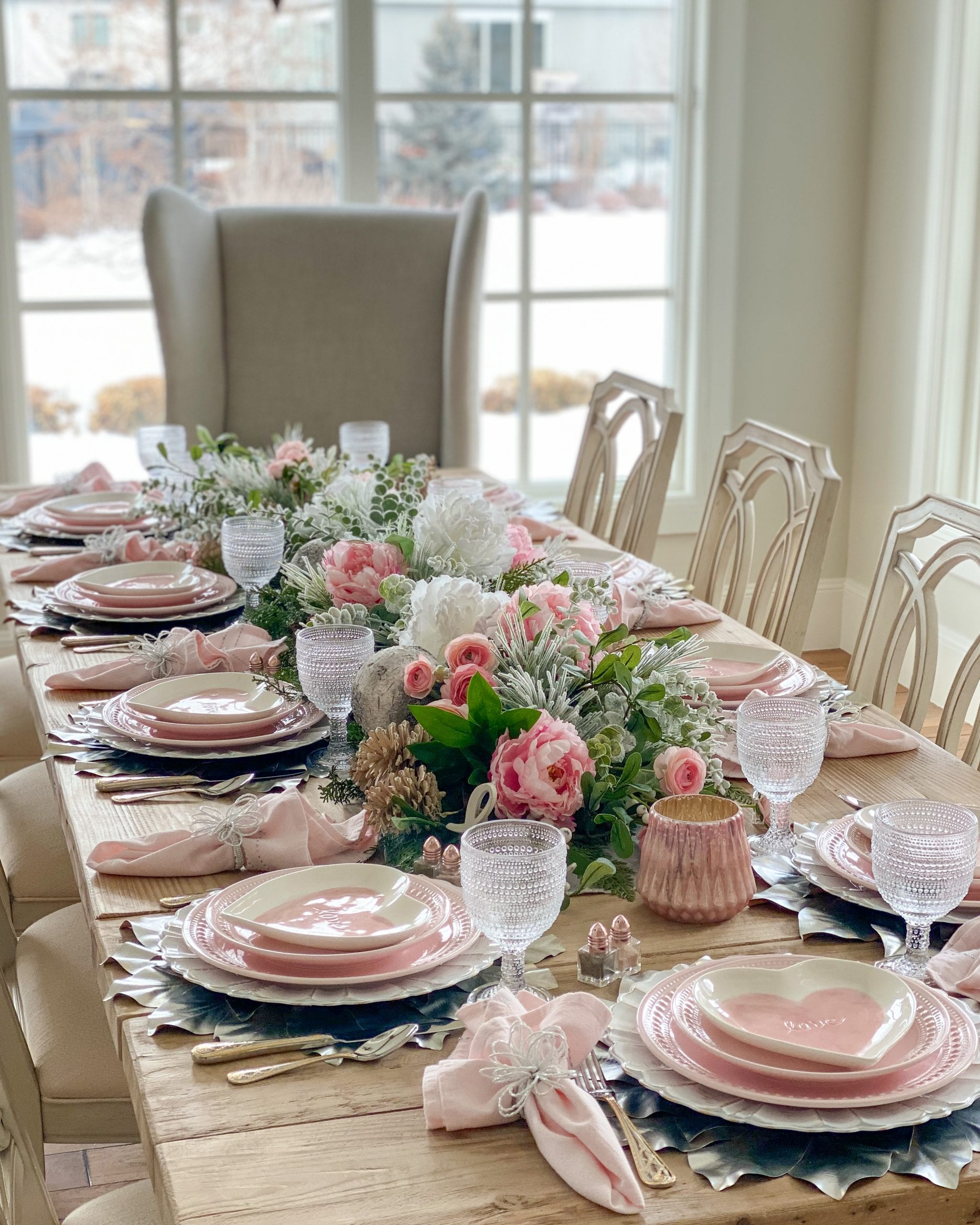 PIN THIS FOR LATER: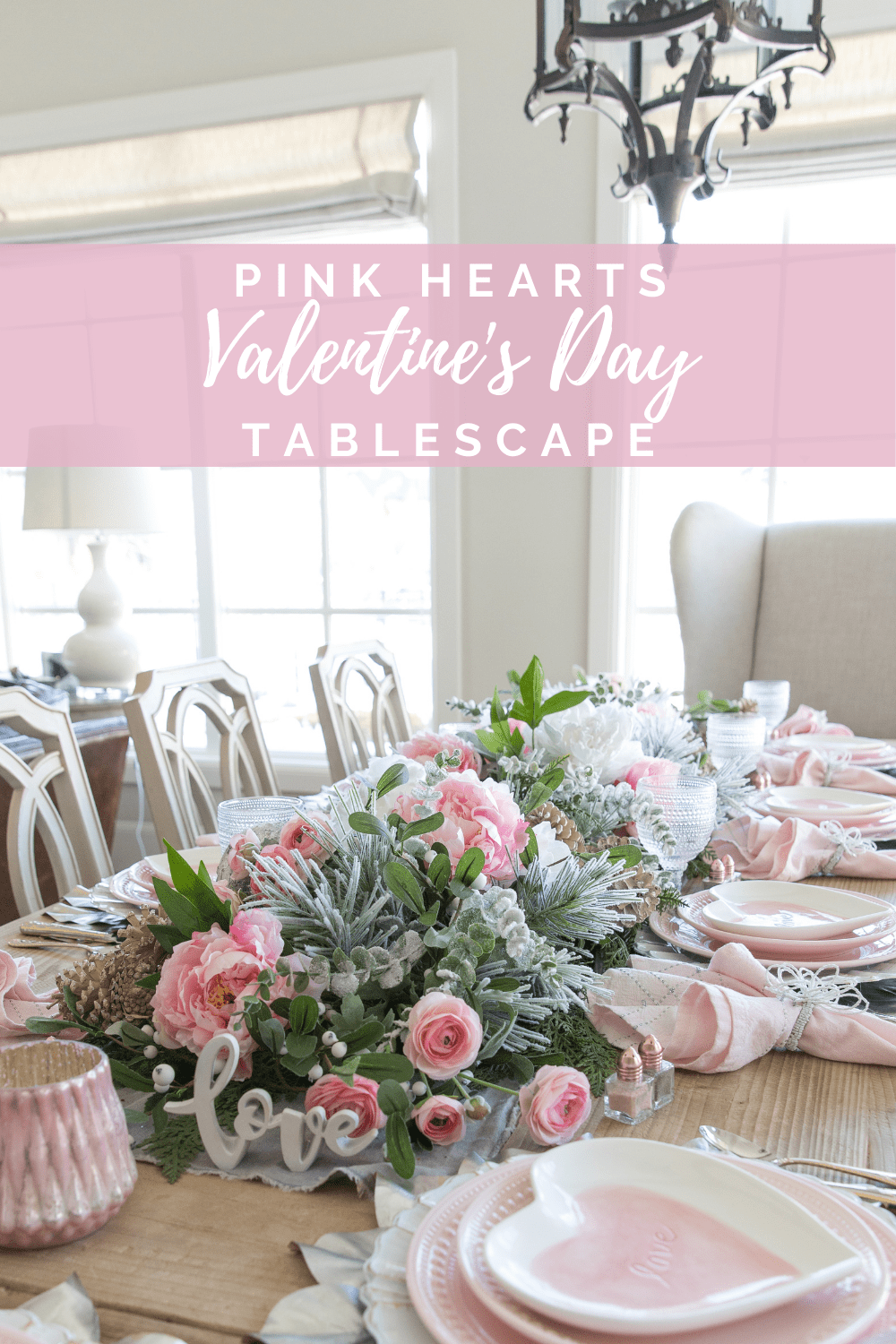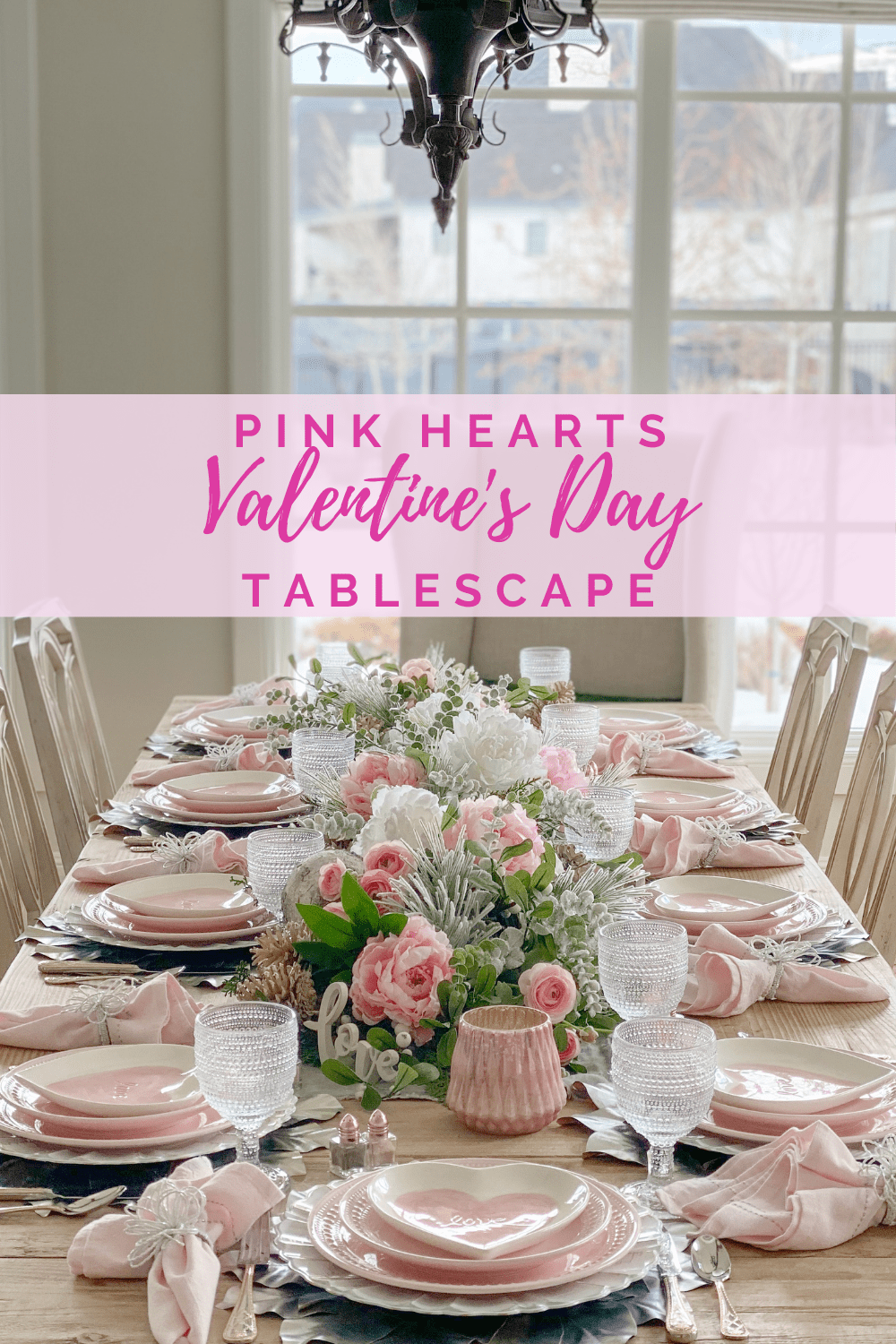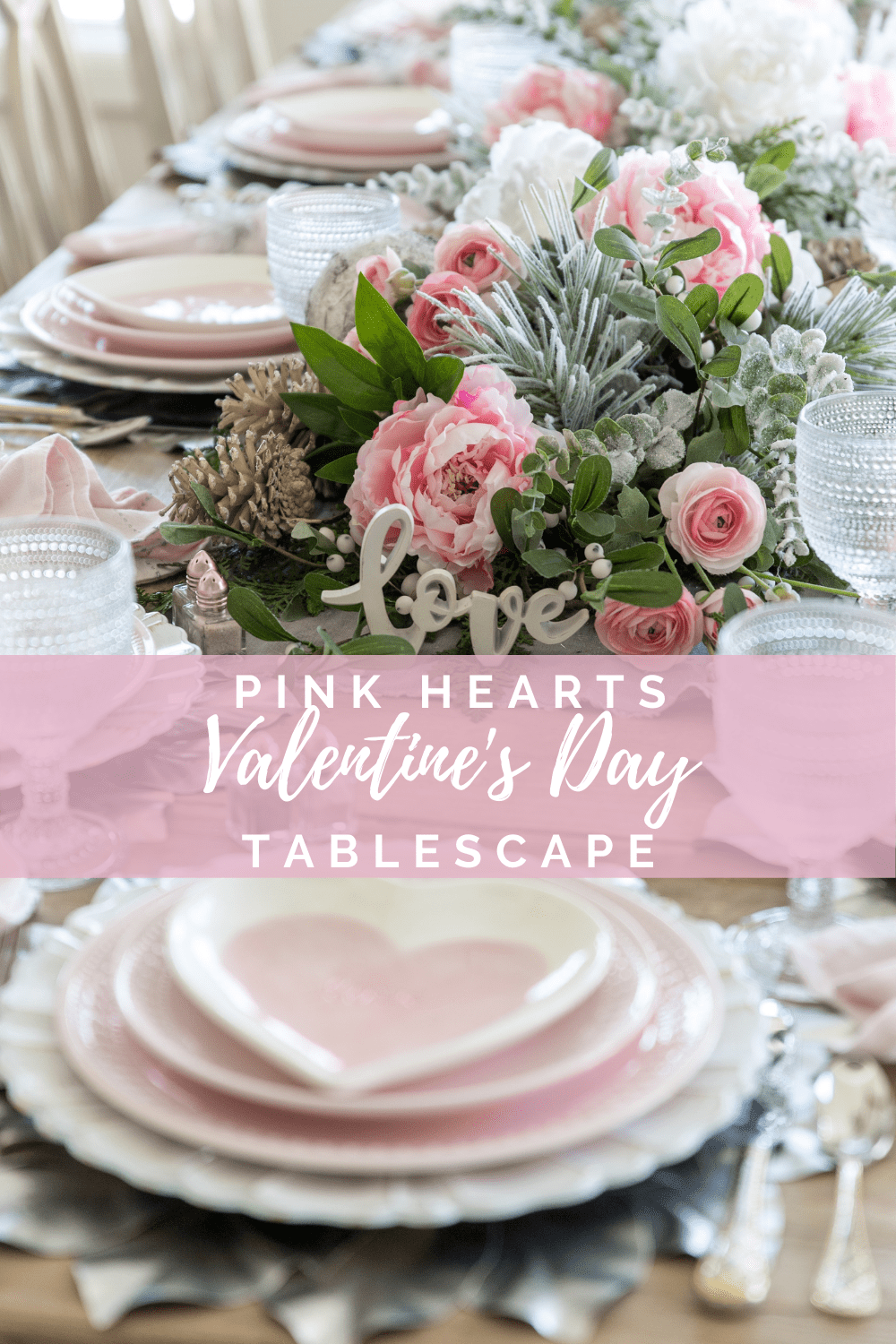 xoxo,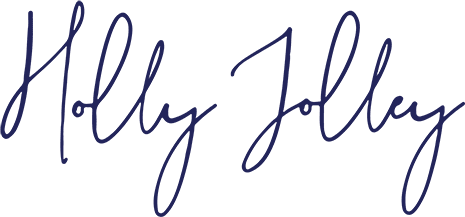 Beaded Napkin Ring I found at Homegoods. Here is an alternative.
Pink Rose Bunches are from Hobby Lobby. I can't find a link for them online but they have always had them in pink and white bunches in store.
LOVE sign is also from Hobby Lobby.
The silver leaf placemats were from Pier1 but they no longer have them. I linked a similar item below or google silver placemats and you'll find a variety of them online.
The pink dinner and salad plates were from Homegoods. I've linked some similar items below.
The rest of the items and similar items are linked below. Affiliate links are used in some cases.

VALENTINES DAY TABLESCAPE