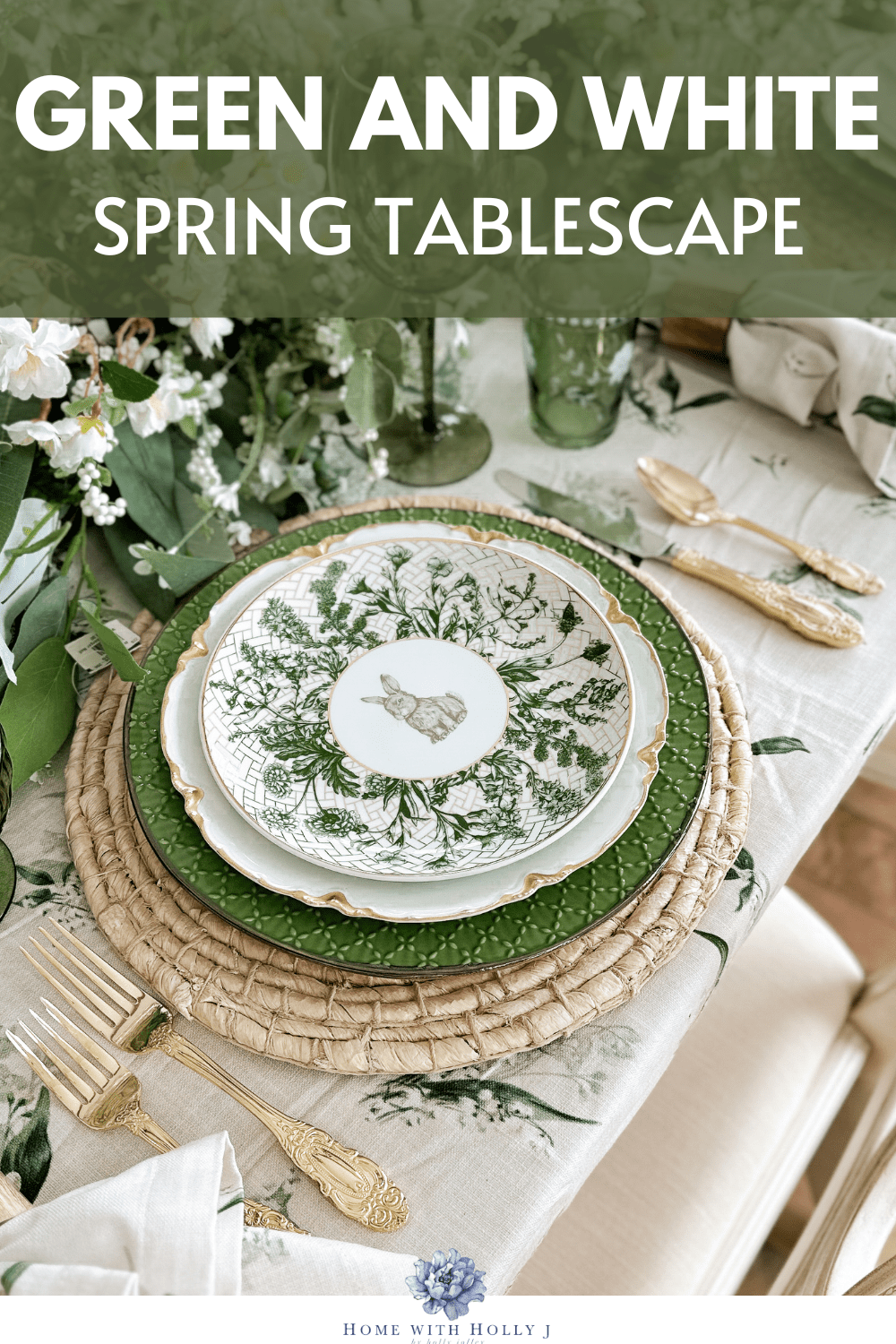 Create a stunning Spring and Easter tablescape with this beautiful green and white color combination. Learn how to create it here.
Disclaimer: This post does include affiliate links for your convenience. This is at NO additional cost to you but earns me a small commission. To read more, check out our disclosure policy.
I can't believe it's already Spring and almost Easter!
It sure doesn't feel like spring has arrived yet since it's still snowing and cold here in Utah.
I may have to postpone my annual Easter egg hunt for the grandkids until the snow melts.
I did get my table all set for the Easter celebration that I have planned for this holiday weekend.
I went with less traditional colors and used this beautiful shade of green mixed with white and hints of gold.
I just love this color combination and it works great for Easter as well as spring.
If you've followed along with me for awhile, you'll know how much I like to set one table for an entire season that is easy to transform into something that works well for all the holidays within that season.
Pick a seasonal color palette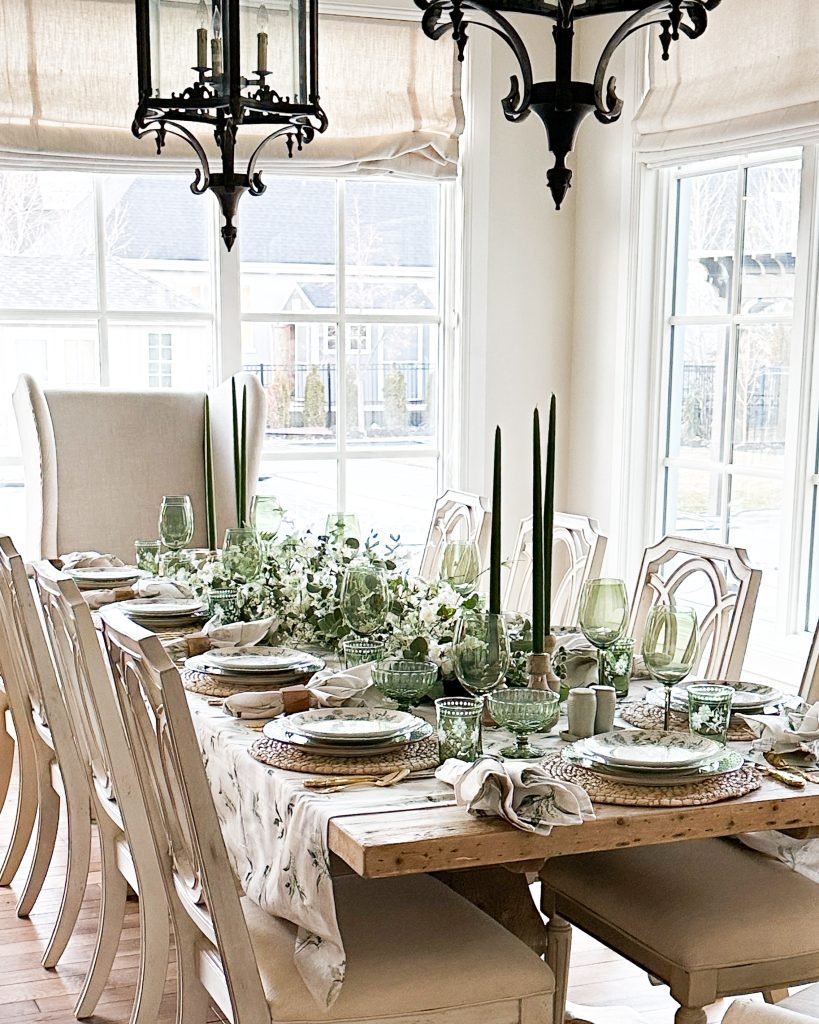 I pick my "seasonal" color palette or theme and then I make adjustments to my tablescapes and decor to make it useable for whatever holiday falls within that season.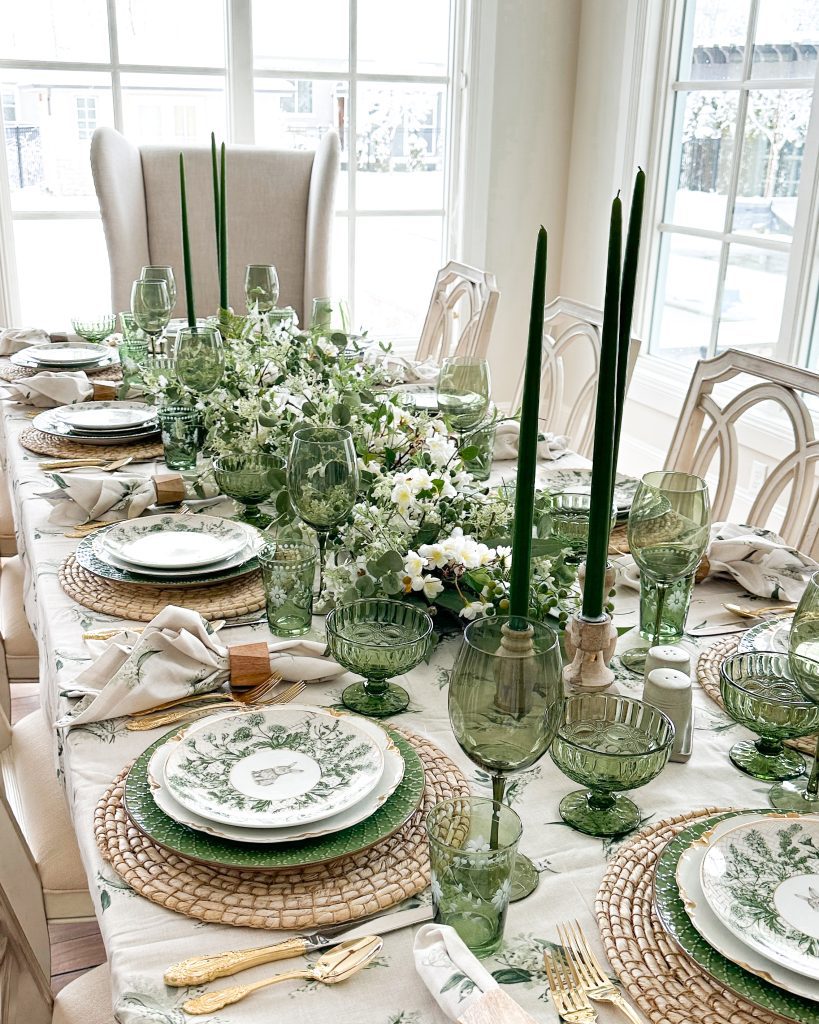 One of the reasons I like green is that it works well for St. Patricks Day, Easter, Mothers Day, and of course spring!
How to Transition Your Table for Each Spring Holiday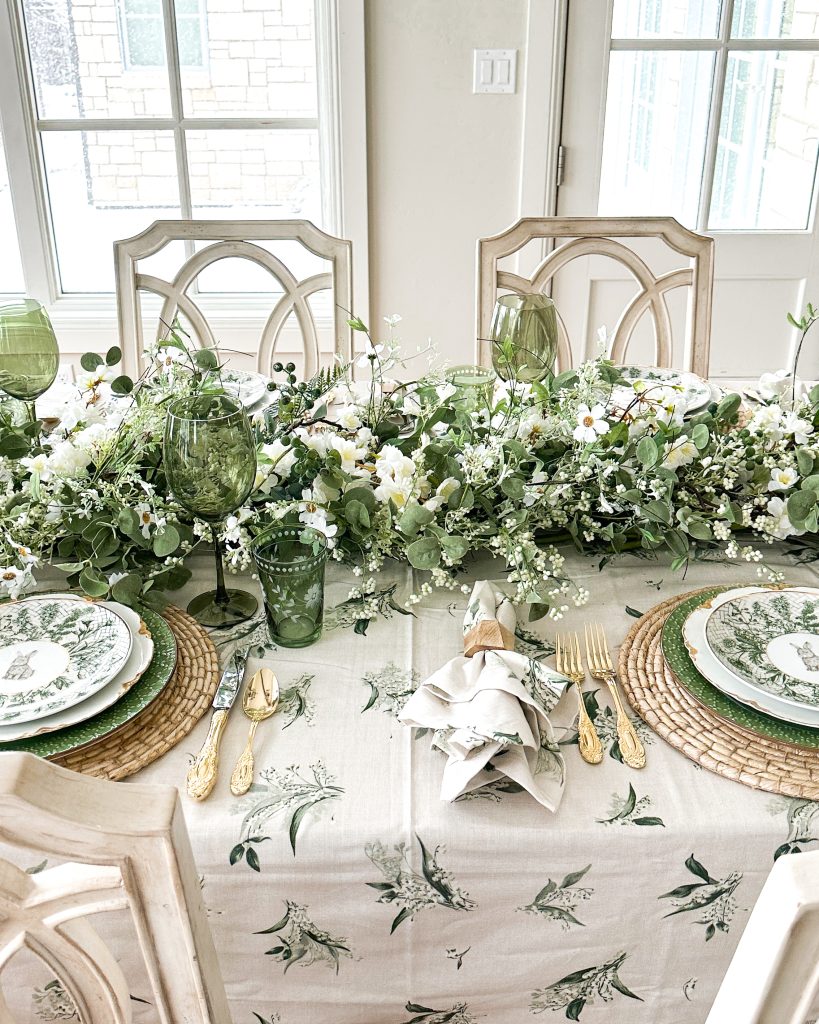 Here are some of the ways I transition my tablescapes to work for the holidays within spring: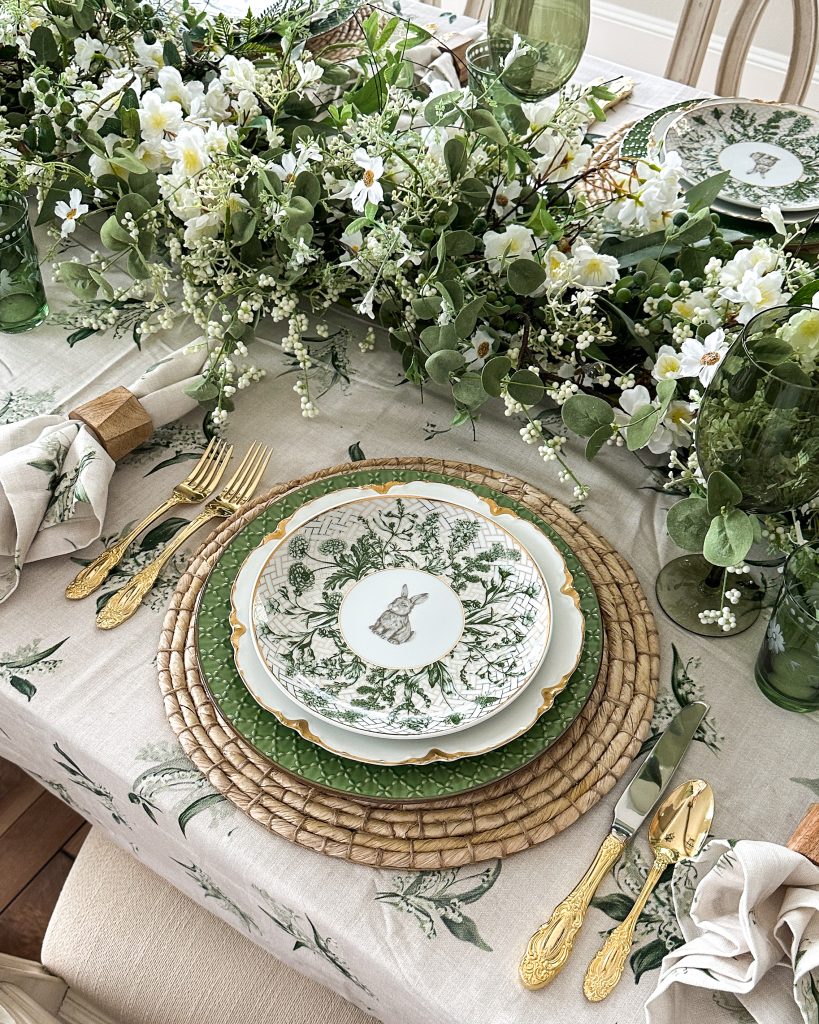 I used these green lattice bunny-themed salad plates on the top for the Easter table, but I switched them out for a neutral-colored plate for the other holidays.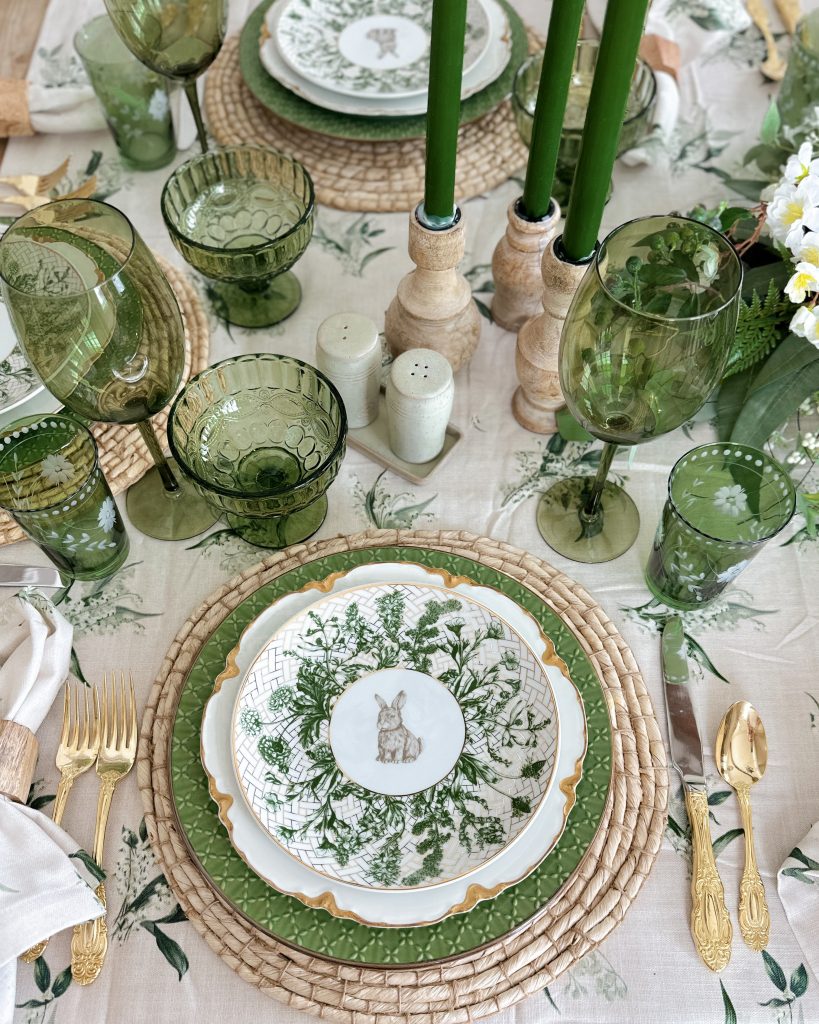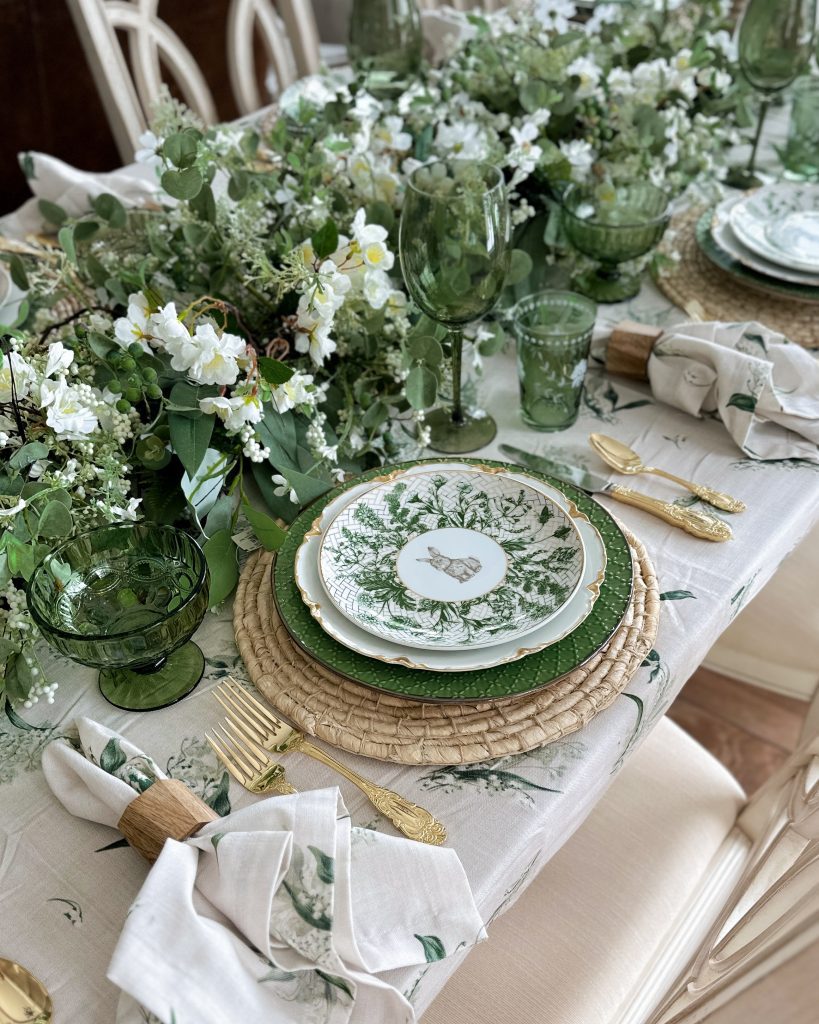 Swap out the napkins
Add in some dessert bowls or Ice cream bowls.
Add in Easter Bunnies for Easter and then remove them when Easter is over.
Use placecards for one or more of the table settings.
Add a tablecloth for one setting and then remove it and just use placemats for the other setting.
Add dessert bowls that are unique.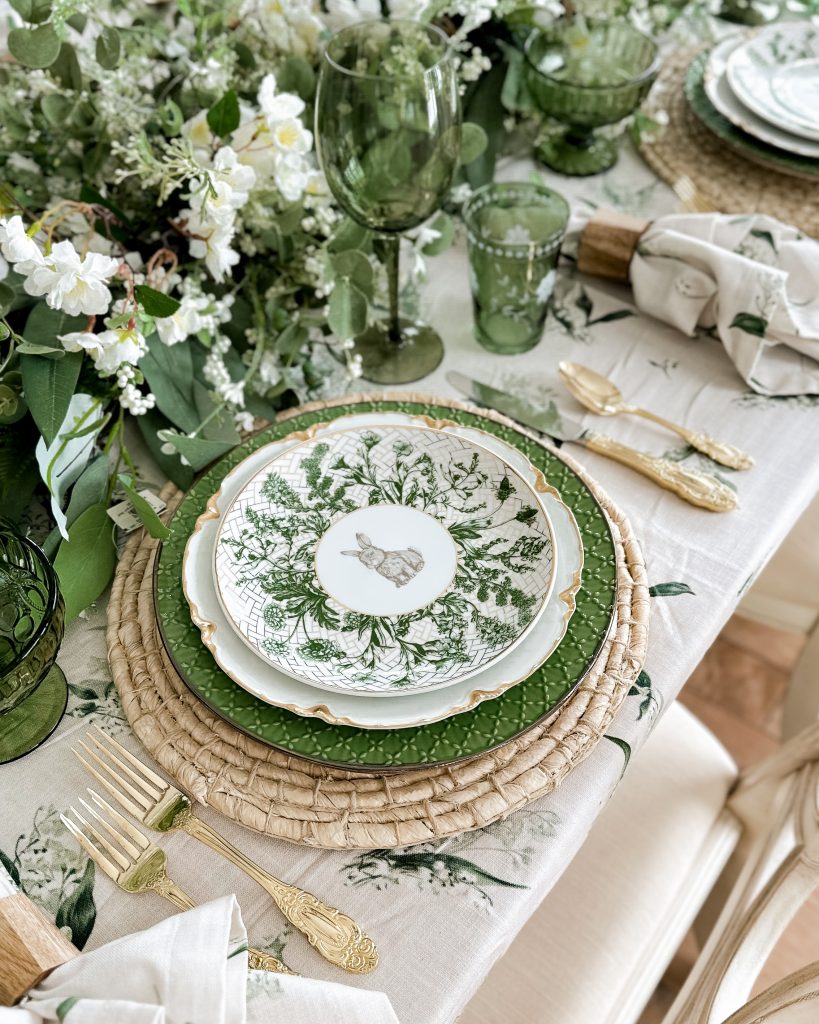 The idea is to create a versatile tablescape that can easily be shifted to the other holidays or seasonal decor items.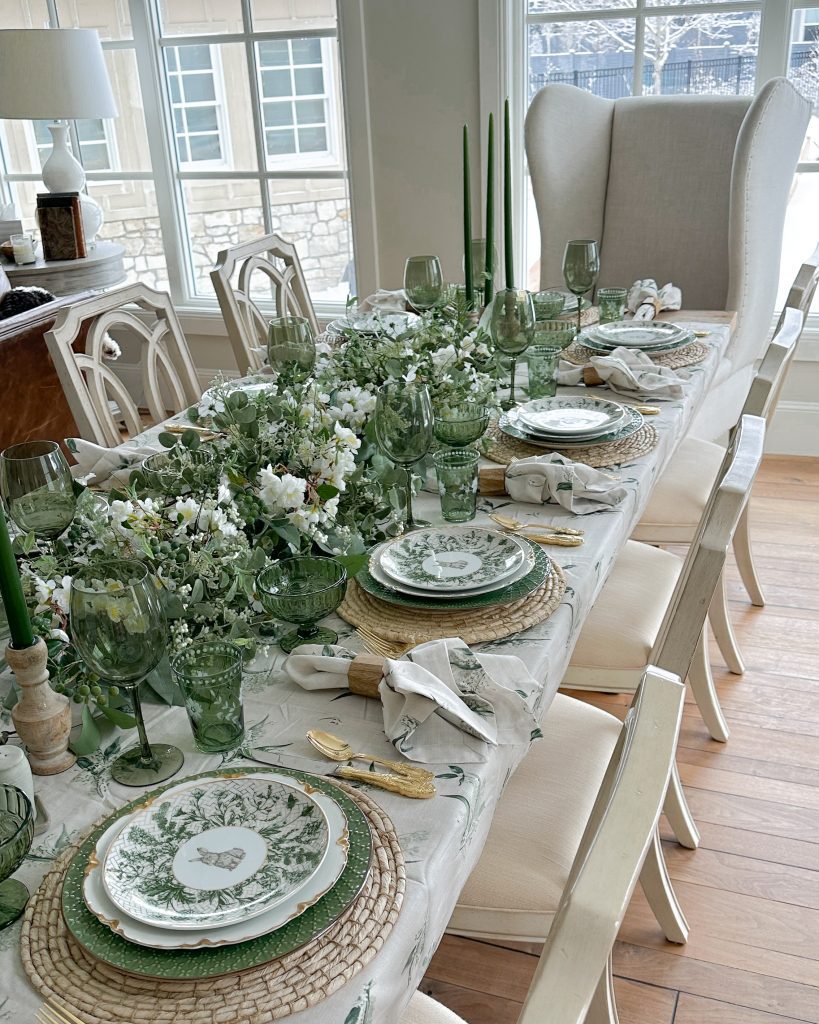 Spring is full of so many celebrations and there are so many colors one can use for Spring as well. You can also switch a table out completely if you like! I've done it both ways!
Setting the Easter Table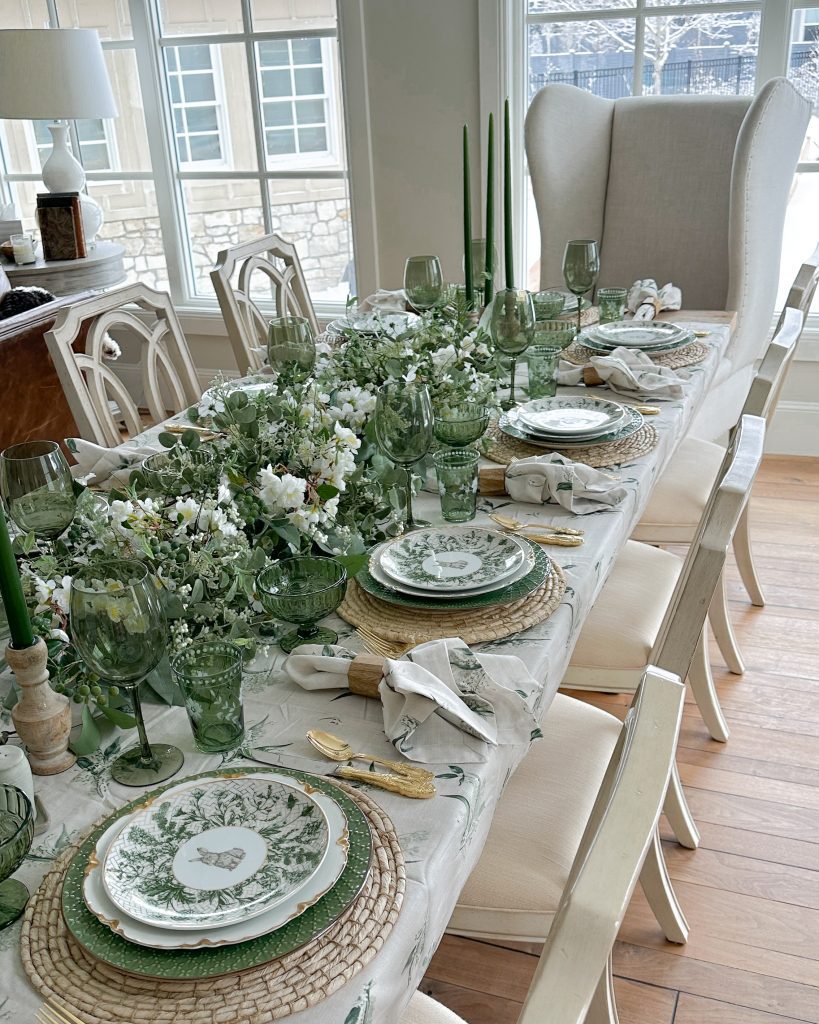 For this tablescape centerpiece I used a green floral and taupe colored tablecloth and matching napkins with a wooden napkin rings.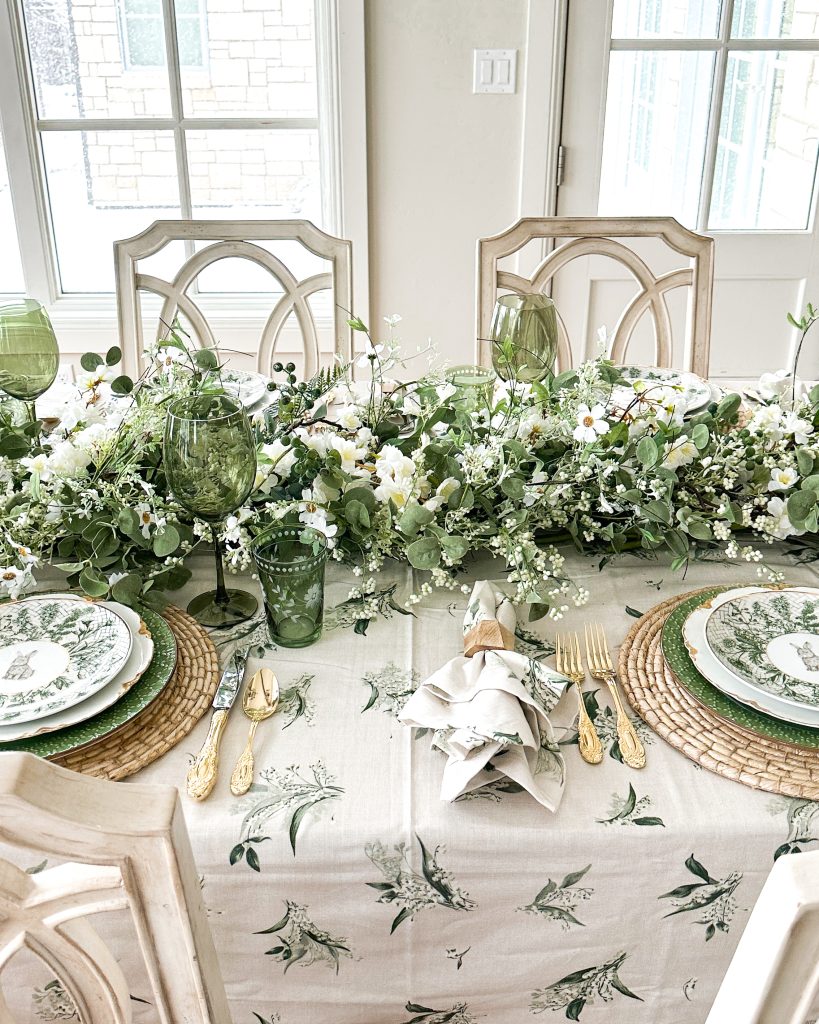 I created a centerpiece garland using a green daisy and eucalyptus garland and matching stems to fill in the holes. I layered it in the center of the table.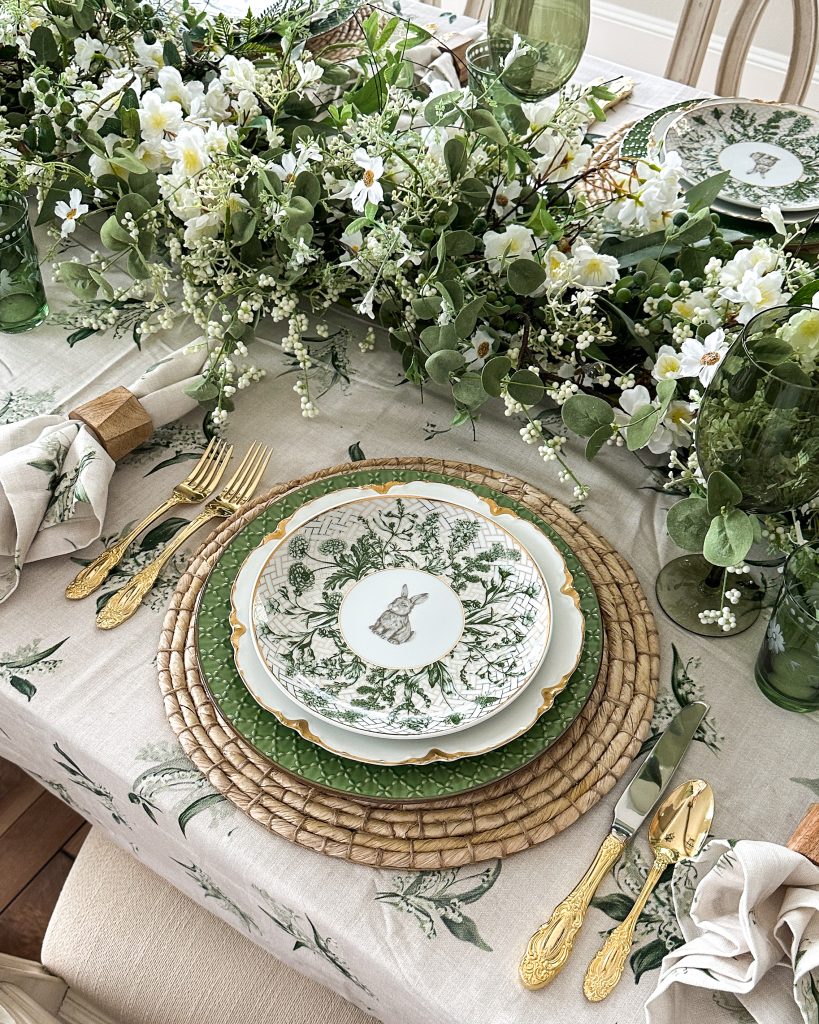 For the place-setting I used a round placemat, a dark green large dinner plate, smaller antique gold and white salad plate, then I added the top bunny plate to finish off the plate stack. I also added in the dessert cups/ice cream bowls later but those can be left off.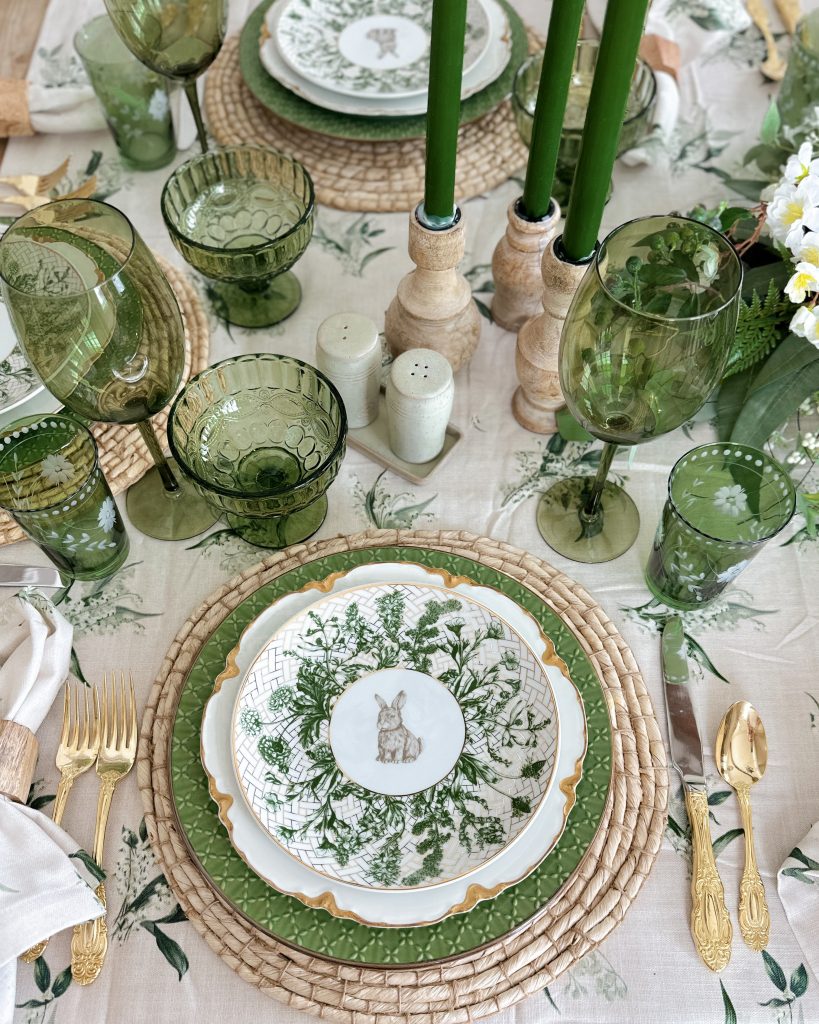 I added a water glass and wine goblet to each place-setting and gold flatware.
To finish off the table I used matching salt and pepper shaker sets and added them to each end of the table and lastly I added some wooden candlestick holders and dark green 18″ tapered candles to each end.
You can see how I mixed some of the white washed wooden rustic elements in the tablescape to correspond with the tablecloth and the wood napkin rings also carried that same element over to the wooden candlesticks.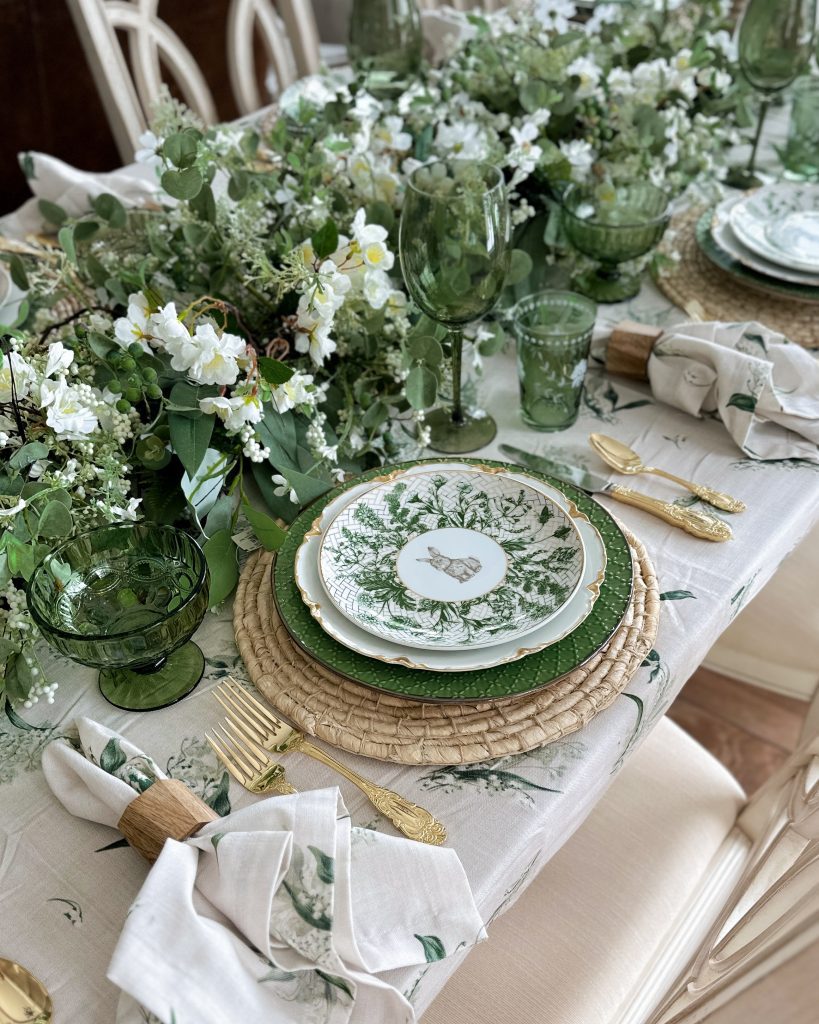 I used dark green tapered candles to pull out the green florals in the tablecloth and napkins and dark green glasses to also add some of the darker shades of green into the table.
I think my favorite item on the table though is the bunny lattice dessert/salad plates. They were the inspiration for the entire table and what influenced me to go with a darker green color for this tablescape.

What will I serve for Easter Dinner?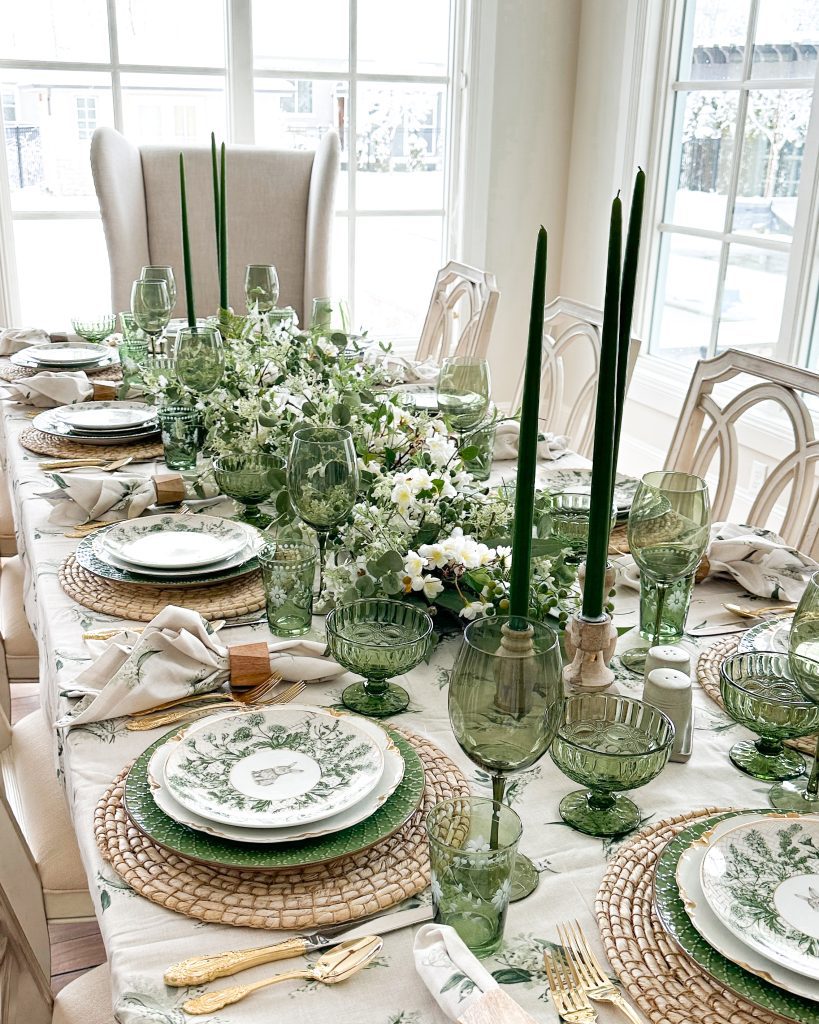 Everyone always wants to know where I serve the food. I don't like serving it on this table as it's reclaimed wood and everything stains it. Something always gets spilled so this just works better for me.
I typically serve buffet style on my large marble island in my kitchen. Sometimes I will serve it on the table (and use a tablecloth), but when I do that, I make smaller centerpieces so there is room for the food.
My Go-To Easter Dinner Recipes
Here are my go to recipes that everyone loves and are family favorites:
I hope you enjoyed this green and white easter/spring tablescape as much as I do! It's so fun to set a beautiful table that can last all season long!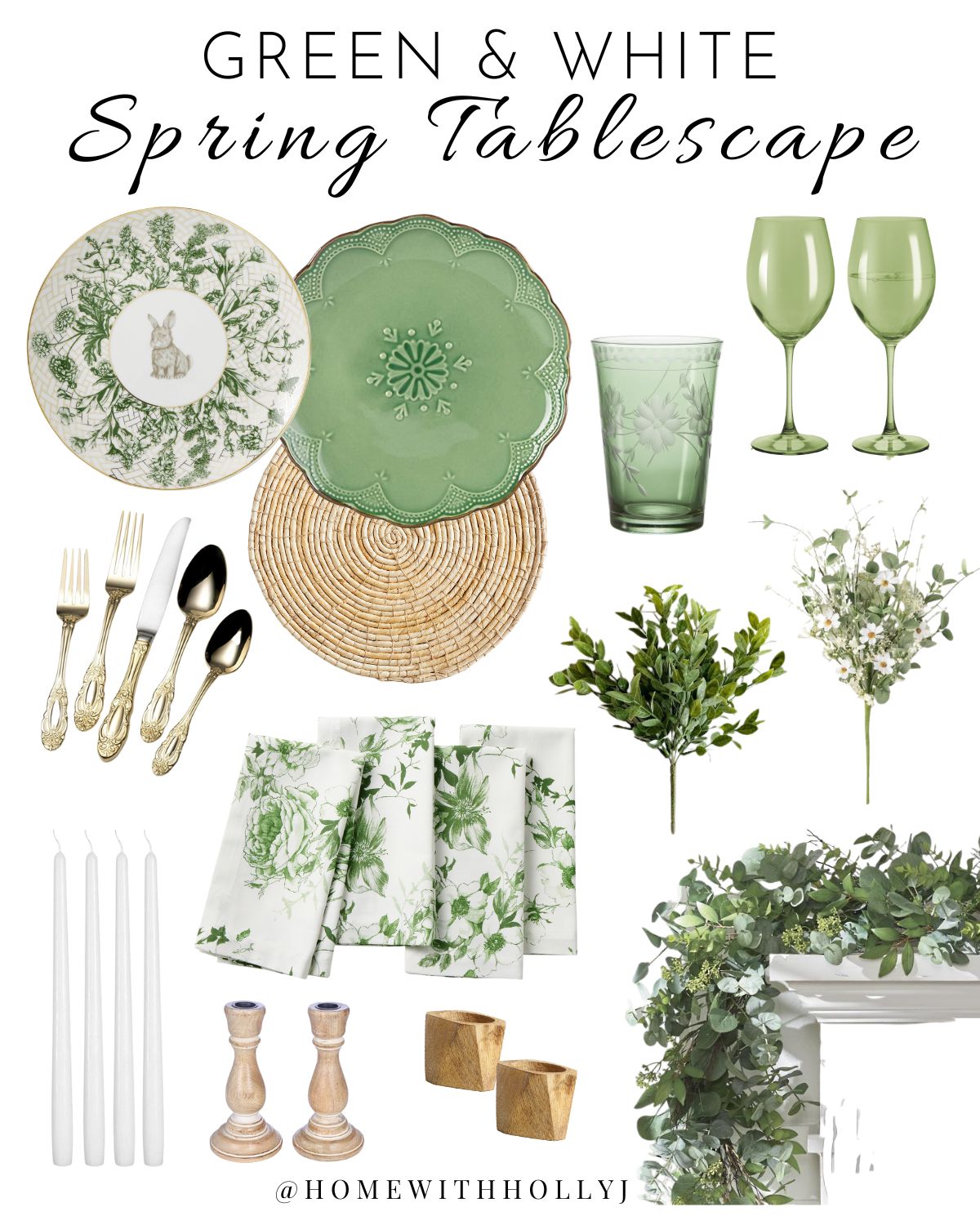 Shop the Look
Disclaimer: This post does include affiliate links for your convenience. This is at NO additional cost to you but earns me a small commission. To read more, check out our disclosure policy.

Happy Easter!
xoxo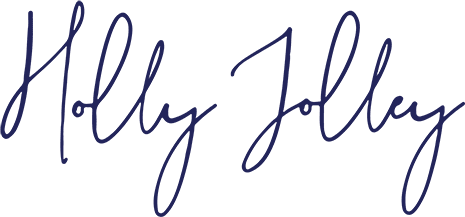 Pin this Post for Later