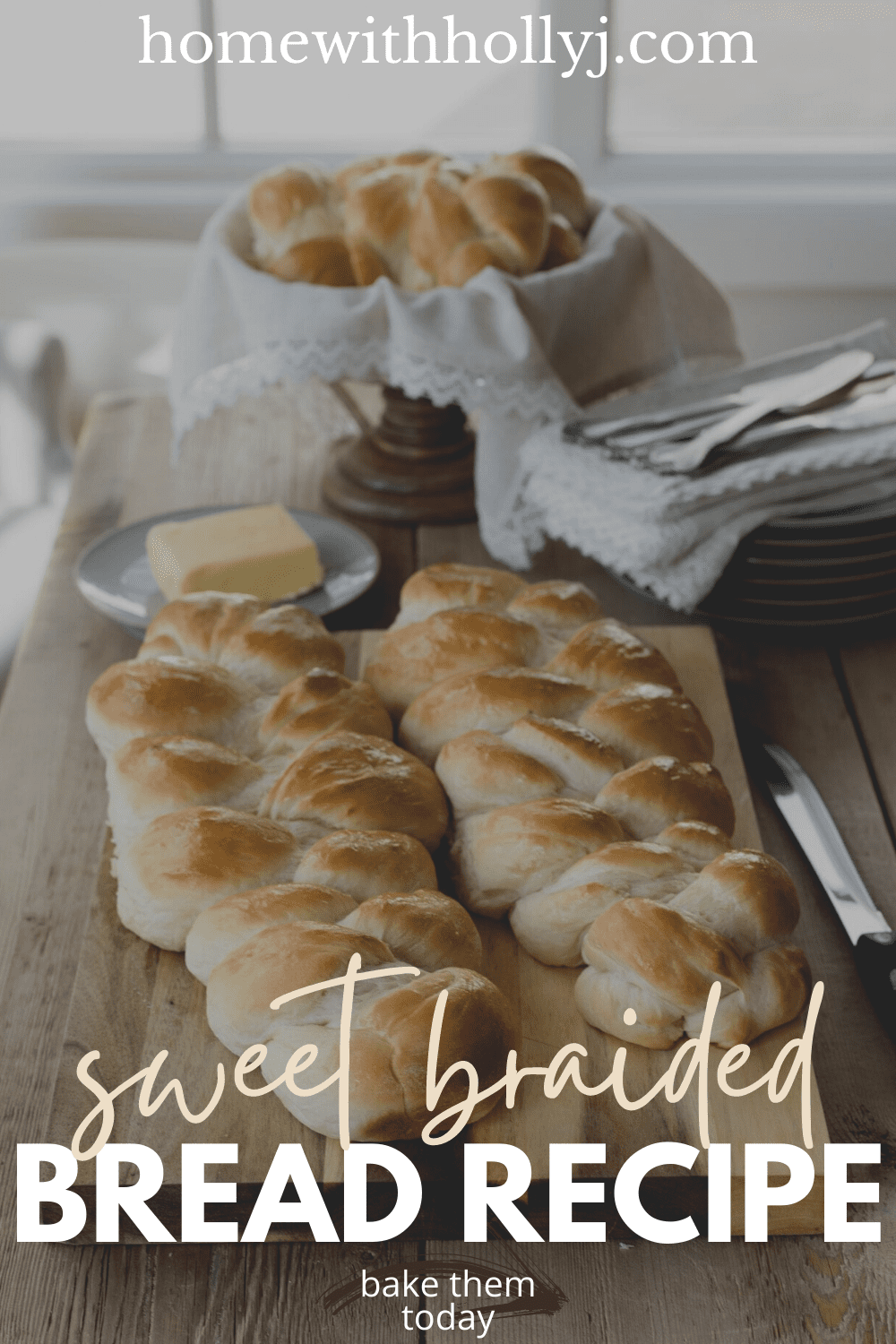 This is the best braided french bread recipe ever and it's not only delicious, it looks a little fancier than a regular loaf of bread.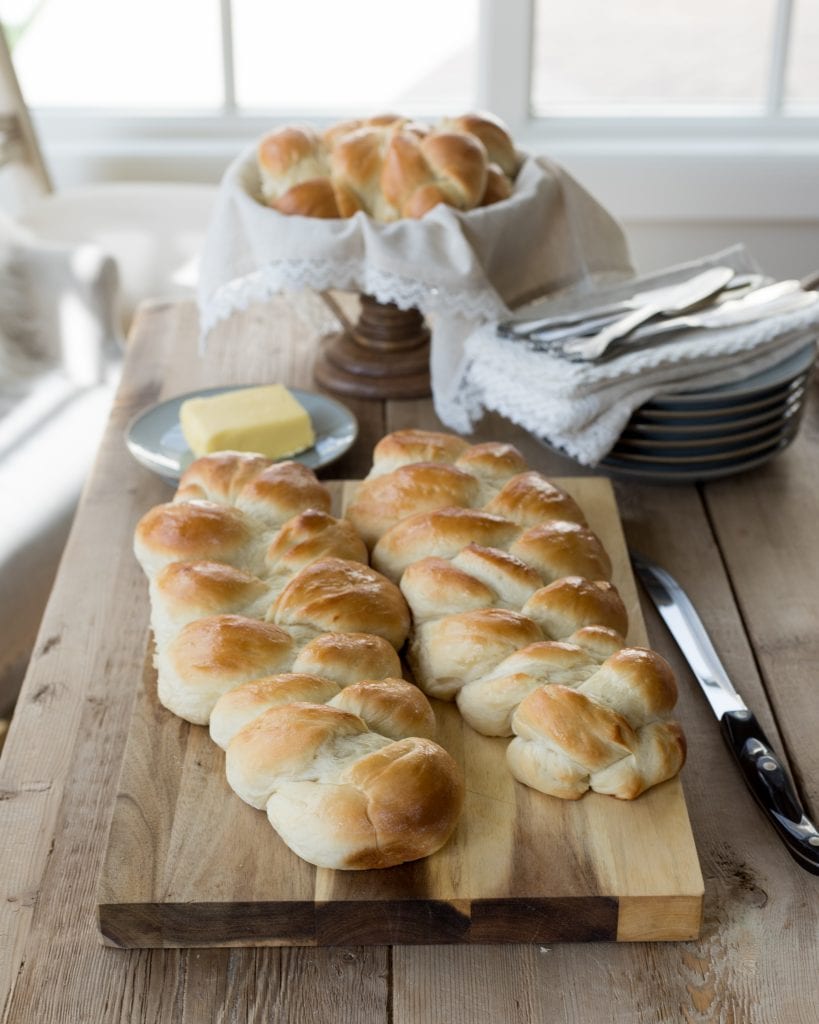 Disclaimer: This post does include affiliate links for your convenience. This is at NO additional cost to you but earns me a small commission. To read more, check out our disclosure policy.
The Best Braided French Bread Recipe
This is The Best Braided French Bread Recipe ever and it's not only delicious, it looks a little fancier than a regular loaf of homemade bread. It's much easier to make than it looks and it has six ingredients! You'll wow everyone with this amazing recipe!
If you've been following along for awhile you'll probably know that there's almost always a story behind most of my recipes. If you're new here, welcome! I'll try to keep it short so you can get to the good stuff–the recipe!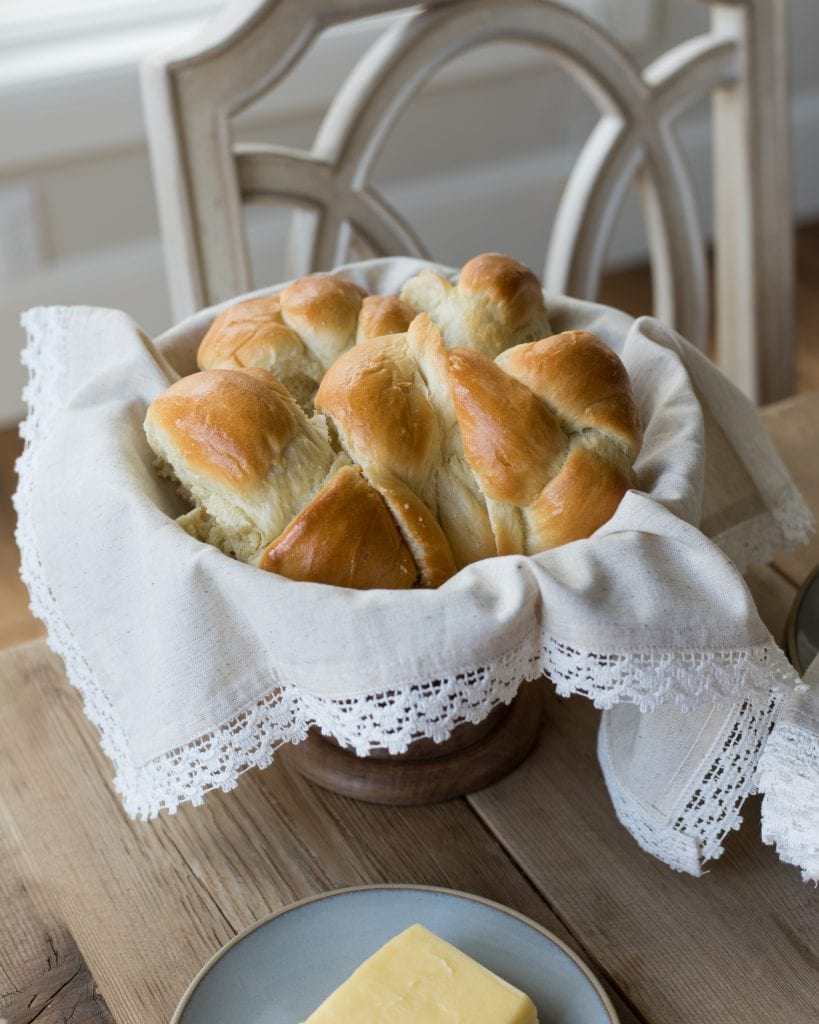 The Story Behind This Recipe
Many years ago we moved to Portland, Oregon, for my husband to attend dental school. We started attending a new church and were fortunate enough to be befriended by a wonderful family named the Myers. I became fast friends with Debra, the wife, and even though she was a little older than me, we had so much in common. I looked up to her as she had seven children, five boys and two girls! My two oldest boys were toddlers then and she always gave me great advice. She was also an amazing cook and I loved learning from her in the kitchen!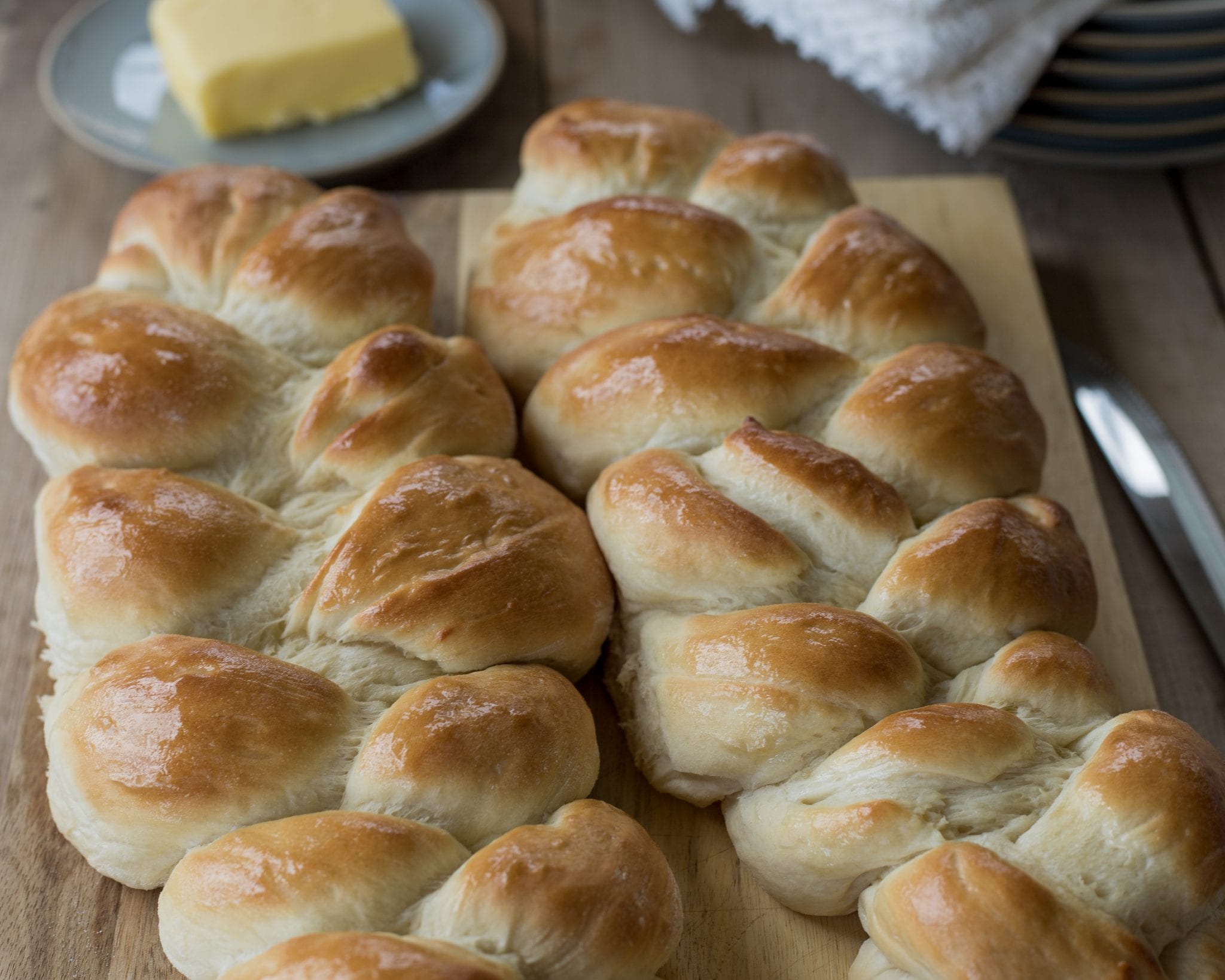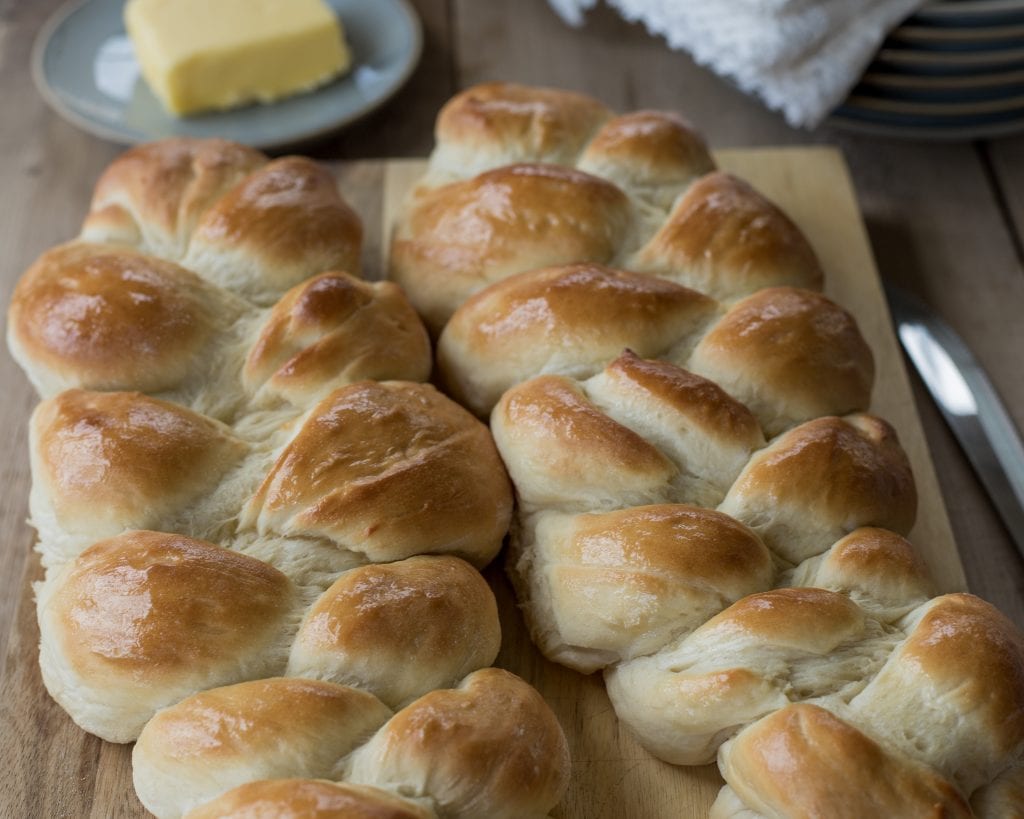 Debra's braided French bread was legendary in our church circles! She taught a class one night at the women's group meeting and we all learned to make this amazing bread. I promise, this is easier than it looks! I've shared many photos and step by step instructions on how to pull this off below in the recipe section. Don't worry if it's not perfect! Mine are never the same exact size and shape. What really matters is how good this bread recipe tastes!
It's the perfect recipe to deliver to the neighbors because it makes 3-4 loaves. I often double the recipe (as I did here in these photos) so I could have plenty to share. With my double batch, I usually end up with seven loaves but you can make them smaller or shape them into smaller braided rolls or small, round rolls. However you shape them is your choice, but the braided loaf has a bit of a WOW factor!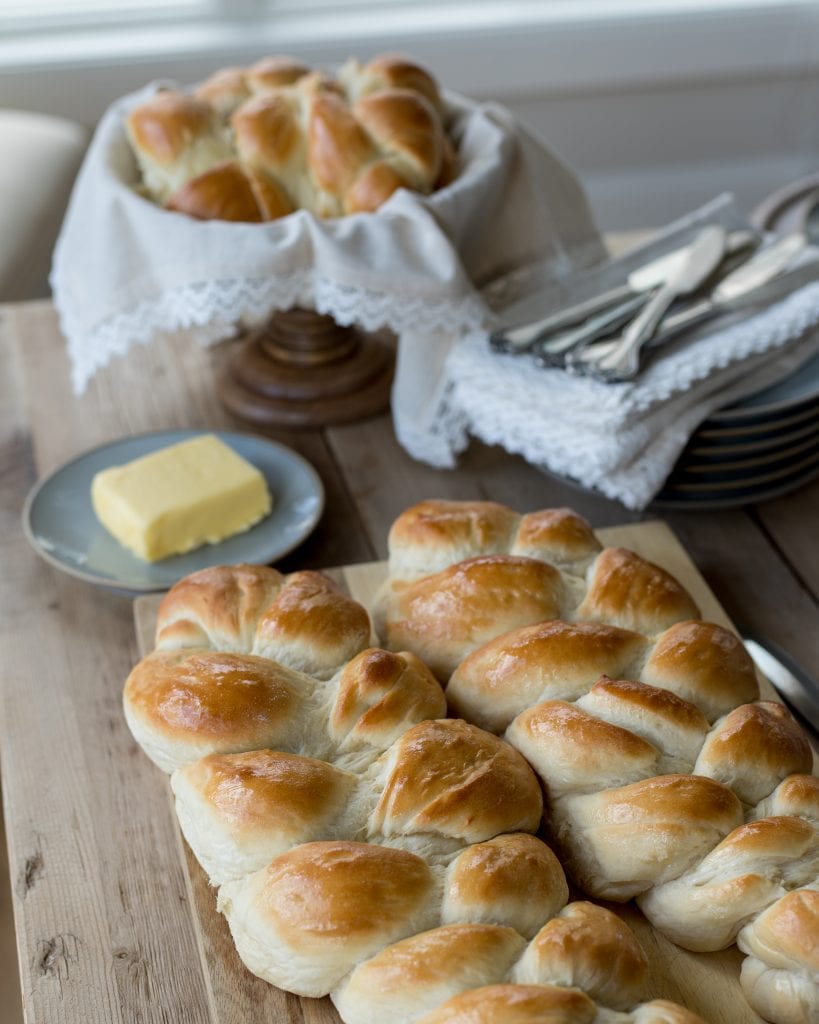 The Recipe: Debra's Braided French Bread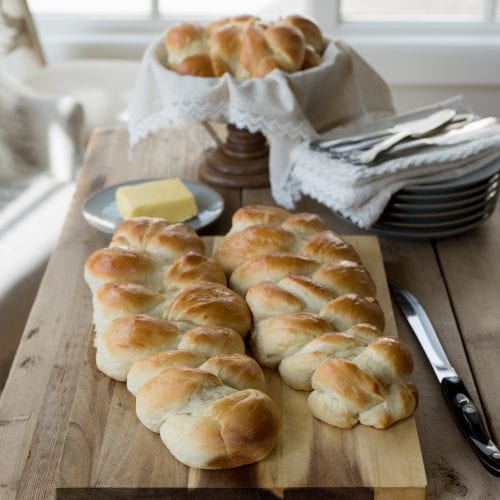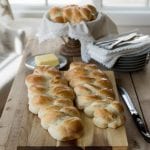 Debra's Braided French Bread
The most delicious braided french bread is the best recipe! You'll want to make this bread recipe often!
Ingredients
3

tbsp

yeast

3 1/2

cups

water

3/4

cup

sugar

1/3

cup

butter

*can substitue oil if you don't have butter

4

tsp

salt

8

cups

flour

non-stick cooking spray

extra flour for rolling out the dough
Instructions
In a large mixing bowl, stir 3 tbsp of yeast into 3 1/2 cups of warm water.

Stir until yeast is disolved. Let stand for a few minutes.

When yeast starts to froth on the top, dump into stand mixer. Then add 3/4 cups sugar, 1/3 cup softened butter, 4 tsp's of salt. Mix on low speed for about a minute or so.

Start adding flour to the mixture 2 cups at a time. Allow it to mix in for about 20-30 seconds before adding the next 2 cups.

After adding all 8 cups of flour, you should have a soft, elastic dough. If the dough is super sticky, add another 1/2 cup-1 cup of flour. Let mix for a few minutes until all the flour is worked in.

Spray a large bowl with a non-stick cooking spray and place the dough in the bowl.

Cover bowl with a damp towel. I run hot water on a clean flour sack towel to get it wet. You can use any tea or dish towel, just make sure it's clean and not a heavy towel. You don't want the top of the dough to dry out.

Place the bowl of dough covered with the damp towl in a warm place. I use the proofing setting on my oven or the proofing mode on my bread warming drawer to speed it up. You can turn on your oven for a few minutes to get it warm, then turn it off and set inside the oven. Be careful to not get it over 100 degrees or so. You want it warm, not hot.

Let the dough rise until double in size. If the towel sticks to the top of the dough, gently remove the towel. You can always remove the towel towards the end and use the squirt bottle with water to keep the top of the dough moist. You don't want it to dry out.

Sprinkle some flour onto a clean surface. I use a flour sifter to sprinkle the flour out more evenly.

Dump the dough onto the floured surface.

Try to get the dough into somewhat of a misshapen rectangular shape.

Then start pulling and stretching sections from the side and pull it over on top of the dough towards the middle and press lightly down.

This helps give the dough a more uniform look.

When you've got it looking more uniform in shape, turm it over onto the flat, smooth side.

Pat the ends to make it more flat and a long rectangle. This doesn't have to be perfect, just get it as close to this shape as you can.

I do this process to make it easier to cut equal amounts of dough for each of the sections you are going to braid. I make little lines on the top of the dough with my dough scraper to section it into 9 or 12 sections. If you want 4 smaller loaves, do 12 sections. If you want 3 larger loaves, do 9 sections.

Use the squirt bottle with water to lightly mist the top of dough every so often so that it doesn't dry out while you're sectioning and braiding. I also keep the dough covered with the damp tea towel to keep it from drying out.

Cut 3 sections at a time, then cover up the dough while you braid each loaf. Use your hands to strech and roll each piece into about a 10"-12" piece.

Pinch the three pieces together with the middle piece on top.

Tuck the three pieces under themselves. You may need to hold them down with one hand while you start the braid with the other.

You can tuck the end under more once the whole loaf has been braided so don't worry if it's not perfect.

Take the right section over the middle section to start the braid.

Then take the left section and continue the braid.

The dough will keep stretching and getting longer as you braid.

Keep the braid going and don't worry if it's not perfect. The dough will rise and and hide all your imperfections.

When you get to the end, pinch the 3 pieces of dough together and tuck under. Check the end you began with and make sure it's tucked under too. Get your baking sheets out (you'll need two) and spray with non-stick cooking spray. Preheat your oven to 400 degrees.

Now that the braid is done, use your dough scraper and your hand and gently lift the dough and set it on the baking sheet.

You can get two braids on a standard baking sheet pan. I alternate the braided loafs so that they are opposite to each other. Cover with the damp towel again and let rise another 20-30 minutes.

Bake for 15-20 minutes depending on your oven. When the top is dark golden brown, it's done.

Remove from the oven and brush the tops with butter.

Vatiations: Brush the dough with an egg wash or milk and sprinkle with sesame seeds or poppy seeds before baking.

You can make into individual french rolls, small braided rolls or just round shaped rolls.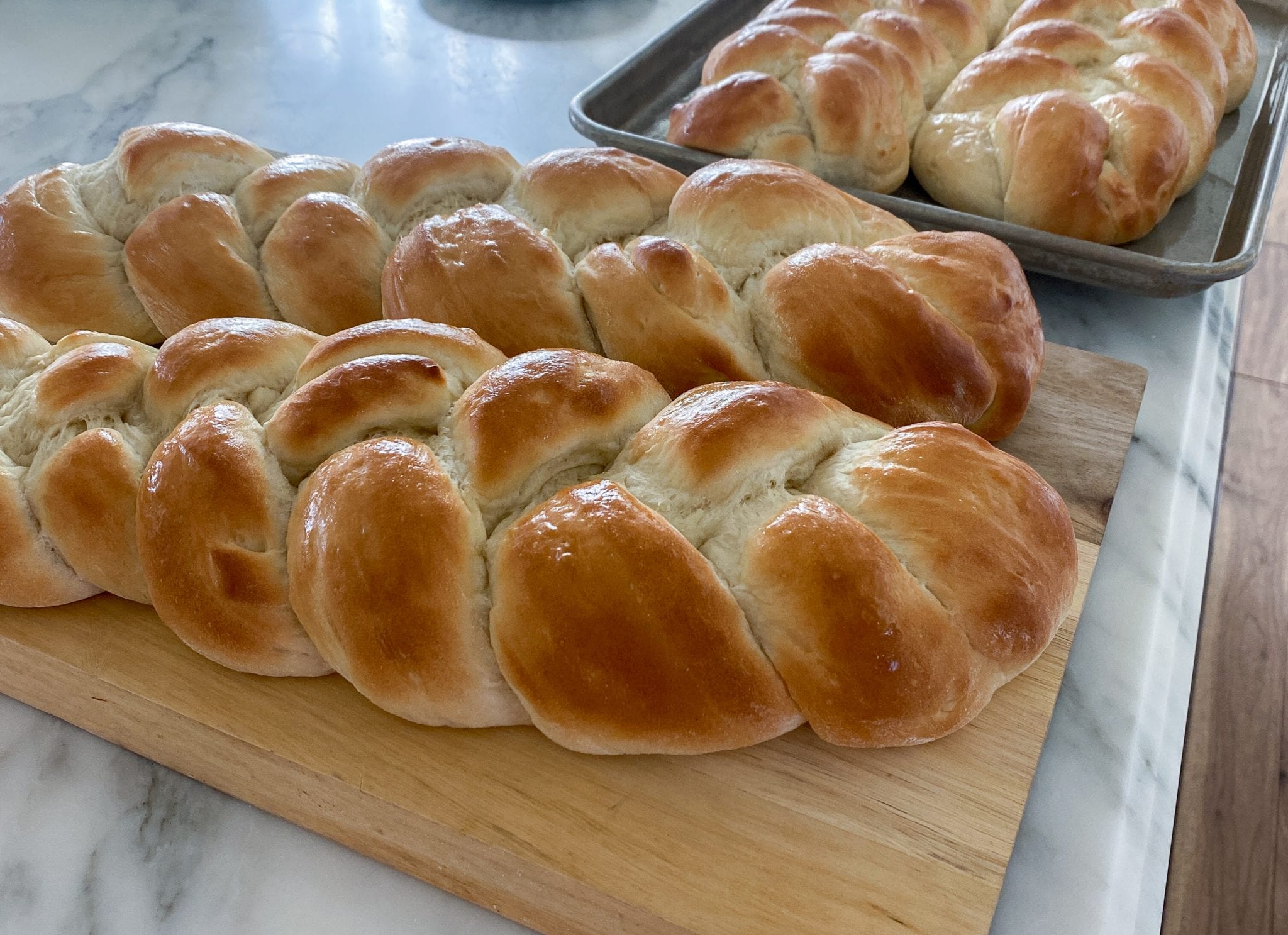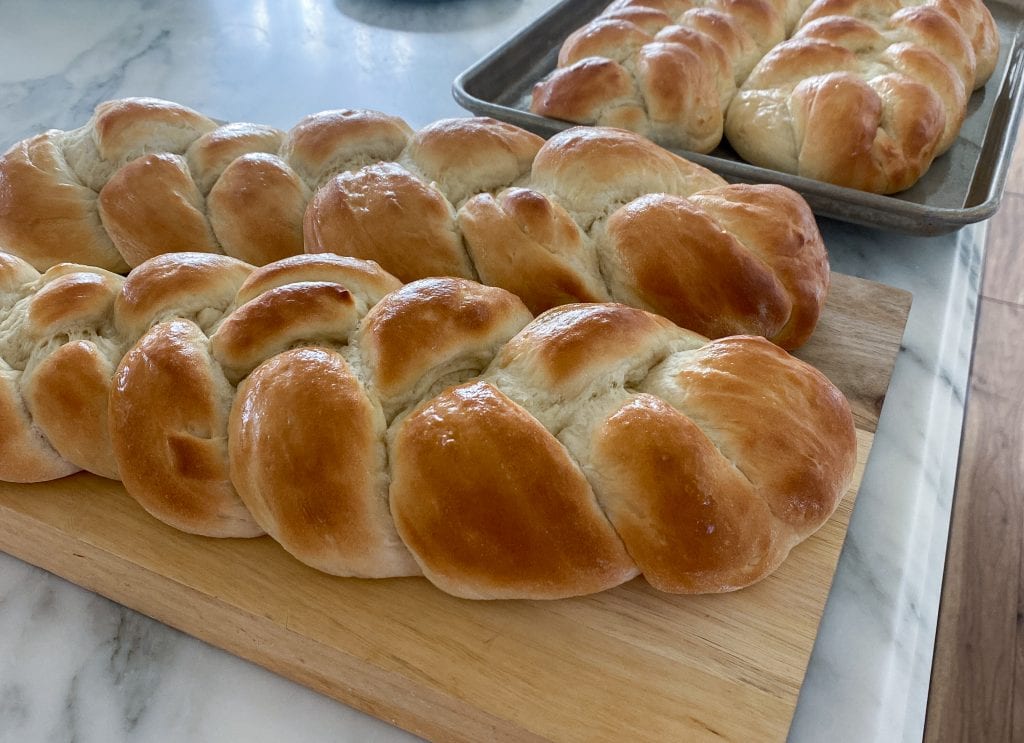 You're going to love this recipe! I promise! Each time I make it, I get a little better at shaping the dough. If it's not perfect, just remember that when the braids start to rise again, then bake, they get a lot bigger and fill in any spots that didn't look as good when it was in the shaping stage.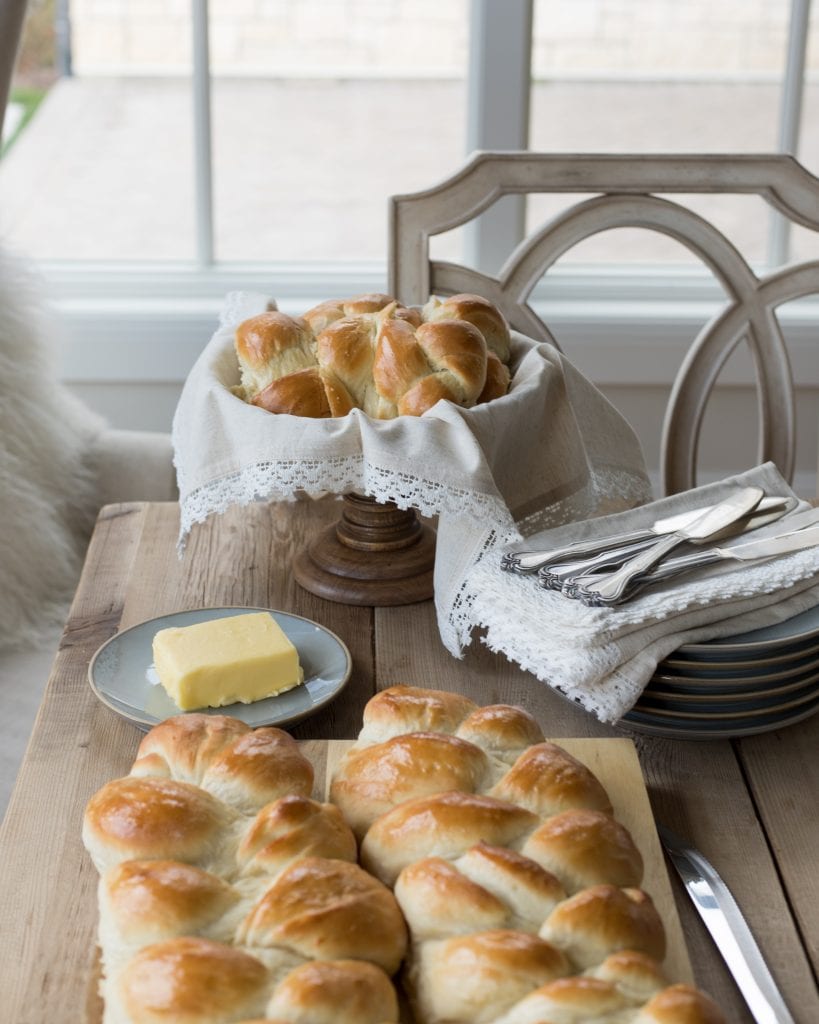 I took some of these loaves to each of my neighbors this past week. They were all so grateful and wanted the recipe! I hope you love Debra's braided french bread as much as we do. The best part about this recipe is that whenever I make it, I think about my sweet friend and all the fun times we had together in Portland. We both moved away from Oregon many years ago but we still stay in touch and she graciously allowed me to share this special recipe with you all!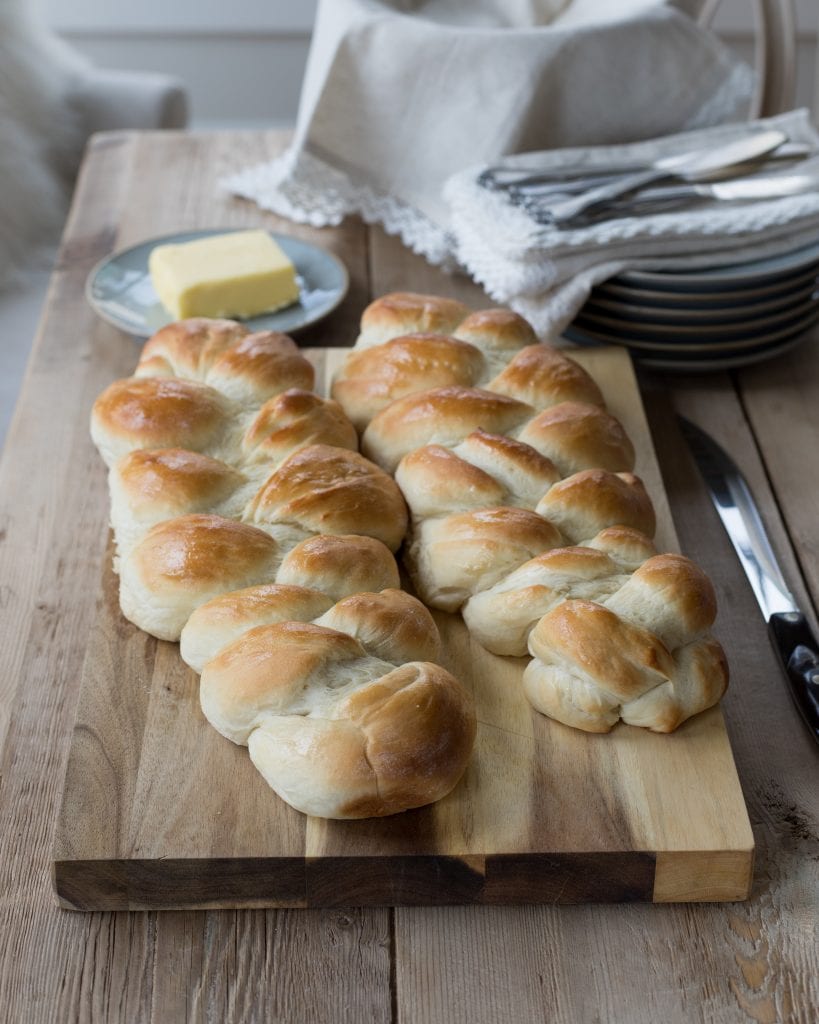 You may also like my Homemade Rolls Recipe! Click here!
For the Bosch Stand Mixer click here.
Enjoy!
xoxo,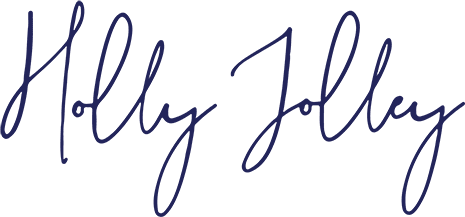 Sources:

Pin This Post for Later