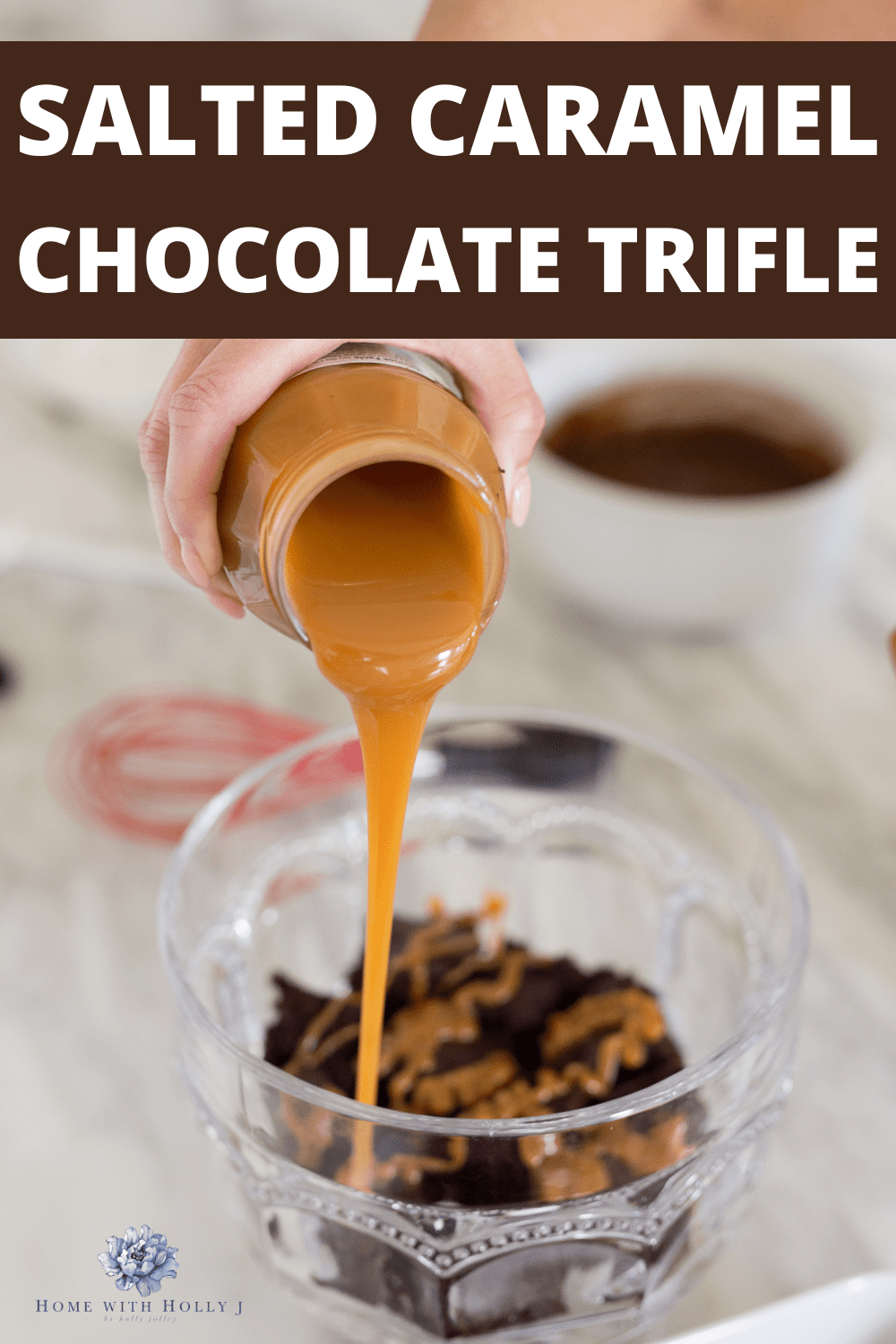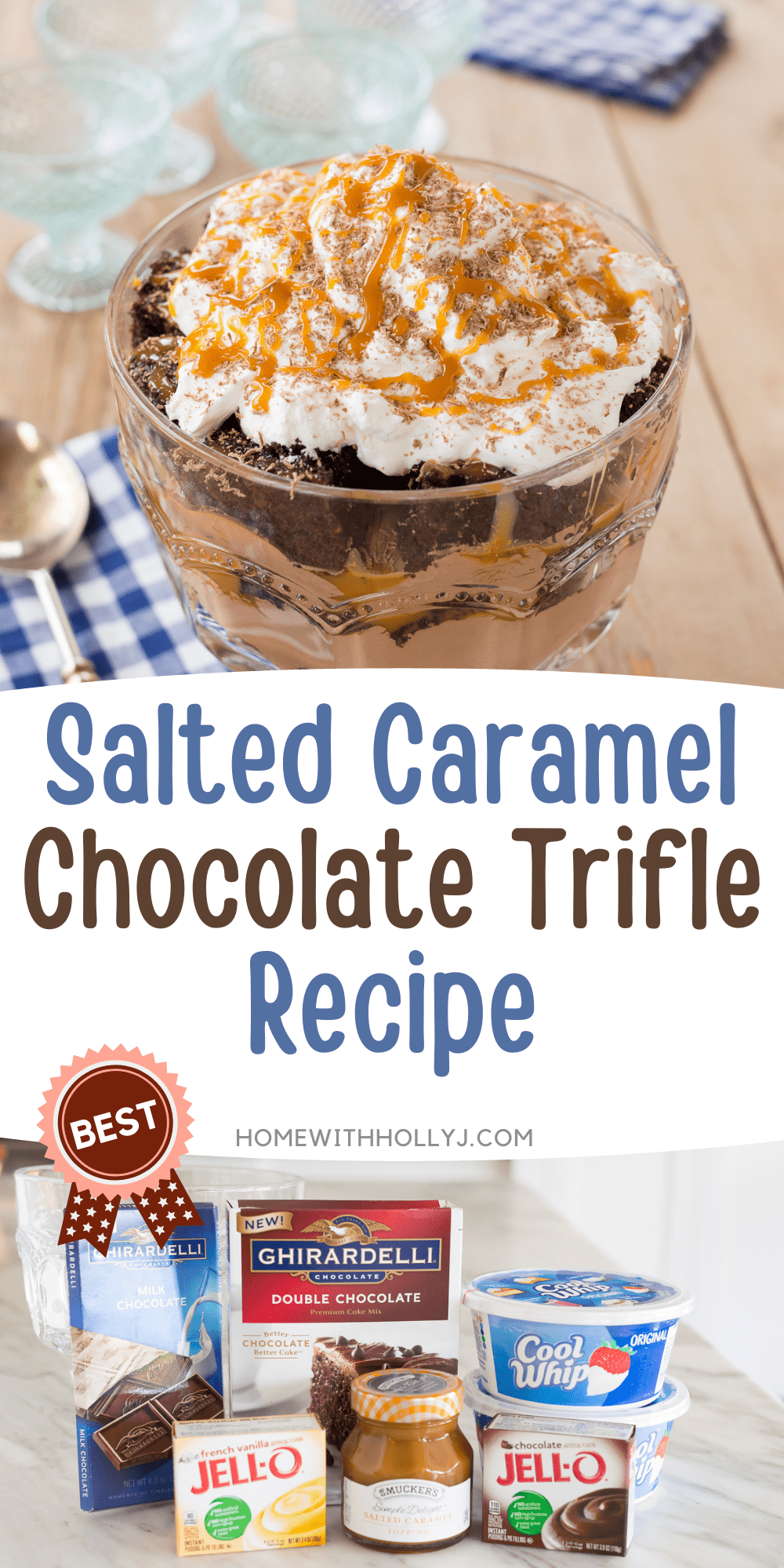 Satisfy your sweet tooth with this easy to make Delicious Salted Caramel Chocolate Trifle Recipe. Follow my simple instructions here.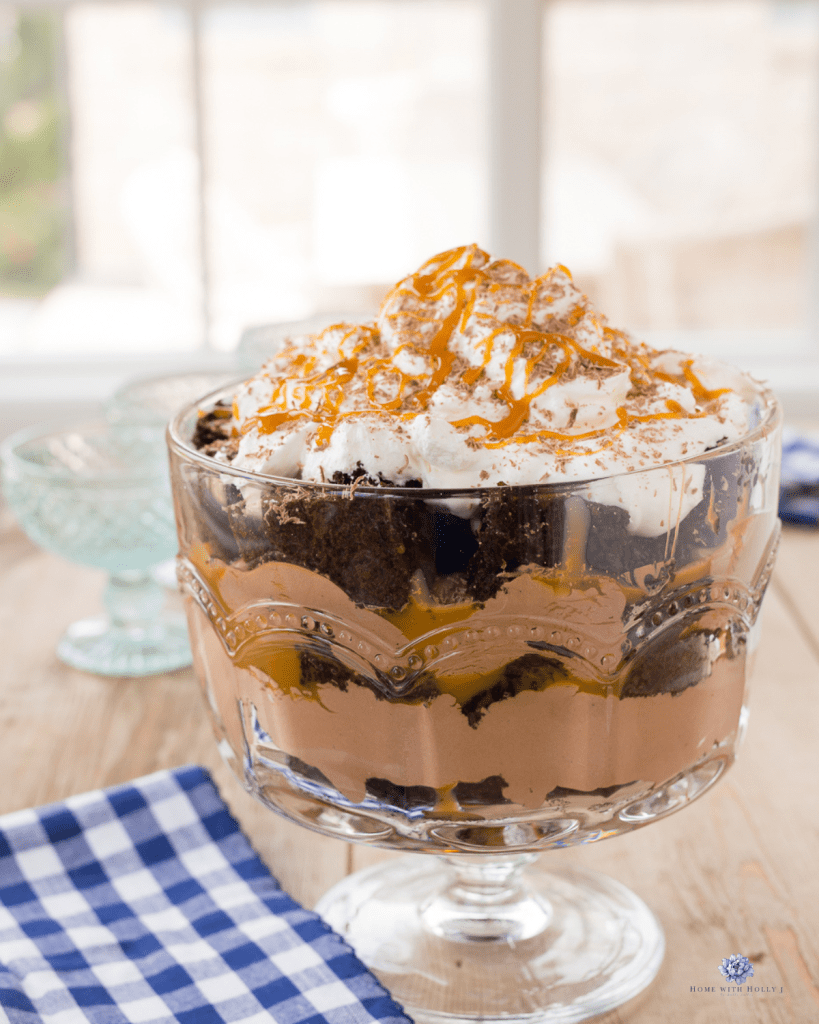 Delicious Salted Caramel Chocolate Trifle Recipe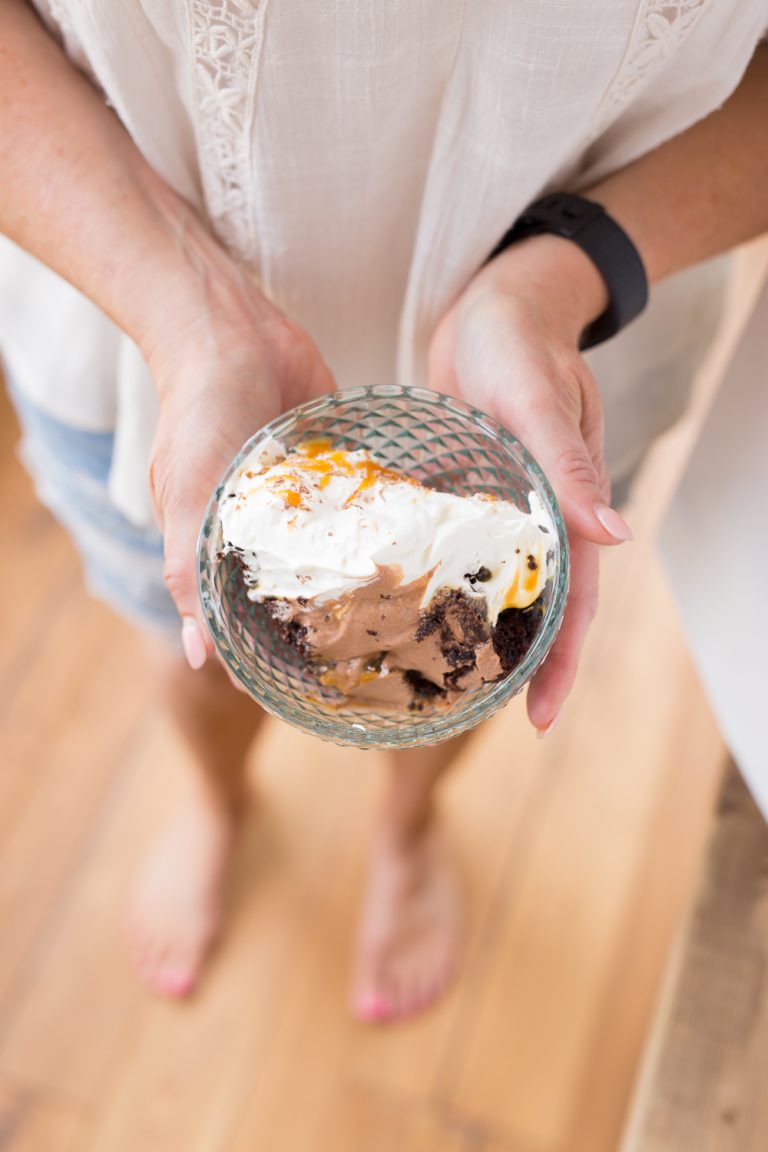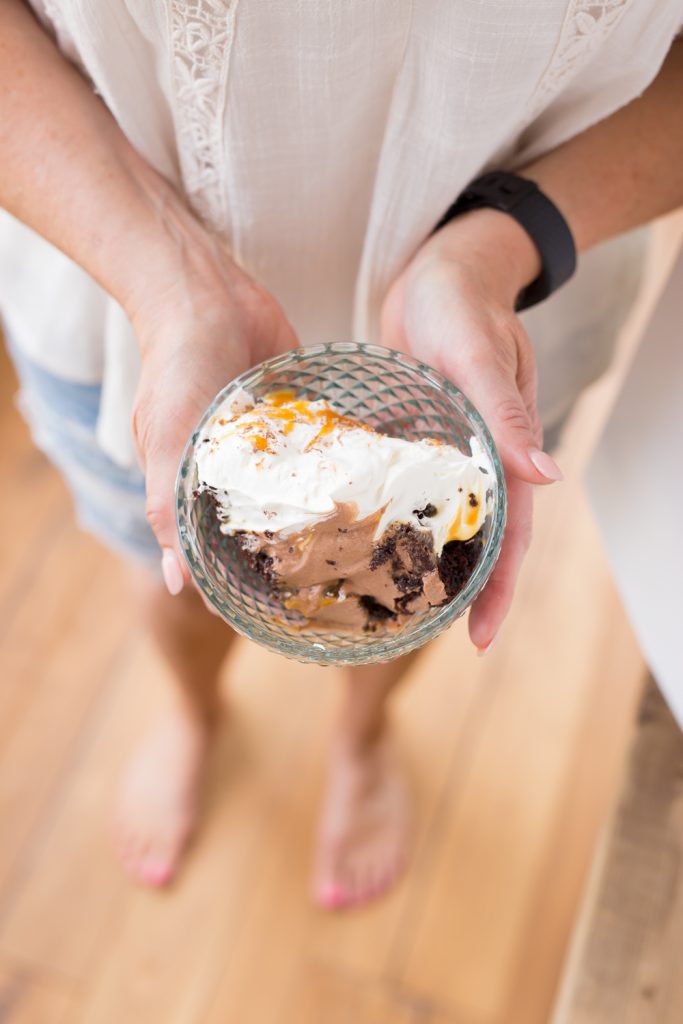 Today I'm sharing another Trifle recipe! After sharing the Strawberry Lemon Trifle recipe a few weeks ago, many asked me to hurry up and share the others. This Salted Carmel Chocolate Trifle was also a big hit when I made this (and three others) for my nieces bridal shower a few years back.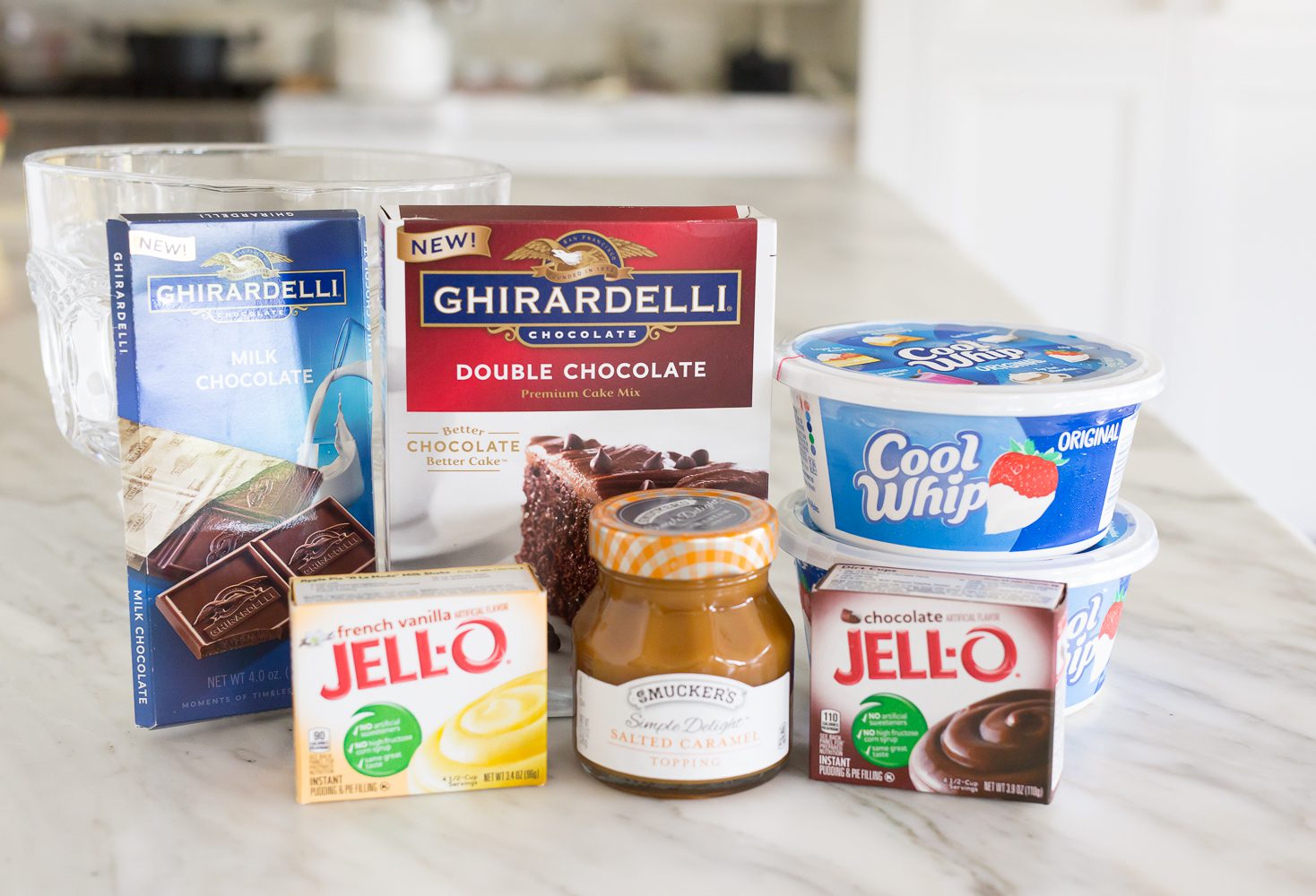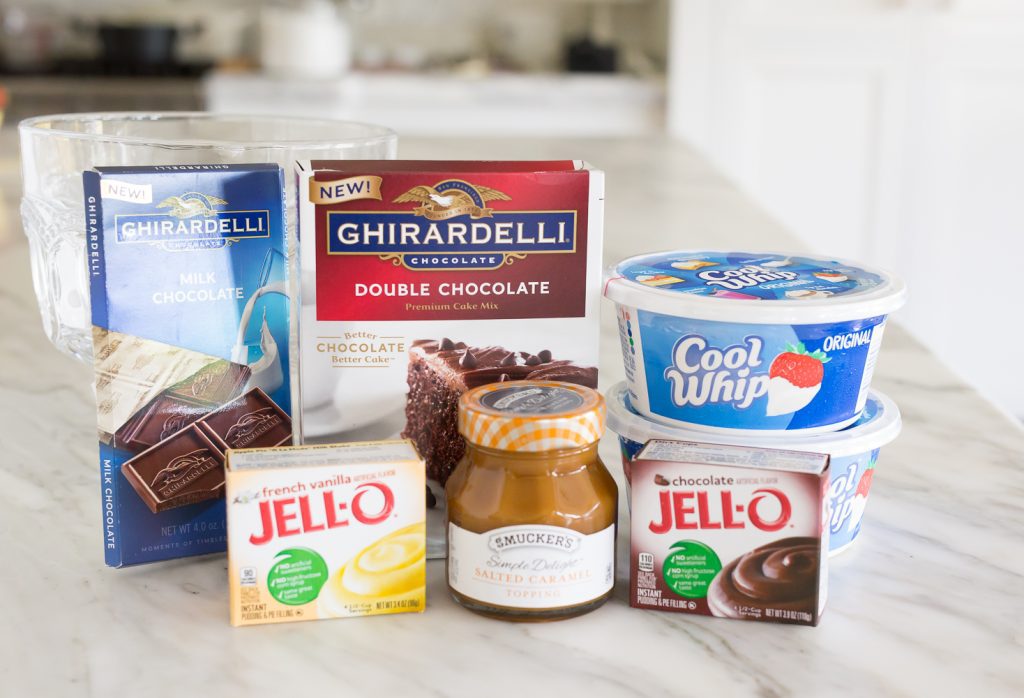 This delicious Salted Caramel Chocolate Tripe recipe is super easy to make! You can go all out and bake everything from scratch or you can use store bought mixes like I did.
Trifles are one of the easiest desserts you can make, especially when you're in a time crunch or need something fast and easy to make that also tastes amazing.
You can literally add anything into a trifle to so be creative! I made this recipe up on the the fly and I think it was the favorite for the chocolate lovers and rivaled the Strawberry Lemon Trifle I made the same day.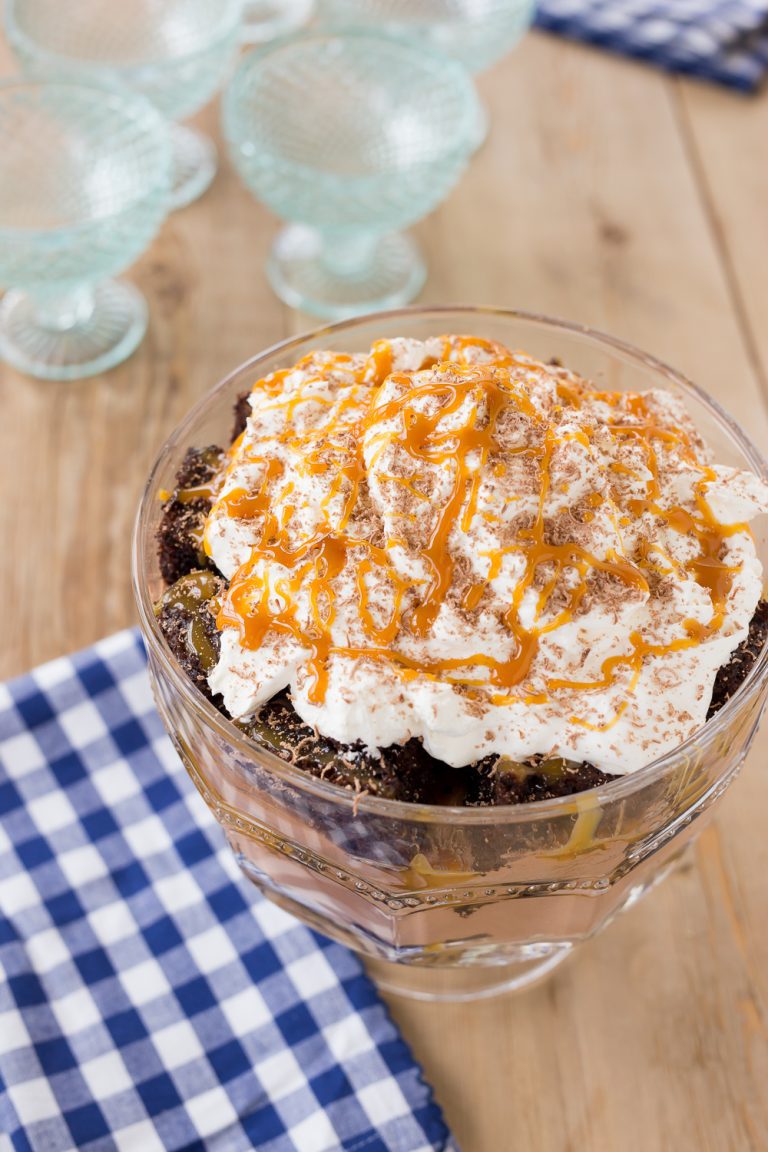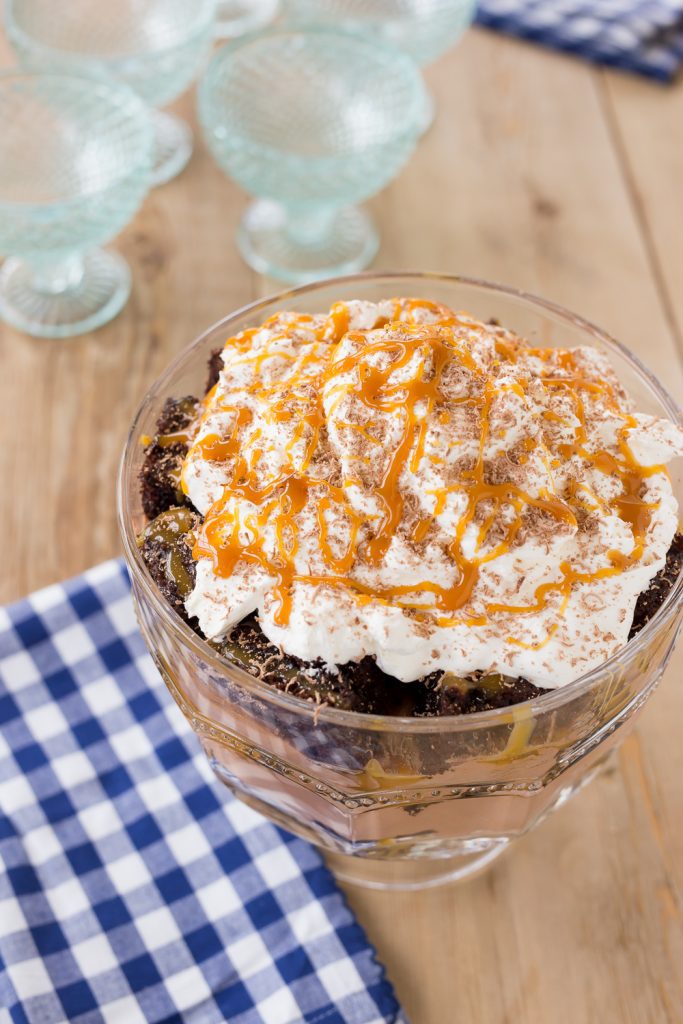 If you have never heard of a trifle dessert here is what it is:
From Taste of Home:
The traditional version of trifle that originated in England in the 18th century (with less similar dishes being made even earlier) consisted of three or four layers, including some sort of fruit, alcohol-soaked sponge cake and custard. The fruit and cake were often layered with homemade jelly. This classic interpretation was always served in a round bowl.
American trifles are similar but fortunately, a bit less complicated. They consist of multiple layers of crumbled or cubed cake, pudding and fruit.
The flavors can vary widely, from raspberries, peach yogurt and angel food cake to brownies, white chocolate pudding and candy bar bits.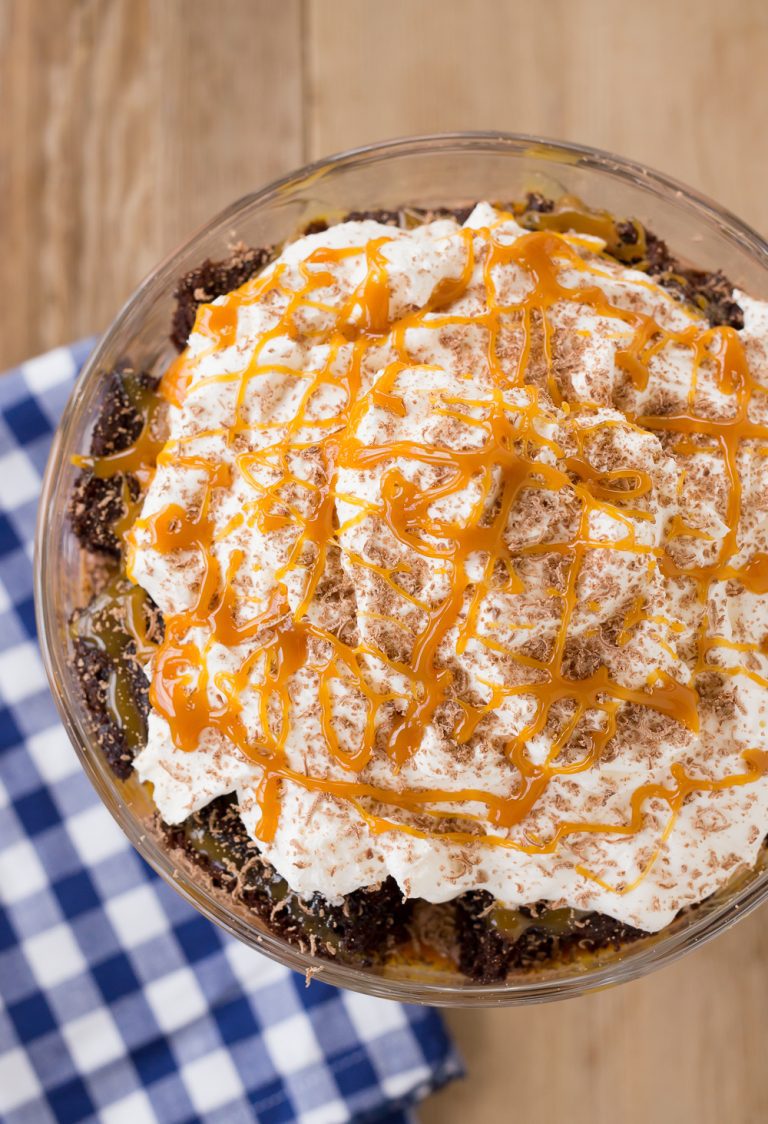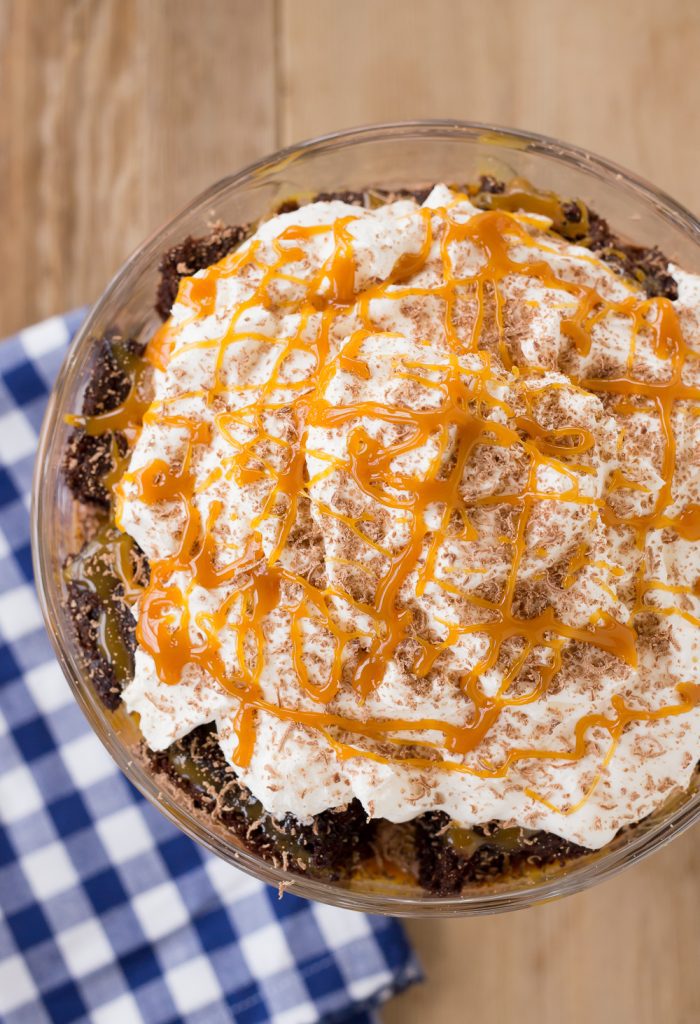 They're topped with whipped cream and some sort of crumbs or nuts to add texture.
Trifle should be served in a deep, round dish—ideally one that's clear so diners can see all of the layers.
So really a trifle is a bunch of goodness all in the same bowl! How's that for my own definition. You can really add in anything you like or have on hand. You could even add in some vanilla flavored pudding to balance out all the chocolate.
For this Salted Carmel Chocolate Trifle, I used a box of chocolate cake and baked it on a sheet cake pan. After it cools off, cut the cake into 1-2″ bit sized pieces.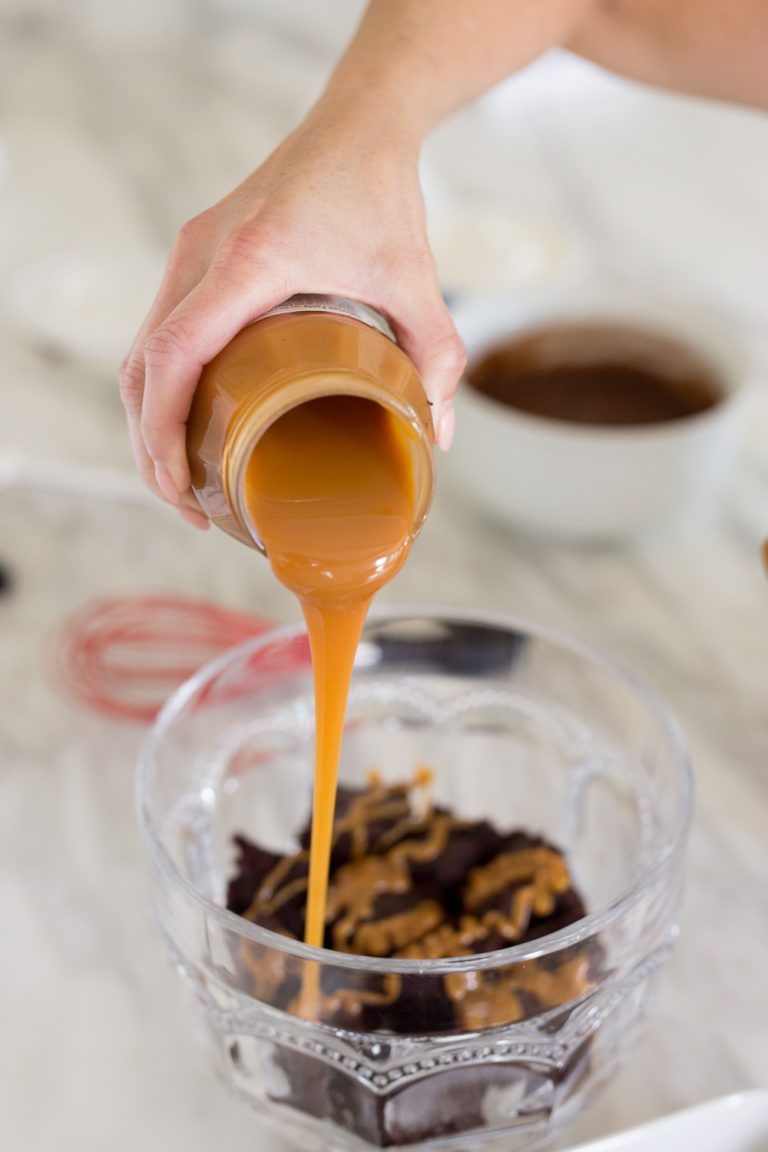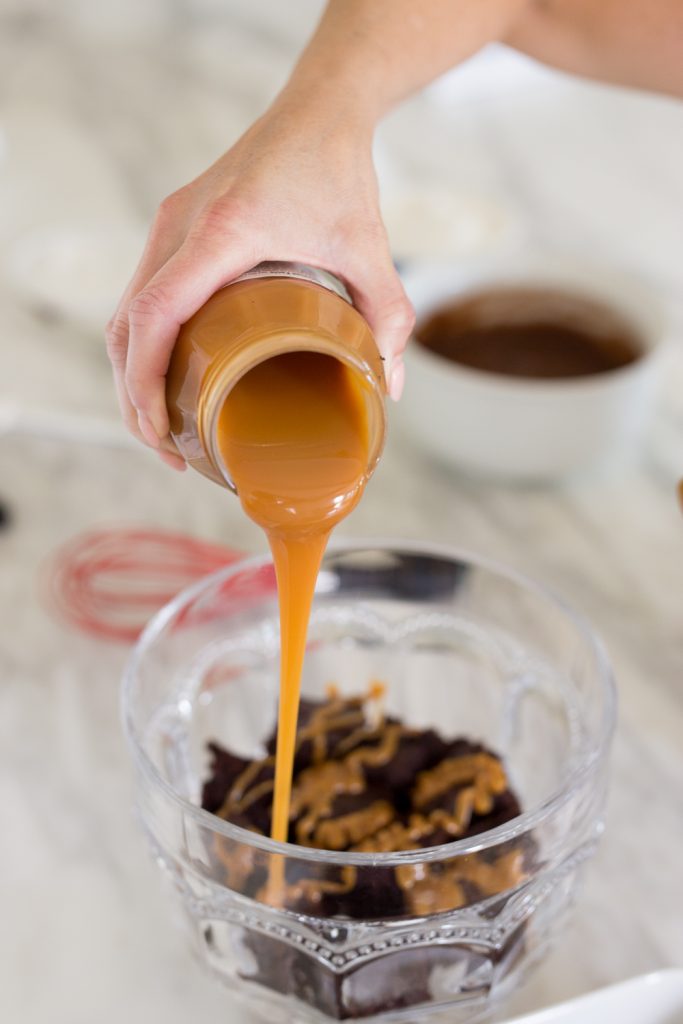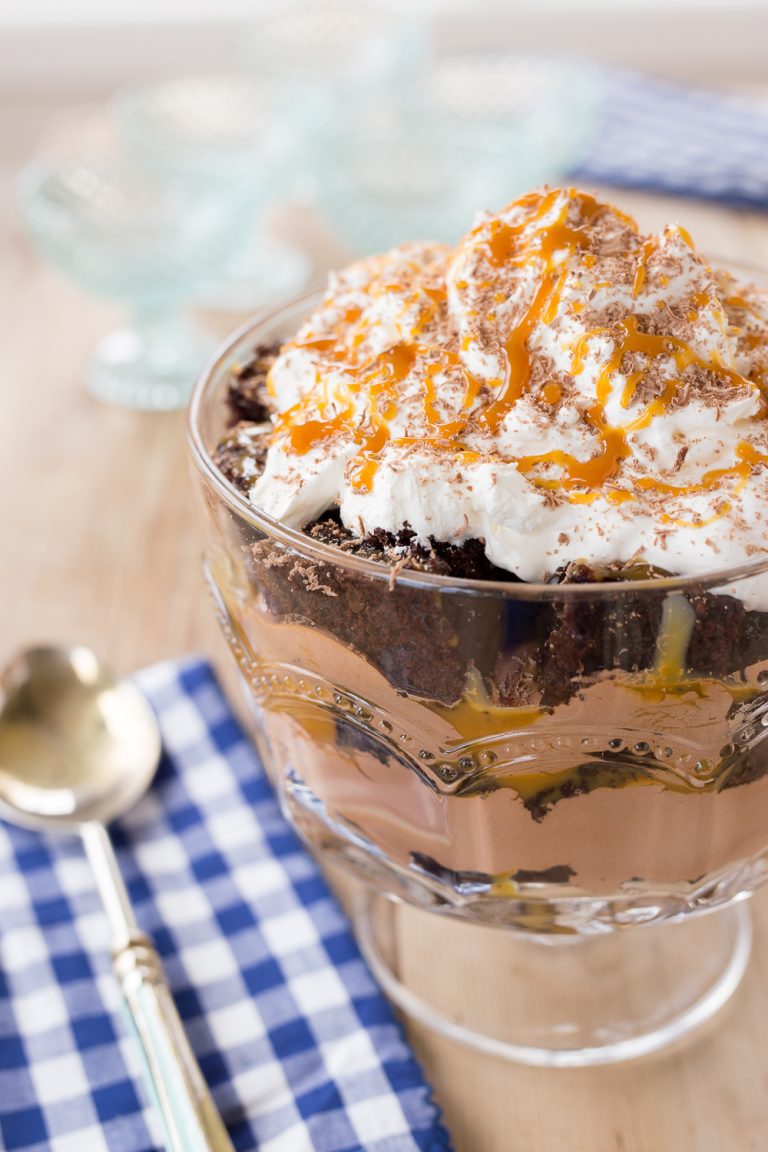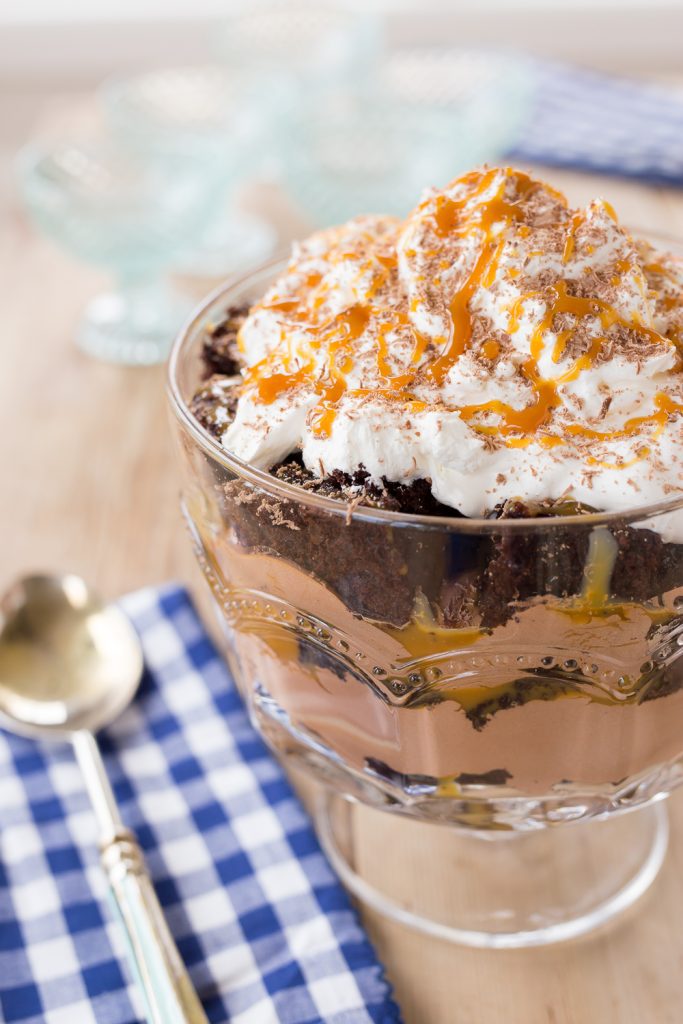 I then repeated the same layers then topped it off with more cool whip, salted caramel, and some shaved chocolate from a chocolate bar.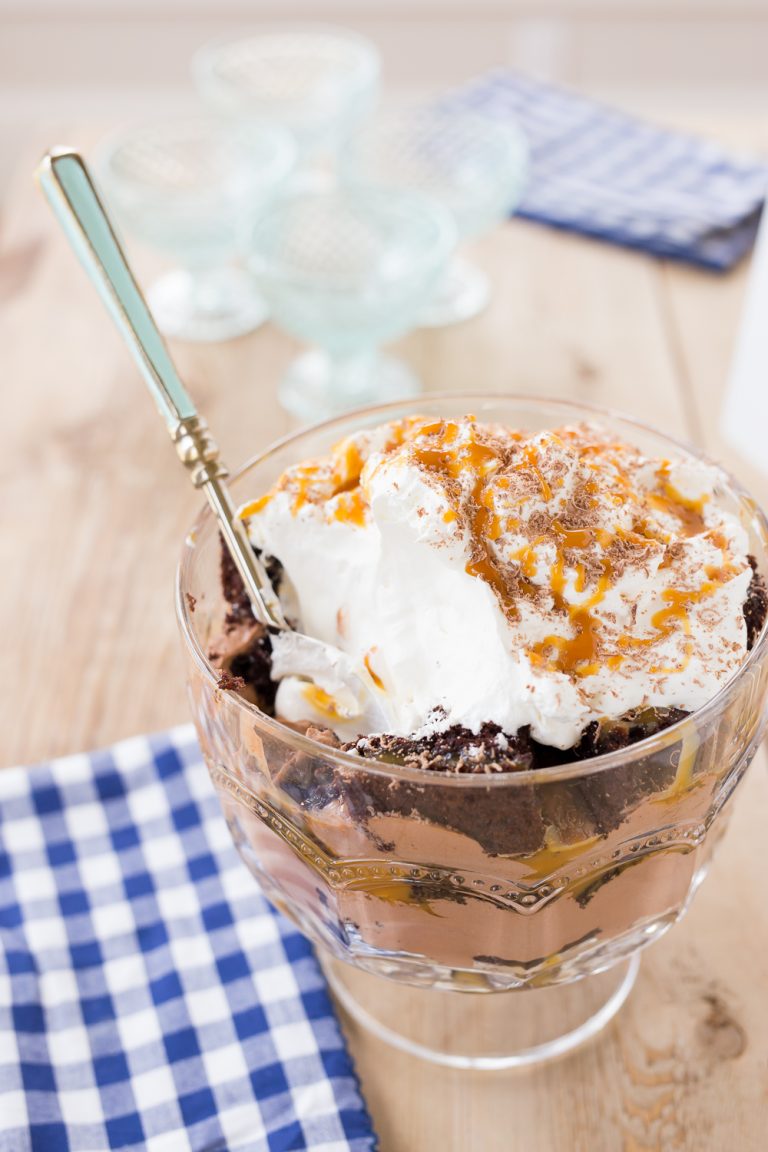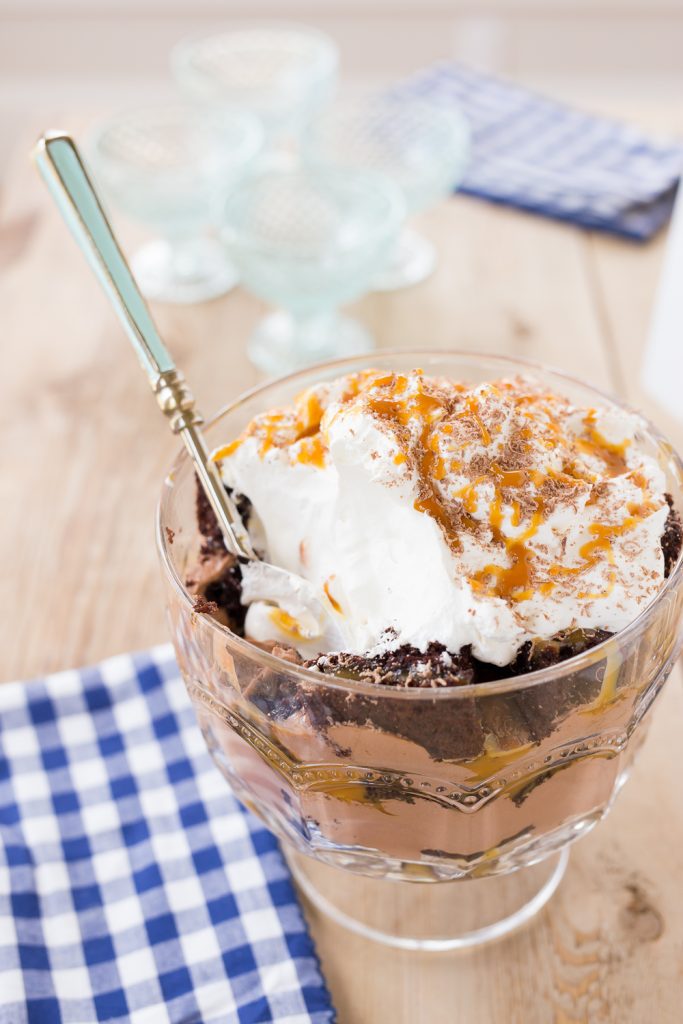 Now for the Recipe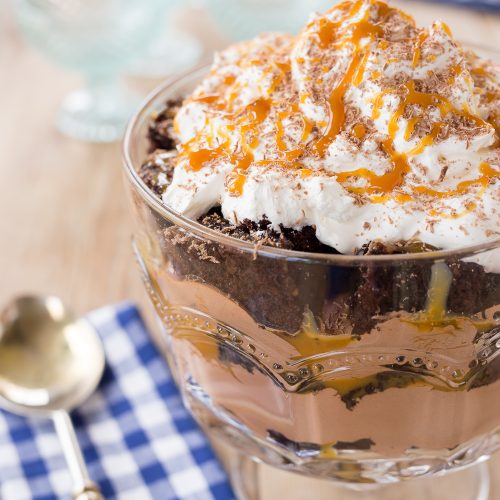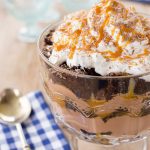 Salted Caramel Chocolate Trifle Recipe
This Salted Caramel Chocolate Trifle is super easy to make and so delicious. You can use store bought ingredients or make everything from scratch. I've shared the easier store bought ingredients version today and it's so chocolaty and yummy! Its a great recipe for a baby or bridal shower or any celebration!
Ingredients
1

box

small jello instant chocolate pudding (prepared)

+ 2 cups milk

1

large

container cool whip

1

jar

salted caramel

1

box

chocolate cake mix prepared as directed

(eggs, oil, water)

1

bar

chocolate
Instructions
Prepare and bake a store bought chocolate cake mix. Set aside to cool.

When cake has cooled, cut the cake into 1-2" pieces.

Prepare 1 box of jello instant pudding mix as directed and then add in 3/4 of the container of cool whip and mix together until well blended. Reserve the remainder of the cool whip to top the trifle at the end.

In a trifle bowl or dish, layer the chocolate cake pieces onto the bottom and then drizzle some of the salted caramel on top of the cake.

Next add a layer of the pudding/cool whip mixture.

Repeat the layer steps 1-2 more times until your trifle bowl is almost full.

Once the layers are complete, top the trifle with the remainder of the cool whip and drizzle more salted caramel on top.

Use a small cheese grater or zesting grater and shave off some of the chocolate bar on top for garnish.

Refrigerate for at least an hour before serving.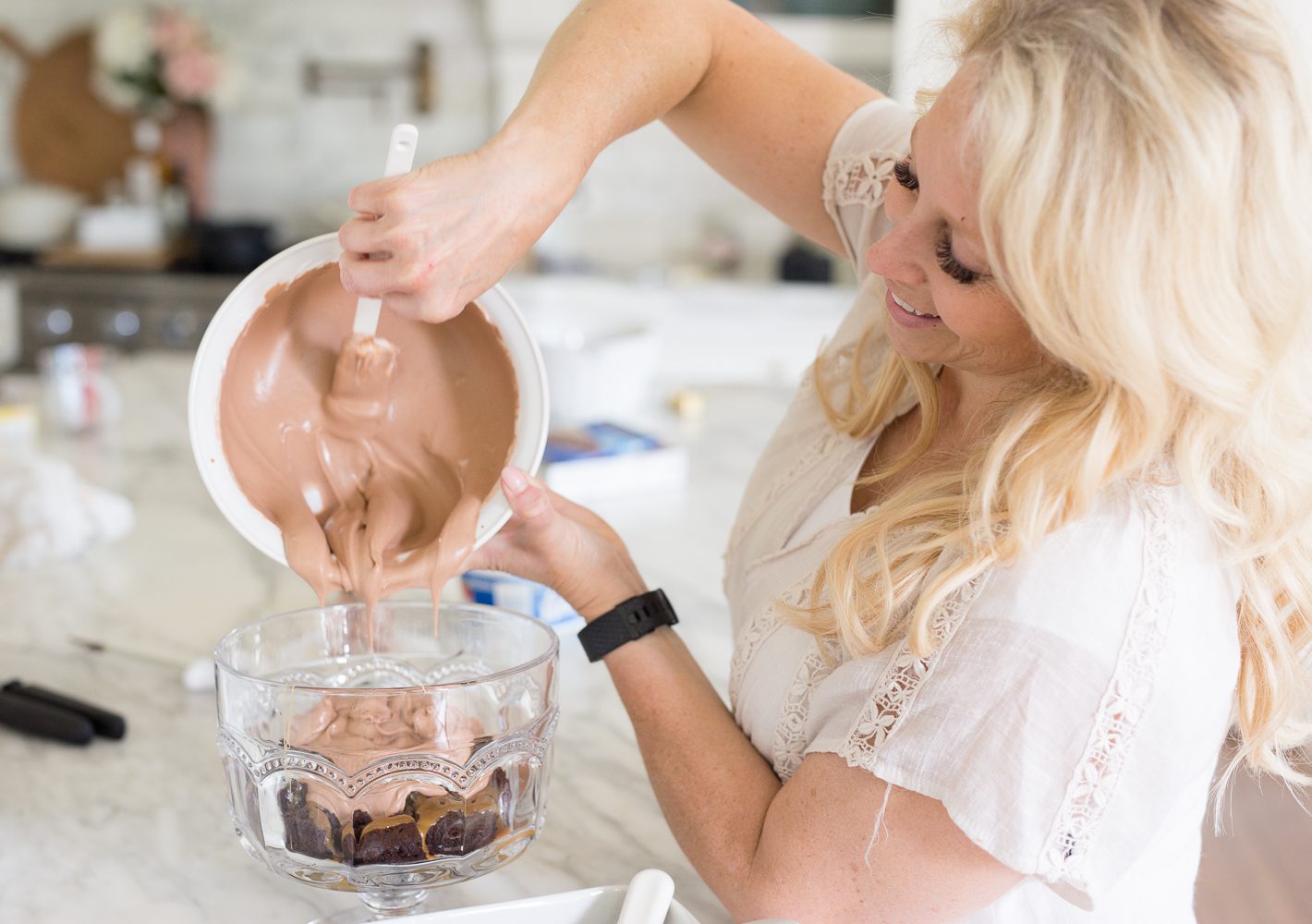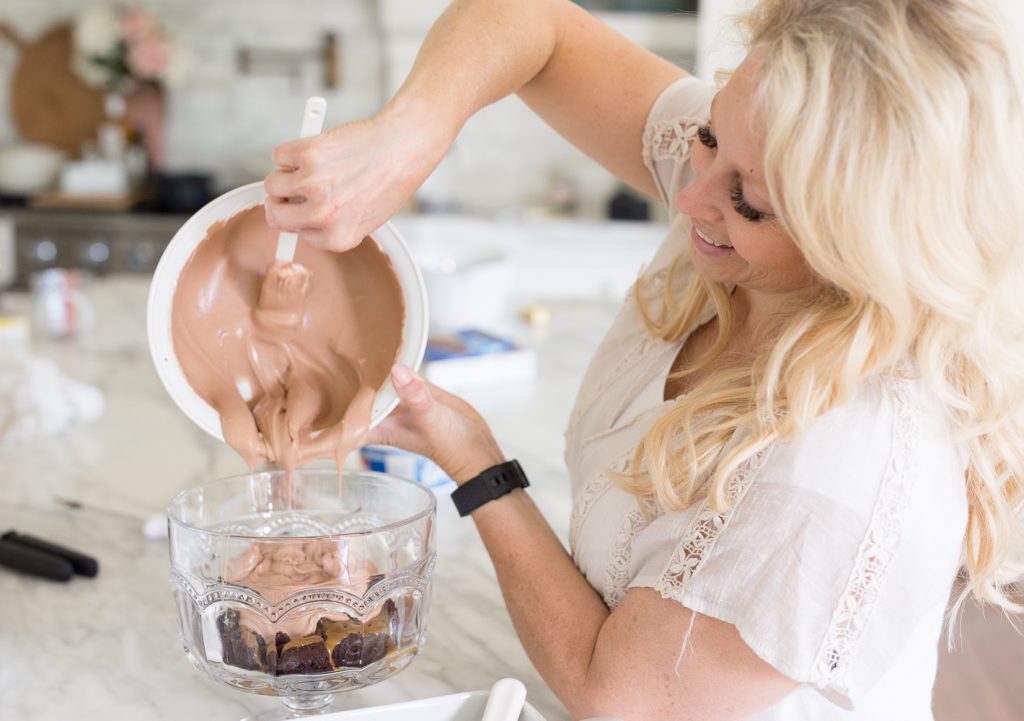 Here are some of my favorite Trifle bowls: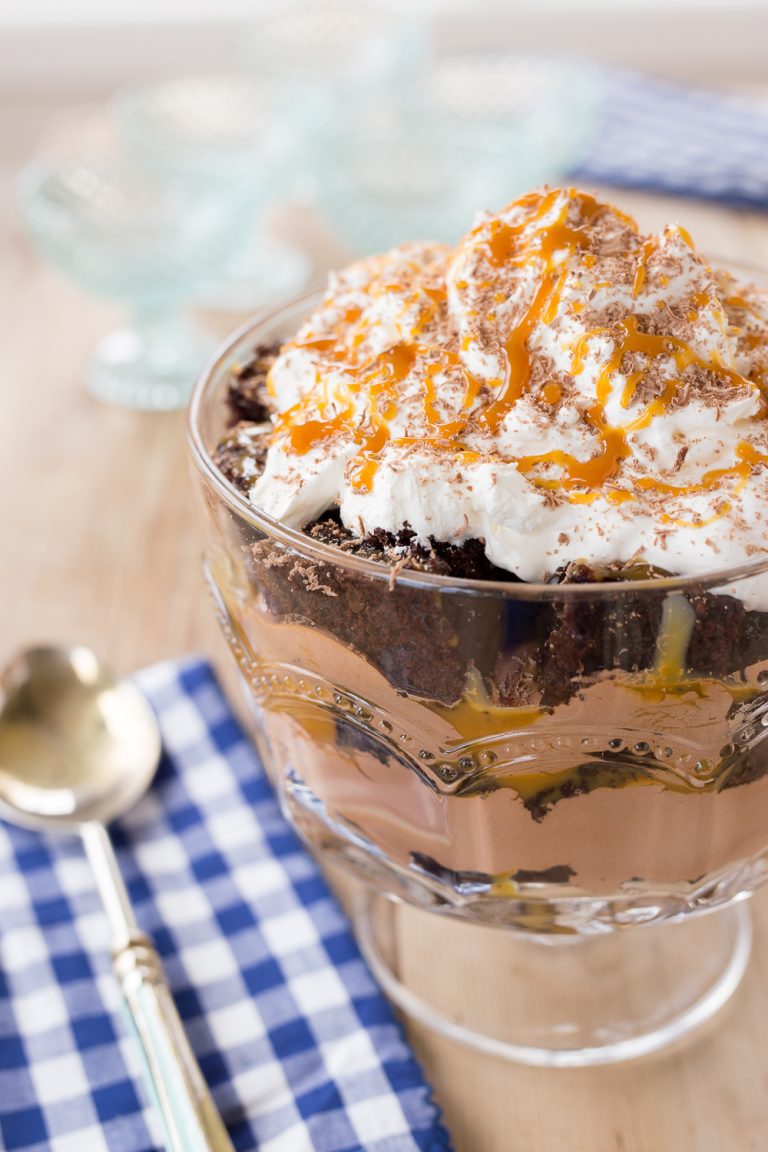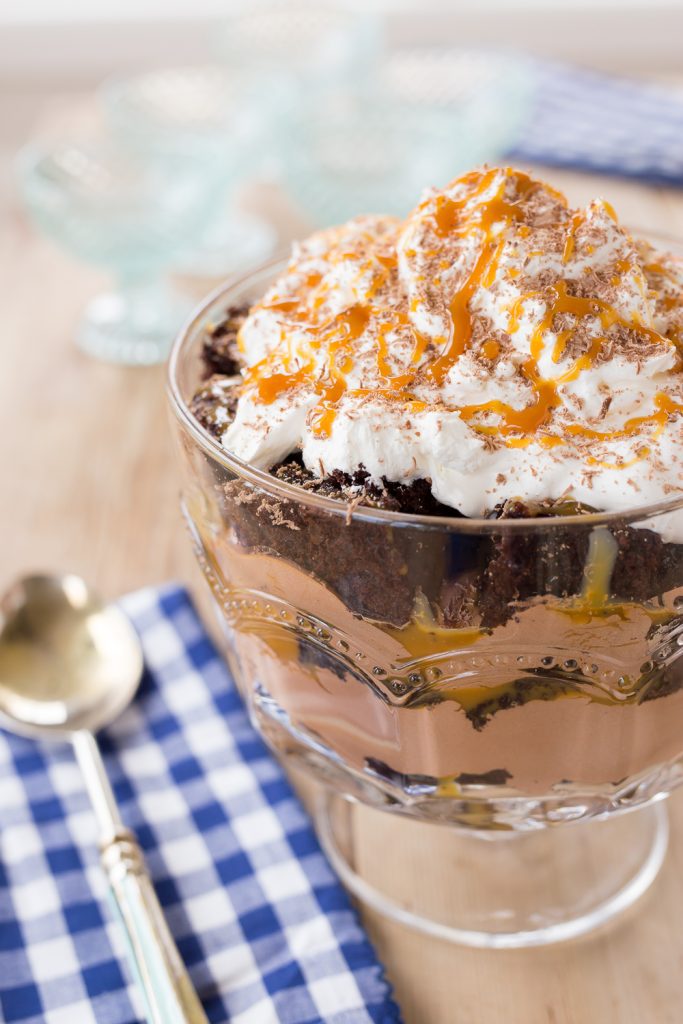 Enjoy!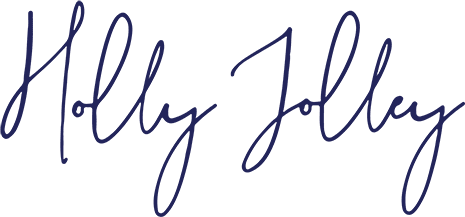 If you like this recipe, you'll want to check out these:
Strawberry Lemon Trifle Recipe
Pin this Post for Later