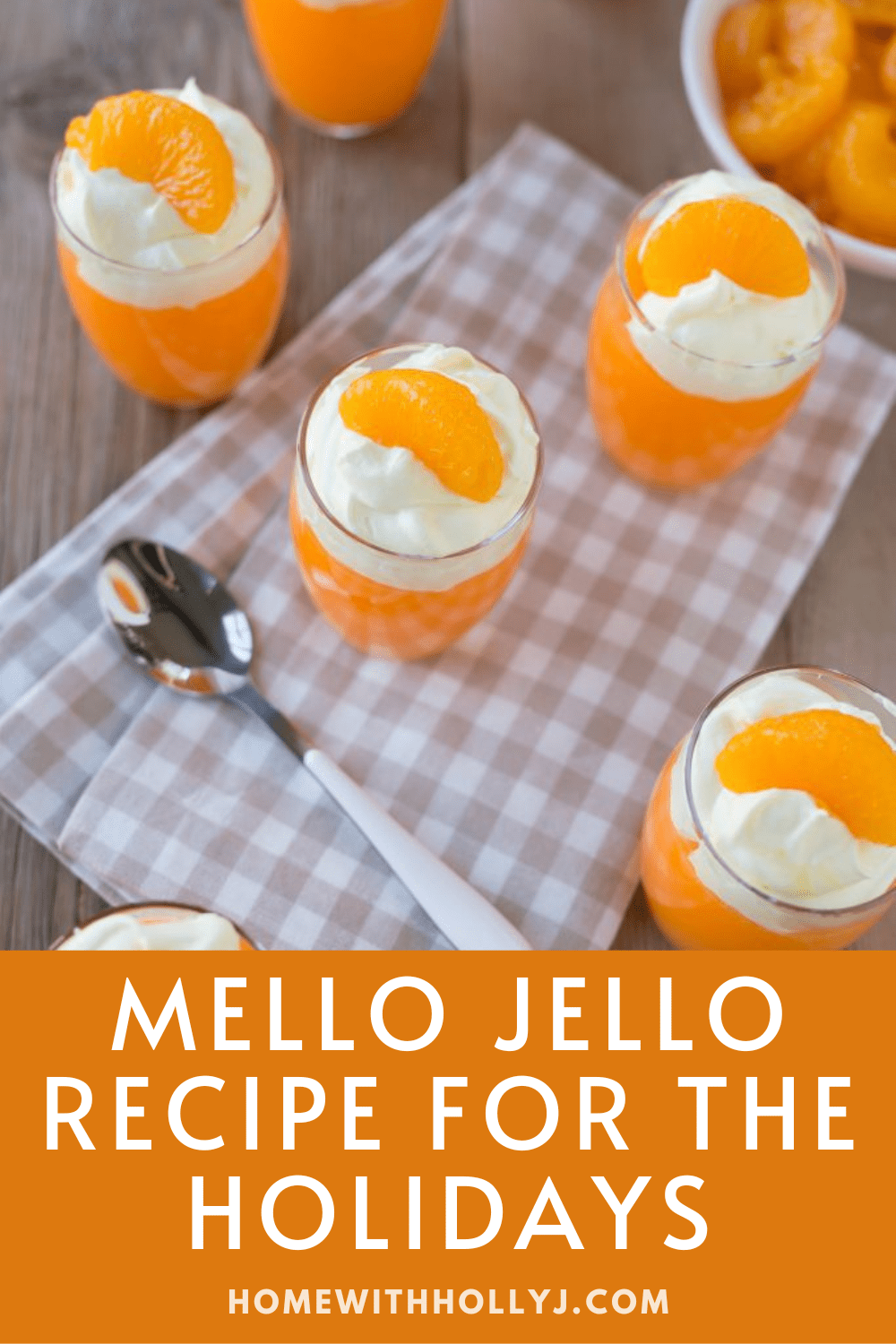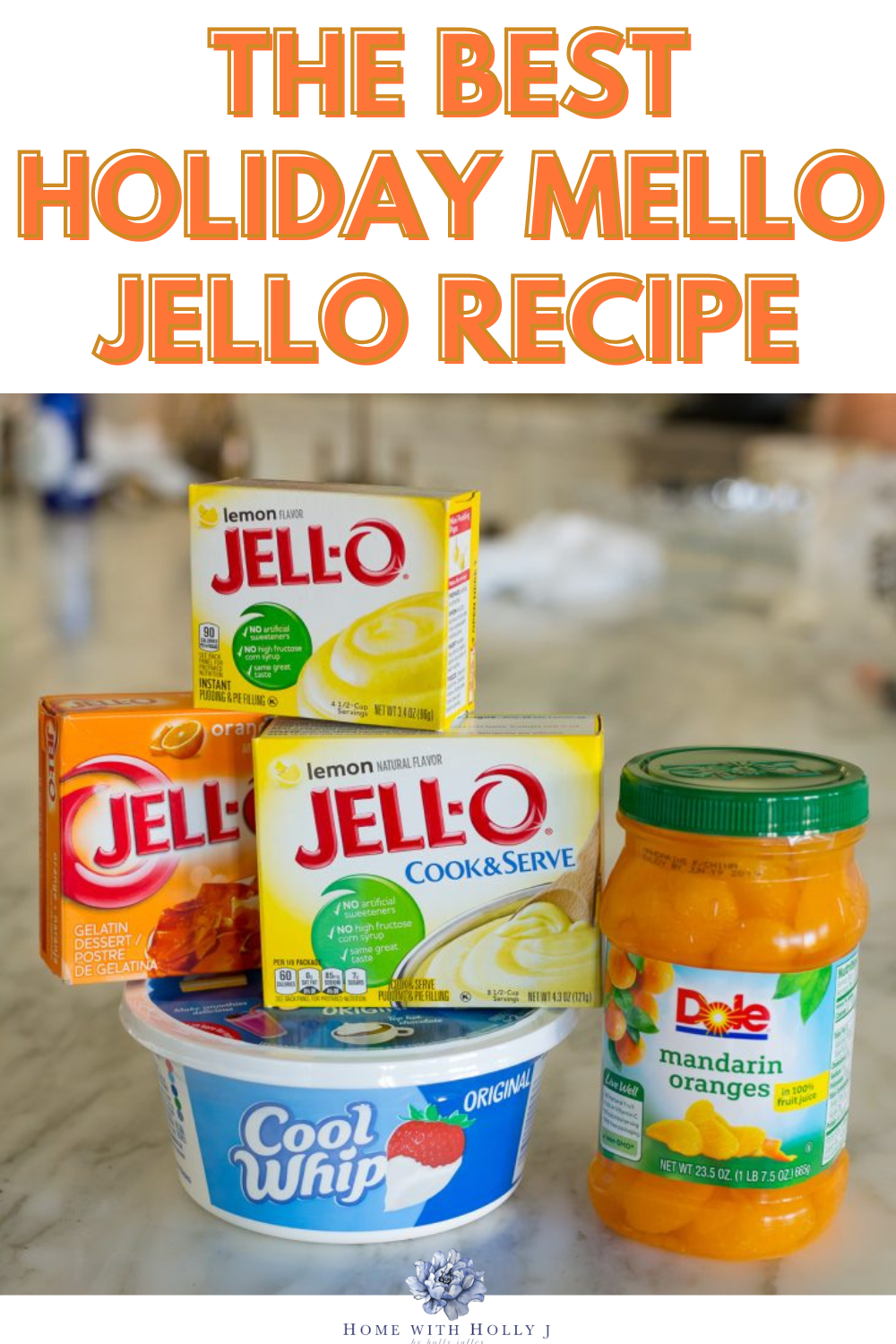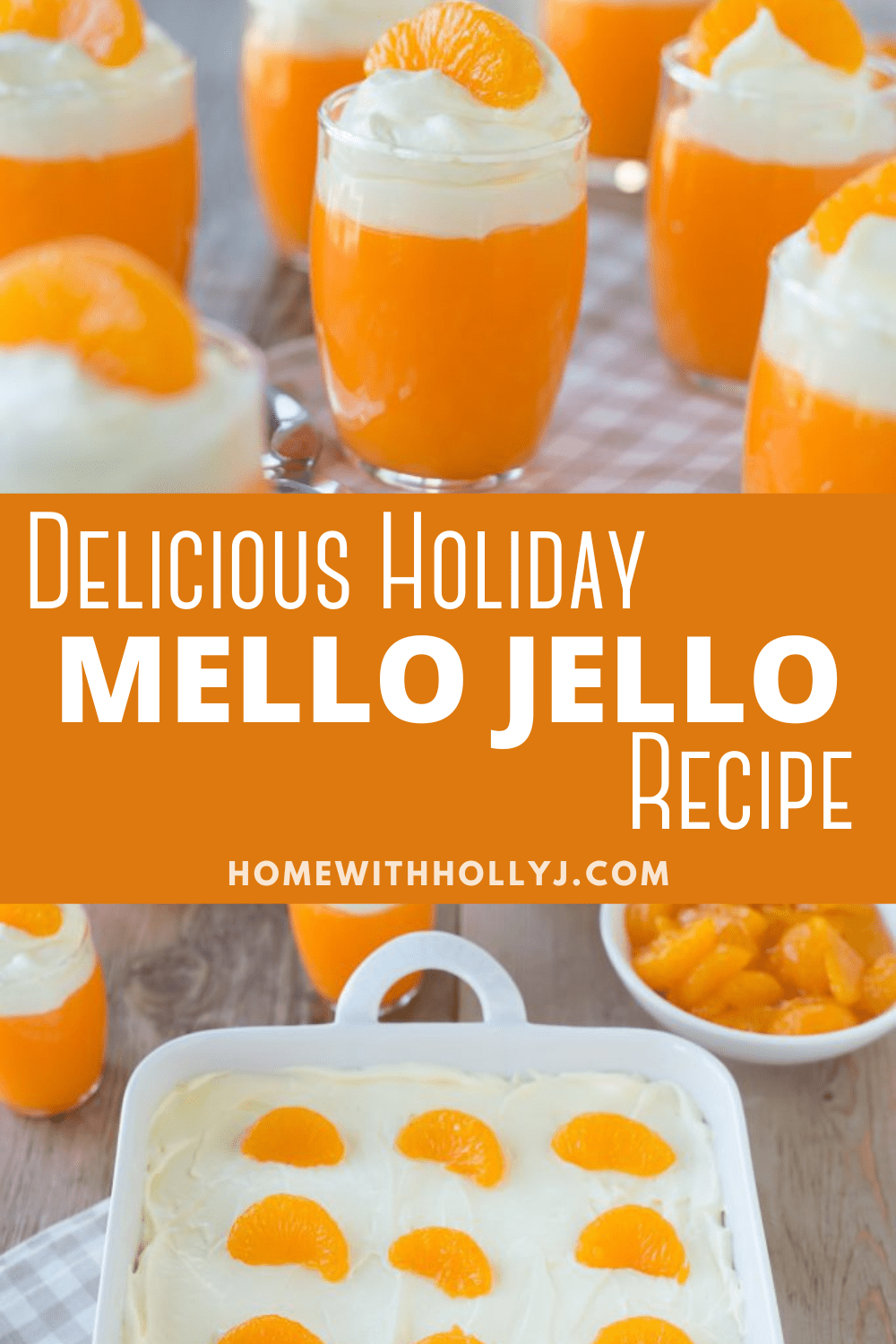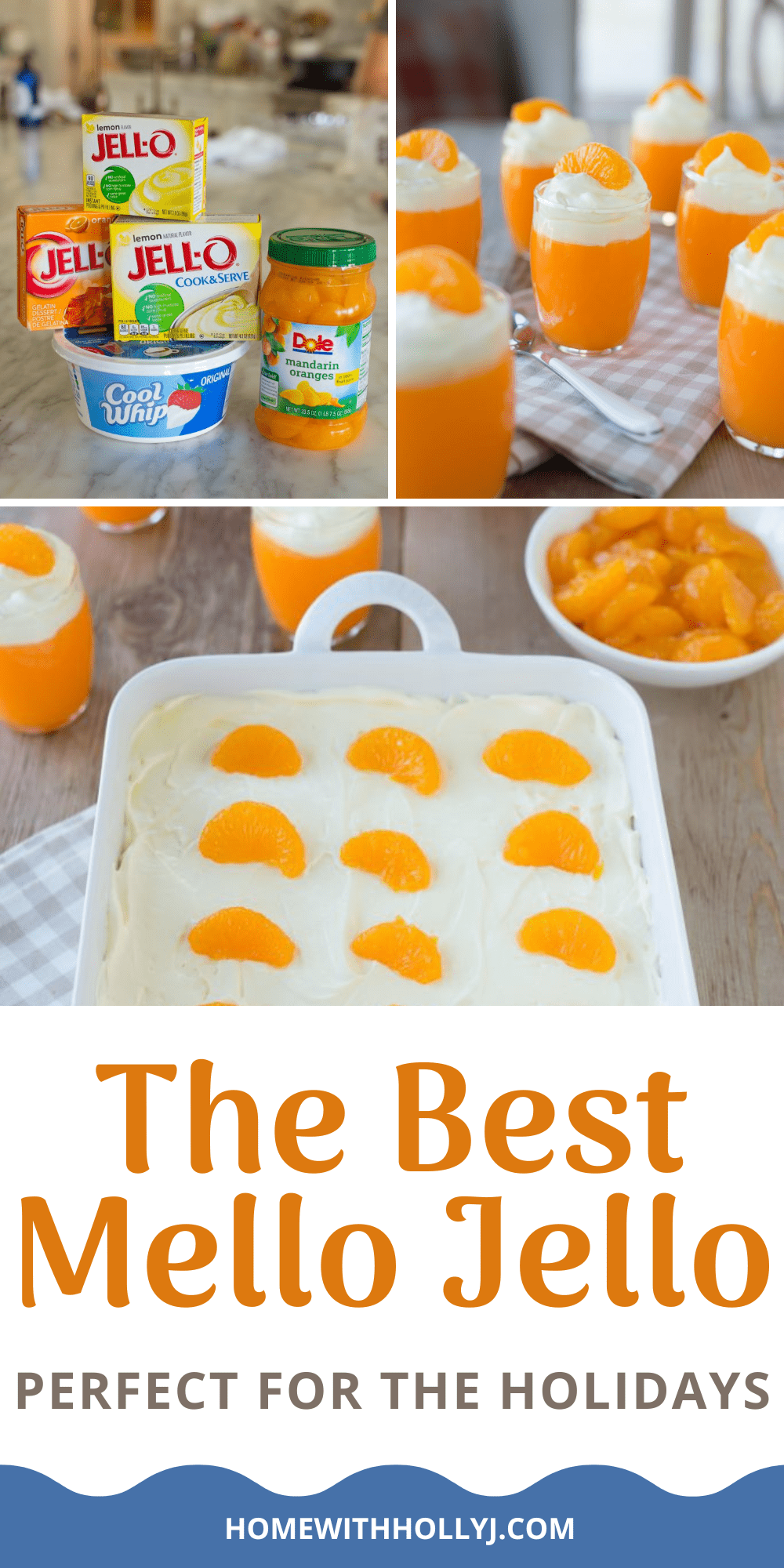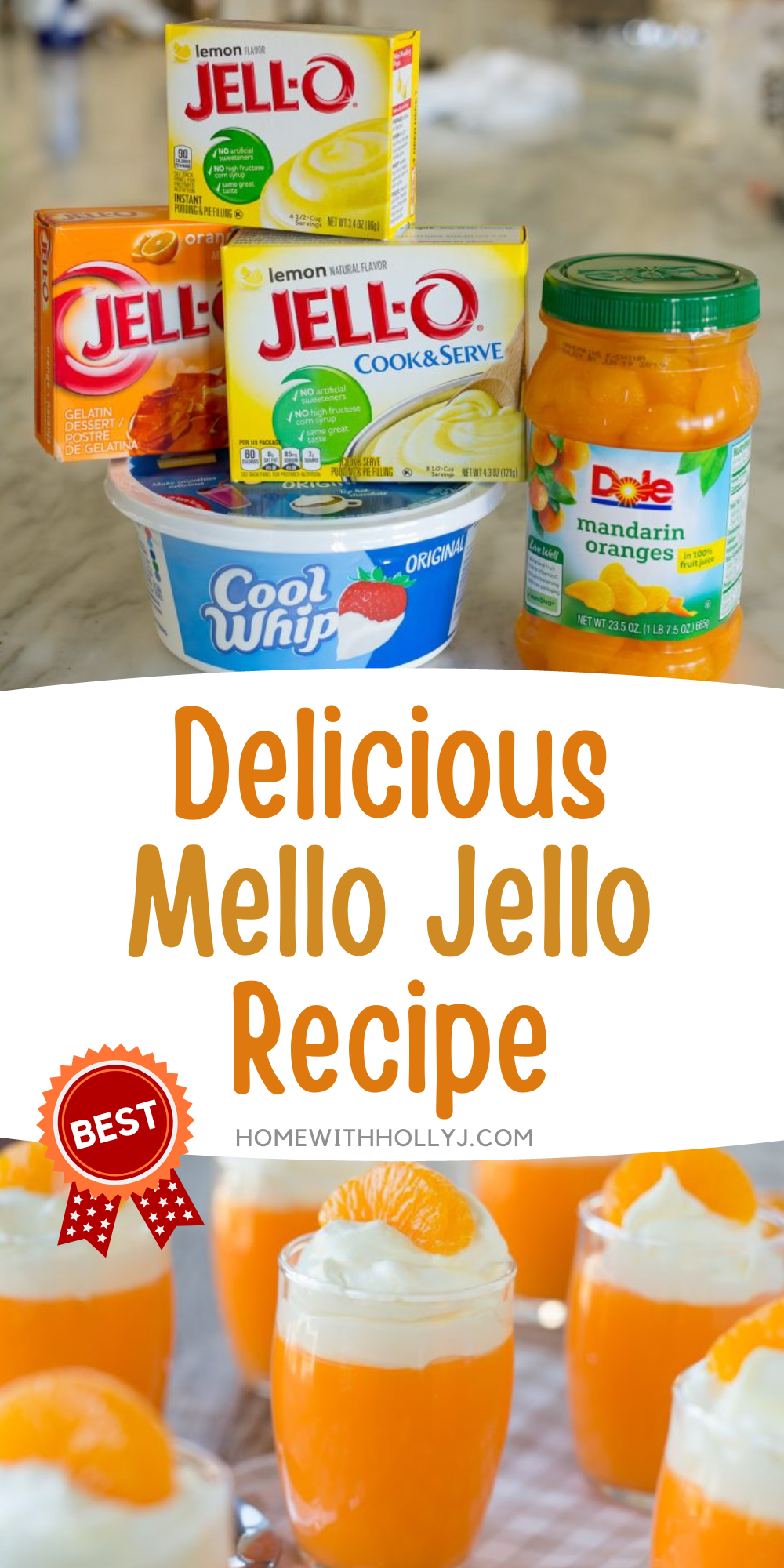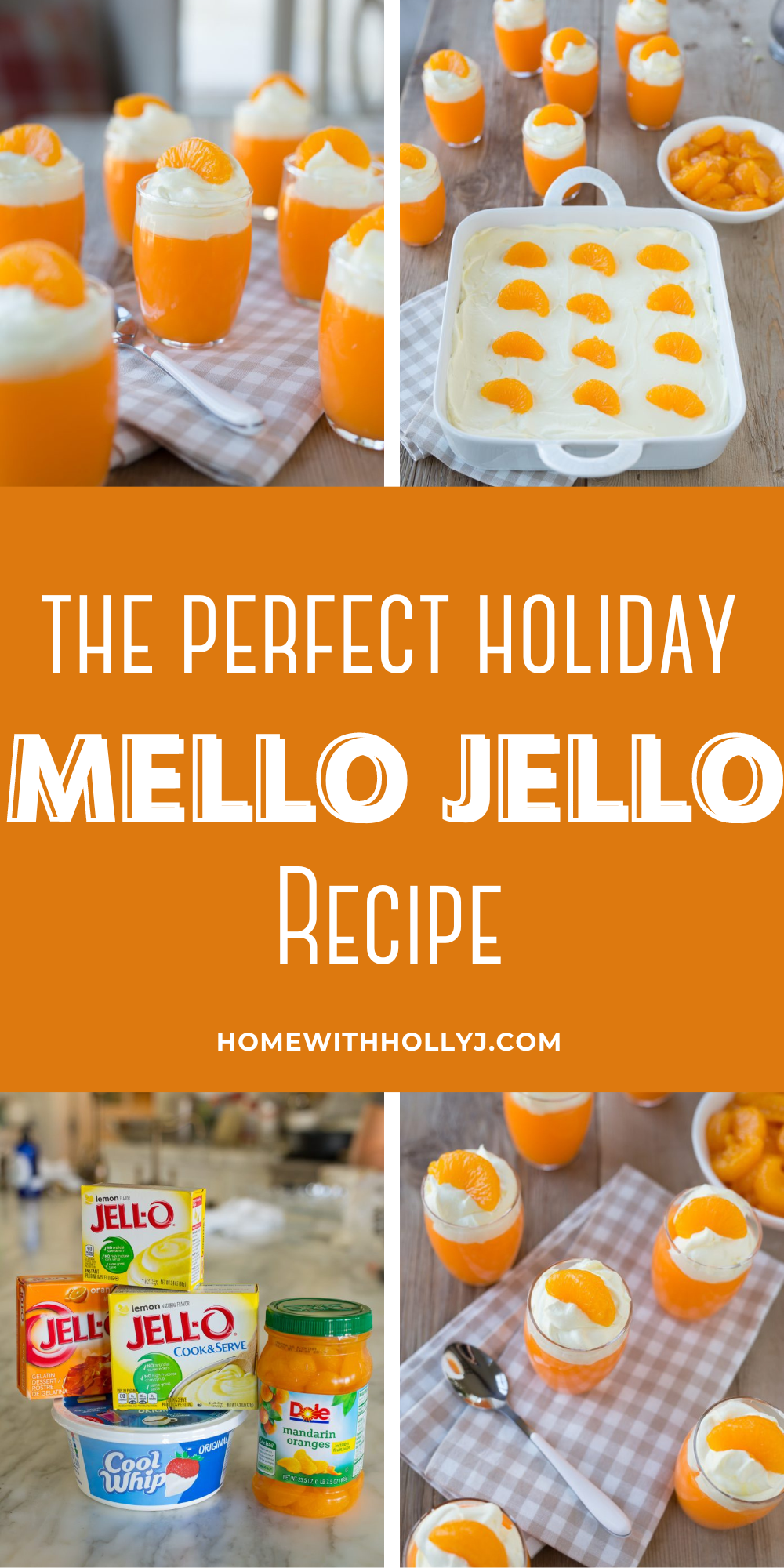 Sharing how to make this lemony Mello Jello holiday jello recipe for the whole family to enjoy! Perfect recipe for the holidays.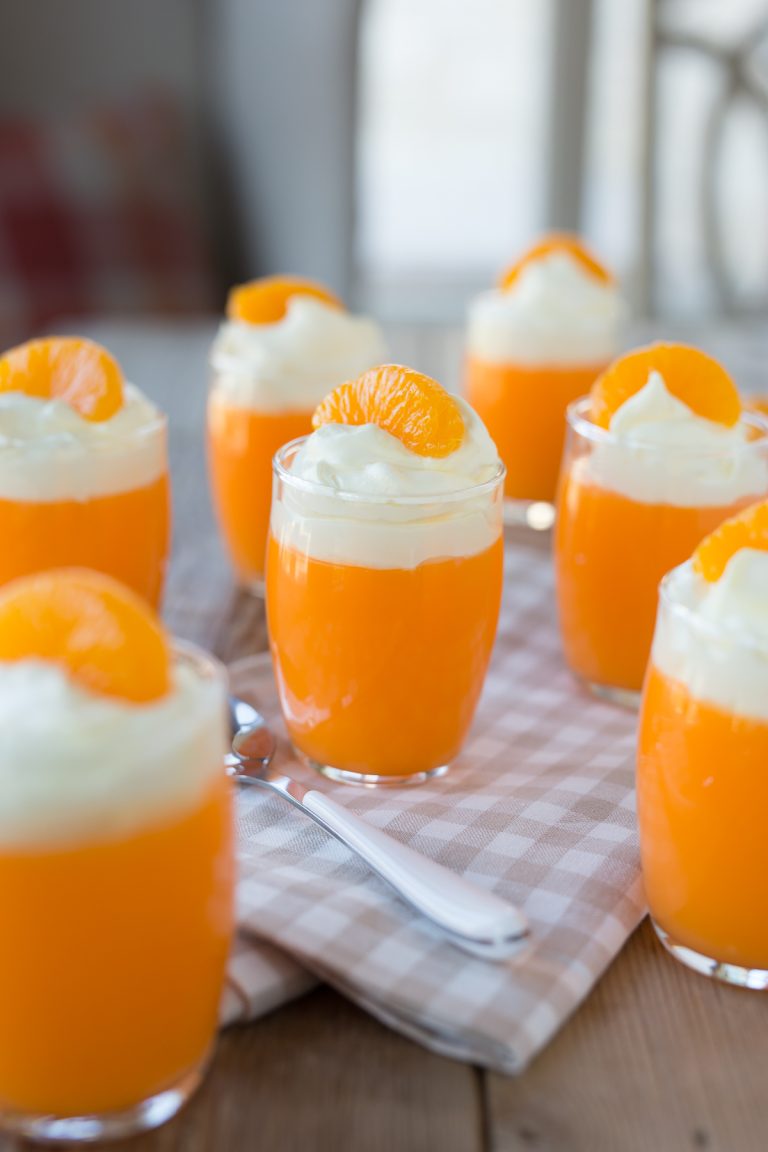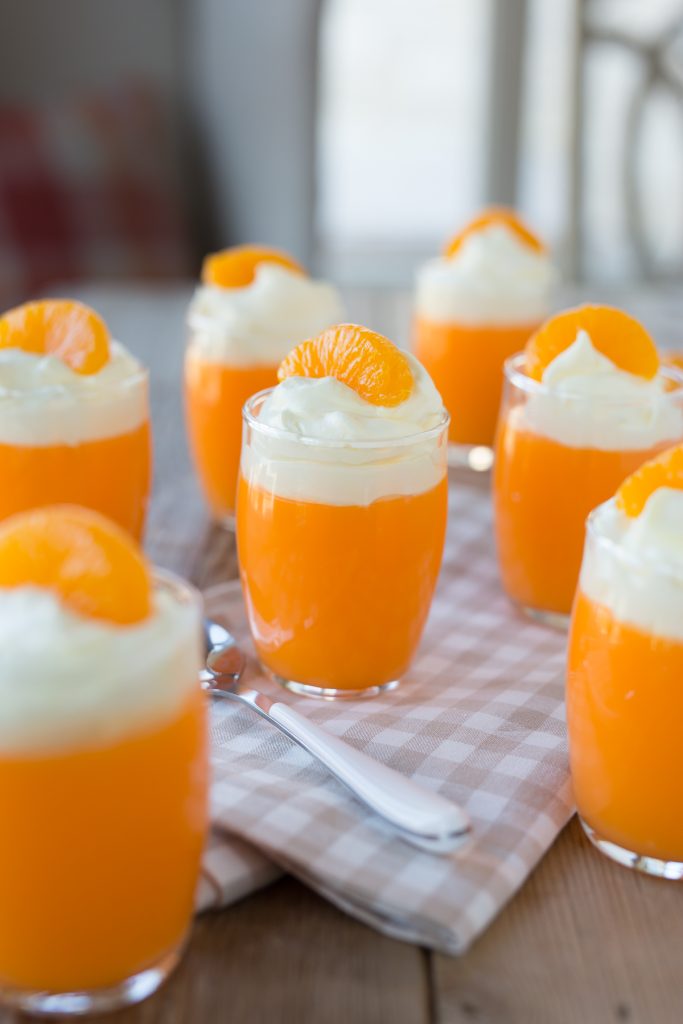 This post is sponsored by Walmart. All thoughts and opinions are my own.
Disclaimer: This post does include affiliate links for your convenience. This is at NO additional cost to you but earns me a small commission. To read more, check out our disclosure policy.
Mello Holiday Jello Recipe
This Mello Jello Recipe is a tradition in our house for Thanksgiving and Christmas dinner and New Years Eve. Mello Jello is super easy to make and is the perfect side dish or can be served for dessert.
It's the perfect treat for any of your holiday gatherings or any time of year. It's so yummy and tastes like a creamsicle. Mixing orange jello and lemon pudding is the secret to this jello recipe and then it's topped with a lemony-whip cream and mandarin oranges.
This is not your grandmas potluck jello that has weird things in it!
This is the best jello recipe out there and once you start eating it, you can't stop! This Mello Jello Recipe was given to us by my sister-in-law Cheryl and has been a family favorite ever since!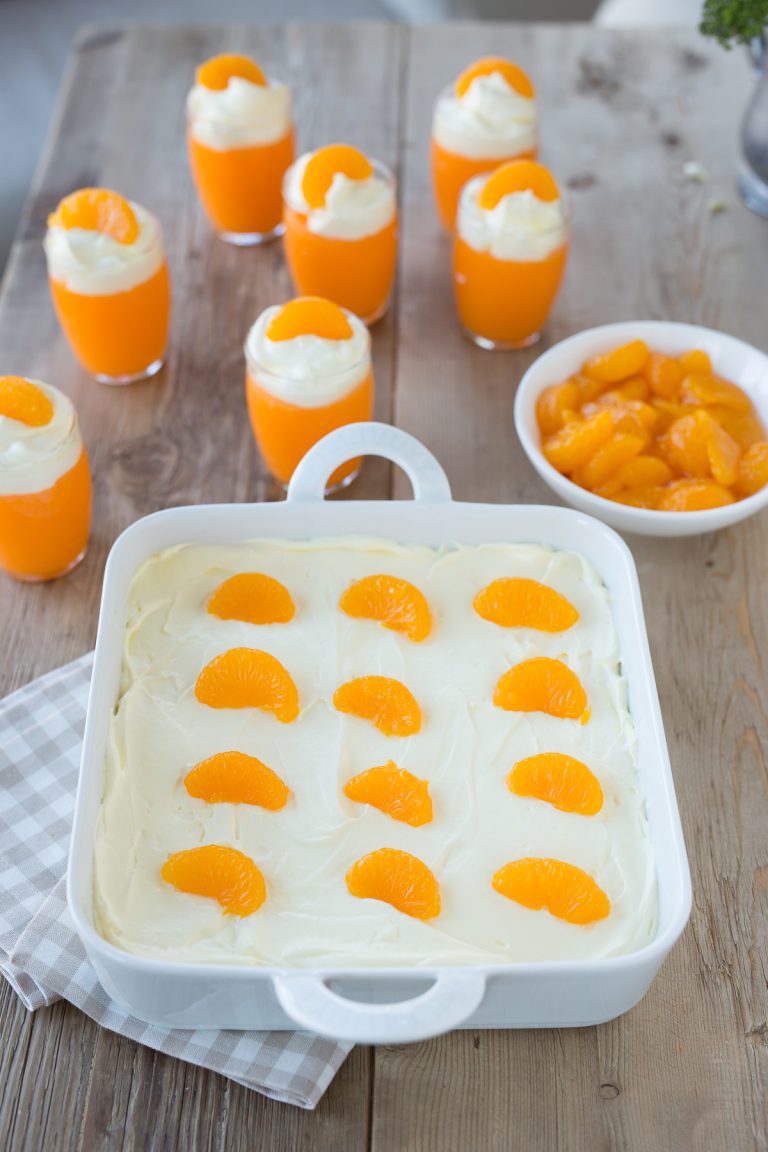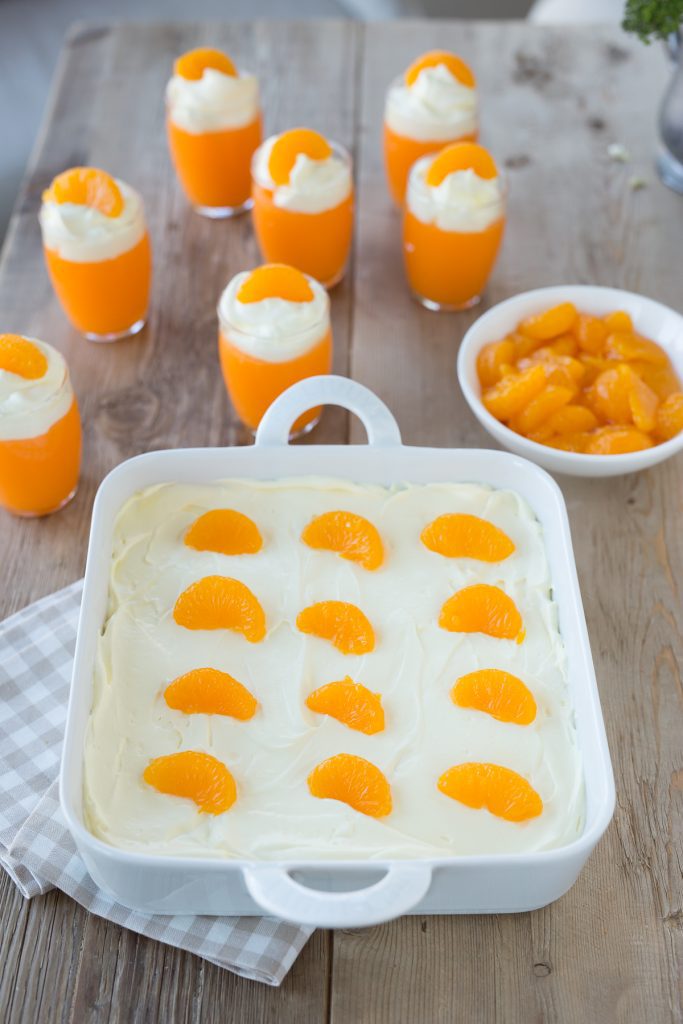 With the holiday season upon us, I wanted to share this yummy Mello Jello recipe and some tips for making holiday cooking and baking easier. My go-to, especially this time of year for last minute groceries is Walmart and using my Walmart+ Membership. I'm able to have fresh, high quality groceries delivered right to my door as well as any last-minute gifts and other items I need to get ready for our holiday celebrations.
With unlimited free delivery, the Walmart+ Membership can help make planning and prepping easier so that you can focus on spending quality time with family and celebrating the holiday season. I love baking Christmas cookies and other treats the week leading up to Christmas and then delivering boxes of homemade goodies to my friends and neighbors. Walmart+ helps me so much by making shopping faster and easier!
Another benefit of the Walmart+ Membership is you can order all your gifts, home decor, and hosting and entertaining items at Walmart's everyday low prices.
Visit Walmart+ to start your free trial. Unlimited free delivery from your store* – $35 order minimum. Restrictions apply.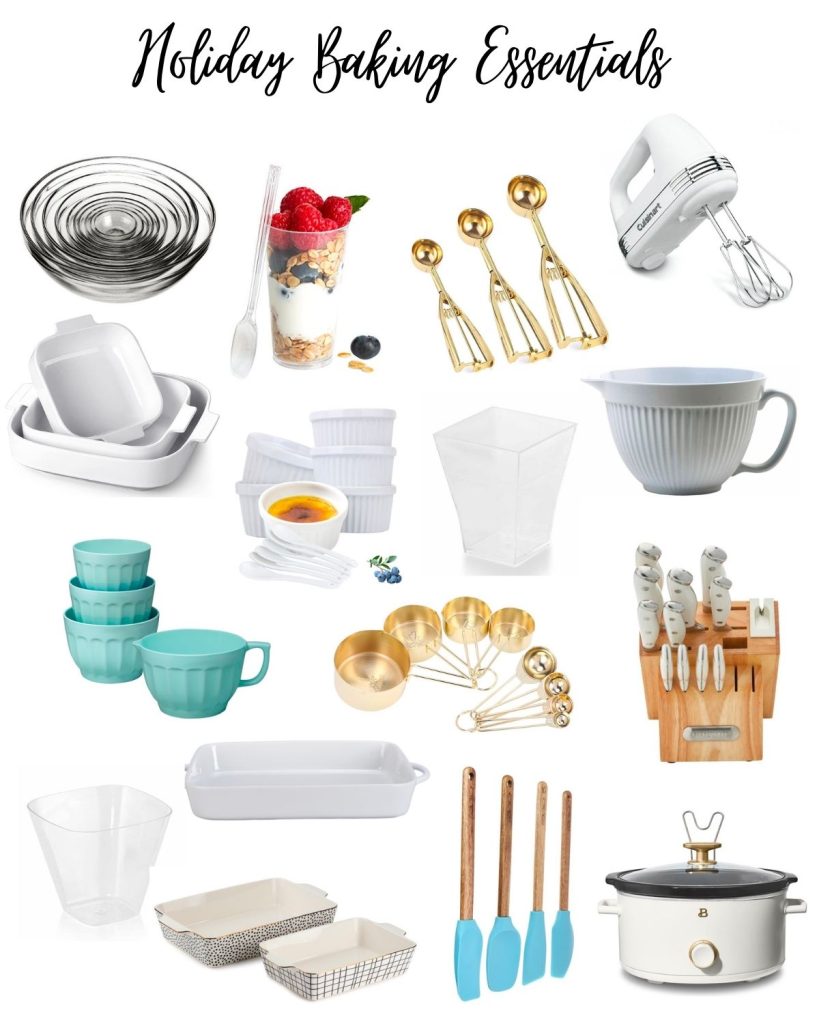 Here are some of my favorite items to use for this recipe and for my holiday meal prep, cooking, and baking. Sources linked below and at the bottom of the post.

Now, it's time for the amazing Mello Holiday Jello Recipe: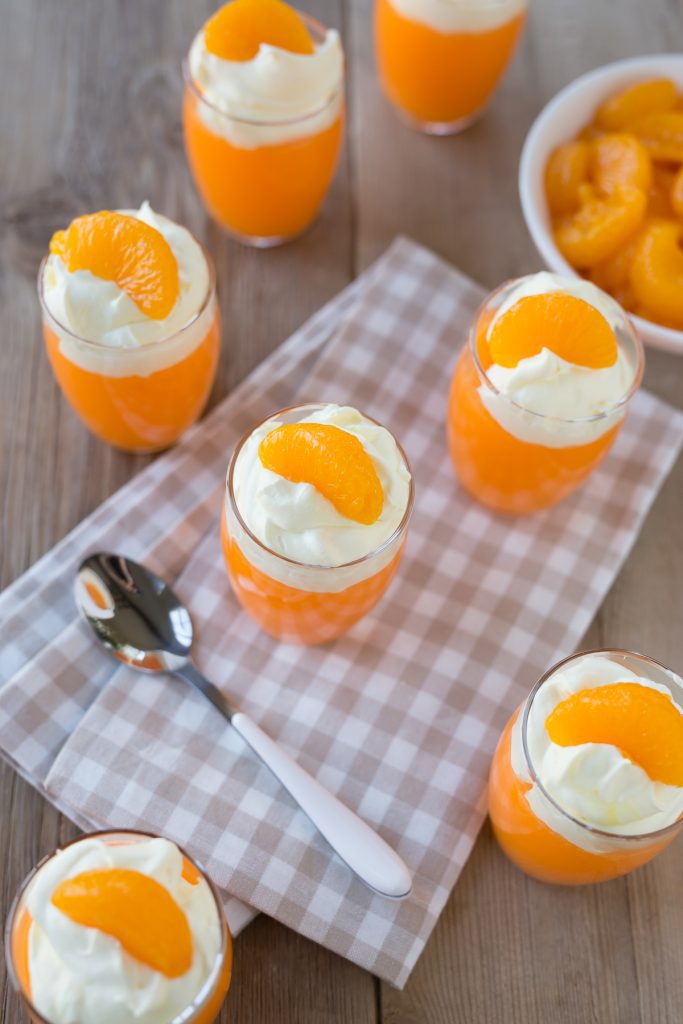 Tip:
You can make the Mello Jello in a large 9×13 baking or casserole type dish or if you want to get fancy, you can make them in individual dessert cups. I recycled these little glass ones from some store-bought desserts a few years ago. They work perfect for Mello Jello shooters. I've linked some similar ones here:
Shop The Post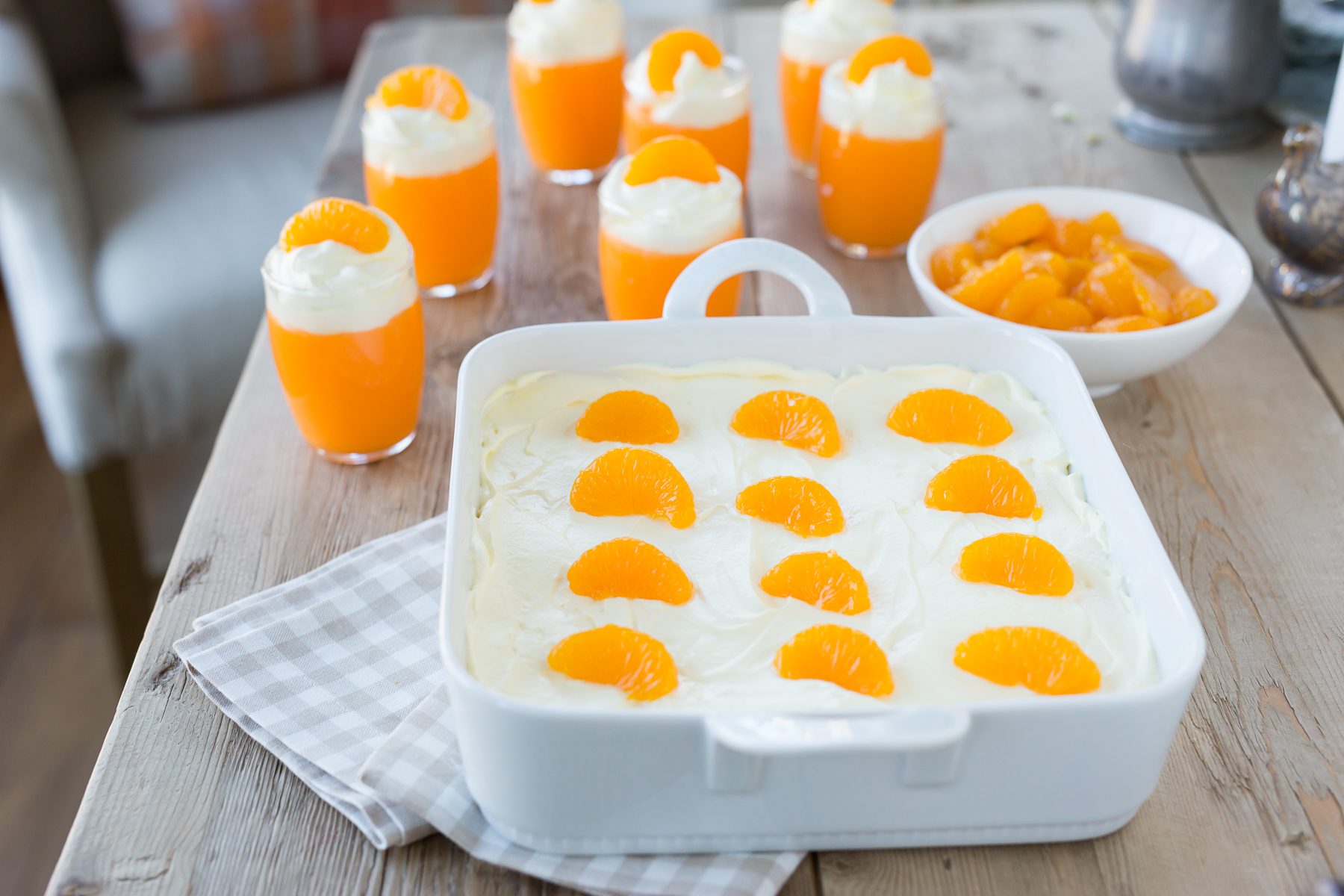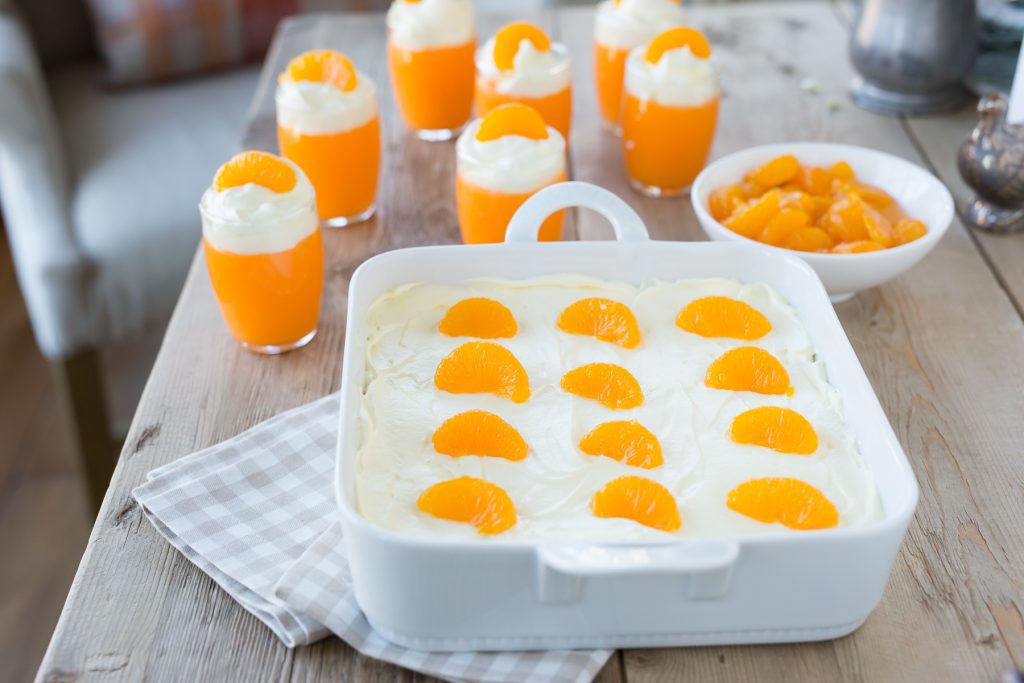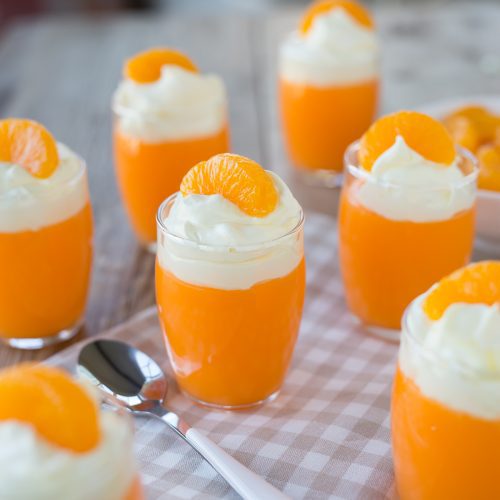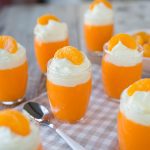 Mello Jello
This is the best jello recipe and is made with orange jello, lemon pudding, whip cream, and mandarin oranges. This is not your grandmas potluck jello!
Ingredients
1

large

box of orange flavored jello

+ 4 cups of water, make as directed.

1

large

box of Jello Brand lemon cooked pudding

+ 3 egg yolks, 3/4 cup sugar, 3 cups water

1

small

box of Jello Brand instant lemon pudding

2

cups

cool whip

1

cup

milk

2

small

cans of mandarin oranges, drained

(or one large can)
Instructions
Make Orange Jello according to directions and pour into a large mixing bowl. Set aside.

Next, make the Jello brand Lemon Cooked Pudding as directed with the sugar, egg yolks, and water. When it thickens let stand for about 2-3 minutes. Stir it a few times and then pour the lemon pudding into the prepared orange jello. Stir them together until well blended.

Pour the pudding and jello mixture into a 9×13 baking dish or you can do individual servings in mini dessert dishes, shooter cups, or ramekins. Just fill your serving containers 3/4's of the way to the top with the jello/pudding mixuture leaving a little room at the top for the topping and orange.

Put in the refrigerator and chill for at least 6 hours or until it sets up.

Once the jello/pudding mixture has set up and is firm, take it out of the refrigerator. Then in a separate mixing bowl, mix together the milk, Lemon Instant Pudding, and Cool Whip. Whisk or stir it together until everything is combined well and it's nice and creamy. Make sure to scrape the bottom of the bowl to ensure it's all mixed well.

Then, spread the Cool Whip mixture evenly on the top of the jello and then top with the mandarin oranges. If you don't like the oranges, you can leave them off. If you want to do them individually in dessert cups, put a dollop of topping onto each one or, you can use a piping bag or a ziplock bag to pipe the Cool Whip mixture on top. Add a mandarin orange to the top of each one.

Chill until ready to serve.
Here's the Ingredients: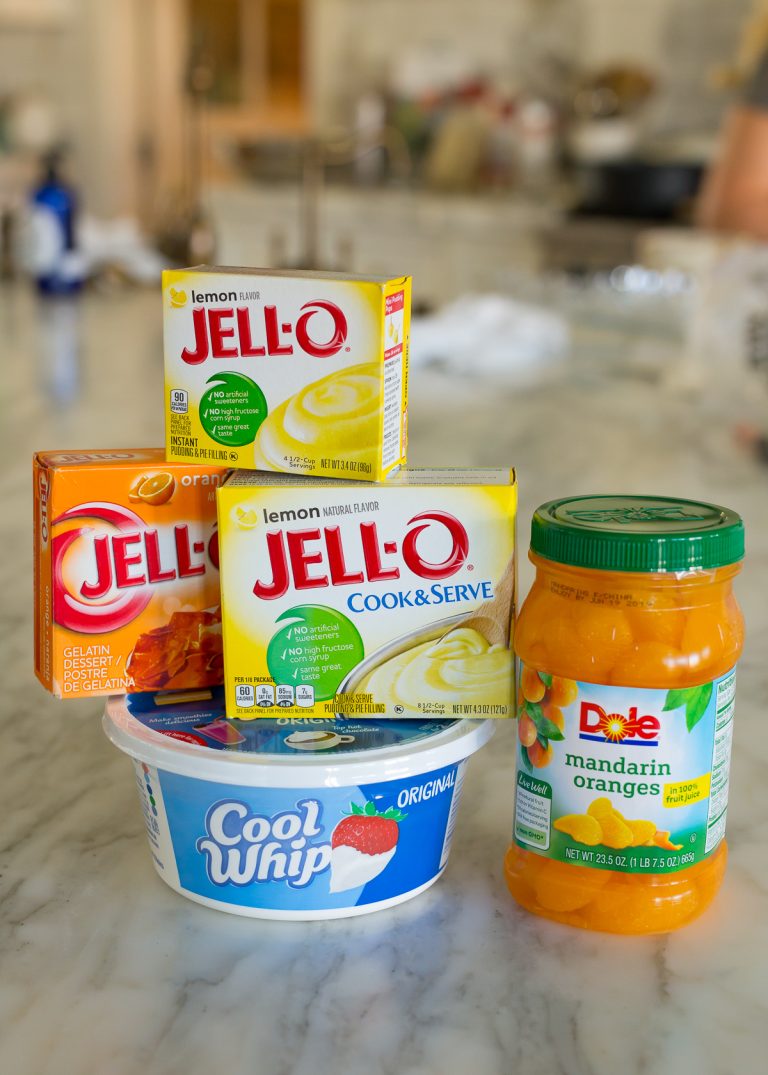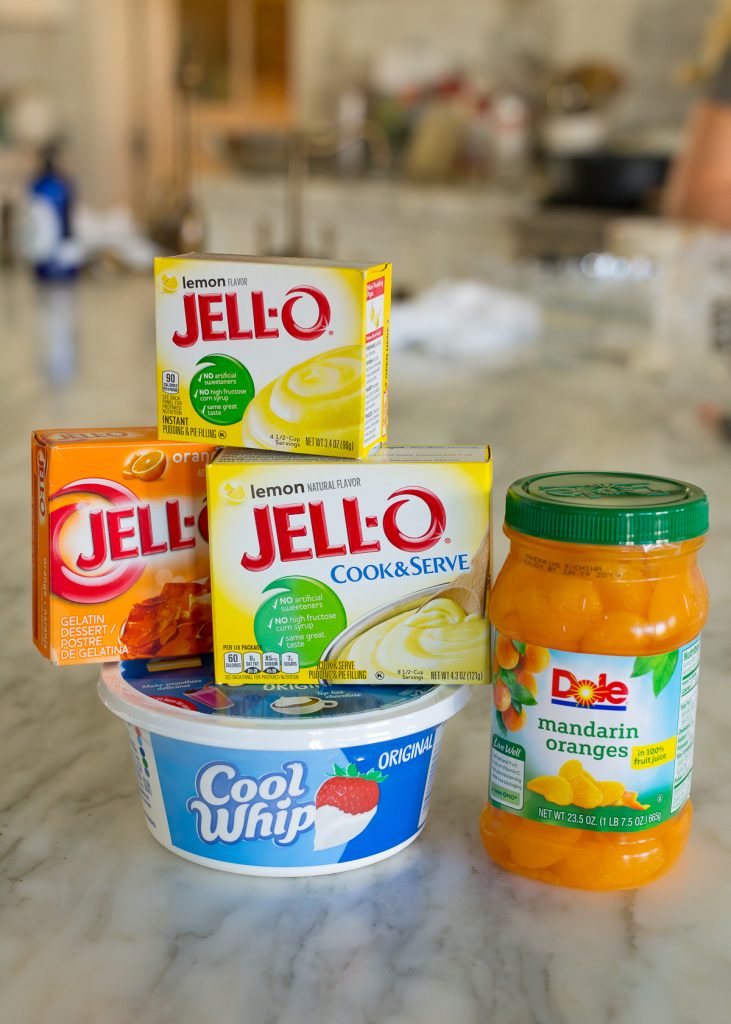 Mixing the orange jello mixture with the cooked lemon pudding mixture.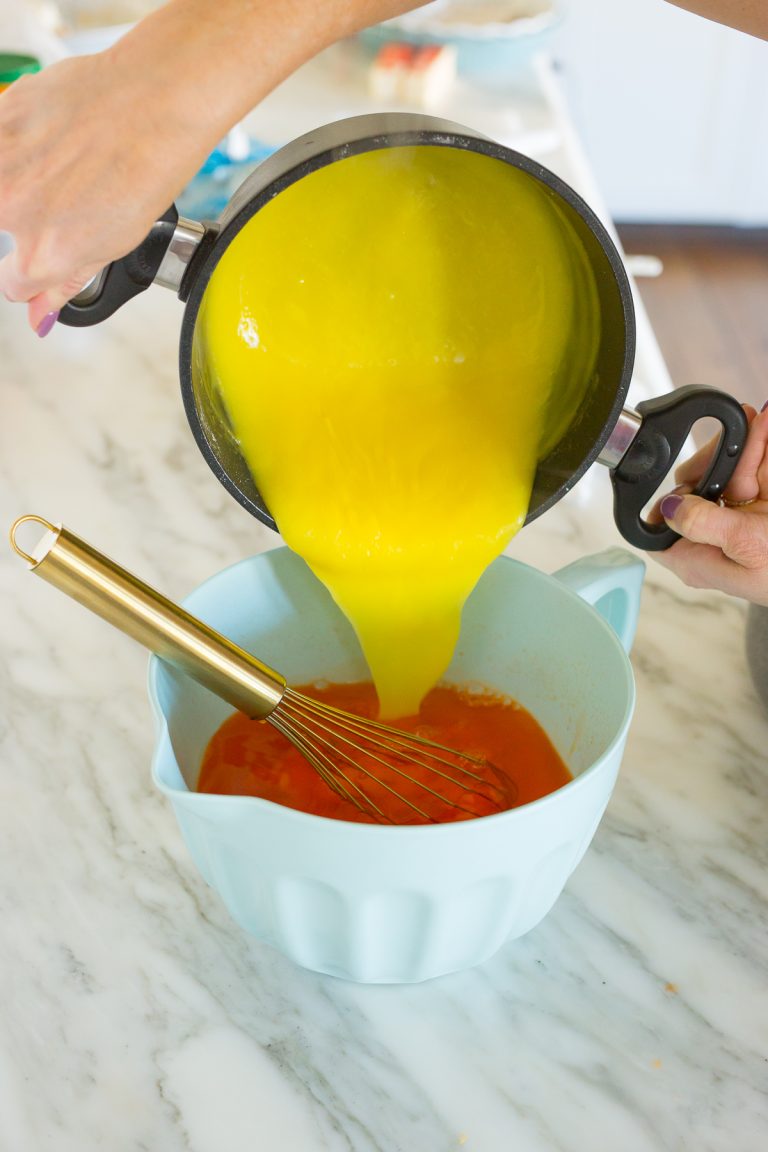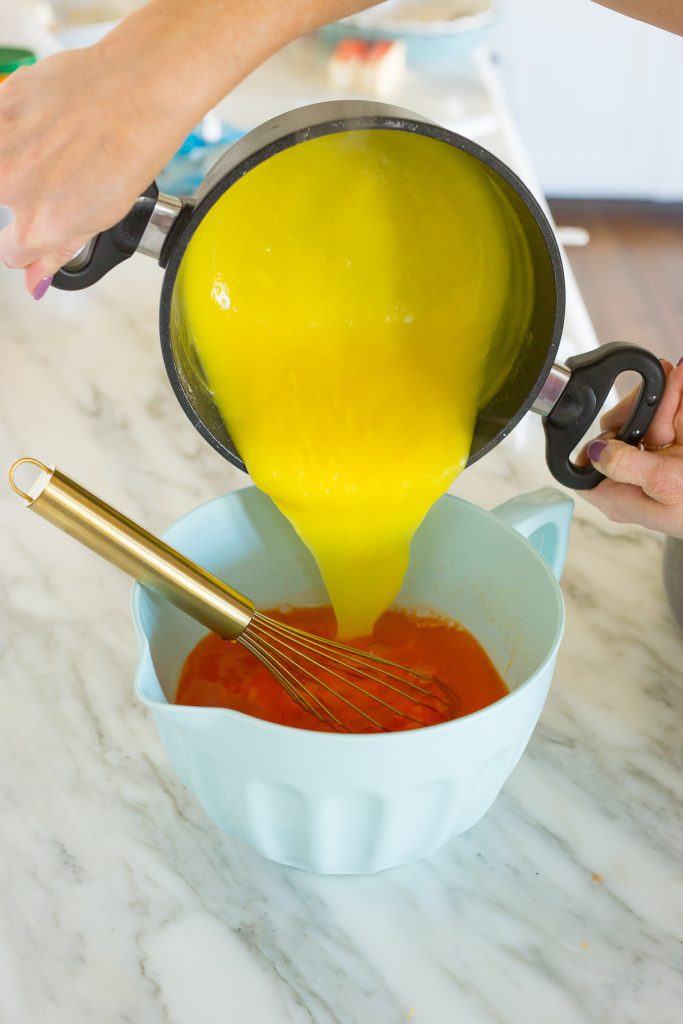 Here's where I made them individually. This takes a little more time but they look so cute served this way.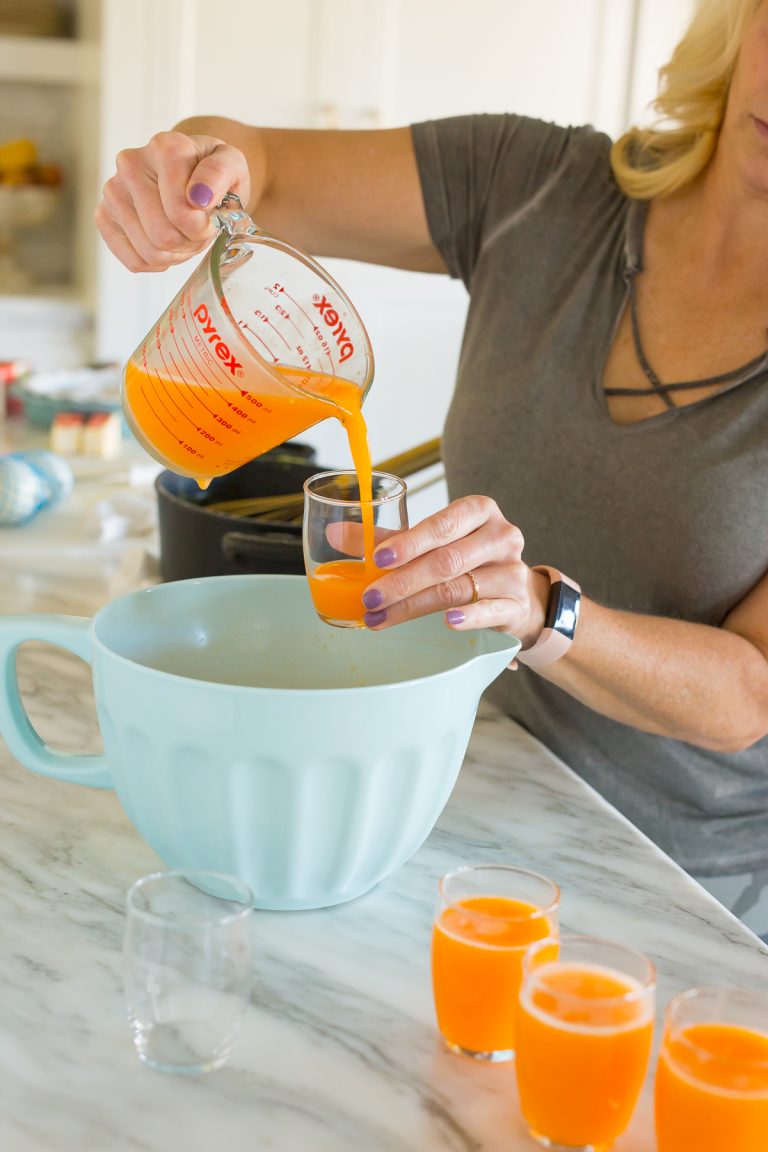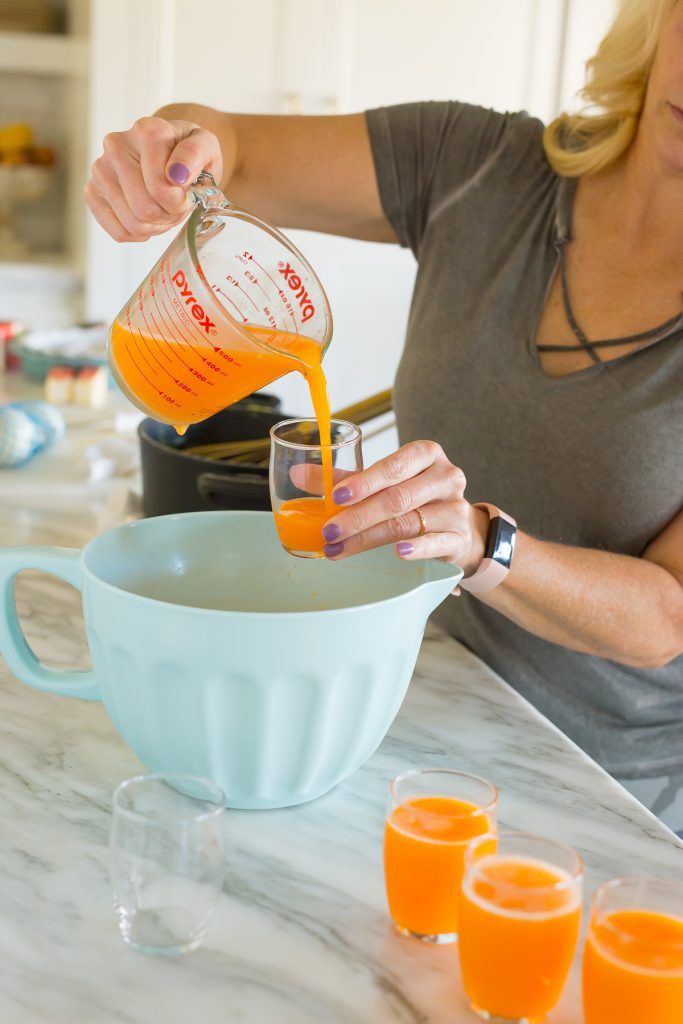 After the jello has set up and chilled, make the topping and spread evenly on top of the jello.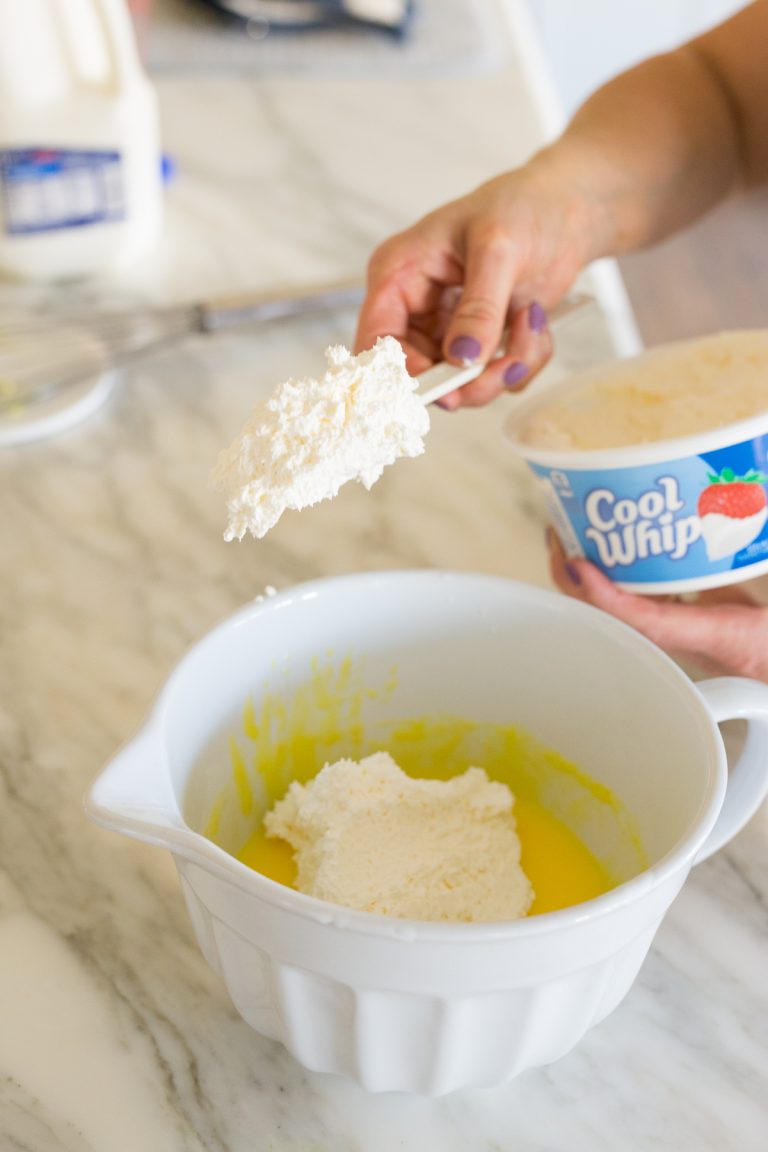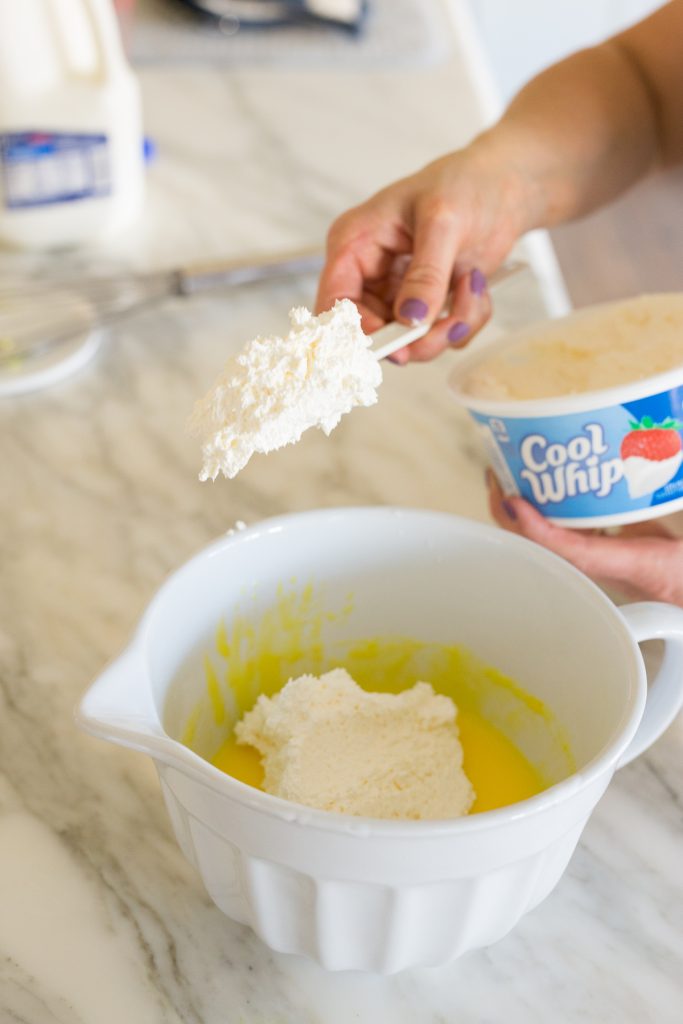 Then top with the mandarin oranges.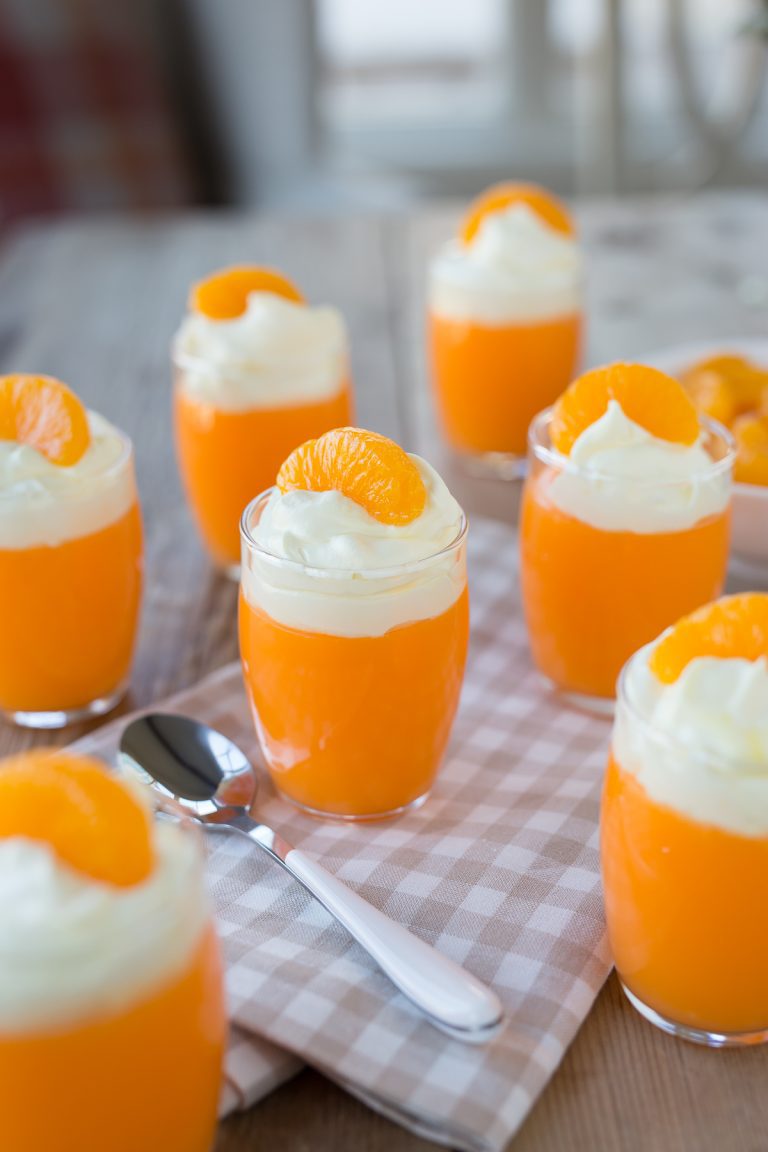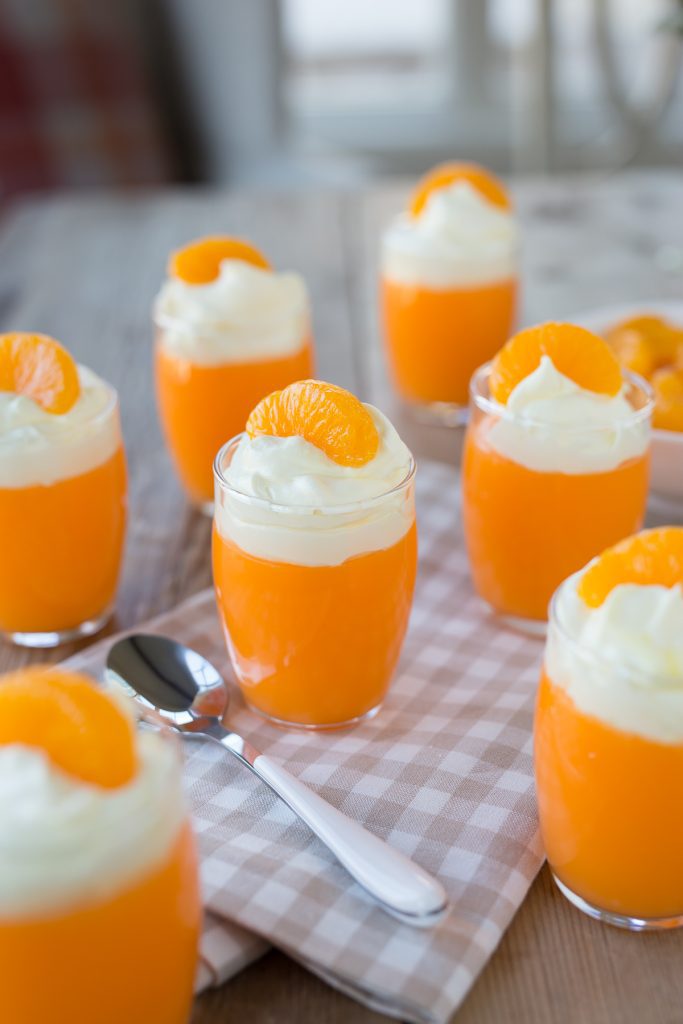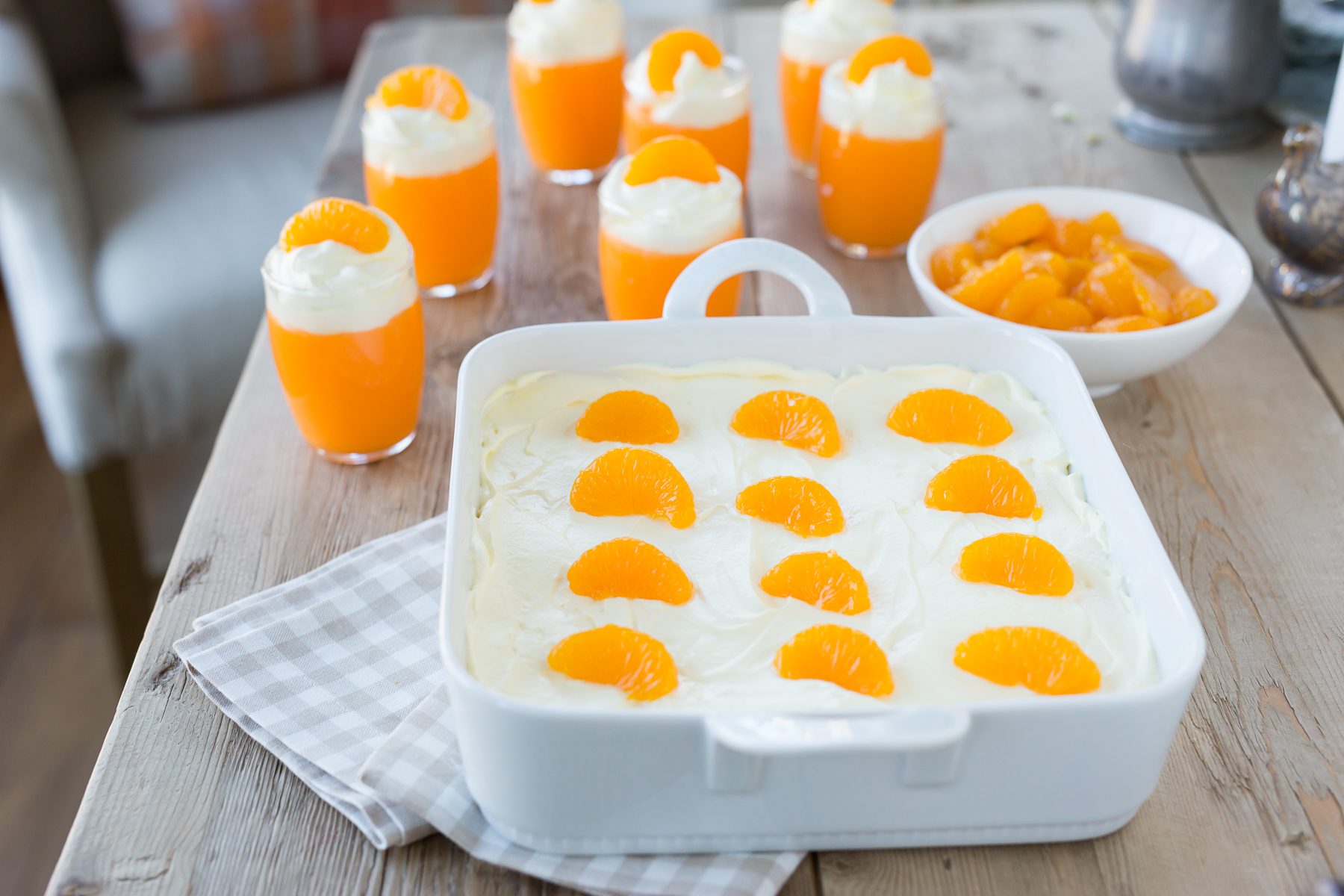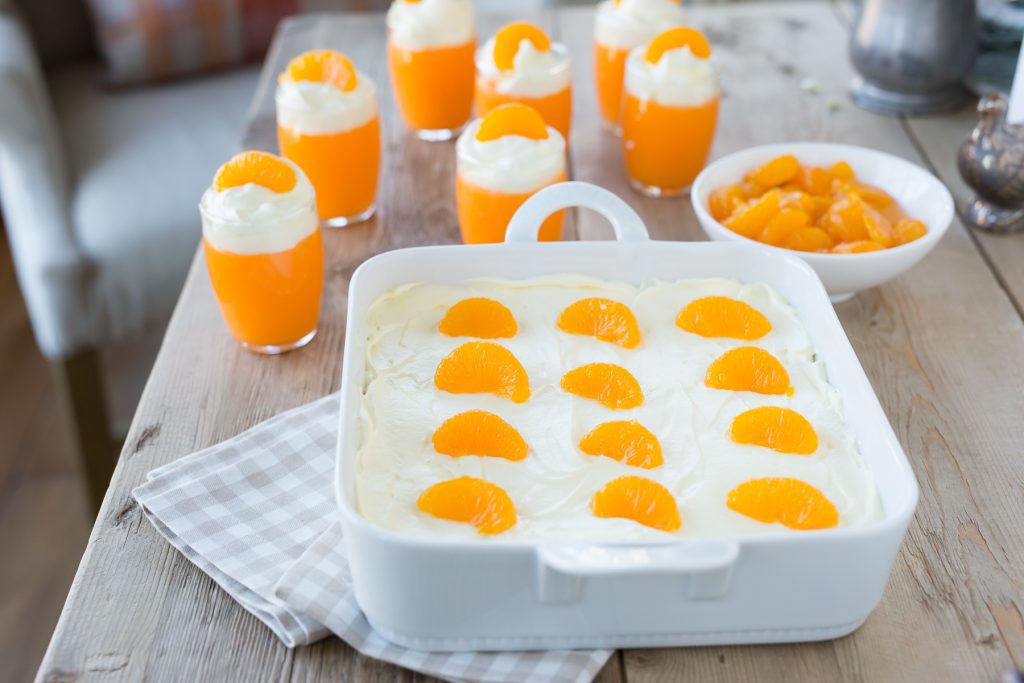 I hope you give this yummy Mello Jello Recipe a try! It's so good!

Thanks so much for stopping by! Scroll down for some of my favorite items from Walmart+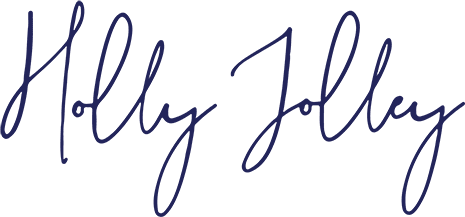 PIN THIS FOR LATER: