Everything You Need to Know About Marble Countertops
Marble Countertops in the Kitchen – Yes or No?
I receive so many questions about my marble countertops in the kitchen and whether or not it's a good idea, so, I thought I'd share the pros and cons of having marble in a kitchen as well and some of the things you can do to protect the marble or any stone surface. Let's be honest, marble is not exactly suited for the kitchen, especially if you cook and use your kitchen a lot. But, I am thrilled to say that I have found a product and some resources to help with restoring and maintaining your marble countertops if you already have them or, are trying to decide if you want them in your kitchen or any other part of your home or business.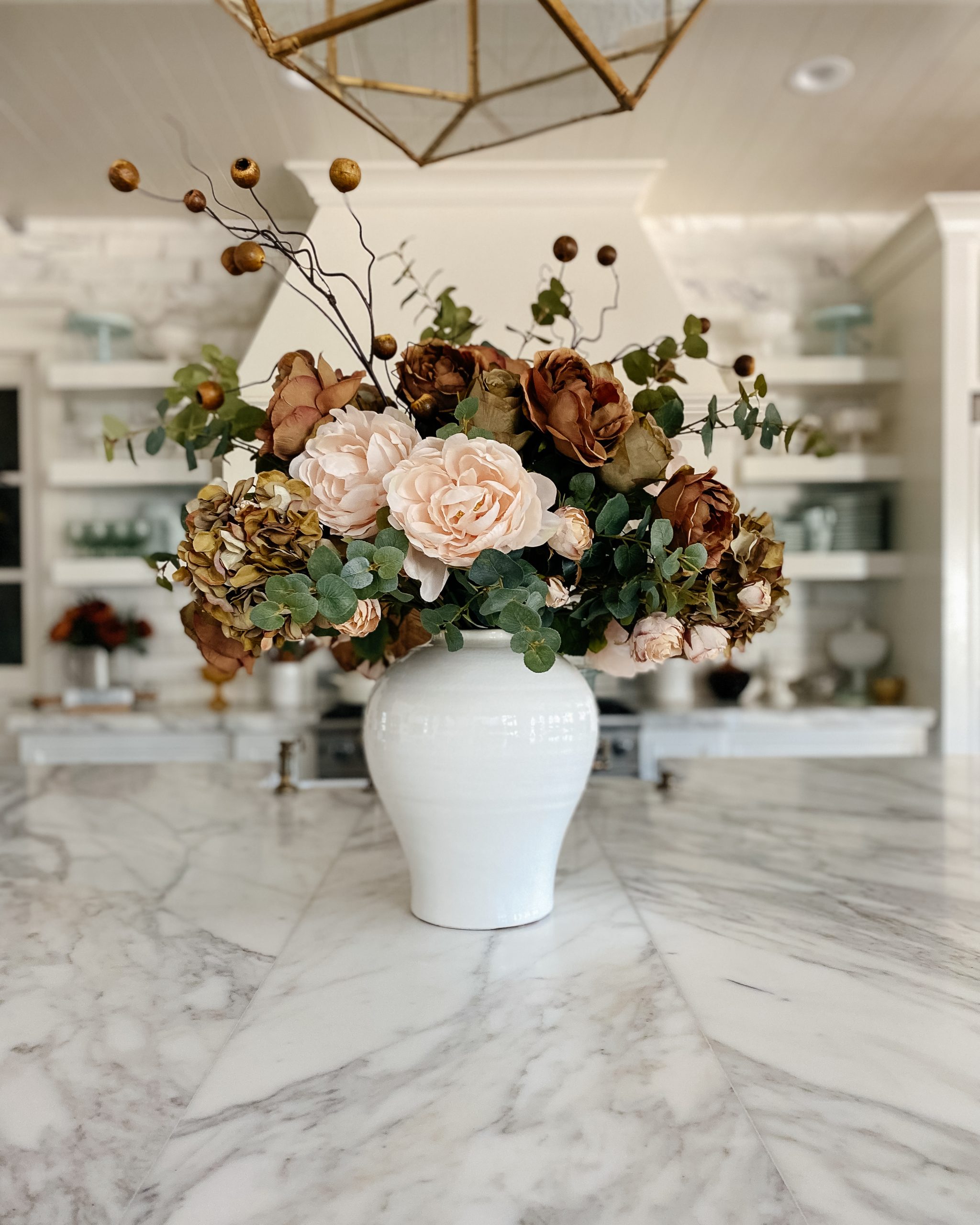 The Pros and Cons of Marble Countertops
One of the pros of having marble countertops is that they are beautiful! I have Carrara Marble in my kitchen and in one of my bathrooms. In the kitchen, I have a very large island and the marble makes a big statement! Because I am a blogger and content creator, it works well for me from a photography standpoint. Marble is also timeless and never goes out of style. It goes well with just about any interior design and color palette and it will last forever if you take care of it.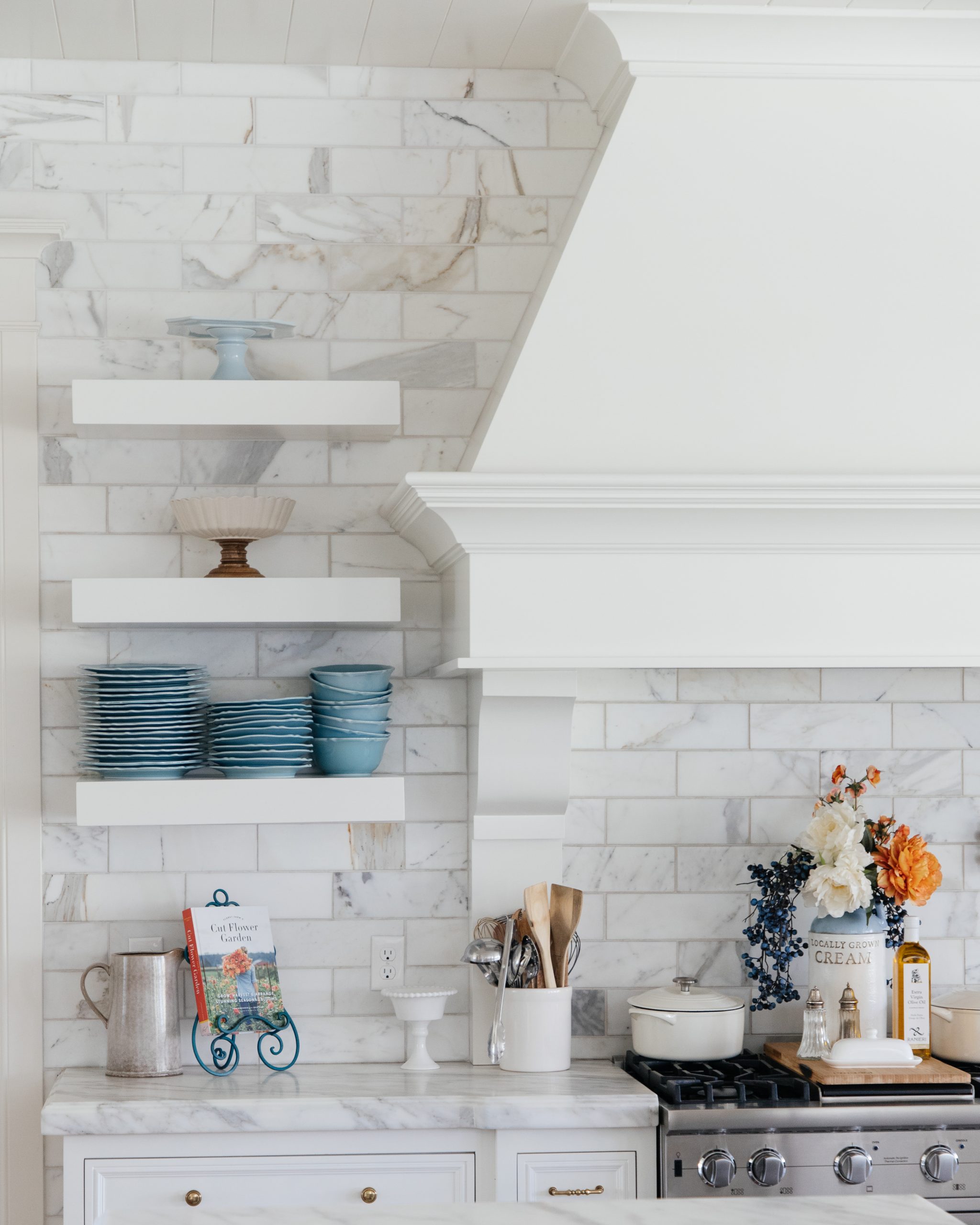 The cons of having marble are that it etches easily, especially with anything acidic (limes, lemons, vinegar). It's also easily scratched and when I host and entertain, its stressful, especially when someone who does not know all these things about marble, slides something heavy across the counter. You cannot set anything hot on it either.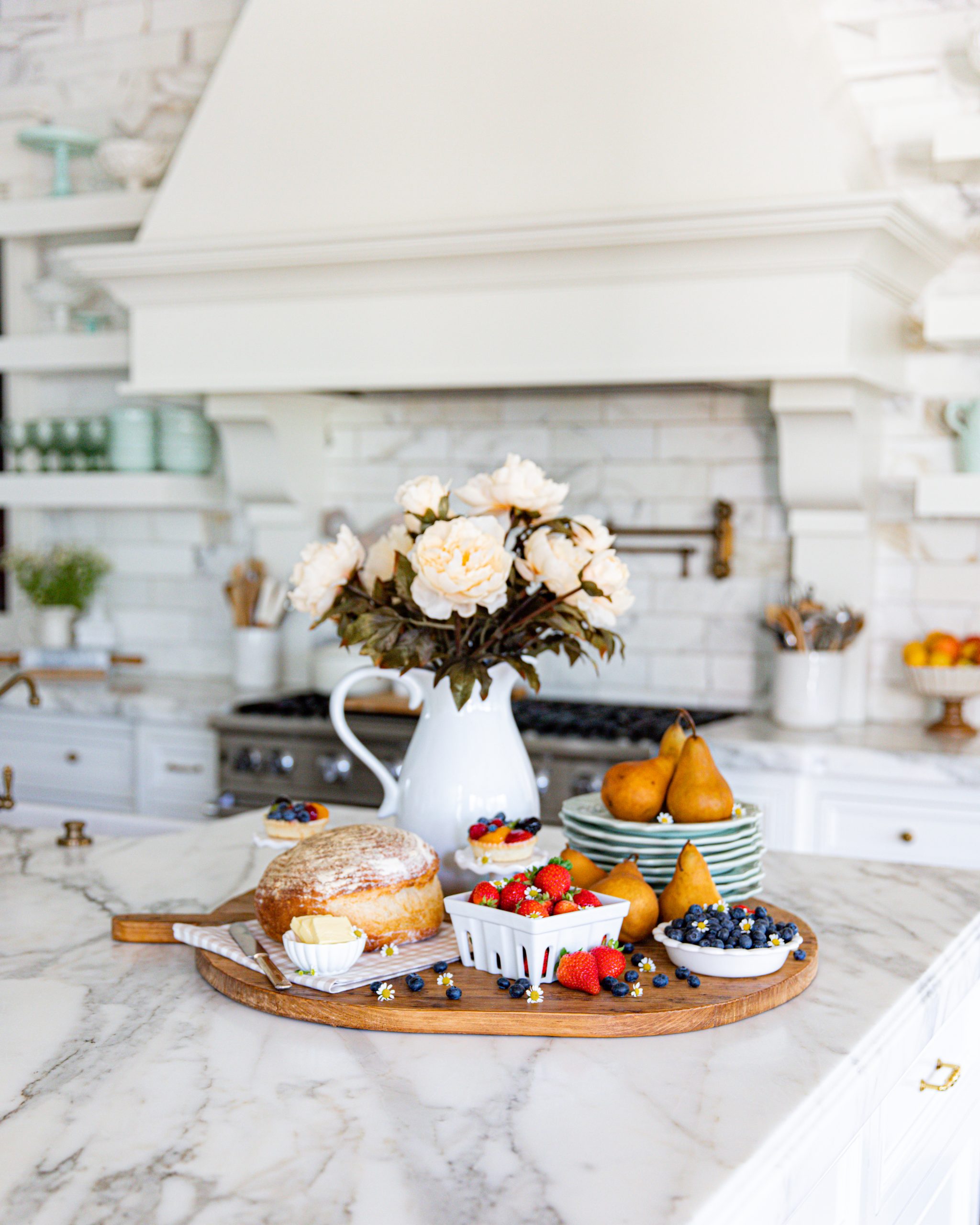 Caring For and Protecting Marble Countertops
I recently discovered some things you can do to help protect and care for your marble and any other type of stone counters you might have. Even granite and other natural stone countertops get scratched over time so having this information is helpful for the care and maintenance of any natural stone surface you have.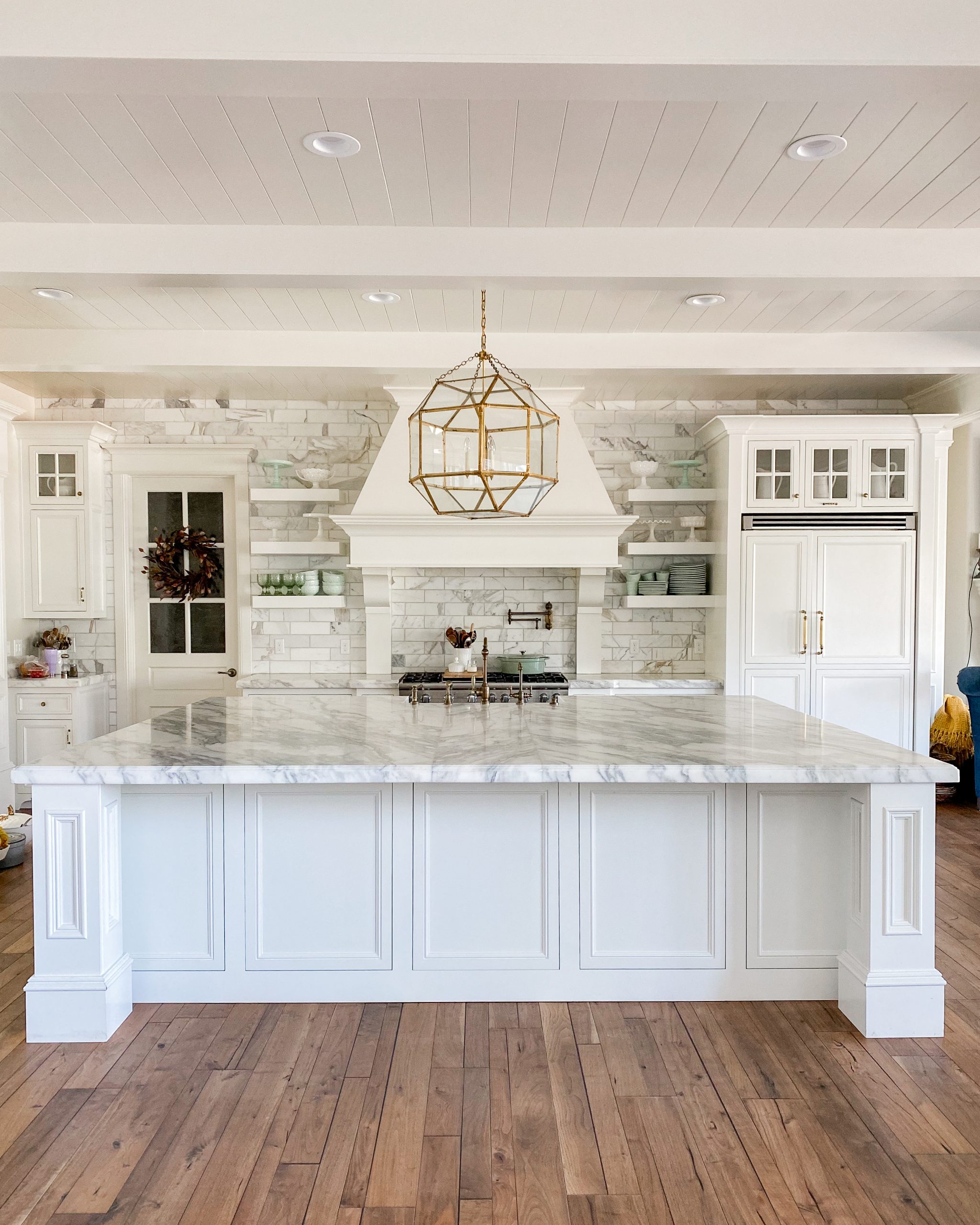 TufffSkin® Surface Protection and Komosus Counters to the Rescue!!
I found a company a few months ago (after searching for three years) that will polish and seal your stone countertops. That company is called Komosus Counters. Because my marble is honed, it can't be sealed. Glossy marble can be sealed but is minimal in its protection.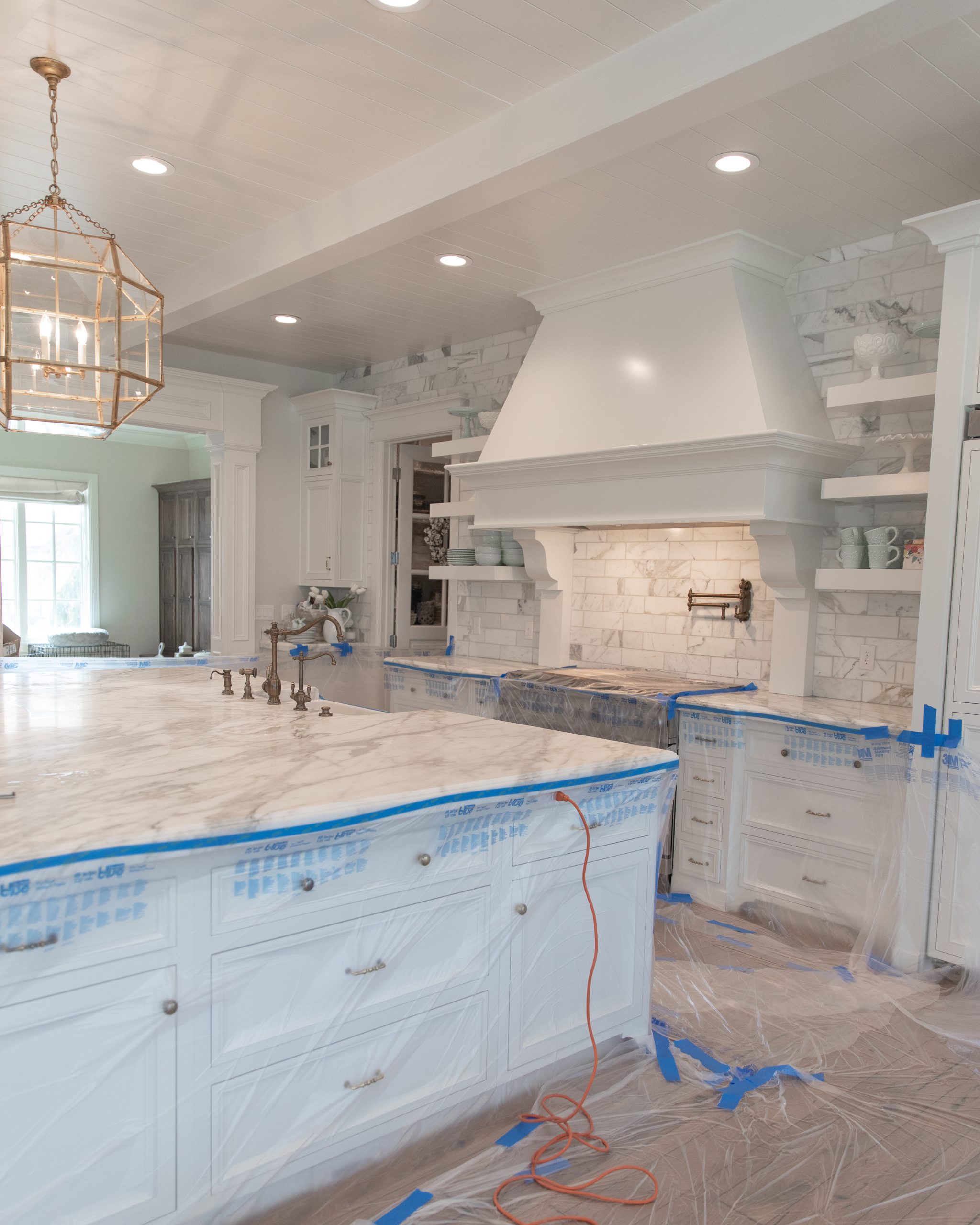 Komosus came out to my home and refinished and repaired some of the chips in my marble counters. It took about a day and they were able to get out most of the deep scratches and all the etching spots I had on my marble as well as repair and fill some of the chips that were around the sink area. They do great work and are two of the nicest, hardworking young men I've met.
This is a before and after of one of the worst etched spots.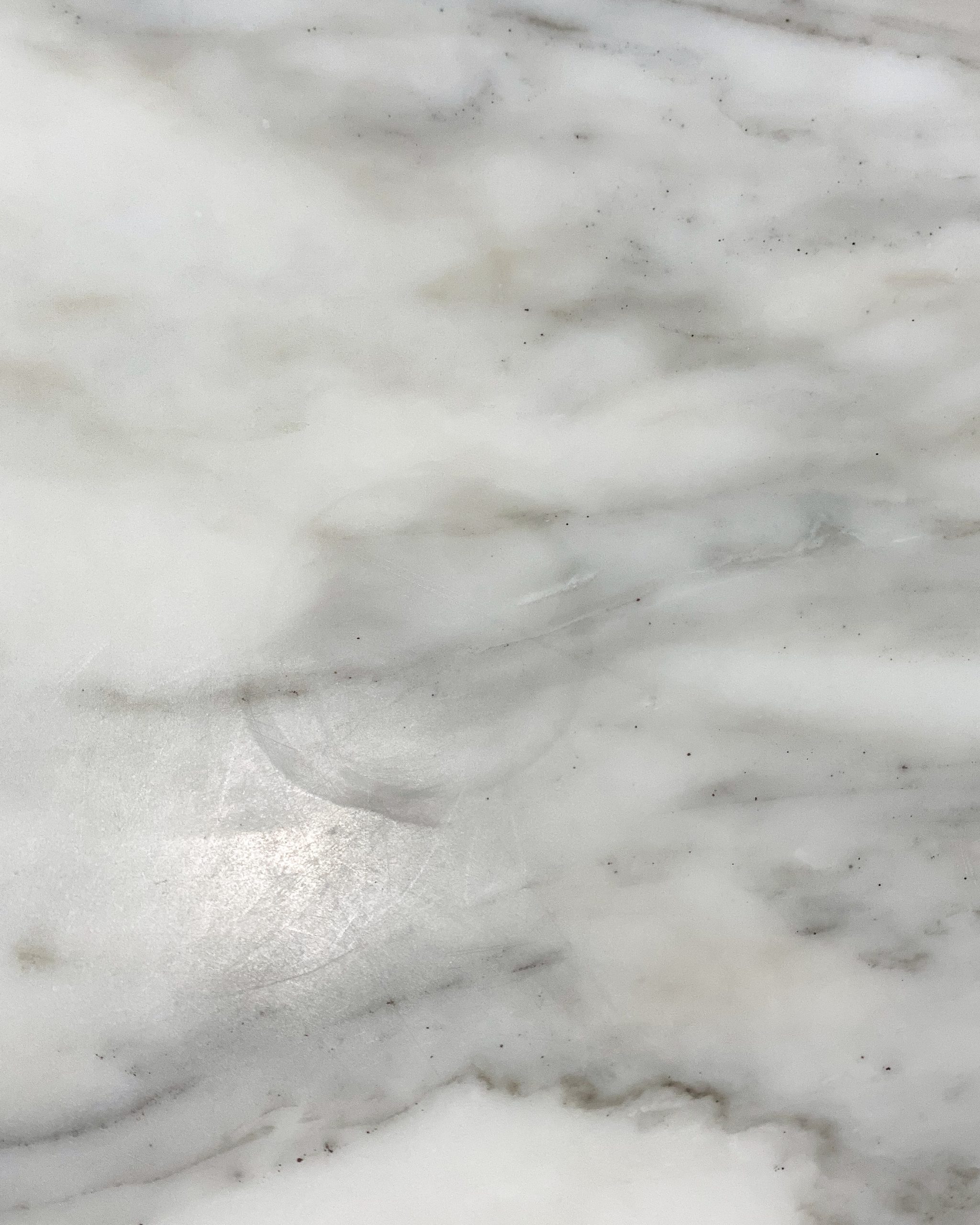 What a transformation! The scratches are gone as well as this giant etched spot.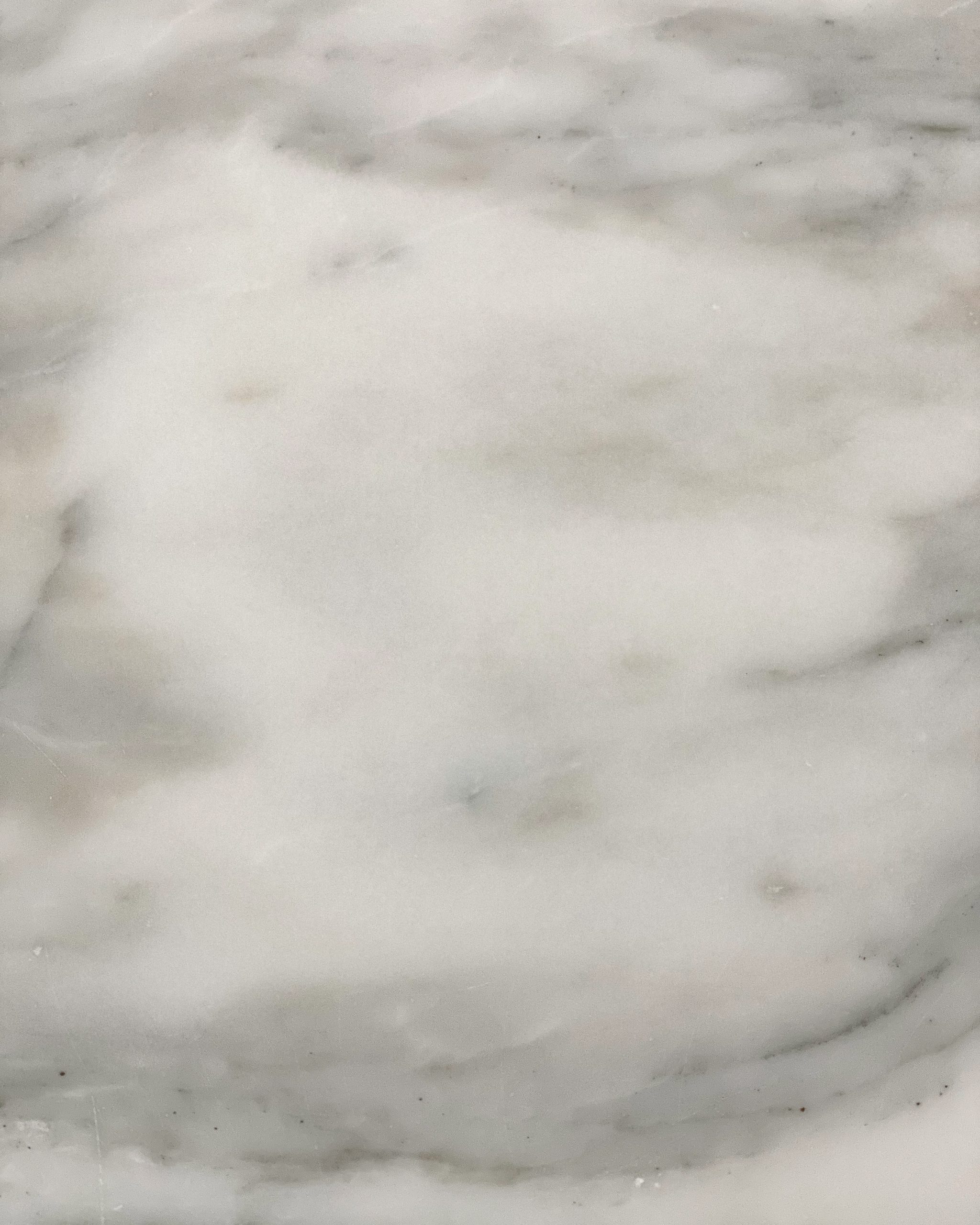 After Komosus did their part in restoring the marble, I had TuffSkin scheduled to come the next day and the installers applied the the TuffSking to the countertops for extra protection. This is the best option I have found that protects the marble. This also took about a day to apply and then the installer came back a day later and trimmed the edges, re-installed the kitchen faucets, and did a final check of everything.
Komusus Counters is located in Northern Utah and they will go to other areas outside of Utah if they are able to book a handful of jobs to make traveling cost effective. I can't recommend them enough! They work on any type of stone including granite, marble, and quarts. They reseal, recondition, and resurface stone countertops. They are service businesses including hotels and restaurants.
717-809-5318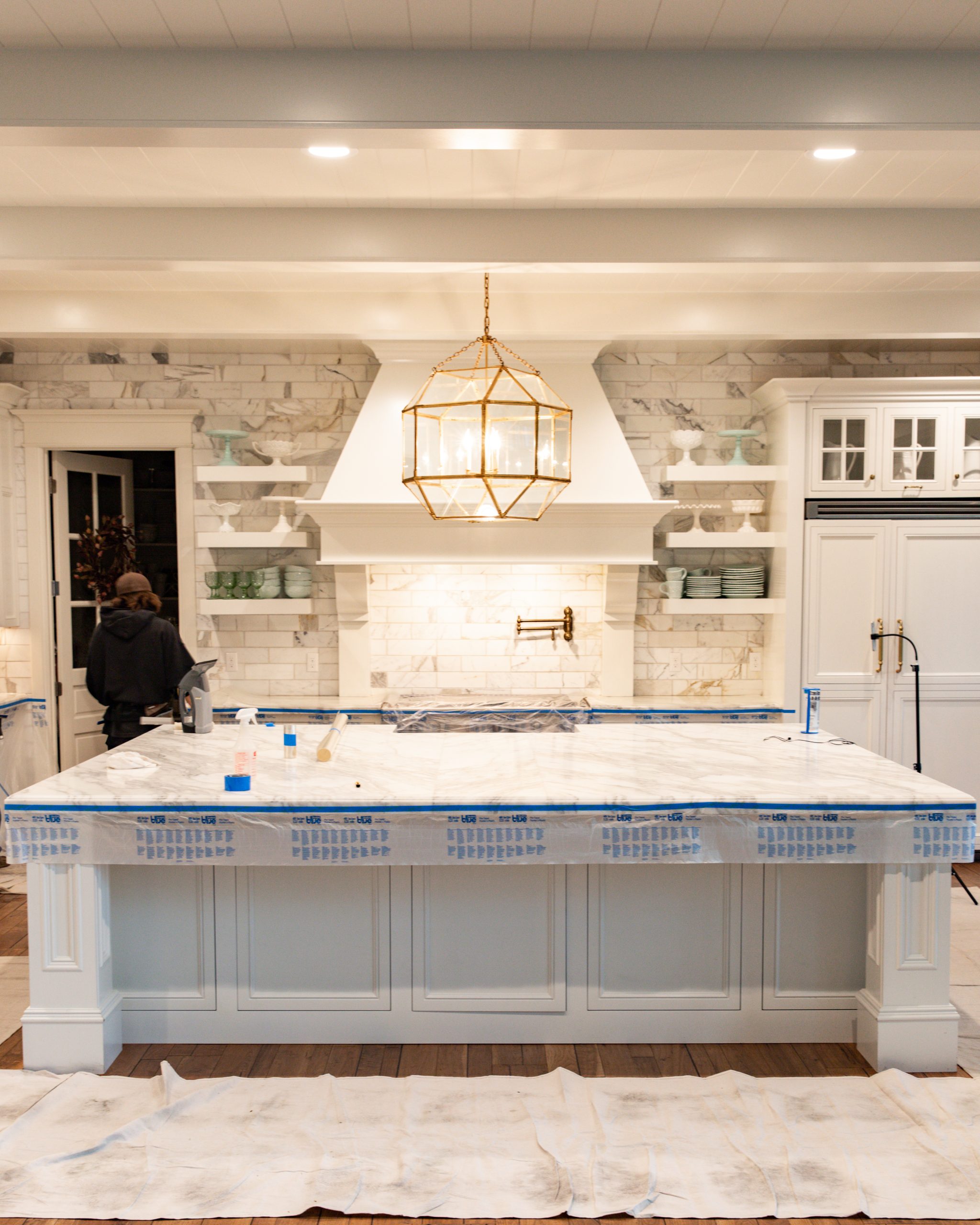 What is TuffSkin®?
TuffSkin Surface Protection solves the marble etching and staining challenges. TuffSkin does what traditional stone sealers have never been able to achieve.
Prevents Etching
Prevents Staining
Heat Resistant
Chemical and Odor Free
Removable & Replaceable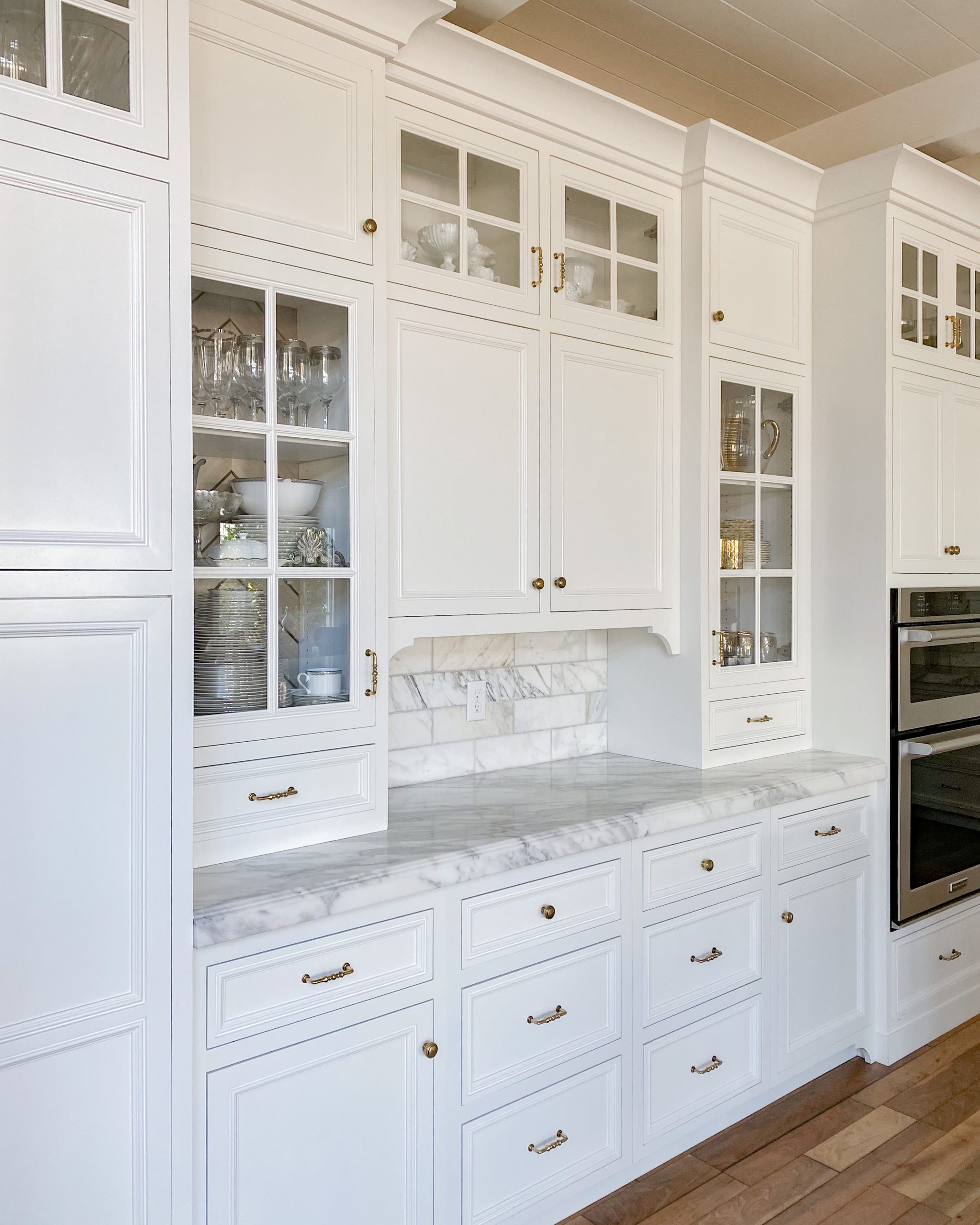 TuffSkin is a proprietary stone laminate, made from high-tech polyester that is gas permeable but liquid impermeable. The hard coat technology resists scratching and provides a long product life. TuffSkin adhesive is designed specifically to work with stone. It's made in the USA and is the perfect solution for making impractical stone practical. It works with any type of stone and provides protection against staining and etching.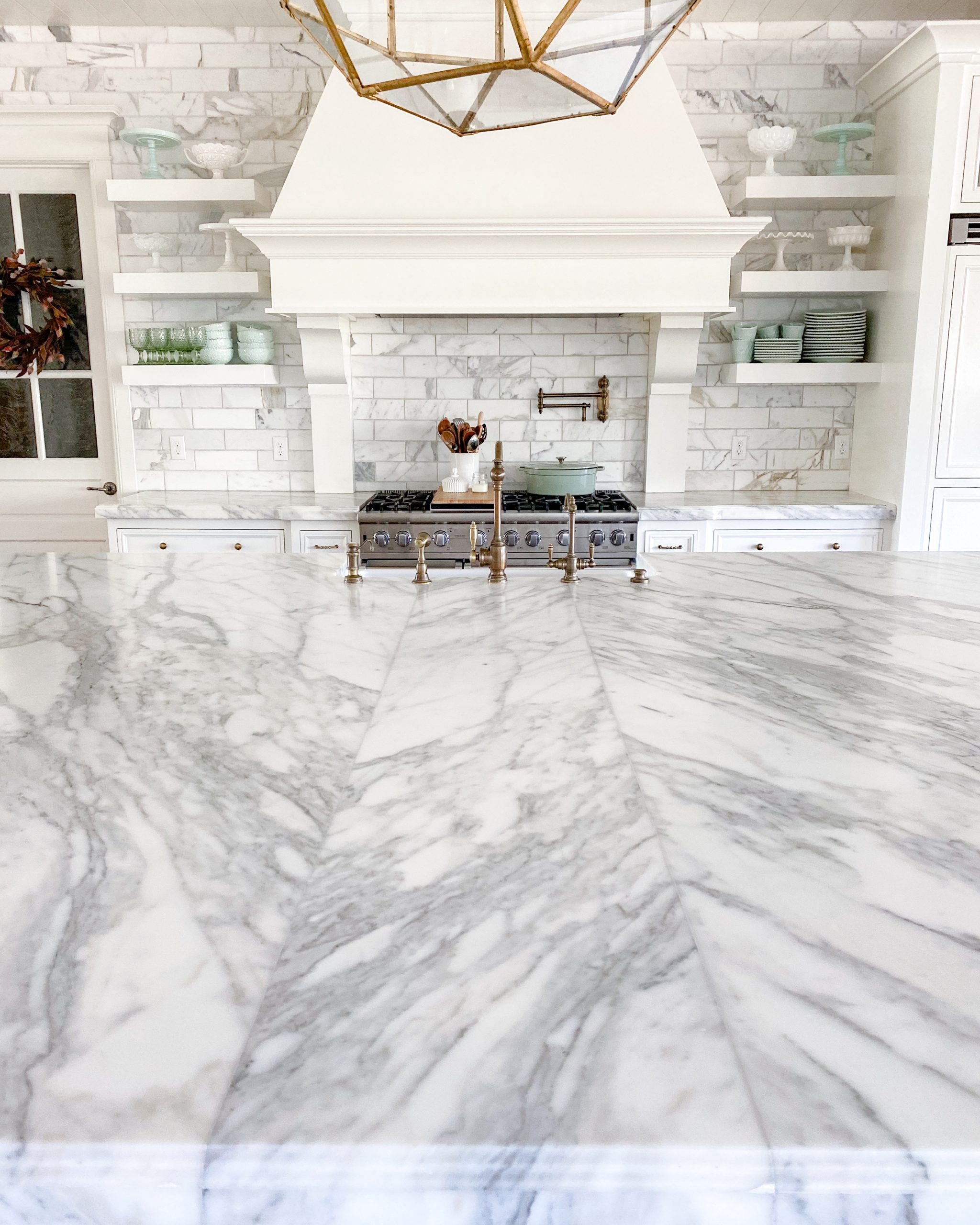 In the two photos above, you can see what the stone looks like after the TuffSkin application. You can't tell that anything has been done to protect the marble and it retains its honed finish look.
The TuffSkin installer can also resurface any areas you have that are etched or scratched before the application of the TuffSkin. It was important to me that everything looked great before they applied the TuffSkin and between Komosus Counters and the TuffSkin installer, my counters were in perfect shape before the TuffSkin was applied.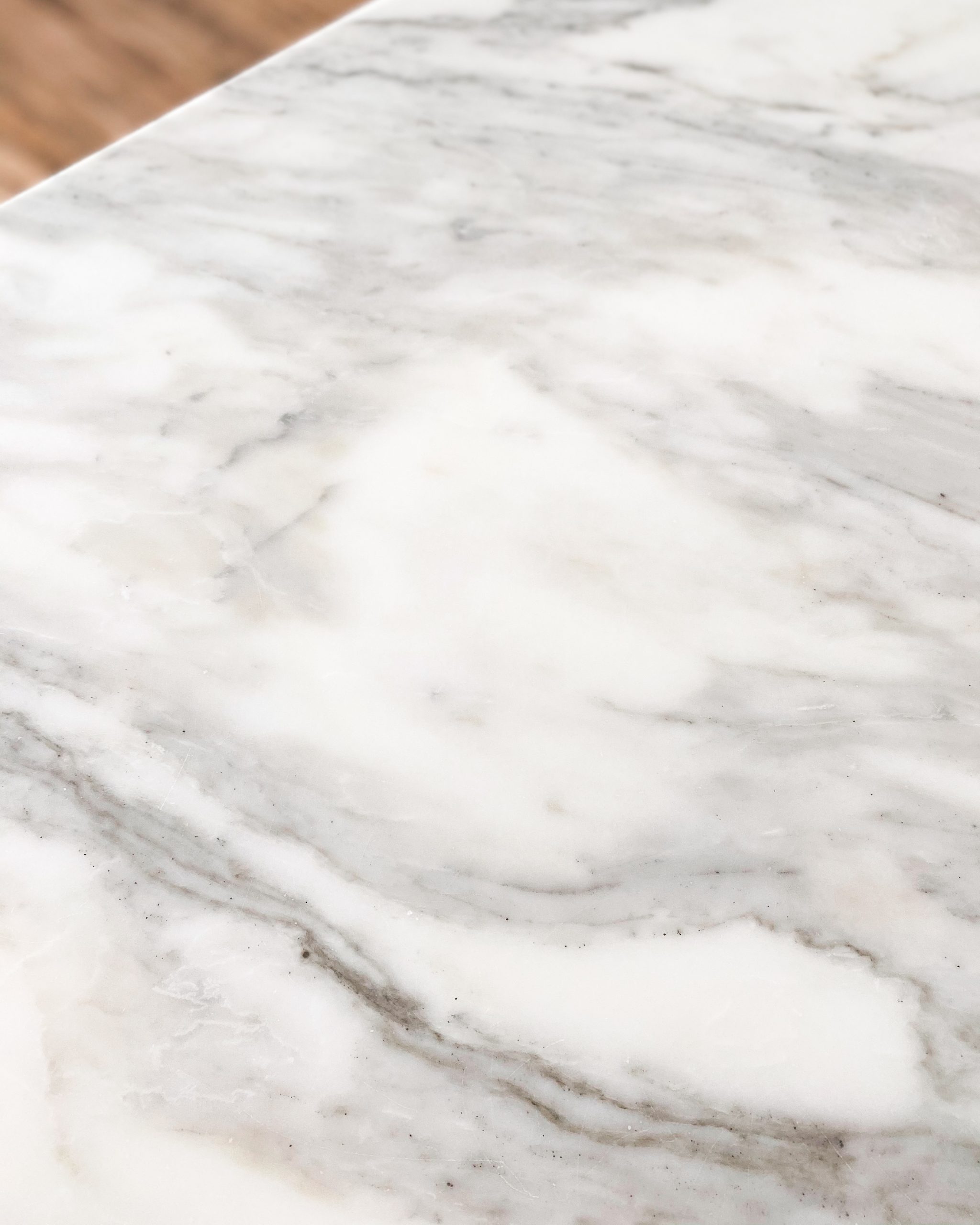 TuffSkin comes in Satin and Glossy finishes and you can request samples ahead of time so you can see the difference between the finishes. If you have honed marble, you will want the satin. TuffSkin also helps to bring out the natural beauty of the stone. TuffSkin lasts between 2-5 years in a custom marble kitchen depending on use. Tuffskin is engineered to be replaced when needed. They provide and install their products in the US, Canada, and Australia, and they also do this in hotels, bars, restaurants, and larger hotels anywhere in the world.
They will come out to your home and give you a free estimate and answer any questions you have. I've been so happy with how my counters look and function. Being able to cook in my kitchen without the fear of scratching, staining, and etching my counters has been so great. My family is also so happy that I'm not constantly saying "be careful" to them as they are attempting to cook or bake!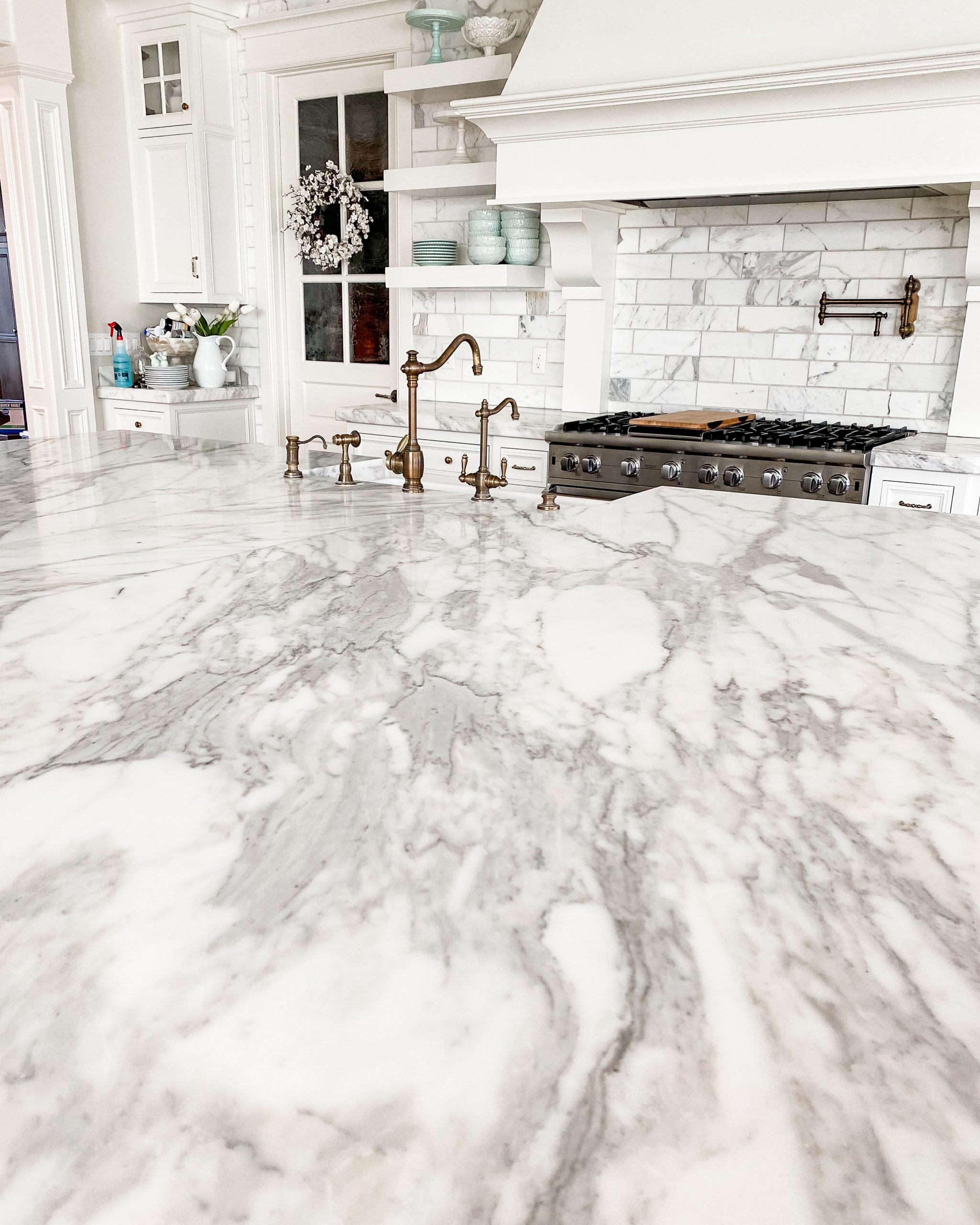 How to Care for your TuffSkin Countertops
Once the TuffSkin is applied, you can use your countertops right away and they are so easy to clean. You can use alcohol in a spray bottle or you can use Sprayway Glass Cleaner that is ammonia free and has a streak-free shine.
I couldn't be any happier with this entire project and so glad I decided to do this! Komosus Counters does a great job of restoring any type of stone you have and TuffSkin can also restore your stone counters or make any repairs needed before they apply the TuffSkin to your stone.
I wanted the stone to look just as it would without anything applied to it and that is the result I got. You can't tell that there's anything on the stone. It looks great and the beauty of the stone shows through. I can cook and go about my work in the kitchen without any worry or stress and I'm so thrilled with the result. I can't recommend this enough!
TuffSkin and Komosus both do restoration of natural stone in restaurants, bars, hotels, and anything commercial.
Feel free to reach out to TuffSkin® and tell them HollyJ sent you!
Instagram @tuffskin_surfaceprotection
You can find a TuffSkin Dealer at 702-778-2272
For more information on TuffSkin www.info@tuffskin.com
For Utah and Idaho: Lynn Smith was my installer and he's great! 435-313-5218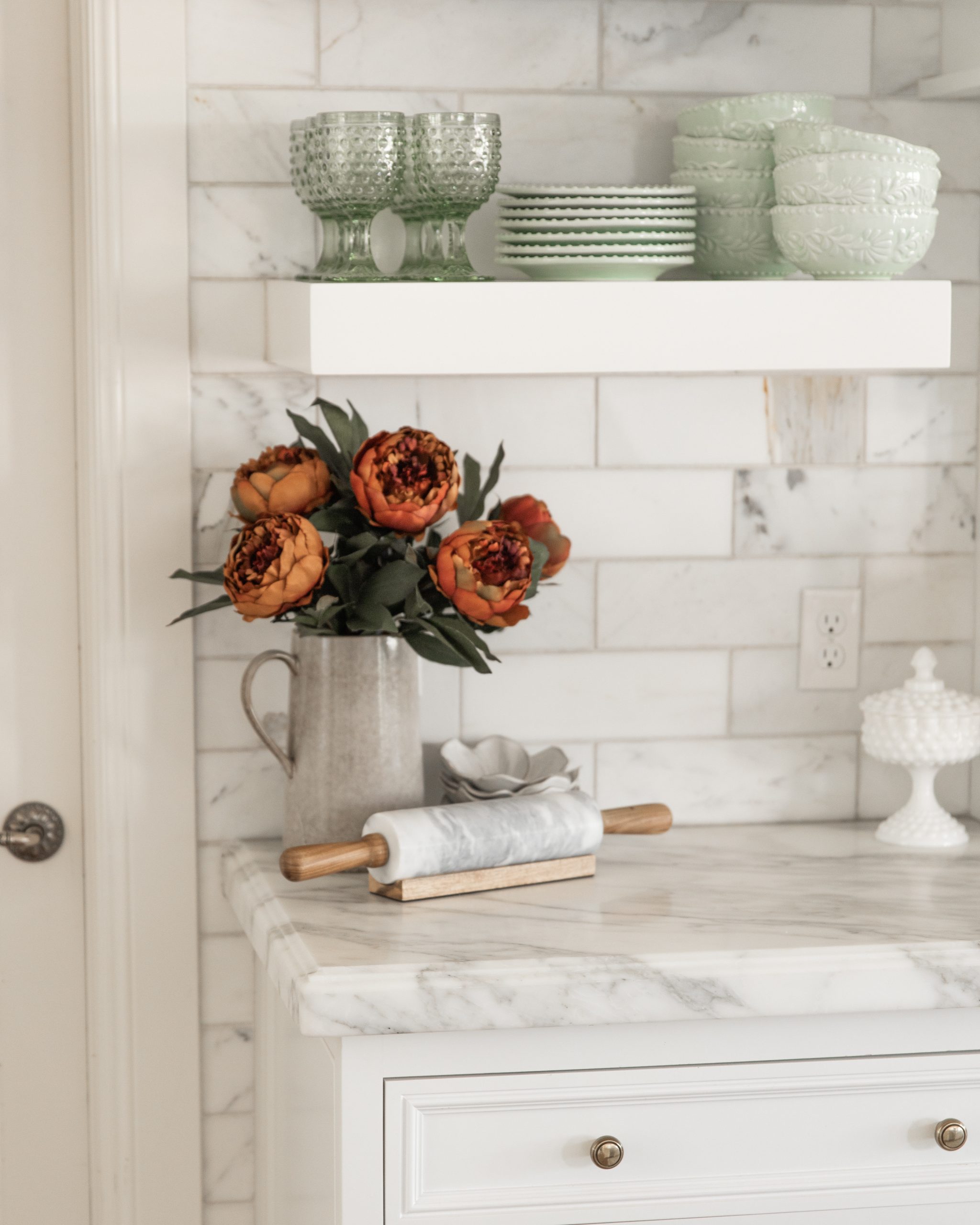 I hope this has been helpful and that you now have enough information to know if having marble in your home is a good option. I can't speak highly enough about this project and the final result. TuffSkin is a game changer with having marble in your kitchen and I highly recommend this!
Feel free to leave any questions in the comments below or email me at homewithhollyj@gmail.com or send me a message on Instagram @homewithhollyj
Thanks so much for stopping by! Please subscribe to my blog so you never miss a post!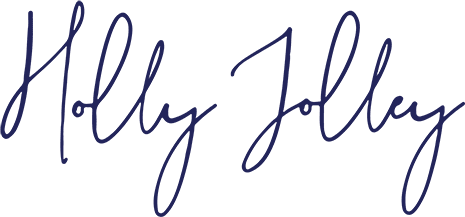 Here's a few more After pictures.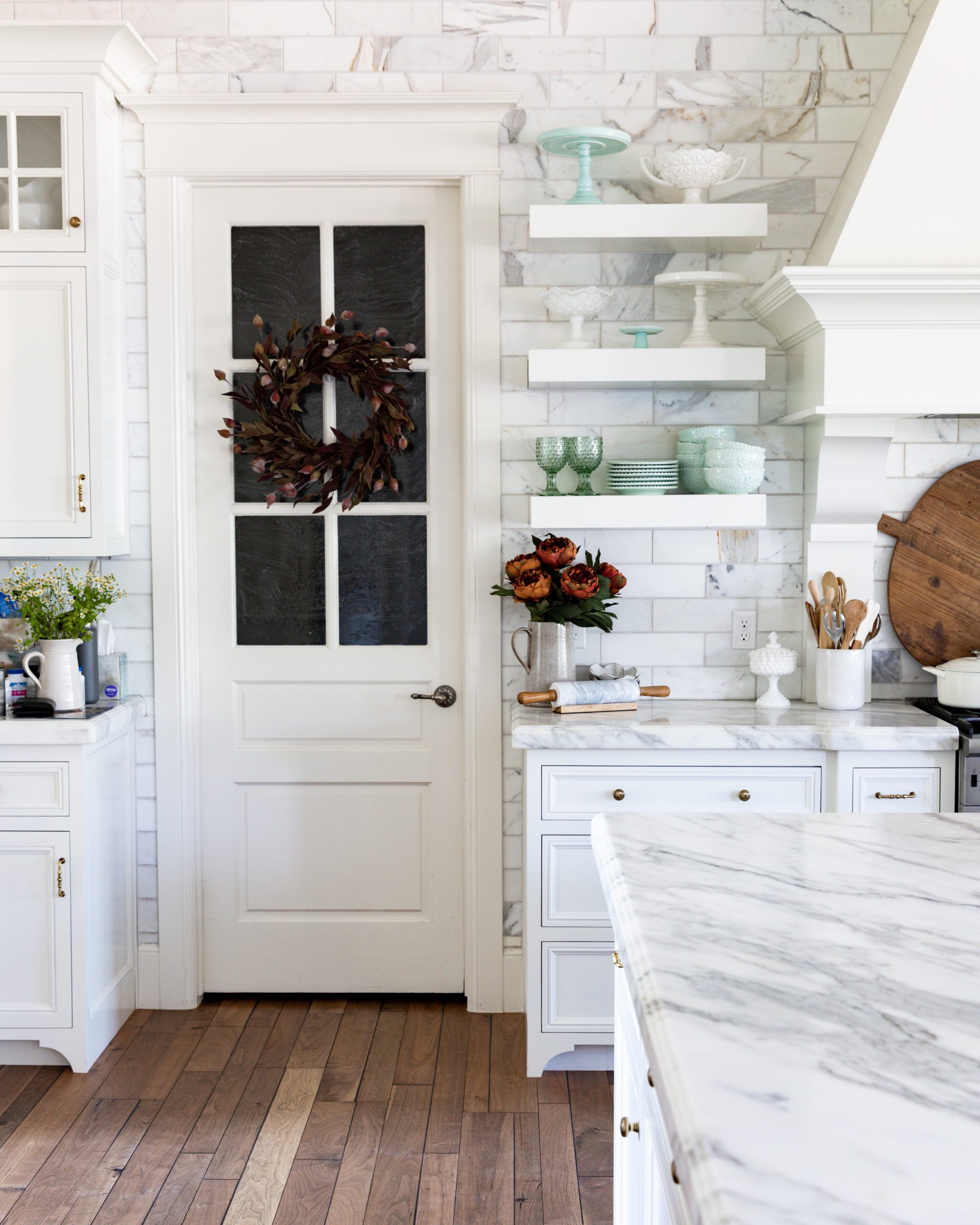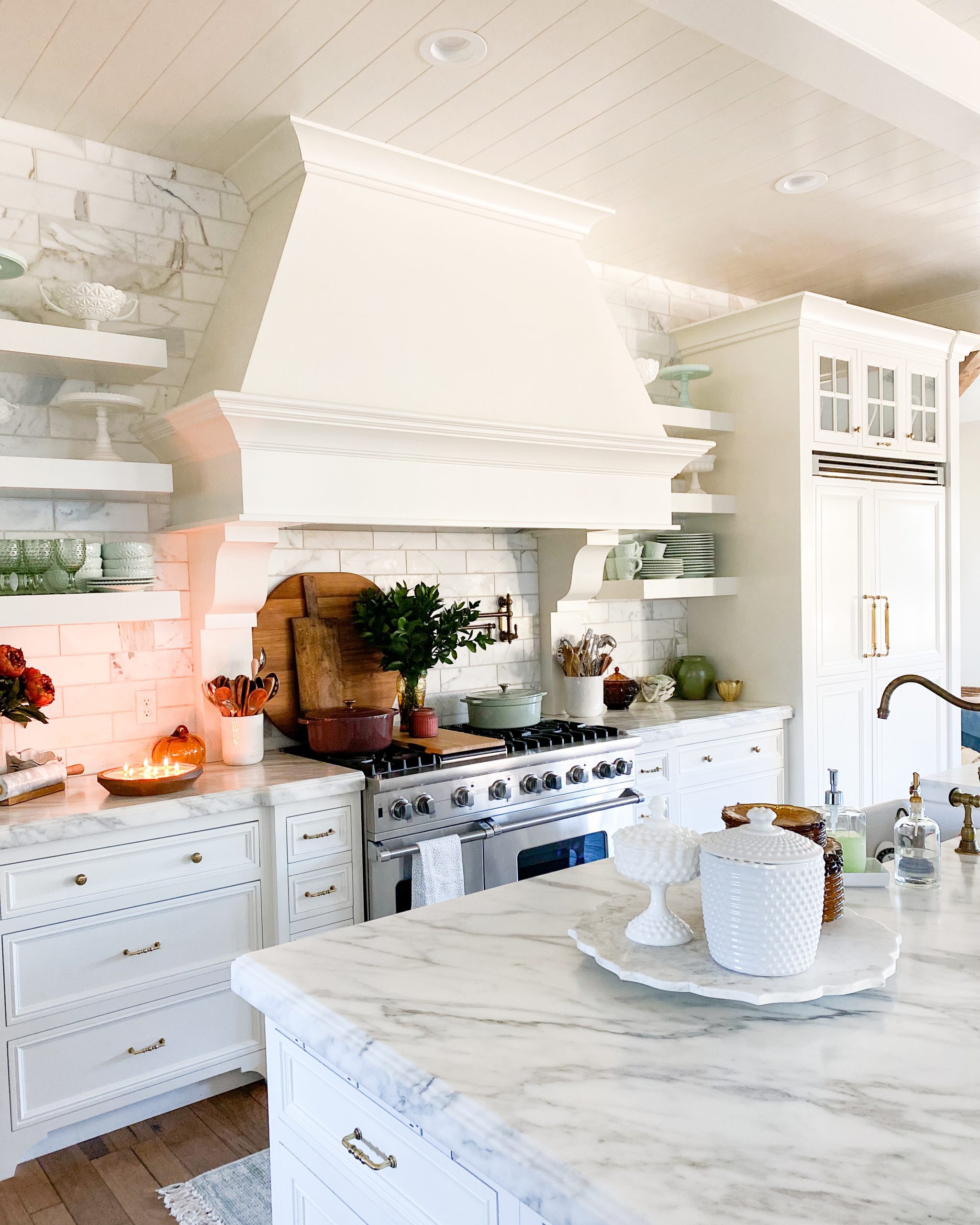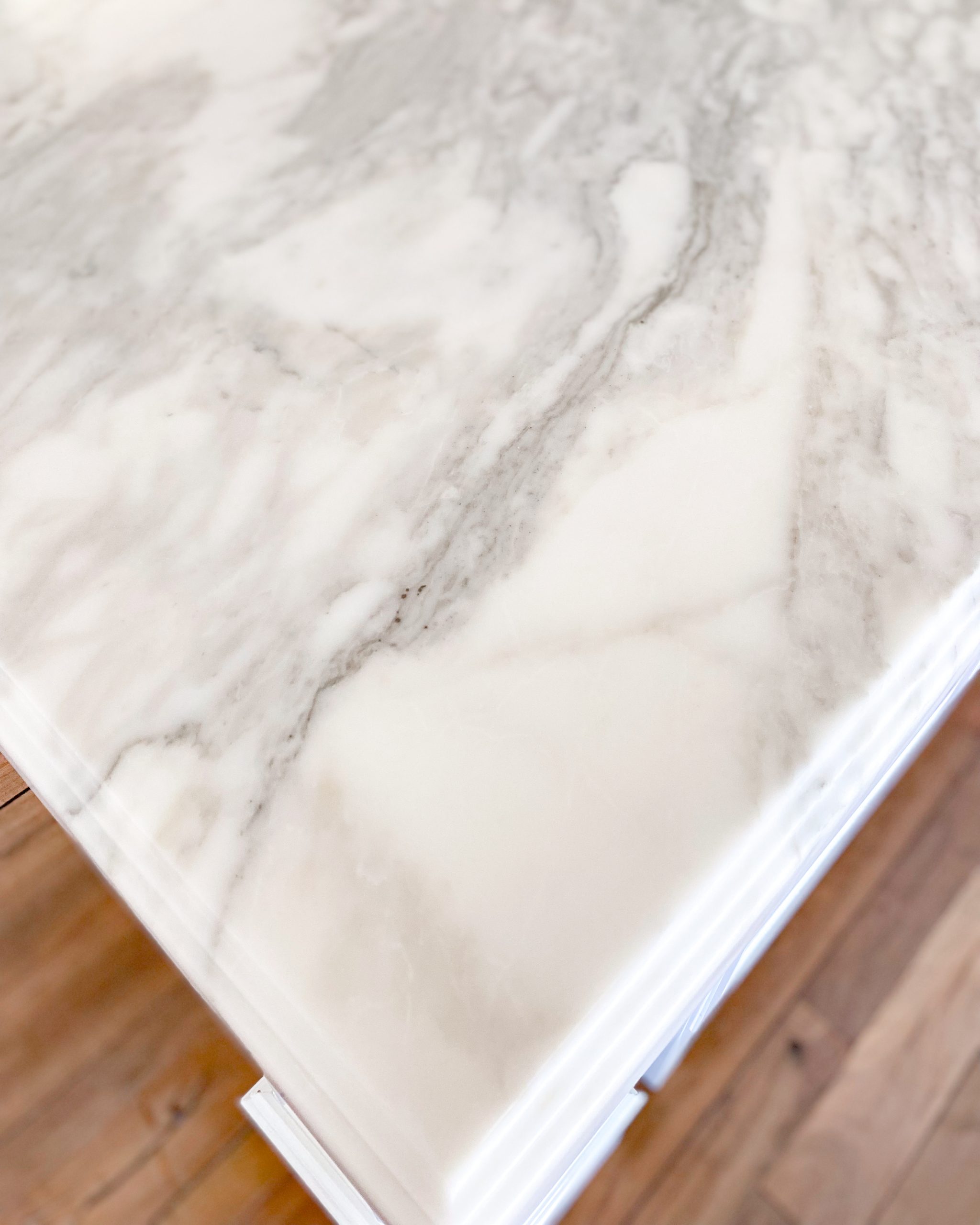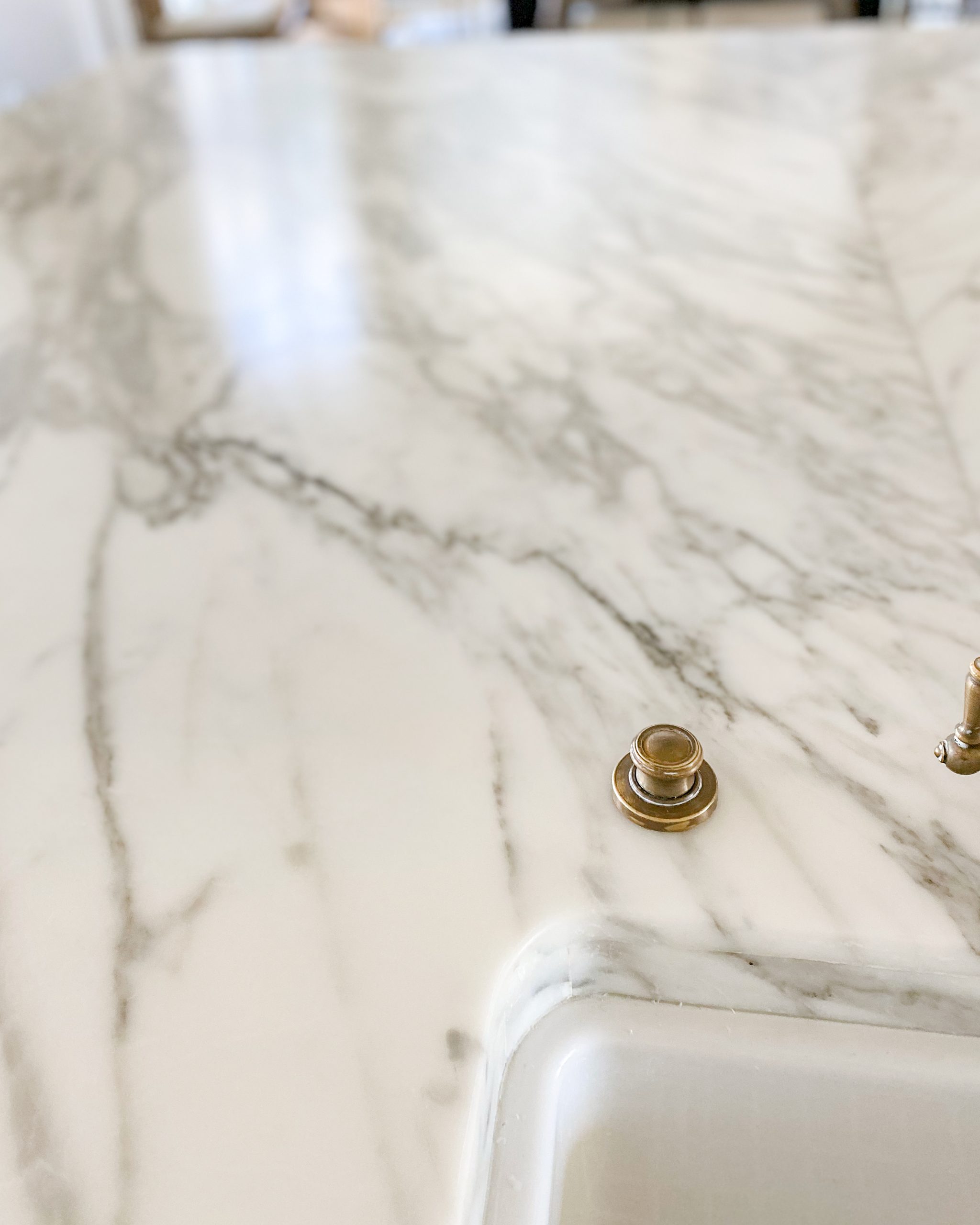 PIN THIS FOR LATER